Preclinical Stage Partnering Terms and Agreements in Pharma and Biotech 2015-2022
The Preclinical Stage Partnering Terms and Agreements in Pharma and Biotech 2015-2022 report provides comprehensive understanding and unprecedented access to the preclinical stage partnering deals and agreements entered into by the worlds leading healthcare companies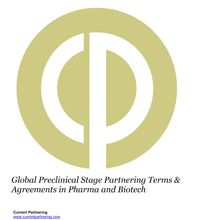 Publication date
September 2022
Product type
Research report
Available formats
PDF document
The Global Preclinical Stage Partnering Terms and Agreements in Pharma and Biotech 2015-2022 report provides a detailed understanding and analysis of how, why and what terms companies enter preclinical stage partnering deals. These deals tend to be multicomponent, starting with collaborative R&D, and commercialization of outcomes.
This report provides details of the latest preclinical agreements announced in the healthcare sector.
Understanding the flexibility of a prospective partner's negotiated deals terms provides critical insight into the negotiation process in terms of what you can expect to achieve during the negotiation of terms. Whilst many smaller companies will be seeking details of the payments clauses, the devil is in the detail in terms of how payments are triggered – contract documents provide this insight where press releases and databases do not.
This report contains a comprehensive listing of over 2,500 preclinical stage partnering deals announced since 2015 including financial terms, where available, including links to online deal records of actual preclinical partnering deals as disclosed by the deal parties. In addition, where available, records include contract documents as submitted to the Securities Exchange Commission by companies and their partners.
Contract documents provide the answers to numerous questions about a prospective partner's flexibility on a wide range of important issues, many of which will have a significant impact on each party's ability to derive value from the deal.
The initial chapters of this report provide an orientation of preclinical stage deal making and business activities. Chapter 1 provides an introduction to the report, whilst chapter 2 provides an overview of why companies partner preclinical stage compounds/products.
Chapter 3 provides an overview of preclinical stage deals strategy and deal structure including numerous case studies. Chapter 4 provides an overview of the various payment strategies used in preclinical stage deals.
Chapter 5 provides a review of preclinical stage deal making since 2015. Deals activity is reviewed by year, stage of development at signing, therapeutic area, technology type, as well as most active dealmakers.
Chapter 6 provides a detailed analysis of preclinical stage payment terms including headline, upfront, milestone and royalty rates.
Chapter 7 provides a review of the leading preclinical stage deal by headline value. Each deal title links via Current Agreements deals and alliances database to an online version of the full deal record, and where available, the actual contract document, providing easy access to each deal record on demand.
Chapter 8 provides a comprehensive listing of the top 25 most active preclinical stage dealmaker companies. Each deal title links via Current Agreements deals and alliances database to an online version of the full deal record, and where available, the actual contract document, providing easy access to each deal record on demand.
Chapter 9 provides a comprehensive and detailed review of preclinical stage partnering deals signed and announced since 2015, where a contract document is available in the public domain.
Chapter 10 provides a comprehensive directory of preclinical stage partnering deals since 2015.
The report includes deals announced by hundreds of life science companies including big pharma such as Abbott, Abbvie, Actavis, Amgen, Astellas, AstraZeneca, Baxter, Bayer, Biogen Idec, BMS, Celgene, Eisai, Eli Lilly, Gilead, GSK, J&J, Kyowa Hakko, Merck, Mitsubishi, Mylan, Novartis, Pfizer, Roche, Sanofi, Shire, Takeda, Teva, and Valeant, amongst many others.
The report also includes numerous tables and figures that illustrate the trends and activities in preclinical stage partnering and deal making since 2015.
In addition, a comprehensive appendix of all preclinical deals since 2015 is provided organized by partnering company A-Z, deal type, therapy focus and technology type. Each deal title links via Weblink to an online version of the deal record and where available, the contract document, providing easy access to each contract document on demand.
In conclusion, this report provides everything a prospective dealmaker needs to know about partnering in the research, development and commercialization of preclinical stage products and compounds.
Key benefits
Global Preclinical Stage Partnering Terms and Agreements in Pharma and Biotech 2015-2022 provides the reader with the following key benefits:
In-depth understanding of preclinical stage deal trends since 2015
Access to headline, upfront, milestone and royalty data
Analysis of the structure of preclinical stage agreements with numerous real life case studies
Insight into the terms included in a preclinical stage agreement, together with real world clause examples
Understand the key deal terms companies have agreed in previous deals
Undertake due diligence to assess suitability of your proposed deal terms for partner companies
Report scope
Global Preclinical Stage Partnering Terms and Agreements in Pharma and Biotech 2015-2022 is intended to provide the reader with an in-depth understanding and access to preclinical stage deal trends and structure of deals entered into by leading companies worldwide.
Global Preclinical Stage Partnering Terms and Agreements in Pharma and Biotech 2015-2022 includes:
Trends in preclinical stage dealmaking in the biopharma industry since 2015
Analysis of preclinical stage deal structure
Access to headline, upfront, milestone and royalty data
Case studies of real-life preclinical stage deals
Access to over 2,500 preclinical stage deals
The leading preclinical stage deals by value since 2015
Most active preclinical stage dealmakers since 2015
The leading preclinical stage partnering resources
In Global Preclinical Stage Partnering Terms and Agreements in Pharma and Biotech 2015-2022, the available contracts are listed by:
Company A-Z
Headline value
Stage of development at signing
Deal type
Specific therapy target
Each deal title links via Weblink to an online version of the deal record and where available, the contract document, providing easy access to each contract document on demand.
The Global Preclinical Stage Partnering Terms and Agreements in Pharma and Biotech 2015-2022 report provides comprehensive access to available deals and contract documents for over 2,500 preclinical stage deals. Analyzing actual contract agreements allows assessment of the following:
What are the precise rights granted or optioned?
What is actually granted by the agreement to the partner company?
What exclusivity is granted?
What is the payment structure for the deal?
How are sales and payments audited?
What is the deal term?
How are the key terms of the agreement defined?
How are IPRs handled and owned?
Who is responsible for commercialization?
Who is responsible for development, supply, and manufacture?
How is confidentiality and publication managed?
How are disputes to be resolved?
Under what conditions can the deal be terminated?
What happens when there is a change of ownership?
What sublicensing and subcontracting provisions have been agreed?
Which boilerplate clauses does the company insist upon?
Which boilerplate clauses appear to differ from partner to partner or deal type to deal type?
Which jurisdiction does the company insist upon for agreement law?
The Preclinical Stage Partnering Terms and Agreements in Pharma and Biotech 2015-2022 report provides the reader with the following key benefits:
In-depth understanding of preclinical stage deal trends since 2015
Access to headline, upfront, milestone and royalty data
Comprehensive access to over 2,500 preclinical stage deals together with contract documents if available
Detailed access to actual preclinical stage deals entered into by the leading big pharma and big biotech companies along with other biopharma companies
Analysis of the structure of preclinical stage agreements with numerous real life case studies
Identify leading preclinical stage deals by value since 2015
Identify the most active preclinical stage dealmakers since 2015
Full listing of preclinical stage deals by company A-Z, phase of development, deal type, therapy and technology focus
Understand the key deal terms companies have agreed in previous deals
Undertake due diligence to assess suitability of your proposed deal terms for partner companies
Executive Summary
Chapter 1 – Introduction
Chapter 2 – Why do companies partner preclinical stage compounds?
2.1. Introduction
2.2. The role of preclinical stage partnering
2.2.1. In-licensing at preclinical stage
2.2.2. Out-licensing at preclinical stage
2.3. Difference between discovery, preclinical and clinical stage deals
2.4. Reasons for entering into preclinical stage partnering deals
2.4.1. Licensors reasons for entering preclinical stage deals
2.4.2. Licensees reasons for entering preclinical stage deals
2.5. The future of preclinical stage partnering deals
Chapter 3 – Preclinical stage deal strategies and structure
3.1. Introduction
3.2. At what stage do companies partner?
3.2.1. Partnering early in pharmaceutical / biotech
3.2.1.1. Discovery and preclinical stage partnering case studies
3.2.1.1.a. Case study 1
3.2.1.1.b. Case study 2
3.2.1.1.c. Case study 3
3.2.1.1.d. Case study 4
3.2.2. Partnering later in pharmaceutical/biotech
3.2.2.1. Clinical stage partnering case studies
3.2.2.1.a. Case study 5
3.2.2.1.b. Case study 6
3.2.2.1.c. Case study 7
3.2.2.1.d. Case study 8
3.3. Early and later stage partnering – a risk/cost comparison
3.4. What do companies spend on preclinical stage partnering?
3.5. Pure versus multi-component partnering deals
3.6. Pure licensing agreement structure
3.6.1. Example pure preclinical stage licensing agreements
3.6.1.a. Case study 9
3.6.1.b. Case study 10
3.7. Multicomponent preclinical stage partnering agreements
3.7.1. Example multicomponent preclinical stage clauses
3.7.1.a. Case study 11
3.7.1.b. Case study 12
Chapter 4 – Preclinical stage partnering payment strategies
4.1. Introduction
4.2. Preclinical stage payment strategies
4.3. Payment options
4.3.1. Headline values
4.3.2. Upfront payments
4.3.2.1. Conditionality of upfront payments
4.3.3. Loans
4.3.4. Convertible loans
4.3.5. Equity
4.3.6. R&D funding
4.3.7. Licensing fees
4.3.8. Milestone payments
4.3.9. Royalty payments
4.3.9.1. Issues affecting royalty rates
4.3.9.2. Royalties on combination products
4.3.9.2.a. Case study 13
4.3.9.3. Guaranteed minimum/maximum annual payments
4.3.9.4. Royalty stacking
4.3.9.5. Royalties and supply/purchase contracts
4.3.10. Quids
4.3.11. Option payments
Chapter 5 – Trends in preclinical stage deal making
5.1. Introduction
5.2. Preclinical stage partnering over the years
5.2.1. Attributes of preclinical deals
5.3. Preclinical stage partnering by deal type
5.4. Preclinical stage partnering by disease type
5.5. Partnering by preclinical stage technology type
5.6. Preclinical stage partnering by most active company since 2015
Chapter 6 – Payment terms for preclinical stage partnering
6.1. Introduction
6.2. Guidelines for preclinical stage payment terms
6.2.1. Upfront payments
6.2.2. Milestone payments
6.2.3. Royalty payments
6.3. Preclinical stage payment terms – deal data analysis
6.3.1. Public data
6.3.2. Survey data
6.4. Payment terms analysis
6.4.1. Preclinical stage headline values
6.4.2. Preclinical stage deal upfront payments
6.4.3. Preclinical stage deal milestone payments
6.4.4. Preclinical stage royalty rates
Chapter 7 – Leading preclinical stage deals
7.1. Introduction
7.2. Top preclinical stage deals by value
Chapter 8 – Top 25 most active preclinical stage dealmakers
8.1. Introduction
8.2. Top 25 most active preclinical stage dealmakers
Chapter 9 – Preclinical stage partnering contracts directory
9.1. Introduction
9.2. Preclinical stage deals with contracts 2014 to 2021
Chapter 10 – Preclinical stage deal making by development stage
10.1. Introduction
10.2. Deals by preclinical stage
Appendices
Appendix 1 – Preclinical stage dealmaking by companies A-Z
Appendix 2 – Preclinical stage dealmaking by industry sector
Appendix 3 – Preclinical stage dealmaking by stage of development
Appendix 4 – Preclinical stage dealmaking by therapy area
Appendix 5 – Preclinical stage dealmaking by technology type
About Wildwood Ventures
Current Partnering
Current Agreements
Recent titles from Current Partnering
Table of figures
Figure 1: Definition of discovery, preclinical and clinical phases in dealmaking
Figure 2: Components of the pure licensing deal structure
Figure 3: Payment options for preclinical stage partnering deals
Figure 4: Issues affecting royalty rates
Figure 5: Preclinical stage partnering frequency 2015 - 2022
Figure 6: Preclinical stage partnering by deal type since 2015
Figure 7: Preclinical stage partnering by disease type since 2015
Figure 8: Preclinical stage partnering by technology type since 2015
Figure 9: Top 25 most active preclinical stage dealmakers, 2015 to 2022
Figure 10: Review of upfront payments for preclinical stage deals
Figure 11: Review of milestone payments for preclinical stage deals
Figure 12: Review of royalty payments for preclinical stage deals
Figure 13: Preclinical stage deals with a headline value
Figure 14: Preclinical stage deals with an upfront value
Figure 15: Preclinical stage deals with a milestone value
Figure 16: Preclinical stage deals with a royalty rate value
Figure 17: Top preclinical stage deals by value since 2015
Figure 18: Most active preclinical stage dealmakers 2015 to 2022


Pricing options
$3,995: single-user
$5,745: multi-user
$10,995: single site license
$17,995: global site license
A full explanation of license type definitions can be found here.
Our guarantee
Price promise
We guarantee our prices are competitive. If you find the same report advertised at a lower price within 7 days of purchase, we will refund the difference.
Delivery Deadline
We guarantee that the report will be sent within the specified delivery times. In the unlikely case of a delay we may offer a partial refund as compensation. (Terms may apply)
Latest report
If an update is published within 30 days of your purchase, you will receive it absolutely free of charge.
Serious Security
We take your data and security seriously. See our privacy policy for details of how we manage your data.
All card payments are processed by SagePay.
Sales Support
If you have any questions about your report or are unhappy with the quality, we will do our best to resolve your query. Contact us direct.
Total Trust
Current Partnering is part of Wildwood Ventures Ltd., based in York, United Kingdom. We have been trading successfully online since 2009 and work with some of the most famous brands in the business. We carefully select our partners to ensure that the publications meet expectations of demanding customers.
1ST Biotherapeutics, 2A, 2cureX, 3B Pharmaceuticals, 3DMed, 3D Medicines, 3rd People's Hospital of Shenzhen, 3SBio, 4D Molecular Therapeutics, 4SC, 7 Hills Pharma, 23andMe, A*STAR Agency for Science, Technology and Research, A2 Biotherapeutics, Aarhus University, AB-Biotics, AB Biosciences, Abbott Laboratories, Abbott Vascular Devices, Abbvie, AbClon, Ab E Discovery, Abeona Therapeutics, AbFero Pharmaceuticals, Abide Therapeutics, ABL Bio, Abmuno Therapeutics, Abpro, AbSci, Abzena, Academy of Military Medical Sciences (China), AC Bioscience, Accelovance, AccuGenomics, Acepodia, Acer Therapeutics, Acetylon Pharmaceuticals, Achaogen, Achieve Life Science, AC Immune, Aclaris Therapeutics, Aclipse Therapeutics, ACT Biotech, Acticor Biotech, Actimed Therapeutics, Actinium Pharmaceuticals, Acucela, AcuraStem, Acurx Pharmaceuticals, AdAlta, Adaptimmune, Adapt Pharma, AdaptVac, ADC Therapeutics, Addex Therapeutics, Adial Pharmaceuticals, Adimab, Adjuvance Technologies, Aduro BioTech, Advaccine Biotechnology, Advaita, Advanced Accelerator Applications, Advanced Biological Laboratories, Advanced BioScience Laboratories, Advanced Regenerative Manufacturing Institute, Advaxis, Aerie Pharmaceuticals, Aevi Genomic Medicine, AffaMed Therapeutics, Affigen, Affimed Therapeutics, Affinium Pharmaceuticals, Affinivax, AFFiRiS, AGC Biologics, Agenus Bio, Agilvax, Agios Pharmaceuticals, AgonOx, AGTC, AIkido Pharma, AIM ImmunoTech, AIMM Therapeutics, Aimmune Therapeutics, Airway Therapeutics, Ajinomoto, Ajinomoto Bio-Pharma Services, Akaal Pharma, Akcea Therapeutics, Akebia Therapeutics, Akero Therapeutics, Akeso Biopharma, AKESOgen, AKL Research and Development, Akouos, Akoya Biosciences, Akston Biosciences, Albany Molecular Research, Albert Einstein College of Medicine, Alder Biopharmaceuticals, Alderley Analytical, Aldevron, Aldeyra Therapeutics, Alector, Alexion Pharmaceuticals, Algae-C, Algenex, Aligos Therapeutics, AliveGen, Alivio Therapeutics, Alkahest, Alkermes, Allergan, Alliance for Cancer Gene Therapy, Alligator Bioscience, Allogene Overland Biopharm, Allogene Therapeutics, AllStripes, Alma Bio Therapeutics, Almirall, Alnylam Pharmaceuticals, Alopexx, Alphamab Biopharmaceuticals, Alpine Immune Sciences, ALS Association, ALS Biopharma, Altamira Pharma, Altasciences, Alteogen, Altimmune, Altor BioScience, ALTuCELL, Alume Biosciences, Alzheimer's Association, Alzheimer's Drug Discovery Foundation, Alzheimers Research UK, Amarantus BioSciences, Ambrx, amcure, American Foundation for AIDS Research (amfAR), American National Multiple Sclerosis Society, Amerimmune, Amgen, Amicus Therapeutics, Amneal Pharmaceuticals, Amolyt Pharma, AmorChem, Amorsa Therapeutics, Ampio Pharmaceuticals, AmpliPhi Biosciences, Amunix, Amylgen, Amyris, AnaBios, AnaptysBio, Anavex Life Sciences, AnGes MG, Angiex, AnHeart Therapeutics, Anika Therapeutics, Animal Life Sciences, Anixa Biosciences, Annovis Bio, Anokion, ANP Technologies, Antengene, Anterios, Anthos Therapeutics, AntibioTx, Antidote Therapeutics, Antitope, Antoxerene, Apceth, Appello Pharmaceuticals, Appili Therapeutics, Applied Biology, Applied BioMath, Applied DNA Sciences, Applied Molecular Transport, Applied Nanoscience, Aprea, APRINOIA Therapeutics, Aptahem, Aptar Pharma, Aptevo Therapeutics, Aptinyx, Aptose Biosciences, Aqualung Therapeutics, Aquinnah Pharmaceuticals, Aragen Bioscience, Aratana Therapeutics, Aravive Biologics, Arbor Biosciences, Arbutus, ArcherDX, ARC Therapeutics, Arctic Vision, Arcturus Therapeutics, Arcus Biosciences, Arcutis Biotherapeutics, Ardelyx, Ardena, Arecor, Arena Pharmaceuticals, arGEN-X, argenx, Argos Therapeutics, Ariad Pharmaceuticals, Aridis Pharmaceuticals, Arisaph Pharmaceuticals, Arix Bioscience, Arizona State University, Ark Biosciences, Arno Therapeutics (inactive since 2017), AroCell, Aromics, ArQule, Array Biopharma, Arrevus, Arrowhead Pharmaceuticals, Arrys Therapeutics, Arsanis Biosciences, Artelo Biosciences, ArtemiLife, Artios Pharma, Artizan Biosciences, Asahi Kasei, Ascentage Pharma, AskAt, Asklepios Biopharmaceutical, Aslan Pharma, Aspen Park Pharmaceuticals, Assembly Biosciences, Astellas Pharma, Astellas Venture Management, Asterias Biotherapeutics, AstraZeneca, Asylia Therapeutics, Atara Biotherapeutics, Atbtherapeutics, Atelerix, Athenex, Athersys, ATUM, Auburn University, Audentes Therapeutics, Augmenta, AUM Biosciences, AUM Biotech, AUM LifeTech, Aurigene Discovery Technologies, AusHealth, Austrian Research Promotion Agency, Autifony Therapeutics, Autotelic BIO, Avacta, Avalanche Biotechnologies, Avectas, AVEO Oncology, Avery Therapeutics, AveXis, Avicanna, Avid Bioservices, Avrobio, Axovant Gene Therapies, Axxam, Ayala Pharmaceuticals, Aytu BioScience, Azaya Therapeutics, Azellon Cell Therapeutics, Bach Biosciences, Bachem, Baergic Bio, Baker IDI Heart and Diabetes Institute, Barer Institute, Batavia Biosciences, Baxalta, Bayer, Bayer Healthcare, Baylor College, Baylor College of Medicine, Baylor Institute for Immunology Research, BayMedica, BB100, Beacon Discovery, Beactica, Beam Therapeutics, BeiGene, Bellicum Pharmaceuticals, Ben-Gurion University, Benitec Biopharma, Berlin-Brandenburg Center for Regenerative Therapies, Beroni Group, Be The Match BioTherapies, Beth Israel Deaconess Medical Center, Betta Pharmaceuticals, BGI, BGN Technologies, Bharat Biotech, Bial, Bill and Melinda Gates Foundation, Bio-Techne, BioAge Labs, BioAgilytix, BioArctic Neuroscience, BioArdis, biOasis Technologies, BioAtla, BioAxone Therapeutic, BioCancell Therapeutics, BioCanRx, Biocept, Bioceros, BiocerOX Products, Biocon, BioCorRx, BioCryst Pharmaceuticals, BioCure, Biodesix, BioDuro, BioEleven, Biogen, BioGeneration Ventures, Bioharmony Therapeutics, Biohaven Pharmaceutical Holding, BioInvent, BioIVT, Biokinetic Europe, BioLamina, BiolineRX, BioMarin Pharmaceutical, Biomedical Advanced Research and Development Authority, Biomedical Catalyst Fund (UK), BioMed X Innovation Center, Biomica, BioMotiv, BiomX, Biond Biologics, BioNTech, Bionure, Biopharmaceuticals Australia, BioPharma Forest, Bioscience Pharma Partners, Biose Industrie, BioSig Technologies, BioSpring, Biostar Pharmaceuticals, BioTheranostics, Biothera Pharmaceuticals, Biotheus, BioVaxys, Bioventure MDC, Bioventus, Bioverativ, BioVersys, Biovista, BioWa, BioXcel, BirchBioMed, Bird Foundation, BJ Bioscience, Blackstone, Blackstone Medical, Bloom Science, Bluebird Bio, Blueprint Medicines, Blue Water Vaccines, BlueWillow Biologics, Boehringer Ingelheim, Bold Therapeutics, Bone Therapeutics, Bonnie J. Addario Lung Cancer Foundation, Boston Pharmaceuticals, Botanisol, BoyaLife, Bpifrance, BrainStorm Cell Therapeutics, BriaCell Therapeutics, BrickBio, Brickell Biotech, BridgeBio Pharma, Bridge Biotherapeutics, Brigham and Women's Hospital, Brii Biosciences, Bristol-Myers Squibb, Brown University, BryoLogyx, Buck Institute for Age Research, Burning Rock, Butantan Institute, C-Bridge Capital, C2N Diagnostics, C4 Therapeutics, C4X Discovery, Cabaletta Bio, Cadent, Cadent Therapeutics, Cadila Pharmaceuticals, Caladrius Biosciences, Calico, Calidi Biotherapeutics, Califia Pharma, California Institute for Biomedical Research, California Institute for Medical Researc, California Institute for Regenerative Medicine, Calithera Biosciences, Calvert Labs, Calvert Research, Calypso Biotech, Camargo Pharmaceutical Services, Camurus, Can-Fite BioPharma, Canada-Israel Industrial R&D Foundation, Canadian Institutes of Health Research, CanBas, CANbridge Life Sciences, Cancer Prevention and Research Institute of Texas, Cancer Prevention Pharmaceuticals, Cancer Research Technology, Cancer Research UK, Cannabics Pharmaceuticals, Cannabis Science, Cannomed Medical Cannabis Industries, Cantargia, Capricor Therapeutics, CARB-X, Cardiff University, Cardiovascular Solutions of Central Mississippi, Cardium Therapeutics, Cardurion Pharmaceuticals, Caris Life Sciences, Carisma Therapeutics, Carna BioSciences, CARsgen, Cascade Chemistry, Cascadian Therapeutics, Case Western Reserve University, Castle Creek Pharmaceuticals, Catabasis Pharmaceuticals, Catalent, Catalyst Biosciences, Catholic University Leuven, CB Therapeutics, CBT Pharmaceuticals, Cedars-Sinai Medical Center, Cedilla Therapeutics, Celator, Celgene, Cell and Gene Therapy Catapult, Cellectar Biosciences, Cellect Biotechnology, Cellectis, Cellectricon, Cellerant Therapeutics, Cell Medica, Cellmid, Cell Mogrify, Cell Therapy Catapult, Celltrion, Cellular Biomedicine, Celmatix, Celonic, Cel Sci, Celsion, Celularity, Celyad, Cenix BioScience, Censo Biotechnologies, Centers for Disease Control and Prevention, Centogene, Centre de Recherche en Cancérologie de Lyon, Centre for Commercialization of Regenerative Medicine (CCRM), Centre for Human Drug Research, Centre For The Commercialization Of Antibodies And Biologics, Centre Hospital University - Bordeaux, Centre National de Biologie Expérimentale, Centrexion, Cerebral Therapeutics, CereHealth, CERIMED, Certara, Certis, Cerveau Technologies, Cesca Therapeutics, Cevec Pharmaceuticals, cGMP Validation, Champions Oncology, Changchun BCHT Biotechnology, Changzhou Le Sun Pharmaceuticals, Charcot-Marie-Tooth Association, Charite-Universitatsmedizin, Charite Universitatsmedizin Berlin, Charles River Laboratories, Checkmate Pharmaceuticals, Checkpoint Therapeutics, Cheil Pharm, Chembio Diagnostics, Chemveda Life Sciences, Chi-Med, Chiesi Farmaceutici, Children's Hospital Boston, Children's Hospital of Philadelphia, Chimeron Bio, China Medical System, Chinook Therapeutics, Chong Kun Dang, Chongqing Lummy Pharma, ChromaDex, Chroma Therapeutics, Chromocell, Chronos Therapeutics, Chrysalis BioTherapeutics, Chugai Pharmaceutical, Ciclofilin Pharmaceuticals, Cilag AG, CimCure, Cimtech, Cincinnati Children's Hospital Medical Center, Cingulate Therapeutics (CTx), Cipher Pharmaceuticals, Circuit Therapeutics, Cisen Pharma, Citius Pharmaceuticals, CiToxLAB, City College of New York, City of Hope, CiVi Biopharma, Clarity Pharmaceuticals, Claude Bourgelat Institute, Cleave Therapeutics, Clene Nanomedicine, Cleveland Clinic, Clevexel Pharma, Click Therapeutics, Clinical Laserthermia Systems (CLS), Clinica Universidad Navarra, Clover Biopharmaceuticals, Clovis Oncology, CMAB Biopharma, CMC Biologics, CNS Pharmaceuticals, Coalition for Epidemic Preparedness Innovations, Cobra Biologics, Cochin Hospital, Cochlear, Cocrystal Pharma, Codagenix, Codexis, Cofactor Genomics, Cognate BioServices, CohBar, Coherus Biosciences, CoImmune, Colibri Heart Valve, College of Life Science of Northwest University, Columbia Technology Ventures, Columbia University, Colzyx, CombiGene, Compugen, Concept Life Sciences, Confo Therapeutics, Connecticut Innovations, Connexios, ConserV Bioscience, ConsortiaTX, Constance Therapeutics, ContraFect, ConverGene, Cook Biotech, Copenhagen University Hospital, Copernicus Therapeutics, Corbus Pharmaceuticals, Cord Blood Registry, Corden Pharma, CoreBiome, Coronado Biosciences, Cortexyme, Corvidia Therapeutics, Cosmo Bio, COTA, Covance, Covar Pharmaceuticals, CreaGen Biosciences, Crescendo Bioscience, Crestone Pharma, Critical Path Institute (C-Path), Croix-Rousse Hospital, Cronos Group, Crossbeta Biosciences, Crown Bioscience, Crozet BioPharma, CRT Pioneer Fund, CrystalGenomics, CSIRO, CSL, CSL Behring, CSPC Pharmaceutical Group, CStone Pharmaceuticals, Cullinan Oncology, Cumulus Oncology, Curadev Pharma, Curative Biotechnology, CureCell, Cure Duchenne, CureVac, Cureveda, Curie-Cancer, Curis, CVC, Cyclacel Pharmaceuticals, Cyclica, Cynata Therapeutics, Cypralis, Cystic Fibrosis Foundation, Cystic Fibrosis Foundation Therapeutics, Cyteir Therapeutics, Cytiva, CytoAgents, Cytocom, Cytokinetics, CytomX Therapeutics, Cytos Biotechnology, CytoVale, Cytovance Biologics, Cytovant Sciences, CYTOVIA Therapeutics, Cyxone, D. Western Therapeutics Institute, Daiichi Sankyo, Dainippon Sumitomo Pharma, Dako, Dalhousie University, Dana-Farber Cancer Institute, Danish Innovation Fund, DarwinHealth, Debiopharm, Decibel Therapeutics, DecImmune Therapeutics, de Duve Institute, Deerfield Management, Defense Advanced Research Projects Agency, Defense Threat Reduction Agency, Defymed, Deinove, Delphi Genetics, DeMelle OncoPharma, Denali Therapeutics, Denator, Dendreon, DendroCyte, Denovo Biopharma, Department of Defense, Department of Economic development of Montgomery County, Department of Health and Human Services, Department of Veterans Affairs, DePuy, Dermata Therapeutics, Dermelix Biotherapeutics, Dermira, Dewpoint Therapeutics, Dexcel Pharma, DiagnoCure, Diamond Therapeutics, Dianomi Therapeutics, Diaprost, Diatheva, Dicerna Pharmaceuticals, Diffusion Pharmaceuticals, Dimension Therapeutics, DiNAQOR, DiNonA, Diverse Biotech, DNA Therapeutics, DNX Biopharmaceuticals, Dogma Therapeutics, Domain Therapeutics, Dong-A ST, Dr. Falk Pharma, Dr. Reddy's Laboratories, Dragonfly Therapeutics, DreaMed Diabetes, Drugs for Neglected Diseases Initiative, DSM, Dual Therapeutics, Duke-NUS Graduate Medical School Singapore, Duke University, Dyadic International, Dynacure, Dyna Therapeutics, Dynavax Technologies, DynPort Vaccine Company, Eagle Pharmaceuticals, Eddingpharm, Edelris, Edesa Biotech, Editas Medicine, Educational and Scientific, Eirion Therapeutics, Eisai, Elanco, Eleven Biotherapeutics, Elicio Therapeutics, Eligo Bioscience, Eli Lilly, Elpiscience, ElsaLys Biotech, EMD Millipore, EMD Serono, Emergent BioSolutions, Emergex Vaccines, Emory University, Emulate, Endotherm, Enesi Pharma, Enigma Biomedical, Enlivex, Ennaid Therapeutics, Enochian Biosciences, Ensysce Biosciences, Entasis Therapeutics, Enterome Bioscience, Enterprise Therapeutics, Entheon Biomedical, Entia Biosciences, Entos Pharmaceuticals, Enumeral Biomedical, Environmental Protection Agency, ENYO Pharma, Enzychem Lifesciences, Epigen Biosciences, Epilepsy Foundation (EF), EpimAb Biotherapeutics, Epivax, EpiVax Therapeutics, Epsilogen, Epygen Biotech, Erasmus University Medical Center, Erytech, Escient Pharmaceuticals, EspeRare Foundation, Essex Bio-Technology, Esteve, Eternygen, Ethris, Euclises Pharmaceuticals, Eureka Eurostars, Eureka Therapeutics, Eurocine Vaccines, Eurofins Discovery, European Commission, European Union, Evecxia, Everest Medicines, Evgen Pharma, Evolva, Evolve BioSystems, Evommune, Evotec, Ewha Womans University, Exact Therapeutics, ExCellThera, Excelra, Exelixis, Exicure, Exonate, Expesicor, ExpreS2ion Biotechnologies, Exuma Biotech, EyeMedics, Eyenovia, Eyevance, F1 Oncology, FAAH Pharma, Facit, Fapon Biopharma, Farmacore Biotechnology, Faron Pharmaceuticals, Fast Forward, Fatro, Federal Ministry of Education and Research (BMBF), Federal Ministry of Health (Germany), Feinstein Institute for Medical Research, Feldan Therapeutics, FerGene, Ferring Pharmaceuticals, Fibriant, Fibrocell Science, Fibrocor Therapeutics, FibroGenesis, FightMND, Fimbrion Therapeutics, Five Prime Therapeutics, Flame Biosciences, Flemish agency for Innovation by Science and Technology, Flexion Therapeutics, FloDesign Sonics, Florey Institute of Neuroscience and Mental Heath, Florida International University, Florida State University, Flowonix, Flow Pharma, FluGen, FLX Bio, Fondazione Telethon, Food and Drug Administration (FDA), Forbion Capital Partners, Forbius, Forge Therapeutics, FORMA Therapeutics, Formula Pharmaceuticals, Fortify Therapeutics, Fortress Biotech, Forty Seven, Fosun Pharmaceutical, Foundation for Biomedical Research and Innovation, Foundation to Eradicate Duchenne, FoxBio, Fox Chase Cancer Center, Fred Hutchinson Cancer Research Center, Frequency Therapeutics, FSD Pharma, Fudan University, Fuhong Hanlin, Fujifilm, Fujifilm Diosynth Biotechnologies, Fulgent Pharma, G-Tech Bio, G1 Therapeutics, G3 Pharmaceuticals, GACI Global, Galapagos, Galmed Pharmaceuticals, GamaMabs Pharma, Gamida Cell, Gannex Pharma, GB Sciences, Gedeon Richter, Gem Pharma, Gen-Probe, GEn1E Lifesciences, Genea Biocells, GeneCentric Therapeutics, Genentech, GeneQuantum Healthcare, GeneQuine Biotherapeutics, Generex Biotechnology, GeneSegues, Genethon, Genetic Immunity, GeneTx Biotherapeutics, GeNeuro, Genevant Sciences, Genexine, Genkyotex, Genmab, Genocea Biosciences, Genomic Health, Genprex, GenScript Biotech, Gensight, GenSpera, GenStem Therapeutics, Genticel, GenVec, George Mason University, Georgetown University, George Washington University, Georgia State University, Georgia Tech Research Corporation, GeoVax, German Cancer Research Center, German Red Cross, Gesynta Pharma, Gibson Oncology, Gilead Sciences, Ginkgo BioWorks, Glaukos, GlaxoSmithKline, GlaxoSmithKline Biologicals, Glenmark Pharmaceuticals, Glialogix, Global Cancer Technology, Glycotope Biotechnology, Glympse Bio, Glythera, Golden Mountain Partners, Goldfinch Bio, Government of Australia, Government of Canada, Government of Netherlands, GPCR Therapeutics, Gradalis, Grail, Graphite Bio, GrayBug, Great Bay Bio, Green Cross LabCell, Greenlight Biosciences, Greenwich LifeSciences, Grifols, Gritstone Oncology, Group K Diagnostics, GT Biopharma, GTx, Guangzhou Boji Medical Biotechnological, Guangzhou Institute of Biomedicine and Health, Gubra, GW Pharmaceuticals, H&P Labs, Hackensack Meridian Health, Hadasit Medical Research Services and Development, Hadassah Medical Center, Hainan Sihuan Pharmaceutical, Halozyme Therapeutics, HanAll Pharmaceuticals, Hangzhou Zhongmei Huadong Pharmaceutical, HanX Biopharmaceuticals, Harbour Biomed, Harpoon Therapeutics, Harvard University, Hatchtech, Havn Life Sciences, Hawaii Biotech, HD Biosciences, Healios K.K., Health Connexions, HemaCare, Hemera Biosciences, HemoShear, Henlius Biotech, Henry Ford Health System, Henry M. Jackson Foundation, Hepion Pharmaceuticals, Heraeus, HiberCell, HiFiBio, Hillhurst Biopharmaceuticals, Hillstream BioPharma, Histogen, Histogenics, HitGen, Hoffmann La Roche, Hologic, Hong Kong Polytechnic University, Hope Medicine, Horama, Horizon 2020, Horizon Discovery, Horizon Therapeutics, Hoth Therapeutics, HSRx Group, Hualan Genetic, Humabs BioMed, Humanetics, Humanigen, Hummingbird Bioscience, Huntsman Cancer Institute, HUYA Bioscience, Hybridyne Imaging Technologies, Hydra Biosciences, Hyundai Pharmaceutical, I-mab, IACTA Pharmaceuticals, IBC Generium, iBio, Icahn School of Medicine at Mount Sinai, IcanoMAB, Ichor Medical Systems, Iconic Therapeutics, iDD Biotech, IDEAYA Biosciences, Idera Pharmaceuticals, Idorsia, IDT Biologika, IGAN Biosciences, Igenica, IGM Biosciences, Ignyta, IGXBio, Igyxos, Iksuda Therapeutics, Ildong Pharmaceutical, ILiAD Biotechnologies, Illumina, ImageIQ, ImaginAb, Imago Pharmaceuticals, Imanis Life Sciences, ImCheck Therapeutics, Imcyse, Immodulon Therapeutics, ImmuneOncia Therapeutics, Immune Therapeutics, ImmuNext, Immunic, ImmunityBio, ImmunoBiochem, Immunocore, ImmunoForge, ImmunoGen, Immunome, Immunomedics, Immunomic, ImmunoPhotonics, ImmunoPrecise Antibodies, ImmunoQure, ImmunoTek Bio Centers, Immuron, ImmVira, Imperial College London, Imperial Innovations, ImQuest BioSciences, Inception Sciences, Incyte, Indapta Therapeutics, Indiana University, Indica Labs, Indivior, Inexia, Infectious Disease Research Institute (IDRI), Infinity Pharmaceuticals, InflamaCORE, Inflection Biosciences, Inhibikase Therapeutics, Inhibrx, Initiator Pharma, Inmagene Biopharmaceuticals, InMed Pharmaceuticals, INmune Bio, Innate Pharma, Innovate Biopharmaceuticals, Innovate UK, Innovation Pharmaceuticals, Innovent Biologics, Inoviem Scientific, Inovio Pharmaceuticals, Inozyme Pharma, Inserm, Inserm Transfert, Insilico, Insmed Inc, InSphero, Inspyr Therapeutics, Institut Curie, Institute for Bioscience and Biotechnology Research, Institute for Research in Immunology and Cancer – Commercialization of Research, Institute for the Promotion of Innovation by Science and Technology in Flanders, Institute of Biomedical Research, Institute of Biophysics, Institute of Endocrinology, Metabolism, and Reproduction, Institute of Hematology and Blood Transfusion, Institut Pasteur, Intarcia Therapeutics, Intec Pharma, IntegraGen, Integrated BioTherapeutics, IntelliCell BioSciences, International Stem Cell, International Vaccine Institute (IVI), Interpace Diagnostics, Intravacc, Intrexon, iNtRON Biotechnology, IntuitiveX, Invetx, Invigorcell, Ionis Pharmaceuticals, Io Therapeutics, Iovance Biotherapeutics, IOVaxis Therapeutics, ipCapital Group, I Peace, Ipsen, ISA Pharmaceuticals, ISA Scientific, ISD Immunotech, Isomerase Therapeutics, IsoPlexis, Isoprene Pharmaceuticals, IsoTherapeutics, Israeli National Authority for Technological Innovation, iTeos Therapeutics, Itus, Iveric Bio, Ivy Brain Tumor Center, Jackson Laboratory, Jadi Cell, JanOne, Janssen Biotech, Janssen Pharmaceuticals, Janssen Pharmaceutica NV, Janssen Research & Development, Japan Tobacco, Jasper Therapeutics, Javelin Biotech, Jazz Pharmaceuticals, JCR Pharmaceuticals, jCyte, Jellagen, Jenner Institute, JHL Biotech, Jiangsu Hansoh Pharmaceutical, Jiangsu Hengrui Medicine, Jiangsu Qyun Bio-Pharmaceutical, Jiangsu QYuns Therapeutics, Ji Xing Pharmaceuticals, John Hopkins University School of Medicines, Johns Hopkins University, Johnson & Johnson, Johnson & Johnson Innovation, Johnson Matthey, Jounce Therapeutics, JSC Pharmadis, JSR, Jubilant Biosys, Jubilant Radiopharma, Jubilant Therapeutics, Juno Therapeutics, Junshi Biosciences, Just Biotherapeutics, Juvenescence, Juvenile Diabetes Research Foundation, Juventas Therapeutics, JW Pharmaceutical, JW Therapeutics, Kadmon Pharmaceuticals, Kaken Pharmaceutical, Kaldi Pharma, Kalgene Pharmaceuticals, KaliVir Immunotherapeutics, Kalon Biotherapeutics, KalVista Pharmaceuticals, Kalytera Therapeutics, Kamada, Kanaph Therapeutics, Kantaro Biosciences, Kanyr Pharma, Karo Bio, Karolinska Development, Karolinska Institute, Karus Therapeutics, Karyopharm Therapeutics, Kashiv BioSciences, Kazia Therapeutics, KBI BioPharma, KDAc Therapeutics, Keck School of Medicine of USC, Kedrion Biopharma, Keio Gijuku University, Kemwell BioPharma, Kennedy Trust For Rheumatology Research, Kentucky Organ Donor Affiliates, Khon Kaen University, Kiadis Pharma, Kindred Bio, KineMed, Kineta, Kinetic Concepts, Kinex Pharmaceuticals, Kings College London, Kiniksa Pharmaceuticals, Kinnear Pharmaceuticals, KinoPharma, Kinoxis Therapeutics, Kintor, Kiq, Kite Pharma, Kitov Pharma, Kiyatec, Kleo Pharmaceuticals, Knight Cancer Institute, Knight Therapeutics, Knopp Biosciences, Kolltan Pharmaceuticals, Konkuk University, Korea-Israel Industrial R&D Foundation, Kronos, Kubota Vision, KYAN Therapeutics, Kyn Therapeutics, Kyorin Pharmaceutical, Kyowa Hakko Kirin, Kythera Biopharmaceuticals, L&F Research, L'Oreal, LabCentral, Laboratoires Thea, Laboratory Corporation of America, Lactiga, Laekna, La Jolla Institute for Allergy & Immunology, La Jolla Pharmaceutical, Lamassu Pharma, LambdaVision, LamKap Bio Group, Lantern Pharma, La Paz Hospital, Laurel Therapeutics, Laurel Venture Capital, Lauren Sciences, Lava Therapeutics, Lawrence Livermore National Laboratory, Lawson Health Research Institute, LCS Therapeutics, Leap Therapeutics, Lee's Pharmaceutical, Lee Moffitt Cancer Center, Legend Biotech, LegoChem Biosciences, Leica Biosystems, Leicester University, Leiden University, Leidos, LEITAT, Lentigen, Leona M and Harry B Helmsley Charitable Trust, LEO Pharma, Les Laboratoires Servier, Leukemia & Lymphoma Society, Leukocare, LGC, LG Life Sciences, LianBio, Liechti Lab, LifeArc, LifeMap Sciences, Life Science Research, Ligand Pharmaceuticals, Light Chain Bioscience, Lightlake Therapeutics, Lin Bioscience, Lineage Cell Therapeutics, LineaRx, Linnaeus Therapeutics, Linus Oncology, LiteVax, Live Like Bella Childhood Cancer Foundation, Livzon Mabpharm, Lixte Biotechnology, Locana, Locate Therapeutics, Locus Biosciences, Lodo Therapeutics, LogicBio Therapeutics, Longevity Biotech, Lonza, Loxo Oncology, LSK BioPharma, LSU Health Sciences Center, Lubeck Institute of Experimental Dermatology, Lucerne Biosciences, Luc Therapeutics, LumiThera, Lumos Pharma, Lundbeck, Lund University, Lung Biotechnology, Lupagen, Lupin Limited, Lupin Pharmaceuticals, Lupus Foundation of America (LFA), Luxcel Biosciences, Lyndra Therapeutics, Lysogene, Lysosomal Therapeutics, Lytica Therapeutics, Lytix Biopharma, Maastricht University, MAB Discovery, MabVax Therapeutics, Macrogenics, Macromoltek, Magenta Therapeutics, MagicMed Industries, Mallinckrodt Pharmaceuticals, MangoGen Pharma, Manhattan BioSolutions, Mannin Research, MapKure, Mapp Biopharmaceutical, Marinomed Biotechnologie, Mars Symbioscience, Maruho, Maryland Stem Cell Research Fund, Massachusetts General Hospital, Massachusetts Institute of Technology, Massachusetts Life Sciences Center, Mateon Therapeutics, Matinas Biopharma, MaveriX Oncology, Max-Planck, Maxcyte, Mayo Clinic, McGill University, McMaster University, McQuade Center for Strategic Research and Development, MD Anderson Cancer Center, MDA Venture Philanthropy, MDimune, MDNA Life Sciences, MDxHealth, Meabco, Mebias Discovery, Medac, Medicago, Medical Prognosis Institute, Medical Research Council, Medical University of Graz, Medical University of Innsbruck, Medical University of Vienna, Medicenna Therapeutics, Medicines Discovery Catapult, Medifocus, MediGene, Medigen Vaccine Biologics, MedImmune, Mediolanum, Medison Pharma, Medivir, MediWound, Medpace, Medtronic, Memorial Sloan Kettering Cancer Center, Menarini, Merck and Co, Merck KGaA, Merck Serono, Merck Sharpe & Dohme, Merrimack Pharmaceuticals, Mersana Therapeutics, Merus, Merz, Mesoblast, Metabasis Therapeutics, Metabolon, Metaclipse Therapeutics, Metacrine, Metagenomi, Metrion Biosciences, MetVital, MGB Biopharma, Michael J Fox Foundation, Michigan State University, Microbion, Microbiotica, MicroConstants, MicroCures, Microlin Bio, Micron Biomedical, Midatech, Millar, Millennium, MilliporeSigma, MimiVax, MiNA Therapeutics, Mind Medicine, MinervaX, MiniVax, miRagen Therapeutics, Mirati Therapeutics, MirImmune, Mironid, Mission Therapeutics, Mitacs, Mitochon Pharmaceuticals, MITRO Biotech, Mitsubishi Tanabe Pharma, Mochida Pharmaceutical, Moderna Therapeutics, Modern Biosciences, MolecularMD, Molecular Partners, Molecular Templates, Moleculin Biotech, Molnlycke Health Care, Mologen, Momenta Pharmaceuticals, Monopar Therapeutics, Moores Cancer Center, MorphoSys, Mount Sinai Health System, Mount Sinai Medical Center, Mount Tam Biotechnologies, Movember Foundation, mProbe Laboratories, MRIGlobal, MultiCell Immunotherapeutics, Multiple Myeloma Research Foundation, Mundipharma, Murdoch Childrens Research Institute, Muscular Dystrophy Association, Musella Foundation For Brain Tumor Research & Information, Mustang Therapeutics, MyBiotics Pharma, Mycenax Biotech, Mylan Pharmaceuticals, Mymetics, MYM Nutraceuticals, MyoKardia, Myonexus Therapeutics, MYOS, Naason Science, Naia Pharma, Nancy Lurie Marks Family Foundation, Nanjing BioSciKin, NanoBio, Nanobiotix, Nanotherapeutics, NanoTx Therapeutics, NanoViricides, Nanovis, NantBioScience, NantKwest, Nantong Jinghua Pharmaceutical, NantVentures, NantWorks, Nanyang Technological University, NASA, Nascent Biotech, Natera, National Cancer Center, National Cancer Institute, National Center for Advancing Translational Sciences (NCATS), National Center for Complementary and Integrative Health, National Centre for Research and Development, National Comprehensive Cancer Network (NCCN), National Eye Institute, National Health Research Institute, National Heart, Lung and Blood Institute, National Institute of Allergy and Infectious Diseases, National Institute of Arthritis and Musculoskeletal Diseases, National Institute of Biomedical Imaging and Bioengineering, National Institute of Dental and Craniofacial Research (NIDCR), National Institute of Diabetes and Digestive and Kidney Diseases, National Institute of Infectious Diseases, National Institute of Neurological Disorders and Stroke, National Institute on Aging, National Institute on Alcohol Abuse and Alcoholism (NIAAA), National Institute on Deafness and Other Communication Disorders, National Institute on Drug Abuse (NIDA), National Institutes for Quantum and Radiological Science and Technology, National Institutes of Health, National Research Council Canada, National Research Council Industrial Research Assistance Program, National Science Foundation, National Stem Cell Foundation, National University Hospital, National University of Singapore, Nationwide Children's Hospital, Natural Sciences and Engineering Research Council of Canada, Navidea Biopharmaceuticals, Navitor Pharmaceuticals, NBE Therapeutics, Nektar Therapeutics, Nemucore Medical Innovations, Nencki Institute, NeoDynamics, Neogenomics, Neomed Institute, Neon Therapeutics, Neos Therapeutics, Neovacs, Nerviano Medical Sciences, Nestle Health Science, Netherlands Cancer Institute, NeuCyte, NeurAegis, NeuralStem, Neuraly, NeurAxon, Neurocrine Biosciences, NeuroCycle Therapeutics, Neurolixis, NeuroLucent, Neuron-Experts, Neuropore Therapies, NeuroTrauma, NeuroVive Pharmaceutical, NeuRx Pharmaceuticals, Neuway Pharma, NewCanna Hub, Newsoara Biopharma, New York Blood Center, New York Presbyterian/Columbia, New York University, New Zealand's Foundation for Research, Science and Technology, New Zealand Pharmaceuticals, Neximmune, NEXT Oncology, NGM Biopharmaceuticals, NHS Blood and Transplant, Nicox, Nightstar Therapeutics, Nihon Medi-Physics, NiKang Therapeutics, Nimbus Therapeutics, Ningbo NewBay Medical Technology, Ningbo Tai Kang Medical Technology, Nitrome Biosciences, NJCTTQ, NKMax America, NLC Pharma, Noachis Terra, Noema Pharma, Noile-Immune Biotech, Nordic Bioscience, North Carolina State University, Northern Biologics, Northern Biomedical Research, NorthShore University HealthSystem, NorthStar Medical Radioisotopes, Northwestern Medicine Developmental Therapeutics Institute, Northwestern University, Norwegian Research Council, Nosopharm, Novan, Novan Therapeutics, Novartis, Novartis Institute for Tropical Diseases, NovaSAID, Novasep, Novavax, NoveCite, Novellus Therapeutics, Novigenix, NovImmune, NovoCodex, Novocure, Novogen, Novonco Pharmaceuticals, Novo Nordisk, Novoron Bioscience, Novotech, Nuclea Biotechnologies, Nucro Technics, Nuevolution, Numab, Nuo Therapeutics, Nuviant Medical, NYU Grossman School of Medicine for Preclinical and Clinical Research, OBI Pharma, Oblique Therapeutics, Obsidian Therapeutics, Ocata Therapeutics, Ocugen, Ocular Therapeutics, Ocumension Therapeutics, OcuNexus Therapeutics, ODx, Odylia Therapeutics, Ohio State University, OHM Oncology, Ohr Pharmaceuticals, OKYO Pharma, Oligomerix, OliX Pharmaceuticals, Ology Bioservices, Oncgnostics, OncoCare Therapeutics, Oncoceutics, Oncodesign, Oncodrone, OncoGenex Pharmaceuticals, OncoImmune, Oncologie, Oncology Venture, Oncolys BioPharma, OncoNano Medicine, Onconova Therapeutics, OncoSec Medical, Oncosynergy, OncoTAb, Oncotelic, OncoTracker, Oncternal Therapeutics, Oncurious, OneThree Biotech, ONK Therapeutics, OnKure, ONL Therapeutics, Ono Pharmaceutical, Ontario Institute for Cancer Research, Ontochem, Onxeo, Open Monoclonal Technology, Ophirex, Ophthotech, OPKO Health, OptiBiotix, Oragenics, Oraxion Therapeutics, Orca Pharmaceuticals, Orchard Therapeutics, Orexia Therapeutics, Orexo, Organicell Regenerative Medicine, Organic Vaccines, Organovo, Orgenesis, ORIC Pharmaceuticals, Oricula Therpeutics, OrImmune Bio, Orphazyme, Ortho-Clinical Diagnostics, OrthoCyte, Oryzon, OSE Immunotherapeutics, Osel, OSI Pharmaceuticals, Ospedale San Raffaele, Ossianix, OS Therapies, Otonomy, Otsuka, Outpost Medicine, Overland ADCT BioPharma, Overland Pharmaceuticals, Ovid Therapeutics, OWC Pharmaceutical Research, Oxford BioTherapeutics, Oxis Biotech, Oxis International, Padlock Therapeutics, Paidion Research, Pain Therapeutics, Palatin Technologies, Palisade Bio, Pall Corporation, Panacea Biotech, Panacea Pharmaceuticals, Pandion Therapeutics, Panion, Panolos Bioscience, Panther Biotechnology, Pantherics, PapGene, Paracelsus Medical University, Paragon Bioservices, Paratek Pharmaceuticals, Parent Project Muscular Dystrophy, Parion Sciences, Paris Descartes University, Parkinson's Institute and Clinical Center, Parkinson's UK, Parnell Pharmaceutical Holdings, Particle Sciences, Parvus Therapeutics, Pascal Biosciences, Passage Bio, PATH (Appropriate Technology in Health), Path BioAnalytics, PathMaker Neurosystems, Pathogen and Microbiome Institute, PaxVax, PCI Biotech, PDI Therapeutics, PDS Biotechnology, Pediatric Oncology Experimental Therapeutics Investigators Consortium, Pelican Therapeutics, Pep Therapy, Peptide Logic, PeptiDream, Perelman School of Medicine, Perlara, Perrigo, Personal Genome Diagnostics, Petra Pharma, Pfenex, Pfizer, PharmAbcine, Pharmacyclics
For full list of comapnies please contact us on orders@currentpartnering.com
Current Partnering reports provide insight into the trends and terms of partnering deals in the global life sciences sector.
Current Partnering reports are updated every six months to ensure the user has access to the latest announcements and trends in the topic focus of the report.
Current Partnering analysts review the deal data to provide an overview and analysis of deal trends, including example deals and terms.
Current Partnering reports source deal data from our proprietary deals and alliances database, Current Agreements. The database is updated daily by our analysts with new deals as they are announced globally by the company's party to the deal. In addition, deal records are updated with new data as it becomes available.
The data in the Current Agreements deals and alliances database is obtained from secondary sources such as publicly available industry sources including press releases, company presentations, investor presentations, company SEC filings, other company filings, company websites, conference presentations. Sources are identified to allow for user verification.
Current Partnering provides comprehensive coverage of the following partnering or deal types:
• Asset purchase
• Assignment
• Co-development
• Co-market
• Co-promotion
• Collaborative R&D
• Contract service
• CRADA
• Cross-licensing
• Development
• Distribution
• Equity purchase
• Evaluation
• Grant
• Joint venture
• Licensing
• Loan
• Manufacturing
• Marketing
• Option
• Promotion
• Research
• Royalty financing
• Settlement
• Spin out
• Sub license
• Supply
• Termination
• Warrant
Every deal record is fully categorized and includes the following data, where available:
• Industry sector
• Therapy areas
• Technology type
• Deal components
• Financial terms
• Stage of development
• Exclusivity
• Asset type
• Geographic focus
• Excluded geography
• Company press release
• SEC filing data including contract document
All financial amounts are converted to US$ using the exchange rate available on the date of deal announcement, enabling direct comparison of deal terms across international territories.
Financial data and contract documents displayed in deal records is obtained from public sources, where disclosed by the parties to the deal.
We found other products you might like!