Global Medical Device Partnering Terms and Agreements 2016-2023
Global Medical Device Partnering Terms and Agreements 2016-2023 report provides a detailed understanding and analysis of how and why companies enter medical device partnering deals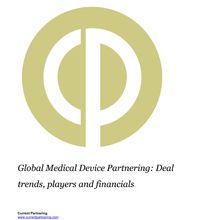 Publication date
March 2023
Product type
Research report
Available formats
PDF document
Global Medical Device Partnering Terms and Agreements 2016-2023 report provides a detailed understanding and analysis of how and why companies enter medical device partnering deals.
This report provides details of the latest medical device agreements announced in the life sciences since 2016.
The report takes the reader through a comprehensive review medical device deal trends, key players, top deal values, as well as deal financials, allowing the understanding of how, why and under what terms, companies are entering medical device partnering deals.
The report presents financial deal term values for medical device deals, listing by headline value, upfront payments, milestone payments and royalties, enabling readers to analyse and benchmark the financial value of deals.
The middle section of the report explores the leading dealmakers in the medical device partnering field; both the leading deal values and most active medical device dealmaker companies are reported allowing the reader to see who is succeeding in this dynamic dealmaking market.
One of the key highlights of the report is that over 1,700 online deal records of actual medical device deals, as disclosed by the deal parties, are included towards the end of the report in a directory format – by company A-Z, stage of development, deal type, therapy focus, and technology type - that is easy to reference. Each deal record in the report links via Weblink to an online version of the deal.
In addition, where available, records include contract documents as submitted to the Securities Exchange Commission by companies and their partners. Whilst many companies will be seeking details of the payment clauses, the devil is in the detail in terms of how payments are triggered – contract documents provide this insight where press releases and databases do not.
The initial chapters of this report provide an orientation of medical device dealmaking. Chapter 1 provides an introduction to the report, whilst chapter 2 provides an overview of the trends in medical device dealmaking since 2016, including details of headline, upfront, milestone and royalty terms.
Chapter 3 provides a review of the leading medical device deals since 2016. Deals are listed by headline value. Where the deal has an agreement contract published at the SEC a link provides online access to the contract.
Chapter 4 provides a comprehensive listing of the top 25 most active companies in medical device dealmaking with a brief summary followed by a comprehensive listing of medical device deals announded by that company, as well as contract documents, where available.
Chapter 5 provides a comprehensive and detailed review of medical device partnering deals signed and announced since Jan 2016, where a contract document is available in the public domain. Each deal title links via Weblink to an online version of the deal record and contract document, providing easy access to each contract document on demand.
Chapter 6 provides a comprehensive and detailed review of medical device partnering deals signed and announced since Jan 2016. The chapter is organized by specific technology type. Each deal title links via Weblink to an online version of the deal record and where available, the contract document, providing easy access to each deal on demand.
A comprehensive series of appendices is provided organized by medical device partnering company A-Z, stage of development, deal type, and therapy focus. Each deal title links via Weblink to an online version of the deal record and where available, the contract document, providing easy access to each deal on demand.
The report also includes numerous tables and figures that illustrate the trends and activities in medical device partnering and dealmaking since 2016.
In conclusion, this report provides everything a prospective dealmaker needs to know about partnering in the research, development and commercialization of medical device technologies and products.
Key benefits
Global Medical Device Partnering Terms and Agreements 2016-2023 provides the reader with the following key benefits:
In-depth understanding of medical device deal trends since 2016
Access to headline, upfront, milestone and royalty data
Detailed access to actual medical device contracts entered into by leading biopharma companies
Identify most active medical device dealmakers since 2016
Insight into terms included in a medical device partnering agreement, with real world examples
Understand the key deal terms companies have agreed in previous deals
Undertake due diligence to assess suitability of your proposed deal terms for partner companies
Report scope
Global Medical Device Partnering Terms and Agreements 2016-2023 is intended to provide the reader with an in-depth understanding and access to medical device trends and structure of deals entered into by leading companies worldwide.
Medical Device Partnering Terms and Agreements includes:
Trends in medical device dealmaking in the biopharma industry since 2016
Access to headline, upfront, milestone and royalty data
Access to medical device contract documents
Leading medical device deals by value since 2016
Most active medical device dealmakers since 2016
In Global Medical Device Partnering Terms and Agreements 2016-2023, the available deals are listed by:
Company A-Z
Headline value
Stage of development at signing
Deal component type
Specific therapy target
Technology type
Each deal title links via Weblink to an online version of the deal record and where available, the contract document, providing easy access to each contract document on demand.
The Global Medical Device Partnering Terms and Agreements 2016-2023 report provides comprehensive access to available deals and contract documents for over 1,700 medical device deals.
Analyzing actual contract agreements allows assessment of the following:
What are the precise rights granted or optioned?
What is actually granted by the agreement to the partner company?
What exclusivity is granted?
What is the payment structure for the deal?
How are sales and payments audited?
What is the deal term?
How are the key terms of the agreement defined?
How are IPRs handled and owned?
Who is responsible for commercialization?
Who is responsible for development, supply, and manufacture?
How is confidentiality and publication managed?
How are disputes to be resolved?
Under what conditions can the deal be terminated?
What happens when there is a change of ownership?
What sublicensing and subcontracting provisions have been agreed?
Which boilerplate clauses does the company insist upon?
Which boilerplate clauses appear to differ from partner to partner or deal type to deal type?
Which jurisdiction does the company insist upon for agreement law?
Global Medical Device Partnering Terms and Agreements 2016-2023 provides the reader with the following key benefits:
In-depth understanding of medical device deal trends since 2016
Access to headline, upfront, milestone and royalty data
Detailed access to actual medical device contracts entered into by leading biopharma companies
Identify most active medical device dealmakers since 2016
Insight into terms included in a medical device partnering agreement, with real world examples
Understand the key deal terms companies have agreed in previous deals
Undertake due diligence to assess suitability of your proposed deal terms for partner companies
Executive Summary
Chapter 1 – Introduction
Chapter 2 – Trends in medical device dealmaking
2.1. Introduction
2.2. Medical device partnering over the years
2.3. Most active medical device dealmakers
2.4. Medical device partnering by deal type
2.5. Medical device partnering by therapy area
2.6. Medical device partnering by technology type
2.7. Deal terms for medical device partnering
2.7.1 Medical device partnering headline values
2.7.2 Medical device deal upfront payments
2.7.3 Medical device deal milestone payments
2.7.4 Medical device royalty rates
Chapter 3 – Leading medical device deals
3.1. Introduction
3.2. Top medical device deals by value
Chapter 4 – Most active medical device dealmakers
4.1. Introduction
4.2. Most active medical device dealmakers
4.3. Most active medical device partnering company profiles
Chapter 5 – medical device contracts dealmaking directory
5.1. Introduction
5.2. Medical device contracts dealmaking directory
Chapter 6 – Medical device dealmaking by technology type
Appendices
Appendix 1 – Medical device deals by company A-Z
Appendix 2 – Medical device deals by stage of development
Appendix 3 – Medical device deals by deal type
Appendix 4 – Medical device deals by therapy area
Appendix 5 – Deal type definitions
Appendix 6 – Further reading
About Wildwood Ventures
Current Partnering
Current Agreements
Recent report titles from Current Partnering
Table of figures
Figure 1: Medical device partnering since 2016
Figure 2: Active medical device dealmaking activity since 2016
Figure 3: Medical device partnering by deal type since 2016
Figure 4: Medical device partnering by disease type since 2016
Figure 5: Medical device partnering by technology type since 2016
Figure 6: Medical device deals with a headline value
Figure 7: Medical device deals with an upfront value
Figure 8: Medical device deals with a milestone value
Figure 9: Medical device deals with a royalty rate value
Figure 10: Top medical device deals by value since 2016
Figure 11: Most active medical device dealmakers since 2016
Pricing options
$3,995: single-user
$5,745: multi-user
$10,995: single site license
$17,995: global site license
A full explanation of license type definitions can be found here.
Our guarantee
Price promise
We guarantee our prices are competitive. If you find the same report advertised at a lower price within 7 days of purchase, we will refund the difference.
Delivery Deadline
We guarantee that the report will be sent within the specified delivery times. In the unlikely case of a delay we may offer a partial refund as compensation. (Terms may apply)
Latest report
If an update is published within 30 days of your purchase, you will receive it absolutely free of charge.
Serious Security
We take your data and security seriously. See our privacy policy for details of how we manage your data.
All card payments are processed by SagePay.
Sales Support
If you have any questions about your report or are unhappy with the quality, we will do our best to resolve your query. Contact us direct.
Total Trust
Current Partnering is part of Wildwood Ventures Ltd., based in York, United Kingdom. We have been trading successfully online since 2009 and work with some of the most famous brands in the business. We carefully select our partners to ensure that the publications meet expectations of demanding customers.
1A Pharma, 3D-Micromac, 3D-Side, 3D Systems, 3M, 3Shape, 4WEB Medical, 7D Surgical, 11 Health and Technologies, 22nd Century, AA Medical, AAP Implantate AG, Aarhus University Hospital, Aatru Medical, ABB Optical Group, Abbott Laboratories, Abbott Vascular Devices, Abbvie, Abiomed, Abionic, Ablynx, Ab Medica, Abram Scientific, Abrasive Technology, Acacia Research, Academy Medical, Acandis, Acare Medical Science, Accenture, Access Scientific, Access Vascular, Accuray, AccurKardia, AccuTec Blades, Acell, Acelrx Pharmaceuticals, ACE Solutech, Actigraph, Activbody, Active Implants, ActLight, Acucela, Aculys Pharma, Acuna-Fombona, Acurable, Acutus Medical, Adacyte Therapeutics, Adaptiiv, ADAS 3D Medical, Additive Orthopaedics, AddUp, Adeor Medical, Adept Neuro, Admedus, ADM Tronics, Advanced Aesthetic Technologies, Advanced BioInformatics, Advanced Cooling Therapy, Advanced Guidance Technologies, Advanced Medical Solutions, Advanced Prenatal Therapeutics, AdvanSource Biomaterials, Adventus Ventures, Adyton, Aerapy, Aerolase, Aesculap, Aesthetic Management Partners, Aesthetic Solutions, Aethlon Medical, AffaMed Therapeutics, AgaMatrix, Agile Biodetection, AG Industries, Aidoc, Air Force Research Laboratory, AIT Therapeutics, Akida, Akili Interactive Labs, Alat Medika Indonesia, Alberta Health Services, Al Danah Medical Company, Aleph Objects, Aleris, Aleva Neurotherapeutics, AlfaMed, Alfred E. Mann Institute for Biomedical Engineering, Align Technology, AliMed, Alimentiv, Alimera Sciences, Alio Medical, AliveCor, Alive Sciences, ALK-Abello, Allay Therapeutics, Allcure Kangtai Proton Technology, Allegheny General Hospital, Allegheny Technologies, Allegori, Allergan Aesthetics, Alleviant Health Centers, Alliance Medical, AllianceRx Walgreens Prime, Allotex, Ally Bridge Group, Almirall, Alpha Tau Medical, ALR Technologies, Altamira Therapeutics, Altoida, Altrix Medical, Aluna, Alyzen Medical Physics, Amalgam Rx, Ambra Health, Ambu, AMC Health, A Menarini Diagnostics, Amend Surgical, American Academy of Implant Dentistry Foundation, American Academy of Pediatrics, American College of Cardiology, American College of Radiology, American Renal Associates, American Society for Aesthetic Plastic Surgery, AmerisourceBergen, Amgen, AMI, Amitech Solutions, Amor (Suzhou) Medical Sci-Tech, AMPS, Amsel Medical, AMSL, Analog Devices, Andau Medical, Andon, Andrec, Angelini Pharma, Angel Medical Systems, Angiodynamics, Angle, Anita Tecnica, Annum Health, Antleron, Anumana, AOTI, Apacor, APAC Scientific, Apex Physics Partners, ApiFix, Apollo Endosurgery, Apollo Hospitals Group, Apple, Applied DNA Sciences, Applied Microarrays, Applied UV, AppliedVR, Aprecia Pharmaceuticals, Apria Healthcare Group, APR Medtech, Aptar Pharma, Arcadia Resources, ARC Devices, Arch Therapeutics, Arc Medical Design, Arctic Vision, Argon Medical Devices, Aridea Solutions, Arizona State University, Arjo, Arkray USA, Armaghan Salamat Kish, Armor, Artech, Arteriae, Arteriocyte Medical Systems, Arteriomed, Arthrex, Arthrosurface, Artiria Medical, Asahi Intecc, Asahi Kasei, Ascendum, Ascensia Diabetes Care, AscentX Medical, Asensus Surgical, Asian Eye Institute, Asimily, Asklepios Group, Aspen Surgical Products, Assisi Animal Health, Assurex Health, Assuta Medical Centers, Astellas Pharma, AstraZeneca, AtCor Medical, Atlazo, ATL Technology, Atricure, Attune Medical, Audax Private Equity, Audio Cardio, AuraGen Aesthetics, Aural Analytics, Auris Health, Aurora Spine, Aurum Ceramic Dental Laboratories, Aurum Group, Australian Department of Health and Ageing, Australian Foundation for Diabetes Research, Autonomous Healthcare, Auxly Cannabis Group, Avalon Pharmaceuticals, Avanos Medical, Avita Therapeutics, AvKARE, AVRA Surgical, Awair, AWB Schraubtechnik und Industriebedarf, Axcelon Dermacare, Axial3D, Axis Lighting, Axonics Modulation Technologies, Aziyo Biologics, Azova, B-Secur, Baheal Pharmaceutical, Bandgrip, BANYAN Medical Systems, Baptist Health Care, BASF, Battelle, Bauerfeind, Bausch & Lomb, Bausch Health Companies, Bavarian Ministry for Economic Affairs and Media, Energy and Technology, Baxter International, Bayer, Baylis Medical, Baylor College of Medicine, Bay Materials, B Braun, Be-ys, Beacon Biosignals, Bearpac Medical, Becton Dickinson, Beijing Huanya Zhitong, Beijing Jinshengyun Pharmaceutical Technology, Belkin, Beltone, Ben-Gurion University, Benchmark Electronics, Benvenue Medical, Berkshire Sterile Manufacturing, Bess Medizintechnik, Better Living Now, BewellConnect, Beyond Air, BHVI, Biedermann Motech, Bill and Melinda Gates Foundation, Bimini Health Tech, Bio-Tissue, Biobeat, BioCardia, BioCircuit Technologies, Biocomposites, BIOCORP, BioCrossroads, BioDerm, Biodirection, Biofourmis, BioHiTech Global, BioIntelliSense, Biolase, BIOLIFE4D, Biomedical Advanced Research and Development Authority, BIOMEDX Group, Biomerics, bioMerieux, Biomodex, Bionik Laboratories, Bioplate, BioQ Pharma, Bioretec, BioSensics, Biosensors International, BioSerenity, Bioservo Technologies, BioSig Technologies, Biostage, BioSurfaces, Biotel, BioTelemetry, BioT Medical, Biotricity, Biotronik, Biotron Laboratories, BioVaxys, Biovo Technologies, BirchBioMed, Bird Foundation, BirthTech, BiVACOR, BKK Mobil Oil, Blackfynn, Blackrock Microsystems, Blackrock Neurotech, Blood Cell Storage, Blue Cedar, Bluegrass Vascular Technologies, Bluestar Alliance, Boa Technology, BODIMETRICS, Bodycad, Boehringer Ingelheim, Boeing Company, Bonbouton, Bone Solutions, Bose, Boston Scientific, BostonSight, Bovie Medical, BOWA Medical, Bpifrance, Brain and Spine Institute, BrainLAB, Brain Navi Biotechnology, Brain Scientific, BrainScope, Brainsway, Briggs Healthcare, Brigham and Women's Hospital, Bright Optical, Bristol-Myers Squibb, BRM Extremities, BRNT, Brooks Rehabilitation, Brown University, Bruin Biometrics, BT BeaMedical Technologies, BTC Health, BTL Industries, Buffalo Supply, Burgerhospital, BVI Medical, BWXT Medical, Byrne Medical, c-LEcta, C-RAD, C2Dx, Caerus Strength, Caire, Cala Health, California College of Natural Medicine, California Institute for Biomedical Research, California Institute of Technology, Cambridge Healthcare Innovations, Cambus Medical, Cam Med, Canadian Armed Forces, Canadian Teleradiology Services, Canary Health Technologies, CANbridge Pharmaceuticals, Cancer Prevention and Research Institute of Texas, Candela, Candid Care, Canon BioMedical, Capital Laser and Skin Care, Capsule Tech, CaptoGlove, Carbon, CardiaCare, Cardiac Insight, Cardiac Services, Cardialen, CardieX, Cardinal Health, CardioFocus, Cardiologs, Cardiome Pharma, CardioNXT, CardioSert, Cardiovascular Research Foundation, Cardiovascular Systems, CareLearning, Carestream Health, Caresyntax, CareTaker Medical, Carina Biotech, Carlsmed, Carl Zeiss Meditec, Carmat, Carnegie Mellon University, Carrizo Dental, CarThera, CAS, Case Western Reserve University, CAS Medical Systems, Caster Medical System, Catheter Precision, Catheter Research, CBL Group, CB Scientific, Ceek Women's Health, CEFALY Technology, Celgene, Celling Biosciences, CELLINK, CellMark Medical, CeloNova BioSciences, Center for Health Affairs, Center for Neurorestoration and Neurotechnology, Centinel Spine, Central Association for the Blind and Visually Impaired, Centre Hospitalier Universitaire Vaudois (CHUV), Centurion Medical Products, Century Medical, Cequr, Cerapedics, Cerebain Biotech, Cerevast Therapeutics, Cerner, Certified Endoscopy, Certify, Cerus, Cerus Endovascular, Cervos Medical, CEVA, CgBio, Champion Healthcare, Charles River Laboratories, Chart Industries, CheckedUp, Chiesi Farmaceutici, Children's Hospital Boston, Children's Hospital of Philadelphia, Children's National Medical Center, China Grand Pharma, China Grand Pharmaceutical, China National Biotec Group, China Pharma Holdings, Chindex Medical Limited, ChoiceSpine, Christus Health, Chronolife, Chugai Pharmaceutical, Chunli, Cigna Healthcare, Cipher Pharmaceuticals, Circassia, Cirle, CivaTech Oncology, CIVCO Radiotherapy, Civica Rx, Clalit Health Services, Clarify Medical, Clarion Medical Technologies, Clarius Mobile Health, Clearday, Clear Guide Medical, ClearMask, ClearPoint Neuro, Clearside Biomedical, Cleerly, Cleveland Clinic, Cleveland University Hospitals, Click Therapeutics, Clinical Laserthermia Systems (CLS), Clinical Technology, Clinigen, Clinique Les Trois Soleils, Cloaked Therapeutics, CloudCath, CloudPost Networks, CNOGA Medical, CoagCo, Coala Life, Coalfire, Coalition for Epidemic Preparedness Innovations, Coapt, CoapTech, Cochlear, Cocoon Medical, Codan Triplus, Cogentix Medical, Cogmedix, Cognition Kit, Cognition Therapeutics, Cognito Therapeutics, Cognoa, Cohen Veterans Bioscience, Colgate Palmolive, Collagen Solutions LLC, College Park Industries, Colorado Center for Reproductive Medicine, CoMedical, Commonwealth Primary Care ACO, Compact Imaging, Companion Medical, Comprehensive Pain Specialists, Conavi Medical, Concile, Concordia University, Confluent Medical Technologies, ConforMIS, Consortia Health, Consulting Group of Jocassee, Contakt World Technologies, Contatti Medical, ConTipi, Control Bionics, Control Flo Medical, Conventus Orthopaedics, Convergent Dental, Cook Biotech, Cook Medical, Cooper Companies, Copan Diagnostics, Coracoid Solutions, Corazon, Cordis, Corestone Biosciences, Corindus Vascular Robotics, Corneal Lens, Cornerstone Healthcare Group, Corning, Coroneo, CorpMedical, Cortex Design, CorVascular, CorVent Medical, Corvia Medical, Corvida Medical, Corza Health, Cosmed Group, Covalon Technologies, Covestro, C R Bard, Creative Medical Technologies, Credence MedSystems, Cresilon, CROMA Pharma, CromSource, Crothall Healthcare Technology Solutions, Cryolife, CryoPort, Cryothermic Systems, CSEM Centre Suisse d'Electronique et de Microtechnique, CTI Life Sciences, Cubic, Curasan, Curebase, Curexo, CurveBeam AI, CVD Equipment, CyberMDX, CYduct Diagnostics, Cynapsus Therapeutics, CynergisTek, Cynosure, Cypris Medical, Cyrus Medical Technologies, CytoSorbents, D&D Medical, Daavlin, Dallas Lighthouse for the Blind, Dana-Farber Cancer Institute, Dare Bioscience, DarioHealth, Dassault Systems, Data360, DaVita, Daxor, Dealmed Medical Supplies, Debiopharm, Decathlon Capital Partners, Decibel Therapeutics, Defense Advanced Research Projects Agency, Defense Health Agency (US), Defense Threat Reduction Agency, Definition Health, Degania Silicone, deKhon Global, Delta, Demcon, DemeTECH, Dengg Medizintechnik, DentalEZ Integrated Solutions, Dental Hygienics and Decontamination, Dentsply International, Department of Defense, Department of Health and Human Services, Department of Veterans Affairs, DePuy, DermaPort, Desktop Metal, Device Technologies, Devicor Medical Products, DexCom, Diabeloop, Dialco Medical, Digital Diagnostics, Dignitana, Dignity Health, Dilon Diagnostics, Dinova Medtech, Diomics, Diopsys, Diplomat, Distal Access, Dixi, Dixie State University, DJO Surgical, DKSH, Doctor's Medical, Dominion Aesthetic Technologies, Dornier MedTech, Dow AgroSciences, Dr. Reddy's Laboratories, Dr. U Devices, Drawbridge Health, DreaMed Diabetes, Drexel University, DryEye Rescue, DT MedTech, Dune Medical Devices, DuraStat, DWK Life Sciences, Dymax, Dynasil, Dynatronics, DYN'R Medical Systems, DySIS Medical, Eargo, EarLens, Early Signal Foundation, Eastman Chemical Company, Eastman Kodak, EBM-Solutions, eCential Robotics, Echelon Fitness, Echolight Medical, Echosens, Ecomed Solutions, ECRI Institute, EDAP TMS, EdgeEndo, Edwards Lifesciences, Efemoral Medical, EG Gilero, EhmetDx, EirMed, Eisai, Eisana, Eko, El.En, Electrical Geodesics, ElectroCore, Electroline Sales, Electromed, Electromedical Technologies, Elekta, Elektron Eye Technology, Elemaster Group, Elesta, Eliaz Therapeutics, Eli Lilly, Elix, ELT Sight, Eluminex Biosciences, Ember Therapeutics, Embody, EMC, Emergent BioSolutions, Emory Healthcare, Emovi, Empatica, Emphysys, Empower Sleep, Encision, Encompass, Endo-Therapeutics, EndoChoice, Endologix, Endoluxe, Endomagnetics, Endonovo Therapeutics, Endo Pharmaceuticals, Endospan, EndoTherapeutics, ENDRA Life Sciences, Enesi Pharma, Engimplan, Environmental Tectonics Corporation, Envista, Enzyre, EOFlow, EOS Imaging, Epicore Biosystems, Epimune Diagnostics, Epitomee Medical, Erasmus University Medical Center, Ergotron, Esco Medical, eSight, Essenlix, Essilor, Essity, Establishment Labs, Estar Medical, ESW Vision, EtectRx, ETH Zurich, Eunice Kennedy Shriver Institute of Child Health and Human Development, Eureka Eurostars, European Commission, European Innovation Council, European Laboratory for Particle Physics, European Union, European Union Regional Development Fund, Europe Technologies, EvaClean, Eveon, Evergaze, Eversana, EvoEndo, Evolus, Evonik Industries, Evon Medics, Exactech, Exact Imaging, Exalenz Bioscience, Exergen Medical, ExOne Company, Exploragen, Express Medical Solutions, ExThera Medical, EyeQ Vision, EyeTracking, Eyevensys, EZbra Advanced Wound Care, Ez Sleep Technologies, F&M Feed, FallCall Solutions, Fannin, Farapulse, Feinstein Institute for Medical Research, FEMSelect, Fiagon, FibriCheck, Fibrogen, Field Medical, Filterlex Medical, Fin-ceramica faenza spa, FineHeart, Fio, First Horizon Pharmaceuticals, First Nation Group, Fishbowl Warehouse, Fisher & Paykel Healthcare, Fitabase, FitBit, FiteBac Dental, Fit for Life, FlexDex, Flexpoint Sensor Systems, Flextronics, Florida Hospital, FluidForm, fluidIQ, Fluo Labs, Fluum, Focal, Food and Drug Administration (FDA), FormaTK Systems, Formsense, Fosun Pharmaceutical, Four H, Frankfurt University Hospital, Franklin Innovation, Franklin Medical Center, Freedom Innovations, Fresenius Kabi Pharmaceuticals, Fresenius Medical Care, Freudenberg Medical, Fritz Clinic, FroggaBio, Fujifilm, Fuse Medical, G-21, Gaelan Medical, Gaia, Galaxy Medical, Galaxy Pharma, Gale Force Aesthetics, Galen Data, Ganymed Robotics, Gardia Medical, Garmin, Gastrologix, GE Healthcare, Geisinger Health System, Geisinger Medical Center, Geistlich Pharma, Gelest, GEMCO Medical, Genentech, General Electric (GE), General Motors, Genesis Biosystems, GenesisCare, Genesis MedTech, Geneva Foundation, Genmab, Genome BC, Gentex, George Washington University, Georgia Institute of Technology, German Cancer Research Center, Gerresheimer, Getinge, Getz Healthcare, Ghassan Aboud Group, Gilead Sciences, Glatt Group, Glaukos, GlaxoSmithKline, Glo-Med Networks, Global Kinetics, Globizz, Globus Medical, Glooko, Gloryway, GlucoModicum, GM Instruments, Government of Canada, GPX Medical, Greatbatch, Great Belief International, Greiner Bio-One, Grenco Science, Growshapes, Grunenthal, GS, GTx, Guerbet, Guided Therapeutics, Gunze, GVS, GYNEMED, Gyrus Capital, Hackensack Meridian Health, Hackensack University Medical Center, Haematologic Technologies, Haemonetics, Haga Teaching Hospital, Hager & Werken, Hamilton Company, Hancock Jaffe Laboratories, Hangzhou Zhongmei Huadong Pharmaceutical, Hanuman Pelican, Haoyue Group, Happify Health, Harmonic Bionics, Harro Hofliger, Harrow Health, Harvard Medical School, Harvard University, Haselmeier, Hatch Medical, HCA Healthcare, HD Medical, HDX, Healeon Medical, Health2Sync, Health2Work, HealthcareSource, Healthe, Healthe Care Australia, Healthimation, Healthlink, Health Logic Interactive, HealthMed Services, Health Recovery Solutions, HealthTrio, HealthTrust, HealthTrust Purchasing Group, Healthy.io, HeartBeam, HeartHero, HeartSciences, HekaBio, Helius Medical Technologies, Hellman & Friedman, Hemanext, HemoCleanse, Hemostasis, Henkel, Hennepin County Medical Center, Henry M. Jackson Foundation, Henry Schein, High Desert Heart Institute, HighLife, Hill-Rom, HLS Therapeutics, H M Royal, Hobbs Rehabilitation, HoliStick Medical, Hollister-Stier Labs, Hollister Biosciences, Hologenix, Hologic, HoMedics, Honda R&D Americas, Honeywell, Horizon Europe, Hospital Fondation Adolphe de Rothschild, Hospital for Special Surgery, Hospitech Respiration, Hoth Therapeutics, HOYA Vision Care, HP, H Robotics, Huadong Medicine, Huami, Humacyte, Human in Motion Robotics, Huntsman Cancer Institute, Hutchinson Technology, HydroCision, Hygieia, I-MED Pharma, Iagnosis, IBA, Ibex Medical Analytics, iBio, IBM, IceCure Medical, Icotec, iCRYO Cryotherapy, ICU Medical, Ideal Medical Solutions, IDEAS DWC, IdentifySensors Biologics, Ieso Digital Health, IGEA Clinical Biophysics, iHear Medical, ii Ventures, iLAC, Illumina, IM-Tech, ImaCor, Imagene Labs, ImagineMIC, Imagin Medical, Imbed Bio, IME Medical Electrospinning, ImmersiveTouch, Immervision, ImmunoPhotonics, iMotions, ImpediMed, Imperial Brands, Implanet, Implantcast, Impressio, Imricor Medical Systems, In2Bones USA, Inari Medical, INBRAIN Neuroelectronics, Indegene Lifesystems, Indian Rubber Manufacturers Research Association, Infab, Infineon, Infinovo Medical, InfoBionic, Infomed, Informed Data Systems, InfuSystem Holdings, InfuTronix Solutions, inHealth Medical, InnerScope Hearing Technologies, INNERVIA Bioelectronics, Innosuisse, Innosurge, INNOVAMEDICA, Innovation Zed, Innovative Solutions Canada, Innova Vascular, Innovimed, Innovize, Inovio, InQB8 Medical Technologies, Inscopix, Insel Gruppe, InSightec, Insight Medical Systems, Inspira Technologies, InspireMD, Institut du Cancer Courlancy, Institute for Bioscience and Biotechnology Research, Institute of Microchemical Technology, Insulet, Intalere, Integer Holdings, Integra, Integra LifeSciences, Integrated Computer Solutions, Integrated Vent Solutions, Integrity Implants, Integrum, Intel, IntelliTek Health, International Biomedical, International Flavors and Fragrances, International Society of Heart and Lung Transplantation, International Spine Study Group Foundation, Interrad Medical, Interscope, Intersect ENT, Intertek, InterValve, Interventional Spine, IntraFuse, IntraOp Medical, Intuitive Surgical, IntuitiveX, INVAP, Invenio Imaging, Invento Research, Invibio Biomaterial Solutions, Invitae, INVO Bioscience, Invo Healthcare, InvoSurg, Iogen, Ionian University, Ionis Pharmaceuticals, iOR Partners, Iota Biosciences, iotaMotion, IPA, IQVIA, Iridex, IRIS International, IrisVision, Irras, iSage Rx, iSchemaView, iS Clinical, Israeli National Authority for Technological Innovation, iSTAR Medical, Isto Technology, Itamar Medical, ITEM Medical Technologies, Iterative Scopes, Iturri, ITW Pillar Technologies, iVeena Delivery Systems, ivWatch, Ivy Brain Tumor Center, Iwatani Group, Izasa Hospital, Jabil, Jabil Circuit, James M Cox Foundation, Jan Medical, Janssen Biotech, Janssen Pharmaceuticals, Janz, Japan Lifeline, Japan Medical Dynamic Marketing, Jarvik Heart, Jasper Capital, Jeisys Medical, JelikaLite, JenaValve Technology, Jerome Canady Research Institute for Advanced Biological and Technological Sciences, Jiangsu Vedkang Medical Science and Technology, JMC-Japan MedicalNext, Joerns Healthcare, Johannes Gutenberg University, Johns Hopkins Medicine (JHM), Johns Hopkins University, Johnson & Johnson, Johnson & Johnson Consumer Companies, Johnson & Johnson Innovation, Johnson & Johnson Vision, Joimax, Jointpoint, Joint Solutions Alliance, Joslin Diabetes Center, Joylux, Julius Group, Julphar, JustRight Surgical, JuvenIL, Juvenile Diabetes Research Foundation, K2M, Kadimastem, Kai Aesthetics, Karl Storz, Karolinska University Hospital, Katena Products, Keller Army Hospital, Kelyniam Global, Kent Imaging, Kessler Foundation, Keyence, Keystone Dental, Keystone Heart, KeyTronic, Key Tronic, KFx Medical, Kibur Medical, Kindeva Drug Delivery, Kindred Healthcare, Kinova, Kitakyushu General Hospital, Kleresca, Kmart Pharmacies, KMG International, Know Labs, Kobe Kanagawa Eye Clinic, Kochoptik, KoKo, Kolosis BIO, Konica Minolta, Koru Medical Systems, Koushan Pharmed, Kromax, Ktrfios Impartacao E Expertacao, Kubota Pharmaceutical, Kubota Vision, Kuros Biosciences, Kurve Technology, KVP International, Kyocera, L1 Systems, Laboratoires Thea, Laboratory Corporation of America, Laborie Medical Technologies, LambdaVision, Lansheng Medical, Lantheus Holding, Laser Clinics Australia, Laseroptek, Lattice Semiconductor, Lattus Spine, Lazurite, Leaf Healthcare, Learnsoft, Lee's Pharmaceutical, Leica Microsystems, Leiden University, Leiters, Lenica Research Group, LensAR, Leon-nanodrugs, Leona M and Harry B Helmsley Charitable Trust, Leonhardt's Launchpads, LEO Pharma, Les Laboratoires Servier, Leukemia & Lymphoma Society, Leviticus Cardio, Lexie Hearing, Lexington Medical, LianBio, Life-Assist, Lifehealthcare, Lifeline Vascular Care, LifeQ, LifeTech Scientific, LifeVac, Ligand Pharmaceuticals, Lightpoint Medical, Lightsense Technology, Limaca Medical, Lima Corporate, LiNA Medical, Lincotek Medical, LindaCare, Linde Gas, Linear Health Sciences, Link-age Solutions, LION Eye Group, Liquid X Printed Metals, LiteCure Medical, LivaNova, Living Heart Foundation, LNE/G-Med, Lobe Sciences, LogicInk, LOK, Lokai Medical, Longitude Capital, Loop Insights, Loop Medical, LORION Enterprises, Lovell Government Services, LTR Medical, Lucid Diagnostics, Luciole Medical, Ludwig-Maximilians University, Lumenis, LumenR, LumiThera, Luna Innovations, Lung Transplant Foundation, Lupin Pharmaceuticals, Luscii, LUVO Medical, LVL Technologies, LV Prasad Eye Institute, Lyra Therapeutics, M.Fast Technologie, M2S, Maastricht University, MacuLogix, Magellan Healthcare, Magic Leap, Magnet Sales and Manufacturing, Magniant, Magnolia Medical, Magstim, MainPointe, Maitri Health Technologies, Mamba Instruments, Maness Veteran Medical, Manhattan Scientifics, MannKind Biopharmaceuticals, Marathon Medical, Marchon Eyewear, MarinHealth, Marizyme, Markforged, Masimo, Massachusetts Eye and Ear Infirmary, Massachusetts General Hospital, Massachusetts Institute of Technology, Massachusetts Life Sciences Center, MassRobotics, Materialise, Maternova, Mathys Medical, Mauna Kea Technologies, Mawi DNA Technologies, Maxiim, Maxx Medical, Mayo Clinic, Mazor Robotics, MBA Medical, MC10, McGill University, McKesson, MD Anderson Cancer Center, MDCorp, MDF Instruments, MDsave, MDS Pharma Services, Medable, Medacta, Med Alliance, MedAxiom, MedCAD, MedCrypt, Medela, Medeon Biodesign, Medial, MediBeacon, Medibio, MediBioSense, Medical City North Hills, Medical Developments International, Medical Device Epidemiology Network, Medical Device Innovation, Safety and Security Consortium, Medical iSight, Medical Microinstruments, Medical Research Foundation, Medical University South Carolina, Medicardia Health, MedicaSafe, Medicinalia Cormedica MC Medical, Medicines360, Medicom, Mediconsult.com, Medicrea, Medicure, Medigate, Medigus, Medimetrics, Medina Healthcare, MediPines, Medisca, Meditemi, Meditology Services, Meditrade, Meditrial Europe, MediWound, Medline Industries, MedLite ID, Mednow, Medovate, Medovex, Medpod, MedRhythms, MedSchenker, MedShape, Medshift, Medstreaming, Medtechnica, Medtreq Medical Equipment, Medtronic, Med Trust, Medx, Meiyen Laboratory, Mekics, Melidonia Health Services, MellingMedical, Mellitus, Mellon Medical, Memira Holding, Memorial Hermann Health System, Menicon, Mentice, Meotec, Merck and Co, Merck KGaA, Mercury Biomed, Mercury Medical, Mercy Hospital, Merit Medical Systems, Merz, MESA Specialty Gases & Equipment, Mespere LifeSciences, Metaoptima Technology, Metis Design, Metro Health, Metronom Health, Mevion Medical Systems, Michael J Fox Foundation, Micro-Tech Endoscopy, Microbot Medical, Microfabrica, Micro Interventional Devices, Micro Medical Solutions, Microport EP Medtech, MicroPort Orthopedics, MicroPort Scientific, MicroPort Sorin CRM (Shanghai), Microsoft, Microtech Laboratories, Midmark, Mighty Oak Medical, Milestone Medical, Milestone Scientific, Millar, Millipede, Miloftalmica, MiNDERA, MindMaze, Minerva Surgical, Ming-Mei Technology, MiniFab, MinInvasive, Ministry of Health (Saudi Arabia), Minnesota Medical, Minnetronix, Misonix, Mitralign, Mitsubishi Chemical, MLase, MMT Technologies, Mobile Aspects, MobileODT, Mobile SCANMED Systems, Mobvoi, Modernizing Medicine, Modular Devices, Modus Health, Momentis Surgical, Monaghan Medical, Monarch Lasers, Monteris Medical, Montreal Heart Institute, Moray Medical, Mossakowski Medical Research Centre, Motion & Control Sales, Motorika, Motus GI Medical Technologies, Mount Sinai Health System, Movendo Technology, Movi, mPulse Mobile, MRI Interventions, MRP, MSD, MT.DERM, MTF Biologics, MTS Medication Technologies, Munich Reinsurance Company, MURANAKA Medical Instruments, Muscular Dystrophy Association, Musculoskeletal Clinical Regulatory Advisers, Musculoskeletal Transplant Foundation, Mutlu Medikim Tibbi Malzeme, MVAP Medical Supplies, MWMedical, MyHealios, Mylan Laboratories, MyndTec, MyndVR, Myocardial Solutions, Myomo, MYOS, Myriad Genetics, MySugarWatch DuoPack, Mytrex, MyungMoon Bio, Nagarro, NAMSA, NAMSA Medvance, Nanjing Micro-Tech, Nanning Xinzizhu Trading, Nanomix, Nanotherapeutics, Nanotronics Health, NanoVibronix, Nanovis, Nanowear, Narayana Nethralaya Foundation, NASA, Natera, National Academy of Sciences, National Cancer Institute, National Council on Aging, National Eye Institute, National Foundation for Cancer Research, National Healthcare Services (NHS), National Heart, Lung and Blood Institute, National Institute of Arthritis and Musculoskeletal Diseases, National Institute of General Medical Sciences, National Institute of Neurological Disorders and Stroke, National Institute on Aging, National Institute on Disability and Rehabilitation Research, National Institute on Drug Abuse (NIDA), National Institutes of Health, National Parkinson Foundation (NPF), National Science Foundation, National Surgical Care, National Ultrasound, National University of Ireland, Galway (NUI Galway), NationsBenefits, Nationwide Children's Hospital, Natural Sciences and Engineering Research Council of Canada, Natus Medical, Navigate Surgical Technologies, Navigation Sciences, NavLab, ndd Medical Technologies, NDR Medical Technology, NDS Surgical Imaging, Neauvia North America, Nemaura Medical, NEMO Health, NeoChord, NEOconcepts, NeoDynamics, Neograft Technologies, Neokidney, NeoLight, Neo Medical, Neonode, Neosensory, Neoss, Neosurgical, NeoSync, NEO Tech, Neovasc, Nephria Bio, Nephron Dx, Nephron Pharmaceuticals, Nerliens Meszansky, Nestle Health Science, Neuralace Medical, Neuro Assessment Systems, Neurocare Group, Neuroelectrics, NeuroEM Therapeutics, NeuroFront, Neurolens, Neurolief, Neurolign Technologies, NeuroLogica, NeuroMetrix, Neuronetics, Neuronoff, NeuroOne, NeuroPace, Neurophotometrics, NeuroSigma, Neurosolv Therapeutics, NeuroTech, NeuroVasc, NewSurg, Nexa3D, NexGen Medical Systems, Nexstim, NextGen LifeLabs, Nexus Medical, Nico, Nido Surgical, NightWare, Nikkiso, Nima, Ninety One, Nitiloop, NLT Spine, Nobel Biocare, Noble Biomaterials, Nordic Prime, Norgine, North American Rescue, North Carolina State University, NorthStar Medical Radioisotopes, Northwestern Medicine Bluhm Cardiovascular Institute, Northwestern Medicine Developmental Therapeutics Institute, Northwestern University, NovaBay Pharmaceuticals, Novanta, Novant Health, Novarix, Novartis, NovationSi, Noventure, Noveome Biotherapeutics, Novocure, Novo Nordisk, Novostia, Novuson Surgical, NRx Pharmaceuticals, Nu-med Plus, Nucore Medical, NuCryo Vascular, NuEyes, Nuheara, NuMed, Numerate, Numotion, Nunzi Pharmaceutical, NuSight Medical, Nutriband, NuVasive, Nuviant Medical, NuvoAir, Nuvo Group, nView Medical, NXgenPort, NXT Biomedical, NYU Grossman School of Medicine for Preclinical and Clinical Research, NYU Langone Medical Center, Nyxoah, NZMS, O-Two Medical Technologies, O2TODAY, Oaktree Products, Obalon Therapeutics, OBP Medical, Obsidio, Occlutech, Oculogica, OcuMedic, OCuSOFT, OE Meyer, Ohio State University, Olaregen Therapeutix, Olympic Ophthalmics, Olympus, Omeq Medical, Omnia, OmniVision Technologies, Omron, OncoBeta, OnDosis, OneBlood, One Drop, Onesky, OnFace, Onkos Surgical, OnLume Surgical, ON Semiconductor, Onsite 340B, Ontera, ONWARD Medical, Onyx Health, Open University of Israel, OphtAI, Opsens, Optimal IMX, Optima Pharmazeutische, Optimus Integrated Surgical Environment, Optomed, Optometric Extension Program Foundation, Opus Medical, Orbis, Orbital Therapy, OrbusNeich, OrCam, Orchestra BioMed, Ordergroove, Orexo, Organogenesis, ORHub, Origin, Ortho-Clinical Diagnostics, Orthobrain, Orthofix Medical, OrthoGrid Systems, OrthoGrow, Orthopaedic Foot & Ankle Center, OrthoPediatrics, Orthopedic Outfitters, Ortho Regenerative Technologies, OrthoSelect, OrthoSensor, Orthovestments, Ortoma, Oscor, OSI Systems, Osprey Medical, OssDsign, Osseus Fusion Systems, OSSIS, OsteoCentric Technologies, Osteomed, Osterhout Design Group, Otsuka, Otsuka America Pharmaceutical, Ottawa Hospital Research Institute, OU Medicine, Outset Medical, OverPharma, oVio Technologies, Owen Mumford, Ozop Energy Solutions, P+F Products & Features, PaceMate, Pacific Biosciences, Pacific Diabetes Technologies, Pacific West Medical Sales, Pain Care Labs, PainQx, PAKmed, Palex Medical, Pall Corporation, Paragon 28, Paragonix Technologies, Paragon Meditech Company, Parvizi Surgical Innovation, PathMaker Neurosystems, PAVmed, Pax Labs, PCH, PcoMed, Peak Medical, PEAR Therapeutics, Peijia Medical, Penn Medicine, Pentax, PENTAX Medical, Penumbra, PeriGen, Perry Baromedical, Pfizer, Phantom Neuro, Pharmacyna, PharmaJet, PharmaSwiss, Pharos Life Corporation, PHC, Phenox, Philips, Phillips-Medisize, PhysIQ, Pierre Fabre, Piezo Motion, Pioneer Surgical Technology, Pixee Medical, PKG, Plagens Medical Consultants, Planmeca, Planmed, PlatinumCode, Pleuratech, Pluristem Therapeutics, Podimetrics, Poiesis Medical, POLL Medical, Polyganics, PolyPhotonix, Potrero Medical, PPD, Prapela, Preceyes, Precise Biometrics, Precision Eye Services, Precision Image Analysis, Precision Medical Devices, Precision Optics, Prellis Biologics, Premier Inc, Prescient Surgical, Pretaa, Prevacus, Prevail InfoWorks, Prevent Biometrics, PREZIO Health, PrinterPrezz, Procare Health, Procept BioRobotics, Procyrion, Profusa, Progenity, Progettiamo Autonomia Robotics, Progressive Spinal Technologies, Pro Medical Baltic, Promepla, Propeller Health, Propel Orthodontics, Proprio, Proteor, Proteus Digital Health, Proto Script Pharmaceutical, ProTrade Systems, Protxx, Proven Process Medical Devices, Providence Health & Services, Proximo Medical, Prytime Medical Devices, PSI (Population Services International), Pulmodyne, PulseCath, PulsePoint, Purdue Research Foundation, Purdue University, Puregraft, Pythagoras Medical
For a full list contact us on orders@currentpartnering.com
Current Partnering reports provide insight into the trends and terms of partnering deals in the global life sciences sector.
Current Partnering reports are updated every six months to ensure the user has access to the latest announcements and trends in the topic focus of the report.
Current Partnering analysts review the deal data to provide an overview and analysis of deal trends, including example deals and terms.
Current Partnering reports source deal data from our proprietary deals and alliances database, Current Agreements. The database is updated daily by our analysts with new deals as they are announced globally by the company's party to the deal. In addition, deal records are updated with new data as it becomes available.
The data in the Current Agreements deals and alliances database is obtained from secondary sources such as publicly available industry sources including press releases, company presentations, investor presentations, company SEC filings, other company filings, company websites, conference presentations. Sources are identified to allow for user verification.
Current Partnering provides comprehensive coverage of the following partnering or deal types:
• Asset purchase
• Assignment
• Co-development
• Co-market
• Co-promotion
• Collaborative R&D
• Contract service
• CRADA
• Cross-licensing
• Development
• Distribution
• Equity purchase
• Evaluation
• Grant
• Joint venture
• Licensing
• Loan
• Manufacturing
• Marketing
• Option
• Promotion
• Research
• Royalty financing
• Settlement
• Spin out
• Sub license
• Supply
• Termination
• Warrant
Every deal record is fully categorized and includes the following data, where available:
• Industry sector
• Therapy areas
• Technology type
• Deal components
• Financial terms
• Stage of development
• Exclusivity
• Asset type
• Geographic focus
• Excluded geography
• Company press release
• SEC filing data including contract document
All financial amounts are converted to US$ using the exchange rate available on the date of deal announcement, enabling direct comparison of deal terms across international territories.
Financial data and contract documents displayed in deal records is obtained from public sources, where disclosed by the parties to the deal.
We found other products you might like!