Global Medical Device Partnering Terms and Agreements 2014-2020: Deal trends, players and financials
Global Medical Device Partnering Terms and Agreements 2014-2020 report provides a detailed understanding and analysis of how and why companies enter Medical Device partnering deals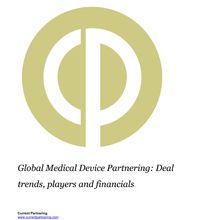 Publication date
March 2020
Product type
Research report
Available formats
PDF document
Global Medical Device Partnering Terms and Agreements 2014-2020 report provides a detailed understanding and analysis of how and why companies enter Medical Device partnering deals.
This report provides details of the latest Medical Device agreements announced in the life sciences since 2014.
The report takes the reader through a comprehensive review Medical Device deal trends, key players, top deal values, as well as deal financials, allowing the understanding of how, why and under what terms, companies are entering Medical Device partnering deals.
The report presents financial deal term values for Medical Device deals, listing by headline value, upfront payments, milestone payments and royalties, enabling readers to analyse and benchmark the financial value of deals.
The middle section of the report explores the leading dealmakers in the Medical Device partnering field; both the leading deal values and most active Medical Device dealmaker companies are reported allowing the reader to see who is succeeding in this dynamic dealmaking market.
One of the key highlights of the report is that over 2,300 online deal records of actual Medical Device deals, as disclosed by the deal parties, are included towards the end of the report in a directory format – by company A-Z, stage of development, deal type, therapy focus, and technology type - that is easy to reference. Each deal record in the report links via Weblink to an online version of the deal.
In addition, where available, records include contract documents as submitted to the Securities Exchange Commission by companies and their partners. Whilst many companies will be seeking details of the payment clauses, the devil is in the detail in terms of how payments are triggered – contract documents provide this insight where press releases and databases do not.
The initial chapters of this report provide an orientation of Medical Device dealmaking. Chapter 1 provides an introduction to the report, whilst chapter 2 provides an overview of the trends in Medical Device dealmaking since 2014, including details of headline, upfront, milestone and royalty terms.
Chapter 3 provides a review of the leading Medical Device deals since 2014. Deals are listed by headline value. Where the deal has an agreement contract published at the SEC a link provides online access to the contract.
Chapter 4 provides a comprehensive listing of the top 25 most active companies in Medical Device dealmaking with a brief summary followed by a comprehensive listing of Medical Device deals announded by that company, as well as contract documents, where available.
Chapter 5 provides a comprehensive and detailed review of Medical Device partnering deals signed and announced since Jan 2014, where a contract document is available in the public domain. Each deal title links via Weblink to an online version of the deal record and contract document, providing easy access to each contract document on demand.
Chapter 6 provides a comprehensive and detailed review of Medical Device partnering deals signed and announced since Jan 2014. The chapter is organized by specific technology type. Each deal title links via Weblink to an online version of the deal record and where available, the contract document, providing easy access to each deal on demand.
A comprehensive series of appendices is provided organized by Medical Device partnering company A-Z, stage of development, deal type, and therapy focus. Each deal title links via Weblink to an online version of the deal record and where available, the contract document, providing easy access to each deal on demand.
The report also includes numerous tables and figures that illustrate the trends and activities in Medical Device partnering and dealmaking since 2014.
In conclusion, this report provides everything a prospective dealmaker needs to know about partnering in the research, development and commercialization of Medical Device technologies and products.
Key benefits
Global Medical Device Partnering 2014-2020: Deal trends, players and financials provides the reader with the following key benefits:
In-depth understanding of Medical Device deal trends since 2014
Access to headline, upfront, milestone and royalty data
Analysis of the structure of Medical Device agreements with real life case studies
Detailed access to actual Medical Device contracts entered into by leading biopharma companies
Identify most active Medical Device dealmakers since 2014
Insight into terms included in a Medical Device partnering agreement, with real world examples
Understand the key deal terms companies have agreed in previous deals
Undertake due diligence to assess suitability of your proposed deal terms for partner companies
Report scope
Global Medical Device Partnering 2014-2020: Deal trends, players and financials is intended to provide the reader with an in-depth understanding and access to Medical Device trends and structure of deals entered into by leading companies worldwide.
Medical Device Partnering Terms and Agreements includes:
Trends in Medical Device dealmaking in the biopharma industry since 2014
Analysis of Medical Device deal structure
Access to headline, upfront, milestone and royalty data
Case studies of real-life Medical Device deals
Access to Medical Device contract documents
Leading Medical Device deals by value since 2014
Most active Medical Device dealmakers since 2014
In Global Medical Device Partnering 2014-2020: Deal trends, players and financials, the available deals are listed by:
Company A-Z
Headline value
Stage of development at signing
Deal component type
Specific therapy target
Technology type
Each deal title links via Weblink to an online version of the deal record and where available, the contract document, providing easy access to each contract document on demand.
The Global Medical Device Partnering 2014-2020: Deal trends, players and financials report provides comprehensive access to available deals and contract documents for over 2,300 Medical Device deals.
Analyzing actual contract agreements allows assessment of the following:
What are the precise rights granted or optioned?
What is actually granted by the agreement to the partner company?
What exclusivity is granted?
What is the payment structure for the deal?
How aresalesand payments audited?
What is the deal term?
How are the key terms of the agreement defined?
How are IPRs handled and owned?
Who is responsible for commercialization?
Who is responsible for development, supply, and manufacture?
How is confidentiality and publication managed?
How are disputes to be resolved?
Under what conditions can the deal be terminated?
What happens when there is a change of ownership?
What sublicensing and subcontracting provisions have been agreed?
Which boilerplate clauses does the company insist upon?
Which boilerplate clauses appear to differ from partner to partner or deal type to deal type?
Which jurisdiction does the company insist upon for agreement law?
Global Medical Device Partnering 2014-2020: Deal trends, players and financials provides the reader with the following key benefits:
In-depth understanding of Medical Device deal trends since 2014
Access to headline, upfront, milestone and royalty data
Analysis of the structure of Medical Device agreements with real life case studies
Detailed access to actual Medical Device contracts entered into by leading biopharma companies
Identify most active Medical Device dealmakers since 2014
Insight into terms included in a Medical Device partnering agreement, with real world examples
Understand the key deal terms companies have agreed in previous deals
Undertake due diligence to assess suitability of your proposed deal terms for partner companies
Executive Summary
Chapter 1 – Introduction
Chapter 2 – Trends in Medical Device dealmaking
2.1. Introduction
2.2. Medical Device partnering over the years
2.3. Most active Medical Device dealmakers
2.4. Medical Device partnering by deal type
2.5. Medical Device partnering by therapy area
2.6. Medical Device partnering by technology type
2.7. Deal terms for Medical Device partnering
2.7.1 Medical Device partnering headline values
2.7.2 Medical Device deal upfront payments
2.7.3 Medical Device deal milestone payments
2.7.4 Medical Device royalty rates
Chapter 3 – Leading Medical Device deals
3.1. Introduction
3.2. Top Medical Device deals by value
Chapter 4 – Most active Medical Device dealmakers
4.1. Introduction
4.2. Most active Medical Device dealmakers
4.3. Most active Medical Device partnering company profiles
Chapter 5 – Medical Device contracts dealmaking directory
5.1. Introduction
5.2. Medical Device contracts dealmaking directory
Chapter 6 – Medical Device dealmaking by technology type
Chapter 7 – Partnering resource center
7.1. Online partnering
7.2. Partnering events
7.3. Further reading on dealmaking
Appendices
Appendix 1 – Medical Device deals by company A-Z
Appendix 2 – Medical Device deals by stage of development
Appendix 3 – Medical Device deals by deal type
Appendix 4 – Medical Device deals by therapy area
Appendix 5 – Deal type definitions
About Wildwood Ventures
Current Partnering
Current Agreements
Recent report titles from Current Partnering
Table of figures
Figure 1: Medical Device partnering since 2014
Figure 2: Active Medical Device dealmaking activity since 2014
Figure 3: Medical Device partnering by deal type since 2014
Figure 4: Medical Device partnering by disease type since 2014
Figure 5: Medical Device partnering by technology type since 2014
Figure 6: Medical Device deals with a headline value
Figure 7: Medical Device deals with an upfront value
Figure 8: Medical Device deals with a milestone value
Figure 9: Medical Device deals with a royalty rate value
Figure 10: Top Medical Device deals by value since 2014
Figure 11: Most active Medical Device dealmakers since 2014
Figure 12: Online partnering resources
Figure 13: Forthcoming partnering events
Pricing options
$3,495: single-user
$5,245: multi-user
$10,495: single site license
$17,495: global site license
A full explanation of license type definitions can be found here.
Our guarantee
Price promise
We guarantee our prices are competitive. If you find the same report advertised at a lower price within 7 days of purchase, we will refund the difference.
Delivery Deadline
We guarantee that the report will be sent within the specified delivery times. In the unlikely case of a delay we may offer a partial refund as compensation. (Terms may apply)
Latest report
If an update is published within 30 days of your purchase, you will receive it absolutely free of charge.
Serious Security
We take your data and security seriously. See our privacy policy for details of how we manage your data.
All card payments are processed by SagePay.
Sales Support
If you have any questions about your report or are unhappy with the quality, we will do our best to resolve your query. Contact us direct.
Total Trust
Current Partnering is part of Wildwood Ventures Ltd., based in York, United Kingdom. We have been trading successfully online since 2009 and work with some of the most famous brands in the business. We carefully select our partners to ensure that the publications meet expectations of demanding customers.
1A Pharma, 2XU, 3B Medical, 3D-Micromac, 3DR Labs, 3D Systems, 3M, 3PrimeDx, 4D Pharma, 4WEB Medical, 7D Surgical, 11 Health and Technologies, 20/20 GeneSystems, 36 Strategies General Trading, 121nexus, 480 Biomedical, 908 Devices, A&B Company, A&D Medical, A&E Medical, A*STAR Agency for Science, Technology and Research, AAP Implantate AG, Aarhus University Hospital, Abacus International, Abaxis, Abberior Instruments, Abbott Laboratories, Abbott Vascular Devices, Abbvie, Abiomed, Ab Medica, Abyrx, Acacia, Acacia Research, Academy Medical, Acare Medical Science, Accelerate Diagnostics, Access Scientific, Access Vascular, Accuray, AccuTec Blades, Acelity, Acell, ACE Solutech, Acoustic MedSystems, Actavis (name changed to Allergan), Actelion, ACT Genomics, Activbody, ActLight, Actuated Cardio Engineering, Actuated Medical, Acucela, Acuna-Fombona, Acutus Medical, Adachi, AdaptHealth, ADAS 3D Medical, ADB International Group, AddUp, Adept Neuro, Adherium, Adhesys Medical, Adimab, Admedus, ADM Tronics, Advanced Accelerator Applications, Advanced Aesthetic Technologies, Advanced Analytical Technologies, Advanced Animal Diagnostics, Advanced Biologics, Advanced Catheter Therapies, Advanced Cell Diagnostics, Advanced Cooling Therapy, Advanced Medical German Company of Kuwait, Advanced Medical Isotope, Advanced Plasma Products, Advanced Prenatal Therapeutics, Advanced Radiation Therapy, AdvanSource Biomaterials, Advantage Consumer Healthcare, Adventus Ventures, Aerocrine, Aerogen, Aerolase, Aesculap, Aethlon Medical, Aethon, Aetna, Afaxys Pharmaceuticals, AFFiRiS, AgaMatrix, Agilent Technologies, Aglon, Agrium, AGTC, Aier Eye Hospital Group, AIM Plastics, Aircraft Medical, Aires Pharmaceuticals, Air Force General Hospital, AirStrip Technologies, AirWare Labs, Aitbiotech, AIT Therapeutics, Ajad Medical, AJL Ophthalmic, Akers Biosciences, Akili Interactive Labs, Akita Innovations, Akron Biotechnology, Alat Medika Indonesia, Albany Molecular Research, Alberta Health Services, Al Danah Medical Company, Alector, Aleva Neurotherapeutics, AlfaMed, Alfred E. Mann Institute for Biomedical Engineering, Align Technology, AliHealth, AliMed, Alimentary Health, AliveCor, Alive Sciences, ALK-Abello, Alkahest, Allcure Kangtai Proton Technology, Allegheny General Hospital, Allergan, Alliance Healthcare Services, Alliance Medical, Alliance Oncology, Alliant Healthcare Products, Allied Healthcare Products, Alliqua Biomedical, AlloSource, Allotex, Ally Bridge Group, Almirall, Alphaeon, Alpha Imaging, Alphamedix, Alphatec Spine, alphaXRT, ALR Technologies, ALS Association, Altair, Altris, Altrix Medical, Aluna, Alzheimer's Association, Alzheimers Research UK, Ambu, AMD Insight, Amedica, A Menarini Diagnostics, Amendia, Amend Surgical, American Academy of Implant Dentistry Foundation, American College of Sports Medicine, American Diabetes Association, American Heart/Stroke Association, American Lung Association, American Medical Systems, American National Multiple Sclerosis Society, American Society for Aesthetic Plastic Surgery, American Speech-Language-Hearing Association, American Well, Americas Hernia Society Quality Collaborative, Amerinet, AmerisourceBergen, AMFitzgerald, AMNIOX, Amor (Suzhou) Medical Sci-Tech, AmorChem, Amos Gazit, Ampronix, AMRA, Analog Devices, Analogic, Andrec, Andrew Technologies, Angel Medical Systems, Angiodynamics, Angle, Annoroad, Annum Health, Ansell, Antaros Medical, Anteis, Anthem Bluecross, Antigen Discovery, Antitope, Antleron, AOAExcel, AOTI, Apacor, APAC Scientific, Apax Partners, Aperion Biologics, ApiFix, Apnea Sciences, Apocell, Apollo, Apollo Endosurgery, Apollo Hospitals Group, Apollo Sugar, Apple, Applied BioCode, Applied DNA Sciences, Applied Medical, Applied Microarrays, Applied Spectral Imaging, AppliedVR, Apria Healthcare Group, ARaymondlife, Arcadia Resources, ARC Devices, ArcherDX, Arch Therapeutics, Arc Medical Design, ArcticDx, Areva Med, Argentina Orthodontic Society, Argon Medical Devices, Arizona State University, Arjo, Arkray USA, Armaghan Salamat Kish, Armor, Arradiance, Arrhythmia Research Technology, Arsenal Medical, Artech, Arteriae, Arterial Health International, Arterial Remodeling Technologies, Arteriocyte Medical Systems, Arthrex, Arthrosurface, ARTMS Product, ARxIUM, Asahi Intecc, Asana Biosciences, Asana Medical, Ascensia Diabetes Care, Ascension Health Ventures, AscentX Medical, Asian Eye Institute, Asimily, Aspect Imaging, Aspen Holding, Aspen Surgical Products, Assurex Health, Assuta Medical Centers, AstraZeneca, AsureQuality, Asymptote, Asys, Athrotech, Atlanta Biomedical Company, Atlas Genomics, Atlas Lift Tech, ATL Technology, Atonarp, Atossa Genetics, Atricure, Attain Health, Attune Medical, Audax Private Equity, Audiology Management Group, Auris Medical, Austen BioInnovation Institute in Akron (ABIA), Australian Department of Health and Ageing, Australian Foundation for Diabetes Research, Auxogyn, Avalon Pharmaceuticals, Avanos Medical, AvanSci Bio, Avantis Medical Systems, Avedro, Avior Bio, Avita Medical, AvKARE, AVRA Surgical, Awair, Axcelon Dermacare, Axiogenesis, Axiom Worldwide, Axion Biosystems, Axonics Modulation Technologies, Axxess Pharma, Azellon Cell Therapeutics, Aziyo Biologics, Bacterin International, Baheal Pharmaceutical, BalGeunSeSang Eye Clinic, Banfield Pet Hospital, Banner Health, Banyan Biomarkers, BANYAN Medical Systems, Baptist Health Care, Bardy Diagnostics, BarioSurg, Batswadi Group, Battelle, Bauerfeind, Bausch & Lomb, Bavarian Nordic, Baxalta, Baxter International, Bayer, Bayer Healthcare, Baylor College of Medicine, Baylor Institute for Immunology Research, Bay Materials, B Braun, B Braun CeGaT, BC Technical, Beckman Coulter, Becton Dickinson, Beijing Clear Biotech, Belintra, Bellerophon Therapeutics, Belmont Instrument, Benchmark Electronics, Benvenue Medical, BERG Analytics, Berlinger, Bernoulli Health, Berry Genomics, Bespak, Bestbion, Bestmed, Better Living Now, Beurer, BewellConnect, Beyond Air, BGI, Biedermann Motech, Bigfoot Biomedical, Bill and Melinda Gates Foundation, Bio-Rad Laboratories, Bio-Techne, Bio-Tissue, BioAlliance Pharma, BioCad Holding, Biocept, BioCision, Biocon, BIOCORP, BioCrossroads, BioDerm, Bio DG, BioDigital, Biodirection, BioDlogics, Bioengineering Laboratories, Biofourmis, Biogen, Biohit, Biolase, BioLife Solutions, BioLight, Biolyse Pharma, BioM, Biomedical Advanced Research and Development Authority, BioMedical Drug Development, BioMedical Research, Biomedica Medizinprodukte, BIOMEDX Group, Biomerics, bioMerieux, Bioness, BioNeutral, Bionic Sight, Bionik Laboratories, Bionix, Bionure, BionX Medical Technologies, Bioplate, Biopsy Sciences, BioQ Pharma, BioRap Technologies, BioSensics, Biosensors International, BioSerenity, Biosign Technologies, BioSig Technologies, Biostage, Biostar, BioSurface Engineering Technologies, Biotech Inc, Biotectix, BioTelemetry, Biotricity, Biotronik, Bioventus, Biovic Sdn bhd, BirchBioMed, Bird Foundation, BIT Analytical Instruments, Blaze Bioscience, Blinktbi, Blood Cell Storage, Blood Systems Research Institute, Bloomage BioTechnology, Blue Belt Technologies, Blue Cedar, Blue Earth Diagnostics, Bluegrass Vascular Technologies, Bluestar Alliance, Bluetooth Special Interest Group, BMC Medical, BMG Pharmaceuticals, BMV Medica, Boa Technology, BODIMETRICS, BodyTrace, Boehringer Ingelheim, Bonbouton, Bone Bank Allografts, Bone Solutions, BoneSupport, Bone Therapeutics, Bonutti Skeletal Innovations, Boston Dynamics, Boston Medical Center, Boston Scientific, Boston University, BoTEC Medical, Bovie Medical, Bpifrance, Brain and Spine Institute, BRAIN Initiative, BrainLAB, BrainScope, BrainStem Biometrics, Brainsway, Breas Medical, Breathe Active, Breathe ECig, Brigham and Women's Hospital, Brigham Young University, BrightFocus Foundation, Bright Optical, Bristol-Myers Squibb, Broad Institute, Brooks Automation, Brown University, Bruce Power, Bruker, Bruker Daltonics, BSD Medical, BSN Medical, BTE, BTG, Burgerhospital, Burning Rock, BWX Technologies, Byrne Medical, C-RAD, C4 Imaging, Cactus Semiconductor, Cadence Biomedical, CAE Healthcare, Calcivis, Calgary Scientific, Caliber Imaging & Diagnostics, California Institute for Biomedical Research, California Institute of Technology, Camber Spine Technologies, CamelBak, Canadian Physiotherapy Association, Canadian Teleradiology Services, CANbridge Life Sciences, Cancer Genetics, Candela, Canon BioMedical, Canon Lifecare Solutions, Canon Virginia, Cantel Medical, Capillary Biomedical, Capital Laser and Skin Care, Capital X-ray, Capnia, Capricor Therapeutics, CapsoVision, Capsule Tech, CaptoGlove, Caputron Medical, Caradigm, Carbon, Carbonics, Cardiac Life, Cardinal Health, CardioCORE Lab, CardioFocus, Cardiome Pharma, CardioSert, Cardiovascular Research Foundation, Cardiovascular Systems, Cardiowise, CareCentrix, CareFusion, CareLearning, CarePayment Technologies, Carestream Health, Caresyntax, CareTaker Medical, CareWire, Carl Zeiss, Carl Zeiss Meditec, Carmat, CarThera, Case Western Reserve University, CAS Medical Systems, Caster Medical System, Catalyn Medical Technologies, Catheter Connections, Catheter Precision, Catheter Research, Catholic University Leuven, CBL Group, CDx Diagnostics, CEA-Leti, Cedar Gate Technologies, Cedars-Sinai Medical Center, CeGaT, Celgene, CelgenTek, Cellect Biotechnology, Cellex, Celling Biosciences, CELLINK, CellMark Medical, Cell Therapy Catapult, Cellular Biomedicine, CeloNova BioSciences, Centaur, Center for Connected Health, Center for Sensorimotor Neural Engineering, Center for Technology and Innovation in Pediatrics (CTIP), Centerline Biomedical, Centers for Disease Control and Prevention, Centinel Spine, Central Admixture Pharmacy Services, Centre for Imaging Technology Commercialization, Centre for Research in Medical Devices (CURAM), Centre Hospital University - Bordeaux, Centrillion Technologies, Centurion Medical Products, Century Medical, Cephea Valve Technologies, Cequr, Cerapedics, Cerebain, Ceres, CereScan, Cerevast Therapeutics, Cerner, Cerus, Cervel Neurotech, Cesca Therapeutics, CEVA, Chameleon BioSurfaces, Champion Healthcare, CHAMPS Group Purchasing, Charter Medical, Chart Industries, Check-Cap, CheckedUp, Cheetah Medical, Chek Diagnostics, Chemipal, CHG Hospital Beds, Children's Hospital Boston, Children's Hospital of Philadelphia, Children's National Medical Center, China Development Industrial Bank, China Grand Pharma, China Grand Pharmaceutical, China National Biotec Group, China National Medical Device, Chindex Medical Limited, Chinese Academy of Science, Chiyoda Technol Corporation, ChoiceSpine, Chongqing PSK-Health Sci-tech Development, Christiana Care Health System, Christie Medical, Christus Health, ChromaDex, ChroMedX, Chromogenex Technologies, Chrono Therapeutics, Chulalongkorn University, Chung Shan Medical University Hospital, Chunli, Cigna Healthcare, Cilag AG, C Illies, Cincinnati Children's Hospital Medical Center, Cipher Pharmaceuticals, Circadia, CIRCA Scientific, Cirle, City of Hope, CivaTech Oncology, CIVCO Radiotherapy, CJPS Healthcare Supplies & Equipment, Claremont BioSolutions, Clarient, Clarify Medical, Clarion Medical Technologies, Clarius Mobile Health, Clayton Dubilier & Rice, Clearbridge Biomedics, ClearFlow, Clear Guide Medical, Clearside Biomedical, ClearSpec, Cleveland Clinic, Cleveland HeartLab, Click Therapeutics, Clifton Africa, Clinical Innovations, Clinical Laserthermia Systems (CLS), Clinigen, Clinipace Worldwide, Clinique Les Trois Soleils, Cloaked Therapeutics, CloudPost Networks, CME Medical, CNOGA Medical, Coalfire, Coapt, CoapTech, Cochlear, Codan Triplus, Codonics, Cogentix Medical, Cogmedix, Cognition Kit, Cognition Therapeutics, Cognoa, Cohera Medical, Colibri Heart Valve, Collagen Solutions Plc, Colorado HealthOP, Colorado School of Mines, Colorado State University, Columbia University, Comanche County Memorial Hospital, ComDel Innovation, Comed Medical Specialties, Common Sense, Community Medical Center, Compact Imaging, Companion Medical, Comprehensive Pain Specialists, Compumedics, Conavi Medical, ConBio (Shanghai), Conceivex, Concile, Conductive Technologies, Confluent Medical Technologies, ConforMIS, Conmed, Connecticut Children's Medical Center, Connecticut Innovations, Consensus Orthopedics, Consortia Health, Consort Medical, Contamac, Contatti Medical, ContextVision, Control Flo Medical, ConvaTec, Conventus Orthopaedics, Convergent Dental, Cook Biotech, Cook Medical, Cook Regentec, Cooper Companies, Copan Diagnostics, COPD Foundation, Copenhagen University Hospital, Cordis, Corestone Biosciences, Coriell Institute for Medical Research, Corin, Corindus Vascular Robotics, CorMatrix Cardiovascular, Corneal Lens, Corning, Coroneo, CorpMedical, CorTechs Labs, CorVascular, Corvia Medical, Corvida Medical, Cosmotec, Covaleo, Covalon Technologies, Covestro, Covidien, C R Bard, Creatori Health, CR Kennedy & Company, CROMA Pharma, CrossBay Medical, CrossLink Bioscience, Crown Bioscience, Crown Dental + Medical, Crucell, Cryolife, CRYO Science, CSEM Centre Suisse d'Electronique et de Microtechnique, CS Medical, CTI Life Sciences, Curasan, Curetis, Curexo, CurveBeam, CvergenX, CVR Global, CVS Caremark, CyberHeart, CyberKnife, Cyclopharm, CynergisTek, Cynosure, CytoBioscience, CytoSorbents, D&K Technologies, D. Western Therapeutics Institute, Daiichi Sankyo, Dalhousie University, Dallas Lighthouse for the Blind, Dana-Farber Cancer Institute, Dance Biopharm, Darby Dental Supply, DarioHealth, Dartmouth-Hitchcock Medical Center, Dasman Diabetes Institute, Dassault Systems, David Snow, DaVinci Biomedical Research Products, DaVita Clinical Research, Daxor, Daylight Medical, Debiotech, Decathlon Capital Partners, Defense Advanced Research Projects Agency, Defense Health Agency (US), Defense Logistics Agency, Defense Threat Reduction Agency, Degania Silicone, Dehaier Medical Systems, Delcath Systems, Delivering Scientific Innovation for Autism (DELSIA), Delta, Demetra, Dengg Medizintechnik, DenMat Holdings, Densitas, Dental Assist, DentalEZ Integrated Solutions, Dental Hygienics and Decontamination, Dentsply International, DeOst, Department of Defence, Department of Defense, Department of Health and Human Services, Department of Veterans Affairs, DePuy, DermaPort, Derma Sciences, DermSpectra, Device Technologies, Devicor Medical Products, DexCom, Diablo Clinical Research, Diasend, Digital Science, Dignify Therapeutics, Dignitana, Dignity Health, Dilon Diagnostics, Diplomat, DirectView Security Systems, Disior, Dispersive Technologies, Distal Access, Diversey Care, Diversified Ophthalmics, Dixi, Dixie State University, DJO Global, Doctor's Medical, Dolomite, dorsaVi, DOSE Medical, DOUGLAS MEDICAL PRODUCTS, Dover Medical & Scientific Equipment, Dr. Agarwal's Eye Hospitals, Dr. Reddy's Laboratories, Dr. Stephen Cook, Dr. U Devices, DreaMed Diabetes, Drukier Institute for Children's Health, DS Healthcare, DSM, DT MedTech, Dukal, Duke Cancer Institute, Duke University, Duke University Medical Center, Dynasil, Dynatronics, DySIS Medical, Dystonia Europe, e-NABLE Foundation, E-QURE, EarLens, EarlySense, Eastar Industries, Easton Pharmaceuticals, EBM-Solutions, EB Neuro, eCardio Diagnostics, Eccrine Systems, Eckert & Ziegler, ECM Medical, Ecole Polytechnique de Montreal, Ecomed Solutions, EDAP TMS, Edge Medical, Edinburgh Molecular Imaging, Edogawa Hospital, Edwards Lifesciences, eemagine, EhmetDx, Eigen, Eisai, Eisai Inc, eKare, Eko, Ekso Bonics, El.En, Electrical Geodesics, ElectroCore, Electromed, Elekta, Elixirgen, Eltima Software, ELT Sight, Embolitech, EmboMedics, EMD Millipore, EMD Serono, Emergent BioSolutions, Emory Healthcare, Empatica, Emperra, Emphysys, Enclara Pharmacia, Endocare, EndoChoice, Endo International, Endologix, Endomagnetics, Endonovo Therapeutics, Endo Pharmaceuticals, Endospan, EndoTherapeutics, Endotronix, ENDRA Life Sciences, Enesi Pharma, eNeura Therapeutics, Engimplan, Engineered Medical Solutions, Enova Illumination, Entellus Medical, EnteroMedics, Enzyre, EOS Imaging, Epica Medical Innovations, EQT, Equashield, Equipois, Erasmus University Medical Center, ERT, Esco Medical, Establishment Labs, Ethicon Endo-Surgery, ETView Medical, Eunice Kennedy Shriver Institute of Child Health and Human Development, Eupharmed, European Hearing Instrument Manufacturers Association, European Parkinson's Disease Association, European Society for Radiotherapy & Oncology, European Union, European Union Regional Development Fund, Eurotrials, EUSA Pharma, Event Cardio Group, Evergaze, Evolent Health, Evolus, Exactech, Exact Imaging, Exact Sciences, Exalenz Bioscience, Exergen Medical, Exosome Sciences, Expanding Orthopedics, Exploragen, ExplORer Surgical, ExThera Medical, Eyegate Pharmaceuticals, EyeQ Vision, Ez Sleep Technologies, Facebook, FallCall Solutions, Fannin, Fast Forward, Feinstein Institute for Medical Research, Felkasta JSC, Ferring Pharmaceuticals, Fiagon, FibriCheck, Firefly Medical, First Horizon Pharmaceuticals, Fisher & Paykel Healthcare, Fisher Scientific International, Fitabase, FitBit, Flatiron Health, FlexDex, Flexpoint Sensor Systems, Flextronics, Flint Rehabilitation Devices, FloDesign Sonics, Florida Hospital, FlowJo, Fluika, Focal, Focal Healthcare, Focus Software of Alabama, Food and Drug Administration (FDA), FormaTK Systems, Formulance, Foster Corporation, Fosun Pharmaceutical, Foundation for Innovative New Diagnostics, Fractyl Laboratories, Frankenman Medical Equipment, Frankfurt University Hospital, Franklin Innovation, Fraunhofer Institute for Microelectronic Circuits and Systems, Fred's, French Investment Fund, Fresenius Kabi Pharmaceuticals, Fresenius Medical Care, Fritz Clinic, frog, FSC Laboratories, FSC Pediatrics, Fujifilm, Fujifilm medical systems, Fujifilm Pharma, FUJIFILM SonoSite, Fukoku, Fukuda Denshi, FusionHealth, Fu Wai Hospital, G-Tech Medical, G-treeBNT, Gaia BioPharma, Galderma, Galectin Therapeutics, Gale Force Aesthetics, Galen Data, Galmed Pharmaceuticals, Galvani Bioelectronics, Gamma Medica, Gardia Medical, Gauss Surgical, Gecko Biomedical, GE Healthcare, Geisinger Health System, Geisinger Medical Center, Gelest, GEMCO Medical, Genea Biomedx, Geneia, Genentech, GenePOC, Genesee BioMedical, GeneThera, Genmab, Genpharm, Gensight, Gentag, GenTegra, Geo-Med, George Mason University, German Cancer Research Center, German Government, Gestion Univalor, Getinge, Getz Healthcare, GE Ventures, GHD GesundHeits, GID Group, GI Dynamics, Ginolis, Glaukos, GlaxoSmithKline, Glenveigh Medical, Global Good Fund, Global Kinetics, Global Life Safety Group, Global Orthopaedic Technology, Global to Local, Globe Med Tech, Globus Medical, Glooko, Glytec, gMed Canada, GM Medical, GN ReSound, Golden Meditech, Golden Valley Development, GoMo Health, Google, GPC Systems, Grace Century, Greatbatch, Great Belief International, Grifols, Groupe Sebbin, Growshapes, Grunenthal, GTCR Golder Rauner, Guangzhou Pharmaceutical Group, Guerbet, Guided Therapeutics, Guided Therapy Systems, Gulf Medical Company, GYD, GYNEMED, Hackensack University Medical Center, Haibo Biotechnology Institute, Halozyme Therapeutics, Halt Medical, Halyard Health, Hamamatsu Photonics, Hamilton Robotics, Hamilton Thorne, Hancock Jaffe Laboratories, Hangzhou Joinstar Biomedical Technology, Hangzhou Zhongmei Huadong Pharmaceutical, Hansen Medical, Harpoon Medical, Hartford Hospital, Harvard Apparatus Regenerative Technology, Harvard Medical School, Harvard University, Hatch Medical, Healeon Medical, Health2Sync, HealthBanks Biotech, Health Canada, Healthcare 21, Healthcare Global Enterprises, Health Care Originals, HealthcareSource, Healthcare Technology Innovation Centre (Chennai), HealthEast, Healthe Care Australia, Healthlink, Healthmark Industries, HealthMed Services, HealthPort, HealthSouth, Healthstream, HealthTech, HealthTech Connex, HealthTrust, HealthTrust Purchasing Group, HealthWarehouse, Healthy.io, HeartHero, Heart Imaging Technologies, HeartIT, Heidelberg Engineering, Helius Medical Technologies, Helix Medical, Helomics, HemaCare, HemCon Medical Technologies, HemoCleanse, Hemostasis, Hemovent, Hennepin County Medical Center, Henry Ford Health System, Henry Schein, Heraeus, Herman Miller-Nemschoff, Hielscher Ultrasonics, Highland Instruments, HighRes Biosolutions, Hill-Rom, Himed Hospital Management, Histogenics, Hitachi, Hitachi Aloka Medical, Hitachi Medical Systems Europe, HLD, HLS Therapeutics, HMicro, Hobbs Rehabilitation, HoliStick Medical, HollandPTC, Hollister-Stier Labs, Hologic, HoMedics, Honda R&D Americas, Horiba, Horizon 2020, Horizon Discovery, Hospi, Hospira, Hospital for Special Surgery, Hospital Services, HOYA Vision Care, HRA Pharma, HSG-IMIT, Huami, Hudson Robotics, Hugel, Humacyte, Humana, Human Longevity, HuminTec, Hunan Xing Hang Rui Kang Bio-Technologies, Huntsman Cancer Institute, Huvitz, HUYA Bioscience, HydroCision, Hygieia, HyGreen, I-MED Pharma, i-Optics, Iagnosis, IBA, Ibex Medical Analytics, iBio, iBIO Institute's PROPEL Center, IBM, iCAD, Icagen, IceCure Medical, Ichor Medical Systems, Icon, iCRYO Cryotherapy, ICU Medical, Ideal Life, Ideal Medical Solutions, IDEAS DWC, Ieso Digital Health, Ifa Systems, iHear Medical, Illumina, IM-Tech, IMA, ImageIQ, Image Stream Medical, ImagineMIC, Imbed Bio, Imbio, IMD Companies, IME Medical Electrospinning, IMI, Immervision, ImmuneCyte Life Sciences, Immune Pharmaceuticals, ImmunoGen, iMotions, Impact Cryotherapy, Impact Instrumentation, iMPak Health, ImpediMed, Implanet, Implantcast, Imprimis Pharmaceuticals, Imricor Medical Systems, IMRIS, INCELL, IncellDx, InCube Labs, Indee Labs, Independent Medical Coop, Indiana Biosciences Research Institute, Indo UK Institutes of Health, iNeedMD, Infinity Group, InfoBionic, Infobip, Infor, Informed Data Systems, Inform Genomics, InfraReDx, InfraScan, InfusAID, InfuSystem Holdings, InfuTronix Solutions, Innara Health, InnerOptic Technology, InnerScope Hearing Technologies, Innocutis, Innosurge, INNOVAMEDICA, Innovation Zed, INO Therapeutics, Inova Health System, Inscopix, Insel Gruppe, Inserm, InSightec, Insight Medical Systems, Insightra Medical, InsomniSolv, InSpire MD, InspireMD, Institute for Bioscience and Biotechnology Research, Institute for Commercialization of Public Research, Institut Gustave Roussy, Insulet, InsuLine Medical, Intalere, Intarcia Therapeutics, Integer Holdings, Integra, Integra LifeSciences, Integrated Vent Solutions, Integrity Applications, Integrity Implants, Integrity Life Sciences, Integrum, Intelerad Medical Systems, IntelliCell BioSciences, Intelligent Hospital Systems (IH Systems), Intellirod Spine, IntelliWheels, Intermed, Intermountain Healthcare, International Flavors and Fragrances, Interpace Diagnostics, Interrad Medical, Intersect ENT, InterSystems, InterValve, Interventional Spine, IntraFuse, IntraMed, Intratus, IntroMedic, Intronix Technologies, Intuitive Surgical, IntuitiveX, Invacare, INVAP, InvenSense, Invibio Biomaterial Solutions, inviCRO, Invictus Medical, InVivo, Iogen, IPIC (Irish Photonic Integration Center), iRadimed, IRIS International, IrisVision, Ironwood Pharmaceuticals, Irras, Irvine Scientific, iSage Rx, iSense CGM, IsoRay, Israeli National Authority for Technological Innovation, Isto Technology, Itamar Medical, ITEL, Item, ITEM Medical Technologies, ITM Isotopen Technologien, Ivera Medical, Ives EEG Solutions, iVu Imaging, ivWatch, IXICO, Izasa Hospital, J. Morita, Jabil Circuit, Jai Capital, Jan Medical, Janssen Biotech, Janssen Pharmaceuticals, Janssen Pharmaceutica NV, Janz, Japan Lifeline, Japan Medical Dynamic Marketing, Jarvik Heart, Jasper Capital, JCR Pharmaceuticals, JEOL, Jin, JNC Medical, John Ballard, Johns Hopkins Medicine (JHM), Johns Hopkins University, Johnson & Johnson, Johnson & Johnson Innovation, Johnson & Johnson Vision, John Wayne Cancer Institute, Joimax, Jointpoint, Joint Solutions Alliance, Joslin Diabetes Center, JOT Automation, Joylux, JQMS, Jubilant DraxImage, Juno Biomedical, JustRight Surgical, Juvenescence, Juvenile Diabetes Research Foundation, K2M, Kadimastem, Kadmon Pharmaceuticals, Kairuku, Kamol Sukosol Electric, Kaneka, Karl Storz, Karolinska University Hospital, Kasios, Katena Products, Kavo Kerr Group, Keck School of Medicine of USC, Keensight Capital, Kelyniam Global, Kentec Medical, Kent Imaging, Kerecis, Kessler Foundation, Keystone Heart, Key Tronic, KFx Medical, Kindred Healthcare, Kinetic Concepts, Kinetic Dx, King's College Hospital, King Faisal Specialist Hospital and Research Center (KFSH&RC), Kingworld Medicines, Kitakyushu General Hospital, Kleresca, KLOX Technologies, Knight Cancer Institute, Know Labs, Kobe Kanagawa Eye Clinic, Kobold Medical, Kochoptik, KOL Bio Medical Instruments, Konica Minolta, Koushan Pharmed, Kuros Biosciences, Kurve Technology, Kuwait Life Sciences, Kwangwon, KYERON Medical Innovations, Kyocera, Kyoto University, Laboratoire Gamida, Laboratory Corporation of America, Laboratory Supply Company (LABSCO), LabStyle Innovations, La Casa Del Medico, Lakeland Health, LambdaVision, Lankenau Institute for Medical Research, Lantheus Holding, Lantheus Medical Imaging, Laser Clinics Australia, Laser Lab Corp, Laseroptek, Lattice Semiconductor, Lattus Spine, LaunchPad Medical, LDR Holding, Lead Discovery Center, Leaf Healthcare, Leica Microsystems, Leiters, LeMaitre Vascular, LensAR, Leonhardt's Launchpads, LEO Pharma, Les Laboratoires Servier, Levine Cancer Institute, Leviticus Cardio, Lexington Biosciences, LG Life Sciences, Life-Assist, LifeArc, LifeBEAM, LifeCaring Technologies, LifeCell, LifeCodexx, LifeHealth, Lifehealthcare, Lifenet, LifeQ, LifeScan, Life Spine, Life Technologies Corporation, LifeTech Scientific, LifeVac, LifeWatch Services, Ligand Pharmaceuticals, Lightpoint Medical, LiLa Enterprise, Lima Corporate, Limbix, LindaCare, Linde Gas, Lineage Cell Therapeutics, Linear Health Sciences, Link-age Solutions, Linkage Biosciences, LivaNova, Living Heart Foundation, Living Proof, Livongo Health, LKC Technologies, LNE/G-Med, Locate Therapeutics, Logic PD, Lokai Medical, Lombard Medical Technologies, Loop Medical, LORION Enterprises, LSI Medience, Lucid Diagnostics, Lucideon, LumaMed, LumenR, Lumicell, LumiThera, Luna Innovations, Lung Transplant Foundation, Lyra Health, M.Fast Technologie, M2S, Maastricht University, Maccabi Healthcare Services, Mackenzie Innovation Institute, Macquarie University, MacuLogix, Madison Dearborn Partners, MagBioSense, Magic Leap, Magnetic Insight, Magnet Sales and Manufacturing, Magniant, Major Health Partners, Mallinckrodt Pharmaceuticals, Malvern Instruments, Mamba Instruments, Manhattan Scientifics, Maquet Medical Systems, Mar Cor Purification, Mariel Therapeutics, MarinHealth, Marizyme, Maryland Proton Therapy Center, Masimo, Massachusetts Eye and Ear Infirmary, Massachusetts General Hospital, Massachusetts Institute of Technology, Massachusetts Life Sciences Center, Mast Therapeutics, Matador Medical, Materialise, Matrix Surgical, Mauna Kea Technologies, Mavig, Max-Planck, Maxiim, Maxim Integrated, Maxim Ventures, Maxx Medical, Mayo Clinic, Mazor Robotics, MBA, MBA Medical, MB Innovations, MC3 Cardiopulmonary, MC10, MCC Global Laboratories, McGuire Institute, McKesson, MD Anderson Cancer Center, MDCorp, Mdoloris Medical Systems, MDS Pharma Services, Medacta, Med Alliance, Medassets, MedAxiom, MedCom, MedCrypt, Medela, Medeon Biodesign, Medgenics, Medial, MediBeacon, MediBioSense, Medibrane, Medica, Medical Developments International, Medical Device Innovation, Safety and Security Consortium, Medical Device Innovation Consortium, Medical Enterprises Distribution, Medical Equipment Solutions, Medical Imaging, Medical Innovators, Medical International Research, Medicall Biomedikal, Medical One, Medical Research Council, Medical Technology Enterprise Consortium, Medical University of Innsbruck, MedicaSafe, Medicinal Genomics, Medicinalia Cormedica MC Medical, Medicollector, Mediconovus, Mediconsult.com, Medicrea, Medicure, Medidata Solutions, Medifocus, Medigate, Medigus, Mediheal Group of Hospitals, MediKon Saglik, MedikorPharma, Medimaps Group, Medimass, Medimetrics, MedImmune, Medio-Haus, MediPines, Mediso, Medison Pharma, Meditology Services, Meditrade, MediWound, Medizone International, Medline Industries, MedLite ID, Medovex, MedPac Asia Pacific, medPhoton, MedPlast, MedQuest, Medtech, MedTech For Solutions, Medtronic, Medx, Medybloom, MedyMatch, Medytox, Meito Sangyo, Mel-Mont Medical, MELA Sciences, Melinta Therapeutics, MELITEK, MellingMedical, Memira Holding, Memorial Sloan Kettering Cancer Center, Menarini, Mentor, Merck KGaA, Merck Serono, Mercury Biomed, Mercy Hospital, Merge Healthcare, Meridian Medical Technologies, Merit Medical Systems, Merrimack Pharmaceuticals, Merz, MESA Specialty Gases & Equipment, Mespere LifeSciences, Metactive, Metagenics, Metasurg, Methapharm, Metro Health, Metro Orthopedics and Sports Therapy, Mevion Medical Systems, MGC Diagnostics, MHG, Micell Technologies, Michael Bubolz, Michael J. Yaremchuk, Michael James Enterprises, Michael J Fox Foundation, Michelson Diagnostic, MicroAire Surgical Instruments, Microbot Medical, Microdermics, Microfabrica, Micro Interventional Devices, Microline Surgical, MicroMatrices, Micro Medical Solutions, Micron Products, MicroPort Scientific, MicroPort Sorin CRM (Shanghai), Microsoft, Midmark, Midway Dental Supply, Mighty Oak Medical, MikroLink, MILA International, Mile High Ophthalmics, Milestone Advanced Cosmetic Systems, Milestone China, Milestone Scientific, Millar, Millennium Dental Technologies, Millennium Medical Devices, Millipede, Miloftalmica, MiMedx, Mimetas, MIM Software, MindChild Medical, MiNDERA, Mindray Medical International, Minebea, Minimally Invasive Devices, MinInvasive, Ministry of Health (Algeria), Ministry of Health (France), Ministry of Health (Iraq), Ministry of Health (Saudi Arabia), Ministry of Health (Turkey), Minnesota Medical, Minnetronix, Minogue Medical, Mintcare, Miracle-Ear, Miraculins, Mirada Medical, MiRTLE Medical, MIS Implants Technologies, Misonix, Mission Health, Mitralign, Mitsubishi Chemical, Mitsubishi Chemical Corporation, Mizuho, MJH Life Sciences, MLase, MNX, Mobelife, Mobidiag, Mobius Imaging, Modus Health, Molecular Devices, Molecular Response, MolecuLight, Molnlycke Health Care, Monaghan Medical, Montana Board of Research and Commercialization Technology, Montefiore Health System, Monteris Medical, MORE Health, Morel Company, Motic, Motorika, Mount Sinai Health System, Movi, MRI Interventions, MR Solutions, MSM-Medimpex, MT.DERM, Multiclonal Therapeutics, Mundimed, Musculoskeletal Transplant Foundation, MWMedical, Myant, myHealth Sentinel, Myomo, Myriad Genetics, MyTPI, Mytrex, MyungMoon Bio, N2 Biomedical, N8 Medical, Nakashima, Nanion, Nanjing Micro-Tech, Nanning Xinzizhu Trading, Nanobeak, Nanotherapeutics, NanoVibronix, NanoViricides, Nanovis, Nanowear, NantHealth, NASA, Nasseo, National Academy of Sciences, National Cancer Center, National Cancer Institute, National Center for Complementary and Alternative Medicine, National Eye Institute, National Healthcare Services (NHS), National Health Service, National Heart, Lung and Blood Institute, National Human Genome Research Institute, National Institute of Allergy and Infectious Diseases, National Institute of Arthritis and Musculoskeletal Diseases, National Institute of Child Health and Human Development, National Institute of Dental and Craniofacial Research (NIDCR), National Institute of General Medical Sciences, National Institute of Mental Health, National Institute of Neurological Disorders and Stroke, National Institute of Nursing Research, National Institute on Aging, National Institute on Disability and Rehabilitation Research, National Institute on Drug Abuse (NIDA), National Institutes of Health, National Parkinson Foundation (NPF), National Research Council Industrial Research Assistance Program, National Research Nuclear Center, National Science Foundation, National Space Biomedical Research Institute, National Surgical Care, National University of Singapore, Natus Medical, Naver, Navican, Navidea Biopharmaceuticals, Navigate Surgical Technologies, Navigation Sciences, NavLab, ndd Medical Technologies, NDS Surgical Imaging, Nelson Laboratories, Nemaura Medical, NeoChord, Neograft Technologies, Neoss, Neosurgical, NEO Tech, Neovasc, Nephron Dx, Nephros, NetraMark, NetraPharma, NetScientific, Netsmart, Neural Analytics, Neuralynx, Neuro Assessment Systems, Neuroelectrics, NeuroEM Therapeutics, Neuro France Implants, NeuroLogica, Neuromed, NeuroMetrix, NeuroMuscular Orthotics, Neuronetics, Neuronoff, NeuroPace, NeuroSigma, Neurosoft, NeuroTech, NeuroVigil, Neurovirtual, Neutronix Quintel, Nevro, New Era Orthopaedics, Newmars Group, New Objective, NewSurg, New York University, Nexeon MedSystems, Nexstim, NextGen LifeLabs, Nextremity Solutions, Nexus Data Services, Nexus Medical, NFANT Labs, NGK Spark PLug, NHS Bio, NHS Blood and Transplant, Nico, Nicox, Nido Surgical, Nightstar Therapeutics, Nihon Kohden, Nihon Medi-Physics, Nikkiso, Nikon Instruments, Nima, Nipro Corporation, Nitto Denko, NKL, Nobel Media, NOCTEM, Nonin Medical, Noninvasix, Nordicneurolab, Nordion, Norgenix Pharmaceuticals, Norgine, North American Science Associates, North Carolina State University, North Mississippi Health Services, North Shore InnoVentures, NorthStar Medical Radioisotopes, Northwestern Medicine Bluhm Cardiovascular Institute, Northwestern Medicine Developmental Therapeutics Institute, Northwestern Memorial Hospital, Northwestern University, NovaBay Pharmaceuticals, Novadaq Technologies, Novaerus, NovaMedica, Novant Health, Novarix, Novartis, Novation, Noventure, Noviosense, Novocam Medical Innovations, Novo Nordisk, Novostia, Novuson Surgical, Noxilizer, NSW Medical Device Fund, Nu-med Plus, Nuance Healthcare, Nuclear Diagnostic Products, NuCryo Vascular, NuEyes, NuMed, NuSight Medical, Nutricare Costa Rica, NuVascular Technologies, NuVasive, Nuvectra, Nuviant Medical, NuvoAir, Nvidia, NXP Semiconductors, Nxstage Medical, NXT Biomedical, NZ Technologies, Oasis Medical, Obalon Therapeutics, OBP Medical, OcuMedic, OCuSOFT, OcuTherix, Office of Naval Research, Ohio State University, Olaregen Therapeutix, Olympus, Olympus Respiratory America, Omega Medical Imaging, Omeq Medical, Omnicell, Omnilife Science, OmniVision Technologies, Omnyx, Omron, On-X Life Technologies, OncoQuest, OncoVision, OnDemand 3D, OnDosis, Onduo, OneBlood, OnFace, Onkos Surgical, ON Semiconductor, Onsite 340B, Opisafe, Opsens, Optibrand, Optim, Optimal IMX, Optima Pharmazeutische, OptiviAR, Optometric Extension Program Foundation, Optos, Optovue, Oraya Therapeutics, Orbital Therapy, Orbit Biomedical, OrbusNeich, OrCam, Orchestra BioMed, Oregon Health Sciences University, Orexo, ORFLO Technologies, Organogenesis, Organ Technologies, ORHub, Ortho-Clinical Diagnostics, OrthoAccel Technologies, Orthocell, Orthofix, Orthohealing Center Management, Ortho Kinematics, Orthopaedic Research and Education Foundation, OrthoPediatrics, Orthopedic Outfitters, OrthoSensor, Ortoma, Oscor, Osiris Therapeutics, OSI Systems, Oska Wellness, OssDsign, Osseus Fusion Systems, Osteomed, Osterhout Design Group, Oticon, Otsuka, Ottawa Hospital Research Institute, Ottobock, Ouraring, Oventus, oVio Technologies, Owen Mumford, Owens & Minor, Owlstone Medical, Oxford Performance Materials, Oxygen Plus, OxySure Systems, Ozop Surgical, P-cure, PaceMate, Pacific-Medico, Pacific Diabetes Technologies, Pacific Medical, Pacific West Medical Sales, Pain Care Labs, PAKmed, Palabra, Palex Medical, Pall Corporation, Pansend, Parabase Genomics, Paragonix Technologies, Paragon Medical, Parcell Laboratories, Paris Descartes University, Parker Hannifin, Parkinson's UK, Partners HealthCare, PartsSource, PathAI, PathMaker Neurosystems, PathoGenetiX, Patient-Centered Outcomes Research Institute (PCORI),, PatientIQ, Patterson Companies, Patterson Dental, PAVmed, Pax Neuroscience, PCH, PEAR Therapeutics, PediaVision, PEDRA Technology, Penn Medicine, Pentax, Penumbra, People's Liberation Army, Pepsico, Perforce Software, PeriGen, PerkinElmer, Perkins Healthcare Technologies, Perry Baromedical, Pfizer, Pharmaco-Kinesis, Pharmacyclics, Pharmstandard, Pharos Life Corporation, Phase One Medical, Philips, Philips Healthcare, Phoenix Children's Hospital, Phosphagenics, PhotoMedex, Physio-Control, PhysIOL, PhysIQ, Picometrics Technologies, PierianDx, Pierre Fabre, Pillar Palatal, Pillar Technologies, Pioneer Pharma, Pixium Vision, Pixvana, Plagens Medical Consultants, Planetree, Planmeca, Planmed, Pleuratech, Plexus, PlugMed, Pluristem Therapeutics, Pocket Nurse, Podimetrics, Poiesis Medical, Poietis, POLL Medical, Polyganics, Polymedco, Polymer Technology Systems, PolyOne, PositiveID, Potrero Medical, Powers Medical Devices, PPD, Preceyes, Precise Biometrics, Precision Eye Services, Precision Image Analysis, Precision Lens, Precision Medical Devices, Precision Ocular, Precision Optics, Precision Spine, Prellis Biologics, Premier Biosoft International, Premier Inc, Premier Shockwave, Preora Diagnostics, Presbia, Pressure BioSciences, Prevacus, Prevas, Prevent Biometrics, Preventice, Preventice Inc, PREZIO Health, Prime Healthcare Services, Prime Health Services, PRIM Group, PrinterPrezz, Prism Health Care Services, Prisym ID, Pro-Egaux, Pro-Tech Design and Manufacturing, Procella Therapeutics, Procept BioRobotics, Procter & Gamble, Procyrion, Profil Institute for Clinical Research, Profound Medical, Progenerative Medical, Progenity, Progettiamo Autonomia Robotics, Progressive Medical International, Progressive Spinal Technologies, ProHEALTH Medical Management, Promedica International, Promenade Software, Promepla, Prometheus Laboratories, Promimic, ProNova, Proove Biosciences, Propeller Health, Prosenex, Prosolia, Proto Script Pharmaceutical, Protxx, Provectus Biopharmaceuticals, Proven Process Medical Devices, Provia Laboratories, Provision Healthcare, Proximo Medical, Proxy Biomedical, Pulmodyne, Pulmonox, Pulse Biosciences, PulsePoint, Pulsion Medical Systems, Purdue Research Foundation, Purdue University, Puregraft, Pyxant Labs, Q3 Medical Devices, Qfix, QOL Devices, QT Vascular, Qualcomm, Qualcomm Life, Qualigen, Quality Circuit Assembly, Qualtran, Quanta, Quanta Dialysis Technologies, Quanterix, Quantifoil Micro Tools, QuantumDx, Quantum Surgical, Queensland University of Technology, Quest PharmaTech, Quintain Project Solutions, Quintiles, QuiO Technologies, Quip Laboratories, QXMedical, R-Action Distribution, R-NAV, R-Pharm, Racer Technology, Radboud University Nijmegen Medical Centre, RadCore Labs, Radiomedix, Radlink, RadNet, Raiing Medical, Rainbow Medical, Rational Surgical Solutions, RaySearch Laboratories, RCT Logic, RE2, Rechon Life Sciences, ReCor Medical, Recovery Force, Redbiotec, Redlen Technologies, Redox, RefleXion Medical, ReFlow Medical, Regenerx, Remarkable Technologies, Remidio Innovative Solutions, RenalSense, Renovis, Renovo, Rescon Technologies, ReShape Lifesciences, ReShape Medical, Resmed, Resonance Health, Respicardia, Respiratory Motion, Respironics, RespirTech, Response Biomedical, ReWalk Robotics, Rex Medical, RFSU, Rheumco, Rhinomed, Rhythmlink, Richmar, Ricoh, RightEye, Rigshospitalet, Rijuven, RIKEN Yokohama Institute Omics Science Center, Rimidi, Rio Grande Neurosciences, Roche, Roche Diagnostics, Rock-One International, Rockwell Medical, ROCOL, Rodo Medical, ROi (Resource Optimization & Innovation), Romulus Titan, Rotterdam Eye Hospital, RoundTable Healthcare Partners, Roxwood Medical, Royal Perth Hospital, Royal Philips Electronics, RQI Partners, RTI Surgical, Rubin Medical, RxMx, RyMed, S2 Interactive, SafeOp Surgical, SafeWire, Saint Luke's Mid America Heart Institute, Salient Surgical Technologies, Salk Institute, Salutron, Salvin Dental Specialties, Samsung Electronics, Sanara Ventures, Sanbor Medical, Sanford Health, Sanford Process, Sanmina, Sanofi, Sanomedics, Santen, Santen Pharmaceutical, Sanuwave Health, Sarmedic, Sartorius, Satellite Healthcare, Satori, Savonix, Sayan Orthopaedics, SBRI Healthcare, Scandinavian Health, Schutt Sports, SciBase, Scienion, Scientific Analytics, Sciex, Sciton, Screen6, Scripps Health, Scripps Translational Science Institute, SCRUM, SeaSpine, SeaStar Medical, Secant Medical, Second Sight Medical, Sectra, Sedia Biosciences, Self Regional, Selvita, Sementis, Semiconductor Research, Semtech, Seneca, Senescence Life Sciences, Senomyx, Senseonics, Senshinkai Eye Institute, Sensible Medical Innovations, Sensifree, Sensiotec, SensorHound, Sensorion, Sensus Healthcare, Sentio, Sequana Medical, SerenaGroup, Serenus Biotherapeutics, Service and Medical Colombia, SFC Fluidics, Shandong Cancer Hospital, Shandong Weigao Orthopedic Device, Shandong Yaohua Medical Instrument, Shandong Yaohuo Medical Device Technology Company, Shenghuo Medical, Shimadzu, Shinagawa LASIK Centers, Shine Medical, SHL Telemedicine, Si-Bone, Sichuan University, Siemens, Siemens Healthcare, Siemens Healthcare Diagnostics, Siemens Healthineers, SIFI (Societa Industria Farmaceutica Italiana), Sigenics, Signet International, Signum Surgical, Sinapsis Medical Technologies, Sinclair Dental, Sinclair Pharmaceuticals, Singapore Eye Research Institute (SERI), Singapore National Eye Centre, Sinopharm, Sintact Medical Systems, SirenMD, Sirona Biochem, Sirona Dental Systems, Sirona Direct, Sistema de Implante Nacional, Siteman Cancer Center, Sites Medical, Sizewise Worldwide, SkinCure Oncology, Sklar Surgical Instruments, Skyline Medical, Skyline Urology, Slater Endoscopy, SleepScore Labs, Small Bone Innovations, Small Business Innovation Research, Smart Medical Systems, Smartwise, Smile Eyes Group, Smilow Cancer Hospital at Yale-New Haven (SCH), Smith & Nephew, Smiths Medical, snap40, Snoring Center USA, Society for Vascular Surgery Patient Safety Organization (SVS PSO), SoClean, Sofar, Sofie Biosciences, Sofregen Medical, SoldierSocks, Soliton, Somahlution, Somnology, Sonacare Medical, Sonion, Sono-Tek, Sono Bello, SonoSpine, Sonova, Sony Olympus Medical Solutions, Sorin Group, Sotera Wireless, Soterix Medical, Southern California Permanente Medical Group, Southmedic, Southwest Research Institute, Spacelabs Healthcare, Spacelabs Medical, Spark Biomedical, Spark Therapeutics, Spartan Medical, Sparton Corporation, Specialty Renal Products, Spectral Medical, Spectranetics, SpectraScience, SpeechVive, Spinal Elements, Spinal Kinetics, Spinal Resources, Spindial, Spineguard, Spineology, Spiracur, Spirosure, Spotify, SPR Therapeutics, SQI Diagnostics, SRETT, St. Barnabas Medical Center, St. Jude Children's Research Hospital, Staar Surgical Co, Standard Cyborg, Stanford University, Stanford University School of Medicine, STAR Analytical Services, Starkey Hearing Technologies, Starpharma, State of the Art Medical Products, Stellar Technologies, Stentys, Stereotaxis, Sterifarma, Stimwave Technologies, St Jude Medical, STMicroelectronics, Stockholm County Council, Stratasys, Stratis Medical, Stratpharma, Straumann, Stryker, Summa Health System, Summit Medical Group, Summit Orthopedics, Summit Therapeutics, Suneva Medical, Sunlight Medical, SunTech Medical, Sun Yat-sen University, Super Resolution Technologies, SuperSonic Imagine, SurePure, SurGenTec, Surgical Care Affiliates (SCA), SurgicalOne, Surgical Solutions, Surgical Specialties, Surgical Theater, Surgicorp, SurgiGyn, SurModics, Sustainable Solutions, Suture Express, Svelte Medical Systems, Sway Medical, Swedish Bactiguard, Swift Medical, Swiss Institute of Allergy and Asthma Research, SwissLens, Sylvester Comprehensive Cancer Center, Symmetry Medical, Symmetry Surgical, Synairgen, Synapse Biomedical, Synaptive Medical, SynCardia Systems, Synergetics, SynergEyes, Synergy Disc Replacement (SDRI), SYnergy Medsales, Syneron, Syneron Medical, SynGen, Synopsis Healthcare, Synovis Micro Companies Alliance, Synpromics, Syntellix, SyntheticMR, Sysmex, Sysmex Inostics, Systagenix Wound Management, Taewoong Medical, Taisho Biomed Instruments, Takeda Pharmaceutical, Takeda Pharmaceuticals U.S.A, Talar Capital Partners, Tallahassee Memorial HealthCare, Tamarack Biotics, Tandem Diabetes Care, Tangible Science, Targeted Medical Pharma, Tasso, Tata Chemicals, Tau Consortium, Taureon, Tauriga Sciences, TauTona, TearLab, Teb Sanaat Lotus, TechCare, Techcyte, Technology Consult Berlin, Tecomet, Tecres, TeDan Surgical Innovations, Teijin, Teijin Nakashima Medical, TekMed, Telcare, Teleflex, TeleMammography Specialists, Telenatal, Teleon Surgical, Telix Pharmaceuticals, Tempus, Teneovita Medical, Tenet Diagnostics, Terason, Terso Solutions, Terumo, Terumo Cardiovascular Systems, TetraScience, Teva Pharmaceutical Industries, Texas A&M University, Texas Children's Hospital, Texas Christian University, TFS International, The American Senior Housing Association, The Christie, The Health Management Academy, The HydraFacial Company, The Medicines Company, Theorem Clinical Research, Theraclion, Theradiag, Theragen, Theragenics, Theralase, Therapeutic Solutions International, Therapix Bio, ThermiGen, Thermo Fisher Scientific, ThermoGenesis, Thermomedics, The University of Chicago Medicine, Thiel Foundation, THINK Surgical, Third Pole Therapeutics, Thomas Jefferson University, Tianjin Institute of Pharmaceutical Research, Tianjin Taishan Cancer Hospital, Tidepool, Tilak Healthcare, TIPR-HUYA Advancing Innovative Medicines, Tissue Analytics, Tissue Fusion, TissueGene, Tissue Regeneration Systems, Tissue Regenix, Titan Medical, Titan Pharmaceuticals, Titan Spine, Tobii Technology, TogetherMD, Toray, Tornier, Torque Medical Holdings, Torrance Memorial Medical Center, toSense, Toshiba, Toshiba America Medical Systems, Toshiba Medical Systems Corporation, Touch Surgery, Toulouse University Hospital, Toyoda Gosei, Trace Medical, Transcatheter Technologies, TransEnterix, Transitions Optical, Translational Research Institute for Space Health, TransPerfect Life Sciences, TransPerfect Medical Device Solutions, Transpire, Triad Isotopes, TriFusion Devices, Trinity Medical Devices, TriReme Medical, Tririver Capital, Triventis, Trivitron Healthcare, Trout Medical, Tru-D SmartUVC, TSO3, TTP LabTech, Tufts University, Tulane University, Turtle Beach, Two Pore Guys, Tyber Medical, Typenex Medical, TypeZero Technologies, Tyto Care, U.K. Department for International Development, Ubimax, Ubiquitome, UCB, UC Davis Health System, uHealth Australia, UK Government, uLab Systems, Ulthera, Ultramedix Australasia, UltraSpect, uMotif, Unetixs Vascular, Unified Women's Clinical Research, Uniformed Services University of the Health Sciences, Unify Surgical, Unilens Vision, Unilife, UniQuest, UniQure, UnitedHealthcare, United Medical Systems (UMS), United Orthopedic Group, United States Agency for International Development, United States Special Operation Command (SOCOM), United Therapeutics, UniteOR, UnityPoint Health, Universal Consumer Electronics Systems, University Ann & Robert H. Lurie Children's Hospital, University College Cork, University Health Network, University Medical Center Groningen, University of Alberta, University of Antwerp, University of Arizona, University of Bradford, University of Buenos Aires, University of California, San Diego, University of California, San Diego (UCSD) School of Medicine, University of California Berkeley, University of California Irvine, University of California Los Angeles, University of California San Francisco, University of Cambridge, University of Central Florida Research Foundation, University of Cologne, University of Colorado, University of Florida, University of Florida Research Foundation, University of Georgia, University Of Huddersfield, University of Illinois at Chicago, University of Kent, University of Liverpool, University of Louisville, University of Manchester, University of Maryland, University of Maryland Baltimore, University of Maryland Ventures, University of Massachusetts Medical School, University of Miami, University of Michigan, University of Minnesota, University of Missouri, University of Montreal, University of Nebraska, University of Nevada, University of Notre of Dame, University of Oklahoma, University of Oxford, University of Pennsylvania, University of Pennsylvania School of Veterinary Medicine, University of Pittsburgh, University of Pittsburgh Medical Center, University of Rochester, University of Rochester Medical Center, University of South Alabama, University of South Carolina, University of Southern California, University of Strathclyde, University of Sydney, University of Texas Southwestern Medical Center, University of the Pacific, University of Tokyo, University of Tubingen, University of Utah, University of Virginia, University of Washington, University of Wisconsin, University of Wisconsin Carbone Cancer Center (UWCCC), University of Wyoming, UPMC, Uppsala University Hospital, US Air Force, US Army, US Army Institute of Surgical Research (USAISR), US Army Medical Research and Material Command, US Army Research Laboratory, USCI Holdings, US Department of Veteran Affairs, US Endoscopy, Ushio, USMD Holdings, US Medical Innovations, US Navy, US Veterans Administration, UV Flu Technologies, Valeant Pharmaceuticals, Valencell, Valentis Nanotech, Validic, Valorem Surgical, Valorem Surgical AP, Valtronic, Vance Street Capital, Vanderbilt University, Van G. Miller & Associates, Vantage Endoscopy, Vantage Health, Varex Imaging, Varian Medical Systems, Vasamed, Vascular Flow Technologies, Vascular Graft Solutions, Vascular Solutions, Vascutek, Vasomedical, Vasorum, Vectura, Velano Vascular, velixX, Velocity Pharmaceutical Development, Venclose, Ventana Medical Systems, Vention Medical, Venus Medtech, Veracyte, Verax Biomedical, Verb Surgical, Vericel, Verily, Verisante Technology, VeriTeQ, Versant Health, Versar, Vertebral Technologies, Veryan Medical, Veterans Healthcare Supply Solutions, Vetter, Vexim, ViaCyte, Viant, Via Surgical, Viatar CTC Solutions, Vida Diagnostics, View Medical, ViewRay, Vigilant Biosciences, Vigilenz Medical Devices, Vinamedical, Virginia Commonwealth University, Virta Health, VirtualScopics, Visikol, Vision Acquisition, VisionCare Ophthalmic Technologies, Visioneering Technologies, VisionQuest Biomedical, Visiopharm, VisiQuate, Vista Oftalmólogos, Vistinct, Visualant, VisualDx, VitaHEAT Medical, Vital Connect, Vital Images, Vitesse Biologics, VivaQuant, ViVex Biomedical, Vivid Medical, Vivior, Viz.ai, Vizient, Vodafone, Voden Medical Instruments, Volk Optical, Volpara Solutions, Voluntis, Vomaris Innovations, Voxello, Voyager Therapeutics, VSee, VSK Medical, VSP Optics, Vuemed, Vuzix, Vyaire Medical, Vycor Medical, Vygon, W2O, Wake Forest University, WakeMed Health & Hospitals, Wal-Mart, Wallingford Public School, Walter Reed Army Institute of Research, Wandong Medical Equipment, Wasas, Washington State University, Washington University in St Louis, Waters Corporation, WBC Group, Wearifi, Weihai Weigao Medical Devices, Weill Cornell Medical College, Welch Allyn, Wellbridge Health, Wellcome Trust, WellDoc, Wellness Center USA, WellSpan York Hospital, WellStar Health System, Wenzel Spine, Westchester Medical Center Health Network, Western University, White Labs, William Osler Health System, Windgap Medical, Winner Holding, WinterLight Labs, Wirthlin-Denton, WishBone Medical, Wistron, WiTricity, Wittenstein, W L Gore, Woom, Worcester Polytechnic Institute (WPI), World Eye Hospital, World Federation Of Societies Of Anaesthesiologists, World Stroke Organization, World Vision India, Worldwide Innovative Network (WIN) in personalized cancer medicine Consortium, Worrell, Worthington Biochemical Corporation, Wright Medical, Wyss Institute, X-spine Systems, X2 Biosystems, Xavier University of Louisiana, Xcede Technologies, Xenetic Biosciences, Xenex, Xenios, XERIS Pharmaceuticals, Ximedica, XOR-Labs Toronto, Xoran Technologies, XRHealth, Xtant Medical, Yankee Alliance, York Instruments, Young Dental, YouRehab, YourPhysioPlan, YPrime, Ypsomed, Z-Medica, Z-Medical, ZAI Laboratory, Zamst, Zavation, Zebra Imaging, Zebra technologies, Zecotek Photonics, Zelegent, Zenalux Biomedical, ZetrOZ, ZhiNuo, Zhonglan Electronic Technology, Zikad International Aesthetics Supplier, Zimmer Biomet, Zimmer Surgical, Zingbox, Zoe Medical, Zogenix, Zoll Medical, Zonare Medical Systems, Zucker Institute for Applied Neurosciences, Zygote Media Group
We found other products you might like!