Global Pharmaceutical Partnering Terms and Agreements 2016-2020
Global Pharmaceutical Partnering Terms and Agreements 2016 to 2020 report provides a detailed understanding and analysis of how and why companies enter Pharmaceutical partnering deals.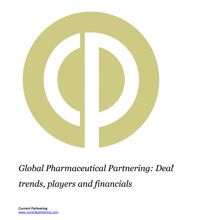 Publication date
September 2020
Product type
Research report
Available formats
PDF document
Global Pharmaceutical Partnering Terms and Agreements 2016 to 2020 report provides a detailed understanding and analysis of how and why companies enter Pharmaceutical partnering deals.
This report provides details of the latest Pharmaceutical agreements announced in the life sciences since 2016.
The report takes the reader through a comprehensive review Pharmaceutical deal trends, key players, top deal values, as well as deal financials, allowing the understanding of how, why and under what terms, companies are entering Pharmaceutical partnering deals.
The report presents financial deal term values for Pharmaceutical deals, listing by headline value, upfront payments, milestone payments and royalties, enabling readers to analyse and benchmark the financial value of deals.
The middle section of the report explores the leading dealmakers in the Pharmaceutical partnering field; both the leading deal values and most active Pharmaceutical dealmaker companies are reported allowing the reader to see who is succeeding in this dynamic dealmaking market.
One of the key highlights of the report is that over 5,500 online deal records of actual Pharmaceutical deals, as disclosed by the deal parties, are included towards the end of the report in a directory format – by company A-Z, stage of development, deal type, therapy focus, and technology type - that is easy to reference. Each deal record in the report links via Weblink to an online version of the deal.
In addition, where available, records include contract documents as submitted to the Securities Exchange Commission by companies and their partners. Whilst many companies will be seeking details of the payment clauses, the devil is in the detail in terms of how payments are triggered – contract documents provide this insight where press releases and databases do not.
The initial chapters of this report provide an orientation of Pharmaceutical dealmaking. Chapter 1 provides an introduction to the report, whilst chapter 2 provides an overview of the trends in Pharmaceutical dealmaking since 2016, including details of headline, upfront, milestone and royalty terms.
Chapter 3 provides a review of the leading Pharmaceutical deals since 2016. Deals are listed by headline value. Where the deal has an agreement contract published at the SEC a link provides online access to the contract.
Chapter 4 provides a comprehensive listing of the top 25 most active companies in Pharmaceutical dealmaking with a brief summary followed by a comprehensive listing of Pharmaceutical deals announded by that company, as well as contract documents, where available.
Chapter 5 provides a comprehensive and detailed review of Pharmaceutical partnering deals signed and announced since Jan 2016, where a contract document is available in the public domain. Each deal title links via Weblink to an online version of the deal record and contract document, providing easy access to each contract document on demand.
Chapter 6 provides a comprehensive and detailed review of Pharmaceutical partnering deals signed and announced since Jan 2016. The chapter is organized by specific technology type. Each deal title links via Weblink to an online version of the deal record and where available, the contract document, providing easy access to each deal on demand.
A comprehensive series of appendices is provided organized by Pharmaceutical partnering company A-Z, stage of development, deal type, and therapy focus. Each deal title links via Weblink to an online version of the deal record and where available, the contract document, providing easy access to each deal on demand.
The report also includes numerous tables and figures that illustrate the trends and activities in Pharmaceutical partnering and dealmaking since 2016.
In conclusion, this report provides everything a prospective dealmaker needs to know about partnering in the research, development and commercialization of Pharmaceutical technologies and products.
Key benefits
Global Pharmaceutical Partnering Terms and Agreements 2016 to 2020 provides the reader with the following key benefits:
In-depth understanding of Pharmaceutical deal trends since 2016
Access to headline, upfront, milestone and royalty data
Analysis of the structure of Pharmaceutical agreements with real life case studies
Detailed access to actual Pharmaceutical contracts entered into by leading biopharma companies
Identify most active Pharmaceutical dealmakers since 2016
Insight into terms included in a Pharmaceutical partnering agreement, with real world examples
Understand the key deal terms companies have agreed in previous deals
Undertake due diligence to assess suitability of your proposed deal terms for partner companies
Report scope
Global Pharmaceutical Partnering Terms and Agreements 2016 to 2020 is intended to provide the reader with an in-depth understanding and access to Pharmaceutical trends and structure of deals entered into by leading companies worldwide.
Pharmaceutical Partnering Terms and Agreements includes:
Trends in Pharmaceutical dealmaking in the biopharma industry since 2016
Analysis of Pharmaceutical deal structure
Access to headline, upfront, milestone and royalty data
Case studies of real-life Pharmaceutical deals
Access to Pharmaceutical contract documents
Leading Pharmaceutical deals by value since 2016
Most active Pharmaceutical dealmakers since 2016
In Global Pharmaceutical Partnering Terms and Agreements 2016 to 2020, the available deals are listed by:
Company A-Z
Headline value
Stage of development at signing
Deal component type
Specific therapy target
Technology type
Each deal title links via Weblink to an online version of the deal record and where available, the contract document, providing easy access to each contract document on demand.
The Global Pharmaceutical Partnering Terms and Agreements 2016 to 2020 report provides comprehensive access to available deals and contract documents for over 5,500 Pharmaceutical deals.
Analyzing actual contract agreements allows assessment of the following:
What are the precise rights granted or optioned?
What is actually granted by the agreement to the partner company?
What exclusivity is granted?
What is the payment structure for the deal?
How are sales and payments audited?
What is the deal term?
How are the key terms of the agreement defined?
How are IPRs handled and owned?
Who is responsible for commercialization?
Who is responsible for development, supply, and manufacture?
How is confidentiality and publication managed?
How are disputes to be resolved?
Under what conditions can the deal be terminated?
What happens when there is a change of ownership?
What sublicensing and subcontracting provisions have been agreed?
Which boilerplate clauses does the company insist upon?
Which boilerplate clauses appear to differ from partner to partner or deal type to deal type?
Which jurisdiction does the company insist upon for agreement law?
Global Pharmaceutical Partnering Terms and Agreements 2016 to 2020 provides the reader with the following key benefits:
In-depth understanding of Pharmaceutical deal trends since 2016
Access to headline, upfront, milestone and royalty data
Analysis of the structure of Pharmaceutical agreements with real life case studies
Detailed access to actual Pharmaceutical contracts entered into by leading biopharma companies
Identify most active Pharmaceutical dealmakers since 2016
Insight into terms included in a Pharmaceutical partnering agreement, with real world examples
Understand the key deal terms companies have agreed in previous deals
Undertake due diligence to assess suitability of your proposed deal terms for partner companies
Executive Summary
Chapter 1 – Introduction
Chapter 2 – Trends in Pharmaceutical dealmaking
2.1. Introduction
2.2. Pharmaceutical partnering over the years
2.3. Most active Pharmaceutical dealmakers
2.4. Pharmaceutical partnering by deal type
2.5. Pharmaceutical partnering by therapy area
2.6. Pharmaceutical partnering by technology type
2.7. Deal terms for Pharmaceutical partnering
2.7.1 Pharmaceutical partnering headline values
2.7.2 Pharmaceutical deal upfront payments
2.7.3 Pharmaceutical deal milestone payments
2.7.4 Pharmaceutical royalty rates
Chapter 3 – Leading Pharmaceutical deals
3.1. Introduction
3.2. Top Pharmaceutical deals by value
Chapter 4 – Most active Pharmaceutical dealmakers
4.1. Introduction
4.2. Most active Pharmaceutical dealmakers
4.3. Most active Pharmaceutical partnering company profiles
Chapter 5 – Pharmaceutical contracts dealmaking directory
5.1. Introduction
5.2. Pharmaceutical contracts dealmaking directory
Chapter 6 – Pharmaceutical dealmaking by technology type
Chapter 7 – Partnering resource center
7.1. Online partnering
7.2. Partnering events
7.3. Further reading on dealmaking
Appendices
Appendix 1 – Pharmaceutical deals by company A-H
Appendix 2 – Pharmaceutical deals by company I - Z
Appendix 3 – Pharmaceutical deals by stage of development
Appendix 4 – Pharmaceutical deals by deal type
Appendix 5 – Pharmaceutical deals by therapy area
Appendix 6 – Deal type definitions
About Wildwood Ventures
Current Partnering
Current Agreements
Recent report titles from Current Partnering
Table of figures
Figure 1: Pharmaceutical partnering since 2016
Figure 2: Active Pharmaceutical dealmaking activity– 2016 to 2020
Figure 3: Pharmaceutical partnering by deal type since 2016
Figure 4: Pharmaceutical partnering by disease type since 2016
Figure 5: Pharmaceutical partnering by technology type since 2016
Figure 6: Pharmaceutical deals with a headline value
Figure 7: Pharmaceutical deals with an upfront value
Figure 8: Pharmaceutical deals with a milestone value
Figure 9: Pharmaceutical deals with a royalty rate value
Figure 10: Top Pharmaceutical deals by value since 2016
Figure 11: Most active Pharmaceutical dealmakers 2016 to 2020
Pricing options
$3,495: single-user
$5,245: multi-user
$10,495: single site license
$17,495: global site license
A full explanation of license type definitions can be found here.
Our guarantee
Price promise
We guarantee our prices are competitive. If you find the same report advertised at a lower price within 7 days of purchase, we will refund the difference.
Delivery Deadline
We guarantee that the report will be sent within the specified delivery times. In the unlikely case of a delay we may offer a partial refund as compensation. (Terms may apply)
Latest report
If an update is published within 30 days of your purchase, you will receive it absolutely free of charge.
Serious Security
We take your data and security seriously. See our privacy policy for details of how we manage your data.
All card payments are processed by SagePay.
Sales Support
If you have any questions about your report or are unhappy with the quality, we will do our best to resolve your query. Contact us direct.
Total Trust
Current Partnering is part of Wildwood Ventures Ltd., based in York, United Kingdom. We have been trading successfully online since 2009 and work with some of the most famous brands in the business. We carefully select our partners to ensure that the publications meet expectations of demanding customers.
1QBit, 2A, 3B Pharmaceuticals, 3D Medicines, 3D Systems, 3M, 3P Biopharmaceuticals, 3SBio, 4D Molecular Therapeutics, 4D Pharma, 4G Clinical, 4SC, 4SC Discovery, 5LINX, 8E6Tong, 22nd Century, 23andMe, 48North Cannabis, 111, 1717 Life Science Ventures, A*STAR Agency for Science, Technology and Research, A*STAR Genome Institute of Singapore, A*STAR Singapore Immunology Network, A1M Pharma, A2A Pharmaceuticals, AADi, aaiPharma, AAIPharma Services, Aarhus University Hospital, Aastrom Biosciences, AAVLife, AB-Biotics, Abacus International, AB Analitica, Abarca, Abattis Bioceuticals, Abba Import Export, Abba Medix, AB Biosciences, Abbisko Therapeutics, Abbott Laboratories, Abbott Vascular Devices, Abbvie, Abby Grace Foundation, Abcam, AbCellera, AbCheck, AbClon, Ab E Discovery, Abeona Therapeutics, Abic Marketing, Abide Therapeutics, Ability Pharmaceuticals, AB InBev, Abingdon Health, Abingworth Management, Ab Initio, Abiogen Pharma, Abionic, ABIVAX, ABL Bio, Ablexis, Ablynx, AbMed, Abpro, Abramson Cancer Center, AbSci, Absorption Systems, Abvitro, ABX, Abzena, Acacia Pharma, Acacia Research, Academic Drug Discovery Consortium, Academy of Military Medical Sciences (China), ACADIA Pharmaceuticals, Acasti Pharma, Accelerated Cure Project for MS, Acceleron Pharma, Acceliant, Accelis Pharma, Accelovance, Accenture, Access Health, Access Pharmaceuticals, Accord, Accord Healthcare, Accurexa, Acelity, Acell, Acella Pharmaceuticals, Acelrx Pharmaceuticals, Acentrus Specialty, Acerta Pharma, Acer Therapeutics, Acerus, Aceto Corporation, Achaogen, Ache, Achieve Life Science, Achillion Pharmaceuticals, AC Immune, Acino Pharma, Aclaris Therapeutics, ACMG Foundation for Genetic and Genomic Medicine, Acnos Pharma, Acorda Therapeutics, Acres Cannabis, Acrotech Biopharma, Actavis (acquired by Watson), Actavis (name changed to Allergan), Actavis Foshan, ACT Biotech, Actelion, ACT Genomics, Acticor Biotech, Actigraph, Actinium Pharmaceuticals, Actinobac Biomed, Active Biotech, ActiveSite, Activhealth, ActoGeniX, ACT Onocology, Acturum Life, Acucela, Acuity Pharmaceuticals, Acumen Pharmaceuticals, Acura Pharmaceuticals, AcuraStem, Acurx Pharmaceuticals, AdAlta, Adamas Pharmaceuticals, Adamis Pharmaceuticals, Adapsyn Bioscience, Adaptimmune, Adaptive Biotechnologies, Adaptive Health, Adapt Pharma, Adare Pharmaceuticals, Adcock Ingram, ADC Therapeutics, Addex Therapeutics, Addgene, AdhereTech, Adherium, Adhesys Medical, Adhezion Biomedical, ADIENNE Pharma & Biotech, Adimab, Adlai Nortye, ADL Bionatur Solutions, ADMA Biologics, Admedus, Adocia, AdoRx Therapeutics, ADT Pharmaceuticals, Adult Brain Tumor Consortium, Aduro BioTech, Advanced Accelerator Applications, Advanced Biological Laboratories, Advanced Biologics, Advanced BioScience Laboratories, Advanced Cardiac Therapeutics, Advanced Dosage Forms, Advanced Extraction Systems, Advanced Medical Solutions, Advanced Proteome Therapeutics, Advanced Technologies Solutions, Advance Pharmaceutical, Advanomics, Advanz Pharma, Advaxis, Advent International, Adverum Biotechnologies, Advicenne, Advocate Health Care, Adynxx, Aegerion Pharmaceutical, Aegis Therapeutics, Aeglea BioTherapeutics, Aeon Bioscience, AEONSurgical, Aequus Pharmaceuticals, Aerial BioPharma, Aerie Pharmaceuticals, Aerogen, Aeromics, Aerpio Therapeutics, Aesthetic Management Partners, AEterna Zentaris, Aethlon Medical, Aetion, Aetna, Aevi Genomic Medicine, Aevum Life Science, Afaxys Pharmaceuticals, AffaMed Therapeutics, Affectis Pharmaceuticals, Affibody, Affigen, Affilogic, Affimed Therapeutics, Affinium Pharmaceuticals, Affinivax, AffyXell Therapeutics, Afimmune, Afinity Life Sciences, AFT Pharmaceuticals, Agalimmune, AGC Asahi Glass, Age Labs, Agendia, AgeneBio, Agensys, Agenus Bio, Aghraas-Cigalah, Agilent Technologies, Agile Therapeutics, Agios Pharmaceuticals, Aglon, AgMedica Bioscience, AgonOx, AgriCann Solutions, Agrium, Aguettant, AiCuris, AIDS Clinical Trials Group, AIDS Foundation of Chicago, AIMM Therapeutics, Aimmune Therapeutics, AiPing Pharmaceutical, Aires Pharmaceuticals, Airmed Biopharma, AirWare Labs, AIT Laboratories, AIT Therapeutics, AiVita Biomedical, Ajinomoto, Akaal Pharma, Akashi Therapeutics, Akcea Therapeutics, Akebia Therapeutics, Akero Therapeutics, Akeso Biopharma, Akili Interactive Labs, Akkadeas Pharma, AKL Research and Development, Akorn, Akrimax Pharmaceutical, Akula Trading 2 Pty, Akums Drugs and Pharmaceuticals, Alamo Pharma Services, Albany Molecular Research, Alberta Health Services, Albert Einstein College of Medicine, Albion, Albireo, Albumedix, Alcami, Alchemia, Alcon Laboratories, Alcyone Lifesciences, Alder Biopharmaceuticals, Aldeyra Therapeutics, Aleafia Health, Alector, Alexion Pharmaceuticals, Alexza Pharmaceuticals, Alfasigma, Alfa Wassermann, Algae Dynamics, Algenex, Alimentary Health, Alimera Sciences, Alion Pharmaceuticals, AliveGen, Alivio Therapeutics, Alize Pharma, ALK-Abello, Alkahest, Alkermes, Allegis Holdings, Allegro Ophthalmics, Allele Biotechnology and Pharmaceuticals, Allergan, Allergopharma, Alliance for Biosecurity, Alliance For Clinical Trials In Oncology, Alliance for Lupus Research, Alliance Pharma, AllianceRx Walgreens Prime, Allianz Bioinnovation, Allied-Bristol Life Sciences, Allied Corp, Allied Laboratories, Allied Minds, Alligator Bioscience, Allm, Allogene Therapeutics, Alloksys Life Sciences, All Star Health Brands, Almac Diagnostics, Almac Discovery, Almirall, Alnylam Pharmaceuticals, Alpha Cancer Technologies, Alphagen Laboratories, Alphamab, Alphamedix, Alpha Pharma, Alpine Immune Sciences, ALRISE Biosystems, ALS Association, ALS Biopharma, Alseres Pharmaceuticals, ALS Finding a Cure Foundation, Altamira Bio, Altamira Pharma, Altan Pharma, Altavant Sciences, Alteogen, Alternavida, Altius Institute for Biomedical Sciences, AltMed Florida, Altor BioScience, Altos Group, Altum Pharmaceuticals, Altus Formulation, Alvine Pharmaceuticals, Alvit LCS Pharma, Alvogen, Alvotech, Alytas Therapeutics, AlzeCure Pharma, Alzheimer's Association, Alzheimer's Drug Discovery Foundation, Alzheimer's Research UK, Alzheimers Research UK, AlzProtect, AM-Pharma, Amag Pharmaceuticals, Amal Therapeutics, Amarantus BioSciences, Amarex Clinical Research, Amarillo Biosciences, Amarin, Amazon Web Services, Ambrosia Nutraceuticals, Ambrosus, Ambrx, Ambys Medicines, A Menarini Diagnostics, Amend Surgical, American BriVision, American Cancer Society, American College of Chest Physicians, American College of Emergency Physicians, American College of Physicians Foundation, American College of Sports Medicine, American Diabetes Association, American Heart Association, American Liver Foundation, American Medical Systems, American Migraine Foundation, AmeriCann, American National Multiple Sclerosis Society, American Red Cross, American Regent, American Society for Parenteral and Enteral Nutrition, American Society of Hematology, AmeriCares, Amerigen Pharmaceuticals, Amerinet, AmerisourceBergen, AMFIL Technologies, Amgen, Amgros, Amherst Pharmaceuticals, Amneal Pharmaceuticals, AMO Pharma, AmorChem, Amorsa Therapeutics, AmoyDx Diagnostics, AMPATH Oncology Institute, AMP German Cannabis, Amphastar Pharmaceuticals, Ampio Pharmaceuticals, Amplyx Pharmaceuticals, AMP Therapeutics, AMR, AMRI Hungary, Amring Pharmaceuticals, Amunix, Amydis Diagnostics, Amygdala Neurosciences, Amyris, AN2 Therapeutics, AnaBios, Anacor Pharmaceuticals, Anaeropharma, Anahit, Analytical Testing Laboratory, Analytics 4 Life, AnaMar, ANANDA Scientific, AnaptysBio, Anatara Lifesciences, Anavex Life Sciences, Anchiano Therapeutics, Andor Pharmaceuticals, Andromeda Biotech, Andrus, Anergis, Angelini Pharma, AnGes MG, Angiochem, Angion Biomedica, Angionetics, AngioSoma, AnHeart Therapeutics, Anika Therapeutics, Anima Biotech, Animal Clinical Investigation, Animatrix Capital, ANI Pharmaceuticals, Anji Pharma, Anokion, ANP Technologies, Ansell, Antares Pharma, Anteis, Antengene, Anterios, Anthem, Anthera Pharmaceuticals, Anthos Therapeutics, Antibe Therapeutics, Antigen Express, Antikor Biopharma, AntiOp, Antisense Therapeutics, Antitope, Antoxerene, AntriaBio, AOAExcel, AOP Orphan Pharmaceuticals, Apax Partners, Apceth, APC Therapeutics, Apeiron Biologics, Apellis Pharmaceuticals, Aperion Biologics, Apex Global Brands, Apexian Pharmaceuticals, Apexigen, Aphria, Apicore, API Corporation, APL, Aplagon, Apobiologix, Apocell, Apogee Biotechnology, Apogenix, ApolloBio, Apollo Green, Apollomics, ApoPharma, Apotex, Appello Pharmaceuticals, AppianRx, Appili Therapeutics, Apple, Applied Biology, Applied BioMath, Applied DNA Sciences, APR Applied Pharma Research, Aprecia Pharmaceuticals, Apricity Health, Apricus Biosciences, Apsen Farmacutica, APS Healthcare, AptaBio Therapeutics, Aptahem, Aptalis Pharmaceutical Technologies, Aptarion biotech, Aptar Pharma, Aptevo Therapeutics, Aptinyx, Aptose Biosciences, APT Therapeutics, Aptuit, Aqilion, Aqua Pharmaceuticals, Aquestive Therapeutics, Aquila BioMedical, Aquinnah Pharmaceuticals, Aquinox Pharmaceuticals, Arabian Trade House, Arabio, Aradigm, Araim Pharmaceuticals, Aralez Pharmaceuticals, Aranda Pharma, Aratana Therapeutics, Arbele, Arbor Biotechnologies, Arbor Pharmaceuticals, AR Brown, Arbutus, ARCA Biopharma, Arch Biopartners, Archer Daniels Midland Company, ArcherDX, Arcoral Pharma, ARCS Foundation, Arcturus Therapeutics, Arcus Biosciences, Arcutis, Ardelyx, Arecor, Arena Pharmaceuticals, arGEN-X, Argentum Pharmaceuticals, argenx, Argos Therapeutics, Ariad Pharmaceuticals, Aridis Pharmaceuticals, Aries Pharmaceuticals, Arisan Therapeutics, Arisaph Pharmaceuticals, Aristea Therapeutics, Arix Bioscience, Arizona State University, Arjuna Naturals, Ark Animal Health, Ark Biosciences, ArmaGen, Armas Pharmaceuticals, Armetheon, Armune Bioscience, Army & Air Force Exchange Service, Arno Therapeutics (inactive since 2017), Aro Biotherapeutics, Aronora, Arpeggio Biosciences, ArQule, Arrakis Therapeutics, Array Biopharma, Arrevus, Arrien Pharmaceuticals, Arrowhead Pharmaceuticals, Arrow Pharmaceuticals, Arrys Therapeutics, Arsia Therapeutics, Arteaus Therapeutics, Arterial Remodeling Technologies, Artes Biotechnology, Artios Pharma, Artizan Biosciences, Aruvant Sciences, Arvelle Therapeutics, Arvinas, Asahi Kasei, Asana Biosciences, Ascendia Pharmaceuticals, Ascendis Pharma, Ascend Therapeutics, Asceneuron, Ascensia Diabetes Care, Ascentage Pharma, Asclepia Outsourcing Solutions, Ascletis, Aseptix, Asieris MediTech, ASKA Pharmaceuticals, AskAt, AS Kevelt, Asklepion Pharmaceuticals, Asklepios Biopharmaceutical, Aslan Pharma, Aspen Global, Aspen Holding, Aspen Park Pharmaceuticals, Aspen Pharmacare Canada, Aspyrian Therapeutics, Assembly Biosciences, Assuta Medical Centers, Astellas Pharma, Astellas Pharma Europe, Astellas Pharma US, Astex Pharmaceuticals, Astion Pharma, Aston University, AstraZeneca, Astute Medical, Asymptote, ATAI Life Sciences, Atara Biotherapeutics, Ataxion, aTen Therapeutics, ATG Allied Technologies, Athenex, Athersys, Athyrium Capital Management, Atlab Pharma, Atlangram, Atlante Biotech, Atlantic Healthcare, Atlas Genetics, Atnahs Pharma, Atomwise, Atopix, Atossa Genetics, Atox Bio, Atrapos Therapeutics, Atreca, aTyr Pharma, Aucta Pharmaceuticals, Audion Therapeutics, Aura Biosciences, Auramedi Farmaceutica, Auransa, Aurigene Discovery Technologies, Aurinia Pharmaceuticals, Auris Medical, Aurobindo Pharma, Auron Therapeutics, Aurora Cannabis, AusHealth, Auspherix, Australian Research Council, Austrianova Singapore, Authentic Brands Group, Autifony Therapeutics, Autolus, Autotelic, AUT Roche Diagnostics Laboratory, AUT University, Auven Therapeutics, Auxilium Pharmaceuticals, Auxly Cannabis Group, Auxogyn, Avacta, Avactis Biosciences, Avadel Pharmaceuticals, Avalanche Biotechnologies, Avalere Health, Avalon GloboCare, Avalon Pharmaceuticals, Avanos Medical, AvantGen, Avara Pharmaceutical Services, Avaria Health & Beauty, AV Cannabis, Avella, Avenue Therapeutics, AVEO Oncology, AveXis, Avicanna, Avidity Biosciences, Avillion, Avion Pharmaceuticals, Aviragen Therapeutics, Avista Pharma Solutions, Avita Medical, Avitide, AvKARE, Avondale Pharmaceuticals, Avon Foundation, Avrio Biopharmaceuticals, AV Therapeutics, Awamedica, Axcelon Dermacare, AXIM Biotechnologies, Axiogenesis, Axiom Worldwide, Axis Therapeutics, Axovant Sciences, Axsome Therapeutics, Axxess Pharma, Ayala Pharmaceuticals, AyoxxA Biosystems, Aytu BioScience, Azaya Therapeutics, Azitra, AzurRx BioPharma, Bachem, Back-A-Line, Back Bay Scientific, Bactevo, Baergic Bio, Baheal Pharmaceutical, Bain Capital, Baker Brothers Investments, Baker IDI Heart and Diabetes Institute, Bal Pharma, Bank of America, Banner Alzheimer's Institute, Banner Health, Banting & Best Diabetes Centre (BBDC), Banyan Biomarkers, Baruch S Blumberg Institute, BASF, Basilea Pharmaceutica, BAS Research, Batavia Biosciences, Battelle, Baudry Laboratory, Bausch & Lomb, Bausch Health Companies, Bavarian Nordic, Baxalta, Baxter International, Bayer, Bayer Animal Health, Bayer CropScience, Bayer Healthcare, Bayer Schering Pharma, Bayer USA Foundation, Baylor College, Baylor College of Medicine, Baylor Sammons Cancer Center, Bazelet, BCD Bioscience, BDD Pharma, Beacon Discovery, Beactica, Beam Therapeutics, Beckley Canopy Therapeutics, Beckley Foundation, Becton Dickinson, Bedford Laboratories, BeiGene, Beijing Double-Crane Pharmaceutical, Beijing Genomics Institute (BGI), Beijing Keyuan Xinhai Pharma, Beijing SL Pharma, Beijing Sun-Novo Pharmaceutical Research, Beijing Zhongyuan, Beleave, Belintra, Bellerophon Therapeutics, Bellicum Pharmaceuticals, Bellus Health, Ben-Gurion University, Bendalis, Bened Biomedical, BenevolentAI, Benitec Biopharma, Ben Venue Laboratories, Berg, BerGenBio, Berkeley Lights, Berkshire Sterile Manufacturing, Berlin Chemie, Berry Genomics, Bertin Pharma, Beryllium, Besins Healthcare, Best Choice, Best Medical International, Betaliq, Beta Pharma, Beta Therapeutics, Be The Match BioTherapies, Beth Israel Deaconess Medical Center, Betta Pharmaceuticals, Better Choice Products, BevCanna, BexPharm, Beyond Air, Beyondspring Pharmaceuticals, BGN Technologies, Bhang, BHB Therapeutics, BHV Pharmaceuticals, Bial, Bicycle Therapeutics, Bigfoot Biomedical, Bill and Melinda Gates Foundation, Bina Technologies, BIND Therapeutics, Bio-Path, Bio-Techne, Bio-Thera Solutions, Bio-Tissue, BioAlliance Pharma, BioArctic Neuroscience, BioAscent Discovery, biOasis Technologies, BioAtla, BioAxone Therapeutic, BioBlast Pharma, Bioblock, BioCad Holding, BioCanRx, BioCardia, Biocartis, BioCat, BioCelerate, Biocept, Bioceros, BiocerOX Products, BioCision, BioClinica, BioClones, Biocodex, Biocon, BIOCORP, BioCorRx, BioCryst Pharmaceuticals, bioCSL, BioCurate, Biodel, BioDelivery Sciences, Biodelta Nutraceuticals, Biodextris, BioDiscovery, BioDlogics, Bioeq IP, Bio Farma, Biofortis, Biofourmis, BioGaia, Biogen, BioGenetics, Bioharmony Therapeutics, Biohaven Pharmaceutical Holding, Biohealth Innovation, Biohit, Bioinn Molecular Diagnosis, BioInvent, Biokin Pharmaceutical, BioLabs, BioLamina, BioLife Solutions, BioLight Life Sciences Investments, BiolineRX, BioLite Japan, Biological E, Biologics, Biologix FZCo, Biolyse Pharma, Biomarck Pharmaceuticals, BioMarin Pharmaceutical, Biomax Informatics, Biomed Elements, Biomedical Advanced Research and Development Authority, Biomedical Catalyst Fund (UK), BIOMEDX Group, BioMed X Innovation Center, Biomerica, bioMerieux, Biometrix, Biomica, Biomillenia, bioMONTR Labs, BioMotiv, Biomunex Pharmaceuticals, BiomX, Bioncotech Therapeutics, BiondVax, Bioniz Therapeutics, Bionomics, Bionpharma, BioNTech, Bionure, Biooutsource, Bio Palette, Biophage Pharma, Biopharmaceuticals Australia, BioPharma Forest, BioPharm Group International, BiopharmX, BioPhausia, Biophore Pharmaceuticals, BioPorto, Bioprocess Capital Ventures, Bioprojet, BioQ Pharma, BioRap Technologies, BioreclamationIVT, BioReference Laboratories, BioRestorative Therapies, Bioscience, Bioscience Enterprises, Bioscience Pharma Partners, BioSciencesCorp, BioSense Global, BioSerenity, Biosolution, Biosortia Pharmaceuticals, Biostar Pharmaceuticals, Biostem US, BioSun Pharmed, BioSurfaces, BioSyent Pharma, Biosynth, Biota Pharmaceuticals, BioTechnique, Biotest, Biotest Pharmaceuticals, Biothera, BioTheryX, Biotop, Biotoscana Farma, BioVectra, Bioventus, Bioverativ, BioVersys, BioVest, Biovista, BioXcel, Biozym Scientific, Birdie Biopharmaceuticals, Biscayne Neurotherapeutics, BL&H, Black AIDS Institute, Blackstone, BlackThorn Therapeutics, Blake Insomnia Therapeutics, Blanver, Blaze Bioscience, Bleeding Disorders Foundation, BlinkBio, Bliss Biopharmaceutical, Bloom Science, BLP Management, Blue Belt Technologies, Blueberries Medical, Bluebird Bio, Blue Cross Blue Shield Association, Blue Latitude, Blue Mesa Health, BlueOcean Nutrascience, Blueprint Medicines, BMG Pharmaceuticals, BMV Medica, Boehringer Ingelheim, Boehringer Ingelheim Vetmedica, Bone Therapeutics, Bonify, Bonnie J. Addario Lung Cancer Foundation, Bonus BioGroup, Bophelo Bioscience & Wellness, Bora Pharmaceuticals, Boryung Pharmaceutical, Boston Biomedical, Boston Pharmaceuticals, Boston Scientific, Boston Strategics, Boston Therapeutics, Boston Topicals, Boston University School of Medicine, Bostwick Laboratories, Botanisol, Boulos and Cooper Pharmaceuticals, Bpifrance, Bracco Diagnostics, Bracco Imaging, Braeburn Pharmaceuticals, Brammer Bio, BravoVax, Breast Cancer Research Foundation (BCRF), Breath Therapeutics, Breckenbridge Pharmaceutical, Breckenridge Pharmaceuticals, BrickBio, Brickell Biotech, BridgeBio Pharma, Bridge Biotherapeutics, Bridge Medicines, Brigham and Women's Hospital, Bright Future Pharmaceutical Lab, Brii Biosciences, Brill Pharma, BRIM Biotechnology, Bristol-Myers Squibb, Bristol-Myers Squibb Pakistan, BRNT, Broad Institute, BroadMed, Broda Technologies, Bruker, Bryn Pharma, BTG, BTS Research (BTS), Buchang Pharmaceutical, Buck Institute for Age Research, Bugworks, Bukwang Pharmaceuticals, Bulu Box, Burleigh Heads Cannabis, Burton Hospitals NHS Foundation Trust, Butantan Institute, BVF Partners, BWK, C-Bridge Capital, C-Tri, C2N Diagnostics, C4 Therapeutics, C4X Discovery, Cachet Pharma, Cadence Pharmaceuticals, Cadent, Cadila Pharmaceuticals, Caelum Biosciences, Caladrius Biosciences, Calchan Holdings, Caldera Pharmaceuticals, CALECIM Cosmeceuticals, Caliber Biotherapeutics, Calico, California Institute for Biomedical Research, California Institute for Quantitative Biosciences (QB3), California Institute for Regenerative Medicine, Calithera Biosciences, Caliva, Calixar, Calliditas Therapeutics, Calmare Therapeutics, Calox de Costa Rica, Calvert Research, Calypso Biotech, Camargo Pharmaceutical Services, Camarus, Cambrex, Cambridge Bioscience, Cambridge Commodities, Cambridge Major Laboratories, Cambrooke Therapeutics, Camena Bioscience, Camino Pharma, CAMP4 Therapeutics, Camurus, Can-Fite BioPharma, Canada House Wellness Group, Canadian Cancer Trials Group, Canadian Institutes of Health Research, Canagen Pharmaceuticals, CanBas, Canbex Therapeutics, CANbridge Life Sciences, Cancer Genetics, Cancer Prevention and Research Institute of Texas, Cancer Prevention Pharmaceuticals, Cancer Research Institute, Cancer Research Society, Cancer Research Technology, Cancer Research UK, Cancer Science Institute of Singapore, Cancer Targeted Technology, CanCure, Candel Therapeutics, Canigma, Cannabics Pharmaceuticals, Cannabis Biocare, Cannabis Science, Cannabis Therapeutics, CannAcubed, CannaHoldCo, CannaKids, Cannamedical Pharma, CannAmerica Brands, CannaRoyalty, CannaSkin, Cannassure Therapeutics, Canndeo, Cannika, CanniMed Therapeutics, CannRx Technology, CannScience Innovations, Canntab Therapeutics, CannTrust, Cannus Partners, Cannvalate, Canopy Growth, Canopy Health Innovations, Cantab Anti-infectives, Cantabio Pharmaceuticals, Cantabria Pharma, Cantel Medical (UK), Cantex Pharmaceuticals, Cantonal Hospital, Canymed, CAO Pharmaceuticals, Capcium, Capellabio, Capital Brands, Capna Intellectual, Capnia, Capricor Therapeutics, Caprion Proteomics, Capsugel, Capsule Tech, Cara Therapeutics, CARB-X, Cardax, Cardiff University, Cardinal Health, Cardinal Partners, Cardiome Pharma, Cardiorentis, Cardium Therapeutics, Cardurion Pharmaceuticals, CareFusion, Caret Pharma, Caretta Therapeutics, Caribou Biosciences, Caris Life Sciences, Carisma Therapeutics, Carlina Technologies, Carl Zeiss Meditec, Carmel Pharma, Carmot Therapeutics, Carna BioSciences, Carnot BioSciences, Carpal Aid, Carrick Therapeutics, Cascade Pure, Cascadian Therapeutics, Casebia Therapeutics, Case Western Reserve University, CASI Pharmaceuticals, CAS Medical Systems, Casper Pharma, Castle Creek Pharmaceuticals, Catabasis Pharmaceuticals, Catalan Institute of Nanotechnology (ICN), Catalent, Catalyst Biosciences, Catalyst Pharmaceutical Partners, Cataract & Laser Institute, Cato Research, CB2 Insights, CB2 Therapeutics, CBDerma Technology, CBD Export Global, CBDistribution, CBT Pharmaceuticals, CC Pharma, CEA-Leti, Ceapro, Cedars-Sinai Medical Center, Celares, Celdara Medical, Celgene, Celimmune, CellAct, Celladon, Cellastra, Cell Cure Neurosciences, Cell Design Labs, Celldex Therapeutics, Cellecta, Cellectar Biosciences, Cellectis, Celling Biosciences, CELLINK, Cell MedX, CellSight Technologies, Cellthera Pharma, Cell Therapy, Cell Therapy Catapult, Celltrion, Cellular Biomedicine, Cellular Dynamics International, Cellular Logistics, Celmatix, Celonic, Celon Pharma, Celsee, Celsion, Celsius Therapeutics, Celtic Biotech, Celtis Pharm, Celyad, Cempra Pharmaceutical, Cenix BioScience, Censa Pharmaceuticals, Centauri Therapeutics, Center for Connected Health, Center for Infectious Disease Research, Center for iPS Cells Research and Application, Center Point Clinical Services, Centers for Disease Control and Prevention, Centers for Medicare and Medicaid Services, Centogene, Centre for Commercialization of Regenerative Medicine (CCRM), Centre for Drug Design and Discovery, Centre for Drug Research and Development (CDRD), Centre for Imaging Technology Commercialization, Centre for Probe Development and Commercialization, Centre For The Commercialization Of Antibodies And Biologics, Centre Hospitalier Régional Universitaire (CHRU) de Lille, Centre Hospitalier Universitaire Vaudois (CHUV), Centre International de Developpment Pharmaceutique, Centrexion, Centric Health Resources, Centro de Investigación Biomédica en Red de Salud Mental, Centro Sperimentale del Latte, Centurion, Century Medical, Cepheid, Cerebral Therapeutics, CereCare, Cerecor, CereHealth, Cerenis Therapeutics, Cerevance, Cerevel Therapeutics, CerSci Therapeutics, Certara, Cerulean Pharma, Cerveau Technologies, Cesca Therapeutics, Cevec Pharmaceuticals, cGreen, Champions Oncology, Changchun BCHT Biotechnology, Changshan Pharm, Changzhou Center for Biotech Development, Changzhou Le Sun Pharmaceuticals, Chaperone Technologies, Charcot-Marie-Tooth Association, Charles River Laboratories, Charleston Laboratories, CHDI Foundation, Checkmate Pharmaceuticals, CheckPoint Immunology, Checkpoint Therapeutics, Cheetah Medical, Chelexa Biosciences, Chembio Diagnostics, ChemDiv, Chemesis, Chemical Abstracts Service (CAS), Chemi Pharmaceutical, ChemoCentryx, ChemWerth, Cheplapharm Arzneimittel, Chi-Med, Chiesi Farmaceutici, Children's Hospital Boston, Children's Hospital of Philadelphia, Chiltern International, Chimerix, China Grand Pharmaceutical, China Medical System, China Oncology Focus, China Pharma Holdings, China Resources Guokang Pharmaceuticals, China Southeast University, China State Institute of Pharmaceutical Industry (CIPI), Chinese Academy of Sciences, Chinese Future Industry Investment Fund, Chinmax Medical Systems, Chinook Therapeutics, Chiromics, ChiScan, Chong Kun Dang, Chongqing Jingdong Pharmaceutical, Chongqing Lummy Pharma, Choom, Chr Hansen, ChromaDex, Chroma Therapeutics, Chromocell, Chronos Therapeutics, Chrono Therapeutics, Chrysalis BioTherapeutics, Chugai Pharmaceutical, Chugai Pharma Marketing, Ciclofilin Pharmaceuticals, Cidara Therapeutics, Cigna Healthcare, Cilag AG, CIMAB SA, Cimtech, Cincinnati Children's Hospital Medical Center, CinCor Pharma, Cinda Bio-Pharmaceutical, Cingulate Therapeutics (CTx), Cipher Pharmaceuticals, Cipla, Cipla Medpro, Circassia, Circle Pharma, Circuit Therapeutics, Ciron Drugs & Pharmaceuticals, Cirrus Pharmaceuticals, Cisen Pharma, Citius Pharmaceuticals, Citron Pharma, City of Hope, CIVCO Radiotherapy, Civetta Therapeutics, CiVi Biopharma, Civica Rx, CJ CheilJedang, CJ Corp, Claire's Place Foundation, Clal Biotech, Clarient, Clarity Pharmaceuticals, Clarus Therapeutics, ClearPath, Clearside Biomedical, Clementia Pharmaceuticals, Clene Nanomedicine, Cleveland BioLabs, Cleveland Clinic, Cleveland Diabetes Care, Cleveland HeartLab, Cleveland University Hospitals, Clevexel Pharma, Click Therapeutics, Clinical Ink, Clinical Network Services, ClinicalRM, Clinigen, Clinipace Worldwide, CliniSciences, CliniWorks, Clinovo, Clinton Health Access Initiative, Clinvest, Cloaked Therapeutics, CloudNine, Cloud Pharmaceuticals, Clover Therapeutics, Clovis Oncology, CMAB Biopharma, CMC Biologics, CMIC, CMS Medical, CNA Development, CNS Pharmaceuticals, Co-Formulate, Coalition for Epidemic Preparedness Innovations, Coating Place, Cobra Biologics, Cochlear, Cocoon Biotech, Cocrystal Pharma, Codexis, Codiak BioSciences, Coeptis Pharmaceuticals, Cognition Kit, Cognition Therapeutics, Cognizant, CogState, Coherus Biosciences, Cold Genesys, Cold Spring Harbor, Coldstream Laboratories, Colep, Collaborative Study Group, Collaborative Trajectory Analysis Project, Collagen Solutions LLC, Collagen Solutions Plc, College of Life Science of Northwest University, Collegium Pharmaceuticals, Collplant, Color, Colorado Hemp Project, Colorado Product Services, Colorcon, Columbia Care, Columbia Laboratories, Columbia Technology Ventures, Columbia University, Columbia University Medical Center, CombinatoRx, Comercializadora BioRenal, Commense, CommonSense, Common Sense, Compact Imaging, Compassionate Care Center of New York, Compass Point Research, Complement Pharma, Complix, Compugen, Conatus Pharmaceuticals, Conavi Medical, Concerto HealthAI, Concert Pharmaceuticals, Concord Biosciences, Concordia Healthcare, Concordia Pharmaceuticals, Concortis Biosystems, Confluence Pharmaceuticals, Confo Therapeutics, Conkwest, Connexios, Consilient Health, Consortia Health Clinical Continence Services, Constance Therapeutics, Contamac, Contem 1G, Context Therapeutics, Contextual Genomics, ContraVir Pharmaceuticals, Convelo Therapeutics, Convergence Pharmaceuticals, ConverGene, Cook Biotech, Cooper-Vemedia, COPD Foundation, Copernicus Therapeutics, Coqui RadioPharmaceuticals, Corbus Pharmaceuticals, Corcept Therapeutics, Corden Pharma, Cordis, CoreRx Pharma, Corgenix Medical, Corino Therapeutics, Corium International, Corix Bioscience, CorMatrix Cardiovascular, CorMedix, Cornell University, Corning, Coronado Biosciences, Corporation for Biological Research, Correvio, Corsair Pharma, CorTechs Labs, Cortendo, Cortex Pharmaceuticals, Cortexyme, Cortice Biosciences, Corvidia Therapeutics, Corvus Pharmaceuticals, Cosmed Group, Cosmo Bio, Cosmo Pharmaceuticals, COTA, Council for Economic Defense (Brazil), COUR Pharmaceutical, Courtagen Life Sciences, Covance, Covis Pharmaceutical, Cranford Pharmaceuticals, Cre8ive, Crescendo Biologics, Crescita Therapeutics, Cresset, Crestone Pharma, Crinetics, CRISPR Therapeutics, Cristal Therapeutics, Crohn's and Colitis Foundation of America, CROMA Pharma, Cronos Group, CrossBay Medical, Crosscare, Crown Bioscience, Crown Dental + Medical, Crown Laboratories, CR Pharma, CRS Bio, CRT Pioneer Fund, Crucell, CryoPort, Crystal Bioscience, CrystalGenomics, CSC Pharmaceuticals, CSL, CSL Behring, CSPC Pharmaceutical Group, CStone Pharmaceuticals, CTC Bio, CTC Group, CTI BioPharma, Cubist Pharmaceuticals, CUBRC, Cue Biopharma, Cullinan Oncology, Cultiv8, Cumberland Emerging Technologies, Cumberland Pharmaceuticals, Cumulus Oncology, Curadev Pharma, Cura Partners, Cure Duchenne, Cure Forward, CURE Pharmaceutical, Cures Within Reach, Curetis, CureVac, Cureveda, Curie-Cancer, Curis, Curium, Currax Pharmaceuticals, Curtana Pharmaceuticals, CURx Pharmaceuticals, Custopharm, Cutanea Life Sciences, Cutaneous Lymphoma Foundation, CVC Capital Partners, CVie, CVS Caremark, CV Sciences, CVS Pharmacy, Cyclacel Pharmaceuticals, Cyclenium Pharma, Cycle Pharmaceuticals, Cyclerion Therapeutics, Cyclica, Cyclotek, Cyclo Therapeutics, CyDex, CymaBay Therapeutics, Cynapsus Therapeutics, Cynata Therapeutics, Cyndea Pharma, Cyntec, Cynvenio, Cyon Therapeutics, Cypralis, Cypress Pharmaceutical, Cyrano Therapeutics, Cyrenaic Pharmaceuticals, Cystic Fibrosis Foundation, Cystic Fibrosis Foundation Therapeutics, Cystic Fibrosis Trust, Cyteir Therapeutics, Cytel, CytImmune Science, Cytodyn, Cytokinetics, CytomX Therapeutics, Cytoo, CytoReason, Cytori Therapeutics, Cytos Biotechnology, CytoSorbents, Cytovance Biologics, Cyxone, D&A Pharma, D. Western Therapeutics Institute, Dabur, Daewoong Pharmaceutical, Daiichi Sankyo, Dainippon Pharmaceutical, Dainippon Sumitomo Pharma, Dako, Daktari Diagnostics, DalCor Pharmaceuticals, Dalhousie University, Dalton Pharma Services, Dana-Farber Cancer Institute, DanaLife, Dance Biopharm, DanDrit Biotech, DARA BioSciences, Dare Bioscience, Dartmouth College, DarwinHealth, Dassault Systems, DAS Therapeutics, Dauntless Pharmaceuticals, David H. Koch Institute for Integrative Cancer Research, DaVita Clinical Research, Da Volterra, Davospharma, DayTwo, DBV Technologies, DCPrime, DEARhealth, Debiopharm, Debiotech, Dechra Pharmaceuticals, Decibel Therapeutics, DecImmune Therapeutics, Deciphera Pharmaceuticals, DEEP 6 AI, Deerfield Management, Defence Science and Technology Laboratory, Defense Advanced Research Projects Agency, Defense Threat Reduction Agency, Defyrus, DEKA Research and Development, Dekel Pharmaceuticals, Delcath Systems, Delivra, DelMar Pharmaceuticals, Delpor, DelSiTech, Delta 9 Cannabis, Dementia Consortium, DemeRx, Denali Therapeutics, Dendreon, Denka, Denka-KEW Genomics, Denovo Biopharma, Densmore Pharmaceutical, Dentamed, Dent Neurologic Institute, Department of Defence, Department of Defense, Department of Economic development of Montgomery County, Department of Energy, Department of Health and Human Services, Department of Veterans Affairs, DepoMed, DePuy, DepYmed, Derbycare, DermaConcepts, Dermala, Derma Sciences, Dermata Therapeutics, Dermavant Sciences, Dermelix Biotherapeutics, Dermin, Dermira, DesignMedix, Destiny Pharma, DeuteRx, Devonian Health Group, Dewpoint Therapeutics, Dexcel Pharma, DexCom, Diabeloop, Diaceutics, DiaMedica, DiamiR, Diamyd Medical, Diaprost, Diasend, Diavax Biosciences, DiCE Molecules, Dicerna Pharmaceuticals, Diego Pellicer, DIEM Labs, dievini Hopp BioTech, DigiPath Solutions, DigitalizaTXT, Digital Therapeutics Alliance, Dilafor, Dilaforette, DILIsym Services, Dimension Therapeutics, Dimerix Biosciences, DionyMed Brands, Diosynth, Dipexium Pharmaceuticals, Diplomat, Disc Medicine, DiscoveryBioMed, Discovery Laboratories, Discuva, Distributed Bio, Dizal Pharmaceutical, DKSH, DKT, dMed Biopharmaceuticals, DMS Health Technologies, DNA Therapeutics, DNAtrix, DNX Biopharmaceuticals, Dogma Therapeutics, DolCas-Tenshi Bioceuticals, DolCas Biotech, Domainex, Domain Therapeutics, Dong-A Pharmaceutical, Dong-A ST, Dongbao, DongKoo Bio & Pharma, Dongkook Pharmaceutical, Doppel Farma, Dorizoe Lifesciences, Dosecann, Dova Pharmaceuticals, DPT Laboratories, Dr. Falk Pharma, Dr. Reddy's Laboratories, Dr. Susan Love Research Foundation, Dragonfly Therapeutics, Draper Laboratories, Dr Bragi Company, Dr Franz Kohler Chemie, Dr Kerklaan Therapeutics, Drugs for Neglected Diseases Initiative, DS Biopharma, DSG, DS Healthcare, DSM, DSM Sinochem Pharmaceuticals, Dual Therapeutics, Ducere Pharma, DuChemBio, Duchenne UK, Duchesnay, Dukal, Duke-NUS Graduate Medical School Singapore, Duke Clinical Research Institute (DCRI), Duke University, Durata Therapeutics, Durect, Dutch Passion Seed Company, DxM Diagnostico Molecular, Dyadic International, DyNAbind, Dynacure, DynamiCARE, Dynavax Technologies, DynPort Vaccine Company, Dystonia Medical Research Foundation, Dystrophic Epidermolysis Bullosa Research Association of America, DZNE German Center for Neurodegenerative Diseases, E&B Technologies, E-Scape Bio, E-Therapeutics, Eagle Pharmaceuticals, EA Pharma, EarlySense, Eastar Industries, Eastern Cooperative Oncology Group, EastGate Biotech, Easton Pharmaceuticals, EB Pharma, Ecobrands, Ecolab, Ecole Polytechnique Federale de Lausanne, EDAP TMS, Eddingpharm, Edelris, Eden BioCell, EdiGene, Edimer Pharmaceuticals, Edison Pharmaceuticals, Editas Medicine, Educational and Scientific, eFFECTOR Therapeutics, EffRx, Egalet, EicOsis, Eiger BioPharmaceuticals, EIP Eczacibasi Ilac Pazarlama, EirGenix, EirGen Pharma, Eirion Therapeutics, Eisai, Eisai Inc, Elanco, Elanix Biotechnologies, Elasmogen, Elcelyx Therapeutics, ELC Group, Eldan, Elektrofi, Elev8 Brands, Elevar Therapeutics, Eleven Biotherapeutics, Elevian, Elexopharm, Eli Lilly, Elis Pharmaceuticals, Elite Pharmaceuticals, Elixirgen, Ellipses Pharma, Ellume, Elpidera, Elpiscience, ElsaLys Biotech, Elucidata, Elysium Health, Embark Biotech, Embera NeuroTherapeutics, Ember Therapeutics, Emcure Pharmaceuticals, EMD Millipore, EMD Serono, Emendo Biotherapeutics, Emerald Health Therapeutics, Emerald Organic Growth, Emerge Health, Emergence Therapeutics, Emergent BioSolutions, Emergent Group, Emerson Resources, Emirates Gastroenterology & Hepatology Society, Emisphere, EMMAC Life Sciences, Emmaus Life Sciences, Emmaus Medical, Emory University, Empatica, Empire Genomics, Empirico, Empower Clinics, EMS, Emulate, Enable Injections, Enaltus, Enamine, EnBiotix, Encoded Therapeutics, Encore Dermatology, Encore Life, Encore Medical, Encycle Therpaeutics, Endocanna Health, EndoCeutics, Endocyte, Endo International, EndoLogic, Endomag, Endo Pharmaceuticals, Endorecherche, Endotherm, Endo Ventures, endpoint Clinical, Energesis Pharmaceuticals, Enesi Pharma, enGene, EnGeneIC, Engitix, Enigma Biomedical, Enleofen Bio, Enochian Biosciences, Ensemble Therapeutics, Entasis Therapeutics, Entegra Laboratories, Entera Health, Enteris Biopharma, Enterome Bioscience, Enterprise Partners Venture Capital, Enterprise Therapeutics, Entheogenix Biosciences, Entos Pharmaceuticals, Entrinsic Health Solutions, Enumeral Biomedical, Envisia Therapeutics, Envy Medical, EnWave, ENYO Pharma, Enzo Biochem, Enzymatica, Enzymotec, Enzyre, Enzyvant Science, Eolas Therapeutics, Epicore Biosystems, Epic Pharmaceuticals, Epic Sciences, EpiDestiny, Epigen Biosciences, EPI Health, Epilepsy Foundation (EF), EpimAb Biotherapeutics, Epirus Biopharmaceuticals, EpiThany, Epivax, Epizyme, Epoxy, Eppin Pharma, Equillium, Equinox Science, Erasmus University Medical Center, Ergomed, ERP Biomarker Qualification Consortium, ERS Genomics, Erytech, Escient Pharmaceuticals, Espada Dermatology, Especificos Stendhal, Esperance Pharmaceuticals, EspeRare Foundation, Esperion Therapeutics, Espero Pharmaceuticals, Essentialis, Essex Bio-Technology, Esteve, Eternygen, eTheRNA immunotherapies, Ethicann Pharmaceuticals, Ethicon Endo-Surgery, Ethismos Research, Ethos Veterinary Health, Eticann S.A.S. Zomac, Eton Pharmaceuticals, Etubics, Euclises Pharmaceuticals, Eufloria Medical, Eu Hwa, Eupharmed, Euprotec, Eureka Eurostars, Eureka Therapeutic, Eurofarma, Eurofins Discovery, Eurolab Especialidades Medicinales de Eurofar, European Commission, European Medicines Agency, European Organization for Research and Treatment of Cancer, European Union, European Union Regional Development Fund, European Vaccine Initiative, Eurotrials, EUSA Pharma, Euthymics Bioscience, Eutilex, Eutropics Pharmaceuticals, Eve & Co, Evecxia, Everest Medicines, Eversana, Evestra, Evidation Health, Evogen, Evoke Pharma, Evolva, Evolve BioSystems, Evonik Industries, EvoRX Technologies, Evotec, Evox Therapeutics, Ewopharma, Exactis Innovation, Exact Sciences, Exactus, Exagen Diagnostics, Excelera Network, ExCellThera, Excelra, Excivion, Exco InTouch, ExeGi Pharma, Exela Pharma Sciences, Exelixis, Exeltis, Exicure, Exonate, Exosome Diagnostics, Expansion Therapeutics, Expesicor, Express Scripts, ExScientia, ExxPharma Therapeutics, Exzell Pharma, Eyegate Pharmaceuticals, EyeMedics, Eyeon Therapeutics, EyePoint Pharmaceuticals, Eyesense, Eyevance, F-Star, F-Star Alpha, F2G, FAAH Pharma, Fabre Kramer Pharmaceuticals, Facebook, Faes Farma, Fagron, Fair Access Medicines, Faisal Musaed El Seif Saudi Pharmaceutical, Famy Care, Fannin, Fapon Biopharma, Farmacias Magistrales, Faron Pharmaceuticals, Fast Forward, FastFunds Financial, Fate Therapeutics, Fatro, Faulk Pharmaceuticals, Fauna Bio, Fedecore, Federal Ministry of Education and Research (BMBF), Fedora Pharmaceuticals, Feinstein Institute for Medical Research, Feldan Therapeutics, Felicitex Therapeutics, Femasys, FerGene, Fermentalg, Ferndale Pharma Group, Ferrer International, Ferring Pharmaceuticals, Fibriant, Fibrocell Science, Fibrogen, Fidelta, Fidia Farmaceutici, Fidia Pharma USA, FightMND, Fillmed, Fimbrion Therapeutics, Finch Therapeutics, Fine Foods & Pharmaceuticals N.T.M., Finnish Funding Agency for Technology and Innovation (TEKES), Firebrand Therapeutics, Firsthand Technology, First Horizon Pharmaceuticals, FirstString Research, Fission Labs LATAM, FitBit, Five Prime Therapeutics, FJ Pharma, FKD Therapies, Flagship Biosciences, Flamel Technologies, Flamma, Flatiron Health, Flemish agency for Innovation by Science and Technology, Flexion Therapeutics, Flexpoint Ford, Florida Hospital, Florida State University, Flowerkist, Flower One, Flowonix, FLX Bio, Flynn Pharma, FOB Synthesis, Focus Laboratories, Folia Biotech, Fondazione San Raffaele, Fondazione Telethon, Fonterra, Food and Drug Administration (FDA), Forbius, Forendo Pharma, Foresee Pharmaceuticals, Forest Pharmaceuticals, Forge Therapeutics, Formac Pharmaceuticals, FORMA Therapeutics, Formula Pharmaceuticals, Fortelinea Software Systems, Fortified Management Group, Fortify Therapeutics, Fortis Healthcare, Fortive, Fortress Biotech, Forty Seven, Forward Pharma, Fosun Kite Biotechnology, Fosun Pharmaceutical, Fougera Pharmaceuticals, Foundation Consumer Healthcare, Foundation for Innovative New Diagnostics, Foundation for International Urogynecological Assistance, Foundation for the National Institutes of Health (FNIH), Foundation Medicine, Foundation to Eradicate Duchenne, Four 20 Pharma, Four Points Innovation, FoxBio, Fox Chase Cancer Center, Francis Crick Institute, Frazier Healthcare Ventures, Fred's, Fred Hutchinson Cancer Research Center, French National Institute for Agricultural Research, French National Research Agency, Frenova Renal Research, Frequency Therapeutics, Fresenius Kabi Pharmaceuticals, Fresenius Medical Care, Frontage Laboratories, Frontida BioPharm, Frontier Biotech, Front Range Biosciences, Fruit Slabs, Fscan, FSC Laboratories, FSC Pediatrics, FSD Pharma, Fudan University, Fuhong Hanlin, Fujifilm, Fujifilm Diosynth Biotechnologies, Fujifilm Kyowa Kirin Biologics, Fujifilm Pharma, Fuji Pharma, Fujirebio Diagnostics, Fulcrum Therapeutics, Fulgent Pharma, Funakoshi, Fundacion Medina, Fusion Genomics, Fusion Pharmaceuticals, Futura Medical, Fuzionaire Diagnostics, Fuzionaire Radioisotope Technologies, FX Therapeutics, G&W Laboratories, G-treeBNT, G1 Therapeutics, G2B Pharma, G3 Pharmaceuticals, GABA Therapeutics, Gadeta, Gaia BioPharma, Galapagos, Galderma, Galectin Sciences, Galectin Therapeutics, Galecto Biotech, Galen, Galena Biopharma, Galenica, Galenicum Health, Gallus Biopharmaceuticals, Galmed Pharmaceuticals, Galvani Bioelectronics, GamaMabs Pharma, GammaDelta Therapeutics, Gan & Lee, Garvan Institute of Medical Research, Gatehouse Bio, Gateway Hemophilia Association, GB Pharma Holdings, GB Sciences, GC Pharma, Gebro Pharma, Gedeon Richter, GE Healthcare, Geisinger Health System, Geisinger Medical Center, Gemini Therapeutics, Gemphire, GEn1E Lifesciences, Gen9, Genable Technologies, Gencia Biotech, Genco Sciences, Genea Biocells, Genea Biomedx, Gene Biotherapeutics, GeneCentric Therapeutics, GeneData, Genelabs Technologies, Genentech, Geneos Therapeutics, GeneQuantum Healthcare, GeneQuine Biotherapeutics, General Biologicals, General Extract, Generex Biotechnology, GeneriCo, Generosus Advisors, GeneSegues, GenesisCare, Genetic Immunity, Genetron Health, GeNeuro, Geneva Foundation, Genevant Sciences, Genexine, Genfa Medica, Genfit, Genialis, Gen Ilac, Genmab, GenoDive Pharma, Genome and Company, GenomeDx, Genomeon, Genometry, Genomic Health, Genomics, Genomix Scientific, Genomma Lab Internacional, Genor Biopharma, Genosco, Genovi Pharmaceuticals, Genovis, genOway, Genpact, Genpharm, GenScript USA, Gensight, Genten Therapeutics, GenVec, Genzyme, Geo-Med, Geom Therapeutics, George Clinical, Georgetown University, George Washington University, Georgia Institute of Technology, Georgia State University, Georgia State University Research Foundation (GSURF), GeoVax, German Cancer Research Center, German Federal State Baden-Wurttemberg, German Institute for Food Technologies, German Ministry for Education and Research, Gesynta Pharma, GHO Capital, Gilead Sciences, Ginkgo BioWorks, Giraffes Pharmaceutical, Glactone Pharma, Gladstone Institutes, Gland Pharma, Glatt Group, Glaukos, GlaxoSmithKline, GlaxoSmithKline Biologicals, GL Brands, Glenmark Pharmaceuticals, GliaCure, Glialogix, Glide, Global Alzheimer's Platform (GAP), Global Antibiotic Research and Development Partnership, Global Blood Disorder Foundation, Global Blood Therapeutics, Global Canna Labs, Global Centers for Therapeutic Innovation, Global Damon Pharma, Global Drug Development Centre (GDCC) China, Global Genes, Global Genomics Group, Global Health Innovative Technology Fund (GHIT), Global Lung Cancer Coalition, GlobalMed, Global Medical Solutions, Globavir Biosciences, Glooko, GlucoMe, GlycoMimetics, Glycostem Therapeutics, Glycotope Biotechnology, Glycyx Pharmaceuticals, Glykos, Glympse Bio, Glythera, GNA Biosolutions, GNC, Gnosis Bioresearch, GNS Healthcare, Godrej, GOG Foundation, Gold Coast Therapeutics, Goldfinch Bio, Good & Green, Good Start Genetics, Goodwin Biotechnology, Google, Gossamer Bio, GO Therapeutics, Gour Medical, Government of Canada, Grace Wilsey Foundation, Gradalis, Grady Health System, Grail, Grameen Health, Graminex, GrandOmics Biosciences, Grand River Aseptic Manufacturing, GrayBug, Great Bay Bio, Green Gorilla, Greenlight Biosciences, Greenr U, Grenco Science, Grid Therapeutics, Grifols, Gritstone Oncology, GroupHEALTH Benefit Solutions, Grow Biotech, Grunenthal, Grupo Ferrer, Grupo Juste, GRYT Health, GT Biopharma, GTCR Golder Rauner, GTEC Holdings, GTP Technology, Guangzhou Boji Medical Biotechnological, Guangzhou Institute of Biomedicine and Health, Guangzhou Institute of Respiratory Disease, Guangzhou Xiangxue Pharmaceutical, Guardant Health, Gubra, Guerbet, Guilin Pharmaceutical, Gupta Pharma, Gurnet Point Capital, Guthy-Renker, GVK Biosciences, GW Pharmaceuticals, Gynial, Gyros Protein Technologies, H-Immune, H2-Pharma, H3 Biomedicine, Hackensack Meridian Health, Hadasit Medical Research Services and Development, Hadassah Medical Center, Haga Teaching Hospital, Hainan Sihuan Pharmaceutical, Hainan Sinotau Pharmaceutical, Hairmore Group, Haisco Pharmaceutical, Halfpenny Technologies, HalioDx, Halo Labs, Halo Pharmaceutical, Halozyme Therapeutics, Halyard Health, Hamilton Health Sciences, Hamilton Thorne, Hammock Pharmaceuticals, HanAll Pharmaceuticals, Hangzhou Zhongmei Huadong Pharmaceutical, Hanmi Pharmaceutical, Hannover Medical School, HanX Biopharmaceuticals, Hao Le Ku (Beijing) Infant And Maternity, Haplogen, Happify Health, HAPPYneuron, Hapten Sciences, Harbin Gloria Pharmaceuticals, Harbin Pharmaceutical Group, Harbour Biomed, Harlan Laboratories, Harmony Biosciences, Harm Reduction Therapeutics, Harpoon Therapeutics, Harris, Harvard Medical School, Harvard Pilgrim Health Care, Harvard Stem Cell Institute, Harvard University, Harvest Capital Strategies, Harvest One, Haselmeier, Hatchtech, Hawaii Biotech, HD Biosciences, Healios K.K., Health2Sync, Health Canada, Healthcare Royalty Partners, HealthCore, Health Decisions, Health House International, Health Ministry (Italy), HealthPrize Technologies, HealthWarehouse, Healthy Directions, Healthy Grain, Healx, Heart Rhythm Society, HeavenlyRx, Hebrew University of Jerusalem, HEC Pharm, Hefei Life Science, Hefei Tianhui Incubation of Technologies, Heidelberg Pharma, Helix BioPharma, Helmholtz Zentrum Munchen, Helsinn Healthcare, Helsinn Therapeutics, Helvetic Biopharma, HemispheRx Biopharma, Hemogenyx, Hemophilia Foundation of Southern California, HemoShear, Hengrui Therapeutics, Henlius Biotech, Hennepin County Medical Center, Hennig, Henry Ford Health System, Henry M. Jackson Foundation, Hepatitis B Foundation, Hepion Pharmaceuticals, HerbalScience Group, Hereditary Neuropathy Foundation, Heritage Group, Heritage Pharmaceuticals, Herlev Hospital, Herman Holdings, Hetero Labs, Heumann Pharma Generics, Hexo, Hi-Tech Pharmacal, Hi-Tech Pharmaceuticals, Hibernation Therapeutics, HiFiBio, Highland Pharmaceutical, Highland Therapeutics, Highmark Blue Shield, High Performance Nutrition, HighRes Biosolutions, High Tide Ventures, Hikma Pharmaceuticals, Hill Dermaceuticals, Hillhurst Biopharmaceuticals, Hillstream BioPharma, Hisamitsu Pharmaceutical, Histapharm, Histogen, Hitachi Chemical, HitGen, HLH BioPharma Vertriebs, HL Pharma, HLS Therapeutics, HMNC Brain Health, Hoba Therapeutics, Hoffmann La Roche, Hollister Biosciences, HollyWeed North Cannabis, Holmdel Pharmaceuticals, Holobiome, Homology Medicines, Honeywell, Honeywood, Hongene Biotechnology, Hong Kong Polytechnic University, Hookipa Pharma, HOPE BIOSCIENCES, Hope for Stomach Cancer, Hope Medicine, Horizon 2020, Horizon CombinatoRx, Horizon Discovery, Horizon Healthcare Services, Horizon Pharma plc, Horizon Therapeutics, Horus Pharma, Hospices Civils de Lyon, Hospira, Hospital del Mar, Hoth Therapeutics, Hough Ear Institute, Houston Pharmaceuticals, Hovione, HP, HPGC Medical, HRA Pharma, Hsiri Therapeutics, HSRx Group, HTC ChemRar, HTG Molecular Diagnostics, Huapont Pharma, Hubei Qianjiang Pharmaceutical, Hudson Robotics, Hugel, Humabs BioMed, Human Biosystems, Humanetics, Humanigen, Human Longevity, Human Metabolome Technologies, Hummingbird Bioscience, Huntsman, Huntsman Cancer Institute, Huons, Hutchison MediPharma, Huvepharma, HUYA Bioscience, Hy BioPharma, Hybridyne Imaging Technologies, Hydra Biosciences, Hyperion Therapeutics, HypGen, Hyris, Hyundai Pharmaceutical, I-Bridge Capital, I-mab, I-MED Pharma, i2 Pharmaceuticals, IACTA Pharmaceuticals, iAnthus Capital, IBA Molecular Imaging, IBI-Lorenzini, iBio, IBM, IBM Watson Health, iBrands, Icagen, Icahn School of Medicine at Mount Sinai, ICAN, iCAN:Israel-Cannabis, ICB Pharma, Ichor Medical Systems, ICM, Icon, Iconic Brands, Iconic Therapeutics, ICU Medical, IDBS, Idea, Ideal Medical Solutions, IDEAYA Biosciences, Idera Pharmaceuticals, IDIPharma, Idorsia, IDT, IDT Biologika, Ieso Digital Health, IFM Therapeutics, Igenica, IGNITE Immunotherapy, Ignyta, IGXBio, IHI, Ikanik Farms, Ikaria, Iktos, Ildong Pharmaceutical, Ilera Therapeutics, ILiAD Biotechnologies, Illumina, ILTOO Pharma, ImaBiotech, Image Analysis, ImageIQ, ImaginAb, Imago Pharmaceuticals, Imaxio, Imbrium Therapeutics, ImClone Systems, Imcyse, iMetabolic Biopharma, ImevaX, IMIDomics, Immatics Biotechnologies, Immugenyx, Immune-Onc Therapeutics, Immune Biosolutions, Immune Deficiency Foundation, Immune Design, Immuneering, Immune Pharmaceuticals, Immune Targeting Systems, Immune Therapeutics, ImmuNext, ImmunGene, Immunic, Immunitor, ImmunoBiochem, ImmunoBrain Checkpoint, ImmunoCellular Therapeutics, ImmunoChina Pharmaceuticals, ImmunoClin, Immunocore, Immuno Diagnostic, ImmunoForge, ImmunoGen, ImmunogenX, Immunome, Immunomedics, Immunomic, ImmunoPrecise Antibodies, ImmunoQure, ImmunoTek Bio Centers, Immunovaccine, Immunscape, Immuron, Immutep, IMPACT Therapeutics, iMPak Health, Impax Laboratories, Imperial Brands, Imperial College London, Imperial Innovations, Impilo Pharma, Impopharma, Impression Healthcare, Imprimis Pharmaceuticals, IMS Health, Inception 5, Inception Sciences, Inceptua, INC Research, Incuron, Incyte, Indegene Lifesystems, InDex Pharmaceuticals, India Colorada, India Globalization Capital, Indiana Biosciences Research Institute, Indiana University, Indivior, Indivumed, Indoco, Industrial Technology Research Institute, Inexia, Infectious Disease Research Institute (IDRI), Infinity Group, Infinity Pharmaceuticals, Infirst HEALTHCARE, InflamaCORE, Inflammasome Therapeutics, InformedDNA, Inform Genomics, InfuTronix Solutions, Ingenza, Inhibikase Therapeutics, Inhibitor Therapeutics, Inhibrx, Initiator Pharma, InMed Pharmaceuticals, INmune Bio, Innate Pharma, InnaVirVax, Innerworkings, Innocrin Pharmaceuticals, Innocutis, InnoPharma, Innospec, Innosuisse, Innova Biosciences, Innovare, Innovasource, Innovate Biopharmaceuticals, Innovate UK, Innovation Health, Innovation Network Corporation, Innovation Pharmaceuticals, Innovative Genomics Initiative (IGI), Innovative Medicines Initiative (IMI), Innovative Targeting Solutions, Innovent Biologics, InnoVision Therapeutics, Innovus Pharmaceuticals, Inolife Technologies, INO Therapeutics, Inotrem, Inovalon, iNova Pharmaceuticals, In Ovations Holdings, Inoviem Scientific, Inovio, Inovio Pharmaceuticals, Inserm, Inserm Transfert, Insilico, InSite Vision, Insitro, Insmed Inc, InSphero, Inspirion Delivery Sciences, Instem, Instillo, Institut Curie, Institute for Myeloma and Bone Cancer Research, Institute for Research in Immunology and Cancer – Commercialization of Research, Institute for Systems Biology, Institute for the Promotion of Innovation by Science and Technology in Flanders, Institute of Cancer Research, Institute of Human Virology, Institute of Natural Fibres and Medicinal Plants, Institut Gustave Roussy, Instituto de Ciencias Farmaceuticas, Institut Pasteur, Insulet, InsuLine Medical, Insys Therapeutics, Intarcia Therapeutics, Intas Biopharmaceuticals, Intec, Integral BioSystems, Integral Molecular, Integrated Animal Health, Integrated Cannabis Company, Integrative Medicine, Intel, IntelGenx, Intellia Therapeutics, Intellikine, Intellimedix, Intellipharmaceutics, Intensity Therapeutics, Intercept Pharmaceuticals, Intercontinental Marketing, InterCure, Interleukin Genetics, International Association for the Study of Lung Cancer, International Association of Providers of AIDS Care, International Diabetes Federation (IDF), International Flavors and Fragrances, International Hemp Solutions, International Isotopes, International Medica Foundation, International Myeloma Foundation, International Partnership for Microbicides, International Research Center on Cannabis and Mental Health, International Stem Cell, International Vaccine Institute (IVI), International Vitamin, Interprotein, Intersect ENT, InteRx Biomedical, Intezyne, Intract Pharma, Intralytix, Intratus, Intravacc, Intrexon, Intuitive Surgical, Invekra, Invenra, Inventia Healthcare, InventisBio, Inventiva, inVentiv Health, Invetech, inviCRO, Invictus MD Stategies, Invitae, InVivoScribe, InVivo Therapeutics, INVO Bioscience, InxMed, IO Biotech, Iogen, Ionis Pharmaceuticals, ION Solutions, IONTAS, Io Therapeutics, Iovance Biotherapeutics, iOx Therapeutics, Ipca Laboratories, iPharma, Ipsen, IPS Specials, iQone Healthcare, IQVIA, IRBM, Irish Haemophilia Society, IriSys, Iroko Pharmaceuticals, Ironshore Pharmaceuticals, Ironwood Pharmaceuticals, IRX Therapeutics, ISA Pharmaceuticals, Isarna Therapeutics, ISA Scientific, IsCann Group, ISDIN, ISIS Innovation, Island Garden, Islet Sciences, Isofol Medical, Isogenica, Isomerase Therapeutics, Isoprene Pharmaceuticals, IsoRay, IsoTherapeutics, Israeli National Authority for Technological Innovation, Israel Investment Center, Italfarmaco, Itamar Medical, iTeos Therapeutics, ITM Isotopen Technologien, Itonis, ITROM Trading Drug Store, IVD Tech, Ivy Brain Tumor Center, IXICO, Izana Bioscience, J&H, J-Network, Jabez Pharma, Jacksonville Pharmaceuticals, Jacobson Pharma, JAGUAHR Therapeutics, Jaguar Health, Jain Foundation, Jamieson, JAMP Pharma Group, JanOne, Janssen-Cilag, Janssen Biotech, Janssen Diagnostics, Janssen Human Microbiome Institute, Janssen Korea, Janssen Pharmaceuticals, Janssen Pharmaceutica NV, Janssen Research & Development, Janssen Sciences, Janssen Therapeutics, Janssen Therapeutics EMEA, Janus Pharmaceuticals, Japan Agency for Medical Research and Development, Japan Medical Isotope Technology Development, Japan Tobacco, Jazz Pharmaceuticals, JCR Pharmaceuticals, JDP Therapeutics, Jeffrey Modell Foundation, JenKem Technology, Jenner Institute, Jerome Stevens Pharmaceuticals, JFE Engineering, JHL Biotech, Jiangsu Alphamab, Jiangsu Chia Tai Tianqing Pharmaceutical, Jiangsu Hansoh Pharmaceutical, Jiangsu Hengrui Medicine, Jiangsu NHWA Pharmaceutical, Jiangsu Qyun Bio-Pharmaceutical, Jiangsu QYuns Therapeutics, Jing Medicine, Jinzhou Ahon Pharma, Jitsubo, Jnana Therapeutics, Johns Hopkins Kimmel Cancer Center, Johns Hopkins Medicine (JHM), Johns Hopkins University, Johnson & Johnson, Johnson & Johnson Consumer Companies, Johnson & Johnson Innovation, Johnson & Johnson Vision, Johnson Matthey, Joslin Diabetes Center, Jounce Therapeutics, JQMS, JSC Pharmadis, JS InnoPharm, Jubilant Biosys, Jubilant Radiopharma, Julphar, Juniper Pharmaceuticals, Juno Therapeutics, Junshi Biosciences, Jupiter Orphan Therapeutics, Just Biotherapeutics, Juvenescence, Juvenile Diabetes Research Foundation, Juventas Therapeutics, Juvise Pharmaceuticals, JW Pharmaceutical, K-PAX Pharmaceuticals, K2M, Kadimastem, Kadmon Pharmaceuticals, KAHR Medical, Kaiser Permanente, Kaken Pharmaceutical, Kaldi Pharma, Kaleido Biosciences, Kalgene Pharmaceuticals, Kali Care, Kallyope, KaloBios Pharmaceuticals, Kalon Biotherapeutics, Kalos Therapeutics, KalVista Pharmaceuticals, Kalytera Therapeutics, Kamada, Kamol Sukosol Electric, Kanabo Research, Kancera, Kane Biotech, Kaneh-B, Kaneka, Kangmei Pharma, KannaLife Sciences, Kansas State University, Kanyos, Karl Storz, Karolinska Development, Karolinska Institute, Karolinska University Hospital, Karo Pharma, Karuna Therapeutics, Karus Therapeutics, Karyopharm Therapeutics, Kashiv BioSciences, Kastle Therapeutics, Kazia Therapeutics, KBI BioPharma, KC Pharmaceuticals, KDAc Therapeutics, KD Pharma, Keck Graduate Institute of Applied Life Sciences, Kedrion Biopharma, Keio Gijuku University, Kelun-Biotech Biopharmaceutical, KemPharm, Kemwell BioPharma, Kennedy Trust For Rheumatology Research, Kerecis, Kerry, Keryx Biopharmaceuticals, KEW, KeyBioScience, Keygene, Khalifa Kush Enterprises, Khandelwal Laboratories, Khrysos Industries, Kiadis Pharma, Kimberly-Clark, Kinaxis, Kindred Bio, Kindred Partners, KineMed, Kineta, Kineta RLB, Kinetic Concepts, Kinex Pharmaceuticals, Kings College London, Kingworld Medicines, Kiniksa Pharmaceuticals, KinoPharma, Kinoxis Therapeutics, Kintor, Kissei Pharmaceutical, Kit Check, Kite Pharma, Kitov, Klaria, Kleo Pharmaceuticals, Kleresca, Klogene Therapeutics, KLOX Technologies, Knauer Scientific Instruments, Kneat, Knight Diagnostic Laboratories, Knighton Foods, Knight Therapeutics, Knopp Biosciences, KNOW Bio, KODE Biotech, Kodiak Sciences, Kolar Filtration, Kolltan Pharmaceuticals, Kolon Life Science, Kombucha Baby Brewing Company, Koneksa Health, KoRa Healthcare, Korea Animal Medical Science Institute, Korea Health Industry Development Institute, Kowa, Kowa Pharmaceuticals America, Kramer Laboratories, KRS Global Biotechnology, KSF Acquisition, Kubota Pharmaceutical, Kuhnil Pharmaceuticals, Kunming Pharmaceutical, Kura Oncology, Kurma Life Sciences Partners, Kurve Technology, KVK-Tech, Kwang Dong Pharmaceutical, Kwangdong Pharmaceutical, KYAN Therapeutics, Kymab, Kymera Therapeutics, Kyongbo Pharm, Kyorin Pharmaceutical, Kyoto University, Kyowa Hakko Kirin, L&F Research, L'Oreal, LabCentral, Labcyte, Laboratoire Gamida, Laboratoires Thea, Laboratories Acbel, Laboratorio Daudt, Laboratorios Adler, Laboratorios Andromaco, Laboratorios Atral, Laboratorios LETI, Laboratorios Liomont, Laboratorios Q Pharma, LABORATORIOS SAVAL, Laboratory Corporation of America, Laboratory of Malaria Immunology and Vaccinology (LMIV), Laccure, Lacer, Lacerta Therapeutics, Lachlan Pharma, Laekna, La Jolla Capital, La Jolla Pharmaceutical, Lake Consumer Products, LakePharma, Lakewood-Amedex, LamdaGen, Landrace Bioscience, Landsteiner Scientific, Lannett, Lantern Pharma, Lantheus Holding, Lanthio Pharmaceutical, Lanxess, LatAm Clinical Trials, Laurel Venture Capital, Laurent Pharmaceuticals, Laurus Labs, Lautus Pharmaceuticals, Lavasta Pharma, Lavvan, Lawson Health Research Institute, Laxai Pharma, Lazada Group, LBB Specialties, LCS Therapeutics, Lead Discovery Center, Leadiant Biosciences, Leading Edge Pharms, Lead Pharma, Leaf Biopharmaceutical, Leaf Healthcare, Leap Therapeutics, Lee's Pharmaceutical, Lee Moffitt Cancer Center, Legacy Biotechnologies, Legend Biotech, LegoChem Biosciences, Leica Biosystems, Leicester University, Leiden University, Leidos, Leiters, Leon-nanodrugs, Leona M and Harry B Helmsley Charitable Trust, Leonard-Meron Biosciences, LEO Pharma, Les Laboratoires Servier, Leukemia & Lymphoma Society, Leukocare, Levelblox, Levo Therapeutics, Lexicon Pharmaceuticals, LFB Biomedicaments, LFB Group, LG Life Sciences, Libbs Farmaceutica, Liberty Health Sciences, LIDDS, Lieber Institute, LifeArc, LifeCell, LifeCodexx, LifeHealth, Lifehealthcare, LifeMax Laboratories, Life Science Korea, Life Science Research, LifeSouth Community Blood Centers, Life Spine, Lifestyle Delivery Systems, LifeTech Scientific, Ligand Pharmaceuticals, Lightlake Therapeutics, Liht Cannabis, Liiv Organics, Li Ka Shing Foundation, Lilly Endowment, Limbix, Lin Bioscience, Lincoln Equities Group, Lineage Cell Therapeutics, LingSheng Pharma Tech, Linker Holdings, Link Health, Link Pharmaceuticals, LIPAC Oncology, Lipidor, Lipid Therapeutics, Lipigon Pharmaceuticals, LipimetiX Development, LipoCure, Lipotype, Liquidia Technologies, Litha Pharma, Live Like Bella Childhood Cancer Foundation, Liverpool School of Tropical Medicine, Living Proof, Livongo Health, Livzon Mabpharm, LLamasoft, Lobsor Pharmaceuticals, Locemia Solutions, Locus Biosciences, Lodo Therapeutics, LogicBio Therapeutics, Lonza, Los Altos Pharmaceuticals, Lotus Biotechnology Development, Lotus Pharmaceuticals, Louisiana State University, Loxbridge Research, Loxo Oncology, Lpath, Lq3 Pharmaceuticals, LSK BioPharma, LSNE Contract Manufacturing, LSPediA, LSU Health Sciences Center, LTS Lohmann Therapie-Systeme, Lubris BioPharma, Lubrizol, Lucerne Biosciences, Lucideon, Luc Therapeutics, Ludwig Institute for Cancer Research, Luitpold Pharmaceuticals, Lukare Medical, Lumara Health, Lumicera Health Services, Luminarie, Luminex, Lumora, Lumosa Therapeutics, Lunatus, Lundbeck, Lund University, Lunenfeld-Tanenbaum Research Institute, Lung Biotechnology, Lung Cancer Research Foundation, Lupin, Lupin Limited, Lupin Pharmaceuticals, Lupus Foundation of America (LFA), Lupus Research Alliance, Lupus Therapeutics, Luqa Pharmaceuticals, Luxcel Biosciences, Luye Pharma Group, Lycera, Lyfebulb, Lymphoma Study Association, Lyndra Therapeutics, Lyomark Pharma, Lyra Health, Lysando, Lysogene, Lytix Biopharma, M2Gen, MaaT Pharma, Mab-Venture Biopharma, MAB Discovery, Mabion, MabQuest, Mabspace Bioscience, MabVax Therapeutics, mAbXience, Machavert Pharmaceuticals, Macroceutics, Macrogenics, Macrolide Pharma, Macrophage Pharma, Macrophage Therapeutics, Madison Vaccines, Madrigal Pharmaceuticals, Magellan Health Services, Magenta Therapeutics, MAGNA Pharmaceuticals, MainPointe, Maitland Labs, Malaghan Institute, Malin, Mallinckrodt Pharmaceuticals, Manna Research, Mannin Research, MannKind Biopharmaceuticals, ManRos Therapeutics, Mapi Pharma, Maple Leaf Green World, Mapp Biopharmaceutical, Marathon Pharmaceuticals, March of Dimes, Maren Cosmetics, Marian University, Mariel Therapeutics, MariJ Pharmaceuticals, Marina Biotech, Marinomed Biotechnologie, Marinus Pharmaceuticals, Mark Foundation for Cancer Research, Marshall Institute for Interdisciplinary Research, Marshall University, Mars Symbioscience, Martindale Pharma, Maruho, Masimo, Massachusetts Eye and Ear Infirmary, Massachusetts General Hospital, Massachusetts Institute of Technology, Massachusetts Life Sciences Center, MassBioEd Foundation, Masters Speciality Pharma, MaSTherCell, Mast Therapeutics, Matawan Pharmaceuticals, Matinas Biopharma, Maverick Therapeutics, Mawdsleys, Max-Planck, Maxcyte, Max Foundation, Maxhealth Medicine, Maxor National Pharmacy, Mayne Pharma, Mayo Clinic, MBioTeQ, MC10, McCall MacBain Foundation, McGill University, McKesson, McMaster University, McNeil Consumer Pharmaceuticals, MD Anderson Cancer Center, MDdatacor, MD Distributor, MDRM Group (Canada), MDS Pharma Services, MDxHealth, MEAgate International, Mectizan Donation Program, Med-Aesthetic Solutions, Meda, Medac, Medacta, Med Alliance, Meda Pharmaceuticals, MedCannAccess, MedCision, Medeor Therapeutics, MedGenesis Therapeutix, Medgenics, Medherant, MEDIAN Technologies, Medibio, Medical College of Wisconsin, Medical Developments International, Medical Marijuana, Medical Prognosis Institute, Medical Research Council, Medical Research Foundation, Medical University of South Carolina, Medical University South Carolina, MediCann Handels, MedicaSafe, Medicated Markets International, Medicenna Therapeutics, Medicinal Genomics, Medicines360, Medicines Patent Pool Foundation, MediciNova, Medicure, Medidata Solutions, Medifirst Solutions, Medifocus, Medigen Biotechnology, MediGene, MedikorPharma, Medimetriks, MedImmune, MedImpact Direct, Medinova, Mediolanum, Medipal Holdings, MediPharm Labs, Mediq, MediSafe, Medison Pharma, Medisun International, Medivation, Medivir, MediWound, Medix, Medizone International, Medline Industries, Medpace, MedPharm, MedReleaf, Medservice, Medshift, Medtronic, Megapharm, Meggle, Meiji Seika, MEI Pharma, MeiraGTx, Melanovus Oncology, MELA Sciences, Melinta Therapeutics, Melior Discovery, Melorganics Hellas, MEME, Memorial Sloan Kettering Cancer Center, Menarini, Menarini Asia-Pacific, Mendel Health, Menlo Therapeutics, MentiNova, Mentor, Mercachem, Merck and Co, Merck Animal Health, Merck Company Foundation, Merck KGaA, Merck Serono, Merck Sharpe & Dohme, Mereo BioPharma, Merge Healthcare, Merial, Meridian Laboratories, Meridian Medical Technologies, MerLion, Meroven, Merrimack Pharmaceuticals, Merrion Pharmaceuticals, Mersana Therapeutics, Merus, Merus Labs International, Merz, MESA Specialty Gases & Equipment, Mesoblast, Metabasis Therapeutics, Metabiomics, MetaboGen, Metabolix, Metabolon, Metacrine, Metagenics, Metastatic Breast Cancer Network, MetaSysX, METAvivor, Metdia Biotech, Methapharm, MetP Pharma, Metrion Biosciences, Metuchen Pharmaceuticals, Mexican National Technology and Science Council, Meyer Children's Hospital of Florence, Mezzion Pharma, MGB Biopharma, MGC Diagnostics, MGC Pharma, MHC Medical Products, Micell Technologies, Michael J Fox Foundation, Michepro, Microbion, Microbiotica, Microchips Biotech, MicroHealth, Micro Labs, Microsoft, MicuRx Pharmaceuticals, MidaSol Therapeutics, Midatech, Middle Tennessee State University, Migranade, MilanaPharm, Millendo Therapeutics, Millennium, MilliporeSigma, Mimetas, Mimetogen Pharmaceuticals, MimiVax, MiNA Therapeutics, MiNDERA, MindImmune Therapeutics, Mind Medicine, Mindstrong Health, Minerva Neurosciences, Ministry of Health and Prevention, MiniVax, Minneapolis Medical Research Foundation, Minnetronix, Mino Labs, Minomic, Miraculins, Miragen Therapeutics, miRagen Therapeutics, Mirati Therapeutics, MirImmune, Mironid, Mirum Pharmaceuticals, MiRXES, Mission Pharmacal, Mission Therapeutics, Mitacs, MiTest Health, Mithra Pharmaceuticals, Mitobridge, Mitochon Pharmaceuticals, Mitra Biotech, MITRO Biotech, Mitsubishi Chemical, Mitsubishi Tanabe Pharma, Mitsuboshi Product Planning, Mitsui, MMJ PhytoTech, Moberg Pharma, Mochida Pharmaceutical, Moderna Therapeutics, Modern Biosciences, Modern Dental Group, Modern Mobility Aids, Modulus Discovery, Moebius Medical, Moeller Pharma, Moksha8, Molecular Devices, MolecularMD, Molecular Profiles, Molecular Response, Molecular Stethoscope, Molecular Targeting Technologies, Molecular Templates, Moleculin Biotech, Molnlycke Health Care, Mologen, Molplex Pharmaceuticals, Molteni Farmaceutici, Momenta Pharmaceuticals, monARC Bionetworks, Monash University, Monopar Therapeutics, Monosol LLC, MonoSolRx, MonoSol Rx, Monsanto, Montreal Heart Institute, Montreal InVivo, Monvida Pharmaceuticals, Morgan Stanley, Morphic Therapeutic, MorphoSys, Morphotek, Mor Research Applications, Mount Sinai Health System, Mount Sinai Medical Center, Moyer Foundation, MSC, MSD, MSD Biologics, MSN Laboratories, MTP Material, MultiCorp International, MultiPlan, Mundimed, Mundipharma, Mundo Sano, Murdoch Childrens Research Institute, Muscle Activation Technique, 
For a full list contact us at orders@currentpartnering.com
Current Partnering reports provide insight into the trends and terms of partnering deals in the global life sciences sector.
Current Partnering reports are updated every six months to ensure the user has access to the latest announcements and trends in the topic focus of the report.
Current Partnering analysts review the deal data to provide an overview and analysis of deal trends, including example deals and terms.
Current Partnering reports source deal data from our proprietary deals and alliances database, Current Agreements. The database is updated daily by our analysts with new deals as they are announced globally by the company's party to the deal. In addition, deal records are updated with new data as it becomes available.
The data in the Current Agreements deals and alliances database is obtained from secondary sources such as publicly available industry sources including press releases, company presentations, investor presentations, company SEC filings, other company filings, company websites, conference presentations. Sources are identified to allow for user verification.
Current Partnering provides comprehensive coverage of the following partnering or deal types:
• Asset purchase
• Assignment
• Co-development
• Co-market
• Co-promotion
• Collaborative R&D
• Contract service
• CRADA
• Cross-licensing
• Development
• Distribution
• Equity purchase
• Evaluation
• Grant
• Joint venture
• Licensing
• Loan
• Manufacturing
• Marketing
• Option
• Promotion
• Research
• Royalty financing
• Settlement
• Spin out
• Sub license
• Supply
• Termination
• Warrant
Every deal record is fully categorized and includes the following data, where available:
• Industry sector
• Therapy areas
• Technology type
• Deal components
• Financial terms
• Stage of development
• Exclusivity
• Asset type
• Geographic focus
• Excluded geography
• Company press release
• SEC filing data including contract document
All financial amounts are converted to US$ using the exchange rate available on the date of deal announcement, enabling direct comparison of deal terms across international territories.
Financial data and contract documents displayed in deal records is obtained from public sources, where disclosed by the parties to the deal.
We found other products you might like!