Global Academic and Non-Profit Partnering Terms and Agreements 2014-2020: Deal trends, players and financials
Global Academic and Non-Profit Partnering Terms and Agreements 2014 to 2020 report provides a detailed understanding and analysis of how and why companies enter Academic and Non-Profit partnering deals.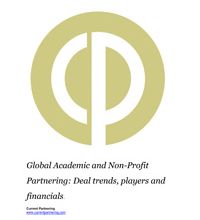 Publication date
March 2020
Product type
Research report
Available formats
PDF document
Global Academic and Non-Profit Partnering Terms and Agreements 2014 to 2020 report provides a detailed understanding and analysis of how and why companies enter Academic and Non-Profit partnering deals. These deals tend to be multicomponent, starting with collaborative R&D, and proceed to commercialization of outcomes.
This report provides details of the latest Academic and Non-Profit agreements announced in the life sciences since 2014.
The report takes the reader through a comprehensive review Academic and Non-Profit deal trends, key players, top deal values, as well as deal financials, allowing the understanding of how, why and under what terms, companies are entering Academic and Non-Profit partnering deals.
The report presents financial deal term values for Academic and Non-Profit deals, listing by headline value, upfront payments, milestone payments and royalties, enabling readers to analyse and benchmark the financial value of deals.
The middle section of the report explores the leading dealmakers in the Academic and Non-Profit partnering field; both the leading deal values and most active Academic and Non-Profit dealmaker companies are reported allowing the reader to see who is succeeding in this dynamic dealmaking market.
One of the key highlights of the report is that over 4,300 online deal records of actual Academic and Non-Profit deals, as disclosed by the deal parties, are included towards the end of the report in a directory format – by company A-Z, stage of development, deal type, therapy focus, and technology type - that is easy to reference. Each deal record in the report links via Weblink to an online version of the deal.
In addition, where available, records include contract documents as submitted to the Securities Exchange Commission by companies and their partners. Whilst many companies will be seeking details of the payment clauses, the devil is in the detail in terms of how payments are triggered – contract documents provide this insight where press releases and databases do not.
The initial chapters of this report provide an orientation of Academic and Non-Profit dealmaking. Chapter 1 provides an introduction to the report, whilst chapter 2 provides an overview of the trends in Academic and Non-Profit dealmaking since 2014, including details of headline, upfront, milestone and royalty terms.
Chapter 3 provides a review of the leading Academic and Non-Profit deals since 2014. Deals are listed by headline value. Where the deal has an agreement contract published at the SEC a link provides online access to the contract.
Chapter 4 provides a comprehensive listing of the top 25 most active companies in Academic and Non-Profit dealmaking with a brief summary followed by a comprehensive listing of Academic and Non-Profit deals announded by that company, as well as contract documents, where available.
Chapter 5 provides a comprehensive and detailed review of Academic and Non-Profit partnering deals signed and announced since Jan 2014, where a contract document is available in the public domain. Each deal title links via Weblink to an online version of the deal record and contract document, providing easy access to each contract document on demand.
Chapter 6 provides a comprehensive and detailed review of Academic and Non-Profit partnering deals signed and announced since Jan 2014. The chapter is organized by specific technology type. Each deal title links via Weblink to an online version of the deal record and where available, the contract document, providing easy access to each deal on demand.
A comprehensive series of appendices is provided organized by Academic and Non-Profit partnering company A-Z, stage of development, deal type, and therapy focus. Each deal title links via Weblink to an online version of the deal record and where available, the contract document, providing easy access to each deal on demand.
The report also includes numerous tables and figures that illustrate the trends and activities in Academic and Non-Profit partnering and dealmaking since 2014.
In conclusion, this report provides everything a prospective dealmaker needs to know about partnering in the research, development and commercialization of Academic and Non-Profit technologies and products.
Key benefits
Global Academic and Non-Profit Partnering 2014-2020: Deal trends, players, financials and forecasts provides the reader with the following key benefits:
In-depth understanding of Academic and Non-Profit deal trends since 2014
Access to headline, upfront, milestone and royalty data
Analysis of the structure of Academic and Non-Profit agreements with real life case studies
Detailed access to actual Academic and Non-Profit contracts entered into by leading biopharma companies
Identify most active Academic and Non-Profit dealmakers since 2014
Insight into terms included in a Academic and Non-Profit partnering agreement, with real world examples
Understand the key deal terms companies have agreed in previous deals
Undertake due diligence to assess suitability of your proposed deal terms for partner companies
Report scope
Global Academic and Non-Profit Partnering 2014-2020: Deal trends, players, financials and forecasts is intended to provide the reader with an in-depth understanding and access to Academic and Non-Profit trends and structure of deals entered into by leading companies worldwide.
Academic and Non-Profit Partnering Terms and Agreements includes:
Trends in Academic and Non-Profit dealmaking in the biopharma industry since 2014
Analysis of Academic and Non-Profit deal structure
Access to headline, upfront, milestone and royalty data
Case studies of real-life Academic and Non-Profit deals
Access to Academic and Non-Profit contract documents
Leading Academic and Non-Profit deals by value since 2014
Most active Academic and Non-Profit dealmakers since 2014
In Global Academic and Non-Profit Partnering 2014-2020: Deal trends, players, financials and forecasts, the available deals are listed by:
Company A-Z
Headline value
Stage of development at signing
Deal component type
Specific therapy target
Technology type
Each deal title links via Weblink to an online version of the deal record and where available, the contract document, providing easy access to each contract document on demand.
The Global Academic and Non-Profit Partnering 2014-2020: Deal trends, players, financials and forecasts report provides comprehensive access to available deals and contract documents for over 4,300 Academic and Non-Profit deals.
Analyzing actual contract agreements allows assessment of the following:
What are the precise rights granted or optioned?
What is actually granted by the agreement to the partner company?
What exclusivity is granted?
What is the payment structure for the deal?
How aresalesand payments audited?
What is the deal term?
How are the key terms of the agreement defined?
How are IPRs handled and owned?
Who is responsible for commercialization?
Who is responsible for development, supply, and manufacture?
How is confidentiality and publication managed?
How are disputes to be resolved?
Under what conditions can the deal be terminated?
What happens when there is a change of ownership?
What sublicensing and subcontracting provisions have been agreed?
Which boilerplate clauses does the company insist upon?
Which boilerplate clauses appear to differ from partner to partner or deal type to deal type?
Which jurisdiction does the company insist upon for agreement law?
Global Academic and Non-Profit Partnering 2014-2020: Deal trends, players, financials and forecasts provides the reader with the following key benefits:
In-depth understanding of Academic and Non-Profit deal trends since 2014
Access to headline, upfront, milestone and royalty data
Analysis of the structure of Academic and Non-Profit agreements with real life case studies
Detailed access to actual Academic and Non-Profit contracts entered into by leading biopharma companies
Identify most active Academic and Non-Profit dealmakers since 2014
Insight into terms included in a Academic and Non-Profit partnering agreement, with real world examples
Understand the key deal terms companies have agreed in previous deals
Undertake due diligence to assess suitability of your proposed deal terms for partner companies
Executive Summary
Chapter 1 – Introduction
Chapter 2 – Trends in Academic and Non-Profit dealmaking
2.1. Introduction
2.2. Academic and Non-Profit partnering over the years
2.3. Most active Academic and Non-Profit dealmakers
2.4. Academic and Non-Profit partnering by deal type
2.5. Academic and Non-Profit partnering by therapy area
2.6. Academic and Non-Profit partnering by technology type
2.7. Deal terms for Academic and Non-Profit partnering
2.7.1 Academic and Non-Profit partnering headline values
2.7.2 Academic and Non-Profit deal upfront payments
2.7.3 Academic and Non-Profit deal milestone payments
2.7.4 Academic and Non-Profit royalty rates
Chapter 3 – Leading Academic and Non-Profit deals
3.1. Introduction
3.2. Top Academic and Non-Profit deals by value
Chapter 4 – Most active Academic and Non-Profit dealmakers
4.1. Introduction
4.2. Most active Academic and Non-Profit dealmakers
4.3. Most active Academic and Non-Profit partnering company profiles
Chapter 5 – Academic and Non-Profit contracts dealmaking directory
5.1. Introduction
5.2. Academic and Non-Profit contracts dealmaking directory
Chapter 6 – Academic and Non-Profit dealmaking by technology type
Chapter 7 – Partnering resource center
7.1. Online partnering
7.2. Partnering events
7.3. Further reading on dealmaking
Appendices
Appendix 1 – Academic and Non-Profit deals by company A-Z
Appendix 2 – Academic and Non-Profit deals by stage of development
Appendix 3 – Academic and Non-Profit deals by deal type
Appendix 4 – Academic and Non-Profit deals by therapy area
Appendix 5 – Deal type definitions
About Wildwood Ventures
Current Partnering
Current Agreements
Recent report titles from Current Partnering
Table of figures
Figure 1: Academic and Non-Profit partnering since 2014
Figure 2: Active Academic and Non-Profit dealmaking activity since 2014
Figure 3: Academic and Non-Profit partnering by deal type since 2014
Figure 4: Academic and Non-Profit partnering by disease type since 2014
Figure 5: Academic and Non-Profit partnering by technology type since 2014
Figure 6: Academic and Non-Profit deals with a headline value
Figure 7: Academic and Non-Profit deals with an upfront value
Figure 8: Academic and Non-Profit deals with a milestone value
Figure 9: Academic and Non-Profit deals with a royalty rate value
Figure 10: Top Academic and Non-Profit deals by value since 2014
Figure 11: Most active Academic and Non-Profit dealmakers since 2014
Figure 12: Online partnering resources
Figure 13: Forthcoming partnering events
Pricing options
$3,495: single-user
$5,245: multi-user
$10,495: single site license
$17,495: global site license
A full explanation of license type definitions can be found here.
Our guarantee
Price promise
We guarantee our prices are competitive. If you find the same report advertised at a lower price within 7 days of purchase, we will refund the difference.
Delivery Deadline
We guarantee that the report will be sent within the specified delivery times. In the unlikely case of a delay we may offer a partial refund as compensation. (Terms may apply)
Latest report
If an update is published within 30 days of your purchase, you will receive it absolutely free of charge.
Serious Security
We take your data and security seriously. See our privacy policy for details of how we manage your data.
All card payments are processed by SagePay.
Sales Support
If you have any questions about your report or are unhappy with the quality, we will do our best to resolve your query. Contact us direct.
Total Trust
Current Partnering is part of Wildwood Ventures Ltd., based in York, United Kingdom. We have been trading successfully online since 2009 and work with some of the most famous brands in the business. We carefully select our partners to ensure that the publications meet expectations of demanding customers.
1CellBiO, 2bPrecise, 2M, 3B Pharmaceuticals, 3D Signatures, 3P Biopharmaceuticals, 3Scan, 4D Molecular Therapeutics, 4D Pharma, 4SC Discovery, 10X Genomics, 14M Genomics, 22nd Century, 23andMe, A*STAR Agency for Science, Technology and Research, A*STAR Bioinformatics Institute, A*STAR Bioprocessing Technology Institute, A*STAR Genome Institute of Singapore, A*STAR Singapore Immunology Network, A*STAR' Institute of Molecular and Cell Biology, A-Alpha Bio, A1M Pharma, Aarhus University Hospital, Abbott Laboratories, Abbvie, Abby Grace Foundation, Abcam, AbCellera, Abcodia, Abeome, Abeona Therapeutics, Abide Therapeutics, ABIVAX, ABL Bio, Ablexis, Abpro, Abramson Cancer Center, Abzena, Academia Sinica, Academic Drug Discovery Consortium, Academic Medical Center, Academy of Nutrition and Dietetics, Academy of Sciences of the Czech Republic (IOCB), Accelerated Cure Project for MS, Acceliant, Accelovance, Accenture, AccuGenomics, Accuray, Accutest, ACEA Biosciences, Acerus, Achaogen, Achieve Life Science, AC Immune, ACMG Foundation for Genetic and Genomic Medicine, Acorda Therapeutics, Actelion, Actinium Pharmaceuticals, Actuated Cardio Engineering, Actuated Medical, Acucela, AcuraStem, Acurian, Adagene, Adaptimmune, Adaptive Biotechnologies, Adaptive Phage Therapeutics, Adare Pharmaceuticals, ADB International Group, Addex Therapeutics, Addiction Institute of Mount Sinai, Adimab, ADInstruments, Aduro BioTech, Advaita, Advaite, AdvaMed, AdvanceBio Systems, Advanced Accelerator Applications, Advanced Biological Laboratories, Advanced BioNutrition, Advanced Clinical Trial Solutions, Advanced Medical Isotope, Advanced Nuclear Medicine Ingredients, Advanced Regenerative Manufacturing Institute, Advaxis, Aelan Cell Technologies, Aeras, Aerie Pharmaceuticals, AEterna Zentaris, Aethlon Medical, Aetion, Aevi Genomic Medicine, Aevitas Therapeutics, Affectis Pharmaceuticals, Affigen, Affimed Therapeutics, Affinivax, AFFiRiS, Affymetrix, Agency for Healthcare Research and Quality, Agendia, AgeneBio, AgeX Therapeutics, Agilent Technologies, Agilis Biotherapeutics, Agilvax, Agricultural Research Service, AGTC, AIDS Clinical Trials Group, AIDS Foundation of Chicago, Aiforia Technologies, Air Force General Hospital, Air Force Research Laboratory, Aitbiotech, AiVita Biomedical, AKC Canine Health Foundation, Akili Interactive Labs, Akita Innovations, Akonni Biosystems, Akouos, Akoya Biosciences, Akrevia Therapeutics, Akriveia Therapeutics, Akron Biotechnology, Akston Biosciences, Alana Healthcare, Albany Molecular Research, Alberta Health Services, Albert Einstein College of Medicine, Albert Einstein Healthcare Network, Albumedix, Alcami, Aldevron, Aldeyra Therapeutics, Aleva Neurotherapeutics, Alexion Pharmaceuticals, Alfred E. Mann Institute for Biomedical Engineering, Align Technology, Aligo, Alimentary Health, AliveCor, Alkahest, Alkermes, Allakos, AllCells, Allcure Kangtai Proton Technology, Allegheny General Hospital, Allegheny Technologies, Allegiance Health Foundation, Allegro Ophthalmics, Allele Biotechnology and Pharmaceuticals, Allen Institute for Brain Science, Allen Institute for Cell Science, Allergan, AllerGenis, Alliance for a Cavity-Free Future, Alliance For Cancer Care, Alliance for Cancer Gene Therapy, Alliance For Clinical Trials In Oncology, Alliance for Lupus Research, Alliance for Regenerative Medicine, Alliance Global Group, Alliance Healthcare Services, Alliance Oncology, Allied-Bristol Life Sciences, Allied Minds, Alligator Bioscience, Allogene Therapeutics, AlloSource, Almac Diagnostics, Almac Group, Alnylam Pharmaceuticals, ALR Technologies, ALS Association, ALS Automated Lab Solutions, ALS Biopharma, ALS Finding a Cure Foundation, Altius Institute for Biomedical Sciences, Altor BioScience, ALTuCELL, Aluna, Alvarado Hospital Medical Center, Alzamend Neuro, Alzeca Biosciences, Alzecure Foundation, Alzheimer's Association, Alzheimer's Drug Discovery Foundation, Alzheimer's Foundation of America, Alzheimer's Research UK, Alzheimer Society Research, Alzheimers Research UK, Amag Pharmaceuticals, Amal Therapeutics, Amarantus BioSciences, Amarillo Biosciences, Amarna Therapeutics, Ambrx, Ambry Genetics, Amendia, Amend Surgical, American Academy of Implant Dentistry Foundation, American Academy of Neurology, American Academy of Ophthalmology, American Association for Cancer Research, American Association of Neuromuscular & Electrodiagnostic Medicine, American Brain Tumor Association, American Cancer Society, American College of Chest Physicians, American College of Emergency Physicians, American College of Physicians Foundation, American College of Sports Medicine, American College of Surgeons, American Dental Association, American Diabetes Association, American Foundation for AIDS Research (amfAR), American Gene Technologies, American Heart/Stroke Association, American Heart Association, American Liver Foundation, American Lung Association, American Medical Association, American Migraine Foundation, American National Multiple Sclerosis Society, American Parkinson Diseases Association, American Physiological Society, American Red Cross, American Skin Association, American Sleep Apnea Association, American Society for Aesthetic Plastic Surgery, American Society of Clinical Oncology (ASCO), American Society of Hematology, American Society of Human Genetics, American Speech-Language-Hearing Association, American Type Culture Collection (ATCC), American Veterinary Medical Foundation, AmerisourceBergen, Amfora, Amgen, Amicus Therapeutics, AmorChem, AMPATH Oncology Institute, AMPEL BioSolutions, AmpliPhi Biosciences, AMR, Amsel Medical, Amunix, Amygdala Neurosciences, Amyris, Anahit, Analysis Group, Analytical Biological Services, AnaMar, Anam Hospital, ANANDA Scientific, Anesthesia Business Consultants, Angiocrine Bioscience, Angiostem, Angle, Angsana Molecular & Diagnostics, Anika Therapeutics, Anixa Biosciences, Annette Funicello Research Fund for Neurological Diseases (AFRFND), Anpac Bio-Medical Science, ANP Technologies, Antabio, Antaros Medical, Antengene, Anthem, Anthera Pharmaceuticals, Anthony Nolan, Antibiotic Research UK, Antidote, Antidote Therapeutics, Antitope, ANZAC Reserach Institute, AO Foundation, Apceth, Apexigen, Apollo Hospitals Group, Apollo Sugar, Appello Pharmaceuticals, Appistry, Applied StemCell, AppliedVR, Aprea, APRINOIA Therapeutics, Aptahem, Aptamer Therapeutics, Aptose Biosciences, Aptuit, Aquinnah Pharmaceuticals, Aravive Biologics, Arbutus, Arch Biopartners, ARCH Personalized Medicine Initiative, Arch Therapeutics, ARCS Foundation, Arcturus Therapeutics, Arecor, Areva Med, arGEN-X, Argent Development Group, Argentina Orthodontic Society, Argonne National Laboratory, Aridis Pharmaceuticals, Arix Bioscience, Arizona State University, Ark Biosciences, ARK Crystal, Arkray, ArmaGen, Arno Therapeutics (inactive since 2017), AroCell, Arrakis Therapeutics, Array Biopharma, Arsanis Biosciences, Artelo Biosciences, Artes Biotechnology, Artios Pharma, ARUP Laboratories, Aruvant Sciences, Asana Medical, Asan Medical Center, Asceneuron, Ascenion, Ascentage Pharma, Ashland-Boyd County Health Department, Asia-Pacific Hepatocellular Carcinoma Trials Group, Asian Eye Institute, Aslan Pharma, Aspen Park Pharmaceuticals, ASPiRA Labs, Aspyrian Therapeutics, Assay Depot, Association for Frontotemporal Degeneration, Association of Clinical Research Professionals, Assuta Medical Centers, Astellas Pharma, Asterias Biotherapeutics, Astex Pharmaceuticals, Asthma UK, Aston University, AstraZeneca, AstraZeneca HealthCare Foundation, Astute Medical, Asuragen, Asys, Atara Biotherapeutics, Atelerix, Athersys, Atlas Genetics, Atomwise, Atossa Genetics, Atox Bio, Atreca, Attune Medical, Atvio Biotech, aTyr Pharma, Auburn University, Audaire Health, Audentes Therapeutics, AUM Biotech, Aural Analytics, Auris Medical, Aurobindo Pharma, Aurora BioPharma, Aurora Cannabis, Aurora Diagnostics, Aurum Ventures, AusHealth, Austen BioInnovation Institute in Akron (ABIA), Australasian Gastro Intestinal Research Foundation, Australian Department of Health and Ageing, Australian Foundation for Diabetes Research, Australian Genome Research Facility, Australian Imaging, Biomarker & Lifestyle Flagship Study of Ageing (AIBL), Australian Research Council, Austrian Institute of Technology, Autifony Therapeutics, Autism Speaks, Autodesk, Autolus, AUT Roche Diagnostics Laboratory, AUT University, Auven Therapeutics, Avalanche Biotechnologies, Avalon GloboCare, Avellino Labs, Avera Heart Hospital of South Dakota, Aviana Molecular Technologies, Avicanna, Aviragen Therapeutics, Avista Pharma Solutions, Avita Medical, Avon Foundation, AVRA Surgical, Awair, AXIM Biotechnologies, AxioMx, Axonics Modulation Technologies, AxoSim, Axovant Sciences, Axsome Therapeutics, Axxam, Ayasdi, AyoxxA Biosystems, Azaya Therapeutics, Azellon Cell Therapeutics, Azitra, AZUSA Pacific University, Babraham Bioscience Technologies, Babraham Institute, Bachmann-Strauss Dystonia & Parkinson Foundation, Bacit, Baebies, Baker IDI Heart and Diabetes Institute, Bambino Gesu Children's Hospital, Bank of America, Banner Alzheimer's Institute, Banting & Best Diabetes Centre (BBDC), Baptist Health Care, Barbara Ann Karmanos Cancer Institute, Baruch S Blumberg Institute, BASF, Batavia Biosciences, Battelle, Batu Biologics, Baudry Laboratory, Bavarian Nordic, Baxter International, Bay Area Lyme Foundation, Bayer, Bayer Healthcare, Bayer USA Foundation, Baylor College, Baylor College of Medicine, Baylor Genetics, Baylor Health Care System, Baylor Institute for Immunology Research, Baylor Miraca Genetics Laboratories, Baylor Research Institute, Baylor Sammons Cancer Center, BC Children's Hospital, BCD Bioscience, BC Platforms, Beactica, Beam Therapeutics, Beckman Coulter, Beckman Research Institute of City of Hope, Becton Dickinson, Beike Biotech, Belgian Red Cross, Bellicum Pharmaceuticals, Bellus Health, Ben-Gurion University, Benchwise, Berg, Berkeley Lights, Berlin-Brandenburg Center for Regenerative Therapies, Beroni Group, Best Medical International, Beta-O2, Beth Israel Deaconess Medical Center, Beyond Batten Disease Foundation, Beyondspring Pharmaceuticals, Beyond Type 1, BGI, BGI Tech Solutions, BGN Technologies, BHB Therapeutics, Bicycle Therapeutics, Bill and Melinda Gates Foundation, Bio-Manguinhos, Bio-Path, Bio-Rad Laboratories, Bio-Techne, bioAffinity Technologies, BioAgilytix, BioArctic Neuroscience, BIOASTER, BioAxone Therapeutic, BioBridge Global, BioBright, BioCanRx, Biocept, BioCision, Biocodex Microbiota Foundation, Biocom Institute, Biodesix, Biodextris, BioDigital, Biofactura, Bio Farma, Biofourmis, Biogen, Biohaven Pharmaceutical Holding, BioInvent, Biokinetic Europe, BioLabs, Biolase, BioLegend, BIOLIFE4D, BiolineRX, Biolog-id, Biological Dynamics, Biological Industries, BioM, Biomanufacturing Training and Education Center, Biomarck Pharmaceuticals, BioMarin Pharmaceutical, BioMarker Strategies, BioMatrix Specialty Pharmacy, Biomecite Diagnostics, Biomed, Biomedical Advanced Research and Development Authority, Biomedical Catalyst Fund (UK), BioMed Realty Trust, BioMed X Innovation Center, Biomerics, bioMerieux, Biomica, BiomX, BioNano Genomics, Bionik Laboratories, Bionovus Life Sciences, BioNTech, BioOhio, Bioo Scientific, Bio Palette, BiopharmX, BioPontis Alliance, BioRap Technologies, BioReference Laboratories, BioRestorative Therapies, Bioserve, BioSig Technologies, BioSilta, Biostage, Biostar Pharmaceuticals, BioSTL, BioStorage Technologies, Biosynth, BioTechnique, Biotechnology and Biological Sciences Research Council (BBSRC), Biotechnology Industry Organization, Biothera, BioTheryX, BioTie Therapies, Biotricity, BioVaxys, BioVendor, Bioventus, BirchBioMed, Bird Foundation, Black AIDS Institute, Blackfynn, Blackrock Microsystems, Blackrock NeuroMed, Blackstone Charitable Foundation, Black Swan Research Initiative, BlackThorn Therapeutics, Bleeding Disorders Foundation, BlinkBio, BloodCenter Of Wisconsin, Blood Systems Research Institute, Bloom Science, Blue Belt Technologies, Blueberries Medical, Bluebird Bio, Blue Buffalo Company, Blue Cross Blue Shield Association, Bluefield Innovations, BluePen Biomarkers, BlueRock Therapeutics, Bluetooth Special Interest Group, Blue Water Vaccines, Blum Center for Health, Body Labs, Boehringer Ingelheim, Bolder BioTechnology, Bone Biologics, Bonnie J. Addario Lung Cancer Foundation, Boston Biomedical, BostonGene, Boston Medical Center, Boston Scientific, BostonSight, Boston Strategics, Boston Therapeutics, Boston University, Boston University School of Medicine, Botanisol, Boulos and Cooper Pharmaceuticals, Bpifrance, Brain & Behavior Research Foundation, Brain Balance Achievement Centers, Brain Biomarker Solutions in Gothenburg, BRAIN Initiative, BrainLAB, Brain Science Foundation, BrainStorm Cell Therapeutics, Brainsway, Brain Treatment Center San Diego, Brandeis University, BravoVax, BRCA Foundation, Breast Cancer Research Foundation (BCRF), Breath Diagnostics, Breathtec BioMedical, Brickell Biotech, BridgeBio Pharma, Bridge Medicines, Brigham and Women's Hospital, Brigham Young University, BrightFocus Foundation, Brighton Biotech, Brii Biosciences, Brink Biologics, Bristol-Myers Squibb, Bristol-Myers Squibb Foundation, British Lung Foundation, British Pharmacological Society, BroadcastMed, Broad Institute, Brooks Automation, Brown University, Bruker, BryoLogyx, BSN Medical, BTG, Buck Institute for Age Research, BullFrog AI, Burgerhospital, Burnet Institute, Butantan Institute, C2N Diagnostics, C4 Therapeutics, C4X Discovery, Cactus Semiconductor, Cadence Biomedical, Caelum Biosciences, Caerus Discovery, Cal-BRAIN, Caladrius Biosciences, Calcivis, Caldera Pharmaceuticals, Calico, California Institute for Biomedical Research, California Institute for Quantitative Biosciences (QB3), California Institute for Regenerative Medicine, California Institute of Technology, California Life Sciences Association, California State University, California Stem Cell, Calimmune, Calixar, Calyxt, Cambridge Brain Sciences, Cambridge Cognition, Cambridge Enterprise, Cambridge Epigenetix, Cambridge Research Biochemicals, Cam Med, Can-Fite BioPharma, Canadian Brain Tumour Consortium, Canadian Cancer Society, Canadian Cancer Trials Group, Canadian Institutes of Health Research, Canadian Organization for Rare Disorders, Canadian Physiotherapy Association, Cancer Australia, Cancer Genetics, CancerLinQ, Cancer Molecular Diagnostic Laboratory, Cancer Prevention and Research Institute of Texas, Cancer Research Institute, Cancer Research Society, Cancer Research Technology, Cancer Research UK, Cancer Science Institute of Singapore, Candela, Canntab Therapeutics, Canopy Biosciences, Canopy Growth, Cantabio Pharmaceuticals, Cantonal Hospital, Capillary Biomedical, Capricor Therapeutics, Caprion Biosciences, Caprion Proteomics, CARB-X, Carbios, Carbiotix, Carbonics, Cardiff University, Cardio Renal Society of America, Cardiovascular Cell Therapy Research Network, Cardiovascular Research Foundation, Cardiovascular Systems, Cardiowise, CareDox, CareFirst BlueCross BlueShield, CareFusion, CareJourney, Carestream Health, Caribou Biosciences, CariCord, Carilion Clinic, Caris Life Sciences, Carlos Slim Health Institute, Carl Zeiss, Carmentix, Carnegie Mellon University, Carolina BioOncology Institute, Carolinas Medical Center (CMC), Carrum Health, CARsgen, CAS, Casebia Therapeutics, Case Western Reserve University, Case Western Reserve University School of Medicine, Casma Therapeutics, Catabasis Pharmaceuticals, Catalan Institute of Nanotechnology (ICN), Catalent, Catapult Therapy TCR, Catherine's Health Center, Catholic University Leuven, CavoGene LifeSciences, CDC Foundation, CDISC, Ceapro, Cedars-Sinai Health System, Cedars-Sinai Medical Center, CeGaT, CEITEC, Celdara Medical, Celerion, Celgene, Celladon, Cell and Gene Therapy Catapult, Celldex Therapeutics, Cellectar Biosciences, Cellect Biotechnology, Cellectis, Cellerant Therapeutics, Cellesce, Cellex, CELLINK, Cell Medica, CellResearch, Cell Therapy Catapult, Cellth Systems, Celltrion, Cellular Biomedicine, Cellular Dynamics International, Cellvation, Cel Sci, Celsius Therapeutics, Celtic Biotech, Celyad, Centene, Center for Biomarker Research in Medicine, Center for Connected Health, Center for Excellence in Engineering Biology, Center for Human Genetics and Laboratory Medicine, Center for Infectious Disease Research, Center for Inherited Blood Disorders, Center for International Blood and Marrow Transplant Research, Center for iPS Cells Research and Application, Center for Molecular Medicine, Center for Sensorimotor Neural Engineering, Center for Structured Organic Particulate Systems, Center for Technology and Innovation in Pediatrics (CTIP), Center for the Advancement of Science in Space, Centerline Biomedical, Center on Addiction, Centers for Disease Control and Prevention, Centogene, Centre de Recherche en Cancérologie de Lyon, Centre for Addiction and Mental Health, Centre for Commercialization of Regenerative Medicine (CCRM), Centre for Drug Design and Discovery, Centre for Drug Research and Development (CDRD), Centre for Imaging Technology Commercialization, Centre for Probe Development and Commercialization, Centre For Proteomic & Genomic Research, Centre for Research in Medical Devices (CURAM), Centre for Structural Systems Biology, Centre For The Commercialization Of Antibodies And Biologics, Centre Hospitalier Régional Universitaire (CHRU) de Lille, Centre Hospitalier Universitaire Vaudois (CHUV), Centre Hospital University - Bordeaux, Centre Leon Berard, Centre National de Biologie Expérimentale, Centre National de la Recherche Scientifique, Centro de Inmunolgía Molecular, Centro de Investigación Biomédica en Red de Salud Mental, Centron Diagnostics, Cepheid, Ceram Research, Cerebain, Cerecor, CereScan, Cerevance, Certara, Certis, Cerulean Pharma, Cerus, Cerveau Technologies, Cervel Neurotech, Cesca Therapeutics, CFTechnology.org, Chameleon BioSurfaces, Champions Oncology, Changzhou Center for Biotech Development, Chan Soon-Shiong Institute of Molecular Medicine, Chan Zuckerberg Initiative, Charcot-Marie-Tooth Association, Charite-Universitatsmedizin, Charles River Associates, Charles River Laboratories, CHDI Foundation, Checkpoint Therapeutics, Chembio Diagnostics, ChemDiv, ChemRar High-Tech Center, Chicago Community Trust, Childhood Arthritis and Rheumatology Research Alliance (CARRA) Registry, Children's Cancer Institute Australia for Medical Research, Children's Cancer Therapy Development Institute, Children's Heart Foundation, Children's Hospital Boston, Children's Hospital Los Angeles, Children's Hospital of Philadelphia, Children's Hospital of Pittsburgh, Children's Hospital of Pittsburgh Foundation, Children's Hospital Of Wisconsin, Children's Medical Research Institute, Children's National Health System, Children's National Medical Center, Children's Research Institute, Children's Hospital Colorado, Children's Hospital Oakland Research Institute (CHORI), China Government, China Southeast University, Chinese Academy of Agricultural Science, Chinese Academy of Science, Chinese Academy of Sciences, Chinese University of Hong Kong, Cholangiocarcinoma Foundation, Chondrial Therapeutics, Chonnam National University, Christiana Care Health System, Christian Doppler Research Association, Christopher & Dana Reeve Foundation, Christus Health, ChromaDex, Chromocell, Chugai Pharmaceutical, Chugai Pharma Marketing, Chulalongkorn University, Chung Shan Medical University Hospital, CHU Sainte-Justine, Cidara Therapeutics, Cigna Healthcare, Ciitizen, Cincinnati Children's Hospital Medical Center, Cinda Bio-Pharmaceutical, Cipla, Circuit Clinical, Circulogene, CISCRP, Cisen Pharma, Citius Pharmaceuticals, Citizens United for Research in Epilepsy, CiToxLAB, City of Hope, City of Hope Comprehensive Cancer Center, City University of New York Center for Advanced Technology, Civetta Therapeutics, CJPS Healthcare Supplies & Equipment, Clalit Health Fund, Claritas Genomics, Clarity Pharmaceuticals, Cleara Biotech, Clearbridge Biomedics, Clear Guide Medical, ClearLight Biotechnologies, ClearLight Diagnostics, ClearPath, Clene Nanomedicine, Cleveland BioLabs, Cleveland Clinic, Cleveland Diabetes Care, Cleveland HeartLab, Cleveland University Hospitals, Clevexel Pharma, CLEW Medical, Clinical Development Services Agency, Clinical Genomics, ClinicalStudyDataRequest, Clinica Ruiz, Clinica Universidad Navarra, Clinic for Special Children, Clinton Health Access Initiative, Clontech Laboratories, Cloudera, Cloud Pharmaceuticals, CMC Biologics, CN Bio Innovations, CNS Pharmaceuticals, Co-Diagnostics, Coalition for Epidemic Preparedness Innovations, Coapt, CoapTech, Cobra Biologics, Cochin Hospital, Cocoon Biotech, Cocrystal Pharma, Cofactor Genomics, Cogito, Cognition Therapeutics, Cognoa, Cohen Veterans Bioscience, Colby College, Cold Spring Harbor, Colgate Palmolive, Colgate University, Collaborative Trajectory Analysis Project, College of Life Science of Northwest University, Collplant, Colorado School of Mines, Colorado State University, Color Genomics, Columbia Laboratories, Columbia Technology Ventures, Columbia University, Columbia University Medical Center, Comanche County Memorial Hospital, Comet Biorefining, Community College of Philadelphia, Community Medical Center, Comprehensive Health Services, Compugen, Concordia Healthcare, Concord Medical Services Holdings, Confluent Medical Technologies, ConforMIS, Congenica, Congressman Chaka Fattah, Connecticut Children's Medical Center, Connecticut Innovations, Conrad Prebys, ConsortiaTX, Context Therapeutics, Contextual Genomics, ContraVir Pharmaceuticals, ConverGene, Cook Medical, Cook Pharmica, Cooperative Research Centre for Cell Therapy Manufacturing, COPD Foundation, Coqui RadioPharmaceuticals, Corbin Therapeutics, Corbus Pharmaceuticals, Corgenix Medical, Coriell Institute for Medical Research, Coriell Life Sciences, Corindus Vascular Robotics, Cornell University, CorTechs Labs, Corteva Agriscience, Cortex Pharmaceuticals, Corvus Pharmaceuticals, COTA, Courtagen Life Sciences, Covalab, Covalent Data, Covalon Technologies, Covenant Christian School, Covidien, CPI International, CRC Health, Create Vaccine Company, Creative Destruction Lab, Creative Medical Technologies, Crescendo Bioscience, Crestone Pharma, CRISPR Therapeutics, Critical Path Institute (C-Path), Crohn's and Colitis Foundation of America, Croix-Rousse Hospital, Crown Bioscience, CSEM Centre Suisse d'Electronique et de Microtechnique, CSL Behring, CSPC Pharmaceutical Group, CTI BioPharma, CUBRC, Cullinan Oncology, Cumberland Emerging Technologies, Cumberland Pharmaceuticals, Curable, Curadev Pharma, Curant Health, Cure Alzheimer's Fund, Cure Brain Cancer Foundation, Cure Duchenne, Cure Forward, Cure Sanfilippo Foundation, Cure SMA, Cures Within Reach, CureVac, Curie-Cancer, Curing Kids Cancer, Curiox Biosystems, Curtana Pharmaceuticals, Cutaneous Lymphoma Foundation, CyberKnife, Cyclacel Pharmaceuticals, Cyclenium Pharma, Cyclica, Cyclotek, Cynapsus Therapeutics, Cynata Therapeutics, Cypher Genomics, Cypralis, Cyprium Therapeutics, Cyrus Biotechnology, Cystic Fibrosis Foundation, Cystic Fibrosis Foundation Therapeutics, Cystic Fibrosis Trust, Cystinosis Research Foundation, Cytokinetics, Cytori Therapeutics, CytoSen Therapeutics, CytoSorbents, Cytotheryx, CYTOVIA Therapeutics, Cytox, Cyxone, Daiichi Sankyo, Daktari Diagnostics, Dalhousie University, Dallas Lighthouse for the Blind, Dana-Farber Cancer Institute, DanDrit Biotech, Danish Center for Strategic Research into Type 2 Diabetes, DarioHealth, Dartmouth-Hitchcock Medical Center, Dartmouth College, Datavant, David and Barbara Roux, David H. Koch Institute for Integrative Cancer Research, DaVinci Biomedical Research Products, Da Volterra, Daxor, DayTwo, DBV Technologies, DCPrime, Debiopharm, Debiotech, DEBRA Austria, Decathlon Capital Partners, de Duve Institute, Deerfield Management, Defense Advanced Research Projects Agency, Defense Threat Reduction Agency, DefiniGEN, Defymed, DeGregorio Family Foundation, Dehaier Medical Systems, Deinove, Delcath Systems, Delivering Scientific Innovation for Autism (DELSIA), Dell, DelMar Pharmaceuticals, Dementia Consortium, Demetrix, Denali Therapeutics, Denator, DendroCyte, Denovo Biopharma, Densitas, Department of Defense, Department of Defense Hearing Center of Excellence and Vision Center of Excellence, Department of Energy, Department of Health and Human Services, Department of Veterans Affairs, DepYmed, DermaPort, Dermelix Biotherapeutics, DermSpectra, Desktop Genetics, Diabetes UK, DiaCarta, diaDexus, Diagnovus, DiamiR, Diavax Biosciences, Diaxonhit, Digisonics, DiNAQOR, Diomics, DiscoveRx, Discovery Laboratories, Distributed Bio, Diversigen, Dixie State University, DNAnexus, DNA Script, DNA Therapeutics, DNAtrix, Domainex, Domain Therapeutics, Donald Danforth Plant Science Center, Dow AgroSciences, Dr. Stephen Cook, Dr. Susan Love Research Foundation, Dragonfly Therapeutics, DreaMed Diabetes, Dresner Foundation, Drexel University, DRI Capital, DrugDev, Drugs for Neglected Diseases Initiative, Drukier Institute for Children's Health, Duchenne Therapy Network, Duchenne UK, Duke-NUS Graduate Medical School Singapore, Duke Cancer Institute, Duke Clinical Research Institute (DCRI), Duke Medical, Duke University, Duke University Medical Center, DuPont Industrial Biosciences, Duquesne University, DxTerity, Dyadic International, DyNAbind, DySIS Medical, Dystonia Europe, Dystonia Medical Research Foundation, Dystrophic Epidermolysis Bullosa Research Association of America, DZNE German Center for Neurodegenerative Diseases, E&B Technologies, E3x Bio, Eagle Pharmaceuticals, Eastern Ontario Regional Laboratory Association, EastGate Biotech, Eccrine Systems, ECM Therapeutics, ECOG-ACRIN Cancer Research Group, Ecole Polytechnique de Montreal, Ecole Polytechnique Federale de Lausanne, EcoPesticides, ECRI Institute, Edelris, Edge Therapeutics, Edico Genome, Edinburgh Innovations, Edison Nation Medical, Editas Medicine, Edith Cowan University (ECU), Educational and Scientific, Edwards Lifesciences, EicOsis, Eiger BioPharmaceuticals, Eisai, Eisai Inc, Eisai S.A.S, EKF Diagnostics, Eko, Ekso Bonics, Elanco, Elastos Foundation, Elekta, ElevateBio, Eli and Edythe Broad Foundation, Eli Lilly, Elixirgen, Elkhorn Logan Valley Public Health Department, Ellison Medical Foundation, Elsevier, Elton John AIDS Foundation, Elysium Health, Embera NeuroTherapeutics, Embleema, Emcure Pharmaceuticals, EMD Serono, Emergent BioSolutions, Emergex Vaccines, Emirates Diabetes Society, EMMAC Life Sciences, Emocha Mobile Health, Emory Healthcare, Emory University, Emtora Biosciences, Emulate, Enable Biosciences, Enamine, EnBiotix, Encycle Therpaeutics, Endicott College, Endomag, Endo Pharmaceuticals, Endorecherche, Endotherm, Energy Medicine Research Institute, Enesi Pharma, Engineering and Physical Sciences Research Council, Enigma Biomedical, Enlibrium, Enochian Biosciences, Entasis Therapeutics, Enterome Bioscience, Enterprise Partners Venture Capital, Enterprise Therapeutics, Entia Biosciences, Enumeral Biomedical, ENYO Pharma, EOFlow, EOS Imaging, Epic Sciences, Epilepsy Foundation (EF), Epilepsy Society, Epinomics, Epivax, Epizyme, Eppendorf, Erasmus University Medical Center, ERS Genomics, ERT, Ervaxx, Erytech, ES Cell International, Esophageal Cancer Awareness Association, Esperance Pharmaceuticals, EspeRare Foundation, Essentialis, Ethris, Etubics, Eufloria Medical, Eunice Kennedy Shriver Institute of Child Health and Human Development, Euprotec, Eureka Eurostars, Eureka Therapeutic, Eurofins Genomics, Euroimmun, European Bioinformatics Institute, European Board and College of Obstetrics and Gynaecology, European Commission, European Hearing Instrument Manufacturers Association, European Laboratory Research & Innovation Group, European Molecular Biology Laboratory, European Organization for Research and Treatment of Cancer, European Parkinson's Disease Association, European Prevention of Alzheimer's dementia Initiative (EPAD), European Society for Radiotherapy & Oncology, European Union, European Vaccine Initiative, Evaxion Biotech, Evecxia, Evelo Biosciences, Evergaze, Eversight, Evestra, Evidation Health, Evolus, Evolve BioSystems, Evonetix, Evotec, Exact Imaging, Exactis Innovation, Exact Sciences, Exalenz Bioscience, ExCellThera, Excelra, Excision BioTherapeutics, ExeGi Pharma, Exemplar Genetics, Exergen Medical, Exonics Therapeutics, Exosome Diagnostics, Exosome Sciences, Exovita Biosciences, Exploragen, ExpreS2ion Biotechnologies, ExThera Medical, ExxonMobil, Eyegate Pharmaceuticals, Ezose Sciences, Ez Sleep Technologies, F-Star, FABPulous, Fabric Genomics, FairJourney Biologics, Fairview Health System, Fannin, Faron Pharmaceuticals, FasterCures, Fast Forward, Fate Therapeutics, FedCentric Technologies, Federal Ministry of Education and Research (BMBF), FEI, Feinstein Institute for Medical Research, Feist-Weiller Cancer Center, Ferring Pharmaceuticals, FGH Biotech, FHI 360, Fibriant, Fibrocell Science, Field, FightMND, Fina Biosolutions, Finch Therapeutics, Finlay Institute, Finnish Funding Agency for Technology and Innovation (TEKES), FirstString Research, Fitabase, FitBit, Flexion Therapeutics, Flo Health, Florey Institute of Neuroscience and Mental Heath, Florida Atlantic University Research, Florida Hospital, Florida International University, Florida State University, Flow Pharma, Fluidigm, Fluxion Biosciences, Flywheel, Focal Healthcare, Fogarty Institute for Innovation, Fondation Cancer, Fondatioun Kriibskrank Kanner, Fondazione San Raffaele, Fondazione Telethon, Food and Drug Administration (FDA), Forbius, Forge Therapeutics, For Inspiration and Recognition of Science and Technology, FORMA Therapeutics, Forsyth Institute, Fortis Healthcare, Fortress Biotech, Fort Scott Middle School, Foundation Fighting Blindness, Foundation For Angelman Syndrome Therapeutics, Foundation for Biomedical Research and Innovation, Foundation for Celiac Disease Outcome Measures, Foundation for Community Partnerships, Foundation for Diabetes Research, Foundation for Innovative New Diagnostics, Foundation for International Urogynecological Assistance, Foundation for Mitochondrial Medicine, Foundation for the Children of the Californias, Foundation for the National Institutes of Health (FNIH), Foundation Medicine, Foundation to Eradicate Duchenne, Four Points Innovation, Fox Chase Cancer Center, Frameshift Genomics, Framingham State University, Franciscan Alliance, Francis Crick Institute, Frankfurt University Hospital, Fraunhofer IGB, Fraunhofer Institute for Microelectronic Circuits and Systems, Fraunhofer Institute for Molecular Ecology (IME), Fraunhofer Institute for Toxicology and Experimental Medicine ITEM, FRAXA Research Foundation, Fred & Pamela Buffett Cancer Center, Frederick National Laboratory For Cancer Research, Fred Hutchinson Cancer Research Center, Freenome, French Alternative Energies and Atomic Energy Commission, French National Institute for Agricultural Research, French National Research Agency, Frequency Therapeutics, Friedreichs Ataxia Research Alliance, Fritz Clinic, Frontier Biotech, Front Range Biosciences, FSD Pharma, FSHD Global Research Foundation, Fudan University, Fujifilm medical systems, Fujitsu Laboratories, Fujitsu Laboratories of America, Fulgent Pharma, Fundacion Medina, Fundacion Progreso y Salud, Fundacion Universidad Torcuato Di Tella, Fusionex, Fusion Genomics, FusionHealth, Fu Wai Hospital, Fuzionaire Diagnostics, Fuzionaire Radioisotope Technologies, G3 Pharmaceuticals, Gain Therapeutics, Galapagos, Galena Biopharma, Galmed Pharmaceuticals, GamaMabs Pharma, Gamida Cell, Gamma Medica, Garvan Institute of Medical Research, Gateway for Cancer Research, Gateway Hemophilia Association, Gauss Surgical, GB Sciences, GC Pharma, GCS Sesan, GE Global Research, GE Healthcare, Geisel School of Medicine at Dartmouth, Geisinger Health System, Geisinger Medical Center, GEn1E Lifesciences, Gen9, GENALICE, GenCell Biosystems, GenDx, GeneBay, GeneCentric Therapeutics, GeneDX, GeneInsight, Geneious Biologics, GeneNews, GeneOne Life Science, General Atomics, General Automation Lab Technologies, General Electric (GE), Generex Biotechnology, Generon, Genesis Biotechnology Group, Genestack, Genethon, Genetic Alliance, Genetic Analysis, Genetic Information Research Institute, Genetic Technologies, Geneva Foundation, Geneva University Hospitals, Genfit, Genialis, Genisphere, Genocea Biosciences, Genome BC, Genome Canada, Genome Compiler, GenomeDx, Genome Institute of Singapore, Genomenext, GenomeSmart, Genomics, Genomics England, Genomic Vision, Genomoncology, genOway, Genprex, Gensight, Gentag, GenTegra, Genticel, Gentronix, GenVec, Genzyme, Geo-Med, George Clinical, George Mason University, Georgetown Lombardi Comprehensive Cancer Center, Georgetown University, Georgetown University Hospital, George Washington University, Georgia Institute of Technology, Georgia Regents University in Augusta, Georgia State University, Georgia State University Research Foundation (GSURF), GeoVax, German Cancer Research Center, German Institute for Food Technologies, German Red Cross, German Research Center for Artificial Intelligence, Geron, Gestion Univalor, Gestvision, Ghent University, GI Dynamics, Gilead Sciences, Giorgio Foundation, Girl Scouts of Eastern Pennsylvania, GISCAD Foundation, Gladstone Institutes, Glaucoma Research Foundation, GlaxoSmithKline, GliaCure, Glialogix, Global Alzheimer's Platform (GAP), Global Antibiotic Research and Development Partnership, Global Biological Standards Institute, Global Blood Disorder Foundation, Global Blood Therapeutics, Global Centers for Therapeutic Innovation, Global Genomics Group, Global Good Fund, Global Health Innovative Technology Fund (GHIT), Global Kinetics, Global Lung Cancer Coalition, Global to Local, Globavir Biosciences, Glycocept, GlycoMimetics, Glycostem Therapeutics, Glythera, Gnome Diagnostics, GNS Healthcare, GOG Foundation, Golden Meditech, Goldfinch Bio, Good Measures, Good Start Genetics, Google, Gordon and Betty Moore Foundation, Government of Canada, Governor Deval Patrick, Grace Wilsey Foundation, Gradalis, Grady Health System, Grail, Grameen Health, Grand Valley State University, Gray Foundation, Great Basin Scientific, Greater Paris University Hospitals, Great Ormond Street Hospital (GOSH), Greiner Bio-One, Grid Therapeutics, Griffith University, Gritstone Oncology, GRU Cancer Center, Grunenthal, GRYT Health, GTx, Guangdong Provincial People's Hospital, Guangzhou Institute of Respiratory Disease, Guardant Health, Gubra, GuideVine, Guys and St Thomas NHS Foundation Trust, GW Pharmaceuticals, H&P Labs, Hackensack Meridian Health, Hackensack University Medical Center, Hadasit Medical Research Services and Development, Hadassah Medical Center, Haga Teaching Hospital, HalioDx, Hamad Bin Khalifa University, Hamad Medical, Hamdan Bin Mohammed Smart University, Hamilton Company, Hamilton Health Sciences, Hampton University, Hannover Medical School, Harbin Gloria Pharmaceuticals, Harbour Antibodies, Harbour Biomed, HardTech Labs, Harmony Institute, Harpoon Medical, Hartford Hospital, Harvard Apparatus Regenerative Technology, Harvard Medical School, Harvard Pilgrim Health Care, Harvard School of Public Health, Harvard Stem Cell Institute, Harvard University, Hauptman-Woodward Medical Research Institute, Hawaii Biotech, HD Biosciences, Healthbox, Health Care Originals, HealthEast, HealthMyne, HealthNet, Healthsense, HealthSteps, Healx, Heartflow, Heart Rhythm Society, Heat Biologics, Hebrew SeniorLife, Hebrew University of Jerusalem, Heidelberg Pharma, HEI Life Sciences, Helen F Graham Cancer Center, Helius Medical Technologies, Helix, HelixBind, Helix BioPharma, Helmholtz Centre for Infection Research, Helmholtz Zentrum Munchen, Helperby Therapeutics, Helsinki University Central Hospital (HUCH) Comprehensive Cancer Center, Helsinn Healthcare, HemCon Medical Technologies, Hemophilia Foundation of Southern California, Henan Province People's Hospital, Hennepin County Medical Center, Henry Ford Health System, Henry L. Hillman, Henry M. Jackson Foundation, Hepatitis B Foundation, Hepion Pharmaceuticals, Hereditary Neuropathy Foundation, Herlev Hospital, Heron Therapeutics, Hertie Foundation, Hesperos, HiFiBio, Highline Therapeutics, Highmark Health, Hillhouse Capital Group, Himed Hospital Management, Histogen, Histogen Oncology, Hitachi, HitGen, HIV Interactions in Viral Evolution (HIVE) Center, HIV Resistance Response Database Initiative, Hoag Memorial Hospital Presbyterian, Hoffmann La Roche, HoliStick Medical, HollandPTC, Holobiome, Hologic, Homology Medicines, Honda R&D Americas, Hong Kong Baptist University, Hong Kong Polytechnic University, Hookipa Pharma, Hoosier Cancer Research Network, Hope for Stomach Cancer, Horizon 2020, Horizon Discovery, Horizon Healthcare Services, Horizon Pharma plc, Hospi, Hospices Civils de Lyon, Hospital Clinico Metropolitano La Florida, Hospital del Mar, Hospital for Special Surgery, Hospital of University of Strasbourg, Hospital Sisters Health System, Hoth Therapeutics, Hough Ear Institute, Howard Hughes Medical Institute (HHMI), HTG Molecular Diagnostics, Hubrecht Organoid Technology, Hudson-Alpha Institute for Biotechnology, HudsonAlpha Institute for Biotechnology, Hudson Robotics, Humabs BioMed, Humana, Human Cell Atlas, Human Longevity, Human Vaccines Project, Humboldt-Innovation, Hummingbird Bioscience, Huntsman Cancer Foundation, Huntsman Cancer Institute, HUYA Bioscience, Hvidovre Hospital, Hyperfine Research, Hyundai Hope On Wheels, I-mab, IBA, Ibex Medical Analytics, iBio, iBIO Institute's PROPEL Center, IBM, IBM Watson Health, Icagen, Icahn School of Medicine at Mount Sinai, ICL, Icon, Idaho Urologic Institute, IDbyDNA, iDD Biotech, IDEAYA Biosciences, Idera Pharmaceuticals, IDIBELL, IDT Biologika, Ifa Systems, Igantia Therapeutics, iGEM, iGenomX, Ignyta, ILiAD Biotechnologies, Illumina, Image Analysis, Imagia, ImaginAb, Imago Systems, Imaxio, ImevaX, Immatics Biotechnologies, Immatics US, ImmuDyne, ImmuMetrix, Immune-Onc Therapeutics, Immune Deficiency Foundation, Immune Pharmaceuticals, Immunexpress, ImmunID Technologies, ImmunoBiochem, ImmunoCellular Therapeutics, Immunocore, ImmunogenX, Immunomedics, Immunovaccine, Immunovia, Impact Cryotherapy, ImpediMed, Imperial College London, Imperial Innovations, Imugene, IMV, In-Q-Tel, INanoBio, Inari Medical, Inceptua, INC Research, InCube Labs, Incyte, Indee Labs, InDevR, Indiana Biosciences Research Institute, Indiana Clinical and Translational Sciences Institute, Indiana University, Indiana University-Purdue University Indianapolis, Indian Council of Medical Research, Indian Institute of Science Education and Research, Indian Institute of Technology Delhi, Indivior, Indivumed, Industrial Technology Research Institute, Infectious Disease Research Institute (IDRI), Inflammatory Breast Cancer Research Foundation, Inflazome, Inflection Biosciences, Infosys Technologies, InfraReDx, InfuSystem Holdings, Ingenza, Inhibikase Therapeutics, Inhibitor Therapeutics, Inhibrx, InMed Pharmaceuticals, INmune Bio, Innate Biologics, Innate Pharma, Innoplexus, Innosuisse, Innovate Biopharmaceuticals, Innovate UK, Innovation Pharmaceuticals, Innovation Skane, Innovative Diagnostic Laboratory, Innovative Genomics Initiative (IGI), Innovative Immunotherapy Alliance, Innovative Medicines Initiative (IMI), Innovent Biologics, Innovus Pharmaceuticals, Inocucor Technologies, Inova Health System, Inovalon, Inova Translational Medicine Institute, Inovio Pharmaceuticals, Inserm, Inserm Transfert, InSightec, Insight Genetics, InsightRX, Insilico, InsomniSolv, InSphero, Inspirotec, Inspyr Therapeutics, InstantLabs, Instem, Institut Català d'Oncologia, Institut Curie, Institute for Basic Science, Institute for Bioscience and Biotechnology Research, Institute for Clinical and Economic Review (ICER), Institute for Functional Medicine, Institute for Genome Statistics and Bioinformatics, Institute for Global Food Security, Institute for In Vitro Sciences, Institute For Life Science Entrepreneurship (ILSE), Institute for Myeloma and Bone Cancer Research, Institute for Research in Biomedicine, Institute for Research in Immunology and Cancer – Commercialization of Research, Institute for Risk Assessment Sciences, Institute for Systems Biology, Institute of Bioengineering and Nanotechnology, Institute of Bioengineering of Catalonia, Institute of Bioinformatics, Institute of Biomedical Research, Institute of Biophysics, Institute of Cancer Research, Institute of Child Health, Institute of Crop Sciences, Institute of Endocrinology, Metabolism, and Reproduction, Institute of Genetics and Molecular and Cellular Biology, Institute of Hematology and Blood Transfusion, Institute of Human Genetics, Institute of Human Virology, Institute of Molecular Biology of Paraná (IBMP), Institute Of Molecular Biotechnology, Institut Gustave Roussy, Instituto de Ciencias Farmaceuticas, Instituto Valenciano De Oncologia, Institut Pasteur, Institut Pasteur of Shanghai at the Chinese Academy of Sciences, Insulet, Intarcia Therapeutics, Intec, IntegraGen, Integra LifeSciences, Integrated Biobank of Luxembourg, Integrated BioTherapeutics, Intel, Inteliquet, Intellia Therapeutics, Intelligence Advanced Research Projects Activity (IARPA), Intent Solutions, Interleukin Genetics, Intermountain Healthcare, InteRNA Technologies, International AIDS Vaccine Initiative, International Association for the Study of Lung Cancer, International Association of Providers of AIDS Care, International Consortium on Anti-Virals, International Diabetes Federation (IDF), International Duchenne Alliance, International Isotopes, International Medica Foundation, International Medical University, International Myeloma Foundation, International Partnership for Microbicides, International Progressive MS Alliance, International Research Center on Cannabis and Mental Health, International Society for Cellular Therapy, International Society for Neurovascular Disease (ISNVD), International Stem Cell, International Vaccine Institute (IVI), Interpace Diagnostics, InterSystems, Intrexon, Intronix Technologies, Intuitive Surgical, INVAP, Invenra, Invenshure, Inventiva, Invitrocue, InvivoCue, Ionis Pharmaceuticals, IONTAS, Ion Torrent, Io Therapeutics, Iovance Biotherapeutics, Iowa State University, iOx Therapeutics, Iproteos, iPS Academia Japan, Ipsen, iQ Group, IQVIA, IRBM, Irish Haemophilia Society, IROA Technologies, Irras, ISA Scientific, ISIS Innovation, IsoPlexis, Isoprene Pharmaceuticals, iSpecimen, Israeli National Authority for Technological Innovation, Israel Institute for Biological Research, Italian Multiple Sclerosis Society, Itus, Iveric Bio, Ivy Brain Tumor Center, Ivy Tech Community College, IXICO, Izasa Hospital, Jackson Laboratory, Jade Therapeutics, Jain Foundation, James R Clark Memorial Sickle Cell Foundation, James S. McDonnell Foundation, Jan Medical, JanOne, Janssen-Cilag, Janssen Biotech, Janssen Human Microbiome Institute, Janssen Pharmaceuticals, Janssen Pharmaceutica NV, Janssen Research & Development, Japan Agency for Medical Research and Development, Japan Science and Technology Agency, Jarvik Heart, Jazz Pharmaceuticals, J Craig Venter Institute, Jeff and Karen Miller, Jeffrey Modell Foundation, Jenner Institute, Jewish General Hospital, Jiangsu Hansoh Pharmaceutical, Jiangsu Hengrui Medicine, Jiangsu NHWA Pharmaceutical, Jiangsu Provincial Institute of Materia Medica, Jing Medicine, John D. and Catherine T. MacArthur Foundation, John Hopkins University School of Medicines, Johns Hopkins Kimmel Cancer Center, Johns Hopkins Medicine (JHM), Johns Hopkins University, Johnson & Johnson, Johnson & Johnson Consumer Companies, Johnson & Johnson Innovation, Johnson & Johnson Vision, John Wayne Cancer Institute, Joshua and Marjorie Harris, Joslin Diabetes Center, JP Morgan, JPT Peptide Technologies, JSR, Juno Therapeutics, Juntendo University, Juvenescence, Juvenile Diabetes Research Foundation, K-PAX Pharmaceuticals, Kadimastem, Kailos Genetics, KAI Research, Kaiser Foundation Research Institute, Kaiser Permanente, Kaleido Biosciences, Kalgene Pharmaceuticals, Kalytera Therapeutics, Kamada, Kansas City Area Life Sciences Institute, Kansas State University, Karolinska Development, Karolinska Institute, Karolinska University Hospital, Karuna Therapeutics, Karus Therapeutics, Karyopharm Therapeutics, Kavli Foundation, Kazia Therapeutics, Kazusa DNA Research Institute, KDAc Therapeutics, Keck Graduate Institute of Applied Life Sciences, Keck School of Medicine of USC, Keio Gijuku University, Kennedy Trust For Rheumatology Research, Kenneth Rainin Foundation (KRF), Kessler Foundation, Kewaunee Scientific, Kiadis Pharma, Kindred Bio, Kindred Healthcare, KineMed, Kineta, Kinetic River, Kinex Pharmaceuticals, King's College Hospital, King Faisal Specialist Hospital and Research Center (KFSH&RC), King Saud University, Kings College London, Kiniksa Pharmaceuticals, KinoPharma, Kitakyushu General Hospital, Kite Pharma, Kleiner Perkins Caufield & Byers, Klue, Knauer Scientific Instruments, Knight Cancer Institute, Knopp Biosciences, Knox College, Kobe University, Kogenix, Komodo Health, Konica Minolta, Krankenhaus Nordwest, KTH Royal Institute of Technology, Kymab, Kyorin Pharmaceutical, Kyoto University, Kythera Biopharmaceuticals, Lab1636, Labcyte, labfolder, Lab Launch, Laboratory Corporation of America, Laboratory of Malaria Immunology and Vaccinology (LMIV), LA Cell, La Jolla Institute for Allergy & Immunology, La Jolla Pharmaceutical, Lakeland Health, Lakewood-Amedex, Lamellar Biomedical, Lancet, Lankenau Institute for Medical Research, Lantern Pharma, Laura and John Arnold Foundation (LJAF), Lauren Sciences, Laurent Pharmaceuticals, Lava Therapeutics, Lawrence Berkeley National Laboratory, Lawrence Livermore National Laboratory, Lawson Health Research Institute, Lazarex Cancer Foundation, Lead Discovery Center, Leadiant Biosciences, Learnsoft, Lee Moffitt Cancer Center, Legacy Of Angels Foundation, Lehigh University, Leibniz-Institut fur Molekulare Pharmakologie, Leica Biosystems, Leica Microsystems, Leicester University, Leiden University, Leidos, Leidos Holdings, LenioBio, Leona M and Harry B Helmsley Charitable Trust, Leonhardt's Launchpads, LEO Pharma, Les Laboratoires Servier, Leukaemia & Lymphoma Research, Leukemia & Lymphoma Society, Levine Cancer Institute, Leviticus Cardio, LexaGene, Lexicon Pharmaceuticals, Lexogen, LGS Foundation, Lhasa, Libbs Farmaceutica, Lieber Institute, LifeArc, LifeLink Foundation, LifeMap Sciences, LifeMap Solutions, LifeOmic, LifeServe Blood Center, LifeSouth Community Blood Centers, Lightlake Therapeutics, Lightpoint Medical, Li Ka Shing Foundation, Lilly Endowment, Limb Preservation Foundation, Lin Bioscience, Linda Crnic Institute for Down Syndrome, Lineage Cell Therapeutics, Liquid Biotech USA, Little Zebra Fund, Live Like Bella Childhood Cancer Foundation, Liverpool School of Tropical Medicine, Living Heart Foundation, Lixte Biotechnology, LLamasoft, LMC Diabetes and Endocrinology, LNC, Locana, Lockheed Martin, Lodo Therapeutics, LogicBio Therapeutics, LogicStream Health, London School of Hygiene & Tropical Medicine, Longeveron, Longevity Biotech, Lonza, Loop Medical, Los Angeles Biomedical Research Institute, Loughborough University, Louisiana State University, Loulou Foundation, Lovelace Biomedical and Environmental Research Institute, Lowell General Hospital, LSK BioPharma, LSU Health Sciences Center, Lubeck Institute of Experimental Dermatology, Lucid Diagnostics, Lucideon, Ludwig-Maximilians University, Ludwig Institute for Cancer Research, LumaMed, Lumenis, Lumicell, Luminex, LumiThera, Lundbeck, Lund University, Lunenfeld-Tanenbaum Research Institute, Lung Cancer Alliance, Lung Cancer Research Foundation, LUNGevity Foundation, Lung Transplant Foundation, Lupus Foundation of America (LFA), Lupus Research Alliance, Lupus Research Institute, Lupus Therapeutics, Lustgarten Foundation, Lutheran Medical Center, Luxcel Biosciences, LV Prasad Eye Institute, Lyfebulb, Lymphoma Study Association, Lyndra Therapeutics, Lysogene, Lysosomal Therapeutics, LZ Lifescience, M2Gen, Maastricht University, MabVax Therapeutics, mAbXience, Machavert Pharmaceuticals, Mackenzie Innovation Institute, Macquarie University, MacroCure, Macrogen, Madison Vaccines, MagBioSense, Magenta Therapeutics, MagnaChip Semiconductor, Magnetic Insight, Mainz University Medical Centre, Maisonneuve-Rosemont Hospital (HMR), Makerere University, Malaghan Institute, Mallinckrodt Pharmaceuticals, Mallory Community Health Center, Mammoth Biosciences, Manhattan Scientifics, Manna Ministries, Mannin Research, Mapp Biopharmaceutical, Marasco Laboratory, March of Dimes, Marian University, Marin Community Foundation, Mark Foundation for Cancer Research, Mark Zuckerberg, Marnier-Lapostolle Foundation, Marshall Institute for Interdisciplinary Research, Marshall University, Maryland Proton Therapy Center, Maryland State Medical Society, Maryland Stem Cell Research Fund, Maryland Technology Development Corporation, Masimo, Massachusetts Eye and Ear Infirmary, Massachusetts General Hospital, Massachusetts Institute of Technology, Massachusetts Life Sciences Center, MassBio, MassBioEd Foundation, MassBiologics, Materialise, Matinas Biopharma, Matthew Walker Comprehensive Health Center, Mauli Ola Foundation, Maverix Biomics, Max-Delbruck Center for Molecular Medicine, Max-Planck, Maxcyte, Max Foundation, Max Planck Institute of Biochemistry, Mayo Clinic, Mayo Clinical Ventures, MBI, MBio Diagnostics, MC10, McCall MacBain Foundation, MCC Global Laboratories, McGill University, McGuire Institute, McKesson, McLean Hospital, McMaster University, MD Anderson Cancer Center, MDA Venture Philanthropy, MDClone, MDNA Life Sciences, MDxHealth, Mectizan Donation Program, MedAxiom, Medeor Therapeutics, Medgenics, Medial EarlySign, MEDIAN Technologies, MediBeacon, Medical College of Wisconsin, Medical Device Innovation Consortium, Medical Prognosis Institute, Medical Research Council, Medical Research Foundation, Medical Technology Enterprise Consortium, Medical University of Bialystok, Medical University of Graz, Medical University of Innsbruck, Medical University of South Carolina, Medical University South Carolina, Medicenna Therapeutics, Medicine by Design, Medicines360, Medicines Discovery Catapult, Medicines for Malaria Venture, Medicines Patent Pool Foundation, MediciNova, Medicollector, Medidata Solutions, Medifocus, Medi Futures, Medigen Biotechnology, MediGene, Medigus, Mediheal Group of Hospitals, MedImmune, MED Institute, MediPines, MediSix Therapeutics, Mediso, Medivir, Medley Genomics, Medline Industries, MedLite ID, MedQuest, MedReleaf, Medtronic, Meiji Pharmaceutical University, Meiji Seika, Meiogenix, MeiraGTx, Melanoma Research Alliance, Melanoma Research Foundation, MELA Sciences, MeMed, Memorial Hermann Health System, Memorial Sloan Kettering Cancer Center, MentiNova, Merck and Co, Merck Company Foundation, Merck KGaA, Merck Serono, Merge Healthcare, Meridian Bioscience, Merz, Metabolon, Metactive, Metagenics, MetaStat, Metastatic Breast Cancer Network, METAvivor, Methodist Hospital Houston, Methuselah Foundation, Metrion Biosciences, Metro Health, Mevion Medical Systems, Meyer Children's Hospital of Florence, MHG, Michael J Fox Foundation, Michigan State University, MicrobeDx, Microbiotica, Microbiotix, MicroConstants, Micro Imaging Technology, Microlin Bio, Microsoft, Middle Tennessee State University, Midwest Melanoma Partnership, MILabs, Milburn Foundation, Mile High Ophthalmics, Millipore, MilliporeSigma, Milner Therapeutics Institute and Consortium, Milo Biotechnology, Miltenyi Biotec, Mimetas, MiNA Therapeutics, Mindray Medical International, MinervaX, Ministry of Health (Brazil), Ministry of Health and Prevention, MiniVax, Minneapolis Medical Research Foundation, Minnesota Department of Health, Minnesota Medical, Minnetronix, Minomic, MIODx, Miraca, Miragen Therapeutics, miRagen Therapeutics, Miriam Hospital, Mironid, MIT, Mitacs, Mitobridge, Mitochon Pharmaceuticals, Mitra Biotech, Mitsubishi Tanabe Pharma, Mobius Imaging, Moderna Therapeutics, Modulus Discovery, MOF Technologies, Molecular Stethoscope, Molecular Targeting Technologies, Moleculin Biotech, Molnlycke Health Care, Mologen, Mologic, Monarch Biosciences, Monash University, Monopar Therapeutics, Monsanto, Montefiore Health System, Montefiore Medical Center, Montgomery County Community College, Montreal Heart Institute, Montreal Neurological Institute-Hospital, Moores Cancer Center, MORE Health, Morphogenesis, MorphoSys, Morphotek, Mor Research Applications, Morris Animal Foundation, Mossakowski Medical Research Centre, Motic, Motiv, Mount Holyoke College, Mount Sinai Health System, Mount Sinai Medical Center, Mount Tam Biotechnologies, Mount Wachusett Community College, Movember Foundation, Moyer Foundation, Mperia Therapeutics, MPI Cognition, MRIGlobal, MRI Interventions, MR Solutions, MSD Action Foundation (MSDAF), MSD Biologics, MSD Wellcome Trust Hilleman Laboratories, MTF Biologics, Mucosis, Multiple Myeloma Research Foundation, Mundo Sano, Munich Technical University, Murata Electronics, Murdoch Childrens Research Institute, Murdoch University, Muscular Dystrophy Association, Musculoskeletal Transplant Foundation, Mustang Bio, My Brother's Keeper, Mycoses Study Group Education & Research Consortium, Myelin Repair Foundation (MRF), Myeloma Crowd, Myeloma Health, Myeloma UK, Myelopro Diagnostics and Research, Myeloproliferative Neoplasm Research Consortium, Mylan Pharmaceuticals, Mymetics, MYM Nutraceuticals, MYnd Analytics, Myocarditis Foundation, MyoKardia, MYOS, Myriad Genetics, Myriad RBM, N-of-One, n3D Biosciences, N8 Medical, Naason Science, Naia Pharma, Nancy and Stephen Grand Israel National Center for Personalized Medicine, Nancy Lurie Marks Family Foundation, Nanobeak, Nanobiotix, NanoCellect Biomedica, NanoLock, NanoPass Technologies, NanoString Technologies, Nanotherapeutics, NanoVibronix, NanoViricides, Nansen Neuroscience Network, NantBioScience, Nantes University, NantHealth, NantKwest, NantWorks, Nanyang Technological University, Napa Therapeutics, Narayana Nethralaya Foundation, NASA, Nashville Biosciences, Natera, National Academy of Medicine, National Academy of Sciences, National Brain Tumor Society, National Cancer Center of South Korea, National Cancer Centre Singapore, National Cancer Institute, National Cancer Institute of Mexico, National Center for Advancing Translational Sciences (NCATS), National Center for Cardiovascular Diseases, National Center for Foreign Animal and Zoonotic Disease Defense, National Center for Genome Resources, National Cerebral and Cardiovascular Disease Research Center, National Comprehensive Cancer Network (NCCN), National Council on Aging, National Disease Research Interchange, National Eye Institute, National Geographic, National Healthcare Services (NHS), National Health Research Institutes, National Heart, Lung and Blood Institute, National Hemophilia Foundation, National Human Genome Research Institute, National Institute for Environmental Health Sciences, National Institute for Food and Drug Control, National Institute for Innovation in Manufacturing Biopharmaceuticals, National Institute of Allergy and Infectious Diseases, National Institute of Applied Sciences of Toulouse, National Institute of Arthritis and Musculoskeletal Diseases, National Institute of Biomedical Imaging and Bioengineering, National Institute of Biomedical Innovation, National Institute of Child Health and Human Development, National Institute of Cholera and Enteric Diseases, National Institute of Dental and Craniofacial Research (NIDCR), National Institute of Diabetes and Digestive and Kidney Diseases, National Institute of General Medical Sciences, National Institute of Health Research, National Institute of Hygiene and Epidemiology, National Institute of Mental Health, National Institute of Molecular Genetics, National Institute of Neurological Disorders and Stroke, National Institute of Nursing Research, National Institute of Standards and Technology, National Institute of Vaccines and Medical Biologicals, National Institute on Aging, National Institute on Deafness and Other Communication Disorders, National Institute on Disability and Rehabilitation Research, National Institute on Drug Abuse (NIDA), National Institute on Minority Health and Health Disparities, National Institutes for Quantum and Radiological Science and Technology, National Institutes of Health, National Institutes of Health Center for Regenerative Medicine, National Kapodistrian University of Athens, National Kidney Foundation, National Organization for Rare Disorders, National Parkinson Foundation (NPF), National Physical Laboratory, National Psoriasis Foundation, National Research Council Canada, National Resource Center For Mutant Mice (NRCMM), National Science Foundation, National Stem Cell Foundation, National Surgical Adjuvant Breast and Bowel Project, National Taiwan University Hospital, National University Cancer Institute, National University Hospital, National University of Ireland, Galway (NUI Galway), National University of Singapore, Nationwide Children's Hospital, Natural Sciences and Engineering Research Council of Canada, Naval Medical Logistics Command, Naval Medical Research Center, Navidea Biopharmaceuticals, Navigating Cancer, Navigation Sciences, NCIC Clinical Trials Group, NEC, Necker Hospital, Neiman Institute, Nektar Therapeutics, Nemaura Medical, Nemucore Medical Innovations, NEMUS Bioscience, Nencki Institute, NeoChord, Neogenomics, NeoMed, Neomed Institute, NEO New Oncology, Neon Therapeutics, Neoteryx, Neovacs, Neovasc, NephCure Kidney International, Nephrogenex, Nephros, Neptune Technologies & Bioressources, Nestle, Nestle Health Science, Netherlands Cancer Institute, NetScientific, NeuClone, NeuCyte, NeurAegis, Neuraltus Pharmaceuticals, NeurExo Sciences, Neuro Assessment Systems, Neuroblastoma and Medulloblastoma Translational Research, NeuroEM Therapeutics, NeuroLogica, NeuroOne, NeuroPace, Neuropore Therapies, NeuroRx, NeuroSigma, NeuroTrauma, Neurotrope BioScience, NeuroVigil, NeuroVive Pharmaceutical, Nevakar, New Amsterdam Sciences, New Brunswick Health Research Foundation, Newcastle University, New Jersey Health Foundation, New Jersey Innovation Institute, Newomics, Newron Pharmaceuticals, Newsummit Biopharma, New York Blood Center, New York Center for Nanomedicine Research, New York Genome Center (NYGC), New York Medical College, New York Presbyterian/Columbia, New York University, New York University School of Medicine, Neximmune, NextCODE Health, NextGxDx, NFANT Labs, NHL Alumni Association, NHS Blood and Transplant, Nightingale Health, Nightstar Therapeutics, NightstaRx, NIH Undiagnosed Diseases Program, Nitrome Biosciences, Nkarta Therapeutics, nLife Therapeutics, NMI Natural and Medical Sciences Institute, Nobelpharma, Nohla Therapeutics, Nong Lam University, Noninvasix, Nordion, NorthBay Healthcare, North Carolina State University, Northeast ALS Consortium, Northeastern University, Northern California Institute for Research and Education, Northern Michigan University, North Georgia Healthcare, North Mississippi Health Services, Northrop Grumman, North Shore-LIJ Cancer Institute, North Shore InnoVentures, NorthShore University HealthSystem, NorthStar Medical Radioisotopes, Northwestern Medicine Bluhm Cardiovascular Institute, Northwestern Medicine Developmental Therapeutics Institute, Northwestern Memorial Hospital, Northwestern University, North Zealand University Hospital, Noscendo, Notable Labs, Notal Vision, Novadaq Technologies, NovaDigm Therapeutics, Novaliq, Novant Health, Novartis, Novartis Institute for Tropical Diseases, Novation, Novavax, NovellusDx, Noventure, Noviosense, Novogen, Novogene, Novoheart, Novonco Pharmaceuticals, Novo Nordisk, Novotech, Novu, Novus International, NSW Medical Device Fund, NTT Medical Center Tokyo, Nucro Technics, Nuevolution, numares, NuMedii, Numerate, Nuovo Biologics, NuProbe, Nuritas, Nurix, Nutra Pharma, NuVascular Technologies, Nuvilex, Nvidia, Nxstage Medical, NYU Langone Medical Center, NYU Medical Center, OBERD, Occidental College, Ochin, Octane Biotech, Octapharma, Ocugen, OcuTherix, Odylia Therapeutics, Office of Generic Drugs, Ohio State University, Ohr Pharmaceuticals, Oklahoma Center for the Advancement of Science and Technology, Oklahoma Medical Research Foundation, OKYO Pharma, Omeros, Omnicell, OmniComm Systems, Omniox, OmniSeq, Omnyx, OMRF, OncLive, Oncoceutics, OncoCyte, OncoDNA, Oncology Research Information Exchange Network, Oncolytics Biotech, OncoNano Medicine, Onconova Therapeutics, OncoPep, OnCore Biopharma, OncoResponse, OncoSec Medical, OncoTracker, Oncovita, Oncternal Therapeutics, Oncurious, OnDeckBiotech, One BioMed, One Codex, Oneome, One World Lab, ONL Therapeutics, On Target Laboratories, Ontario Brain Institute (OBI), Ontario Cancer Biomarker Network, Ontario Clinical Oncology Group, Ontario Institute for Cancer Research, Onxeo, Onyx Scientific, Opal Therapeutics, OpenBiome, Open Commons Consortium, Open Medicine Institute, Open Monoclonal Technology, Ophthotech, OPKO Health, Oppilotech, OptiBiotix, Optibrium, OptiKira, Optina Diagnostics, Optometric Extension Program Foundation, Optos, Optum Labs, Oragenics, OraSure Technologies, Orbis, Orbsen Therapeutics, Orca Pharmaceuticals, Orchard Therapeutics, Orebro University, Oregon Health Sciences University, Oregon National Primate Research Center, Oregon State University, ORFLO Technologies, Organic Vaccines, Organovo, Orgenesis, ORHub, Oricula Therpeutics, ORIG3N, Origenis, Origent Data Sciences, Origin Agritech, Orion, Ortenzio Foundation, Orthopaedic Institute Surgery Center, Orthopaedic Research and Education Foundation, Ortho Regenerative Technologies, Oryzon, Osaka International Cancer Institute, Osaka University, OSE Immunotherapeutics, OSI Systems, Osivax, Oslo University Hospital, Ospedale San Raffaele, Osteosarcoma Collaborative, Osteo Science Foundation, Oswaldo Cruz Foundation (Fiocruz), Otologic Pharmaceutics, Ottawa Hospital Research Institute, Outcome Capital, Ovarian Cancer Institute, Ovensa, OWC Pharmaceutical Research, Owens & Minor, Owkin, Owlstone Medical, Oxford BioMedica, Oxford Biomedical Research Centre, Oxford Drug Design, Oxford Immunotec, Oxford Sciences Innovation, Oxford University Hospitals NHS Trust, Oxis Biotech, Oxitec, Oxurion, Oxygen Biotherapeutics, PaceMate, Pacific BioScience of California, Pacific Biosciences, Pacific Diabetes Technologies, Pacific Edge Biotechnology, Pacific Northwest National Laboratory, Pacific Northwest Research Institute, Padlock Therapeutics, Pais Vasco University, Pall Corporation, Palleon Pharmaceuticals, Palmetto Project, Panacea Biotech, Panaceutics, Pancreatic Cancer Action Network, Pancreatic Cancer Collective, Panther Biotechnology, Paolo and Marlene Fresco Foundation, Paradigm, Paragon Bioservices, Paragonix Technologies, Parcell Laboratories, Parent Project Muscular Dystrophy, Parexel, Parion Sciences, Paris Descartes University, Parker Foundation, Parker Hannifin, Parkinson's Disease Foundation, Parkinson's Institute, Parkinson's Institute and Clinical Center, Parkinson's UK, Partners HealthCare, Partnership for Influenza Vaccine Introduction, Partners In Health, Pascal Biosciences, Passage Bio, PATH (Appropriate Technology in Health), PathMaker Neurosystems, PATH Malaria Vaccine Initiative, PathoQuest, Pathway Genomics, Pathways to Stem Cell Science, Patia, Patient-Centered Outcomes Research Institute (PCORI),, Patient-Centered Primary Care Collaborative (PCPCC), PatientsLikeMe, Pat Summitt Foundation, Paul Ehrlich Institute, Paul G Allen Family Foundation, Paul Scherrer Institute, PAVmed, PaxVax, PCOS Challenge, PCOS Diva, PeaceHealth, PEAR Therapeutics, Pediatric Oncology Experimental Therapeutics Investigators Consortium, Pediatric Praziquantel Consortium, Peking University, Pelotonia, Penn Medicine, Penn State College of Medicine, Penn State Health, Pennsylvania Department of Health, Pennsylvania State University, Pensiamo, Pentax, Peptinnovate, PercayAI, Peregrine Pharmaceuticals, Perelman School of Medicine, PeriGen, Perinatal Quality Foundation, PerkinElmer, Perlara, Personal Genome Diagnostics, Personalis, Personalized Medicine Initiative (PMI), PersonalizeDx, Perthera, Petco, Peter MacCallum Cancer Institute, Petra Pharma, Pevion, Pfenex, Pfizer, Pfizer Canada, Pharco Pharma, Pharmaceutical Research and Manufacturers of America, PharmaCielo, Pharmacological research Institute Mario Negri, PharmaCyte Biotech, Pharmatech, Pharmazz, Pharming Group, Pharnext, PhaseBio Pharmaceuticals, Phase Holographic Imaging, Pherecydes Pharma, Philadelphia College of Osteopathic Medicine Foundation, Philadelphia VA Medical Center (PVAMC), Philips, Phio Pharmaceuticals, 
For a full list contact us at orders@currentpartnering.com
We found other products you might like!