Global Academic and Non-Profit Partnering Terms and Agreements 2015-2021
Global Academic and Non-Profit Partnering Terms and Agreements 2015 to 2021 report provides a detailed understanding and analysis of how and why companies enter Academic and Non-Profit partnering deals.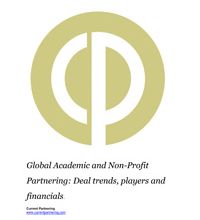 Publication date
September 2021
Product type
Research report
Available formats
PDF document
Global Academic and Non-Profit Partnering Terms and Agreements 2015 to 2021 report provides a detailed understanding and analysis of how and why companies enter Academic and Non-Profit partnering deals. These deals tend to be multicomponent, starting with collaborative R&D, and proceed to commercialization of outcomes.
This report provides details of the latest Academic and Non-Profit agreements announced in the life sciences since 2015.
The report takes the reader through a comprehensive review Academic and Non-Profit deal trends, key players, top deal values, as well as deal financials, allowing the understanding of how, why and under what terms, companies are entering Academic and Non-Profit partnering deals.
The report presents financial deal term values for Academic and Non-Profit deals, listing by headline value, upfront payments, milestone payments and royalties, enabling readers to analyse and benchmark the financial value of deals.
The middle section of the report explores the leading dealmakers in the Academic and Non-Profit partnering field; both the leading deal values and most active Academic and Non-Profit dealmaker companies are reported allowing the reader to see who is succeeding in this dynamic dealmaking market.
One of the key highlights of the report is that over 5,000 online deal records of actual Academic and Non-Profit deals, as disclosed by the deal parties, are included towards the end of the report in a directory format – by company A-Z, stage of development, deal type, therapy focus, and technology type - that is easy to reference. Each deal record in the report links via Weblink to an online version of the deal.
In addition, where available, records include contract documents as submitted to the Securities Exchange Commission by companies and their partners. Whilst many companies will be seeking details of the payment clauses, the devil is in the detail in terms of how payments are triggered – contract documents provide this insight where press releases and databases do not.
The initial chapters of this report provide an orientation of Academic and Non-Profit dealmaking. Chapter 1 provides an introduction to the report, whilst chapter 2 provides an overview of the trends in Academic and Non-Profit dealmaking since 2015, including details of headline, upfront, milestone and royalty terms.
Chapter 3 provides a review of the leading Academic and Non-Profit deals since 2015. Deals are listed by headline value. Where the deal has an agreement contract published at the SEC a link provides online access to the contract.
Chapter 4 provides a comprehensive listing of the top 25 most active companies in Academic and Non-Profit dealmaking with a brief summary followed by a comprehensive listing of Academic and Non-Profit deals announded by that company, as well as contract documents, where available.
Chapter 5 provides a comprehensive and detailed review of Academic and Non-Profit partnering deals signed and announced since Jan 2015, where a contract document is available in the public domain. Each deal title links via Weblink to an online version of the deal record and contract document, providing easy access to each contract document on demand.
Chapter 6 provides a comprehensive and detailed review of Academic and Non-Profit partnering deals signed and announced since Jan 2015. The chapter is organized by specific technology type. Each deal title links via Weblink to an online version of the deal record and where available, the contract document, providing easy access to each deal on demand.
A comprehensive series of appendices is provided organized by Academic and Non-Profit partnering company A-Z, stage of development, deal type, and therapy focus. Each deal title links via Weblink to an online version of the deal record and where available, the contract document, providing easy access to each deal on demand.
The report also includes numerous tables and figures that illustrate the trends and activities in Academic and Non-Profit partnering and dealmaking since 2015.
In conclusion, this report provides everything a prospective dealmaker needs to know about partnering in the research, development and commercialization of Academic and Non-Profit technologies and products.
Key benefits
Global Academic and Non-Profit Partnering Terms and Agreements 2015 to 2021 provides the reader with the following key benefits:
In-depth understanding of Academic and Non-Profit deal trends since 2015
Access to headline, upfront, milestone and royalty data
Detailed access to actual Academic and Non-Profit contracts entered into by leading biopharma companies
Identify most active Academic and Non-Profit dealmakers since 2015
Insight into terms included in a Academic and Non-Profit partnering agreement, with real world examples
Understand the key deal terms companies have agreed in previous deals
Undertake due diligence to assess suitability of your proposed deal terms for partner companies
Report scope
Global Academic and Non-Profit Partnering Terms and Agreements 2015 to 2021 is intended to provide the reader with an in-depth understanding and access to Academic and Non-Profit trends and structure of deals entered into by leading companies worldwide.
Academic and Non-Profit Partnering Terms and Agreements includes:
Trends in Academic and Non-Profit dealmaking in the biopharma industry since 2015
Access to headline, upfront, milestone and royalty data
Access to Academic and Non-Profit contract documents
Leading Academic and Non-Profit deals by value since 2015
Most active Academic and Non-Profit dealmakers since 2015
In Global Academic and Non-Profit Partnering Terms and Agreements 2015 to 2021, the available deals are listed by:
Company A-Z
Headline value
Stage of development at signing
Deal component type
Specific therapy target
Technology type
Each deal title links via Weblink to an online version of the deal record and where available, the contract document, providing easy access to each contract document on demand.
The Global Academic and Non-Profit Partnering Terms and Agreements 2015 to 2021 report provides comprehensive access to available deals and contract documents for over 5,000 Academic and Non-Profit deals.
Analyzing actual contract agreements allows assessment of the following:
What are the precise rights granted or optioned?
What is actually granted by the agreement to the partner company?
What exclusivity is granted?
What is the payment structure for the deal?
How are sales and payments audited?
What is the deal term?
How are the key terms of the agreement defined?
How are IPRs handled and owned?
Who is responsible for commercialization?
Who is responsible for development, supply, and manufacture?
How is confidentiality and publication managed?
How are disputes to be resolved?
Under what conditions can the deal be terminated?
What happens when there is a change of ownership?
What sublicensing and subcontracting provisions have been agreed?
Which boilerplate clauses does the company insist upon?
Which boilerplate clauses appear to differ from partner to partner or deal type to deal type?
Which jurisdiction does the company insist upon for agreement law?
Global Academic and Non-Profit Partnering Terms and Agreements 2015 to 2021 provides the reader with the following key benefits:
In-depth understanding of Academic and Non-Profit deal trends since 2015
Access to headline, upfront, milestone and royalty data
Detailed access to actual Academic and Non-Profit contracts entered into by leading biopharma companies
Identify most active Academic and Non-Profit dealmakers since 2015
Insight into terms included in a Academic and Non-Profit partnering agreement, with real world examples
Understand the key deal terms companies have agreed in previous deals
Undertake due diligence to assess suitability of your proposed deal terms for partner companies
Executive Summary
Chapter 1 – Introduction
Chapter 2 – Trends in Academic and Non-Profit dealmaking
2.1. Introduction
2.2. Academic and Non-Profit partnering over the years
2.3. Most active Academic and Non-Profit dealmakers
2.4. Academic and Non-Profit partnering by deal type
2.5. Academic and Non-Profit partnering by therapy area
2.6. Academic and Non-Profit partnering by technology type
2.7. Deal terms for Academic and Non-Profit partnering
2.7.1 Academic and Non-Profit partnering headline values
2.7.2 Academic and Non-Profit deal upfront payments
2.7.3 Academic and Non-Profit deal milestone payments
2.7.4 Academic and Non-Profit royalty rates
Chapter 3 – Leading Academic and Non-Profit deals
3.1. Introduction
3.2. Top Academic and Non-Profit deals by value
Chapter 4 – Most active Academic and Non-Profit dealmakers
4.1. Introduction
4.2. Most active Academic and Non-Profit dealmakers
4.3. Most active Academic and Non-Profit partnering company profiles
Chapter 5 – Academic and Non-Profit contracts dealmaking directory
5.1. Introduction
5.2. Academic and Non-Profit contracts dealmaking directory
Chapter 6 – Academic and Non-Profit dealmaking by technology type
Chapter 7 – Partnering resource center
7.1. Online partnering
7.2. Partnering events
7.3. Further reading on dealmaking
Appendices
Appendix 1 – Academic and Non-Profit deals by company A-Z
Appendix 2 – Academic and Non-Profit deals by stage of development
Appendix 3 – Academic and Non-Profit deals by deal type
Appendix 4 – Academic and Non-Profit deals by therapy area
Appendix 5 – Deal type definitions
About Wildwood Ventures
Current Partnering
Current Agreements
Recent report titles from Current Partnering
Table of figures
Figure 1: Academic and Non-Profit partnering since 2015
Figure 2: Active Academic and Non-Profit dealmaking activity since 2015
Figure 3: Academic and Non-Profit partnering by deal type since 2015
Figure 4: Academic and Non-Profit partnering by disease type since 2015
Figure 5: Academic and Non-Profit partnering by technology type since 2015
Figure 6: Academic and Non-Profit deals with a headline value
Figure 7: Academic and Non-Profit deals with an upfront value
Figure 8: Academic and Non-Profit deals with a milestone value
Figure 9: Academic and Non-Profit deals with a royalty rate value
Figure 10: Top Academic and Non-Profit deals by value since 2015
Figure 11: Most active Academic and Non-Profit dealmakers since 2015
Figure 12: Online partnering resources
Figure 13: Forthcoming partnering events
Pricing options
$3,495: single-user
$5,245: multi-user
$10,495: single site license
$17,495: global site license
A full explanation of license type definitions can be found here.
Our guarantee
Price promise
We guarantee our prices are competitive. If you find the same report advertised at a lower price within 7 days of purchase, we will refund the difference.
Delivery Deadline
We guarantee that the report will be sent within the specified delivery times. In the unlikely case of a delay we may offer a partial refund as compensation. (Terms may apply)
Latest report
If an update is published within 30 days of your purchase, you will receive it absolutely free of charge.
Serious Security
We take your data and security seriously. See our privacy policy for details of how we manage your data.
All card payments are processed by SagePay.
Sales Support
If you have any questions about your report or are unhappy with the quality, we will do our best to resolve your query. Contact us direct.
Total Trust
Current Partnering is part of Wildwood Ventures Ltd., based in York, United Kingdom. We have been trading successfully online since 2009 and work with some of the most famous brands in the business. We carefully select our partners to ensure that the publications meet expectations of demanding customers.
1CellBiO, 2bPrecise, 2cureX, 3B Pharmaceuticals, 3D Signatures, 3M, 3P Biopharmaceuticals, 3rd People's Hospital of Shenzhen, 3Scan, 4D Molecular Therapeutics, 4D Pharma, 9 Meters Biopharma, 10X Genomics, 14M Genomics, 22nd Century, 23andMe, A*STAR Agency for Science, Technology and Research, A*STAR Bioinformatics Institute, A*STAR Bioprocessing Technology Institute, A*STAR Genome Institute of Singapore, A*STAR Singapore Immunology Network, A*STAR' Institute of Molecular and Cell Biology, A-Alpha Bio, A1M Pharma, Aarhus University, Aarhus University Hospital, AARP Healthcare, Abaxis, Abbott Laboratories, Abbvie, Abby Grace Foundation, Abcam, AbCellera, Abcodia, Abeome, Abeona Therapeutics, ABL Bio, Ablexis, Abpro, Abramson Cancer Center, Absolute Antibody, Abu Dhabi Stem Cells Center, Abzena, Academia Sinica, Academic Drug Discovery Consortium, Academic Medical Center, Academy of Military Medical Sciences (China), Academy of Nutrition and Dietetics, ACADIA Pharmaceuticals, AC Bioscience, Accelerate Brain Cancer Cure, Accelerated Cure Project for MS, Acceliant, Accelovance, Accenture, AccuGenomics, Accumulus Synergy, Accuray, Accutest, ACEA Biosciences, Acelrx Pharmaceuticals, Acer Therapeutics, Acerus, Achaogen, Achieve Life Science, AC Immune, Aclipse Therapeutics, ACMG Foundation for Genetic and Genomic Medicine, Acorda Therapeutics, Actimed Therapeutics, Actinium Pharmaceuticals, Actuated Cardio Engineering, Actuated Medical, Acucela, AcuraStem, Acurian, Adagene, Adamis Pharmaceuticals, Adaptimmune, Adaptive Biotechnologies, Adaptive Phage Therapeutics, AdaptVac, Adare Pharma Solutions, Addario Lung Cancer Medical Institute, Addex Therapeutics, Addiction Institute of Mount Sinai, Adial Pharmaceuticals, Adimab, ADInstruments, Aditx Therapeutics, adMare BioInnovations, Aduro BioTech, Advaita, Advaite, AdvaMed, Advanced Accelerator Applications, Advanced BioInformatics, Advanced Biological Laboratories, Advanced BioNutrition, Advanced Clinical Trial Solutions, Advanced Neural Dynamics, Advanced Nuclear Medicine Ingredients, Advanced Regenerative Manufacturing Institute, Advaxis, AdventHealth, Advent International, Adventist Health, Aelan Cell Technologies, Aeras, Aerie Pharmaceuticals, AEterna Zentaris, Aethlon Medical, Aetion, Aevi Genomic Medicine, Aevitas Therapeutics, Affectis Pharmaceuticals, Affigen, Affinity Biosciences, Affinivax, Affymetrix, Africa Centres for Disease Control and Prevention, Africa Medical Supplies Platform, Africa Union, Age Labs, Agendia, AgeneBio, AgeX Therapeutics, Agile Biodetection, Agilent Technologies, Agilis Biotherapeutics, Agilvax, Agriplex Genomics, AGTC, Aichi Medical University, AIDS Clinical Trials Group, AIDS Foundation of Chicago, Aiforia Technologies, AIkido Pharma, AimedBio, AIM ImmunoTech, Air Force General Hospital, Air Force Research Laboratory, Aitbiotech, Aitrics, AiVita Biomedical, Ajinomoto Bio-Pharma Services, AKC Canine Health Foundation, Akili Interactive Labs, Akita Innovations, AKL Research and Development, Akonni Biosystems, Akouos, Akoya Biosciences, Akrevia Therapeutics, Akriveia Therapeutics, Akston Biosciences, Alana Healthcare, Albany Medical College, Albany Molecular Research, Alberta Health Services, Albert Einstein College of Medicine, Albert Einstein Healthcare Network, Albumedix, Alcami, Aldevron, Aleris, Aleva Neurotherapeutics, Alexion Pharmaceuticals, Alfred E. Mann Institute for Biomedical Engineering, Align Technology, Aligo, Aligos Therapeutics, Alimentary Health, AliveCor, Alkahest, Alkermes, Allakos, AllCells, Allcure Kangtai Proton Technology, Allegheny General Hospital, Allegheny Technologies, Allegro Ophthalmics, Allele Biotechnology and Pharmaceuticals, Allergan, AllerGenis, Alliance for a Cavity-Free Future, Alliance For Cancer Care, Alliance for Cancer Gene Therapy, Alliance For Clinical Trials In Oncology, Alliance for Lupus Research, Alliance for Regenerative Medicine, Allied-Bristol Life Sciences, Alligator Bioscience, Allogene Therapeutics, AlloSource, AlloVir, Allscripts, AllStripes, Almac Diagnostics, Almac Group, Almirall, Alphamab Biopharmaceuticals, ALR Technologies, ALS Association, ALS Biopharma, ALS Finding a Cure Foundation, Alterity Therapeutics, Altimmune, Altius Institute for Biomedical Sciences, Altor BioScience, ALTuCELL, Aluna, Alvarado Hospital Medical Center, Alzamend Neuro, Alzeca Biosciences, Alzecure Foundation, Alzheimer's Association, Alzheimer's Drug Discovery Foundation, Alzheimer's Foundation of America, Alzheimer's Research UK, Alzheimer Society Research, Alzheimers Research UK, Amag Pharmaceuticals, Amal Therapeutics, Amarantus BioSciences, Amarna Therapeutics, Ambry Genetics, Amendia, Amend Surgical, American Academy of Implant Dentistry Foundation, American Academy of Neurology, American Academy of Ophthalmology, American Academy of Orthopaedic Surgeons, American Academy of Pediatrics, American Animal Hospital Association, American Association for Cancer Research, American Association of Neuromuscular & Electrodiagnostic Medicine, American Brain Tumor Association, American Cancer Society, American College of Cardiology, American College of Chest Physicians, American College of Surgeons, American Dental Association, American Diabetes Association, American Foundation for AIDS Research (amfAR), American Gene Technologies, American Heart/Stroke Association, American Heart Association, American Liver Foundation, American Lung Association, American Medical Association, American Migraine Foundation, American National Multiple Sclerosis Society, American Parkinson Diseases Association, American Physiological Society, American Skin Association, American Sleep Apnea Association, American Society for Aesthetic Plastic Surgery, American Society of Clinical Oncology (ASCO), American Society of Hematology, American Speech-Language-Hearing Association, American Type Culture Collection (ATCC), American Veterinary Medical Foundation, AmerisourceBergen, Ametek, Amfora, Amgen, Amicus Therapeutics, AmorChem, AMPATH Oncology Institute, AMPEL BioSolutions, Ampio Pharmaceuticals, AmpliPhi Biosciences, AMR, AMRA Medical, Amydis Diagnostics, Amygdala Neurosciences, Amyris, Anahit, Analysis Group, Analytical Biological Services, AnaMar, Anam Hospital, ANANDA Scientific, AnchorDx, Anesthesia Business Consultants, Angiostem, Angle, Angsana Molecular & Diagnostics, Anika Therapeutics, Anixa Biosciences, Annette Funicello Research Fund for Neurological Diseases (AFRFND), Anpac Bio-Medical Science, ANP Technologies, Antabio, Antaros Medical, Antengene, Anthem, Anthera Pharmaceuticals, Anthony Nolan, Antibiotic Research UK, AntibioTx, Antidote, Antidote Therapeutics, Antitope, AO Foundation, Apceth, Apexigen, Apollo Hospitals Group, Apollo Sugar, Apollo Therapeutics, Appello Pharmaceuticals, Appili Therapeutics, Appistry, Applied Biology, Applied DNA Sciences, AppliedVR, Aprea, Aprecia Pharmaceuticals, APRINOIA Therapeutics, Aptahem, Aptamer Therapeutics, Aptose Biosciences, Aptuit, Aquinnah Pharmaceuticals, Aquitaine Science Transfert (SATT Aquitaine), Aragen Bioscience, Aravive Biologics, Arbutus, ARCH Personalized Medicine Initiative, Arch Therapeutics, Arctoris, Arcturus Therapeutics, Arecor, Ares Genetics, Areva Med, arGEN-X, Argent Development Group, Argentina Orthodontic Society, Argonne National Laboratory, Ariadne Genomics, Aridis Pharmaceuticals, Arima Genomics, Arix Bioscience, Arizona State University, Ark Biosciences, ARK Crystal, Arkray, ArmaGen, AroCell, Arrakis Therapeutics, Array Biopharma, Arsanis Biosciences, Artelo Biosciences, ArtemiLife, Artes Biotechnology, Artios Pharma, Aruvant Sciences, Asana Medical, Asan Medical Center, Asceneuron, Ascenion, Ascentage Pharma, Ashvattha Therapeutics, Asia-Pacific Hepatocellular Carcinoma Trials Group, Asian Eye Institute, Asklepios Biopharmaceutical, Aslan Pharma, Aspen Park Pharmaceuticals, ASPiRA Labs, Assistance Publique-Hôpitaux de Paris, Association for Frontotemporal Degeneration, Association of Clinical Research Professionals, Assuta Medical Centers, Astellas Pharma, Asterias Biotherapeutics, Astex Pharmaceuticals, Asthma UK, AstraZeneca, AstraZeneca HealthCare Foundation, Astute Medical, Asuragen, Asylia Therapeutics, Asys, ATAI Life Sciences, Atara Biotherapeutics, Atelerix, Athersys, Athira Pharma, Atlas Genetics, Atomwise, Atossa Genetics, Atreca, Attune Medical, ATUM, Atvio Biotech, aTyr Pharma, Auburn University, Audaire Health, Audax Medical, Audentes Therapeutics, AUM Biosciences, AUM Biotech, Aural Analytics, AuraVax Therapeutics, Auris Medical, Aurora BioPharma, Aurora Cannabis, Aurora Diagnostics, Aurum Ventures, AusHealth, Australasian Gastro Intestinal Research Foundation, Australian Department of Health and Ageing, Australian Foundation for Diabetes Research, Australian Imaging, Biomarker & Lifestyle Flagship Study of Ageing (AIBL), Australian Medical Research Institute, Australian Research Council, Australian Research Data Commons, Autifony Therapeutics, Autism Speaks, Autobahn Labs, Autodesk, Autolus, Avacta, Avalanche Biotechnologies, Avalon GloboCare, Avatamed, Avectas, Avellino Labs, Avera Heart Hospital of South Dakota, Avera McKennan, Avery Therapeutics, Aviana Molecular Technologies, Avicanna, Avidity Biosciences, Aviragen Therapeutics, Avista Pharma Solutions, Avita Therapeutics, Avon Foundation, AVRA Surgical, Avrobio, Awair, Axial Biotherapeutics, AXIM Biotechnologies, Axiom Real-Time Metrics, AxioMx, Axonics Modulation Technologies, AxoSim, Axovant Gene Therapies, Axsome Therapeutics, AyoxxA Biosystems, Azellon Cell Therapeutics, Azitra, AZUSA Pacific University, Babraham Bioscience Technologies, Babraham Institute, Babson Diagnostics, Bacit, Baebies, Baker IDI Heart and Diabetes Institute, Bank of America, Baptist Health Care, Barbara Ann Karmanos Cancer Institute, Barer Institute, Baruch S Blumberg Institute, BASF, Batavia Biosciences, Battelle, Baudry Laboratory, Bausch & Lomb, Bausch Health Companies, Bavarian Nordic, Baxter International, Bay Area Lyme Foundation, Bayer, Bayer CropScience, Bayer Healthcare, Baylor College, Baylor College of Medicine, Baylor Genetics, Baylor Health Care System, Baylor Institute for Immunology Research, Baylor Research Institute, BC Children's Hospital, BCD Bioscience, BC Neuroimmunology, BC Platforms, Beactica, Beam Therapeutics, Beckman Coulter, Beckman Research Institute of City of Hope, Becton Dickinson, Beike Biotech, Belgian Society of Medical Oncology, Bellicum Pharmaceuticals, Bellus Health, Ben-Gurion University, Benaroya Research Institute, Benchwise, BenevolentAI, Benjamin Rose Institute on Aging, Berg, Berkeley Lights, Berlin-Brandenburg Center for Regenerative Therapies, Beroni Group, Best Medical International, Beth Israel Deaconess Medical Center, Beyond Batten Disease Foundation, Beyondspring Pharmaceuticals, Beyond Type 1, BGI, BGN Technologies, Bharat Biotech, BHB Therapeutics, BHVI, BIA Separations, Bicycle Therapeutics, Bill and Melinda Gates Foundation, Binex, Bio-Me, Bio-Path, Bio-Rad Laboratories, Bio-Techne, bioAffinity Technologies, BioAgilytix, BioArctic Neuroscience, BIOASTER, BioAxone Therapeutic, BioBridge Global, BioBright, BioCanna Healthcare, BioCanRx, Biocept, BioCision, Biocodex Microbiota Foundation, Biocom Institute, BioComo, Biodesix, Biodextris, BioDigital, Bio Farma, Biofourmis, Biogen, Biohaven Pharmaceutical Holding, BioIntelliSense, BioInvent, BioLabs, Biolase, BioLegend, BIOLIFE4D, BiolineRX, Biolog-id, Biological Dynamics, Biological Industries, BioM, Biomanufacturing Training and Education Center, Biomarck Pharmaceuticals, BioMarin Pharmaceutical, BioMarker Strategies, BioMatrix Specialty Pharmacy, Biomecite Diagnostics, Biomed, Biomedical Advanced Research and Development Authority, Biomedical Catalyst Fund (UK), BioMed Realty Trust, BioMed X Innovation Center, Biomerica, Biomerics, Biomica, BiomX, BioNano Genomics, Bionik Laboratories, Bionovus Life Sciences, BioNTech, BioOhio, Bioo Scientific, Bio Palette, BiopharmX, BioPontis Alliance, BioReference Laboratories, BioRestorative Therapies, Biosenta, Bioserve, BioSight, BioSig Technologies, BioSilta, BioSkryb, Biostage, Biostar Pharmaceuticals, BioSTL, BioStorage Technologies, Biosynth, BioTechnique, Biotechnology and Biological Sciences Research Council (BBSRC), Biotechnology Industry Research Assistance Council, Biothera Pharmaceuticals, BioTheryX, Biotricity, BioVaxys, Bioventus, BirchBioMed, Bird Foundation, Black AIDS Institute, Blackfynn, Blackrock NeuroMed, BlackThorn Therapeutics, Blanchette Rockefeller Neurosciences Institute, Bleeding Disorders Foundation, BlinkBio, Blood Systems Research Institute, Bloom Medicinals, Bloom Science, Blue Belt Technologies, Blueberries Medical, Bluebird Bio, Blue Buffalo Company, Blue Cross Blue Shield Association, Blue Earth Diagnostics, Bluefield Innovations, BluePen Biomarkers, Blueprint Genetics, BlueRock Therapeutics, Blue Water Vaccines, Blum Center for Health, Body Labs, Boehringer Ingelheim, Bolder BioTechnology, Bold Therapeutics, Bone Biologics, Bonnie J. Addario Lung Cancer Foundation, Bon Secours Health System, Booz Allen, Boragen, Boston Biomedical, BostonGene, Boston Medical Center, Boston Scientific, BostonSight, Boston University, Boston University School of Medicine, Botanisol, Boulos and Cooper Pharmaceuticals, Brain & Behavior Research Foundation, Brain Balance Achievement Centers, Brain Biomarker Solutions in Gothenburg, BrainLAB, Brainomix, Brain Science Foundation, BrainStorm Cell Therapeutics, Brainsway, Brain Treatment Center San Diego, Brandeis University, BRCA Foundation, Breast Cancer Research Foundation (BCRF), Breath Diagnostics, Breathtec BioMedical, BreathTech, BriaCell Therapeutics, Brickell Biotech, BridgeBio Pharma, Bridge Biotherapeutics, Bridge Medicines, Brigham and Women's Hospital, Brigham Young University, BrightFocus Foundation, Brighton Biotech, Brii Biosciences, Brink Biologics, Bristol-Myers Squibb, Bristol-Myers Squibb Foundation, British Lung Foundation, British Pharmacological Society, Broad Institute, Brooks Automation, Brown University, Bruker, BryoLogyx, BSN Medical, BTG, Buck Institute for Age Research, BullFrog AI, Burgerhospital, Burnet Institute, Butantan Institute, Butterfly Network, C-RAD, C2N Diagnostics, C4 Therapeutics, C4X Discovery, Cabaletta Bio, Cactus Semiconductor, Cadence Biomedical, Caelum Biosciences, Caerus Discovery, Caladrius Biosciences, Calcivis, Caldera Pharmaceuticals, Calico, California College of Natural Medicine, California Institute for Biomedical Research, California Institute for Quantitative Biosciences (QB3), California Institute for Regenerative Medicine, California Institute of Technology, California Life Sciences Association, California Parkinson's Disease Registry, Calimmune, Calithera Biosciences, Calviri, Calyxt, Cambridge Brain Sciences, Cambridge Cognition, Cambridge Enterprise, Cambridge Epigenetix, Cambridge Research Biochemicals, Cam Med, Can-Fite BioPharma, Canada-Israel Industrial R&D Foundation, Canadian Brain Tumour Consortium, Canadian Cancer Society, Canadian Cancer Trials Group, Canadian Institutes of Health Research, Canadian Organization for Rare Disorders, Canadian Physiotherapy Association, Canaf Therapeutics, CANbridge Life Sciences, Cancer Australia, Cancer Genetics, CancerLinQ, Cancer Molecular Diagnostic Laboratory, Cancer Prevention and Research Institute of Texas, Cancer Research Institute, Cancer Research Society, Cancer Research Technology, Cancer Research UK, Cancer Science Institute of Singapore, Candela, Canntab Therapeutics, Canopy Biosciences, Canopy Growth, Cantabio Pharmaceuticals, Capillary Biomedical, Capricor Therapeutics, Caprion Biosciences, Capsulomics, Caraway Therapeutics, CARB-X, Carbios, Carbiotix, Cardiff University, Cardiogen Sciences, Cardio Renal Society of America, Cardiovascular Research Foundation, Cardiovascular Systems, Cardiowise, CareDox, CareDx, CareFirst BlueCross BlueShield, CareJourney, Carestream Health, Caribou Biosciences, CariCord, Carilion Clinic, Caris Life Sciences, Carisma Therapeutics, Carl Zeiss, Carmentix, Carnegie Mellon University, Carolina BioOncology Institute, Carolinas Medical Center (CMC), Carrum Health, CARsgen, CAS, Casebia Therapeutics, Case Western Reserve University, Case Western Reserve University School of Medicine, Casma Therapeutics, Catabasis Pharmaceuticals, Catalan Institute of Nanotechnology (ICN), Catalent, Catholic University Leuven, CavoGene LifeSciences, CB Therapeutics, CDISC, CDR-Life, Ceapro, Cedars-Sinai Health System, Cedars-Sinai Medical Center, CEITEC, Celdara Medical, Celgene, Celiac Disease Foundation, Cell and Gene Therapy Catapult, Cellares, Cellaria Biosciences, Celldex Therapeutics, Cellectar Biosciences, Cellect Biotechnology, Cellectis, Cellerant Therapeutics, Cellesce, Cellex, CELLINK, Cell Medica, Cell Mogrify, CellResearch, Cell Therapy Catapult, Cellth Systems, Celltrion, Cellular Biomedicine, Cellular Dynamics International, Cellvation, Cel Sci, Celsius Therapeutics, Celtic Biotech, Celyad, Centene, Center for Biomarker Research in Medicine, Center for Excellence in Engineering Biology, Center for Human Genetics and Laboratory Medicine, Center for Infectious Disease Research, Center for Inherited Blood Disorders, Center for International Blood and Marrow Transplant Research, Center for iPS Cells Research and Application, Center for Molecular Medicine, Center for Sensorimotor Neural Engineering, Center for Structured Organic Particulate Systems, Center for Technology and Innovation in Pediatrics (CTIP), Center for the Advancement of Science in Space, Center on Addiction, Centers for Disease Control and Prevention, Centogene, Centre de Recherche en Cancérologie de Lyon, Centre for Addiction and Mental Health, Centre for Cellular and Molecular Platforms, Centre for Commercialization of Cancer Immunotherapy and Regenerative Medicine, Centre for Commercialization of Regenerative Medicine (CCRM), Centre for Drug Research and Development (CDRD), Centre for Human Drug Research, Centre for Imaging Technology Commercialization, Centre for Probe Development and Commercialization, Centre For Proteomic & Genomic Research, Centre for Research in Medical Devices (CURAM), Centre for Structural Systems Biology, Centre For The Commercialization Of Antibodies And Biologics, Centre Hospitalier Universitaire Vaudois (CHUV), Centre Hospital University - Bordeaux, Centre Leon Berard, Centre National de Biologie Expérimentale, Centro de Inmunolgía Molecular, Centro de Investigación Biomédica en Red de Salud Mental, Centrus Health Clinics, Cepheid, Cerebain Biotech, Cerecor, CereScan, Cerevance, CERIMED, Certara, Certis, Cerulean Pharma, Cerus, Cerveau Technologies, Cesca Therapeutics, CFTechnology.org, ChadTough Foundation, Chameleon BioSurfaces, Champions Oncology, Chan Soon-Shiong Institute of Molecular Medicine, Chan Zuckerberg Initiative, Charcot-Marie-Tooth Association, Charite-Universitatsmedizin, Charite Universitatsmedizin Berlin, Charles River Associates, Charles River Laboratories, CHDI Foundation, Checkpoint Therapeutics, Chembio Diagnostics, ChemDiv, ChemRar High-Tech Center, Childhood Arthritis and Rheumatology Research Alliance (CARRA) Registry, Children's Cancer Therapy Development Institute, Children's Heart Foundation, Children's Hospital at Montefiore, Children's Hospital Boston, Children's Hospital Los Angeles, Children's Hospital of Philadelphia, Children's Hospital of Pittsburgh, Children's Hospital of Pittsburgh Foundation, Children's Hospital Of Wisconsin, Children's Medical Research Institute, Children's Mercy Hospital, Children's Minnesota, Children's National Health System, Children's National Medical Center, Children's Research Institute, Childrens Medical Center, Children's Center for Cancer and Blood Diseases (CCCBD), Children's Hospital & Research Center Oakland, Children's Hospital Oakland Research Institute (CHORI), Chimeric Therapeutics, Chimeron Bio, China Government, China Southeast University, Chinese Academy of Agricultural Science, Chinese Academy of Sciences, Chinese University of Hong Kong, Chinook Therapeutics, Cholangiocarcinoma Foundation, Chondrial Therapeutics, Chonnam National University, Christian Doppler Research Association, Christopher & Dana Reeve Foundation, Christus Health, ChromaDex, Chromocell, Chugai Pharmaceutical, Chugai Pharma Marketing, Chulalongkorn University, Chung-Ang University, Chung Shan Medical University Hospital, CHU Sainte-Justine, Cidara Therapeutics, Cigna Healthcare, Ciitizen, Cincinnati Children's Hospital Medical Center, Cinda Bio-Pharmaceutical, Cipla, Circuit Clinical, Circulogene, CISCRP, Cisen Pharma, Citius Pharmaceuticals, Citizens United for Research in Epilepsy, Citranvi Biosciences, City College of New York, City of Hope, City of Hope Comprehensive Cancer Center, City University of New York Center for Advanced Technology, Civetta Therapeutics, Clalit Health Fund, Claritas Genomics, Clarity Pharmaceuticals, Cleara Biotech, Clearbridge Biomedics, Clear Guide Medical, ClearLight Biotechnologies, ClearLight Diagnostics, ClearPath, Clene Nanomedicine, Cleveland BioLabs, Cleveland Clinic, Cleveland Diabetes Care, Cleveland HeartLab, Cleveland University Hospitals, CLEW Medical, Clinical Development Services Agency, Clinical Genomics, ClinicalStudyDataRequest, Clinica Universidad Navarra, Clinic for Special Children, Clinton Health Access Initiative, Cloudera, Cloud Pharmaceuticals, Clover Biopharmaceuticals, CMC Biologics, CN Bio, CNS Pharmaceuticals, Co-Diagnostics, Coala Life, Coalition for Epidemic Preparedness Innovations, Coapt, CoapTech, Cobra Biologics, Cochin Hospital, Cocrystal Pharma, CODA Biotherapeutics, Codagenix, Codiak BioSciences, Cofactor Genomics, Cogito, Cognition Therapeutics, Cognoa, CogState, Cohen Veterans Bioscience, CoImmune, Colby College, Cold Spring Harbor, Colgate Palmolive, Colgate University, Collaborative Trajectory Analysis Project, College of Life Science of Northwest University, Collplant, Colorado Center for Personalized Medicine, Colorado School of Mines, Colorado State University, Color Genomics, Columbia Laboratories, Columbia Technology Ventures, Columbia University, Columbia University Medical Center, Comet Biorefining, Commonwealth of Pennsylvania, Community College of Philadelphia, Companhia Energetica Integrada, Comprehensive Health Services, Compugen, Concord Medical Services Holdings, Confluent Medical Technologies, ConforMIS, Congenica, Connecticut Children's Medical Center, Conrad Prebys, ConserV Bioscience, ConsortiaTX, Contakt World Technologies, Context Therapeutics, Contextual Genomics, CONTINUUS Pharmaceuticals, ContraFect, ContraVir Pharmaceuticals, ConverGene, Cook Pharmica, Cooperative Research Centre for Cell Therapy Manufacturing, COPD Foundation, Copenhagen University Hospital, Corbin Therapeutics, Corbus Pharmaceuticals, Coriell Institute for Medical Research, Corindus Vascular Robotics, Cornell University, Corpometria Institute, CorTechs Labs, Corteva Agriscience, Corvus Pharmaceuticals, COTA, Covalab, Covalent Data, Covalon Technologies, Covar Pharmaceuticals, COVAX, COVAXX, Covenant Christian School, CPI International, CRC Health, Creative Destruction Lab, Creative Medical Technologies, Creoptix, Crescendo Biologics, Crescendo Bioscience, Crestone Pharma, Cricket Health, CRISPR Therapeutics, Critical Path Institute (C-Path), Crohn's and Colitis Foundation of America, Croix-Rousse Hospital, Crown Bioscience, CSEM Centre Suisse d'Electronique et de Microtechnique, CSIRO, CSL, CSL Behring, CSPC Pharmaceutical Group, CTI BioPharma, Cubic, CUBRC, Cue Biopharma, Cullinan Oncology, Cumberland Emerging Technologies, Curable, Curadev Pharma, Curadigm, Curant Health, Cure Alzheimer's Fund, Cure Brain Cancer Foundation, CureCell, Cure Duchenne, Cure Forward, Cure Sanfilippo Foundation, Cure SMA, Cures Within Reach, Curetis, CureVac, Curing Kids Cancer, Curiox Biosystems, Current Health, Cutaneous Lymphoma Foundation, Cybin, Cyclacel Pharmaceuticals, Cyclenium Pharma, Cyclica, Cyclolab, Cyclotek, Cynapsus Therapeutics, Cynata Therapeutics, Cypher Genomics, Cypralis, Cyprium Therapeutics, Cyrus Biotechnology, Cystic Fibrosis Foundation, Cystic Fibrosis Foundation Therapeutics, Cystic Fibrosis Trust, Cystinosis Research Foundation, CytoAgents, Cytokinetics, CytoSen Therapeutics, Cytotheryx, CYTOVIA Therapeutics, Cytox, Cyxone, D. E. Shaw Research, Daewoong Pharmaceutical, Daiichi Sankyo, Dalberg, Dalhousie University, Dallas Lighthouse for the Blind, Dalton Pharma Services, Dana-Farber Cancer Institute, DanDrit Biotech, Danish Center for Strategic Research into Type 2 Diabetes, DarioHealth, Dartmouth-Hitchcock Medical Center, Dartmouth College, Datavant, David H. Koch Institute for Integrative Cancer Research, DaVinci Biomedical Research Products, Da Volterra, Daxor, DayTwo, DCPrime, Debiopharm, Debiotech, DEBRA Austria, Decathlon Capital Partners, Decibel Therapeutics, de Duve Institute, Deep Cube, Deerfield Management, Defense Advanced Research Projects Agency, Defense Threat Reduction Agency, DefiniGEN, Defymed, DeGregorio Family Foundation, Dehaier Medical Systems, Deinove, Delcath Systems, Delivering Scientific Innovation for Autism (DELSIA), Dell, Dell Medical School, DelMar Pharmaceuticals, DeMelle OncoPharma, Dementia Consortium, Demetrix, Denali Therapeutics, Denator, DendroCyte, Denovo Biopharma, Densitas, Department of Defense, Department of Defense Hearing Center of Excellence and Vision Center of Excellence, Department of Energy, Department of Health and Human Services, Department of Veterans Affairs, DermaPort, Dermelix Biotherapeutics, Desktop Genetics, DexCom, Diabetes Singapore, Diabetes UK, DiaCarta, diaDexus, Diagnostic Robotics, DiamiR, Diamond Light Source, Diamond Therapeutics, Diamyd Medical, Dianomi Therapeutics, Diaprost, Diavax Biosciences, Diaxonhit, Diffusion Pharmaceuticals, Dimension Therapeutics, DiNAQOR, Diomics, DiscoveRx, DiscoveryBioMed, Distributed Bio, Diverse Biotech, Diversigen, Dixie State University, DNAnexus, DNA Script, DNAtrix, Domainex, Domain Therapeutics, Donald Danforth Plant Science Center, Dow AgroSciences, Dr. Reddy's Laboratories, Dr. Susan Love Research Foundation, Dragonfly Therapeutics, Dragon Master Foundation, DreaMed Diabetes, Dresner Foundation, Drexel University, DRI Capital, DrugDev, Drugs for Neglected Diseases Initiative, Duchenne UK, Duchesnay, Duke-NUS Graduate Medical School Singapore, Duke Cancer Institute, Duke Clinical Research Institute (DCRI), Duke Medical, Duke University, Duke University Medical Center, DuPont, DuPont Industrial Biosciences, Duquesne University, Dutch SAZ, DWK Life Sciences, DxTerity, Dyadic International, DyNAbind, Dynavax Technologies, DySIS Medical, Dystonia Medical Research Foundation, Dystrophic Epidermolysis Bullosa Research Association of America, DZNE German Center for Neurodegenerative Diseases, E&B Technologies, E25Bio, Eagle Pharmaceuticals, Eastern Ontario Regional Laboratory Association, EastGate Biotech, EB Research Foundation, EB Research Partnership, Eccrine Systems, ECM Therapeutics, ECOG-ACRIN Cancer Research Group, Ecole Polytechnique de Montreal, Ecole Polytechnique Federale de Lausanne, EcoPesticides, ECRI Institute, Edelris, Edico Genome, Edinburgh Innovations, Editas Medicine, Edith Cowan University (ECU), Edith Wolfson Medical Center, Educational and Scientific, Edwards Lifesciences, eGenesis, EicOsis, Eiger BioPharmaceuticals, Eisai, Eisai Inc, Eisai S.A.S, Eko, Elanco, Elasmogen, Elastos Foundation, Electromedical Technologies, Elekta, ElevateBio, Elicio Therapeutics, Eli Lilly, Elixirgen, Ellison Medical Foundation, ElsaLys Biotech, Elsevier, Elton John AIDS Foundation, Elysium Health, Embleema, Embryo Ventures, EMD Serono, Emergency Medicine Foundation, Emergent BioSolutions, EmergeOrtho, Emergex Vaccines, Emirates Diabetes Society, EMMAC Life Sciences, Emocha Mobile Health, Emory Healthcare, Emory University, Emtora Biosciences, Emulate, Enable Biosciences, Enamine, EnBiotix, Endicott College, Endomag, Endo Pharmaceuticals, Endorecherche, Endotherm, Endpoint Health, Energy Medicine Research Institute, Enesi Pharma, Enigma Biomedical, Enlibrium, Enochian Biosciences, Entasis Therapeutics, Enterome Bioscience, Enterprise Therapeutics, Enumeral Biomedical, ENYO Pharma, EOFlow, EOS Imaging, EpicGenetics, Epic Sciences, Epidemiologic Solutions, Epilepsy Canada, Epilepsy Foundation (EF), Epilepsy Society, EpimAb Biotherapeutics, Epinomics, Epivax, Epizyme, Eppendorf, Epsilogen, Epygen Biotech, Erasmus University Medical Center, Erisyon, ERS Genomics, ERT, Ervaxx, Erytech, ES Cell International, Esophageal Cancer Awareness Association, Esperance Pharmaceuticals, EspeRare Foundation, Ethris, ETH Zurich, Etubics, Eufloria Medical, Eunice Kennedy Shriver Institute of Child Health and Human Development, Eureka Eurostars, Eureka Therapeutics, Eurofins Genomics, Euroimmun, European Biomedical Research Institute of Salerno, European Board and College of Obstetrics and Gynaecology, European Commission, European Laboratory Research & Innovation Group, European Molecular Biology Laboratory, European Organization for Research and Treatment of Cancer, European Prevention of Alzheimer's dementia Initiative (EPAD), European Society for Radiotherapy & Oncology, European Union, European Vaccine Initiative, EUSA Pharma, Evaxion Biotech, EV Biologics, Evecxia, Evelo Biosciences, Evergaze, Eversight, Evestra, Evgen Pharma, Evidation Health, Evolus, Evolve BioSystems, Evonetix, Evotec, Evox Therapeutics, Ewha Womans University, Exact Imaging, Exactis Innovation, Exact Sciences, Exact Therapeutics, Exagen Diagnostics, Exalenz Bioscience, ExCellThera, Excelra, Excision BioTherapeutics, Excivion, ExeGi Pharma, Exemplar Genetics, Exergen Medical, Exicure, ExOne Company, Exonics Therapeutics, Exosome Diagnostics, Exosome Sciences, Exovita Biosciences, Expesicor, Exploragen, ExpreS2ion Biotechnologies, ExThera Medical, Exuma Biotech, Ez Sleep Technologies, F-Star, FABPulous, Fabric Genomics, Facial Pain Research Foundation, Fairview Health System, FameWave, Fannin, FarmaMondo Group, Faron Pharmaceuticals, FasterCures, Fast Forward, Fate Therapeutics, FedCentric Technologies, Federal Ministry of Education and Research (BMBF), FEI, Feinstein Institute for Medical Research, Ferring Pharmaceuticals, FGH Biotech, FHI 360, Fibriant, Field, FightMND, Fina Biosolutions, Finch Therapeutics, Finnish Funding Agency for Technology and Innovation (TEKES), Finnish Institute for Health and Welfare, FirstString Research, Fitabase, FitBit, Flaskworks, Flo Health, Florey Institute of Neuroscience and Mental Heath, Florida Atlantic University Research, Florida Hospital, Florida International University, Florida State University, FlowMetric Life Sciences, Flow Pharma, FluGen, Fluidigm, Fluxion Biosciences, Flywheel, Fogarty Institute for Innovation, Fondation Cancer, Fondatioun Kriibskrank Kanner, Fondazione San Raffaele, Fondazione Telethon, Food Allergy Research & Education, Food and Drug Administration (FDA), Forbius, Forge Therapeutics, For Inspiration and Recognition of Science and Technology, FORMA Therapeutics, Formula Pharmaceuticals, Forsyth Institute, Fortress Biotech, Fort Scott Middle School, Forty Seven, Foundation Fighting Blindness, Foundation For Angelman Syndrome Therapeutics, Foundation for Biomedical Research and Innovation, Foundation for Celiac Disease Outcome Measures, Foundation for Diabetes Research, Foundation for Innovative New Diagnostics, Foundation for International Urogynecological Assistance, Foundation for the Children of the Californias, Foundation for the National Institutes of Health (FNIH), Foundation Medicine, Foundation to Eradicate Duchenne, Foundation to Fight H-ABC, Four Points Innovation, Fox Chase Cancer Center, Fox Chase Chemical Diversity Center, FOXG1 Research Foundation, FOXO BioScience, Frameshift Genomics, Franciscan Alliance, Francis Crick Institute, Frankfurt University Hospital, Fraunhofer IGB, Fraunhofer Institute for Microelectronic Circuits and Systems, Fraunhofer Institute for Molecular Ecology (IME), Fraunhofer Institute for Toxicology and Experimental Medicine ITEM, FRAXA Research Foundation, Fred & Pamela Buffett Cancer Center, Frederick National Laboratory For Cancer Research, Fred Hutchinson Cancer Research Center, Freenome, French National Institute for Agricultural Research, Frequency Therapeutics, Friedreichs Ataxia Research Alliance, Fritz Clinic, Frontier Biotech, Front Range Biosciences, FSD Pharma, Fudan University, Fujifilm medical systems, FUJIFILM SonoSite, Fujitsu Laboratories, Fujitsu Laboratories of America, Fulgent Genetics, Fulgent Pharma
For a full list contact us at orders@currentpartnering.com
Current Partnering reports provide insight into the trends and terms of partnering deals in the global life sciences sector.
Current Partnering reports are updated every six months to ensure the user has access to the latest announcements and trends in the topic focus of the report.
Current Partnering analysts review the deal data to provide an overview and analysis of deal trends, including example deals and terms.
Current Partnering reports source deal data from our proprietary deals and alliances database, Current Agreements. The database is updated daily by our analysts with new deals as they are announced globally by the company's party to the deal. In addition, deal records are updated with new data as it becomes available.
The data in the Current Agreements deals and alliances database is obtained from secondary sources such as publicly available industry sources including press releases, company presentations, investor presentations, company SEC filings, other company filings, company websites, conference presentations. Sources are identified to allow for user verification.
Current Partnering provides comprehensive coverage of the following partnering or deal types:
• Asset purchase
• Assignment
• Co-development
• Co-market
• Co-promotion
• Collaborative R&D
• Contract service
• CRADA
• Cross-licensing
• Development
• Distribution
• Equity purchase
• Evaluation
• Grant
• Joint venture
• Licensing
• Loan
• Manufacturing
• Marketing
• Option
• Promotion
• Research
• Royalty financing
• Settlement
• Spin out
• Sub license
• Supply
• Termination
• Warrant
Every deal record is fully categorized and includes the following data, where available:
• Industry sector
• Therapy areas
• Technology type
• Deal components
• Financial terms
• Stage of development
• Exclusivity
• Asset type
• Geographic focus
• Excluded geography
• Company press release
• SEC filing data including contract document
All financial amounts are converted to US$ using the exchange rate available on the date of deal announcement, enabling direct comparison of deal terms across international territories.
Financial data and contract documents displayed in deal records is obtained from public sources, where disclosed by the parties to the deal.
We found other products you might like!