Global In Vitro Diagnostics Partnering Terms and Agreements 2010-2022
Global In Vitro Diagnostics Partnering Terms and Agreements 2010-2022 report provides comprehensive understanding and unprecedented access to the in vitro diagnostics partnering deals and agreements entered into by the worlds leading healthcare companies.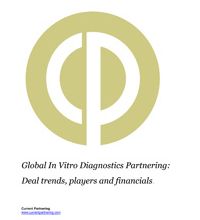 Publication date
May 2022
Product type
Research report
Available formats
PDF document
The Global In Vitro Diagnostics Partnering Terms and Agreements 2010-2022 report provides a detailed understanding and analysis of how and why companies enter in vitro diagnostics partnering deals. These deals tend to be multicomponent, starting with collaborative R&D, and commercialization of outcomes.
This report provides details of the latest In Vitro Diagnostics agreements announced in the life sciences since 2010.
The report takes the reader through a comprehensive review In Vitro Diagnostics deal trends, key players, top deal values, as well as deal financials, allowing the understanding of how, why and under what terms, companies are entering In Vitro Diagnostics partnering deals.
The report presents financial deal term values for In Vitro Diagnostics deals, listing by headline value, upfront payments, milestone payments and royalties, enabling readers to analyse and benchmark the financial value of deals.
The middle section of the report explores the leading dealmakers in the In Vitro Diagnostics partnering field; both the leading deal values and most active In Vitro Diagnostics dealmaker companies are reported allowing the reader to see who is succeeding in this dynamic dealmaking market.
One of the key highlights of the report is that over 850 online deal records of actual In Vitro Diagnostics deals, as disclosed by the deal parties, are included towards the end of the report in a directory format – by company A-Z, stage of development, deal type, therapy focus, and technology type - that is easy to reference. Each deal record in the report links via Weblink to an online version of the deal.
In addition, where available, records include contract documents as submitted to the Securities Exchange Commission by companies and their partners. Whilst many companies will be seeking details of the payment clauses, the devil is in the detail in terms of how payments are triggered – contract documents provide this insight where press releases and databases do not.
The initial chapters of this report provide an orientation of In Vitro Diagnostics dealmaking. Chapter 1 provides an introduction to the report, whilst chapter 2 provides an overview of the trends in In Vitro Diagnostics dealmaking since 2010, including details of headline, upfront, milestone and royalty terms.
Chapter 3 provides a review of the leading In Vitro Diagnostics deals since 2010. Deals are listed by headline value. Where the deal has an agreement contract published at the SEC a link provides online access to the contract.
Chapter 4 provides a comprehensive listing of the top 25 most active companies in In Vitro Diagnostics dealmaking with a brief summary followed by a comprehensive listing of In Vitro Diagnostics deals announded by that company, as well as contract documents, where available.
Chapter 5 provides a comprehensive and detailed review of In Vitro Diagnostics partnering deals signed and announced since Jan 2010, where a contract document is available in the public domain. Each deal title links via Weblink to an online version of the deal record and contract document, providing easy access to each contract document on demand.
Chapter 6 provides a comprehensive and detailed review of In Vitro Diagnostics partnering deals signed and announced since Jan 2010. The chapter is organized by specific In Vitro Diagnostics technology type. Each deal title links via Weblink to an online version of the deal record and where available, the contract document, providing easy access to each deal on demand.
A comprehensive series of appendices is provided organized by In Vitro Diagnostics partnering company A-Z, stage of development, deal type, and therapy focus. Each deal title links via Weblink to an online version of the deal record and where available, the contract document, providing easy access to each deal on demand.
The report also includes numerous tables and figures that illustrate the trends and activities in In Vitro Diagnostics partnering and dealmaking since 2010.
In conclusion, this report provides everything a prospective dealmaker needs to know about partnering in the research, development and commercialization of In Vitro Diagnostics technologies and products.
Key benefits
Global In Vitro Diagnostics Partnering Terms and Agreements 2010-2022 provides the reader with the following key benefits:
In-depth understanding of In Vitro Diagnostics deal trends since 2010
Access to headline, upfront, milestone and royalty data
Detailed access to actual In Vitro Diagnostics contracts entered into by leading biopharma companies
Identify most active In Vitro Diagnostics dealmakers since 2010
Insight into terms included in a In Vitro Diagnostics partnering agreement, with real world examples
Understand the key deal terms companies have agreed in previous deals
Undertake due diligence to assess suitability of your proposed deal terms for partner companies
Report scope
Global In Vitro Diagnostics Partnering Terms and Agreements 2010-2022 is intended to provide the reader with an in-depth understanding and access to In Vitro Diagnostics trends and structure of deals entered into by leading companies worldwide.
In Vitro Diagnostics Partnering Terms and Agreements includes:
Trends in In Vitro Diagnostics dealmaking in the biopharma industry since 2010
Access to headline, upfront, milestone and royalty data
Access to In Vitro Diagnostics contract documents
Leading In Vitro Diagnostics deals by value since 2010
Most active In Vitro Diagnostics dealmakers since 2010
In Global In Vitro Diagnostics Partnering Terms and Agreements 2010-2022, the available deals are listed by:
Company A-Z
Headline value
Stage of development at signing
Deal component type
Specific therapy target
Technology type
Each deal title links via Weblink to an online version of the deal record and where available, the contract document, providing easy access to each contract document on demand.
The Global In Vitro Diagnostics Partnering Terms and Agreements 2010-2022 report provides comprehensive access to available deals and contract documents for over 850 In Vitro Diagnostics deals.
Analyzing actual contract agreements allows assessment of the following:
What are the precise rights granted or optioned?
What is actually granted by the agreement to the partner company?
What exclusivity is granted?
What is the payment structure for the deal?
How are sales and payments audited?
What is the deal term?
How are the key terms of the agreement defined?
How are IPRs handled and owned?
Who is responsible for commercialization?
Who is responsible for development, supply, and manufacture?
How is confidentiality and publication managed?
How are disputes to be resolved?
Under what conditions can the deal be terminated?
What happens when there is a change of ownership?
What sublicensing and subcontracting provisions have been agreed?
Which boilerplate clauses does the company insist upon?
Which boilerplate clauses appear to differ from partner to partner or deal type to deal type?
Which jurisdiction does the company insist upon for agreement law?
Global In Vitro Diagnostics Partnering Terms and Agreements 2010-2022 report provides the reader with the following key benefits:
In-depth understanding of In Vitro Diagnostics deal trends since 2010
Access to headline, upfront, milestone and royalty data
Detailed access to actual In Vitro Diagnostics contracts entered into by leading biopharma companies
Identify most active In Vitro Diagnostics dealmakers since 2010
Insight into terms included in a In Vitro Diagnostics partnering agreement, with real world examples
Understand the key deal terms companies have agreed in previous deals
Undertake due diligence to assess suitability of your proposed deal terms for partner companies
Executive Summary
Chapter 1 – Introduction
Chapter 2 – Trends in In Vitro Diagnostics dealmaking
2.1. Introduction
2.2. In Vitro Diagnostics partnering over the years
2.3. Most active In Vitro Diagnostics dealmakers
2.4. In Vitro Diagnostics partnering by deal type
2.5. In Vitro Diagnostics partnering by therapy area
2.6. Deal terms for In Vitro Diagnostics partnering
2.6.1 In Vitro Diagnostics partnering headline values
2.6.2 In Vitro Diagnostics deal upfront payments
2.6.3 In Vitro Diagnostics deal milestone payments
2.6.4 In Vitro Diagnostics royalty rates
Chapter 3 – Leading In Vitro Diagnostics deals
3.1. Introduction
3.2. Top In Vitro Diagnostics deals by value
Chapter 4 – Most active In Vitro Diagnostics dealmakers
4.1. Introduction
4.2. Most active In Vitro Diagnostics dealmakers
4.3. Most active In Vitro Diagnostics partnering company profiles
Chapter 5 – In Vitro Diagnostics contracts dealmaking directory
5.1. Introduction
5.2. In Vitro Diagnostics contracts dealmaking directory
Chapter 6 – In Vitro Diagnostics dealmaking by technology type
Appendices
Appendix 1 – In Vitro Diagnostics deals by company A-Z
Appendix 2 – In Vitro Diagnostics deals by stage of development
Discovery
Preclinical
Phase I
Phase II
Phase III
Regulatory
Marketed
Formulation
Appendix 3 – In Vitro Diagnostics deals by deal type
Asset purchase
Assignment
Bigpharma outlicensing
Co-development
Collaborative R&D
Co-market
Co-promotion
CRADA
Cross-licensing
Development
Distribution
Equity purchase
Evaluation
Grant
Joint venture
Licensing
Litigation
Manufacturing
Marketing
Material transfer
Option
Promotion
Research
Settlement
Spin out
Sub-license
Supply
Technology transfer
Termination
Warranty
Appendix 4 – In Vitro Diagnostics deals by therapy area
Appendix 5 – Deal type definitions
Appendix 6 – Further reading on dealmaking
About Wildwood Ventures
Current Partnering
Current Agreements
Recent report titles from Current Partnering
Table of figures
Figure 1: In Vitro Diagnostics partnering since 2010
Figure 2: Active In Vitro Diagnostics dealmaking activity since 2010
Figure 3: In Vitro Diagnostics partnering by deal type since 2010
Figure 4: In Vitro Diagnostics partnering by disease type since 2010
Figure 5: In Vitro Diagnostics deals with a headline value
Figure 6: In Vitro Diagnostics deals with an upfront value
Figure 7: In Vitro Diagnostics deals with a milestone value
Figure 8: In Vitro Diagnostics deals with a royalty rate value
Figure 9: Top In Vitro Diagnostics deals by value since 2010
Figure 10: Most active In Vitro Diagnostics dealmakers since 2010
Pricing options
$3,995: single-user
$5,745: multi-user
$10,995: single site license
$17,995: global site license
A full explanation of license type definitions can be found here.
Our guarantee
Price promise
We guarantee our prices are competitive. If you find the same report advertised at a lower price within 7 days of purchase, we will refund the difference.
Delivery Deadline
We guarantee that the report will be sent within the specified delivery times. In the unlikely case of a delay we may offer a partial refund as compensation. (Terms may apply)
Latest report
If an update is published within 30 days of your purchase, you will receive it absolutely free of charge.
Serious Security
We take your data and security seriously. See our privacy policy for details of how we manage your data.
All card payments are processed by SagePay.
Sales Support
If you have any questions about your report or are unhappy with the quality, we will do our best to resolve your query. Contact us direct.
Total Trust
Current Partnering is part of Wildwood Ventures Ltd., based in York, United Kingdom. We have been trading successfully online since 2009 and work with some of the most famous brands in the business. We carefully select our partners to ensure that the publications meet expectations of demanding customers.
1health.io, 2cureX, 3a-diagnostics, 3M, 3PrimeDx, 10X Genomics, 20/20 GeneSystems, 23andMe, 36 Strategies General Trading, A*STAR Institute of Microelectronics (IME), AB Analitica, Abaxis, Abbott Laboratories, Abbott Rapid Diagnostics, Abcam, Abionic, Abnova, Access BIO, Accurate Diagnostic Laboratories, Accuscience, AceCGT Life Science, Achaogen, ACON Biotech, Acon Labs, Actelion, Adaptive Phage Therapeutics, Adeptrix, Adial Pharmaceuticals, ADT Altona Diagnostic Technologies, Advanced Biological Laboratories, Advanced Cell Diagnostics, Advanced Cooling Therapy, Advanced Dermatology and Cosmetic Surgery Group, Advanced Liquid Logic, Advanced Technology Company, Aegea Biotechnologies, Aerocrine, Aethlon Medical, Affymetrix, Africa Centres for Disease Control and Prevention, Africa Medical Supplies Platform, Africa Union, Agena Bioscience, Agendia, Agilent Technologies, AID Genomics, AI Metrics, Air Force General Hospital, AirStrip Technologies, AIT Laboratories, Akers Biosciences, Akonni Biosystems, Akribis Systems, AKSA Medical, Alab, Alcanna, Alere, Algenex, AliveCor, ALK-Abello, AllerGenis, Alliance Pharma, Alltests Clinical Solutions, Almac Diagnostics, Alphaeon, ALR Technologies, Alveo Technologies, Al Zahrawi Medical Supplies, Amarantus BioSciences, AMDL Diagnostics, A Menarini Diagnostics, America's Choice Provider Network, American Medical Depot, American Pathology Partners, American Red Cross, Amgen, Amil Participacoes, AmpTec, AMRA, AMS, Amydis, Angel Biomedical, Anixa Biosciences, Anpac Bio-Medical Science, ANP Technologies, Aperio Technologies, Apollo Med Innovations, Appistry, Apple, Appleton Medical Services, Applied DNA Sciences, Applied Spectral Imaging, Appriss Health, Aptagen, Aradigm, ArcherDX, Arches Research, Ares Genetics, Areum Bio, Argos Soditic, Ariana Pharma, Ariosa Diagnostics, Arizona State University, ARK Diagnostics, Arkray, Arkray USA, Armed Forces Medical Research Institute, Arno Therapeutics (inactive since 2017), Arquer Diagnostics, Arterial Health International, ARUP Laboratories, Asieris MediTech, AspenBio Pharma, ASPiRA Labs, Association for Frontotemporal Degeneration, Assut, AstraZeneca, AstraZeneca HealthCare Foundation, Astute Medical, Asuragen, ATGen Global, Atomo Diagnostics, Austrian Institute of Technology, Avacta, Avalon GloboCare, AvantGen, Avellino Labs, AVL Sofia, Avrobio, Axonlab, AyoxxA Biosystems, Aytu BioPharma, Babson Diagnostics, Baker IDI Heart and Diabetes Institute, Banc De Sang I Teixits, Banyan Biomarkers, Barbara Davis Center, BASF, Battelle, Baxter International, Bayer, Bayer Healthcare, Baylor College of Medicine, Beaujon Hospital, Beckman Coulter, Becton Dickinson, Beddit, Beijing Clear Biotech, Beijing Leadman Biochemistry, Beijing Yuan Jian Health Management, Beroni Group, Bestmed, Best Supplies, Better Living Now, Beurer, Bill and Melinda Gates Foundation, Binx Health, Bio-Asia Diagnostics, Bio-Manguinhos, Bio-Rad Laboratories, Bio-Techne, bioAffinity Technologies, BioCanna Healthcare, Biocare Medical, Biocartis, Biocept, BioChain, Biochemmack, Biocom Purchasing Group, Biocortech, Biodesix, BioFire Diagnostics, BioFront Technologies, BIOgenetiX, BioGen Medical, Biohit, BioIQ, Biokit, BioLab Sciences, BioMarker Strategies, Biomedical Advanced Research and Development Authority, BIOMEDX Group, BioMed X Innovation Center, bioMerieux, Biomiga Diagnostics, Biomnis, Bioportugal Quimica Farmaceutica, BioReference Laboratories, Biosearch Technologies, BioSyntagma, Biotage, BioTecon Diagnostics, BioTelemetry, BioVendor, Bioventix, Biozym Scientific, Bird Foundation, Blood Centers of America, Bluejay Diagnostics, BMV Medica, Bode Technology, Boditech Med, Boehringer Ingelheim Vetmedica, Bonnie J. Addario Lung Cancer Foundation, Boston Scientific, Boston University, Boston University School of Medicine, Breakthrough Diagnostics, Bristol-Myers Squibb, Broad Institute, Brown University, Bruker, Bruker Daltonics, Burnet Institute, BVT Technologies, C2N Diagnostics, Cambridge Bioscience, Cambridge Cognition, Cambridge Consultants, Cancer Cytogenomics Microarray Consortium, Cancer Genetics, Canon U.S. Life Sciences, Capnia, Caputron Medical, CARB-X, Cardiac Science, Cardinal Health, CardiNor, CardioDx, CardioLogic, Cardiorentis, CareDx, Care GB Plus, Carl Zeiss Meditec, Carolina Liquid Chemistries, Carter BloodCare, Case Western Reserve University, CBD Vida, Cedars-Sinai Medical Center, Celgene, Cellex, Cellgen Diagnostics, Cell Marque, Cellmid, CellSafe, Celltrion, Centaur, Centene, Center for Connected Health, Center for Human Genetics and Laboratory Medicine, Centers for Disease Control and Prevention, Centogene, Cepheid, Cernostics, Chembio Diagnostics, Children's Hospital Boston, Children's Hospital Oakland Research Institute (CHORI), Chun Fo Pharmaceutical, Cilag AG, CIRCA Scientific, Cisbio Bioassays, Clarity Pharmaceuticals, Cleared4, Cleveland Clinic, Clinical Enterprise, Clinical Genomics, Clinical Reference Laboratory, CliniSciences, Clinton Health Access Initiative, Clovis Oncology, CLX Health, CNC Biotech, Co-Defend, Co-Diagnostics, Collagen Solutions Plc, Collective Medical, Columbia University, CombiMatrix, Common Sense, Commonwealth Laboratories, Companion Dx Reference Lab, Companion Medical, Compumedics, Confirm BioSciences, Copan Diagnostics, Corgenix Medical, Coriell Institute for Medical Research, Coronado Biosciences, Corvida Medical, Corvium, CPT Medical, CQuentia, C R Bard, Creative Biolabs, Creative Diagnostics, Critical Diagnostics, Crown Dental + Medical, Cruinn Diagnostics, Cue Health, Curative, Curetis, Cylex, Cynvenio, Cytiva, CytoVale, Cytovas, Cytox, DaAn Gene, Dako, Daktari Diagnostics, Dana-Farber Cancer Institute, DarioHealth, DaRui Biotech, DASA, DaVita HealthCare Partners, Daxor, DCN Diagnostics, Debiopharm, Decision Diagnostics, deCODE Genetics, Defense Advanced Research Projects Agency, Defense Threat Reduction Agency, Dehaier Medical Systems, DenMat Holdings, Department of Defense, Department of Health and Human Services, Department of Veterans Affairs, Dermpath Diagnostics, DermTech, DexCom, DiaCarta, Diagenode, DiagnoCure, Diagnostic Hybrids, Diagnosticos da America, Diasend, DiaSorin, DiaSorin Trivitron Healthcare, Diassess, Diasys Diagnostics Systems, Diatherix, Diatron Messtechnik, Diaxonhit, DigiPath Solutions, Digital Diagnostics, DKSH, DNAnexus, Doping Control Center, Dr Ho Now Health Products, Duke Medical, Duke University, DuPont, DxNA, DxTerity, Dynacare Laboratories, Dynasty Castle Investments, E25Bio, EarlySense, Easton Pharmaceuticals, EchoPixel, Echosens, Eckerd College, Ecole Polytechnique Federale de Lausanne, Eddingpharm, Eiken Chemical, Eisai, EKF Diagnostics, EKF Diagnostics (Germany), Eldan, Ellerca Health, Ellume, EMD Millipore, eMed, Emergo Group, Empatica, Enable Biosciences, Ender Diagnostics, Endocanna Health, Endotronix, Enterome Bioscience, Enzo Biochem, Enzo Clinical Labs, Epigenomics, Epitomics, Epizyme, Eppendorf, Erasmus University Medical Center, Eureka Eurostars, Eurobio, Eurofins Genomics, Eurofins LifeCodexx, Eurofins Scientific, European Commission, European Network for Translational Research in Atrial Fibrillation (EUTRAF), Event Cardio Group, Everly Health, EverlyWell, Evogen, Exact Imaging, Exagen Diagnostics, Exalenz Bioscience, ExonHit Therapeutics, Exosome Diagnostics, Exosome Sciences, ExoStat Medical, Expedeon, Eyesense, Ez Sleep Technologies, FABPulous, Facebook, Farla, Felkasta JSC, Ferring Pharmaceuticals, Fio, First Check Diagnostics, Fisher Healthcare, FitBit, Fleming Fund, Flemish agency for Innovation by Science and Technology, Flirtey, Fluidigm, Fluxergy, Fluxion Biosciences, Fondamental, Food and Drug Administration National Center for Toxicological Research, Fortelinea Software Systems, Fosun Pharmaceutical, Foundation for Innovative New Diagnostics, Foundation Medicine, Fraunhofer Institute for Microelectronic Circuits and Systems, Freie Universität Berlin, Fresenius Kabi Pharmaceuticals, Fujikura Kasei, Fujirebio Diagnostics, Fukuda Denshi, Fulgent Genetics, Future Diagnostics, G42 Healthcare, Galapagos, Galectin Therapeutics, Gamma Therapeutics, Gaur Diagno, GBS, Gedeon Richter, GE Healthcare, Gen-Probe, Genalyte, GenCell Biosystems, Genelabs Technologies, GeneNews, Genentech, Generex Biotechnology, Geneseeq, Genetic Analysis, Genetic Technologies, GenMark Diagnostics, Genoma, Genomic Health, Genomics England, Genomic Testing Cooperative, GenScript Biotech, GensKey Medical Technology, Gentag, GenTegra, George Mason University, George Washington University, German Cancer Research Center, GHR Foundation, GIMDx, Ginkgo BioWorks, Global Discovery Biosciences, Global Dx, Global Good Fund, Global WholeHealth Partners, Glooko, GlySens, Glytec, GNA Biosolutions, Gnomegen, GNS Healthcare, GNYHA Services, Good Start Genetics, Google, Government of Canada, Gravity Diagnostics, Greenfield Global, Greiner Bio-One, Grifols, Group K Diagnostics, Guangzhou Pharmaceutical Group, Guardant Health, Guided Therapeutics, GuoMinXinHe Investment Fund, Gyros Protein Technologies, Halozyme Therapeutics, Hamilton Robotics, Hamner Institutes for Health Sciences, Hartford HealthCare, Harvard Bioscience, HeadSense Medical, Healgen Scientific, Health-Chem Diagnostics, Healthcare 21, Health Logic Interactive, Health Network Laboratories, Healthsense, Healthvana, HeartGenetics, Helix, HelixBind, Hememics Biotechnologies, Hemex Health, HemoCue, Henry M. Jackson Foundation, HepQuant, Hepregen, Herzog Surgical, HiberGene Diagnostics, HighRes Biosolutions, Hob Diagnostics, Hologic, Hong Kong Polytechnic University, Hoowaki, Horizon 2020, Horizon Discovery, Horizon Therapeutics, Hoth Therapeutics, HTG Molecular Diagnostics, Huakang Biomedical, Human Longevity, Hvidovre Hospital, Hygea Precision Medicine, Hyglos, I-MED Pharma, IBA, iBIO Institute's PROPEL Center, Icahn School of Medicine at Mount Sinai, IDEAS DWC, IDenta, Idera Pharmaceuticals, ii Ventures, Illumina, IMDEA Food, IMI, ImmunArray, Immuno Diagnostic, Imperial College London, Inagene Diagnostics, IncellDx, InDi Molecular, Infectolab Americas, Infinity BiologiX, Infinovo Medical, Inflammatix, InGen BioSciences, Inivata, Innova Biosciences, Innovation Zed, Innovative Diagnostic Laboratory, Innovus Pharmaceuticals, Inova Translational Medicine Institute, Inserm, Insight Genetics, Institut Curie, Institut De Recherche Pour Le Developpement (IRD), Institute for Commercialization of Public Research, Institute for Global Food Security, Institute for Translational Oncology Research, Institute of Medical Microbiology, Institute of Molecular Biology of Paraná (IBMP), Institut Gustave Roussy, Institut National Recherche Agronomique, Insulet, Integrated Computer Solutions, Integrated Diagnostics, Integrated DNA Technologies, Integrated Sciences, Integrity Applications, Intelligent Medical Devices, Intramedic, Intrinsic LifeSciences, Invetech, Invitae, InVivoScribe, Ionis Pharmaceuticals, Iowa State University, IPMD, IQ-AI, IQ Products, iRhythm Technology, ISIS Innovation, Israeli National Authority for Technological Innovation, Istituto Diagnostico Varelli, Itamar Medical, IVD Bulgaria, Jan Medical, Janssen Biotech, Janssen Pharmaceuticals, Janssen Pharmaceutica NV, Janssen Research & Development, Johns Hopkins University, Johnson & Johnson Innovation, Johnson & Johnson Vision, John Wayne Cancer Institute, Joint Venture Partner Group, Jubilant Radiopharma, Kantaro Biosciences, Karius, Katalyst Diagnostics, Kinetic Concepts, KingMed Diagnostics, Kings College London, Kirkegaard and Perry Laboratories, KMG International, Knome, Know Labs, Konica Minolta, Kore, Kuwait Government, L1 Enterprises, L1 Systems, Lab21, Labco, Labmedicin Skane, Laboratoire Cerba, Laboratorios LETI, Laboratory Corporation of America, Laboratory Supply Company (LABSCO), Laboratory Viollier, LabPro, LabStyle Innovations, LamdaGen, Lark Technologies, Launch Diagnostics, LDR Holding, LED Medical Diagnostics, Lee's Pharmaceutical, Leica Biosystems, Leica Microsystems, Leidos Holdings, Leukocare, Lexent Bio, LifeArc, Life Biomedical, LifeCaring Technologies, LifeCell, LifeCodexx, LifeLabs Medical Laboratory Services, LifeScan, Life Technologies, Life Technologies Corporation, Life Technologies DaAn Diagnostics, LifeWatch Services, LightDeck Therapeutics, Lineagen, LipoScience, LivaNova, Liverpool School of Tropical Medicine, Living Heart Foundation, Livongo Health, Lobo Genetics, Longhorn Vaccines and Diagnostics, Lonza, Lucence, Lucid Diagnostics, Lucira Health, Luminex, Lumiphore, LumiraDx, Lumos Diagnostics, Lunaphore, Lutheran Medical Center, Lyra Health, Mabtech, MagBioSense, Magentine, MagnaCare, MagneMotion, Magnet Sales and Manufacturing, Makerere University, Maritim, Marken, Masimo, Massachusetts General Hospital, Massachusetts Institute of Technology, Massachusetts Life Sciences Center, Mass General Brigham, Masterlab, Materia, Matrix-Bio, Matrix Medical Network, Maverick Health, Maxim Biomedical, Mayo Clinic, Mayo Medical Laboratories, MBio Diagnostics, McKesson, MD Anderson Cancer Center, MDL Asia, MDxHealth, MediBeacon, Medibio, Medical College of Wisconsin, Medical Marijuana, Medical Research Foundation, Medicinal Genomics, Medicon Hellas, Medicyte, Medidata Solutions, Medigus, Medimass, MediReva, Medisur, Medivo, MedMira, Medtronic, Medusa19, Medx, Meenta, Mellitus, Memorial Sloan Kettering Cancer Center, Memory Dx, Menarini, MentisCura, Merck and Co, Meridian Bioscience, Meridian Health Services Network, Mesa Biotech, Mesa Laboratories, Metabolon, Metafora Biosystems, Methapharm, Metro Health, Mexico Government, MGC Diagnostics, MicrobeDx, MicroCoat Biotechnologie, Microdrop, MicroGEM, Micropoint Bioscience, MicroPort Scientific, Microprofit Biotech, MikroLink, Ministry of Health (Brazil), Ministry of Health (Saudi Arabia), Minnesota Health System, Minute Molecular Diagnostics, Miraca Life Sciences, Mirimus, Mitani Sangyo, Mitobridge, Mitsui, Mobidiag, Modernizing Medicine, Molecular Detection, MolecularMD, Mologic, Monsanto, Morgridge Institute for Research, MOR Institute for Medical Data, Mortara Instruments, Motic, Mount Sinai Health System, MyLabBox, Mylan Laboratories, N-of-One, Naka International, Nanobeak, Nanommune, NanoMosaic, NanoPin Technologies, NanoSpeed Diagnostics, NanoString Technologies, Nanowear, Narayana Nethralaya Foundation, NASA, NASH Network, Natera, National Cancer Institute, National Center for Advancing Translational Sciences (NCATS), National Center for Foreign Animal and Zoonotic Disease Defense, National Heart, Lung and Blood Institute, National Institute for Environmental Health Sciences, National Institute for Innovation in Manufacturing Biopharmaceuticals, National Institute for Public Health and the Environment, National Institute of Allergy and Infectious Diseases, National Institute of Child Health and Human Development, National Institute of Diabetes and Digestive and Kidney Diseases, National Institute of Neurological Disorders and Stroke, National Institute of Standards and Technology, National Institute on Aging, National Institutes of Health, National Research Council Canada, National Science Foundation, Nationwide Laboratory Services, Naval Medical Logistics Command, Navidea Biopharmaceuticals, Navy Medical Research Centre, Nemaura Medical, Neogen, NEO New Oncology, Neoteric Technology, Nephron Pharmaceuticals, Neuro Kinetics, NeuroMetrix, Neurosoft, Neurotrack, Neurovirtual, NewBridge Pharmaceuticals, New England Biolabs, New Jersey Urology, Newly Institute, Newmars Group, New York City Health and Hospital, New York University, NextCODE Health, NextGxDx, NG Biotech, Nicox, Nicoya, Nima, Nimble Therapeutics, Nipro Corporation, Nipro Diagnostics, NLC Pharma, NMI Natural and Medical Sciences Institute, Nonacus, Nordic Biolabs, Nordic Diagnostica, North Carolina Biotechnology Center, North Carolina State University, Northern Diagnostics, North Georgia Healthcare, NovaBay Pharmaceuticals, NovaMedica, Novartis, Novartis Vaccines and Diagnostics, Novation, Noviosense, Novoheart, Novo Integrated Sciences, NOWDiagnostics, Nuclea Biotechnologies, Nucleix, numares, NuProbe, NxGEN MDx, Oasis Diagnostics, Ohio Department of Development, Ohio State Innovation Foundation, Ohio State University, Oklahoma Medical Research Foundation, Olive Labs, OmeCare, Omixon, OmniPathology, Omron, Oncgnostics, Oncimmune, One BioMed, One Drop, One Medical, Ontario Institute for Cancer Research, Ontera, OPKO Health, Optimed, Opto-Systems, OraSure Technologies, Oregon Health Sciences University, OrigiMed, Orion Bionetworks, Orion Diagnostica Oy, Orot+, OrSense, Ortho-Clinical Diagnostics, Osteolabs, Oswaldo Cruz Foundation (Fiocruz), Otsuka, Otsuka America Pharmaceutical, OvaMed, Owlstone Medical, Oxford Gene Technology, Oxford Immunotec, Oxford Nanopore Technologies, Oxgene, Pacific BioScience of California, Pacific Biosciences, PAI, Pan Probe Biotech, Pansend, Paradigm, PathogenDx, PathoGene, PathoGenetiX, Pathogenica, Pathway Diagnostics, Pathwork Diagnostics, Paul G Allen Family Foundation, PAVmed, Pax Neuroscience, Perceptive Imagineering, Perinatal Quality Foundation, Peripal, PerkinElmer, Personal Genome Diagnostics, Perspectum Diagnostics, Perthera, Pfizer, Pharma Tech Solutions, PharmLogic, Pharmsynthez, Phosphorus Genomics, Photocure ASA, Physician's Choice Laboratory Services, Pierre Fabre, Pillar Biosciences, Pippa Mann, PixCell Medical, Plexus, Polymedco, Polymer Technology Systems, PositiveID, PreCheck, Precision Biomonitoring, PredictImmune, Premier Inc, Premier Purchasing Partners, Prenetics, Preora Diagnostics, Prescient Medical, Pressure BioSciences, Prevencio, Preventice, PreventionGenetics, Previon, Primary Bio, Primeradx, Pro-gard Products, Probe Scientific, Procaps, ProciseDx, Progentec Diagnostics, Pro Med Diagnostics, Promega, ProNova, ProPath, Prostate Cancer Foundation (PCF), Protagen, Providence Saint John's Health Center, Public Health England, Q-linea AB, Qiagen, QMC HealthID, Quanterix, QuantumDx, Quaphaco, Quest Diagnostics, Quidel, QuiO Technologies, Quotient Biodiagnostics, Quotient Bioscience, Racer Technology, Radboud University Nijmegen Medical Centre, Radient Pharmaceuticals, Raiing Medical, Rainbow BioSciences, Rancho BioSciences, Randox Laboratories, Rapid Dx Laboratory, RayBiotech, Redcoat Solutions, Regenstrief Institute, Regis Technologies, Relay Medical, Remote Medical International, RenalytixAI, Renegade Bio, Renishaw Diagnostics, Respiratory Motion, Response Biomedical, Restech, Reszon Diagnostics, Revon Systems, Ridge Diagnostics, Riken Genesis, Robert H. Lurie Comprehensive Cancer Center, Roche, Roche Diagnostics, Roka Bioscience, Romer Labs, Royal Philips Electronics, Rubicon Genomics, Rutgers University, Sagentia, Saladax Biomedical, Salk Institute, Samsung Electronics, Sanvita, Savonix, Saxonia Diagnostics, Scanwell Health, Schnitzler Cardiovascular Consultants, Schott, SciBase, Scienion, SD Biosensor, SDIX, Seattle Childrens Research Institute, Sebia, Secant Medical, Securiport, Seegene, Sekisui Diagnostics, SeLux Diagnostics, Semiotik, Senseonics, Sensible Medical Innovations, Sensifree, Sensocure, Sentio, Sequenom, Sequenta, Seracare Life Sciences, Seventh Sense Biosystems, Shandong Yingsheng Biotechnology, Shanghai Elite Biotech, Shanghai Fosun Long March Medical Science, Shanghai Industrial µTechnology Research Institute (SITRI), Shanghai Nanodigmnio Biotechnology, Sherlock Biosciences, Shuwen Biotech, Siemens Healthcare, Siemens Healthcare Diagnostics, Siemens Healthineers, Singapore Eye Research Institute (SERI), Singulex, Sintact Medical Systems, SkylineDX, Skyline Urology, SmartGene, Smart Meter, Sona Nanotech, Sony DADC, Sopachem, Sorrento Therapeutics, Spartan Bioscience, Spectrum Solutions, SpeeDx, Spinomix, Spirosure, Spot on Sciences, SQI Diagnostics, SRI International, Stago, Stanford University, Statens Serum Institute, Stellar Technologies, Stemcell Technologies, St Georges University of London, Stony Brook University, Stop TB Partnership, Stratatech, STRATEC Biomedical Systems AG, Sugentech, Sumocor, Sunnybrook Health Sciences Centre, Sunrise Medical Laboratories, Susan G. Komen for the Cure, Swift Biosciences, SYGNIS Pharma, Symcel, SynapDx, Synthetic Biologics, Systagenix Wound Management, SystemOne, T2 Biosystems, Taconic, Takara Bio USA, Talecris Biotherapeutics, Talis Biomedical, Tandem Diabetes Care, Tangen Biosciences, Target Discovery, Tauriga Sciences, TB Alliance, TBG Management, Tecan, Technogenetics, Technology Strategy Board (UK), Telenatal, Tempus, TeraRecon, Teva Pharmaceutical Industries, Texas AgriLife Research, The Biodesign Institute, The Doctors Laboratory, The Native Antigen Company, Theorem Clinical Research, Theradiag, Theralink Technologies, Theranostica, Thermo Fisher Scientific, Three Rivers Provider Network, Threshold Pharmaceuticals, Tika Diagnostics, Tocagen, Todos Medical, Tokra Medikal, Toronto Innovation Acceleration Partners, Total Testing Solutions, TPMENA, Transgenomic, Tried & Tested, Trillium Diagnostics, Trivector Biomed, Trivitron Healthcare, True Diagnostics, True North Laboratory, Truepill, TTP Group, Tucker Medical, Tulane University, Tute Genomics, Two Pore Guys, U-Diagnostics, U.K. Department for International Development, Ubiquitome, UCB, UK Government, Ultramedix Australasia, Unilab, Unilabs, United Nations Children Fund, United States Agency for International Development, Universal Biosensors, University College Dublin, University College London, University Hospital Heidelberg, University of Arkansas, University of Bradford, University of Bristol, University of California Berkeley, University of California Santa Barbara, University of Cambridge, University of Florida, University of Hong Kong, University of Illinois, University of Manchester, University of Medicine and Dentistry of New Jersey (UMDNJ), University of Michigan, University of Minnesota, University of Ottawa, University of Oxford, University of Pennsylvania, University of Rhode Island, University of Southampton, University of Sunderland, University of Texas Health SCience Center at San Antonio, University of Washington, University of Wisconsin-Madison, University Pierre Marie Curie, UPS Supply Chain Services, UrSure, US Army, US Army Medical Research Institute of Infectious Diseases, US Department of Agriculture, US Government, US Navy, Valeant Pharmaceuticals, Vantage Health, Vault Health, Vela Diagnostics, Velox Biosystems, Ventana Medical Systems, Venter Pharma, Veravas, Verax Biomedical, Veridex, Verily, Verinata Health, Vida Diagnostics, Vigilant Biosciences, ViiV Healthcare, ViraCor Laboratories, Viral Hemorrhagic Fever Consortium, Virocule, Visby Medical, Visiometrics, VisionQuest Biomedical, Visualant, Vital Connect, ViveBio, Vivera Pharmaceuticals, Vivione Biosciences, VivoSense, VolitionRX, Volk Optical, Volpara Solutions, VOTIS Subdermal Imaging Technologies, VWR International, Vyaire Medical, Vyripharm, Walter Reed Army Institute of Research, WanJiaYuan International Geriatric Hospital, Waters Corporation, WaveForm Technologies, Wellbridge Health, Wellcome Trust, Windsor Pharmaceuticals, WinterLight Labs, Womack Army Medical Center, Woom, Wuhan Kindstar Diagnostics, WuXi Biologics, Wyss Institute, XaTek, XCellCure, Xention, XPhyto Therapeutics, Xtrava Health, Yale School of Medicine, Yale University, Yashraj Biotechnology, YBUX, YuYu Pharma, Zeus Scientific, Zoetis, Zora Biosciences, zPREDICTA, zSpace, Zymo Research
Current Partnering reports provide insight into the trends and terms of partnering deals in the global life sciences sector.
Current Partnering reports are updated every six months to ensure the user has access to the latest announcements and trends in the topic focus of the report.
Current Partnering analysts review the deal data to provide an overview and analysis of deal trends, including example deals and terms.
Current Partnering reports source deal data from our proprietary deals and alliances database, Current Agreements. The database is updated daily by our analysts with new deals as they are announced globally by the company's party to the deal. In addition, deal records are updated with new data as it becomes available.
The data in the Current Agreements deals and alliances database is obtained from secondary sources such as publicly available industry sources including press releases, company presentations, investor presentations, company SEC filings, other company filings, company websites, conference presentations. Sources are identified to allow for user verification.
Current Partnering provides comprehensive coverage of the following partnering or deal types:
• Asset purchase
• Assignment
• Co-development
• Co-market
• Co-promotion
• Collaborative R&D
• Contract service
• CRADA
• Cross-licensing
• Development
• Distribution
• Equity purchase
• Evaluation
• Grant
• Joint venture
• Licensing
• Loan
• Manufacturing
• Marketing
• Option
• Promotion
• Research
• Royalty financing
• Settlement
• Spin out
• Sub license
• Supply
• Termination
• Warrant
Every deal record is fully categorized and includes the following data, where available:
• Industry sector
• Therapy areas
• Technology type
• Deal components
• Financial terms
• Stage of development
• Exclusivity
• Asset type
• Geographic focus
• Excluded geography
• Company press release
• SEC filing data including contract document
All financial amounts are converted to US$ using the exchange rate available on the date of deal announcement, enabling direct comparison of deal terms across international territories.
Financial data and contract documents displayed in deal records is obtained from public sources, where disclosed by the parties to the deal.
We found other products you might like!