Global Manufacturing and Supply Partnering Terms and Agreements in Pharma, Biotech and Diagnostics 2014-2021
The Global Manufacturing and Supply Partnering Terms and Agreements in Pharma, Biotech and Diagnostics 2014 - 2021 report provides comprehensive understanding and unprecedented access to the manufacturing and supply agreements entered into by the world's biopharma companies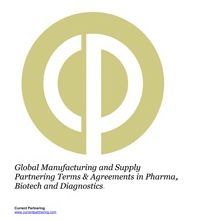 Publication date
October 2021
Product type
Research report
Available formats
PDF document
The Global Manufacturing and Supply Partnering Terms and Agreements in Pharma, Biotech and Diagnostics 2014-2021 report.
This report provides details of the latest manufacturing and supply agreements announced in the pharmaceutical, biotechnology, device and diagnostic sectors. Fully revised and updated, the report provides details of manufacturing and supply agreements from 2014 to 2021.
The report provides a detailed understanding and analysis of how and why companies enter manufacturing and supply deals.
A supply or manufacturing agreement is normally between a product manufacturer and product owner in which an owner outsources the manufacture and supply of its product(s) to the service company in a defined territory.
Manufacturing and supply agreements provide a popular method of maximizing the value of a product launched into a market. The deals allow the product marketer to focus on its sales and marketing efforts whilst relying on a third party to manufacture and supply product on demand, enabling rapid response to market demands. It also ensures that the marketer does not need to invest in costly infrastructure and expertise ahead of knowing whether the product will be successful or sustainable.
Understanding the flexibility of a prospective partner's negotiated deals terms provides critical insight into the negotiation process in terms of what you can expect to achieve during the negotiation of terms. Whilst many smaller companies will be seeking details of the payments clauses, the devil is in the detail in terms of how payments are triggered – contract documents provide this insight where press releases and databases do not.
This report contains a comprehensive listing of manufacturing and supply deals announced since 2014 as recorded in the Current Agreements deals and alliances database, including financial terms where available, plus links to online copies of actual manufacturing and supply contract documents as submitted to the Securities Exchange Commission by companies and their partners.
Contract documents provide the answers to numerous questions about a prospective partner's flexibility on a wide range of important issues, many of which will have a significant impact on each party's ability to derive value from the deal.
The initial chapters of this report provide an orientation of manufacturing and supply deal making and business activities. Chapter 1 provides an introduction to the report, whilst chapter 2 provides an analysis of the trends in manufacturing and supply deal making as well as a discussion on the merits of the type of deal.
Chapters 3 and 4 provide an overview of the structure of manufacturing and supply deals. The chapter includes numerous case studies to enable understanding of both pure manufacturing and supply deals and multicomponent deals where manufacturing and supply forms a part.
Chapter 5 provides a review of the leading manufacturing and supply deals since 2014. Deals are listed by headline value. Where the deal has an agreement contract published at the SEC a link provides online access to the contract via the Current Agreements deals and alliances database.
Chapter 6 provides a review of the top 25 most active biopharma companies in manufacturing and supply. Where the deal has an agreement contract published at the SEC a link provides online access to the contract via the Current Agreements deals and alliances database.
Chapter 7 provides a comprehensive and detailed review of manufacturing and supply deals signed and announced since 2014 where a contract document is available. Each deal title links via Weblink to an online version of the actual contract document, providing easy access to each contract document on demand.
The report includes deals announced by hundreds of life science companies including big pharma such as Abbott, Abbvie, Actavis, Amgen, Astellas, AstraZeneca, Baxter, Bayer, Biogen Idec, BMS, Celgene, Eisai, Eli Lilly, Gilead, GSK, J&J, Kyowa Hakko, Merck, Mitsubishi, Mylan, Novartis, Pfizer, Roche, Sanofi, Shire, Takeda, Teva, and Valeant, amongst many others.
The report also includes numerous table and figures that illustrate the trends and activities in manufacturing and supply deal making since 2014.
In addition, a comprehensive appendix is provided organized by manufacturing and supply company A-Z, stage of development, therapeutic target, technology type and deal type definitions. Each deal title links via Weblink to an online version of the deal record and where available, the contract document, providing easy access to each contract document on demand.
In conclusion, this report provides everything a prospective dealmaker needs to know about manufacturing and supply partnering in the research, development and commercialization of technologies and products.
Key benefits
Global Manufacturing and Supply Partnering Terms and Agreements in Pharma, Biotech and Diagnostics 2014-2021 provides the reader with the following key benefits:
In-depth understanding of manufacturing and supply deal trends since 2014
Analysis of the structure of manufacturing and supply agreements with real life case studies
Comprehensive access to actual manufacturing and supply deals entered into by the world's biopharma companies
Detailed access to actual manufacturing and supply deals entered into by the leading twenty five bigpharma companies
Comprehensive access to all manufacturing and supply deals entered since 2014
Insight into the terms included in a manufacturing and supply agreement, together with real world clause examples
Understand the key deal terms companies have agreed in previous deals
Undertake due diligence to assess suitability of your proposed deal terms for partner companies
Report scope
Global Manufacturing and Supply Partnering Terms and Agreements in Pharma, Biotech and Diagnostics 2014-2021 is intended to provide the reader with an in-depth understanding of the manufacturing and supply trends and structure of deals entered into by pharma, biotech, device and diagnostics companies worldwide.
Global Manufacturing and Supply Partnering Terms and Agreements in Pharma, Biotech and Diagnostics 2014-2021 includes:
Trends in manufacturing and supply dealmaking in the biopharma industry since 2014
Analysis of manufacturing and supply deal structure
Case studies of real-life manufacturing and supply deals
Access to manufacturing and supply deal records covering pharma, biotech, devices and diagnostics since 2014
The leading manufacturing and supply deals by value since 2014
Most active manufacturing and supply dealmakers since 2014
The leading manufacturing and supply partnering resources
In Global Manufacturing and Supply Partnering Terms and Agreements in Pharma, Biotech and Diagnostics 2014-2021, the available deals are listed by:
Company A-Z
Headline value
Stage of development at signing
Therapeutic area
Technology type
Each deal title links via Weblink to an online version of the actual deal record, providing easy access to each contract document where available.
The Global Manufacturing and Supply Partnering Terms and Agreements in Pharma, Biotech and Diagnostics 2014-2021 report provides comprehensive access to available records for maufacturing and supply deals, including contract documents where available. Analyzing actual contract agreements allows assessment of the following:
What are the precise rights granted or optioned?
What is actually granted by the agreement to the partner company?
What exclusivity is granted?
What is the payment structure for the deal?
How are sales and payments audited?
What is the deal term?
How are the key terms of the agreement defined?
How are IPRs handled and owned?
Who is responsible for commercialization?
Who is responsible for development, supply, and manufacture?
How is confidentiality and publication managed?
How are disputes to be resolved?
Under what conditions can the deal be terminated?
What happens when there is a change of ownership?
What sublicensing and subcontracting provisions have been agreed?
Which boilerplate clauses does the company insist upon?
Which boilerplate clauses appear to differ from partner to partner or deal type to deal type?
Which jurisdiction does the company insist upon for agreement law?
Global Manufacturing and Supply Partnering Terms and Agreements in Pharma, Biotech and Diagnostics 2014-2021 report provides the reader with the following key benefits:
In-depth understanding of manufacturing and supply partnering deal trends since 2014
Insight into the terms included in a manufacturing and supply agreement, together with real world clause examples
Identify leading manufacturing and supply deals by value since 2014
Identify the most active manufacturing and supply dealmakers since 2014
Analysis of key deal financials including headline value, upfront, milestone payments and royalty rates
Full listing of manufacturing and supply deals by company A-Z, deal value, phase of development, deal type, therapy and technology focus
Comprehensive access to manufacturing and supply deals entered into by the world's biopharma companies, together with contract documents if available
Detailed access to actual manufacturing and supply contracts entered into by the leading twenty five big pharma and big biotech companies
Understand the key deal terms companies have agreed in previous deals
Undertake due diligence to assess suitability of your proposed deal terms for partner companies
Executive Summary
Chapter 1 – Introduction
Chapter 2 – Trends in manufacturing and supply deal making
2.1. Introduction
2.2. Difference between manufacturing and supply deals
2.3. Trends in manufacturing and supply deals since 2014
2.3.1. Manufacturing and supply deal making by year since 2014
2.3.2. Manufacturing and supply deal making by phase of development since 2014
2.3.3. Manufacturing and supply deal making by industry sector since 2014
2.3.4. Manufacturing and supply deal making by therapy area since 2014
2.3.5. Manufacturing and supply deal making by technology type since 2014
2.3.6. Manufacturing and supply deal making by most active company since 2014
2.3.7. When supply can be useful
2.4. Attributes of pure manufacturing and supply deals
2.5. Attributes of manufacturing and supply in multi-component deals
2.6. Reasons for including manufacturing and supply options in a multi-component deal
2.7. The future of manufacture and supply as part of multicomponent deals
Chapter 3 – Overview of manufacturing and supply deal structure
3.1. Introduction
3.2. Pure versus multi-component manufacturing deals
3.3. Pure manufacturing agreement structure
3.3.1. Example manufacturing agreements
3.3.1.a. Case study 1: Amyris Brazil – Biomin Nutricao Animal Do Brasil
3.3.1.b. Case study 2: Patheon – Orexigen Therapeutics
3.4. Manufacturing rights as part of a wider alliance agreement
3.4.1. Example multicomponent manufacturing clauses
3.4.1.a. Case study 3: Agenus Bio – NewVac
3.4.1.b. Case study 4: Elite Pharmaceuticals – Hi-Tech Pharmacal
Chapter 4 – Overview of supply deal structure
4.1. Introduction
4.2. Supply agreement structure
4.2.1. Example supply agreements
4.2.1.a. Case study 5: Omthera Pharmaceuticals – Catalent Pharma solutions
4.2.1.b. Case study 6: Endo Pharmaceuticals – Noramco
4.3. Supply rights as part of a wider alliance agreement
4.3.1. Example co-marketing right clauses
4.3.1.a. Case study 7: Auxilium Pharmaceuticals – Asahi Kasei
4.3.1.b. Case study 8: Durata Therapeutics - Hospira
Chapter 5 – Leading manufacturing and supply deals
5.1. Introduction
5.2. Top manufacturing and supply deals by value
Chapter 6 – Top 25 most active manufacturing and supply dealmakers
6.1. Introduction
6.2. Top 25 most active manufacturing and supply dealmakers
Chapter 7 – Manufacturing and supply deals contract directory since 2014
7.1. Introduction
7.2. Manufacturing and supply deals with contracts since 2014
Appendices
Appendix 1 – Manufacturing and supply deals by company A-Z
Appendix 2 – Manufacturing and supply deals by stage of development
Appendix 3 - Manufacturing and supply deals by deal type
Appendix 4 – Manufacturing and supply deals by therapy area
Appendix 5 – Manufacturing and supply deals by technology type
Appendix 6 –Deal type definitions
About Wildwood Ventures
Current Partnering
Current Agreements
Recent report titles from Current Partnering
TABLE OF FIGURES
Figure 1: Definition of manufacturing and supply
Figure 2: Types of manufacturing agreement
Figure 3: Trends in manufacturing and supply deal announcements since 2014
Figure 4: Manufacturing and supply deals signed at each phase of development since 2014
Figure 5: Manufacturing and supply deals by industry sector since 2014
Figure 6: Manufacturing and supply deals by therapy area since 2014
Figure 7: Manufacturing and supply deals by technology type since 2014
Figure 8: Top 25 most active manufacturing and supply dealmakers since 2014
Figure 9: Components of the manufacturing deal structure
Figure 10: Components of the supply deal structure
Figure 11: Top manufacturing and supply deals by value since 2014
Figure 12: Most active manufacturing and supply dealmakers since 2014
Pricing options
$3,495: single-user
$5,245: multi-user
$10,495: single site license
$17,495: global site license
A full explanation of license type definitions can be found here.
Our guarantee
Price promise
We guarantee our prices are competitive. If you find the same report advertised at a lower price within 7 days of purchase, we will refund the difference.
Delivery Deadline
We guarantee that the report will be sent within the specified delivery times. In the unlikely case of a delay we may offer a partial refund as compensation. (Terms may apply)
Latest report
If an update is published within 30 days of your purchase, you will receive it absolutely free of charge.
Serious Security
We take your data and security seriously. See our privacy policy for details of how we manage your data.
All card payments are processed by SagePay.
Sales Support
If you have any questions about your report or are unhappy with the quality, we will do our best to resolve your query. Contact us direct.
Total Trust
Current Partnering is part of Wildwood Ventures Ltd., based in York, United Kingdom. We have been trading successfully online since 2009 and work with some of the most famous brands in the business. We carefully select our partners to ensure that the publications meet expectations of demanding customers.
2BScientific, 3 Rivers Biotech, 3D Systems, 3M, 3P Biopharmaceuticals, 3SBio, 5LINX, 10X Genomics, 22nd Century, 48North Cannabis, aaiPharma, AAIPharma Services, Abacus International, Abaxis, Abba Medix, Abbott Laboratories, Abbott Vascular Devices, Abbvie, Abcam, Abcuro, Abeona Therapeutics, Abic Marketing, Abingdon Health, Abiogen Pharma, Abiomed, ABL Bio, Abracon, Abyrx, Abzena, Academy Medical, Academy of Sciences of the Czech Republic (IOCB), Accelerate Diagnostics, Accellta, Access BIO, Access Vascular, Accinov, Accord Healthcare, Accuray, Accu Reference Medical Laboratory, Acelity, Acell, Acelrx Pharmaceuticals, Acer Therapeutics, Acerus, Achieve Life Science, Acino Pharma, Acnos Pharma, Acon Labs, Actinium Pharmaceuticals, Active Medical, Activhealth, AdAlta, Adaptimmune, Adaptive Phage Therapeutics, Adapt Pharma, AdaptVac, Adarza BioSystems, Adherium, Adhesys Medical, Adial Pharmaceuticals, Adisseo, ADL Bionatur Solutions, ADM Tronics, AdvanceBio Systems, Advanced Accelerator Applications, Advanced Animal Diagnostics, Advanced BioScience Laboratories, Advanced Cell Diagnostics, Advanced Dermatology and Cosmetic Surgery Group, Advanced Extraction Systems, Advanced Flow Systems, Advaxis, Advent International, Aerial BioPharma, Aerie Pharmaceuticals, Aero Pump, AEterna Zentaris, Aethlon Medical, Aetna, Afaxys Pharmaceuticals, Affymetrix, Afinity Life Sciences, AFT Pharmaceuticals, AGC Biologics, Agena Bioscience, AgeX Therapeutics, Agfa HealthCare, Agilent Technologies, Agile Therapeutics, Agilis Biotherapeutics, Agiomix FZ, AgMedica Bioscience, Agro-Greens Natural Products, AGTC, Aimmune Therapeutics, AIM Plastics, Aires Pharmaceuticals, AirWare Labs, Ajinomoto, Ajinomoto Bio-Pharma Services, AJU Pharma, AkaRx, Akebia Therapeutics, Akers Biosciences, Akula Trading 2 Pty, Akums Drugs and Pharmaceuticals, Albany Molecular Research, Alberta Health Services, Albert Einstein Healthcare Network, Albumedix, Alcami, Alcon Laboratories, Aldevron, Aleafia Health, Alexion Pharmaceuticals, Alexza Pharmaceuticals, Alfasigma, Algae Dynamics, AllCells, Allcure Kangtai Proton Technology, Allegheny General Hospital, Allergan, Allied Corp, Alligator Bioscience, Alliqua Biomedical, All Star Health Brands, Almac Diagnostics, Alnylam Pharmaceuticals, Alpha Genesis, Alpha Imaging, Alphamab Biopharmaceuticals, Alphatec Spine, Alphazyme, ALS Automated Lab Solutions, Alseres Pharmaceuticals, Altamira Bio, Altimmune, Alverno Clinical Laboratories, Alvit LCS Pharma, Alvogen, Alvotech, Amag Pharmaceuticals, Amaran Biotechnology, Ambiopharm, Ambrx, Ambu, AmCad BioMed, AM Chemicals, Amedica, America's Choice Provider Network, American Academy of Implant Dentistry Foundation, American Medical Systems, American Red Cross, American Regent, American Society for Aesthetic Plastic Surgery, American Well, AmeriCares, Amerigen Pharmaceuticals, Amerinet, AmerisourceBergen, Amgen, Amgros, AMI, Amicus Therapeutics, Amneal Pharmaceuticals, AMNIOX, AmpTec, AMRA Medical, AMRI Hungary, AMS, AMSilk, Amunix, Amyris, Analytical Biological Services, ANA Therapeutics, Angelini Pharma, Angiodynamics, ANI Pharmaceuticals, Annoroad, ANP Technologies, Ansun Biopharma, Antares Pharma, Anthem, Anthem Bluecross, Anthera Pharmaceuticals, Antitope, AOTI, Apceth, Aphria, Apicore, APL, Apollo Green, Apollo Hospitals Group, Apollomics, Apotex, Appian Labs, Apple, Applied BioCode, Applied DNA Sciences, Applied Microarrays, APRINOIA Therapeutics, Apsen Farmacutica, APS Healthcare, Aptahem, Aptar Pharma, Arabio, Araclon Biotech, Aralez Pharmaceuticals, Aratana Therapeutics, Aravive Biologics, ARaymondlife, ARCA Biopharma, Arch Biopartners, Archer Daniels Midland Company, ArcherDX, Arch Pharmalabs, Arcturus Therapeutics, Arcus Therapeutics, Arena Pharmaceuticals, Argentia Gold, Argonaut, Argos Therapeutics, Ariad Pharmaceuticals, Ariosa Diagnostics, ArisGlobal, Arjo, Ark Biosciences, Arkema, Arkray USA, Army & Air Force Exchange Service, Aronora, Arrhythmia Research Technology, Arrow Pharmaceuticals, Arsenal Medical, Artes Biotechnology, ARTMS Product, Art of Technology, ARUP Laboratories, Arzeda, Asahi Intecc, Asahi Kasei Kuraray Medica, Ascendance Biotechnology, Ascensia Diabetes Care, ASC Therapeutics, Asian Eye Institute, AskAt, ASM International, Aspen Global, Aspen Holding, ASPiRA Labs, Aspira Scientific, Aspyrian Therapeutics, ASR Group, Astellas Pharma, Asterias Biotherapeutics, AstraZeneca, Astute Medical, Asys, Athenex, Athersys, Atomo Diagnostics, Atonarp, Atossa Genetics, Aucta Pharmaceuticals, AudioNova, AUM Biotech, Aura Biosciences, Aurinia Pharmaceuticals, Aurobindo Pharma, Aurora Cannabis, Austrianova Singapore, AutoGenomics, Automated Systems of Tacoma, Auxly Cannabis Group, Avacta, Avanos Medical, Avaria Health & Beauty, AV Cannabis, Avedro, Avella, Avellino Labs, AveXis, Avicanna, Avid Bioservices, Avista Pharma Solutions, Avitide, Avrio Biopharmaceuticals, AV Therapeutics, Awamedica, AXIM Biotechnologies, Axiom Worldwide, Axonics Modulation Technologies, Axovant Gene Therapies, Axxess Pharma, Aytu BioScience, Azellon Cell Therapeutics, Azzur Group, Bachem, BAMF Health, Banc De Sang I Teixits, Banfield Pet Hospital, BANYAN Medical Systems, BASF, Basilea Pharmaceutica, Batavia Biosciences, Bausch & Lomb, Bavarian Nordic, Baxter International, Bayer, Bayer Healthcare, Baylor College, Baylor College of Medicine, Baylor Genetics, Baylor Institute for Immunology Research, Bazelet, BBI Solutions, BC Platforms, Beckman Coulter, Beckman Research Institute of City of Hope, Becton Dickinson, BeiGene, Beijing Genomics Institute (BGI), Beike Biotech, Beleave, Belgian Red Cross, Belimed, Bellerophon Therapeutics, Bellicum Pharmaceuticals, Benchmark Electronics, Bendalis, Bened Biomedical, Benitec Biopharma, Benvenue Medical, Berkshire Sterile Manufacturing, Berlin Chemie, Beroni Group, Best Supplies, Bethyl Laboratories, BevCanna, Beyond Air, BIA Separations, Bigfoot Biomedical, Bill and Melinda Gates Foundation, Binex, Bio-Manguinhos, Bio-Manguinhos/Fiocruz, Bio-Rad Laboratories, Bio-Techne, Bio-Thera Solutions, BioAlliance Pharma, BioAmber, biOasis Technologies, BioCancell Therapeutics, Biocartis, Biocept, BioChain, BioCheck, BioClinica, Biocon, BioCorRx, Biodel, Biodesix, Biodextris, BioDuro, BioFire Diagnostics, Biogen, BioGX, Biohit Healthcare, BioInvent, Biokinetic Europe, Biolase, BioLife Solutions, BioLight, Biolog-id, Biologics, BioM, Biomedical Advanced Research and Development Authority, Biomerics, BioNano Genomics, Bionik Laboratories, BioNTech, BioPharma Services, BiopharmX, Biophore Pharmaceuticals, Bioprojet, Bioptic, BioQ Pharma, BioReliance, Biosafe, Bioscience Enterprises, BioSig Technologies, BioSkryb, BioSpring, BioStem Life Sciences, BioStem Technologies, BioSun Pharmed, BioSurfaces, BioSyent Pharma, BioTechnique, Biotechnology Innovation Organization, BioTelemetry, BioTrackTHC, BioVectra, BioVest, Birdie Biopharmaceuticals, BIT Analytical Instruments, BJ Bioscience, BJC HealthCare, BL&H, Blood Bank Of Delmarva, Blood Centers of America, Blood Systems, Blue Belt Technologies, Bluebird Bio, Bluechiip, BlueCross BlueShield of Tennessee, Blue Earth Diagnostics, Blue Water Vaccines, BMG Pharmaceuticals, Bode Technology, Boehringer Ingelheim, Bolt Biotherapeutics, Bone Bank Allografts, Bonfils Blood Center, Bonify, Bonne Santé Group, Bonus BioGroup, Bophelo Bioscience & Wellness, Bora Pharmaceuticals, Boreal Genomics, Bosch, Boston Pharmaceuticals, BostonSight, BoTEC Medical, Bovie Medical, Box, Bracco Diagnostics, Braeburn Pharmaceuticals, BrainStorm Cell Therapeutics, Brainsway, Brammer Bio, Breathe Active, Breckenridge Pharmaceuticals, BridgeBio Pharma, Brigham and Women's Hospital, Bristol-Myers Squibb, BRIT Systems, BRNT, Bruce Power, Bruker, Bruker AXS, Bryn Pharma, BryoLogyx, BSN Medical, BSP Pharmaceuticals, BTG, Buoy Health, Burke Therapeutics, Burleigh Heads Cannabis, Burton Hospitals NHS Foundation Trust, Butantan Institute, C&C Irradiator Service, c-LEcta, C-RAD, C3i, Cadila Pharmaceuticals, Caffeluxe, Caladrius Biosciences, Caliber Biotherapeutics, California Institute of Technology, California Stem Cell, Caliva, Calmare Therapeutics, Calypso Biotech, Calysta Energy, Cambrex, Cambridge Clinical Laboratories, Cambridge Isotope Laboratories, Cambridge Major Laboratories, Cambridge Research Biochemicals, Canada House Wellness Group, CANbridge Life Sciences, Cancer Genetics, Cancer Research UK, Cannabics Pharmaceuticals, Cannabis Global, Cannabis Medical Solutions, Cannabis Suisse, Cannamedical Pharma, Cannatrek Medical, Canndeo, CanniMed Therapeutics, Canntab Therapeutics, CannTrust, Cannus Partners, Canon, Canon Virginia, Canopy Growth, Cantargia, Canymed, Capcium, Capital Brands, Capna Intellectual, Capstone Health Alliance, Cardinal Health, CardioDx, CardioGenics, Cardiome Pharma, Cardiovascular Cell Therapy Research Network, Cardiovascular Systems, CareDx, Carestream Health, CareTaker Medical, Caretta Therapeutics, Carl Zeiss, CarThera, Cascade Chemistry, CASI Pharmaceuticals, CAS Medical Systems, CasZyme, Catalent, Catalyn Medical Technologies, Catalyst Pharmaceuticals, Cataract & Laser Institute, Catylix, CB Therapeutics, CDx Diagnostics, CEA-Leti, Cedars-Sinai Medical Center, Cediprof, Celgene, Celladon, Cell and Gene Therapy Catapult, Cell Applications, Cellastra, Cellectar Biosciences, Cellectis, Cellectricon, CellforCure, Cell Guidance Systems, Cell Signaling Technology, Celltheon, Cell Therapy Catapult, Cellular Biomedicine, Cellular Dynamics International, CeloNova BioSciences, Celsee, Celsion, Celularity, Celyad, Centers for Disease Control and Prevention, Central Association for the Blind and Visually Impaired, Central California Blood Center, Centre for Probe Development and Commercialization, Centric Health Resources, Cepheid, Cerapedics, Cereal Ingredients, Ceres, Cerevast Therapeutics, Certis, Cerus, Cerveau Technologies, Cesca Therapeutics, Cevec Pharmaceuticals, cGreen, Champion Healthcare, Changshan Pharm, Chargeurs, Charles River Laboratories, Charleston Laboratories, Chart Industries, Check-Cap, Checkmate Pharmaceuticals, Cheetah Medical, Chembio Diagnostics, Chemesis, Chemical Abstracts Service (CAS), ChemRar High-Tech Center, Chemveda Life Sciences, ChemWerth, Chiesi Farmaceutici, Children's Cancer Institute Australia for Medical Research, Children's Hospital Boston, China Biologic Products, China Isotope And Radiation, Chiome Bioscience, Chongqing Lummy Pharma, Chr Hansen, ChromaDex, Chugai Pharmaceutical, Chung Shan Medical University Hospital, Cigna Healthcare, Cincinnati Children's Hospital Medical Center, Cipher Pharmaceuticals, Cipla, CIRCA Scientific, Circassia, Cirrus Dx, Civica Rx, CJ CheilJedang, CJ Corp, Clal Biotech, Claremont BioSolutions, Clarity Pharmaceuticals, Clarus Therapeutics, Cleaning Services Global, Clean Republic, Cleveland Clinic, Cleveland University Hospitals, Clinical Genomics, Clinigen, Clover Biopharmaceuticals, Clovis Oncology, CMAB Biopharma, CMC Biologics, CNS Pharmaceuticals, Co-Diagnostics, Coala Life, Coalition for Epidemic Preparedness Innovations, Cobra Biologics, Codexis, Coeptis Pharmaceuticals, Cogmedix, Cognate BioServices, Coldstream Laboratories, Colep, Collagen Solutions LLC, Collagen Solutions Plc, Collplant, Colorado HealthOP, Color Genomics, Columbia University, CombiGene, ComDel Innovation, Comercializadora BioRenal, Comet Biorefining, Commonwealth Laboratories, Compumedics, Concordia Healthcare, ConforMIS, Connecticut Innovations, Consort Medical, Contextual Genomics, ContextVision, Control Flo Medical, Cook Biotech, Cook Pharmica, Copan Diagnostics, Coqui RadioPharmaceuticals, Cord Blood Registry, Corden Pharma, CoreRx Pharma, Corning, Correvio Pharma, CorTechs Labs, Cosmo Pharmaceuticals, Covalon Technologies, Covestro, Covetrus, Covidien, Coyne Healthcare, Creoptix, Cresset, Crestar Labs, CRISPR Therapeutics, Cronos Group, Crop Infrastructure, Crossbeta Biosciences, Cryolife, CryoPort, CRYO Science, CrystalGenomics, CSL, CSL Behring, Cummins, CureCell, CURE Pharmaceutical, CureTech, Curetis, CutisPharma, CVR Global, CVS Pharmacy, Cyclacel Pharmaceuticals, Cyclotek, CyDex, Cygnus, Cynata Therapeutics, Cyndea Pharma, CytImmune Science, Cytiva, Cytodyn, Cytori Therapeutics, CytoSen Therapeutics, CytoSMART Technologies, CytoSorbents, Cytovance Biologics, CYTOVIA Therapeutics, D&A Pharma, Daewoong Pharmaceutical, Daiichi Sankyo, Dainippon Sumitomo Pharma, Dako, Dalton Pharma Services, Dana-Farber Cancer Institute, Dance Biopharm, DarioHealth, Dartmouth-Hitchcock Medical Center, DaVita, Davospharma, DCPrime, Debiopharm, Decision Diagnostics, Dectris, Defense Advanced Research Projects Agency, Defense Health Agency (US), Degania Silicone, Delta, Denali Therapeutics, Dendreon, Department of Defense, Department of Energy, Department of Health and Human Services, Department of Veterans Affairs, Derma Sciences, DermTech, Devonian Health Group, Dexcel Pharma, diaDexus, DiagnoCure, Diamond Light Source, Diamyd Medical, Dilafor, DiNonA, Distributed Bio, Dizal Pharmaceutical, DMDmodular, DNAmito, DnaNudge, Dominion Aesthetic Technologies, Dong-A ST, DONG Energy, Dosecann, Dove Professional Apparel, Dow AgroSciences, Dr. Reddy's Laboratories, Dr Bragi Company, DSG, DSM, Duchesnay, Duke University, Durata Therapeutics, Dutch Passion Seed Company, Dynamic Blending, Dynavax Technologies, DYNEX Technologies, DySIS Medical, Eastar Industries, Eastern Capital, Eastern Ontario Regional Laboratory Association, Echosens, Ecomed Solutions, Eczacıbasi-Monrol, EDAP TMS, Eddingpharm, Edge Pharma, Edico Genome, Edison Nation, Editas Medicine, Edwards Lifesciences, eFFECTOR Therapeutics, EirGenix, Eisai, Eisai Inc, Eitan Group, Elanco, Elanix Biotechnologies, Elation Health, Electrical Geodesics, Elekta, Elemaster Group, Eli Lilly, ElMindA, EluSys Therapeutics, Emcure Pharmaceuticals, EMD Millipore, Emerald Health Therapeutics, Emergent BioSolutions, Emergex Vaccines, Empire Genomics, Empowered Diagnostics, EMS, Enable Injections, Enamine, Enclara Pharmacia, Encompass, EndoCeutics, Endocyte, Endo International, Endologix, Endomag, Endo Pharmaceuticals, endpoint Clinical, Engage Therapeutics, Engineered Medical Solutions, Entera Health, Enteris Biopharma, Entos Pharmaceuticals, Entrinsic Health Solutions, Envy Medical, Enzymatica, EOS Imaging, Epigenomics, Epirium Bio, Equillium, Erytech, ES Cell International, Espero Biopharma, EtectRx, Ethicann Pharmaceuticals, Eticann S.A.S. Zomac, European Medical Contract Manufacturing, European Organization for Research and Treatment of Cancer, Eutilex, Eve & Co, Event Cardio Group, Everest Medicines, Evgen Pharma, Evoke Pharma, Evolus, Evonik Industries, Evotec, Ewopharma, Exact Imaging, Exact Sciences, Exactus, Exalenz Bioscience, ExCellThera, Exela Pharma Sciences, Exergen Medical, EXMceuticals, Exosome, Expedeon, Experic, Express Scripts, EyeCare Services Partners, Eyegate Pharmaceuticals, EyePoint Pharmaceuticals, EyeQ Vision, F-Star, F1 Oncology, Fabre Kramer Pharmaceuticals, Fabric Genomics, Factorial Diagnostics, Fagron, Fapon Biopharma, Farmacias Magistrales, Faron Pharmaceuticals, Federal Emergency Management Agency, FedMed, Feel Better, Fermentalg, Ferndale Pharma Group, Ferrer International, Ferring Pharmaceuticals, Fibrocell Science, Finch Therapeutics, Fine Foods & Pharmaceuticals N.T.M., Finorga, Firma Clinical Research, First Horizon Pharmaceuticals, Five Prime Therapeutics, Flexion Therapeutics, Flexpoint Sensor Systems, Flextronics, Fluence Bioengineering, Fluidigm, Fluum, Foamix Pharmaceuticals, Focal, Food and Drug Administration (FDA), Formosa Laboratories, Forsitech, Fortified Provider Network, Forty Seven, Fosun Pharmaceutical, Fred's, Fresenius Kabi Pharmaceuticals, Fresenius Medical Care, Fresno, Frontida BioPharm, FSD Pharma, Fujifilm, Fujifilm Diosynth Biotechnologies, Fujifilm medical systems, Fuji Pharma, Fujirebio Diagnostics, Fukoku, Full Genomes, G-Con, Galen, Galenicum Health, Gallus Biopharmaceuticals, Galmed Pharmaceuticals, Gamida Cell, Gamma Medica, Gauss Surgical, GB Sciences, Gebro Pharma, Gedeon Richter, GE Healthcare, Gelest, Gemini Therapeutics, Gen-Probe, Gen9, Genable Technologies, Genapsys, GeneNews, Genentech, Geneos Therapeutics, General Atomics, General Motors, General Service Administration, Genesee BioMedical, Genesis Automation, Gene Therapy Research Institution, Genetic Analysis, Genialis, Genmab, Genome and Company, Genomics England, Genopis, Genovi Pharmaceuticals, Genprex, GenScript Biotech, GenSpera, Gentronix, Geocann, GeoVax, German Government, German Institute for Food Technologies, German Red Cross, German Red Cross Blood Donor Service, Germfree, Gerresheimer, Getinge, Gilead Sciences, Ginkgo BioWorks, GlaxoSmithKline, GL Brands, Glenmark Pharmaceuticals, Glide, Global Medical Solutions, Global Orthopaedic Technology, Global Response Aid, Globus Medical, GlycoMimetics, Glycostem Therapeutics, Glycotope Biotechnology, Glytec, GNC, GNYHA Services, goBalto, Golden Valley Development, Golden Vine International, Good & Green, Goodwin Biotechnology, Government of Canada, Government of France, Government of Israel, Government of Netherlands, Grace Bio-Labs, Grand River Aseptic Manufacturing, Greater New York Hospital Association, Greene Street Pharmaceuticals, Greenlane Biogas, Greiner Bio-One, Grid Therapeutics, Grifols, GroupHEALTH Benefit Solutions, Grunenthal, Grupo Ferrer, Grupo Juste, GSW Creative Corporation Canada, Guerbet, Guided Therapeutics, Guided Therapy Systems, Gulf Coast Pharmaceuticals, GVS, GW Pharmaceuticals, Gynial, Gyros Protein Technologies, Haematologic Technologies, Haemonetics, Haibo Biotechnology Institute, Hainan Sihuan Pharmaceutical, HalioDx, Halix, Halo Labs, Halyard Health, Hamilton Company, HanAll Pharmaceuticals, Hanfpost, Hangzhou Joinstar Biomedical Technology, Hansen Medical, Harbour Biomed, Harpoon Therapeutics, Hartford HealthCare, Harvard Pilgrim Health Care, Harvard School of Public Health, Harvest One, Hawaii Medical, Health Care Originals, HealthPort, HealthTrust, HealthTrust Purchasing Group, Healthy.io, Helen F Graham Cancer Center, Helius Medical Technologies, Helix, Helomics, HemaCare, HemCon Medical Technologies, HemispheRx Biopharma, Henry Schein, Herbolea Biotech, Heritage Pharmaceuticals, Hetero Labs, Heumann Pharma Generics, Hexo, Hibernation Therapeutics, High Desert Heart Institute, Highmark Blue Shield, High Tide Ventures, Hikma Pharmaceuticals, Hile Bio-Technology, Himed Hospital Management, Histapharm, HistoGenetics, Histogenics, Hitachi, Hitachi Aloka Medical, Hitachi Chemical, HJB, HLH BioPharma Vertriebs, HMicro, Hoffmann La Roche, HollandPTC, Hollister-Stier Labs, Honeywood, Hongene Biotechnology, Hookipa Pharma, Horizon Discovery, Hospira, Hoth Therapeutics, Hovione, HOYA Corporation, HRA Pharma, HR Pharmaceuticals, HTC ChemRar, HTG Molecular Diagnostics, Humana, Humanigen, Human Longevity, Humavox, Hummingbird Bioscience, Hunan Xing Hang Rui Kang Bio-Technologies, Huntsman Cancer Institute, Hybrid Pharm, Hyundai Pharmaceutical, I-mab, I-MED Pharma, IBA, IBA Molecular Imaging, iBio, iCAD, Icahn School of Medicine at Mount Sinai, Ichnos Sciences, Ichor Medical Systems, Icon, iCRYO Cryotherapy, ICT Health, IDEAYA Biosciences, Idorsia, IDT, IDT Biologika, IDx, iHear Medical, Ilera Therapeutics, Illumina, IMA, Image Stream Medical, ImaginAb, Imanova, Imbio, ImClone Systems, Immatics Biotechnologies, Immune Design, ImmuneOncia Therapeutics, Immune Pharmaceuticals, Immune Therapeutics, ImmunityBio, ImmunoCellular Therapeutics, Immunogenesis, Immunomedics, ImmunOs Therapeutics, ImmunoTek Bio Centers, Immutep, Impact Cryotherapy, IMPACT Therapeutics, Impax Laboratories, Imperial College London, Impression Healthcare, Imprimis Pharmaceuticals, ImprimisRx, IncellDx, Inceptua, Indapta Therapeutics, Indoco, Indus Pharma, InfectoPharm, Infinity Pharmaceuticals, Information Technology for Translational Medicine, InfraReDx, Inhibrx, Innova Biosciences, Innovasource, Innovate UK, Innovative Diagnostic Laboratory, Innovus Pharmaceuticals, INO Therapeutics, Inovio, Inovio Pharmaceuticals, Instem, Instillo, Institut de Radiofarmacia Aplicada de Barcelona, Institute for Bioscience and Biotechnology Research, Institut Pasteur, Intalere, Integer Holdings, Integrated BioTherapeutics, Integrated Computer Solutions, Integrated DNA Technologies, Integrated Medical Systems, Integrity Applications, IntelGenx, Intellipharmaceutics, Intermountain Healthcare, International Isotopes, International Vaccine Institute (IVI), International Vitamin, Interpolymer/Zschimmer & Schwarz, Interrad Medical, Intersect ENT, Intralytix, IntraOp Medical, Intrexon, IntriCon, Intuitive Surgical, INVAP, Invetech, Invion, Ion Torrent, Iovance Biotherapeutics, Ipca Laboratories, iPharma, Ippox Foundation, Ipsen, iRadimed, IriSys, Iroko Pharmaceuticals, Isarna Therapeutics, ISDIN, Island Garden, Isologic Innovative Radiopharmaceuticals, IsoTherapeutics, Isotopia Molecular Imaging, iSpecimen, Italian Government, ITEL, Item, ITEM Medical Technologies, Iteris, iThemba Laboratory, ITM Isotopen Technologien, Itonis, Iveric Bio, ivWatch, iX Biopharma, Jabil Circuit, Jacksonville Pharmaceuticals, Jaguar Health, Jamieson, JanOne, Janssen Biotech, Janssen Korea, Janssen Pharmaceuticals, Janssen Pharmaceutica NV, Janssen Research & Development, Janssen Therapeutics EMEA, Jazz Pharmaceuticals, JDP Therapeutics, JEIL Pharmaceutical, JenKem Technology, Jenner Institute, JFE Engineering, Jiangsu Chia Tai Tianqing Pharmaceutical, Jiangsu Hansoh Pharmaceutical, Jiangsu Hengrui Medicine, Jiangsu Provincial Institute of Materia Medica, Jiangsu Tainuo, John Morley Foods, Johns Hopkins Medicine (JHM), Johnson & Johnson, Johnson Matthey, JRT Nurseries, Jubilant Hollisterstier, Julius Group, Julphar, Juno Therapeutics, Just Biotherapeutics, K2M, Kalon Biotherapeutics, Kamada, Kancera, Kane Biotech, Kaneka, KangStem Biotech, Kantaro Biosciences, Kapa Biosystems, Karolinska Development, Karolinska University Hospital, Kazmira, KBI BioPharma, Keck School of Medicine of USC, KEDPlasma, Kedrion Biopharma, Keio Center for Clinical Research (CCR), Kent Imaging, KeraFAST, Keryx Biopharmaceuticals, KeyBioScience, Key Organics, Keystone Heart, Key Tronic, Khalifa Kush Enterprises, Khrysos Industries, Kindred Bio, Kindred Healthcare, Kindstar Globalgene Technology, Kinetic Dx, King Faisal Specialist Hospital and Research Center (KFSH&RC), Kings College London, Kiniksa Pharmaceuticals, Kintor, Kissei Pharmaceutical, Kitakyushu General Hospital, Kite Pharma, Klaria, KLOX Technologies, KMG International, Kneat, Knight Diagnostic Laboratories, Knighton Foods, Knight Therapeutics, Know Labs, Kobe Kanagawa Eye Clinic, KoRa Healthcare, Koushan Pharmed, KRS Global Biotechnology, Kurin, KVK-Tech, KYE Pharmaceuticals, KYERON Medical Innovations, LabCentral, Labcon, Labcyte, Laboratorios Adler, Laboratorios Andromaco, Laboratorios Bago, Laboratorios Farmaceuticos Rovi, Laboratorios Liomont, Laboratorios SALVAT, LABORATORIOS SAVAL, Laboratory Corporation of America, LabStyle Innovations, Laccure, LambdaVision, Lancet, Landrace Bioscience, Lannett, Lantheus Holding, Lanxess, Laurus Labs, Lava Therapeutics, LCG, Leaf Biopharmaceutical, Lee's Pharmaceutical, Leica Biosystems, Leiden University, Leiters, Lentigen, Leon-nanodrugs, Leonhardt's Launchpads, LEO Pharma, Les Laboratoires Servier, Leukocare, LFB Biotechnologies, LFB Group, LGC, LI-COR Biosciences, Libbs Farmaceutica, LIDDS, LifeArc, Lifehealthcare, LifeLiver, Lifeloc Technologies, LifeServe Blood Center, LifeSouth Community Blood Centers, Lifestyle Delivery Systems, Life Technologies, Ligand Pharmaceuticals, Lighthouse Instruments, Lightlake Therapeutics, Lineage Cell Therapeutics, LineaRx, Lin International, Link-age Solutions, Linked Equipment, Livzon Pharmaceutical, LLamasoft, Lombard Medical Technologies, Lonza, Lorem Vascular, Los Altos Pharmaceuticals, Louisiana State University, LSNE Contract Manufacturing, LTS Lohmann Therapie-Systeme, Lubrizol, Lukare Medical, Luminex, Lumora, Lumos Pharma, Lundbeck, Lund University, Lupin Limited, Luxoft, LV Prasad Eye Institute, Lyell Immunopharma, Lygos, Lysogene, M2i, Maastricht University, Mabion, mAbXience, Maccabi Healthcare Services, Mackenzie Innovation Institute, Maco Pharma, MacroCure, Macrogen, Macrogenics, Magenta Therapeutics, Magnetic Insight, Magnet Sales and Manufacturing, Magnolia Extracts, Magnolia Medical, Maitland Labs, Major Health Partners, Mallinckrodt Pharmaceuticals, ManRos Therapeutics, Maple Leaf Green World, Maratek, Maren Cosmetics, Marianna Naturals, Marina Biotech, MarinHealth, Marinus Pharmaceuticals, Mars Petcare, Martindale Pharma, Maruho, Maryland Proton Therapy Center, Maryland State Medical Society, Masimo, MassBiologics, MassMutual, MaSTherCell, Mast Therapeutics, Materialise, Max Foundation, Mayne Pharma, MBioTeQ, McKesson, McMaster University, MD Anderson Cancer Center, Medac, Med Alliance, Medassets, Medcolcanna Organics, Medela, Medeor Therapeutics, MediaPharma, Medibio, Medical Cannabis by Shoppers, Medical Developments International, Medical Marijuana, Medicenna Therapeutics, Medicines Patent Pool Foundation, Medicom, Medicure, Medidata Solutions, Medifocus, Medigen Biotechnology, MediGene, Mediheal Group of Hospitals, Medimetriks, MedImmune, Medinova, Medio-Haus, Medipath, MediPharm Labs, Medivation, Medivir, MediWound, Medizone International, Medline Industries, MedMira, Medovex, MedReleaf, Medtronic, Medx, MeiraGTx, Meito Sangyo, Mekics, Mel-Mont Medical, Memorial Sloan Kettering Cancer Center, Memo Therapeutics, Mercachem, Merck and Co, Merck KGaA, Merck Serono, Merck Sharpe & Dohme, Merge Healthcare, Meridian Medical Technologies, MESA Specialty Gases & Equipment, Mesoblast, Mespere LifeSciences, Metamark Genetics, Metaoptima Technology, Methapharm, Methodist Hospital Houston, Metro Orthopedics and Sports Therapy, Metuchen Pharmaceuticals, Mevion Medical Systems, MGC Pharma, MGI Pharma, Microbix Biosystems, Microdrop, MicroMatrices, Micron Products, MicroPort Scientific, Microsoft, Midatech, Midge Medical, Migranade, MILabs, Millar, Millipore, MilliporeSigma, MindChild Medical, Mindray Medical International, Minerva Neurosciences, MiniFab, Ministry of Health (Algeria), Ministry of Health (Iraq), Ministry of Health (Israel), Ministry of Health (Saudi Arabia), Ministry of Health (Turkey), Ministry of Health, Labor and Welfare, Ministry of Health and Prevention, Minneapolis Medical Research Foundation, Minomic, MIP Diagnostics, Miraculins, MirCod, Misonix, Mission Bio, Mission Pharmacal, Mitani Sangyo, Mithra Pharmaceuticals, Mitsubishi Tanabe Pharma, Mitsui Norin, MMJ PhytoTech, MM Technology, Moberg Pharma, Mobidiag, Mobius Imaging, Mochida Pharmaceutical, Moderna Therapeutics, Modern Dental Group, Modus Health, Molecular Devices, Moleculin Biotech, MolMed, Mologen, Mologic, Molteni Farmaceutici, Momenta Pharmaceuticals, Monopar Therapeutics, Montagu Private Equity, Montefiore Health System, MorphoSys, Morphotek, Motorika, Mount Sinai Health System, MPX International, MRIGlobal, MRI Interventions, MRM Proteomics, MR Solutions, MSD Animal Health, MSN Laboratories, Mundipharma, Musculoskeletal Transplant Foundation, Mycenax Biotech, Mycovia Pharmaceuticals, Mylan Laboratories, Mylan Pharmaceuticals, MYM Nutraceuticals, MYOS RENS Technology, myTomorrows, N1 Technologies, Nabriva Therapeutics, Naia Pharma, Namaste Technologies, Nanexa, Nanjing BioSciKin, Nano-X Imaging, Nanobiotix, NanoCarrier, Nanodigmbio, NanoPass Technologies, Nanosphere, Nanotherapeutics, Nanowear, NantHealth, NantKwest, NASCO Products, Natera, National Cancer Institute, National Center for Advancing Translational Sciences (NCATS), National Green Biomed, National Healthcare Services (NHS), National Health Service, National Immunobiological Company, National Institute for Innovation in Manufacturing Biopharmaceuticals, National Institute of Allergy and Infectious Diseases, National Institute on Deafness and Other Communication Disorders, National Institute on Drug Abuse (NIDA), National Institutes of Health, National Transfusiology Center, National Trauma Institute, Nature Soap & Spa, Naval Medical Research Center, Navidea Biopharmaceuticals, NBE Therapeutics, NCK, NCM, ndd Medical Technologies, Nemaura Medical, Nemysis, Neogen, NEO Tech, Neovacs, Nephron Pharmaceuticals, Nephros, Neptune Wellness Solutions, NerPharMa, Nerviano Medical Sciences, Nestle Health Science, Net Health Systems, NeuClone, Neural Analytics, NeuroBo Pharmaceuticals, NeuroLogica, Neuromed, Neurotrope BioScience, Nevro, NewCanna Hub, New England Biolabs, New Era Orthopaedics, New Jersey Innovation Institute, New York Blood Center, New York State, New Zealand Pharmaceuticals, Nexomics Biosciences, NextGxDx, Nextleaf Solutions, Nexvet, NG Biotech, NGK Spark PLug, NHS Blood and Transplant, Nihon Kohden, Nikon CeLL Innovation, Ningbo Menovo Pharmaceutical, Ningbo Tai Kang Medical Technology, Nippon Shinyaku, Nipro Corporation, NKMax America, NKP Pharma, Noble Biomaterials, Noden Pharma, Nohla Therapeutics, Noramco, Nordic Nanovector, Nordicneurolab, Nordion, Norgen Biotek, Norgine, NorthStar Medical Radioisotopes, Northway Biotechpharma, Novant Health, Novartis, Novasep, Novation, Novavax, Noveome Biotherapeutics, Novogene, Novopath, NovoTek Therapeutics, Novozymes, NOWDiagnostics, Noxilizer, Nuclear Diagnostic Products, Nutra Manufacturing, Nuviant Medical, Nuvilex, Nuvo Pharmaceuticals, Nxstage Medical, O-Two Medical Technologies, Oak Ridge National Laboratory, Oakrum Pharma, OBI Pharma, OBP Medical, Ocean Grown Ventures, Ocugen, OcuMedic, Ocumension Therapeutics, Odylia Therapeutics, OG DNA Genetics, Ohio State University, Oklahoma Health Care Authority, Olaregen Therapeutix, OliX Pharmaceuticals, Ology Bioservices, Omeros, Omni Bio Pharmaceutical, Omnicell, OmniComm Systems, Ompi, On-X Life Technologies, Oncimmune, Oncimmune Ltd, Oncobiologics, Oncoceutics, Oncolytics Biotech, OncoMed Pharmaceuticals, Onconova Therapeutics, OncoSec Medical, Oncosynergy, One World Lab, Ono Pharmaceutical, Ontario Cannabis Retail, Opasca, OpenBiome, OpGen, Opiant Pharmaceuticals, Opisafe, OPKO Health, Opocrin S.p.A, Opsens, OptiBiotix, Opticann, Opus Medical, Oracle Health Sciences, Oragenics, Orchard Therapeutics, Oregon Health Sciences University, Orexo, Organigram, Organogenesis, Orgenesis, Ori Biotech, ORIC Pharmaceuticals, OrImmune Bio, Orion, OrSense, Ortho-Clinical Diagnostics, Orthohealing Center Management, Osiris Therapeutics, OSI Systems, Osmotica Pharmaceuticals, Otsuka, OTTR, OvaGene Oncology, Oventus, Ovizio, Owen Mumford, Owens & Minor, Oxford BioMedica, Oxford Gene Technology, Oxford Genetics, Oxford Immunotec, Oxgene, Pacific Biosciences, PAKmed, Paladin Labs, Pall Corporation, Pamlico Biopharma, Panacea Biotech, Panaxia, Pandion Therapeutics, PanTheryx, Paradigm, Paragon Bioservices, Paragonix Technologies, Paratek Pharmaceuticals, Parnell Manufacturing, Particle Sciences, Passport Food Safety Solutions, PATH (Appropriate Technology in Health), Patheon, PATH Malaria Vaccine Initiative, PathoGenetiX, PaxGenBio, Pax Labs, PBM Capital Group, PCI Pharma Services, PCT, PDL BioPharma, Peak Pharmaceuticals, PEAR Therapeutics, Pelican Engineering, Pelican Therapeutics, Pendopharm, Penn Pharma, Pensiamo, People's Liberation Army, PeriGen, PerkinElmer, Perrigo, Personalis, PETNET Solutions, Pfizer, Pfizer Consumer Health, Pfizer Korea, Phage Consultants, Phagelux, Phanes Therapeutics, Pharco Pharma, PharmAbcine, Pharmabiota, PharmaCell, Pharmaceutics International, PharmaChem, PharmaChoice, PharmaCielo, Pharmadrug Production, PharmaHemp, PharmaIN, PharmaMar, Pharmanest, Pharmapark, PharmaPraxis, Pharma Tech Solutions, Pharmathen, PharmHouse, Pharmstandard, PhaseBio Pharmaceuticals, Phico Therapeutics, Philips, Phlexglobal, Phlow, Phoenix Life Sciences, Phoenix Molecular Designs, Phosphagenics, PHT, Physician's Choice Laboratory Services, Phyton Biotech, Phyto Tech, Picosun, Pierre Fabre, Pionyr Immunotherapeutics, Piramal, Piramal Healthcare, Piramal Imaging, Pivot Pharmaceuticals, PixarBio, Plandai Biotechnology, Planet 13, PlantForm, PlasmaTech Biopharmaceuticals, Plasticap, PlatinumCode, Plena Global, Pluristem Therapeutics, Pluristyx, Plyzer Technologies, PnuVax, Podimetrics, Pohl Boskamp, POINT Biopharma, Polpharma, Poly Group, Polymer Solutions, PolyPeptide Group, Polypeptide Laboratory, Polypeptide Therapeutic Solutions, Portola Pharmaceuticals, Prasco Laboratories, Praxair, Precision Biologics, Precision Innovation Network, Precision Medical Devices, Precision NanoSystems, Precision Ocular, PredictImmune, Premier Inc, Prestige BioPharma, Prevail Therapeutics
For full list of companies please contact us on enquiry@currentpartnering.com
Current Partnering reports provide insight into the trends and terms of partnering deals in the global life sciences sector.
Current Partnering reports are updated every six months to ensure the user has access to the latest announcements and trends in the topic focus of the report.
Current Partnering analysts review the deal data to provide an overview and analysis of deal trends, including example deals and terms.
Current Partnering reports source deal data from our proprietary deals and alliances database, Current Agreements. The database is updated daily by our analysts with new deals as they are announced globally by the company's party to the deal. In addition, deal records are updated with new data as it becomes available.
The data in the Current Agreements deals and alliances database is obtained from secondary sources such as publicly available industry sources including press releases, company presentations, investor presentations, company SEC filings, other company filings, company websites, conference presentations. Sources are identified to allow for user verification.
Current Partnering provides comprehensive coverage of the following partnering or deal types:
• Asset purchase
• Assignment
• Co-development
• Co-market
• Co-promotion
• Collaborative R&D
• Contract service
• CRADA
• Cross-licensing
• Development
• Distribution
• Equity purchase
• Evaluation
• Grant
• Joint venture
• Licensing
• Loan
• Manufacturing
• Marketing
• Option
• Promotion
• Research
• Royalty financing
• Settlement
• Spin out
• Sub license
• Supply
• Termination
• Warrant
Every deal record is fully categorized and includes the following data, where available:
• Industry sector
• Therapy areas
• Technology type
• Deal components
• Financial terms
• Stage of development
• Exclusivity
• Asset type
• Geographic focus
• Excluded geography
• Company press release
• SEC filing data including contract document
All financial amounts are converted to US$ using the exchange rate available on the date of deal announcement, enabling direct comparison of deal terms across international territories.
Financial data and contract documents displayed in deal records is obtained from public sources, where disclosed by the parties to the deal.
We found other products you might like!