Global Collaborative R&D Partnering Terms & Agreements in Pharma, Biotech & Diagnostics 2014-2020
The Global Collaborative R&D Partnering Terms & Agreements in Pharma, Biotech & Diagnostics 2014-2020 report provides comprehensive understanding and unprecedented access to the collaborative R&D partnering deals and agreements entered into by the worlds leading healthcare companies.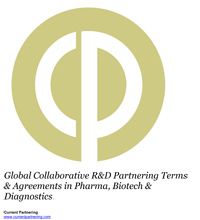 Publication date
October 2020
Product type
Research report
Available formats
PDF document
The Global Collaborative R&D Partnering Terms and Agreements in Pharma, Biotech and Diagnostics 2014-2020 report provides comprehensive understanding and unprecedented access to the collaborative R&D deals and agreements entered into by the worlds leading life science companies.
This report provides details of the latest collaborative R&D deals announced in the pharmaceutical, biotechnology and diagnostic sectors. Fully up to date with the latest information, the report provides details of collaborative R&D deals from 2014 to 2020.
There has been a long standing willingness for parties to enter collaborative R&D deals. Such deals enable both parties to benefit from the upside of a big R&D win, whilst mitigating the risks of going it alone in the risky preclinical and clinical development stages.
Collaborative R&D is a specific type of partnering deal whereby the parties to the deal agree to collaborate on the research and development and subsequently commercialize a compound, product or technology.
There are several forms of a collaborative R&D deal; A traditional collaborative R&D arrangement whereby an owner of intellectual property (the licensor) provides access to its technology to another company (the licensee) in return for agreed payments and royalties on subscequent sales of product(s) derived from the intellectual property.
In more recent times, licensing is often the outcome of a successful period of collaborative R&D on the research and development of a technology or compound, resulting in a product which can be commercialized. In this situation, the collaborative R&D agreement governs who has permission to commercialize and what payments are due should commercialization proceed.
The report provides a detailed understand and analysis of how and why companies enter collaborative R&D deals. The majority of deals are multicomponent whereby the licensee retains either a right or option to license to comoercialize the resultant product of the research collaboration. There are also numerous pure licensing deals whereby the products originator takes on a development/commercialization partner in order to maximize a technologies/products prospects.
Understanding the flexibility of a prospective partner's negotiated deals terms provides critical insight into the negotiation process in terms of what you can expect to achieve during the negotiation of terms. Whilst many smaller companies will be seeking details of the payment clauses, the devil is in the detail in terms of how payments are triggered – contract documents provide this insight where press releases and databases do not.
This report contains a comprehensive listing of all collaborative R&D deals announced since 2014 as recorded in the Current Agreements deals and alliances database, including financial terms where available, plus links to online copies of actual collaborative R&D contract documents as submitted to the Securities Exchange Commission by companies and their partners.
Contract documents provide the answers to numerous questions about a prospective partner's flexibility on a wide range of important issues, many of which will have a significant impact on each party's ability to derive value from the deal.
The initial chapters of this report provide an orientation of collaborative R&D dealmaking and business activities. Chapter 1 provides an introduction to the report, whilst chapter 2 provides an analysis of the trends in collaborative R&D as well as a discussion on the merits of the type of deal.
Chapter 3 provides an overview of the structure of collaborative R&D deals. The chapter includes numerous case studies to enable understanding of both pure collaborative R&D deals and multicomponent deals where collaborative R&D forms a part.
Chapter 4 provides a review of the leading collaborative R&D deals since 2014. Deals are listed by headline value. Where the deal has an agreement contract published at the SEC a link provides online access to the contract via the Current Agreements deals and alliances database.
Chapter 5 provides a review of the top 25 most active biopharma companies in collaborative R&D. Where the deal has an agreement contract published at the SEC a link provides online access to the contract via the Current Agreements deals and alliances database.
Chapter 6 provides a comprehensive review of collaborative R&D financials for deals announced since 2014, including headline value, upfront, milestone payments and royalty rates, providing both benchmark data and access to individual deal financials.
Chapter 7 provides a comprehensive and detailed review of collaborative R&D deals signed and announced since 2014 where a contract document is available. Each deal title links via Weblink to an online version of the actual contract document, providing easy access to each contract document on demand.
The report includes deals announced by hundreds of life science companies including big pharma such as Abbott, Abbvie, Actavis, Amgen, Astellas, AstraZeneca, Baxter, Bayer, Biogen Idec, BMS, Celgene, Eisai, Eli Lilly, Gilead, GSK, J&J, Kyowa Hakko, Merck, Mitsubishi, Mylan, Novartis, Pfizer, Roche, Sanofi, Shire, Takeda, Teva, and Valeant, amongst many others.
The report also includes numerous table and figures that illustrate the trends and activities in collaborative R&D dealmaking since 2014.
In addition, a comprehensive appendix is provided organized by company A-Z, stage of development, therapeutic target, technology type and deal type definitions. Each deal title links via Weblink to an online version of the deal record and where available, the contract document, providing easy access to each contract document on demand.
In conclusion, this report provides everything a prospective dealmaker needs to know about collaborative R&D partnering in the research, development and commercialization of technologies and products.
Key benefits
Global Collaborative R&D Partnering Terms and Agreements in Pharma, Biotech and Diagnostics 2014-2020 provides the reader with the following key benefits:
In-depth understanding of collaborative R&D deal trends since 2014
Analysis of the structure of collaborative R&D agreements with numerous real life case studies
Comprehensive listing of over 5,500 collaborative R&D deals since 2014, together with deal terms, value and press release
Comprehensive access to actual collaborative R&D contracts entered into by the world's life science companies
Analysis of key deal financials including headline value, upfront, milestone payments and royalty rates
Insight into the terms included in a collaborative R&D agreement, together with real world clause examples
Understand the key deal terms companies have agreed in previous deals
Undertake due diligence to assess suitability of your proposed deal terms for partner companies
Report scope
Global Collaborative R&D Partnering Terms and Agreements in Pharma, Biotech and Diagnostics 2014-2020 is intended to provide the reader with an in-depth understanding of the collaborative R&D trends and structure of deals entered into by leading life science companies worldwide.
Global Collaborative R&D Partnering Terms and Agreements in Pharma, Biotech and Diagnostics 2014-2020 includes:
Trends in collaborative R&D dealmaking in the biopharma industry since 2014
Analysis of collaborative R&D deal structure
Case studies of real-life collaborative R&D deals
Comprehensive listing of over 5,500 collaborative R&D deals since 2014
Access to collaborative R&D contract documents
Key financial benchmarks for headline, upfront, milestone and royalty rates
The leading collaborative R&D deals by value since 2014
Most active collaborative R&D dealmakers since 2014
The leading collaborative R&D partnering resources
In Global Collaborative R&D Partnering Terms and Agreements in Pharma, Biotech and Diagnostics 2014-2020 available deals and contracts are listed by:
Company A-Z
Headline value
Therapeutic area
Technology type
Each deal title links via Weblink to an online version of the actual deal record and where available, contract document, providing easy access to each contract document on demand.
The Global Collaborative R&D Partnering Terms and Agreements in Pharma, Biotech and Diagnostics 2014-2020 report provides comprehensive access to available contract documents for licensing deals. Analyzing actual contract agreements allows assessment of the following:
What are the precise rights granted or optioned?
What is actually granted by the agreement to the partner company?
What exclusivity is granted?
What is the payment structure for the deal?
How do milestone align with clinical stage development phases?
How are sales and payments audited?
How are the key terms of the agreement defined?
How are IPRs handled and owned?
Who is responsible for commercialization?
Who is responsible for development, supply, and manufacture?
How is confidentiality and publication managed?
How are disputes to be resolved?
Under what conditions can the deal be terminated?
What happens when there is a change of ownership?
What sublicensing and subcontracting provisions have been agreed?
Which boilerplate clauses does the company insist upon?
Which boilerplate clauses appear to differ from partner to partner or deal type to deal type?
Which jurisdiction does the company insist upon for agreement law?
Global Collaborative R&D Partnering Terms & Agreements in Pharma, Biotech & Diagnostics 2014-2020 report provides the reader with the following key benefits:
In-depth understanding of collaborative R&D deal trends since 2014
Analysis of the structure of collaborative R&D agreements with numerous real life case studies
Comprehensive listing of all collaborative R&D deals since 2014, together with deal terms, value and press release
Comprehensive access to actual collaborative R&D contracts entered into by the world's life science companies
Analysis of key deal financials including headline value, upfront, milestone payments and royalty rates
Insight into the terms included in a collaborative R&D agreement, together with real world clause examples
Understand the key deal terms companies have agreed in previous deals           
Undertake due diligence to assess suitability of your proposed deal terms for partner companies
Executive Summary
Chapter 1 – Introduction
Chapter 2 – Trends in collaborative R&D dealmaking
2.1. Introduction
2.2. Definition of collaborative R&D partnering
2.3. Success factors for collaborative R&D deals
2.4. When collaborative R&D can be useful
2.5. Attributes of collaborative R&D deals
2.6. Trends in collaborative R&D deals since 2014
2.6.1. Collaborative R&D dealmaking by year, 2014 to 2020
2.6.2. Collaborative R&D dealmaking by phase of development, 2014 to 2020
2.6.3. Collaborative R&D dealmaking by industry sector, 2014 to 2020
2.6.4. Collaborative R&D dealmaking by therapy area, 2014 to 2020
2.6.5. Collaborative R&D dealmaking by technology type, 2014 to 2020
2.6.6. Collaborative R&D dealmaking by most active company, 2014 to 2020
2.7. The future of collaborative R&D deals
Chapter 3 – Overview of collaborative R&D deal structure
3.1. Introduction
3.2. Pure versus multi-component collaborative R&D deals
3.3. Pure collaborative R&D agreement structure
3.3.1. Example collaborative R&D agreements
3.3.1.a. Case study 1: Marinus Pharmaceuticals - NovaMedica
3.3.1.b. Case study 2: Idenix Pharmaceuticals – Janssen Pharmaceuticals
3.4. Collaborative R&D as part of a wider alliance agreement
3.4.1. Example collaborative R&D agreements and their licensing clauses
3.4.1.a. Case study 3: 4D Molecular Therapeutics – UniQure
3.4.1.b. Case study 4: Kyowa Hakko Kirin – Ultragenyx Pharmaceuticals
3.4.2. Example licensing option right clauses in collaborative R&D deals
3.4.2.a. Case study 5: Forest Laboratories - Trevena
3.4.2.b. Case study 6: Abbvie – Receptos
Chapter 4 – Leading collaborative R&D deals
4.1. Introduction           
4.2. Top collaborative R&D deals by value
Chapter 5 – Top 25 most active collaborative R&D dealmakers
5.1. Introduction
5.2. Top 25 most active collaborative R&D dealmakers
Chapter 6 – Collaborative R&D deal term financials
6.1. Introduction
6.2. Collaborative R&D partnering headline values
6.3. Collaborative R&D deal upfront payments
6.4. Collaborative R&D deal milestone payments
6.5. Collaborative R&D royalty rates
Chapter 7 – Collaborative R&D contract directory 2014 - 2020
7.1. Introduction
7.2. Collaborative R&D deals with contracts 2014 to 2020
Appendices
Appendix 1 – Collaborative R&D dealmaking by companies A-Z
Appendix 2 – Collaborative R&D dealmaking by industry sector
Appendix 3 – Collaborative R&D dealmaking by stage of development
Appendix 4 – Collaborative R&D dealmaking by therapy area
Appendix 5 – Collaborative R&D dealmaking by technology type
About Wildwood Ventures
Current Partnering
Current Agreements
Recent report titles from Current Partnering
TABLE OF FIGURES
Figure 1: Definition of collaborative R&D
Figure 2: Situations where collaborative R&D can prove useful
Figure 3: Key attributes of a collaborative R&D deal
Figure 4: Trends in Collaborative R&D deal announcements, 2014 to 2020
Figure 5: Collaborative R&D deals signed at each phase of development, 2014 to 2020
Figure 6: Collaborative R&D deals by industry sector, 2014 to 2020
Figure 7: Collaborative R&D deals by therapy area, 2014 to 2020
Figure 8: Collaborative R&D deals by technology type, 2014 to 2020
Figure 9: Top 25 most active collaborative R&D dealmakers, 2014 to 2020
Figure 10: Collaborative R&D agreements – what should a contract include?
Figure 11: Components of the collaborative R&D deal structure
Figure 12: Top collaborative deals by value 2014 to 2020
Figure 13: Most active collaborative R&D dealmakers 2014 to 2020
Figure 14: Collaborative R&D deals with a headline value
Figure 15: Collaborative R&D deals with an upfront value
Figure 16: Collaborative R&D deals with a milestone value
Figure 17: Collaborative R&D deals with a royalty rate value
Pricing options
$3,495: single-user
$5,245: multi-user
$10,495: single site license
$17,495: global site license
A full explanation of license type definitions can be found here.
Our guarantee
Price promise
We guarantee our prices are competitive. If you find the same report advertised at a lower price within 7 days of purchase, we will refund the difference.
Delivery Deadline
We guarantee that the report will be sent within the specified delivery times. In the unlikely case of a delay we may offer a partial refund as compensation. (Terms may apply)
Latest report
If an update is published within 30 days of your purchase, you will receive it absolutely free of charge.
Serious Security
We take your data and security seriously. See our privacy policy for details of how we manage your data.
All card payments are processed by SagePay.
Sales Support
If you have any questions about your report or are unhappy with the quality, we will do our best to resolve your query. Contact us direct.
Total Trust
Current Partnering is part of Wildwood Ventures Ltd., based in York, United Kingdom. We have been trading successfully online since 2009 and work with some of the most famous brands in the business. We carefully select our partners to ensure that the publications meet expectations of demanding customers.
1QBit, 1ST Biotherapeutics, 2bPrecise, 2cureX, 3 Sisters Surrogacy, 3B Medical, 3B Pharmaceuticals, 3Derm Systems, 3D Medicines, 3D Systems, 3M, 3M Drug Delivery Systems, 3SBio, 3Scan, 4D Molecular Therapeutics, 4D Pharma, 10X Genomics, 14M Genomics, 22nd Century, 23andMe, 54gene, 908 Devices, A&D Medical, A*STAR Agency for Science, Technology and Research, A*STAR Bioprocessing Technology Institute, A*STAR Genome Institute of Singapore, A*STAR' Institute of Molecular and Cell Biology, A.I. Squared, A1M Pharma, Aarhus University Hospital, AARP Healthcare, AB-Biotics, Abbott Laboratories, Abbvie, Abcam, AbCellera, AbCheck, Abcodia, Abeome, Abide Therapeutics, Abilita Bio, Ab Initio, ABIVAX, ABL Bio, Ablexis, Ablynx, AbMed, Abpro, Abramson Cancer Center, Abreos Biosciences, AbSci, Absolute Antibody, Abu Dhabi Stem Cells Center, Abveris, Abzena, Academic and Community Cancer Research United, Academic Drug Discovery Consortium, Academic Medical Center, Academy of Nutrition and Dietetics, ACADIA Pharmaceuticals, Accelerated Cure Project for MS, Accelerated Enrollment Solutions, Acceleron Pharma, Acceliant, Accellta, Accelovance, Accent Therapeutics, Accenture, Access BIO, Access Health, AccuGenomics, Accurate Diagnostic Laboratories, Accuray, Accurexa, Accutest, ACEA Biosciences, Acelrx Pharmaceuticals, Acerta Pharma, Acer Therapeutics, Achaogen, Ache, Achieve Life Science, AC Immune, Acoustic MedSystems, Actelion, Acticor Biotech, Actigraph, Actinium Pharmaceuticals, ACT Onocology, Acucela, Acuity Pharmaceuticals, Acurian, Acurx Pharmaceuticals, Adagene, AdAlta, Adapsyn Bioscience, Adapt Analytics, Adaptate Biotherapeutics, Adaptimmune, Adaptive Biotechnologies, Adaptive Phage Therapeutics, Adare Pharmaceuticals, ADB International Group, ADC Therapeutics, Addex Therapeutics, Addiction Institute of Mount Sinai, Adeptrix, Adicet Bio, Adimab, ADInstruments, Aditx Therapeutics, Adlai Nortye, ADL Bionatur Solutions, ADMA Biologics, Admera Health, ADM Tronics, AdoRx Therapeutics, Aduro BioTech, Advaccine Biotechnology, Advaita, Advanced Biological Laboratories, Advanced BioNutrition, Advanced Cell Diagnostics, Advanced Chemistry Development, Advanced Clinical Trial Solutions, Advanced Proteome Therapeutics, AdvanSource Biomaterials, Advarra, Advaxis, Adventist Health, Adverum Biotechnologies, Advocate Health Care, Adynxx, Aegea Biotechnologies, Aegilops Applications, Aeglea BioTherapeutics, Aelan Cell Technologies, Aemetis, Aequus Pharmaceuticals, Aeras, Aerie Pharmaceuticals, Aerocrine, Aeromics, AEterna Zentaris, Aethlon Medical, Aethon, Aetion, Aetna, Aetos Biologics, Aevi Genomic Medicine, Afaxys Pharmaceuticals, Affectis Pharmaceuticals, Affibody, Affilogic, Affimed Therapeutics, Affinia Therapeutics, Affinivax, Affymetrix, AffyXell Therapeutics, AgaMatrix, AgBiome, AGC Asahi Glass, Age Labs, Agena Bioscience, Agendia, Agenus Bio, AgeX Therapeutics, AgileBio, Agilent Technologies, Agilis Biotherapeutics, Agilvax, Agios Pharmaceuticals, AgMedica Bioscience, AgonOx, AgPlenus, Agricultural Research Service, Agrivida, AGTC, Aguettant, Aichi Medical University, AiCure, AiCuris, Aiforia Technologies, AimedBio, AIMM Therapeutics, Aimmune Therapeutics, Air Force General Hospital, AirStrip Technologies, Aitbiotech, Akadeum Life Sciences, Akashi Therapeutics, Akcea Therapeutics, Akebia Therapeutics, Akers Biosciences, Akeso Biopharma, AKESOgen, Akili Interactive Labs, AKL Research and Development, Akron Biotechnology, Akshaya Bio, Akston Biosciences, Alana Healthcare, Alaska Department of Health and Social Services, Albany Molecular Research, Alberta Health Services, Albert Einstein College of Medicine, Albertsons Companies, Albumedix, Alcon Laboratories, Alcyone Lifesciences, Aldevron, Aldeyra Therapeutics, Alector, Aleph Objects, Aleris, Alexion Pharmaceuticals, Alfred E. Mann Institute for Biomedical Engineering, AlgaEnergy, Algatechnologies, Alibaba Health, Alienware, Aligos Therapeutics, AliHealth, Alion Pharmaceuticals, AlivaMab Discovery Services, AliveCor, ALK-Abello, Alkahest, Alkermes, Allegheny Technologies, Allegro Ophthalmics, Allele Biotechnology and Pharmaceuticals, Allen Institute for Brain Science, Allergan, Alliance for Biosecurity, Alliance for Clinical Research Excellence and Safety (ACRES), Alliance For Clinical Trials In Oncology, Alliance for Regenerative Medicine, Alliance Global Group, Alliance Healthcare Services, Alliance Medical, Alliance Oncology, Allied-Bristol Life Sciences, Alligator Bioscience, Allm, Allogene Therapeutics, AlloSource, Allscripts, Almac Diagnostics, Almac Discovery, Almac Group, Almirall, Alnylam Pharmaceuticals, Alpha Cancer Technologies, Alpha Genomix Laboratories, Alphalyse, Alphamab Biopharmaceuticals, Alpha Tau Medical, Alpine Immune Sciences, ALR Technologies, ALS Association, AltaML, Altasciences, Altavant Sciences, AltaVoice, Altiora, Altor BioScience, Altreos Research Partners, Alveo Technologies, Alvotech, Alyzen Medical Physics, Alzheimer's Association, Alzheimer's Drug Discovery Foundation, Alzheimers Research UK, AlzProtect, Amador Bioscience, Amal Therapeutics, Amarantus BioSciences, Amarex Clinical Research, Amarin, Amazon Web Services, Ambrosia Nutraceuticals, Ambrx, Ambry Genetics, Ambys Medicines, Amedica, American Academy of Ophthalmology, American Academy of Orthopaedic Surgeons, American Academy of Professional Coders, American Association for Cancer Research, American BriVision, American Cancer Society, American College of Chest Physicians, American College of Radiology, American College of Sports Medicine, American CryoStem, American Dental Association, American Diabetes Association, American Gene Technologies, American Heart/Stroke Association, American Heart Association, American Liver Foundation, American Lung Association, AmeriCann, American National Multiple Sclerosis Society, American Physiological Society, American Red Cross, American Sleep Apnea Association, American Society for Parenteral and Enteral Nutrition, American Society of Clinical Oncology (ASCO), American Society of Hematology, American Society of Human Genetics, American Type Culture Collection (ATCC), American Well, Americas Hernia Society Quality Collaborative, Amerigen Pharmaceuticals, Amerinet, AmerisourceBergen, AMFitzgerald, Amgen, Amicus Therapeutics, Amneal Pharmaceuticals, AmorChem, Amorsa Therapeutics, Amoy Diagnostics, Amplicon Express, AmpliPhi Biosciences, AmplyCell, AMR, AMRA, AMRA Medical, AMRI Hungary, Amyris, AnaBios, Anaeropharma, Anagenesis Biotechnologies, Analog Devices, Analytics Engines, Anam Hospital, ANANDA Scientific, Anandia Laboratories, Anatara Lifesciences, Anavex Life Sciences, Ancestry, AnchorDx, Andor Technology, Andrew Alliance, Anesthesia Business Consultants, AnGes MG, Angiex, Angion Biomedica, Angle, Angsana Molecular & Diagnostics, Anika Therapeutics, Anima Biotech, Animal Clinical Investigation, Anixa Biosciences, Annapurna Therapeutics, Annoroad, Anokion, Anpac Bio-Medical Science, ANP Technologies, Antaros Medical, Antengene, Anthem, Anthem Bluecross, Antibiotic Research UK, Antidote, Antidote Therapeutics, Antigen Express, Antikor Biopharma, Antitope, Antleron, Anton Paar, ANZAC Reserach Institute, Apceth, ApconiX, Apeiron Biologics, Apexigen, Apex Physics Partners, Aphios, API Corporation, Apocell, ApolloBio, Apollo Hospitals Group, Apollomics, Apotex, Appistry, Apple, Applied BioMath, Applied Clinical Trials, Applied DNA Sciences, Applied Molecular Transport, Applied Nanoscience, Applied Spectral Imaging, AppliTek, Appriss Health, Aprea, Aprecia Pharmaceuticals, Apricity Health, Aprima Medical Software, Aptamer Therapeutics, Aptar Pharma, Aptevo Therapeutics, Aptorum Group, Aptose Biosciences, APT Therapeutics, Aptuit, Aqilion, Aragen Bioscience, Aratana Therapeutics, Aravive Biologics, Arbor Biotechnologies, Arbutus, Arcadia Biosciences, ARC Devices, ArcherDX, ARCHIMEDlife, Arch Therapeutics, Arctic Vision, Arcturus Therapeutics, Arcus Biosciences, Arcutis Biotherapeutics, Ardena, Ardent Mills, Arecor, Arena Pharmaceuticals, Ares Genetics, Ares Life Sciences, arGEN-X, Argent Development Group, argenx, Argonne National Laboratory, Argos Therapeutics, Ariad Pharmaceuticals, Ariana Pharma, Aridis Pharmaceuticals, ArisGlobal, Arista Cereal Technologies, Arix Bioscience, Arizona State University, Arm, ArmaGen, Aro Biotherapeutics, AroCell, Arpeggio Biosciences, Arquer Diagnostics, ArQule, Arrakis Therapeutics, Arranta Bio, Array Biopharma, Arria, Arrowhead Pharmaceuticals, Arrow Pharmaceuticals, ArtemiLife, Arterial Remodeling Technologies, Artes Biotechnology, ARTeSYN, Artialis, Artisan Bio, Artizan Biosciences, ARTMS Product, ARUP Laboratories, Arvinas, Arzeda, Asahi Intecc, Asahi Kasei, Asan Medical Center, Ascensia Diabetes Care, Ascentage Pharma, Asclepia Outsourcing Solutions, Ascletis, Asia-Pacific Hepatocellular Carcinoma Trials Group, Asimily, ASKA Pharmaceuticals, AskAt, Asklepios Biopharmaceutical, Aslan Pharma, ASM International, Aspect Biosystems, Aspect Imaging, Aspen Institute, Aspira Scientific, Aspyrian Therapeutics, Assay.Works, Assay Depot, Assembly Biosciences, Association of Clinical Research Professionals, Assurex Health, Assuta Medical Centers, Astellas Pharma, Astellas Venture Management, Astem, Asterand Bioscience, Asterias Biotherapeutics, Astero Bio, Astex Pharmaceuticals, Asthma UK, AstraZeneca, Astute Medical, Asuragen, AsureQuality, Atara Biotherapeutics, Ataxion, aTen Therapeutics, ATGen Global, Athenahealth, Athenex, Athersys, Athletigen, Atlab Pharma, Atlante Biotech, Atlas Genetics, Atlas Lift Tech, Atomwise, Atreca, ATUM, Atvio Biotech, aTyr Pharma, Auburn University, Audentes Therapeutics, Audiology Management Group, AUM Biotech, Aural Analytics, Aurigene Discovery Technologies, Aurinia Pharmaceuticals, Auris Medical, Auron Therapeutics, Aurora Diagnostics, AusHealth, Auspherix, Austen BioInnovation Institute in Akron (ABIA), Australian Genome Research Facility, Australian Research Data Commons, Austrian Institute of Technology, Autifony Therapeutics, Autism Speaks, Autodesk, Autolus, Automation Anywhere, Auxly Cannabis Group, Avacta, Avalanche Biotechnologies, Avalere Health, Avalon GloboCare, AvantGen, Avantor, Avatamed, Avectas, Avellino Labs, AVEO Oncology, Avera Health, Avera Heart Hospital of South Dakota, Avidity Biosciences, Avillion, Avita Medical, Avrobio, Axcelead Drug Discovery Partners, Axcella, Axella Research, AXIM Biotechnologies, Axiogenesis, Axis Therapeutics, Axol Bioscience, Axovant Gene Therapies, Axway, Axxam, Axxin, Ayasdi, AyoxxA Biosystems, Aytu BioScience, B-MoGen Biotechnologies, Bacit, Bactevo, Baebies, Baheal Pharmaceutical, BalGeunSeSang Eye Clinic, Bank of America, Banner Alzheimer's Institute, Banner Health, Baptist Health Care, Barnabas Health, Baruch S Blumberg Institute, BASF, Basilea Pharmaceutica, Batavia Biosciences, Battelle, Bavarian Nordic, Baxalta, Baxter International, Bay Area Lyme Foundation, Bayer, Bayer CropScience, Bayer Healthcare, Bay Labs, Baylor College, Baylor College of Medicine, Baylor Genetics, Baylor Health Care System, Baylor Institute for Immunology Research, Baylor Miraca Genetics Laboratories, Baylor Sammons Cancer Center, Bay State Milling Company, BBK Worldwide, B Braun, BC Neuroimmunology, BC Platforms, BC Technical, BD Consultancy, Beacon Discovery, Beactica, Beam Therapeutics, Beck's, Beckman Coulter, Becton Dickinson, BehaVR, BeiGene, Beijing Genomics Institute (BGI), Beijing Tide Pharmaceutical, Bellicum Pharmaceuticals, Ben-Gurion University, Benchling, Benchwise, BenevolentAI, Benitec Biopharma, Benson Hill Biosystems, Berg, BERG Analytics, BerGenBio, Berkeley Lights, Berlinger, Beroni Group, Bertin Pharma, Beta Pharma, Beta Therapeutics, Be The Match BioTherapies, Beth Israel Deaconess Medical Center, Bethyl Laboratories, Beyondspring Pharmaceuticals, BGI, BGN Technologies, Biametrics, Bicycle Therapeutics, Bigfoot Biomedical, Bill and Melinda Gates Foundation, Binary Fountain, Bina Technologies, BIND Therapeutics, Bio-Cancer Treatment International, Bio-Manguinhos, Bio-Optronics, Bio-Rad Laboratories, Bio-Techne, bioAffinity Technologies, BioAgilytix, BioAnalytical Systems, BioArctic Neuroscience, BioArdis, BioAscent Discovery, biOasis Technologies, BIOASTER, BioAtla, BioBlast Pharma, Bioblock, BioBright, Biocare Medical, Biocartis, Biocept, Bioceres, BioCision, BioClones, Biocon, BIOCORP, BioCurate, BioCure, Biodel, BioDerm, Biodesix, Biodextris, BioDigital, Biodirection, BioDiscovery, BioDuro, BioFire Diagnostics, Biofourmis, Biogen, BioGenes, BioGenetics, Biognosys, Bioharmony Therapeutics, Biohealth Innovation, BioIntelliSense, BioInvent, BioLamina, Biolase, BioLife Solutions, BioLight Life Sciences Investments, BiolineRX, BioLingus, BioLite Japan, BioLizard, Biolog-id, Biological Dynamics, biologistex CCM, BioLum Sciences, Biomanufacturing Training and Education Center, Biomarck Pharmaceuticals, BioMarin Pharmaceutical, Biomax Informatics, Biomed, Biomed Elements, Biomedical Advanced Research and Development Authority, Biomedical Catalyst Fund (UK), Biomedical Systems, Biomedix, BioMed Realty Trust, BIOMEDX Group, BioMed X Innovation Center, bioMerieux, Biomica, Biomillenia, Biomodels, BioMotiv, BiomX, BioNano Genomics, Bionetix, Bionic Sight, Bioniz Therapeutics, Bionomics, BioNovion, BioNTech, Bionure, BioOhio, Biooutsource, BioPharma Plasma, Biophore Pharmaceuticals, BioPontis Alliance, Bio Products Laboratory, Bioptic, BioRap Technologies, BioRealm, BioReference Laboratories, BioRestorative Therapies, BioSense Global, Biosequel, Bioserve, Bioservo Technologies, BioSig Technologies, BioSolveIT, Biosortia Pharmaceuticals, BioSpherix, Biostar Pharmaceuticals, BioStorage Technologies, BioSurplus, BioSymetrics, Biotage, Biotechnology and Biological Sciences Research Council (BBSRC), Biotechnology Industry Organization, Biotech Products Services & Research, BioTek Instruments, BioTelemetry, Biotem, Biotest, BioTheranostics, Biothera Pharmaceuticals, BioTheryX, Biotop, Biotricity, BioVendor, Bioventus, Bioverativ, BioVersys, BioVinc, Biovista, BioViva Sciences, BioXcel, Bioz, BirchBioMed, Bird Foundation, Black AIDS Institute, Blackford, Blackfynn, Blackrock NeuroMed, Black Swan Research Initiative, BlackThorn Therapeutics, BlinkBio, Blockchain Global, Blood Centers of America, Blood Systems Research Institute, Bloom Science, Blue Belt Technologies, Bluebird Bio, Blue Cross Blue Shield Association, Bluejay Diagnostics, Blue Mesa Health, BluePen Biomarkers, Blueprint Genetics, Blueprint Medicines, BlueRock Therapeutics, Blue Shield of California, Blum Center for Health, BluSense Diagnostics, BMC Medical, Boehringer Ingelheim, Boehringer Ingelheim Vetmedica, Bonbouton, Bone Therapeutics, Bonnie J. Addario Lung Cancer Foundation, Bophelo Bioscience & Wellness, BostonGene, Boston IVF, Boston Scientific, Boston Strategics, Boston Therapeutics, Boston University, Boston University School of Medicine, BPL Medical Technologies, Bracco Imaging, Brain and Spine Institute, Brain Balance Achievement Centers, BRAIN Initiative, BrainLAB, Brainomix, BrainStem Biometrics, BrainStorm Cell Therapeutics, Brain Treatment Center San Diego, BravoVax, Breath Diagnostics, BriaCell Therapeutics, Brickell Biotech, BridgeBio Pharma, Bridge Biotherapeutics, BridgeCrest Medical, Brigham and Women's Hospital, BrightFocus Foundation, BrightInsight, Brightree, Brii Biosciences, BRIM Biotechnology, Bristol-Myers Squibb, Bristol-Myers Squibb Pakistan, British Lung Foundation, BroadcastMed, Broad Institute, Brooks Automation, Brown University, Bruker, Bruker Daltonics, BSSN Software, BT, BT for Life Sciences, BTG, Buchang Pharmaceutical, Buck Institute for Age Research, BullFrog AI, Burnet Institute, Burning Rock, BurstIQ, Butantan Institute, BVI Medical, C-Tri, C2i Genomics, C2N Diagnostics, C4 Therapeutics, C4X Discovery, Cabaletta Bio, Cadent, Cadila Pharmaceuticals, Caelum Biosciences, Caladrius Biosciences, Calcimedica, Caldera Pharmaceuticals, Calgren Renewable Fuels, Caliber Biotherapeutics, Calico, Calidi Biotherapeutics, California College of Natural Medicine, California Institute for Biomedical Research, California Institute for Quantitative Biosciences (QB3), California Institute of Technology, California Life Sciences Association, Calithera Biosciences, Calixar, Calypso Biotech, Calyxt, Camargo Pharmaceutical Services, Cambia Health Solutions, Cambridge Brain Sciences, Cambridge Cancer Genomics, Cambridge Cognition, Cambridge Epigenetix, Cambridge MedSpace, Camino Partnership, CAMP4 Therapeutics, Can-Fite BioPharma, Canadian Cancer Society, Canadian Cancer Trials Group, Canadian Institutes of Health Research, CANbridge Life Sciences, Cancer Genetics, CancerLinQ, Cancer Molecular Diagnostic Laboratory, Cancer Research Institute, Cancer Research Technology, Cancer Research UK, Cancer Science Institute of Singapore, CanCure, Candela, Candel Therapeutics, Cannabics Pharmaceuticals, Cannabis Science, CannaKids, Cannassure Therapeutics, Canndeo, Cannika, CannScience Innovations, Canntab Therapeutics, CannTrust, Canon U.S. Life Sciences, Canopy Growth, Cantab Anti-infectives, Capellabio, Capillary Biomedical, Capnia, Capricor Therapeutics, Caprion Biosciences, Caprion Proteomics, Cara Care, Caraway Therapeutics, CARB-X, Carbiotix, Carbon, Cardiff University, Cardinal Partners, Cardio Renal Society of America, Cardiorentis, Cardiovascular Research Foundation, Cardiovascular Systems, Cardium Therapeutics, Cardurion Pharmaceuticals, CareDx, CareFirst BlueCross BlueShield, CareFusion, CareNet, Carepay, CarePayment Technologies, Carestream Health, Caresyntax, Cargill, Caribou Biosciences, Carilion Clinic, Caris Life Sciences, Carisma Therapeutics, Carlos Slim Health Institute, Carl Zeiss, Carmentix, Carmine Therapeutics, Carmot Therapeutics, Carna BioSciences, Carnegie Mellon University, Carolina BioOncology Institute, Carrum Health, CarThera, Cartherics, CAS, Casebia Therapeutics, Case Western Reserve University, Castle Creek Pharmaceuticals, CasZyme, Catabasis Pharmaceuticals, Catalent, Catalyst Biosciences, Catalyst Pharmaceutical Partners, Catapult Therapy TCR, Catholic University Leuven, CBLPath, CB Therapeutics, CBT Pharmaceuticals, CDC Foundation, CDR-Life, Ceapro, Cedars-Sinai Medical Center, Cegedim, CEITEC, Celares, Celdara Medical, Celerion, Celgene, Cell2in, CellAct, Celladon, Cell and Gene Therapy Catapult, Cellaria Biosciences, Cell Design Labs, Celldex Therapeutics, Cellectar Biosciences, Cellect Biotechnology, Cellectis, Cellectis Bioresearch, Cellectricon, Cellesce, CellGenix, Celling Biosciences, CELLINK, Cell Line Genetics, CellMark Medical, Cell Medica, Cell Mogrify, Cellnetix, CellProThera, CellSight Technologies, CellSpring, Cellthera Pharma, Cell Therapy Catapult, Cellular Biomedicine, Cellular Dynamics International, Celmatix, Celonic, Cel Sci, Celsius Therapeutics, Celularity, Celyad, Cenix BioScience, Censo Biotechnologies, Centauri Therapeutics, Centene, Center for Biomarker Research in Medicine, Center for Connected Health, Center for Genetic Engineering and Biotechnology (Cuba), Center for Human Immunology, Autoimmunity and Inflammation, Center for Infectious Disease Research, Center for iPS Cells Research and Application, Center for Technology and Innovation in Pediatrics (CTIP), Center on Addiction, Center Point Clinical Services, Centers for Disease Control and Prevention, Centers for Medicare and Medicaid Services, Centogene, Central Admixture Pharmacy Services, Centre de Recherche en Cancérologie de Lyon, Centre for Commercialization of Cancer Immunotherapy and Regenerative Medicine, Centre for Commercialization of Regenerative Medicine (CCRM), Centre for Drug Design and Discovery, Centre for Drug Research and Development (CDRD), Centre for Imaging Technology Commercialization, Centre for Research in Agricultural Genomics, Centre for Research in Medical Devices (CURAM), Centre for Structural Systems Biology, Centre For The Commercialization Of Antibodies And Biologics, Centre Hospital University - Bordeaux, Centre International de Developpment Pharmaceutique, Centre Leon Berard, Centre National de Biologie Expérimentale, Centre National de la Recherche Scientifique, Centro de Tecnologia Canavieira, Century Therapeutics, Cepheid, Ceram Research, Cerba HealthCare, Cerebain Biotech, CerebraCell, CereScan, Cerevance, Cerevel Therapeutics, Cergentis, Cerner, Certainty Health, Certara, Certis, Cerulean Pharma, Cerus, Cerveau Technologies, Cesca Therapeutics, Cevec Pharmaceuticals, CFTechnology.org, CHA Medical Group, Champalimaud Foundation, Champion Healthcare, Champions Oncology, Changchun BCHT Biotechnology, Changzhou Center for Biotech Development, Charcot-Marie-Tooth Association, Charite Universitatsmedizin Berlin, Charles River Associates, Charles River Laboratories, Charleston Laboratories, Chattanooga Center for Neurologic Research, CHDI Foundation, Check-Cap, Checkmate Pharmaceuticals, Checkpoint Therapeutics, ChemAxon, Chembio Diagnostics, ChemDiv, ChemRar High-Tech Center, Chemspace, Chemveda Life Sciences, CHF Solutions, Chi-Med, Chiesi Farmaceutici, Children's Hospital Boston, Children's Hospital Los Angeles, Children's Hospital of Philadelphia, Children's Hospital of Pittsburgh, Children's Hospital Of Wisconsin, Children's Medical Research Institute, Children's Minnesota, Children's National Health System, Children's Center for Cancer and Blood Diseases (CCCBD), Children's Hospital Colorado, Chiltern, Chiltern International, Chimerix, China Animal Husbandry Industry, China Certification & Inspection Group, China Cord Blood, China Government, China Southeast University, Chinese Academy of Agricultural Science, Chinese Academy of Sciences, Chinese Center for Disease Control and Prevention, Chinese Society of Cardiology, Chinese University of Hong Kong, Chiome Bioscience, Chiromics, ChiScan, Christiana Care Health System, Christie Medical, Christus Health, ChromaDex, ChromaTan, Chromatin, Chromocell, Chronos Therapeutics, Chugai Pharmaceutical, Chugai Pharma Marketing, Cigna Healthcare, Cilag AG, Cilian, CiMaas, Cimar, Cincinnati Children's Hospital Medical Center, Ciox Health, Circassia, Circle Pharma, Circuit Clinical, Circuit Therapeutics, CISCRP, Cisen Pharma, CISYS Lifesciences, Citizens United for Research in Epilepsy, City of Hope, CIVCO Radiotherapy, Civica Rx, Clalit Health Fund, Clarient, Claritas Genomics, Clarity Pharmaceuticals, Clay-Platte Family Medicine Clinic, Clearbridge Biomedics, ClearLight Diagnostics, ClearPath, Cleveland Clinic, Cleveland HeartLab, Cleveland University Hospitals, CLEW Medical, Click Therapeutics, Clinerion, Clinical Conductor, Clinical Development Services Agency, Clinical Genomics, Clinical Ink, Clinical Laserthermia Systems (CLS), ClinicAll International, Clinical Network Services, Clinical Oncology Research Excellence (CORE), Clinical Outcomes Tracking and Analysis, ClinicalStudyDataRequest, Clinical Study Support, Clinica Ruiz, Clinic for Special Children, Clinigen, Clinipace Worldwide, Clinlogix, ClinOne, Clinovo, Clinverse Technologies, Clinvest, Cloaked Therapeutics, Clontech Laboratories, Clorox Company, Close-Up International, Cloudera, Cloud Pharmaceuticals, Clover Biopharmaceuticals, Clover Therapeutics, Clovis Oncology, CluePoints, CMAB Biopharma, CMIC, CMS Medical, CNA Development, CN Bio Innovations, Coala Life, Coalition for Epidemic Preparedness Innovations, Coastal Genomics, Cobra Biologics, Cochin Hospital, Cocoon Biotech, Cocrystal Pharma, Codexis, Codiak BioSciences, Codigo46, Codonics, COFCO Group, Cognate BioServices, Cognition Kit, CogState, Cohen Veterans Bioscience, Cold Genesys, Cold Spring Harbor, Collaborative Drug Discovery, Collaborative Study Group, Collaborative Trajectory Analysis Project, Collective Medical, College of Life Science of Northwest University, Collplant, Color, Colorado Product Services, Colorado School of Mines, Colorcon, Columbia Care, Columbia University, Columbia University Medical Center, Colzyx, Comanche County Memorial Hospital, Community College of Philadelphia, Community Medical Center, Compact Imaging, Companion Dx Reference Lab, CompanionDx Reference Lab, Companion Medical, Companion PBx, Compassionate Care Center of New York, Compass Minerals Plant Nutrition, Compass Point Research, Complix, Compugen, CompuGroup Medical, Conatus Pharmaceuticals, Concept Life Sciences, Concerto HealthAI, Confluent Medical Technologies, Confo Therapeutics, Congenica, Conkwest, Connecticut Children's Medical Center, Connexios, Consensus Orthopedics, Consortia Health Clinical Continence Services, Context Therapeutics, Contextual Genomics, ContraFect, ContraVir Pharmaceuticals, ConvaTec, Convelo Therapeutics, Convergence Pharmaceuticals, Cook Biotech, Cook Pharmica, Cook Regentec, Cooperative Research Centre for Cell Therapy Manufacturing, Copan Diagnostics, COPD Foundation, Coracoid Solutions, Corbin Therapeutics, Corbus Pharmaceuticals, Corcept Therapeutics, Cord Blood Registry, Cordlife, CoreBiome, CoreRx Pharma, Corestem, Corgenix Medical, Coriell Life Sciences, Corium International, Corning, Corporation for Biological Research, CorTechs Labs, Corteva Agriscience, CorVascular, Corvus Pharmaceuticals, CosmosID, COTA, COUR Pharmaceutical, Courtagen Life Sciences, Covance, Covaris, Covar Pharmaceuticals, Covidien, CPI International, CPR Pharma Services, Create Vaccine Company, Creative Biolabs, Creative Biomart, Creative Destruction Lab, Creoptix, Crescendo Biologics, Crescendo Bioscience, Crescita Therapeutics, Cresset, CRF Health, Cricket Health, CRISPR Therapeutics, Critical Path Institute (C-Path), Crohn's and Colitis Foundation of America, Croix-Rousse Hospital, CROMA Pharma, CromSource, Crossbeta Biosciences, CrowdMed, Crown Bioscience, CRS Bio, Crucell, CryoPort, CrystalGenomics, CSL, CSL Behring, CSPC Pharmaceutical Group, CSSI LifeSciences, CStone Pharmaceuticals, CTC Clinical Trial, CTD Holdings, CTX Technology, Cubist Pharmaceuticals, CUBRC, Cue Biopharma, Cullinan Oncology, Cultiv8, Cumberland Emerging Technologies, Cumberland Pharmaceuticals, Curable, Curadev Pharma, Curadigm, Curant Health, Curative, Cure Brain Cancer Foundation, CureCell, Cure Duchenne, Cure Forward, CureMetrix, CURE Pharmaceutical, Cure Sanfilippo Foundation, Curetis, CureVac, Curie-Cancer, Curing Kids Cancer, Curiox Biosystems, Curis, Curium, Current Health, Current Partnering, CurveBeam, Cutaneous Lymphoma Foundation, CvergenX, CVie, CW Analytical, Cyagen Biosciences, CyberHeart, CyberKnife, Cyclacel Pharmaceuticals, Cyclenium Pharma, Cyclica, Cyclofluidic, CyDex, CymaBay Therapeutics, Cynapsus Therapeutics, Cynata Therapeutics, CynergisTek, Cynvenio, Cypher Genomics, Cyrus Biotechnology, Cystic Fibrosis Foundation, Cystic Fibrosis Foundation Therapeutics, Cytapex Bioinformatics, Cytel, Cytiva, CYTLIMIC, Cytobank, Cytocom, Cytodyn, Cytokinetics, CytomX Therapeutics, Cytoo, CytoReason, Cytos Biotechnology, CytoSen Therapeutics, Cytovance Biologics, Cytovant Sciences, CYTOVIA Therapeutics, Cytox, Cyxone, Czech Center for Phenogenomics, D2M, d3 Medicine, Daewoong Pharmaceutical, Daiichi Sankyo, Dainippon Sumitomo Pharma, Dako, Daktari Diagnostics, DalCor Pharmaceuticals, Dalton Pharma Services, Dana-Farber Cancer Institute, DanDrit Biotech, Danish Center for Strategic Research into Type 2 Diabetes, Dante Labs, Dare Bioscience, DarioHealth, Dartmouth-Hitchcock Medical Center, Dartmouth College, DaRui Biotech, DarwinHealth, Dassault Systems, Data2Life, DataRobot, DATATRAK International, Datavant, David H. Koch Institute for Integrative Cancer Research, DaVita Clinical Research, DaVita HealthCare Partners, Da Volterra, Daxor, DayTwo, DBV Technologies, DCPrime, DEARhealth, Debiopharm, Debiotech, DEBRA Austria, Decernis, Decibel Therapeutics, DecisionQ, deCODE Genetics, DEEP 6 AI, Deep Cube, Deerfield Management, Defense Advanced Research Projects Agency, Definiens, Defymed, Dehaier Medical Systems, Deinove, Delcath Systems, Delivering Scientific Innovation for Autism (DELSIA), DelMar Pharmaceuticals, DelSiTech, Dementia Consortium, Dementia Discovery Fund, Denali Therapeutics, Denator, Densitas, Dent Neurologic Institute, Dentsply International, Department of Defence, Department of Defense, Department of Defense Hearing Center of Excellence and Vision Center of Excellence, Department of Health and Human Services, Department of Veterans Affairs, DePuy, Dermala, DermaPort, DermSpectra, DermTech, Desert Imaging, Desktop Genetics, DestiNA Genomics, Deutsches Elektronen-Synchrotron, Devana Solutions, Dewpoint Therapeutics, DexCom, DHL, Diabetes Singapore, Diaceutics, diaDexus, Diagnomics, DiA Imaging Analysis, DiaMedica, DiamiR, Diamond Light Source, DIAN Diagnostics, Diasend, DiaSorin, Diaxonhit, DiCE Molecules, Dicerna Pharmaceuticals, DICOM Grid, Dicom Systems, DigiLab, DigiPath Solutions, DigitalizaTXT, Digital Therapeutics Alliance, DILIsym Services, Dimension Therapeutics, DiNAQOR, Diopsys, Diploid, DiscoveRx, Discovery Laboratories, Discuva, Disior, Dispersive Technologies, Distributed Bio, Diverse Biotech, Diversigen, Dixie State University, DMTC, DNA Link, DNAnexus, DNA Therapeutics, DNAtrix, DNX Biopharmaceuticals, DocuSign, Dogma Therapeutics, Dolomite Bio, Domainex, Domain Therapeutics, Donald Danforth Plant Science Center, Dong-A ST, Dotmatics, Dow AgroSciences, Dow Chemical, Dow Jones, Dr. Agarwal's Eye Hospitals, Dr. Falk Pharma, Dr. Reddy's Laboratories, Dragonfly Therapeutics, Draper Laboratories, DrChrono, DreaMed Diabetes, DrFirst, DrugDev, Drugs for Neglected Diseases Initiative, DSG, DSM, Dualogics, Dual Therapeutics, Duchenne Therapy Network, Ductor, Duke-NUS Graduate Medical School Singapore, Duke Cancer Institute, Duke Clinical Research Institute (DCRI), Duke University, Duke University Medical Center, DuPont, DuPont Pharmaceuticals, DxTerity, Dyadic International, DyNAbind, Dynasil, Dynavax Technologies, Dyno Therapeutics, Dystonia Europe, Dystonia Medical Research Foundation, Dystrophic Epidermolysis Bullosa Research Association of America, DZNE German Center for Neurodegenerative Diseases, e-NABLE Foundation, E-Therapeutics, E.I. Medical Imaging, E.T. Horn, Eagledream Health, Eagle Genomics, EA Pharma, EarlySense, Early Signal Foundation, East and North Hertfordshire NHS Trust, EastGate Biotech, Easton Pharmaceuticals, EBD Group, EBM-Solutions, Eccrine Systems, Echosens, eClinicalHealth, eClinical Insights, ECOG-ACRIN Cancer Research Group, Ecole Polytechnique de Montreal, Ecole Polytechnique Federale de Lausanne, Eddingpharm, Edelris, Edesa Biotech, Edge Therapeutics, Edico Genome, EdiGene, Edimer Pharmaceuticals, Edison Nation Medical, Edison Pharmaceuticals, Editas Medicine, Edith Wolfson Medical Center, Edwards Lifesciences, eemagine, eFFECTOR Therapeutics, EffRx, eGenesis, Egenix, EHang Holdings, Eigen, Eiger BioPharmaceuticals, Eisai, Eisai Inc, EKF Diagnostics, EKF Diagnostics (Germany), Elanco, Elastos Foundation, ELC Group, Electromedical Technologies, Elekta, Elektrofi, Elemental Machines, ElevateBio, Elevian, Elicio Therapeutics, Eli Lilly, Elligo Health Research, Ellume, Elpiscience, Elsevier, Elucidata, Elucigene, Elysium Health, Embark Biotech, Emdeon, EMD Millipore, EMD Serono, Emerald Logic, Emerge Health, Emergence Therapeutics, Emergent BioSolutions, Emergex Vaccines, Emerson Process Management, Emirates Diabetes Society, Emirates Gastroenterology & Hepatology Society, Emocha Mobile Health, eMolecules, Emory University, Emperra, Empirico, Emulate, Enable Biosciences, Enable Healthcare, Enamine, EnBiotix, Encoded Therapeutics, Encycle Therpaeutics, Endocanna Health, Endocyte, Endotherm, endpoint Clinical, ENDRA Life Sciences, Energesis Pharmaceuticals, Enesi Pharma, enGene, Engineered Medical Solutions, Engitix, Enigma Biomedical, Enigma Diagnostics, Entegra Laboratories, Enterome Bioscience, Entos Pharmaceuticals, Entra Health, Enumeral Biomedical, EnvisionTec, ENYO Pharma, Enzo Biochem, Enzymatica, Enzyvant Science, Eone-Diagnomics Genome Center, EPAM Systems, Epic Sciences, Epilepsy Foundation (EF), Epilepsy Society, EpimAb Biotherapeutics, Epinomics, EpiPharma, Epirus Biopharmaceuticals, EpiThany, Epivax, Epizyme, Eppendorf, Epsilogen, Epsilon, EQRx, Erasmus University Medical Center, Ergomed, ERP Biomarker Qualification Consortium, ERS Genomics, ERT, Ervaxx, Erytech, Escient Pharmaceuticals, Esperance Pharmaceuticals, Essex Bio-Technology, Esteve, EtectRx, Eternygen, Ethical Oncology Science, Ethicon Endo-Surgery, Ethos Veterinary Health, Ethris, ETH Zurich, Etubics, Eucodis Bioscience, Euprotec, Eureka Eurostars, Eureka Genomics, Eureka Therapeutics, Eurofins Discovery, Eurofins Genomics, Eurofins Scientific, Euroimmun, European Bioinformatics Institute
For a full list of companies please contact us on enquiry@currentpartnering.com
Current Partnering reports provide insight into the trends and terms of partnering deals in the global life sciences sector.
Current Partnering reports are updated every six months to ensure the user has access to the latest announcements and trends in the topic focus of the report.
Current Partnering analysts review the deal data to provide an overview and analysis of deal trends, including example deals and terms.
Current Partnering reports source deal data from our proprietary deals and alliances database, Current Agreements. The database is updated daily by our analysts with new deals as they are announced globally by the company's party to the deal. In addition, deal records are updated with new data as it becomes available.
The data in the Current Agreements deals and alliances database is obtained from secondary sources such as publicly available industry sources including press releases, company presentations, investor presentations, company SEC filings, other company filings, company websites, conference presentations. Sources are identified to allow for user verification.
Current Partnering provides comprehensive coverage of the following partnering or deal types:
• Asset purchase
• Assignment
• Co-development
• Co-market
• Co-promotion
• Collaborative R&D
• Contract service
• CRADA
• Cross-licensing
• Development
• Distribution
• Equity purchase
• Evaluation
• Grant
• Joint venture
• Licensing
• Loan
• Manufacturing
• Marketing
• Option
• Promotion
• Research
• Royalty financing
• Settlement
• Spin out
• Sub license
• Supply
• Termination
• Warrant
Every deal record is fully categorized and includes the following data, where available:
• Industry sector
• Therapy areas
• Technology type
• Deal components
• Financial terms
• Stage of development
• Exclusivity
• Asset type
• Geographic focus
• Excluded geography
• Company press release
• SEC filing data including contract document
All financial amounts are converted to US$ using the exchange rate available on the date of deal announcement, enabling direct comparison of deal terms across international territories.
Financial data and contract documents displayed in deal records is obtained from public sources, where disclosed by the parties to the deal.
We found other products you might like!