Clinical Stage Partnering Terms and Agreements in Pharma and Biotech 2016-2023
The Clinical Stage Partnering Terms and Agreements in Pharma and Biotech 2016-2023 provides comprehensive understanding and unprecedented access to clinical stage partnering agreements entered into by the worlds leading biopharma companies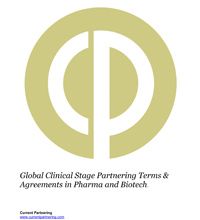 Publication date
March 2023
Product type
Research report
Available formats
PDF document
The Global Clinical Stage Partnering Terms and Agreements in Pharma and Biotech 2016 - 2023 report provides a detailed understanding and analysis of how and why companies enter clinical stage partnering deals and provides details of the latest clinical agreements announced in the healthcare sector.
Understanding the flexibility of a prospective partner's negotiated deals terms provides critical insight into the negotiation process in terms of what you can expect to achieve during the negotiation of terms. Whilst many smaller companies will be seeking details of the payments clauses, the devil is in the detail in terms of how payments are triggered – contract documents provide this insight where press releases and databases do not.
This report contains a comprehensive listing of over 2,900 clinical stage partnering deals announced since 2016 including financial terms where available including numerous links to online deal records of actual clinical partnering deals as disclosed by the deal parties. In addition, where available, records include contract documents as submitted to the Securities Exchange Commission by companies and their partners.
The initial chapters of this report provide an orientation of clinical stage deal making and business activities. Chapter 1 provides an introduction to the report, whilst chapter 2 provides an overview of why companies partner clinical stage compounds/products.
Chapter 3 provides an overview of clinical stage deals strategy and deal structure including numerous case studies. Chapter 4 provides an overview of the various payment strategies used in clinical stage deals.
Chapter 5 provides a review of clinical stage deal making since 2016. Deals activity is reviewed by year, stage of development at signing, therapeutic area, technology type, as well as most active dealmakers.
Chapter 6 provides a detailed analysis of clinical stage payment terms including headline, upfront, milestone and royalty rates for phase I, phase II and phase III deals.
Chapter 7 provides a review of the leading clinical stage deal by headline value. Each deal title links via Current Agreements deals and alliances database to an online version of the full deal record, and where available, the actual contract document, providing easy access to each deal record on demand.
Chapter 8 provides a comprehensive listing of the top 25 most active clinical stage dealmaker companies. Each deal title links via Current Agreements deals and alliances database to an online version of the full deal record, and where available, the actual contract document, providing easy access to each deal record on demand.
Chapter 9 provides a comprehensive and detailed review of clinical stage partnering deals signed and announced since 2016, where a contract document is available in the public domain.
Chapter 10 provides a comprehensive directory of clinical stage partnering deals since 2016 organized by stage of development – phase I, phase II and phase III.
The report includes deals announced by hundreds of life science companies including big pharma such as Abbott, Abbvie, Actavis, Amgen, Astellas, AstraZeneca, Baxter, Bayer, Biogen Idec, BMS, Celgene, Eisai, Eli Lilly, Gilead, GSK, J&J, Kyowa Hakko, Merck, Mitsubishi, Mylan, Novartis, Pfizer, Roche, Sanofi, Shire, Takeda, Teva, and Valeant, amongst many others.
The report also includes numerous tables and figures that illustrate the trends and activities in clinical stage partnering and deal making since 2016.
In addition, a comprehensive appendix of all clinical stage deals since 2016 is provided organized by partnering company A-Z, deal type, therapy focus and technology type. Each deal title links via Weblink to an online version of the deal record and where available, the contract document, providing easy access to each contract document on demand.
In conclusion, this report provides everything a prospective dealmaker needs to know about partnering in the research, development and commercialization of clinical stage products and compounds.
Key benefits
Global Clinical Stage Partnering Terms and Agreements in Pharma and Biotech 2016 - 2023 provides the reader with the following key benefits:
In-depth understanding of clinical stage deal trends since 2016
Access to headline, upfront, milestone and royalty data
Analysis of the structure of clinical stage agreements with numerous real life case studies
Insight into the terms included in a clinical stage agreement, together with real world clause examples
Understand the key deal terms companies have agreed in previous deals
Undertake due diligence to assess suitability of your proposed deal terms for partner companies
Report scope
Global Clinical Stage Partnering Terms and Agreements in Pharma and Biotech 2016-2023 is intended to provide the reader with an in-depth understanding and access to clinical stage deal trends and structure of deals entered into by leading companies worldwide.
Global Clinical Stage Partnering Terms and Agreements in Pharma and Biotech 2016-2023 includes:
Trends in clinical stage dealmaking in the biopharma industry since 2016
Analysis of clinical stage deal structure
Access to headline, upfront, milestone and royalty data
Case studies of real-life clinical stage deals
Access to over 2,900 clinical stage deals
The leading clinical stage deals by value since 2016
Most active clinical stage dealmakers since 2016
The leading clinical stage partnering resources
In Global Clinical Stage Partnering Terms and Agreements in Pharma and Biotech 2016-2023, the available contracts are listed by:
Company A-Z
Headline value
Stage of development at signing
Deal type
Specific therapy target
Each deal title links via Weblink to an online version of the deal record and where available, the contract document, providing easy access to each contract document on demand.
The Global Clinical Stage Partnering Terms and Agreements in Pharma and Biotech 2016 - 2023 report provides comprehensive access to available deals and contract documents for over 2,900 clinical stage deals. Analyzing actual contract agreements allows assessment of the following:
What are the precise rights granted or optioned?
What is actually granted by the agreement to the partner company?
What exclusivity is granted?
What is the payment structure for the deal?
How are sales and payments audited?
What is the deal term?
How are the key terms of the agreement defined?
How are IPRs handled and owned?
Who is responsible for commercialization?
Who is responsible for development, supply, and manufacture?
How is confidentiality and publication managed?
How are disputes to be resolved?
Under what conditions can the deal be terminated?
What happens when there is a change of ownership?
What sublicensing and subcontracting provisions have been agreed?
Which boilerplate clauses does the company insist upon?
Which boilerplate clauses appear to differ from partner to partner or deal type to deal type?
Which jurisdiction does the company insist upon for agreement law?
Clinical Stage Partnering Terms and Agreements in Pharma and Biotech 2016-2023 provides the reader with the following key benefits:
In-depth understanding of clinical stage deal trends since 2016
Access to headline, upfront, milestone and royalty data
Comprehensive access to over 2,900 clinical stage deals together with contract documents if available
Detailed access to actual clinical stage deals entered into by the leading 25 big pharma and big biotech companies along with other biopharma companies
Analysis of the structure of clinical stage agreements with numerous real life case studies
Identify leading clinical stage deals by value since 2016
Identify the most active clinical stage dealmakers since 2016
Full listing of clinical stage deals by company A-Z, phase of development, deal type, therapy and technology focus
Understand the key deal terms companies have agreed in previous deals
Undertake due diligence to assess suitability of your proposed deal terms for partner companies
Executive Summary
Chapter 1 – Introduction
Chapter 2 – Why do companies partner clinical stage compounds?
2.1. Introduction
2.2. The role of clinical stage partnering
2.2.1. In-licensing at clinical stage
2.2.2. Out-licensing at clinical stage
2.3. Difference between phase I, II and III stage deals
2.4. Reasons for entering into clinical stage partnering deals
2.4.1. Licensors reasons for entering clinical stage deals
2.4.2. Licensees reasons for entering clinical stage deals
2.5. The future of clinical stage partnering deals
Chapter 3 – Clinical stage deal strategies and structure
3.1. Introduction
3.2. At what stage do companies partner?
3.2.1. Partnering early in pharmaceutical/biotech
3.2.1.1. Discovery and preclinical stage partnering case studies
3.2.1.1.a. Case study 1
3.2.1.1.b. Case study 2
3.2.1.1.c. Case study 3
3.2.1.1.d. Case study 4
3.2.2. Partnering later in pharmaceutical/biotech
3.2.2.1. Clinical stage partnering case studies
3.2.2.1.a. Case study 5
3.2.2.1.b. Case study 6
3.2.2.1.c. Case study 7
3.2.2.1.d. Case study 8
3.3. Early and later stage partnering – a risk/cost comparison
3.4. What do companies spend on clinical stage partnering?
3.5. Pure versus multi-component partnering deals
3.6. Pure licensing agreement structure
3.6.1. Example pure licensing agreements
3.6.1.a. Case study 9
3.6.1.b. Case study 10
3.7. Multicomponent clinical stage partnering agreements
3.7.1. Example multicomponent clinical stage clauses
3.7.1.a. Case study 11
Chapter 4 – Clinical stage partnering payment strategies
4.1. Introduction
4.2. Clinical stage payment strategies
4.3. Payment options
4.3.1. Headline values
4.3.2. Upfront payments
4.3.2.1. Conditionality of upfront payments
4.3.3. Loans
4.3.4. Convertible loans
4.3.5. Equity
4.3.6. R&D funding
4.3.7. Licensing fees
4.3.8. Milestone payments
4.3.9. Royalty payments
4.3.9.1. Issues affecting royalty rates
4.3.9.2. Royalties on combination products
4.3.9.2.a. Case study 12
4.3.9.3. Guaranteed minimum/maximum annual payments
4.3.9.4. Royalty stacking
4.3.9.5. Royalties and supply/purchase contracts
4.3.10. Quids
4.3.11. Option payments
Chapter 5 – Trends in clinical stage deal making
5.1. Introduction
5.2. Clinical stage partnering over the years
5.2.1. Trends in phase I deals since 2016
5.2.1.1. Attributes of phase I deals
5.2.2. Trends in phase II deals since 2016
5.2.2.2. Attributes of phase II deals
5.2.3. Trends in phase III deals since 2016
5.2.3.1. Attributes of phase III deals
5.3. Clinical stage partnering by deal type
5.4. Clinical stage partnering by disease type
5.5. Partnering by clinical stage technology type
5.6. Clinical stage partnering by most active company since 2016
Chapter 6 – Payment terms for clinical stage partnering
6.1. Introduction
6.2. Guidelines for clinical stage payment terms
6.2.1. Upfront payments
6.2.2. Milestone payments
6.2.3. Royalty payments
6.3. Clinical stage payment terms – deal data analysis
6.3.1. Public data
6.3.2. Survey data
6.4. Payment terms analysis
6.4.1. Clinical stage partnering headline values
6.4.2. Clinical stage deal upfront payments
6.4.3. Clinical stage deal milestone payments
6.4.4. Clinical stage royalty rates
6.5 Clinical stage median financials
6.5.1. Clinical stage headline value
6.5.2. Clinical stage upfront value
6.5.3. Clinical stage milestone value
6.5.4. Clinical stage royalty value
Chapter 7 – Leading clinical stage deals
7.1. Introduction
7.2. Top clinical stage deals by value
Chapter 8 – Top 25 most active clinical stage dealmakers
8.1. Introduction
8.2. Top 25 most active clinical stage dealmakers
Chapter 9 – Clinical stage partnering contracts directory
9.1. Introduction
9.2. Clinical stage deals with contracts since 2016
Chapter 10 – Clinical stage deal making by development stage
10.1. Introduction
10.2. Deals by clinical stage
Phase I
Phase II
Phase III
Regulatory
Appendices
Appendix 1 – Clinical stage dealmaking by companies A-Z
Appendix 2 – Clinical stage dealmaking by industry sector
Appendix 3 – Clinical stage dealmaking by stage of development
Appendix 4 – Clinical stage dealmaking by therapy area
Appendix 5 – Clinical stage dealmaking by technology type
About Wildwood Ventures
Current Partnering
Current Agreements
Recent report titles from Current Partnering
Table of figures
Figure 1: Definition of clinical phases in dealmaking
Figure 2: Components of the pure licensing deal structure
Figure 3: Payment options for clinical stage partnering deals
Figure 4: Issues affecting royalty rates
Figure 5: Clinical stage partnering by deal type since 2016
Figure 6: Clinical stage partnering by disease type since 2016
Figure 7: Clinical stage partnering by technology type since 2016
Figure 8: Top 25 most active clinical stage dealmakers, 2016 to 2023
Figure 9: Review of upfront payments for clinical stage deals
Figure 10: Review of milestone payments for clinical stage deals
Figure 11: Review of royalty payments for clinical stage deals
Figure 12: Clinical stage deals with a headline value
Figure 13: Clinical stage deals with an upfront value
Figure 14: Clinical stage deals with a milestone value
Figure 15: Clinical stage deals with a royalty rate value
Figure 16: Top clinical stage deals by value since 2016
Figure 17: Most active clinical stage dealmakers 2016 to 2023
Pricing options
$3,995: single-user
$5,745: multi-user
$10,995: single site license
$17,995: global site license
A full explanation of license type definitions can be found here.
Our guarantee
Price promise
We guarantee our prices are competitive. If you find the same report advertised at a lower price within 7 days of purchase, we will refund the difference.
Delivery Deadline
We guarantee that the report will be sent within the specified delivery times. In the unlikely case of a delay we may offer a partial refund as compensation. (Terms may apply)
Latest report
If an update is published within 30 days of your purchase, you will receive it absolutely free of charge.
Serious Security
We take your data and security seriously. See our privacy policy for details of how we manage your data.
All card payments are processed by SagePay.
Sales Support
If you have any questions about your report or are unhappy with the quality, we will do our best to resolve your query. Contact us direct.
Total Trust
Current Partnering is part of Wildwood Ventures Ltd., based in York, United Kingdom. We have been trading successfully online since 2009 and work with some of the most famous brands in the business. We carefully select our partners to ensure that the publications meet expectations of demanding customers.
2cureX, 2X Oncology, 3D BioMed, 3D Medicines, 3SBio, 4D Pharma, 4Living Biotech, 4P-Pharma, 4P Therapeutics, 4SC, 9 Meters Biopharma, Aadi Bioscience, AazeinTx, AB2 Bio, Abbisko Therapeutics, Abbott Laboratories, Abbott Vascular Devices, Abbvie, Abcam, Abdul Latif Jameel Health, ABEC, Abeona Therapeutics, Abide Therapeutics, ABIVAX, ABL Bio, Ablynx, Abuse Deterrent Pharmaceuticals, ABVC BioPharma, ABX, Acacia Pharma, ACADIA Pharmaceuticals, Acasti Pharma, Accenture, Accord Healthcare, Accurexa, Acell, Acelrx Pharmaceuticals, Acelyrin, Acerta Pharma, Acer Therapeutics, Acerus, Acetylon Pharmaceuticals, Achieve Life Science, Achilles Therapeutics, Acibadem University, Aclarion, Aclaris Therapeutics, Acorda Therapeutics, Acrivon Therapeutics, Acrotech Biopharma, Actinium Pharmaceuticals, ActualEyes, Actuate Therapeutics, Acturum Life, Actym Therapeutics, AcuCort, Acuity Pharmaceuticals, Aculys Pharma, Acura Pharmaceuticals, Adagene, Adagio Therapeutics, Adamas Pharmaceuticals, Adamis Pharmaceuticals, Adaptimmune, Adaptive Biotechnologies, Adaptive Phage Therapeutics, ADC Therapeutics, Addario Lung Cancer Medical Institute, Addex Therapeutics, Adhera Therapeutics, Adial Pharmaceuticals, Adium Pharma, Adlai Nortye, adMare BioInnovations, Adocia, Adult Brain Tumor Consortium, Aduro BioTech, Advaccine Biotechnology, Advanced BioScience Laboratories, Advanced Regenerative Manufacturing Institute, Advanced Technology International, Advanz Pharma, Advaxis, Advent International, Adverum Biotechnologies, Aeglea BioTherapeutics, Aelix Therapeutics, Aerie Pharmaceuticals, Aeromics, Aerpio Pharmaceuticals, AEterna Zentaris, Aevi Genomic Medicine, AffaMed Therapeutics, Affibody, Affimed Therapeutics, AFFiRiS, AFT Pharmaceuticals, AGC Asahi Glass, AGC Biologics, AgeneBio, Agenus Bio, Agilent Technologies, Agios Pharmaceuticals, Agricultural Materials Company, Aguettant, Aileron Therapeutics, AIM ImmunoTech, AimMax Therapeutics, Aimmune Therapeutics, AiPharma Global Holdings, AiVita Biomedical, Ajinomoto Bio-Pharma Services, AJU Pharma, AkaRx, Akashi Therapeutics, Akcea Therapeutics, Akebia Therapeutics, Akero Therapeutics, Akeso Biopharma, Akili Interactive Labs, AKL Research and Development, Akron Biotechnology, Akston Biosciences, Alat Medika Indonesia, Albany Molecular Research, Alba Therapeutics, Albert Einstein College of Medicine, Albireo, Alcami, Alder Biopharmaceuticals, Aldevron, Alector, Alexion Pharmaceuticals, Alfasigma, Algernon Pharmaceuticals, AliveGen, ALK-Abello, Alkahest, Alkem Laboratories, Alkermes, Allarity Therapeutics, Allecra Therapeutics, Allegro Ophthalmics, Allergan, Alliance For Clinical Trials In Oncology, Alliance for Lupus Research, Allied Corp, Alligator Bioscience, Allogene Therapeutics, Alloksys Life Sciences, Almac Group, Almirall, Alnylam Pharmaceuticals, Alpha Cognition, Alphamab Biopharmaceuticals, Alphamab Oncology, Alpine Immune Sciences, Altasciences, Alteogen, Alternavida, Altimmune, Altor BioScience, Altos Group, Altum Pharmaceuticals, Alume Biosciences, Alvogen, Alvotech, ALX Oncology, Alzamend Neuro, AlzeCure Pharma, Alzheimer's Drug Discovery Foundation, Alzheon, AlzProtect, AM-Pharma, Amag Pharmaceuticals, Amal Therapeutics, Amarex Clinical Research, Amarin, Amazon Web Services, Ambiopharm, Ambrx, Ambu, Amend Surgical, American Gene Technologies, American National Multiple Sclerosis Society, American Renal Associates, American Sexual Health Association, Amerigen Pharmaceuticals, AmerisourceBergen, Amgen, Amicus Therapeutics, Amneal Pharmaceuticals, AMO Pharma, Amoy Diagnostics, AMPEL BioSolutions, AmpliPhi Biosciences, Amplity Health, Amplyx Pharmaceuticals, AMR, Amryt Pharma, Amygdala Neurosciences, Amylyx Pharmaceuticals, Amyndas Pharmaceuticals, Amytrx Therapeutics, AN2 Therapeutics, ANANDA Scientific, AnaptysBio, Andor Pharmaceuticals, Anergis, Angelini Pharma, AnGes MG, Angiochem, Angion Biomedica, Angionetics, AngioSoma, AnHeart Therapeutics, Anivive Lifesciences, Anixa Biosciences, Anji Pharma, Ankyra Therapeutics, Annar Health Technologies, Annovis Bio, Antares Pharma, Antengene, Anteris Bio, Anthem, Anthony Nolan, Antibe Therapeutics, Antigen Express, Antios Therapeutics, AOP Orphan Pharmaceuticals, AOTI, Apceth, Apeiron Biologics, Apellis Pharmaceuticals, Apexian Pharmaceuticals, Apexigen, Aphex BioCleanse Systems, APL, Aplagon, Apogenix, ApolloBio, Apollomics, Apollo Sugar, Apollo Therapeutics, Appili Therapeutics, Applied Biology, Applied Therapeutics, APR Applied Pharma Research, Aprecia Pharmaceuticals, Apsen Farmacutica, Aptahem, Aptinyx, Aptose Biosciences, Aquinox Pharmaceuticals, Araclon Biotech, Aratana Therapeutics, Aravive Biologics, Arbormentis, Arbutus, Arcadia Biosciences, Arcellx, Arch Biopartners, Archer Daniels Midland Company, Arch Oncology, Arcoral Pharma, Arctic Therapeutics, Arctic Vision, Arcturus Therapeutics, Arcus Biosciences, Ardelyx, Arecor, Arena Pharmaceuticals, Areva Med, argenx, Ariana Pharma, Aridis Pharmaceuticals, ARISE MD Integrative Medicine & Surgery, Aristea Therapeutics, Arlington Scientific, Armata Pharmaceuticals, Armetheon, Arno Therapeutics (inactive since 2017), ArQule, Array Biopharma, Arrevus, Arrien Pharmaceuticals, Arrowhead Pharmaceuticals, Arrow Pharmaceuticals, ARS Pharmaceuticals, Artes Biotechnology, Artiva Biotherapeutics, ARTMS Product, Aruvant Sciences, Arvelle Therapeutics, Arvinas, Asahi Kasei, Asana Biosciences, Ascentage Pharma, Ascletis, Asher Biotherapeutics, Ashion Analytics, Asieris MediTech, Asieris Pharmaceuticals, ASKA Pharmaceuticals, AskAt, Aslan Pharma, Aspen Holding, Aspire Health Science, Assembly Biosciences, Assistance Publique-Hôpitaux de Paris, Association for Frontotemporal Degeneration, Assurex Health, Assuta Medical Centers, Astellas Pharma, Asterias Biotherapeutics, Astex Pharmaceuticals, AstraZeneca, Asymchem Laboratories, ATAI Life Sciences, Atara Biotherapeutics, Atea Pharmaceuticals, Athena Pharmaceutiques, Athenex, Athersys, Athira Pharma, Atlab Pharma, Atlantic Healthcare, ATMA Journey Centers, Atnahs Pharma, Atrapos Therapeutics, aTyr Pharma, Aucta Pharmaceuticals, Audentes Therapeutics, Auditus, AUM Biosciences, AUM Biotech, Aurinia Pharmaceuticals, Aurobindo Pharma, Australian Medical Research Institute, Autifony Therapeutics, Autism Impact Fund, Autism Speaks, Autobahn Therapeutics, AutoGenomics, Autolus, Autotelic BIO, Avacta, Avalo Therapeutics, Avania, Avaria Health & Beauty, AVEO Oncology, Aveta Biomics, Avid Bioservices, Avillion, AVM Biotechnology, Awakn Life Sciences, Axantia, AXIM Biotechnologies, Axovant Gene Therapies, Axsome Therapeutics, Azitra, Azura Ophthalmics, AzurRx BioPharma, Bachem, Baili Biopharmaceutical, Baker Brothers Investments, Baliopharm, Banner Alzheimer's Institute, Barbara Ann Karmanos Cancer Institute, Basilea Pharmaceutica, Battelle, Bausch & Lomb, Bausch Health Companies, Bavarian Nordic, Baxalta, Baxter International, Bayer, Bayer Healthcare, Baylor College, Baylor College of Medicine, BDD Pharma, Beckman Coulter, BeiGene, Beijing Genomics Institute (BGI), Beijing InnoCare Pharma, Beijing SL Pharma, Beijing Tide Pharmaceutical, Beleave, Belle.ai, Bellicum Pharmaceuticals, Bendalis, Bened Biomedical, BenevolentAI, Benuvia Therapeutics, BerGenBio, Berlin Chemie, Be The Match BioTherapies, Betta Pharmaceuticals, BetterLife Pharma, Better Therapeutics, Beyond Cancer, Beyondspring Pharmaceuticals, Bhang, Bharat Biotech, Bial, Bicycle Therapeutics, Bill and Melinda Gates Foundation, Binex, BinnoPharm, Bio-Manguinhos/Fiocruz, Bio-Path, Bio-Techne, Bio-Thera Solutions, BioAge Labs, BioAtla, BioAxone Therapeutic, BioBlast Pharma, BioCancell Therapeutics, BioCardia, Biocept, Biocon, BioCorRx, BioCryst Pharmaceuticals, BioDelivery Sciences, Biodesix, BioEclipse Therapeutics, BioElpida, Bioeq IP, Biofabri, Bioforum, Biofourmis, Biogen, BioGenetics, Biohaven Pharmaceuticals, BioInvent, BioKey, Biokin Pharmaceutical, Biolexis, BiolineRX, BioLink Life Sciences, Biological E, BioMatrix Specialty Pharmacy, Biomedical Advanced Research and Development Authority, BioMed Valley Discoveries, Biomerica, Biomica, Biomm, BiomX, Bioncotech Therapeutics, BiondVax, Bionical, Bioniz Therapeutics, BioNova Pharmaceuticals, BioNTech, BioPharma Services, Biophore Pharmaceuticals, Bioprojet, bioRASI, BioRestorative Therapies, BioSense Global, BioSight, Biosplice, BioSun Pharmed, Biotechnology Industry Research Assistance Council, Biothera Pharmaceuticals, BioVaxys, BioVectra, Bioventure MDC, Bioventus, BioVersys, BioVie, BioXcel, Biscayne Neurotherapeutics, BL&H, Blackstone, BlackThorn Therapeutics, Blake Insomnia Therapeutics, Blanver, Blinktbi, Bloom Science, Bluebird Bio, Blue Earth Diagnostics, Bluegrass Vascular Technologies, Blue Note Therapeutics, Blueprint Medicines, Boehringer Ingelheim, Bold Therapeutics, Bolt Biotherapeutics, Bone Biologics, Bone Therapeutics, Bonify, Bonnie J. Addario Lung Cancer Foundation, Bora Pharmaceuticals, Boryung Pharmaceutical, BostonGene, Boston Immune Technologies and Therapeutics, Boston Pharmaceuticals, Botanix Pharmaceuticals, Bpifrance, Brainomix, BrainScope, BrainStorm Cell Therapeutics, Braintree Laboratories, Brammer Bio, Breath Therapeutics, Breckenbridge Pharmaceutical, Breckenridge Pharmaceuticals, BriaCell Therapeutics, Brickell Biotech, BridgeBio Pharma, Bridge Biotherapeutics, Brigham and Women's Hospital, Brii Biosciences, Brill Pharma, Bristol-Myers Squibb, Broad Institute, Brown University, BryoLogyx, BTG, Burke Therapeutics, Burning Rock, Butantan Institute, Byondis, C3i, Cadila Pharmaceuticals, Caelum Biosciences, Caladrius Biosciences, Calidi Biotherapeutics, California Institute for Regenerative Medicine, Calithera Biosciences, Calliditas Therapeutics, Camargo Pharmaceutical Services, Camurus, Can-Fite BioPharma, Canadian Cancer Trials Group, Canadian Neuromuscular Disease Registry, CANbridge Pharmaceuticals, Cancer Focus Fund, Cancer Genetics, Cancer Prevention and Research Institute of Texas, Cancer Prevention Pharmaceuticals, Cancer Research Technology, Cancer Research UK, Cancer Science Institute of Singapore, Cancer Targeted Technology, CanCure, Candel Therapeutics, CannaCure, Cannidex Brands, CanniMed Therapeutics, Cantabria Pharma, Cantargia, Cantex Pharmaceuticals, Canymed, Capillary Biomedical, Capricor Therapeutics, Cara Care, Cara Therapeutics, CARB-X, CardiaCare, Cardiff Oncology, Cardinal Health, CardioFocus, Cardiome Pharma, Care Access Research, CareFirst BlueCross BlueShield, Caris Life Sciences, Carisma Therapeutics, Carmel Pharma, Carmentix, Carrick Therapeutics, CARsgen, CASI Pharmaceuticals, Cassava Sciences, Catabasis Pharmaceuticals, Catalent, Catalyst Clinical Research, Catalyst Pharmaceutical Partners, Catalyst Pharmaceuticals, CB2 Insights, CB2 Therapeutics, CBC Group, CBT Pharmaceuticals, CCT Research, Ceapro, Cedar Clinical Research, Cedars-Sinai Medical Center, Celcuity, Celgene, Celiac Disease Foundation, CellAct, Cellastra, Cell Cure Neurosciences, Cellectar Biosciences, Cellect Biotechnology, Cellectis, Cellenkos, Cellex, CellProThera, Celltrion, Cellular Biomedicine, Cellvation, CellVax Therapeutics, Celonic, Cel Sci, Celsion, Cend Therapeutics, Cenexi, Censa Pharmaceuticals, Center for Breakthrough Medicines, Center for Cancer Research, Centers for Disease Control and Prevention, Centogene, Centre for Probe Development and Commercialization, Centre International de Developpment Pharmaceutique, Centre Leon Berard, Centrexion, Centurion, Cerecor, Certara, Cerus, Cevec Pharmaceuticals, CG Oncology, ChadTough Foundation, Changchun High & New Technology Industries, Charak Foundation, Checkmate Pharmaceuticals, Checkpoint Therapeutics, ChemoCentryx, Chemomab Therapeutics, Chi-Med, Chiesi Farmaceutici, Children's Hospital Los Angeles, Chime Biologics, Chimeric Therapeutics, Chimerix, China Grand Pharma, China Grand Pharmaceutical, China Medical System, China Meheco, China Resources Sanjiu Medical and Pharmaceutical, Chinese University of Hong Kong, Chong Kun Dang, Chongqing Jingdong Pharmaceutical, Chugai Pharmaceutical, CicloMed, Cidara Therapeutics, Cilag AG, CIMAB SA, Cincinnati Children's Hospital Medical Center, CinCor Pharma, Cingulate, Cipher Pharmaceuticals, Cipla, Circuit Clinical, CIRION BioPharma Research, Citius Pharmaceuticals, Citrine Medicine, Citron Pharma, City of Hope, City of Hope Comprehensive Cancer Center, Civica Rx, CJ Corp, Clarity Pharmaceuticals, Clearside Biomedical, Cleave Therapeutics, Clementia Pharmaceuticals, Clene Nanomedicine, Cleveland Clinic, Cleveland Diabetes Care, Clinical Genomics, Clinical Trial and Consulting Services, Clinica Universidad Navarra, Clinigen, Clinilabs, Clinlogix, CloudCath, Clover Biopharmaceuticals, Clovis Oncology, CMAB Biopharma, CMC Biologics, Cmed, CMG Pharmaceutical, CMS Medical, CND Life Sciences, CNS Pharmaceuticals, Coala Life, Coalition for Epidemic Preparedness Innovations, Cobra Biologics, Cocrystal Pharma, Codexis, Coeptis Pharmaceuticals, Cofactor Genomics, Cognition Therapeutics, Cognito Therapeutics, Coherus Biosciences, Cold Genesys, Collegium Pharmaceuticals, Columbia Care, Columbia University, Commonwealth of Pennsylvania, Compass Therapeutics, Complement Pharma, Compugen, Conatus Pharmaceuticals, Concentric Analgesics, Concert Pharmaceuticals, Consilient Health, Constance Therapeutics, ConSynance Therapeutics, Context Therapeutics, ContraFect, ConverGene, Convergent Therapeutics, Cook Biotech, Cook Medical, COPD Foundation, CORAT Therapeutics, Corden Pharma, CoreRx Pharma, Corino Therapeutics, Corium International, Cornell University, Corpometria Institute, Correvio Pharma, Corvus Pharmaceuticals, Cosmo Pharmaceuticals, COUR Pharmaceutical, COVAXX, Creapharm, Crescendo Biologics, Crescita Therapeutics, Crestone Pharma, CRISPR Therapeutics, Critical Path Institute (C-Path), Crohn's and Colitis Foundation of America, Cromos Pharma, CromSource, Crossject, CR Pharma, CRT Pioneer Fund, Cryolife, CryoPort, CrystalGenomics, CSIR-Central Drug Research Institute, CSL, CSL Behring, CSPC Megalith Biopharmaceutical, CSPC Pharmaceutical Group, CS Pharmaceuticals, CStone Pharmaceuticals, CTD Holdings, CTI BioPharma, Cue Biopharma, Cugene, Cullinan Oncology, Cumberland Pharmaceuticals, Cura Partners, Curavit Clinical Research, CUREator, Curebase, CURE Pharmaceutical, Cures Within Reach, Curetis, CureVac, Curium, Curon Biopharmaceutical, Currax Pharmaceuticals, Curtana Pharmaceuticals, Custopharm, Cutia Therapeutics, CyanVac, Cybin, Cybrexa Therapeutics, Cyclacel Pharmaceuticals, Cycle Pharmaceuticals, Cyclerion Therapeutics, Cyclo Therapeutics, CymaBay Therapeutics, Cynapsus Therapeutics, Cyntec, Cyon Therapeutics, Cyprium Therapeutics, Cystic Fibrosis Foundation, Cystic Fibrosis Foundation Therapeutics, Cytiva, CytoAgents, Cytodyn, Cytokinetics, Cytori Therapeutics, CytoSen Therapeutics, Cytovance Biologics, Cytovation, Cyxone, D&D Pharmatech, Daavlin, Daewoong Pharmaceutical, Daiichi Sankyo, Dalhousie University, Dalton Pharma Services, Dana-Farber Cancer Institute, DanCann Pharma, Dance Biopharm, Danish Cancer Society Research Center, Dare Bioscience, Dassault Systems, DAS Therapeutics, Day One Biopharmaceuticals, DCPrime, Debiopharm, Deciphera Pharmaceuticals, Defense Health Agency (US), Defense Threat Reduction Agency, Delcath Systems, DelMar Pharmaceuticals, Delpharm, Denali Therapeutics, Denovo Biopharma, Department of Defense, Department of Health and Human Services, Department of Veterans Affairs, DermapenWorld, Dermapharm, Dermavant Sciences, Dermin, Dermira, Desitin, Destiny Pharma, DeuteRx, Develco Pharma, Diaccurate, Dialco Medical, DiaMedica, Diamond Pharma Services, Diamond Therapeutics, Diamyd Medical, Dicerna Pharmaceuticals, Diffusion Pharmaceuticals, Diopsys, Diurnal, Diversigen, DKSH, DNAtrix, Dong-A Pharmaceutical, Dong-A ST, Dongbao, Dr. Falk Pharma, Dr. Reddy's Laboratories, Dragonfly Therapeutics, Dragon Master Foundation, Dreamy, DRI Capital, DSG, DuChemBio, Duchenne UK, Duchesnay, Duke-NUS Graduate Medical School Singapore, Duke Cancer Institute, Duke Clinical Research Institute (DCRI), Duke University, Durect, Dutch-Belgian Cooperative Trial Group for Hematology Oncology (HOVON), Dutch Emotional Brain, DyDo Pharma, Dynacure, DynamiCure Biotechnology, Dynasil, Dynavax Technologies, Dyne Therapeutics, DynPort Vaccine Company, Eagle Pharmaceuticals, Eczacibasi Pharmaceuticals, Eczacıbasi-Monrol, EDAP TMS, Edge Pharma, Edith Wolfson Medical Center, Educational and Scientific, Efemoral Medical, eFFECTOR Therapeutics, EffRx, EGeen, EicOsis, Eidos Therapeutics, Eiger BioPharmaceuticals, Eikonizo Therapeutics, EirGenix, EirGen Pharma, Eisai, Eisai Inc, Elanco, Elevai Labs, ElevateBio, Elevation Oncology, Eleven Biotherapeutics, Elicio Therapeutics, Eli Lilly, Elite Pharmaceuticals, Elixirgen, Ellipses Pharma, Eloxx Pharmaceuticals, Elpiscience, ElsaLys Biotech, Eluminex Biosciences, Emergent BioSolutions, Emmaus Life Sciences, Emmes, Emory University, Emtora Biosciences, EndoCeutics, Endocyte, Endo International, EndoLogic, Endospan, Endo Ventures, Endpoint Health, ENDRA Life Sciences, Enlivex, Entasis Therapeutics, Enterin, Enteris Biopharma, Enterome Bioscience, Enterprise Therapeutics, Entheon Biomedical, Entos Pharmaceuticals, Entourage Phytolab, Enveric Biosciences, Enzene Biosciences, Enzychem Lifesciences, EOC Pharma, EpicentRx, Epic Sciences, EpiDestiny, EPI Health, EpiThany, Epizyme, EPS International, EQRx, Equillium, Equinox Science, Er-Kim, Erasca, Erasmus University Medical Center, Erytech, Especificos Stendhal, Esperion Therapeutics, ESSA Pharma, Esteve, ES Therapeutics, Ethypharm, Eton Pharmaceuticals, Eu Hwa, Eunice Kennedy Shriver Institute of Child Health and Human Development, Eureka Eurostars, Eureka Therapeutics, Eurocine Vaccines, Eurofarma, Eurofins Scientific, European Biomedical Research Institute of Salerno, European Commission, European Organization for Research and Treatment of Cancer, European Union, EUSA Pharma, Evaxion Biotech, Everest Medicines, Everest Pharma, Evergreen Theragnostics, Evergreen Therapeutics, EverInsight Therapeutics, EverlyWell, Eversana, Evive Biotechnology, EvoEndo, Evoke Pharma, Evolution Research Group, Evolve BioSystems, Evon Medics, Evotec, Exact Therapeutics, Exagen Diagnostics, Exalenz Bioscience, ExCEEd Orphan, Excision BioTherapeutics, Exelixis, Exicure, Exothera, ExThera Medical, Eyenovia, EyePoint Pharmaceuticals, Eyevance, F-Star Therapeutics, F1 Oncology, F4 Pharma, Fabre Kramer Pharmaceuticals, Fagron, Famy Life Sciences, Fannin, Fareva Holding, FarmaMondo Group, Faron Pharmaceuticals, Federal Ministry of Education and Research (BMBF), Fedora Pharmaceuticals, Ferrer International, Ferring Pharmaceuticals, Fideschem International, FightMND, Filament Health, First Horizon Pharmaceuticals, First Wave Bio, Five Prime Therapeutics, FKD Therapies, Flatiron Health, Florence, FluGen, FLX Bio, Foamix Pharmaceuticals, Food and Drug Administration (FDA), Forbius, ForDoz Pharma, Foresee Pharmaceuticals, FORMA Therapeutics, Formosa Pharmaceuticals, Fortress Biotech, Forty Seven, Fosun Pharmaceutical, Foundation Fighting Blindness, Foundation Medicine, Fox Chase Cancer Center, Fred Hutchinson Cancer Research Center, Freeline Therapeutics, Freenome, Frequency Therapeutics, Fresenius Medical Care, Freya Pharma Solutions, Frontage Clinical Services, Frontida BioPharm, Frontier Biotech, FSD Pharma, Fuhong Hanlin, Fujifilm, Fujifilm Diosynth Biotechnologies, Fujifilm Kyowa Kirin Biologics, Fuji Pharma, Fuji Yakuhin, Fulcrum Therapeutics, FusionHealth, Fusion Pharmaceuticals, FutureChem, G1 Therapeutics, G42 Healthcare, GABA Therapeutics, Galapagos, Galderma, Galecto, Galmed Pharmaceuticals, Gamaleya National Center, Gamida Cell, GAVI Alliance, GB Sciences, GC Pharma, Gebro Pharma, Gedeon Richter, GE Healthcare, Gemelli Teaching Hospital, Gemini Therapeutics, Gemphire, Gen, Genelux, Genentech, GenePeeks, Generex Biotechnology, GenesisCare, Genetic Technologies, Geneva Foundation, Genexine, Genfit, GenFleet Therapeutics, Genkyotex, Genmab, Genocea Biosciences, Genome and Company, Genor Biopharma, Genosity, Genotests, Genpharm, Genprex, GenScience Pharmaceuticals, GenScript Biotech, GenScript ProBio, Gensight Biologics, Genticel, Genzyme, Geom Therapeutics, Georgetown University, GeoVax, German Federal Ministry of Education and Research, German Government, Ghassan Aboud Group, Gibraltar Brothers and Associates, GI Dynamics, Gilead Sciences, Gland Pharma, Glaukos, GlaxoSmithKline, GL Brands, Glenmark Pharmaceuticals, Global Antibiotic Research and Development Partnership, Global Blood Therapeutics, Global Coalition for Adaptive Research, Global Drug Development Centre (GDCC) China, Global Medical Solutions, Global Response Aid, Global Stem Cell Technology, Globavir Biosciences, GlycoMimetics, Glycostem Therapeutics, Glycotope Biotechnology, Gossamer Bio, Government of Bahrain, Government of Canada, Government of France, Government of India, Government of Israel, Government of Japan, Government of Netherlands, Government of Singapore, Government of South Korea, Government of Switzerland, Gradalis, Granata Bio, Grand River Aseptic Manufacturing, Graviton Bioscience, Green Valley Pharmaceutical, Greenwich LifeSciences, Grey Wolf Therapeutics, Grifols, Gritstone Bio, Groupe Francophone des Myélodysplasies, Grow Biotech, Grunenthal, Grupo Juste, GT Biopharma, GT Medical Technologies, Guangzhou Xiangxue Pharmaceutical, Guardant Health, Guided Therapeutics, Gurnet Point Capital, Hadasit Bioholdings, Hadassah Medical Center, HaemaLogiX, Hainan Visum Pharmaceutical, Haisco Pharmaceutical, HalioDx, Halix, Halozyme Therapeutics, Halucenex Life Sciences, Hamilton Health Sciences, HanAll Pharmaceuticals, Hancock Jaffe Laboratories, Handok Pharmaceuticals, Hangzhou Zhongmei Huadong Pharmaceutical, Hanmi Pharmaceutical, Hannover Medical School, Hansa Biopharma, HanX Biopharmaceuticals, Harbour Biomed, Harmony Biosciences, Harpoon Therapeutics, Harrow Health, Harvard Medical School, Harvard University, Harvest One, Havn Life Sciences, HCW Biologics, Healios K.K., Healis Therapeutics, Healthcare Royalty Partners, HealthCore, Health House International, Healx, HEC Pharm, Heidelberg Pharma, Helix BioPharma, Helmholtz Zentrum Munchen, Helocyte, Helsinn Healthcare, Helsinn Therapeutics, Hemogenyx, Hemostemix, Henan Province People's Hospital, Henlius Biotech, Hepion Pharmaceuticals, HepQuant, Heritage Cannabis, Heritage Pharmaceuticals, HiberCell, HIBio, HiFiBio, Highlight Therapeutics, Hikma Pharmaceuticals, Hill Dermaceuticals, HistoIndex, Hitachi Chemical, HK inno.N, HLS Therapeutics, HMNC Brain Health, Hoba Therapeutics, Hoffmann La Roche, Honda R&D Americas, Hookipa Pharma, Hoosier Cancer Research Network, Horizon Europe, Horizon Pharma plc, Horizon Therapeutics, Hospira, Hoth Therapeutics, Houston Pharmaceuticals, HPGC Medical, HTDK Group, Huadong Medicine, Huapont Pharma, Hubro Therapeutics, Humacyte, Human Biosystems, Humanetics, Humanigen, Hummingbird Bioscience, Huons, Hutchison MediPharma, Hutchmed, Huyabio International, Hvidovre Hospital, hVIVO, Hygieia, Hyloris Pharmaceuticals, Hyundai Pharmaceutical, I-mab, IACTA Pharmaceuticals, IBSA Group, Icahn School of Medicine at Mount Sinai, iCardiac Technologies, IceCure Medical, Ichnos Sciences, ICM, Icon, IDEAYA Biosciences, Idera Pharmaceuticals, Idorsia, IDT Biologika, IGM Biosciences, Ignyta, Ikena Oncology, Iksuda Therapeutics, ILTOO Pharma, Image Analysis, ImaginAb, Imagin Medical, ImClone Systems, Imeka, Immatics Biotechnologies, Immedica, Immix Biopharma, Immodulon Therapeutics, Immune-Onc Therapeutics, Immune Design, Immune Pharmaceuticals, Immune Regulation, Immunic, Immunicom, Immunicon, ImmunID Technologies, Immunis, Immunitor, ImmunityBio, ImmunoBrain Checkpoint, ImmunoCellular Therapeutics, Immunocore, ImmunoGen, Immunomedics, Immunomic Therapeutics, ImmunoPrecise Antibodies, Immunovaccine, Immunovia, Immusoft, Immutep, ImmVira, IMPACT Therapeutics, Impax Laboratories, Impel NeuroPharma, Imperial College London, Impopharma, Impression Healthcare, Imugene, IMV, InCarda Therapeutics, IncellDx, Inceptua, INC Research, Incyte, InDex Pharmaceuticals, Indivior, Infinity BiologiX, Infinity Pharmaceuticals, Inflection Biosciences, Inivata, Inmagene Biopharmaceuticals, INmune Bio, Innate Pharma, Innovare, Innovate Biopharmaceuticals, Innovate UK, Innovation Pharmaceuticals, Innovative Cellular Therapeutics, Innovent Biologics, Innovet, Innovus Pharmaceuticals, Inotrem, Inovio, Inovio Pharmaceuticals, Inserm, Insmed Inc, Inspirion Delivery Sciences, Inspirna, Institut Bergonie, Institute of Cancer Research, Institute of Human Virology, Institut Gustave Roussy, Institut Pasteur, Intas Pharmaceuticals, Intec Pharma, IntelGenx, Intellipharmaceutics, Intensity Therapeutics, InterCure, International Vaccine Institute (IVI), Intrommune Therapeutics, iNtRON Biotechnology, Intuitive Surgical, Invectys, Inventia Healthcare, InventisBio, INVO Bioscience, InxMed, IO Biotech, Ion Channel Innovations, Ionetix, Ionis Pharmaceuticals, Ionova, Iovance Biotherapeutics, IP Biotech, iPharma, Ipsen, IPS Specials, IQVIA, IriSys, IRLAB, Ironwood Pharmaceuticals, IRX Therapeutics, ISA Pharmaceuticals, Ischemix, Isofol Medical, ISOThrive, Isotopia Molecular Imaging, Israeli Ministry of Industry and Commerce, Israeli National Authority for Technological Innovation, Israel Investment Center, Italian Association for the Study of Pancreas, Italian Government, iTeos Therapeutics, Iterion Therapeutics, Iterum Therapeutics, ITM Isotopen Technologien, Itrom Pharmaceutical Group, iVeena Delivery Systems, Iveric Bio, Ivy Brain Tumor Center, Ixaka, iX Biopharma, IXICO, Izana Bioscience, Jackson Laboratory, Jacobio Pharmaceuticals, Jaguar Health, Jain Foundation, JAMP Pharma Group, JanOne, Janssen Biotech, Janssen Pharmaceuticals, Janssen Pharmaceutica NV, Janssen Research & Development, Janssen Sciences, Japan Government, Japan Tobacco, Jasper Therapeutics, Jazz Pharmaceuticals, JCR Pharmaceuticals, jCyte, JDP Therapeutics, Jeffrey Modell Foundation, Jemincare, Jenner Institute, Jerome Stevens Pharmaceuticals, Jesse's Journey, Jiangsu Alphamab, Jiangsu Aosaikang Pharmaceutical, Jiangsu Carephar Pharmaceutical, Jiangsu Hansoh Pharmaceutical, Jiangsu Hengrui Medicine, Jiangsu Hengrui Pharmaceuticals, Jiangsu NHWA Pharmaceutical, Jiangsu Wuzhong Pharmaceutical, Jinzhou Ahon Pharma, Ji Xing Pharmaceuticals, JMT-Bio, Johns Hopkins University, Johnson & Johnson, Johnson & Johnson Innovation, John Wayne Cancer Institute, Journey Medical, JS InnoPharm, JT Pharmaceuticals, Jumpcan Pharmaceutical, Juniper Biologics, Juno Therapeutics, Junshi Biosciences, Jupiter Orphan Therapeutics, Juyou Biotechnology, JW Pharmaceutical, JW Therapeutics, Kabuki Syndrome Foundation, Kadimastem, Kadmon Pharmaceuticals, KAHR Medical, Kaken Pharmaceutical, Kalbe Genexine Biologics, Kaleido Biosciences, KaliVir Immunotherapeutics, KalVista Pharmaceuticals, Kamada, Kanazawa University, Kaneka, KARE Biosciences, Karolinska Institute, Karuna Therapeutics, Karyopharm Therapeutics, Kazia Therapeutics, KBI BioPharma, Keck School of Medicine of USC, Kelun-Biotech Biopharmaceutical, Kemin Industries, KemPharm, Kennedy Krieger Institute, Kensington Pharma, Keros Therapeutics, Ketabon, KGK Science, Khandelwal Laboratories, Kiadis Pharma, Kineta, Kings College London, Kiniksa Pharmaceuticals, Kintor, KiOmed Pharma, Kirin Brewery, Kiromic Biopharma, Kissei Pharmaceutical, Kitanihon Pharmaceutical, Kite Pharma, Kitov Pharma, Klinge Biopharma, Knight Therapeutics, Kodiak Sciences, Kolltan Pharmaceuticals, Kolon Life Science, Koneksa Health, Korea Drug Development Fund, Kowa Pharmaceuticals America, KPM Tech, Kraig Biocraft Laboratories, Krankenhaus Nordwest, Kuhnil Pharmaceuticals, Kukbo, Kura Oncology, KVK-Tech, Kwang Dong Pharmaceutical, Kwangdong Pharmaceutical, KYAN Therapeutics, Kymab, Kyongbo Pharm, Kyorin Pharmaceutical, Kyowa Hakko Kirin, Kyowa Hakko Kirin Pharmaceuticals, LabConnect, Laboratoires DELBERT, Laboratoires Thea, Laboratories Acbel, Laboratorios Farmaceuticos Rovi, LABORATORIOS SAVAL, Laekna, La Jolla Capital, La Jolla Pharmaceutical, LakePharma, Lancet, Landos Biopharma, Lannett, LaNova Medicines, Lantern Pharma, Lantheus Holding, Lantheus Medical Imaging, Launch Therapeutics, Laurel Venture Capital, Laurent Pharmaceuticals, Laurus Labs, Lavasta Pharma, Laxisam, Leadiant Biosciences, Leaf Biopharmaceutical, Leap Therapeutics, Lee's Pharmaceutical, Lee Moffitt Cancer Center, LegoChem Biosciences, Lehigh Valley Health Network, Leiden University, LENZ Therapeutics, Leona M and Harry B Helmsley Charitable Trust, LEO Pharma, Les Laboratoires Servier, Leucid Bio, Leukemia & Lymphoma Society, Levo Therapeutics, Lexaria Bioscience, LEXEO Therapeutics, Lexicon Pharmaceuticals, LFB Biomedicaments, LG Chem, LG Life Sciences, LianBio, LifeArc, LifeMax Laboratories, Life Science Korea, Ligand Pharmaceuticals, Lineage Cell Therapeutics, LineaRx, LingSheng Pharma Tech, Linical, Link Health, LinKinVax, Linnaeus Therapeutics, LIPAC Oncology, Lipidor, Lipocine, Lipomedix Pharmaceuticals, LNE/G-Med, Longeveron, Lonza, Los Altos Pharmaceuticals, Lotus Pharmaceuticals, Louisiana State University, Loxo Oncology, LSK BioPharma, Ludwig Institute for Cancer Research, Lumiera Health Innovation, Luminarie, LumiThera, Lumosa Therapeutics, Lumos Pharma, Lundbeck, Lung Biotechnology, Lung Cancer Initiative, Lung Therapeutics, Lupus Foundation of America (LFA), Lupus Research Alliance, Lupus Therapeutics, Lustgarten Foundation, Lygos, Lymphoma Study Association, Lynk Pharmaceuticals, Lysogene, Lysosomal Therapeutics, Lytix Biopharma, Lyvgen Biopharma, MaaT Pharma, Mabion, MabVax Therapeutics, Mabwell Bioscience, mAbXience, Macrogenics, Magenta Investments, Magenta Therapeutics, MAIA Biotechnology, MainPointe, Mallinckrodt Pharmaceuticals, MannKind Biopharmaceuticals, Mapp Biopharmaceutical, Marina Biotech, Marker Therapeutics, Marrone Bio Innovations, Maruho, Massachusetts General Hospital, Massachusetts Institute of Technology, Mass General Brigham, Massive Bio, Mateon Therapeutics, Matrix Biomed, Matrix Medical Network, Maverick Therapeutics, Mawson Infrastructure, Max-Delbruck Center for Molecular Medicine, Maxcyte, MaxiVAX, Maya Medical, Mayne Pharma, Mayo Clinic, McMaster University, McNeil Consumer Pharmaceuticals, McQuade Center for Strategic Research and Development, MD Anderson Cancer Center, Medac, Medeor Therapeutics, Medexus Pharmaceuticals, Medgenics, Medical Developments International, Medical Marijuana, Medical Research Council, Medical Technology Enterprise Consortium, Medical University of Graz, Medical University of South Carolina, MedicaSafe, Medicenna Therapeutics, Medicines360, Medicines Development for Global Health, Medicines Patent Pool Foundation, MediciNova, Medicure, Medidata Solutions, Medifocus, MediGene, Medimetriks, MedImmune, Medinova, Medisca, Medison Pharma, Medivir, MediWound, Medix, Medovex, Medpace, MedReleaf, Megapharm, Meiji Seika, MEI Pharma, Melinta Therapeutics, Melior Pharmaceuticals, Memgen, Memorial Sloan Kettering Cancer Center, Menarini, Menlo Therapeutics, MenoGeniX, MentiNova, Merakris Therapeutics, Merck and Co, Merck KGaA, Merck Sharpe & Dohme, Mereo BioPharma, Merit Medical Systems, Meroven, Merrimack Pharmaceuticals, Mersana Therapeutics, Merus, Merz, Mesa Biotech, Mesoblast, MetaboGen, Meta Healthcare, Metalabs, Metavant, Metuchen Pharmaceuticals, Meyer Children's Hospital of Florence, Michael J Fox Foundation, Michael Mosier Defeat DIPG Foundation, Micro-Tech Endoscopy, Microbion, Microbio Shanghai, Microbiotica, Microbiotix, Micron Biomedical, Microprofit Biotech, MicuRx Pharmaceuticals, MiGenTra, Milagro Pharmaceuticals, Millendo Therapeutics, Millennium, Minapharm, Minaris Regenerative Medicine, MindMaze, Mindstrong Health, Minerva Neurosciences, MinervaX, Ministry of Health, Ministry of Health (Israel), Ministry of Health, Labor and Welfare, Minoryx Therapeutics, miRagen Therapeutics, Mirati Therapeutics, Miravo Healthcare, Mirum Pharmaceuticals, Mission Bio, Mission Pharmacal, Mithra Pharmaceuticals, Mitsubishi Tanabe Pharma, MMS, Moberg Pharma, Moderna, Modis Therapeutics, Moebius Medical, Molecular Templates, Moleculin Biotech, Molnlycke Health Care, Mologen, Molteni Farmaceutici, Momenta Pharmaceuticals, Montefiore Health System, Montreal Heart Institute, MoonLake Immunotherapeutics, MorphoSys, Mor Research Applications, Mount Sinai Health System, Mount Sinai Medical Center, MoveUP, MSD, MSD Biologics, MSN Laboratories, MSN Pharmaceuticals, Mucosis, Multidisciplinary Association for Psychedelics Studies, Mundipharma, Musculoskeletal Clinical Regulatory Advisers
For full list of companies please contact us at orders@currentpartnering.com
Current Partnering reports provide insight into the trends and terms of partnering deals in the global life sciences sector.
Current Partnering reports are updated every six months to ensure the user has access to the latest announcements and trends in the topic focus of the report.
Current Partnering analysts review the deal data to provide an overview and analysis of deal trends, including example deals and terms.
Current Partnering reports source deal data from our proprietary deals and alliances database, Current Agreements. The database is updated daily by our analysts with new deals as they are announced globally by the company's party to the deal. In addition, deal records are updated with new data as it becomes available.
The data in the Current Agreements deals and alliances database is obtained from secondary sources such as publicly available industry sources including press releases, company presentations, investor presentations, company SEC filings, other company filings, company websites, conference presentations. Sources are identified to allow for user verification.
Current Partnering provides comprehensive coverage of the following partnering or deal types:
• Asset purchase
• Assignment
• Co-development
• Co-market
• Co-promotion
• Collaborative R&D
• Contract service
• CRADA
• Cross-licensing
• Development
• Distribution
• Equity purchase
• Evaluation
• Grant
• Joint venture
• Licensing
• Loan
• Manufacturing
• Marketing
• Option
• Promotion
• Research
• Royalty financing
• Settlement
• Spin out
• Sub license
• Supply
• Termination
• Warrant
Every deal record is fully categorized and includes the following data, where available:
• Industry sector
• Therapy areas
• Technology type
• Deal components
• Financial terms
• Stage of development
• Exclusivity
• Asset type
• Geographic focus
• Excluded geography
• Company press release
• SEC filing data including contract document
All financial amounts are converted to US$ using the exchange rate available on the date of deal announcement, enabling direct comparison of deal terms across international territories.
Financial data and contract documents displayed in deal records is obtained from public sources, where disclosed by the parties to the deal.
We found other products you might like!