Global Cancer Diagnostics Partnering Terms and Agreements 2015-2022
The Global Cancer Diagnostics Partnering Terms and Agreements 2015-2022 report provides comprehensive understanding and unprecedented access to the cancer diagnostics partnering deals and agreements entered into by the worlds leading healthcare companies.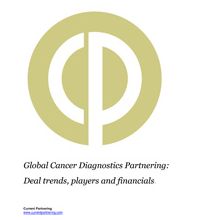 Publication date
May 2022
Product type
Research report
Available formats
PDF document
The Global Cancer Diagnostics Partnering Terms and Agreements 2015-2022 report provides an understanding and access to the cancer diagnostics partnering deals and agreements entered into by the worlds leading healthcare companies.
Trends in cancer diagnostics partnering deals
Disclosed headlines, upfronts, milestones and royalties by stage of development
Cancer diagnostics partnering contract documents
Top cancer diagnostics deals by value
This report provides details of the latest Cancer Diagnostics agreements announced in the life sciences since 2015.
The report takes the reader through a comprehensive review Cancer Diagnostics deal trends, key players, top deal values, as well as deal financials, allowing the understanding of how, why and under what terms, companies are entering Cancer Diagnostics partnering deals.
The report presents financial deal term values for Cancer Diagnostics deals, listing by headline value, upfront payments, milestone payments and royalties, enabling readers to analyse and benchmark the financial value of deals.
The middle section of the report explores the leading dealmakers in the Cancer Diagnostics partnering field; both the leading deal values and most active Cancer Diagnostics dealmaker companies are reported allowing the reader to see who is succeeding in this dynamic dealmaking market.
One of the key highlights of the report is that over 1,000 online deal records of actual Cancer Diagnostics deals, as disclosed by the deal parties, are included towards the end of the report in a directory format – by company A-Z, stage of development, deal type, therapy focus, and technology type - that is easy to reference. Each deal record in the report links via Weblink to an online version of the deal.
In addition, where available, records include contract documents as submitted to the Securities Exchange Commission by companies and their partners. Whilst many companies will be seeking details of the payment clauses, the devil is in the detail in terms of how payments are triggered – contract documents provide this insight where press releases and databases do not.
The initial chapters of this report provide an orientation of Cancer Diagnostics dealmaking. Chapter 1 provides an introduction to the report, whilst chapter 2 provides an overview of the trends in Cancer Diagnostics dealmaking since 2015, including details of headline, upfront, milestone and royalty terms.
Chapter 3 provides a review of the leading Cancer Diagnostics deals since 2015. Deals are listed by headline value. Where the deal has an agreement contract published at the SEC a link provides online access to the contract.
Chapter 4 provides a comprehensive listing of the top 25 most active companies in Cancer Diagnostics dealmaking with a brief summary followed by a comprehensive listing of Cancer Diagnostics deals announded by that company, as well as contract documents, where available.
Chapter 5 provides a comprehensive and detailed review of Cancer Diagnostics partnering deals signed and announced since Jan 2015, where a contract document is available in the public domain. Each deal title links via Weblink to an online version of the deal record and contract document, providing easy access to each contract document on demand.
Chapter 6 provides a comprehensive and detailed review of Cancer Diagnostics partnering deals signed and announced since Jan 2015. The chapter is organized by specific Cancer Diagnostics technology type. Each deal title links via Weblink to an online version of the deal record and where available, the contract document, providing easy access to each deal on demand.
A comprehensive series of appendices is provided organized by Cancer Diagnostics partnering company A-Z, stage of development, deal type, and therapy focus. Each deal title links via Weblink to an online version of the deal record and where available, the contract document, providing easy access to each deal on demand.
The report also includes numerous tables and figures that illustrate the trends and activities in Cancer Diagnostics partnering and dealmaking since 2015.
In conclusion, this report provides everything a prospective dealmaker needs to know about partnering in the research, development and commercialization of Cancer Diagnostics technologies and products.
Key benefits
Global Cancer Diagnostics Partnering Terms and Agreements 2015-2022 provides the reader with the following key benefits:
In-depth understanding of Cancer Diagnostics deal trends since 2015
Access to headline, upfront, milestone and royalty data
Detailed access to actual Cancer Diagnostics contracts entered into by leading biopharma companies
Identify most active Cancer Diagnostics dealmakers since 2015
Insight into terms included in a Cancer Diagnostics partnering agreement, with real world examples
Understand the key deal terms companies have agreed in previous deals
Undertake due diligence to assess suitability of your proposed deal terms for partner companies
Report scope
Global Cancer Diagnostics Partnering Terms and Agreements 2015-2022 is intended to provide the reader with an in-depth understanding and access to Cancer Diagnostics trends and structure of deals entered into by leading companies worldwide.
Cancer Diagnostics Partnering Terms and Agreements includes:
Trends in Cancer Diagnostics dealmaking in the biopharma industry since 2015
Access to headline, upfront, milestone and royalty data
Access to Cancer Diagnostics contract documents
Leading Cancer Diagnostics deals by value since 2015
Most active Cancer Diagnostics dealmakers since 2015
In Global Cancer Diagnostics Partnering Terms and Agreements 2015-2022, the available deals are listed by:
Company A-Z
Headline value
Stage of development at signing
Deal component type
Specific therapy target
Technology type
Each deal title links via Weblink to an online version of the deal record and where available, the contract document, providing easy access to each contract document on demand.
The Global Cancer Diagnostics Partnering Terms and Agreements 2015-2022 report provides comprehensive access to available deals and contract documents for over 1,000 Cancer Diagnostics deals.
Analyzing actual contract agreements allows assessment of the following:
What are the precise rights granted or optioned?
What is actually granted by the agreement to the partner company?
What exclusivity is granted?
What is the payment structure for the deal?
How are sales and payments audited?
What is the deal term?
How are the key terms of the agreement defined?
How are IPRs handled and owned?
Who is responsible for commercialization?
Who is responsible for development, supply, and manufacture?
How is confidentiality and publication managed?
How are disputes to be resolved?
Under what conditions can the deal be terminated?
What happens when there is a change of ownership?
What sublicensing and subcontracting provisions have been agreed?
Which boilerplate clauses does the company insist upon?
Which boilerplate clauses appear to differ from partner to partner or deal type to deal type?
Which jurisdiction does the company insist upon for agreement law?
Global Cancer Diagnostics Partnering Terms and Agreements 2015-2022 report provides the reader with the following key benefits:
In-depth understanding of Cancer Diagnostics deal trends since 2015
Access to headline, upfront, milestone and royalty data
Detailed access to actual Cancer Diagnostics contracts entered into by leading biopharma companies
Identify most active Cancer Diagnostics dealmakers since 2015
Insight into terms included in a Cancer Diagnostics partnering agreement, with real world examples
Understand the key deal terms companies have agreed in previous deals
Undertake due diligence to assess suitability of your proposed deal terms for partner companies
Executive Summary
Chapter 1 – Introduction
Chapter 2 – Trends in Cancer Diagnostics dealmaking
2.1. Introduction
2.2. Cancer Diagnostics partnering over the years
2.3. Most active Cancer Diagnostics dealmakers
2.4. Cancer Diagnostics partnering by deal type
2.5. Cancer Diagnostics partnering by therapy area
2.6. Deal terms for Cancer Diagnostics partnering
2.6.1 Cancer Diagnostics partnering headline values
2.6.2 Cancer Diagnostics deal upfront payments
2.6.3 Cancer Diagnostics deal milestone payments
2.6.4 Cancer Diagnostics royalty rates
Chapter 3 – Leading Cancer Diagnostics deals
3.1. Introduction
3.2. Top Cancer Diagnostics deals by value
Chapter 4 – Most active Cancer Diagnostics dealmakers
4.1. Introduction
4.2. Most active Cancer Diagnostics dealmakers
4.3. Most active Cancer Diagnostics partnering company profiles
Chapter 5 – Cancer Diagnostics contracts dealmaking directory
5.1. Introduction
5.2. Cancer Diagnostics contracts dealmaking directory
Chapter 6 – Cancer Diagnostics dealmaking by technology type
Appendices
Appendix 1 – Cancer Diagnostics deals by company A-Z
Appendix 2 – Cancer Diagnostics deals by stage of development
Discovery
Preclinical
Phase I
Phase II
Phase III
Regulatory
Marketed
Formulation
Appendix 3 – Cancer Diagnostics deals by deal type
Asset purchase
Assignment
Bigpharma outlicensing
Co-development
Collaborative R&D
Co-market
Co-promotion
CRADA
Cross-licensing
Development
Distribution
Equity purchase
Evaluation
Grant
Joint venture
Licensing
Litigation
Manufacturing
Marketing
Material transfer
Option
Promotion
Research
Settlement
Spin out
Sub-license
Supply
Technology transfer
Termination
Warranty
Appendix 4 – Cancer Diagnostics deals by therapy area
Appendix 5 – Deal type definitions
Appendix 6 – Further reading on dealmaking
About Wildwood Ventures
Current Partnering
Current Agreements
Recent report titles from Current Partnering
Table of figures
Figure 1: Cancer Diagnostics partnering since 2015
Figure 2: Active Cancer Diagnostics dealmaking activity since 2015
Figure 3: Cancer Diagnostics partnering by deal type since 2015
Figure 4: Cancer Diagnostics partnering by disease type since 2015
Figure 5: Cancer Diagnostics deals with a headline value
Figure 6: Cancer Diagnostics deals with an upfront value
Figure 7: Cancer Diagnostics deals with a milestone value
Figure 8: Cancer Diagnostics deals with a royalty rate value
Figure 9: Top Cancer Diagnostics deals by value since 2015
Figure 10: Most active Cancer Diagnostics dealmakers since 2015
Pricing options
$3,995: single-user
$5,745: multi-user
$10,995: single site license
$17,995: global site license
A full explanation of license type definitions can be found here.
Our guarantee
Price promise
We guarantee our prices are competitive. If you find the same report advertised at a lower price within 7 days of purchase, we will refund the difference.
Delivery Deadline
We guarantee that the report will be sent within the specified delivery times. In the unlikely case of a delay we may offer a partial refund as compensation. (Terms may apply)
Latest report
If an update is published within 30 days of your purchase, you will receive it absolutely free of charge.
Serious Security
We take your data and security seriously. See our privacy policy for details of how we manage your data.
All card payments are processed by SagePay.
Sales Support
If you have any questions about your report or are unhappy with the quality, we will do our best to resolve your query. Contact us direct.
Total Trust
Current Partnering is part of Wildwood Ventures Ltd., based in York, United Kingdom. We have been trading successfully online since 2009 and work with some of the most famous brands in the business. We carefully select our partners to ensure that the publications meet expectations of demanding customers.
2cureX, 3B Pharmaceuticals, 3D Signatures, 3PrimeDx, 4D Path, 14M Genomics, 1717 Life Science Ventures, A2 Biotherapeutics, Abbisko Therapeutics, Abbott Laboratories, Abbvie, Abcam, Abcodia, Abramson Cancer Center, Accudata Systems, Accuray, Accu Reference Medical Laboratory, AceCGT Life Science, Acibadem University, Acoustic MedSystems, ACT Genomics, Acupath Laboratories, Adaptiiv, Adaptive Biotechnologies, ADC Therapeutics, Advanced Accelerator Applications, Advanced Cooling Therapy, Advanced Dermatology and Cosmetic Surgery Group, Advanced Nuclear Medicine Ingredients, Aelan Cell Technologies, Aetna, Agena Bioscience, Agendia, Agilent Technologies, Agios Pharmaceuticals, AG Mednet, Aidoc, Akoya Biosciences, Albert Einstein College of Medicine, Albert Einstein Healthcare Network, Alibaba Health, Allarity Therapeutics, Alliance Global FZ, Alliance Global Group, Almac Diagnostics, Almac Group, Alphageneron Pharmaceuticals, Alpha Imaging, Alverno Clinical Laboratories, Ambry Genetics, America's Choice Provider Network, American Brain Tumor Association, American Health Imaging, American Oncology Network, Amgen, Amoy Diagnostics, Amplitech, AnchorDx, Angle, Angsana Molecular & Diagnostics, Anixa Biosciences, Anpac Bio-Medical Science, Anthem Bluecross, Antisoma Therapeutics, Apogenix, Applied DNA Sciences, ArcherDX, Arc Medical Design, Areva Med, Arizona State University, AroCell, Arquer Diagnostics, Arrow Diagnostics, ARTMS Product, Ashion Analytics, Asieris MediTech, ASPiRA Labs, Aspira Scientific, Assistance Publique-Hôpitaux de Paris, Astellas Pharma, AstraZeneca, Asuragen, Atlas Antibodies, Atrin Pharmaceuticals, Avant Diagnostics, Avantis Medical Systems, AVEO Oncology, Avera Health, Avera Heart Hospital of South Dakota, Avrobio, Axela, Axella Research, Aytu BioPharma, AZ Sint Lucas Hospital, Bayer, Bayer Healthcare, Baylor College of Medicine, Baylor Genetics, Beckman Coulter, BeiGene, Beijing InnoCare Pharma, Beijing Yuan Jian Health Management, Berry Oncology, Bertech Diagnostics, Bertin Pharma, Bethyl Laboratories, Beyondspring Pharmaceuticals, bioAffinity Technologies, Biocare Medical, Biocartis, Biocept, BioChain, Biodesix, Biofidelity, BioGemex, Biognosys, Biohealth Innovation, BioInvent, BioIQ, Biokosmos, Biolidics, BioLizard, Biological Dynamics, BioMark Diagnostics, BioMarker Strategies, Biomedical Advanced Research and Development Authority, BioNano Genomics, BioNova Cientifica, BioNTech, BioSkryb, Biotech-IgG, BioTheranostics, Biovica, Bioyong, Bird Foundation, BL&H, Blackford, Bliss Biopharmaceutical, Bluebee, Blue Cross Blue Shield Association, BlueCross BlueShield of Tennessee, Blue Earth Diagnostics, Blueprint Medicines, BodyCheck, Boehringer Ingelheim, Bonnie J. Addario Lung Cancer Foundation, Boreal Genomics, BostonGene, Bostwick Laboratories, Bpifrance, Bracco Imaging, Brainomix, Breath Diagnostics, BriaCell Therapeutics, Brigham and Women's Hospital, Bristol-Myers Squibb, Bristol-Myers Squibb Pakistan, Broad Institute, Bruker, Burning Rock, Butantan Institute, C2i Genomics, C4 Imaging, Cadila Pharmaceuticals, Calviri, Cambridge Epigenetix, Canadian Cancer Society, Canadian Institutes of Health Research, CANbridge Pharmaceuticals, Cancer Australia, Cancer Genetics, Cancer Prevention and Research Institute of Texas, Cancer Research Institute, Cancer Research UK, Cancer Targeted Technology, Capital X-ray, Caprion Proteomics, Capsulomics, Cardiff University, Cardinal Health, Care GB Plus, Carestream Health, Caris Life Sciences, Carolinas Medical Center (CMC), CarThera, Case Western Reserve University, Castle Biosciences, Catholic University Leuven, CBD Vida, CDx Diagnostics, Celcuity, Celgene, Cellgen Diagnostics, CellMax Life, Cellpath, CellSight Technologies, Cell Signaling Technology, Celsee, Celsius Therapeutics, Celtic Biotech, Centogene, Centre for Imaging Technology Commercialization, Centre for Probe Development and Commercialization, Centre Leon Berard, Cepheid, Cerba HealthCare, Ceres, Cernostics, Champalimaud Foundation, Charles River Laboratories, ChemImage, Children's Hospital Boston, Children's Hospital Los Angeles, Children's Hospital of Orange County, China Grand Pharma, China Grand Pharmaceutical, Chinese University of Hong Kong, Chonnam National University, Christian Doppler Research Association, Chronix Biomedical, Chugai Pharmaceutical, Circulogene, Cirrus Dx, City of Hope, Clarity Pharmaceuticals, Clearbridge Biomedics, ClearLight Diagnostics, Cleveland Clinic, Cleveland Diagnostics, Clinatec, Clinical Genomics, CloudHealth Genomics, Cloud Pharmaceuticals, Clovis Oncology, CNS Pharmaceuticals, Co-Diagnostics, Cobalt Healthcare Consultants, Coeptis Pharmaceuticals, Cofactor Genomics, Cold Spring Harbor, Colorado Melanoma Foundation, Colorado State University, Color Genomics, Columbia University, Columbia University Medical Center, ConcertAI, Concile, Contextual Genomics, Copenhagen University Hospital, CoreBiome, Core Diagnostics India, Cornell University, CorTechs Labs, Corvida Medical, COTA, Crown Bioscience, Crown Dental + Medical, CSI Laboratories, CStone Pharmaceuticals, Cure Brain Cancer Foundation, Cure Forward, CureMetrix, Curium, Cyclopharm, Cyclotek, Cynvenio, Cypre, CytoLumina Technologies, D-Eye, Daiichi Sankyo, Dako, Dana-Farber Cancer Institute, Danish Center for Strategic Research into Type 2 Diabetes, DaRui Biotech, DarwinHealth, DASA, David H. Koch Institute for Integrative Cancer Research, Debiopharm, Decipher Biosciences, deCODE Genetics, Deep Bio, Deepcell, Dell, Dendreon, Denovo Biopharma, Densitas, Department of Defense, DermTech, Device Technologies, Devyser Diagnostics, DiaCarta, DiagnoCure, Diagnoplex, Diagnostica Longwood, Diagnostic Oncology Contract Research Organization, Diannei Biotechnology, Diaprost, Dilon Diagnostics, DNAmito, Dr Risch, DuChemBio, Duke University, Duke University Medical Center, DxTerity, DySIS Medical, Eastern Ontario Regional Laboratory Association, EchelonDx, Eckert & Ziegler, Edico Genome, Edinburgh Molecular Imaging, EDP Biotech, Eigen, EKF Diagnostics, Elesta, Elevation Oncology, Eleven Biotherapeutics, Eli Lilly, Emory University, Endotronix, Enigma Biomedical, Enterome Bioscience, Epic, Epic Sciences, Epigenomics, Epimune Diagnostics, Epiphany Dermatology, Erasmus University Medical Center, ESSA Pharma, Essen University Hospital, Eureka Eurostars, Eurobio, European Commission, European Health Centre Innovation, European Organization for Research and Treatment of Cancer, Event Cardio Group, Everything Genetic, Exact Imaging, Exact Sciences, Exosome Diagnostics, Exosome Sciences, F-Star Therapeutics, Factorial Diagnostics, Falco, Faron Pharmaceuticals, Federal Ministry of Education and Research (BMBF), FedMed, Ferrum Health, FetoLumina Technologies, Finnish Funding Agency for Technology and Innovation (TEKES), Five Prime Therapeutics, Flagship Biosciences, Flatiron Health, Fluxion Biosciences, FLX Bio, FNApath, Focal Healthcare, Fondation Cancer, Fondatioun Kriibskrank Kanner, Fortified Provider Network, Foundation for the National Institutes of Health (FNIH), Foundation Medicine, Fox Chase Cancer Center, Fred Hutchinson Cancer Research Center, Freenome, Fudan University, Fujifilm, Fujifilm medical systems, Fujirebio Diagnostics, Fulgent Genetics, Fusion Antibodies, Fuzionaire Radioisotope Technologies, Galaxy Health Network, Gamma Medica, GANZIMMUN Diagnostics, GE Healthcare, Gen-Probe, Genclis, Genecast, GeneCentric Therapeutics, GeneInsight, GeneNews, Genentech, GeneQuantum Healthcare, Geneseeq, GenesisCare, Genetic Technologies, Genetron Health, Geneva University Hospitals, Genmab, Genomac Research Institute, Genome Canada, GenomeDx, Genome Institute of Singapore, Genomeon, Genomic Health, Genomics England, Genomic Testing Cooperative, Genomoncology, Genoptix, Genosity, Genotests, Georgia Institute of Technology, German Cancer Research Center, German Federal Ministry of Education and Research, Gestalt Diagnostics, Gibson Oncology, Gilead Sciences, GIMDx, GLG Pharma, Global Cancer Diagnostics, Global Lung Cancer Coalition, Gloval Specimen Solutions, GNS Healthcare, GNYHA Services, Goodwin Biotechnology, Google, Gotect Diagnostic, Government of Canada, Grail, Grand River Aseptic Manufacturing, Group Vida, Grupo Ferrer, Guardant Health, Guerbet, Guided Therapeutics, Guided Therapy Systems, Gyros Protein Technologies, HalioDx, HALO Diagnostics, Halo Dx, Halozyme Therapeutics, Harvard Medical School, Harvard Pilgrim Health Care, Harvard University, Healius, HealthCare Konnect, Health Diagnostics Laboratory, HealthMyne, HealthTrust, Hebrew University of Jerusalem, Heidelberg Pharma, Helio Health, Helomics, Hemogenomics Pharma, Hengrui Therapeutics, Henlius Biotech, Henry Ford Health System, Henry M. Jackson Foundation, Hermes Medical Solutions, Heska, HiberCell, Highmark Blue Shield, Hitachi, Hitachi Medical Systems Europe, Hoag Memorial Hospital Presbyterian, Hologic, Horizon 2020, Horizon Discovery, Hospital Services, HotSpot Therapeutics, HTG Molecular Diagnostics, Huma, Humana, Human Longevity, Hummingbird Bioscience, Huntsman Cancer Institute, Hybridyne Imaging Technologies, Ibex Medical Analytics, iBIO Institute's PROPEL Center, IBL America, IBM, IBM Watson Health, iCAD, Icahn School of Medicine at Mount Sinai, Idaho Urologic Institute, Idengene, IDEXX Laboratories, Ikonopedia, Illumina, Image Analysis, ImaginAb, Imaging Associates, Imagin Medical, Imanis Life Sciences, Imaware, Imbio, Imegen, ImmunID Technologies, ImmunoCellular Therapeutics, Immunovia, IMPACT Therapeutics, ImpediMed, Imperial College London, IncellDx, Incyte, Indiana University, Indigo Biosciences, Indivumed, Inflammatory Breast Cancer Research Foundation, Inform Diagnostics, Inform Genomics, Inhibrx, Inivata, Innovate BC, Innovate UK, Innovative Diagnostic Laboratory, Innovative Manufacturing Cooperative Research Centre, Inovio Pharmaceuticals, Inserm, Inserm Transfert, InSightec, Insight Genetics, Institut Català d'Oncologia, Institut Curie, Institute for Bioscience and Biotechnology Research, Institute of Biophysics, Institute of Cancer Research, Institut Gustave Roussy, Instituto Diagnostico Varelli, Institut Paoli-Calmettes, Integrated Biobank of Luxembourg, Integrated Diagnostics, Integrated DNA Technologies, Intermountain Healthcare, International Association for the Study of Lung Cancer, Interpace Diagnostics, Intezyne, Invenra, inviCRO, Invitae, InVivoScribe, ION Solutions, IPS Genomix, IRE Elit, Ironwood Pharmaceuticals, IRX Therapeutics, Isotope Technologies Garching, Isotopia Molecular Imaging, Istituto Diagnostico Varelli, Item, ITEM Medical Technologies, ITM Isotopen Technologien, Janssen-Cilag, Janssen Biotech, Janssen Diagnostics, Janssen Pharmaceuticals, Janssen Pharmaceutica NV, Janssen Research & Development, Jazz Pharmaceuticals, Jefferson Healthcare, Jiangsu Chia Tai Tianqing Pharmaceutical, Jiangsu Hengrui Medicine, Johns Hopkins University, Johnson & Johnson, Johnson & Johnson Innovation, John Wayne Cancer Institute, JTS Health Partners, Jubilant DraxImage, Juno Therapeutics, Kailos Genetics, Kaiser Foundation Research Institute, Kaiser Permanente, Kanazawa University, Kantonsspital Baselland, Karolinska Institute, Karolinska University Hospital, Kartos Therapeutics, KDx Diagnostics, KEW, Kheiron Medical Technologies, Kindstar Globalgene Technology, Kiromic Biopharma, Kite Pharma, Kiyatec, Knight Cancer Institute, Konica Minolta, Korea Pharma, KUB Technologies, Kura Oncology, Lab21, Labcyte, Lab Genomics, Laboratory Corporation of America, Lantern Pharma, Lantheus Holding, Lantheus Medical Imaging, Leap Therapeutics, Lee Moffitt Cancer Center, Lehigh University, Leica Biosystems, Leicester University, Leiden University, Leonie Hill Capital, LEO Pharma, Les Laboratoires Servier, Lexent Bio, LifeLabs Medical Laboratory Services, LifeOmic, Life Raft Group, LifeSensors, LifeX Ventures, Lighthouse Imaging, Lightpoint Medical, Li Ka Shing Foundation, LineaRx, Loxo Oncology, Lucence, Lucid Diagnostics, Lumicell, Luminex, Lunaphore, Lunatus, Lund University, Lung Cancer Alliance, Lurie Children's Hospital of Chicago, Macquarie University, Magle Chemoswed, Magnetic Insight, Mainz Biomed, Major Health Partners, Mammoth Biosciences, Manhattan Scientifics, MapKure, Massachusetts General Hospital, Massachusetts Institute of Technology, Massachusetts Life Sciences Center, Mauna Kea Technologies, Mayo Clinic, MD Anderson Cancer Center, MDL Information Systems, MDNA Life Sciences, MDxHealth, Medexus Pharmaceuticals, med fusion, Medial EarlySign, MEDIAN Technologies, Medical College of Wisconsin, Medical Imaging, Medical Prognosis Institute, Medical University of Graz, Medical University of South Carolina, Medidata Solutions, MedImmune, Medipath, Mediso, Medivation, MedPac Asia Pacific, medPhoton, Medx, Melanoma Research Alliance, Memorial Sloan Kettering Cancer Center, Menarini, Merck and Co, Merck KGaA, Merck Serono, Merck Sharpe & Dohme, Merit Medical Systems, Merrimack Pharmaceuticals, Metabiomics, Metafora Biosystems, Metamark Genetics, Metaoptima Technology, MetaStat, Mevion Medical Systems, Michelson Center, MicroConstants, Micromedic Technologies, Microsoft, Milburn Foundation, Milenia Labs, MindPeak, Ministry of Health (Turkey), Minogue Medical, Minomic, MIODx, Miraca Life Sciences, Miragen Therapeutics, Mirati Therapeutics, miR Scientific, MiRXES, Mitra Biotech, MITRO Biotech, MobileODT, Moldionics, Molecular Health, Molecular Response, Molecular Targeting Technologies, Monopar Therapeutics, Moores Cancer Center, Morphotek, Mount Sinai Health System, Mount Sinai Services, mProbe Laboratories, MRI Interventions, MRM Proteomics, Multimmune, MultiPlan, Multiple Myeloma Research Foundation, Munich Leukemia Laboratory, Munich Technical University, Myelopro Diagnostics and Research, My Gene Counsel, Myocardial Solutions, Myriad Genetics, N-of-One, Nano-X Imaging, NanoMab Technology, NanoString Technologies, NantHealth, NantWorks, Natera, National Cancer Center, National Cancer Centre Singapore, National Cancer Institute, National Cancer Institute of Mexico, National Healthcare Services (NHS), National Institute for Public Health and the Environment, National Institute of Allergy and Infectious Diseases, National Institute of Dental and Craniofacial Research (NIDCR), National Institutes of Health, National Organization for Rare Disorders, National Physical Laboratory, National Science Foundation, National Taiwan University Hospital, National Ultrasound, Natural Sciences and Engineering Research Council of Canada, Naval Medical Research Center, Navidea Biopharmaceuticals, NEC, Nektar Therapeutics, Nemucore Medical Innovations, NeoDynamics, Neogenomics, NEO New Oncology, NetScientific, Neuvogen, New Horizon Health, New Jersey Urology, Newmars Group, New York University, Nihon Medi-Physics, Ninepoint Medical, NM Genomix, Nonacus, Nonagen Bioscience, Norgen Biotek, Norgine, Noria Therapeutics, Norsk medisinsk syklotronsenter, Northeastern University, North Shore-LIJ Cancer Institute, Northwestern University, Notable Labs, Novarad, Novartis, NovellusDx, Novigenix, Novogene, NRG Oncology, NTT Data, Nuclea Biotechnologies, Nuclear Diagnostic Products, Nucleix, Nucliber, NueHealth, NuProbe, NX Development, Ochin, Ohio State University, OmniSeq, Oncgnostics, Oncidium Foundation, Oncimmune, Oncimmune Ltd, OncoBeta, OncoCyte, OncoDNA, OncoGenesis, Oncoheroes Biosciences, OncoHost, Oncology Venture, OncoNano Medicine, OnCore Biopharma, OncoTracker, OncoVision, OncXerna Therapeutics, OnLume Surgical, Ono Pharmaceutical, Ontario Institute for Cancer Research, OPKO Health, Optellum, OracleBio, Orebro University, Oregon Health Sciences University, ORIG3N, OrigiMed, Orot+, Osaka University, Oslo University Hospital, Ospedale Pediatrico Bambino Gesu, Ovarian Cancer Institute, Owkin, Owlstone Medical, Oxford Biodynamics, Oxford BioTherapeutics, Pacific Biosciences, Paige, Panacea Pharmaceuticals, Pancreatic Cancer Action Network, PapGene, Paradigm, Paralax Life Science Group, PathAI, PathGroup, Pathnova Laboratories, Pathway Diagnostics, Patient-Centered Outcomes Research Institute (PCORI),, PAVmed, Pax Neuroscience, Pennsylvania State University, Pentax, PentixaPharm, Pepscan, Peregrine Market Access, PerkinElmer, Personal Genome Diagnostics, Personalis, Personalized Medicine Initiative (PMI), PersonalizeDx, Perthera, PetDx, PETNET Solutions, Pfizer, Pfizer Canada, PharmaLogic, Phase Holographic Imaging, PhenoVista Biosciences, Phi Life Sciences, Philips, Phillips-Medisize, Philochem, Phoenix Molecular Designs, Photocure ASA, Physician's Choice Laboratory Services, Phytronix Technologies, PierianDx, Pierre Fabre, Pillar Biosciences, Pionyr Immunotherapeutics, Pippa Mann, PixCell Medical, Planet Innovation, Planmed, Plus Therapeutics, Point32Health, POINT Biopharma, Positive Bioscience, Precipio Diagnostics, Precision for Medicine, Precision Pathology Services, Predicine, Predictive Technology Group, PrediLife, PreludeDx, Premas Life Sciences, PREMIA Holdings, Premier Inc, Prenetics, Preora Diagnostics, Prescient Medical, Profound Medical, Progenetics, Progenics Pharmaceuticals, PrognomIQ, Promega, Propper Manufacturing, Proscia, Protagen, Protea Biosciences, Providence Saint John's Health Center, Provista Diagnostics, Puerto Rico Government, Puma Biotechnology, Pure MHC, QED Therapeutics, Qiagen, Qlarity Imaging, Qualigen, Quanterix, Quebec Heart and Lung Institute, Queensland University of Technology, Queens University Belfast, Quest Diagnostics, QuiO Technologies, R-Biopharm, R-Pharm, Radboud University Nijmegen Medical Centre, Radiology Oncology Systems, Radiomedix, Radiopharm Theranostics, Radius Health, RadNet, Rainbow Genomics, Rarecells, RAW, RayBiotech, RaySearch Laboratories, Realm IDx, RefleXion Medical, Renji Hospital, Research Center for Molecular Medicine of the Austrian Academy of Sciences, ResearchDx, Resolution Bioscience, RevealDx, RiboMed, Riverain Medical, Riverside Research, Robert H. Lurie Comprehensive Cancer Center, Roche, Roche Diagnostics, Rosetta Genomics, Roswell Park Cancer Institute, ROTOP Pharmaka, Royal Marsden Hospital, Royal Philips Electronics, Rutgers University, SAGA Diagnostics, Saladax Biomedical, Sanofi, Sarah Cannon Research Institute, Satisfai Health, Sayre Therapeutics, SBRI Healthcare, Scancell, Scandion Oncology, SciBase, Scienion, Scintomics, Screenpoint Medical, Seattle Children's Hospital, Sebela Pharmaceuticals, Sebia, Sectra, Seegene, Seer, Seibersdorf Laboratories, Selexis, Sengenics, SEngine Precision Medicine, Sensus Healthcare, Sequenom, Seracare Life Sciences, Shanghai Fosun Long March Medical Science, Shanghai Pharmaceutical, Sheba Medical Center, Shenzhen Chipscreen Biosciences, Sherlock Biosciences, Shuwen Biotech, Siemens, Siemens Healthcare Diagnostics, Siemens Healthineers, Signal Genetics, Signet Medical Solutions, SimonMed Imaging, Singlera Genomics, Sintact Medical Systems, Sirona Medical, Sirtex Medical, Skane University Hospital, SkinCure Oncology, SkylineDX, Skyline Medical, Skyline Urology, Skysong Innovations, Small Business Innovation Research, SmartBreast, Smart Medical Systems, Smilow Cancer Hospital at Yale-New Haven (SCH), Smiths Medical, Sofie Biosciences, SolaranRx, Solis Mammography, Sonic Healthcare, Sophia Genetics, Sorgente, Soricimed Biopharma, Sorrento Therapeutics, SouthGenetics, Spectrum Health, Spectrum Pharmaceuticals, Spectrum Solutions, SpePharm, Spesana, Sphingotec, Spotlight Innovation, Sprint Biosciences, SRI International, SST Group, St. Jude Children's Research Hospital, Stand Up To Cancer, Stanford Health Care, Stanford University, Stanford University School of Medicine, Strata Oncology, Stratasys, STRATIFYER Molecular Pathology, Stratify Genomics, Stratose, Streck Laboratories, Stroke Detection Plus, Sunnybrook Health Sciences Centre, SuperSonic Imagine, Surrey Cancer Research Institute, Susan G. Komen for the Cure, SweLife, Swift Biosciences, Swiss Institute of Allergy and Asthma Research, SWOG Cancer Research, Syapse, SYGNIS Pharma, Synaptive Medical, Sysmex, Sysmex Inostics, T-Cure Bioscience, TaiRx, TaiRx US, Take2, Takeda Pharmaceutical, Tampere University Hospital, Tasly Pharmaceuticals, Tel Aviv University, TeleMammography Specialists, Telix Pharmaceuticals, Telo Genomics, Temple University, Tempus, Teneovita Medical, TestAnalytika, Texas A&M University, The Haematological Malignancy Research Network, The Hospital for Sick Children, The Parker Institute For Cancer Immunotherapy, Theradiag, Theragnostics, Theralink Technologies, Theranostics Health, TheraPanacea, Therapixel, Thermo Fisher Scientific, Thomas Jefferson University, Three Rivers Provider Network, Threshold Pharmaceuticals, TNK Therapeutics, Tocagen, Todos Medical, Tokai Pharmaceuticals, Toronto Innovation Acceleration Partners, Tor Vergata University Hospital, TP Therapeutics, TRACON Pharmaceuticals, Transgenomic, Translational Drug Development, Translational Genomics Research Institute, Triad Isotopes, TrialJectory, Trophogen, TrovaGene, TumorGen, Turgut Ilaclari, Turku PET Center, Twist Bioscience, Tymora Analytical Operations, uBiome, Ultivue, Unified Women's Clinical Research, Unilabs, United Imaging Healthcare, United States Military Cancer Institute, University Ann & Robert H. Lurie Children's Hospital, University City Science Center, University College London, University Health Network, University Hospital Bispebjerg, University Hospital of Leuven, University Medical Center Hamburg-Eppendorf, University of Antwerp, University of Arizona, University of Arkansas, University of Augsburg, University of Birmingham, University of Bonn, University of California, University of California, San Diego, University of California Berkeley, University of California Irvine, University of California Los Angeles, University of California San Francisco, University of Chicago, University of Colorado Denver, University of Florida, University of Greifswald, University of Heidelberg, University of Lausanne, University of Leeds, University of Louisville, University of Manchester, University of Massachusetts Medical School, University of Melbourne, University of Miami, University of Michigan, University of Minnesota, University of North Carolina, University of Oulu, University of Oxford, University of Pennsylvania, University of Pittsburgh, University of Queensland, University of Rochester, University of Rostock, University of Sheffield, University of Southampton, University of South Carolina, University of Southern California, University of Sunderland, University of Surrey, University of Texas, University of Texas Health SCience Center at San Antonio, University of Texas Southwestern Medical Center, University of Torino, University of Toronto, University of Virginia, University of Washington, UPMC, Urology Centers of Alabama, Urology San Antonio, UroPartners, USC Norris Comprehensive Cancer Center, US Oncology, US Radiology Specialists, Vanderbilt University, Varian Medical Systems, Vect-Horus, Vector Oncology, Vela Diagnostics, Ventana Medical Systems, Veracyte, Verily, Vermillion, VHA, Viatar CTC Solutions, Vidence, Viewpoint Molecular Targeting, ViewRay, Vigilant Biosciences, Virginia Polytechnic Institute and State University, Virginia Tech Intellectual Properties, Visiopharm, Vitatex, Vizient, VolitionRX, Volpara Solutions, VuCOMP, VyGen-Bio, Vyriad, WaferGen Biosystems, Wallace H. Coulter Foundation, Walloon Region Investment Fund, Waseda University, Washington University in St Louis, Weihai Weigao Medical Devices, Weill Cornell Medical College, Weizmann Institute, WellDyne, Whiterabbit, Wilex, Worldwide Innovative Network (WIN) in personalized cancer medicine Consortium, WuXi NextCODE Genomics, Wyss Institute, Xiamen Encheng Group, Xiel, Xylonix, Y-mAbs Therapeutics, Yale School of Medicine, Yale University, Yemaachi Biotech, Yitu Medical, Ymir Genomics, York Instruments, YourRad, Zealand University Hospital, Zebra Medical Vision, Zionexa, Zomedica, zPREDICTA
Current Partnering reports provide insight into the trends and terms of partnering deals in the global life sciences sector.
Current Partnering reports are updated every six months to ensure the user has access to the latest announcements and trends in the topic focus of the report.
Current Partnering analysts review the deal data to provide an overview and analysis of deal trends, including example deals and terms.
Current Partnering reports source deal data from our proprietary deals and alliances database, Current Agreements. The database is updated daily by our analysts with new deals as they are announced globally by the company's party to the deal. In addition, deal records are updated with new data as it becomes available.
The data in the Current Agreements deals and alliances database is obtained from secondary sources such as publicly available industry sources including press releases, company presentations, investor presentations, company SEC filings, other company filings, company websites, conference presentations. Sources are identified to allow for user verification.
Current Partnering provides comprehensive coverage of the following partnering or deal types:
• Asset purchase
• Assignment
• Co-development
• Co-market
• Co-promotion
• Collaborative R&D
• Contract service
• CRADA
• Cross-licensing
• Development
• Distribution
• Equity purchase
• Evaluation
• Grant
• Joint venture
• Licensing
• Loan
• Manufacturing
• Marketing
• Option
• Promotion
• Research
• Royalty financing
• Settlement
• Spin out
• Sub license
• Supply
• Termination
• Warrant
Every deal record is fully categorized and includes the following data, where available:
• Industry sector
• Therapy areas
• Technology type
• Deal components
• Financial terms
• Stage of development
• Exclusivity
• Asset type
• Geographic focus
• Excluded geography
• Company press release
• SEC filing data including contract document
All financial amounts are converted to US$ using the exchange rate available on the date of deal announcement, enabling direct comparison of deal terms across international territories.
Financial data and contract documents displayed in deal records is obtained from public sources, where disclosed by the parties to the deal.
We found other products you might like!