Global Biotech Partnering Terms and Agreements 2015-2020: Deal trends, players and financials
Global Biotech Partnering Terms and Agreements 2015 to 2020 report provides a detailed understanding and analysis of how and why companies enter Biotech partnering deals.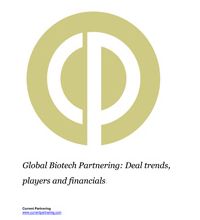 Publication date
March 2020
Product type
Research report
Available formats
PDF document
Global Biotech Partnering Terms and Agreements 2015 to 2020 report provides a detailed understanding and analysis of how and why companies enter Biotech partnering deals. These deals tend to be multicomponent, starting with collaborative R&D, and proceed to commercialization of outcomes.
This report provides details of the latest Biotech agreements announced in the life sciences since 2015.
The report takes the reader through a comprehensive review Biotech deal trends, key players, top deal values, as well as deal financials, allowing the understanding of how, why and under what terms, companies are entering Biotech partnering deals.
The report presents financial deal term values for Biotech deals, listing by headline value, upfront payments, milestone payments and royalties, enabling readers to analyse and benchmark the financial value of deals.
The middle section of the report explores the leading dealmakers in the Biotech partnering field; both the leading deal values and most active Biotech dealmaker companies are reported allowing the reader to see who is succeeding in this dynamic dealmaking market.
One of the key highlights of the report is that over 5,000 online deal records of actual Biotech deals, as disclosed by the deal parties, are included towards the end of the report in a directory format – by company A-Z, stage of development, deal type, therapy focus, and technology type - that is easy to reference. Each deal record in the report links via Weblink to an online version of the deal.
In addition, where available, records include contract documents as submitted to the Securities Exchange Commission by companies and their partners. Whilst many companies will be seeking details of the payment clauses, the devil is in the detail in terms of how payments are triggered – contract documents provide this insight where press releases and databases do not.
The initial chapters of this report provide an orientation of Biotech dealmaking. Chapter 1 provides an introduction to the report, whilst chapter 2 provides an overview of the trends in Biotech dealmaking since 2015, including details of headline, upfront, milestone and royalty terms.
Chapter 3 provides a review of the leading Biotech deals since 2015. Deals are listed by headline value. Where the deal has an agreement contract published at the SEC a link provides online access to the contract.
Chapter 4 provides a comprehensive listing of the top 25 most active companies in Biotech dealmaking with a brief summary followed by a comprehensive listing of Biotech deals announded by that company, as well as contract documents, where available.
Chapter 5 provides a comprehensive and detailed review of Biotech partnering deals signed and announced since Jan 2015, where a contract document is available in the public domain. Each deal title links via Weblink to an online version of the deal record and contract document, providing easy access to each contract document on demand.
Chapter 6 provides a comprehensive and detailed review of Biotech partnering deals signed and announced since Jan 2015. The chapter is organized by specific technology type. Each deal title links via Weblink to an online version of the deal record and where available, the contract document, providing easy access to each deal on demand.
A comprehensive series of appendices is provided organized by Biotech partnering company A-Z, stage of development, deal type, and therapy focus. Each deal title links via Weblink to an online version of the deal record and where available, the contract document, providing easy access to each deal on demand.
The report also includes numerous tables and figures that illustrate the trends and activities in Biotech partnering and dealmaking since 2015.
In conclusion, this report provides everything a prospective dealmaker needs to know about partnering in the research, development and commercialization of Biotech technologies and products.
Key benefits
Global Biotech Partnering 2015-2020: Deal trends, players, financials and forecasts provides the reader with the following key benefits:
In-depth understanding of Biotech deal trends since 2015
Access to headline, upfront, milestone and royalty data
Analysis of the structure of Biotech agreements with real life case studies
Detailed access to actual Biotech contracts entered into by leading biopharma companies
Identify most active Biotech dealmakers since 2015
Insight into terms included in a Biotech partnering agreement, with real world examples
Understand the key deal terms companies have agreed in previous deals
Undertake due diligence to assess suitability of your proposed deal terms for partner companies
Report scope
Global Biotech Partnering 2015-2020: Deal trends, players, financials and forecasts is intended to provide the reader with an in-depth understanding and access to Biotech trends and structure of deals entered into by leading companies worldwide.
Biotech Partnering Terms and Agreements includes:
Trends in Biotech dealmaking in the biopharma industry since 2015
Analysis of Biotech deal structure
Access to headline, upfront, milestone and royalty data
Case studies of real-life Biotech deals
Access to Biotech contract documents
Leading Biotech deals by value since 2015
Most active Biotech dealmakers since 2015
In Global Biotech Partnering 2015-2020: Deal trends, players, financials and forecasts, the available deals are listed by:
Company A-Z
Headline value
Stage of development at signing
Deal component type
Specific therapy target
Technology type
Each deal title links via Weblink to an online version of the deal record and where available, the contract document, providing easy access to each contract document on demand.
The Global Biotech Partnering 2015-2020: Deal trends, players, financials and forecasts report provides comprehensive access to available deals and contract documents for over 5,000 Biotech deals.
Analyzing actual contract agreements allows assessment of the following:
What are the precise rights granted or optioned?
What is actually granted by the agreement to the partner company?
What exclusivity is granted?
What is the payment structure for the deal?
How aresalesand payments audited?
What is the deal term?
How are the key terms of the agreement defined?
How are IPRs handled and owned?
Who is responsible for commercialization?
Who is responsible for development, supply, and manufacture?
How is confidentiality and publication managed?
How are disputes to be resolved?
Under what conditions can the deal be terminated?
What happens when there is a change of ownership?
What sublicensing and subcontracting provisions have been agreed?
Which boilerplate clauses does the company insist upon?
Which boilerplate clauses appear to differ from partner to partner or deal type to deal type?
Which jurisdiction does the company insist upon for agreement law?
Global Biotech Partnering 2015-2020: Deal trends, players, financials and forecasts provides the reader with the following key benefits:
In-depth understanding of Biotech deal trends since 2015
Access to headline, upfront, milestone and royalty data
Analysis of the structure of Biotech agreements with real life case studies
Detailed access to actual Biotech contracts entered into by leading biopharma companies
Identify most active Biotech dealmakers since 2015
Insight into terms included in a Biotech partnering agreement, with real world examples
Understand the key deal terms companies have agreed in previous deals
Undertake due diligence to assess suitability of your proposed deal terms for partner companies
Executive Summary
Chapter 1 – Introduction
Chapter 2 – Trends in Biotech dealmaking
2.1. Introduction
2.2. Biotech partnering over the years
2.3. Most active Biotech dealmakers
2.4. Biotech partnering by deal type
2.5. Biotech partnering by therapy area
2.6. Biotech partnering by technology type
2.7. Deal terms for Biotech partnering
2.7.1 Biotech partnering headline values
2.7.2 Biotech deal upfront payments
2.7.3 Biotech deal milestone payments
2.7.4 Biotech royalty rates
Chapter 3 – Leading Biotech deals
3.1. Introduction
3.2. Top Biotech deals by value
Chapter 4 – Most active Biotech dealmakers
4.1. Introduction
4.2. Most active Biotech dealmakers
4.3. Most active Biotech partnering company profiles
Chapter 5 – Biotech contracts dealmaking directory
5.1. Introduction
5.2. Biotech contracts dealmaking directory
Chapter 6 – Biotech dealmaking by technology type
Chapter 7 – Partnering resource center
7.1. Online partnering
7.2. Partnering events
7.3. Further reading on dealmaking
Appendices
Appendix 1 – Biotech deals by company A-Z
Appendix 2 – Biotech deals by stage of development
Appendix 3 – Biotech deals by deal type
Appendix 4 – Biotech deals by therapy area
Appendix 5 – Deal type definitions
About Wildwood Ventures
Current Partnering
Current Agreements
Recent report titles from Current Partnering
Table of figures
Figure 1: Biotech partnering since 2015
Figure 2: Active Biotech dealmaking activity– 2015 to 2020
Figure 3: Biotech partnering by deal type since 2015
Figure 4: Biotech partnering by disease type since 2015
Figure 5: Biotech partnering by technology type since 2015
Figure 6: Biotech deals with a headline value
Figure 7: Biotech deals with an upfront value
Figure 8: Biotech deals with a milestone value
Figure 9: Biotech deals with a royalty rate value
Figure 10: Top Biotech deals by value since 2015
Figure 11: Most active Biotech dealmakers 2015 to 2020
Pricing options
$3,495: single-user
$5,245: multi-user
$10,495: single site license
$17,495: global site license
A full explanation of license type definitions can be found here.
Our guarantee
Price promise
We guarantee our prices are competitive. If you find the same report advertised at a lower price within 7 days of purchase, we will refund the difference.
Delivery Deadline
We guarantee that the report will be sent within the specified delivery times. In the unlikely case of a delay we may offer a partial refund as compensation. (Terms may apply)
Latest report
If an update is published within 30 days of your purchase, you will receive it absolutely free of charge.
Serious Security
We take your data and security seriously. See our privacy policy for details of how we manage your data.
All card payments are processed by SagePay.
Sales Support
If you have any questions about your report or are unhappy with the quality, we will do our best to resolve your query. Contact us direct.
Total Trust
Current Partnering is part of Wildwood Ventures Ltd., based in York, United Kingdom. We have been trading successfully online since 2009 and work with some of the most famous brands in the business. We carefully select our partners to ensure that the publications meet expectations of demanding customers.
1CellBiO, 1ST Biotherapeutics, 2A, 2bPrecise, 2X Oncology, 3 Sisters Surrogacy, 3B Pharmaceuticals, 3DMed, 3D Medicines, 3D Signatures, 3D Systems, 3M Drug Delivery Systems, 3P Biopharmaceuticals, 3SBio, 4D Molecular Therapeutics, 4D Pharma, 4SC, 10X Genomics, 14M Genomics, 22nd Century, 23andMe, 48Hour Discovery, 908 Devices, A*STAR Agency for Science, Technology and Research, A*STAR Bioinformatics Institute, A*STAR Genome Institute of Singapore, A*STAR' Institute of Molecular and Cell Biology, A-Alpha Bio, A.I. Squared, A2A Pharmaceuticals, AAP Implantate AG, Aarhus University Hospital, AB Biosciences, Abbott Laboratories, Abbvie, Abby Grace Foundation, Abcam, AbCellera, AbCheck, AbClon, Abcodia, Abcuro, Ab E Discovery, Abeome, Abeona Therapeutics, Abide Therapeutics, Abilita Bio, Ability Pharmaceuticals, Abingworth Management, Ab Initio, Abiomed, Abionic, ABIVAX, ABL Bio, Ablexis, Ablynx, AbMed, Abpro, Abramson Cancer Center, Abreos Biosciences, Absorption Systems, Abveris, ABX, Abzena, Academia Sinica, Acceleron Pharma, Accellix, Accellta, Accelovance, Accenture, Accera Pharmaceuticals, Access Health, Accord Healthcare, AccuGenomics, Accurexa, ACEA Biosciences, Aceno Biotherapeutics, Acerta Pharma, Acerus, Aceto Corporation, Acetylon Pharmaceuticals, Achaogen, Achieve Life Science, AC Immune, Aclaris Therapeutics, Acorda Therapeutics, Actavis (acquired by Watson), Actelion, Acticor Biotech, Actinium Pharmaceuticals, Actinobac Biomed, Active Biotech, ActiveSite, Acuity Pharmaceuticals, AcuraStem, Acurx Pharmaceuticals, Adagene, AdAlta, Adapsyn Bioscience, Adaptate Biotherapeutics, Adaptimmune, Adaptive Biotechnologies, Adaptive Phage Therapeutics, ADC Biotechnology, ADC Therapeutics, Addex Therapeutics, Adello Biologics, Adhezion Biomedical, Adimab, Adisseo, Adlai Nortye, ADL Bionatur Solutions, ADMA Biologics, Admera Health, Aduro BioTech, Advaccine Biotechnology, Advaita, Advaite, Advanced Accelerator Applications, Advanced Biological Laboratories, Advanced BioNutrition, Advanced BioScience Laboratories, Advanced Cell Diagnostics, Advanced Manufacturing Fund, Advanced Medical German Company of Kuwait, Advanced Proteome Therapeutics, Advanced Technologies Solutions, Advanomics, Advaxis, Adverum Biotechnologies, Adynxx, Aegerion Pharmaceutical, Aeglea BioTherapeutics, Aelan Cell Technologies, Aelix Therapeutics, Aeras, Aerpio Therapeutics, AEterna Zentaris, Aethlon Medical, Aetos Biologics, Aevi Genomic Medicine, Aevitas Therapeutics, AffaMed Therapeutics, Affectis Pharmaceuticals, Affibody, Affigen, Affilogic, Affimed Therapeutics, Affinita Biotech, Affinivax, Affymetrix, Afraxis, Agalimmune, AgBiome, AGC Asahi Glass, AGC Biologics, Age Labs, Agena Bioscience, Agendia, AgeneBio, Agenus Bio, AgeX Therapeutics, Agilent Technologies, Agilis Biotherapeutics, Agilvax, Agios Pharmaceuticals, AgomAb Therapeutics, AgonOx, Agribody Technologies, Agricultural Materials Company, AGTC, AiCuris, AIDS Clinical Trials Group, AIMM Therapeutics, Aimmune Therapeutics, Aires Pharmaceuticals, Aitbiotech, AiVita Biomedical, Ajinomoto, Akari Therapeutics, AkaRx, Akcea Therapeutics, Akebia Therapeutics, Akero Therapeutics, Akers Biosciences, Akeso Biopharma, AKESOgen, Akkadeas Pharma, AKL Research and Development, Akonni Biosystems, Akouos, Akoya Biosciences, Akrevia Therapeutics, Akriveia Therapeutics, Akron Biotechnology, Akston Biosciences, Akula Trading 2 Pty, Albany Molecular Research, Albert Einstein College of Medicine, Albumedix, Alchemia, Alcresta, Alcyone Lifesciences, Aldevron, Aldeyra Therapeutics, Alector, Alexion Pharmaceuticals, AlgaEnergy, Algatech, Algatek, Algenex, Aligo, AliHealth, Alimentary Health, Alimera Sciences, AlivaMab Discovery Services, AliveGen, ALK-Abello, Alkahest, Alkermes, Allakos, AllCells, Allegis Holdings, Allegro Ophthalmics, Allele Biotechnology and Pharmaceuticals, Allergan, Alliance for Cancer Gene Therapy, Alliance For Clinical Trials In Oncology, Alliance for Lupus Research, Alliance Global Group, Allianz Bioinnovation, Allied Laboratories, Alligator Bioscience, Allogene Therapeutics, Alloksys Life Sciences, AlloSource, Alma Bio Therapeutics, Almac Discovery, Almirall, Alnylam Pharmaceuticals, Alphalyse, Alphamab, Alpine Immune Sciences, ALS Association, ALS Biopharma, ALS Finding a Cure Foundation, Altamira Bio, Altasciences, Altavant Sciences, AltaVoice, Alteogen, Altermune Technologies, Altor BioScience, ALTuCELL, Alvine Pharmaceuticals, Alvotech, Alytas Therapeutics, Alzeca Biosciences, Alzheimer's Association, Alzheimer's Drug Discovery Foundation, Alzheimer's Research UK, Alzheimers Research UK, AlzProtect, Alzyn, AM-Pharma, Amag Pharmaceuticals, Amal Therapeutics, Amaran Biotechnology, Amarantus BioSciences, Amarna Therapeutics, Amazon Web Services, Ambrx, Ambry Genetics, Ambys Medicines, amcure, Amedica, Amegabiotech, American Academy of Professional Coders, American Association for Cancer Research, American BriVision, American CryoStem, American Gene Technologies, American National Multiple Sclerosis Society, American Society of Clinical Oncology (ASCO), American Type Culture Collection (ATCC), AmerisourceBergen, Amfora, Amgen, AMI, Amicus Therapeutics, AMNIOX, AmorChem, Amoy Diagnostics, AMPEL BioSolutions, Amplicon Express, AmpliPhi Biosciences, Amplitech, AmplyCell, Amplyx Pharmaceuticals, AmpTec, AMR, AMRA, Amunix, Amygdala Neurosciences, Amyris, AN2 Therapeutics, Anaeropharma, Anagenesis Biotechnologies, Analytical Bio-Chemistry Laboratories, AnaMar, Anam Hospital, Anandia Laboratories, Anatara Lifesciences, Anavex Life Sciences, Ancestry, Andrew Alliance, AnGes MG, Angiex, Angiochem, Angiocrine Bioscience, Angionetics, AngioSoma, Angiostem, Angle, Anika Therapeutics, Anima Biotech, Animal Clinical Investigation, Animal Life Sciences, Anixa Biosciences, Anji Pharma, AnnaMed, Annapurna Therapeutics, Annias Immunotherapeutics, Annoroad, Anokion, ANP Technologies, Antabio, Antaros Medical, Antengene, Anterios, Anthem Bluecross, Anthera Pharmaceuticals, Anthony Nolan, Anthos Therapeutics, Antibe Therapeutics, Antibiotic Research UK, Antibody Solutions, Antidote Therapeutics, Antigen Express, Antikor Biopharma, Antisense Therapeutics, Antitope, AntriaBio, Apceth, APC Therapeutics, Aperion Biologics, Apexigen, APG Bio, Aphios, Apocell, Apogee Biotechnology, Apogenix, ApolloBio, Apollomics, Appili Therapeutics, Applied BioCode, Applied Biology, Applied BioMath, Applied DNA Sciences, Applied Molecular Transport, Applied StemCell, Aprea, Apricus Biosciences, APRINOIA Therapeutics, APS Healthcare, Aptahem, Aptamer Therapeutics, Aptarion biotech, Aptevo Therapeutics, Aptinyx, Aptose Biosciences, Aptuit, Aqilion, Aquila BioMedical, Araclon Biotech, Aragen Bioscience, Aravive Biologics, Arbele, Arbor Biotechnologies, AR Brown, Arbutus, ARCA Biopharma, Arcadia Biosciences, Arch Biopartners, Archer Daniels Midland Company, ArcherDX, ARCH Personalized Medicine Initiative, Arch Pharmalabs, Arcis Biotechnology, Arcturus Therapeutics, Arcus Biosciences, Arcus Therapeutics, Arcutis, Ardelyx, Ardena, Ares Genetics, Areva Med, arGEN-X, argenx, Argos Therapeutics, Ariad Pharmaceuticals, Ariana Pharma, Aridis Pharmaceuticals, Arisan Therapeutics, Arista Cereal Technologies, Arix Bioscience, Ark Biosciences, ArmaGen, Armune Bioscience, Arno Therapeutics (inactive since 2017), Aro Biotherapeutics, AroCell, Aromics, Aronora, Arpeggio Biosciences, Arrakis Therapeutics, Array Biopharma, Arrevus, Arrowhead Pharmaceuticals, Arrow Pharmaceuticals, Arrys Therapeutics, Arsanis Biosciences, Artelo Biosciences, Artes Biotechnology, Arthrex, Artialis, Artizan Biosciences, Art of Technology, Aruvant Sciences, Arvelle Therapeutics, Arvinas, Arzeda, Asahi Kasei, Asana Medical, Ascendance Biotechnology, Ascenion, Ascentage Pharma, Ascletis, ASC Therapeutics, Asieris MediTech, AskAt, Asklepios Biopharmaceutical, Aslan Pharma, Aspect Biosystems, Aspen Holding, Aspire Health Science, Aspyrian Therapeutics, Assembly Biosciences, Assurex Health, Assuta Medical Centers, Astellas Pharma, Astem, Asterias Biotherapeutics, Astero Bio, Astex Pharmaceuticals, AstraZeneca, Astute Medical, Asuragen, Asymptote, ATAI Life Sciences, Atara Biotherapeutics, Atelerix, aTen Therapeutics, ATGen Global, Athenex, Athersys, Athletigen, Athyrium Capital Management, Atlante Biotech, Atlas Genetics, Atomwise, Atossa Genetics, Atrapos Therapeutics, Atreca, Atrin Pharmaceuticals, Atropos Therapeutics, ATUM, Atvio Biotech, aTyr Pharma, Auburn University, Audentes Therapeutics, AUM Biotech, Auramedi Farmaceutica, Aurigene Discovery Technologies, Aurinia Pharmaceuticals, Auris Medical, Aurora BioPharma, Austin Health, Australian Department of Health and Ageing, Australian Foundation for Diabetes Research, Australian Imaging, Biomarker & Lifestyle Flagship Study of Ageing (AIBL), Australian Research Council, Austrian Research Promotion Agency, Autifony Therapeutics, Autism Speaks, Autolus, Autotelic, Avacta, Avactis Biosciences, Avalanche Biotechnologies, Avalon GloboCare, AvantGen, Avanzcare, Avellino Labs, AVEO Oncology, AveXis, Avicanna, Avid Bioservices, Avidity Biosciences, Avillion, Avion Pharmaceuticals, Aviragen Therapeutics, Avita Medical, Avitide, Avrio Biopharmaceuticals, Avrobio, Avvinity Therapeutics, Axcelead Drug Discovery Partners, Axcella, AXIM Biotechnologies, Axiogenesis, AxioMx, Axis Therapeutics, Axol Bioscience, AxoSim, Axovant Sciences, Axsome Therapeutics, AyoxxA Biosystems, Aytu BioScience, AzarGen Biotechnologies, Azaya Therapeutics, Azellon Cell Therapeutics, Azitra, Aziyo Biologics, AzurRx BioPharma, B'SYS, B-MoGen Biotechnologies, Babraham Institute, Bacit, Bacterin International, Baergic Bio, Bain Capital, Baker Brothers Investments, Banco de Sangre de Servicios Mutuos, Bank of America, Banner Health, Banyan Biomarkers, Baruch S Blumberg Institute, BASF, Basilea Pharmaceutica, Bassett Salon Solutions, Batavia Biosciences, BATM, Battelle, Bausch & Lomb, Bausch Health Companies, Bavarian Nordic, Baxalta, Baxter International, Bayer, Bayer Animal Health, Bayer CropScience, Bayer Healthcare, Baylor College, Baylor College of Medicine, Baylor Genetics, Baylor Institute for Immunology Research, Baylor Miraca Genetics Laboratories, Bay State Milling Company, BB100, BC Children's Hospital, BC Platforms, BDD Pharma, Beacon Discovery, Beacon Laboratory Benefit Solutions, Beactica, Beam Therapeutics, Beckman Coulter, Beckman Research Institute of City of Hope, BeiGene, Beijing Genomics Institute (BGI), Beijing Strong Biotechnologies, Beike Biotech, Bellerophon Therapeutics, Bellicum Pharmaceuticals, Benchwise, Benitec Biopharma, Benson Hill Biosystems, Berg, BerGenBio, Berkeley Lights, Berkshire Sterile Manufacturing, Berlin-Brandenburg Center for Regenerative Therapies, Beroni Group, Berry Genomics, Besins Healthcare, Beta Pharma, Beta Therapeutics, Be The Match BioTherapies, Beth Israel Deaconess Medical Center, Beyond Type 1, BGI, BGN Technologies, BHB Therapeutics, Bial, BIA Separations, Bicycle Therapeutics, Bill and Melinda Gates Foundation, Bina Technologies, BIND Therapeutics, Bio-Cancer Treatment International, BIO-CAT Microbials, Bio-Path, Bio-Rad Laboratories, Bio-Techne, Bio-Thera Solutions, BioAgilytix, BioAmber, BioArctic Neuroscience, biOasis Technologies, BIOASTER, BioAtla, BioAxone Therapeutic, BioBlast Pharma, BioBright, BioCardia, Biocare Medical, BioCat, Biocept, Bioceres, Bioceros, BioCision, Biocon, Biocore, BioCryst Pharmaceuticals, bioCSL, BioCure, Biocytogen, Biodesix, Biodextris, BioDiscovery, BioDuro, Bioeq IP, Biofactura, Bio Farma, BioGaia, BioGemex, Biogen, BioGenes, BioGenetics, Biognosys, Bioharmony Therapeutics, Biohaven Pharmaceutical Holding, BioHybrid Solutions, BioInvent, Biokin Pharmaceutical, BioLabs, BioLamina, BioLegend, BioLife Solutions, BiolineRX, Biolin Scientific, BioLite Japan, BioLizard, Biological Industries, Biologics, biologistex CCM, Biologix FZCo, Biomarck Pharmaceuticals, BioMarin Pharmaceutical, BioMarker Strategies, Biomecite Diagnostics, Biomed, Biomed Elements, Biomedical Advanced Research and Development Authority, Biomedical Catalyst Fund (UK), Biomedica Medizinprodukte, BioMed X Innovation Center, bioMerieux, Biomica, Biomillenia, bioMONTR Labs, BioMotiv, Biomunex Pharmaceuticals, BiomX, BioNano Genomics, Bioncotech Therapeutics, BiondVax, Bioneer, Bionetix, Bionic Sight, BioNovion, Bionpharma, BioNTech, Bionure, BionX Medical Technologies, Bioo Scientific, Bio Palette, Biophage Pharma, Biopharmaceuticals Australia, BioPharma Forest, Biophore Pharmaceuticals, Bioprocess Capital Ventures, Bioprojet, BioRealm, BioReference Laboratories, BioReliance, BioRestorative Therapies, Biosceptre International, BioSciencesCorp, Biose Industrie, BioSense Global, Biosequel, Bioserve, BioSilta, BioSpring, Biostage, Biostem US, BioSTL, BioSun Pharmed, BioSurfaces, Biosyn, Biotem, Biotest, Biotest Pharmaceuticals, Biothera, BioTheranostics, BioTheryX, Biotheus, Biotop, Biotronik, BioVaxys, BioVectra, Bioventus, Bioverativ, BioVersys, BioVinc, BioViva Sciences, BioWa, BioXcel, Bioz, BirchBioMed, Bird Foundation, Birdie Biopharmaceuticals, BJ Bioscience, BL&H, Blackfynn, BlackThorn Therapeutics, BlinkBio, BliNK Biomedical, BliNK Therapeutics, Bliss Biopharmaceutical, Blood Cell Storage, Bloomage BioTechnology, Bloom Science, BluCon Biotech, Bluebird Bio, BluePen Biomarkers, Blueprint Genetics, Blueprint Medicines, BlueRock Therapeutics, Blue Water Vaccines, BlueWillow Biologics, BluSense Diagnostics, Boehringer Ingelheim, Bolder BioTechnology, Bone Biologics, Bone Therapeutics, Bonnie J. Addario Lung Cancer Foundation, Bonus BioGroup, Boryung Pharmaceutical, BostonGene, Boston Scientific, Botanisol, Boulos and Cooper Pharmaceuticals, BoyaLife, Bpifrance, Brain, Brain Biomarker Solutions in Gothenburg, BrainScope, BrainStorm Cell Therapeutics, Brammer Bio, Braskem, BravoVax, Breakthrough Diagnostics, Breath Diagnostics, BriaCell Therapeutics, BrickBio, Brickell Biotech, BridgeBio Pharma, Bridge Biotherapeutics, Brigham and Women's Hospital, Brighton Biotech, Brii Biosciences, Brill Pharma, BRIM Biotechnology, Bristol-Myers Squibb, Broad Institute, Broda Technologies, Brown University, Bruker Daltonics, BryoLogyx, BSP Pharmaceuticals, BTG, Buck Institute for Age Research, BullFrog AI, Burnet Institute, Butantan Institute, Button Capital, C-Bridge Capital, c-LEcta, C3i, C3J Therapeutics, C4 Therapeutics, C4X Discovery, Cadence Biomedical, Cadent, Caelum Biosciences, Caerus Discovery, Caladrius Biosciences, Caliber Biotherapeutics, Calico, Calidi Biotherapeutics, California Institute for Biomedical Research, California Institute for Quantitative Biosciences (QB3), California Institute for Regenerative Medicine, California Institute of Technology, California Life Sciences Association, Calimmune, Calithera Biosciences, Calixar, Calypso Biotech, Calyxt, Camargo Pharmaceutical Services, Cambridge Commodities, Cambridge Epigenetix, Cambridge Research Biochemicals, Camino Partnership, CAMP4 Therapeutics, Can-Fite BioPharma, Canadian Brain Tumour Consortium, Canadian Cancer Trials Group, Canadian Institutes of Health Research, Canadian Physiotherapy Association, CanBas, CANbridge Life Sciences, Cancer Genetics, Cancer Prevention and Research Institute of Texas, Cancer Prevention Pharmaceuticals, Cancer Research Technology, Cancer Research UK, Cancer Science Institute of Singapore, Cancer Targeted Technology, CanCure, Candel Therapeutics, Cannabis Science, Canndeo, CanniMed Therapeutics, Canopy Biosciences, Cantargia, CAO Pharmaceuticals, Capellabio, Capnia, Capricor Therapeutics, Caprion Proteomics, CARB-X, Carbiotix, Cardiff University, Cardio Renal Society of America, Cardurion Pharmaceuticals, CareDx, CareFirst BlueCross BlueShield, CareNet, Carestream Health, Cargill, Caribou Biosciences, Caris Life Sciences, Carisma Therapeutics, Carmel Pharma, Carmentix, Carmot Therapeutics, Carna BioSciences, Carnot BioSciences, Carolina BioOncology Institute, Carrick Therapeutics, CARsgen, CarThera, Cartherics, Cascadian Therapeutics, Casebia Therapeutics, Case Western Reserve University, CASI Pharmaceuticals, Casma Therapeutics, Castle Creek Pharmaceuticals, CasZyme, Catabasis Pharmaceuticals, Catalent, Catalyst Biosciences, Catholic University Leuven, CavoGene LifeSciences, CBD Solutions, CBT Pharmaceuticals, CDI Laboratories, CEA-Leti, Ceapro, Cedars-Sinai Medical Center, CEITEC, Celares, Celdara Medical, Celexion, Celgene, Celimmune, Cell2in, CellAct, Celladon, Cell and Gene Therapy Catapult, Cell Applications, Cellaria Biosciences, Cellastra, Cell Care Therapeutics, Cell Cure Neurosciences, Cell Design Labs, Celldex Therapeutics, Cellecta, Cellectar Biosciences, Cellect Biotechnology, Cellectis, Cellectricon, Cellenion, Cellerant Therapeutics, Cellesce, Cellgen Diagnostics, CellGenix, Cell Guidance Systems, Celling Biosciences, CELLINK, Cell Medica, Cell Mogrify, CellProThera, Cell Signaling Technology, Cell Source, CellSpring, Cellsystems, Celltex Therapeutics, Cellthera Pharma, Cell Therapy, Cell Therapy Catapult, Celltrion, Cellular Biomedicine, Cellular Dynamics International, Cellular Highways, Cellular Logistics, Cellvation, Celmatix, Celonic, Cel Sci, Celsion, Celsius Therapeutics, Celtic Biotech, Celularity, Celyad, CEN Biotech, Censa Pharmaceuticals, Censo Biotechnologies, Centauri Therapeutics, Centene, Center for Biomarker Research in Medicine, Center for Cancer Research, Center for Human Genetics and Laboratory Medicine, Center for Inherited Blood Disorders, Center for International Blood and Marrow Transplant Research, Centers for Disease Control and Prevention, Centogene, Central California Blood Center, Centre de Recherche en Cancérologie de Lyon, Centre for Addiction and Mental Health, Centre for Commercialization of Regenerative Medicine (CCRM), Centre for Drug Research and Development (CDRD), Centre for Imaging Technology Commercialization, Centre for Probe Development and Commercialization, Centre For Proteomic & Genomic Research, Centre For The Commercialization Of Antibodies And Biologics, Centre Hospitalier Universitaire Vaudois (CHUV), Centre Leon Berard, Centro de Tecnologia Canavieira, Centurion, Century Therapeutics, Cepheid, Cerebain, CerebraCell, Cerecor, Ceres, Cerevance, Cerevel Therapeutics, Certara, Certis, Cerulean Pharma, Cerus, Cerveau Technologies, Cervel Neurotech, Cesca Therapeutics, Ceva Sante Animale, Cevec Pharmaceuticals, CFTechnology.org, cGMP Validation, Chameleon BioSurfaces, Champions Oncology, Changchun BCHT Biotechnology, Chaperone Technologies, Charcot-Marie-Tooth Association, Charite-Universitatsmedizin, Charles River Laboratories, Chattanooga Center for Neurologic Research, CHDI Foundation, Check-Cap, Checkmate Pharmaceuticals, CheckPoint Immunology, Checkpoint Therapeutics, Chelexa Biosciences, ChemDiv, ChemoCentryx, Chemveda Life Sciences, Cheplapharm Arzneimittel, Chi-Med, Chiesi Farmaceutici, Children's Hospital Boston, Children's Hospital Los Angeles, Children's Hospital of Philadelphia, Children's Hospital of Pittsburgh, Children's Medical Research Institute, Children's National Health System, Children's Hospital Oakland Research Institute (CHORI), China-Singapore Guangzhou Knowledge City, China Biologic Products, China Government, China Medical System, China National Biotech Group (CNBG), China Southeast University, Chinese Academy of Agricultural Science, Chiome Bioscience, Chondrial Therapeutics, Chong Kun Dang, Chongqing Lummy Pharma, Chromocell, Chronos Therapeutics, Chrysalis BioTherapeutics, Chugai Pharmaceutical, Cibus Global, Cidara Therapeutics, Cilag AG, Cilian, CiMaas, Cincinnati Children's Hospital Medical Center, Cinda Bio-Pharmaceutical, Cingulate Therapeutics (CTx), Cipher Pharmaceuticals, Cipla, Circuit Therapeutics, Cirrus Dx, City of Hope, City of Hope Comprehensive Cancer Center, CiVi Biopharma, CJ CheilJedang, CJ Corp, Claire's Place Foundation, Clalit Health Fund, Clalit Health Services, Clariant, Clarity Pharmaceuticals, Cleara Biotech, Clearbridge Biomedics, ClearPath, Clearside Biomedical, Clene Nanomedicine, Cleveland BioLabs, Cleveland Clinic, Cleveland Diagnostics, Cleveland University Hospitals, Clevexel Pharma, Clinical Genomics, Clinical Outcomes Tracking and Analysis, ClinicalRM, Clinica Universidad Navarra, Clinic for Special Children, Clinigen, Cloaked Therapeutics, Clover Therapeutics, Clovis Oncology, CMAB Biopharma, CMC Biologics, CMS Medical, Coalition for Epidemic Preparedness Innovations, Cobalt Healthcare Consultants, Cobra Biologics, Cochin Hospital, Cochlear, Cocoon Biotech, Cocrystal Pharma, Codexis, Codiak BioSciences, Codigo46, Cofactor Genomics, Cognate BioServices, Cognition Therapeutics, Coherus Biosciences, Cold Genesys, Collaborative Trajectory Analysis Project, Collagen Solutions LLC, Collagen Solutions Plc, Collplant, Color Genomics, Columbia University, Columbia University Medical Center, Columbus Venture Partners, Colzyx, Combating Terrorism Technical Support Office, CombiGene, Comet Biorefining, Commense, Complement Pharma, Complix, Compugen, Conatus Pharmaceuticals, Concert Pharmaceuticals, Confo Therapeutics, Congenica, ConsortiaTX, Consortium AI, Constance Therapeutics, Context Therapeutics, Contextual Genomics, ContraFect, ContraVir Pharmaceuticals, ConvaTec, ConverGene, Cook Biotech, Cook Pharmica, Cooperative Research Centre for Cell Therapy Manufacturing, COPD Foundation, Copernicus Therapeutics, Corbin Therapeutics, Corbus Pharmaceuticals, Cord Blood Registry, Corden Pharma, CoreBiome, Core Diagnostics India, CoreRx Pharma, Corestem, Coriell Institute for Medical Research, Coriell Life Sciences, Corino Therapeutics, CorMatrix Cardiovascular, Cornell University, Coronado Biosciences, CorTechs Labs, Cortendo, Corteva Agriscience, Cortex Pharmaceuticals, Cortexyme, Corvidia Therapeutics, Corvus Pharmaceuticals, Cosmo Bio, CosmosID, Cosmotec, COTA, Courtagen Life Sciences, Covalab, Covalon Technologies, Covance, Covestro, Coyne Healthcare, CRC Health, Cre8ive, Creative Medical Technologies, Crescendo Biologics, Crescendo Bioscience, Cresset, CRISPR Therapeutics, Cristal Therapeutics, Critical Diagnostics, Crohn's and Colitis Foundation of America, Croix-Rousse Hospital, Cronos Group, Crossbeta Biosciences, Crown Bioscience, Crozet BioPharma, CR Pharma, CRS Bio, CRT Pioneer Fund, Crucell, CryoPort, Crystal Bioscience, CrystalGenomics, CSIRO, CSL, CSL Behring, CSL Plasma, CSPC Pharmaceutical Group, CStone Pharmaceuticals, CTD Holdings, CTI BioPharma, CTT Pharmaceutical, CUBRC, Cue Biopharma, Cullinan Oncology, Cumberland Pharmaceuticals, Curable, CureCell, Cure Duchenne, Cure Forward, CURE Pharmaceutical, Cure Sanfilippo Foundation, Curetis, CureVac, Curio Genomics, Curis, Cyclacel Pharmaceuticals, Cyclenium Pharma, Cyclica, Cyclo Therapeutics, Cygnus, CymaBay Therapeutics, Cynata Therapeutics, Cynvenio, Cyon Therapeutics, Cypher Genomics, Cypralis, Cyprium Therapeutics, Cyrus Biotechnology, Cystic Fibrosis Foundation, Cystic Fibrosis Foundation Therapeutics, Cyteir Therapeutics, CYTLIMIC, Cytobank, CytoBioscience, Cytodyn, Cytokinetics, CytoLumina Technologies, CytomX Therapeutics, Cytonet, Cytoo, Cytori Therapeutics, Cytos Biotechnology, CytoSen Therapeutics, Cytotheryx, Cytovant Sciences, Cytovation, CYTOVIA Therapeutics, Cytox, CytRx, Cyxone, D. Western Therapeutics Institute, Daewoong Pharmaceutical, Daiichi Sankyo, Dainippon Sumitomo Pharma, Dako, Dalhousie University, Dalton Pharma Services, Dana-Farber Cancer Institute, Dance Biopharm, DanDrit Biotech, Daniel Alain Life Science, Danish Center for Strategic Research into Type 2 Diabetes, DAON BioSciences, Dare Bioscience, DarioHealth, Dartmouth College, DaRui Biotech, DarwinHealth, Dassault Systems, DAS Therapeutics, Datavant, David H. Koch Institute for Integrative Cancer Research, DaVita, Daxor, DayTwo, DCPrime, Debiopharm, Debiotech, Decibel Therapeutics, Decipher Biosciences, deCODE Genetics, de Duve Institute, DEEP 6 AI, Deerfield Management, Defense Advanced Research Projects Agency, Defense Threat Reduction Agency, Definiens, DefiniGEN, Defymed, Deinove, DelMar Pharmaceuticals, Delphi Genetics, Dementia Discovery Fund, DemeRx, Demetra, Demetrix, Denali Therapeutics, Dendreon, DendroCyte, Denka, Denka-KEW Genomics, Denovo Biopharma, Dent Neurologic Institute, Department of Defence, Department of Defense, Department of Economic development of Montgomery County, Department of Energy, Department of Health and Human Services, Department of Veterans Affairs, DePuy, Dermala, Dermavant Sciences, Dermelix Biotherapeutics, Dermin, Dermira, DermTech, Desktop Genetics, DestiNA Genomics, Devonian Health Group, Diabeloop, diaDexus, DiagnoCure, Diagnostica Longwood, Diatech Pharmacogenetics, Diatheva, Diavax Biosciences, DiCE Molecules, Dicerna Pharmaceuticals, Dicom Systems, DigiPath Solutions, Dimension Therapeutics, Dimerix Biosciences, DiNAQOR, Disc Medicine, DiscoveRx, Distributed Bio, Diurnal, Diversigen, DKT, DMD Therapeutics, DNA Link, DNAnexus, DNA Script, DNAtrix, Domainex, Domain Therapeutics, Dong-A ST, Dongbao, DONG Energy, Dorian Therapeutics, Dotmatics, Dovetail Genomics, Dow AgroSciences, Dr. Reddy's Laboratories, Dr. Susan Love Research Foundation, Dragonfly Therapeutics, DreaMed Diabetes, Drugs for Neglected Diseases Initiative, DSG, DSM Sinochem Pharmaceuticals, Dualogics, DuChemBio, Ductor, Duke-NUS Graduate Medical School Singapore, Duke University, Duke University Medical Center, DuPont, DuPont Industrial Biosciences, DuPont Pioneer, Dyadic International, DyNAbind, Dynacure, Dynamic Combinatorial Chemistry, Dynavax Technologies, Dyne Therapeutics, DynPort Vaccine Company, Dystrophic Epidermolysis Bullosa Research Association of America, E-Therapeutics, E.T. Horn, Eagle Genomics, Eagle Pharmaceuticals, EA Pharma, East and North Hertfordshire NHS Trust, Eastern Capital, EastGate Biotech, ECM Therapeutics, ECOG-ACRIN Cancer Research Group, Ecole Polytechnique de Montreal, Ecole Polytechnique Federale de Lausanne, Edelris, Eden BioCell, Edge Biosystems, Edico Genome, EdiGene, Edinburgh Innovations, Editas Medicine, Edith Cowan University (ECU), Edwards Lifesciences, eFFECTOR Therapeutics, Egalet, EGeen, EHang Holdings, EicOsis, Eiger BioPharmaceuticals, Eirion Therapeutics, Eisai, Eisai Inc, Eisai S.A.S, Elanco, Elanix Biotechnologies, Elasmogen, Elektrofi, Elencee, ElevateBio, Eleven Biotherapeutics, Eli Lilly, Elixirgen, Elpidera, Elpis Biomed, Elpiscience, ElsaLys Biotech, Elthera, EluSys Therapeutics, Embark Biotech, Ember Therapeutics, EmbryoTrans Biotech, EMD Millipore, EMD Serono, Emendo Biotherapeutics, Emerald Logic, Emerald Organic Growth, Emerge Health, Emergence Therapeutics, Emergent BioSolutions, Emergex Vaccines, Emerson Process Management, Emmaus Life Sciences, Emory University, Emtora Biosciences, Emulate, Enable Injections, Enamine, EnBiotix, Encoded Therapeutics, Encore Dermatology, Endocanna Health, Endocyte, Endo International, Endomag, Endo Pharmaceuticals, Endorecherche, ENDRA Life Sciences, Enesi Pharma, enGene, EnGeneIC, Engitix, Enigma Biomedical, Enleofen Bio, Enlibrium, Enlivex, Enochian Biosciences, ENPICOM, Ensysce Biosciences, Entasis Therapeutics, Entera Health, Enteris Biopharma, Enterome Bioscience, Enterprise Therapeutics, Entheogenix Biosciences, Enthera, Entos Pharmaceuticals, Enumeral Biomedical, EnvisionRx, ENYO Pharma, Enzychem Lifesciences, Enzyvant Science, Eolas Therapeutics, Eone-Diagnomics Genome Center, EpiBiome, Epic Sciences, EpiDestiny, Epigen Biosciences, EPI Health, Epilepsy Society, EpimAb Biotherapeutics, Epinomics, Epirus Biopharmaceuticals, EpiThany, Epivax, Epizyme, Epsilon, Equillium, Erasmus University Medical Center, ERBA Diagnostics, Ergomed, ERP Biomarker Qualification Consortium, ERS Genomics, Ervaxx, Erytech, ES Cell International, Escient Pharmaceuticals, EspeRare Foundation, Esperite, Essex Bio-Technology, Eternygen, eTheRNA immunotherapies, Ethismos Research, Ethos Veterinary Health, Ethris, Etna Biotech, Etubics, Eucodis Bioscience, Eunice Kennedy Shriver Institute of Child Health and Human Development, Eureka Eurostars, Eureka Genomics, Eureka Therapeutic, Eurobio, Eurofarma, Eurofins Discovery, Eurofins Genomics, Eurofins Scientific, Eurofins STA Laboratories, European Commission, European Equity Partners, European Organization for Research and Treatment of Cancer, European Union, European Union Regional Development Fund, EUSA Pharma, Euthymics Bioscience, Eutilex, Evaxion Biotech, Evecxia, Evelo Biosciences, Everest Medicines, Evergene, Everledger, Evofem, Evogene, Evolva, Evolve BioSystems, Evonetix, Evonik Industries, EvoRX Technologies, Evotec, Evvivax, Ewopharma, Exactis Innovation, Exact Sciences, Excelimmune, ExCellThera, Excision BioTherapeutics, Excivion, ExeGi Pharma, Exelixis, Exemplar Genetics, Exicure, Exiqon, Exonate, Exonics Therapeutics, Exosome Sciences, Exovita Biosciences, Expansion Therapeutics, Expedeon, Expesicor, Exploragen, ExpreS2ion Biotechnologies, Expression Therapeutics, ExScientia, ExxonMobil, Eyegate Pharmaceuticals, Eyevance, F-Star, F1 Oncology, F2G, Fabric Genomics, Facebook, Facio Therapies, Facit, Fagron, FairJourney Biologics, Fannin, Fapon Biopharma, Faron Pharmaceuticals, Fast Forward, Fate Therapeutics, Fatro, Faulk Pharmaceuticals, Fauna Bio, Federal Ministry of Education and Research (BMBF), Federal Ministry of Health (Germany), Fedora Pharmaceuticals, FEI, Feinstein Institute for Medical Research, Feldan Therapeutics, Femtogenix, Fermic, Ferrer International, Ferring Pharmaceuticals, Fertility SOURCE Companies, FetoLumina Technologies, FGH Biotech, Fibriant, Fibrocell Science, FightMND, Fina Biosolutions, Finch Therapeutics, Firebrand Therapeutics, First Databank, FirstString Research, FIT Biotech, Five Prime Therapeutics, FKD Therapies, Flagship Biosciences, Flatiron Health, Flemish agency for Innovation by Science and Technology, FloDesign Sonics, Florey Institute of Neuroscience and Mental Heath, Florida International University, Flow Pharma, FluGen, Fluicell, Fluidigm, Fluxion Biosciences, FLX Bio, FMC, Fogarty Institute for Innovation, Folia Biotech, Follicum AB, Fondazione San Raffaele, Fondazione Telethon, Food and Drug Administration (FDA), FoodChek Systems, Food Marble Digestive Health, Forage Genetics, Forbius, Foresee Pharmaceuticals, Forge Therapeutics, FORMA Therapeutics, Formulatrix, For The Biome, Fortify Therapeutics, Fortress Biotech, Forty Seven, Fosun Kite Biotechnology, Fosun Pharmaceutical, Fougera Pharmaceuticals, Foundation Fighting Blindness, Foundation for Biomedical Research and Innovation, Foundation for Innovative New Diagnostics, Foundation for the Children of the Californias, Foundation Medicine, Foundation to Eradicate Duchenne, Four Points Innovation, Fox Chase Cancer Center, Fraunhofer IGB, Fraunhofer Institute for Molecular Ecology (IME), Fraunhofer Institute for Toxicology and Experimental Medicine ITEM, Fred & Pamela Buffett Cancer Center, Frederick National Laboratory For Cancer Research, Fred Hutchinson Cancer Research Center, Freenome, French National Institute for Agricultural Research, Frequency Therapeutics, Fresenius Kabi Pharmaceuticals, Fresenius Medical Care, Friedreichs Ataxia Research Alliance, Frontage Laboratories, Frontier Biotech, Front Range Biosciences, FSD Pharma, Fudan University, Fujifilm, Fujifilm Diosynth Biotechnologies, Fujifilm medical systems, Fujifilm Pharma, Fuji Pharma, Fujirebio Diagnostics, Fulcrum Therapeutics, Fulgent Genetics, Fulgent Pharma, Full Genomes, Fundacion Medina, Fundacion Progreso y Salud, Fusion Antibodies, Fusion Pharmaceuticals, FuturaGene, G-TAC, G-Tech Bio, G-treeBNT, G1 Therapeutics, GABA Therapeutics, Gadeta, Gain Therapeutics, Galapagos, Galaxy Biotech, Galderma, Galena Biopharma, Galmed Pharmaceuticals, GamaMabs Pharma, Gamida Cell, GammaDelta Therapeutics, GB Sciences, GC LabCell, GC Pharma, GE Healthcare, Gelesis, Gemelli Biotech, Gemini Therapeutics, Gen-Probe, GEn1E Lifesciences, Gen9, Genagon Therapeutics, GenAhead Bio, Gencia Biotech, Genea Biomedx, GeneBay, Gene Biotherapeutics, Genecast, GeneCentric Therapeutics, Genective, GeneData, GenEdit, GeneDX, Geneformics, GeneNews, Genentech, GeneOne Life Science, Geneos Therapeutics, GenePeeks, GeneQuantum Healthcare, General Automation Lab Technologies, Generex Biotechnology, Generon, Genesis Biotechnology Group, Genestack, Gene Therapy Research Institution, Genethon, Genetic Analysis, Genetic Immunity, Genetic Information Research Institute, Genetic Technologies, Genetrix, Genetron Health, GeNeuro, Geneva Foundation, Genevant Sciences, Geneva University Hospitals, Genewiz, GeneWorks, Genexine, Genfit, Genisphere, Genmab, Genocea Biosciences, Genomatica, Genome and Company, Genome BC, Genome Canada, Genome Compiler, GenomeDx, Genome Institute of Singapore, Genome Medical, Genomenon, Genomic Health, Genomics, Genomics England, Genomic Testing Cooperative, Genomic Vision, Genomoncology, Genoox, Genopis, Genoptix, Genor Biopharma, Genosco, Genovis, Genovive, genOway, Genprex, GenScript USA, Gensight, GenSpera, GenStem Therapeutics, Genten Therapeutics, Genticel, Gentris, Genus, GenVec, Genzyme, Geom Therapeutics, George Mason University, Georgetown University, George Washington University, Georgia State University Research Foundation (GSURF), GeoVax, German Cancer Research Center, German Ministry for Education and Research, German Red Cross, Gestion Univalor, GHO Capital, GI Innovation, Gilead Sciences, Ginkgo BioWorks, GISCAD Foundation, Gladstone Institutes, Glaukos, GlaxoSmithKline, GlaxoSmithKline Biologicals, GL Brands, Glenmark Pharmaceuticals, GLG Pharma, Glide Technologies, Global Antibiotic Research and Development Partnership, Global Blood Therapeutics, Global Drug Development Centre (GDCC) China, Global Dx, Global Genomics Group, Global Health Innovative Technology Fund (GHIT), Globavir Biosciences, GlycoBac, Glycocept, GlycoMimetics, Glycostem Therapeutics, Glycosyn, Glycotope Biotechnology, Glykos, Glythera, GMSbiotech, Gnosis Bioresearch, GNS Healthcare, GOG Foundation, Golden Meditech, Goldfinch Bio, Goliver Therapeutics, Good Start Genetics, Good Therapeutics, Goodwin Biotechnology, Google, Gossamer Bio, Gotham Therapeutics, GO Therapeutics, Government of Australia, Government of Canada, Government Scientific Source, GPBio, Gradalis, Grameen Health, GrandOmics Biosciences, Great Bay Bio, Greater New York Hospital Association, Greater Paris University Hospitals, Great Harvest Agri Chemicals, Great Ormond Street Hospital (GOSH), Green Cross LabCell, Greenlight Biosciences, Greiner Bio-One, Grid Therapeutics, Griffith University, Grifols, Gritstone Oncology, Grunenthal, GT Apeiron Therapeutics, GT Biopharma, GTP Technology, GtreeBNT, GTx, Guangzhou Boji Medical Biotechnological, Guangzhou Xiangxue Pharmaceutical, Guardant Health, Gubra, Gulf Coast Pharmaceuticals, Gyros Protein Technologies, H&P Labs, H-Immune, H3 Biomedicine, Hackensack Meridian Health, Hadasit Bioholdings, Hadasit Medical Research Services and Development, Hadassah Medical Center, Haemonetics, Haldor Topsoe, HalioDx, Halozyme Therapeutics, Hamad Bin Khalifa University, Hamilton Thorne, HanAll Pharmaceuticals, Hangzhou Chengyuan Genomics Company, Hanmi Pharmaceutical, Hannover Medical School, HanX Biopharmaceuticals, Haplogen, Harbour Biomed, HarkerBIO, Harmony Biosciences, Harpoon Therapeutics, Harvard Apparatus Regenerative Technology, Harvard Medical School, Harvard Pilgrim Health Care, Harvard Stem Cell Institute, Harvard University, Harvest Capital Strategies, Hawaii Biotech, Healios K.K., HealthBanks Biotech, Health Canada, Healthcare Royalty Partners, Health Connexions, Health Decisions, Health Diagnostics Laboratory, Health Sciences Research Institute Germans Trias i Pujol Foundation, HealthTrust, Healthy Focus, HeartScore, Heat Biologics, Hefei Sageland Biotechnology, Heidelberg Pharma, Helix, Helix BioPharma, Helmholtz Zentrum Munchen, Helomics, Helperby Therapeutics, Helvetic Biopharma, HemaCare, HemispheRx Biopharma, Hemogenyx, HemoShear, Hemostasis, Hemostemix, Henlius Biotech, Henry Ford Health System, Henry M. Jackson Foundation, Hepatitis B Foundation, Hepion Pharmaceuticals, Hepregen, Heraeus, Heritage Group, Heron Therapeutics, Hi-Tech Pharmaceuticals, HiFiBio, HighRes Biosolutions, Hikma Pharmaceuticals, Hile Bio-Technology, Hillhurst Biopharmaceuticals, Hillstream BioPharma, Histogen, Histogenics, HistoIndex, Hitachi Chemical, Hitachi High-Technologies Corporation, HitGen, HMNC Brain Health, Hoag Memorial Hospital Presbyterian, Hoba Therapeutics, Hoffmann La Roche, Holobiome, Hologic, Homology Medicines, Hongene Biotechnology, Hong Kong Baptist University, Hookipa Pharma, Hop Tri Investment, Horizon 2020, Horizon Discovery, Horizon Healthcare Services, Horizon Pharma plc, Hospira, Hoth Therapeutics, Hough Ear Institute, Houston Pharmaceuticals, Hovione, HSRx Group, HTG Molecular Diagnostics, Huapont Pharma, Hubrecht Organoid Technology, Hudson-Alpha Institute for Biotechnology, HudsonAlpha Institute for Biotechnology, Humabs BioMed, Humacyte, Human Cell Atlas, Humanigen, Human Life CORD Japan, Human Longevity, Human Metabolome Technologies, Human Vaccines Project, Hummingbird Bioscience, Huntsman, Huntsman Cancer Institute, Huntsworth Health, Huvepharma, hVIVO, Hydra Biosciences, HypGen, I-Bridge Capital, I-mab, i2 Pharmaceuticals, iBio, IBM, IBM Watson Health, Icagen, Icahn School of Medicine at Mount Sinai, ICAN, iCarbonX, Ichnos Sciences, Ichor Biologics, Ichor Medical Systems, ICM, Icon, Iconic Therapeutics, Idaho Urologic Institute, IDBS, IDbyDNA, iDD Biotech, IDEAYA Biosciences, Idera Pharmaceuticals, ID Genomics, Idorsia, ID Pharma, IDT Biologika, IFM Therapeutics, Igantia Therapeutics, iGEM, Igenica, IGNITE Immunotherapy, Ignyta, IGXBio, Iksuda Therapeutics, Illumina, ILTOO Pharma, ImaBiotech, ImageIQ, Imagene Labs, ImaginAb, Imanis Life Sciences, Imbed Bio, Imbio, Imbrium Therapeutics, ImCheck Therapeutics, Imcyse, Imec, Imegen, iMetabolic Biopharma, IMIDomics, Immatics Biotechnologies, Immatics US, ImmBio, Immodulon Therapeutics, Immugenyx, Immunaccel, Immune-Onc Therapeutics, Immune Biosolutions, ImmuneCyte Life Sciences, Immune Design, Immuneed, Immuneering, ImmuneHealth, ImmuneOncia, Immune Pharmaceuticals, Immune Therapeutics, Immunex, ImmuNext, ImmunGene, Immunic, Immunicum, ImmunID Technologies, Immunitor, ImmunoBiochem, ImmunoBrain Checkpoint, ImmunoCellular Therapeutics, ImmunoChina Pharmaceuticals, Immunocore, ImmunoForge, ImmunoGen, ImmunogenX, Immunome, Immunomedics, Immunomic, ImmunoPhotonics, ImmunoQure, Immunovaccine, Immunovia, Immunscape, ImmunXperts, ImmuPharma, Immuron, Immusol, Immutep, IMPACT Therapeutics, Imperial College London, Imperial Innovations, Impression Healthcare, IMS Health, Imugene, Imutex, IMV, In-Q-Tel, INC Research, Incuron, Incyte, Indapta Therapeutics, Indegene Lifesystems, InDex Pharmaceuticals, Indiana University, Indian Cooperative Oncology Network, Indian Council of Medical Research, Indian Institute of Technology Delhi, Indivumed, Induce Biologics, Infectious Disease Research Institute (IDRI), Infinity Pharmaceuticals, InflamaCORE, Inflazome, Inflection Biosciences, Information Technology for Translational Medicine, Inform Genomics, inGenious Targeting Laboratory, Ingenza, Inhibrx, Inivata, INmune Bio, Innara Health, Innate Biologics, Innate Pharma, Innospec, Innosuisse, Innova Biosciences, INNOVASALUD, Innovate Biopharmaceuticals, Innovate UK, Innovative Cellular Therapeutics, Innovative Diagnostic Laboratory, Innovative Medicines Initiative (IMI), Innovative Targeting Solutions, Innovent Biologics, INO Therapeutics, Inotrem, Inova Labs, Inovalon, iNova Pharmaceuticals, Inova Translational Medicine Institute, Inoviem Scientific, Inovio Pharmaceuticals, InProTher, InQpharm, Inserm, Inserm Transfert, Insight Genetics, Insilico, Insitro, Insmed Inc, InSphero, Inspyr Therapeutics, InstaNatural, Instem, Institut Curie, Institute for Basic Science, Institute for Bioscience and Biotechnology Research, Institute for Research in Biomedicine, Institute for Research in Immunology and Cancer – Commercialization of Research, Institute for Risk Assessment Sciences, Institute for Systems Biology, Institute for the Promotion of Innovation by Science and Technology in Flanders, Institute of Bioengineering of Catalonia, Institute of Bioinformatics, Institute of Biophysics, Institute of Child Health, Institute of Endocrinology, Metabolism, and Reproduction, Institute of Hematology and Blood Transfusion, Institute of Human Virology, Institute Of Molecular Biotechnology, Institut Gustave Roussy, Instituto Diagnostico Varelli, Instituto Mato-grossense do Algodão, Institut Pasteur, Intarcia Therapeutics, Integra, IntegraGen, Integra LifeSciences, Integral Molecular, Integrated BioTherapeutics, Integrated DNA Technologies, Intellia Therapeutics, IntelliCell BioSciences, Intellikine, INTELLiSTEM, Intensity Therapeutics, Interleukin Genetics, Intermountain Healthcare, International AIDS Vaccine Initiative, International Association of Providers of AIDS Care, International Consortium on Anti-Virals, International Security Group, International Stem Cell, International Vaccine Institute (IVI), Interprotein, InterSystems, Intralytix, Intravacc, Intrexon, iNtRON Biotechnology, Invectys, Invenra, Inventiva, Invetech, inviCRO, Invigorcell, Invitae, InVivoScribe, InVivo Therapeutics, INVO Bioscience, InxMed, IO Biotech, Ion Channel Innovations, Ionis Pharmaceuticals, ION Solutions, IONTAS, Iovance Biotherapeutics, IOVaxis Therapeutics, iOx Therapeutics, iPharma, Ippox Foundation, iProgen Biotech, Iproteos, iPS Academia Japan, Ipsen, IQVIA, Irish Haemophilia Society, Ironwood Pharmaceuticals, IRX Therapeutics, ISA Pharmaceuticals, Isarna Therapeutics, ISA Scientific, iSense CGM, ISIS Innovation, Isogenica, Isogen Life Science, Isomerase Therapeutics, IsoPlexis, ISOThrive, iSpecimen, Israeli Ministry of Industry and Commerce, Israeli National Authority for Technological Innovation, Israel Institute for Biological Research, Israel Investment Center, Italian Ministry of Economic Development, iTeos Therapeutics, ITM Isotopen Technologien, Itochu, Itus, Iveric Bio, IVF Bioscience, Ivy Tech Community College, IXICO, Izana Bioscience, Jackson Laboratory, Jain Foundation, James R Clark Memorial Sickle Cell Foundation, Janssen Biotech, Janssen Pharmaceuticals, Janssen Pharmaceutica NV, Janssen Research & Development, Janssen Sciences, Janssen Therapeutics, Janus Pharmaceuticals, Japan Tobacco, Jasper Therapeutics, Jazz Pharmaceuticals, JCR Pharmaceuticals, Jeffrey Modell Foundation, JenKem Technology, Jenner Institute, JHL Biotech, Jiangsu Alphamab, Jiangsu Chia Tai Tianqing Pharmaceutical, Jiangsu Egens Biotechnology, Jiangsu Hansoh Pharmaceutical, Jiangsu Hengrui Medicine, Jiangsu NHWA Pharmaceutical, Jiangsu Qyun Bio-Pharmaceutical, Jiangsu QYuns Therapeutics, Jianshun Biosciences, Jitsubo, Jnana Therapeutics, John Hopkins University School of Medicines, Johns Hopkins University, Johnson & Johnson, Johnson & Johnson Consumer Companies, Johnson & Johnson Innovation, Johnson Matthey, John Wayne Cancer Institute, Joslin Diabetes Center, Jounce Therapeutics, JP Morgan, JSC Pharmadis, JSR, JTS Health Partners, Jubilant Biosys, Jubilant Radiopharma, Juniper Pharmaceuticals, Juno Therapeutics, Junshi Biosciences, Juntendo University, Just Biotherapeutics, Juvenescence, Juvenile Diabetes Research Foundation, Juventas Therapeutics, Kadimastem, Kadmon Pharmaceuticals, KAHR Medical, Kaiima Bio-Agritech, Kailos Genetics, Kairos Therapeutics, Kaiser Permanente, Kaken Pharmaceutical, Kalbe Genexine Biologics, Kaleido Biosciences, Kamada, Kane Biotech, Kaneka, Kangmei Pharma, KangStem Biotech, Kansas State University, Kanteron Systems, Kanyos, Kapa Biosystems, Karolinska Development, Karolinska Institute, Karyopharm Therapeutics, Kashiv BioSciences, Kazia Therapeutics, Kazusa DNA Research Institute, KBI BioPharma, KBP BioSciences, Keck Graduate Institute of Applied Life Sciences, Keck School of Medicine of USC, Kedrion Biopharma, Keensight Capital, Keio Gijuku University, Kelun-Biotech Biopharmaceutical, Kennedy Trust For Rheumatology Research, Kent Imaging, Kerecis, Kerry, Keryx Biopharmaceuticals, KEW, KeyBioScience, Kiadis Pharma, Kim & Friends, Kimberly-Clark, Kinaxis, Kindred Bio, KineMed, Kineta, Kinetic River, King's College Hospital, King Saud University, Kings College London, Kiniksa Pharmaceuticals, Kinoxis Therapeutics, Kite Pharma, Kiyatec, Kleiner Perkins Caufield & Byers, Kleo Pharmaceuticals, Knauer Scientific Instruments, Knight Cancer Institute, Knight Therapeutics, Knopp Biosciences, KNOW Bio, Knudra Transgenics, Kobe University, KODE Biotech, Kodiak Sciences, Kogenix, KolGene, Kolon Life Science, Kowa Pharmaceuticals America, Kraig Biocraft Laboratories, Krankenhaus Nordwest, KSQ Therapeutics, KTH Royal Institute of Technology, Kura Oncology, Kurma Life Sciences Partners, Kuros Biosciences, KYAN Therapeutics, Kymab, Kymera Therapeutics, Kyn Therapeutics, Kyongbo Pharm, Kyorin Pharmaceutical, Kyoto University, Kyowa Hakko Kirin, Kythera Biopharmaceuticals, Kyverna Therapeutics, L'Oreal, L2P Research, LabCentral, Labcyte, Labgene Scientific, Lab Launch, Laboratoires Thea, Laboratories Acbel, Laboratorios Liomont, Laboratory Corporation of America, Laboratory of Malaria Immunology and Vaccinology (LMIV), LA Cell, Lacerta Therapeutics, Laekna, La Jolla Capital, La Jolla Institute for Allergy & Immunology, LakePharma, Lakewood-Amedex, LamdaGen, Lamellar Biomedical, Lankenau Institute for Medical Research, Lannett, Lantern Pharma, Lantheus Holding, Lantheus Medical Imaging, LaserGen, Laurel Venture Capital, Lauren Sciences, Lava Therapeutics, Lawrence Livermore National Laboratory, Lawson Health Research Institute, Laxai Pharma, Lazarex Cancer Foundation, LBT Innovations, Lead Discovery Center, Leads Biolabs, Leadxpro, Leaf Healthcare, Leap Therapeutics, Lee's Pharmaceutical, Lee Moffitt Cancer Center, Legend Biotech, LegoChem Biosciences, Leica Biosystems, Leicester University, Leiden University, Leidos, LEITAT, LenioBio, Lentigen, Lenus Therapeutics, Leon-nanodrugs, Leona M and Harry B Helmsley Charitable Trust, LEO Pharma, Lesaffre, Les Laboratoires Servier, Leukemia & Lymphoma Society, Leukocare, LexaGene, Lexaria Bioscience, LGC, LG Life Sciences, LI-COR Biosciences, Libbs Farmaceutica, Librede, LifeArc, Lifecode, Lifecycle Biotechnologies, LifeLink Foundation, LifeLiver, LifeMap Sciences, LifeNome, Life Science Korea, LifeSouth Community Blood Centers, LifeTech Scientific, Ligand Pharmaceuticals, Lineage Cell Therapeutics, LineaRx, LingSheng Pharma Tech, Linkage Biosciences, Linker Holdings, LioniX, LipimetiX Development, Lipotype, Lipum, Liquid Biotech USA, LiveLeaf, Live Like Bella Childhood Cancer Foundation, Lixte Biotechnology, LMC Diabetes and Endocrinology, LNC, Locana, Lockheed Martin, Locus Biosciences, Lodo Therapeutics, LogicBio Therapeutics, Longeveron, Longevity Biotech, Lonza, Loreal, Lotus Biotechnology Development, Louisiana State University, Lovelace Biomedical and Environmental Research Institute, Loxo Oncology, LSK BioPharma, LSNE Contract Manufacturing, Lubeck Institute of Experimental Dermatology, Lubris BioPharma, Lucigen, Ludwig-Maximilians University, Ludwig Institute for Cancer Research, Lumicell, Luminex, Lumiphore, Lundbeck, Lund University, Lung Biotechnology, Lupagen, Luxembourg Institute of Health, Luye Pharma Group, Lycera, Lyfebulb, Lygos, Lymphoma Study Association, Lyndra Therapeutics, Lynkogen, Lyra Health, Lysando, Lysogene, Lytix Biopharma, M2Gen, M3, MaaT Pharma, Mab-Venture Biopharma, MAB Discovery, MabQuest, Mabspace Bioscience, MabVax Therapeutics, mAbXience, Maccura Biotechnology, Macquarie University, Macroceutics, Macrogen, Macrogenics, Macrolide Pharma, Macrophage Pharma, Macrophage Therapeutics, Magenta Therapeutics, MAGiQ Therapeutics, Magnesium Elektron, Malin, Mallinckrodt Pharmaceuticals, Malvern Instruments, Mammoth Biosciences, Mannin Research, ManRos Therapeutics, MapKure, Mapp Biopharmaceutical, Marasco Laboratory, Marathon Pharmaceuticals, Marina Biotech, Marinus Pharmaceuticals, Marizyme, Marken, Marrone Bio Innovations, Maruho, Maryland Stem Cell Research Fund, Mary Lyon Centre, Massachusetts Eye and Ear Infirmary, Massachusetts General Hospital, Massachusetts Institute of Technology, MassBiologics, MassMutual, MaSTherCell, Mast Therapeutics, Matinas Biopharma, Matrivax, Maverick Therapeutics, Maverix Biomics, MaveriX Oncology, Mawi DNA Technologies, Max-Delbruck Center for Molecular Medicine, Max-Planck, Maxcyte, MaxiVAX, Max Planck Institute of Biochemistry, Mayo Clinic, Mayo Clinical Ventures, MBio Diagnostics, McGill University, McKesson, MD Anderson Cancer Center, MDA Venture Philanthropy, MDL Asia, MDxHealth, MEAgate International, Medac, MedCision, Medeor Therapeutics, Medesole Healthcare and Trading, Medesole INVO Bioscience, Medgenics, MedGenome, MEDIAN Technologies, MediaPharma, Medicago, Medica Labs, Medical Incubator Japan, Medical Marijuana, Medical Prognosis Institute, Medical Research Council, Medical Technology Enterprise Consortium, Medical University of Bialystok, Medical University of Graz, Medical University of South Carolina, Medical University of Vienna, Medical University South Carolina, MediCare International, Medicenna Therapeutics, Medicinal Genomics, Medicines360, Medicines Discovery Catapult, Medicines Patent Pool Foundation, MediciNova, Medicure, Medidata Solutions, Medifocus, Medi Futures, Medigen Biotechnology, MediGene, Medimabs, MedImmune, Medinet, Mediolanum, Medipal Holdings, MediSix Therapeutics, Medison Pharma, Medisun International, Medivation, Medivir, MediWound, Medline Industries, Medosome Biotec, Medpace, Medtech4Health, Medtronic, Medybloom, Medytox, Meiji Seika, Meiogenix, MEI Pharma, MeiraGTx, Meissa Vaccines, Melanovus Oncology, Memgen, Memorial Sloan Kettering Cancer Center, Memo Therapeutics, Mendel Health, MenoGeniX, MentiNova, Mercachem, MercachemSyncom, Merck and Co, Merck Animal Health, Merck KGaA, Merck Serono, Merck Sharpe & Dohme, Mereo BioPharma, Meridian Life Science, Merrimack Pharmaceuticals, Mersana Therapeutics, Merus, Mesoblast, MetaboGen, Metabolix, Metabolon, Metacrine, Metagenics, Metasurg, Methuselah Foundation, Metrion Biosciences, Metuchen Pharmaceuticals, Mexican National Technology and Science Council, MGI Tech, Michael J Fox Foundation, Michigan State University, MicrobeDx, Microbiotica, Microbiotix, Microbix Biosystems, Microchips Biotech, MicroConstants, MicroCures, Microlin Bio, MicroMGx, Microsoft, Midatech, Mikrogen, Milenia Labs, Mill Creek Life Sciences, Miller Veterinary Supply East, MilliporeSigma, Milner Therapeutics Institute and Consortium, Miltenyi Biotec, Mimetas, Mimetogen Pharmaceuticals, MimiVax, MiNA Therapeutics, Mindstrong Health, Minerva Biotechnologies, MinervaX, Minnetronix, Minomic, Miragen Therapeutics, miRagen Therapeutics, Mirati Therapeutics, MirImmune, Mirna Therapeutics, Mirnax Biosens, MiRXES, Mission Bio, Mission Health, Mitacs, Mitobridge, Mitra Biotech, Mitralign, Mitsubishi Tanabe Pharma, Mitsui Norin, Mobidiag, Moderna Therapeutics, ModiQuest Research, Modulus Discovery, Molecular Biology Systems, Molecular Devices, Molecular Health, Molecular Partners, Molecular Response, Molecular Stethoscope, Moleculin Biotech, MolMed, Molnlycke Health Care, Mologen, Mologic, Momenta Pharmaceuticals, monARC Bionetworks, Monarch Biosciences, Monash University, Monopar Therapeutics, Monsanto, Monvida Pharmaceuticals, Moores Cancer Center, Morphic Therapeutic, MorphoSys, Morphotek, Mossakowski Medical Research Centre, Motif Bio, Mount Sinai Medical Center, Mount Sinai Services, Movember Foundation, Mperia Therapeutics, MRM Proteomics, MSD, MSD Animal Health, MSD Biologics, MSD Wellcome Trust Hilleman Laboratories, MTF Biologics, Mucosis, MultiCell Immunotherapeutics, Multiclonal Therapeutics, Multiple Myeloma Research Foundation, Multispan, Mundipharma, Mundo Sano, Munich Leukemia Laboratory, Murdoch Childrens Research Institute, Muscular Dystrophy Association, Musculoskeletal Transplant Foundation, Mustang Bio, MyBiotics Pharma, Myeloma Crowd, Myeloma UK, Myelopro Diagnostics and Research, Myeloproliferative Neoplasm Research Consortium, Mylan Laboratories, Mylan Pharmaceuticals, Mymetics, MyoKardia, Myonexus Therapeutics, MYOS, Myovant Sciences, Myriad Genetics, Myriad RBM, Myrtle Potter & Company, myTomorrows, N-of-One, N1 Technologies, n3D Biosciences, N8 Medical, NABsys, Naia Pharma, Nan Fung Group, Nanion, Nanjing Darwingenetech, NanoBio, Nanobiotix, NanoCarrier, Nano Dimension, Nanolek, NanoLock, Nanologica, NanoMab Technology, Nanomerics, NanoProteagen, NanoString Technologies, Nanotherapeutics, NanoViricides, NantBioScience, NantCell, Nantes University, NantHealth, NantKwest, Nantong Jinghua Pharmaceutical, NantPharma, NantVentures, NantWorks, Nanyang Technological University, NapaJen Pharma, Napa Therapeutics, Napo Pharmaceuticals, NASA, Nascent Biotech, Nashville Biosciences, Natera, National Academy of Medicine, National Cancer Center of South Korea, National Cancer Institute, National Center for Advancing Translational Sciences (NCATS), National Center for Complementary and Integrative Health, National Center for Tumor Diseases, National Centre for Research and Development, National Cerebral and Cardiovascular Disease Research Center, National Comprehensive Cancer Network (NCCN), National Eye Institute, National Foundation for Cancer Research, National Geographic, National Healthcare Services (NHS), National Health Service, National Heart, Lung and Blood Institute, National Human Genome Research Institute, National Institute for Health and Care Excellence, National Institute For Occupational Safety And Health, National Institute of Allergy and Infectious Diseases, National Institute of Arthritis and Musculoskeletal Diseases, National Institute of Cholera and Enteric Diseases, National Institute of Dental and Craniofacial Research (NIDCR), National Institute of Diabetes and Digestive and Kidney Diseases, National Institute of General Medical Sciences, National Institute of Neurological Disorders and Stroke, National Institute of Standards and Technology, National Institute on Aging, National Institute on Alcohol Abuse and Alcoholism (NIAAA), National Institute on Drug Abuse (NIDA), National Institutes of Health, National Research Council Canada, National Research Council Industrial Research Assistance Program, National Research Council of Canada, National Resource Center For Mutant Mice (NRCMM), National Science Foundation, National Taiwan University Hospital, National Transfusiology Center, National University Cancer Institute, National University Hospital, National University of Ireland, Galway (NUI Galway), National University of Singapore, Nationwide Children's Hospital, Natrix Separations, Natural Sciences and Engineering Research Council of Canada, Naurex, Naval Medical Research Center, Navamedic, Navican, Navidea Biopharmaceuticals, Navitor Pharmaceuticals, NBE Therapeutics, Ncardia, NCIC Clinical Trials Group, NCPC GeneTech, NEC, Negen, Nektar Therapeutics, Nemucore Medical Innovations, NEMUS Bioscience, Nencki Institute, Neo-Science, NeoBiotechnologies, Neogen, NeoImmuneTech, Neomed Institute, NEO New Oncology, Neon Therapeutics, NeoPhore, Neostell, Neoteryx, NeoTX Therapeutics, Neovacs, Neovii Pharmaceuticals, Neptune Technologies & Bioressources, NerPharMa, Nerviano Medical Sciences, Nestle, Nestle Health Science, Net Health Systems, Netherlands Cancer Institute, NetVation DL Medicine, NeuCyte, Neumedicines, NeuralStem, Neuraltus Pharmaceuticals, Neuraly, NeurExo Sciences, Neurexpert, Neurimmune Therapeutics, Neuroblastoma and Medulloblastoma Translational Research, Neurocrine Biosciences, NeuroCycle Therapeutics, Neurogene, Neuronasal, Neuronetrix, NeuroPointDX, Neuropore Therapies, NeuroTrauma, Neurotrope BioScience, Neurovation Labs, NeuroVive Pharmaceutical, NeuroVive Pharmaceutical Asia, Newborn Screening Ontario, Newcastle University, New England Biolabs, New Jersey Urology, Newlink Genetics, Newomics, Newsoara Biopharma, Newsummit Biopharma, New York Blood Center, New York Genome Center (NYGC), New York Presbyterian/Columbia, New York University, New York University School of Medicine, New Zealand Pharmaceuticals, Neximmune, NextCure, Nextera, NEXT Oncology, Nexus BioPharma, Nexvet, NGM Biopharmaceuticals, NHS Blood and Transplant, Nicox, Nightingale Health, Nightstar Therapeutics, Nihon Medi-Physics, Nikon CeLL Innovation, Nimbus Therapeutics, Ningbo NewBay Medical Technology, Ningbo Tai Kang Medical Technology, Nippon Chemiphar, Nippon Kabaya Ohayo, Nippon Kayaku, Nipro Corporation, Nisarga Biotech, Nitrome Biosciences, NJCTTQ, Nkarta Therapeutics, nLife Therapeutics, NM Genomix, NMI Natural and Medical Sciences Institute, NMT Pharmaceuticals, Noden Pharma, Nohla Therapeutics, Noile-Immune Biotech, Nomad Bioscience, Noramco, Nordic Bioscience, Nordic Nanovector, Norgen Biotek, Noria Pharmaceuticals, North Carolina State University, Northeast ALS Consortium, Northern Biologics, Northern Biomedical Research, NorthSea Therapeutics, Northwestern University, Norwegian Research Council, Notable Labs, Notch Therapeutics, Nouscom, Nova Biomedical, NovaDigm Therapeutics, NovAliX, Novan Therapeutics, NovaRock Biotherapeutics, Novartis, Novasep, Novavax, Novella Clinical, NovellusDx, Novelogics Biotechnology, Novigenix, NovImmune, Novo, NovoCodex, Novocure, Novogen, Novogene, Novoheart, Novolytics, Novo Nordisk, Novoron Bioscience, Novoteris, Novozymes, NOWDiagnostics, Noxxon Pharma, Nrgene, NuBiyota, Nucelis, Nuclea Biotechnologies, Nucorion, NueHealth, Nuevolution, NuGene International, NuGen Technologies, Numab, NuMedii, Numerate, Nuo Therapeutics, NuProbe, Nuritas, Nurix, Nutra Pharma, Nutricion, NutriQuest, NuVascular Technologies, Nuvo Research, NuvOx Pharma, NYU Langone Medical Center, Oakrum Pharma, Oberland Capital, OBI Pharma, Obsidian Therapeutics, Ocata Therapeutics, Octane Biotech, Octapharma, Ocugen, Ocular Therapeutix, Oculis, OcuNexus Therapeutics, Odylia Therapeutics, Office of Generic Drugs, Office of Naval Research, Ohio State University, OHM Oncology, Oklahoma Center for the Advancement of Science and Technology, Oklahoma Medical Research Foundation, OKYO Pharma, Olaregen Therapeutix, Oligomerix, Olink Bioscience, OliX Pharmaceuticals, Ology Bioservices, Olympic Protein Technologies, Omeros, OMERS, OmicScouts, Omnia Biologics, OmniBiome Therapeutics, Omnis Pharmaceuticals, OMRF, Oncgnostics, Oncobiologics, OncoCare Therapeutics, Oncoceutics, Oncodesign, OncoDNA, Oncodrone, OncoGenesis, OncoGenex Pharmaceuticals, OncoHost, OncoImmune, OncoImmunity, Oncologie, Oncology Research Information Exchange Network, Oncology Venture, Oncolys BioPharma, Oncolytics Biotech, OncoMed Pharmaceuticals, Onconova Therapeutics, OncoQR, OncoQuest, Oncora Medical, OncoResponse, OncoSec Medical, Oncosynergy, Oncothyreon, Oncovita, Oncurious, One BioMed, Oneome, One Way Liver Genomics (OWL), One World Lab, Ono Pharmaceutical, On Target, On Target Laboratories, Onxeo, Opal Therapeutics, OpenBiome, OpenEye Scientific Software, Open Medicine Institute, Open Monoclonal Technology, OpGen, Ophthotech, OPKO Health, Oppilotech, Optasia Medical, OptiBiotix, Optibrium, OptiKira, Ora, Oragenics, Oraxion Therapeutics, Orbit Biomedical, Orca Pharmaceuticals, Orchard Therapeutics, Orebro University, Oregon Health Sciences University, Oregon National Primate Research Center, Oregon State University, Orexigen Therapeutics, Organogenesis, Organovo, Orgenesis, Ori Biotech, Oricula Therpeutics, ORIG3N, OriGene Technologies, Origenis, OrigiMed, Origin Agritech, Origin Biosciences, Orion, Orphazyme, Orthocell, OrthoCyte, Ortho Regenerative Technologies, Oryzon, OSE Immunotherapeutics, Osiris Therapeutics, Osivax, Oslo University Hospital, Ospedale San Raffaele, OsteoRemedies, OS Therapies, Oswaldo Cruz Foundation (Fiocruz), Otologic Pharmaceutics, Otsuka, Outpost Medicine, Ovensa, Ovid Therapeutics, Owl Biomedical, Oxford Biodynamics, Oxford BioMedica, Oxford BioTherapeutics, Oxford Gene Technology, Oxford Genetics, Oxford MEstar, Oxford Nanopore Technologies, Oxford University Hospitals NHS Trust, Oxis Biotech, Oxitec, Oxurion, OxyPharma, OZ Biosciences, Ozyme, Pacific Biosciences, Pacific Northwest Research Institute, Pacira Pharmaceuticals, Padlock Therapeutics, Pain Relief & Wellness Strategy Center, Pairwise Plants, Paladin Labs, Palantir, Palatin Technologies, Pall Corporation, Palleon Pharmaceuticals, Palmetto Project, Palobiofarma, Palvella Therapeutics, Panacea Biotech, Panacea Pharmaceuticals, Pan American Cancer Treatment Centers, panCELLa, Pandion Therapeutics, Panion, Panorama Research, Panther Biotechnology, PanTheryx, PapGene, Paradigm, Paragon Bioservices, Paragon Genomics, Parent Project Muscular Dystrophy, Parexel, Parion Sciences, Parkinson's Institute, Parkinson's Institute and Clinical Center, Particle Sciences, Partners HealthCare, Partnership for Influenza Vaccine Introduction, Partner Therapeutics, Parvus Therapeutics, Pascal Biosciences, Passage Bio, Passport Food Safety Solutions, PATH (Appropriate Technology in Health), Patheon, Patheon N.V., Pathios Therapeutics, PATH Malaria Vaccine Initiative, PathoQuest, Pathway Genomics, Paul Ehrlich Institute, Paul Scherrer Institute, PaxVax, PBM Capital Group, PCAS, PCG Clinical Services, PCI Biotech, PCT, PDC*line Pharma, PDL BioPharma, PDS Biotechnology, PDS Life Sciences, Peakdale Molecular, Pediatric Oncology Experimental Therapeutics Investigators Consortium, Pelago Bioscience, Pelican Therapeutics, PellePharm, Pennsylvania State University, Pepscan Therapeutics, PepTcell, Pep Therapy, Peptide Logic, PeptiDream, Peregrine Pharmaceuticals, Perelman School of Medicine, PeriGen, Periphagen Holdings, PerkinElmer, Perlara, Personal Genome Diagnostics, Personalis, Personalized Medicine Initiative (PMI), Peterson's Lab, PETNET Solutions, Petra Pharma, Pfenex, Pfizer, Pfizer Canada, Phage Consultants, Phagelux, Phanes Therapeutics, PharmAbcine, PharmaCell, Pharmacia, Pharmacyclics, PharmaCyte Biotech, PharmaEngine, PharmaIN, PharmaJet, Pharmakon Advisors, PharmaLegacy Laboratories, PharmaMar, Pharmapark, Pharmasum Therapeutics, PharmAthene, Pharmbio Korea, Pharming Group, Pharnext, PhaseBio Pharmaceuticals, Phelix Therapeutics, Phenex, Phenome Networks, Phenomics Health, Pherecydes Pharma, Phico Therapeutics, Philochem, Philogen, Phio Pharmaceuticals, Phlexglobal, Phoenix Life Sciences, Phoenix Molecular Designs, PhoreMost, Phosphagenics, Photocure ASA, pH Pharma, Phylogica, Phytola, Phyton Biotech, PierianDx, Pieris, Pierre Fabre, Pinnacle Clinical Research Center, Pint Pharma, Pioneer Hi-Bred, Pionyr Immunotherapeutics, Piqur Therapeutics, Piramal, Pittsburgh Life Sciences Greenhouse, Pivotal Scientific, Pixium Vision, Placon Therapeutics, Plandai Biotechnology, Plant Bioscience Limited, PlasmaTech Biopharmaceuticals, PlasmidFactory, Plasticell, Platelet BioGenesis, Plexxikon, Pliant Therapeutics, Pluriomics, Pluristem Therapeutics, Pneuma Respiratory, PnuVax, PoC Capital, Poietis, Polaris Group, Polpharma, Polypeptide Laboratory, Polyphor, Population Genetics Technologies, Portable Genomics, Portage Biotech, Portola Pharmaceuticals, POS Bio-Sciences, Poseida Therapeutics, Poseidon Innovation, Positive Bioscience, Potenza Therapeutics, Poxel, PPD, Pragma Pharmaceuticals, Praha Vaccines, PRA Health Sciences, Prana Biotechnology, Praxis, PRC Clinical, Precera Bioscience, Precigen, Precision Biologics, Precision BioSciences, Precision NanoSystems, Precision Therapeutics, Premier Biomedical, Premier Inc, Premier Research, Presage Biosciences, Pressure BioSciences, Prestige BioPharma, Prevacus, Prevail Therapeutics, PreventionGenetics, PREZIO Health, PRIMA BioMed, Primary Peptides, Prime Medicine, Primetime Life Sciences, Prince William Science Accelerator, Principia Biopharma, Proactive Immune Sciences, Probi, Probiodrug, ProBioGen, Probiomed, ProBiora Health, Procarta Biosystems, ProciseDx, Proclara Biosciences, Productos Científicos, Profectus Biosciences, Profil Institute for Clinical Research, Profusa, Progenetics, Progenitor Cell Therapy, Progknowse, Prognos, Progressive Medical International, Prokarium, Prokaryotics, Proliant Health and Biologicals, ProMab Biotechnologies, Promega, Promethera Biosciences, Prometheus Laboratories, Prometic Life Sciences, ProMIS Neurosciences, Promius Pharma, Promore Pharma, Promosome, ProNAi Therapeutics, Pronova BioPharma, Pronto Diagnostics, Pronutria, Propagenix, Propanc Health Group, Pro Pharmaceuticals, ProQinase, ProQR Therapeutics, ProSciento, Prosetta Biosciences, Prospect Bio, Prostate Cancer Clinical Trials Consortium, Prostate Cancer Foundation (PCF), Protagen, Protagonist Therapeutics, Protea Biosciences, Protectimmun, Protein Sciences, Proteomics International, ProteoNic, Proteorex Therapeutics, Proteos, Proteostasis Therapeutics, ProterixBio, Proteros biostructures, Prothena Biosciences, ProThera, ProtoKinetix, ProTrials Research, Provecs Medical, Provectus Biopharmaceuticals, Provenance Biopharmaceuticals, Provention Bio, 
For a full list contact us at orders@currentpartnering.com
We found other products you might like!