Global Biotech Partnering Terms and Agreements 2017-2022
Global Biotech Partnering Terms and Agreements 2017 to 2022 report provides a detailed understanding and analysis of how and why companies enter Biotech partnering deals.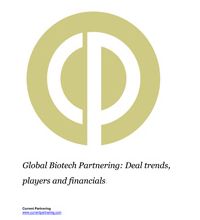 Publication date
September 2022
Product type
Research report
Available formats
PDF document
Global Biotech Partnering Terms and Agreements 2017 to 2022 report provides a detailed understanding and analysis of how and why companies enter Biotech partnering deals. These deals tend to be multicomponent, starting with collaborative R&D, and proceed to commercialization of outcomes.
This report provides details of the latest Biotech agreements announced in the life sciences since 2017.
The report takes the reader through a comprehensive review Biotech deal trends, key players, top deal values, as well as deal financials, allowing the understanding of how, why and under what terms, companies are entering Biotech partnering deals.
The report presents financial deal term values for Biotech deals, listing by headline value, upfront payments, milestone payments and royalties, enabling readers to analyse and benchmark the financial value of deals.
The middle section of the report explores the leading dealmakers in the Biotech partnering field; both the leading deal values and most active Biotech dealmaker companies are reported allowing the reader to see who is succeeding in this dynamic dealmaking market.
One of the key highlights of the report is that over 7,000 online deal records of actual Biotech deals, as disclosed by the deal parties, are included towards the end of the report in a directory format – by company A-Z, stage of development, deal type, therapy focus, and technology type - that is easy to reference. Each deal record in the report links via Weblink to an online version of the deal.
In addition, where available, records include contract documents as submitted to the Securities Exchange Commission by companies and their partners. Whilst many companies will be seeking details of the payment clauses, the devil is in the detail in terms of how payments are triggered – contract documents provide this insight where press releases and databases do not.
The initial chapters of this report provide an orientation of Biotech dealmaking. Chapter 1 provides an introduction to the report, whilst chapter 2 provides an overview of the trends in Biotech dealmaking since 2017, including details of headline, upfront, milestone and royalty terms.
Chapter 3 provides a review of the leading Biotech deals since 2017. Deals are listed by headline value. Where the deal has an agreement contract published at the SEC a link provides online access to the contract.
Chapter 4 provides a comprehensive listing of the top 25 most active companies in Biotech dealmaking with a brief summary followed by a comprehensive listing of Biotech deals announded by that company, as well as contract documents, where available.
Chapter 5 provides a comprehensive and detailed review of Biotech partnering deals signed and announced since Jan 2017, where a contract document is available in the public domain. Each deal title links via Weblink to an online version of the deal record and contract document, providing easy access to each contract document on demand.
Chapter 6 provides a comprehensive and detailed review of Biotech partnering deals signed and announced since Jan 2017. The chapter is organized by specific technology type. Each deal title links via Weblink to an online version of the deal record and where available, the contract document, providing easy access to each deal on demand.
A comprehensive series of appendices is provided organized by Biotech partnering company A-Z, stage of development, deal type, and therapy focus. Each deal title links via Weblink to an online version of the deal record and where available, the contract document, providing easy access to each deal on demand.
The report also includes numerous tables and figures that illustrate the trends and activities in Biotech partnering and dealmaking since 2017.
In conclusion, this report provides everything a prospective dealmaker needs to know about partnering in the research, development and commercialization of Biotech technologies and products.
Key benefits
Global Biotech Partnering Terms and Agreements 2017 to 2022 provides the reader with the following key benefits:
In-depth understanding of Biotech deal trends since 2017
Access to headline, upfront, milestone and royalty data
Detailed access to actual Biotech contracts entered into by leading biopharma companies
Identify most active Biotech dealmakers since 2017
Insight into terms included in a Biotech partnering agreement, with real world examples
Understand the key deal terms companies have agreed in previous deals
Undertake due diligence to assess suitability of your proposed deal terms for partner companies
Report scope
Global Biotech Partnering Terms and Agreements 2017 to 2022 is intended to provide the reader with an in-depth understanding and access to Biotech trends and structure of deals entered into by leading companies worldwide.
Biotech Partnering Terms and Agreements includes:
Trends in Biotech dealmaking in the biopharma industry since 2017
Access to headline, upfront, milestone and royalty data
Access to Biotech contract documents
Leading Biotech deals by value since 2017
Most active Biotech dealmakers since 2017
In Global Biotech Partnering Terms and Agreements 2017 to 2022, the available deals are listed by:
Company A-Z
Headline value
Stage of development at signing
Deal component type
Specific therapy target
Technology type
Each deal title links via Weblink to an online version of the deal record and where available, the contract document, providing easy access to each contract document on demand.
The Global Biotech Partnering Terms and Agreements 2017 to 2022 report provides comprehensive access to available deals and contract documents for over 7,000 Biotech deals.
Analyzing actual contract agreements allows assessment of the following:
What are the precise rights granted or optioned?
What is actually granted by the agreement to the partner company?
What exclusivity is granted?
What is the payment structure for the deal?
How are sales and payments audited?
What is the deal term?
How are the key terms of the agreement defined?
How are IPRs handled and owned?
Who is responsible for commercialization?
Who is responsible for development, supply, and manufacture?
How is confidentiality and publication managed?
How are disputes to be resolved?
Under what conditions can the deal be terminated?
What happens when there is a change of ownership?
What sublicensing and subcontracting provisions have been agreed?
Which boilerplate clauses does the company insist upon?
Which boilerplate clauses appear to differ from partner to partner or deal type to deal type?
Which jurisdiction does the company insist upon for agreement law?
Global Biotech Partnering Terms and Agreements 2017 to 2022 provides the reader with the following key benefits:
In-depth understanding of Biotech deal trends since 2017
Access to headline, upfront, milestone and royalty data
Detailed access to actual Biotech contracts entered into by leading biopharma companies
Identify most active Biotech dealmakers since 2017
Insight into terms included in a Biotech partnering agreement, with real world examples
Understand the key deal terms companies have agreed in previous deals
Undertake due diligence to assess suitability of your proposed deal terms for partner companies
Executive Summary
Chapter 1 – Introduction
Chapter 2 – Trends in Biotech dealmaking
2.1. Introduction
2.2. Biotech partnering over the years
2.3. Most active Biotech dealmakers
2.4. Biotech partnering by deal type
2.5. Biotech partnering by therapy area
2.6. Biotech partnering by technology type
2.7. Deal terms for Biotech partnering
2.7.1 Biotech partnering headline values
2.7.2 Biotech deal upfront payments
2.7.3 Biotech deal milestone payments
2.7.4 Biotech royalty rates
Chapter 3 – Leading Biotech deals
3.1. Introduction
3.2. Top Biotech deals by value
Chapter 4 – Most active Biotech dealmakers
4.1. Introduction
4.2. Most active Biotech dealmakers
4.3. Most active Biotech partnering company profiles
Chapter 5 – Biotech contracts dealmaking directory
5.1. Introduction
5.2. Biotech contracts dealmaking directory
Chapter 6 – Biotech dealmaking by technology type
Appendices
Appendix 1 – Biotech deals by company A-Z
Appendix 2 – Biotech deals by stage of development
Appendix 3 – Biotech deals by deal type
Appendix 4 – Biotech deals by therapy area
Appendix 5 – Deal type definitions
Appendix 6 – further reading
About Wildwood Ventures
Current Partnering
Current Agreements
Recent report titles from Current Partnering
Table of figures
Figure 1: Biotech partnering since 2017
Figure 2: Active Biotech dealmaking activity– 2017 to 2022
Figure 3: Biotech partnering by deal type since 2017
Figure 4: Biotech partnering by disease type since 2017
Figure 5: Biotech partnering by technology type since 2017
Figure 6: Biotech deals with a headline value
Figure 7: Biotech deals with an upfront value
Figure 8: Biotech deals with a milestone value
Figure 9: Biotech deals with a royalty rate value
Figure 10: Top Biotech deals by value since 2017
Figure 11: Most active Biotech dealmakers 2017 to 2022
Pricing options
$3,995: single-user
$5,745: multi-user
$10,995: single site license
$17,995: global site license
A full explanation of license type definitions can be found here.
Our guarantee
Price promise
We guarantee our prices are competitive. If you find the same report advertised at a lower price within 7 days of purchase, we will refund the difference.
Delivery Deadline
We guarantee that the report will be sent within the specified delivery times. In the unlikely case of a delay we may offer a partial refund as compensation. (Terms may apply)
Latest report
If an update is published within 30 days of your purchase, you will receive it absolutely free of charge.
Serious Security
We take your data and security seriously. See our privacy policy for details of how we manage your data.
All card payments are processed by SagePay.
Sales Support
If you have any questions about your report or are unhappy with the quality, we will do our best to resolve your query. Contact us direct.
Total Trust
Current Partnering is part of Wildwood Ventures Ltd., based in York, United Kingdom. We have been trading successfully online since 2009 and work with some of the most famous brands in the business. We carefully select our partners to ensure that the publications meet expectations of demanding customers.
1CellBiO, 1ST Biotherapeutics, 2bPrecise, 2cureX, 2X Oncology, 3 Rivers Biotech, 3 Sisters Surrogacy, 3B Pharmaceuticals, 3D-Side, 3D Medicines, 3D Systems, 3P Biopharmaceuticals, 3rd People's Hospital of Shenzhen, 3SBio, 4D Molecular Therapeutics, 4D Pharma, 10X Genomics, 22nd Century, 23andMe, 48Hour Discovery, 908 Devices, A*STAR Agency for Science, Technology and Research, A*STAR Bioinformatics Institute, A*STAR Singapore Immunology Network, A*STAR' Institute of Molecular and Cell Biology, A-Alpha Bio, A2 Biotherapeutics, A2A Pharmaceuticals, AAP Implantate AG, Aarhus University, Aarhus University Hospital, AAVnerGene, AB2 Bio, AB Biosciences, Abbott Laboratories, Abbvie, Abby Grace Foundation, Abcam, AbCellera, Abcuro, ABEC, Ab E Discovery, Abeome, Abeona Therapeutics, Abide Therapeutics, Abilita Bio, Abingworth Management, Abionic, ABIVAX, ABL Bio, Ablexis, Ablynx, Abnova, Aboundbio, Abound Bio, Abpro, Abramson Cancer Center, AbSci, Absolute Antibody, Abu Dhabi Stem Cells Center, Abveris, ABX, Abzena, Acacia Research, Academia Sinica, Academy of Military Medical Sciences (China), AC Bioscience, Acceleron Pharma, Accellix, Accenture, Accera Pharmaceuticals, Access BIO, Accord Healthcare, AccuGenomics, ACEA Biosciences, Acepodia, Acerta Pharma, Acer Therapeutics, Acerus, Aceso Life Science, Achaogen, Achieve Life Science, Achilles Therapeutics, AC Immune, Aclaris Therapeutics, Aclipse Therapeutics, Actavis (acquired by Watson), Actelion, Acticor Biotech, Actimed Therapeutics, Actinium Pharmaceuticals, Active Motif, ActiveSite, Acuity Pharmaceuticals, AcuraStem, Acurx Pharmaceuticals, Adagene, AdAlta, Adamis Pharmaceuticals, Adapsyn Bioscience, Adaptate Biotherapeutics, Adaptimmune, Adaptive Biotechnologies, Adaptive Phage Therapeutics, AdaptVac, ADC Biotechnology, ADC Therapeutics, Addario Lung Cancer Medical Institute, Addex Therapeutics, Adello Biologics, Adhezion Biomedical, Adial Pharmaceuticals, Adimab, Aditx Therapeutics, Adjuvance Technologies, Adlai Nortye, ADL Bionatur Solutions, ADMA Biologics, adMare BioInnovations, Admera Health, Adrestia, Aduro BioTech, Adva Biotechnology, Advaccine Biotechnology, Advaite, Advanced Accelerator Applications, Advanced Biological Laboratories, Advanced BioNutrition, Advanced BioScience Laboratories, Advanced Medical German Company of Kuwait, Advanced Proteome Therapeutics, Advanced Regenerative Manufacturing Institute, Advaxis, AdventHealth, Advent International, Adynxx, Aegea Biotechnologies, Aegerion Pharmaceutical, Aegis Life, Aeglea BioTherapeutics, Aelian Biotechnology, Aelix Therapeutics, Aerogen, Aerpio Pharmaceuticals, Aethlon Medical, Aetion, Aetos Biologics, Aevi Genomic Medicine, Aevitas Therapeutics, AffaMed Therapeutics, Affibody, Affigen, Affimed Therapeutics, Affinia Therapeutics, Affinity Biosciences, Affinivax, Afraxis, AgBiome, AGC Asahi Glass, AGC Biologics, Age Labs, Agena Bioscience, Agendia, Agenus Bio, AgeX Therapeutics, Agilent Technologies, Agilis Biotherapeutics, Agilvax, Agios Pharmaceuticals, AgomAb Therapeutics, AgonOx, Agribody Technologies, Agricultural Materials Company, AGTC, Aichi Medical University, AiCuris, AimedBio, AIM ImmunoTech, AIMM Therapeutics, Aimmune Therapeutics, Airway Therapeutics, AiVita Biomedical, Ajinomoto, Ajinomoto Bio-Pharma Services, Akadeum Life Sciences, Akebia Therapeutics, Akero Therapeutics, Akers Biosciences, AKESOgen, Akkadeas Pharma, AKL Research and Development, Akonni Biosystems, Akouos, Akoya Biosciences, Akrevia Therapeutics, Akron Biotechnology, Akshaya Bio, Akston Biosciences, Akula Trading 2 Pty, Albany Molecular Research, Albert Einstein College of Medicine, Albumedix, Alcresta, Alcyone Lifesciences, Aldevron, Aldeyra Therapeutics, Alector, Alexion Pharmaceuticals, Algae-C, AlgaEnergy, Algatech, Algatek, Algenex, Aligos Therapeutics, AliHealth, Alimera Sciences, AlivaMab Discovery Services, AliveGen, Alivio Therapeutics, ALK-Abello, Alkahest, Alkem Laboratories, Alkermes, AllCells, Allegis Holdings, Allele Biotechnology and Pharmaceuticals, Allergan, Alliance for Cancer Gene Therapy, Alliance For Clinical Trials In Oncology, Alliance for Lupus Research, Alliance Global Group, Allianz Bioinnovation, Alligator Bioscience, Allogene Overland Biopharm, Allogene Therapeutics, AlloVir, Alloy Therapeutics, Allscripts, AllStripes, Alma Bio Therapeutics, Almac Discovery, Almirall, Alnylam Pharmaceuticals, Alpha Cancer Technologies, Alphageneron Pharmaceuticals, Alphamab Biopharmaceuticals, Alpha Tau Medical, Alpine Immune Sciences, ALS Association, ALS Finding a Cure Foundation, Altasciences, Altavant Sciences, Alteogen, Altimmune, Altor BioScience, ALTuCELL, Alume Biosciences, Alvogen, Alvotech, ALX Oncology, Alytas Therapeutics, Alzheimer's Drug Discovery Foundation, Alzheon, AlzProtect, Amag Pharmaceuticals, Amal Therapeutics, Amaran Biotechnology, Amarantus BioSciences, Amarna Therapeutics, Ambrx, Ambry Genetics, Ambys Medicines, amcure, American Association for Cancer Research, American BriVision, American College of Cardiology, American Gene Technologies, American National Multiple Sclerosis Society, American Preclinical Services, American Society of Clinical Oncology (ASCO), Amerimmune, AmerisourceBergen, Amfora, Amgen, AMI, Amicus Therapeutics, AMNIOX, AmorChem, Amoy Diagnostics, AMPEL BioSolutions, Ampio Pharmaceuticals, AmpliPhi Biosciences, Amplitech, AmplyCell, Amplyx Pharmaceuticals, AMR, AMRA, Amydis Diagnostics, Amygdala Neurosciences, Amyris, AN2 Therapeutics, Anaeropharma, AnaMar, ANA Therapeutics, Anavex Life Sciences, AnchorDx, Andrew Alliance, AnGes MG, Angiex, Angiochem, Angion Biomedica, Anima Biotech, Animalcare, Animal Clinical Investigation, Animal Life Sciences, Anivive Lifesciences, Anixa Biosciences, Anji Pharma, Ankarys Therapeutics, Annias Immunotherapeutics, Annovis Bio, Anokion, Anpac Bio-Medical Science, ANP Technologies, Ansun Biopharma, Antabio, Antengene, Anteris Bio, Anthony Nolan, Anthos Therapeutics, Antibe Therapeutics, Antibody Solutions, Antidote Therapeutics, Antigen Express, Antikor Biopharma, AntriaBio, Apceth, APC Therapeutics, Apeiron Biologics, Apexigen, APG Bio, Aphios, ApolloBio, Apollomics, Appili Therapeutics, Applied Biology, Applied BioMath, Applied DNA Sciences, Applied StemCell, Aprea, APRINOIA Therapeutics, APS Healthcare, Aptahem, Aptamer Therapeutics, Aptarion biotech, Aptevo Therapeutics, Aptinyx, Aptose Biosciences, Aptuit, Aqilion, Aqualung Therapeutics, Aquila BioMedical, Aquitaine Science Transfert (SATT Aquitaine), Araclon Biotech, Aragen Bioscience, Aravive Biologics, Arbele, Arbor Biosciences, Arbor Biotechnologies, Arbutus, ARCA Biopharma, Arcadia Biosciences, Arcellx, Arch Biopartners, Archer Daniels Midland Company, ArcherDX, ARCH Personalized Medicine Initiative, Arch Pharmalabs, Arcis Biotechnology, Arctic Vision, Arcturus Therapeutics, Arcus Biosciences, Arcutis Biotherapeutics, Ardelyx, Ardena, Ardigen, Arecor, Ares Genetics, argenx, Aridis Pharmaceuticals, Ariel Precision Medicine, Arima Genomics, Arisan Therapeutics, Arista Cereal Technologies, Arix Bioscience, Arizona State University, Ark Biosciences, Aro Biotherapeutics, AroCell, Aromics, Arpeggio Biosciences, Arrakis Therapeutics, Array Biopharma, Arrevus, Arrys Therapeutics, Arsanis Biosciences, ArsenalBio, Artelo Biosciences, Artialis, Artios Pharma, Artisan Bio, Artiva Biotherapeutics, Artizan Biosciences, Art of Technology, Aruvant Sciences, Arvelle Therapeutics, Arvinas, Arzeda, Asahi Kasei, Ascentage Pharma, Ascletis, ASC Therapeutics, Ashion Analytics, Ashvattha Therapeutics, Asieris MediTech, AskAt, Asklepios Biopharmaceutical, Aslan Pharma, Aspect Biosystems, Aspire Health Science, Assembly Biosciences, Assurex Health, Assuta Medical Centers, Astellas Pharma, Astem, Asterias Biotherapeutics, Astero Bio, Astex Pharmaceuticals, AstraZeneca, Astrea Bioseparations, AstronauTx, Asuragen, Asylia Therapeutics, Asymchem Laboratories, ATAI Life Sciences, Atalanta Therapeutics, Atara Biotherapeutics, Atbtherapeutics, Atea Pharmaceuticals, Atelerix, aTen Therapeutics, Athenex, Athersys, Athira Pharma, Atomo Diagnostics, Atomwise, ATP, Atrapos Therapeutics, Atreca, Atropos Therapeutics, Attana, ATUM, Atvio Biotech, aTyr Pharma, Audentes Therapeutics, Augmenta, Aulos Bioscience, AUM Biosciences, AUM Biotech, AUM LifeTech, AuraVax Therapeutics, Aurigene Discovery Technologies, Aurinia Pharmaceuticals, Auris Medical, Aurobindo Pharma, Austin Health, Australian Biotechnologies, Australian Department of Health and Ageing, Australian Foundation for Diabetes Research, Australian Research Council, Austrian Research Promotion Agency, Autifony Therapeutics, Autism Speaks, Autolus, Autotelic BIO, Avacta, Avactis Biosciences, Avalon GloboCare, AvantGen, Avatamed, Avectas, Avellino Labs, AVEO Oncology, Avera McKennan, Avery Therapeutics, AveXis, Avicanna, Avid Bioservices, Avidity Biosciences, Avillion, Avita Therapeutics, Avitide, Avrobio, Axcelead Drug Discovery Partners, Axcella, Axial Biotherapeutics, AXIM Biotechnologies, Axis Therapeutics, Axovant Gene Therapies, Axsome Therapeutics, Axxam, AyoxxA Biosystems, Aytu BioScience, Azaya Therapeutics, Azitra, Aziyo Biologics, Azos Bio, AzurRx BioPharma, Azzur Group, B'SYS, B-MoGen Biotechnologies, Babraham Institute, Bach Biosciences, Baergic Bio, Bain Capital, Baker Brothers Investments, Baliopharm, Banner Health, Banyan Biomarkers, Baruch S Blumberg Institute, BASE10 Genetics, BASF, Basilea Pharmaceutica, Batavia Biosciences, Battelle, Bausch & Lomb, Bausch Health Companies, Bavarian Nordic, Baxalta, Baxter International, Bayer, Bayer Animal Health, Baylor College, Baylor College of Medicine, Baylor Genetics, Bay State Milling Company, BB100, BBI Solutions, B Braun, BC Platforms, BDD Pharma, Beacon Discovery, Beacon Laboratory Benefit Solutions, Beactica, Beam Therapeutics, Beckman Coulter, BeiGene, Beijing Genomics Institute (BGI), Belfor, Bellus Health, Ben-Gurion University, Benaroya Research Institute, Benitec Biopharma, Benson Hill Biosystems, Berg, BerGenBio, Berkeley Lights, Berkshire Sterile Manufacturing, Beroni Group, Berry Genomics, Beta Pharma, Beta Therapeutics, Be The Match BioTherapies, Beth Israel Deaconess Medical Center, Bethyl Laboratories, Betta Pharmaceuticals, Beyond Type 1, BGI, BGN Technologies, Bharat Biotech, BHB Therapeutics, Bial, BIA Separations, Bicycle Therapeutics, Bill and Melinda Gates Foundation, Binex, Bintai Kinden, Bio-Cancer Treatment International, BIO-CAT Microbials, Bio-Me, Bio-Rad Laboratories, Bio-Techne, Bio-Thera Solutions, bioAffinity Technologies, BioAge Labs, BioAgilytix, BioArctic Neuroscience, BioArdis, biOasis Technologies, BIOASTER, BioAtla, BioAxone Therapeutic, BioBlast Pharma, BioBright, BioCancell Therapeutics, BioCanRx, BioCardia, Biocare Medical, BioCat, Biocept, Bioceros, BioComo, Biocon, BioCryst Pharmaceuticals, BioCure, BiocurePharm, Biocytogen, Biodesix, Biodextris, BioDuro, BioEleven, Bioeq IP, Biofactura, Bioforum, BioGemex, Biogen, BioGenetics, Biognosys, Bioharmony Therapeutics, BioHybrid Solutions, BioInvent, Biokin Pharmaceutical, BioLabs, BioLab Sciences, BioLamina, BioLegend, BioLife Solutions, BioLite Japan, BioLizard, Biological Industries, Biologics, Biolojic Design, BioMarin Pharmaceutical, BioMarker Strategies, Biomed Elements, Biomedical Advanced Research and Development Authority, Biomedical Catalyst Fund (UK), Biomedical Primate Research Centre, Biomedican, BioMed Valley Discoveries, BioMed X Innovation Center, Biomerica, bioMerieux, Biomica, Biomillenia, Biomm, bioMONTR Labs, BioMotiv, Biomunex Pharmaceuticals, BiomX, BioNano Genomics, Bioncotech Therapeutics, Biond Biologics, BiondVax, Bioneer, Bionetix, Bionic Sight, Bionpharma, BioNTech, Bionure, BionX Medical Technologies, Bio Palette, Biophage Pharma, Biopharmaceuticals Australia, BioPharma Plasma, Biophore Pharmaceuticals, Bio Products Laboratory, Bioprojet, BioRestorative Therapies, BioSciencesCorp, Biose Industrie, BioSense Global, Biosenta, Bioserve, BioSkryb, BioSpherix, BioSpring, Biostage, BioStem Life Sciences, BioStem Technologies, BioSurfaces, Biosyn, Biotem, Biotest, Biotest Pharmaceuticals, Biothera Pharmaceuticals, Biotheus, BioVaxys, BioVectra, Bioventure MDC, Bioventus, Bioverativ, BioVersys, Biovian, BioXcel, Bioz, BirchBioMed, Bird Foundation, Birdie Biopharmaceuticals, Bixink Therapeutics, BJ Bioscience, BL&H, Blackfynn, Blacksmith Medicines, Blackstone Medical, BlackThorn Therapeutics, BliNK Biomedical, Bliss Biopharmaceutical, Blood Cell Storage, Bloom Science, BluCon Biotech, Bluebird Bio, Blueprint Genetics, Blueprint Medicines, BlueRock Therapeutics, Blue Water Vaccines, BlueWillow Biologics, BluSense Diagnostics, Boca Biolistics, Boehringer Ingelheim, Bolder BioTechnology, Bolt Biotherapeutics, Bone Therapeutics, Bonnie J. Addario Lung Cancer Foundation, Bonus BioGroup, BostonGene, Boulos and Cooper Pharmaceuticals, Bpifrance, BPL Medical Technologies, Brain, Brain Biomarker Solutions in Gothenburg, BrainScope, BrainStorm Cell Therapeutics, Brammer Bio, Braskem, BravoVax, Breakthrough Diagnostics, Breath Diagnostics, BriaCell Therapeutics, BrickBio, Brickell Biotech, BridgeBio Pharma, Bridge Biotherapeutics, Bridge Medicines, Brigham and Women's Hospital, Brii Biosciences, Brill Pharma, Brink Biologics, Bristol-Myers Squibb, Broad Institute, Broadwing Bio, Brown University, Bruker Daltonics, BryoLogyx, BSP Pharmaceuticals, BTG, Buck Institute for Age Research, BullFrog AI, Burnet Institute, Butantan Institute, Button Capital, C-Bridge Capital, c-LEcta, C3i, C3J Therapeutics, C4 Therapeutics, C4X Discovery, Cabaletta Bio, Cadent, Caelum Biosciences, Caerus Discovery, Caladrius Biosciences, Calico, Calidi Biotherapeutics, Califia Pharma, California Institute for Biomedical Research, California Institute for Regenerative Medicine, Calithera Biosciences, Calixar, Calypso Biotech, Calyxt, Camargo Pharmaceutical Services, Cambridge Commodities, Cambridge Epigenetix, Cambridge Research Biochemicals, Camino Pharma, CAMP4 Therapeutics, Can-Fite BioPharma, Canada-Israel Industrial R&D Foundation, Canadian Institutes of Health Research, Canaf Therapeutics, CANbridge Life Sciences, Cancer Genetics, Cancer Prevention and Research Institute of Texas, Cancer Prevention Pharmaceuticals, Cancer Research UK, Cancer Science Institute of Singapore, Cancer Targeted Technology, CanCure, Candel Therapeutics, Cannabis Science, Canndeo, CanniMed Therapeutics, Canopy Biosciences, Cantargia, Capnia, Capricor Therapeutics, Caraway Therapeutics, CARB-X, Carbiotix, Cardiff Oncology, Cardiff University, Cardinal Health, Cardurion Pharmaceuticals, CareDx, CareFirst BlueCross BlueShield, CareNet, Cargill, Caribou Biosciences, Caris Life Sciences, Carisma Therapeutics, Carmel Pharma, Carmine Therapeutics, Carmot Therapeutics, Carna BioSciences, Carnot BioSciences, Carolina BioOncology Institute, Carrick Therapeutics, CarThera, Cartherics, Cascadian Therapeutics, Casdin Capital, Casebia Therapeutics, Case Western Reserve University, CASI Pharmaceuticals, Casma Therapeutics, Castle Creek Pharmaceuticals, CasZyme, Catabasis Pharmaceuticals, Catalent, Catalyst Biosciences, Catalyst Clinical Research, Catholic University Leuven, CavoGene LifeSciences, CBD Solutions, CBL Patras, CBT Pharmaceuticals, CCT Research, CDI Laboratories, CDR-Life, Ceapro, Cedars-Sinai Medical Center, Cedilla Therapeutics, CEITEC, Celdara Medical, Celgene, Celiac Disease Foundation, Cell&Soft, Cell2in, CellAct, Cell and Gene Therapy Catapult, Cellares, Cellaria Biosciences, Cellarity, Cellecta, Cellectar Biosciences, Cellect Biotechnology, Cellectis, Cellectricon, Cellenion, Cellenkos, Cellerant Therapeutics, Cellesce, Cellgen Diagnostics, CellGenix, Cell Guidance Systems, Celling Biosciences, CELLINK, Cell Medica, Cell Mogrify, CellProThera, Cellsystems, Celltex Therapeutics, Cellthera Pharma, Celltrion, Cellular Biomedicine, Cellular Dynamics International, Cellular Highways, Cellular Logistics, Celmatix, Celonic, Cel Sci, Celsius Therapeutics, Celularity, Celyad, Censa Pharmaceuticals, Censo Biotechnologies, Centene, Center for Biomarker Research in Medicine, Center for Cancer Research, Center for Human Genetics and Laboratory Medicine, Center for Inherited Blood Disorders, Center for International Blood and Marrow Transplant Research, Centers for Disease Control and Prevention, Centogene, Central California Blood Center, Centre for Addiction and Mental Health, Centre for Cellular and Molecular Platforms, Centre for Commercialization of Regenerative Medicine (CCRM), Centre for Drug Research and Development (CDRD), Centre for Human Drug Research, Centre For Proteomic & Genomic Research, Centre Hospitalier Universitaire Vaudois (CHUV), Centre Leon Berard, Centro de Tecnologia Canavieira, Centurion, Century Therapeutics, Cephagenix, Cepheid, Cerecor, Cerevance, Cerevel Therapeutics, Cerhum, Certis, Cerus, Cerveau Technologies, Cesca Therapeutics, Ceva Sante Animale, Cevec Pharmaceuticals, CFTechnology.org, cGMP Validation, Champions Oncology, Changchun BCHT Biotechnology, Changchun High & New Technology Industries, Chan Zuckerberg Initiative, Charite Universitatsmedizin Berlin, Charles River Laboratories, Chattanooga Center for Neurologic Research, CHDI Foundation, CheckPoint Immunology, Checkpoint Therapeutics, Cheil Pharm, Chelexa Biosciences, ChemDiv, Chemveda Life Sciences, Cheplapharm Arzneimittel, Cheyenne Mountain Seed Company, Chi-Med, Chiesi Farmaceutici, Children's Hospital Boston, Children's Hospital Los Angeles, Children's Hospital of Philadelphia, Children's Medical Research Institute, Children's Mercy Hospital, Children's Hospital Oakland Research Institute (CHORI), Chimeric Therapeutics, Chimeron Bio, China-Singapore Guangzhou Knowledge City, China Biotech Services, China Medical System, China National Biotech Group (CNBG), Chinese Academy of Agricultural Science, Chinese Academy of Sciences, Chiome Bioscience, Chondrial Therapeutics, Chong Kun Dang, CHO Plus, Chromocell, Chronix Biomedical, Chronos Therapeutics, Chrysalis BioTherapeutics, Chugai Pharmaceutical, Chung-Ang University, Cibus Global, Cidara Therapeutics, Cilag AG, CimCure, Cincinnati Children's Hospital Medical Center, Cinda Bio-Pharmaceutical, Cingulate Therapeutics (CTx), Cipher Pharmaceuticals, Cipla, Cirrus Dx, Citius Pharmaceuticals, Citranvi Biosciences, Citrine Medicine, City College of New York, City of Hope, City of Hope Comprehensive Cancer Center, CiVi Biopharma, CJ Corp, Clalit Health Fund, Clalit Health Services, Clariant, Clarity Pharmaceuticals, Cleara Biotech, ClearPath, ClearPoint Neuro, Clearside Biomedical, Cleave Therapeutics, Clene Nanomedicine, Cleveland Clinic, Cleveland Diagnostics, Cleveland University Hospitals, ClinCapture, Clinical Genomics, Clinical Trial and Consulting Services, Clinica Universidad Navarra, Clinigen, Clover Biopharmaceuticals, Clover Therapeutics, Clovis Oncology, CMAB Biopharma, CMC Biologics, Cmed, CMS Medical, CN Bio, Coalition for Epidemic Preparedness Innovations, Cobra Biologics, Cocoon Biotech, Cocrystal Pharma, CODA Biotherapeutics, Codagenix, Codex Beauty, Codexis, Codiak BioSciences, Cofactor Genomics, Cognate BioServices, CogState, CohBar, Coherus Biosciences, CoImmune, Cold Genesys, Collaborative Drug Discovery, Collaborative Trajectory Analysis Project, Collagen Solutions LLC, Collplant, Columbia University, Columbus Venture Partners, Comac Medical, CombiGene, Combined Therapeutics, Commense, Commonwealth of Pennsylvania, Complement Pharma, Compugen, Conatus Pharmaceuticals, Concept Life Sciences, Concert Pharmaceuticals, Confo Therapeutics, Congenica, Conkwest, ConserV Bioscience, ConsortiaTX, Consortium AI, Constance Therapeutics, Context Therapeutics, Contextual Genomics, Contour Therapeutics, ContraFect, ContraVir Pharmaceuticals, ConverGene, Cook Biotech, Cook Pharmica, COPD Foundation, Copenhagen University Hospital, Copernicus Therapeutics, Corbin Therapeutics, Cord Blood Registry, Corden Pharma, CoreBiome, Core Diagnostics India, Corino Therapeutics, Cornell University, Coronado Biosciences, Corpometria Institute, Corteva Agriscience, Corvidia Therapeutics, Corvus Pharmaceuticals, Cosmo Bio, CosmosID, Cosmotec, Courtagen Life Sciences, Covalab, Covalon Technologies, Covance, COVAX, COVAXX, CreaGen Biosciences, Creative Medical Technologies, Crescendo Biologics, Crescendo Bioscience, Crescita Therapeutics, Crestone Pharma, CRISPR Therapeutics, Cristal Therapeutics, Critical Path Institute (C-Path), Crohn's and Colitis Foundation of America, Cronos Group, Crown Bioscience, Crozet BioPharma, CR Pharma, CRT Pioneer Fund, CryoPort, CrystalGenomics, CSIRO, CSL, CSL Behring, CSPC Pharmaceutical Group, CStone Pharmaceuticals, CTD Holdings, CTT Pharmaceutical, CUBRC, Cue Biopharma, Cullinan Oncology, Cumberland Pharmaceuticals, Curative Biotechnology, Cure Duchenne, Cure Genetics, CURE Pharmaceutical, Cure Sanfilippo Foundation, Cure Therapeutics, Curetis, CureVac, Curis, Curon Biopharmaceutical, CVC, Cyclenium Pharma, Cyclica, Cyclolab, Cyclo Therapeutics, Cygnus, CymaBay Therapeutics, Cynata Therapeutics, Cynvenio, Cypralis, Cyprium Therapeutics, Cyrus Biotechnology, Cystic Fibrosis Foundation, Cystic Fibrosis Foundation Therapeutics, Cystron Biotech, Cytiva, CYTLIMIC, CytoAgents, Cytobank, CytoBioscience, Cytodyn, CytoImmune Therapeutics, Cytokinetics, CytomX Therapeutics, Cytoo, Cytori Therapeutics, CytoSen Therapeutics, CytoSorbents, Cytotheryx, Cytovance Biologics, Cytovant Sciences, Cytovation, CYTOVIA Therapeutics, CytRx, Cyxone, D. Western Therapeutics Institute, D2M, Daewoong Pharmaceutical, Daiichi Sankyo, Dainippon Sumitomo Pharma, Dalhousie University, Dalton Pharma Services, Dana-Farber Cancer Institute, Dance Biopharm, Danish Center for Strategic Research into Type 2 Diabetes, Danish Innovation Fund, DAON BioSciences, Dare Bioscience, DarioHealth, Dartmouth-Hitchcock Medical Center, Dartmouth College, DarwinHealth, DAS Therapeutics, Datavant, David H. Koch Institute for Integrative Cancer Research, DaVita, Daxor, DayTwo, DCPrime, Debiopharm, Decibel Therapeutics, Decipher Biosciences, deCODE Genetics, DEEP 6 AI, Deep Genomics, Deep Longevity, Deerfield Management, Defense Advanced Research Projects Agency, Defense Threat Reduction Agency, DefiniGEN, Deinove, Delpharm, Delphi Genetics, Dementia Discovery Fund, DemeRx, Demetrix, Denali Therapeutics, Dendreon, Denka, Denka-KEW Genomics, Denovium, Denovo Biopharma, Dent Neurologic Institute, Department of Defence, Department of Defense, Department of Energy, Department of Health and Human Services, Department of Veterans Affairs, DePuy, Dermala, Dermelix Biotherapeutics, Dermira, DermTech, DestiNA Genomics, Devonian Health Group, Dewpoint Therapeutics, Diagnostica Longwood, Diamond Pharma Services, Diamyd Medical, Dianomi Therapeutics, DiCE Molecules, Dicerna Pharmaceuticals, DigiLab, Dimerix Biosciences, DiNAQOR, DiNonA, Diomics, Disc Medicine, DiscoveRx, DiscoveryBioMed, Discovery Life Sciences, Distributed Bio, Diurnal, Diverse Biotech, DMD Therapeutics, DNA Link, DNA Script, DNAtrix, Domainex, Domain Therapeutics, Dong-A ST, Door Pharmaceuticals, Dorian Therapeutics, Dovetail Genomics, Dow AgroSciences, Dr. Falk Pharma, Dr. Reddy's Laboratories, Dragonfly Therapeutics, Drawbridge Health, DreaMed Diabetes, Drugs for Neglected Diseases Initiative, DSM, DSM Sinochem Pharmaceuticals, Dualogics, DuChemBio, Duke-NUS Graduate Medical School Singapore, Duke University, DuPont, DuPont Pharmaceuticals, DuPont Pioneer, Dyadic International, DyNAbind, Dynacure, Dynamic Combinatorial Chemistry, Dynavax Technologies, Dyne Therapeutics, Dyno Therapeutics, DynPort Vaccine Company, Dystrophic Epidermolysis Bullosa Research Association of America, E-Therapeutics, E.T. Horn, Eagle Genomics, EA Pharma, East and North Hertfordshire NHS Trust, ECM Therapeutics, ECOG-ACRIN Cancer Research Group, Ecole Polytechnique Federale de Lausanne, Edelris, Eden BioCell, Edesa Biotech, Edico Genome, EdiGene, Edinburgh Innovations, Editas Medicine, Edith Wolfson Medical Center, Edwards Lifesciences, eFFECTOR Therapeutics, Egalet, EGeen, eGenesis, Egle Therapeutics, Eidos Therapeutics, Eiger BioPharmaceuticals, Eisai, Eisai Inc, Eisai S.A.S, EKF Diagnostics, Elanco, Elanix Biotechnologies, Elasmogen, Elektrofi, Elevar Therapeutics, ElevateBio, Elevation Oncology, Eleven Biotherapeutics, Elicio Therapeutics, Eligo Bioscience, Eli Lilly, Elixirgen, Elpis Biomed, Elpiscience, ElsaLys Biotech, Elthera, EluSys Therapeutics, Elysium Health, Embark Biotech, Emendo Biotherapeutics, Emerald Organic Growth, Emerge Health, Emergence Therapeutics, Emergent BioSolutions, Emergex Vaccines, Emery Pharma, Emmaus Life Sciences, Emory University, Empowered Diagnostics, Emtora Biosciences, Emulate, Enable Injections, Enamine, Enara Bio, Encoded Therapeutics, Encore Dermatology, Endocanna Health, Endocyte, Endo International, Endomag, Enesi Pharma, Engitix, Enigma Biomedical, Enleofen Bio, Enlivex, Enochian Biosciences, ENPICOM, Ensysce Biosciences, Entasis Therapeutics, Entera Health, Enteris Biopharma, Enterome Bioscience, Enterprise Therapeutics, Entheogenix Biosciences, Enthera, Entos Pharmaceuticals, Enumeral Biomedical, Enzychem Lifesciences, Enzyvant Science, Eone-Diagnomics Genome Center, EpiBiome, EpicentRx, EpiDestiny, Epigen Biosciences, EPI Health, Epilepsy Society, EpimAb Biotherapeutics, Epinomics, Epirium Bio, EpiThany, Epivax, EpiVax Therapeutics, Epizyme, Epsilogen, Epygen Biotech, Equillium, Er-Kim, Erasmus University Medical Center, ERP Biomarker Qualification Consortium, ERS Genomics, Ervaxx, Erytech, Escape Therapeutics, Escient Pharmaceuticals, EspeRare Foundation, Esperite, Esperovax, Essex Bio-Technology, Eternygen, eTheRNA immunotherapies, Ethismos Research, Ethos Veterinary Health, Ethris, Eunice Kennedy Shriver Institute of Child Health and Human Development, Eureka Eurostars, Eureka Therapeutics, Eurobio, Eurocine Vaccines, Eurofins Discovery, Eurofins Genomics, Eurofins Scientific, Eurofins STA Laboratories, European Commission, European Equity Partners, European Organization for Research and Treatment of Cancer, European Union, European Union Regional Development Fund, EUSA Pharma, Euthymics Bioscience, Eutilex, EV Biologics, Evecxia, Evelo Biosciences, Everest Medicines, Everledger, Eversana, Evogene, Evolva, Evolve BioSystems, Evommune, Evonetix, Evonik Industries, EVOQ Therapeutics, Evotec, Evox Therapeutics, Evozyne, EVQLV, Evvivax, Ewha Womans University, Ewopharma, Exactis Innovation, Exact Sciences, ExcellaBio, ExCellThera, Excelra, Excision BioTherapeutics, Excivion, Exelixis, Exemplar Genetics, Exicure, Exonate, Exonics Therapeutics, Exosome Sciences, Expansion Therapeutics, Expedeon, Expesicor, ExpreS2ion Biotechnologies, Expression Therapeutics, ExScientia, Exuma Biotech, ExxonMobil, Exyte, Eyenovia, Eyevance, F-Star, F1 Oncology, Fabric Genomics, Facial Pain Research Foundation, Facit, FairJourney Biologics, Fannin, Fapon Biopharma, Fareva Holding, Farmacore Biotechnology, FarmaMondo Group, Faron Pharmaceuticals, FASMAC, Fast Forward, Fate Therapeutics, Fatro, Fauna Bio, Federal Ministry of Health (Germany), Feinstein Institute for Medical Research, Feldan Therapeutics, Femtogenix, Fermic, Ferozsons Laboratories, Ferrer International, Ferring Pharmaceuticals, Fertility SOURCE Companies, FGH Biotech, Fibriant, Fibrocell Science, FibroGenesis, FightMND, Fina Biosolutions, Finch Therapeutics, Firebrand Therapeutics, First Databank, FIT Biotech, Five Prime Therapeutics, FKD Therapies, Flame Biosciences, Flatiron Health, FloDesign Sonics, Florida International University, Flow Pharma, FluGen, Fluicell, Fluidigm, Fluxion Biosciences, FLX Bio, FMC, Foghorn Therapeutics, Folia Biotech, Fondazione San Raffaele, Fondazione Telethon, Food and Drug Administration (FDA), FoodChek Systems, Food Marble Digestive Health, Forbius, Foresee Pharmaceuticals, Forge Therapeutics, FORMA Therapeutics, Formulatrix, For The Biome, Fortify Therapeutics, Fortress Biotech, Forty Seven, Fosun Kite Biotechnology, Fosun Pharmaceutical, Fougera Pharmaceuticals, Foundation Fighting Blindness, Foundation for Innovative New Diagnostics, Foundation Medicine, Four Points Innovation, Fox Chase Cancer Center, FOXO BioScience, Fraunhofer IGB, Fraunhofer Institute for Molecular Ecology (IME), Fraunhofer Institute for Toxicology and Experimental Medicine ITEM, Fred & Pamela Buffett Cancer Center, Frederick National Laboratory For Cancer Research, Fred Hutchinson Cancer Research Center, Freeline Therapeutics, Freenome, French National Institute for Agricultural Research, Frequency Therapeutics, Fresenius Kabi Pharmaceuticals, Fresenius Medical Care, Friedreichs Ataxia Research Alliance, Frontier Biotech, Front Range Biosciences, FSD Pharma, Fujifilm, Fujifilm Diosynth Biotechnologies, Fujifilm medical systems, Fuji Pharma, Fujirebio Diagnostics, Fulcrum Therapeutics, Fulgent Genetics, Fulgent Pharma, Full Spectrum Biosciences, Fundacion Medina, Fundacion Progreso y Salud, Fusion Pharmaceuticals, FuturaGene, G-Tech Bio, G1 Therapeutics, G3 Therapeutics, GABA Therapeutics, Gadeta, Gain Therapeutics, Galapagos, Galaxy Biotech, Galaxy Pharma, Galmed Pharmaceuticals, GamaMabs Pharma, Gamida Cell, GammaDelta Therapeutics, GAVI Alliance, GB Sciences, GC LabCell, GC Pharma, GE Healthcare, Gelesis, Gemelli Biotech, Gemini Therapeutics, GEMoaB, Gen, GEn1E Lifesciences, Genagon Therapeutics, GenAhead Bio, GeneBay, Gene Biotherapeutics, Genecast, GeneCentric Therapeutics, Genective, GeneData, GenEdit, GeneDX, Geneformics, GeneNews, Genentech, Geneos Therapeutics, GenePeeks, GeneQuantum Healthcare, General Automation Lab Technologies, Generation Biotech, Generex Biotechnology, Genesis Biotechnology Group, Genesis Therapeutics, Genestack, Gene Therapy Research Institution, Genethon, Genetic Analysis, Genetic Immunity, Genetic Information Research Institute, Genetic Technologies, Genetrix, Genetron Health, GeneTx Biotherapeutics, GeNeuro, Geneva Foundation, Genevant Sciences, Genewiz, GeneWorks, Genexine, Genisphere, Genkyotex, Genmab, Genocea Biosciences, Genome and Company, Genome BC, Genome Biologics, Genome Canada, Genome Institute of Singapore, Genome Medical, Genomenon, Genomic Health, Genomics, Genomics England, Genomic Testing Cooperative, Genomic Vision, Genomoncology, Genoox, Genopis, Genoptix, Genor Biopharma, Genosco, Genosity, Genovis, genOway, Genpharm, Genprex, GenScript Biotech, GenScript ProBio, Gensight Biologics, GenStem Therapeutics, Gentex, GentiBio, Gentris, Genuity Science, GenVec, Geom Therapeutics, George Mason University, Georgetown University, George Washington University, Georgia State University Research Foundation (GSURF), GeoVax, German Cancer Research Center, German Federal Ministry of Education and Research, German Ministry for Education and Research, German Red Cross, German Red Cross Blood Donor Service, Gestion Univalor, Ghent University, Gibson Oncology, GI Innovation, Gilead Sciences, Ginkgo BioWorks, Glaukos, GlaxoSmithKline, GlaxoSmithKline Biologicals, GL Brands, Glenmark Pharmaceuticals, GLG Pharma, Global Antibiotic Research and Development Partnership, Global Blood Therapeutics, Global Drug Development Centre (GDCC) China, Global Dx, Global Genomics Group, Globavir Biosciences, GlycoBac, GlycoMimetics, Glycostem Therapeutics, Glycosyn, Glycotope Biotechnology, GlycoT Therapeutics, Glythera, Gnosis Bioresearch, GNS Healthcare, Goethe University Frankfurt, Golden Meditech, Goldfinch Bio, Goliver Therapeutics, Good Start Genetics, Good Therapeutics, Google, Gossamer Bio, Gotham Therapeutics, GO Therapeutics, Government of Canada, Government of Hong Kong, Government of Israel, Government of Netherlands, Government of South Korea, Government of Switzerland, GPBio, GPCR Therapeutics, Granata Bio, GranBio, GrandOmics Biosciences, Grand River Aseptic Manufacturing, Graphite Bio, Great Bay Bio, Great Harvest Agri Chemicals, Great Ormond Street Hospital (GOSH), Green Cross LabCell, Greenlight Biosciences, Greenteaspoon, Greenwich LifeSciences, Greiner Bio-One, Grid Therapeutics, Griffith University, Grifols, Gritstone Oncology, Grunenthal, GT Apeiron Therapeutics, GT Biopharma, GtreeBNT, Guangzhou Boji Medical Biotechnological, Guangzhou Xiangxue Pharmaceutical, Guardant Health, Gubra, Gulf Coast Regional Blood Center, Gyros Protein Technologies, H-Immune, H3 Biomedicine, Hackensack Meridian Health, Hadassah Medical Center, Haldor Topsoe, HalioDx, Halix, HaloVax, Halozyme Therapeutics, Hamad Bin Khalifa University, Hamilton Thorne, HanAll Pharmaceuticals, HanaVax, Hangzhou Chengyuan Genomics Company, Hangzhou Zhongmei Huadong Pharmaceutical, Hanmi Pharmaceutical, Hannover Medical School
For a full list contact us at orders@currentpartnering.com
Current Partnering reports provide insight into the trends and terms of partnering deals in the global life sciences sector.
Current Partnering reports are updated every six months to ensure the user has access to the latest announcements and trends in the topic focus of the report.
Current Partnering analysts review the deal data to provide an overview and analysis of deal trends, including example deals and terms.
Current Partnering reports source deal data from our proprietary deals and alliances database, Current Agreements. The database is updated daily by our analysts with new deals as they are announced globally by the company's party to the deal. In addition, deal records are updated with new data as it becomes available.
The data in the Current Agreements deals and alliances database is obtained from secondary sources such as publicly available industry sources including press releases, company presentations, investor presentations, company SEC filings, other company filings, company websites, conference presentations. Sources are identified to allow for user verification.
Current Partnering provides comprehensive coverage of the following partnering or deal types:
• Asset purchase
• Assignment
• Co-development
• Co-market
• Co-promotion
• Collaborative R&D
• Contract service
• CRADA
• Cross-licensing
• Development
• Distribution
• Equity purchase
• Evaluation
• Grant
• Joint venture
• Licensing
• Loan
• Manufacturing
• Marketing
• Option
• Promotion
• Research
• Royalty financing
• Settlement
• Spin out
• Sub license
• Supply
• Termination
• Warrant
Every deal record is fully categorized and includes the following data, where available:
• Industry sector
• Therapy areas
• Technology type
• Deal components
• Financial terms
• Stage of development
• Exclusivity
• Asset type
• Geographic focus
• Excluded geography
• Company press release
• SEC filing data including contract document
All financial amounts are converted to US$ using the exchange rate available on the date of deal announcement, enabling direct comparison of deal terms across international territories.
Financial data and contract documents displayed in deal records is obtained from public sources, where disclosed by the parties to the deal.
We found other products you might like!