Global Licensing Partnering Terms & Agreements in Pharma, Biotech & Diagnostics 2014-2020
The Global Licensing Partnering Terms & Agreements in Pharma, Biotech & Diagnostics 2014-2020 report provides comprehensive understanding and unprecedented access to the licensing deals and agreements entered into by the worlds leading life science companies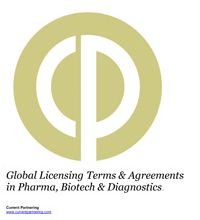 Publication date
April 2020
Product type
Research report
Available formats
PDF document
The Global Licensing Partnering Terms and Agreements in Pharma, Biotech and Diagnostics 2014 - 2020 report provides comprehensive understanding and unprecedented access to the licensing deals and agreements entered into by the worlds leading life science companies.
This report provides details of the latest licensing agreements announced in the pharmaceutical, biotechnology and diagnostic sectors. Fully up to date, the report provides details of licensing agreements from 2014 to 2020.
There has been a long standing willingness for parties to enter licensing deals. Such deals enable both parties to benefit from the upside of a big R&D win, whilst mitigating the risks of going it alone in the risky preclinical and clinical development stages.
Licensing is a specific type of partnering deal whereby the parties to the deal agree to commercialize a compound, product or technology.
Specifically, licensing is the granting of permission to use intellectual property rights, such as trademarks, patents, or technology, under defined conditions
There are several forms of licensing deal. Traditional licensing arrangement whereby an owner of intellectual property (the licensor) provides access to its technology to another company (the licensee) in return for agreed payments and royalties on subsequent sales of product(s) derived from the intellectual property.
In more recent times, licensing is often the outcome of a successful period of collaboration on the research and development of a technology or compound, resulting in a product which can be commercialized. In this situation, the licensing agreement governs who has permission to commercialize and what payments are due should commercialization proceed.
Other forms of licensing such as sub-licensing and cross-licensing are also explored, with examples provided together with listing of recent deals in pharma, biotech and diagnostics.
The report provides a detailed understand and analysis of how and why companies enter licensing deals. The majority of deals are multicomponent whereby the licensee retains either a right or option to license to commercialize the resultant product of the research collaboration. There are also numerous pure licensing deals whereby the products originator takes on a development/commercialization partner in order to maximize a technologies/products prospects.
Understanding the flexibility of a prospective partner's negotiated deals terms provides critical insight into the negotiation process in terms of what you can expect to achieve during the negotiation of terms. Whilst many smaller companies will be seeking details of the payment clauses, the devil is in the detail in terms of how payments are triggered – contract documents provide this insight where press releases and databases do not.
This report contains a comprehensive listing of all licensing deals announced since 2014 as recorded in the Current Agreements deals and alliances database, including financial terms where available, plus links to online copies of actual licensing contract documents as submitted to the Securities Exchange Commission by companies and their partners.
Contract documents provide the answers to numerous questions about a prospective partner's flexibility on a wide range of important issues, many of which will have a significant impact on each party's ability to derive value from the deal.
The initial chapters of this report provide an orientation of licensing deal making and business activities. Chapter 1 provides an introduction to the report, whilst chapter 2 provides an analysis of the trends in licensing as well as a discussion on the merits of the type of deal.
Chapter 3 provides an overview of the structure of licensing deals. The chapter includes numerous case studies to enable understanding of both pure licensing deals and multicomponent deals where collaborative R&D forms a part.
Chapter 4 provides a review of the leading licensing deals since 2014. Deals are listed by headline value. Where the deal has an agreement contract published at the SEC a link provides online access to the contract via the Current Agreements deals and alliances database.
Chapter 5 provides a review of the top 25 most active biopharma companies in licensing. Where the deal has an agreement contract published at the SEC a link provides online access to the contract via the Current Agreements deals and alliances database.
Chapter 6 provides a comprehensive review of licensing financials for deals announced since 2014, including headline value, upfront, milestone payments and royalty rates, providing both benchmark data and access to individual deal financials.
Chapter 7 provides a comprehensive and detailed review of licensing deals signed and announced since 2014 where a contract document is available. Each deal title links via Weblink to an online version of the actual contract document, providing easy access to each contract document on demand.
The report includes deals announced by hundreds of life science companies including big pharma such as Abbott, Abbvie, Actavis, Amgen, Astellas, AstraZeneca, Baxter, Bayer, Biogen Idec, BMS, Celgene, Eisai, Eli Lilly, Gilead, GSK, J&J, Kyowa Hakko, Merck, Mitsubishi, Mylan, Novartis, Pfizer, Roche, Sanofi, Shire, Takeda, Teva, and Valeant, amongst many others.
The report also includes numerous table and figures that illustrate the trends and activities in licensing deal making since 2014.
In addition, a comprehensive appendix is provided organized by licensing company A-Z , stage of development, therapeutic target, technology type and deal type definitions. Each deal title links via Weblink to an online version of the deal record and where available, the contract document, providing easy access to each contract document on demand.
In conclusion, this report provides everything a prospective dealmaker needs to know about licensing partnering in the research, development and commercialization of technologies and products.
Key benefits
Global Licensing Partnering Terms and Agreements in Pharma, Biotech and Diagnostics 2014 - 2020 provides the reader with the following key benefits:
In-depth understanding of licensing partnering deal trends since 2014
Analysis of the structure of licensing agreements with numerous real life case studies
Comprehensive listing of licensing deals since 2014, together with deal terms, value and press release
Comprehensive access to actual licensing contracts entered into by the world's life science companies
Analysis of key deal financials including headline value, upfront, milestone payments and royalty rates
Insight into the terms included in a licensing agreement, together with real world clause examples
Understand the key deal terms companies have agreed in previous deals           
Undertake due diligence to assess suitability of your proposed deal terms for partner companies
Report scope
Global Licensing Partnering Terms and Agreements in Pharma, Biotech and Diagnostics 2014 - 2020 is intended to provide the reader with an in-depth understanding of the licensing trends and structure of deals entered into by leading life science companies worldwide.        
Global Licensing Partnering Terms and Agreements in Pharma, Biotech and Diagnostics 2014 - 2020 includes:
Trends in licensing dealmaking in the biopharma industry since 2014
Analysis of licensing deal structure
Case studies of real-life licensing deals
Comprehensive listing of licensing deals since 2014
Access to licensing contract documents
Key financial bnchmarks for headline, upfront, milestone and royalty rates
The leading licensing deals by value since 2014
Most active licensing dealmakers since 2014
The leading licensing partnering resources
In Global Licensing Partnering Terms and Agreements in Pharma, Biotech and Diagnostics 2014 - 2020 available deals and contracts are listed by:
Company A-Z
Headline value
Therapeutic area
Technology type
Each deal title links via Weblink to an online version of the actual deal record and where available, contract document, providing easy access to each contract document on demand.
The Global Licensing Partnering Terms and Agreements in Pharma, Biotech and Diagnostics 2014 - 2020 report provides comprehensive access to available contract documents for licensing deals. Analyzing actual contract agreements allows assessment of the following:
What are the precise rights granted or optioned?
What is actually granted by the agreement to the partner company?
What exclusivity is granted?
What is the payment structure for the deal?
How do milestone align with clinical stage development phases?
How aresalesand payments audited?
How are the key terms of the agreement defined?
How are IPRs handled and owned?
Who is responsible for commercialization?
Who is responsible for development, supply, and manufacture?
How is confidentiality and publication managed?
How are disputes to be resolved?
Under what conditions can the deal be terminated?
What happens when there is a change of ownership?
What sublicensing and subcontracting provisions have been agreed?
Which boilerplate clauses does the company insist upon?
Which boilerplate clauses appear to differ from partner to partner or deal type to deal type?
Which jurisdiction does the company insist upon for agreement law?
Global Licensing Partnering Terms & Agreements in Pharma, Biotech & Diagnostics 2014-2020 provides the reader with the following key benefits:
In-depth understanding of licensing partnering deal trends since 2014
Insight into the terms included in a licensing agreement, together with real world clause examples
 Identify leading licensing deals by value since 2014
Identify the most active licensing dealmakers since 2014
Analysis of key deal financials including headline value, upfront, milestone payments and royalty rates
Full listing of  licensing deals by company A-Z, deal value, phase of development, deal type, therapy and technology focus
Comprehensive access to licensing deals entered into by the world's biopharma companies, together with contract documents if available
Detailed access to actual licensing contracts entered into by the leading fifty big pharma and big biotech companies
Understand the key deal terms companies have agreed in previous deals
Undertake due diligence to assess suitability of your proposed deal terms for partner companies
Executive Summary
Chapter 1 – Introduction
Chapter 2 – Trends in licensing deal making
2.1. Introduction
2.2. Definition of licensing deals
2.3. Success factors for licensing deals
2.4. When licensing can be useful
2.5. Attributes of licensing deals
2.6. Trends in licensing deals since 2014
2.6.1. Licensing deal making by year since 2014
2.6.2. Licensing deal making by phase of development since 2014
2.6.3. Licensing deal making by industry sector since 2014
2.6.4. Licensing deal making by therapy area since 2014
2.6.5. Licensing deal making by technology type since 2014
2.6.6. Licensing deal making by most active company since 2014
2.7. Option to license
2.8. Adding co-promotion to the mix
2.9. The future of licensing deals
Chapter 3 – Overview of licensing deal structure
3.1. Introduction
3.2. Pure versus multi-component licensing deals
3.3. Pure licensing agreement structure
3.3.1. Example licensing agreements
3.3.1.a. Case study 1: Ignyta – Nerviano Medical Sciences
3.3.1.b. Case study 2: Sanofi - Pozen
3.4. Licensing rights as part of a wider alliance agreement
3.4.1. Example licensing clauses
3.4.1.a. Case study 3: 4D Molecular Therapeutics – UniQure
3.4.1.b. Case study 4: Kyowa Hakko Kirin – Ultragenyx Pharmaceuticals
3.4.2. Example licensing option right clauses
3.4.2.a. Case study 5: Forest Laboratories - Trevena
3.4.2.b. Case study 6: Abbvie – Receptos
Chapter 4 – Leading licensing deals
4.1. Introduction
4.2. Top licensing deals by value
Chapter 5 – Top 25 most active licensing dealmakers
5.1. Introduction
5.2. Top 25 most active licensing dealmakers
Chapter 6 – Licensing deal term financials
6.1. Introduction
6.2. Licensing partnering headline values
6.3. Licensing deal upfront payments
6.4. Licensing deal milestone payments
6.5. Licensing royalty rates
Chapter 7 – Licensing contract directory since 2014
7.1. Introduction
7.2. Licensing deals with contracts since 2014
Appendices
Appendix 1 – Licensing dealmaking by companies A-Z
Appendix 2 – Licensing dealmaking by industry sector
Appendix 3 – Licensing dealmaking by stage of development
Appendix 4 – Licensing dealmaking by therapy area
Appendix 5 – Licensing dealmaking by technology type
About Wildwood Ventures
Current Partnering
Current Agreements
Recent report titles from Current Partnering
TABLE OF FIGURES
Figure 1: Definition of licensing
Figure 2: Situations where licensing can prove useful
Figure 3: Key attributes of a licensing deal
Figure 4: Trends in licensing deal announcements since 2014
Figure 5: Licensing deals signed at each phase of development since 2014
Figure 6: Licensing deals by industry sector since 2014
Figure 7: Licensing deals by therapy area since 2014
Figure 8: Licensing deals by technology type since 2014
Figure 9: Top 25 most active licensing dealmakers sinnce 2014
Figure 10: Licensing agreements – what should a contract include?
Figure 11: Components of the licensing deal structure
Figure 12: Top licensing deals by value since 2014
Figure 13: Most active licensing dealmakers since 2014
Figure 14: Licensing deals with a headline value
Figure 15: Licensing deals with an upfront value
Figure 16: Licensing deals with a milestone value
Figure 17: Licensing deals with a royalty rate value
Pricing options
$3,495: single-user
$5,245: multi-user
$10,495: single site license
$17,495: global site license
A full explanation of license type definitions can be found here.
Our guarantee
Price promise
We guarantee our prices are competitive. If you find the same report advertised at a lower price within 7 days of purchase, we will refund the difference.
Delivery Deadline
We guarantee that the report will be sent within the specified delivery times. In the unlikely case of a delay we may offer a partial refund as compensation. (Terms may apply)
Latest report
If an update is published within 30 days of your purchase, you will receive it absolutely free of charge.
Serious Security
We take your data and security seriously. See our privacy policy for details of how we manage your data.
All card payments are processed by SagePay.
Sales Support
If you have any questions about your report or are unhappy with the quality, we will do our best to resolve your query. Contact us direct.
Total Trust
Current Partnering is part of Wildwood Ventures Ltd., based in York, United Kingdom. We have been trading successfully online since 2009 and work with some of the most famous brands in the business. We carefully select our partners to ensure that the publications meet expectations of demanding customers.
2A, 2bPrecise, 2M, 2X Oncology, 3B Pharmaceuticals, 3D Medicines, 3M, 3M Drug Delivery Systems, 3P Biopharmaceuticals, 3SBio, 4D Molecular Therapeutics, 4D Pharma, 4SC, 5LINX, 8E6Tong, 23andMe, 48Hour Discovery, A&B Company, A*STAR Agency for Science, Technology and Research, A1 Group, AADi, AAVLife, Abba Import Export, AB Biosciences, Abbisko Therapeutics, Abbott Laboratories, Abbott Vascular Devices, Abbvie, Abcam, AbCellera, AbCheck, AbClon, Abcuro, Ab E Discovery, Abeona Therapeutics, Abic Marketing, Abide Therapeutics, Ability Pharmaceuticals, Ab Initio, Abiogen Pharma, Abiomed, ABL Bio, Ablexis, Ablynx, AbMed, Abpro, Absorption Systems, Abveris, ABX, Abyrx, Abzena, Acacia Pharma, Acacia Research, ACADIA Pharmaceuticals, Acasti Pharma, Accellta, Accera Pharmaceuticals, Access Pharmaceuticals, Accord Healthcare, Acelity, Acella Pharmaceuticals, Acer Therapeutics, Acerus, ACE Solutech, Acetylon Pharmaceuticals, Achieve Life Science, Achillion Pharmaceuticals, AC Immune, Aclaris Therapeutics, Acorda Therapeutics, Acoustic MedSystems, Actavis (acquired by Watson), ACT Biotech, Actelion, Acticor Biotech, Actinobac Biomed, Active Biotech, ActiveSite, ActLight, Actuated Cardio Engineering, Actuated Medical, Acturum Life, Acucela, Acumen Pharmaceuticals, Acura Pharmaceuticals, Acutus Medical, Adagene, AdAlta, Adama, Adamis Pharmaceuticals, Adapsyn Bioscience, Adaptimmune, Adaptive Biotechnologies, Adaptive Phage Therapeutics, Adapt Pharma, Adare Pharmaceuticals, Adarza BioSystems, ADC Therapeutics, Addex Therapeutics, Adept Neuro, Adhesys Medical, Adimab, Adlai Nortye, Admedus, Adocia, ADT Pharmaceuticals, Aduro BioTech, Advaite, Advanced Accelerator Applications, Advanced Animal Diagnostics, Advanced Biological Laboratories, Advanced BioMatrix, Advanced Catheter Therapies, Advanced Dosage Forms, Advanced Medical Solutions, Advanced Nuclear Medicine Ingredients, Advanced Proteome Therapeutics, Advance Pharmaceutical, Advanz Pharma, Advaxis, Adverum Biotechnologies, Aegerion Pharmaceutical, Aegis Therapeutics, Aelan Cell Technologies, Aelian Biotechnology, Aeras, Aerial BioPharma, Aerie Pharmaceuticals, Aerogen, Aeromics, Aerpio Therapeutics, AEterna Zentaris, Aethlon Medical, Aevi Genomic Medicine, Aevitas Therapeutics, AffaMed Therapeutics, Affibody, Affilogic, Affimed Therapeutics, Affinivax, Affymetrix, AffyXell Therapeutics, AFT Pharmaceuticals, Agalimmune, AGC Asahi Glass, Agensys, Agenus Bio, AgeX Therapeutics, Agilis Biotherapeutics, Agios Pharmaceuticals, AgomAb Therapeutics, AgonOx, AgriCann Solutions, Agricultural Research Service, AGTC, AiCuris, AIMM Therapeutics, Aimmune Therapeutics, AirWare Labs, AIT Therapeutics, AiVita Biomedical, Akaal Pharma, Akari Therapeutics, AkaRx, Akcea Therapeutics, Akebia Therapeutics, Akero Therapeutics, Akeso Biopharma, Akili Interactive Labs, Akonni Biosystems, Akorn, Akouos, Akrevia Therapeutics, Akriveia Therapeutics, Albany Molecular Research, Albert Einstein College of Medicine, Albion, Alcon Laboratories, Alcyone Lifesciences, Alder Biopharmaceuticals, Aldevron, Aldeyra Therapeutics, Alector, Aleva Neurotherapeutics, Alexion Pharmaceuticals, Alexza Pharmaceuticals, Alfasigma, Algenex, Aligo, Alimentary Health, Alimera Sciences, AliveCor, Alive Sciences, Alivio Therapeutics, Alize Pharma, ALK-Abello, Alkahest, Alkermes, Allakos, AllCells, Allegro Ophthalmics, Allele Biotechnology and Pharmaceuticals, Allergan, Allergan (name changed from Actavis), AllerGenis, Allergopharma, Alliance BioEnergy Plus, Alliance Pharma, Allied-Bristol Life Sciences, Allied Corp, Allied Minds, Alligator Bioscience, Allogene Therapeutics, Alloksys Life Sciences, AllyAlign Health, Almirall, Alnylam Pharmaceuticals, Alphaeon, Alphamab, Alpine Immune Sciences, ALS Biopharma, Altamira Bio, Altamira Pharma, Altan Pharma, Alteogen, Alternavida, Altor BioScience, Altum Pharmaceuticals, Altus Formulation, Alvit LCS Pharma, Alvogen, Alvotech, Alytas Therapeutics, Alzamend Neuro, AlzeCure Pharma, Alzyn, Amag Pharmaceuticals, Amarantus BioSciences, Amarillo Biosciences, Amarin, Ambrx, Ambys Medicines, AMD Insight, Amegabiotech, A Menarini Diagnostics, Amendia, Amend Surgical, American BriVision, American Cancer Society, American CryoStem, American Speech-Language-Hearing Association, Amerigen Pharmaceuticals, Amfora, Amgen, Amherst Pharmaceuticals, Amneal Pharmaceuticals, AMO Pharma, AmorChem, Amorsa Therapeutics, AmplyCell, Amplyx Pharmaceuticals, AMR, Amsel Medical, Amunix, Amyris, AN2 Therapeutics, AnaBios, Anacor Pharmaceuticals, Anagenesis Biotechnologies, Anahit, Analytical Testing Laboratory, ANANDA Scientific, AnaptysBio, Anatara Lifesciences, Anavex Life Sciences, Anchiano Therapeutics, Andor Pharmaceuticals, Angelini Pharma, AnGes MG, Angiochem, Angiocrine Bioscience, Angiodynamics, Angion Biomedica, Angionetics, AngioSoma, Angiostem, AnHeart Therapeutics, Anika Therapeutics, Anima Biotech, Animal Life Sciences, ANI Pharmaceuticals, Anixa Biosciences, Anji Pharma, Annias Immunotherapeutics, ANP Technologies, Ansell, Antares Pharma, Antengene, Anthera Pharmaceuticals, Anthos Therapeutics, Antibe Therapeutics, Antibody Solutions, Antigen Express, Antisense Therapeutics, Antitope, AntriaBio, Apceth, APC Therapeutics, Apeiron Biologics, Aperion Biologics, Apex Global Brands, Apexian Pharmaceuticals, Apexigen, Aphria, Aplagon, Apogenix, ApolloBio, Apollomics, Apotex, Appello Pharmaceuticals, Appili Therapeutics, Applied BioCode, Applied Biology, Applied BioSciences, Applied DNA Sciences, Applied Molecular Transport, Applied StemCell, APR Applied Pharma Research, Aprecia Pharmaceuticals, Apricity Health, Apricus Biosciences, APRINOIA Therapeutics, Apsen Farmacutica, AptaBio Therapeutics, Aptarion biotech, Aptar Pharma, Aptinyx, Aptose Biosciences, Aquinox Pharmaceuticals, Aragen Bioscience, Aralez Pharmaceuticals, Aratana Therapeutics, Arbele, Arbor Biotechnologies, ArborGen, Arbutus, Arcadia Biosciences, ArcDia, Arch Biopartners, ArcherDX, Arcis Biotechnology, Arcoral Pharma, ArcticDx, Arcturus Therapeutics, Arcus Biosciences, Arcutis Biotherapeutics, Ardelyx, Arecor, Arena Pharmaceuticals, Ares Genetics, arGEN-X, Argentum Pharmaceuticals, argenx, Argon Medical Devices, Argos Therapeutics, Ariad Pharmaceuticals, Aridis Pharmaceuticals, Ariosa Diagnostics, Arista Cereal Technologies, Aristea Therapeutics, Arjuna Naturals, Ark Biosciences, ArmaGen, Armetheon, ARMO Biosciences, Arno Therapeutics (inactive since 2017), Aro Biotherapeutics, ArQule, Arradiance, Arrakis Therapeutics, Array Biopharma, Arrien Pharmaceuticals, Arrowhead Pharmaceuticals, Arrow Pharmaceuticals, Arrys Therapeutics, Arsanis Biosciences, Artelo Biosciences, Arthrex, Artios Pharma, Artizan Biosciences, Aruvant Sciences, Arvelle Therapeutics, Arvinas, Asahi Kasei, Asana Biosciences, Asana Medical, Ascendance Biotechnology, Ascenion, Ascensia Diabetes Care, Ascentage Pharma, Ascletis, ASC Therapeutics, Aseptix, Asieris MediTech, ASKA Pharmaceuticals, AskAt, AS Kevelt, Asklepios Biopharmaceutical, Aslan Pharma, Aspen Holding, Aspen Park Pharmaceuticals, Aspen Pharmacare Canada, Aspire Health Science, Aspyrian Therapeutics, Assembly Biosciences, Astellas Pharma, Astellas Pharma Europe, Asterias Biotherapeutics, Astex Pharmaceuticals, AstraZeneca, Astute Medical, Asuragen, Asymptote, Atara Biotherapeutics, Athenex, Athersys, Atlante Biotech, Atlantic Healthcare, Atomwise, Atopix, Atossa Genetics, Atreca, Attune Medical, ATUM, Atvio Biotech, aTyr Pharma, Aucta Pharmaceuticals, Audentes Therapeutics, Audion Therapeutics, Auditus, AUM Biotech, Aura Biosciences, Auransa, Aurigene Discovery Technologies, Aurinia Pharmaceuticals, Aurobindo Pharma, Aurora Cannabis, AusHealth, Australian Research Council, Austrianova Singapore, Autifony Therapeutics, Autolus, Automation Anywhere, Autotelic, Auven Therapeutics, Auxly Cannabis Group, Auxogyn, Avacta, Avactis Biosciences, Avadel Pharmaceuticals, Avalanche Biotechnologies, Avalon GloboCare, AvantGen, Avaria Health & Beauty, Avenue Therapeutics, AVEO Oncology, AveXis, Avidity Biosciences, Avillion, Avion Pharmaceuticals, Avior Bio, Aviragen Therapeutics, Avita Medical, Avitide, Avrobio, Axcelead Drug Discovery Partners, AXIM Biotechnologies, Axiogenesis, Axiom Worldwide, Axis Therapeutics, AxoSim, Axovant Sciences, Axsome Therapeutics, Axxam, Axxess Pharma, Ayala Pharmaceuticals, Aytu BioScience, Azaya Therapeutics, Aziyo Biologics, AzurRx BioPharma, Back-A-Line, Back Bay Scientific, Bactevo, Baergic Bio, Baker IDI Heart and Diabetes Institute, Banyan Biomarkers, Basilea Pharmaceutica, BAS Research, Batavia Biosciences, BATM, Battelle, Batu Biologics, Baudry Laboratory, Bausch & Lomb, Bausch Health Companies, Bavarian Nordic, Baxalta, Baxter International, Bayer, Bayer Animal Health, Bayer CropScience, Bayer Healthcare, Bayer Schering Pharma, Baylor College, Baylor College of Medicine, Baylor Genetics, Baylor Miraca Genetics Laboratories, BayPAT, Bay State Milling Company, Bazelet, BB100, BDD Pharma, Beacon Discovery, Beactica, Beam Therapeutics, Beckman Research Institute of City of Hope, Becton Dickinson, BeiGene, Beijing SL Pharma, Beijing Strong Biotechnologies, Beike Biotech, Bellerophon Therapeutics, Bellicum Pharmaceuticals, Bellus Health, Ben-Gurion University, Bened Biomedical, BenevolentAI, Benitec Biopharma, Benson Hill Biosystems, Berkeley Lights, Berlin Chemie, Beroni Group, Bertech Diagnostics, Besins Healthcare, Beth Israel Deaconess Medical Center, Betta Pharmaceuticals, BevCanna, BexPharm, BGN Technologies, Bhang, BHV Pharmaceuticals, Bial, BIA Separations, Bicycle Therapeutics, Biedermann Motech, Bill and Melinda Gates Foundation, Bio-Rad Laboratories, Bio-Techne, Bio-Thera Solutions, BioAlliance Pharma, BioArctic Neuroscience, biOasis Technologies, BioAtla, BioBlast Pharma, BioCardia, Biocare Medical, Biocept, Bioceros, BiocerOX Products, Biocodex, Biocon, BioCorRx, BioCryst Pharmaceuticals, Biodel, BioDelivery Sciences, Bio DG, Biodirection, BioDlogics, BioDuro, Bioeq IP, Bio Farma, BioGaia, Biogen, BioGenetics, BioGen Medical, Bioharmony Therapeutics, Biohaven Pharmaceutical Holding, BioHeart, BioInvent, Bioject Medical Technologies, Biokit, BioLamina, BioLegend, BiolineRX, Biolin Scientific, BioLite Japan, Biologix FZCo, BioMarin Pharmaceutical, Biomatrica, Biomed, Biomedical Advanced Research and Development Authority, Biomerica, Biomerics, bioMerieux, Biomunex Pharmaceuticals, BiomX, Bioneer, Bionomics, BioNovion, Bionovus Life Sciences, BioNTech, Bionure, BionX Medical Technologies, Bioo Scientific, Bio Palette, BioPharma Forest, BioPhausia, BioPorto, Bioprojet, Bioptic, BioQ Pharma, BioRap Technologies, BioReliance, Biosearch Technologies, BioSense Global, BioSilta, Biosolution, BioSyent Pharma, Biosynth, Biotectix, Biotest, BioTheryX, Biotheus, Biotoscana Farma, BioVaxys, Bioventus, Bioverativ, BioWa, BioXcel, BirchBioMed, Bird Foundation, Birdie Biopharmaceuticals, Biscayne Neurotherapeutics, BL&H, Blackford, Blackrock Microsystems, BlackThorn Therapeutics, Blacktrace Holdings, Blanver, BlinkBio, BliNK Biomedical, Bliss Biopharmaceutical, Bloom Science, Bluebird Bio, Bluechiip, BlueOcean Nutrascience, Blueprint Medicines, BlueRock Therapeutics, Blue Sky Biotech, Bluestar Alliance, Blue Water Vaccines, BMV Medica, BODIMETRICS, Body Labs, Boehringer Ingelheim, Boehringer Ingelheim Vetmedica, Bone Biologics, Bone Solutions, Bone Therapeutics, Bonutti Skeletal Innovations, Bophelo Bioscience & Wellness, Boragen, Bora Pharmaceuticals, Boryung Pharmaceutical, Bosch, Boston Pharmaceuticals, Boston Scientific, Boston Strategics, Boston Therapeutics, Boston University, Botanisol, BoyaLife, Braeburn Pharmaceuticals, BrainLAB, BrainStorm Cell Therapeutics, Branhaven, BravoVax, Breathe Active, Breathe ECig, Breathtec BioMedical, Breath Therapeutics, Breckenridge Pharmaceuticals, Brickell Biotech, BridgeBio Pharma, Bridge Biotherapeutics, Brigham and Women's Hospital, Bright Future Pharmaceutical Lab, Brighton Biotech, Brii Biosciences, Brill Pharma, BRIM Biotechnology, Brink Biologics, Bristol-Myers Squibb, Broad Institute, BroadMed, Broda Technologies, Brown University, Bruker, Bryn Pharma, BryoLogyx, BTG, BTS Research (BTS), Buck Institute for Age Research, Bugworks, Butantan Institute, Byrne Medical, C-Bridge Capital, C2N Diagnostics, C3i, C4 Therapeutics, C4X Discovery, Cadence Pharmaceuticals, Cadent, Cadila Pharmaceuticals, Caelum Biosciences, Caladrius Biosciences, Caliber Biotherapeutics, Calico, California Institute for Biomedical Research, California Institute for Quantitative Biosciences (QB3), California Institute of Technology, Calimmune, Calithera Biosciences, Calixar, Calliditas Therapeutics, Calox de Costa Rica, Calypso Biotech, Calyxt, Camarus, Cambridge Cognition, Cambridge Enterprise, Cambridge Epigenetix, Cambridge Research Biochemicals, CamelBak, CAMP4 Therapeutics, Camurus, Can-Fite BioPharma, Canada House Wellness Group, CanBas, CANbridge Life Sciences, CancerLinQ, Cancer Prevention Pharmaceuticals, Cancer Research Technology, Cancer Research UK, Cancer Targeted Technology, CanCure, Candela, Cannabis OneFive, CannaHoldCo, CannaRoyalty, CannaSkin, Cannassure Therapeutics, CanniMed Therapeutics, CannPal Animal Therapeutics, CannScience Innovations, Canntab Therapeutics, Canopy Biosciences, Canopy Growth, Cantabria Pharma, Cantargia, Cantex Pharmaceuticals, CAO Pharmaceuticals, Capricor Therapeutics, Caprion Proteomics, Cara Therapeutics, Carbonics, Cardiff University, Cardinal Health, Cardinal Partners, Cardiome Pharma, CardioSert, Cardiowise, Cardurion Pharmaceuticals, Cargill, Caribou Biosciences, Carlos Slim Health Institute, Carmel Pharma, Carmot Therapeutics, Carna BioSciences, Carrick Therapeutics, Cascade Pure, Cascadian Therapeutics, Casebia Therapeutics, Case Western Reserve University, CASI Pharmaceuticals, Casma Therapeutics, Castle Creek Pharmaceuticals, Catalent, Catalyst Biosciences, Catalyst Pharmaceutical Partners, Catapult Therapy TCR, CavoGene LifeSciences, CB2 Therapeutics, CBD Solutions, CBT Pharmaceuticals, Ceapro, Cedars-Sinai Medical Center, Celdara Medical, Celgene, Celimmune, Celladon, Cell Care Therapeutics, Cell Design Labs, Celldex Therapeutics, Cellecta, Cellectar Biosciences, Cellectis, Cellectricon, Cellesce, CellGenix, Cell Guidance Systems, Celling Biosciences, Cell Medica, Cellmid, CellProThera, CellSight Technologies, Cell Source, Celltech, Cell Therapy, Cell Therapy Catapult, Cellth Systems, Celltrion, Cellular Biomedicine, Cellular Dynamics International, Cellvation, Celonic, Celsee, Celsion, Celtic Biotech, Celtis Pharm, Celyad, Center for Cancer Research, Central Institute for Experimental Animals, Centre for Drug Design and Discovery, Centre for Drug Research and Development (CDRD), Centre For The Commercialization Of Antibodies And Biologics, Centrexion, Centro de Investigación Biomédica en Red de Salud Mental, Centurion, Cequr, Cereal Ingredients, Cerecor, Ceres, Cerevance, Certara, Certis, Cerveau Technologies, CEVA, Ceva Sante Animale, Cevec Pharmaceuticals, cGreen, Chameleon BioSurfaces, Changchun BCHT Biotechnology, Changshan Pharm, Chaperone Technologies, Charles River Laboratories, Charleston Laboratories, Chart Industries, CheckedUp, Checkmate Pharmaceuticals, CheckPoint Immunology, Checkpoint Therapeutics, Chelexa Biosciences, Chembio Diagnostics, Chemesis, Chemi Pharmaceutical, ChemoCentryx, Chemstar, Chengdu Gaotong Isotope, Cheplapharm Arzneimittel, Chi-Med, Chiesi Farmaceutici, Children's Cancer Institute Australia for Medical Research, Children's Hospital Boston, Children's Hospital of Philadelphia, Chimerix, China Medical System, China National Biotech Group (CNBG), China Oncology Focus, China State Institute of Pharmaceutical Industry (CIPI), Chinook Therapeutics, Chiome Bioscience, Chiromics, Chondrial Therapeutics, Chong Kun Dang, Chongqing Jingdong Pharmaceutical, Chongqing Lummy Pharma, ChromaDex, Chroma Therapeutics, Chromocell, Chugai Pharmaceutical, Chugai Pharma Marketing, Cibus Global, Cidara Therapeutics, Cilag AG, Cimtech, Cincinnati Children's Hospital Medical Center, CinCor Pharma, Cinda Bio-Pharmaceutical, Cingulate Therapeutics (CTx), Cipher Pharmaceuticals, Cipla, Circassia, Circulogene, Cirle, Cisen Pharma, Citius Pharmaceuticals, Citron Pharma, City of Hope, Civetta Therapeutics, CiVi Biopharma, CJ Corp, CJPS Healthcare Supplies & Equipment, Clal Biotech, Claremont BioSolutions, Clarity Pharmaceuticals, ClearLight Biotechnologies, ClearLight Diagnostics, Clearside Biomedical, Clementia Pharmaceuticals, Cleveland Clinic, Cleveland Diabetes Care, Cleveland Diagnostics, Clevexel Pharma, Click Therapeutics, Clinical Genomics, Clinical Laserthermia Systems (CLS), Clinica Ruiz, Clinigen, Clontech Laboratories, Clover Therapeutics, Clovis Oncology, CMC Biologics, CMS Medical, CNA Development, CNS Pharmaceuticals, Co-Diagnostics, Coalition for Epidemic Preparedness Innovations, Coapt, CoapTech, Cochlear, Cocoon Biotech, Cocrystal Pharma, Codexis, Codiak BioSciences, Coeptis Pharmaceuticals, Cogentix Medical, Cognoa, Coherus Biosciences, Cold Spring Harbor, Collegium Pharmaceuticals, Collplant, Colorcon, Columbia Care, Columbia Laboratories, Columbia Technology Ventures, Columbia University, CombiGene, Comercializadora BioRenal, Commense, Common Sense, Compassionate Care Center of New York, Complix, Compugen, Conatus Pharmaceuticals, Concerto HealthAI, Concordia Healthcare, Concortis Biosystems, ConforMIS, Confo Therapeutics, Conmed, Consilient Health, ConsortiaTX, Contamac, Context Therapeutics, Contextual Genomics, ContraFect, ContraVir Pharmaceuticals, Convelo Therapeutics, Convergence Pharmaceuticals, ConverGene, Cook Biotech, Copernicus Therapeutics, Corbin Therapeutics, Corbus Pharmaceuticals, Cordis, Corestem, Corgenix Medical, Corino Therapeutics, CorMedix, Cornell University, Coronado Biosciences, Correvio, Corsair Pharma, CorTechs Labs, Cortendo, Corteva Agriscience, Cortex Pharmaceuticals, Cortexyme, Cortice Biosciences, Corvidia Therapeutics, Corvium, Corvus Pharmaceuticals, Cosmo Pharmaceuticals, COUR Pharmaceutical, Covalon Technologies, Covance, Covidien, Create Vaccine Company, Creative Medical Technologies, Crescendo Biologics, Crescita Therapeutics, Cresset, CRISPR Therapeutics, Critical Diagnostics, Critical Path Services, Crossbeta Biosciences, Crosscare, Crown Bioscience, Crown Laboratories, CR Pharma, CRT Pioneer Fund, Cryolife, Crystal Bioscience, CrystalGenomics, CSC Pharmaceuticals, CSIRO, CSL, CSL Behring, CSPC Pharmaceutical Group, CStone Pharmaceuticals, CTC Bio, CTI BioPharma, CTT Pharmaceutical, CTX Technology, Cue Biopharma, Cullinan Oncology, Cumberland Pharmaceuticals, Cumulus Oncology, Curadev Pharma, CURE Pharmaceutical, Cures Within Reach, CureTech, Curetis, CureVac, Curis, Curium, Currax Pharmaceuticals, CURx Pharmaceuticals, Cutanea Life Sciences, Cutting Edge Healthcare, CvergenX, Cyclacel Pharmaceuticals, Cyclenium Pharma, Cycle Pharmaceuticals, Cyclica, Cyclopharm, Cygnus, CymaBay Therapeutics, Cynata Therapeutics, Cyndea Pharma, Cyntec, Cyon Therapeutics, Cypralis, Cypress Pharmaceutical, Cyprium Therapeutics, Cyrenaic Pharmaceuticals, Cystic Fibrosis Foundation, Cytodyn, Cytokinetics, CytoLumina Technologies, CytomX Therapeutics, Cytos Biotechnology, CytoSen Therapeutics, Cytovant Sciences, CYTOVIA Therapeutics, CytRx, D&A Pharma, D. Western Therapeutics Institute, Daewoong Pharmaceutical, Daiichi Sankyo, Dainippon Sumitomo Pharma, Daktari Diagnostics, Dalhousie University, Dana-Farber Cancer Institute, DARA BioSciences, Dare Bioscience, Dartmouth College, DarwinHealth, DAS Therapeutics, Dauntless Pharmaceuticals, Debiopharm, Dechra Pharmaceuticals, Decibel Therapeutics, Deciphera Pharmaceuticals, de Duve Institute, Defense Advanced Research Projects Agency, DefiniGEN, Defyrus, DEG Productions, Dekel Pharmaceuticals, Delcath Systems, Delivra, DelMar Pharmaceuticals, Delphi Genetics, DelSiTech, Delta 9 Cannabis, Demetrix, Denali Therapeutics, DendroCyte, Denka, Denka-KEW Genomics, Denovo Biopharma, Densitas, Densmore Pharmaceutical, Department of Veterans Affairs, DepoMed, DePuy, Derma Sciences, Dermata Therapeutics, Dermavant Sciences, Dermelix Biotherapeutics, Dermira, Desktop Genetics, Destiny Pharma, DeuteRx, Devonian Health Group, Dewpoint Therapeutics, Dexcel Pharma, DexCom, diaDexus, DiagnoCure, Diagnovus, DiA Imaging Analysis, DiaMedica, DIAN Diagnostics, Dianomi Therapeutics, Diaprost, Diatheva, DiCE Molecules, Dicerna Pharmaceuticals, Diego Pellicer, Dignity Health, Dilafor, Dimension Therapeutics, DiNAQOR, DiNonA, Disc Medicine, Discuva, Distributed Bio, Dixi, DNA Script, DNAtrix, DNX Biopharmaceuticals, DolCas Biotech, Domain Therapeutics, Dong-A Pharmaceutical, Dong-A ST, DongKoo Bio & Pharma, Dorian Therapeutics, Dow AgroSciences, Dow Chemical, Dr. Falk Pharma, Dr. Reddy's Laboratories, Dr. U Devices, Draeger Safety Diagnostics, Dragonfly Therapeutics, Dr Allen Wu, DreaMed Diabetes, DRI Capital, Dr Kerklaan Therapeutics, DSM, DSM Sinochem Pharmaceuticals, Dual Therapeutics, DuChemBio, Duchesnay, Duke-NUS Graduate Medical School Singapore, Duke University, DuPont, Durata Therapeutics, Durect, Dynacure, Dynamic Combinatorial Chemistry, Dynavax Technologies, E-Scape Bio, Eagle Genomics, Eagle Pharmaceuticals, EA Pharma, Eastern Cooperative Oncology Group, Easton Pharmaceuticals, EB Pharma, ECM Therapeutics, Ecolab, Ecole Polytechnique Federale de Lausanne, EcoPesticides, EDAP TMS, Eddingpharm, Edelris, Edinburgh Innovations, Edison Pharmaceuticals, Editas Medicine, Educational and Scientific, Edwards Lifesciences, eFFECTOR Therapeutics, EffRx, Egalet, EhmetDx, Eiger BioPharmaceuticals, Eiken Chemical, EIP Eczacibasi Ilac Pazarlama, EirGenix, EirGen Pharma, Eisai, Eisai Inc, Ekso Bonics, Elanco, Elasmogen, Elcelyx Therapeutics, Elekta, Eleven Biotherapeutics, Elexopharm, Eli Lilly, Elis Pharmaceuticals, Elite Pharmaceuticals, Elixirgen, Ellipses Pharma, Elpis Biomed, ElsaLys Biotech, Eltima Software, Elysium Health, EmboMedics, Emcure Pharmaceuticals, EMD Millipore, EMD Serono, Emendo Biotherapeutics, Emerald Organic Growth, Emerge Health, Emergence Therapeutics, Emergent BioSolutions, Emergex Vaccines, Emisphere, Emmaus Life Sciences, Emory University, EMS, Encore Dermatology, Endocanna Health, EndoCeutics, Endocyte, Endo International, EndoLogic, Endo Pharmaceuticals, Endo Ventures, enGene, EnGeneIC, Enigma Biomedical, Enleofen Bio, Enlibrium, Enochian Biosciences, Ensemble Therapeutics, Entasis Therapeutics, Entera Health, Enteris Biopharma, Enterome Bioscience, Enterprise Partners Venture Capital, Enthera, Entos Pharmaceuticals, Entrinsic Health Solutions, Enumeral Biomedical, EnWave, ENYO Pharma, Enzymotec, Eolas Therapeutics, EOS Imaging, Epic Pharmaceuticals, EpiDestiny, Epigen Biosciences, Epigenomics, EPI Health, EpimAb Biotherapeutics, Epirus Biopharmaceuticals, Epivax, Epizyme, Equillium, Equinox Science, Ergomed, ERS Genomics, Ervaxx, ES Cell International, Especificos Stendhal, EspeRare Foundation, Esperion Therapeutics, Espero Pharmaceuticals, Establishment Labs, Esteve, Eton Pharmaceuticals, Eucodis Bioscience, Eu Hwa, Eunice Kennedy Shriver Institute of Child Health and Human Development, Eureka Therapeutic, Eurofarma, Eurofins Genomics, Eurofins LifeCodexx, Eurofins Scientific, Euroimmun, European Commission, European Equity Partners, EUSA Pharma, Eutilex, Eve & Co, Evecxia, Evelo Biosciences, Event Cardio Group, Everest Medicines, Evestra, Evolva, Evonik Industries, Evotec, Evox Therapeutics, Ewopharma, Exact Sciences, Excelimmune, Excelra, Excision BioTherapeutics, Exelixis, Exeltis, Exicure, Exiqon, Exonics Therapeutics, ExoStat Medical, Exovita Biosciences, Expedeon, ExpreS2ion Biotechnologies, Expression Therapeutics, ExScientia, Exzell Pharma, Eyegate Pharmaceuticals, Eyeon Therapeutics, EyePoint Pharmaceuticals, Eyevance, F-Star, F1 Oncology, F2G, FAAH Pharma, Facit, Faes Farma, Fagron, Famy Care, Fate Therapeutics, Fatro, Fauna Bio, Fedora Pharmaceuticals, Feldan Therapeutics, Femtogenix, Ferrer International, Ferring Pharmaceuticals, FetoLumina Technologies, FGH Biotech, Fibriant, Fibrocell Science, Fibrocor Therapeutics, Fibrogen, Fidia Farmaceutici, Fina Biosolutions, Finch Therapeutics, Fine Foods & Pharmaceuticals N.T.M., Five Prime Therapeutics, FKD Therapies, Flamel Technologies, Flexion Therapeutics, FloDesign Sonics, Florida State University, Flower One, Flow Pharma, Fluicell, Fluidigm, Fluoresentric, Flynn Pharma, FOB Synthesis, Fondazione San Raffaele, Fondazione Telethon, Food and Drug Administration (FDA), Forage Genetics, Forendo Pharma, Foresee Pharmaceuticals, Forge Therapeutics, Formac Pharmaceuticals, FORMA Therapeutics, Fortify Therapeutics, Fortress Biotech, Forty Seven, Forward Pharma, Fosun Pharmaceutical, Foundation for Celiac Disease Outcome Measures, Foundation Medicine, Fraunhofer Institute for Microelectronic Circuits and Systems, Fraunhofer Institute for Molecular Ecology (IME), Fred Hutchinson Cancer Research Center, Frequency Therapeutics, Fresenius Kabi Pharmaceuticals, Fresenius Medical Care, Frontier Biotech, Front Range Biosciences, Fscan, FSD Pharma, Fudan University, Fuhong Hanlin, Fujifilm, Fujifilm Kyowa Kirin Biologics, Fujifilm Pharma, Fuji Pharma, Fujirebio Diagnostics, Fulcrum Therapeutics, Fulgent Pharma, Fundacion Medina, Fundacion Progreso y Salud, Fusion Antibodies, Fusion Pharmaceuticals, FuturaGene, G-Tech Bio, G-treeBNT, G2B Pharma, G3 Pharmaceuticals, Gadeta, Gaia BioPharma, Galapagos, Galaxy Biotech, Galderma, Galen, Galena Biopharma, Galmed Pharmaceuticals, GamaMabs Pharma, Gan & Lee, GB Sciences, GCA Therapeutics, GC LabCell, GC Pharma, Gebro Pharma, Gedeon Richter, GE Healthcare, Gemini Therapeutics, Gemphire, Gen-Probe, GEn1E Lifesciences, Gen9, Genable Technologies, Genagon Therapeutics, GenAhead Bio, Genco Sciences, GeneBay, Gene Biotherapeutics, Genective, GeneData, GenEdit, Geneia, GeneNews, Genentech, Geneos Therapeutics, GeneQuine Biotherapeutics, General Biologicals, Generex Biotechnology, Genesee BioMedical, GeneSeek, Genethon, Genetic Analysis, Genetic Immunity, Genetic Information Research Institute, Genetic Technologies, GeNeuro, Genevant Sciences, Genexine, Genexo, Genfit, Genialis, Genisphere, Genmab, GenoDive Pharma, GenoLogics, Genomic Health, Genomic Vision, Genomma Lab Internacional, genOway, Genprex, GenScript USA, GenStem Therapeutics, Genticel, Genus, GenVec, Genzyme, Georgetown University, George Washington University, Georgia State University, Georgia State University Research Foundation (GSURF), German Cancer Research Center, Geron, Gestion Univalor, Gestvision, GID Group, Gilead Sciences, Glaukos, GlaxoSmithKline, GlaxoSmithKline Biologicals, GL Brands, Glenmark Pharmaceuticals, Glide, Global Antibiotic Research and Development Partnership, Global Blood Therapeutics, Global Cancer Diagnostics, Global Drug Development Centre (GDCC) China, Global Dx, Global Orthopaedic Technology, Globavir Biosciences, GlycoBac, Glycocept, GlycoMimetics, Glycostem Therapeutics, Glycotope Biotechnology, Glycyx Pharmaceuticals, Glythera, Gnosis Bioresearch, GNS Healthcare, Gold Coast Therapeutics, Goldfinch Bio, Goliver Therapeutics, Good Start Genetics, Goodwin Biotechnology, Google, Gossamer Bio, GO Therapeutics, Gour Medical, Grace Bio-Labs, Grail, Gravocore, GrayBug, Greatbatch, Great Belief International, Grenco Science, Grid Therapeutics, Grifols, Gritstone Oncology, Grunenthal, Grupo Ferrer, Grupo Juste, GT Biopharma, GTx, Guangzhou Xiangxue Pharmaceutical, Gubra, Guided Therapeutics, Guilin Pharmaceutical, Gurnet Point Capital, Gynial, Gyros Protein Technologies, H&P Labs, H3 Biomedicine, Hadasit Bioholdings, Hadasit Medical Research Services and Development, Haibo Biotechnology Institute, Hainan Sinotau Pharmaceutical, Hairmore Group, Haisco Pharmaceutical, HalioDx, Halozyme Therapeutics, Halt Medical, Halyard Health, Hamad Medical, Hamamatsu Photonics, Hammock Pharmaceuticals, HanAll Pharmaceuticals, Hancock Jaffe Laboratories, Hangzhou Zhongmei Huadong Pharmaceutical, Hanmi Pharmaceutical, Hannover Medical School, HanX Biopharmaceuticals, Hao Le Ku (Beijing) Infant And Maternity, Haplogen, HAPPYneuron, Hapten Sciences, Harbin Gloria Pharmaceuticals, Harbour Antibodies, Harbour Biomed, Harmony Biosciences, Harpoon Medical, Harpoon Therapeutics, Harvard Medical School, Harvard University, Haselmeier, Hatch Medical, Hatchtech, Healeon Medical, Healios K.K., Health Canada, Healthcare Global Enterprises, HealthLytix, HealthMyne, HealthPointe Solutions, Health Sciences Research Institute Germans Trias i Pujol Foundation, Healthy Focus, Healthy Grain, HeartHero, Heart Imaging Technologies, Heat Biologics, HEC Pharm, Hefei Life Science, Hefei Tianhui Incubation of Technologies, Heidelberg Pharma, Helen F Graham Cancer Center, Helius Medical Technologies, Helix BioPharma, Helmholtz Zentrum Munchen, Helsinn Healthcare, Helsinn Therapeutics, HemispheRx Biopharma, HemoCleanse, Hemogenomics Pharma, Hemogenyx, HemoShear, Hemostemix, Henlius Biotech, Hennig, Henry Ford Health System, Heraeus, HerbalScience Group, Hesperos, Hetero Labs, Heumann Pharma Generics, HiberGene Diagnostics, HiFiBio, Highland Pharmaceutical, Hikma Pharmaceuticals, Hill Dermaceuticals, Histocell, Histogen, Histogenics, Histogen Oncology, HitGen, HLS Therapeutics, Hoffmann La Roche, HoliStick Medical, Hologic, HoMedics, Homology Medicines, Honeywood, Hongene Biotechnology, Hong Kong Polytechnic University, Honor, Hookipa Pharma, HOPE BIOSCIENCES, Hope Medicine, Horizon Discovery, Horizon Pharma plc, Horus Pharma, Hospira, Hoth Therapeutics, Hough Ear Institute, Houston Pharmaceuticals, Hovione, Hsiri Therapeutics, HSRx Group, Huami, Huapont Pharma, Hubrecht Organoid Technology, Humabs BioMed, Humacyte, Human Life CORD Japan, Human Longevity, Hummingbird Bioscience, Huntsman Cancer Institute, Huons, HUYA Bioscience, Hydra Biosciences, HydroCision, Hyundai Pharmaceutical, I-mab, IACTA Pharmaceuticals, IBC Generium, iBio, Icagen, Icahn School of Medicine at Mount Sinai, ICB Pharma, Ice + Jam, Ichor Medical Systems, ICL, ICM, Iconic Therapeutics, iDD Biotech, IDEAYA Biosciences, Idengene, Idera Pharmaceuticals, IDIBELL, Idorsia, ID Pharma, IDT, Igenica, Ignyta, Iksuda Therapeutics, Ildong Pharmaceutical, ILiAD Biotechnologies, Illumina, ILTOO Pharma, ImaginAb, Imago Pharmaceuticals, Imanis Life Sciences, Imanova, Imaxio, Imbrium Therapeutics, ImClone Systems, Imcyse, iMetabolic Biopharma, Immatics Biotechnologies, ImmBio, Immervision, Immugenyx, ImmuMetrix, Immune-Onc Therapeutics, Immune Biosolutions, Immune Design, Immune Pharmaceuticals, ImmuNext, ImmunGene, Immunic, Immunitor, ImmunoBiochem, ImmunoCellular Therapeutics, ImmunoChina Pharmaceuticals, Immunocore, ImmunoForge, ImmunoGen, ImmunogenX, Immunome, Immunomedics, Immunomic, ImmunoQure, Immunovaccine, Impax Laboratories, Imperial Brands, Imperial Innovations, Impopharma, Impression Healthcare, Imprimis Pharmaceuticals, Imricor Medical Systems, Imugene, IMV, In-Vivo Science International, Inari Medical, IncellDx, Inception Sciences, IncoCell Tianjin, INC Research, Incyte, InDevR, InDex Pharmaceuticals, Index Ventures, Indiana University, Indivior, Induce Biologics, Inexia, Infinity Pharmaceuticals, Infirst HEALTHCARE, InflamaCORE, Inflammasome Therapeutics, Inflection Biosciences, Inhibitor Therapeutics, Inhibrx, INmune Bio, Innate Pharma, InnerOptic Technology, InnerScope Hearing Technologies, Innocutis, Innova Biosciences, Innovare, Innovasource, Innovate Biopharmaceuticals, Innovate UK, Innovation Network Corporation, Innovation Pharmaceuticals, Innovation Zed, Innovative Cellular Therapeutics, Innovent Biologics, Innovet, Innovus Pharmaceuticals, INO Therapeutics, Inotrem, Inova Diagnostics, Inovio, Inovio Pharmaceuticals, InProTher, InQpharm, Inserm, Inserm Transfert, Insight Genetics, Insightra Medical, Insilico, InSite Vision, Insitro, Insmed Inc, Inspirion Delivery Sciences, InspiRX Pharma, Institut Curie, Institute for Basic Science, Institute for Myeloma and Bone Cancer Research, Institute for Research in Immunology and Cancer – Commercialization of Research, Institute of Biophysics, Institute of Cancer Research, Institute of Crop Sciences, Institute of Genetics and Molecular and Cellular Biology, Institute Of Molecular Biotechnology, Institute of Natural Fibres and Medicinal Plants, Institut Gustave Roussy, Institut Pasteur, Insulet, Insys Therapeutics, Intarcia Therapeutics, Intec, IntegraGen, Integra LifeSciences, Integrated Animal Health, Integrated BioTherapeutics, Integrated Cannabis Company, Integrated Diagnostics, Integrated DNA Technologies, Integrity Implants, Integrity Life Sciences, IntelGenx, Intellia Therapeutics, IntelliCell BioSciences, Intellikine, Intellipharmaceutics, Intellirod Spine, Interleukin Genetics, International Hemp Solutions, International Medica Foundation, International Partnership for Microbicides, International Stem Cell, InteRx Biomedical, Intratus, Intravacc, Intrexon, iNtRON Biotechnology, Intuitive Surgical, Invenra, InvenSense, Inventia Healthcare, InventisBio, Inventiva, inVentiv Health, Invigorcell, Invion, InVivo, InVivoScribe, INVO Bioscience, Ion Channel Innovations, Ionis Pharmaceuticals, IONTAS, Iovance Biotherapeutics, IOVaxis Therapeutics, Ipca Laboratories, iPharma, iPS Academia Japan, Ipsen, Iroko Pharmaceuticals, Iron Horse Diagnostics, Ironwood Pharmaceuticals, ISA Pharmaceuticals, Isarna Therapeutics, ISIS Innovation, Islet Sciences, Isogenica, IsoPlexis, Isoprene Pharmaceuticals, Isotope Technologies Garching, Israeli National Authority for Technological Innovation, Italfarmaco, Item, iTeos Therapeutics, ITM Isotopen Technologien, Itonis, Itus, Iveric Bio, IXICO, Izana Bioscience, J&H, Jackson Laboratory, Jacksonville Pharmaceuticals, Jacobson Pharma, Jaguar Health, JAMP Pharma Group, JanOne, Janssen Biotech, Janssen Pharmaceuticals, Janssen Pharmaceutica NV, Janssen Research & Development, Janssen Sciences, Japan Tobacco, Jasper Therapeutics, Jazz Pharmaceuticals, JCR Pharmaceuticals, JenKem Technology, Jerome Stevens Pharmaceuticals, JHL Biotech, Jiangsu Alphamab, Jiangsu Chia Tai Tianqing Pharmaceutical, Jiangsu Egens Biotechnology, Jiangsu Hansoh Pharmaceutical, Jiangsu Hengrui Medicine, Jiangsu NHWA Pharmaceutical, Jianshun Biosciences, Jing Medicine, Jinzhou Ahon Pharma, Jitsubo, Jnana Therapeutics, John Morley Foods, Johns Hopkins Medicine (JHM), Johns Hopkins University, Johnson & Johnson, Johnson & Johnson Innovation, Jounce Therapeutics, JSC Pharmadis, JSR, Jubilant Biosys, Jubilant DraxImage, Juniper Investment Company, Juniper Pharmaceuticals, Juno Therapeutics, Just Biotherapeutics, JustRight Surgical, Juvenescence, Juventas Therapeutics, Juvise Pharmaceuticals, JW Pharmaceutical, K2M, Kadimastem, Kadmon Pharmaceuticals, Kaken Pharmaceutical, Kalbe Genexine Biologics, Kaldi Pharma, Kalgene Pharmaceuticals, Kallyope, KaloBios Pharmaceuticals, Kalos Therapeutics, KalVista Pharmaceuticals, Kalytera Therapeutics, Kamada, Kancera, Kane Biotech, Kaneka, KannaLife Sciences, Kansas State University, karmadata, Karolinska Institute, Karyopharm Therapeutics, Kashiv BioSciences, Kastle Therapeutics, Kazusa DNA Research Institute, KDAc Therapeutics, Kelun-Biotech Biopharmaceutical, KemPharm, Keryx Biopharmaceuticals, KEW, Keystone Heart, KFx Medical, Khandelwal Laboratories, KineMed, Kineta, Kinetic Concepts, Kinex Pharmaceuticals, Kings College London, Kiniksa Pharmaceuticals, KinoPharma, Kirin, Kissei Pharmaceutical, Kite Pharma, Kitov, Klaria, KLOX Technologies, Klue, Knighton Foods, Knight Therapeutics, KNOW Bio, Knudra Transgenics, Kobe University, KODE Biotech, Kodiak Sciences, Kogenix, Kolltan Pharmaceuticals, Kolon Life Science, Konkuk University, KoRa Healthcare, Korea Pharma, Koushan Pharmed, Kowa, Kowa Pharmaceuticals America, KSQ Therapeutics, Kuhnil Pharmaceuticals, Kunming Pharmaceutical, Kura Oncology, Kurma Life Sciences Partners, Kurve Technology, KVK-Tech, Kwang Dong Pharmaceutical, Kwangdong Pharmaceutical, KWS SAAT, Kymab, Kymera Therapeutics, Kyn Therapeutics, Kyorin Pharmaceutical, Kyoto University, Kyowa Hakko Kirin, Kythera Biopharmaceuticals, Kyverna Therapeutics, L&F Research, Labcon, labfolder, Laboratoires Thea, Laboratories Acbel, Laboratorios Liomont, Laboratorios SALVAT, LABORATORIOS SAVAL, Laboratory Corporation of America, LA Cell, Lacerta Therapeutics, Lachlan Pharma, Laekna, La Jolla Capital, La Jolla Institute for Allergy & Immunology, La Jolla Pharmaceutical, Lake Consumer Products, LakePharma, LALREAN, Landsteiner Scientific, Lannett, Lantheus Holding, Laser Lab Corp, LaunchPad Medical, Laurel Venture Capital, Laurus Labs, Lavasta Pharma, Lava Therapeutics, Lavvan, Lawrence Berkeley National Laboratory, Lawson Health Research Institute, LBT Innovations, Lead Discovery Center, Leadiant Biosciences, Lead Pharma, Leads Biolabs, Leaf Biopharmaceutical, Leap Therapeutics, Lee's Pharmaceutical, Lee Moffitt Cancer Center, Legend Biotech, LegoChem Biosciences, Leica Biosystems, Leica Microsystems, Leiden University, LeMaitre Vascular, LenioBio, Leonard-Meron Biosciences, Leonhardt's Launchpads, LEO Pharma, Les Laboratoires Servier, Leukocare, Level Brands, Levo Therapeutics, Lexicon Pharmaceuticals, LFB Biotechnologies, LGC, LG Life Sciences, LI-COR Biosciences, Libbs Farmaceutica, Liberty Health Sciences, LifeArc, LifeCell, LifeLabs Medical Laboratory Services, LifeLiver, LifeMax Laboratories, Life Science Research, LifeScreen Sciences, LifeSensors, Life Technologies Corporation, LifeTech Scientific, LifeWatch Services, Ligand Pharmaceuticals, Lighthouse Instruments, Lightlake Therapeutics, Lightpoint Medical, Lin Bioscience, Lineage Cell Therapeutics, LineaRx, LingSheng Pharma Tech, Link Health, LIPAC Oncology, Lipidor, Lipid Therapeutics, LipimetiX Development, LipoCure, Litha Pharma, LiveLeaf, Living Proof, Lixte Biotechnology, LLamasoft, LNC, Locate Therapeutics, Lockheed Martin, Locus Biosciences, Lodo Therapeutics, LogicBio Therapeutics, Lombard Medical Technologies, Lonza, Loreal, Los Altos Pharmaceuticals, Los Angeles Biomedical Research Institute, Louisiana State University, Loxo Oncology, LSK BioPharma, LSU Health Sciences Center, Lubris BioPharma, Lucid Diagnostics, Lucideon, Luc Therapeutics, Ludwig-Maximilians University, Lumenis, Luminarie, Luminex, Lumiphore, Lumosa Therapeutics, Lunatus, Lundbeck, Lund University, Lung Biotechnology, Lupin, Lupin Limited, Lupin Pharmaceuticals, Luqa Pharmaceuticals, Luye Pharma Group, Lycera, Lyndra Therapeutics, Lynkogen, Lysando, Lysogene, MaaT Pharma, MAB Discovery, MabQuest, MabVax Therapeutics, mAbXience, Machavert Pharmaceuticals, Macquarie University, Macrogen, Macrogenics, Madrigal Pharmaceuticals, Magenta Therapeutics, MainPointe, Mallinckrodt Pharmaceuticals, Mamba Instruments, Mammoth Biosciences, Manhattan Scientifics, Mannin Research, MannKind Biopharmaceuticals, ManRos Therapeutics, Mapi Pharma, MapKure, Mapp Biopharmaceutical, Marasco Laboratory, Marathon Pharmaceuticals, Mariel Therapeutics, Marina Biotech, Marinus Pharmaceuticals, Marken, Mars Symbioscience, Martindale Pharma, Maruho, Masimo, Massachusetts Eye and Ear Infirmary, Massachusetts General Hospital, Massachusetts Institute of Technology, Materia, Matrix Surgical, Maverick Therapeutics, MaveriX Oncology, Max-Delbruck Center for Molecular Medicine, Max-Planck, Maxcyte, Max Planck Institute of Biochemistry, Mayne Pharma, Mayo Clinic, Mayo Medical Laboratories, MBF Therapeutics, MBio Diagnostics, McGill University, McMaster University, McNeil Consumer Pharmaceuticals, MD Anderson Cancer Center, MDNA Life Sciences, MDxHealth, Medac, Med Alliance, MedGenesis Therapeutix, Medgenics, MediaPharma, MediBeacon, Medicago, Medical Developments International, Medical International Research, Medical Marijuana, Medical Prognosis Institute, Medical Research Council, Medical University South Carolina, Medicines Patent Pool Foundation, Medicure, Medidata Solutions, Medifocus, MediGene, Medimetriks, MedImmune, Medinet, Medinova, Medipal Holdings, MediPines, MediSix Therapeutics, Medison Pharma, Medisun International, Medivation, Medivir, Medivo, MediWound, Medix, Medizone International, Medline Industries, MedPac Asia Pacific, MedPharm, Medtronic, Megapharm, Meiji Seika, MEI Pharma, MeiraGTx, Melinta Therapeutics, Memorial Sloan Kettering Cancer Center, Menarini, Menarini Asia-Pacific, Menlo Therapeutics, MentiNova, Merck and Co, Merck Animal Health, Merck KGaA, Merck Serono, Merck Sharpe & Dohme, Mereo BioPharma, Merge Healthcare, Merial, Meridian Bioscience, Merit Medical Systems, Meroven, Merrimack Pharmaceuticals, Mersana Therapeutics, Merus, Merz, Mesoblast, Metabasis Therapeutics, Metabolon, Metagenics, Metis Design, Metrion Biosciences, Metuchen Pharmaceuticals, Mexichem, Meyer Children's Hospital of Florence, MHC Medical Products, Michael J. Yaremchuk, Microbiologics, Microbion, Microbiotica, Microbot Medical, MicroConstants, Microdrop, Micro Interventional Devices, Microlin Bio, Midatech, Migranade, MilanaPharm, Mile High Ophthalmics, Milestone Advanced Cosmetic Systems, Milestone China, Milestone Scientific, Millendo Therapeutics, Millennium, MilliporeSigma, Miltenyi Biotec, Mimetogen Pharmaceuticals, MimiVax, MiNA Therapeutics, Mindray Medical International, Minerva Biotechnologies, Minerva Neurosciences, MIODx, Miraca Life Sciences, Miragen Therapeutics, Mirati Therapeutics, MirImmune, Mirna Therapeutics, Mirnax Biosens, Mirum Pharmaceuticals, MIS Implants Technologies, Mission Pharmacal, Mission Therapeutics, Mithra Pharmaceuticals, Mitobridge, Mitsubishi Tanabe Pharma, Mitsui, Mitsui Norin, MJ Biologics, MMJ PhytoTech, Moberg Pharma, Mochida Pharmaceutical, Moderna Therapeutics, Modern Biosciences, Moebius Medical, Moksha8, Molecular Devices, Molecular Health, Molecular Partners, Molecular Targeting Technologies, Molecular Templates, Moleculin Biotech, Molnlycke Health Care, Mologen, Mologic, Momenta Pharmaceuticals, Monarch Biosciences, Monash University, Monopar Therapeutics, Monosol LLC, MonoSolRx, MonoSol Rx, Monsanto, Monteris Medical, Morphic Therapeutic, MorphoSys, Morphotek, Mount Sinai Medical Center, Mount Tam Biotechnologies, Mperia Therapeutics, MRI Interventions, MSD, MSD Animal Health, Mucosis, MultiCell Immunotherapeutics, Multiclonal Therapeutics, Mundipharma, Murdoch Childrens Research Institute, Mustang Bio, Mustang Therapeutics, MyBiotics Pharma, Mycovia Pharmaceuticals, Myeloma Health, Myelopro Diagnostics and Research, Mylan Laboratories, Mylan Pharmaceuticals, Mymetics, Myriad Genetics, myTomorrows, Nabriva Therapeutics, Naia Pharma, Nancy and Stephen Grand Israel National Center for Personalized Medicine, Nanion, Nanjing BioSciKin, Nanobeak, NanoCarrier, NanoLock, Nanologica, NanoMab Technology, Nanomerics, NanoPass Technologies, NanoProteagen, NanoSmart Pharmaceuticals, Nanosphere, NanoSphere Health Sciences, NanoString Technologies, Nanotherapeutics, NantBioScience, NantCell, Nantes University, NantKwest, Nantong Jinghua Pharmaceutical, NantWorks, Nanyang Technological University, NASA, Nascent Biotech, Natera, National Cancer Centre Singapore, National Cancer Institute, National Cancer Institute of Mexico, National Center for Advancing Translational Sciences (NCATS), National Human Genome Research Institute, National Institute of Allergy and Infectious Diseases, National Institute of Biomedical Innovation, National Institute on Aging, National Institutes of Health, National Research Council Canada, National Research Council of Canada, National Taiwan University Hospital, National University Hospital, National University of Singapore, Nationwide Children's Hospital, Natural Sciences and Engineering Research Council of Canada, Nature Technology, Navidea Biopharmaceuticals, Navigation Sciences, Navitor Pharmaceuticals, Navy Medical Research Centre, NBE Therapeutics, Ncardia, NCPC GeneTech, NEC, Nektar Therapeutics, Nemaura Medical, Nemaura Pharma, Nemucore Medical Innovations, NEMUS Bioscience, Nemysis, Neogen, Neomed Institute, Neon Therapeutics, Neos Therapeutics, NeoTX Therapeutics, Neovacs, Neovasc, Neovii Pharmaceuticals, Nephrogenex, Nephros, Neptune Technologies & Bioressources, Nerviano Medical Sciences, Nestle Health Science, Netherlands Cancer Institute, NeuClone, NeuCyte, Neumentum, NeurAegis, Neuraxpharm, Neuren Pharmaceuticals, NeurExo Sciences, Neurimmune Therapeutics, Neurim Pharmaceuticals, NeuroBo Pharmaceuticals, Neurocrine Biosciences, NeuroCycle Therapeutics, NeuroEM Therapeutics, NeuroMetrix, Neuropore Therapies, NeuroproteXeon, NeuroSigma, Neurotez, NeuroTrauma, Neurotrope BioScience, NeuroVive Pharmaceutical, NeuRx Pharmaceuticals, New England Biolabs, Newlink Genetics, Newomics, New Paradigm Therapeutics, Newsoara Biopharma, Newsummit Biopharma, New York Genome Center (NYGC), New York University, New Zealand Pharmaceuticals, NextCure, Nextera, Next Frontier Biosciences, Next Green Wave Holdings, Nextleaf Solutions, Nexus BioPharma, Nexvet, NGM Biopharmaceuticals, Nicox, Nightstar Therapeutics, NightstaRx, Nikkiso, Nimble Therapeutics, Nimbus Therapeutics, Ningbo NewBay Medical Technology, Ningbo Tai Kang Medical Technology, Nippon Kabaya Ohayo, Nippon Kayaku, Nippon Shinyaku, Nipro Corporation, Nissan Chemical Industries, NitricGen, Nitto Denko, NJCTTQ, Nkarta Therapeutics, NLS Pharmaceutics, NMI Natural and Medical Sciences Institute, NMT Pharmaceuticals, Nobelpharma, Nodality, Nogra Pharma, Noile-Immune Biotech, Nomad Bioscience, Noramco, Nordic Nanovector, Nordic Pharma Group, Norgine, North Carolina State University, Northern Biologics, NorthSea Therapeutics, Northwestern University, Notable Labs, Notch Therapeutics, Nouscom, Novaceutical Sciences, NovaDel Pharma, NovaDigm Therapeutics, Novaliq, NovaMedica, Novan, Novan Therapeutics, Novare Pharmaceuticals, NovaRock Biotherapeutics, Novartis, Novasep, Novation, Novel Anti-Infective Technologies, NovellusDx, Noven Pharmaceuticals, NovImmune, NovoCodex, Novocure, Novoheart, Novonco Pharmaceuticals, Novo Nordisk, Novozymes, Noxxon Pharma, Nrgene, NTC, NT Pharma, NuAxon BioScience, Nuclea Biotechnologies, Nucorion, Nuevolution, Numab, Numedicus, Numerate, Nuo Therapeutics, NuProbe, Nurix, Nutra Pharma, Nutrilinea, NutriQuest, Nutrition21, Nutritional Growth Solutions, NuVascular Technologies, NuVasive, NuView Life Sciences, Nuvilex, Nuvo Pharmaceuticals, Nuvo Research, NuvOx Pharma, OBI Pharma, Oblato, ObsEva, Obsidian Therapeutics, Ocata Therapeutics, Octapharma, Ocugen, Ocular Therapeutics, Oculis, Ocumension Therapeutics, OcuNexus Therapeutics, Ocuphire Pharma, OcuTherix, Odylia Therapeutics, OG DNA Genetics, Ogeda, Ohio State University, OHM Oncology, OJSC Pharmsynthez, Olaregen Therapeutix, OliX Pharmaceuticals, Olympic Protein Technologies, Omega Pharma, Omeros, OmicScouts, OmniBiome Therapeutics, Omnilife Science, Omnis Pharmaceuticals, OMRF, Omthera Pharmaceuticals, OncBioMune Pharmaceuticals, Oncgnostics, Oncobiologics, OncoCare Therapeutics, Oncoceutics, OncoCyte, Oncodesign, OncoFusion, Oncoheroes Biosciences, OncoImmune, OncoImmunity, Oncologie, Oncology Pharma, Oncology Venture, Oncolys BioPharma, Oncolytics Biotech, Onconova Therapeutics, OnCore Biopharma, OncoRx, OncoSec Medical, Oncothyreon, OncoTracker, Oncovita, Oncternal Therapeutics, OnDemand 3D, OnDosis, One Drop, Onegevity, One Lambda, One Way Liver Genomics (OWL), Onkos Surgical, OnKure, Ono Pharmaceutical, Onxeo, OpenBiome, Open Monoclonal Technology, Ophirex, Ophthotech, Opiant Pharmaceuticals, OPKO Health, Opsens, Opthea, OptiBiotix, Optibrand, Optibrium, OptiNose, Optometric Extension Program Foundation, Opus Bio, Oramed Pharmaceuticals, OraSure Technologies, Oraxion Therapeutics, Orbis, Orbital Therapy, Orca Pharmaceuticals, Orchard Therapeutics, Orchestra BioMed, Oregon Health Sciences University, Orexia Therapeutics, Orexigen Therapeutics, Orexo, Organic Vaccines, Organogenesis, Organovo, Orgenesis, Oricula Therpeutics, Orient EuroPharma, OriGene Technologies, Origin Agritech, Origin Biosciences, Orimed Pharma, OrImmune Bio, Orion, Orphan Europe, Ortho-Clinical Diagnostics, OrthoCyte, Oryzon, Oscor, OSE Immunotherapeutics, OSI Pharmaceuticals, Ospedale San Raffaele, Ossianix, Osteolabs, OS Therapies, Oticon, Otic Pharma, Otodyne, Otologic Pharmaceutics, Otonomy, Otsuka, Ottobock, Outpost Medicine, Ovensa, Ovid Therapeutics, Oxford BioMedica, Oxford BioTherapeutics, Oxford Gene Technology, Oxford Genetics, Oxford Immunotec, Oxford Nanopore Technologies, Oxis Biotech, Ozop Surgical, Pacgen Biopharmaceuticals, Pacific Northwest National Laboratory, Padlock Therapeutics, Pain Therapeutics, Pairwise Plants, Paladin Labs, Palatin Technologies, Palette Life Sciences, Pall Corporation, Palleon Pharmaceuticals, Palmetto Project, Palobiofarma, Pan American Cancer Treatment Centers, Pandion Therapeutics, Panion, Panion & BF Biotech, Panther Biotechnology, PanTheryx, Paradigm, Paragon Bioservices, Parallax Health Sciences, Paratek Pharmaceuticals, Parion Sciences, PARI Pharma, Paris Descartes University, Parnell Pharmaceutical Holdings, Par Pharmaceutical, Partner Therapeutics, Parvus Therapeutics, Pascal Biosciences, Passage Bio, Patara Pharma, PATH (Appropriate Technology in Health), PathMaker Neurosystems, Patia, PatientsLikeMe, Paul Ehrlich Institute, Paul Scherrer Institute, PAVmed, PaxGenBio, PaxVax, PBM Capital Group, PCT, PDC*line Pharma, PDL BioPharma, PEAR Therapeutics, PegBio, Pelago Bioscience, PellePharm, Pendopharm, Penn Medicine, Pennsylvania State University, Pentax, Peptide Groove, PeptiDream, PeptiMimesis, Peptron, PercayAI, Peregrine Pharmaceuticals, Perelman School of Medicine, PerkinElmer, Pernix Therapeutics, Perrigo, Personal Genome Diagnostics, PersonalizeDx, Petra Pharma, Pevion, Pfenex, Pfizer, Pfizer Consumer Health, PGI Drug Discovery, Phadia, Phanes Therapeutics, Pharco Pharma, PharmAbcine, PharmaCare Management, Pharmacosmos, PharmaEngine, PharmaEssentia, PharmaJet, PharmaMar, Pharmanest, Pharmapark, PharmaPraxis, Pharmastrip, Pharmathen, PharmAthene, Pharmatronic, Pharmaxis, Pharmazz, Pharming Group, Pharmstandard, Pharnext, PhaseBio Pharmaceuticals, Phathom Pharmaceuticals, Phenex, Pherin Pharmaceuticals, Phibro Animal Health, Philips, Philips Healthcare, Phillips-Medisize, Philogen, PhoreMost, PhosImmune, Phosphagenics, Phosplatin Therapeutics, Photocure ASA, pH Pharma, Phylogica, PhysIOL, PhytoTech Medical, PIC, PierianDx, Pieris, Pierre Fabre, Pierre Fabre Dermatologie, Pint Pharma, Pioneer Hi-Bred, Pionyr Immunotherapeutics, Piramal, Piramal Imaging, Pivot Pharmaceuticals, Plandai Biotechnology, Plant Bioscience Limited, PlantForm, Plant Response Biotech, PlasmaTech Biopharmaceuticals, Plasma Technologies, Plethora Solutions, Pleuratech, Pliant Therapeutics, Plumbline Life Sciences, Pluristem Therapeutics, PMV Pharma, Pneuma Respiratory, Pohl Boskamp, POLA Pharma, Polarean Imaging, Polyphor, Polyplus Transfection, Pond Technologies, Poniard Pharmaceuticals, Population Council, Portage Biotech, Portage Glasgow, Portage Pharmaceuticals, Portal Instruments, Portola Pharmaceuticals, Porton Pharma Solutions, Poseida Therapeutics, Poxel, Pozen, PPD, Pragma Pharmaceuticals, Prayog Labs, Precigen, Precise Biometrics, Precision BioSciences, Precision NanoSystems, Precision Therapeutics, PredictImmune, Premune, Presage Biosciences, Presidio Pharmaceuticals, Prestige BioPharma, Prevail Therapeutics, PreveCeutical Medical, PRIMA BioMed, Primary Peptides, Prime Medicine, Principia Biopharma, Pro-Egaux, Probi, Probiodrug, ProBioGen, Procept BioRobotics, Processa Pharmaceuticals, ProciseDx, Procter & Gamble, Productos Científicos, Productos Medix, Progenerative Medical, Progenics Pharmaceuticals, Prognos, Prokaryotics, ProMab Biotechnologies, Promega, Promepla, Promethera Biosciences, Prometheus Laboratories, Prometic Life Sciences, Promiliad Biopharma, Promius Pharma, Promosome, ProNAi Therapeutics, Pronova BioPharma, Proove Biosciences, Propagenix, Propeller Health, Pro Pharmaceuticals, ProQR Therapeutics, Proscia, Prosetta Biosciences, Prosonix, Protagen, Protagonist Therapeutics, Protalix BioTherapeutics, Protein Metrics, Protein Sciences, ProteoNic, Proteon Therapeutics, Proteostasis Therapeutics, Proteros biostructures, Prothelia, Prothena Biosciences, ProThera, ProtoKinetix, Provecs Medical, Provectus Biopharmaceuticals, Provention Bio, Proximagen Group, Proximagen Neuroscience, ProZyme, PsiOxus Therapeutics, pSivida, PsyBrain, PsychoGenics, PTC Therapeutics, P T Lloyd Pharma, Public Health Agency of Canada, Public Health England, Pulmatrix, Pulmodyne, Pulmonox, PULSALYS, Puma Biotechnology, Punjab Province, Purdue Pharma, Purdue Research Foundation, PURE Bioscience, Pure MHC, PureTech Health, Pyramid Biosciences, Q-linea AB, Q-State Biosciences, Q BioMed, QED Therapeutics, Qiagen, Qilu Pharmaceutical, Qpex Biopharma, QPS, Quadrant Biosciences, Qualigen, Qualipride International, Qualyst Transporter Solutions, Quanterix, Quantifoil Micro Tools, Quark Venture, Quartesian, Quartet Medicine, Quebec Consortium for Drug Discovery, Queensland Institute of Medical Research (QIMR), Quest Diagnostics, Quest PharmaTech, Quimica Europea, Quotient, Quotient Biodiagnostics, Qurient, QXMedical, R-Pharm, R1 RCM, Rabin Medical Center (Beilinson Hospital), Radius Health, RadNet, Rafael Pharmaceuticals, Rafa Pharmaceuticals, Raiing Medical, Rain Therapeutics, Ramot at Tel Aviv University, Ranbaxy Laboratories, Ra Pharmaceuticals, Rapid Dose Therapeutics, Raptor Pharmaceutical, RAPT Therapeutics, RCT Logic, Realm Therapeutics, Reckitt Benckiser, Recordati, Recro Pharma, Redbarn Pet Products, RedHill Biopharma, RedoxTherapies, Redwood Pharma, Redx Pharma, ReForm Biologics, Regenacy Pharmaceuticals, Regen BioPharma, Regenerative Medicine of Latin America, Regeneron Pharmaceuticals, Regenerx, Regenesis Biomedical, Regeneus, ReGenTree, Regenxbio, ReGenX Biosciences, Regulus Therapeutics, ReLeaf Europe, Relief Therapeutics, Relmada Therapeutics, Relypsa, Remarkable Technologies, reMYND, Reneo Pharmaceuticals, ReNeuron, Renexxion, Rennovia, Renovar, Renova Therapeutics, Renown Institute for Health Innovation, Repare Therapeutics, Replicel Life Sciences, Repligen, Repositive, Resarci Therapeutics, Research Center for Molecular Medicine of the Austrian Academy of Sciences, Research Corporation Technologies, Research Development Foundation, Research Foundation of State University of New York, Research Foundation to Cure AIDS, Research Instruments, RespiVert, Resverlogix, Retrophin, RetroSense Therapeutics, Revance Therapeutics, Revive Therapeutics, rEVO Biologics, Revogenex, Revolution Medicines, ReWalk Robotics, Rexahn Pharmaceuticals, Rexgenero, Rex Medical, Rezolute, Rheos Medicines, Rhinomed, Rhizen Pharmaceuticals, Rhythmlink, Rhythm Pharmaceuticals, Ribera Solutions, Ribometrix, RiceTec, Rice University, Rich Pharmaceuticals, Ridgeback Biotherapeutics, Rigel Pharmaceuticals, RightEye, Righton, RIKEN Yokohama Institute Omics Science Center, Rising Pharmaceuticals, RMX Biopharma, Robert H. Lurie Comprehensive Cancer Center, Rochal Industries, Roche, Roche Consumer Health, Roche Diagnostics, Rockefeller University, Rocket Pharmaceuticals, Rockwell Medical, Rodan and Fields, Rodo Medical, Rogne Bioscience, Roha, Rohto Pharmaceutical, Roivant Sciences, Roka Bioscience, ROMEG Therapeutics, Rosetta Genomics, Roswell Park Cancer Institute, ROTOP Pharmaka, RPX, RSV, Rubicon Genomics, Rugen Therapeutics, Rumpus Therapeutics, Rutgers University, RVR Diagnostics, RxBio, RXi Pharmaceuticals, Rymedi, S-TARget, SACCO, Sage Therapeutics, Sagimet Biosciences, Saint Louis University, Saladax Biomedical, Salix Pharmaceuticals, Salk Institute, SAMIL Pharm, Samsung Bioepis, Samsung Electronics, Samumed, Samyang Biopharmaceuticals, Sana Biotechnology, SanBio, San Diego Biomedical Research Institute, Sandoz, Sanford Burnham Institute, Sanford Health, Sanford Process, Sangamo BioSciences, Saniona, Sanofi, Sanofi-Aventis, Sanofi-Pasteur, Sanquin Blood Supply Foundation, San Raffaele Scientific Institute, San Raffaele Telethon Institute for Gene Therapy, Santalis Pharmaceuticals, Santaris Pharma, Santen Pharmaceutical, Santhera Pharmaceuticals, Sanuwave Health, Sapphire Biotech, Saptalis Pharmaceuticals, Sarepta Therapeutics, SastoMed, Sato Pharmaceutical, SATT Lutech, SATT Sud-Est, Savant HWP, Sayre Therapeutics, ScalPal, Scarab Genomics, Schepens Eye Research Institute, Scholar Rock, Schrodinger, SciClone Pharmaceuticals, Science 37, Scilligence, Scintomics, Scohia Pharma, Scottish Enterprise, Scripps Research Institute, Scynexis, Sea Lane Biotechnologies, SeaStar Medical, Seattle Children's Hospital, Seattle Childrens Research Institute, Seattle Genetics, Secant Medical, Secura Bio, Sedor Pharmaceuticals, Seegene, Seelos Therapeutics, Seikagaku, Selecta Biosciences, Selectchemie, Selecxine, Selexis, Sellas Clinicals Holding, SELLAS Life Sciences Group, Selvita, SemaThera, Senestech, Senhwa Biosciences, Senju Pharmaceutical, Senseonics, Sensible Medical Innovations, Sensocure, Sensorion, Sentinel Oncology, SenzaGen, Senzer, Seqirus, Seqster, Sequenom, SeQuent Scientific, Seracare Life Sciences, SeraNovo, Seraph Research Institute, Serendex Pharmaceuticals, Seres Therapeutics, Sermonix Pharmaceutical, Serum Institute of India, Seurat Therapeutics, Sevion Therapeutics, SFJ Pharmaceuticals, Shandong Fontacea Pharmaceutical, Shandong Luoxin Pharma, Shandong Yaohua Medical Instrument, Shanghai Desano Pharmaceutical, Shanghai Institute of Organic Chemistry, Shanghai Miracogen, Shanghai Model Organisms Center, Shanghai RAAS Blood Products, ShanghaiTech University, ShangPharma, Shanxi Yabao Pharmaceutical Distribution, Shattuck Labs, Shenghuo Medical, Shenogen Pharma, Shenzhen Arimab Biopharmaceuticals, Shenzhen BioScien Pharmaceuticals, Shenzhen China Resources Gosun Pharmaceutical, Shenzhen Hepalink Pharmaceutical, Shenzhen Hybio Pharma, Shenzhen Royal Asset Management, Shenzhen Salubris Pharmaceuticals, Shenzhen Yunma Biotechnology, Sherlock Biosciences, Shield Therapeutics, Shijiazhuang Yuanmai Biotechnology, Shin Nippon Biomedical Laboratories, Shionogi, Shionogi Pharma, Shire Laboratories, Shire Pharmaceuticals, Shuttle Pharmaceuticals, Shuwen Biotech, Siamab Therapeutics, Siemens Healthineers, Sigilon Therapeutics, Sigma-Aldrich, Sigma-Tau, Sigmoid, Signet Medical Solutions, SignPath Pharmaceuticals, Signum Dermalogix, Silence Therapeutics, SillaJen, Simcere Pharmaceuticals, Simon Fraser University, Simulations Plus, Singulex, Sino Biopharmaceutical, Sinopharm, Sinopharm A-THINK Pharmaceutical, Sinovac Biotech, Sinovant Sciences, SinoVeda Canada, SinSa Labs, Sirenas, Sirion Biotech, Sirona Biochem, Sirona Direct, Sites Medical, SK Biopharmaceuticals, SkinBiotix, SkinSciPac, Skinvisible, SkyePharma, Skyhawk Therapeutics, Skyline Vet Pharma, Skysong Innovations, Smartwise, Sofie Biosciences, Soin Neuroscience, Solarvest BioEnergy, Solasia Pharma, Soligenix, Solmic Research, SomaGenics, SomaLogic, SOM Biotech, Sonacare Medical, Sonic Healthcare, Sonkei Pharmaceuticals, Sono-Tek, Sonoma Pharmaceuticals, Sonova, Sonrgy, Sopharma, Sorin Group, Sorrento Therapeutics, Sorse technology, Sosei, Sosei Heptares, SoTAX, Sothema Laboratories, SOTIO, South African Department of Health, South Coast Specialty Compounding, Southwest Research Institute, Spark Therapeutics, Specialised Therapeutics, Specialized Therapeutics, Specialty Renal Products, SpectraScience, Spectrum Pharmaceuticals, SpePharm, Spero Therapeutics, Spherix, Sphingotec, Spinal Resources, Spiral Genetics, Spiral Therapeutics, Spotlight Innovation, SpringWorks Therapeutics, Sprint Biosciences, SQI Diagnostics, SQ Innovation, SQZ Biotech, SRI International, St. Jude Children's Research Hospital, STADA Arzneimittel, Stanford University, Stanford University School of Medicine, Starpharma, Staten Biotechnology, StatSure Diagnostic Systems, STC.UNM, SteadyMed Therapeutics, Steep Hills Labs, Stem Cell Medicine, Stemcell Technologies, Stemedica Cell Technologies, Stem Holdings, Stemline Therapeutics, StemSynergy, Stevanato, Stevia First, St George Street Capital, Stiefel Laboratories, StingInn, St Jude Medical, Stony Brook University, Stop TB Partnership, Stora Enso, STRATEC Biomedical Systems AG, Strategic Science and Technologies, STRATIFYER Molecular Pathology, Straumann, StrideBio, Strides Arcolab, Strides Polska, Strongbridge Biopharma, Strox Biopharmaceuticals, Stryker, St Vincent's Institute of Medical Research, Sucampo AG, Sucampo Pharmaceuticals, Summit Therapeutics, Sundial Growers, Sunesis Pharmaceuticals, Suneva Medical, SunGen, Sunovion Pharmaceuticals, Sun Pharmaceutical, Sunshine Biopharma, SUNY Upstate Medical University, Surface Oncology, SurgiGyn, SurModics, Surterra Wellness, Sustainable Solutions, Sutro Biopharma, Suven Life Sciences, Suzhou NeuPharma, Suzhou Ribo Life Sciences, Swedish Bactiguard, Swedish Orphan, Swedish Orphan Biovitrum, Swixx Biopharma, Sydys Corporation, SYGNIS Pharma, SymBio Pharmaceuticals, Symbiotix Biotherapies, Symmetry Medical, Symphogen, Symplmed Pharmaceuticals, Syn-The-All Pharmaceutical, Synaffix, Synairgen, Synbiotic Health, Syndax Pharmaceuticals, Syndesi Therapeutics, SynergEyes, Synergy Pharmaceuticals, Synergy Strips, Syngenta, Syngulon, Syntano Technology Venture, Synthace, Synthetic Genomics, Synthon, Syros Pharmaceuticals, Sysmex, Sysmex Inostics, SystemOne, T23, Tabuk Pharmaceutical, Taconic, Taconic Biosciences, Tactical Relief, Tactiva Therapeutics, Taiba, TaiGen Biotechnology, Taiho, Taipei Medical University, TaiRx, Taisho Pharmaceutical, TaiwanJ Pharmaceuticals, Taiwan Liposome Company, Takara Bio, Take2, Takeda Pharmaceutical, Takeda Ventures, Talem Therapeutics, Talix Therapeutics, Tamid Bio, TamRx, Tandem Diabetes Care, Tangible Science, Tango Therapeutics, Tanon, TapImmune, Tara Immuno-Oncology, Targacept, Targeted Medical Pharma, Target Group, Targovax, Taro Pharmaceuticals, Tarveda Therapeutics, Tasly Pharmaceuticals, Tate & Lyle, Tauriga Sciences, Taxus Cardium Pharmaceuticals, TB Alliance, TC BioPharm, Technion Research and Development Foundation, Technology Acceleration Partners, Technology Transfer Accelerator, TEDOR Pharma, Teewinot Life Sciences, Teijin, Teikoku Pharma USA, Tekmira Pharmaceuticals, Tel Aviv University, Teleflex, Telesta Therapeutics, Teligent, Telix Pharmaceuticals, Temis, Temple University, TeneoBio, Terns Pharmaceuticals, TerSera Therapeutics, Terumo, Terumo BCT, Tesaro, TesoRx Pharma, Tessa Therapeutics, Tetra Bio-Pharma, Tetra Discovery Partners, Tetragenetics, TetraLogic Pharmaceuticals, Tetraphase Pharmaceuticals, TET Systems, Teva Pharmaceutical Industries, Teva Pharmaceuticals USA, Texas A&M University, TG Therapeutics, The Green Organic Dutchman Holdings, The HUB Foundation, The International AIDS Vaccine Initiative, The Medicines Company, Themis Bioscience, The Parker Institute For Cancer Immunotherapy, TheraCann International Benchmark, Theraclone Sciences, Theradiag, Theragnostics, Therakine, Theraly Fibrosis, Theramex, Thera Neuropharma, Theranostics Health, TherapeuticsMD, Therapeutic Solutions International, Therapix Bio, Theravance, Theravance Biopharma, TheraVasc, Theravectys, TheraVida, Therawis Diagnostics, The Regents of the University of California, Therios Healthcare, Thermo Fisher Scientific, ThermoGenesis, Thomas Jefferson University, Thorne Research, Thrive Bioscience, ThromboGenics, Tianjin CanSino Biotechnology, Tiburio Therapeutics, TiGenix, Tikcro Technologies, Tikun Olam, Tillotts Pharma, Tilray, TILT Biotherapeutics, Tissue Fusion, Tissue Genesis, Tiziana Life Sciences, Tizona Therapeutics, TMRC, Tmunity Therapeutics, TNK Therapeutics, TNO Pharma, Tobii Technology, Tobira Therapeutics, Tocagen, Tokai Pharmaceuticals, Tokyo University of Agriculture and Technology, Tonghua Dongbao Pharma, TONIX Pharmaceuticals, Toolgen, TopAlliance Biosciences, Toray, Torch Biosciences, Torii Pharmaceutical, Tornier, Torrent Pharmaceuticals, TOT BIOPHARM, Toulouse University Hospital, Toyota Motor, TPMENA, TR-Pharm, TRACON Pharmaceuticals, TransBio, Transcenta, TransChem, Transcriptome Sciences, Transdermal Delivery Solutions, TransEnterix, Transgene, Transgene Tasly Biopharmaceutical, Transgenomic, Transition Therapeutics, Translate Bio, Translational Sciences, Transplant Genomics, Transporin, Transposagen Biopharmaceuticals, TransTech Pharma, Traverse Biosciences, Treeway, Trefoil Therapeutics, Trek Therapeutics, Trellis Bioscience, Trenzyme, Trethera, Trevena, Treventis, Trevi Therapeutics, Tri-Institutional Therapeutics Discovery Institute, Trianni, Tribute Pharmaceuticals, Trieza Therapeutics, TRIGR Therapeutics, Trillium Therapeutics, Trimel Pharmaceuticals, Tripex Pharmaceuticals, Triphase Accelerator, Tris Pharma, Triumvira Immunologics, Trizell, TrojanTec, Trophogen, TrovaGene, TRPharm, Trulieve, Trutino Biosciences, Tsinghua University, TSRL, TTFactor, TTP Group, TTY Biopharm, Tufts University, TuHURA Biopharma, TumorGenesis, Turgut Ilaclari, Turnstone Biologics, TWi Pharmaceuticals, Twist Bioscience, Two Blades Foundation, Two Pore Guys, twoXAR, TxCell, Tyber Medical, TypeZero Technologies, Tzamal Medical, UAB Research Foundation, Ubiquigent, UCB, UCL Business, Ultragenyx Pharmaceuticals, Uman Diagnostics, UNeMed, Unfors RaySafe, Uni-Bio Science, Unilabs,
We found other products you might like!