Global Licensing Partnering Terms & Agreements in Pharma, Biotech & Diagnostics 2016-2023
The Global Licensing Partnering Terms & Agreements in Pharma, Biotech & Diagnostics 2016-2023 report provides comprehensive understanding and unprecedented access to the licensing deals and agreements entered into by the worlds leading life science companies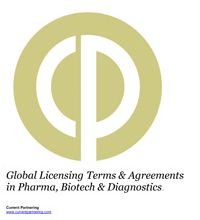 Publication date
April 2023
Product type
Research report
Available formats
PDF document
The Global Licensing Partnering Terms and Agreements in Pharma, Biotech and Diagnostics 2016 - 2023 report provides comprehensive understanding and unprecedented access to the licensing deals and agreements entered into by the worlds leading life science companies.
This report provides details of the latest licensing agreements announced in the pharmaceutical, biotechnology and diagnostic sectors. Fully up to date, the report provides details of licensing agreements from 2016 to 2023.
There has been a long standing willingness for parties to enter licensing deals. Such deals enable both parties to benefit from the upside of a big R&D win, whilst mitigating the risks of going it alone in the risky preclinical and clinical development stages.
Licensing is a specific type of partnering deal whereby the parties to the deal agree to commercialize a compound, product or technology.
Specifically, licensing is the granting of permission to use intellectual property rights, such as trademarks, patents, or technology, under defined conditions
There are several forms of licensing deal. Traditional licensing arrangement whereby an owner of intellectual property (the licensor) provides access to its technology to another company (the licensee) in return for agreed payments and royalties on subsequent sales of product(s) derived from the intellectual property.
In more recent times, licensing is often the outcome of a successful period of collaboration on the research and development of a technology or compound, resulting in a product which can be commercialized. In this situation, the licensing agreement governs who has permission to commercialize and what payments are due should commercialization proceed.
Other forms of licensing such as sub-licensing and cross-licensing are also explored, with examples provided together with listing of recent deals in pharma, biotech and diagnostics.
The report provides a detailed understand and analysis of how and why companies enter licensing deals. The majority of deals are multicomponent whereby the licensee retains either a right or option to license to commercialize the resultant product of the research collaboration. There are also numerous pure licensing deals whereby the products originator takes on a development/commercialization partner in order to maximize a technologies/products prospects.
Understanding the flexibility of a prospective partner's negotiated deals terms provides critical insight into the negotiation process in terms of what you can expect to achieve during the negotiation of terms. Whilst many smaller companies will be seeking details of the payment clauses, the devil is in the detail in terms of how payments are triggered – contract documents provide this insight where press releases and databases do not.
This report contains a comprehensive listing of all licensing deals announced since 2016 as recorded in the Current Agreements deals and alliances database, including financial terms where available, plus links to online copies of actual licensing contract documents as submitted to the Securities Exchange Commission by companies and their partners.
Contract documents provide the answers to numerous questions about a prospective partner's flexibility on a wide range of important issues, many of which will have a significant impact on each party's ability to derive value from the deal.
The initial chapters of this report provide an orientation of licensing deal making and business activities. Chapter 1 provides an introduction to the report, whilst chapter 2 provides an analysis of the trends in licensing as well as a discussion on the merits of the type of deal.
Chapter 3 provides an overview of the structure of licensing deals. The chapter includes numerous case studies to enable understanding of both pure licensing deals and multicomponent deals where collaborative R&D forms a part.
Chapter 4 provides a review of the leading licensing deals since 2016. Deals are listed by headline value. Where the deal has an agreement contract published at the SEC a link provides online access to the contract via the Current Agreements deals and alliances database.
Chapter 5 provides a review of the top 25 most active biopharma companies in licensing. Where the deal has an agreement contract published at the SEC a link provides online access to the contract via the Current Agreements deals and alliances database.
Chapter 6 provides a comprehensive review of licensing financials for deals announced since 2016, including headline value, upfront, milestone payments and royalty rates, providing both benchmark data and access to individual deal financials.
Chapter 7 provides a comprehensive and detailed review of licensing deals signed and announced since 2016 where a contract document is available. Each deal title links via Weblink to an online version of the actual contract document, providing easy access to each contract document on demand.
The report includes deals announced by hundreds of life science companies including big pharma such as Abbott, Abbvie, Actavis, Amgen, Astellas, AstraZeneca, Baxter, Bayer, Biogen Idec, BMS, Celgene, Eisai, Eli Lilly, Gilead, GSK, J&J, Kyowa Hakko, Merck, Mitsubishi, Mylan, Novartis, Pfizer, Roche, Sanofi, Shire, Takeda, Teva, and Valeant, amongst many others.
The report also includes numerous table and figures that illustrate the trends and activities in licensing deal making since 2016.
In addition, a comprehensive appendix is provided organized by licensing company A-Z , stage of development, therapeutic target, technology type and deal type definitions. Each deal title links via Weblink to an online version of the deal record and where available, the contract document, providing easy access to each contract document on demand.
In conclusion, this report provides everything a prospective dealmaker needs to know about licensing partnering in the research, development and commercialization of technologies and products.
Key benefits
Global Licensing Partnering Terms and Agreements in Pharma, Biotech and Diagnostics 2016 - 2023 provides the reader with the following key benefits:
In-depth understanding of licensing partnering deal trends since 2016
Analysis of the structure of licensing agreements with real life case studies
Comprehensive listing of licensing deals since 2016, together with deal terms, value and press release
Comprehensive access to actual licensing contracts entered into by the world's life science companies
Analysis of key deal financials including headline value, upfront, milestone payments and royalty rates
Insight into the terms included in a licensing agreement, together with real world clause examples
Understand the key deal terms companies have agreed in previous deals
Undertake due diligence to assess suitability of your proposed deal terms for partner companies
Report scope
Global Licensing Partnering Terms and Agreements in Pharma, Biotech and Diagnostics 2016 - 2023 is intended to provide the reader with an in-depth understanding of the licensing trends and structure of deals entered into by leading life science companies worldwide.
Global Licensing Partnering Terms and Agreements in Pharma, Biotech and Diagnostics 2016 - 2023 includes:
Trends in licensing dealmaking in the biopharma industry since 2016
Analysis of licensing deal structure
Case studies of real-life licensing deals
Comprehensive listing of licensing deals since 2016
Access to licensing contract documents
Key financial bnchmarks for headline, upfront, milestone and royalty rates
The leading licensing deals by value since 2016
Most active licensing dealmakers since 2016
The leading licensing partnering resources
In Global Licensing Partnering Terms and Agreements in Pharma, Biotech and Diagnostics 2016 - 2023 available deals and contracts are listed by:
Company A-Z
Headline value
Therapeutic area
Technology type
Each deal title links via Weblink to an online version of the actual deal record and where available, contract document, providing easy access to each contract document on demand.
The Global Licensing Partnering Terms and Agreements in Pharma, Biotech and Diagnostics 2016 - 2023 report provides comprehensive access to available contract documents for licensing deals. Analyzing actual contract agreements allows assessment of the following:
What are the precise rights granted or optioned?
What is actually granted by the agreement to the partner company?
What exclusivity is granted?
What is the payment structure for the deal?
How do milestone align with clinical stage development phases?
How are sales and payments audited?
How are the key terms of the agreement defined?
How are IPRs handled and owned?
Who is responsible for commercialization?
Who is responsible for development, supply, and manufacture?
How is confidentiality and publication managed?
How are disputes to be resolved?
Under what conditions can the deal be terminated?
What happens when there is a change of ownership?
What sublicensing and subcontracting provisions have been agreed?
Which boilerplate clauses does the company insist upon?
Which boilerplate clauses appear to differ from partner to partner or deal type to deal type?
Which jurisdiction does the company insist upon for agreement law?
Global Licensing Partnering Terms & Agreements in Pharma, Biotech & Diagnostics 2016-2023 provides the reader with the following key benefits:
In-depth understanding of licensing partnering deal trends since 2016
Insight into the terms included in a licensing agreement, together with real world clause examples
Identify leading licensing deals by value since 2016
Identify the most active licensing dealmakers since 2016
Analysis of key deal financials including headline value, upfront, milestone payments and royalty rates
Full listing of licensing deals by company A-Z, deal value, phase of development, deal type, therapy and technology focus
Comprehensive access to licensing deals entered into by the world's biopharma companies, together with contract documents if available
Detailed access to actual licensing contracts entered into by the leading big pharma and big biotech companies
Understand the key deal terms companies have agreed in previous deals
Undertake due diligence to assess suitability of your proposed deal terms for partner companies
Executive Summary
Chapter 1 – Introduction
Chapter 2 – Trends in licensing deal making
2.1. Introduction
2.2. Definition of licensing deals
2.3. Success factors for licensing deals
2.4. When licensing can be useful
2.5. Attributes of licensing deals
2.6. Trends in licensing deals since 2016
2.6.1. Licensing deal making by year since 2016
2.6.2. Licensing deal making by phase of development since 2016
2.6.3. Licensing deal making by industry sector since 2016
2.6.4. Licensing deal making by therapy area since 2016
2.6.5. Licensing deal making by technology type since 2016
2.6.6. Licensing deal making by most active company since 2016
2.7. Option to license
2.8. Adding co-promotion to the mix
2.9. The future of licensing deals
Chapter 3 – Overview of licensing deal structure
3.1. Introduction
3.2. Pure versus multi-component licensing deals
3.3. Pure licensing agreement structure
3.3.1. Example licensing agreements
3.3.1.a. Case study 1
3.3.1.b. Case study 2
3.4. Licensing rights as part of a wider alliance agreement
3.4.1. Example licensing clauses
3.4.1.a. Case study 3
3.4.1.b. Case study 4
3.4.2. Example licensing option right clauses
3.4.2.a. Case study 5
3.4.2.b. Case study 6
Chapter 4 – Leading licensing deals
4.1. Introduction
4.2. Top licensing deals by value
Chapter 5 – Top 25 most active licensing dealmakers
5.1. Introduction
5.2. Top 25 most active licensing dealmakers
Chapter 6 – Licensing deal term financials
6.1. Introduction
6.2. Licensing partnering headline values
6.3. Licensing deal upfront payments
6.4. Licensing deal milestone payments
6.5. Licensing royalty rates
Chapter 7 – Licensing contract directory since 2016
7.1. Introduction
7.2. Licensing deals with contracts since 2016
Appendices
Appendix 1 – Licensing dealmaking by companies A-Z
Appendix 2 – Licensing dealmaking by industry sector
Appendix 3 – Licensing dealmaking by stage of development
Appendix 4 – Licensing dealmaking by therapy area
Appendix 5 – Licensing dealmaking by technology type
About Wildwood Ventures
Current Partnering
Current Agreements
Recent report titles from Current Partnering
TABLE OF FIGURES
Figure 1: Definition of licensing
Figure 2: Situations where licensing can prove useful
Figure 3: Key attributes of a licensing deal
Figure 4: Trends in licensing deal announcements since 2016
Figure 5: Licensing deals signed at each phase of development since 2016
Figure 6: Licensing deals by industry sector since 2016
Figure 7: Licensing deals by therapy area since 2016
Figure 8: Licensing deals by technology type since 2016
Figure 9: Top 25 most active licensing dealmakers sinnce 2016
Figure 10: Licensing agreements – what should a contract include?
Figure 11: Components of the licensing deal structure
Figure 12: Top licensing deals by value since 2016
Figure 13: Most active licensing dealmakers since 2016
Figure 14: Licensing deals with a headline value
Figure 15: Licensing deals with an upfront value
Figure 16: Licensing deals with a milestone value
Figure 17: Licensing deals with a royalty rate value
Pricing options
$3,995: single-user
$5,745: multi-user
$10,995: single site license
$17,995: global site license
A full explanation of license type definitions can be found here.
Our guarantee
Price promise
We guarantee our prices are competitive. If you find the same report advertised at a lower price within 7 days of purchase, we will refund the difference.
Delivery Deadline
We guarantee that the report will be sent within the specified delivery times. In the unlikely case of a delay we may offer a partial refund as compensation. (Terms may apply)
Latest report
If an update is published within 30 days of your purchase, you will receive it absolutely free of charge.
Serious Security
We take your data and security seriously. See our privacy policy for details of how we manage your data.
All card payments are processed by SagePay.
Sales Support
If you have any questions about your report or are unhappy with the quality, we will do our best to resolve your query. Contact us direct.
Total Trust
Current Partnering is part of Wildwood Ventures Ltd., based in York, United Kingdom. We have been trading successfully online since 2009 and work with some of the most famous brands in the business. We carefully select our partners to ensure that the publications meet expectations of demanding customers.
2A, 2bPrecise, 2seventy bio, 2X Oncology, 3a-diagnostics, 3B Pharmaceuticals, 3D Medicines, 3E Bioventures Capital, 3M, 3P Biopharmaceuticals, 3rd People's Hospital of Shenzhen, 3SBio, 3Shape, 3T Biosciences, 4D Molecular Therapeutics, 4D Pharma, 4SC, 9 Meters Biopharma, 10X Genomics, 23andMe, 48Hour Discovery, 180 Life Sciences, 221b Foundation, A*STAR Agency for Science, Technology and Research, A1 Group, A2 Biotherapeutics, Aadi Bioscience, Aardvark Therapeutics, Aarhus University, Aarvik Therapeutics, AAVnerGene, AazeinTx, Abba Import Export, AB Biosciences, Abbisko Therapeutics, Abbott Laboratories, Abbott Vascular Devices, Abbvie, Abcam, AbCellera Biologics, AbClon, Abcuro, Ab E Discovery, Abeona Therapeutics, Abide Therapeutics, Ability Pharmaceuticals, Ab Initio, Abintus Bio, Ablaze Pharmaceuticals, ABL Bio, Ablexis, Ablynx, AbMed, Abmuno Therapeutics, Abound Bio, Aboundbio, Abpro, AbSci, Absorption Systems, ABT Innovations, Abuse Deterrent Pharmaceuticals, Abveris, ABX, Abzena, Acacia Pharma, Acacia Research, ACADIA Pharmaceuticals, Acasti Pharma, AC Bioscience, Accelerate Technologies, Accent Therapeutics, Accera Pharmaceuticals, Accord Healthcare, AccuGenomics, Accure Therapeutics, ACEA Therapeutics, Acella Pharmaceuticals, Acelrx Pharmaceuticals, Acelyrin, Acenzia, Acepodia, Aceragen, Acer Therapeutics, Acerus, ACE Solutech, Acetylon Pharmaceuticals, Achieve Life Science, Achilles Therapeutics, AC Immune, Aclaris Therapeutics, Acorda Therapeutics, Acoustic MedSystems, Acrivon Therapeutics, Acrotech Biopharma, Actavis (acquired by Watson), Actelion, Acticor Biotech, Actimed Therapeutics, Actinium Pharmaceuticals, Active Biotech, Active Motif, ActiveSite, ActLight, ActualEyes, Acturum Life, Acucela, AcuCort, Acuitas Therapeutics, Aculys Pharma, Acura Pharmaceuticals, Adagene, AdAlta, Adalvo, Adama, Adamas Pharmaceuticals, Adamis Pharmaceuticals, Adapsyn Bioscience, Adaptimmune, Adaptive Biotechnologies, Adaptive Phage Therapeutics, Adapt Pharma, AdaptVac, Adcendo, ADC Therapeutics, Addex Therapeutics, Adept Neuro, Adge Pharmaceuticals, Adhera Therapeutics, Adhesys Medical, Adial Pharmaceuticals, Adicet Bio, Adimab, Aditx Therapeutics, Adlai Nortye, adMare BioInnovations, Admedus, Adnab, Adocia, Adrestia, ADT Pharmaceuticals, Aduro BioTech, Advaccine Biotechnology, Advaite, Advanced Accelerator Applications, Advanced Animal Diagnostics, Advanced BioInformatics, Advanced Biological Laboratories, Advanced Catheter Therapies, Advanced Human Imaging, Advanced Medical Solutions, Advanced Nuclear Medicine Ingredients, Advanced Proteome Therapeutics, Advance Pharmaceutical, Advanz Pharma, Advaxis, Advenchen Laboratories, Adverum Biotechnologies, Aegerion Pharmaceutical, Aegis Life, Aegis Therapeutics, Aeglea BioTherapeutics, Aelan Cell Technologies, Aelian Biotechnology, Aelis Pharma, Aerami Therapeutics, Aerie Pharmaceuticals, Aerogen, Aeromics, Aerpio Pharmaceuticals, AEterna Zentaris, Aethlon Medical, Aethon Therapeutics, Aevi Genomic Medicine, Aevitas Therapeutics, AffaMed Therapeutics, Affibody, Affilogic, Affimed Therapeutics, Affini-T Therapeutics, Affinia Therapeutics, Affinivax, AFFiRiS, AffyXell Therapeutics, AFT Pharmaceuticals, AGC Asahi Glass, Agenus Bio, AgeX Therapeutics, Agile Biodetection, Agilis Biotherapeutics, Agios Pharmaceuticals, AgMedica Bioscience, AgNovos Healthcare, AgomAb Therapeutics, AgonOx, AgPlenus, AgriCann Solutions, Agroresults, Aguettant, AHN Autoimmunity Institute, AiCuris, Aidence, AIG Hospitals, AIkido Pharma, AIMM Therapeutics, Aimmune Therapeutics, AIT Therapeutics, AiVita Biomedical, Ajinomoto, AJU Pharma, Akaal Pharma, Akari Therapeutics, AkaRx, Akcea Therapeutics, Akebia Therapeutics, Aker BioMarine, Akero Therapeutics, Akers Biosciences, Akeso Biopharma, Akili Interactive Labs, Akonni Biosystems, Akouos, Akrevia Therapeutics, Akriveia Therapeutics, AKSO Biopharmaceutical, Akston Biosciences, Alamar Biosciences, Albany Molecular Research, Alba Therapeutics, Albert Einstein College of Medicine, Albireo, ALBOT Technologies, Alcon Laboratories, Alcyone Lifesciences, Alcyone Therapeutics, Alder Biopharmaceuticals, Aldevron, Aldeyra Therapeutics, Alector, Alectos Therapeutics, Aleta Biotherapeutics, Aleva Neurotherapeutics, Alexion Pharmaceuticals, Alex Therapeutics, Alexza Pharmaceuticals, Alfasigma, Algae-C, AlgaEnergy, Algenex, Aligos Therapeutics, AlivaMab Discovery Services, AliveCor, Alive Sciences, Alivio Therapeutics, ALK-Abello, Alkem Laboratories, Alkermes, Allakos, Allarity Therapeutics, AllCells, Allecra Therapeutics, Allegheny General Hospital, Allegheny Technologies, Allele Biotechnology and Pharmaceuticals, Allen Institute for Brain Science, Allergan, Allergan Aesthetics, AllerGenis, Alliance BioEnergy Plus, Alliance Pharma, Allied Corp, Alligator Bioscience, Allinaire Therapeutic, Allist Pharma, Allogene Overland Biopharm, Allogene Therapeutics, Alloksys Life Sciences, AlloVir, Alloy Therapeutics, AllyAlign Health, Almelo, Almirall, Alnylam Pharmaceuticals, Alopexx, Alpha Biopharma, Alpha Cancer Technologies, Alphageneron Pharmaceuticals, Alphamab Biopharmaceuticals, Alphamab Oncology, Alpine Immune Sciences, Altamira Pharma, Altan Pharma, Alteogen, Alterity Therapeutics, Alternative Solutions, Alternavida, Altesa Biosciences, Alto Neuroscience, Altum Pharmaceuticals, Altus Formulation, Alvit LCS Pharma, Alvogen, Alvotech, Alytas Therapeutics, Alzamend Neuro, AlzeCure Pharma, Alzheon, Alzyn, AM-Pharma, Amagma Therapeutics, Amag Pharmaceuticals, Amarantus BioSciences, Amarin, Amasa Therapeutics, Ambrx, Ambys Medicines, AM Chemicals, Amegabiotech, A Menarini Diagnostics, Amend Surgical, American BriVision, American Cancer Society, American Speech-Language-Hearing Association, American Type Culture Collection (ATCC), Amerigen Pharmaceuticals, Amfora, Amgen, AmMax Bio, Amneal Pharmaceuticals, Amolyt Pharma, AMO Pharma, Amorsa Therapeutics, Amphista Therapeutics, AmplyCell, Amplyx Pharmaceuticals, AMR, Amring Pharmaceuticals, Amryt Pharma, Amunix, Amyris, Amytrx Therapeutics, Amzell, AN2 Therapeutics, AnaBios, Anagenesis Biotechnologies, Anahit, ANANDA Scientific, Anatara Lifesciences, Anchiano Therapeutics, Andor Pharmaceuticals, Andros Pharmaceuticals, Anew Medical, Angelini Pharma, AnGes MG, Angiochem, Angiocrine Bioscience, Angion Biomedica, Angionetics, Angios, AngioSoma, Angiostem, AnHeart Therapeutics, Anima Biotech, Animalcare, Animal Life Sciences, ANI Pharmaceuticals, Anivive Lifesciences, Anixa Biosciences, Anji Pharma, Anju Software, Annias Immunotherapeutics, AnnJi Pharmaceutical, ANP Technologies, Antares Pharma, Antengene, Anteris Bio, Anthos Therapeutics, Antibe Therapeutics, Antibody Solutions, Antigen Express, Antion Biosciences, Antios Therapeutics, Antisoma Therapeutics, AntriaBio, Apceth, APC Therapeutics, Apeiron Biologics, Apellis Pharmaceuticals, Aperion Biologics, Apex Global Brands, Apexian Pharmaceuticals, Apexigen, Aphria, Apic Bio, ApiJect Systems, Aplagon, ApolloBio, Apollomics, Apollo Therapeutics, Apotex, Appello Pharmaceuticals, Appia Bio, Appili Therapeutics, Applied Biology, Applied BioSciences, Applied Botanics, Applied DNA Sciences, Applied Genetic Technologies, Applied StemCell, Applied Therapeutics, APR Applied Pharma Research, Aprecia Pharmaceuticals, Apricity Health, AprilBio, APRINOIA Therapeutics, Apsen Farmacutica, AptaBio Therapeutics, AptarGroup, Aptarion biotech, Aptar Pharma, Aptevo Therapeutics, Aptinyx, Aptorum Group, Aptose Biosciences, Aqilion, Aquavit Pharmaceuticals, Aquestive Therapeutics, Aquinox Pharmaceuticals, Aquitaine Science Transfert (SATT Aquitaine), Aralez Pharmaceuticals, Aratana Therapeutics, Aravive Biologics, Arbele, Arbor Biotechnologies, Arbormentis, Arbutus, ARCA Biopharma, Arcadia Biosciences, Arcadia Consumer Healthcare, ArcDia, Arcellx, Arch Biopartners, Archer Daniels Midland Company, ArcherDX, Arcis Biotechnology, Arcoral Pharma, ARC Therapeutics, Arctic Therapeutics, Arctic University of Norway, Arctic Vision, Arcturus Therapeutics, Arcus Biosciences, Arcutis Biotherapeutics, Ardelyx, Arecor, Arena Pharmaceuticals, Ares Genetics, Argentum Pharmaceuticals, argenx, Argon Medical Devices, Ariad Pharmaceuticals, Aridis Pharmaceuticals, Arima Genomics, Arista Cereal Technologies, Aristea Therapeutics, Arizona State University, Arjuna Naturals, Ark Biosciences, Arlington Scientific, Arnay Sciences, Arno Therapeutics (inactive since 2017), Aro Biotherapeutics, ArQule, Arrakis Therapeutics, Array Biopharma, Arrien Pharmaceuticals, ArriVent Biopharma, Arrowhead Pharmaceuticals, Arrys Therapeutics, Arsanis Biosciences, ARScience Biotherapeutics, Arsenal Biosciences, ARS Pharmaceuticals, Artelo Biosciences, Artes Biotechnology, Arthrex, Artios Pharma, Artiva Biotherapeutics, Artizan Biosciences, Aruvant Sciences, Arvelle Therapeutics, Arvinas, Asahi Kasei, Ascendance Biotechnology, Ascend Wellness, Asceneuron, Ascensia Diabetes Care, Ascentage Pharma, Ascletis, ASC Therapeutics, Asep Medical, Ashvattha Therapeutics, Asia Green Biotechnology, Asieris MediTech, Asieris Pharmaceuticals, Asimov, ASKA Pharmaceuticals, AskAt, AskGene Pharma, Asklepios Biopharmaceutical, Aslan Pharma, Aspargo Laboratories, Aspen Holding, Aspen Pharmacare Canada, Aspire Health Science, Assembly Biosciences, Assertio Therapeutics, Assistance Publique-Hôpitaux de Paris, Astellas Pharma, Astellas Pharma Europe, Astellas Pharma US, Asterias Biotherapeutics, Astex Pharmaceuticals, AstraZeneca, Astrea Bioseparations, Astute Medical, Asuragen, Asylia Therapeutics, Atara Biotherapeutics, Atea Pharmaceuticals, Athena Bioscience, Athenex, Athersys, Athinoula A Martinos Center for Biomedical Imaging, Atlantic Healthcare, Atlas Venture, ATMA Journey Centers, Atomwise, Atonco, ATP, Atreca, Attillaps Holdings, Attralus, Attune Medical, ATUM, Atvio Biotech, aTyr Pharma, Auburn University, Aucta Pharmaceuticals, Audax Medical, Audentes Therapeutics, Audio Cardio, Auditus, AUM Biotech, Aura Biosciences, Auransa, AuraVax Therapeutics, Aurealis Therapeutics, Aurigene Discovery Technologies, Aurinia Pharmaceuticals, Aurobindo Pharma, Aurora Cannabis, Aurum Ceramic Dental Laboratories, AusHealth, Australian Biotechnologies, Australian Nuclear Science and Technology Organisation, Australian Research Council, Autifony Therapeutics, Autigen, Autobahn Therapeutics, Autolus, Automation Anywhere, Autotelic, Autotelic BIO, Auxly Cannabis Group, AuxoCell Laboratories, Avacta, Avactis Biosciences, Avadel Pharmaceuticals, Avalon GloboCare, Avalo Therapeutics, Avance Biosciences, AvantGen, Avanzanite Bioscience, Avaria Health & Beauty, Avectas, Avenue Therapeutics, AVEO Oncology, Avero Diagnostics, Aveta Biomics, AveXis, AviadoBio, Avicanna, Avidea Technologies, Avidity Biosciences, Avion Pharmaceuticals, Avior Bio, Aviragen Therapeutics, AVIR Pharma, Avista Therapeutics, Avita Therapeutics, Avitide, Avrobio, Awakn Life Sciences, Axantia, Axcelead Drug Discovery Partners, AXIM Biotechnologies, Axis Lighting, Axis Therapeutics, AxoSim, Axovant Gene Therapies, Axsome Therapeutics, Axxam, Ayala Pharmaceuticals, Aytu BioPharma, Aziyo Biologics, AzurRx BioPharma, Bach Biosciences, Back-A-Line, Bactevo, Baergic Bio, Baidu, BAKX Therapeutics, Baliopharm, Banyan Biomarkers, Barer Institute, Basilea Pharmaceutica, BAS Research, Batavia Biosciences, BATM, Battelle, Baudry Laboratory, Bausch & Lomb, Bausch Health Companies, Bavarian Nordic, Baxalta, Bayer, Bayer Animal Health, Bayer CropScience, Baylor College, Baylor College of Medicine, Baylor Genetics, Baylor Scott and White Research Institute, BayPAT, Bay State Milling Company, Bazelet, BB100, BDD Pharma, Beacon Discovery, Beactica, Beam Therapeutics, Beartooth Therapeutics, Becton Dickinson, BehaVR, BeiGene, Beijing Defengrei Biotechnology, Beijing InnoCare Pharma, Beijing Minhai Biotechnology, Beijing SL Pharma, Beijing Strong Biotechnologies, Beijing Tianshi Tongda Pharmaceuticals Technology, Beijing Tide Pharmaceutical, Beijing University of Chinese Medicine, Belfor, Belharra Therapeutics, Belle.ai, Bellicum Pharmaceuticals, BellRock Brands, Ben-Gurion University, Benaroya Research Institute, Bened Biomedical, BenevolentAI, Benitec Biopharma, Benson Hill Biosystems, Benuvia Therapeutics, Berkeley Lights, Berlin Chemie, Beroni Group, Besins Healthcare, Beth Israel Deaconess Medical Center, Betta Pharmaceuticals, BetterLife Pharma, BevCanna, BevNology, Beyondspring Pharmaceuticals, BGN Technologies, Bhang, Bharat Biotech, BHVI, Bial, BIA Separations, BICO, Bicycle Therapeutics, Biedermann Motech, Bigfoot Biomedical, Bill and Melinda Gates Foundation, Bimini Health Tech, BinnoPharm, Bintai Kinden, Bio-Gate, Bio-Rad Laboratories, Bio-Techne, Bio-Thera Solutions, Bioadaptives, bioAffinity Technologies, BioAge Labs, BioArctic Neuroscience, BioArdis, biOasis Technologies, BioAtla, BioAxone BioSciences, BioCardia, Biocept, Bioceres, Bioceros, Biocodex, Biocon, BIOCORP, BioCorRx, BioCryst Pharmaceuticals, Biocytogen, BioDelivery Sciences, Bio DG, Biodirection, Bioeq IP, BioGaia, Biogen, BioGenetics, BioGen Medical, Bioharmony Therapeutics, Biohaven Pharmaceuticals, BioHEP Technologies, BioInvent, Biokit, BioLab Sciences, BioLamina, BioLegend, Biolexis, BiolineRX, BioLite Japan, Biologix FZCo, Biolojic Design, BioMarin Pharmaceutical, Biomed, Biomedical Advanced Research and Development Authority, Biomerica, Biomerics, bioMerieux, Biomm, Biomunex Pharmaceuticals, BiomX, Biond Biologics, BiondVax, Bioneer, Bionomics, BioNova Pharmaceuticals, Bionovus Life Sciences, BioNTech, Bionure, BionX Medical Technologies, BioNxt Solutions, Bio Palette, BioPhausia, Bioprojet, BioRAE, BioRap Technologies, bioRASI, Biora Therapeutics, BioRestorative Therapies, BiosanaPharma, Biosceptre International, Biosearch Technologies, BioSenic, BioSense Global, Biosenta, BioSilta, Biosion, BioSkryb, Biosolution, Biosplice, BioStem Technologies, BioStrand, BioSyent Pharma, Biosynth, BioTheryX, Biotheus, Biotoscana Farma, Biotricity, BioVaxys, Bioventure MDC, Bioventus, Bioverativ, Bird Foundation, Birdie Biopharmaceuticals, Biscayne Neurotherapeutics, Bison & Rose, Bixink Therapeutics, BL&H, Blackford, BlackThorn Therapeutics, Blanver, Blau Pharma, BlinkBio, BliNK Biomedical, Bliss Biopharmaceutical, Bloom Fertility, Bloom Science, Blu Biotech, Bluebird Bio, Bluechiip, Blue Earth Diagnostics, BlueJay Therapeutics, Blue Note Therapeutics, Blueprint Medicines, BlueRock Therapeutics, Bluestar Alliance, Blue Water Vaccines, BMV Medica, BNC Korea, BODIMETRICS, Body Labs, Boehringer Ingelheim, Boeing Company, Bolt Biotherapeutics, Bone Biologics, Bone Solutions, Bone Therapeutics, Bophelo Bioscience & Wellness, Boragen, Bora Pharmaceuticals, Boryung Pharmaceutical, Boston Immune Technologies and Therapeutics, Boston Pharmaceuticals, Boston Scientific, Boston Therapeutics, Boston University, Botanix Pharmaceuticals, BoyaLife, Bracco Imaging, Braeburn Pharmaceuticals, BrainLAB, Braintree Laboratories, Breathtec BioMedical, Breath Therapeutics, Breckenridge Pharmaceuticals, BriaCell Therapeutics, Brickell Biotech, BridgeBio Pharma, Bridge Biotherapeutics, Bridge Medicines, BridGene Biosciences, Brigham and Women's Hospital, Bright Future Pharmaceutical Lab, Bright Peak Therapeutics, Brii Biosciences, Brill Pharma, Brink Biologics, Bristol-Myers Squibb, Broad Institute, BroadMed, Broncus Technologies, Brooklyn ImmunoTherapeutics, Brown University, Bruker, Bryn Pharma, BryoLogyx, BTG, Buck Institute for Age Research, Bugworks, Butantan Institute, Byondis, Byrne Medical, C-Bridge Capital, C3i, C4 Therapeutics, C4X Discovery, Cabaletta Bio, Cadent, Cadila Pharmaceuticals, Caelum Biosciences, Caffeluxe, Caladrius Biosciences, Calico, Calidi Biotherapeutics, California Institute for Biomedical Research, California Institute of Technology, Calimmune, Calithera Biosciences, Calixar, Calliditas Therapeutics, Calviri, Calypso Biotech, Calyptus Pharmaceuticals, Calyxt, Camarus, Cambrian Biopharma, Cambridge Cognition, Cambridge Enterprise, Cambridge Epigenetix, Cambridge Research Biochemicals, CAMP4 Therapeutics, Camurus, Can-Fite BioPharma, Canada House Wellness Group, Canaf Therapeutics, CANbridge Pharmaceuticals, CancerLinQ, Cancer Prevention Pharmaceuticals, Cancer Research Technology, Cancer Research UK, Cancer Targeted Technology, CanCure, Candela, Cannabis OneFive, CannaHoldCo, Cannaponics, Cannara Biotech, CannaRoyalty, CannaSkin, Cannassure Therapeutics, Cannidex Brands, CanniMed Therapeutics, CannPal Animal Therapeutics, Canntab Therapeutics, Canonic, Canopy Biosciences, Canopy Growth, CanProbe, Cantabria Pharma, Cantargia, Cantex Pharmaceuticals, CAO Pharmaceuticals, Cap Alter Pharma, Capricor Therapeutics, Capsida Biotherapeutics, Capsigen, Captor Therapeutics, Cara Therapeutics, Caraway Therapeutics, CardiaCare, Cardiff University, CardioFocus, Cardiogen Sciences, Cardiome Pharma, CardioSert, Cardiovascular Solutions of Central Mississippi, Cardiowise, Cardurion Pharmaceuticals, CareDx, Caribou Biosciences, Carina Biotech, Caris Life Sciences, Carisma Therapeutics, Carl Zeiss Meditec, Carmel Pharma, Carmine Therapeutics, Carmot Therapeutics, Carna BioSciences, Carnegie Mellon University, Carpegen, Carrick Therapeutics, CARsgen, Cartexell, Cascade Pure, Cascadian Therapeutics, Casebia Therapeutics, Case Western Reserve University, CASI Pharmaceuticals, Casma Therapeutics, Cassiopea, Castle Creek Biosciences, Catabasis Pharmaceuticals, Catalent, Catalyst Biosciences, Catalyst Pharmaceutical Partners, Catalyst Pharmaceuticals, Catamaran Bio, Catholic University Leuven, CavoGene LifeSciences, CB2 Therapeutics, CBD Solutions, CBT Pharmaceuticals, CC Biotechnology, Cedilla Therapeutics, Celcuity, Celdara Medical, Celgene, Cella Therapeutics, Cell Care Therapeutics, CellCarta, Cell Cure Neurosciences, Cell Design Labs, Cellecta, Cellectar Biosciences, Cellectis, Cellectricon, Cellenkos, Cellerant Therapeutics, Cellesce, Cellevolve Bio, Cell Guidance Systems, Cellinfinity Bio, Celling Biosciences, Cellix Bio, Cell Medica, Cell Mogrify, Cell Point, CellProThera, CellSight Technologies, Celltech, Cell Therapy, Cellth Systems, Celltrion, Cellular Biomedicine, Cellular Dynamics International, Cellular Engineering Technologies, Cellumed, Cellusion, Cellvation, Celogics, Celregen, Celsee, Celsius Therapeutics, Celularity, Celyad, Cend Therapeutics, Center for Breakthrough Medicines, Center for Cancer Research, Centessa Pharmaceuticals, Central Institute for Experimental Animals, Centre for Drug Research and Development (CDRD), Centre for Imaging Technology Commercialization, Centre for Probe Development and Commercialization, Centre For The Commercialization Of Antibodies And Biologics, Centrexion, Centro de Investigación Biomédica en Red de Salud Mental, Centurion, Century Therapeutics, Cequr, Cereal Ingredients, Cerecor, Cerevance, Certara, Certis, Cerveau Technologies, CEVA, Ceva Sante Animale, Cevec Pharmaceuticals, CGA 369, CgBio, CG Oncology, cGreen, Champions Oncology, Changchun BCHT Biotechnology, Changshan Pharm, Charite Universitatsmedizin Berlin, Charles River Laboratories, Charlotte's Web, Chart Industries, CheckedUp, Checkmate Pharmaceuticals, CheckPoint Immunology, Checkpoint Therapeutics, Chelexa Biosciences, Chemesis, Chemi Pharmaceutical, ChemoCentryx, Chemstar, Chengdu Gaotong Isotope, Cheplapharm Arzneimittel, Chi-Med, Chiesi Farmaceutici, Children's Hospital Boston, Children's Hospital of Philadelphia, Children's Medical Research Institute, Chimeric Therapeutics, Chimerix, China Grand Pharma, China Grand Pharmaceutical, China Medical System, China National Biotech Group (CNBG), China Oncology Focus, China Resources Sanjiu Medical and Pharmaceutical, Chinese University of Hong Kong, Chinook Therapeutics, Chiome Bioscience, Chipscreen NewWay Biosciences, Chondrial Therapeutics, Chong Kun Dang, Chongqing Jingdong Pharmaceutical, ChromaDex, Chromocell, Chronix Biomedical, Chugai Pharmaceutical, Chung-Ang University, Cibus Global, Cidara Therapeutics, Cilag AG, CimCure, Cincinnati Children's Hospital Medical Center, CinCor Pharma, Cinda Bio-Pharmaceutical, Cingulate, Cipher Pharmaceuticals, Cipla, Circadian Wellness, Circassia, Circulogene, Cirle, Cirqle Biomedical, Citius Pharmaceuticals, Citranvi Biosciences, Citrine Medicine, Citron Pharma, City of Hope, Civetta Therapeutics, CiVi Biopharma, CJ CheilJedang, CJ Corp, Claritas HealthTech, Clarus Therapeutics, Clear Creek Bio, ClearLight Biotechnologies, ClearLight Diagnostics, ClearPoint Neuro, Clearside Biomedical, Clearsky Medical Diagnostics, Cleave Therapeutics, Clementia Pharmaceuticals, Cleveland Clinic, Cleveland Diabetes Care, Cleveland Diagnostics, Click Therapeutics, Clinical Laserthermia Systems (CLS), Clinigen, Clover Biopharmaceuticals, Clover Therapeutics, Clovis Oncology, CMS Aesthetics, CMS Medical, CN Bio, CNS Pharmaceuticals, Co-Diagnostics, Coalition for Epidemic Preparedness Innovations, Coapt, CoapTech, Coave Therapeutics, Cochlear, Cocoon Biotech, Cocrystal Pharma, Code Biotherapeutics, Codex DNA, Codexis, Codiak BioSciences, Coeptis Pharmaceuticals, Coeptis Therapeutics, Cogentix Medical, Cognoa, CogState, Coherus Biosciences, CoImmune, Cold Spring Harbor, Colgate Palmolive, Collegium Pharmaceuticals, Collplant, Colorcon, Columbia Care, Columbia Technology Ventures, Columbia University, CombiGene, Combioxin, Comercializadora BioRenal, Commense, Complix, Compugen, Conatus Pharmaceuticals, ConcertAI, ConforMIS, Confo Therapeutics, Conkwest, Conmed, Consilient Health, ConsortiaTX, Consulting Group of Jocassee, ConSynance Therapeutics, Contamac, Contera Pharma, Context Therapeutics, Contextual Genomics, Convelo Therapeutics, ConverGene, Convergent Bioscience, Cook Biotech, Cooper Companies, Copernicus Therapeutics, Corbin Therapeutics, Corbus Pharmaceuticals, Corden Pharma, Corestem, Corino Therapeutics, CorMedix, Cornell University, Coronado Biosciences, Correvio Pharma, Corsair Pharma, CorTechs Labs, Corteva Agriscience, Cortexyme, Corvidia Therapeutics, Corvium, Corvus Pharmaceuticals, Cosette Pharmaceuticals, Cosmo Bio, Cosmofix, Cosmo Pharmaceuticals, COUR Pharmaceutical, Covalon Technologies, Covance, COVAXX, Coya Therapeutics, Creative Biolabs, Creative Medical Technologies, Crescendo Biologics, Crescita Therapeutics, Cresset, Crestovo, Crinetics, CRISPR Therapeutics, Cristal Therapeutics, Critical Diagnostics, CROMA Pharma, Crossbeta Biosciences, Crossject, Crown Bioscience, Crown Laboratories, CR Pharma, CRT Pioneer Fund, CrystalGenomics, CSIR-Central Drug Research Institute, CSIRO, CSL, CSL Behring, CSPC Megalith Biopharmaceutical, CSPC Pharmaceutical Group, CS Pharmaceuticals, CStone Pharmaceuticals, CTT Pharmaceutical, CTX Technology, Cue Biopharma, Cugene, Cullinan Oncology, Cumberland Pharmaceuticals, Cumulus Oncology, Curacle, Curadev Pharma, Curamys, Curative Biotechnology, CureMetrix, CURE Pharmaceutical, Cures Within Reach, Curetis, CureVac, Curia, Curio Wellness, Curis, Curium, Curon Biopharmaceutical, Currax Pharmaceuticals, Cutanea Life Sciences, Cutia Therapeutics, Cutting Edge Healthcare, CvergenX, Cyagen Biosciences, Cyan Bio, Cybin, Cybrexa Therapeutics, Cyclenium Pharma, Cycle Pharmaceuticals, Cyclerion Therapeutics, Cyclica, CYduct Diagnostics, Cygnus, CymaBay Therapeutics, Cynata Therapeutics, Cyndea Pharma, Cyntar Ventures, Cyntec, Cyon Therapeutics, Cypralis, Cyprium Therapeutics, Cystic Fibrosis Foundation, Cystron Biotech, Cytocom, Cytodyn, CytoImmune Therapeutics, Cytokinetics, CytomX Therapeutics, Cytos Biotechnology, CytoSen Therapeutics, Cytosurge, Cytovance Biologics, Cytovant Sciences, CYTOVIA Therapeutics, CytRx, Cyxone, D. E. Shaw Research, D. Western Therapeutics Institute, D2M, Daewoong Pharmaceutical, Daiichi Sankyo, Daktari Diagnostics, Dalhousie University, Dana-Farber Cancer Institute, Dana Farber Partners Cancer Care, Danuo Science Group, Dare Bioscience, Dartmouth College, DarwinHealth, DAS Therapeutics, DATANet Software Development, Day One Biopharmaceuticals, Dealmed Medical Supplies, Deargen, Debiopharm, Dechra Pharmaceuticals, Decibel Therapeutics, Deciphera Pharmaceuticals, Deep Genomics, Deerfield Management, DefiniGEN, DEG Productions, Deinove, Delcath Systems, Delivra, DelMar Pharmaceuticals, DelSiTech, Delta 9 Cannabis, DeMelle OncoPharma, Demetrix, Denali Therapeutics, Denka, Denka-KEW Genomics, Denovo Biopharma, Densitas, Densmore Pharmaceutical, Dentsply International, Deontics, Department of Health and Human Services, Department of Veterans Affairs, DepoMed, DePuy, DermapenWorld, Dermavant Sciences, Dermelix Biotherapeutics, Dermira, Desitin, Desktop Genetics, Destiny Pharma, DeuteRx, Devonian Health Group, Dewpoint Therapeutics, Diaccurate, Diagenode, DiagnaMed, DiA Imaging Analysis, Dialco Medical, DiaMedica, DIAN Diagnostics, Dianomi Therapeutics, Diaprost, DiCE Molecules, Dicerna Pharmaceuticals, Digestome Therapeutics, Dignity Health, Dimension Therapeutics, DiNAQOR, DiosCURE Therapeutics, Disc Medicine, Distributed Bio, Diurnal, Diverse Biotech, Dixi, DKSH, DNA Script, DNAtrix, DNX Biopharmaceuticals, Dogma Therapeutics, DolCas Biotech, Domain Therapeutics, Dong-A Pharmaceutical, Dong-A ST, DongKoo Bio & Pharma, Door Pharmaceuticals, Dorian Therapeutics, DotBio, Dotmatics, Dow AgroSciences, Dr. Falk Pharma, Dr. Reddy's Laboratories, Dr. U Devices, Draeger Safety Diagnostics, Dragonfly Therapeutics, Dreamy, Dren Bio, Drexel University, DRI Capital, Dr Kerklaan Therapeutics, Drug Innovation Ventures at Emory, DS Biopharma, DSM, DSM Sinochem Pharmaceuticals, Duality Biologics, Dual Therapeutics, DuChemBio, Duchesnay, Duke-NUS Graduate Medical School Singapore, Duke University, Dunad Therapeutics, Durect, Dutch SAZ, DxS, Dyadic International, Dyamed Biotech, DyDo Pharma, Dynacure, Dynamic Combinatorial Chemistry, DynamiCure Biotechnology, Dyna Therapeutics, Dynavax Technologies, Dyno Therapeutics, E-Scape Bio, Eagle Pharmaceuticals, EA Pharma, Eastman Kodak, Easton Pharmaceuticals, Eberhard Karls University Tubingen, Echelon Fitness, ECM Therapeutics, Ecole Polytechnique Federale de Lausanne, Eczacibasi Pharmaceuticals, Eczacıbasi-Monrol, EDAP TMS, Eddingpharm, Edesa Biotech, EdiGene, Edinburgh Innovations, Edison Oncology, Editas Medicine, EditForce, Educational and Scientific, eFFECTOR Therapeutics, EffRx, Egalet, Egis, Ehave, EhmetDx, Ei.Ventures, Eidos Therapeutics, Eiger BioPharmaceuticals, Eikonoklastes Therapeutics, EirGenix, EirGen Pharma, Eirion Therapeutics, Eisai, Eisai Inc, Elanco, Elasmogen, Elcelyx Therapeutics, ElectroCore, Elekta, Elektrofi, Elemaster Group, Elevai Labs, Elevar Therapeutics, Elevation Oncology, Eleven Biotherapeutics, Elexopharm, ELIAS Animal Health, Eliaz Therapeutics, Eligo Bioscience, Eli Lilly, Elis Pharmaceuticals, Elite Pharmaceuticals, Elixirgen, Ellipses Pharma, Elpis Biomed, Elpiscience, ElsaLys Biotech, Elthera, Eltima Software, Eluminex Biosciences, Elysium Health, Emcure Pharmaceuticals, Emendo Biotherapeutics, Emerald Organic Growth, Emergence Therapeutics, Emergent BioSolutions, Emergex Vaccines, Emmaus Life Sciences, Emmyon, Emollivet, Emory University, Empatica, Empirico, Empowered Diagnostics, Enara Bio, Encore Dermatology, Endeavor BioMedicines, Endocanna Health, EndoCeutics, Endocyte, Endo International, EndoLogic, Endo Ventures, Endpoint Health, Engage Therapeutics, enGene, EnGeneIC, Engitix, Engrail Therapeutics, Enigma Biomedical, Enleofen Bio, Enochian Biosciences, Enosi Therapeutics, ENPICOM, Ensemble Therapeutics, Ensoma, Entasis Therapeutics, Entera Health, Enteris Biopharma, Enterome Bioscience, Enterprise Therapeutics, Enthera, Entos Pharmaceuticals, Entourage Health, Entrada Therapeutics, Entrinsic Health Solutions, Enumeral Biomedical, Enveric Biosciences, EnWave, Enzene Biosciences, Enzolytics, Enzymatica, Enzymotec, Enzyvant Science, EOC Pharma, EpicentRx, Epic Sciences, Epicypher, EpiDestiny, Epigen Biosciences, EPI Health, EpimAb Biotherapeutics, Epitomee Medical, Epivax, EpiVax Therapeutics, Epizyme, Epsilogen, Epygen Biotech, eQcell, EQRx, Equilibre BioPharmaceuticals, Equillium, Equinox Science, Er-Kim, Ergomed, ERS Genomics, Ervaxx, ESJ Enterprises, EsoCap, Especificos Stendhal, EspeRare Foundation, Esperion Therapeutics, Espero Biopharma, Esperovax, Essential Pharmaceuticals, Esteve, ES Therapeutics, EtectRx, Eterna Therapeutics, eTheRNA immunotherapies, Ethypharm, Eton Pharmaceuticals, Eucodis Bioscience, Eucure Biopharma, Eu Hwa, Eunice Kennedy Shriver Institute of Child Health and Human Development, Eureka Therapeutics, Eurocine Vaccines, Eurofarma, Eurofins Genomics, Eurofins LifeCodexx, Eurofins Scientific, Eurofins Viracor, Euroimmun, European Commission, European Equity Partners, EUSA Pharma, Eutilex, Evanoa Bioscience, Evaxion Biotech, Eve & Co, Evecxia, Evelo Biosciences, Everads Therapy, Everest Medicines, Everest Pharma, EverInsight Therapeutics, Evestra, Evgen Pharma, Evive Biotechnology, Evolva, Evommune, Evonik Industries, Evopoint Biosciences, EVOQ Therapeutics, Evotec, Evox Therapeutics, Evozyne, Ewopharma, Exacis Biotherapeutics, Exact Sciences, Exagen Diagnostics, ExcellaBio, ExCellThera, Excelra, Excision BioTherapeutics, Exelixis, Exeltis, Exicure, Exonics Therapeutics, Exosome Diagnostics, Exotic Genetix, Expansion Therapeutics, Expedeon, Experimental Drug Development Centre, ExpreS2ion Biotechnologies, Expression Therapeutics, ExScientia, Eyam Vaccines and Immunotherapeutics, EyeCRO, Eyegate Pharmaceuticals, Eyenovia, Eyeon Therapeutics, EyePoint Pharmaceuticals, Eyevance, F-Star, F-Star Therapeutics, F1 Oncology, F4 Pharma, Facit, Factor Bioscience, Factorial Diagnostics, Faes Farma, Fagron, FairJourney Biologics, FameWave, Famy Life Sciences, Faraday Pharmaceuticals, Fareva Holding, Farmalider, FarmaMondo Group, FASMAC, Fate Therapeutics, Fatro, Fauna Bio, Feel Better, Feldan Therapeutics, Felix Biotechnology, Femtogenix, Ferozsons Laboratories, Ferring Pharmaceuticals, FGH Biotech, Fibriant, Fibrocell Science, Fibrocor Therapeutics, Fibrogen, Filament Health, Fin-ceramica faenza spa, Fina Biosolutions, Finch Therapeutics, Find Therapeutics, Fine Foods & Pharmaceuticals N.T.M., First Wave Bio, Fit for Life, FitOn, Five Prime Therapeutics, FKD Therapies, Flame Biosciences, Flexion Therapeutics, Flightpath Biosciences, Florida Atlantic University Research, Florida Pharmaceutical Products, Florida State University, Flow Eighteen38, Flower One, Flow Pharma, Fluicell, Fluidigm, fluidIQ, Fluid Pharma, Flynn Pharma, Flywheel, Foamix Pharmaceuticals, Focal Healthcare, Foghorn Therapeutics, Fondazione San Raffaele, Fondazione Telethon, Food and Drug Administration (FDA), Forage Genetics, Forendo Pharma, Foresee Pharmaceuticals, Foresite Capital, Forge Therapeutics, Formac Pharmaceuticals, FORMA Therapeutics, Formosa Pharmaceuticals, Forte Biotechnology, Fortify Therapeutics, Fortis Life Sciences, Fortress Biotech, Forty Seven, FortySix Venture Capital, Forward Pharma, Fosun Pharmaceutical, Foundation for Celiac Disease Outcome Measures, Foundation Medicine, Fox Chase Chemical Diversity Center, Fraunhofer Institute for Molecular Ecology (IME), Frazier Healthcare Ventures, Fred Hutchinson Cancer Research Center, Frequency Therapeutics, Fresenius Kabi Pharmaceuticals, Fresenius Medical Care, Frontier Biotech, Frontier Medicines, Front Range Biosciences, FSD Pharma, Fudan University, Fuhong Hanlin, Fujifilm, FUJIFILM Cellular Dynamics, Fujifilm Irvine Scientific, Fujifilm Kyowa Kirin Biologics, Fuji Pharma, Fujirebio Diagnostics, Fuji Yakuhin, Fulcrum Therapeutics, Fulgent Genetics, Fulgent Pharma, Fundacion Medina, Fusion Pharmaceuticals, FuturaGene, FutureGen Biopharm, FyoniBio, FYR Diagnostics, G+FLAS Life Sciences, G-Tech Bio, G1 Therapeutics, G3 Pharmaceuticals, G42 Healthcare, Gadeta, Gaelan Medical, Gaeta Therapeutics, Gaia, Galapagos, Galaxy Biotech, Galderma, Galen, Galmed Pharmaceuticals, GamaMabs Pharma, Gan & Lee, GATC Health, GB Sciences, GC Cell, GC LabCell, GC Pharma, Gebro Pharma, Gedeon Richter, GE Healthcare, Gelesis, Gemini Therapeutics, GEMoaB, Gemphire, GEn1E Lifesciences, Genagon Therapeutics, GenAhead Bio, Genco Sciences, GeneBay, Gene Biotherapeutics, GeneData, GenEdit, Genelux, Genentech, Geneos Therapeutics, GeneQuine Biotherapeutics, Generate Biomedicines, Generex Biotechnology, Generian Pharmaceuticals, Genesis Therapeutics, Genestack, Genethon, Genetic Analysis, Genetic Immunity, Genetic Information Research Institute, Genetics Research, Genetic Technologies, Genevant Sciences, Genexine, Genexo, Genfit, GenFleet Therapeutics, Genialis, Genisphere, GenKOre, Genmab, Gennova Biopharmaceuticals, Genocea Biosciences, Genomadix, Genome Biologics, Genomic Health, Genomic Prediction, Genomic Vision, Genomma Lab Internacional
For a full list of companies please contact us on enquiry@currentpartnering.com
Current Partnering reports provide insight into the trends and terms of partnering deals in the global life sciences sector.
Current Partnering reports are updated every six months to ensure the user has access to the latest announcements and trends in the topic focus of the report.
Current Partnering analysts review the deal data to provide an overview and analysis of deal trends, including example deals and terms.
Current Partnering reports source deal data from our proprietary deals and alliances database, Current Agreements. The database is updated daily by our analysts with new deals as they are announced globally by the company's party to the deal. In addition, deal records are updated with new data as it becomes available.
The data in the Current Agreements deals and alliances database is obtained from secondary sources such as publicly available industry sources including press releases, company presentations, investor presentations, company SEC filings, other company filings, company websites, conference presentations. Sources are identified to allow for user verification.
Current Partnering provides comprehensive coverage of the following partnering or deal types:
• Asset purchase
• Assignment
• Co-development
• Co-market
• Co-promotion
• Collaborative R&D
• Contract service
• CRADA
• Cross-licensing
• Development
• Distribution
• Equity purchase
• Evaluation
• Grant
• Joint venture
• Licensing
• Loan
• Manufacturing
• Marketing
• Option
• Promotion
• Research
• Royalty financing
• Settlement
• Spin out
• Sub license
• Supply
• Termination
• Warrant
Every deal record is fully categorized and includes the following data, where available:
• Industry sector
• Therapy areas
• Technology type
• Deal components
• Financial terms
• Stage of development
• Exclusivity
• Asset type
• Geographic focus
• Excluded geography
• Company press release
• SEC filing data including contract document
All financial amounts are converted to US$ using the exchange rate available on the date of deal announcement, enabling direct comparison of deal terms across international territories.
Financial data and contract documents displayed in deal records is obtained from public sources, where disclosed by the parties to the deal.
We found other products you might like!