Global Collaborative R&D Partnering Terms & Agreements in Pharma, Biotech & Diagnostics 2014-2020
The Global Collaborative R&D Partnering Terms & Agreements in Pharma, Biotech & Diagnostics 2014-2020 report provides comprehensive understanding and unprecedented access to the collaborative R&D partnering deals and agreements entered into by the worlds leading healthcare companies.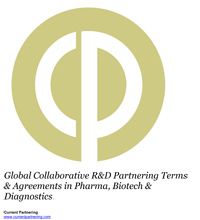 Publication date
April 2020
Product type
Research report
Available formats
PDF document
The Global Collaborative R&D Partnering Terms and Agreements in Pharma, Biotech and Diagnostics 2014-2020 report provides comprehensive understanding and unprecedented access to the collaborative R&D deals and agreements entered into by the worlds leading life science companies.
This report provides details of the latest collaborative R&D deals announced in the pharmaceutical, biotechnology and diagnostic sectors. Fully up to date with the latest information, the report provides details of collaborative R&D deals from 2014 to 2020.
There has been a long standing willingness for parties to enter collaborative R&D deals. Such deals enable both parties to benefit from the upside of a big R&D win, whilst mitigating the risks of going it alone in the risky preclinical and clinical development stages.
Collaborative R&D is a specific type of partnering deal whereby the parties to the deal agree to collaborate on the research and development and subsequently commercialize a compound, product or technology.
There are several forms of a collaborative R&D deal; A traditional collaborative R&D arrangement whereby an owner of intellectual property (the licensor) provides access to its technology to another company (the licensee) in return for agreed payments and royalties on subscequent sales of product(s) derived from the intellectual property.
In more recent times, licensing is often the outcome of a successful period of collaborative R&D on the research and development of a technology or compound, resulting in a product which can be commercialized. In this situation, the collaborative R&D agreement governs who has permission to commercialize and what payments are due should commercialization proceed.
The report provides a detailed understand and analysis of how and why companies enter collaborative R&D deals. The majority of deals are multicomponent whereby the licensee retains either a right or option to license to comoercialize the resultant product of the research collaboration. There are also numerous pure licensing deals whereby the products originator takes on a development/commercialization partner in order to maximize a technologies/products prospects.
Understanding the flexibility of a prospective partner's negotiated deals terms provides critical insight into the negotiation process in terms of what you can expect to achieve during the negotiation of terms. Whilst many smaller companies will be seeking details of the payment clauses, the devil is in the detail in terms of how payments are triggered – contract documents provide this insight where press releases and databases do not.
This report contains a comprehensive listing of all collaborative R&D deals announced since 2014 as recorded in the Current Agreements deals and alliances database, including financial terms where available, plus links to online copies of actual collaborative R&D contract documents as submitted to the Securities Exchange Commission by companies and their partners.
Contract documents provide the answers to numerous questions about a prospective partner's flexibility on a wide range of important issues, many of which will have a significant impact on each party's ability to derive value from the deal.
The initial chapters of this report provide an orientation of collaborative R&D dealmaking and business activities. Chapter 1 provides an introduction to the report, whilst chapter 2 provides an analysis of the trends in collaborative R&D as well as a discussion on the merits of the type of deal.
Chapter 3 provides an overview of the structure of collaborative R&D deals. The chapter includes numerous case studies to enable understanding of both pure collaborative R&D deals and multicomponent deals where collaborative R&D forms a part.
Chapter 4 provides a review of the leading collaborative R&D deals since 2014. Deals are listed by headline value. Where the deal has an agreement contract published at the SEC a link provides online access to the contract via the Current Agreements deals and alliances database.
Chapter 5 provides a review of the top 25 most active biopharma companies in collaborative R&D. Where the deal has an agreement contract published at the SEC a link provides online access to the contract via the Current Agreements deals and alliances database.
Chapter 6 provides a comprehensive review of collaborative R&D financials for deals announced since 2014, including headline value, upfront, milestone payments and royalty rates, providing both benchmark data and access to individual deal financials.
Chapter 7 provides a comprehensive and detailed review of collaborative R&D deals signed and announced since 2014 where a contract document is available. Each deal title links via Weblink to an online version of the actual contract document, providing easy access to each contract document on demand.
The report includes deals announced by hundreds of life science companies including big pharma such as Abbott, Abbvie, Actavis, Amgen, Astellas, AstraZeneca, Baxter, Bayer, Biogen Idec, BMS, Celgene, Eisai, Eli Lilly, Gilead, GSK, J&J, Kyowa Hakko, Merck, Mitsubishi, Mylan, Novartis, Pfizer, Roche, Sanofi, Shire, Takeda, Teva, and Valeant, amongst many others.
The report also includes numerous table and figures that illustrate the trends and activities in collaborative R&D dealmaking since 2014.
In addition, a comprehensive appendix is provided organized by company A-Z, stage of development, therapeutic target, technology type and deal type definitions. Each deal title links via Weblink to an online version of the deal record and where available, the contract document, providing easy access to each contract document on demand.
In conclusion, this report provides everything a prospective dealmaker needs to know about collaborative R&D partnering in the research, development and commercialization of technologies and products.
Key benefits
Global Collaborative R&D Partnering Terms and Agreements in Pharma, Biotech and Diagnostics 2014-2020 provides the reader with the following key benefits:
In-depth understanding of collaborative R&D deal trends since 2014
Analysis of the structure of collaborative R&D agreements with numerous real life case studies
Comprehensive listing of over 5,000 collaborative R&D deals since 2014, together with deal terms, value and press release
Comprehensive access to actual collaborative R&D contracts entered into by the world's life science companies
Analysis of key deal financials including headline value, upfront, milestone payments and royalty rates
Insight into the terms included in a collaborative R&D agreement, together with real world clause examples
Understand the key deal terms companies have agreed in previous deals           
Undertake due diligence to assess suitability of your proposed deal terms for partner companies
Report scope
Global Collaborative R&D Partnering Terms and Agreements in Pharma, Biotech and Diagnostics 2014-2020 is intended to provide the reader with an in-depth understanding of the collaborative R&D trends and structure of deals entered into by leading life science companies worldwide.         
Global Collaborative R&D Partnering Terms and Agreements in Pharma, Biotech and Diagnostics 2014-2020 includes:
Trends in collaborative R&D dealmaking in the biopharma industry since 2014
Analysis of collaborative R&D deal structure
Case studies of real-life collaborative R&D deals
Comprehensive listing of over 5,000 collaborative R&D deals since 2014
Access to collaborative R&D contract documents
Key financial benchmarks for headline, upfront, milestone and royalty rates
The leading collaborative R&D deals by value since 2014
Most active collaborative R&D dealmakers since 2014
The leading collaborative R&D partnering resources
In Global Collaborative R&D Partnering Terms and Agreements in Pharma, Biotech and Diagnostics 2014-2020 available deals and contracts are listed by:
Company A-Z
Headline value
Therapeutic area
Technology type
Each deal title links via Weblink to an online version of the actual deal record and where available, contract document, providing easy access to each contract document on demand.
The Global Collaborative R&D Partnering Terms and Agreements in Pharma, Biotech and Diagnostics 2014-2020 report provides comprehensive access to available contract documents for licensing deals. Analyzing actual contract agreements allows assessment of the following:
What are the precise rights granted or optioned?
What is actually granted by the agreement to the partner company?
What exclusivity is granted?
What is the payment structure for the deal?
How do milestone align with clinical stage development phases?
How aresalesand payments audited?
How are the key terms of the agreement defined?
How are IPRs handled and owned?
Who is responsible for commercialization?
Who is responsible for development, supply, and manufacture?
How is confidentiality and publication managed?
How are disputes to be resolved?
Under what conditions can the deal be terminated?
What happens when there is a change of ownership?
What sublicensing and subcontracting provisions have been agreed?
Which boilerplate clauses does the company insist upon?
Which boilerplate clauses appear to differ from partner to partner or deal type to deal type?
Which jurisdiction does the company insist upon for agreement law?
Global Collaborative R&D Partnering Terms & Agreements in Pharma, Biotech & Diagnostics 2014-2020 report provides the reader with the following key benefits:
In-depth understanding of collaborative R&D deal trends since 2014
Analysis of the structure of collaborative R&D agreements with numerous real life case studies
Comprehensive listing of all collaborative R&D deals since 2014, together with deal terms, value and press release
Comprehensive access to actual collaborative R&D contracts entered into by the world's life science companies
Analysis of key deal financials including headline value, upfront, milestone payments and royalty rates
Insight into the terms included in a collaborative R&D agreement, together with real world clause examples
Understand the key deal terms companies have agreed in previous deals           
Undertake due diligence to assess suitability of your proposed deal terms for partner companies
Executive Summary
Chapter 1 – Introduction
Chapter 2 – Trends in collaborative R&D dealmaking
2.1. Introduction
2.2. Definition of collaborative R&D partnering
2.3. Success factors for collaborative R&D deals
2.4. When collaborative R&D can be useful
2.5. Attributes of collaborative R&D deals
2.6. Trends in collaborative R&D deals since 2014
2.6.1. Collaborative R&D dealmaking by year, 2014 to 2020
2.6.2. Collaborative R&D dealmaking by phase of development, 2014 to 2020
2.6.3. Collaborative R&D dealmaking by industry sector, 2014 to 2020
2.6.4. Collaborative R&D dealmaking by therapy area, 2014 to 2020
2.6.5. Collaborative R&D dealmaking by technology type, 2014 to 2020
2.6.6. Collaborative R&D dealmaking by most active company, 2014 to 2020
2.7. The future of collaborative R&D deals
Chapter 3 – Overview of collaborative R&D deal structure
3.1. Introduction
3.2. Pure versus multi-component collaborative R&D deals
3.3. Pure collaborative R&D agreement structure
3.3.1. Example collaborative R&D agreements
3.3.1.a. Case study 1: Marinus Pharmaceuticals - NovaMedica
3.3.1.b. Case study 2: Idenix Pharmaceuticals – Janssen Pharmaceuticals
3.4. Collaborative R&D as part of a wider alliance agreement
3.4.1. Example collaborative R&D agreements and their licensing clauses
3.4.1.a. Case study 3: 4D Molecular Therapeutics – UniQure
3.4.1.b. Case study 4: Kyowa Hakko Kirin – Ultragenyx Pharmaceuticals
3.4.2. Example licensing option right clauses in collaborative R&D deals
3.4.2.a. Case study 5: Forest Laboratories - Trevena
3.4.2.b. Case study 6: Abbvie – Receptos
Chapter 4 – Leading collaborative R&D deals
4.1. Introduction           
4.2. Top collaborative R&D deals by value
Chapter 5 – Top 25 most active collaborative R&D dealmakers
5.1. Introduction
5.2. Top 25 most active collaborative R&D dealmakers
Chapter 6 – Collaborative R&D deal term financials
6.1. Introduction
6.2. Collaborative R&D partnering headline values
6.3. Collaborative R&D deal upfront payments
6.4. Collaborative R&D deal milestone payments
6.5. Collaborative R&D royalty rates
Chapter 7 – Collaborative R&D contract directory 2014 - 2020
7.1. Introduction
7.2. Collaborative R&D deals with contracts 2014 to 2020
Appendices
Appendix 1 – Collaborative R&D dealmaking by companies A-Z
Appendix 2 – Collaborative R&D dealmaking by industry sector
Appendix 3 – Collaborative R&D dealmaking by stage of development
Appendix 4 – Collaborative R&D dealmaking by therapy area
Appendix 5 – Collaborative R&D dealmaking by technology type
About Wildwood Ventures
Current Partnering
Current Agreements
Recent report titles from Current Partnering
TABLE OF FIGURES
Figure 1: Definition of collaborative R&D
Figure 2: Situations where collaborative R&D can prove useful
Figure 3: Key attributes of a collaborative R&D deal
Figure 4: Trends in Collaborative R&D deal announcements, 2014 to 2020
Figure 5: Collaborative R&D deals signed at each phase of development, 2014 to 2020
Figure 6: Collaborative R&D deals by industry sector, 2014 to 2020
Figure 7: Collaborative R&D deals by therapy area, 2014 to 2020
Figure 8: Collaborative R&D deals by technology type, 2014 to 2020
Figure 9: Top 25 most active collaborative R&D dealmakers, 2014 to 2020
Figure 10: Collaborative R&D agreements – what should a contract include?
Figure 11: Components of the collaborative R&D deal structure
Figure 12: Top collaborative deals by value 2014 to 2020
Figure 13: Most active collaborative R&D dealmakers 2014 to 2020
Figure 14: Collaborative R&D deals with a headline value
Figure 15: Collaborative R&D deals with an upfront value
Figure 16: Collaborative R&D deals with a milestone value
Figure 17: Collaborative R&D deals with a royalty rate value
Pricing options
$3,495: single-user
$5,245: multi-user
$10,495: single site license
$17,495: global site license
A full explanation of license type definitions can be found here.
Our guarantee
Price promise
We guarantee our prices are competitive. If you find the same report advertised at a lower price within 7 days of purchase, we will refund the difference.
Delivery Deadline
We guarantee that the report will be sent within the specified delivery times. In the unlikely case of a delay we may offer a partial refund as compensation. (Terms may apply)
Latest report
If an update is published within 30 days of your purchase, you will receive it absolutely free of charge.
Serious Security
We take your data and security seriously. See our privacy policy for details of how we manage your data.
All card payments are processed by SagePay.
Sales Support
If you have any questions about your report or are unhappy with the quality, we will do our best to resolve your query. Contact us direct.
Total Trust
Current Partnering is part of Wildwood Ventures Ltd., based in York, United Kingdom. We have been trading successfully online since 2009 and work with some of the most famous brands in the business. We carefully select our partners to ensure that the publications meet expectations of demanding customers.
1QBit, 1ST Biotherapeutics, 2bPrecise, 3 Sisters Surrogacy, 3B Medical, 3B Pharmaceuticals, 3D Medicines, 3D Systems, 3M, 3M Drug Delivery Systems, 3SBio, 3Scan, 4D Molecular Therapeutics, 4D Pharma, 10X Genomics, 14M Genomics, 22nd Century, 23andMe, 908 Devices, A&D Medical, A*STAR Agency for Science, Technology and Research, A*STAR Bioprocessing Technology Institute, A*STAR Genome Institute of Singapore, A*STAR' Institute of Molecular and Cell Biology, A.I. Squared, A1M Pharma, Aarhus University Hospital, AB-Biotics, Abbott Laboratories, Abbvie, Abcam, AbCellera, AbCheck, Abcodia, Abeome, Abide Therapeutics, Abilita Bio, Ab Initio, ABIVAX, ABL Bio, Ablynx, AbMed, Abpro, Abramson Cancer Center, Abreos Biosciences, AbSci, Abveris, Abzena, Academic and Community Cancer Research United, Academic Drug Discovery Consortium, Academic Medical Center, Academy of Nutrition and Dietetics, Accelerated Cure Project for MS, Acceleron Pharma, Acceliant, Accellta, Accelovance, Accenture, Access BIO, Access Health, AccuGenomics, Accuray, Accurexa, Accutest, ACEA Biosciences, Acerta Pharma, Achaogen, Ache, Achieve Life Science, AC Immune, Acoustic MedSystems, Actelion, Acticor Biotech, Actigraph, Actinium Pharmaceuticals, ACT Onocology, Acucela, Acuity Pharmaceuticals, Acurian, Acurx Pharmaceuticals, Adagene, AdAlta, Adapsyn Bioscience, Adapt Analytics, Adaptate Biotherapeutics, Adaptimmune, Adaptive Biotechnologies, Adaptive Phage Therapeutics, Adare Pharmaceuticals, ADB International Group, ADC Therapeutics, Addex Therapeutics, Addiction Institute of Mount Sinai, Adimab, ADInstruments, Adlai Nortye, ADL Bionatur Solutions, ADMA Biologics, Admera Health, ADM Tronics, AdoRx Therapeutics, Aduro BioTech, Advaccine Biotechnology, Advaita, Advanced Biological Laboratories, Advanced BioNutrition, Advanced Cell Diagnostics, Advanced Chemistry Development, Advanced Clinical Trial Solutions, Advanced Proteome Therapeutics, AdvanSource Biomaterials, Advaxis, Adventist Health, Adverum Biotechnologies, Advocate Health Care, Adynxx, Aegilops Applications, Aeglea BioTherapeutics, Aelan Cell Technologies, Aemetis, Aequus Pharmaceuticals, Aeras, Aerie Pharmaceuticals, Aerocrine, Aeromics, AEterna Zentaris, Aethlon Medical, Aethon, Aetion, Aetna, Aetos Biologics, Aevi Genomic Medicine, Afaxys Pharmaceuticals, Affectis Pharmaceuticals, Affibody, Affilogic, Affimed Therapeutics, Affinivax, Affymetrix, AffyXell Therapeutics, AgaMatrix, AgBiome, AGC Asahi Glass, Age Labs, Agena Bioscience, Agendia, Agenus Bio, AgeX Therapeutics, AgileBio, Agilent Technologies, Agilis Biotherapeutics, Agilvax, Agios Pharmaceuticals, AgMedica Bioscience, AgonOx, Agricultural Research Service, Agrivida, AGTC, Aguettant, AiCure, AiCuris, Aiforia Technologies, AIMM Therapeutics, Aimmune Therapeutics, Air Force General Hospital, AirStrip Technologies, Aitbiotech, Akashi Therapeutics, Akcea Therapeutics, Akebia Therapeutics, Akers Biosciences, Akeso Biopharma, AKESOgen, Akili Interactive Labs, AKL Research and Development, Akron Biotechnology, Akston Biosciences, Alana Healthcare, Alaska Department of Health and Social Services, Albany Molecular Research, Alberta Health Services, Albert Einstein College of Medicine, Albertsons Companies, Albumedix, Alcon Laboratories, Alcyone Lifesciences, Aldevron, Aldeyra Therapeutics, Alector, Aleph Objects, Alexion Pharmaceuticals, Alfred E. Mann Institute for Biomedical Engineering, AlgaEnergy, Algatechnologies, Alibaba Health, Alienware, AliHealth, Alion Pharmaceuticals, AliveCor, ALK-Abello, Alkahest, Alkermes, Allegheny Technologies, Allegro Ophthalmics, Allele Biotechnology and Pharmaceuticals, Allen Institute for Brain Science, Allergan, Alliance for Biosecurity, Alliance for Clinical Research Excellence and Safety (ACRES), Alliance For Clinical Trials In Oncology, Alliance for Regenerative Medicine, Alliance Global Group, Alliance Healthcare Services, Alliance Medical, Alliance Oncology, Allied-Bristol Life Sciences, Alligator Bioscience, Allm, Allogene Therapeutics, AlloSource, Allscripts, Almac Diagnostics, Almac Discovery, Almac Group, Almirall, Alnylam Pharmaceuticals, Alpha Cancer Technologies, Alpha Genomix Laboratories, Alphalyse, Alphamab, Alpine Immune Sciences, ALR Technologies, ALS Association, Altasciences, Altavant Sciences, AltaVoice, Altiora, Altor BioScience, Altreos Research Partners, Alvotech, Alzheimer's Association, Alzheimer's Drug Discovery Foundation, Alzheimers Research UK, AlzProtect, Amal Therapeutics, Amarantus BioSciences, Amarex Clinical Research, Amarin, Amazon Web Services, Ambrosia Nutraceuticals, Ambrx, Ambry Genetics, Ambys Medicines, Amedica, American Academy of Ophthalmology, American Academy of Professional Coders, American Association for Cancer Research, American BriVision, American Cancer Society, American College of Chest Physicians, American College of Radiology, American College of Sports Medicine, American CryoStem, American Dental Association, American Diabetes Association, American Gene Technologies, American Heart/Stroke Association, American Heart Association, American Liver Foundation, American Lung Association, AmeriCann, American National Multiple Sclerosis Society, American Physiological Society, American Red Cross, American Sleep Apnea Association, American Society for Parenteral and Enteral Nutrition, American Society of Clinical Oncology (ASCO), American Society of Hematology, American Society of Human Genetics, American Type Culture Collection (ATCC), American Well, Americas Hernia Society Quality Collaborative, Amerigen Pharmaceuticals, Amerinet, AmerisourceBergen, AMFitzgerald, Amgen, Amicus Therapeutics, Amneal Pharmaceuticals, AmorChem, Amorsa Therapeutics, Amoy Diagnostics, Amplicon Express, AmpliPhi Biosciences, AmplyCell, AMR, AMRA, AMRI Hungary, Amyris, AnaBios, Anaeropharma, Anagenesis Biotechnologies, Analog Devices, Analytics Engines, Anam Hospital, ANANDA Scientific, Anandia Laboratories, Anatara Lifesciences, Anavex Life Sciences, Ancestry, Andrew Alliance, Anesthesia Business Consultants, AnGes MG, Angiex, Angion Biomedica, Angle, Angsana Molecular & Diagnostics, Anika Therapeutics, Anima Biotech, Animal Clinical Investigation, Anixa Biosciences, Annapurna Therapeutics, Annoroad, Anokion, Anpac Bio-Medical Science, ANP Technologies, Antaros Medical, Antengene, Anthem, Anthem Bluecross, Antibiotic Research UK, Antidote, Antidote Therapeutics, Antigen Express, Antikor Biopharma, Antitope, Antleron, Anton Paar, ANZAC Reserach Institute, Apceth, ApconiX, Apeiron Biologics, Apexigen, Aphios, API Corporation, Apocell, ApolloBio, Apollo Hospitals Group, Apollomics, Apotex, Appistry, Apple, Applied BioMath, Applied Clinical Trials, Applied DNA Sciences, Applied Molecular Transport, Applied Spectral Imaging, AppliTek, Appriss Health, Aprea, Aprecia Pharmaceuticals, Apricity Health, Aprima Medical Software, Aptamer Therapeutics, Aptar Pharma, Aptevo Therapeutics, Aptose Biosciences, APT Therapeutics, Aptuit, Aqilion, Aragen Bioscience, Aratana Therapeutics, Arbor Biotechnologies, Arbutus, Arcadia Biosciences, ARC Devices, ArcherDX, Arch Therapeutics, Arcturus Therapeutics, Arcus Biosciences, Arcutis Biotherapeutics, Ardena, Ardent Mills, Arecor, Arena Pharmaceuticals, Ares Genetics, Ares Life Sciences, arGEN-X, Argent Development Group, argenx, Argonne National Laboratory, Argos Therapeutics, Ariad Pharmaceuticals, Ariana Pharma, Aridis Pharmaceuticals, ArisGlobal, Arista Cereal Technologies, Arix Bioscience, Arizona State University, Arm, ArmaGen, Aro Biotherapeutics, AroCell, Arpeggio Biosciences, Arquer Diagnostics, ArQule, Arranta Bio, Array Biopharma, Arrowhead Pharmaceuticals, Arrow Pharmaceuticals, Arterial Remodeling Technologies, Artes Biotechnology, ARTeSYN, Artialis, Artizan Biosciences, ARTMS Product, ARUP Laboratories, Arvinas, Arzeda, Asahi Intecc, Asahi Kasei, Asan Medical Center, Ascensia Diabetes Care, Ascentage Pharma, Asclepia Outsourcing Solutions, Ascletis, Asia-Pacific Hepatocellular Carcinoma Trials Group, Asimily, ASKA Pharmaceuticals, AskAt, Asklepios Biopharmaceutical, Aslan Pharma, ASM International, Aspect Biosystems, Aspect Imaging, Aspen Institute, Aspira Scientific, Aspyrian Therapeutics, Assay.Works, Assay Depot, Assembly Biosciences, Association of Clinical Research Professionals, Assurex Health, Assuta Medical Centers, Astellas Pharma, Astem, Asterand Bioscience, Asterias Biotherapeutics, Astero Bio, Astex Pharmaceuticals, Asthma UK, AstraZeneca, Astute Medical, Asuragen, AsureQuality, Atara Biotherapeutics, Ataxion, aTen Therapeutics, ATGen Global, Athenahealth, Athenex, Athersys, Athletigen, Atlab Pharma, Atlas Genetics, Atlas Lift Tech, Atomwise, Atreca, ATUM, Atvio Biotech, aTyr Pharma, Auburn University, Audentes Therapeutics, Audiology Management Group, AUM Biotech, Aural Analytics, Aurigene Discovery Technologies, Aurinia Pharmaceuticals, Auris Medical, Auron Therapeutics, Aurora Diagnostics, AusHealth, Auspherix, Austen BioInnovation Institute in Akron (ABIA), Australian Genome Research Facility, Austrian Institute of Technology, Autifony Therapeutics, Autism Speaks, Autodesk, Autolus, Automation Anywhere, Auxly Cannabis Group, Avacta, Avalanche Biotechnologies, Avalere Health, Avalon GloboCare, AvantGen, Avantor, Avellino Labs, AVEO Oncology, Avera Health, Avera Heart Hospital of South Dakota, Avidity Biosciences, Avillion, Avita Medical, Axcelead Drug Discovery Partners, Axcella, Axella Research, AXIM Biotechnologies, Axiogenesis, Axis Therapeutics, Axol Bioscience, Axovant Sciences, Axway, Axxam, Axxin, Ayasdi, AyoxxA Biosystems, Aytu BioScience, B-MoGen Biotechnologies, Bacit, Bactevo, Baebies, Baheal Pharmaceutical, BalGeunSeSang Eye Clinic, Bank of America, Banner Alzheimer's Institute, Banner Health, Baptist Health Care, Barnabas Health, Baruch S Blumberg Institute, BASF, Basilea Pharmaceutica, Batavia Biosciences, Battelle, Bavarian Nordic, Baxalta, Baxter International, Bay Area Lyme Foundation, Bayer, Bayer CropScience, Bayer Healthcare, Bay Labs, Baylor College, Baylor College of Medicine, Baylor Genetics, Baylor Health Care System, Baylor Institute for Immunology Research, Baylor Miraca Genetics Laboratories, Baylor Sammons Cancer Center, Bay State Milling Company, BBK Worldwide, B Braun, BC Platforms, BC Technical, BD Consultancy, Beacon Discovery, Beactica, Beam Therapeutics, Beck's, Beckman Coulter, Becton Dickinson, BeiGene, Beijing Genomics Institute (BGI), Bellicum Pharmaceuticals, Ben-Gurion University, Benchling, Benchwise, BenevolentAI, Benitec Biopharma, Benson Hill Biosystems, Berg, BERG Analytics, BerGenBio, Berkeley Lights, Berlinger, Beroni Group, Bertin Pharma, Beta Pharma, Beta Therapeutics, Be The Match BioTherapies, Beth Israel Deaconess Medical Center, Beyondspring Pharmaceuticals, BGI, BGN Technologies, Biametrics, Bicycle Therapeutics, Bigfoot Biomedical, Bill and Melinda Gates Foundation, Binary Fountain, Bina Technologies, BIND Therapeutics, Bio-Cancer Treatment International, Bio-Manguinhos, Bio-Optronics, Bio-Rad Laboratories, Bio-Techne, bioAffinity Technologies, BioAgilytix, BioAnalytical Systems, BioArctic Neuroscience, BioAscent Discovery, biOasis Technologies, BIOASTER, BioAtla, BioBlast Pharma, Bioblock, BioBright, Biocare Medical, Biocartis, Biocept, Bioceres, BioCision, BioClones, Biocon, BIOCORP, BioCurate, BioCure, Biodel, BioDerm, Biodesix, Biodextris, BioDigital, Biodirection, BioDiscovery, BioFire Diagnostics, Biofourmis, Biogen, BioGenes, BioGenetics, Biognosys, Bioharmony Therapeutics, Biohealth Innovation, BioIntelliSense, BioInvent, BioLamina, Biolase, BioLife Solutions, BioLight Life Sciences Investments, BiolineRX, BioLingus, BioLite Japan, BioLizard, Biolog-id, Biological Dynamics, biologistex CCM, Biomanufacturing Training and Education Center, Biomarck Pharmaceuticals, BioMarin Pharmaceutical, Biomax Informatics, Biomed, Biomed Elements, Biomedical Advanced Research and Development Authority, Biomedical Catalyst Fund (UK), Biomedical Systems, BioMed Realty Trust, BIOMEDX Group, BioMed X Innovation Center, bioMerieux, Biomica, Biomillenia, Biomodels, BioMotiv, BiomX, BioNano Genomics, Bionetix, Bionic Sight, Bioniz Therapeutics, Bionomics, BioNovion, BioNTech, Bionure, BioOhio, Biooutsource, Biophore Pharmaceuticals, BioPontis Alliance, Bioptic, BioRap Technologies, BioRealm, BioReference Laboratories, BioRestorative Therapies, BioSense Global, Biosequel, Bioserve, BioSig Technologies, BioSolveIT, Biosortia Pharmaceuticals, Biostar Pharmaceuticals, BioStorage Technologies, BioSurplus, Biotage, Biotechnology and Biological Sciences Research Council (BBSRC), Biotechnology Industry Organization, Biotech Products Services & Research, BioTek Instruments, BioTelemetry, Biotem, Biotest, Biothera, BioTheranostics, BioTheryX, Biotop, Biotricity, BioVendor, Bioventus, Bioverativ, BioVersys, BioVinc, Biovista, BioViva Sciences, BioXcel, Bioz, BirchBioMed, Bird Foundation, Black AIDS Institute, Blackfynn, Blackrock NeuroMed, Black Swan Research Initiative, BlackThorn Therapeutics, BlinkBio, Blockchain Global, Blood Centers of America, Blood Systems Research Institute, Bloom Science, Blue Belt Technologies, Bluebird Bio, Blue Cross Blue Shield Association, Bluejay Diagnostics, Blue Mesa Health, BluePen Biomarkers, Blueprint Genetics, Blueprint Medicines, BlueRock Therapeutics, Blue Shield of California, Blum Center for Health, BluSense Diagnostics, BMC Medical, Boehringer Ingelheim, Boehringer Ingelheim Vetmedica, Bonbouton, Bone Therapeutics, Bonnie J. Addario Lung Cancer Foundation, Bophelo Bioscience & Wellness, BostonGene, Boston IVF, Boston Scientific, Boston Strategics, Boston Therapeutics, Boston University, Boston University School of Medicine, Bracco Imaging, Brain and Spine Institute, Brain Balance Achievement Centers, BRAIN Initiative, BrainLAB, BrainStem Biometrics, BrainStorm Cell Therapeutics, Brain Treatment Center San Diego, BravoVax, Breath Diagnostics, BriaCell Therapeutics, BridgeBio Pharma, Bridge Biotherapeutics, BridgeCrest Medical, Brigham and Women's Hospital, BrightFocus Foundation, Brightree, Brii Biosciences, BRIM Biotechnology, Bristol-Myers Squibb, Bristol-Myers Squibb Pakistan, British Lung Foundation, BroadcastMed, Broad Institute, Brooks Automation, Brown University, Bruker, Bruker Daltonics, BSSN Software, BT, BT for Life Sciences, BTG, Buchang Pharmaceutical, Buck Institute for Age Research, BullFrog AI, Burnet Institute, Burning Rock, Butantan Institute, C-Tri, C2i Genomics, C2N Diagnostics, C4 Therapeutics, C4X Discovery, Cadent, Cadila Pharmaceuticals, Caelum Biosciences, Caladrius Biosciences, Caldera Pharmaceuticals, Calgren Renewable Fuels, Caliber Biotherapeutics, Calico, Calidi Biotherapeutics, California Institute for Biomedical Research, California Institute for Quantitative Biosciences (QB3), California Institute of Technology, California Life Sciences Association, Calithera Biosciences, Calixar, Calypso Biotech, Calyxt, Camargo Pharmaceutical Services, Cambia Health Solutions, Cambridge Brain Sciences, Cambridge Cognition, Cambridge Epigenetix, Cambridge MedSpace, Camino Partnership, CAMP4 Therapeutics, Can-Fite BioPharma, Canadian Cancer Society, Canadian Cancer Trials Group, Canadian Institutes of Health Research, CANbridge Life Sciences, Cancer Genetics, CancerLinQ, Cancer Molecular Diagnostic Laboratory, Cancer Research Institute, Cancer Research Technology, Cancer Research UK, Cancer Science Institute of Singapore, CanCure, Candela, Candel Therapeutics, Cannabics Pharmaceuticals, Cannabis Science, CannaKids, Cannassure Therapeutics, Canndeo, Cannika, CannScience Innovations, Canntab Therapeutics, CannTrust, Canon U.S. Life Sciences, Canopy Growth, Cantab Anti-infectives, Capellabio, Capillary Biomedical, Capnia, Capricor Therapeutics, Caprion Biosciences, Caprion Proteomics, Caraway Therapeutics, CARB-X, Carbiotix, Carbon, Cardiff University, Cardinal Partners, Cardio Renal Society of America, Cardiorentis, Cardiovascular Research Foundation, Cardiovascular Systems, Cardium Therapeutics, Cardurion Pharmaceuticals, CareDx, CareFirst BlueCross BlueShield, CareFusion, CareNet, CarePayment Technologies, Carestream Health, Caresyntax, Cargill, Caribou Biosciences, Carilion Clinic, Caris Life Sciences, Carisma Therapeutics, Carlos Slim Health Institute, Carl Zeiss, Carmentix, Carmot Therapeutics, Carna BioSciences, Carnegie Mellon University, Carolina BioOncology Institute, Carrum Health, CarThera, Cartherics, CAS, Casebia Therapeutics, Case Western Reserve University, Castle Creek Pharmaceuticals, CasZyme, Catabasis Pharmaceuticals, Catalent, Catalyst Biosciences, Catalyst Pharmaceutical Partners, Catapult Therapy TCR, Catholic University Leuven, CBLPath, CBT Pharmaceuticals, CDC Foundation, Cedars-Sinai Medical Center, CEITEC, Celares, Celdara Medical, Celerion, Celgene, Cell2in, CellAct, Celladon, Cell and Gene Therapy Catapult, Cellaria Biosciences, Cell Design Labs, Celldex Therapeutics, Cellectar Biosciences, Cellect Biotechnology, Cellectis, Cellectis Bioresearch, Cellectricon, Cellesce, CellGenix, Celling Biosciences, CELLINK, Cell Line Genetics, CellMark Medical, Cell Medica, Cellnetix, CellProThera, CellSight Technologies, CellSpring, Cellthera Pharma, Cell Therapy Catapult, Cellular Biomedicine, Cellular Dynamics International, Celmatix, Celonic, Cel Sci, Celsius Therapeutics, Celularity, Celyad, Cenix BioScience, Censo Biotechnologies, Centauri Therapeutics, Center for Connected Health, Center for Genetic Engineering and Biotechnology (Cuba), Center for Human Immunology, Autoimmunity and Inflammation, Center for Infectious Disease Research, Center for iPS Cells Research and Application, Center for Technology and Innovation in Pediatrics (CTIP), Center on Addiction, Center Point Clinical Services, Centers for Disease Control and Prevention, Centers for Medicare and Medicaid Services, Centogene, Central Admixture Pharmacy Services, Centre de Recherche en Cancérologie de Lyon, Centre for Commercialization of Regenerative Medicine (CCRM), Centre for Drug Design and Discovery, Centre for Drug Research and Development (CDRD), Centre for Imaging Technology Commercialization, Centre for Research in Agricultural Genomics, Centre for Research in Medical Devices (CURAM), Centre for Structural Systems Biology, Centre For The Commercialization Of Antibodies And Biologics, Centre Hospital University - Bordeaux, Centre International de Developpment Pharmaceutique, Centre Leon Berard, Centre National de Biologie Expérimentale, Centre National de la Recherche Scientifique, Centro de Tecnologia Canavieira, Century Therapeutics, Cepheid, Ceram Research, Cerba HealthCare, Cerebain, CerebraCell, CereScan, Cerevance, Cergentis, Cerner, Certainty Health, Certara, Certis, Cerulean Pharma, Cerus, Cerveau Technologies, Cesca Therapeutics, Cevec Pharmaceuticals, CFTechnology.org, CHA Medical Group, Champalimaud Foundation, Champion Healthcare, Champions Oncology, Changchun BCHT Biotechnology, Changzhou Center for Biotech Development, Charcot-Marie-Tooth Association, Charles River Associates, Charles River Laboratories, Charleston Laboratories, Chattanooga Center for Neurologic Research, CHDI Foundation, Check-Cap, Checkmate Pharmaceuticals, Checkpoint Therapeutics, ChemAxon, Chembio Diagnostics, ChemDiv, ChemRar High-Tech Center, Chemspace, CHF Solutions, Chiesi Farmaceutici, Children's Hospital Boston, Children's Hospital Los Angeles, Children's Hospital of Philadelphia, Children's Hospital of Pittsburgh, Children's Hospital Of Wisconsin, Children's Medical Research Institute, Children's Minnesota, Children's National Health System, Children's Hospital Colorado, Chiltern, Chiltern International, Chimerix, China Animal Husbandry Industry, China Certification & Inspection Group, China Cord Blood, China Government, China Southeast University, Chinese Academy of Agricultural Science, Chinese Academy of Sciences, Chinese Center for Disease Control and Prevention, Chinese Society of Cardiology, Chinese University of Hong Kong, Chiome Bioscience, Chiromics, ChiScan, Christiana Care Health System, Christie Medical, Christus Health, ChromaDex, ChromaTan, Chromatin, Chromocell, Chronos Therapeutics, Chugai Pharmaceutical, Chugai Pharma Marketing, Cigna Healthcare, Cilag AG, Cilian, CiMaas, Cimar, Cincinnati Children's Hospital Medical Center, Circassia, Circle Pharma, Circuit Clinical, Circuit Therapeutics, CISCRP, Cisen Pharma, CISYS Lifesciences, Citizens United for Research in Epilepsy, City of Hope, CIVCO Radiotherapy, Civica Rx, Clalit Health Fund, Clarient, Claritas Genomics, Clay-Platte Family Medicine Clinic, Clearbridge Biomedics, ClearLight Diagnostics, ClearPath, Cleveland Clinic, Cleveland HeartLab, Cleveland University Hospitals, CLEW Medical, Click Therapeutics, Clinerion, Clinical Conductor, Clinical Development Services Agency, Clinical Genomics, Clinical Ink, Clinical Laserthermia Systems (CLS), ClinicAll International, Clinical Network Services, Clinical Oncology Research Excellence (CORE), Clinical Outcomes Tracking and Analysis, ClinicalStudyDataRequest, Clinical Study Support, Clinica Ruiz, Clinic for Special Children, Clinigen, Clinipace Worldwide, Clinlogix, ClinOne, Clinovo, Clinverse Technologies, Clinvest, Cloaked Therapeutics, Clontech Laboratories, Clorox Company, Close-Up International, Cloudera, Cloud Pharmaceuticals, Clover Biopharmaceuticals, Clover Therapeutics, Clovis Oncology, CluePoints, CMAB Biopharma, CMIC, CMS Medical, CNA Development, Coalition for Epidemic Preparedness Innovations, Coastal Genomics, Cobra Biologics, Cochin Hospital, Cocoon Biotech, Cocrystal Pharma, Codexis, Codiak BioSciences, Codigo46, Codonics, COFCO Group, Cognate BioServices, Cognition Kit, CogState, Cohen Veterans Bioscience, Cold Genesys, Cold Spring Harbor, Collaborative Drug Discovery, Collaborative Study Group, Collaborative Trajectory Analysis Project, Collective Medical, College of Life Science of Northwest University, Collplant, Color, Colorado Product Services, Colorado School of Mines, Colorcon, Columbia Care, Columbia University, Columbia University Medical Center, Colzyx, Comanche County Memorial Hospital, Community College of Philadelphia, Community Medical Center, Compact Imaging, Companion Dx Reference Lab, CompanionDx Reference Lab, Companion Medical, Companion PBx, Compassionate Care Center of New York, Compass Minerals Plant Nutrition, Compass Point Research, Complix, Compugen, CompuGroup Medical, Conatus Pharmaceuticals, Concept Life Sciences, Concerto HealthAI, Confluent Medical Technologies, Confo Therapeutics, Congenica, Conkwest, Connecticut Children's Medical Center, Connexios, Consensus Orthopedics, Consortia Health Clinical Continence Services, Context Therapeutics, Contextual Genomics, ContraFect, ContraVir Pharmaceuticals, ConvaTec, Convelo Therapeutics, Convergence Pharmaceuticals, Cook Biotech, Cook Pharmica, Cook Regentec, Cooperative Research Centre for Cell Therapy Manufacturing, Copan Diagnostics, COPD Foundation, Corbin Therapeutics, Corbus Pharmaceuticals, Corcept Therapeutics, Cord Blood Registry, Cordlife, CoreBiome, CoreRx Pharma, Corestem, Corgenix Medical, Coriell Life Sciences, Corium International, Corning, Corporation for Biological Research, CorTechs Labs, Corteva Agriscience, CorVascular, Corvus Pharmaceuticals, CosmosID, COTA, COUR Pharmaceutical, Courtagen Life Sciences, Covance, Covaris, Covidien, CPI International, CPR Pharma Services, Create Vaccine Company, Creative Biolabs, Creative Biomart, Creative Destruction Lab, Crescendo Biologics, Crescendo Bioscience, Crescita Therapeutics, Cresset, CRF Health, CRISPR Therapeutics, Crohn's and Colitis Foundation of America, Croix-Rousse Hospital, CromSource, Crossbeta Biosciences, CrowdMed, Crown Bioscience, CRS Bio, Crucell, CryoPort, CrystalGenomics, CSL, CSL Behring, CSPC Pharmaceutical Group, CSSI LifeSciences, CStone Pharmaceuticals, CTC Clinical Trial, CTD Holdings, CTX Technology, Cubist Pharmaceuticals, CUBRC, Cue Biopharma, Cullinan Oncology, Cultiv8, Cumberland Emerging Technologies, Cumberland Pharmaceuticals, Curable, Curadev Pharma, Curant Health, Cure Brain Cancer Foundation, CureCell, Cure Duchenne, Cure Forward, CURE Pharmaceutical, Cure Sanfilippo Foundation, Curetis, CureVac, Curie-Cancer, Curing Kids Cancer, Curiox Biosystems, Curis, Curium, Current Partnering, CurveBeam, Cutaneous Lymphoma Foundation, CvergenX, CVie, CW Analytical, Cyagen Biosciences, CyberHeart, CyberKnife, Cyclacel Pharmaceuticals, Cyclenium Pharma, Cyclica, CyDex, CymaBay Therapeutics, Cynapsus Therapeutics, Cynata Therapeutics, CynergisTek, Cynvenio, Cypher Genomics, Cyrus Biotechnology, Cystic Fibrosis Foundation, Cystic Fibrosis Foundation Therapeutics, Cytapex Bioinformatics, Cytel, CYTLIMIC, Cytobank, Cytodyn, Cytokinetics, CytomX Therapeutics, Cytoo, CytoReason, Cytos Biotechnology, CytoSen Therapeutics, Cytovant Sciences, Cytox, Cyxone, Czech Center for Phenogenomics, d3 Medicine, Daewoong Pharmaceutical, Daiichi Sankyo, Dainippon Sumitomo Pharma, Dako, Daktari Diagnostics, DalCor Pharmaceuticals, Dalton Pharma Services, Dana-Farber Cancer Institute, DanDrit Biotech, Danish Center for Strategic Research into Type 2 Diabetes, Dare Bioscience, DarioHealth, Dartmouth-Hitchcock Medical Center, Dartmouth College, DarwinHealth, Dassault Systems, Data2Life, DATATRAK International, Datavant, David H. Koch Institute for Integrative Cancer Research, DaVita Clinical Research, DaVita HealthCare Partners, Da Volterra, Daxor, DayTwo, DBV Technologies, DCPrime, DEARhealth, Debiopharm, Debiotech, DEBRA Austria, Decernis, Decibel Therapeutics, DecisionQ, deCODE Genetics, DEEP 6 AI, Deep Cube, Deerfield Management, Defense Advanced Research Projects Agency, Definiens, Defymed, Dehaier Medical Systems, Deinove, Delcath Systems, Delivering Scientific Innovation for Autism (DELSIA), DelMar Pharmaceuticals, DelSiTech, Dementia Consortium, Dementia Discovery Fund, Denali Therapeutics, Denator, Densitas, Dent Neurologic Institute, Dentsply International, Department of Defence, Department of Defense, Department of Defense Hearing Center of Excellence and Vision Center of Excellence, Department of Health and Human Services, Department of Veterans Affairs, DePuy, Dermala, DermaPort, DermSpectra, DermTech, Desert Imaging, Desktop Genetics, DestiNA Genomics, Deutsches Elektronen-Synchrotron, Devana Solutions, DexCom, DHL, Diaceutics, diaDexus, Diagnomics, DiA Imaging Analysis, DiaMedica, DiamiR, DIAN Diagnostics, Diasend, DiaSorin, Diaxonhit, DiCE Molecules, Dicerna Pharmaceuticals, DICOM Grid, Dicom Systems, DigiPath Solutions, DigitalizaTXT, Digital Therapeutics Alliance, DILIsym Services, Dimension Therapeutics, DiNAQOR, Diploid, DiscoveRx, Discovery Laboratories, Discuva, Disior, Dispersive Technologies, Distributed Bio, Diversigen, Dixie State University, DNA Link, DNAnexus, DNA Therapeutics, DNAtrix, DNX Biopharmaceuticals, DocuSign, Dogma Therapeutics, Dolomite Bio, Domainex, Domain Therapeutics, Donald Danforth Plant Science Center, Dong-A ST, Dotmatics, Dow AgroSciences, Dow Chemical, Dow Jones, Dr. Agarwal's Eye Hospitals, Dr. Reddy's Laboratories, Dragonfly Therapeutics, Draper Laboratories, DrChrono, DreaMed Diabetes, DrFirst, DrugDev, Drugs for Neglected Diseases Initiative, DSG, DSM, Dualogics, Dual Therapeutics, Duchenne Therapy Network, Ductor, Duke-NUS Graduate Medical School Singapore, Duke Cancer Institute, Duke Clinical Research Institute (DCRI), Duke University, Duke University Medical Center, DuPont, DuPont Pharmaceuticals, DxTerity, Dyadic International, DyNAbind, Dynasil, Dynavax Technologies, Dystonia Europe, Dystonia Medical Research Foundation, Dystrophic Epidermolysis Bullosa Research Association of America, DZNE German Center for Neurodegenerative Diseases, e-NABLE Foundation, E-Therapeutics, E.I. Medical Imaging, E.T. Horn, Eagledream Health, Eagle Genomics, EA Pharma, EarlySense, Early Signal Foundation, East and North Hertfordshire NHS Trust, EastGate Biotech, Easton Pharmaceuticals, EBD Group, EBM-Solutions, Eccrine Systems, Echosens, eClinicalHealth, eClinical Insights, ECOG-ACRIN Cancer Research Group, Ecole Polytechnique de Montreal, Ecole Polytechnique Federale de Lausanne, Eddingpharm, Edelris, Edge Therapeutics, Edico Genome, EdiGene, Edimer Pharmaceuticals, Edison Nation Medical, Edison Pharmaceuticals, Editas Medicine, Edwards Lifesciences, eemagine, eFFECTOR Therapeutics, EffRx, Egenix, EHang Holdings, Eigen, Eiger BioPharmaceuticals, Eisai, Eisai Inc, EKF Diagnostics, EKF Diagnostics (Germany), Elanco, Elastos Foundation, ELC Group, Elekta, Elektrofi, Elemental Machines, ElevateBio, Elevian, Elicio Therapeutics, Eli Lilly, Elligo Health Research, Ellume, Elpiscience, Elsevier, Elucidata, Elucigene, Elysium Health, Embark Biotech, Emdeon, EMD Millipore, EMD Serono, Emerald Logic, Emerge Health, Emergence Therapeutics, Emergent BioSolutions, Emergex Vaccines, Emerson Process Management, Emirates Diabetes Society, Emirates Gastroenterology & Hepatology Society, Emocha Mobile Health, eMolecules, Emory University, Emperra, Empirico, Emulate, Enable Biosciences, Enable Healthcare, Enamine, EnBiotix, Encoded Therapeutics, Encycle Therpaeutics, Endocanna Health, Endocyte, Endotherm, endpoint Clinical, ENDRA Life Sciences, Energesis Pharmaceuticals, Enesi Pharma, enGene, Engineered Medical Solutions, Enigma Biomedical, Enigma Diagnostics, Entegra Laboratories, Enterome Bioscience, Entos Pharmaceuticals, Entra Health, Enumeral Biomedical, EnvisionTec, ENYO Pharma, Enzo Biochem, Enzymatica, Enzyvant Science, Eone-Diagnomics Genome Center, EPAM Systems, Epic Sciences, Epilepsy Foundation (EF), Epilepsy Society, EpimAb Biotherapeutics, Epinomics, Epirus Biopharmaceuticals, EpiThany, Epivax, Epizyme, Eppendorf, Epsilon, Erasmus University Medical Center, Ergomed, ERP Biomarker Qualification Consortium, ERS Genomics, ERT, Ervaxx, Erytech, Escient Pharmaceuticals, Esperance Pharmaceuticals, Essex Bio-Technology, Esteve, EtectRx, Eternygen, Ethical Oncology Science, Ethicon Endo-Surgery, Ethos Veterinary Health, Etubics, Eucodis Bioscience, Euphoria Wellness, Euprotec, Eureka Eurostars, Eureka Genomics, Eureka Therapeutic, Eurofins Discovery, Eurofins Genomics, Eurofins Scientific, Euroimmun, European Bioinformatics Institute, European Board and College of Obstetrics and Gynaecology, European Infrastructure for Translational Medicine, European Molecular Biology Laboratory, European Organization for Research and Treatment of Cancer, European Parkinson's Disease Association, European Society for Radiotherapy & Oncology, European Union, European Vaccine Initiative, Eurotrials, EUSA Pharma, Eutropics Pharmaceuticals, Evaxion Biotech, Evelo Biosciences, Evergene, EverlyWell, Evestra, Evidation Health, Evident Technologies, Evidera, Evogen, Evogene, Evoke Pharma, Evolva, Evonik Industries, Evosep, Evotec, Evox Therapeutics, Exact Sciences, Exagen Diagnostics, Exalenz Bioscience, Excel Life Sciences, ExCellThera, Excelra, Excivion, Exco InTouch, Exelixis, Exelon Generation Company, Exicure, Exonate, Exosome Diagnostics, Exosome Sciences, Exostar, Expansion Therapeutics, Expedeon, Expesicor, Exploragen, Expression Analysis, Expression Therapeutics, ExScientia, ExThera Medical, ExxPharma Therapeutics, EyeMedics, F-Star, Fabric Genomics, Facebook, Facio Therapies, Facit, Faes Farma, Fair Access Medicines, FairJourney Biologics, Fairview Health System, Faron Pharmaceuticals, Fast-Track Diagnostics, Fast Forward, FASTVet, Fate Therapeutics, FCH Group, FDA Center for Veterinary Medicine, FDNA, FedCentric Technologies, Federal Ministry of Education and Research (BMBF), FEI, Feinstein Institute for Medical Research, Feist-Weiller Cancer Center, Feldan Therapeutics, Felicitex Therapeutics, Ferring Pharmaceuticals, Fertility SOURCE Companies, Fibriant, Fibrocell Science, Fibrocor Therapeutics, Fibrogen, Fidelta, Field, Fimbrion Therapeutics, Fina Biosolutions, Finch Therapeutics, Firefly Medical, FirstString Research, FISBA, Fitabase, FitBit, Five Prime Therapeutics, Flagship Biosciences, Flatiron Health, Flexpoint Sensor Systems, Flextronics, Flo Health, Florey Institute of Neuroscience and Mental Heath, Florida Atlantic University Research, Florida Hospital, Florida International University, Florida State University, FlowJo, Flow Pharma, FluidForm, Fluidigm, Fluofarma, Fluxion Biosciences, Flywheel, Foamix, FOB Synthesis, Focus Software of Alabama, Fogarty Institute for Innovation, Foley Hoag, Fondation Cancer, Fondatioun Kriibskrank Kanner, Fondazione Telethon, Food and Drug Administration (FDA), Forbius, Forendo Pharma, Forge Therapeutics, FORMA Therapeutics, Formula Pharmaceuticals, Formulatrix, Fortis Healthcare, Forty Seven, Forward Advantage, Fosun Diagnostics, Fosun Kite Biotechnology, Foundation Fighting Blindness, Foundation for Innovative New Diagnostics, Foundation for International Urogynecological Assistance, Foundation for Mitochondrial Medicine, Foundation for the Children of the Californias, Foundation for the National Institutes of Health (FNIH), Foundation Medicine, Foundry Health, Four Points Innovation, Fovia Medical, Fox Chase Cancer Center, Francis Crick Institute, Fraunhofer Institute for Molecular Ecology (IME), Frederick National Laboratory For Cancer Research, Fred Hutchinson Cancer Research Center, Freenome, French Alternative Energies and Atomic Energy Commission, French National Genotyping Center, French National Research Agency, Frenova Renal Research, Frequency Therapeutics, Fresenius Medical Care, Friedreichs Ataxia Research Alliance, Fritz Clinic, frog, Frontage Laboratories, Front Range Biosciences, FSD Pharma, Fudan University, Fujifilm, Fujifilm Diosynth Biotechnologies, Fujifilm medical systems, Fujirebio Diagnostics, Fulcrum Therapeutics, Fundacion Medina, Fusion Antibodies, Fusionex, FusionHealth, Fu Wai Hospital, Fuzionaire Diagnostics, G-Con, G1 Therapeutics, Gadeta, Galapagos, Galderma, Galectin Therapeutics, Galena Biopharma, Galmed Pharmaceuticals, GamaMabs Pharma, Gamida Cell, Gamma Medica, Garmatex Technologies, Garmin, Garvan Institute of Medical Research, Gatehouse Bio, GC Pharma, GCS Sesan, GDM Seeds, Gedeon Richter, GE Global Research, GE Healthcare, Geisinger Health System, Geisinger Medical Center, Gen9, Genable Technologies, GenCell Biosystems, Gencor, Genea Biocells, Genea Biomedx, GeneCentric Therapeutics, Genective, GeneData, GenEdit, GeneDX, Geneformics, GeneInsight, GeneNews, Genentech, GenePeeks, General Atlantic, General Electric (GE), Generex Biotechnology, GenesisCare, Genestack, GeneThera, Genethon, Genetic Alliance, Genetic Analysis, Genetic Technologies, Genetron Health, GeNeuro, Geneva University Hospitals, Genewiz, Genexine, Genfit, Genialis, Genisphere, Genmab, Genocea Biosciences, GenoLogics, Genomac Research Institute, Genomatica, Genome and Company, Genome Canada, Genome Compiler, GenomeDx, Genome Institute of Singapore, Genome Medical, Genomenext, Genomeon, GenomiCare, Genomic Health, Genomics, Genomics England, Genomics LTD, Genomic Testing Cooperative, Genomind, Genomoncology, Genoox, Genor Biopharma, Genovis, Genovive, GenScript USA, Gentag, GenTegra, Genten Therapeutics, Gentris, Genus, GenVec, GenXys, Genzyme, George Clinical, George Mason University, Georgetown Lombardi Comprehensive Cancer Center, Georgetown University, Georgetown University Hospital, George Washington University, Georgia Institute of Technology, Georgia Regents University in Augusta, Georgia State University, Georgia State University Research Foundation (GSURF), GeoVax, German Cancer Research Center, German Federal State Baden-Wurttemberg, German Research Foundation (DFG), Germfree, Geron, Gestion Univalor, GE Ventures, Gilead Sciences, Ginkgo BioWorks, GISCAD Foundation, Givaudan, Gladstone Institutes, Glatt Group, GlaxoSmithKline, GlaxoSmithKline Biologicals, Glencoe Software, Glenmark Pharmaceuticals, Glide Technologies, Global Alliance for Innovation in Neuroscience, Global Alzheimer's Platform (GAP), Global Antibiotic Research and Development Partnership, Global Biological Standards Institute, Global Blood Therapeutics, Global Center for Health Innovation, Global Centers for Therapeutic Innovation, Global Discovery Biosciences, Global Genes, Global Genomics Group, Global Kinetics, Global Lung Cancer Coalition, GlobalMed, Global Orthopaedic Technology, Global Record Systems, Global to Local, Globavir Biosciences, Glooko, Glow, GlucoMe, GlycoMimetics, Glycostem Therapeutics, Glykos, Glympse Bio, Glytec, GNA Biosolutions, Gnosis Bioresearch, GNS Healthcare, GOG Foundation, Golden Meditech, Goldfinch Bio, Gold Standard Diagnostics, Good Measures, Good Start Genetics, Good Therapeutics, Goodwin Biotechnology, Google, Gossamer Bio, Gotham Therapeutics, Government of Canada, Govzilla, GPBio, Gradalis, Grail, Grameen Health, GrayBug, Greatbatch, Greater Paris University Hospitals, Great Lakes Drug Development, Great Ormond Street Hospital (GOSH), Green Cross LabCell, Greenlight Biosciences, Greenville Health System, Greiner Bio-One, Grifols, Gritstone Oncology, Grow Biotech, Grunenthal, GSL Biotech, GT Apeiron Therapeutics, GTP Technology, Guangdong Provincial People's Hospital, Guangzhou RiboBio, Guangzhou Xiangxue Pharmaceutical, Guardant Health, Gubra, GuideVine, GuoMinXinHe Investment Fund, Gurnet Point Capital, Guys and St Thomas NHS Foundation Trust, GVK Biosciences, GW Pharmaceuticals, H3 Biomedicine, Hackensack Meridian Health, Hackensack University Medical Center, Hadasit Medical Research Services and Development, Hadassah Medical Center, Hainan Sihuan Pharmaceutical, Halfpenny Technologies, HalioDx, Halo Pharmaceutical, Halozyme Therapeutics, Hamad Bin Khalifa University, Hamdan Bin Mohammed Smart University, Hamilton Company, Hamilton Robotics, Hamilton Thorne, HanAll Pharmaceuticals, Hangzhou Tigermed Consulting, Hanmi Pharmaceutical, Hannover Medical School, HanX Biopharmaceuticals, Haplogen, Happy Life Tech, Hapten Sciences, Harbin Gloria Pharmaceuticals, Harbour Antibodies, Harbour Biomed, Harlan Laboratories, Harpoon Therapeutics, Harvard Apparatus Regenerative Technology, Harvard Medical School, Harvard Pilgrim Health Care, Harvard Stem Cell Institute, Harvard University, Harvest Capital Strategies, Hawaii Biotech, Hawkeye Therapeutics, Haystack Bio, hc1.com, HCL Technologies, Health2Sync, HEALTH Biomed, Healthcare Global Enterprises, Health Care Originals, Healthcare Technology Innovation Centre (Chennai), Health Connexions, HealthCore, HealthEast, Healthe Care Australia, Healthmark Industries, HealthONE, HealthPrize Technologies, HealthSnap, HealthSouth, HealthSpot, Healx, Heartflow, HeartScore, Heat Biologics, Hebrew University of Jerusalem, HEC Pharm, Hedera, Heidelberg Pharma, Helius Medical Technologies, Helix, Helix BioPharma, Helmholtz Centre for Infection Research, Helmholtz Zentrum Munchen, Helomics, Helperby Therapeutics, Helsinki University Central Hospital (HUCH) Comprehensive Cancer Center, Helsinn Healthcare, HemaCare, HemispheRx Biopharma, Hemogenyx, HemoShear, Henan Province People's Hospital, Henlius Biotech, Hennepin County Medical Center, Henry Schein, Hepatitis B Foundation, HepaTx, Hereditary Neuropathy Foundation, Heritage Valley Health System, Heron Therapeutics, Hertie Foundation, Hetero Labs, hict, Hielscher Ultrasonics, HiFiBio, Highland Therapeutics, Highline Therapeutics, Highmark Blue Shield, Highmark Health, High Performance Nutrition, High Point Clinical Trials Center, HighRes Biosolutions, Hillstream BioPharma, Histogenics, HistoIndex, Hitachi, Hitachi Aloka Medical, Hitachi Chemical, Hitachi Data Systems, Hitachi High-Technologies Corporation, Hitachi Medical Systems Europe, HitGen, HIV Resistance Response Database Initiative, HMicro, HMNC Brain Health, Hoffmann La Roche, Holobiome, Hologic, Homology Medicines, Hong Kong Baptist University, Hong Kong Polytechnic University, Hookipa Pharma, Horizon Discovery, Horizon Healthcare Services, Horizon Pharma plc, Horizon Therapeutics, Hospices Civils de Lyon, Hospira, Hospital Clinico Metropolitano La Florida, Hospital for Special Surgery, Hospital Sisters Health System, Hovione, Howard Hughes Medical Institute (HHMI), HP, HQL Pharmaceuticals, HRA Pharma, HSG-IMIT, Hsiri Therapeutics, HSRx Group, HSTpathways, HTG Molecular Diagnostics, Huami, Huawei, Hubei Qianjiang Pharmaceutical, Hubrecht Organoid Technology, Hudson-Alpha Institute for Biotechnology, HudsonAlpha Institute for Biotechnology, Hudson Robotics, Humabs BioMed, Humana, Human Longevity, Human Vaccines Project, Humboldt-Innovation, Hummingbird Bioscience, Huntsman Cancer Institute, Huntsworth Health, Huvepharma, HUYA Bioscience, Hvidovre Hospital, Hybridyne Imaging Technologies, Hydra Biosciences, Hygieia, Hy Laboratories, Hyperfine Research, Hyundai Pharmaceutical, I-mab, Ibex Medical Analytics, IBI-Lorenzini, iBio, IBM, IBM Watson Health, IBT Bioservices, iCAD, Icagen, Icahn School of Medicine at Mount Sinai, iCarbonX, iCardiac Technologies, Ichor Medical Systems, Icon, Idaho Urologic Institute, IDBS, Ideal Life, Idera Pharmaceuticals, Idorsia, IDS, Ifa Systems, IFM Therapeutics, Igantia Therapeutics, iGEM, Igenbio, iGeneTRAiN, IGNITE Immunotherapy, Ignyta, Ikanik Farms, Iktos, ILiAD Biotechnologies, Illumina, IM-Tech, ImaBiotech, ImageIQ, Imagene Labs, Image Stream Medical, ImaginAb, Imaging Advantage, Imago Systems, Imanis Life Sciences, Imbrium Therapeutics, ImClone Systems, Imec, IMIDomics, Immatics Biotechnologies, Immodulon Therapeutics, Immucor, ImmuDyne, Immugenyx, ImmunArray, Immune-Onc Therapeutics, Immune Biosolutions, Immune Design, Immuneering, Immunexpress, ImmuNext, Immunicum, ImmunID Technologies, ImmunoBiochem, ImmunoCellular Therapeutics, ImmunoChina Pharmaceuticals, ImmunoClin, Immunocore, ImmunoGen, Immunome, Immunomedics, ImmunoPhotonics, ImmunoQure, Immunovaccine, Immunovia, Immunscape, ImmuPharma, Immutep, IMPACT Therapeutics, ImpediMed, Impel NeuroPharma, Imperial Brands, Imperial College London, Imperial Innovations, ImplantBase, Impression Healthcare, Imprivata, Imricor Medical Systems, IMRIS, IMS Health, IMV, In-Depth Genomics, Inception Sciences, Inceptua, Incyte, Indegene Lifesystems, Indiana Biosciences Research Institute, Indiana Clinical and Translational Sciences Institute, Indiana University, Indiana University-Purdue University Indianapolis, Indian Cooperative Oncology Network, Indica Labs, IndieBio, Indigo Medical, InDi Molecular, Indivior, Indivumed, Industrial Technology Research Institute, Infectious Disease Research Institute (IDRI), Infinity Pharmaceuticals, Inflection Biosciences, InfoChem, Infor, InformedDNA, Inform Genomics, InfraReDx, InfuSystem Holdings, InfuTronix Solutions, InGen BioSciences, Ingenza, Inhibrx, Inivata, InMed Pharmaceuticals, Innate Biologics, Innate Pharma, InnoCentive, InnoPharma, Innosphere, Innova Biosciences, Innovate Biopharmaceuticals, Innovate UK, Innovation Health, Innovative Genomics Initiative (IGI), Innovative Medicines Initiative (IMI), Innovative Targeting Solutions, Innovent Biologics, Inocucor Technologies, Inotrem, Inova Genetica, Inova Health System, Inovalon, Inova Translational Medicine Institute, Inovio, Inovio Pharmaceuticals, Inscopix, Insel Gruppe, Inserm, Inserm Transfert, InSightec, Insight Genetics, Insight Medical Systems, Insightra Medical, inSili.com, Insilico, Insilico Medicine, InSite Vision, Insitro, InSphero, Inspirotec, Inspyr Therapeutics, Instem, Institut Català d'Oncologia, Institut Curie, Institute for Functional Medicine, Institute for Global Food Security, Institute for In Vitro Sciences, Institute For Life Science Entrepreneurship (ILSE), Institute for Research in Immunology and Cancer – Commercialization of Research, Institute for Systems Biology, Institute of Bioengineering of Catalonia, Institute of Bioinformatics, Institute of Cancer Research, Institute of Child Health, Institute of Molecular Biology of Paraná (IBMP), Institute Of Molecular Biotechnology, Institut Gustave Roussy, Instituto de Ciencias Farmaceuticas, Institut Pasteur, Insulet, Intarcia Therapeutics, Intec, IntegraGen, Integra LifeSciences, Integral Molecular, Integrated Animal Health, Integrated Biobank of Luxembourg, Integrated BioTherapeutics, Integrated DNA Technologies, Integrated Surface Technologies, Intel, Intellegens, Intellia Therapeutics, IntelliCell BioSciences, Intellimedix, INTELLiSTEM, Intensity Therapeutics, INTENZE Products, Intercept Pharmaceuticals, Intermountain Healthcare, InteRNA Technologies, International AIDS Vaccine Initiative, International Association for the Study of Lung Cancer, International Association of Providers of AIDS Care, International Consortium on Anti-Virals, International Medical University, International Myeloma Foundation, International Security Group, International Society for Cellular Therapy, International Vaccine Institute (IVI), Interpace Diagnostics, Interpace Diagnostics Group, InterpretOmics, Interprotein, InterSystems, Intertek, Intertrust, Interventional Concepts, InTouch Health, Intralytix, Intrexon, Intronix Technologies, IntuitiveX, Invenra, Inventia Healthcare, Inventiva, inVentiv Health, Invetech, inviCRO, Invion, INVISTA Technologies, Invitae, InVivoScribe, InVivo Therapeutics, Invuity, InxMed, IO Biotech, Ionis Pharmaceuticals, ION Solutions, IONTAS, Iovance Biotherapeutics, IPIC (Irish Photonic Integration Center), IPMD, Iproteos, Ipsen, IPS Specials, IRBM, iRhythm Technology, Iris Pharma, IROA Technologies, Irras, IRX Therapeutics, iSage Rx, ISA Pharmaceuticals, ISA Scientific, ISIS Innovation, Isofol Medical, Isomerase Therapeutics, IsoTherapeutics, ISOThrive, iSpecimen, Israel Institute for Biological Research, Italfarmaco, Italian Multiple Sclerosis Society, ITM Isotopen Technologien, Itochu, ITR Laboratories, Iveric Bio, IviGen, Ivy Brain Tumor Center, IXICO, Jackson Laboratory, Jaguar Health, Jain Foundation, JAJ International, Janssen-Cilag, Janssen Biotech, Janssen Diagnostics, Janssen Human Microbiome Institute, Janssen Pharmaceuticals, Janssen Pharmaceutica NV, Janssen Research & Development, Janssen Therapeutics, Janus Pharmaceuticals, Japan Medical Dynamic Marketing, Japan Science and Technology Agency, Jazz Pharmaceuticals, J Craig Venter Institute, JCR Pharmaceuticals, Jeffrey Modell Foundation, Jenner Institute, JHL Biotech, Jiangsu Alphamab, Jiangsu Chia Tai Tianqing Pharmaceutical, Jiangsu Hansoh Pharmaceutical, Jiangsu Hengrui Medicine, Jiangsu NHWA Pharmaceutical, Jin, Jing Medicine, Jinzhou Ahon Pharma, Jitsubo, Jnana Therapeutics, John Hopkins University School of Medicines, Johns Hopkins Kimmel Cancer Center, Johns Hopkins Medicine (JHM), Johns Hopkins University, Johnson & Johnson, Johnson & Johnson Consumer Companies, Johnson & Johnson Innovation, Johnson & Johnson Vision, Johnson Matthey, John Wayne Cancer Institute, John Wiley and Sons, Joslin Diabetes Center, Jounce Therapeutics, JS InnoPharm, JSR, Jubilant Biosys, Juno Therapeutics, Junshi Biosciences, Juntendo University, Juvenescence, Juvenile Diabetes Research Foundation, JW Pharmaceutical, K-PAX Pharmaceuticals, Kadimastem, Kadmon Pharmaceuticals, KAHR Medical, Kaiima Bio-Agritech, Kailos Genetics, Kairuku, Kaiser Permanente, Kaken Pharmaceutical, Kalbe Genexine Biologics, Kaleido Biosciences, Kalgene Pharmaceuticals, Kali Care, Kallyope, KalVista Pharmaceuticals, Kamada, Kaneka, Kansas City Area Life Sciences Institute, Kansas State University, Kantar Health, Kanteron Systems, Kapa Biosystems, Kapstone Medical, Karl Storz, Karolinska Development, Karolinska Institute, Karolinska University Hospital, Karo Pharma, Karus Therapeutics, Karyopharm Therapeutics, Kasios, Kavli Foundation, Kawasumi Laboratories, Kazia Therapeutics, KBI BioPharma, KBP BioSciences, KCAS, KDAc Therapeutics, Kebotix, Keck Graduate Institute of Applied Life Sciences, Keck School of Medicine of USC, Keio Gijuku University, KemPharm, Kennedy Trust For Rheumatology Research, Kent Imaging, Kerecis, KEW, KeyBioScience, Keygene, Keystone Heart, Kiadis Pharma, KinderPharm, KineMed, Kineta, Kinetiq, Kinetix Group, King's College Hospital, Kingfisher Talent, King Saud University, Kings College London, Kiniksa Pharmaceuticals, KinoPharma, Kintor, Kissei Pharmaceutical, Kit Check, Kite Pharma, Kitware Partner, Kiyatec, Kleiner Perkins Caufield & Byers, Knight Cancer Institute, Knight Therapeutics, Kodiak Sciences, Kois Center, KOL Bio Medical Instruments, KolGene, Komodo Health, Koneksa Health, Konica Minolta, Korea Drug Development Fund, Korea Health Industry Development Institute, Korean Drug Development Fund, KPIT, KPMG, Krankenhaus Nordwest, Kura Oncology, Kurma Life Sciences Partners, Kwangdong Pharmaceutical, KYAN Therapeutics, Kymab, Kymera Therapeutics, Kyn Therapeutics, Kyocera, Kyorin Pharmaceutical, Kyoto University, Kyowa Hakko Kirin, Kyverna Therapeutics, L'Oreal, Lab7 Systems, Lab1636, LabCentral, Labcyte, Lab Launch, LabNetwork, Laboratoire Cerba, Laboratoires Thea, Laboratory Corporation of America, Laboratory Supply Company (LABSCO), Labor Berlin, Laerdal Medical, La Jolla Institute for Allergy & Immunology, Lakeland Health, LakePharma, Lakewood-Amedex, LALREAN, Lancet, Landeskriminalamt of Lower Saxony, Lantern Pharma, Lantheus Holding, Lark Technologies, LaserGen, Lattice Semiconductor, Laxai Pharma, Lazarex Cancer Foundation, LCS Therapeutics, Lead Discovery Center, Lead Pharma, Leadxpro, Leap Therapeutics, Lee's Pharmaceutical, Lee Moffitt Cancer Center, Legend Biotech, LegoChem Biosciences, Leica Biosystems, Leica Microsystems, Leicester University, Leiden University, Leidos, Leon-nanodrugs, Leona M and Harry B Helmsley Charitable Trust, LEO Pharma, Lesaffre, Les Laboratoires Servier, Leukaemia & Lymphoma Research, Leukemia & Lymphoma Society, Leukocare, Levine Cancer Institute, LexaGene, Lexaria Bioscience, Lexicon Pharmaceuticals, Lexogen, LG Life Sciences, LGS Foundation, Lhasa, Lieber Institute, LifeArc, Life Image, LifeLabs Medical Laboratory Services, LifeMap Sciences, LifeMap Solutions, LifeNome, LifeScan, Life Science Korea, Ligand Pharmaceuticals, Lightlake Therapeutics, Light Polymers, Li Ka Shing Foundation, Lima Corporate, Limbix, Liminal VR, Lineagen, Linguamatics, Lipidor, Lipigon Pharmaceuticals, LiquidHub, Liquid X Printed Metals, Live Like Bella Childhood Cancer Foundation, Liventa Biosciences, Liverpool School of Tropical Medicine, Livongo Health, Livzon Mabpharm, LMC Diabetes and Endocrinology, Lockheed Martin, Locus Biosciences, Lodo Therapeutics, LogicBio Therapeutics, Logic PD, LogicStream Health, Lombard Medical Technologies, London Medical Databases, London School of Hygiene & Tropical Medicine, Longeveron, Lonza, Loreal, Lotus Biotechnology Development, Lowell General Hospital, Loxo Oncology, LSK BioPharma, Lubeck Institute of Experimental Dermatology, Lucerne Biosciences, Lucideon, Luc Therapeutics, Ludwig Institute for Cancer Research, LumaMed, Lumicell, Luminex, Lumleian, Lunaphore, Lundbeck, Lund University, Lunenfeld-Tanenbaum Research Institute, Lung Biotechnology, Lung Cancer Research Foundation, Lunit, Lupin Limited, Lupus Foundation of America (LFA), Lustgarten Foundation, Luxembourg Institute of Health, Luye Pharma Group, Lyfebulb, Lymphoma Study Association, Lyndra Therapeutics, Lysando, Lysogene, Lytix Biopharma, LZ Lifescience, M*Modal, M2Gen, M2S, Maastricht University, MaaT Pharma, Mab-Venture Biopharma, MAB Discovery, Mabion, MabQuest, MAbSilico, Mabspace Bioscience, MabVax Therapeutics, Macroceutics, MacroCure, Macrogen, Macrogenics, Macrophage Therapeutics, Magellan Health Services, Magenta Therapeutics, Magic Leap, MagnaChip Semiconductor, Magnetic Insight, Mainz University Medical Centre, Maitland Labs, Mallinckrodt Pharmaceuticals, Malvern Instruments, Mammoth Biosciences, Management Science Associates, Manhattan Scientifics, Manna Research, Mannin Research, MannKind Biopharmaceuticals, ManRos Therapeutics, Mapi, Mapp Biopharmaceutical, Marathon Pharmaceuticals, Marian University, Marinus Pharmaceuticals, Marken, Mark Foundation for Cancer Research, Marrone Bio Innovations, Maruho, Maryland Stem Cell Research Fund, Masimo, Massachusetts General Hospital, Massachusetts Institute of Technology, MassBio, MassBioEd Foundation, MassBiologics, MaSTherCell, Materialise, Matinas Biopharma, Matwin, Maverick Therapeutics, Mawi DNA Technologies, Max-Delbruck Center for Molecular Medicine, Max-Planck, Maxcyte, Max Foundation, Maxim Integrated, Maxim Ventures, Mayo Clinic, Mayo Clinical Ventures, Mayo Medical Laboratories, MBI, MBio Diagnostics, MBM Health & Medical, MC10, McCall MacBain Foundation, McGill University, McKesson, McMaster University, MD Anderson Cancer Center, MDdatacor, MDG Health Alliance, MDL Information Systems, MDNA Life Sciences, Mdoloris Medical Systems, MDxHealth, Medac, Medacta, Medaffcon, Medassets, MedAxiom, MedCannAccess, MedCision, MedCrypt, med fusion, Medgenics, MEDIAN Technologies, Medibrane, Medical College of Wisconsin, Medical Device Innovation Consortium, Medical Incubator Japan, Medical International Research, Medical Prognosis Institute, Medical Research Council, Medical Research Foundation, Medical University of Bialystok, Medical University of Graz, Medical University of South Carolina, Medical University South Carolina, Medicine by Design, Medicines360, Medicines for Malaria Venture, Medicines Patent Pool Foundation, MediciNova, Medidata Solutions, MediGene, Medimabs, MedImmune, MED Institute, Mediolanum, Medipal Holdings, MediPines, Mediso, Medisun International, Meditab, Medivation, Medivir, Medline Industries, MedLite ID, Medopad, Medpace, medPhoton, MedPro Systems, MedTech For Solutions, Medtronic, MedyMatch, Meiji Seika, Meiogenix, MeiraGTx, Melax Technologies, MEME, Memgen, Memorial Sloan Kettering Cancer Center, Memo Therapeutics, Menarini, Mendel Health, Mentor, MercachemSyncom, Merck and Co, Merck KGaA, Merck Serono, Merck Sharpe & Dohme, Mercy Hospital, Merge Healthcare, Merieux NutriSciences, Merrimack Pharmaceuticals, Merrion Pharmaceuticals, Mersana Therapeutics, Merus, Mesoblast, Mestrelab Research, MetaboGen, Metabolon, Metacrine, Metamark Genetics, Metanome, Metanomics Health, Methuselah Foundation, Metrion Biosciences, Mevion Medical Systems, Mexican National Technology and Science Council, Mezzion Pharma, MGI Pharma, MHG, Miacom Diagnostics, Michael J Fox Foundation, MichBio, Michigan State University, Microbiotica, Microbiotix, Microchips Biotech, Microfabrica, MicroHealth, Micro Imaging Technology, Micromedic Technologies, MicroMGx, Micron Technologies, Microsoft, MidaSol Therapeutics, Midatech, Midmark, Midwest Melanoma Partnership, MiLaboratories, Millar, Millennium, Millipore, MilliporeSigma, Milner Therapeutics Institute and Consortium, Milu Labs, Mimetas, MIM Software, MiNA Therapeutics, MiNDERA, Mindstrong Health, Mind The Graph, Ministry of Health (Algeria), Ministry of Health (Brazil), Ministry of Health and Prevention, Minnesota Medical, Minnetronix, Minomic, MIODx, miRagen Therapeutics, Mirati Therapeutics, Miroculus, Mironid, MiRXES, Misonix, Mission Bio, Mission Health, Mission Therapeutics, Mitra Biotech, Mitsubishi Tanabe Pharma, MJ Biologics, MMS, Mochida Pharmaceutical, Moderna Therapeutics, Modern Biosciences, ModiQuest Research, Modulus Discovery, MOF Technologies, Molbio Diagnostics, MolecularMD, Molecular Partners, Molecular Profiles, Molecular Response, Molecular Stethoscope, Molecular Templates, Moleculin Biotech, Molnlycke Health Care, Mologen, Mologic, Molplex Pharmaceuticals, MolPort, Momenta Pharmaceuticals, Momentum Biofuels, Monash University, Monopar Therapeutics, MonoSol Rx, Monsanto, Montefiore Health System, Monteris Medical, Montgomery County Community College, Montreal Heart Institute, Montreal InVivo, Montreal Neurological Institute-Hospital, Monvida Pharmaceuticals, Moores Cancer Center, Moray Medical, MORE Health, Morphic Therapeutic, MorphoSys, Morphotek, Mor Research Applications, Mossakowski Medical Research Centre, Motiv, Mount Sinai Health System, Mount Sinai Medical Center, Mount Tam Biotechnologies, MPI Cognition, MRIGlobal, MRI Interventions, MRM Health, MSC, MSD, MSD Biologics, MT.DERM, MTF Biologics, Mucosis, MultiCell Immunotherapeutics, MultiCorp International, MultiPlan, Multiple Myeloma Research Foundation, Mundipharma, Munich Leukemia Laboratory, Munich Technical University, Murata Electronics, Murdoch Childrens Research Institute, Murdoch University, Muscular Dystrophy Association, Muses Labs, Myant, Mycoses Study Group Education & Research Consortium, Myelin Repair Foundation (MRF), Myeloma Crowd, Myeloma UK, Myeloproliferative Neoplasm Research Consortium, MyHealios, Mylan Laboratories, Mylan Pharmaceuticals, Mymetics, MYnd Analytics, Myocarditis Foundation, Myonexus Therapeutics, MYOS, Myovant Sciences, Myriad Genetics, Myriad RBM, Myrtle Potter & Company, mySugr, myTomorrows, N-of-One, n3D Biosciences, Naason Science, NABsys, Naia Pharma, Namocell, Nanalysis Scientific, Nancy and Stephen Grand Israel National Center for Personalized Medicine, Nanexa, Nanjing BioSciKin, Nanobeak, Nanobiotix, NanoCellect Biomedica, Nano Dimension, Nano Global, Nanolek, Nanologica, NanoMab Technology, NanoPass Technologies, nanoPET Pharma, Nanopharmacia, nanoRanch, NanoString Technologies, Nanotherapeutics, NanoVibronix, Nansen Neuroscience Network, NantBioScience, NantCell, NantHealth, NantKwest, NantOmics, Nantong Jinghua Pharmaceutical, NantVentures, NantWorks, Nanyang Technological University, NapaJen Pharma, Napa Therapeutics, Narayana Nethralaya Foundation, NASA, NASH Network, Nashville Biosciences, Natera, National Academy of Medicine, National Academy of Sciences, National Cancer Center, National Cancer Center of South Korea, National Cancer Centre Singapore, National Cancer Institute, National Center for Advancing Translational Sciences (NCATS), National Center for Cardiovascular Diseases, National Center for Complementary and Integrative Health, National Center for Foreign Animal and Zoonotic Disease Defense, National Center for Genome Resources, National Center for Tumor Diseases, National Cerebral and Cardiovascular Disease Research Center, National Comprehensive Cancer Network (NCCN), National Disease Research Interchange, National Eye Institute, National Foundation for Cancer Research, National Geographic, National Health and Family Planning Commission, National Healthcare Services (NHS), National Health Service, National Heart, Lung and Blood Institute, National Human Genome Research Institute, National Institute for Bioprocessing Research and Training, National Institute for Communicable Disease Control and Prevention (China), National Institute for Environmental Health Sciences, National Institute for Food and Drug Control, National Institute for Health Research (NIHR), National Institute for Innovation in Manufacturing Biopharmaceuticals, National Institute For Occupational Safety And Health, National Institute for Viral Sidease Control and Prevention, National Institute of Allergy and Infectious Diseases, National Institute of Biomedical Innovation, National Institute of Child Health and Human Development, National Institute of Health Sciences, National Institute of Neurological Disorders and Stroke, National Institute on Aging, National Institute on Alcohol Abuse and Alcoholism (NIAAA), National Institute on Drug Abuse (NIDA), National Institutes for Quantum and Radiological Science and Technology, National Institutes of Health, National Newspaper Publishers Association, National Organization for Rare Disorders, National Parkinson Foundation (NPF), National Research Council Canada, National Research Council of Canada, National Resource Center For Mutant Mice (NRCMM), National Science Foundation, National Stem Cell Foundation, National Surgical Adjuvant Breast and Bowel Project, National Taiwan University Hospital, National University Cancer Institute, National University of Ireland, Galway (NUI Galway), National University of Singapore, Nationwide Children's Hospital, Natrix Separations, Natural Sciences and Engineering Research Council of Canada, Nautilus, Naver, Navican, Navidea Biopharmaceuticals, Navigating Cancer, Navitas, NavLab, NBE Therapeutics, Ncardia, NCIC Clinical Trials Group, NDA Partners, NDS Surgical Imaging, NEC, Nektar Therapeutics, Nelson Laboratories, Nemaura Pharma, Nemucore Medical Innovations, Neogenomics, NEO New Oncology, Neon Therapeutics, Neovacs, Neovasc, Nephrogenex, Nephron Dx, Nephros, Neptune Technologies & Bioressources, Nerviano Medical Sciences, Nestle, Nestle Health Science, Netherlands Cancer Institute, NetScientific, Netsmart, NetVation DL Medicine, Neuland Laboratories, Neumedicines, Neuraly, Neuralynx, NeurAxon, Neurimmune Therapeutics, Neuro Assessment Systems, Neurocrine Biosciences, NeuroEM Therapeutics, Neurogene, NeuroLex Laboratories, NeuroLogica, NeuroMetrix, Neuronetrix, NeuroOne, NeuroPace, NeuroPointDX, Neuropore Therapies, NeuroScience Associates, Neurotrope BioScience, NeuroVigil, NeuroVision Imaging, NeuroVive Pharmaceutical, Neutra, Neuway Pharma, New Amsterdam Sciences, Newborn Screening Ontario, Newcastle University, New England Biolabs, New England Research Institutes, New Jersey Urology, Newlink Genetics, New Objective, Newomics, New Path Molecular Research, New York Blood Center, New York Genome Center (NYGC), New York Medical College, New York State, New York University, New York University School of Medicine, Nexstim, NextCODE Health, NextCure, Nextera, NextGen LifeLabs, NextMove Software, NEXT Oncology, Nexvet, NFANT Labs, Nference, NGM Biopharmaceuticals, Nichi-Iko Pharmaceutical Co, Nico, Nicox, Nightingale Health, Nightstar Therapeutics, Nihon Kohden, Nihon Medi-Physics, NIH Undiagnosed Diseases Program, Nimble Therapeutics, Nimbus Therapeutics, Nitto Denko, Nobel Media, Noble Life Sciences, Nodality, Noile-Immune Biotech, Nong Lam University, Nonin Medical, Noninvasix, Noom, Nordic Bioscience, Nordic Nanovector, Noria Pharmaceuticals, North Carolina State University, Northeastern University, Northern Biologics, Northern California Institute for Research and Education, Northern Michigan University, North Shore-LIJ Cancer Institute, NorthStar Medical Radioisotopes, Northwell Health, Northwestern Medicine Developmental Therapeutics Institute, Northwestern University, Northwest Missouri State University, North Zealand University Hospital, Norwegian Research Council, Nosopharm, Notable Labs, Notal Vision, Notch Therapeutics, Nova Biomedical, Novadaq Technologies, Novaliq, NovAliX, Novant Health, Novartis, NovaSAID, Novaseek Research, Novasep, Novatek International, Novella Clinical, NovellusDx, Novici Biotech, Novigenix, NovImmune, NovoCodex, Novocure, Novogen, Novogene, Novo Nordisk, Novoron Bioscience, Novotech, Novozymes, Novozymes Biopharma, Novu, Novus International, NOWDiagnostics, Noxxon Pharma, NTS Laboratory Equipment, NTT Medical Center Tokyo, Nuance Healthcare, Nucleo de Bioensaios Biossintese e Ecofisiologia de Produtos Naturais, Nucro Technics, NueHealth, Nuevolution, NuEyes, NuGen Technologies, Numab, numares, NuMedii, Numerate, Numira Biosciences, Nuo Therapeutics, Nuovo Biologics, Nuritas, Nurix, NuSirt, Nutra Pharma, Nutrasource Pharmaceutical, Nutricion, NuView Life Sciences, Nuvilex, NX Prenatal, NXP Semiconductors, Nxstage Medical, NXT Biomedical, Nyansa, NYU Langone Medical Center, Oasmia Pharmaceutical, OBJ, ObsEva, Obsidian Therapeutics, Octane Biotech, Ocular Therapeutics, Ocular Therapeutix, Oculos Clinical Research, Odylia Therapeutics, Office of Naval Research, OG DNA Genetics, Ogeda, Ohio State University, Oklahoma Center for the Advancement of Science and Technology, Olaris, OliX Pharmaceuticals, Olympus Respiratory America, Omada Health, Omdana Therapeutics, Omeq Medical, Omeros, Omicia, Omixon, Omnicell, OmniVision Technologies, Omnyx, Omron, OncLive, Oncobiologics, Oncoceutics, Oncodesign, OncoDNA, OncoGenex Pharmaceuticals, OncoImmunity, Oncologie, Oncology Research Information Exchange Network, Oncology Services International, Oncology Trials Insights, Oncolytics Biotech, OncoMed Pharmaceuticals, Onconova Therapeutics, OncoPep, OncoQR, OncoQuest, Oncora Medical, OnCore Biopharma, OncoResponse, OncoSec Medical, Oncosynergy, Oncothyreon, OncoVent, OnDeckBiotech, Onduo, OneBlood, One Codex, One Lambda, OneMedNet, Oneome, One Way Liver Genomics (OWL), One World Lab, Onkos Surgical, OnKure, Ono Pharmaceutical, ON Semiconductor, Ontario Cancer Biomarker Network, Ontario Institute for Cancer Research, Ontera, Onxeo, Onyx Scientific, OpenBiome, Open Commons Consortium, OpenEye Scientific Software, Open Monoclonal Technology, OpGen, Opiant Pharmaceuticals, Opisafe, OPKO Health, Optel Vision, OptiBiotix, Optibrand, Optibrium, Optina Diagnostics, Optos, Optum Labs, Ora, Oracle Health Sciences, Oragenics, OraSure Technologies, Orbis, Orbita, Orbsen Therapeutics, Orchard Therapeutics, Orchid Cellmark, Oregon Health Sciences University, Oregon National Primate Research Center, Organic Vaccines, Organovo, Organ Technologies, Orgenesis, ORIC Pharmaceuticals, ORIG3N, Origenis, OrigiMed, Origin Agritech, OrImmune Bio, Orion, OrphanDev, Ortho-Clinical Diagnostics, OrthoAccel Technologies, Orthocell, Orthopaedic Research and Education Foundation, OrthoSensor, Osaka International Cancer Institute,
We found other products you might like!