Global Vaccine Partnering Terms and Agreements 2014-2020: Deal trends, players and financials
The Global Vaccine Partnering Terms and Agreements 2014-2020: Deal trends, players and financials report provides comprehensive understanding and unprecedented access to the vaccine partnering deals and agreements entered into by the worlds leading healthcare companies.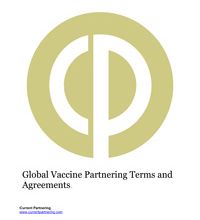 Publication date
May 2020
Product type
Research report
Available formats
PDF document
The Global Vaccine Partnering Terms and Agreements 2014-2020: Deal trends, players and financials report provides comprehensive understanding and unprecedented access to the vaccine partnering deals and agreements entered into by the worlds leading healthcare companies.
Trends in vaccine and adjuvant partnering deals
Deal terms analysis
Partnering agreement structure
Partnering contract documents
Top deals by value
Most active dealmakers
Average deal terms for vaccines
This report contains a comprehensive listing of all vaccine partnering deals announced since January 2014, including financial terms where available, including over 550 links to online deal records of actual vaccine partnering deals as disclosed by the deal parties. In addition, where available, records include contract documents as submitted to the Securities Exchange Commission by companies and their partners.
The report takes readers through the vaccine deal trends, key players and top deal values allowing the understanding of how, why and under what terms companies are currently entering vaccine partnering deals.
The report presents average financial deal terms values for vaccine deals, where available listing by overall headline values, upfront payments, milestones and royalties enabling readers to analyse and benchmark the value of current deals.
The middle section of the report explores the leaders in the vaccine partnering field; both the leading deal values and leading players are reported allowing readers to see who is succeeding in this growing market. This chapter also looks at the contributions by the big pharma and big biotech companies of the world in terms of deals made.
One of the key highlights of the report is that over 550 online deals records of actual vaccine deals as disclosed by the deal parties are included towards the end of the report in a directory format that is easy to reference. Each deal links via Weblink to an online version and all these deals are organized by company A-Z, stage of development at signing, deal type (collaborative R&D, co-promotion, licensing etc), specific therapy and technology focus. In addition the report includes actual contract documents where available as submitted to the Securities Exchange Commission by companies and their deal partners.
Contract documents provide the answers to numerous questions about a prospective partner's flexibility on a wide range of important issues, many of which will have a significant impact on each party's ability to derive value from the deal.
Finally the report concludes by looking into the future of vaccine partnering. With so many innovators looking for the next big thing in the field, the report selects companies to watch who are predicted to become big in the field based on their current dealmaking and financial trends.
Throughout the report various tables, figures and graphs are embedded in order to illustrate the trends and partnering activities of the vaccine field.
By the end of the report prospective dealmakers will have gained a thorough understanding of the partnering landscape of the vaccine market and will be familiar with the values and structures of the deals being signed within it.
Global Vaccine Partnering Terms and Agreements 2014-2020: Deal trends, players and financials is intended to provide the reader with an in-depth understanding and access to vaccine trends and structure of deals entered into by leading companies worldwide.
Global Vaccine Partnering Terms and Agreements 2014-2020: Deal trends, players and financials includes:
Trends in vaccine dealmaking in the biopharma industry since 2014
Analysis of vaccine deal structure
Access to headline, upfront, milestone and royalty data
Case studies of real-life vaccine deals
Access to over 550 vaccine deal documents
The leading vaccine deals by value since 2014
Most active vaccine dealmakers since 2014
The leading vaccine partnering resources
In Global Vaccine Partnering Terms and Agreements 2014-2020: Deal trends, players and financials, the available contracts are listed by:
Company A-Z
Headline value
Stage of development at signing
Deal component type
Therapy target
Specific technology type
Each deal title links via weblink to an online version of the deal record and where available, the contract document, providing easy access to each contract document on demand.
The Global Vaccine Partnering Terms and Agreements 2014-2020: Deal trends, players and financials report provides comprehensive access to available deals and contract documents for over 550 vaccine deals. Analyzing actual contract agreements allows assessment of the following:
What are the precise vaccine rights granted or optioned?
What is actually granted by the agreement to the partner company?
What exclusivity is granted?
What is the payment structure for the deal?
How are sales and payments audited?
What is the deal term?
How are the key terms of the agreement defined?
How are IPRs handled and owned?
Who is responsible for commercialization?
Who is responsible for development, supply, and manufacture?
How is confidentiality and publication managed?
How are disputes to be resolved?
Under what conditions can the deal be terminated?
What happens when there is a change of ownership?
What sublicensing and subcontracting provisions have been agreed?
Which boilerplate clauses does the company insist upon?
Which boilerplate clauses appear to differ from partner to partner or deal type to deal type?
Which jurisdiction does the company insist upon for agreement law?
Global Vaccine Partnering Terms and Agreements 2014-2020: Deal trends, players and financials provides the reader with the following key benefits:
In-depth understanding of vaccine and adjuvant deal trends since 2014
Access to headline, upfront, milestone and royalty data
Analysis of the structure of vaccine agreements with numerous real life case studies
Comprehensive access to over 550 actual vaccine deals entered into by the world's biopharma companies, together with contract documents if available
Detailed access to actual vaccine contracts enter into by leading bio pharma companies
Identify leading vaccine deals by value since 2014
Identify the most active vaccine dealmakers since 2014
Insight into the terms included in a vaccine agreement, together with real world clause examples
Understand the key deal terms companies have agreed in previous deals
Undertake due diligence to assess suitability of your proposed deal terms for partner companies
Executive Summary
Chapter 1 – Introduction
Chapter 2 – Trends in Vaccines dealmaking
2.1. Introduction
2.2. Vaccines partnering over the years
2.3. Most active Vaccines dealmakers
2.4. Vaccines partnering by deal type
2.5. Vaccines partnering by therapy area
2.6. Deal terms for Vaccines partnering
2.6.1 Vaccines partnering headline values
2.6.2 Vaccines deal upfront payments
2.6.3 Vaccines deal milestone payments
2.6.4 Vaccines royalty rates
Chapter 3 – Leading Vaccines deals
3.1. Introduction
3.2. Top Vaccines deals by value
Chapter 4 – Most active Vaccines dealmakers
4.1. Introduction
4.2. Most active Vaccines dealmakers
4.3. Most active Vaccines partnering company profiles
Chapter 5 – Vaccines contracts dealmaking directory
5.1. Introduction
5.2. Vaccines contracts dealmaking directory
Chapter 6 – Vaccines dealmaking by technology type
Chapter 7 – Partnering resource center
7.1. Online partnering
7.2. Partnering events
7.3. Further reading on dealmaking
Appendices
Appendix 1 – Vaccines deals by company A-Z
Appendix 2 – Vaccines deals by stage of development
Discovery
Preclinical
Phase I
Phase II
Phase III
Regulatory
Marketed
Formulation
Appendix 3 – Vaccines deals by deal type
Asset purchase
Assignment
Bigpharma outlicensing
Co-development
Collaborative R&D
Co-market
Co-promotion
CRADA
Cross-licensing
Development
Distribution
Equity purchase
Evaluation
Grant
Joint venture
Licensing
Manufacturing
Marketing
Material transfer
Option
Promotion
Research
Settlement
Spin out
Sub-license
Supply
Technology transfer
Termination
Appendix 4 – Vaccines deals by therapy area
Anaesthetics
Cardiovascular
Central Nervous System
Dental
Gastrointestinal
Hematology
Immunology
Infectives
Metabolic
Musculoskeletal
Oncology
Ophthalmics
Orphan disease
Pediatrics
Psychiatry
Respiratory
Appendix 5 –Deal type definitions
About Wildwood Ventures
Current Partnering
Current Agreements
Recent report titles from Current Partnering

 
Table of figures
Figure 1: Vaccines partnering since 2014
Figure 2: Active Vaccines dealmaking activity since 2014
Figure 3: Vaccines partnering by deal type since 2014
Figure 4: Vaccines partnering by disease type since 2014
Figure 5: Vaccines deals with a headline value
Figure 6: Vaccines deals with an upfront value
Figure 7: Vaccines deals with a milestone value
Figure 8: Vaccines deals with a royalty rate value
Figure 9: Top Vaccines deals by value since 2014
Figure 10: Most active Vaccines dealmakers since 2014
Figure 11: Online partnering resources
Figure 12: Forthcoming partnering events
Pricing options
$3,495: single-user
$5,245: multi-user
$10,495: single site license
$17,495: global site license
A full explanation of license type definitions can be found here.
Our guarantee
Price promise
We guarantee our prices are competitive. If you find the same report advertised at a lower price within 7 days of purchase, we will refund the difference.
Delivery Deadline
We guarantee that the report will be sent within the specified delivery times. In the unlikely case of a delay we may offer a partial refund as compensation. (Terms may apply)
Latest report
If an update is published within 30 days of your purchase, you will receive it absolutely free of charge.
Serious Security
We take your data and security seriously. See our privacy policy for details of how we manage your data.
All card payments are processed by SagePay.
Sales Support
If you have any questions about your report or are unhappy with the quality, we will do our best to resolve your query. Contact us direct.
Total Trust
Current Partnering is part of Wildwood Ventures Ltd., based in York, United Kingdom. We have been trading successfully online since 2009 and work with some of the most famous brands in the business. We carefully select our partners to ensure that the publications meet expectations of demanding customers.
2A, 3SBio, 4D Pharma, A*STAR' Institute of Molecular and Cell Biology, ABIVAX, Academy of Military Medical Sciences (China), Accelovance, AC Immune, Advaccine Biotechnology, Advanced Biological Laboratories, Advanced BioNutrition, Advanced BioScience Laboratories, Advaxis, Aelix Therapeutics, Aeras, AEterna Zentaris, Aethlon Medical, Affinivax, AFFiRiS, Agenus Bio, Agilvax, Akers Biosciences, Aldevron, Algenex, Alliance for Biosecurity, Altimmune, Amaran Biotechnology, Amarna Therapeutics, American Dental Association, American Gene Technologies, AMR, Amyris, Analytical Bio-Chemistry Laboratories, AnGes MG, Anixa Biosciences, Annias Immunotherapeutics, Antigen Discovery, Antigen Express, Antitope, Apceth, Appili Therapeutics, Applied DNA Sciences, Aptimmune Biologics, Araclon Biotech, Aragen Bioscience, Arcturus Therapeutics, Ariad Pharmaceuticals, Aridis Pharmaceuticals, Ark Animal Health, Artes Biotechnology, Asahi Kasei, Astellas Pharma, Asterias Biotherapeutics, AstraZeneca, Atreca, Avanzcare, AV Therapeutics, Batavia Biosciences, Battelle, Batu Biologics, Bavarian Nordic, Baxter International, Bayer, Baylor College, Baylor College of Medicine, Baylor Institute for Immunology Research, Bellicum Pharmaceuticals, Beth Israel Deaconess Medical Center, BGI, Bharat Biotech, Bill and Melinda Gates Foundation, BioClones, bioCSL, Biofactura, Bio Farma, Biogen, Bioject Medical Technologies, Biokinetic Europe, BioLife Solutions, biologistex CCM, Biomedical Advanced Research and Development Authority, BiondVax, BioNTech, Biooutsource, BioSun Pharmed, BioTechnique, Biothera, BioVaxys, BioVest, Bluebird Bio, Blue Water Vaccines, BlueWillow Biologics, Boehringer Ingelheim, Boehringer Ingelheim Vetmedica, Bonnie J. Addario Lung Cancer Foundation, Bpifrance, BravoVax, Brighton Biotech, Bristol-Myers Squibb, Broad Institute, Burnet Institute, Butantan Institute, Button Capital, Caliber Biotherapeutics, California Institute for Medical Researc, California Institute of Technology, Calimmune, Calixar, Cancer Research Technology, Cancer Research UK, CARB-X, Cardiff University, Catalan Institute of Nanotechnology (ICN), Celldex Therapeutics, Cellular Biomedicine, Cel Sci, Center for Biomarker Research in Medicine, Center for Genetic Engineering and Biotechnology (Cuba), Centers for Disease Control and Prevention, Centogene, Centre Hospital University - Bordeaux, Ceva Sante Animale, Cevec Pharmaceuticals, Changchun BCHT Biotechnology, Children's Hospital Boston, China Animal Husbandry Industry, China National Biotech Group (CNBG), Cilian, CiMaas, CiToxLAB, City of Hope, City of Hope Comprehensive Cancer Center, ClearPath, Cleveland Clinic, Clinigen, Clover Biopharmaceuticals, CMC Biologics, Coalition for Epidemic Preparedness Innovations, Cobra Biologics, Codagenix, Cofactor Genomics, Columbia University, ContraFect, Corgenix Medical, Create Vaccine Company, Cristal Therapeutics, Crozet BioPharma, Crucell, CryoPort, Crystal Bioscience, CSL, CureVac, Cystron Biotech, CYTLIMIC, Cytovant Sciences, d3 Medicine, Daiichi Sankyo, Dana-Farber Cancer Institute, DanDrit Biotech, Davospharma, DCPrime, Defense Advanced Research Projects Agency, Defense Threat Reduction Agency, Department of Defense, Department of Economic development of Montgomery County, Department of Health and Human Services, Diamyd Medical, Diavax Biosciences, Diaxonhit, DNAtrix, Dr. Reddy's Laboratories, Duke-NUS Graduate Medical School Singapore, Duke University, Dyadic International, Dynavax Technologies, DynPort Vaccine Company, Eddingpharm, Elanco, Eli Lilly, EMD Serono, Emergent BioSolutions, Emergex Vaccines, Emmes, Emory University, Endo International, Enesi Pharma, Engility, EpiThany, Epivax, Ervaxx, eTheRNA immunotherapies, Etna Biotech, Etubics, European Union, European Vaccine Initiative, Evaxion Biotech, EVQLV, Evvivax, Excivion, Exiqon, Fatro, Federal Ministry of Education and Research (BMBF), Fina Biosolutions, Finlay Institute, Flextronics, Flow Pharma, FluGen, Food and Drug Administration (FDA), Fortress Biotech, Fosun Pharmaceutical, Foundation for Biomedical Research and Innovation, Fred Hutchinson Cancer Research Center, Fujifilm, Fujifilm Diosynth Biotechnologies, GC Pharma, GE Healthcare, Genentech, GeneOne Life Science, Generex Biotechnology, Genetic Immunity, Genexine, Genocea Biosciences, Genticel, GenVec, Georgetown University, Georgia Institute of Technology, Georgia State University Research Foundation (GSURF), GeoVax, German Cancer Research Center, Gilead Sciences, GISCAD Foundation, GlaxoSmithKline, GlaxoSmithKline Biologicals, Glide Technologies, Global Health Innovative Technology Fund (GHIT), GlycoBac, Grameen Health, Gritstone Oncology, Guangzhou Institute of Respiratory Disease, Gyros, HaloVax, Hanmi Pharmaceutical, Hapten Sciences, Harvard Medical School, Harvard University, Hawaii Biotech, Healthcare Royalty Partners, Health Decisions, Heat Biologics, Hefei Sageland Biotechnology, Helmholtz Zentrum Munchen, HemispheRx Biopharma, Hile Bio-Technology, Hoffmann La Roche, Hookipa Pharma, Horizon 2020, Horizon Discovery, Hoth Therapeutics, Howard Hughes Medical Institute (HHMI), Humabs BioMed, Human Vaccines Project, hVIVO, iBio, IBT Bioservices, Ichor Medical Systems, IDT Biologika, IGNITE Immunotherapy, IHI, ILiAD Biotechnologies, Illumina, Imaxio, ImevaX, ImmBio, Immune Design, Immune Targeting Systems, Immunicum, ImmunID Technologies, ImmunoCellular Therapeutics, Immunomedics, Immunomic, ImmunoPhotonics, Immunotech Laboratories, Immunovaccine, Immuron, Imperial College London, Imutex, Indian Council of Medical Research, Infectious Disease Research Institute (IDRI), InnaVirVax, Innovate UK, Innovative Medicines Initiative (IMI), Innovo, Inovio Pharmaceuticals, InProTher, Inserm, Inserm Transfert, Institute for Bioscience and Biotechnology Research, Institute of Biomedical Research, Institut Pasteur, InstrAction, Integral Molecular, Integrated BioTherapeutics, Intensity Therapeutics, International AIDS Vaccine Initiative, International Medica Foundation, International Vaccine Institute (IVI), Intravacc, IOVaxis Therapeutics, Ippox Foundation, IQVIA, Israeli National Authority for Technological Innovation, Israel Institute for Biological Research, Israel Investment Center, Janssen Biotech, Janssen Pharmaceuticals, J Craig Venter Institute, Jenner Institute, Jianshun Biosciences, John D. and Catherine T. MacArthur Foundation, Johnson & Johnson, Johnson & Johnson Innovation, JSC Pharmadis, Juvenile Diabetes Research Foundation, KAI Research, Kalon Biotherapeutics, Karolinska Institute, Kemin Industries, Kindred Bio, King Saud University, Laboratorios Liomont, Laboratory of Malaria Immunology and Vaccinology (LMIV), La Jolla Institute for Allergy & Immunology, Leidos, Leukaemia & Lymphoma Research, Leukocare, LG Life Sciences, LineaRx, Los Angeles Biomedical Research Institute, Louisiana State University, Lumos Pharma, Lund University, Lung Cancer Research Foundation, MabVax Therapeutics, Madison Vaccines, Massachusetts General Hospital, Matrivax, Mayo Clinic, MBF Therapeutics, McKesson, MD Anderson Cancer Center, Medac, Medicago, Medical University of Innsbruck, MediGene, MedImmune, Meissa Vaccines, Memorial Sloan Kettering Cancer Center, Merck and Co, Merck KGaA, Merck Sharpe & Dohme, Merial, Meridian Life Science, Mexican National Technology and Science Council, Midatech, Millipore, MilliporeSigma, MinervaX, Ministry of Finance (China), Ministry of Industry and Information Technology, MJ Biologics, MMS, Moderna Therapeutics, MSD Wellcome Trust Hilleman Laboratories, Mucosis, Mundo Sano, MyLife Technologies, Mymetics, Myriad RBM, NanoBio, NanoPass Technologies, Nanotherapeutics, NantBioScience, NantKwest, National Cancer Institute, National Center for Advancing Translational Sciences (NCATS), National Development and Reform Commission, National Health and Family Planning Commission, National Institute of Allergy and Infectious Diseases, National Institute of Arthritis and Musculoskeletal Diseases, National Institute of Biomedical Innovation, National Institute of Cholera and Enteric Diseases, National Institute of Dental and Craniofacial Research (NIDCR), National Institute of Hygiene and Epidemiology, National Institute of Vaccines and Medical Biologicals, National Institute on Drug Abuse (NIDA), National Institutes of Health, National Research Council Canada, National Research Council Industrial Research Assistance Program, National Research Council of Canada, National Surgical Adjuvant Breast and Bowel Project, Naval Medical Research Center, NEC, NeoMed, Neon Therapeutics, Neovacs, Netherlands Cancer Institute, NeuClone, Neumedicines, Noble Life Sciences, Nottingham City Council, Nouscom, NovaDigm Therapeutics, Novartis, Novasep, Novavax, Novici Biotech, Novo, Novozymes Biopharma, Oberland Capital, Ohio Clinical Trials Collaborative, Ohio State University, Ology Bioservices, Omnis Pharmaceuticals, OncoImmunity, OncoPep, OncoQR, Oncothyreon, Organic Vaccines, Osivax, Oswaldo Cruz Foundation (Fiocruz), PacificGMP, Panacea Biotech, Panacea Pharmaceuticals, Paragon Bioservices, Particle Sciences, Partnership for Influenza Vaccine Introduction, PATH (Appropriate Technology in Health), PATH Malaria Vaccine Initiative, PaxVax, PDC*line Pharma, PepTcell, Perelman School of Medicine, Pevion, Pfenex, Pfizer, Pfizer Foundation, Pfizer Japan, PharmaCell, PharmaJet, PharmaPraxis, PharmAthene, Phibro Animal Health, Pirbright Institute, PlantForm, Platine Pharma Services, Plumbline Life Sciences, PnuVax, PPD, Praha Vaccines, PRA Health Sciences, Premas Biotech, Premier Inc, PrescribeWellness, PRIMA BioMed, ProBioGen, Probiomed, Profectus Biosciences, Prokarium, Prosenex, Prostate Cancer Foundation (PCF), Protein Sciences, Provecs Medical, PsiOxus Therapeutics, Public Health Agency of Canada, Public Health England, Public Health Vaccines, PX Biosolutions, Q-Biologicals, Qualtran, Qu Biologics, Quebec Government, Ragon Institute, Rapid Micro Biosystems, RareCyte, Redbiotec, Regeneron Pharmaceuticals, Regenstrief Institute, Regenxbio, Research Institute of the Hospital Universitari Vall d'Hebron, Riyadh Pharma, Robert Wood Johnson Foundation, Rockefeller University, RSV, Sabin Vaccine Institute, SAB Therapeutics, Sanaria, San Martino Hospital, Sanofi, Sanofi-Aventis, Sanofi-Pasteur, Sartorius, SAVSU Technologies, Scancell, Science 37, Scripps Research Institute, Seattle Biomed, Seattle Children's Hospital, SEEK, Selecta Biosciences, Selexis, Sellas Clinicals Holding, Sementis, Seres Therapeutics, Serum Institute of India, Shenzhen BioScien Pharmaceuticals, Shin Nippon Biomedical Laboratories, SillaJen, Sinergium Biotech, Sinotek-Advocates International Industry Development, Sinovac Biotech, Sirion Biotech, SK Chemicals, Skolkovo Foundation, Small Business Innovation Research, SmartPharm Therapeutics, Soligenix, Sorrento Therapeutics, Southern Research Institute, Southwest Research Institute, Spark Therapeutics, SPI Pharma, Spotlight Innovation, SRI International, St. Jude Children's Research Hospital, Stanford University, Stellar Biotechnologies, St Jude Medical, Sunstone Capital, SutroVax, Synthetic Genomics, Takeda Pharmaceutical, Takis Biotech, Talem Therapeutics, TapImmune, Targovax, Tasly Pharmaceuticals, Technical University of Denmark (DTU), TechnoVax, Tekon Biotech, Texas A&M University, Texas Biomedical Research Institute, Texas Children's Hospital, TFS International, The International AIDS Vaccine Initiative, Themis Bioscience, The Parker Institute For Cancer Immunotherapy, Theraclone Sciences, Theravectys, Thermo Fisher Scientific, Thomas Jefferson University, Tianjin CanSino Biotechnology, TONIX Pharmaceuticals, Toulouse University Hospital, Transgene, Transgene Tasly Biopharmaceutical, Transgenomic, Translate Bio, Transparency Life Sciences, Trellis Bioscience, Treos Bio, Trianni, TriLink BioTechnologies, Truffle Capital, Tulane University, TYG oncology, UbiVac, Uldic Investment, UMN Pharma, Unilife, United States Agency for International Development, Univercells, University Medical Center Groningen, University of Alabama at Birmingham, University of Alberta, University of Basel, University of California, San Diego, University of California Los Angeles, University of Chicago, University of Edinburgh, University of Geneva, University of Georgia, University of Greifswald, University of Guelph, University of Hawaii, University of Maryland, University of Maryland School of Medicine, University of Massachusetts, University of Massachusetts Medical School, University of Miami, University of Miami Miller School of Medicine, University of Montreal, University of Nagasaki, University of Nebraska, University of North Carolina, University of Oxford, University of Pennsylvania, University of Queensland, University of Rochester, University of Rostock, University of Southampton, University of South Florida, University of Texas, University of Texas at El Paso, University of the Witwatersrand, University of Tokyo, University of Toronto, University of Turin, University of Washington, University of Wisconsin-Madison, US Army, US Army Medical Research Institute of Infectious Diseases, US Department of Agriculture, Vaccibody, Vaccine and Gene Therapy Institute of Florida (VGTI-FL), Vaccine Formulation Institute, Vaccitech, Valera Pharmaceutical, Valneva, Valo Therapeutics, Vaxart, Vaxeal, Vaxess Technologies, Vaximm, VaxNewMo, VBI Vaccines, Vedantra Pharmaceuticals, Vibalogics, Vical, Viome, Viral Hemorrhagic Fever Consortium, Vir Biotechnology, Viroclinics Biosciences, VirPath, Vivaldi Biosciences, ViveBio, VLP Therapeutics, Voltron Therapeutics, Vyriad, Walter Reed Army Institute of Research, Washington University in St Louis, WCCT Global, Weill Cornell Medical College, Wellcome Trust, Western Oncolytics, Wockhardt, World Health Organization, WuXi Biologics, Wyss Institute, Xenetic Biosciences, XstalBio, Y-mAbs Therapeutics, Yale University, Yamaguchi University, Yisheng Biopharma, Zenoaq, Zoetis, Zolovax, Zuellig Pharma China, Zydus Cadila
Current Partnering reports provide insight into the trends and terms of partnering deals in the global life sciences sector.
Current Partnering reports are updated every six months to ensure the user has access to the latest announcements and trends in the topic focus of the report.
Current Partnering analysts review the deal data to provide an overview and analysis of deal trends, including example deals and terms.
Current Partnering reports source deal data from our proprietary deals and alliances database, Current Agreements. The database is updated daily by our analysts with new deals as they are announced globally by the company's party to the deal. In addition, deal records are updated with new data as it becomes available.
The data in the Current Agreements deals and alliances database is obtained from secondary sources such as publicly available industry sources including press releases, company presentations, investor presentations, company SEC filings, other company filings, company websites, conference presentations. Sources are identified to allow for user verification.
Current Partnering provides comprehensive coverage of the following partnering or deal types:
• Asset purchase
• Assignment
• Co-development
• Co-market
• Co-promotion
• Collaborative R&D
• Contract service
• CRADA
• Cross-licensing
• Development
• Distribution
• Equity purchase
• Evaluation
• Grant
• Joint venture
• Licensing
• Loan
• Manufacturing
• Marketing
• Option
• Promotion
• Research
• Royalty financing
• Settlement
• Spin out
• Sub license
• Supply
• Termination
• Warrant
Every deal record is fully categorized and includes the following data, where available:
• Industry sector
• Therapy areas
• Technology type
• Deal components
• Financial terms
• Stage of development
• Exclusivity
• Asset type
• Geographic focus
• Excluded geography
• Company press release
• SEC filing data including contract document
All financial amounts are converted to US$ using the exchange rate available on the date of deal announcement, enabling direct comparison of deal terms across international territories.
Financial data and contract documents displayed in deal records is obtained from public sources, where disclosed by the parties to the deal.
We found other products you might like!