Global Respiratory Partnering 2010-2023: Deal trends, players and financials
The Global Respiratory Partnering 2010-2023: Deal trends, players and financials report provides comprehensive understanding and unprecedented access to the respiratory partnering deals and agreements entered into by the worlds leading healthcare companies.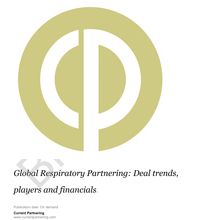 Publication date
May 2023
Product type
Research report
Available formats
PDF document
Global Respiratory Partnering 2010 to 2023 provides the full collection of respiratory disease deals signed between the world's pharmaceutical and biotechnology companies since 2010.
Trends in respiratory partnering deals
Financial deal terms for headline, upfront and royalty by stage of development
Respiratory partnering agreement structure
Respiratory partnering contract documents
Top respiratory deals by value
Most active respiratory dealmakers
Most of the deals included within the report occur when a licensee obtains a right or an option right to license a licensor's product or technology. More often these days these deals tend to be multi-component including both a collaborative R&D and a commercialization of outcomes element.
The report takes readers through the comprehensive respiratory disease deal trends, key players and top deal values allowing the understanding of how, why and under what terms companies are currently entering respiratory deals.
The report presents financial deal terms values for respiratory deals, where available listing by overall headline values, upfront payments, milestones and royalties enabling readers to analyse and benchmark the value of current deals.
The initial chapters of this report provide an orientation of respiratory dealmaking trends.
Chapter 1 provides an introduction to the report.
Chapter 2 provides an overview of the trends in respiratory dealmaking since 2010 covering trends by year, deal type, stage of development, technology type and therapeutic indication.
Chapter 3 includes an analysis of financial deal terms covering headline value, upfront payment, milestone payments and royalty rates.
Chapter 4 provides a review of the leading respiratory deals since 2010. Deals are listed by headline value. The chapter includes the top 25 most active respiratory dealmakers, together with a full listing of deals to which they are a party. Where the deal has an agreement contract published at the SEC a link provides online access to the contract.
Chapter 5 provides comprehensive access to respiratory deals since 2010 where a deal contract is available, providing the user with direct access to contracts as filed with the SEC regulatory authorities. Each deal title links via Weblink to an online version of the deal record contract document, providing easy access to each contract document on demand.
Chapter 6 provides a comprehensive directory of all respiratory partnering deals by specific respiratory target announced since 2010. The chapter is organized by specific respiratory therapeutic target. Each deal title links via Weblink to an online version of the deal record and where available, the contract document, providing easy access to each contract document on demand.
In addition, a comprehensive appendix is provided with each report of all respiratory partnering deals signed and announced since 2010. The appendices are organized by company A-Z, stage of development at signing, deal type (collaborative R&D, co-promotion, licensing etc) and technology type. Each deal title links via Weblink to an online version of the deal record and where available, the contract document, providing easy access to each contract document on demand.
The report also includes numerous tables and figures that illustrate the trends and activities in respiratory partnering and dealmaking since 2010.
In conclusion, this report provides everything a prospective dealmaker needs to know about partnering in the research, development and commercialization of respiratory technologies and products.
Report scope
Global Respiratory Partnering 2010 to 2023 is intended to provide the reader with an in-depth understanding and access to respiratory trends and structure of deals entered into by leading companies worldwide.
Global Respiratory Partnering 2010 to 2023 includes:
Trends in respiratory dealmaking in the biopharma industry since 2010
Access to headline, upfront, milestone and royalty data
Access to hundreds of respiratory deal contract documents
Comprehensive access to over 1000 respiratory deal records
The leading respiratory deals by value since 2010
Most active respiratory dealmakers since 2010
The report includes deals for the following indications: Allergic rhinitis, Acute respiratory distress syndrome, Asthma, Bronchitis, Chronic obstructive pulmonary disease, Emphysema, Idiopathic pulmonary fibrosis, Occupational Lung Disease, Asbestosis, Coalworkers pneumoconiosis, Hypersensitivity pneumonitis, Silicosis, Pneumonia, Pulmonary arterial hypertension, Pulmonary embolism, Respiratory Tract Infection, Sarcoidosis, Sinusitis, Breathlessness, Bronchospasm, Chest Pain, Cough, Nasal congestation, Snoring, Wheeze, plus other respiratory indications.
In Global Respiratory Partnering 2010 to 2023, available deals and contracts are listed by:
Headline value
Upfront payment value
Royalty rate value
Stage of development at signing
Deal component type
Technology type
Specific therapy indication
Each deal title links via Weblink to an online version of the deal record and where available, the contract document, providing easy access to each contract document on demand.
The Global Respiratory Partnering 2010-2023 report provides comprehensive access to available deals and contract documents for over 1000 respiratory deals. Analyzing actual contract agreements allows assessment of the following:
What are the precise rights granted or optioned?
What is actually granted by the agreement to the partner company?
What exclusivity is granted?
What is the payment structure for the deal?
How are the sales and payments audited?
What is the deal term?
How are the key terms of the agreement defined?
How are IPRs handled and owned?
Who is responsible for commercialization?
Who is responsible for development, supply, and manufacture?
How is confidentiality and publication managed?
How are disputes to be resolved?
Under what conditions can the deal be terminated?
What happens when there is a change of ownership?
What sublicensing and subcontracting provisions have been agreed?
Which boilerplate clauses does the company insist upon?
Which boilerplate clauses appear to differ from partner to partner or deal type to deal type?
Which jurisdiction does the company insist upon for agreement law?
Global Respiratory Partnering 2010 to 2023 provides the reader with the following key benefits:
In-depth understanding of respiratory deal trends since 2010
Access respiratory deal headline, upfront, milestone and royalty data
Research hundreds of actual contracts between respiratory partner companies
Comprehensive access to over 1000 links to actual respiratory deals entered into by the world's biopharma companies
Indepth review of respiratory deals entered into by the top 25 most active dealmakers
Benchmark the key deal terms companies have agreed in previous deals
Identify key terms under which companies partner respiratory opportunities
Uncover companies actively partnering respiratory opportunities
Executive Summary
Chapter 1 – Introduction
Chapter 2 – Trends in respiratory dealmaking
2.1. Introduction
2.2. Respiratory partnering over the years
2.3. Respiratory partnering by deal type
2.4. Respiratory partnering by industry sector
2.5. Respiratory partnering by stage of development
2.6. Respiratory partnering by technology type
2.7. Respiratory partnering by therapeutic indication
Chapter 3 –Financial deal terms for respiratory partnering
3.1. Introduction
3.2. Disclosed financials terms for respiratory partnering
3.3. Respiratory partnering headline values
3.4. Respiratory deal upfront payments
3.5. Respiratory deal milestone payments
3.6. Respiratory royalty rates
Chapter 4 – Leading respiratory deals and dealmakers
4.1. Introduction
4.2. Most active in respiratory partnering
4.3. List of most active dealmakers in respiratory
4.4. Top respiratory deals by value
Chapter 5 – Respiratory contract document directory
5.1. Introduction
5.2. Respiratory partnering deals where contract document available
Chapter 6 – Respiratory dealmaking by therapeutic target
6.1. Introduction
6.2. Deals by respiratory therapeutic target
Appendices
Appendix 1 – Directory of respiratory deals by company A-Z since 2010
Appendix 2 – Directory of respiratory deals by deal type since 2010
Appendix 3 – Directory of respiratory deals by stage of development sinc 2010
Appendix 4 – Directory of respiratory deals by technology type since 2010
Further reading on dealmaking
Deal type definitions
About Wildwood Ventures
Current Partnering
Current Agreements
Recent report titles from CurrentPartnering
Table of figures
Figure 1: Respiratory partnering since 2010
Figure 2: Respiratory partnering by deal type since 2010
Figure 3: Respiratory partnering by industry sector since 2010
Figure 4: Respiratory partnering by stage of development since 2010
Figure 5: Respiratory partnering by technology type since 2010
Figure 6: Respiratory partnering by indication since 2010
Figure 7: Respiratory deals with a headline value
Figure 8: Respiratory deals with upfront payment values
Figure 9: Respiratory deals with milestone payment
Figure 10: Respiratory deals with royalty rates
Figure 11: Active respiratory dealmaking activity– 2010 to 2023
Figure 12: Top respiratory deals by value since 2010
Pricing options
$3,995: single-user
$5,745: multi-user
$10,995: single site license
$17,995: global site license
A full explanation of license type definitions can be found here.
Our guarantee
Price promise
We guarantee our prices are competitive. If you find the same report advertised at a lower price within 7 days of purchase, we will refund the difference.
Delivery Deadline
We guarantee that the report will be sent within the specified delivery times. In the unlikely case of a delay we may offer a partial refund as compensation. (Terms may apply)
Latest report
If an update is published within 30 days of your purchase, you will receive it absolutely free of charge.
Serious Security
We take your data and security seriously. See our privacy policy for details of how we manage your data.
All card payments are processed by SagePay.
Sales Support
If you have any questions about your report or are unhappy with the quality, we will do our best to resolve your query. Contact us direct.
Total Trust
Current Partnering is part of Wildwood Ventures Ltd., based in York, United Kingdom. We have been trading successfully online since 2009 and work with some of the most famous brands in the business. We carefully select our partners to ensure that the publications meet expectations of demanding customers.
3M, 3M Drug delivery Systems, 4D Molecular Therapeutics, 4D Pharma, 4D Science, 4sigma GmbH, 9 Meters Biopharma, AAM Healthcare, AazeinTx, Abbott Laboratories, Abbvie, Abiomed, Abionic, Ablynx, ABVC BioPharma, Acacia Research, Academia Sinica, Acceleron Pharma, Accredo Health Group, Accuhale, Aceragen, Acorda Therapeutics, Actelion, Actient Pharmaceuticals, Activiomics, Acton Pharmaceuticals, AdAlta, Adalvo, Adamis Pharmaceuticals, Adeona Pharmaceuticals, Adherium, adMare BioInnovations, ADM Tronics, Advanced BioScience Laboratories, Advanz Pharma, Advent International, AdVita Lifescience, Advocate Health Care, Aegis Therapeutics, Aerami Therapeutics, Aeras, Aeris Therapeutics, Aerocrine, Aerogen, AeroRx Therapeutics, Aerpio Pharmaceuticals, Afimmune, AGC Biologics, Agenus Bio, AgeX Therapeutics, AG Industries, Ahngook Pharmaceuticals, Aidence, Aidoc, Aircraft Medical, Aires Pharmaceuticals, Airware International, AirWare Labs, Airway Management, Airway Therapeutics, AIT Therapeutics, Ajad Medical, Akari Therapeutics, Akonni Biosystems, Akorn, Akrikhin, Alana Healthcare, Albany Molecular Research, Alchemia, Alergo Pharma, Alex Therapeutics, Alfa Wassermann, AlgiPharma, Algorithme Pharma Holdings, Alitair Pharmaceuticals, ALK-Abello, Allakos, Allegheny Technologies, Allergan (name changed from Actavis), Allergy Therapeutics, Allinaire Therapeutic, Almirall, Alnylam Pharmaceuticals, Alpha-1 Foundation, Alpine Immune Sciences, Altavant Sciences, Altor BioScience, Altum Pharmaceuticals, Aluna, Alvotech, Amakem Therapeutics, American Association for Laboratory Accreditation, American Capital, American College of Chest Physicians, American Lung Association, American Thoracic Society (ATS), Amerinet, AmerisourceBergen, Amgen, Amira, Amneal Pharmaceuticals, AMO Pharma, AmorChem, Amyndas Pharmaceuticals, Anacor Pharmaceuticals, Analytics 4 Life, Angeion, AnGes MG, Angiodynamics, ANI Pharmaceuticals, Anita Tecnica, Anthem, Anthem Bluecross, Antisense Therapeutics, AOP Orphan Pharmaceuticals, Apax Partners, Apeiron Biologics, Apieron, Apple, Applied Genetic Technologies, Aptar Pharma, Aptuit, Aqualung Therapeutics, Aradigm, Aralez Pharmaceuticals, Arch Biopartners, Arcturus Therapeutics, Arena Pharmaceuticals, Areteia Therapeutics, Argenta Discovery, Argon Medical Devices, Aridis Pharmaceuticals, Ario Pharma, Aristea Therapeutics, Arizona Technology Enterprises (AzTE), Ark Biosciences, ArtiQ, ARUP Laboratories, Ascendis Pharma, Aslan Pharma, Aspen Holding, AssisTek, Astech Projects, Asthma UK, AstraZeneca, Athersys, Atlantic Diving Supply, Atopix, Atrapos Therapeutics, aTyr Pharma, Auris Medical, Auspex Pharmaceuticals, Austrian Research Promotion Agency, Auven Therapeutics, Avalon Laboratories, Avalo Therapeutics, Avicenna Technology, Avista Capital Partners, Avita Therapeutics, Avrobio, Ayasdi, AzarGen Biotechnologies, Battelle, Bausch Health Companies, Baxalta, Baxter International, Bayer, Baylor Health Care System, Becton Dickinson, Beijing Tide Pharmaceutical, Bellerophon Therapeutics, Bellus Health, Ben-Gurion University, BenevolentAI, BESPharma, Be The Match BioTherapies, Beth Israel Deaconess Medical Center, BetterLife Pharma, Beyond Air, Bicycle Therapeutics, Bill and Melinda Gates Foundation, Bina Technologies, BinnoPharm, Bio-Me, Bio-Techne, BioAnalytical Systems, bioCSL, BioFocus, Bioforum, Biogen, BioKey, Biolase, Bioline, BioLink Life Sciences, BioLum Sciences, Biomedical Advanced Research and Development Authority, BioMed X Innovation Center, bioRASI, BioReliance, BioRx, BiosanaPharma, Biostar Pharmaceuticals, Biotechnology Value Fund, Biovail, BioVersys, BirchBioMed, Blairex, Blu Biotech, Blue Cross Blue Shield Association, Blue Shield of California, BNC Korea, Boehringer Ingelheim, Bonne Santé Group, Boomer Esiason Foundation, Boston Home Infusion, Boston Scientific, Boston University, Boston University School of Medicine, Brainomix, Brain Scientific, Breathe Active, Breath Therapeutics, Breethe, Bridge Biotherapeutics, Brigham and Women's Hospital, BrightInsight, Brightree, Bristol-Myers Squibb, British Lung Foundation, Broadlane, Broncus Technologies, Brown University, BTG, C4X Discovery, Caladrius Biosciences, California Institute for Biomedical Research, California Institute for Regenerative Medicine, Cambridge Blockchain, Cambridge Healthcare Innovations, Camino Partnership, Canadian Institutes of Health Research, Cannex Scientific, Cantex Pharmaceuticals, Caprion Proteomics, CARB-X, Cardiff University, Cardinal Health, Cardiome Pharma, Cardiovascular Medical Research and Education Fund (CMREF), Cardiovascular Systems, CareFusion, CareTRx, Carnegie Mellon University, Carolus Therapeutics, Cartesian Therapeutics, Case Western Reserve University, Cbio, Cedars-Sinai Medical Center, Celdara Medical, Celera, Celgene, Cellect Biotechnology, CELLINK, Cellix Bio, Cell Therapy Catapult, Celltrion, Cellular Dynamics International, Celon Pharma, Celtaxsys, Celularity, Cempra Pharmaceutical, Cephalon Australia, Cerecor, Cerus, CFR Pharmaceuticals, Champ Medics, Charak Foundation, Charite Universitatsmedizin Berlin, Chengdu Institute of Biological Products, Chiesi Farmaceutici, Children's Hospital Boston, Chinese Future Industry Investment Fund, Chronolife, Chugai Pharmaceutical, Church and Dwight, Cigna Healthcare, Cilag AG, Cincinnati Children's Hospital Medical Center, Cinven, Cipher Pharmaceuticals, Cipla, Circadian Technologies, Circassia, CircuLite, Citius Pharmaceuticals, Clalit Health Services, Clarametyx Biosciences, Clario, Cleveland Clinic, Clinical Technologies, Clinigen, CMC Biologics, CN Bio, Coalition for Epidemic Preparedness Innovations, Coalition for Pulmonary Fibrosis (CPF), Coating Place, Cobalis, CohBar, Collplant, Columbia University, Columbia University Medical Center, Combat Medical Systems, Combioxin, Commense, Commonwealth of Pennsylvania, Commonwealth Primary Care ACO, CompleWare, Compugen, Concert Pharmaceuticals, Context Therapeutics, ContraFect, Cook Medical, COPD Foundation, Coriell Institute for Medical Research, Cornerstone Therapeutics, Corsair Pharma, Cortex Pharmaceuticals, CorVent Medical, Cosmo Pharmaceuticals, Covalon Technologies, Covidien, Covis Pharmaceutical, Covistat, Critical Biologics, CRS Bio, Crucell, Crux Biomedical, CrystecPharma, CSL, CSL Behring, CS Pharmaceuticals, CUBRC, Cue Health, Curadev Pharma, Curative Medical, Curetis, CureVac, Cureveda, Curie-Cancer, CVD Equipment, Cyclopharm, Cypress Pharmaceutical, Cystic Fibrosis Foundation Therapeutics, CytoReason, CytoSorbents, Cytovation, Daewoong Pharmaceutical, Dalton Pharma Services, Daxor, DBV Technologies, Debiopharm, Defibtech, DefiniGEN, Dehaier Medical Systems, DEKA Research and Development, Department of Defense, Department of Health and Human Services, Dermira, DevPro Biopharma, Dey Pharma, Diagenode, Diffusion Pharmaceuticals, Dignity Health, Diomics, Discovery Laboratories, Dizal Pharmaceutical, DJS Antibodies, Domainex, Donnelley Financial Solutions, Dr. Reddy's Laboratories, Drukier Institute for Children's Health, DS Biopharma, DSG, DSM, DSM Pharmaceutical Products, Ducere Pharma, DuchenneDashboard, Duke Clinical Research Institute (DCRI), Duke Translational Medicine Institute, Duke University, DXE Medical, Dymax, Dynavax Technologies, Dynova Laboratories, DynPort Vaccine Company, Eagle Pharmaceuticals, Eastar Industries, ECM Medical, Eco Animal Health Limited, ECR Pharmaceuticals, Eddingpharm, Edesa Biotech, Edmond Pharma, Eiger BioPharmaceuticals, EirMed, Eisai, Elan, ElectroCore, Electromed, Elevation Pharmaceuticals, Eleventa, Eli Lilly, Emerald BioStructures, Emergent BioSolutions, Empatica, Enalare Therapeutics, ENA Respiratory, Endpoint Health, Enigma Diagnostics, Enzyvant Science, Epistem, Epistemic AI, Erasmus University Medical Center, ErgoNex Pharma GmbH, ES Therapeutics, Estrellita Pharmaceuticals, Ethicon Endo-Surgery, Ethris, ETView Medical, European Biomedical Research Institute of Salerno, European Commission, European Union, Everest Medicines, Evommune, EvoRX Technologies, Evotec, Exalenz Bioscience, Exco InTouch, Exempla Healthcare, Exim, Experimental Therapeutics Centre of Singapore, Faes Farma, Fannin, Faron Pharmaceuticals, Fedora Pharmaceuticals, Fells Laboratories, Fibrocor Therapeutics, FibroGenesis, FILT Lungen & Thoraxdiagnostik, Fina Biosolutions, Five Prime Therapeutics, Fleming Pharmaceuticals, Flemish agency for Innovation by Science and Technology, Flextronics, Florica Therapeutics, Fluidda, fluidIQ, FMC, Food and Drug Administration (FDA), Forbion Capital Partners, Forest Laboratories, Forge Therapeutics, Foundation for Sarcoidosis Research, Fountain Medical Device, Fraunhofer Institute for Cell Therapy and Immunology, Fred Hutchinson Cancer Research Center, French National Research Agency, Fresenius Kabi Pharmaceuticals, FSC Laboratories, Fujifilm Diosynth Biotechnologies, FUJIFILM SonoSite, Fulcrum Therapeutics, Fusion Genomics, Galapagos, Galaxy Medical, Galecto, Galvani Bioelectronics, Galvanize Therapeutics, Gamma Vaccines, Gatehouse Bio, GE Healthcare, Geisinger Health System, GEMCO Medical, Gemini Pharmaceuticals, GEn1E Lifesciences, Genaera, Genentech, GeneOne Life Science, Genethon, GeNO, Genoa Pharmaceuticals, Genocea Biosciences, Genome BC, Genome Institute of Singapore, GenScript ProBio, Genten Therapeutics, German Government, Gilead Sciences, Gil Medical, GlaxoSmithKline, Glenmark Pharmaceuticals, Glenmark Pharmaceuticals S.A., GliaMed, Glo-Med Networks, Global Access Diagnostics, Global Allergy and Asthma European Network (GA2LEN), Global Coalition for Adaptive Research, GlobalLogic, Global Medical Supply, GM Instruments, GNS Healthcare, GoodRx, Government of Australia, Government of Canada, Government of Israel, Graviton Bioscience, Gravity Bio, Green Park Collaborative, Greer, Grifols, Guangdong South China Center for Innovative Pharmaceuticals, Guangdong Zhongsheng Pharmaceutical, Guangzhou Institute of Respiratory Disease, GVK Biosciences, Hadasit Medical Research Services and Development, Halyard Health, Hangzhou Chance Pharmaceuticals, Haplogen, Harbin Pharmaceutical Group, Harbour Biomed, Harrisvaccines, Harvard Apparatus Regenerative Technology, Harvard Bioscience, Harvard College, Harvard Drug Group, Harvard Stem Cell Institute, Harvard University, Harvest Capital Strategies, HCmed Innovations, Healios K.K., Healium Medical, Healthcare 21, Healthcare and Bioscience iNet, Health Care Originals, HealthPrize Technologies, Healthscope, HealthSnap, Healthstar Associates, HealthTrust, HealthTrust Purchasing Group, Heart and Lung Imaging, Heat Biologics, Hebrew University of Jerusalem, HemispheRx Biopharma, Hemovent, Henry M. Jackson Foundation, HgCapital, Hi-Tech Pharmacal, Highmark Blue Shield, Highmark Health, Hikma Pharmaceuticals, Hill-Rom, Hitit Medical Systems, Hogil Pharmaceutical, Honeywell, Hong Kong Polytechnic University, Horizon Europe, Horizon Pharma AG, Hospira, Hoth Therapeutics, Hovione, HTG Molecular Diagnostics, Humana, Humanetics, Hyfe, i2c Pharmaceutical Services, i2iHealth, iBio, IBM, Icagen, Icahn School of Medicine at Mount Sinai, IceCure Medical, Iconovo, iCo Therapeutics, IDbyDNA, Ideal Life, Idera Pharmaceuticals, IDT Biologika, Ikaria, Imbio, IMI, Immune Pharmaceuticals, Immune Regulation, Immune Therapeutics, ImmuneWorks, Impact Instrumentation, Imperial College London, Imprimis Pharmaceuticals, Inari Medical, Industrial Technology Research Institute, Infex Therapeutics, Infirst HEALTHCARE, Infoscitex, Ingen Technologies, Inhalation Sciences, Inhalon Biopharma, Inhibrx, INIM Pharma, Innate Immune, Innovare, Innovata HK, Innovate UK, Innovative Genomics Initiative (IGI), Innovative Medicines Initiative (IMI), Innova Vascular, Innovimed, Innovus Pharmaceuticals, INO Therapeutics, Inova Labs, Inovalon, Inovio Pharmaceuticals, Inovytec, Inserm, Inserm Transfert, Insmed Inc, Inspira Technologies, Inspiro Medical, InspiRX Pharma, Instem, Integrated Computer Solutions, Integrated Diagnostics, Integrated Vent Solutions, Intermed, InterMune, Intramedic, Intrexon, Inventiva, Inventprise, Inverseon, Invida Holdings, Invida Pharmaceuticals, Invion, InVixa, InvoSurg, Ipsen, IR Pharma, Isconova, Itamar Medical, Jackson Laboratory, Janssen Biotech, Janssen Pharmaceuticals, Janssen Pharmaceutica NV, Janssen Research & Development, Janssen Sciences, JB Chemicals and Pharmaceuticals, JHL Biotech, Jiangsu QYuns Therapeutics, Jikei University, Johannes Gutenberg University, Johnny Carson Foundation, Johns Hopkins University, Johnson & Johnson Innovation, JP Morgan, JSC Binnopharm, Jubilant DraxImage, Juvise Pharmaceuticals, Kai Medical, Kaleido Biosciences, Kamada, KangWon University Institute of Medical Science, KARE Biosciences, Karo Bio, Karolinska Institute, Katalyst Diagnostics, Kemwell BioPharma, Keyence, Kindeva Drug delivery, KineMed, Kings College London, Kmart Pharmacies, Knopp Biosciences, KoKo, KOS Pharmaceuticals, Koye Pharmaceuticals, Kremers Urban Pharmaceuticals, Kyorin Pharmaceutical, Laboratory Corporation of America, La Jolla Institute for Allergy & Immunology, La Jolla Pharmaceutical, Lallemand Pharma Europe, Lannett, Lanthio Pharmaceutical, Lassen Therapeutics, Laurel Venture Capital, Lawson Health Research Institute, Leading BioSciences, Lee's Pharmaceutical, Lehigh University, Leicester University, Leidos, LEO Pharma, LevoMed Canada, LFB Biotechnologies, LGC, LG Life Sciences, LianBio, LifeArc, Lifebridge Medizintechnik, Ligand Pharmaceuticals, Light Chain Bioscience, LightDeck Therapeutics, LINC Medical Systems, Lipigon Pharmaceuticals, Lipocine, Liquidia Technologies, Locus Biosciences, Longevity Biotech, Lonza, Lotus Pharmaceuticals, Lumenis, Luminex, Lundquist Institute, Lung Biotechnology, Lung Therapeutics, Lung Transplant Foundation, Lupin Limited, Lupin Pharmaceuticals, Lurie Children's Hospital of Chicago, Lyomark Pharma, Lyra Therapeutics, Macau University of Science and Technology, Macrogenics, Madison Dearborn Partners, Mallinckrodt Pharmaceuticals, MannKind Biopharmaceuticals, Marinomed Biotechnologie, Masimo, Massachusetts General Hospital, Mast Therapeutics, Matrix Biomed, Maxor National Pharmacy, Mayo Clinic, MBio Diagnostics, McKesson, McMaster University, McNeil Consumer Pharmaceuticals, Meda, Medela, Medical Accoustics, Medical Acoustics, Medical Developments International, Medical International Research, Medical Research Council, Medical Technology Enterprise Consortium, Medical University of South Carolina, Medical University South Carolina, Medicines Discovery Catapult, MediciNova, Medicom, Medidata Solutions, MedImmune, MediPines, Medisoft, Meditrade, Medline Industries, Medos Medizintechnik, Medtronic, Meiji Seika, Meissa Vaccines, Melinta Therapeutics, Melior Pharmaceuticals, Melmed, MeMed, Menarini, Menarini Asia-Pacific, Merck and Co, Merck Sharpe & Dohme, Mercury Medical, Mercury Pharma, Mereo BioPharma, Merit Medical Systems, Merus, Merus Labs International, MESA Specialty Gases & Equipment, Mesoblast, Methapharm, MGC Diagnostics, Microbio Shanghai, Microbix Biosystems, MicroDose Therapeutx, MidCap Financial, Ministry of Health (France), Minnetonka Medical Technology, miRagen Therapeutics, Miravo Healthcare, MMT, Moderna, Moerae Matrix, Momenta Pharmaceuticals, Monaghan Medical, MondoBiotech, Monopar Therapeutics, Morphic Therapeutic, MorphoSys, Morria Biopharmaceuticals, Mount Sinai Health System, MRM Proteomics, MSD, Mucokinetica, Mundipharma, MVAP Medical Supplies, Mylan Laboratories, Mylan Pharmaceuticals, Myovant Sciences, N30 Pharma, Nabriva Therapeutics, NacuGen Therapeutics, Nanopharm, Nanotronics Health, NanoViricides, NantKwest, Nanyang Technological University, Nashville Biosciences, National Health and Medical Research Council, National Healthcare Services (NHS), National Health Service, National Heart, Lung and Blood Institute, National Institute of Allergy and Infectious Diseases, National Institute of Food and Agriculture, National Institute on Drug Abuse (NIDA), National Institutes of Health, National Jewish Health, National Kidney Foundation, National Organization for Rare Disorders, National Research Council Canada, National Research Program for Biopharmaceuticals, National Science Foundation, National Trauma Institute, Nature's Bioceuticals, ndd Medical Technologies, Neos Therapeutics, Nepean Blue Mountains Local Health District's Nepean Hospital, Nephron Pharmaceuticals, NeuCen BioMed, Neurocare Group, NeuroRx, NeuTec Pharma, New Amsterdam Sciences, Newcastle Innovation, Newport Medical Instruments, New York University School of Medicine, NexBio, Nexel, Nexus6, Nihon Kohden, Ninepoint Medical, Nippon Kayaku, NitricGen, Nitto BioPharma, Nitto Denko, NKT Therapeutics, Nonin Medical, Nordson Corporation, North Carolina State University, Northern Biologics, NorthStar Medical Radioisotopes, Northwestern University, Nostrum Pharmaceuticals, Novalung, Novare Pharmaceuticals, Novartis, Novation, Novavax, NoveCite, Novellus Therapeutics, Novici Biotech, Novogen, NRx Pharmaceuticals, nSpire Health, NTC, Nuance Pharma, Numab, Numedicus, NuMedii, Nuron Biotech, NuvoAir, Nuvo Research, Nycomed, O-Two Medical Technologies, ObvioHealth, Oculus Innovative Sciences, Ohio State University, OJ-Bio, Olympus, Olympus Respiratory America, Omdana Therapeutics, Omega Pharma, Oncologix Tech, One BioMed, Oneness Biotech, Ono Pharmaceutical, Onspira Therapeutics, Opalia Pharma, OpGen, OPKO Health, OptiNose, Oragenics, Orexo, Organicell Regenerative Medicine, Orgenesis, Oridion Systems, Orifarm, Orion, Ortho-McNeil-Janssen Pharmaceuticals, OSI Systems, Oslo University Hospital, OverPharma, Owkin, Owlstone Medical, Oxagen, Oxis International, Oxygen Plus, OxySure Systems, P2D Bioscience, PACE Claims Services, Paladin Labs, Palisade Bio, Pall Corporation, Palobiofarma, Panmira Pharmaceuticals, Pantherics, Paragonix Technologies, Paratek Pharmaceuticals, Parion Sciences, PARI Pharma, Par Pharmaceutical, Partner Therapeutics, Patara Pharma, PATH (Appropriate Technology in Health), Patient-Centered Outcomes Research Institute, PatientsLikeMe, Pearl Therapeutics, Peking University, Penumbra, Pernix Therapeutics, Perrigo, Pfizer, Pfizer Consumer Health, Pharmaxis, Pharmbio Korea, PharmEste, Pharmgate, Pharmgate Animal Health, PhaseBio Pharmaceuticals, Philips, Phosphagenics, PH Precision Med, Phrixus Pharmaceuticals, Phusion Laboratoies, Pieris Pharmaceuticals, Pier Pharmaceuticals, Pillar Palatal, Plandai Biotechnology, Pluristem Therapeutics, PneumRx, Polarean Imaging, Polymer Conversions, Poly Pharmaceuticals, Polyphor, Population Health Partners, Portuguese Government, PPD, Prasco Laboratories, Precision Image Analysis, Premier Healthcare Alliance, Premier Inc, Promedior, PromptCare, PROOF Centre of Excellence for Commercialization and Research, Propeller Health, ProQR Therapeutics, Prosonix, Prospector Capital Partners, ProtAffin, Protalix BioTherapeutics, Protectimmun, Proteologics, ProtonDx, ProvideGx, Provista Diagnostics, PSUK, Pulmagen Therapeutics, Pulmatrix, Pulmodyne, Pulmokine, Pulmonary Fibrosis Foundation (PFF), Pulmonomy, Pulmonox, Pulmonx, PulmoSIM Therapeutics, Pulthera, Punjab Province, PureTech Health, Qiagen, QOL Devices, QrumPharma, Qualcomm, Qualyst Transporter Solutions, Quartesian Clinical Research, Quebec Government, Quercis Pharma, Quigley Corporation, Quintiles, Quotient Clinical, R4D Biotech, Radboud University Nijmegen Medical Centre, RadNet, RaeSedo, RapidAI, Raptor Pharmaceutical, RareGen, ReadSense Genomic Center, ReAlta Life Sciences, Reata Pharmaceuticals, Recipharm, Recordati, Recurrent Respiratory Papillomatosis Foundation, RedHill Biopharma, Redox, Redx Pharma, Relief Therapeutics, Renovion, Rentschler Biotechnologie, Resmed, Respicardia, Respira Therapeutics, Respiratory Motion, RespiraWorks, Respirent Pharmaceuticals, RespireRx Pharmaceuticals, Respithera, RespiVert, Restech, resTORbio, rEVO Biologics, Revon Systems, Rex Medical, Rhizen Pharmaceuticals, Rigel Pharmaceuticals, Rise General Trading, Riverain Medical, Roche, Roche Diagnostics, Rockefeller University, Roivant Sciences, Rosetta Genomics, Royal Philips Electronics, Royalty Pharma, RS BioTherapeutics, Rubedo Life Sciences, RxCap, Sachsische Aufbau Bank, Salix Pharmaceuticals, Samumed, Sandoz, Sanofi, Sanofi-Aventis, Sanovas, Santhera Pharmaceuticals, SarcoMed USA, Sarnova, Savana, Savara Pharma, Scarab Genomics, Scholar Rock, Science 37, Sciex, Scottish Government, Scynexis, Seattle Childrens Research Institute, Securisyn Medical, Seegene, SEEK, Seelos Therapeutics, Selvita, Sema4, Sensible Medical Innovations, Sensus Healthcare, SenzaGen, Senzime, Seqirus, Seqster, Serendex Pharmaceuticals, Serum Institute of India, Shandong Luoxin Pharma, Shanghai Ark Biopharmaceutical, Shanghai Haopu Medical Instruments, Shanghai Pharmaceuticals Holdings, Shaperon, Sheba Medical Center, Shenzhen Institutes of Advanced Technology, Shionogi, Shionogi Pharma, Shire Pharmaceuticals, Sichuan University, Siemens Healthineers, Sigma-Tau, Silence Therapeutics, Simulations Plus, SINTEF, Siolta Therapeutics, SI Pharmaceuticals, SiteOne Therapeutics, SkyePharma, Small Business Innovation Research, Smiths Medical, Snoring Center USA, Solana Therapeutics, Solutions in Critical Care, Sonde Health, Sonmol, Sonoma Pharmaceuticals, Sorin Group, Sorrento Therapeutics, Sosei Heptares, Source Bioscience, Spacelabs Medical, SpeeDx, Spesana, Spire Health, Spirosure, Sponsors Clinical Research Group, SQI Diagnostics, SRETT, STADA Arzneimittel, Stallergenes Greer, State of the Art Medical Products, Statera Biopharma, SteadyMed Therapeutics, Stemedica Cell Technologies, Sterling, Stevanato, Steward St. Elizabeth's Medical Center, Stimit, Stony Brook University, Stopler Belgium, Strados Labs, Strand Life Sciences, Stromedix, Stroyproekt, Sucampo AG, Sumitomo Dainippon Pharma, Sumitovant Biopharma, Summa Health System, SunMed, Sunnybrook Research Institute, Sunovion Pharmaceuticals, Sun Pharmaceutical, SUNY Upstate Medical University, SuperDimension, Surgical Partners, Surgical Specialties, Sutter Health, Suzhou Connect Biopharmaceuticals, Synairgen, Synaptive Medical, Synergie Lyon Cancer, Syntaxin, Synthetic Genomics, Synthonics, Taiba, TaiGen Biotechnology, Taiho, Takeda Canada, Takeda Pharmaceutical, TapImmune, Targacept, TARGET PharmaSolutions, Tarix Pharmaceutical, TB Alliance, Te Arai BioFarma, TeaRx, Technology Strategy Board (UK), Teijin, Tektronix Component Solutions, Teleflex, Telesair, Tenax Therapeutics, TeraRecon, Tetra Bio-Pharma, Tetraphase Pharmaceuticals, Teva Pharmaceutical Industries, Teva Pharmaceuticals USA, Texas Lung Injury Institute, TFF Pharmaceuticals, TFS International, Thayer Medical, The Alfred Hospital, The Alpha-1 Project, The Cough Company, The Health Bank, Therapeutic Solutions International, Theravance, Theravance Biopharma, The Regents of the University of California, Thermo Fisher Scientific, Third Pole Therapeutics, Thirona Bio, Thomas Jefferson University, Thousand Oak Holding, Three Lakes Foundation, Tianjin International Joint Academy of Biotechnology and Medicine (TJAB), Tianjin KingYork, Tianjin Kinnovata, TiGenix, Tivic Health Systems, TMM Software, TNI Medical, TopiVert, Torii Pharmaceutical, toSense, Traffick Therapeutics, TranScrip, Translate Bio, TransPerfect Trial Interactive, Transpire, Trevena, TrialSpark, Tribute Pharmaceuticals, Tris Pharma, TSI Healthcare, Tufts Medical Center, Tunitas Therapeutics, UCB, UC Davis Health System, UK Government, Ultimate Medical, Uluru, Uniformed Services University of the Health Sciences, Unigene Laboratories, United BioPharma, UnitedHealth, United Nations Children Fund, United Therapeutics, University City Science Center, University of Adelaide, University of British Columbia, University of California, Davis, University of California, San Diego, University of California Irvine, University of California Los Angeles, University of California San Francisco, University of Cambridge, University of Cape Town, University of Chicago, University of Cincinnati, University of Colorado, University of Colorado Denver, University of Dundee, University of Florida, University of Glasgow, University of Houston, University of Iowa, University of Manchester, University of Maryland Baltimore, University of Melbourne, University of Michigan, University of Michigan Medical School, University of Montana, University of Montreal, University of Munster, University of North Carolina, University of North Texas Health Science Center, University of Nottingham, University of Oklahoma, University of Oxford, University of Pennsylvania, University of Pittsburgh, University of Pittsburgh Medical Center, University of Rochester Medical Center, University of Sheffield, University of Surrey, University of Sydney, University of Texas at El Paso, University of Texas Health Science Center at Tyler, University of Virginia, University of Washington, University of Wisconsin, Urovant Sciences, US Army, US Army Medical Research and Material Command, US Government, Utrecht University, UWM Research Foundation, Valam, Valeant Pharmaceuticals, Valeo Pharma, Vanderbilt University, Vansen Pharma, Vapotherm, Vasomune Therapeutics, VaxLogic, Vectura, Veeva Systems, Veloxis Pharmaceuticals, VenatoRx, Veracyte, Veran Medical Technologies, Verantos, Verily, Verity Pharmaceuticals, Vernalis, Verona Pharma, Vertical Pharmaceuticals, Veru, Vicore Pharma, Vida Diagnostics, Videregen, VieMed Healthcare, Virginia Catalyst, Vital Connect, Vituity, Vivonics, Vivos Therapeutics, Viz.ai, Vizient, Vocalis Health, Volcano Corp, Vortran Medical, Vyaire Medical, WaferGen Biosystems, Wake Forest University School of Medicine, Wal-Mart, Walgreens, Walmart, Walter Reed Army Institute of Research, Watson Laboratories, Watson Pharmaceuticals, WaveCore, WaVe Lifesciences, Weill Cornell Medical College, Wellcome Trust, Wellcome Trust Sanger Institute, Wellmed, WEP Clinical, Windtree Therapeutics, Wockhardt, Wolters Kluwer Health, Wuxi STA, Wyss Institute, X-chem, X-Rx, Xenios, Xerox, Xijing Hospital, XL-Protein, Xoma, XOR-Labs Toronto, Xvivo Perfusion, Xylyx Bio, Yale School of Medicine, Yale University, Yissum Research Development, YM BioSciences, YPrime, Yung Shin Pharm, ZAI Laboratory, ZappRx, Zcube, Zelegent, Zelos Therapeutics, Zensark, Zentiva, Zephyr Technology, ZEPHYRx, Zhejiang Medicine, Zoll Medical, Zydus Cadila
Current Partnering reports provide insight into the trends and terms of partnering deals in the global life sciences sector.
Current Partnering reports are updated every six months to ensure the user has access to the latest announcements and trends in the topic focus of the report.
Current Partnering analysts review the deal data to provide an overview and analysis of deal trends, including example deals and terms.
Current Partnering reports source deal data from our proprietary deals and alliances database, Current Agreements. The database is updated daily by our analysts with new deals as they are announced globally by the company's party to the deal. In addition, deal records are updated with new data as it becomes available.
The data in the Current Agreements deals and alliances database is obtained from secondary sources such as publicly available industry sources including press releases, company presentations, investor presentations, company SEC filings, other company filings, company websites, conference presentations. Sources are identified to allow for user verification.
Current Partnering provides comprehensive coverage of the following partnering or deal types:
• Asset purchase
• Assignment
• Co-development
• Co-market
• Co-promotion
• Collaborative R&D
• Contract service
• CRADA
• Cross-licensing
• Development
• Distribution
• Equity purchase
• Evaluation
• Grant
• Joint venture
• Licensing
• Loan
• Manufacturing
• Marketing
• Option
• Promotion
• Research
• Royalty financing
• Settlement
• Spin out
• Sub license
• Supply
• Termination
• Warrant
Every deal record is fully categorized and includes the following data, where available:
• Industry sector
• Therapy areas
• Technology type
• Deal components
• Financial terms
• Stage of development
• Exclusivity
• Asset type
• Geographic focus
• Excluded geography
• Company press release
• SEC filing data including contract document
All financial amounts are converted to US$ using the exchange rate available on the date of deal announcement, enabling direct comparison of deal terms across international territories.
Financial data and contract documents displayed in deal records is obtained from public sources, where disclosed by the parties to the deal.