Global Musculoskeletal Partnering 2014-2021: Deal trends, players and financials
Global Musculoskeletal Partnering 2014-2021: Deal trends, players and financials provides comprehensive understanding and unprecedented access to the musculoskeletal partnering deals and agreements entered into by the worlds leading healthcare companies.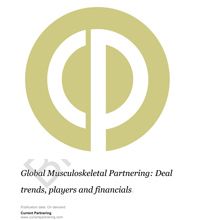 Publication date
December 2021
Product type
Therapy profile
Available formats
PDF document
Global Musculoskeletal Partnering 2014 to 2021 provides the full collection of Musculoskeletal disease deals signed between the world's pharmaceutical and biotechnology companies since 2014.
Trends in Musculoskeletal partnering deals
Financial deal terms for headline, upfront and royalty by stage of development
Musculoskeletal partnering agreement structure
Musculoskeletal partnering contract documents
Top Musculoskeletal deals by value
Most active Musculoskeletal dealmakers
Most of the deals included within the report occur when a licensee obtains a right or an option right to license a licensor's product or technology. More often these days these deals tend to be multi-component including both a collaborative R&D and a commercialization of outcomes element.
The report takes readers through the comprehensive Musculoskeletal disease deal trends, key players and top deal values allowing the understanding of how, why and under what terms companies are currently entering Musculoskeletal deals.
The report presents financial deal terms values for Musculoskeletal deals, where available listing by overall headline values, upfront payments, milestones and royalties enabling readers to analyse and benchmark the value of current deals.
The initial chapters of this report provide an orientation of Musculoskeletal dealmaking trends.
Chapter 1 provides an introduction to the report.
Chapter 2 provides an overview of the trends in Musculoskeletal dealmaking since 2014 covering trends by year, deal type, stage of development, technology type and therapeutic indication.
Chapter 3 includes an analysis of financial deal terms covering headline value, upfront payment, milestone payments and royalty rates.
Chapter 4 provides a review of the leading Musculoskeletal deals since 2014. Deals are listed by headline value. The chapter includes the top 25 most active Musculoskeletal dealmakers, together with a full listing of deals to which they are a party. Where the deal has an agreement contract published at the SEC a link provides online access to the contract.
Chapter 5 provides comprehensive access to Musculoskeletal deals since 2014 where a deal contract is available, providing the user with direct access to contracts as filed with the SEC regulatory authorities. Each deal title links via Weblink to an online version of the deal record contract document, providing easy access to each contract document on demand.
Chapter 6 provides a comprehensive directory of all Musculoskeletal partnering deals by specific Musculoskeletal target announced since 2014. The chapter is organized by specific Musculoskeletal therapeutic target. Each deal title links via Weblink to an online version of the deal record and where available, the contract document, providing easy access to each contract document on demand.
In addition, a comprehensive appendix is provided with each report of all Musculoskeletal partnering deals signed and announced since 2014. The appendices are organized by company A-Z, stage of development at signing, deal type (collaborative R&D, co-promotion, licensing etc) and technology type. Each deal title links via Weblink to an online version of the deal record and where available, the contract document, providing easy access to each contract document on demand.
The report also includes numerous tables and figures that illustrate the trends and activities in Musculoskeletal partnering and dealmaking since 2014.
In conclusion, this report provides everything a prospective dealmaker needs to know about partnering in the research, development and commercialization of Musculoskeletal technologies and products.
Report scope
Global Musculoskeletal Partnering 2014 to 2021 is intended to provide the reader with an in-depth understanding and access to Musculoskeletal trends and structure of deals entered into by leading companies worldwide.
Global Musculoskeletal Partnering 2014 to 2021 includes:
Trends in Musculoskeletal dealmaking in the biopharma industry since 2014
Access to headline, upfront, milestone and royalty data
Access to hundreds of Musculoskeletal deal contract documents
Comprehensive access to over 600 Musculoskeletal deal records
The leading Musculoskeletal deals by value since 2014
Most active Musculoskeletal dealmakers since 2014
The report includes deals for the following indications: Arthritis, Ankylosing spondylitis, Juvenile arthritis, Osteoarthritis, Psoriatic arthriti, Rheumatoid arthritis, Bone fracture, Hip, Carpel tunnel syndrome, Frozen shoulder, Gout, Knee, Meniscus damage, Muscular dystrophy, Osteoporosis, Paget's disease, Spinal muscular atrophy, Bone pain, Back pain, Muscular pain, Stiffness, Weakness, plus other musculoskeletal indications.
In Global Musculoskeletal Partnering 2014 to 2021, available deals and contracts are listed by:
Headline value
Upfront payment value
Royalty rate value
Stage of development at signing
Deal component type
Technology type
Specific therapy indication
Each deal title links via Weblink to an online version of the deal record and where available, the contract document, providing easy access to each contract document on demand.
The Global Musculoskeletal Partnering 2014-2021 report provides comprehensive access to available deals and contract documents for over 600 musculoskeletal deals. Analyzing actual contract agreements allows assessment of the following:
What are the precise rights granted or optioned?
What is actually granted by the agreement to the partner company?
What exclusivity is granted?
What is the payment structure for the deal?
How are the sales and payments audited?
What is the deal term?
How are the key terms of the agreement defined?
How are IPRs handled and owned?
Who is responsible for commercialization?
Who is responsible for development, supply, and manufacture?
How is confidentiality and publication managed?
How are disputes to be resolved?
Under what conditions can the deal be terminated?
What happens when there is a change of ownership?
What sublicensing and subcontracting provisions have been agreed?
Which boilerplate clauses does the company insist upon?
Which boilerplate clauses appear to differ from partner to partner or deal type to deal type?
Which jurisdiction does the company insist upon for agreement law?
Global Musculoskeletal Partnering 2014 to 2020 provides the reader with the following key benefits:
In-depth understanding of Musculoskeletal deal trends since 2014
Access Musculoskeletal deal headline, upfront, milestone and royalty data
Research hundreds of actual contracts between Musculoskeletal partner companies
Comprehensive access to over 600 links to actual Musculoskeletal deals entered into by the world's biopharma companies
Indepth review of Musculoskeletal deals entered into by the top 25 most active dealmakers
Benchmark the key deal terms companies have agreed in previous deals
Identify key terms under which companies partner Musculoskeletal opportunities
Uncover companies actively partnering Musculoskeletal opportunities
Executive Summary
Chapter 1 – Introduction
Chapter 2 – Trends in Musculoskeletal dealmaking
2.1. Introduction
2.2. Musculoskeletal partnering over the years
2.3. Musculoskeletal partnering by deal type
2.4. Musculoskeletal partnering by industry sector
2.5. Musculoskeletal partnering by stage of development
2.6. Musculoskeletal partnering by technology type
2.7. Musculoskeletal partnering by therapeutic indication
Chapter 3 –Financial deal terms for Musculoskeletal partnering
3.1. Introduction
3.2. Disclosed financials terms for Musculoskeletal partnering
3.3. Musculoskeletal partnering headline values
3.4. Musculoskeletal deal upfront payments
3.5. Musculoskeletal deal milestone payments
3.6. Musculoskeletal royalty rates
Chapter 4 – Leading Musculoskeletal deals and dealmakers
4.1. Introduction
4.2. Most active in Musculoskeletal partnering
4.3. List of most active dealmakers in Musculoskeletal
4.4. Top Musculoskeletal deals by value
Chapter 5 – Musculoskeletal contract document directory
5.1. Introduction
5.2. Musculoskeletal partnering deals where contract document available
Chapter 6 – Musculoskeletal dealmaking by therapeutic target
6.1. Introduction
6.2. Deals by Musculoskeletal therapeutic target
Appendices
Appendix 1 – Directory of Musculoskeletal deals by company A-Z since 2014
Appendix 2 – Directory of Musculoskeletal deals by deal type since 2014
Appendix 3 – Directory of Musculoskeletal deals by stage of development since 2014
Appendix 4 – Directory of Musculoskeletal deals by technology type since 2014
Further reading on dealmaking
Deal type definitions
About Wildwood Ventures
Current Partnering
Current Agreements
Recent report titles from CurrentPartnering
Table of figures
Figure 1: Musculoskeletal partnering since 2014
Figure 2: Musculoskeletal partnering by deal type since 2014
Figure 3: Musculoskeletal partnering by industry sector since 2014
Figure 4: Musculoskeletal partnering by stage of development since 2014
Figure 5: Musculoskeletal partnering by technology type since 2014
Figure 6: Musculoskeletal partnering by indication since 2014
Figure 7: Musculoskeletal deals with a headline value
Figure 8: Musculoskeletal deals with upfront payment values
Figure 9: Musculoskeletal deals with milestone payment
Figure 10: Musculoskeletal deals with royalty rates
Figure 11: Active Musculoskeletal dealmaking activity since 2014
Figure 12: Top Musculoskeletal deals by value since 2014
*For the full list of companies mentioned in the report, please contact enquiry@currentpartnering.com
Pricing options
$3,495: single-user
$5,245: multi-user
$10,495: single site license
$17,495: global site license
A full explanation of license type definitions can be found here.
Our guarantee
Price promise
We guarantee our prices are competitive. If you find the same report advertised at a lower price within 7 days of purchase, we will refund the difference.
Delivery Deadline
We guarantee that the report will be sent within the specified delivery times. In the unlikely case of a delay we may offer a partial refund as compensation. (Terms may apply)
Latest report
If an update is published within 30 days of your purchase, you will receive it absolutely free of charge.
Serious Security
We take your data and security seriously. See our privacy policy for details of how we manage your data.
All card payments are processed by SagePay.
Sales Support
If you have any questions about your report or are unhappy with the quality, we will do our best to resolve your query. Contact us direct.
Total Trust
Current Partnering is part of Wildwood Ventures Ltd., based in York, United Kingdom. We have been trading successfully online since 2009 and work with some of the most famous brands in the business. We carefully select our partners to ensure that the publications meet expectations of demanding customers.
3D-Side, 3SBio, A2A Pharmaceuticals, Aavis Pharmaceuticals, Abarca, Abbvie, AbCellera, Abiogen Pharma, Ablynx, AC Bioscience, Accenture, Actigraph, Activbody, Adaptive Health, Adcock Ingram, Advanced BioMatrix, AdventHealth, AEONSurgical, Affinia Therapeutics, AGC Asahi Glass, Akashi Therapeutics, AKL Research and Development, AlfaMed, Aligos Therapeutics, AliMed, Alize Pharma, Alkem Laboratories, Allergan, AlloSource, All Star Health Brands, Almirall, Alpine Immune Sciences, Altamira Bio, Alvogen, Alvotech, Alzheimer's Association, Ambry Genetics, Amedica, Amend Surgical, American Association of Neuromuscular & Electrodiagnostic Medicine, American Diabetes Association, Amgen, Amneal Pharmaceuticals, AmorChem, AMRA, AMRA Medical, Anagenesis Biotechnologies, Analysis Group, AnaMar, Andrus, Angelini Pharma, Anika Therapeutics, ANI Pharmaceuticals, Antibe Therapeutics, Apexigen, Apple, Apsen Farmacutica, Aptahem, Aptorum Group, Aralez Pharmaceuticals, Aratana Therapeutics, Aravive Biologics, ARK Crystal, Army & Air Force Exchange Service, Arthrex, Artialis, Ascendis Pharma, AskAt, Asklepios Biopharmaceutical, Aspen Holding, Astellas Pharma, AstraZeneca, Athrotech, Atlangram, Atnahs Pharma, Audentes Therapeutics, Australian Research Council, Avalere Health, AveXis, Avidity Biosciences, Avion Pharmaceuticals, AWB Schraubtechnik und Industriebedarf, Axiom Worldwide, Axovant Gene Therapies, Axxess Pharma, Azellon Cell Therapeutics, Aziyo Biologics, Back-A-Line, Bacterin International, Baebies, Bauerfeind, Baxalta, Baxter International, Bayer, Bazis NN, Beijing Tide Pharmaceutical, Benitec Biopharma, Berg, BGI, Biametrics, Bill and Melinda Gates Foundation, BillionToOne, Bio-Thera Solutions, BioAge Labs, BioCanRx, Biocomposites, Biogen, BioGen Medical, BioInvent, BioMarin Pharmaceutical, Biomedical Catalyst Fund (UK), BioMed X Innovation Center, BionX Medical Technologies, BioPharma Forest, Bioservo Technologies, Biosolution, Biosplice, Bioventus, BioVinc, Blue Belt Technologies, Blueprint Medicines, Bodycad, Boehringer Ingelheim, Bone Biologics, BoneSupport, Bone Therapeutics, Boston Dynamics, Brigham and Women's Hospital, Bristol-Myers Squibb, BSN Medical, Burke Therapeutics, Cadila Pharmaceuticals, Calchan Holdings, California Institute for Biomedical Research, California Institute for Regenerative Medicine, Calimmune, Camargo Pharmaceutical Services, Camber Spine Technologies, Can-Fite BioPharma, Cantargia, Capricor Therapeutics, Capsigen, CareFirst BlueCross BlueShield, Carestream Health, Carlina Technologies, Carpal Aid, CAS, Casper Pharma, Catabasis Pharmaceuticals, Catalyst Pharmaceuticals, Cedars-Sinai Medical Center, Celgene, Celltech, Cellthera Pharma, Cell Therapy Catapult, Celltrion, Cellular Biomedicine, Cel Sci, Centinel Spine, Centogene, Centre National de la Recherche Scientifique, Cerhum, Changshan Pharm, Charles River Laboratories, CheckPoint Immunology, Childhood Arthritis and Rheumatology Research Alliance (CARRA) Registry, Children's Hospital Boston, Children's Hospital of Philadelphia, Children's Research Institute, Cipher Pharmaceuticals, Cipla, Cloud Pharmaceuticals, CMS Medical, Coapt, Cocoon Biotech, Codiak BioSciences, Coeptis Pharmaceuticals, Coherus Biosciences, Collaborative Trajectory Analysis Project, Collagen Solutions Plc, College Park Industries, Collplant, Colorado HealthOP, Colorado State University, Columbia University, Complix, ConforMIS, Connecticut Innovations, Consensus Orthopedics, Consortium AI, Control Bionics, Conventus Orthopaedics, Coracoid Solutions, Corin, CRISPR Therapeutics, CrystalGenomics, CSPC Pharmaceutical Group, Cumberland Pharmaceuticals, Cure Duchenne, CURE Pharmaceutical, Cure SMA, CurveBeam, CymaBay Therapeutics, Cytokinetics, Cytoo, Cyxone, Daewoong Pharmaceutical, Daiichi Sankyo, Dalhousie University, Debiopharm, Defense Advanced Research Projects Agency, Delivra, Denali Therapeutics, Department of Defense, Department of Veterans Affairs, DePuy, Desma HC, Dimension Therapeutics, Diplomat, Distributed Bio, DJO Global, DJO Surgical, DMD Therapeutics, Dong-A ST, Dr. Falk Pharma, Dr. Reddy's Laboratories, Duchenne UK, Duke University, Dynacure, Dyne Therapeutics, Dyno Therapeutics, ECM Therapeutics, Eddingpharm, Edge Medical, EffRx, EGeen, Eisai, Ekso Bonics, Elanco, Eli Lilly, Eluthia, Ember Therapeutics, Embryo Ventures, EmergeOrtho, Emory University, Endo Pharmaceuticals, Endo Ventures, Energy Medicine Research Institute, Enleofen Bio, EOS Imaging, EpiBone, Epirus Biopharmaceuticals, Ethos Research & Development, Ethypharm, Eurofins LifeCodexx, Europe Technologies, Evotec, Ewopharma, Exactech, Exagen Diagnostics, Exicure, Exonics Therapeutics, Exzell Pharma, Facio Therapies, Fagron, Feinstein Institute for Medical Research, Ferring Pharmaceuticals, Fibrocell Science, Fidia Pharma USA, Flagship Biosciences, Flexion Therapeutics, Food and Drug Administration (FDA), Forbius, Foundation to Eradicate Duchenne, Frequency Therapeutics, Fresenius Kabi Pharmaceuticals, Friedreichs Ataxia Research Alliance, FSHD Global Research Foundation, Fujifilm Kyowa Kirin Biologics, Fulcrum Therapeutics, G3 Therapeutics, Galapagos, Galderma, Galvani Bioelectronics, Gebro Pharma, Geisinger Health System, Genea Biocells, GeneQuine Biotherapeutics, General Electric (GE), Genethon, Genevant Sciences, Genome BC, Genome Canada, George Washington University, Geron, GetHealthy, Gilead Sciences, GlaxoSmithKline, Global Orthopaedic Technology, Globus Medical, Graminex, Graviton Bioscience, Gravocore, Great Ormond Street Hospital (GOSH), Grunenthal, Hackensack University Medical Center, Hadasit Medical Research Services and Development, Hanmi Pharmaceutical, Hansa Biopharma, Hanuman Pelican, Harmonic Bionics, Harvard University, Health2Work, Healthcare Royalty Partners, HealthSnap, Healthy Directions, HemoShear, Highland Instruments, Hikma Pharmaceuticals, Histogenics, Hoffmann La Roche, Hologic, Horizon 2021, Horizon Pharma plc, Hospital for Special Surgery, H Robotics, Human Life CORD Japan, Human Longevity, Human Metabolome Technologies, Huntsworth Health, I-mab, Idera Pharmaceuticals, IDIPharma, Idorsia, IGEA Clinical Biophysics, Iktos, IM-Tech, Imcyse, Immune Pharmaceuticals, Impact Cryotherapy, Impressio, In2Bones USA, INC Research, Incyte, Indiana University, Infinity Group, Innate Pharma, Innosurge, Innovate UK, Innovus Pharmaceuticals, Inovalon, Insilico, Integra LifeSciences, Integrity Life Sciences, Integrum, Intel, IntelliCell BioSciences, Interleukin Genetics, Intermountain Healthcare, International Duchenne Alliance, IntraFuse, Intrexon, Intronix Technologies, inVentiv Health, Invibio Biomaterial Solutions, Invitae, Ionis Pharmaceuticals, Ipsen, Iroko Pharmaceuticals, Ironwood Pharmaceuticals, ISA Scientific, Italfarmaco, Iturri, Izana Bioscience, Jackson Laboratory, Jain Foundation, Janssen Biotech, Janssen Pharmaceuticals, Janssen Research & Development, Japan Medical Dynamic Marketing, Jesse's Journey, Jiangsu Tainuo, Johns Hopkins University, Johnson & Johnson, Johnson & Johnson Innovation, Jointpoint, Jubilant Pharma, Jubilant Radiopharma, Jubilant Therapeutics, Juvenescence, Juvenomics, JW Pharmaceutical, Kalytera Therapeutics, Kansas State University, Karolinska Institute, Kashiv BioSciences, Keck Graduate Institute of Applied Life Sciences, Keck School of Medicine of USC, Kennedy Trust For Rheumatology Research, KFx Medical, KineMed, Kiniksa Pharmaceuticals, Kitov Pharma, Kolon Life Science, Konica Minolta, Kowa Pharmaceuticals America, Kuhnil Pharmaceuticals, Kuros Biosciences, KYE Pharmaceuticals, Kyocera, Laboratories Acbel, Laboratorios Atral, LABORATORIOS SAVAL, Laboratory Corporation of America, Lacer, Landsteiner Scientific, Laurel Venture Capital, Lawson Health Research Institute, Leadiant Biosciences, Lead Pharma, Les Laboratoires Servier, Level Brands, Levicept, Lexicon Pharmaceuticals, LifeArc, Lifehealthcare, Ligand Pharmaceuticals, Lima Corporate, Limb Preservation Foundation, Link Health, Litha Pharma, LNE/G-Med, Locana, Lonza, Ludwig Institute for Cancer Research, Lumicera Health Services, Lupin, Lupus Foundation of America (LFA), Maastricht University, MainPointe, Marathon Pharmaceuticals, Mariel Therapeutics, Marina Biotech, Maryland Stem Cell Research Fund, Massachusetts General Hospital, Materialise, Maxiim, Maxx Medical, Mayo Clinic, MC10, McMaster University, MDA Venture Philanthropy, Medac, Medacta, Medexus Pharmaceuticals, Mediar Therapeutics, Medical Enterprises Distribution, Medidata Solutions, MediGene, Medimaps Group, MedImmune, Medolife Rx, Medosome Biotec, Medovex, Medservice, MedShape, Merck and Co, Merck KGaA, Mereo BioPharma, Mesoblast, Methuselah Foundation, MHC Medical Products, Microdrop, Milo Biotechnology, MiMedx, Miravo Healthcare, Mithra Pharmaceuticals, Mitsubishi Tanabe Pharma, Mobelife, Moberg Pharma, Modern Biosciences, Modernizing Medicine, Moebius Medical, Momenta Pharmaceuticals, Montana Board of Research and Commercialization Technology, MoonLake Immunotherapeutics, Morphic Therapeutic, MorphoSys, Morris Animal Foundation, Motorika, mSKIL, MTF Biologics, Mundipharma, Murdoch Childrens Research Institute, Muscle Activation Technique, Muscular Dystrophy Association, Mylan Laboratories, Mylan Pharmaceuticals, Myomo, Myonexus Therapeutics, MYOS, Myriad Genetics, Myrtle Potter & Company, Nanotherapeutics, National Center for Complementary and Alternative Medicine, National Heart, Lung and Blood Institute, National Human Genome Research Institute, National Institute for Health Research (NIHR), National Institute of Arthritis and Musculoskeletal Diseases, National Institute on Aging, National Institutes of Health, National Psoriasis Foundation, National Science Foundation, National Space Biomedical Research Institute, National Stem Cell Foundation, Nationwide Children's Hospital, Navidea Biopharmaceuticals, Navitas, NEMO Health, NeoDynamics, Nestle, NetScientific, Neurocrine Biosciences, NeuroMuscular Orthotics, Neuronoff, NeuroVive Pharmaceutical, NeuTec Pharma, NeuX Technologies, New Paradigm Therapeutics, New York University, New York University School of Medicine, New Zealand Pharmaceuticals, Nextera, Nextremity Solutions, Nexvet, NHS Blood and Transplant, Nodality, Nordic Bioscience, Nordic Pharma Group, Northwestern University, Novara Therapeutics, Novare Pharmaceuticals, Novartis, NovaSAID, Novation, NovImmune, Novogen, Novo Nordisk, Novozymes Biopharma, NT Pharma, Nuevolution, Numotion, Nuritas, Nuvo Research, nView Medical, Ohio State Innovation Foundation, Ohio State University, Omeros, Onkos Surgical, Ono Pharmaceutical, Open University of Israel, Orebro University, Organovo, Orsini Healthcare Specialty Pharmacy, Orthocell, Orthofix, OrthoGrid Systems, OrthoGrow, Orthopaedic Foot & Ankle Center, Orthopaedic Research and Education Foundation, Orthopaedic Research UK, Ortho Regenerative Technologies, OrthoSensor, Osiris Therapeutics, Osteolabs, Osteopore International, Ottobock, OxyPharma, Padlock Therapeutics, Paladin Labs, Paragon 28, ParcelShield, Parent Project Muscular Dystrophy, Parvizi Surgical Innovation, Patheon, Patient-Centered Outcomes Research Institute (PCORI),, PDL BioPharma, Peptinnovate, Pfenex, Pfizer, Pfizer Canada, Pfizer Japan, PharmaLegacy Laboratories, Pharmalink AB, PharmaLynk, Pharmapark, Piramal Healthcare, Pluristem Therapeutics, Poietis, Polpharma, Prasco Laboratories, Precision BioSciences, Pregene Biopharma, Premier Inc, Premier Shockwave, Prime Therapeutics, PrinterPrezz, Prometheus Laboratories, Promimic, ProSensa, Provider Network of America, PsychoGenics, PTC Therapeutics, pt Health, Purdue Pharma, Purdue Research Foundation, Quanta, R-NAV, Radius Health, Raffles PharmaTech, Rainbow Medical, Ramot at Tel Aviv University, Ranbaxy Laboratories, Recombinetics, Recursion, Regen BioPharma, Regeneron Pharmaceuticals, Regeneus, RegenLab, Regenstrief Institute, Regenxbio, ReGenX Biosciences, Renovis, Replicel Life Sciences, Resonant Specific Technologies, RevBio, ReveraGen BioPharma, Rheumatology Research Foundation, Rheumco, Rhino Assembly, Rigenerand, RMX Biopharma, Roche, Rocket Pharmaceuticals, ROMEG Therapeutics, Rosetta Genomics, Royalty Pharma, Rutgers University, Saint Louis University, SAMIL Pharm, Samsung Bioepis, Sanford Burnham Institute, Sangamo BioSciences, Sanguine, Sanofi, Santhera Pharmaceuticals, Sanuwave Health, Saol Therapeutics, Saphetor, Sarepta Therapeutics, SAVSU Technologies, Sayre Therapeutics, Science Biotech, ScinoPharm Taiwan, Scipher Medicine, Scripps Research Institute, SeaSpine, SecondWave Systems, Seikagaku, Selecta Biosciences, Selexis, Sermonix Pharmaceutical, Shionogi, Shire Pharmaceuticals, Si-Bone, Sierra Oncology, SignaBlok, Simcere Pharmaceuticals, SinoVeda Canada, Sites Medical, SIT Laboratorio Farmaceutico, Skyhawk Therapeutics, Small Business Innovation Research, Smith & Nephew, Sofregen Medical, Solid Biosciences, SomaLogic, Southwest Research Institute, Southwest Transplant Alliance, SpineThera, Spotlight Innovation, SQI Diagnostics, St. Jude Children's Research Hospital, Standigm, Stanford University, Steeper Group, Stempeutics, Storm ID, StrideBio, Strides Arcolab, StrongPath, Stryker, Summit Therapeutics, Sun Pharmaceutical, Surgalign, SurGenTec, Surgical Specialties, Sway Medical, Swedish Orphan Biovitrum, SWK Funding, Symic Biomedical, Synartro, Synpromics, Taisho Pharmaceutical, Taiwan Liposome Company, Takeda Pharmaceutical, Technology Consult Berlin, Technology Strategy Board (UK), Teijin, Teva Pharmaceutical Industries, Texas Christian University, The Arthritis Society, The Cyprus Institute of Neurology and Genetics, Theradiag, THINK Surgical, ThioLogics, TiGenix, TissueGene, Tissue Genesis, Tissue Regeneration Systems, Tissue Regenix, Tiziana Life Sciences, Tonus Therapeutics, Toshiba Medical Systems Corporation, Total Joint Orthopedics, Tow Foundation, TR-Pharm, Transcenta, Transdermal Delivery Solutions, Traverse Biosciences, Tufts University, Turner Imaging Systems, Ubiquigent, UBMD Orthopaedics, UCB, Ultragenyx Pharmaceuticals, Unilife, United Orthopedic Group, University City Science Center, University College London, University of Basel, University of British Columbia, University of California, San Diego, University of California, San Diego (UCSD) School of Medicine, University of California Berkeley, University of California Irvine, University of California Los Angeles, University of California San Francisco, University of Dundee, University of Edinburgh, University of Florida, University of Illinois, University of Iowa, University of Kansas, University of Kentucky, University of Liverpool, University of Massachusetts, University of Massachusetts Medical School, University of Missouri, University of Oklahoma, University of Oxford, University of Pennsylvania, University of Pittsburgh, University of Rochester, University of Texas, University of Texas Southwestern Medical Center, University of Vermont, University of Virginia, University of Washington, US Army, V ClinBio, Verily, Vertex Pharmaceuticals, Vet-Stem, VIB, Virbac, Virginia Commonwealth University, Virpax Pharmaceuticals, Viscogliosi Brothers, VISEN Pharmaceuticals, Vivo Ventures, Voyager Therapeutics, Wake Forest University, Wake Research Associates, Walloon Region Investment Fund, Weill Cornell Medical College, WellDyne, Western University, WishBone Medical, Wittenstein, WorldCare Clinical, Wright Medical, WuXi Biologics, Xtant Medical, Yale University, Yew Bio-Pharm, Yissum Research Development, YL Biologics, Yoshindo, Yposkesi, Zebra Medical Vision, ZetrOZ, Zimmer Biomet, Zoetis, Zosano Pharma
Current Partnering reports provide insight into the trends and terms of partnering deals in the global life sciences sector.
Current Partnering reports are updated every six months to ensure the user has access to the latest announcements and trends in the topic focus of the report.
Current Partnering analysts review the deal data to provide an overview and analysis of deal trends, including example deals and terms.
Current Partnering reports source deal data from our proprietary deals and alliances database, Current Agreements. The database is updated daily by our analysts with new deals as they are announced globally by the company's party to the deal. In addition, deal records are updated with new data as it becomes available.
The data in the Current Agreements deals and alliances database is obtained from secondary sources such as publicly available industry sources including press releases, company presentations, investor presentations, company SEC filings, other company filings, company websites, conference presentations. Sources are identified to allow for user verification.
Current Partnering provides comprehensive coverage of the following partnering or deal types:
• Asset purchase
• Assignment
• Co-development
• Co-market
• Co-promotion
• Collaborative R&D
• Contract service
• CRADA
• Cross-licensing
• Development
• Distribution
• Equity purchase
• Evaluation
• Grant
• Joint venture
• Licensing
• Loan
• Manufacturing
• Marketing
• Option
• Promotion
• Research
• Royalty financing
• Settlement
• Spin out
• Sub license
• Supply
• Termination
• Warrant
Every deal record is fully categorized and includes the following data, where available:
• Industry sector
• Therapy areas
• Technology type
• Deal components
• Financial terms
• Stage of development
• Exclusivity
• Asset type
• Geographic focus
• Excluded geography
• Company press release
• SEC filing data including contract document
All financial amounts are converted to US$ using the exchange rate available on the date of deal announcement, enabling direct comparison of deal terms across international territories.
Financial data and contract documents displayed in deal records is obtained from public sources, where disclosed by the parties to the deal.