Global Metabolic Partnering 2015-2022: Deal trends, players and financials
Global Metabolic Partnering 2015-2022: Deal trends, players and financials report provides comprehensive understanding and unprecedented access to the metabolic partnering deals and agreements entered into by the worlds leading healthcare companies.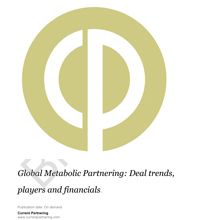 Publication date
March 2022
Product type
Research report
Available formats
PDF document
Global Metabolic Partnering 2015 to 2022 provides the full collection of Metabolic disease deals signed between the world's pharmaceutical and biotechnology companies since 2015.
Trends in Metabolic partnering deals
Financial deal terms for headline, upfront and royalty by stage of development
Metabolic partnering agreement structure
Metabolic partnering contract documents
Top Metabolic deals by value
Most active Metabolic dealmakers
Most of the deals included within the report occur when a licensee obtains a right or an option right to license a licensor's product or technology. More often these days these deals tend to be multi-component including both a collaborative R&D and a commercialization of outcomes element.
The report takes readers through the comprehensive Metabolic disease deal trends, key players and top deal values allowing the understanding of how, why and under what terms companies are currently entering Metabolic deals.
The report presents financial deal terms values for Metabolic deals, where available listing by overall headline values, upfront payments, milestones and royalties enabling readers to analyse and benchmark the value of current deals.
The initial chapters of this report provide an orientation of Metabolic dealmaking trends.
Chapter 1 provides an introduction to the report.
Chapter 2 provides an overview of the trends in Metabolic dealmaking since 2015 covering trends by year, deal type, stage of development, technology type and therapeutic indication.
Chapter 3 includes an analysis of financial deal terms covering headline value, upfront payment, milestone payments and royalty rates.
Chapter 4 provides a review of the leading Metabolic deals since 2015. Deals are listed by headline value. The chapter includes the top 25 most active Metabolic dealmakers, together with a full listing of deals to which they are a party. Where the deal has an agreement contract published at the SEC a link provides online access to the contract.
Chapter 5 provides comprehensive access to Metabolic deals since 2015 where a deal contract is available, providing the user with direct access to contracts as filed with the SEC regulatory authorities. Each deal title links via Weblink to an online version of the deal record contract document, providing easy access to each contract document on demand.
Chapter 6 provides a comprehensive directory of all Metabolic partnering deals by specific Metabolic target announced since 2015. The chapter is organized by specific Metabolic therapeutic target. Each deal title links via Weblink to an online version of the deal record and where available, the contract document, providing easy access to each contract document on demand.
In addition, a comprehensive appendix is provided with each report of all Metabolic partnering deals signed and announced since 2015. The appendices are organized by company A-Z, stage of development at signing, deal type (collaborative R&D, co-promotion, licensing etc) and technology type. Each deal title links via Weblink to an online version of the deal record and where available, the contract document, providing easy access to each contract document on demand.
The report also includes numerous tables and figures that illustrate the trends and activities in Metabolic partnering and dealmaking since 2015.
In conclusion, this report provides everything a prospective dealmaker needs to know about partnering in the research, development and commercialization of Metabolic technologies and products.
Report scope
Global Metabolic Partnering 2015 to 2022 is intended to provide the reader with an in-depth understanding and access to Metabolic trends and structure of deals entered into by leading companies worldwide.
Global Metabolic Partnering 2015 to 2022 includes:
Trends in Metabolic dealmaking in the biopharma industry since 2015
Access to headline, upfront, milestone and royalty data
Access to hundreds of Metabolic deal contract documents
Comprehensive access to over 1100 Metabolic deal records
The leading Metabolic deals by value since 2015
Most active Metabolic dealmakers since 2015
The report includes deals for the following indications: Acromegaly, Addison's disease, Cirrhosis, Cushing's syndrome, Diabetes, Type 1, Type 2, Insipidus, Fatty liver, Gallstones, Goitre, Growth hormone disorders, Gynaecomastia, Inborn errors of metabolism, Phenylketonuria, Hyperaldosteronism, Hypercalcaemia, Hyperthyroidism, Hypocalcaemia, Hypogonadism, Hypopituitarism, Hypothyroidism, Liver disease, Nonalcoholic steatohepatitis (NASH), Lysosomal storage disorders, Nutrition and vitamins, Rickets, Pheochromocytoma, Primary bilary cirrhosis, Prolactinemia, Short stature, Syndrome of Inappropriate Antidiuretic Hormone (SIADH), Thyroid disease, plus other metabolic indications.
In Global Metabolic Partnering 2015 to 2022, available deals and contracts are listed by:
Headline value
Upfront payment value
Royalty rate value
Stage of development at signing
Deal component type
Technology type
Specific therapy indication
Each deal title links via Weblink to an online version of the deal record and where available, the contract document, providing easy access to each contract document on demand.
The Global Metabolic Partnering 2015-2022 report provides comprehensive access to available deals and contract documents for over 1100 metabolic deals. Analyzing actual contract agreements allows assessment of the following:
What are the precise rights granted or optioned?
What is actually granted by the agreement to the partner company?
What exclusivity is granted?
What is the payment structure for the deal?
How are the sales and payments audited?
What is the deal term?
How are the key terms of the agreement defined?
How are IPRs handled and owned?
Who is responsible for commercialization?
Who is responsible for development, supply, and manufacture?
How is confidentiality and publication managed?
How are disputes to be resolved?
Under what conditions can the deal be terminated?
What happens when there is a change of ownership?
What sublicensing and subcontracting provisions have been agreed?
Which boilerplate clauses does the company insist upon?
Which boilerplate clauses appear to differ from partner to partner or deal type to deal type?
Which jurisdiction does the company insist upon for agreement law?
Global Metabolic Partnering 2015 to 2022 provides the reader with the following key benefits:
In-depth understanding of Metabolic deal trends since 2015
Access Metabolic deal headline, upfront, milestone and royalty data
Research hundreds of actual contracts between Metabolic partner companies
Comprehensive access to over 1100 links to actual Metabolic deals entered into by the world's biopharma companies
Indepth review of Metabolic deals entered into by the top 25 most active dealmakers
Benchmark the key deal terms companies have agreed in previous deals
Identify key terms under which companies partner Metabolic opportunities
Uncover companies actively partnering Metabolic opportunities
Executive Summary
Chapter 1 – Introduction
Chapter 2 – Trends in Metabolic dealmaking
2.1. Introduction
2.2. Metabolic partnering over the years
2.3. Metabolic partnering by deal type
2.4. Metabolic partnering by industry sector
2.5. Metabolic partnering by stage of development
2.6. Metabolic partnering by technology type
2.7. Metabolic partnering by therapeutic indication
Chapter 3 –Financial deal terms for Metabolic partnering
3.1. Introduction
3.2. Disclosed financials terms for Metabolic partnering
3.3. Metabolic partnering headline values
3.4. Metabolic deal upfront payments
3.5. Metabolic deal milestone payments
3.6. Metabolic royalty rates
Chapter 4 – Leading Metabolic deals and dealmakers
4.1. Introduction
4.2. Most active in Metabolic partnering
4.3. List of most active dealmakers in Metabolic
4.4. Top Metabolic deals by value
Chapter 5 – Metabolic contract document directory
5.1. Introduction
5.2. Metabolic partnering deals where contract document available
Chapter 6 – Metabolic dealmaking by therapeutic target
6.1. Introduction
6.2. Deals by Metabolic therapeutic target
Appendices
Appendix 1 – Directory of Metabolic deals by company A-Z since 2015
Appendix 2 – Directory of Metabolic deals by deal type since 2015
Appendix 3 – Directory of Metabolic deals by stage of development since 2015
Appendix 4 – Directory of Metabolic deals by technology type since 2015
Further reading on dealmaking
Deal type definitions
About Wildwood Ventures
Current Partnering
Current Agreements
Recent report titles from CurrentPartnering
Table of figures
Figure 1: Metabolic partnering since 2015
Figure 2: Metabolic partnering by deal type since 2015
Figure 3: Metabolic partnering by industry sector since 2015
Figure 4: Metabolic partnering by stage of development since 2015
Figure 5: Metabolic partnering by technology type since 2015
Figure 6: Metabolic partnering by indication since 2015
Figure 7: Metabolic deals with a headline value
Figure 8: Metabolic deals with upfront payment values
Figure 9: Metabolic deals with milestone payment
Figure 10: Metabolic deals with royalty rates
Figure 11: Active Metabolic dealmaking activity sinc 2015
Figure 12: Top Metabolic deals by value since 2015
Pricing options
$3,495: single-user
$5,245: multi-user
$10,495: single site license
$17,495: global site license
A full explanation of license type definitions can be found here.
Our guarantee
Price promise
We guarantee our prices are competitive. If you find the same report advertised at a lower price within 7 days of purchase, we will refund the difference.
Delivery Deadline
We guarantee that the report will be sent within the specified delivery times. In the unlikely case of a delay we may offer a partial refund as compensation. (Terms may apply)
Latest report
If an update is published within 30 days of your purchase, you will receive it absolutely free of charge.
Serious Security
We take your data and security seriously. See our privacy policy for details of how we manage your data.
All card payments are processed by SagePay.
Sales Support
If you have any questions about your report or are unhappy with the quality, we will do our best to resolve your query. Contact us direct.
Total Trust
Current Partnering is part of Wildwood Ventures Ltd., based in York, United Kingdom. We have been trading successfully online since 2009 and work with some of the most famous brands in the business. We carefully select our partners to ensure that the publications meet expectations of demanding customers.
2XU, 3SBio, 5LINX, 23andMe, A*STAR Agency for Science, Technology and Research, AB-Biotics, Abbott Laboratories, Abbvie, Abby Grace Foundation, Abeona Therapeutics, Abiogen Pharma, Academic Drug Discovery Consortium, Academy Medical, Acasti Pharma, Accord Healthcare, Acer Therapeutics, Acerus, Aceso Life Science, Aceto Corporation, Acon Labs, Activhealth, Acurian, Admera Health, Adocia, Adva Biotechnology, Advance Pharmaceutical, AdventHealth, Adverum Biotechnologies, Aelan Cell Technologies, Aero Pump, AEterna Zentaris, Aetna, Aevi Genomic Medicine, Afimmune, AgaMatrix, AgBiome, AgeX Therapeutics, Agilent Technologies, Agropur, Aguettant, AI Metrics, Aimmune Therapeutics, Ajinomoto, Akcea Therapeutics, Akero Therapeutics, Akers Biosciences, AKSA Medical, Akston Biosciences, Albany Molecular Research, Albert Einstein College of Medicine, Albion, Albumedix, Alcon Laboratories, Alcresta, Alexion Pharmaceuticals, Aligos Therapeutics, ALK-Abello, Allegro Ophthalmics, Allele Biotechnology and Pharmaceuticals, Allergan, Allergan (name changed from Actavis), AllerGenis, Allevi 3D, Alliance Pharma, All Star Health Brands, Alnylam Pharmaceuticals, ALR Technologies, Alteogen, ALTuCELL, Alzheimer's Association, Amarna Therapeutics, Amazentis, Ambiopharm, Ambrosia Nutraceuticals, Ambys Medicines, AM Chemicals, A Menarini Diagnostics, American Diabetes Association, American Gene Technologies, American Society for Parenteral and Enteral Nutrition, Amgen, Amicus Therapeutics, Amneal Pharmaceuticals, Amolyt Pharma, AMRA, AMRA Medical, Amryt, AMSL, Amunix, Amyris, Andromeda Biotech, AnGes MG, ANI Pharmaceuticals, Anivive Lifesciences, Anji Pharma, Anokion, Antares Pharma, Antaros Medical, Antisense Therapeutics, AOP Orphan Pharmaceuticals, Apollo Endosurgery, Apollo Sugar, Applied DNA Sciences, Apricus Biosciences, Arcadia Biosciences, Arcadia Consumer Healthcare, Arcadia Resources, ARCH Personalized Medicine Initiative, Arcturus Therapeutics, Arecor, argenx, Argon Medical Devices, Arix Bioscience, Arjuna Naturals, Arkray USA, Arrowhead Pharmaceuticals, Artizan Biosciences, Arzeda, Ascensia Diabetes Care, Ascletis, Aspect Biosystems, Aspen Holding, ASR Group, Astellas Pharma, AstraZeneca, AstraZeneca HealthCare Foundation, Atnahs Pharma, Attain Health, Atvio Biotech, Audentes Therapeutics, Australian Department of Health and Ageing, Australian Foundation for Diabetes Research, AutoGenomics, Autotelic, Avion Pharmaceuticals, Avivagen, Avrobio, Awamedica, Axcella, AXIM Biotechnologies, Axovant Gene Therapies, Axxess Pharma, Aytu BioScience, Baliopharm, Bambino Gesu Children's Hospital, Banting & Best Diabetes Centre (BBDC), Basepaws, BASF, Baxter International, Bayer, Baylor College of Medicine, BCD Bioscience, Beacon Discovery, Becton Dickinson, Beijing Sun-Novo Pharmaceutical Research, Ben-Gurion University, Benchworks, Bened Biomedical, Benuvia Therapeutics, Berg, Bertin Pharma, Best Choice, Beta-O2, Better Living Now, BevCanna, Beyond Type 1, BGN Technologies, BHV Pharmaceuticals, Bicycle Therapeutics, Bigfoot Biomedical, Bill and Melinda Gates Foundation, Bina Technologies, Bio-Rad Laboratories, biOasis Technologies, BIOASTER, BioCision, Biocodex Microbiota Foundation, Biocon, BIOCORP, Biodel, Biodelta Nutraceuticals, BioGaia, Biogen, BioHarvest Sciences, Biohit, Bioinn Molecular Diagnosis, BiolineRX, Biomedical Catalyst Fund (UK), BioMed X Innovation Center, BiopharmX, BioRestorative Therapies, Biosequel, BioTelemetry, BioViva Sciences, Bird Foundation, Blackstone Medical, Blue Diamond Growers, Blue Mesa Health, BlueOcean Nutrascience, Boehringer Ingelheim, Bonne Santé Group, Bora Pharmaceuticals, Boston Scientific, Boston Therapeutics, Bridge Biotherapeutics, Brigham and Women's Hospital, Bristol-Myers Squibb, Bruker, c-LEcta, Cachet Pharma, Caladrius Biosciences, California Institute for Biomedical Research, California Institute for Regenerative Medicine, Cambrooke Therapeutics, Cam Med, CAMP4 Therapeutics, Can-Fite BioPharma, Canada-Israel Industrial R&D Foundation, Canadian Institutes of Health Research, Canagen Pharmaceuticals, CANbridge Life Sciences, CannaKids, Capillary Biomedical, Capital Brands, Cardax, Cardiovascular Solutions of Central Mississippi, Caret Pharma, Cargill, Carlos Slim Health Institute, Carnot BioSciences, CASI Pharmaceuticals, Casma Therapeutics, Casper Pharma, Catabasis Pharmaceuticals, Catalent, Catalyn Medical Technologies, Catalyst Biosciences, CEA-Leti, Ceapro, Cedars-Sinai Medical Center, Cediprof, Celladon, Cell Biosciences, CELLINK, Cell MedX, Celltrion, Cellular Dynamics International, Cenix BioScience, Censa Pharmaceuticals, Centaur, Centene, Center for Biomarker Research in Medicine, Center for iPS Cells Research and Application, Centogene, Centre International de Developpment Pharmaceutique, Centrus Health Clinics, Cequr, Cereal Ingredients, Changshan Pharm, Charles River Laboratories, Cheplapharm Arzneimittel, Chiesi Farmaceutici, Children's Hospital Boston, Children's Hospital of Pittsburgh, Chinese Academy of Sciences, Chinese Future Industry Investment Fund, Chong Kun Dang, ChromaDex, Chugai Pharmaceutical, Cibus Global, Cilag AG, Cipla, Citrine Medicine, CiVi Biopharma, Clal Biotech, Clalit Health Services, Clarus Therapeutics, Clay-Platte Family Medicine Clinic, Clinica Ruiz, Clinigen, CMS Medical, CN Bio, Cochin Hospital, Codexis, Cold Spring Harbor, Columbia University, Companion Medical, Companion PBx, Conatus Pharmaceuticals, Connexios, Consilient Health, Cook Medical, CORD:USE, CoreRx Pharma, Corestem, Corgenix Medical, Corner Foods, Cortendo, CorVascular, Corvium, Cosmed Group, Courtagen Life Sciences, Covalent Data, Covance, Covidien, Coyne Healthcare, Cranford Pharmaceuticals, Crinetics, CRISPR Therapeutics, Critical Path Institute (C-Path), Crown Bioscience, CrystalGenomics, Cukierman & Co Life Sciences, Cumberland Pharmaceuticals, CureCell, Cure Genetics, CURE Pharmaceutical, CVS Pharmacy, Cycle Pharmaceuticals, Cyclofluidic, Cyclo Therapeutics, CymaBay Therapeutics, Cyprium Therapeutics, Cystic Fibrosis Foundation, Cystinosis Research Foundation, Cytonet, Cytoo, Daewoong Pharmaceutical, Daiichi Sankyo, Dainippon Sumitomo Pharma, Dance Biopharm, Danish Center for Strategic Research into Type 2 Diabetes, DarioHealth, Dartmouth College, DayTwo, Debiotech, Decision Diagnostics, de Duve Institute, Defymed, Department of Veterans Affairs, Derbycare, DeuteRx, DexCom, Diabeloop, Diabetes Singapore, Diabetes Tools, Diamyd Medical, Diasend, Diasys Diagnostics Systems, Dicerna Pharmaceuticals, DIEM Labs, DigiLab, Dimension Therapeutics, Diomics, Diplomat, Diurnal, Dizal Pharmaceutical, DKSH, DNX Biopharmaceuticals, DolCas-Tenshi Bioceuticals, DolCas Biotech, Dong-A Pharmaceutical, Dong-A ST, Dongbao, Dongkook Pharmaceutical, Dr. Falk Pharma, DreaMed Diabetes, DS Biopharma, DSM, Duke Clinical Research Institute (DCRI), Duke University, DuPont, DuPont Pharmaceuticals, Dyno Therapeutics, E-Scape Bio, Easton Pharmaceuticals, Echosens, Ecole Polytechnique Federale de Lausanne, EffRx, EicOsis, Eiger BioPharmaceuticals, EKF Diagnostics, EKF Diagnostics (Germany), Elanco, Elcelyx Therapeutics, ELC Group, Eli Lilly, Elysium Health, Embark Biotech, EMD Serono, Emergent BioSolutions, Emerson Resources, Emirates Diabetes Society, Emisphere, Emory University, Enable Biosciences, Endo International, ENDRA Life Sciences, Energesis Pharmaceuticals, Engitix, Enteris Biopharma, Enterome Bioscience, Entra Health, ENYO Pharma, Enzymotec, Enzyvant Science, EOFlow, Epigen Biosciences, Epitomee Medical, Epivax, Ergomed, ERS Genomics, Erytech, Eternygen, Eton Pharmaceuticals, Eu Hwa, Eunice Kennedy Shriver Institute of Child Health and Human Development, Eurobio, Eurofarma, European Union, European Union Regional Development Fund, EverlyWell, Eversana, Evgen Pharma, Evoke Pharma, Evolva, Evolve BioSystems, Evonik Industries, Evotec, Evozyne, Exalenz Bioscience, ExScientia, Eyesense, FarmaMondo Group, Fate Therapeutics, Felkasta JSC, Ferring Pharmaceuticals, FGH Biotech, Fine Foods & Pharmaceuticals N.T.M., FitBit, FMC, Folium Biosciences, Fondazione San Raffaele, Fondazione Telethon, Food and Drug Administration (FDA), Forendo Pharma, Fortified Management Group, Foundation for Diabetes Research, Fox Chase Cancer Center, Fractyl Laboratories, Fraunhofer Institute for Microelectronic Circuits and Systems, Freedom Meditech, Fresenius Kabi Pharmaceuticals, Fukuda Denshi, Fundacion Progreso y Salud, G-TAC, G3 Therapeutics, Gain Therapeutics, Galapagos, Galectin Therapeutics, Galmed Pharmaceuticals, Galvani Bioelectronics, Gan & Lee, Gannex Pharma, Gastrologix, GC Pharma, GE Healthcare, Geisinger Medical Center, Gelesis, GEMCO Medical, Gemphire, Gen-X Muscle, Geneia, Genentech, General Automation Lab Technologies, Generex Biotechnology, Generon, Generosus Advisors, Genetic Analysis, Genetron Health, Genewiz, Genexine, Genexo, Genfit, Genomas, Genomix Scientific, Genomma Lab Internacional, Genovive, Genprex, GenStem Therapeutics, Gentag, German Institute for Food Technologies, German Red Cross, GetHealthy, GI Dynamics, Gilead Sciences, Ginkgo BioWorks, GlaxoSmithKline, Glenmark Pharmaceuticals, Glide, Global Genomics Group, Glooko, GlucoMe, Glycosyn, Glympse Bio, GlySens, Glytec, Glythera, GNC, Goldfinch Bio, Goliver Therapeutics, Good Measures, GoodMills, Google, Greenteaspoon, Group K Diagnostics, Grupo LALA, Guangzhou Pharmaceutical Group, Gubra, Hadasit Bioholdings, Hadasit Medical Research Services and Development, Hadassah Medical Center, Hainan Savy Akers Biosciences, Hainan Savy Investment Management, Hainan Sihuan Pharmaceutical, Hamad Bin Khalifa University, Hamilton Company, Hangzhou Zhongmei Huadong Pharmaceutical, Hanmi Pharmaceutical, Hannover Medical School, Hartford HealthCare, Harvard Pilgrim Health Care, Harvard Stem Cell Institute, Harvard University, Haselmeier, Hatch Medical, Health2Sync, Health Canada, HealthCore, Healthimation, Health Network Laboratories, Healthy Directions, Healthy Grain, HEC Pharm, Hefei Life Science, Hefei Tianhui Incubation of Technologies, Helix, Helmholtz Zentrum Munchen, HemoShear, HepaTx, Hepion Pharmaceuticals, Hepregen, Hi-Tech Pharmaceuticals, High Performance Nutrition, Hikma Pharmaceuticals, HistoIndex, HitGen, Hoffmann La Roche, Holmdel Pharmaceuticals, Horizon Discovery, Hospices Civils de Lyon, Hospital Clinico Metropolitano La Florida, Human Longevity, Humavox, Hygieia, Hy Laboratories, Hyperion Therapeutics, Hyundai Pharmaceutical, IBM, IBM Watson Health, Icahn School of Medicine at Mount Sinai, IDEAS DWC, Ieso Digital Health, Imagene Labs, ImmuDyne, Immuneering, Immune Pharmaceuticals, Immunovia, Immuron, Impax Laboratories, Imperial College London, Index Ventures, Indiana Biosciences Research Institute, Indiana University, Indian Institute of Science Education and Research, Indigo Biosciences, Industrial Technology Research Institute, Informed Data Systems, Innovate UK, Innovation Health, Innovation Network Corporation, Innovation Zed, Innovative Genomics Initiative (IGI), Innovent Biologics, Innovet, Innovus Pharmaceuticals, Inozyme Pharma, Insitro, InSphero, Institute of Endocrinology, Metabolism, and Reproduction, Institute of Genetics and Molecular and Cellular Biology, Insulet, InsuLine Medical, Intarcia Therapeutics, Integrated Animal Health, Integrity Applications, Integrity Wellness Brands, IntelliCell BioSciences, Intercept Pharmaceuticals, International Diabetes Federation (IDF), International Vitamin, Interprotein, Intralytix, Intrexon, Invigorcell, Invitae, Ionis Pharmaceuticals, Ipsen, IQ-AI, IQVIA, IROA Technologies, iSage Rx, ISA Scientific, iSense CGM, Islet Sciences, ISOThrive, Israeli National Authority for Technological Innovation, Italian Ministry of Economic Development, Itamar Medical, Itochu, Jackson Laboratory, Janssen-Cilag, Janssen Biotech, Janssen Human Microbiome Institute, Janssen Pharmaceuticals, Janssen Pharmaceutica NV, Janssen Research & Development, Janssen Therapeutics, Jennewein Biotechnologie, Jerome Stevens Pharmaceuticals, JHL Biotech, Jiangsu Chia Tai Tianqing Pharmaceutical, Jiangsu Hansoh Pharmaceutical, Jiangsu Qyun Bio-Pharmaceutical, John Morley Foods, Johns Hopkins University, Johnson & Johnson, Johnson & Johnson Innovation, Joslin Diabetes Center, JSR, Jubilant Biosys, Jugular, Julphar, Juvenescence, Juvenile Diabetes Research Foundation, Juvenomics, Juvise Pharmaceuticals, Kadimastem, Kaleido Biosciences, Kallyope, KannaLife Sciences, Kanyos, Katana Pharmaceuticals, Kate Farms, KD Pharma, Keck School of Medicine of USC, Kennedy Trust For Rheumatology Research, Kerry, KeyBioScience, KineMed, Kinetix Group, Kiniksa Pharmaceuticals, Klue, Knight Therapeutics, Know Labs, Kore, Korea-Israel Industrial R&D Foundation, Korea Animal Medical Science Institute, Kraft Foods, KVK-Tech, Kyoto University, Labcyte, Laboratory Corporation of America, LabStyle Innovations, La Jolla Pharmaceutical, Lannett, Lark Technologies, Lead Discovery Center, Lee's Pharmaceutical, Leiber, Leona M and Harry B Helmsley Charitable Trust, Lesaffre, Les Laboratoires Servier, Level Brands, Lexicon Pharmaceuticals, LG Life Sciences, Libbs Farmaceutica, LifeArc, LifeBEAM, LifeCaring Technologies, LifeLiver, LifeNome, LifeOmic, LifeScan, Ligand Pharmaceuticals, Lilly Endowment, Lineage Cell Therapeutics, Linker Holdings, Lipigon Pharmaceuticals, Livongo Health, LMC Diabetes and Endocrinology, Locemia Solutions, Lonza, Lpath, Luminex, Lupin Limited, Lupus Foundation of America (LFA), Lurie Children's Hospital of Chicago, Lyfebulb, Lygos, Lynkogen, Lysogene, M3, Maccabi Healthcare Services, Macrogenics, Magenta Therapeutics, Mainz University Medical Centre, Malin, MangoGen Pharma, Manna Research, MannKind Biopharmaceuticals, Marianna Naturals, Maryland Stem Cell Research Fund, Massachusetts General Hospital, Massachusetts Institute of Technology, MaSTherCell, Max-Planck, Mayo Clinic, MBP Solutions, Medac, MedHelp, Medica Labs, Medical Research Council, Medical University South Carolina, MediciNova, Medidata Solutions, MediGene, MedImmune, Medipal Holdings, MediReva, MediSafe, Medison Pharma, Medtronic, Med Trust, Megapharm, Melior Discovery, Mellitus, Merck and Co, Merck KGaA, Merck Serono, Mereo BioPharma, Merieux NutriSciences, Meroven, Metabasis Therapeutics, Metabolon, Metacrine, Metanome, Metanomics Health, Metavant, Metdia Biotech, Metro Health, Micro Labs, MidaSol Therapeutics, Midatech, MikroLink, Millendo Therapeutics, MilliporeSigma, Mimi's Rock, MiNA Therapeutics, Ministry of Health and Prevention, Miraculins, MirCod, Mirum Pharmaceuticals, Mitobridge, Moberg Pharma, Molecular Stethoscope, Momenta Pharmaceuticals, MonoSol Rx, Morphic Therapeutic, Mount Sinai Medical Center, Movi, Mr Checkout, MRM Health, MSD Action Foundation (MSDAF), Mundipharma, Murdoch Childrens Research Institute, Murdoch University, MyBiotics Pharma, Mylan Laboratories, Mylan Pharmaceuticals, MYOS, Myriad RBM, mySugr, Naia Pharma, Namocell, Nanjing BioSciKin, NanoSpeed Diagnostics, NASH Network, National Center for Cardiovascular Diseases, National Cerebral and Cardiovascular Disease Research Center, National Health Service, National Heart, Lung and Blood Institute, National Institute for Health and Care Excellence, National Institute of Child Health and Human Development, National Institute of Diabetes and Digestive and Kidney Diseases, National Institutes of Health, National Organization for Rare Disorders, National Sales Associates, National University of Singapore, Nemaura Medical, Nemysis, Neogen, Neolpharma, Neovacs, Nephcentric, Neptune Technologies & Bioressources, Neptune Wellness Solutions, Nestle, Nestle Health Science, Neuraxpharm, NeuroMetrix, NeuroVive Pharmaceutical, NeuTec Pharma, Newsoara Biopharma, New Wave Ventures, New York Blood Center, New York Genome Center (NYGC), Nexus BioPharma, NGM Biopharmaceuticals, Nightingale Health, Nima, Nimbus Therapeutics, Nippon Kabaya Ohayo, Nipro Corporation, Nipro Diagnostics, Nitto Denko, Nizo, Nordic Bioscience, North Georgia Healthcare, NorthSea Therapeutics, Northwestern University, Novant Health, Novartis, Novasep, NovImmune, Noviosense, Novo Nordisk, Novozymes, Nuclea Biotechnologies, Nuformix, Numab, Nuritas, NuSirt, Nutra Manufacturing, NutraMax, Nutrashop, Nutriband, Nutrilinea, NutriQuest, Nutrition21, Nutritional Growth Solutions, Nutritional Products International, Nuvilex, Nxstage Medical, NXT Water, NZMS, Oblique Therapeutics, OliX Pharmaceuticals, Onduo, One Drop, One Way Liver Genomics (OWL), Onsite 340B, Ontario Institute for Cancer Research, Open Book Extracts, OPKO Health, OptiBiotix, OptiKira, Optomed, Oramed Pharmaceuticals, Oraxion Therapeutics, Orbsen Therapeutics, Orchard Therapeutics, Oregon Health Sciences University, Organogenesis, Organovo, Orgenesis, OrImmune Bio, Orphazyme, Orsini Healthcare Specialty Pharmacy, Ortho-Clinical Diagnostics, OSI Pharmaceuticals, Oslo University Hospital, Ossianix, Otsuka, Owen Mumford, Owl Biomedical, Pacific Diabetes Technologies, Pall Corporation, Palmetto Project, Palobiofarma, Panaceutics, Pandion Therapeutics, PanTheryx, Parallax Diagnostics, Paris Descartes University, Par Pharmaceutical, Particles for Humanity, Parvus Therapeutics, Patheon, Pathway Genomics, Pathway OME, Patia, Peak Performance Products, PegBio, Peking University, Penn State Microbiome Center, PeptiDream, Perforce Software, PerkinElmer, Perlara, Perrigo, Perspectum Diagnostics, Petra Pharma, Pfizer, PharmaCell, PharmaCyte Biotech, PharmaRoth Labs, Pharma Scientific Research, Pharma Tech Solutions, Pharmathen, Pharmavite, Pharmaxis, PHC, Phenex, Philips, Phillips-Medisize, PhoreMost, Phosphagenics, Pinnacle Clinical Research Center, Piramal, Pivotal Therapeutics, Plandai Biotechnology, Pliant Therapeutics, Poietis, Polyganics, Poxel, Precision Diabetes, Premier Inc, Premune, Prestige Brands, Prevail InfoWorks, PreveCeutical Medical, Prime Therapeutics, Probi, Procter & Gamble, Procyon Technologies, Productos Medix, Profil Institute for Clinical Research, Project HOPE, ProLynx, Promethera Biosciences, Prometic Life Sciences, Pronova BioPharma, Pronto Diagnostics, Propagenix, ProPath, ProSciento, Protalix BioTherapeutics, Protein Sciences, Protext Mobility, Provention Bio, ProvideGx, Punjab Province, QoL Medical, Qorvo Biotechnologies, Qualcomm, Quest Diagnostics, Racer Technology, Radius Health, Rainbow Genomics, Rani Therapeutics, Rapid Dose Therapeutics, Raziel Therapeutics, Readout Health, Rechon Life Sciences, Reckitt Benckiser, Recordati, Redox, Regeneron Pharmaceuticals, Regenxbio, ReGenX Biosciences, REGiMMUNE, Relevium, reMYND, RenalytixAI, Reneo Pharmaceuticals, Renova Therapeutics, Renown Institute for Health Innovation, Research Development Foundation, ReShape Lifesciences, Resverlogix, Retrophin, Revive Therapeutics, Rexgenero, RF Surgical Systems, Rho, Rhythm Pharmaceuticals, Rimidi, Ripe Technology, Rising Pharmaceuticals, Ritter Pharmaceuticals, Roche, Roivant Sciences, Royal Health Awareness Society, Royalty Pharma, Rubin Medical, SafeTraces, Sagimet Biosciences, Salix Pharmaceuticals, Salk Institute, SAMIL Pharm, Samsung Electronics, Sandoz, Sanford Burnham Institute, Sanford Health, Sanofi, Sanvita, Saptalis Pharmaceuticals, Satori, Scandinavian Health, Schneider Children's Medical Center, Schrodinger, Sciex, SC Liver Research Consortium (SCLRC), SCM Pharma, Scohia Pharma, Scripps Research Institute, Seattle Childrens Research Institute, Secant Medical, Secarna Pharmaceuticals, Second Genome, Sedona Integrative Medical Clinic, Selecta Biosciences, Semma Therapeutics, Semmelweis University, Sempre Health, Senda Biosciences, Senseonics, Seoul National University, Seraxis, Seres Therapeutics, Sernova, Seventh Wave, SFC Fluidics, Shanghai Hi-Tech Nutraceuticals, Shanxi Yabao Pharmaceutical Distribution, Shenzhen Chipscreen Biosciences, Shenzhen Hepalink Pharmaceutical, Shenzhen Royal Asset Management, Shibuya Kogyo, Shionogi, Shire Pharmaceuticals, Siemens Healthineers, Sigilon Therapeutics, Sigma-Tau, Silence Therapeutics, Singapore General Hospital, Sinopharm, Sirona Biochem, SK Biopharmaceuticals, Small Business Innovation Research, Smart Meter, Smart Supplement, SmartZyme BioPharma, SomaLogic, Sorbonne University, Sosei Heptares, Southern California Permanente Medical Group, Spark Therapeutics, Spaulding Clinical Research, Spindial, STADA Arzneimittel, Standard Process, Standigm, Stanford University, Staten Biotechnology, Stealth Therapeutics, Sterifarma, SteroTherapeutics, Stevanato, Stevia First, Strongbridge Biopharma, Surrozen, Suzhou Ribo Life Sciences, Swixx Biopharma, Synbiotech, Synbiotic Health, Synergy Strips, Synexus, Synlogic, Synpromics, Synspira, Synthetic Biologics, Taconic, TaiwanJ Pharmaceuticals, Takara Bio, Takeda Oncology, Takeda Pharmaceutical, Tandem Diabetes Care, Tanner Pharmaceuticals, Targacept, Targeted Medical Pharma, TARGET PharmaSolutions, Tasly Pharmaceuticals, Tata Chemicals, Tate & Lyle, Tauriga Sciences, Taysha Gene Therapies, Team Sanfilippo, Teijin, Tekmira Pharmaceuticals, Telcare, Temasek Holdings, Tenshi Kaizen, Terns Pharmaceuticals, Tersus Life Sciences, Terumo, TeselaGen, TesoRx Pharma, TES Pharma, Tespo, Tetragenetics, Teva Pharmaceutical Industries, Teva Pharmaceuticals USA, TFB & Associates, The Alpha-1 Project, Theracell, Therapyx, Theratechnologies, The Regents of the University of California, Therios Healthcare, Thermalin Diabetes, Thomas Jefferson University, Thorne Research, Threshold Enterprises, Thrive Bioscience, Tianhe Stem Cell Biotechnologies, Tianjin JuveStar Biotech, Tiburio Therapeutics, Tidepool, Tiziana Life Sciences, Tobira Therapeutics, Tokyo University of Agriculture and Technology, Tonghua Dongbao Pharma, TONIX Pharmaceuticals, Toronto Innovation Acceleration Partners, Torrent Pharmaceuticals, Tosoh, TPMENA, TransChem, Transition Therapeutics, TransThera, Trialbee, Trident Brands, Trimel Pharmaceuticals, Tritech, Trividia Health, Trophikos, Trovita Health Science, True Diagnostics, Truepill, TruLife Distribution, TurtleTree Scientific, Twinlab, Twist Bioscience, TypeZero Technologies, uBiome, Ubiquigent, UCB, uHealth Australia, Ukraine Pharma, Ultragenyx Pharmaceuticals, Ultramedix Australasia, Uni-Bio Science, Unilab, Unilever, Union Springs Pharmaceuticals, UniQuest, UnitedHealthcare, Universidad de Seville, Universite catholique de Louvain, University Health Network, University Medical Center Groningen, University of Alberta, University of Amsterdam, University of Auckland, University of Bern, University of Birmingham, University of British Columbia, University of California, San Diego, University of California Berkeley, University of California Irvine, University of California Los Angeles, University of California San Francisco, University of Cambridge, University of Chicago, University of Colorado, University of Dundee, University of Edinburgh, University of Florida, University of Geneva, University of Illinois, University of Leeds, University of Lyon, University of Manchester, University of Maryland School of Medicine, University of Massachusetts, University of Michigan, University of Minnesota, University of Nebraska, University of New Mexico, University of North Carolina, University of Notre of Dame, University of Oxford, University of Pennsylvania, University of Pittsburgh, University of Pittsburgh Medical Center, University of Queensland, University of Sheffield, University of South Florida, University of Surrey, University of Sydney, University of Technology Sydney, University of Texas Southwestern Medical Center, University of Toronto, University of Veterinary Medicine of Hannover, University of Virginia, University of Washington, University of West Indies, University of Wisconsin-Madison, University of Zurich, UP International, UPM Pharmaceuticals, Upsher-Smith, US Bioservices, US Department of Justice, US Department of Veteran Affairs, Valbiotis, Valeritas, Valley Oils Partners, Valo Health, Van Drunen, Vasamed, Vasomune Therapeutics, VAYA Pharma, Veravas, Verily, Versartis, Versiti Blood Research Institute, Vertice Pharma, ViaCyte, Victorian Clinical Genetics Services, Vifor-Fresenius Medical Care Renal Pharma Ltd, Vifor Pharma, Viking Therapeutics, Viome, VIPUN Medical, Viralgen, Virginia Catalyst, Virginia Commonwealth University, Virtual Health Partners, Viscient Biosciences, VisionQuest Biomedical, VistaGen Therapeutics, Vitae Pharmaceuticals, Vitruvias Therapeutics, Vivaldis, Vivet Therapeutics, Vivus, Vizient, Voluntis, VOTIS Subdermal Imaging Technologies, Vtesse, vTv Therapeutics, Wageningen University, Wake Forest University, Wake Forest University School of Medicine, Wanbang Biopharmaceuticals, Washington University in St Louis, Watsons, WaveForm Technologies, Weill Cornell Medical College, Weizmann Institute, Wellcome Trust, Wellcome Trust Sanger Institute, WellDoc, WellDyneRx, WellGen, White Rock Capital Partners, William Sansum Diabetes Center, Wistron, W L Gore, Worldwide Clinical Trials, Wuhan General Group, Wuhan Humanwell, WuXi NextCODE Genomics, X-chem, XERIS Pharmaceuticals, Xian-Janssen, Xianju Pharmaceutical, Xinfu, XL-Protein, Xlife Sciences, Xoma, Yabao Pharmaceutical, Yecuris, Yeda Research and Development Company, Yifan Pharmaceutical, Yili Industrial Group, Yissum Research Development, Ymir Genomics, Yongyi Biotechnology, Yongyi Hi-Tech Nutraceuticals, Ypsomed, Yuhan Corporation, Zealand Pharma, Zelira Therapeutics, Zeria Pharmaceuticals, Zhejiang Hisun Pharmaceutical, Zivo Bioscience, Zomedica, Zosano Pharma, Zucara Therapeutics, zuChem
Current Partnering reports provide insight into the trends and terms of partnering deals in the global life sciences sector.
Current Partnering reports are updated every six months to ensure the user has access to the latest announcements and trends in the topic focus of the report.
Current Partnering analysts review the deal data to provide an overview and analysis of deal trends, including example deals and terms.
Current Partnering reports source deal data from our proprietary deals and alliances database, Current Agreements. The database is updated daily by our analysts with new deals as they are announced globally by the company's party to the deal. In addition, deal records are updated with new data as it becomes available.
The data in the Current Agreements deals and alliances database is obtained from secondary sources such as publicly available industry sources including press releases, company presentations, investor presentations, company SEC filings, other company filings, company websites, conference presentations. Sources are identified to allow for user verification.
Current Partnering provides comprehensive coverage of the following partnering or deal types:
• Asset purchase
• Assignment
• Co-development
• Co-market
• Co-promotion
• Collaborative R&D
• Contract service
• CRADA
• Cross-licensing
• Development
• Distribution
• Equity purchase
• Evaluation
• Grant
• Joint venture
• Licensing
• Loan
• Manufacturing
• Marketing
• Option
• Promotion
• Research
• Royalty financing
• Settlement
• Spin out
• Sub license
• Supply
• Termination
• Warrant
Every deal record is fully categorized and includes the following data, where available:
• Industry sector
• Therapy areas
• Technology type
• Deal components
• Financial terms
• Stage of development
• Exclusivity
• Asset type
• Geographic focus
• Excluded geography
• Company press release
• SEC filing data including contract document
All financial amounts are converted to US$ using the exchange rate available on the date of deal announcement, enabling direct comparison of deal terms across international territories.
Financial data and contract documents displayed in deal records is obtained from public sources, where disclosed by the parties to the deal.