Global Hospital Care Partnering 2016-2023: Deal trends, players and financials
Global Hospital Care Partnering 2016-2023: Deal trends, players and financials provides comprehensive understanding and unprecedented access to the hospital care partnering deals and agreements entered into by the worlds leading healthcare companies.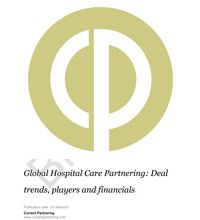 Publication date
June 2023
Product type
Therapy profile
Available formats
PDF document
Global Hospital Care Partnering 2016 to 2023 provides the full collection of hospital care disease deals signed between the world's pharmaceutical and biotechnology companies since 2016.
Trends in hospital care partnering deals
Financial deal terms for headline, upfront and royalty by stage of development
Hospital care partnering agreement structure
Hospital care partnering contract documents
Top hospital care deals by value
Most active hospital care dealmakers
Most of the deals included within the report occur when a licensee obtains a right or an option right to license a licensor's product or technology. More often these days these deals tend to be multi-component including both a collaborative R&D and a commercialization of outcomes element.
The report takes readers through the comprehensive hospital care disease deal trends, key players and top deal values allowing the understanding of how, why and under what terms companies are currently entering hospital care deals.
The report presents financial deal terms values for hospital care deals, where available listing by overall headline values, upfront payments, milestones and royalties enabling readers to analyse and benchmark the value of current deals.
The initial chapters of this report provide an orientation of hospital care dealmaking trends.
Chapter 1 provides an introduction to the report.
Chapter 2 provides an overview of the trends in hospital care dealmaking since 2016 covering trends by year, deal type, stage of development, technology type and therapeutic indication.
Chapter 3 includes an analysis of financial deal terms covering headline value, upfront payment, milestone payments and royalty rates.
Chapter 4 provides a review of the leading hospital care deals since 2016. Deals are listed by headline value. The chapter includes the top 25 most active hospital care dealmakers, together with a full listing of deals to which they are a party. Where the deal has an agreement contract published at the SEC a link provides online access to the contract.
Chapter 5 provides comprehensive access to hospital care deals since 2016 where a deal contract is available, providing the user with direct access to contracts as filed with the SEC regulatory authorities. Each deal title links via Weblink to an online version of the deal record contract document, providing easy access to each contract document on demand.
Chapter 6 provides a comprehensive directory of all hospital care partnering deals by specific hospital care target announced since 2016. The chapter is organized by specific hospital care therapeutic target. Each deal title links via Weblink to an online version of the deal record and where available, the contract document, providing easy access to each contract document on demand.
In addition, a comprehensive appendix is provided with each report of all hospital care partnering deals signed and announced since 2016. The appendices are organized by company A-Z, stage of development at signing, deal type (collaborative R&D, co-promotion, licensing etc) and technology type. Each deal title links via Weblink to an online version of the deal record and where available, the contract document, providing easy access to each contract document on demand.
The report also includes numerous tables and figures that illustrate the trends and activities in hospital care partnering and dealmaking since 2016.
In conclusion, this report provides everything a prospective dealmaker needs to know about partnering in the research, development and commercialization of hospital care technologies and products.
Report scope
Global Hospital Care Partnering 2016 to 2023 is intended to provide the reader with an in-depth understanding and access to hospital care trends and structure of deals entered into by leading companies worldwide.
Global Hospital Care Partnering 2016 to 2023 includes:
Trends in hospital care dealmaking in the biopharma industry since 2016
Access to headline, upfront, milestone and royalty data
Access to hundreds of hospital care deal contract documents
Comprehensive access to over 1,500 hospital care deal records
The leading hospital care deals by value since 2016
Most active hospital care dealmakers since 2016
The report includes deals for the following indications: Accident and emergency, Rehabilitation medicine, Surgery, Orthopedics, Aesthetic procedures, Transplantation, plus other hospital care indications.
In Global Hospital Care Partnering 2016 to 2023, available deals and contracts are listed by:
Headline value
Upfront payment value
Royalty rate value
Stage of development at signing
Deal component type
Technology type
Specific therapy indication
Each deal title links via Weblink to an online version of the deal record and where available, the contract document, providing easy access to each contract document on demand.
The Global Hospital Care Partnering 2016-2023 report provides comprehensive access to available deals and contract documents for over 1,500 hospital care deals. Analyzing actual contract agreements allows assessment of the following:
What are the precise rights granted or optioned?
What is actually granted by the agreement to the partner company?
What exclusivity is granted?
What is the payment structure for the deal?
How are the sales and payments audited?
What is the deal term?
How are the key terms of the agreement defined?
How are IPRs handled and owned?
Who is responsible for commercialization?
Who is responsible for development, supply, and manufacture?
How is confidentiality and publication managed?
How are disputes to be resolved?
Under what conditions can the deal be terminated?
What happens when there is a change of ownership?
What sublicensing and subcontracting provisions have been agreed?
Which boilerplate clauses does the company insist upon?
Which boilerplate clauses appear to differ from partner to partner or deal type to deal type?
Which jurisdiction does the company insist upon for agreement law?
Global Hospital Care Partnering 2016 to 2023 provides the reader with the following key benefits:
In-depth understanding of hospital care deal trends since 2016
Access hospital care deal headline, upfront, milestone and royalty data
Research hundreds of actual contracts between hospital care partner companies
Comprehensive access to over 1,500 links to actual hospital care deals entered into by the world's biopharma companies
Indepth review of hospital care deals entered into by the top 25 most active dealmakers
Benchmark the key deal terms companies have agreed in previous deals
Identify key terms under which companies partner hospital care opportunities
Uncover companies actively partnering hospital care opportunities
Executive Summary
Chapter 1 – Introduction
Chapter 2 – Trends in hospital care dealmaking
2.1. Introduction
2.2. Hospital care partnering over the years
2.3. Hospital care partnering by deal type
2.4. Hospital care partnering by industry sector
2.5. Hospital care partnering by stage of development
2.6. Hospital care partnering by technology type
2.7. Hospital care partnering by therapeutic indication
Chapter 3 –Financial deal terms for hospital care partnering
3.1. Introduction
3.2. Disclosed financials terms for hospital care partnering
3.3. Hospital care partnering headline values
3.4. Hospital care deal upfront payments
3.5. Hospital care deal milestone payments
3.6. Hospital care royalty rates
Chapter 4 – Leading hospital care deals and dealmakers
4.1. Introduction
4.2. Most active in hospital care partnering
4.3. List of most active dealmakers in hospital care
4.4. Top hospital care deals by value
Chapter 5 – Hospital care contract document directory
5.1. Introduction
5.2. Hospital care partnering deals where contract document available
Chapter 6 – Hospital care dealmaking by therapeutic target
6.1. Introduction
6.2. Deals by hospital care therapeutic target
Appendices
Appendix 1 – Directory of hospital care deals by company A-Z since 2016
Appendix 2 – Directory of hospital care deals by deal type since 2016
Appendix 3 – Directory of hospital care deals by stage of development since 2016
Appendix 4 – Directory of hospital care deals by technology type since 2016
Further reading on dealmaking
Deal type definitions
About Wildwood Ventures
Current Partnering
Current Agreements
Recent report titles from CurrentPartnering
Table of figures
Figure 1: Hospital care partnering since 2016
Figure 2: Hospital care partnering by deal type since 2016
Figure 3: Hospital care partnering by industry sector since 2016
Figure 4: Hospital care partnering by stage of development since 2016
Figure 5: Hospital care partnering by technology type since 2016
Figure 6: Hospital care partnering by indication since 2016
Figure 7: Hospital care deals with a headline value
Figure 8: Hospital care deals with upfront payment values
Figure 9: Hospital care deals with milestone payment
Figure 10: Hospital care deals with royalty rates
Figure 11: Active hospital care dealmaking activity since 2016
Figure 12: Top hospital care deals by value since 2016
Pricing options
$3,995: single-user
$5,745: multi-user
$10,995: single site license
$17,995: global site license
A full explanation of license type definitions can be found here.
Our guarantee
Price promise
We guarantee our prices are competitive. If you find the same report advertised at a lower price within 7 days of purchase, we will refund the difference.
Delivery Deadline
We guarantee that the report will be sent within the specified delivery times. In the unlikely case of a delay we may offer a partial refund as compensation. (Terms may apply)
Latest report
If an update is published within 30 days of your purchase, you will receive it absolutely free of charge.
Serious Security
We take your data and security seriously. See our privacy policy for details of how we manage your data.
All card payments are processed by SagePay.
Sales Support
If you have any questions about your report or are unhappy with the quality, we will do our best to resolve your query. Contact us direct.
Total Trust
Current Partnering is part of Wildwood Ventures Ltd., based in York, United Kingdom. We have been trading successfully online since 2009 and work with some of the most famous brands in the business. We carefully select our partners to ensure that the publications meet expectations of demanding customers.
3D-Side, 3D Systems, 3M, 4WEB Medical, 7 Hills Pharma, 7D Surgical, 11 Health and Technologies, 111, 180 Life Sciences, A&E Medical, AA Medical, AAP Implantate AG, Aatru Medical, Abbvie, Abiomed, Abram Scientific, Absolute Antibody, Acacia Pharma, Acacia Research, Academy Medical, Acare Medical Science, Accelus, Accenture, Access Scientific, Accord Healthcare, Accuray, AccuTec Blades, Acell, Acelrx Pharmaceuticals, Acentrus Specialty, Acerus, ActLight, Acuity Healthcare, Acuna-Fombona, AdaptHealth, Adaptimmune, AdaptivEndo, ADAS 3D Medical, Adeor Medical, Adhezion Biomedical, ADIENNE Pharma & Biotech, ADSM-Synchro Medical, Advanced Aesthetic Technologies, Advanced Cooling Therapy, Advanced Guidance Technologies, Advanced IT Concepts, Advanced Ultrasound Systems, Advantage Medical, Advantien, Advanz Pharma, AdventHealth, Aerapy, Aerobiotix, Aesculap, Aesthetic Management Partners, Aesthetic Medical International, Aethlon Medical, Aetna, Agadia Systems, AgeX Therapeutics, Agilent Technologies, Agiliti, AgNovos Healthcare, Aguettant, AIBody, Aidoc, Aiforia Technologies, Air Force Research Laboratory, AirXpanders, Aitrics, Akari Therapeutics, Akers Biosciences, Akron Children's Hospital, Akumin, ALASTIN Skincare, Albert Einstein College of Medicine, Alcon Laboratories, Alfasigma, Algeos, Aligned Orthopedic Partners, AliMed, AliveCor, ALK-Abello, Allay Therapeutics, Allegheny Technologies, Allergan, Allergan Aesthetics, Alliance Medical, Allied Centre for Medical Excellence, Alloksys Life Sciences, AlloSource, Almirall, Alnylam Pharmaceuticals, Alpha Imaging, Alpha Tau Medical, Altan Pharma, Altaris Capital Partners, Altasciences, Altitude International, Alume Biosciences, Alvarado Hospital Medical Center, Alverno Clinical Laboratories, Alyzen Medical Physics, Amag Pharmaceuticals, Amazon Web Services, Ambra Health, Ambu, AMC Health, Amedica, Amedisys, Amend Surgical, American Academy of Orthopaedic Surgeons, American College of Chest Physicians, American Health Imaging, American Medical Technologies, American Society for Aesthetic Plastic Surgery, American Well, Amgen, AMI, Amicrobe, AMNIOX, Amomed Pharma, Amplifire, Amplyx Pharmaceuticals, Amsel Medical, Ancestry, Ancora Medical, Andrews Medicine, Anelixis Therapeutics, Anelto, Angiodynamics, Angion Biomedica, Angsana Molecular & Diagnostics, Anika Therapeutics, Anita Tecnica, ANP Technologies, Antares Pharma, Anthem, Antibe Therapeutics, Apex Physics Partners, Apiary Medical, ApiFix, Apollo Endosurgery, Appalachian Regional Healthcare, Apple, Applied DNA Sciences, APR Medtech, Aptevo Therapeutics, Arch Therapeutics, argenx, Argon Medical Devices, Aridea Solutions, Aridis Pharmaceuticals, Arjo, Arkansas Childrens Hospital, Armaghan Salamat Kish, Armis Biopharma, Armor, Artegraft, Arteriocyte Medical Systems, Arthrex, Arthrosurface, Asahi Intecc, Asahi Kasei, Ascendum, Ascension, Ascension Saint Thomas, Asensus Surgical, ASICO, AskAt, Asklepios Group, Aspen Surgical Products, Assure, Astarte Medical, Astellas Pharma, AstraZeneca, Asys, ATEC Spine, Athersys, Atlas Healthcare Partners, ATL Technology, Atos Medical, Atricure, Attune Medical, Audax Private Equity, Augusta University Health, AuraGen Aesthetics, Auris Health, Aurora Spine, Australian Biotechnologies, Autonomous Healthcare, Avail Medystems, Avalon Pharmaceuticals, Avalon SteriTech, Avania, Avanos Medical, Avita Therapeutics, Avra, AVRA Surgical, Avrobio, AWB Schraubtechnik und Industriebedarf, Axial3D, Axis Lighting, Axonics, Axonlab, Aziyo Biologics, B-Line Medical, Baheal Pharmaceutical, Balboa Nephrology Medical Group, BAMF Health, BANYAN Medical Systems, Baoding Med-Joy Medical, Baptist Health Care, Baring Private Equity Asia, Basemed Kare, Battelle, Bauerfeind, Baxter International, Baylis Medical, B Braun, BC Platforms, Be-ys, Bearpac Medical, Beckman Coulter, Becton Dickinson, BeiGene, Belfor, Belimed, Ben-Gurion University, Benchmark Electronics, Benvenue Medical, Bess Medizintechnik, Be The Match BioTherapies, Biedermann Motech, Bimini Health Tech, Bio-Techne, BioAesthetics, Biocept, Biocomposites, Biofourmis, BioHybrid Solutions, BioIntelliSense, Biolase, BIOLIFE4D, BioLife Solutions, Biolog-id, Biologica Technologies, Biomedical Advanced Research and Development Authority, BIOMEDX Group, Biomerics, bioMerieux, Biomodex, Bionik Laboratories, Bionoid Pharma, BioPep, Bioplate, BioQ Pharma, Bioretec, Biorez, Bioservo Technologies, BioSig Technologies, BioSTL, BioTek reMEDys, BioTelemetry, BioT Medical, Biotricity, Biotronic NeuroNetwork, Biotronik, BioVectra, Bioventus, Biovo Technologies, Bird & Cronin, Bird Foundation, BJC HealthCare, BK Medical, Blackrock Neurotech, Blinktbi, Blood Centers of America, Blue Cedar, Bluecore Company, Bluegrass Vascular Technologies, Bluejay Diagnostics, Bluepha, Blueprint Genetics, Blue Water Resolute Innovations, Blum Center for Health, Boa Technology, Bodycad, Boehringer Ingelheim, Bolder BioTechnology, Bolder Surgical, Bone Bank Allografts, Bone Biologics, BoneSmart, Bone Solutions, BoneSupport, Bone Therapeutics, Bonus BioGroup, Boryung Pharmaceutical, Bosma, Boston Scientific, Bovie Medical, BOWA Medical, BoyaLife, BrainLAB, Brain Navi Biotechnology, Brain Scientific, Brain Treatment Center San Diego, Brasseler USA Medical, Breath of Life International, Breethe, Bridge to Life, Brigham and Women's Hospital, Brooks Rehabilitation, Bruin Biometrics, BSN Medical, BT BeaMedical Technologies, BTG Specialty Pharmaceuticals, BTL Industries, Buffalo Supply, Burton Hospitals NHS Foundation Trust, Butterfly Network, C-RAD, C2Dx, Cadila Pharmaceuticals, Caesarea Medical Electronics, Caire, California Institute for Regenerative Medicine, Calyptus Pharmaceuticals, Cambus Medical, Canadian National Transplant Research Program, Canadian Teleradiology Services, Canntab Therapeutics, Canon, Canon BioMedical, Canon Medical Informatics, Cantel Medical, Capricor Therapeutics, Capsa Healthcare, Captura Biopharma, CARB-X, Cardiac Services, Cardinal Analytx Solutions, Cardinal Health, CardioNXT, CardioSert, Cardiovascular Systems, Cardiva Medical, CareDox, CareDx, CareLearning, CarePoint Health, Carestream Health, Caresyntax, CariCord, Carmell Therapeutics, Carrum Health, Cartiva, CAS, Casetabs, Cassian Solutions, Catalent, Catheter Precision, Catheter Research, Catholic Health Partners, CB2 Insights, CBL Group, CB Scientific, CelgenTek, Cellastra, Cellect Biotechnology, Celling Biosciences, CELLINK, CellMark Medical, Celltex Therapeutics, Cellthera Pharma, Celularity, Centene, Center for Health Affairs, Center for International Blood and Marrow Transplant Research, Center for Neurorestoration and Neurotechnology, Centers for Disease Control and Prevention, Central Association for the Blind and Visually Impaired, Century Medical, Cerapedics, Cerebain Biotech, Cerhum, Cerner, Certified Endoscopy, Cerus, CgBio, Champion Healthcare, Change Healthcare, Chargeurs, Charles River Laboratories, CheckedUp, Cheetah Medical, ChemoTech, Chengdu Meb Network Technology, CHF Solutions, Chiesi Farmaceutici, Children's Hospital Boston, Children's Hospital Los Angeles, Children's Hospital of Michigan Foundation, Children's Hospital of Philadelphia, Children's Hospital of Pittsburgh, Children's Minnesota, China Grand Pharma, China Grand Pharmaceutical, China National Biotec Group, Chindex Medical Limited, Choctaw-Kaul, ChoiceSpine, Christiana Care Health System, Christus Health, Chronolife, Chrysalis BioTherapeutics, Chung Shan Medical University Hospital, Chunli, Cidara Therapeutics, Cigna Healthcare, Cipher Skin, CIRCA Scientific, Circulogene, Cirle, Cirrus Dx, Citius Pharmaceuticals, CIVCO Radiotherapy, Civica Rx, Claire's Place Foundation, Clarion Medical Technologies, Clarius Mobile Health, Clayton Dubilier & Rice, Cleaning Services Global, Clean Republic, ClearMask, ClearPoint Neuro, Clerkenwell Health, Cleveland Clinic, Cleveland University Hospitals, CLEW Medical, Clinerion, Clinica AMO, Clinical Laserthermia Systems (CLS), Clinigen, Clinique Les Trois Soleils, CMDC Labs, Co.Don, Coalition for the Advancement of Research and Innovation in Trauma, CoapTech, Cocoon Medical, Cogmedix, Collagen Matrix, College Park Industries, Collplant, Coloplast, Columbia University, CoMedical, Comfort Medical, Commonwealth Primary Care ACO, Concordia University, Concord Medical Services Holdings, ConforMIS, Conmed, Contatti Medical, Contessa Health, Contura, Conventus Orthopaedics, Convergint Technologies, Cook Biotech, Cook Medical, Cooper Companies, Copan Diagnostics, Copenhagen University Hospital, Coracoid Solutions, CORA Physical Therapy, Corestone Biosciences, Corindus Vascular Robotics, Cornell University, Cornerstone Healthcare Group, Correvio Pharma, CorVent Medical, Corza Health, Corza Medical, Cosmed Group, Covalon Technologies, Covenant Surgical Partners, CraniUS, Crescita Therapeutics, CRH Medical, Cricket Health, Crown Laboratories, Cryolife, Cryothermic Systems, CSL, CSL Behring, CSL Plasma, CTM Biomedical, Cumberland Pharmaceuticals, Curasan, Curetis, Curexo, CurveBeam AI, Cynosure, Cypris Medical, Cystic Fibrosis Foundation, CytoBioscience, CytoSorbents, D&K Engineering, Dalhousie University, DarioHealth, DASH Analytics, DataBiologics, Datrix, DaVita, Daxor, Daylight Medical, Day Zero Diagnostics, Dealmed Medical Supplies, Debiopharm, Decathlon Capital Partners, Deciphex, Defense Advanced Research Projects Agency, Defense Threat Reduction Agency, Definition Health, Degradable Solutions, De La Pena Eye Clinic, Demcon, Department of Defence, Department of Defense, Department of Veterans Affairs, DePuy, DermapenWorld, DermOQ, Destination Pet, Device Technologies, Devyser Diagnostics, DiA Imaging Analysis, Diaspective Vision, Dicom Systems, Digital Surgery, Dignitana, DILIsym Services, Diplomat, Disior, DiSorb Systems, Distimp, Diversey Care, Diversified, DJO Global, DJO Surgical, Dolphin Medical, Dominion Aesthetic Technologies, Dr. Agarwal's Eye Hospitals, Dr. Reddy's Laboratories, DRI Capital, DSG, DT MedTech, Duke University, Duke University Health System, DuraStat, Durect, Dutch SAZ, DXE Medical, Dynasil, Dynatronics, Eagle Pharmaceuticals, Eastman Kodak, EBM-Solutions, EBSCO Information Services, eCential Robotics, Echolight Medical, eClinicalHealth, Eclipse Aesthetics, EcoGroup USA, Ecomed Solutions, Edwards Lifesciences, eGenesis, Egis, EHang Holdings, Ehave, Eirion Therapeutics, Eko, El.En, Electromed, Eledon Pharmaceuticals, Elekta, Elemaster Group, Elemental Machines, Elesta, Elevai Labs, Eligo Bioscience, Eli Lilly, Elite Medical Technologies, Elligo Health Research, Elute, Embody, Embolx, Embryo Ventures, Emergency Medicine Foundation, Emergent BioSolutions, Emergentmedtech, Emocha Mobile Health, Emory Healthcare, Emphysys, EMS, EMTensor, Enalare Therapeutics, Encision, Enclara Pharmacia, Encompass, Endo-Therapeutics, Endocare, EndoChoice, EndoClot Plus, Endologix, Endoluxe, Endonovo Therapeutics, Endo Pharmaceuticals, EndoQuest Robotics, EndoTherapeutics, Endo Ventures, EndoWays, Engage Surgical, Engimplan, Ensensor, Environmental Tectonics Corporation, EnvoyAI, Enzychem Lifesciences, EOS Imaging, Epimune Diagnostics, Epredia, Epsilon, Erbe Elektromedizin, Ergomed, Escape Therapeutics, Establishment Labs, Estar Medical, Ethicon Endo-Surgery, Ethypharm, ETH Zurich, Etiometry, Eton Pharmaceuticals, ETView Medical, Eureka Eurostars, Eurobio, Eurofins Genomics, Eurofins Scientific, Eurofins Viracor, Euroimmun, European Commission, European Innovation Council, European Society for Organ Transplantation, European Union, European Union Regional Development Fund, European Wellness Biomedical Group, Europe Technologies, EUSA Pharma, Everest Medicines, Evergreen Nephrology, EvidNet, Evolus, Evonik Industries, Exactech, ExCEEd Orphan, ExCellThera, Exela Pharma Sciences, Exergen Medical, ExOne Company, Exosome Diagnostics, Exothermix, ExplORer Surgical, ExThera Medical, EyePoint Pharmaceuticals, F&M Feed, F4 Pharma, Fannin, FarmaMondo Group, Fastex AED, Federal Emergency Management Agency, Feinstein Institute for Medical Research, Ferrum Health, Fiagon, Field, Field Medical, Filament Health, Fillmed, Filterlex Medical, Fishbowl Warehouse, Fisher Healthcare, Fitabase, FitBit, FlexDex, Flexion Therapeutics, Flexpoint Sensor Systems, Flower Orthopedics, Fluidigm, Fluortek, Food and Drug Administration (FDA), Formsense, Fortive, Fosun International, Fosun Pharmaceutical, Foundation Medicine, Franciscan Alliance, Franklin Innovation, Franklin Medical Center, Freedom Innovations, Fresenius Health Partners, Fresenius Kabi Pharmaceuticals, Fresenius Medical Care, Freudenberg Medical, FSSB Chirurgische Nadein, FUJIFILM SonoSite, Fukuoka Tokushukai Hospital, Fulgent Genetics, Fuse Medical, Fusion Robotics, Future Medical Equipment, G-21, Galderma, Gale Force Aesthetics, Gamida Cell, Ganymed Robotics, Gauss Surgical, GE Healthcare, Geisinger Health System, Geistlich Pharma, GEn1E Lifesciences, Genalyte, General Motors, Generex Biotechnology, Genesis Biosystems, Genesis Healthcare, Genesis MedTech, Geneva Foundation, Geneva University Hospitals, Genome Medical, GenomeSmart, Geo-Med, George Clinical, Georgia Institute of Technology, Georgian Bay General Hospital, German Heart Centre Berlin, Gestalt Diagnostics, Getinge, Getz Healthcare, Gibraltar Health Authority, Gigagen, GI Supply, Glo-Med Networks, Global Alerts, Global Kinetics, Global Medical Supply, Global Orthopaedic Technology, Global Stem Cell Technology, Globus Medical, Gloryway, Glytec, G Medical Innovations, Golden Vine International, Google, Government of Israel, GPCR Therapeutics, Grail, Greatbatch, Great Belief International, Grifols, Gritman Medical Center, Group K Diagnostics, Grunenthal, Guangdong Provincial People's Hospital, Gurnet Point Capital, Guys and St Thomas NHS Foundation Trust, H-CYTE, Hackensack University Medical Center, Hadassah Medical Center, Hainan Sihuan Pharmaceutical, Hamad Medical, Hamamatsu Photonics, Hamilton Health Sciences, Hanger, Hansa Biopharma, Hanuman Pelican, Harbor View Medical, Harmonic Bionics, Harrow Health, Harvard Medical School, Harvard University, Hatch Medical, Hawaii Cellular Therapy and Transplant Laboratory, HCA Healthcare, HD Medical, Healeon Medical, Healios K.K., Health2Work, Health Care Originals, HealthcareSource, HealthEast, Health Network Laboratories, HealthPort, HealthTrio, HealthTrust, HealthTrust Purchasing Group, Heidelberg Pharma, Helsinn Healthcare, Helsinn Therapeutics, Hemanext, Hemogenyx, Hemostasis, Hemostatix Medical Technologies, Henry M. Jackson Foundation, Henry Schein, Herzog Surgical, Hibernation Therapeutics, HIG Capital, Highmark Health, Hill-Rom, Hint MD, Hobbs Rehabilitation, Hoboken University Medical Center and Christ Hospital, HoliStick Medical, Hollister-Stier Labs, Hologenix, Hologic, Holo Surgical, Home Medical Equipment, Horizon Europe, Hospital for Special Surgery, Houston Methodist Research Institute, HP, HST Pathways, HSTpathways, HTDK Group, HTL Biotechnology, Humacyte, Humana, Humanetics, Humanigen, Human in Motion Robotics, Hunan Xing Hang Rui Kang Bio-Technologies, HydroCision, Hyperfine Research, Hyperice, I-Dante, IACTA Pharmaceuticals, IBA, Ibex Medical Analytics, IBM Watson Health, iCAD, Icahn School of Medicine at Mount Sinai, IceCure Medical, ICM, Icon, Icotec, iCRYO Cryotherapy, IDbyDNA, IGEA Clinical Biophysics, iGeneTRAiN, ILUM Health Solutions, IM-Tech, IMAC Holdings, ImaCor, ImageBiopsy Lab, ImageIQ, IMASCAP, ImmersiveTouch, Immucor, Immugenyx, Impar Servicos Hospitalares, ImplantBase, Implantcast, Implant Surfaces, Impressio, ImprimisRx, Imricor Medical Systems, In-Office Pathology, In2Bones, In2Bones USA, INanoBio, InContext.ai, Indiana University, Indica Labs, Induce Biologics, Infab, InfoBionic, InfuTronix Solutions, iNGENu, Innocoll, Innova Medical Group, Innovasource, Innovative Cellular Therapeutics, Innovative Solutions Canada, Innovimed, Inotrem, Inovytec, Insel Gruppe, Inserm Transfert, InSightec, InsightRX, Inspirata, Inspira Technologies, Institute for Bioscience and Biotechnology Research, Instratek, InstruNor, Intalere, Integra, Integra LifeSciences, Integrated Computer Solutions, Integrity Implants, Integrum, Intel, IntelliTek Health, Interactive Health Systems, Interface People, Intermed, Intermountain Healthcare, International Atomic Energy Agency, International Biomedical, International Society for Heart and Lung Transplantation, International Society of Heart and Lung Transplantation, International SOS, International Spine Study Group Foundation, Intersect ENT, Interventional Spine, InterWell Health, InTouch Health, IntraFuse, Intuitive Surgical, IntuitiveX, Invenio Imaging, Invibio Biomaterial Solutions, Invotek Group, iOR Partners, iotaMotion, IPA, Irras, iSchemaView, iS Clinical, Isto Biologics, Iturri, ITW Pillar Technologies, Ivenix, ivWatch, Izasa Hospital, Jabil Circuit, Jan Medical, Janssen Biotech, Janssen Pharmaceuticals, Japan Agency for Medical Research and Development, Japan Medical Dynamic Marketing, Jasper Therapeutics, JAYEX Technology, Jazz Pharmaceuticals, Jellagen, Jeune, Jhpiego, Jiangsu NHWA Pharmaceutical, JMC-Japan MedicalNext, Johns Hopkins Medicine (JHM), Johns Hopkins University, Johnson & Johnson, Johnson & Johnson Innovation, Joimax, Jointpoint, Joint Solutions Alliance, Jordan-Young Institute, JustRight Surgical, JuvenIL, Juyou Biotechnology, K2M, KA Imaging, Kaiser Foundation Research Institute, Kala Pharmaceuticals, Kaleido Biosciences, Kamada, Kane Biotech, Kangaroo Health, Kanomax USA, Kapitex Healthcare, Karius, Karl Storz, Karolinska University Hospital, Katena Products, Kedrion Biopharma, Kelyniam Global, Kent Imaging, Kentucky Organ Donor Affiliates, Kerma Medical Products, Kern Medical, Key Surgical, Kidney Innovation Accelerator, Kindeva Drug Delivery, Kindred Healthcare, Kinetic Concepts, Kinetic Dx, KingMed Diagnostics, Kings College London, Kinos Medical, Kinova, KiOmed Pharma, Kitakyushu General Hospital, Kit Check, Klaria, Kleresca, Knowesis, Kolosis BIO, Komodo Health, Krystal Biotech, Ktrfios Impartacao E Expertacao, Kuros Biosciences, KVP International, Kyocera, L1 Enterprises, L1 Systems, Laboratory Corporation of America, Laborie Medical Technologies, Laser Clinics Australia, Laseroptek, Lattice Semiconductor, Lattus Spine, Lazurite, Learnsoft, Leica Biosystems, Leica Microsystems, Leidos, Leiters, LeMaitre Vascular, Lentigen, Level Ex, Lexington Medical, LFB Group, LG Life Sciences, Lifehealthcare, Life Image, LifeLink Foundation, LifeServe Blood Center, Lightbeam Health Solutions, Lima Corporate, Lincotek Medical, Linear Health Sciences, Link-age Solutions, Linus Biotechnology, Lirio, Liverpool School of Tropical Medicine, Locate Bio, Lokai Medical, Loma Linda University, Long Grove Pharmaceuticals, Lonza, Loopback Analytics, Loop Insights, Los Altos Pharmaceuticals, Lovell Government Services, LTR Medical, Luca Healthcare, Ludwig-Maximilians University, Lumenis, LumenR, Lumicera Health Services, Luminera, Luna Innovations, Lung Biotechnology, Lung Transplant Foundation, Lunit, LUVO Medical, LVL Technologies, Lynch Biologics, Lyphe Group, Maastricht University, MaaT Pharma, Macao Kiang Wu Hospital, Macquarie University, Magenta Therapeutics, Magic Leap, Magnet Sales and Manufacturing, Magniant, Magnolia Medical, Main Line Health, Maitri Health Technologies, Makana Therapeutics, MakeMedical, MAKstride Prosthetics, Mallinckrodt Pharmaceuticals, Manhattan Scientifics, Manus Medical, Marathon Medical, MarinHealth, Marinus Pharmaceuticals, Martindale Pharma, Masimo, Massachusetts General Hospital, Massachusetts Institute of Technology, MassRobotics, Mast Labs, Matador Medical, Materialise, Mathys Medical, Mauna Kea Technologies, Mawson Infrastructure, Maxer, MaxQ AI, Maxx Medical, Mayo Clinic, MBio Diagnostics, McGinley Orthopedics, McKesson, McMaster University, MD Anderson Cancer Center, MD Matrix, MD Orthopaedics, MDsave, Meabco, Med-Aesthetic Solutions, Medac, Medacta, Med Alliance, MedAxiom, MedCAD, Medcura, Medentech, Medeon Biodesign, Medeor Therapeutics, Medexus Pharmaceuticals, Medi-Select, Medial, MediBioSense, Medical Enterprises Distribution, Medical iSight, Medical Microinstruments, Medical One, Medical Product Laboratories, Medical Technology Enterprise Consortium, Medical Tracking Solutions, MediciNova, Medicrea, Medigus, MediPines, Medison Pharma, Medistics, Meditrade, MediWound, Medizone International, Medline Industries, Mednax, MEDNAX Radiology Solutions, Medovate, Medpod, MedReleaf, MedSchenker, Medsenic, MedShape, MedSleuth, Medtech, Medtechnica, Medtreq Medical Equipment, Medtronic, Medx, Megadyne Medical Products, Meiji Seika, Meiyen Laboratory, Mekics, MellingMedical, Mellon Medical, MeMed, Memora Health, MemorialCare Health System, Memorial Sloan Kettering Cancer Center, Mentice, Mentor, Meotec, Mercury Medical, Merit Medical Systems, Mesoblast, Methodist Hospital Houston, Metro Orthopedics and Sports Therapy, Mevion Medical Systems, MiCare Path, Michelson Diagnostic, MicroAire Surgical Instruments, Microbot Medical, Microport EP Medtech, MicroPort Orthopedics, MicroPort Scientific, Microsoft, Microtech Laboratories, Mighty Oak Medical, Milestone Scientific, MiMedx, MIM Software, MinInvasive, Miromatrix Medical, MiRTLE Medical, Misonix, Mitacs, Mitralign, MJH Life Sciences, Moberg Pharma, Mobile Aspects, Mobile SCANMED Systems, Mobius Imaging, Modular Devices, Modus Therapeutics, Molecular Templates, Momentis Surgical, Monarch Lasers, Monopar Therapeutics, Montagu Private Equity, Monteris Medical, Montreal Heart Institute, Moray Medical, MOREHealth, MORE Health, Mountainside Medical, Mount Sinai Health System, Movendo Technology, Mpirik, MRI Interventions, MRP, mSKIL, MTF Biologics, Mundipharma, MURANAKA Medical Instruments, Musculoskeletal Clinical Regulatory Advisers, Musculoskeletal Transplant Foundation, Mutlu Medikim Tibbi Malzeme, Muvr Labs, MyEllevate, MyndVR, Myomo, MYOS, myTomorrows, Naked Prosthetics, Nanjing Micro-Tech, Nano-X Imaging, Nanowear, Nantes University, NantHealth, NASA, Nasseo, Natera, National Cancer Institute, National Center for Advancing Translational Sciences (NCATS), National Healthcare Services (NHS), National Health Service, National Heart, Lung and Blood Institute, National Institute for Environmental Health Sciences, National Institute for Health Research (NIHR), National Institute of Allergy and Infectious Diseases, National Institute of Arthritis and Musculoskeletal Diseases, National Institute of Diabetes and Digestive and Kidney Diseases, National Institute of General Medical Sciences, National Institute of Neurological Disorders and Stroke, National Institute of Nursing Research, National Institute on Aging, National Institute on Drug Abuse (NIDA), National Institutes of Health, National Science Foundation, National Surgical Care, National Trauma Institute, National Ultrasound, Natural Sciences and Engineering Research Council of Canada, Natus Medical, Nautilus, Naval Medical Research Center, Navbit, Naver, Navigate Surgical Technologies, NavLab, NDR Medical Technology, NDS Surgical Imaging, Neauvia North America, NEOconcepts, Neogen, Neograft Technologies, NeoImmuneTech, NeoLight, Neo Medical, Neosurgical, Neovii Pharmaceuticals, Nerliens Meszansky, NE Scientific, Neuro-Pro Monitoring, Neurocare Group, NeuroLogica, NeuroproteXeon, Neurosolv Therapeutics, NeuroVasc, Neurovative Diagnostics, NeuroVive Pharmaceutical, NeuroX, Neutron Therapeutics, Nevakar, Newsoara Biopharma, New York Blood Center, New York City Health and Hospital, New York Presbyterian/Columbia, Nextech Systems, Nextremity Solutions, Nico, Nido Surgical, Nikkiso, Ninety One, Nippon Shinyaku, Nitiloop, NLT Spine, Noble Biomaterials, Nordicneurolab, Nordiska Kliniken, Nordson Corporation, Norgine, North American Pediatric Renal Trials and Collaborative Studies, NorthBay Healthcare, North Carolina Medical Society, Northern Arizona Healthcare, Northfield Medical, Northwell Health, Northwestern Medicine Developmental Therapeutics Institute, Northwestern Memorial Hospital, Northwestern University, Nottingham University Hospital, Novanta, Novant Health, Novara Therapeutics, Novartis, Novaseek Research, Novozymes, Novuson Surgical, Novus Therapeutics, NTT Data, NTT Medical Center Tokyo, Nu-med Plus, Nuance Pharma, NuCryo Vascular, Numerate, Numotion, Nunzi Pharmaceutical, Nuo Therapeutics, Nutech Medical, Nutricare Costa Rica, NuVasive, NuvOx Pharma, Nvidia, nView Medical, Nym Health, NYU Grossman School of Medicine for Preclinical and Clinical Research, NYU Langone Medical Center, NZ Technologies, O-Two Medical Technologies, OBP Medical, Occlutech, Ochsner Health System, Ocumension Therapeutics, Ocutrx Technologies, OE Meyer, Ology Bioservices, Olympus, Omeros, Omixon, Omnia, Omnicell, Omnilife Science, OmniVision Technologies, OMRF, Omron, OncoDNA, OncoImmune, OneBlood, One Equity Partners, One Lambda, One Medical, Oneome, OneOncology, Onkos Surgical, Ontario Clinical Oncology Group, Ophirex, Opiant Pharmaceuticals, Optimal IMX, Optima Solutions Holdings, Optimus Integrated Surgical Environment, Opto-Systems, Optoacoustics, OptraSCAN, Opus Medical, Organogenesis, OrganX, Orgenesis, ORHub, Origin, Orpheus Medical, Ortho-Clinical Diagnostics, Orthocell, Orthofix Medical, OrthoGrid Systems, OrthoGrow, Orthohealing Center Management, Orthopaedic Institute Surgery Center, Orthopaedic Research and Education Foundation, Orthopaedic Research UK, OrthoPediatrics, Orthopedic Outfitters, OrthoRebirth, Ortho Regenerative Technologies, OrthoSensor, OrthoSpin, Orthotic Composites, Orthovestments, Ortoma, Oscor, OSE Immunotherapeutics, OSI Systems, OssDsign, OSSIS, Ossium Health, Ossur, OsteoCentric Technologies, Osteopore International, OsteoRemedies, Ottobock, OTTR, OU Medicine, Ovation Healthcare, Ovation Pharmaceuticals, oVio Technologies, Owens & Minor, Owkin, Owlstone Medical, Ozop Energy Solutions, Pacific PPE, Pacific West Medical Sales, Pacira Biosciences, PAI, Paige, PAKmed, Palantir, Palex Medical, Palisade Bio, Pall Corporation, Paracelsus Clinics, Paragon 28, Paragonix Technologies, Parcus Medical, Parker Foundation, Parker Hannifin, Par Pharmaceutical, Particle Sciences, Partner Therapeutics, PartsSource, Parvizi Surgical Innovation, Pathan, PathogenX, PathSensors, PatientBond, PatientFi, PatientLink Enterprises, Patient Square Capital, PCI Pharma Services, PCT, PDL BioPharma, Pega Medical, Pennsylvania State University, Pentax, PENTAX Medical, Penumbra, Peptilogics, PeriGen, Perry Baromedical, Personal Genome Diagnostics, PerSys Medical, Pfizer, Phantom Neuro, Pharmanest, PharMEDium, PharmRight, PhaseBio Pharmaceuticals, Philips, Physio-Control, PhysIQ, Pilloxa, Pioneer Solution, Pioneer Surgical Technology, Pirche, Pivot MedTech, PixarBio, Pixee Medical, PKG, Plagens Medical Consultants, Planmeca, Planmed, Platelet BioGenesis, PlatinumCode, Pleuratech, Plexus, Pluristem Therapeutics, Poietis, POLL Medical, Polyganics, PolyPid, Poseida Therapeutics, Potrero Medical, Pramana, Precept Medical Products, Preceyes, Precision Healing, Precision Medical Devices, PrecisionOS, Premier Health Group, Premier Inc, Prevacus, PREZIO Health, Prime Healthcare Services, Prisma Health, Probo, Procept BioRobotics, Profound Medical, Progenerative Medical, Progressive Spinal Technologies, Promedica International, Prometheus Laboratories, Promimic, Promore Pharma, Proniras, Proprio, Proscia, Prospekt Medical Caspian, Protech Home Medical, Protek, Proteor, ProtoKinetix, Proto Script Pharmaceutical, Provepharm, ProvideGx, Providence, Providence St. Joseph Health, Proximie, Prytime Medical Devices, Psyence Group, Psyence Therapeutics, Pulmocide, Pulmodyne, Purdue Pharma, Puregraft, Qiagen, Qihan Biotech, QMed Innovations, Quadrant Biosciences, Quanta, QuantalRF, Quark Pharmaceuticals, Quat-Chem, Quest Diagnostics, Quinn Medical, Quintiles, Quipt Home Medical, R-Action Distribution, R-Pharm, Radformation, Radiology Partners, RadNet, RAD Technology Medical Systems, Ra Medical Systems, Raven Industries, RaySearch Laboratories, Raziel Therapeutics, RCSI University of Medicine and Health Sciences, ReadCoor, Real Time Medical, RecoverX, Recovery Force, RedHawk, RedHill Biopharma, Red One Medical, Redox, Regenexx, Reliq Health, ReLive Biotechnologies, RenalSense, RenalytixAI, Renovacare, Renova Therapeutics, Renovis, Replicel Life Sciences, ReShape Medical, ResolutionCare, Respiratory Motion, RespiraWorks, restor3d, Restorix Health, ReSuture, Retia Medical, Revance Therapeutics, Revive Therapeutics, ReWalk Robotics, Rex Medical, Rhino Assembly, Rhinostics, RH Nanopharmacuticals, Richardson RFPD, Richmar, Rigshospitalet, Riverain Medical, RMX Biopharma, RoboPharma, Roche Diagnostics, Rothman Healthcare, Rothman Orthopaedic Institute, Rotterdam Eye Hospital, RoundTable Healthcare Partners, Royal Perth Hospital, Royal Philips Electronics, RQI Partners, RSA Biomedical, RSK Medical, RTI Surgical, S3 Medical, S12 Solutions, SAB Biotherapeutics, Safeguard Medical, SafeOp Surgical, Safe Orthopaedics, SafeWire, Salient Surgical Technologies, SaltMED, Salus Medical, Samsung Electronics, SanaCare, Sana Klinikum Offenbach, Sanara MedTech, Sandata Technologies, Sandoz, Sanofi, Sanuwave Health, Saol Therapeutics, Saphena Medical, Sapporo Medical University Hospital, Sarah Cannon Research Institute, SATT Lutech, Scanslated, Scendia Biologics, Schreiner Group, Scientific Analytics, Scintec Diagnostics, Sciton, Scopio Labs, Scripps Health, SeaSpine, SeaStar Medical, Sectra, Securisyn Medical, Sedor Pharmaceuticals, Seishin Plastic and Aesthetic Surgery Clinic, Sela Medical, Select Medical, Select Rehabilitation, SeLux Diagnostics, Sema4, Sensus Healthcare, Sequent Medical, SERB Pharmaceuticals, Serenus.AI, Seres Therapeutics, Serum Institute of India, Service and Medical Colombia, Sevaredent Sourcing Solutions, Shandong Weigao Orthopedic Device, Shanghai Haohai Biological Technology, Shanghai Pharmaceutical, Shanghai RAAS Blood Products, Shapeways, Sharp Corporation, Sharp Fluidics, Shenzhen Radiusen Systems, Sherlock Biosciences, Shimadzu, Shina Systems, Shineco, Shionogi, Showa, Siemens Healthineers, Sientra, Sigma Imaging Technologies, Signet Healthcare Partneers, Signet International, Signum Surgical, Silipos, Simulations Plus, Sinclair Pharmaceuticals, Sinopharm, Sinovant Sciences, Sintetica, Sirona Biochem, SIRS Therapeutics, SiteOne Therapeutics, Sites Medical, Skin Products, Skyline Medical, Skytron, Slater Endoscopy, Slayback Pharma, Small Business Innovation Research, Smith & Nephew, Smiths Medical, Society of NeuroInterventional Surgery, Society of Vascular and Interventional Neurology, Sofregen Medical, SoftBank Robotics Group, Sofwave Medical, Solana, Soligenix, Soliton, Sonata Scientific, Sonoma Pharmaceuticals, Sonora Quest Laboratories, SonoSpine, Sorrento Therapeutics, Sotera Wireless, Sound Technologies, SourceMark Medical, Southern Anesthesia & Surgical, Southmedic, Southwest Research Institute, Southwest Transplant Alliance, Spacelabs Healthcare, Spartan Medical, Spectral Medical, Spectrum Advanced Manufacturing Technologies, Spectrum Spine, Sphingotec, SpinaFX Medical, Spinal Elements, Spineart, SpineCraft, Spineguard, Spineology, SpineThera, Spineway, Spire Health, Spirit AeroSystems, Springs Rejuvenation, SQI Diagnostics, SRI International, Sri Trang Gloves, St. Catherine Specialty Hospital, Standard Bariatrics, Stanford University, Stanmore Implants, StarFish Product Engineering, Starr Foundation, Starzl Network for Excellence in Pediatric Transplantation, State of the Art Medical Products, Steeper Group, StemCyte, Stem Lyft, Stereotaxis, SteriLumen, Steris Corporation, Sternlaser Medical Aesthetics Solutions, Stethoscope.com, Stevenson Memorial Hospital, St George Street Capital, Stimit, StoCastic, Stradis Healthcare, STRATA Skin Sciences, Stratasys, Stratis Medical, Structured Monitoring Products, Stryker, SuitX, Summit Medical Group, Summit Orthopedics, Suneva Medical, SunMed, SUNY Upstate Medical University, Surfacide, Surgalign, SurgCenter Development, Surge Cardiovascular, SurGenTec, Surgical Affiliates, Surgical Care Affiliates (SCA), Surgical Innovation Associates, Surgical Notes, SurgicalOne, Surgical Planning Associates, Surgical Specialties, Surgical Theater, SurgiGyn, SurgiTech, Surglogs, Suture Express, Swedish Bactiguard, SWK Funding, Syapse, Symbiosis, Symmetry Surgical, Synaptive Medical, Syneos Health, Synergy Aesthetics, Synlab, Synopsis Healthcare, Syntellix, Synthes, Sysmex America, TAG Medical, Taiba, TaiGen Biotechnology, Takeda Pharmaceutical, Talar Capital Partners, Talaris Therapeutics, Talis Biomedical, Tallahassee Memorial HealthCare, Tanner Pharmaceuticals, TBG Management, Teb Sanaat Lotus, Technical University of Denmark (DTU), Tecomet, TeDan Surgical Innovations, Teijin, Teijin Medical Technologies, Teijin Nakashima Medical, Tela Bio, Teleflex, TeleSense Canada, Telix Pharmaceuticals, TELUS Ventures, Temple Health, Tenet Healthcare, Terasaki Innovation Center, Terason, Terebellum, Terso Solutions, Terumo, Terumo Blood and Cell Technologies, Terumo Cardiovascular Systems, Tetra Bio-Pharma, Tetraphase Pharmaceuticals, Teva Pharmaceutical Industries, Tevosol, TFF Pharmaceuticals, The International AIDS Vaccine Initiative, The Joint Pathology Center, The Medicines Company, Theracell, Theradaptive, Therapharm, ThermiGen, Thermo Fisher Scientific, ThermoGenesis, Theromics, The Technical University Of Munich, The University of Chicago Medicine, THINK Surgical, Thomas Jefferson University, Thuasne and Townsend Design, Tianjin JuveStar Biotech, TidalHealth, TissueGene, Tissuemed, Titan Medical, Tivic Health Systems, TLC Medical, Todos Medical, Tokyo Medical and Dental University, Tomahawk Charitable Solutions, TONIX Pharmaceuticals, Total Joint Orthopedics, TouchMD, Toyoda Gosei, Trace Medical, TRACOE medical, Trang Thi Medical Company, TransChart, Transcriptome Sciences, TransEnterix, Transimmune, Transplant Genomics, Transplant Hero, Trendlines Group, Tribun Health, Trilliant Surgical, Trillium Therapeutics, TriNetX, Trinnovations, TriReme Medical, Tristate Medical Supplies, Triworks, TSO3, Tull Family Foundation, Turner Imaging Systems, Turn Therapeutics, TxCell, Tyber Medical, Typenex Medical, Tyto Care, U-Health AirMed, UCB, UCHealth, UltraViolet Devices, UMass Memorial Medical Center, UMF, uMotif, Uniformed Services University of the Health Sciences, Unimedic, United Digestive, United Imaging Healthcare, United Orthopedic Group, United Therapeutics, UniteOR, University Health Network, University Hospital Heidelberg, University Hospitals Ventures, University Libre of Brussels, University Medical Center Groningen, University Medical Center Utrecht, University of Arkansas, University of Bern, University of British Columbia, University of California, San Diego, University of California San Francisco, University of Central Florida Research Foundation, University of Erlangen, University of Florida Research Foundation, University of Georgia, University of Heidelberg, University of Kansas, University of Louisville, University of Maryland, University of Maryland Baltimore, University of Maryland School of Medicine, University of Maryland Ventures, University of Memphis, University of Miami, University of Michigan, University of Minnesota, University of Nebraska, University of New Mexico, University of Oklahoma, University of Ottawa, University of Oxford, University of Pittsburgh, University of Texas, University of Tokyo, University of Virginia, University of Washington, University of Wisconsin-Madison, Uppsalagruppen Medical, UpToDate, US Air Force, USARAD, US Army, US Army Institute of Surgical Research (USAISR), US Army Medical Research and Material Command, US Army Medical Research Institute of Chemical Defense, US Economic Development Administration (EDA), US Government, US Navy, US Radiology Specialists, US Transplant Diagnostics, US Veterans Administration, Vaica Medical, Valet Health, Valtech Cardio, Van G. Miller & Associates, Vantage Medical Supplies, Varian Medical Systems, Vascular Graft Solutions, Vascular Solutions, VascuTech Medical, Vcpi, VeChain, VeeMed, Velos, Veloxis Pharmaceuticals, VenatoRx, Ventec Life Systems, Venus Medtech, Veracyte, Vera Therapeutics, Verax Biomedical, Verb Surgical, Vergent Bioscience, Vericel, Verity Pharmaceuticals, Versan & Dafne, Versant Diagnostics, Vertera Spine, Vertex Pharmaceuticals, Veta Health, Veterans Healthcare Supply Solutions, Vexos, ViaClean Technologies, Via Surgical, Vicarious Surgical, VieMed Healthcare, ViewRay, Vifor Pharma, Vilex, ViraCor Laboratories, VirtaMed, Visiopharm, Visiting Nurse Association Health Group, Visualant, VisualDx, Vitaeris, VitaHEAT Medical, Vital Connect, VitalHub, Vital Images, VitalPet, VitalTech, Vithas Group, Vitro Biopharma, Vivacelle Bio, Vivera Pharmaceuticals, Vivus, Viz.ai, Vizient, VMS Rehab Systems, Voicebrook, Voxello, VSee, VUNO, Vuzix, Vyaire Medical, Vygon, Vynca, Wake Forest Institute for Regenerative Medicine, Walloon Region Investment Fund, Warrior Centric Health, Wasas, WavePoint Medical, Wego Group, Weifang Jianyi Medical Devices, Weill Cornell Medical College, Wellcome Trust, WellDyne, WellSpan York Hospital, Wenzel Spine, West Physics, Westside Surgical Hospital, Williams Medical Supplies, WillowWood Global, Windgap Medical, Winhealth Pharma Group, WishBone Medical, WiTricity, Wittenstein, W L Gore, World of Medicine, Wright Medical, Wyss Institute, XaTek, Xcede Technologies, xCures, Xenex, Xenocor, Xenon Pharmaceuticals, Ximedica, Xoran Technologies, XRHealth, Xtant Medical, Xvivo Perfusion, XynManagement, Yale School of Medicine, Yankee Alliance, YOFOTO (China) Health Industry, Yosi Health, YouRehab, Zebra Medical Vision, Zeltiq Aesthetics, Zentek, Zephyr AI, Zeta Surgical, Ziehm Imaging, Zikad International Aesthetics Supplier, Zimmer Biomet, Zoll Medical, Zomedica, Zyter
Current Partnering reports provide insight into the trends and terms of partnering deals in the global life sciences sector.
Current Partnering reports are updated every six months to ensure the user has access to the latest announcements and trends in the topic focus of the report.
Current Partnering analysts review the deal data to provide an overview and analysis of deal trends, including example deals and terms.
Current Partnering reports source deal data from our proprietary deals and alliances database, Current Agreements. The database is updated daily by our analysts with new deals as they are announced globally by the company's party to the deal. In addition, deal records are updated with new data as it becomes available.
The data in the Current Agreements deals and alliances database is obtained from secondary sources such as publicly available industry sources including press releases, company presentations, investor presentations, company SEC filings, other company filings, company websites, conference presentations. Sources are identified to allow for user verification.
Current Partnering provides comprehensive coverage of the following partnering or deal types:
• Asset purchase
• Assignment
• Co-development
• Co-market
• Co-promotion
• Collaborative R&D
• Contract service
• CRADA
• Cross-licensing
• Development
• Distribution
• Equity purchase
• Evaluation
• Grant
• Joint venture
• Licensing
• Loan
• Manufacturing
• Marketing
• Option
• Promotion
• Research
• Royalty financing
• Settlement
• Spin out
• Sub license
• Supply
• Termination
• Warrant
Every deal record is fully categorized and includes the following data, where available:
• Industry sector
• Therapy areas
• Technology type
• Deal components
• Financial terms
• Stage of development
• Exclusivity
• Asset type
• Geographic focus
• Excluded geography
• Company press release
• SEC filing data including contract document
All financial amounts are converted to US$ using the exchange rate available on the date of deal announcement, enabling direct comparison of deal terms across international territories.
Financial data and contract documents displayed in deal records is obtained from public sources, where disclosed by the parties to the deal.