Global Hematology Partnering 2010-2022: Deal trends, players and financials
The Global Hematology Partnering 2010-2022: Deal trends, players and financials report provides comprehensive understanding and unprecedented access to the hematology partnering deals and agreements entered into by the worlds leading healthcare companies.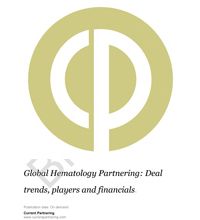 Publication date
June 2022
Product type
Research report
Available formats
PDF document
Global Hematology Partnering 2010 to 2022 provides the full collection of Hematology disease deals signed between the world's pharmaceutical and biotechnology companies since 2010.
Trends in Hematology partnering deals
Financial deal terms for headline, upfront and royalty by stage of development
Hematology partnering agreement structure
Hematology partnering contract documents
Top Hematology deals by value
Most active Hematology dealmakers
Most of the deals included within the report occur when a licensee obtains a right or an option right to license a licensor's product or technology. More often these days these deals tend to be multi-component including both a collaborative R&D and a commercialization of outcomes element.
The report takes readers through the comprehensive Hematology disease deal trends, key players and top deal values allowing the understanding of how, why and under what terms companies are currently entering Hematology deals.
The report presents financial deal terms values for Hematology deals, where available listing by overall headline values, upfront payments, milestones and royalties enabling readers to analyse and benchmark the value of current deals.
The initial chapters of this report provide an orientation of Hematology dealmaking trends.
Chapter 1 provides an introduction to the report.
Chapter 2 provides an overview of the trends in Hematology dealmaking since 2010 covering trends by year, deal type, stage of development, technology type and therapeutic indication.
Chapter 3 includes an analysis of financial deal terms covering headline value, upfront payment, milestone payments and royalty rates.
Chapter 4 provides a review of the leading Hematology deals since 2010. Deals are listed by headline value. The chapter includes the top 25 most active Hematology dealmakers, together with a full listing of deals to which they are a party. Where the deal has an agreement contract published at the SEC a link provides online access to the contract.
Chapter 5 provides comprehensive access to Hematology deals since 2010 where a deal contract is available, providing the user with direct access to contracts as filed with the SEC regulatory authorities. Each deal title links via Weblink to an online version of the deal record contract document, providing easy access to each contract document on demand.
Chapter 6 provides a comprehensive directory of all Hematology partnering deals by specific Hematology target announced since 2010. The chapter is organized by specific Hematology therapeutic target. Each deal title links via Weblink to an online version of the deal record and where available, the contract document, providing easy access to each contract document on demand.
In addition, a comprehensive appendix is provided with each report of all Hematology partnering deals signed and announced since 2010. The appendices are organized by company A-Z, stage of development at signing, deal type (collaborative R&D, co-promotion, licensing etc) and technology type. Each deal title links via Weblink to an online version of the deal record and where available, the contract document, providing easy access to each contract document on demand.
The report also includes numerous tables and figures that illustrate the trends and activities in Hematology partnering and dealmaking since 2010.
In conclusion, this report provides everything a prospective dealmaker needs to know about partnering in the research, development and commercialization of Hematology technologies and products.
Report scope
Global Hematology Partnering 2010 to 2022 is intended to provide the reader with an in-depth understanding and access to Hematology trends and structure of deals entered into by leading companies worldwide.
Global Hematology Partnering 2010 to 2022 includes:
Trends in Hematology dealmaking in the biopharma industry since 2010
Access to headline, upfront, milestone and royalty data
Access to hundreds of Hematology deal contract documents
Comprehensive access to over 650 Hematology deal records
The leading Hematology deals by value since 2010
Most active Hematology dealmakers since 2010
The report includes deals for the following indications: Agranulocytosis, Anemia, Haemolytic, Iron deficiency, Blood substitute, Disseminated intravascular coagulation (DIC), Hemophilia, Immune thrombocytopenic purpura, Neutropenia, Polycythemia, Thalassemia, Thrombocytopenia, Vitamin K Deficiency, Von-Willebrand disease, plus other hematological indications.
In Global Hematology Partnering 2010 to 2022, available deals and contracts are listed by:
Headline value
Upfront payment value
Royalty rate value
Stage of development at signing
Deal component type
Technology type
Specific therapy indication
Each deal title links via Weblink to an online version of the deal record and where available, the contract document, providing easy access to each contract document on demand.
The Global Hematology Partnering 2010-2022 report provides comprehensive access to available deals and contract documents for over 650 hematology deals. Analyzing actual contract agreements allows assessment of the following:
What are the precise rights granted or optioned?
What is actually granted by the agreement to the partner company?
What exclusivity is granted?
What is the payment structure for the deal?
How are the sales and payments audited?
What is the deal term?
How are the key terms of the agreement defined?
How are IPRs handled and owned?
Who is responsible for commercialization?
Who is responsible for development, supply, and manufacture?
How is confidentiality and publication managed?
How are disputes to be resolved?
Under what conditions can the deal be terminated?
What happens when there is a change of ownership?
What sublicensing and subcontracting provisions have been agreed?
Which boilerplate clauses does the company insist upon?
Which boilerplate clauses appear to differ from partner to partner or deal type to deal type?
Which jurisdiction does the company insist upon for agreement law?
Global Hematology Partnering 2010 to 2022 provides the reader with the following key benefits:
In-depth understanding of Hematology deal trends since 2010
Access Hematology deal headline, upfront, milestone and royalty data
Research hundreds of actual contracts between Hematology partner companies
Comprehensive access to over 650 links to actual Hematology deals entered into by the world's biopharma companies
Indepth review of Hematology deals entered into by the top 25 most active dealmakers
Benchmark the key deal terms companies have agreed in previous deals
Identify key terms under which companies partner Hematology opportunities
Uncover companies actively partnering Hematology opportunities
Executive Summary
Chapter 1 – Introduction
Chapter 2 – Trends in Hematology dealmaking
2.1. Introduction
2.2. Hematology partnering over the years
2.3. Hematology partnering by deal type
2.4. Hematology partnering by industry sector
2.5. Hematology partnering by stage of development
2.6. Hematology partnering by technology type
2.7. Hematology partnering by therapeutic indication
Chapter 3 –Financial deal terms for Hematology partnering
3.1. Introduction
3.2. Disclosed financials terms for Hematology partnering
3.3. Hematology partnering headline values
3.4. Hematology deal upfront payments
3.5. Hematology deal milestone payments
3.6. Hematology royalty rates
Chapter 4 – Leading Hematology deals and dealmakers
4.1. Introduction
4.2. Most active in Hematology partnering
4.3. List of most active dealmakers in Hematology
4.4. Top Hematology deals by value
Chapter 5 – Hematology contract document directory
5.1. Introduction
5.2. Hematology partnering deals where contract document available
Chapter 6 – Hematology dealmaking by therapeutic target
6.1. Introduction
6.2. Deals by Hematology therapeutic target
Appendices
Appendix 1 – Directory of Hematology deals by company A-Z since 2010
Appendix 2 – Directory of Hematology deals by deal type since 2010
Appendix 3 – Directory of Hematology deals by stage of development since 2010
Appendix 4 – Directory of Hematology deals by technology type ince 2010
Further reading on dealmaking
Deal type definitions
About Wildwood Ventures
Current Partnering
Current Agreements
Recent report titles from CurrentPartnering
Table of figures
Figure 1: Hematology partnering since 2010
Figure 2: Hematology partnering by deal type since 2010
Figure 3: Hematology partnering by industry sector since 2010
Figure 4: Hematology partnering by stage of development since 2010
Figure 5: Hematology partnering by technology type since 2010
Figure 6: Hematology partnering by indication since 2010
Figure 7: Hematology deals with a headline value
Figure 8: Hematology deals with upfront payment values
Figure 9: Hematology deals with milestone payment
Figure 10: Hematology deals with royalty rates
Figure 11: Active Hematology dealmaking activity since 2010
Figure 12: Top Hematology deals by value since 2010
Pricing options
$3,495: single-user
$5,245: multi-user
$10,495: single site license
$17,495: global site license
A full explanation of license type definitions can be found here.
Our guarantee
Price promise
We guarantee our prices are competitive. If you find the same report advertised at a lower price within 7 days of purchase, we will refund the difference.
Delivery Deadline
We guarantee that the report will be sent within the specified delivery times. In the unlikely case of a delay we may offer a partial refund as compensation. (Terms may apply)
Latest report
If an update is published within 30 days of your purchase, you will receive it absolutely free of charge.
Serious Security
We take your data and security seriously. See our privacy policy for details of how we manage your data.
All card payments are processed by SagePay.
Sales Support
If you have any questions about your report or are unhappy with the quality, we will do our best to resolve your query. Contact us direct.
Total Trust
Current Partnering is part of Wildwood Ventures Ltd., based in York, United Kingdom. We have been trading successfully online since 2009 and work with some of the most famous brands in the business. We carefully select our partners to ensure that the publications meet expectations of demanding customers.
2seventy bio, 3DR Labs, 3SBio, Aalborg University Hospital, Abbott Laboratories, Abbvie, Abenex Capital, AbFero Pharmaceuticals, Abram Scientific, Abzena, Acceleron Pharma, Accord Healthcare, Accumetrics, Accuscience, Accuvein, Acetylon Pharmaceuticals, Achillion Pharmaceuticals, Acrotech Biopharma, Actinium Pharmaceuticals, Adaptive Biotechnologies, Advanced Biological Laboratories, Advanced Cell Technology, AesRx, AffaMed Therapeutics, Affymax, AgaMatrix, AgeX Therapeutics, Agios Pharmaceuticals, Aidian, AkaRx, Akebia Therapeutics, Akers Biosciences, Akorn, Akron Biotechnology, Alba Bioscience, Albert Einstein College of Medicine, Alchemia, Alexion Pharmaceuticals, Alfasigma, Algeta, Algorithme Pharma Holdings, Alifax, Allenex, Allist Pharma, AlloSource, Alnylam Pharmaceuticals, Alphamedix, Al Shalan, Amag Pharmaceuticals, American Realty Capital Healthcare Trust, American Red Cross, American Society of Hematology, Amerinet, Amgen, Amphastar Pharmaceuticals, Amsino Medical, Amsterdam Molecular Therapeutics, Amunix, Angiodynamics, Antengene, Anthos Therapeutics, Antitope, AOP Orphan Pharmaceuticals, Apceth, Apellis Pharmaceuticals, Aplagon, Aplastic Anemia & MDS International Foundation, ApoPharma, Apotex, Appleton Medical Services, Applied Science, Aptahem, Aptevo BioTherapeutics, Aptevo Therapeutics, APT Therapeutics, Arbor Biotechnologies, Archemix, ArcherDX, Arch Therapeutics, Argon Medical Devices, Ariel Pharmaceuticals, Armaghan Salamat Kish, Armetheon, Array Biopharma, Arsia Therapeutics, Arteriocyte Medical Systems, Aruvant Sciences, Asahi Kasei, ASC Therapeutics, ASKA Pharmaceuticals, Aspen Holding, Association for the Advancement of Blood & Biotherapies, Astellas Pharma, Astellas Pharma China, Astellas Pharma Hong Kong, AstraZeneca, Athenex, Atherotech, Atomwise, Audaire Health, AUT Roche Diagnostics Laboratory, AUT University, AuxoCell Laboratories, A VIPharma, AVL Sofia, Avricore Health, Axonlab, Azzur Group, Babson Diagnostics, Banc De Sang I Teixits, Barbara Ann Karmanos Cancer Institute, Baxalta, Baxter International, Bayer, Bayer Healthcare, Baylor College of Medicine, Beam Therapeutics, Becton Dickinson, Beijing InnoCare Pharma, Beijing Leadman Biochemistry, Belgian Red Cross, Bellus Health, Benchmark Electronics, Beth Israel Deaconess Medical Center, Beyondspring Pharmaceuticals, Bicycle Therapeutics, Bill and Melinda Gates Foundation, BillionToOne, Bio-Fortune, Bio-Rad Laboratories, Biocept, Bioceros, BIOCORP, bioCSL, Biogalenys, Biogen, BioLife Plasma Services, Biolog-id, BioMarin Pharmaceutical, BioMatrix Specialty Pharmacy, Biomed Elements, Biomedical Advanced Research and Development Authority, BioMedical Drug Development, Biomodels, BioNano Genomics, BioRx, Biosafe, Biosafe Brasil Distribuidora, Bio Sidus Argentina, BioSpring, Biosynergy, Biotechnology Industry Research Assistance Council, Biotest, Biotest Pharmaceuticals, Bioverativ, Bleeding Disorders Foundation, Blood Bank Of Delmarva, Blood Centers of America, Blood Group Alliance, Blood Systems, Bluebird Bio, BlueCross BlueShield of Tennessee, BMEYE, BMG Pharmaceuticals, Bonfils Blood Center, Boryung Pharmaceutical, Boston Therapeutics, Brigham and Women's Hospital, Bristol-Myers Squibb, Bristol-Myers Squibb Foundation, Brooklyn ImmunoTherapeutics, Bruker, C-Bridge Capital, Cadila Pharmaceuticals, Caladrius Biosciences, Calbiotech, California Institute for Regenerative Medicine, Calithera Biosciences, Canadian Blood Services, Cancer Genetics, Cangene, Cantab Biopharmaceuticals, Capella Bioscience, Capnia, Cardiome Pharma, Cardiovascular Systems, CariCord, Carter BloodCare, Casebia Therapeutics, Case Western Reserve University, CAS Medical Systems, Catalyst Biosciences, Catholic University Leuven, Celgene, Cellectis, Cellenkos, Cellerant Therapeutics, Cellphire, Cell Point, Celtic Pharma Development, Celularity, Centessa Pharmaceuticals, Centocor, Centogene, Central California Blood Center, Cerus, Cesca Therapeutics, CHA Bio & Diostech, Charter Medical, Chatham Therapeutics, Chem-Aqua, Chiesi Farmaceutici, Children's Hospital Boston, Children's Hospital of Philadelphia, Children's Hospital Of Wisconsin, Children's Minnesota, Children's Hospital & Research Center Oakland, China Biologic Products, China Cord Blood, China Medical System, China PharmaHub, Chronix Biomedical, Cincinnati Children's Hospital Medical Center, Civica Rx, CJ Corp, Cleveland Clinic, Cleveland Cord Blood Center, Clinigen, CMC Biologics, Coagulife Pharmacy, Cobra Biologics, Codexis, Colby Pharmaceuticals, Comercializadora BioRenal, Companhia Energetica Integrada, Compass Biotechnologies, Conmed, CONMED Linvatec, Consorta, Constellation Pharmaceuticals, Constitution Medical Investors, ConsulTech, Cord Blood America, Cord Blood Registry, Cordlife, Corgenix Medical, Coriolis Pharma Research, CorMedix, Covance, C R Bard, Crioestaminal, CRISPR Therapeutics, Cryo-Cell International, Cryolife, CSL, CSL Behring, CSL Plasma, CTI BioPharma, Cumberland Emerging Technologies, Cytomedix, Cytonet, CytoSorbents, Daiichi Sankyo, Dana-Farber Cancer Institute, DaVita, DBV Technologies, Defense Advanced Research Projects Agency, Defense Health Agency (US), Department of Biotechnology, Department of Defense, Department of Health and Human Services, Dialco Medical, Diffusion Pharmaceuticals, Dimension Therapeutics, Disc Medicine, Domainex, Dova Pharmaceuticals, Dr. Reddy's Laboratories, Drawbridge Health, Dr Franz Kohler Chemie, DRI Capital, DSM, Duke University, Dynasil, Eagle Pharmaceuticals, Eddingpharm, Edison Pharmaceuticals, Editas Medicine, Edwards Lifesciences, Eilaf, Eisai, Elan, Eluthia, EMD Serono, Emendo Biotherapeutics, Emergent BioSolutions, Emirates Gastroenterology & Hepatology Society, Enicor, Entegrion, ENTrigue Surgical, Enzo Clinical Labs, Enzyre, EpiDestiny, Epocal, ERBA Diagnostics, ERBA Diagnostics Mannheim, Ergomed, Errant Gene Therapeutics, Erytech, Escalon Medical, Esperion Therapeutics, Espero Biopharma, Esteve, European Commission, European Medicines Agency, European Union, Evonik Industries, Evotec, Ewopharma, ExCellThera, Expression Therapeutics, ExThera Medical, Factor Bioscience, Falco, Feinstein Institute for Medical Research, Fenner, Fenwal, Fenwall, Ferrokin Biosciences, FGK Clinical Research, Fibriant, Fibrogen, Fidelity Biosciences, Fisher Healthcare, Fondazione Telethon, Foresee Pharmaceuticals, Fortis Healthcare, Forty Seven, Fred Hutchinson Cancer Research Center, Freeline Therapeutics, French Muscular Dystrophy Association, French National Blood Service, Fresenius Kabi Pharmaceuticals, Fresenius Medical Care, Fujicom, Fujifilm Diosynth Biotechnologies, Fujirebio Diagnostics, Gada Turkey, Galena Biopharma, Galenica, Gamida Cell, Gamidor Diagnostics, Gateway Hemophilia Association, GC Pharma, GE Healthcare, Gencia Biotech, Genentech, General Hospital of Vienna, GenesisBPS, Geneva University Hospitals, Genexine, Genoptix, GenScript ProBio, GenTegra, Gentium, GenVec, Genzyme, German Federal Ministry of Education and Research, German Red Cross Blood Donor Service, Gilead Sciences, GlaxoSmithKline, Global Blood Disorder Foundation, Global Blood Therapeutics, Global Cord Blood, GlycoMimetics, GNYHA Services, Golden Helix, Golden Meditech, Government Scientific Source, GPI Group, Greater New York Hospital Association, Greiner Bio-One, Grifols, GTC Biotherapeutics, GVS, Haematologic Technologies, Haemonetics, HanAll Pharmaceuticals, Hanmi Pharmaceutical, Harvard College, Harvard Medical School, Healeon Medical, Healionics, Healthcare Royalty Partners, HealthTab, Heilongjiang ZBD Pharmaceutical, Helsinn Healthcare, HemaCare, Hemanext, Hematech, HemaTerra Technologies, HemCon Medical Technologies, Hemerus Medical, Hemex Health, Hemobras, HemoCue, HemoMinas Foundation, Hemophilia Foundation of Southern California, HEMORIO, Henry Schein, Heska, Hikma Pharmaceuticals, HitGen, HLS Therapeutics, Hologic, Homology Medicines, Hong Kong Red Cross Blood Transfusion Service, Horiba, Horizon Pharma plc, Hospira, Humacyte, Iceland National Blood Bank, Idant Laboratories, ILEX Medical, ImageIQ, Immucor, Immune Deficiency Foundation, ImmuneRegen BioSciences, Immunetics, Immunome, Incyte, Infinity Pharmaceuticals, Infomed, InfraScan, Ingen Technologies, Inlog, Inmagene Biopharmaceuticals, Innova Vascular, Inserm, Inserm Transfert, Inspiration Biopharmaceuticals, Institute for Genome Statistics and Bioinformatics, Institute of Hematology and Blood Transfusion, Institute of Human Genetics, Instrumentation Laboratory, Intas Biopharmaceuticals, Intellia Therapeutics, Intrepid Innovations, Intrinsic LifeSciences, Inverness Medical Innovations, inviCRO, Ionis Pharmaceuticals, Ipsen, Irish Haemophilia Society, IRIS International, Israeli Ministry of Industry and Commerce, Israeli National Authority for Technological Innovation, Isu Abxis, Janssen Biotech, Jasper Therapeutics, Jazz Pharmaceuticals, JEIL Pharmaceutical, Jericho Sciences, Jiangsu Hansoh Pharmaceutical, Jiangsu Hengrui Medicine, Johnson & Johnson, Juvise Pharmaceuticals, K2 Scientific, Kainos Laboratories, Kaleido Biosciences, Kamada, Karolinska University Hospital, Katalyst Diagnostics, Kedrion, Kedrion Biopharma, Keros Therapeutics, Kiadis Pharma, Kiromic Biopharma, Kissei Pharmaceutical, Knight Therapeutics, Kunming Pharmaceutical, Kurin, Kyoto University, Lab21, Laboratori Derivati Organici, Laboratory Corporation of America, LabPro, La Jolla Pharmaceutical, Lawson Health Research Institute, LeaderMed Health Group, Lee's Pharmaceutical, Leukaemia & Lymphoma Research, Leukemia & Lymphoma Society, Lev Pharmaceuticals, LFB Biomedicaments, LFB Biotechnologies, LifeHealth, LifeSouth Community Blood Centers, Ligand Pharmaceuticals, Longitude Capital, Lonza, Loop Medical, LUNAC Therapeutics, Lydall, Magenta Therapeutics, Mallinckrodt Pharmaceuticals, MannKind Biopharmaceuticals, Mantecorp, Marathon Medical, Maruho, Masimo, Massachusetts General Hospital, Massachusetts Institute of Technology, Massachusetts Life Sciences Center, Masterlab, Masters Speciality Pharma, Maxcyte, Mayo Clinic, MD Anderson Cancer Center, Medafor, Medexus Pharmaceuticals, Medgenics, Medial, Medica, Medical College of Wisconsin, Medical Technology Enterprise Consortium, Medical University of Innsbruck, Medicos Hirata, Medicyte, MedImmune, Medinox, Medipath, Medison Pharma, Meditrade, Mediware Information Systems, Medline Industries, MEI Pharma, Memorial Sloan Kettering Cancer Center, Menarini, Merck and Co, Merganser Biotech, Merus Labs International, Metabasis Therapeutics, MicroHealth, Microsulis Medical, Mills Pharmaceuticals, MindRank AI, Miraca Life Sciences, Mitsubishi Tanabe Pharma, Moberg Pharma, Molecular Templates, Momenta Pharmaceuticals, Monash University, MorphoSys, MRL CyberTec, Multigen Diagnostics, MultiPlan, Mundipharma, Munich Technical University, Musculoskeletal Transplant Foundation, MWI Veterinary Supply, NanoCarrier, Nantes University, Natco Pharmaceuticals, National Cancer Coalition (NCC), National Cancer Institute, National Center for Advancing Translational Sciences (NCATS), National Center for Regenerative Medicine, National Heart, Lung and Blood Institute, National Hemophilia Foundation, National Institute of Diabetes and Digestive and Kidney Diseases, National Institute of General Medical Sciences, National Institute of Mental Health, National Institutes of Health, National Science Foundation, National Transfusiology Center, NCPC GeneTech, Nektar Therapeutics, Nencki Institute, Neoletix Biotechnology, Nephros, Neste Jacobs, New Alliance Pharmaceuticals, New York Blood Center, Nordic Medcom, Nordic Pharma Group, NordMedica, Norgine, North Carolina State University, Novartis, Novartis Vaccines and Diagnostics, Novation, Novellus Biopharma, Novellus Therapeutics, NovelMed, NovImmune, Novo Nordisk, NPS Pharmaceuticals, Nxstage Medical, Oak Hill Bio, Octapharma, Ohio State University, Olerup International, Omeros, OMRF, Onconova Therapeutics, OPKO Health, Opocrin S.p.A, Orchard Therapeutics, Orexia Therapeutics, Orient EuroPharma, OrSense, Ortho-Clinical Diagnostics, OSI Optoelectronics, Ossium Health, Otsuka, Owkin, Oxford BioMedica, Oxygen Biotherapeutics, Pain Therapeutics, Paladin Labs, Palex Medical, Pall Corporation, Pan American Cancer Treatment Centers, Pangen Biotech, Patheon, PathoQuest, Pathway Diagnostics, PBM Capital Group, Peking University, Perosphere, Pervasis Therapeutics, Pfenex, Pfizer, Pfizer Canada, Pfizer Japan, Pharmacosmos, Pharmigene, Pharming Group, PhaseBio Pharmaceuticals, PicnicHealth, Pieris, Pierre Fabre, PixCell Medical, Planned Systems International (PSI), Platelet BioGenesis, PLUS Diagnostics, Point of Care Diagnostics, Polytherics, Portola Pharmaceuticals, Poseida Therapeutics, Pregene Biopharma, Premier Healthcare Alliance, Premier Inc, Premier Purchasing Partners, Prime Therapeutics, Pro Bono Bio, ProFibrix, Progenika, PROLOR Biotech, Promethera Biosciences, Prometic Life Sciences, Prophylix Pharma, Protagonist Therapeutics, Prothix, ProtoKinetix, Provepharm, PSS World Medical, Purdue Pharma, Qiagen, Qualifying Therapeutic Discovery Project, Quanta, Queensland University of Technology, Queens University, Quercis Pharma, Quest Diagnostics, Quotient Biodiagnostics, Quotient Bioscience, Radboud University Nijmegen Medical Centre, Radiometer Medical, Rechon Life Sciences, Recordati Espana, Regen BioPharma, Regeneron Pharmaceuticals, Regenesis Biomedical, ReGenX Biosciences, Regional Hospital Innsbruck, Renova Life, Research Center for Molecular Medicine of the Austrian Academy of Sciences, Resonance Health, rEVO Biologics, Revolutions Medical, Rex Medical, Rhizen Pharmaceuticals, Rhode Island Blood Center, Rigel Pharmaceuticals, Rizal Medical Center, Roche, Roche Diagnostics, Rocket Pharmaceuticals, Rockwell Medical, Roivant Sciences, Romanian National Institute of Infectious Diseases, Romark Laboratories, Romed, Royal College of Surgeons (Ireland), Royalty Pharma, RPRD Diagnostics, S*Bio, Sage Bionetworks, Saladax Biomedical, Salix Pharmaceuticals, Samsung Bioepis, Sandoz, Sangamo Therapeutics, Sanguina, Sanguine, Sanofi, Sanofi-Aventis, Sanquin Blood Supply Foundation, San Raffaele Telethon Institute for Gene Therapy, Santa Monica Pharmaceutica, Saol Therapeutics, Sayre Therapeutics, SciClone Pharmaceuticals, Science Foundation Ireland, Scientific Protein Laboratories, Scil Animal Care, Scintec Diagnostics, Seattle Childrens Research Institute, Sebia, Sekisui Medical, Selecta Biosciences, Selexis, Sernova, Service Francophone du Sang, Seventh Sense Biosystems, SFJ Pharmaceuticals, Shanghai Fengmao, Shanghai Institute of Pharmaceutical Industry, Shanghai RAAS Blood Products, Shenzhen Hepalink Pharmaceutical, Shield Holdings, Shield Therapeutics, Shionogi, Shire Laboratories, Shire Pharmaceuticals, Shiva Biomedical, Sideris Pharmaceuticals, Sidero Bioscience, Siemens Healthcare Diagnostics, Sigilon Therapeutics, Sigma-Aldrich, Sigma-Tau, SinoBiotech, Sinopia Biosciences, Sirius Genomics, Sirona Biochem, SkyePharma, Sky Unicorn Holdings, Small Business Innovation Research, Sophia Genetics, Sorin Group, Spark Therapeutics, Spartan Bioscience, Spectrum Pharmaceuticals, Spepharm Holding, Spindial, SpotSee, SQI Diagnostics, SRS Life Sciences, St. Jude Children's Research Hospital, St. Luke's-Roosevelt Hospital Center's Blood Bank, Stago, Stanbio Laboratory, Stanford University, Starch Medical, Stellar Pharmaceuticals, Stem Cell & Regenerative Medicine International (SCRMI), Stopler, Strides Arcolab, Sumitomo Dainippon Pharma, SunCoast Blood Bank (SCBB), SunGen, Supernus Pharmaceuticals, Swedish Orphan Biovitrum, Swiss Institute of Bioinformatics (SIB), Swiss Red Cross, Swiss Transfusion SRC, Swixx Biopharma, Synthetic Blood International, Syros Pharmaceuticals, Sysmex, Sysmex America, Takeda Pharmaceutical, Talecris Biotherapeutics, Targacept, Tasly Pharmaceuticals, Tasso, Technoclone, Teijin, Telix Pharmaceuticals, Tennessee Hemophilia, Terumo, Terumo Blood and Cell Technologies, TG Therapeutics, Thalassaemia International Federation, The Medicines Company, Therapeutic Solutions International, Therapharm, The Regents of the University of California, Thermo Fisher Scientific, ThermoGenesis, TNO Pharma, Tokra Medikal, Tolero Pharmaceuticals, Topas Therapeutics, Trinity Biotech, Triolab, TRPharm, True North Therapeutics, Turgut Ilaclari, UCB, UC Davis Health System, Uniformed Services University of the Health Sciences, Unilife, UniQure, Universal Biosensors, University College Cork, University College London, University Medical Center Utrecht, University of Bonn, University of Calgary, University of California, San Diego, University of California Irvine, University of California Los Angeles, University of California San Francisco, University of Cincinnati, University of Colorado, University of Geneva, University of Manchester, University of Maryland Baltimore, University of North Carolina, University of Pennsylvania, University of Pisa, University of Pittsburgh, University of Utah, University of Victoria-Genome British Columbia Proteomics Centre, University of Virginia, University of Washington, Unyts, US Army, US Army Medical Research and Material Command, US Bioservices, US Department of Veteran Affairs, US Government, US Navy, US Veterans Administration, Vectura, Velesco, Velocity Pharmaceutical Development, Verax Biomedical, VersaPharm, Versiti Blood Research Institute, Vertex Pharmaceuticals, Vifor-Fresenius Medical Care Renal Pharma Ltd, Vifor Pharma, Vigene Biosciences, Viking Therapeutics, Virginia Commonwealth University, Viropharma, Vitesse Biologics, Vizient, Vortex Medical, Wanbang Biopharmaceuticals, Wanchunbulin, Washington University in St Louis, Watson Pharmaceuticals, Werum IT Solutions, Western New England University, Worcester Polytechnic Institute (WPI), XaTek, Xenetic Biosciences, Xenon Pharmaceuticals, YM BioSciences, Yunnan Walvax Biotech, Z-Medica, Zealand University Hospital, Zeria Pharmaceuticals, ZIT, Zydus Cadila, ZymoGenetics
Current Partnering reports provide insight into the trends and terms of partnering deals in the global life sciences sector.
Current Partnering reports are updated every six months to ensure the user has access to the latest announcements and trends in the topic focus of the report.
Current Partnering analysts review the deal data to provide an overview and analysis of deal trends, including example deals and terms.
Current Partnering reports source deal data from our proprietary deals and alliances database, Current Agreements. The database is updated daily by our analysts with new deals as they are announced globally by the company's party to the deal. In addition, deal records are updated with new data as it becomes available.
The data in the Current Agreements deals and alliances database is obtained from secondary sources such as publicly available industry sources including press releases, company presentations, investor presentations, company SEC filings, other company filings, company websites, conference presentations. Sources are identified to allow for user verification.
Current Partnering provides comprehensive coverage of the following partnering or deal types:
• Asset purchase
• Assignment
• Co-development
• Co-market
• Co-promotion
• Collaborative R&D
• Contract service
• CRADA
• Cross-licensing
• Development
• Distribution
• Equity purchase
• Evaluation
• Grant
• Joint venture
• Licensing
• Loan
• Manufacturing
• Marketing
• Option
• Promotion
• Research
• Royalty financing
• Settlement
• Spin out
• Sub license
• Supply
• Termination
• Warrant
Every deal record is fully categorized and includes the following data, where available:
• Industry sector
• Therapy areas
• Technology type
• Deal components
• Financial terms
• Stage of development
• Exclusivity
• Asset type
• Geographic focus
• Excluded geography
• Company press release
• SEC filing data including contract document
All financial amounts are converted to US$ using the exchange rate available on the date of deal announcement, enabling direct comparison of deal terms across international territories.
Financial data and contract documents displayed in deal records is obtained from public sources, where disclosed by the parties to the deal.