Global Gynecology Partnering 2010-2023: Deal trends, players and financials
The Global Gynecology Partnering 2010-2023: Deal trends, players and financials report provides comprehensive understanding and unprecedented access to the gynecology partnering deals and agreements entered into by the worlds leading healthcare companies.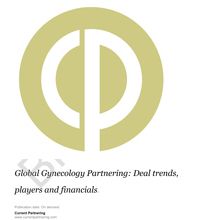 Publication date
June 2023
Product type
Therapy profile
Available formats
PDF document
Global Gynecology Partnering 2010-2023: Deal trends, players and financials provides the full collection of gynecology disease deals signed between the world's pharmaceutical and biotechnology companies since 2010.
Trends in gynecology partnering deals
Financial deal terms for headline, upfront and royalty by stage of development
Gynecology partnering agreement structure
Gynecology partnering contract documents
Top gynecology deals by value
Most active gynecology dealmakers
Most of the deals included within the report occur when a licensee obtains a right or an option right to license a licensor's product or technology. More often these days these deals tend to be multi-component including both a collaborative R&D and a commercialization of outcomes element.
The report takes readers through the comprehensive gynecology disease deal trends, key players and top deal values allowing the understanding of how, why and under what terms companies are currently entering gynecology deals.
The report presents financial deal terms values for gynecology deals, where available listing by overall headline values, upfront payments, milestones and royalties enabling readers to analyse and benchmark the value of current deals.
The initial chapters of this report provide an orientation of gynecology dealmaking trends.
Chapter 1 provides an introduction to the report.
Chapter 2 provides an overview of the trends in gynecology dealmaking since 2010 covering trends by year, deal type, stage of development, technology type and therapeutic indication.
Chapter 3 includes an analysis of financial deal terms covering headline value, upfront payment, milestone payments and royalty rates.
Chapter 4 provides a review of the leading gynecology deals since 2010. Deals are listed by headline value. The chapter includes the top 25 most active gynecology dealmakers, together with a full listing of deals to which they are a party. Where the deal has an agreement contract published at the SEC a link provides online access to the contract.
Chapter 5 provides comprehensive access to gynecology deals since 2010 where a deal contract is available, providing the user with direct access to contracts as filed with the SEC regulatory authorities. Each deal title links via Weblink to an online version of the deal record contract document, providing easy access to each contract document on demand.
Chapter 6 provides a comprehensive directory of all gynecology partnering deals by specific gynecology target announced since 2010. The chapter is organized by specific gynecology therapeutic target. Each deal title links via Weblink to an online version of the deal record and where available, the contract document, providing easy access to each contract document on demand.
In addition, a comprehensive appendix is provided with each report of all gynecology partnering deals signed and announced since 2010. The appendices are organized by company A-Z, stage of development at signing, deal type (collaborative R&D, co-promotion, licensing etc) and technology type. Each deal title links via Weblink to an online version of the deal record and where available, the contract document, providing easy access to each contract document on demand.
The report also includes numerous tables and figures that illustrate the trends and activities in gynecology partnering and dealmaking since 2010.
In conclusion, this report provides everything a prospective dealmaker needs to know about partnering in the research, development and commercialization of gynecology technologies and products.
Report scope
Global Gynecology Partnering 2010 to 2023 is intended to provide the reader with an in-depth understanding and access to gynecology trends and structure of deals entered into by leading companies worldwide.
Global Gynecology Partnering 2010 to 2023 includes:
Trends in gynecology dealmaking in the biopharma industry since 2010
Access to headline, upfront, milestone and royalty data
Access to hundreds of gynecology deal contract documents
Comprehensive access to over 500 gynecology deal records
The leading gynecology deals by value since 2010
Most active gynecology dealmakers since 2010
The report includes deals for the following indications: Adenomyosis, Cervical Intraepithelial Neoplasia (CIN), Endometriosis, Fibroids, Human papillomavirus (HPV), Infertility, Menopause, Ovarian failure, Pelvic inflammatory disease, Polycystic ovary syndrome, Pre-menstrual syndrome, Prolapse, Amenorrhea, Dysmenorrhea, Pelvic pai, Vaginitis, plus other gynecological indications.
In Global Gynecology Partnering 2010 to 2023, available deals and contracts are listed by:
Headline value
Upfront payment value
Royalty rate value
Stage of development at signing
Deal component type
Technology type
Specific therapy indication
Each deal title links via Weblink to an online version of the deal record and where available, the contract document, providing easy access to each contract document on demand.
The Global Gynecology Partnering 2010-2023 report provides comprehensive access to available deals and contract documents for over 500 gynecology deals. Analyzing actual contract agreements allows assessment of the following:
What are the precise rights granted or optioned?
What is actually granted by the agreement to the partner company?
What exclusivity is granted?
What is the payment structure for the deal?
How are the sales and payments audited?
What is the deal term?
How are the key terms of the agreement defined?
How are IPRs handled and owned?
Who is responsible for commercialization?
Who is responsible for development, supply, and manufacture?
How is confidentiality and publication managed?
How are disputes to be resolved?
Under what conditions can the deal be terminated?
What happens when there is a change of ownership?
What sublicensing and subcontracting provisions have been agreed?
Which boilerplate clauses does the company insist upon?
Which boilerplate clauses appear to differ from partner to partner or deal type to deal type?
Which jurisdiction does the company insist upon for agreement law?
Global Gynecology Partnering 2010-2023: Deal trends, players and financials provides the reader with the following key benefits:
In-depth understanding of gynecology deal trends since 2010
Access gynecology deal headline, upfront, milestone and royalty data
Research hundreds of actual contracts between gynecology partner companies
Comprehensive access to over 500 links to actual gynecology deals entered into by the world's biopharma companies
Indepth review of gynecology deals entered into by the top 25 most active dealmakers
Benchmark the key deal terms companies have agreed in previous deals
Identify key terms under which companies partner gynecology opportunities
Uncover companies actively partnering gynecology opportunities
Executive Summary
Chapter 1 – Introduction
Chapter 2 – Trends in gynecology dealmaking
2.1. Introduction
2.2. Gynecology partnering over the years
2.3. Gynecology partnering by deal type
2.4. Gynecology partnering by industry sector
2.5. Gynecology partnering by stage of development
2.6. Gynecology partnering by technology type
2.7. Gynecology partnering by therapeutic indication
Chapter 3 –Financial deal terms for gynecology partnering
3.1. Introduction
3.2. Disclosed financials terms for gynecology partnering
3.3. Gynecology partnering headline values
3.4. Gynecology deal upfront payments
3.5. Gynecology deal milestone payments
3.6. Gynecology royalty rates
Chapter 4 – Leading gynecology deals and dealmakers
4.1. Introduction
4.2. Most active in gynecology partnering
4.3. List of most active dealmakers in gynecology
4.4. Top gynecology deals by value
Chapter 5 – Gynecology contract document directory
5.1. Introduction
5.2. Gynecology partnering deals where contract document available
Chapter 6 – Gynecology dealmaking by therapeutic target
6.1. Introduction
6.2. Deals by gynecology therapeutic target
Appendices
Appendix 1 – Directory of gynecology deals by company A-Z since 2010
Appendix 2 – Directory of gynecology deals by deal type since 2010
Appendix 3 – Directory of gynecology deals by stage of development since 2010
Appendix 4 – Directory of gynecology deals by technology type since 2010
Further reading on dealmaking
Deal type definitions
About Wildwood Ventures
Current Partnering
Current Agreements
Recent report titles from CurrentPartnering
Table of figures
Figure 1: Gynecology partnering since 2010
Figure 2: Gynecology partnering by deal type since 2010
Figure 3: Gynecology partnering by industry sector since 2010
Figure 4: Gynecology partnering by stage of development since 2010
Figure 5: Gynecology partnering by technology type since 2010
Figure 6: Gynecology partnering by indication since 2010
Figure 7: Gynecology deals with a headline value
Figure 8: Gynecology deals with upfront payment values
Figure 9: Gynecology deals with milestone payment
Figure 10: Gynecology deals with royalty rates
Figure 11: Active gynecology dealmaking activity sinc 2010
Figure 12: Top gynecology deals by value since 2010
Pricing options
$3,995: single-user
$5,745: multi-user
$10,995: single site license
$17,995: global site license
A full explanation of license type definitions can be found here.
Our guarantee
Price promise
We guarantee our prices are competitive. If you find the same report advertised at a lower price within 7 days of purchase, we will refund the difference.
Delivery Deadline
We guarantee that the report will be sent within the specified delivery times. In the unlikely case of a delay we may offer a partial refund as compensation. (Terms may apply)
Latest report
If an update is published within 30 days of your purchase, you will receive it absolutely free of charge.
Serious Security
We take your data and security seriously. See our privacy policy for details of how we manage your data.
All card payments are processed by SagePay.
Sales Support
If you have any questions about your report or are unhappy with the quality, we will do our best to resolve your query. Contact us direct.
Total Trust
Current Partnering is part of Wildwood Ventures Ltd., based in York, United Kingdom. We have been trading successfully online since 2009 and work with some of the most famous brands in the business. We carefully select our partners to ensure that the publications meet expectations of demanding customers.
23andMe, Aarhus University, Abbott Laboratories, Abbvie, Accord Healthcare, Acella Pharmaceuticals, Acerus, Acessa Health, Acino Pharma, AdaptivEndo, Admedus, Advanced BioScience Laboratories, Advaxis, Adynxx, Aegea Medical, AEterna Zentaris, Agency for Healthcare Research and Quality, Agile Therapeutics, AIMA Laboratories, AirStrip Technologies, Ajlan & Bros, Albert Einstein College of Medicine, Albion, Alfa Medica, Allakos, Allegheny Technologies, Allergan, Allergan (name changed from Actavis), Altavant Sciences, Alvogen, Amag Pharmaceuticals, American Dental Association, American Medical Systems, Amgen, AmniSure International, AmorChem, Amos Gazit, Amring Pharmaceuticals, Amyris, Anaconda Pharma, AnGes MG, Angus Australia, ANI Pharmaceuticals, Anthem, AntibioTx, ApolloBio, Aptorum Group, Aptum, Aquatrove Biosciences, Arbor Pharmaceuticals, Arc Medical Design, Arizona State University, Ascend Therapeutics, Asieris MediTech, ASKA Pharmaceuticals, Aspen Dental, Aspen Pharmacare Canada, ASPiRA Labs, AstraZeneca, Asuragen, Atlas Genetics, Auransa, Austrian Research Promotion Agency, Auxogyn, Avanti Specialty Pharmacy Management, Avion Pharmaceuticals, Avomeen, Axonics, Aytu BioPharma, Azanta, Back Bay Scientific, Barretos Cancer Hospital, Bavarian Nordic, Bayer, Bayer Animal Health, Bayer Healthcare, Bayer Schering Pharma, Bayer Yakuhin, Bayer Zydus Pharma, Baylor College of Medicine, Beckman Coulter, Beijing Genomics Institute (BGI), Berry Genomics, Besins Healthcare, Bill and Melinda Gates Foundation, BinnoPharm, Biocon, Biodar plus, BioElectronics, Biofourmis, BioGenini Medical, BioGen Medical, Biomnis, BioNano Genomics, Bioniche Life Sciences, BioPep, Biostar Pharmaceuticals, BioSyent Pharma, Biota Pharmaceuticals, Biotech Inc, BioVaxys, BL&H, Bloom Fertility, Bluebird Bio, BMG Pharmaceuticals, BMV Medica, Bolder Surgical, Boston Scientific, Boston University, Brigham and Women's Hospital, Bristol-Myers Squibb, Burdica Biomed, California Cryobank, California Institute for Biomedical Research, CAN-med Healthcare, Cancer Genetics, Cancer Prevention and Research Institute of Texas, Carmel Medical Center, CarrierGene Biotech, Cartagenia, Catalent, Ceek Women's Health, Celmatix, Cel Sci, Center for Human Genetics and Laboratory Medicine, Centre for Commercialization of Regenerative Medicine (CCRM), Centrix Pharmaceutical, Cervos Medical, CETI, CFR Pharmaceuticals, Chinese Academy of Sciences, Chugai Pharmaceutical, Chun Fo Pharmaceutical, Cicero Diagnostics, Cipla Medpro, Clarion Medical Technologies, ClearSpec, Clinigen, CNC Biotech, Co-Diagnostics, Cobra Biologics, Cocrystal Pharma, Cognizant, Coloplast, Colorado Center for Reproductive Medicine, Columbia Laboratories, Columbia University, CombiMatrix, CommonSense, Common Sense, Conceptions Reproductive Associates of Colorado, Conceptus, Consortia Health, Consort Medical, ConTipi, Control Flo Medical, Contura, Cook Medical, Cooper Companies, Cooper Surgical, Coriell Life Sciences, Creative Medical Technologies, CR Pharma, Cryo Management, CryoPort, CureHealth Diagnostics, CutisPharma, CVC Capital Partners, Cynosure, CytoCore, Cytyc, Dare Bioscience, Debiopharm, Delfran, Department of Defense, Dewpoint Therapeutics, Dexa Medica, DIAsource ImmunoAssays, Dilafor, Distal Access, Dr. Jennifer R. Berman, Dr. Reddy's Laboratories, Dr James Posillico, Duchesnay, Duke University, DySIS Medical, Easton Pharmaceuticals, Eaton Scientific Systems, Eczacibasi Pharmaceuticals, EffRx, Egalet, El.En, Elanix Biotechnologies, Elder Pharmaceuticals, Elswood Group, Embryo Options, EMD Serono, Emory University, EndoCeutics, Energizer Holdings, Enzo Biochem, Enzyvant Science, Ergomed, Esco Lifesciences, Especificos Stendhal, Ethicon Endo-Surgery, Etubics, Eurofins LifeCodexx, European Board and College of Obstetrics and Gynaecology, European Organization for Research and Treatment of Cancer, European Union Regional Development Fund, European Wellness Biomedical Group, Evestra, Evidation Health, Evidence Solution, Evotec, Evvy, EW Healthcare Partners, Excella, Exeltis, Expedeon, ExSeed, Famy Care, Fannin, Feinstein Institute for Medical Research, Femasys, Femina Pharma, FEMSelect, Ferring Pharmaceuticals, Fertility Focus, Fertility Partners, Fleet Laboratories, Flemish agency for Innovation by Science and Technology, Flo Health, Fogarty Institute for Innovation, Forendo Pharma, Foresee Pharmaceuticals, Forest Laboratories, Fougera Pharmaceuticals, Fresenius Kabi Pharmaceuticals, Fuisz Pharma, Fujifilm Irvine Scientific, Fuji Pharma, FusionVax, Galaxy Pharma, Galecto, GAVI Alliance, Gedeon Richter, GE Healthcare, Gen-Probe, Genea Biomedx, GeneCell, Generate Life Sciences, Generex Biotechnology, Gene Security Network, Genetiks, GenoLac, Genoma, Genome Medical, GenomeQuest, Genomic Prediction, Genticel, German Cancer Research Center, Gilead Sciences, Gland Pharma, GlaxoSmithKline, Glenveigh Medical, Global BioPharma, GOG Foundation, Golden Valley Development, Good Start Genetics, Government of Rwanda, Graceway Pharmaceuticals, Granata Bio, Grant for Fertility Innovation, Graystone Company, Grunenthal, GTx, Guangdong Prosper Channel Medicine Company, Guided Therapeutics, Gurnet Point Capital, Gynica, Halt Medical, Hamilton Thorne, Hammock Pharmaceuticals, Harvard Medical School, Healthcare Royalty Partners, Health Decisions, HealthNet, Helix, Helix BioPharma, Herapharm, HertART Aps, Highmark Health, Hologic, Hong Kong Polytechnic University, Hookipa Pharma, Hope Medicine, HRA Pharma, HTG Molecular Diagnostics, Huakang Biomedical, Hygis, Hyloris Pharmaceuticals, IASIS, IBSA Group, IDS, Igantia Therapeutics, iGenomix, Igyxos, Illumigyn, Illumina, IlmixGroup, Imaxio, IncellDx, Inception Fertility, Indegene Lifesystems, Indutrade, InnerOptic Technology, Innovative Health Diagnostics, Innovus Pharmaceuticals, Inovio Pharmaceuticals, Inserm Transfert, Insight Pharmaceuticals, Institute for Reproductive Medicine & Science, Intas Pharmaceuticals, IntegraMed America, Interlace Medical, Intrexon, Intuitive Surgical, Invaron Pharmaceuticals, Inverson Genetic Diagnostics, INVO Bioscience, IoGyn, Ipsen, IP Shakti, IsoRay, Isotechnika Pharma, ITEM Medical Technologies, Itero Biopharmaceuticals, Iverson Genetic Diagnostics, IviGen, Jackson Laboratory, Janssen Pharmaceuticals, Jazz Pharmaceuticals, Jiangsu Hengrui Medicine, Johns Hopkins University, Johnson & Johnson, Joint Venture Partner Group, Joylux, Julphar, Juniper Pharmaceuticals, KaNDy Therapeutics, Karolinska Institute, Karo Pharma, Kindstar Globalgene Technology, KingMed Diagnostics, KinoPharma, Kissei Pharmaceutical, Kite Pharma, Knight Therapeutics, Kohlberg Kravis Roberts (KKR), KV Pharmaceutical, Kyoto University, Labco, Laboratorios Casen Fleet, Laboratorios Rubio, Laboratory Corporation of America, Laborie Medical Technologies, Laccure, Lake Consumer Products, Lambell Ghana, Lee's Pharmaceutical, Lee Moffitt Cancer Center, Leica Microsystems, LFB Biotechnologies, LifeCodexx, LiNA Medical, LinKinVax, Lipocine, LUCA Science, Lumara Health, Lumir Lab, Lupin Pharmaceuticals, Lyfe Medical, Massachusetts General Hospital, Mayne Pharma, Mazaya Scientific Bureau, McGill University, McKesson, McNeil PPC, MD Anderson Cancer Center, MDNA Life Sciences, Meda, MEDCIS Pathlabs, Medesole Healthcare and Trading, Medesole INVO Bioscience, Medexa Diagnostisk Service, Medical University of South Carolina, Medical University South Carolina, MediCare International, Medicis Pharma, MediGene, MedikorPharma, MedImmune, Medinova, MediScan Systems, MediTemp, MedTech For Solutions, Medtronic, Mel-Mont Medical, Menarini, MenoGeniX, MenoLabs, Merck and Co, Merck KGaA, Merck Serono, Merus Labs International, Metro Medical Supply, MetroWest Free Medical Program, MicroGenDX, Microsulis Medical, Mikrogen, MilanaPharm, Millendo Therapeutics, Millicent Pharma, Milu Labs, Minerva Surgical, Ming-Mei Technology, Ministry of Health (Turkey), Mission Pharmacal, Mithra Pharmaceuticals, Mitovie, Mitsubishi Tanabe Pharma, Moberg Pharma, Mommy Docs, Morphic Therapeutic, MSD, Multipak, MultiPlan, Multiplicom, Mundipharma, MyBiotics Pharma, Mycovia Pharmaceuticals, Mylan Laboratories, Myovant Sciences, Myrtle Potter & Company, Naari Pharma, Naka International, Natera, National Health and Medical Research Council, National Human Genome Research Institute, National Institute for Public Health and the Environment, National Institute of Allergy and Infectious Diseases, National Institute of Child Health and Human Development, National Institute of Dental and Craniofacial Research (NIDCR), National Institute on Aging, National Institutes of Health, Nautilus Neurosciences, Naval Medical Research Center, Neoteric Technology, Neurocrine Biosciences, NextGen LifeLabs, NGAGE, Nobelpharma, Norgenix Pharmaceuticals, Norgine, Northern Reproductive Therapies, Northwestern University, Novan, Novartis, Novation, Noven Pharmaceuticals, Novogene, Novogyne Pharmaceuticals, NuProbe, NutraGyst, NX Prenatal, OBP Medical, ObsEva, Okamoto Industries, Olympus, Omega Bittner, Omega Pharma, OmniVision Technologies, OncoNano Medicine, OncoSec Medical, Oncotest, One Drop, Onesky, Opmedic Group, Oral Cancer Foundation, Organon, Osel, Osivax, Osteolabs, OvaGene Oncology, OvaScience, Ovation, OvaXon, Oviva Therapeutics, Ovoclinic, OvuSense, Oxford MEstar, Oxford Nanopore Technologies, Pais Vasco University, ParentPlus, Pathology, Patient-Centered Primary Care Collaborative (PCPCC), PaxGenBio, PCOS Challenge, PCOS Diva, PDS Biotechnology, Peking University, Pelvalon, Pelvic Floor Disorders Network, Pennsylvania State University, Peramare Pharmaceuticals, Perinatal Quality Foundation, PerkinElmer, Perrigo, Pfizer, PharmaJet, PharmAkea Therapeutics, Pharmanest, Pharma Solutions Peru, Phase Genomics, Philips Healthcare, Philochem, Phosphorus Genomics, Photocure ASA, Pierre Fabre, Pinnacle Fertility, PLC Systems, PolarisQB, Polichem, Pooyesh Darou, PPD, Prasco Laboratories, Predictive Technology Group, PregLem, Premier Healthcare Alliance, Pristine Solutions, Procare Health, ProStrakan, Protagen, Provista Diagnostics, Psyche Systems, Purna Pharmaceuticals, Qiagen, QPharma, QuatRx Pharmaceuticals, Quest Diagnostics, Radius Health, Rebiotix, Recipharm, Recordati, RedHill Biopharma, Red Medyci, Reproductive Health Science, Reprogenetics, ReproMed, Research Institute at Nationwide Children's Hospital, Research Instruments, rEVO Biologics, Richard Wolf Medical Instruments, Roche, Roche Molecular Systems, Roivant Sciences, Romark Laboratories, Rosetta Genomics, RoxSan Pharmacy, Royal Philips Electronics, Sagard Capital Partners, San Martino Hospital, Sanofi, Sanofi-Pasteur, Sasmar, Scholar Rock, Scottish Government, Selecta Biosciences, Selexis, Sema4, Sequenom, Shandong Yaohua Medical Instrument, Sharp Corporation, Shenghuo Medical, Shionogi, Shire Pharmaceuticals, Sidroc Services, Siemens Healthcare, Sigma-Aldrich, Sims IVF, Sincopharm, Sinopharm, Sirio Pharma, Sirnaomics, Skive Hospital, Skolkovo Foundation, Smith & Nephew, Smiths Medical, Society For Reproductive Investigation, Society of Gynecologic Oncology, SRI International, SRS Medical, Stanford University, Starpharma, Statens Serum Institute, StemCyte, St George Street Capital, Strainprint Technologies, Strand Life Sciences, Sumitomo Dainippon Pharma, Sumitovant Biopharma, Sunovion Pharmaceuticals, Sun Pharmaceutical, Surgicorp, Syn-The-All Pharmaceutical, SynCore Biotechnology, Syneos Health, SynteractHCR, Systems Oncology, Takeda Pharmaceutical, Tasnim Behboud Arman, Tec-Pharma, Telenatal, Tel Hashomer, Tesaro, Tessa Therapeutics, Teva Pharmaceutical Industries, Teva Pharmaceuticals USA, Texas A&M University, The Peoples Liberation Army General Hospital, Theramed, Theramex, TherapeuticsMD, Thermedx, Thermo Fisher Scientific, Titan Medical, TMRW Life Sciences, Tocopherx, Toronto Institute For Reproductive Medicine, Torrent Pharmaceuticals, Transgene, Trimel Pharmaceuticals, Triton, Trivector Biomed, Trophogen, TrovaGene, twoXAR, Unified Women's Clinical Research, United Nations Children Fund, Universite Laval, University College Dublin Conway Institute, University Magna Graecia, University Medical Center Utrecht, University of Amsterdam, University of Antwerp, University of California San Francisco, University of Hong Kong, University of Illinois, University of Leuven, University of Michigan, University of Minnesota, University of North Carolina, University of Oxford, University of Pennsylvania, University of Quebec, University of Queensland, University of Sherbrooke, University of Siena, University of Southampton, University of South Florida, Univfy, Upsher-Smith, Urovant Sciences, US Government, Uteron Pharma, UVision360, Vaccibody, Valeant Pharmaceuticals, Valencia Infertility Institute, Valeo Pharma, Vanderbilt University, Vastrata, Veritas, Vertical Pharmaceuticals, Vifor Pharma, Vinnova, Viramal, VirtaMed, Virtus Health, Viteava Pharmaceuticals, Vitro Biopharma, Vitrolife, Vivere Health, Viveve Medical, VolitionRX, Watson Laboratories, Watson Pharmaceuticals, Wayne State University, Wellmed, Will-Pharma, Windsor Pharmaceuticals, WinFertility, Wisconsin Fertility Institute, Womens Choice Pharmaceuticals, Woom, World Bank, World Health Organization, Wuxi Apptec Laboratory Services, Xbrane Bioscience, Xijing Hospital, Xisle Pharma Ventures Trust, Xvivo Perfusion, ZenTech, Zhengzhou University, Zoetis, Zydus Cadila, Zydus Pharmaceuticals
Current Partnering reports provide insight into the trends and terms of partnering deals in the global life sciences sector.
Current Partnering reports are updated every six months to ensure the user has access to the latest announcements and trends in the topic focus of the report.
Current Partnering analysts review the deal data to provide an overview and analysis of deal trends, including example deals and terms.
Current Partnering reports source deal data from our proprietary deals and alliances database, Current Agreements. The database is updated daily by our analysts with new deals as they are announced globally by the company's party to the deal. In addition, deal records are updated with new data as it becomes available.
The data in the Current Agreements deals and alliances database is obtained from secondary sources such as publicly available industry sources including press releases, company presentations, investor presentations, company SEC filings, other company filings, company websites, conference presentations. Sources are identified to allow for user verification.
Current Partnering provides comprehensive coverage of the following partnering or deal types:
• Asset purchase
• Assignment
• Co-development
• Co-market
• Co-promotion
• Collaborative R&D
• Contract service
• CRADA
• Cross-licensing
• Development
• Distribution
• Equity purchase
• Evaluation
• Grant
• Joint venture
• Licensing
• Loan
• Manufacturing
• Marketing
• Option
• Promotion
• Research
• Royalty financing
• Settlement
• Spin out
• Sub license
• Supply
• Termination
• Warrant
Every deal record is fully categorized and includes the following data, where available:
• Industry sector
• Therapy areas
• Technology type
• Deal components
• Financial terms
• Stage of development
• Exclusivity
• Asset type
• Geographic focus
• Excluded geography
• Company press release
• SEC filing data including contract document
All financial amounts are converted to US$ using the exchange rate available on the date of deal announcement, enabling direct comparison of deal terms across international territories.
Financial data and contract documents displayed in deal records is obtained from public sources, where disclosed by the parties to the deal.