Global Gastrointestinal Partnering 2016-2023: Deal trends, players and financials
The Global Gastrointestinal Partnering 2016-2023: Deal trends, players and financials report provides comprehensive understanding and unprecedented access to the gastrointestinal partnering deals and agreements entered into by the worlds leading healthcare companies.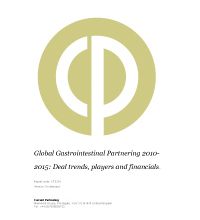 Publication date
April 2023
Product type
Research report
Available formats
PDF document
Global Gastrointestinal Partnering 2016 to 2023 provides the full collection of gastrointestinal disease deals signed between the world's pharmaceutical and biotechnology companies since 2016.
Trends in gastrointestinal partnering deals
Financial deal terms for headline, upfront and royalty by stage of development
Gastrointestinal partnering agreement structure
Gastrointestinal partnering contract documents
Top gastrointestinal deals by value
Most active gastrointestinal dealmakers
Most of the deals included within the report occur when a licensee obtains a right or an option right to license a licensor's product or technology. More often these days these deals tend to be multi-component including both a collaborative R&D and a commercialization of outcomes element.
The report takes readers through the comprehensive gastrointestinal disease deal trends, key players and top deal values allowing the understanding of how, why and under what terms companies are currently entering gastrointestinal deals.
The report presents financial deal terms values for gastrointestinal deals, where available listing by overall headline values, upfront payments, milestones and royalties enabling readers to analyse and benchmark the value of current deals.
The initial chapters of this report provide an orientation of gastrointestinal dealmaking trends.
Chapter 1 provides an introduction to the report.
Chapter 2 provides an overview of the trends in gastrointestinal dealmaking since 2016 covering trends by year, deal type, stage of development, technology type and therapeutic indication.
Chapter 3 includes an analysis of financial deal terms covering headline value, upfront payment, milestone payments and royalty rates.
Chapter 4 provides a review of the leading gastrointestinal deals since 2016. Deals are listed by headline value. The chapter includes the top 25 most active Gastrointestinal dealmakers, together with a full listing of deals to which they are a party. Where the deal has an agreement contract published at the SEC a link provides online access to the contract.
Chapter 5 provides comprehensive access to gastrointestinal deals since 2016 where a deal contract is available, providing the user with direct access to contracts as filed with the SEC regulatory authorities. Each deal title links via Weblink to an online version of the deal record contract document, providing easy access to each contract document on demand.
Chapter 6 provides a comprehensive directory of all gastrointestinal partnering deals by specific gastrointestinal target announced since 2016. The chapter is organized by specific gastrointestinal therapeutic target. Each deal title links via Weblink to an online version of the deal record and where available, the contract document, providing easy access to each contract document on demand.
In addition, a comprehensive appendix is provided with each report of all gastrointestinal partnering deals signed and announced since 2016. The appendices are organized by company A-Z, stage of development at signing, deal type (collaborative R&D, co-promotion, licensing etc) and technology type. Each deal title links via Weblink to an online version of the deal record and where available, the contract document, providing easy access to each contract document on demand.
The report also includes numerous tables and figures that illustrate the trends and activities in gastrointestinal partnering and dealmaking since 2016.
In conclusion, this report provides everything a prospective dealmaker needs to know about partnering in the research, development and commercialization of gastrointestinal technologies and products.
Report scope
Global Gastrointestinal Partnering 2016 to 2023 is intended to provide the reader with an in-depth understanding and access to gastrointestinal trends and structure of deals entered into by leading companies worldwide.
Global Gastrointestinal Partnering 2016 to 2023 includes:
Trends in gastrointestinal dealmaking in the biopharma industry since 2016
Access to headline, upfront, milestone and royalty data
Access to hundreds of gastrointestinal deal contract documents
Comprehensive access to gastrointestinal deal records, together with contract documents if available
The leading gastrointestinal deals by value since 2016
Most active gastrointestinal dealmakers since 2016
The report includes deals for the following indications: Appendicitis, Celiac disease, Esophageal reflux, Esophagitis, Gastritis, Gastroenteritis, Hemorrhoids (haemorrhoids), Hernia, Inflammatory bowel disease, Crohn's disease, Ulcerative colitis, Irritable bowel syndrome, Malabsorption, Malnutrition, Pancreatitis, Peptic ulce, Gastric ulcer, Duodenal ulcer, Abdominal pain, Ascites, Bowel movement, Constipation, Diarrhea, Jaundice, Vomitting, plus other gastrointestinal indications.
In Global Gastrointestinal Partnering 2016 to 2023, available deals and contracts are listed by:
Headline value
Upfront payment value
Royalty rate value
Stage of development at signing
Deal component type
Technology type
Specific therapy indication
Each deal title links via Weblink to an online version of the deal record and where available, the contract document, providing easy access to each contract document on demand.
The Global Gastrointestinal Partnering 2016-2023 report provides comprehensive access to available deals and contract documents for gastrointestinal deals. Analyzing actual contract agreements allows assessment of the following:
What are the precise rights granted or optioned?
What is actually granted by the agreement to the partner company?
What exclusivity is granted?
What is the payment structure for the deal?
How are the sales and payments audited?
What is the deal term?
How are the key terms of the agreement defined?
How are IPRs handled and owned?
Who is responsible for commercialization?
Who is responsible for development, supply, and manufacture?
How is confidentiality and publication managed?
How are disputes to be resolved?
Under what conditions can the deal be terminated?
What happens when there is a change of ownership?
What sublicensing and subcontracting provisions have been agreed?
Which boilerplate clauses does the company insist upon?
Which boilerplate clauses appear to differ from partner to partner or deal type to deal type?
Which jurisdiction does the company insist upon for agreement law?
Global Gastrointestinal Partnering 2016 to 2023 provides the reader with the following key benefits:
In-depth understanding of gastrointestinal deal trends since 2016
Access gastrointestinal deal headline, upfront, milestone and royalty data
Research hundreds of actual contracts between gastrointestinal partner companies
Comprehensive access to links to actual gastrointestinal deals entered into by the world's biopharma companies, together with contract documents if available
Indepth review of gastrointestinal deals entered into by the top 25 most active dealmakers
Benchmark the key deal terms companies have agreed in previous deals
Identify key terms under which companies partner gastrointestinal opportunities
Uncover companies actively partnering gastrointestinal opportunities
Executive Summary
Chapter 1 – Introduction
Chapter 2 – Trends in gastrointestinal dealmaking
2.1. Introduction
2.2. Gastrointestinal partnering over the years
2.3. Gastrointestinal partnering by deal type
2.4. Gastrointestinal partnering by industry sector
2.5. Gastrointestinal partnering by stage of development
2.6. Gastrointestinal partnering by technology type
2.7. Gastrointestinal partnering by therapeutic indication
Chapter 3 –Financial deal terms for gastrointestinal partnering
3.1. Introduction
3.2. Disclosed financials terms for gastrointestinal partnering
3.3. Gastrointestinal partnering headline values
3.4. Gastrointestinal deal upfront payments
3.5. Gastrointestinal deal milestone payments
3.6. Gastrointestinal royalty rates
Chapter 4 – Leading gastrointestinal deals and dealmakers
4.1. Introduction
4.2. Most active in gastrointestinal partnering
4.3. List of most active dealmakers in gastrointestinal
4.4. Top gastrointestinal deals by value
Chapter 5 – Gastrointestinal contract document directory
5.1. Introduction
5.2. Gastrointestinal partnering deals where contract document available
Chapter 6 – Gastrointestinal dealmaking by therapeutic target
6.1. Introduction
6.2. Deals by gastrointestinal therapeutic target
Appendices
Appendix 1 – Directory of gastrointestinal deals by company A-Z since 2016
Appendix 2 – Directory of gastrointestinal deals by deal type since 2016
Appendix 3 – Directory of gastrointestinal deals by stage of development since 2016
Appendix 4 – Directory of gastrointestinal deals by technology type since 2016
Further reading on dealmaking
Deal type definitions
About Wildwood Ventures
Current Partnering
Current Agreements
Recent report titles from CurrentPartnering
Table of figures
Figure 1: Gastrointestinal partnering since 2016
Figure 2: Gastrointestinal partnering by deal type since 2016
Figure 3: Gastrointestinal partnering by industry sector since 2016
Figure 4: Gastrointestinal partnering by stage of development since 2016
Figure 5: Gastrointestinal partnering by technology type since 2016
Figure 6: Gastrointestinal partnering by indication since 2016
Figure 7: Gastrointestinal deals with a headline value
Figure 8: Gastrointestinal deals with upfront payment values
Figure 9: Gastrointestinal deals with milestone payment
Figure 10: Gastrointestinal deals with royalty rates
Figure 11: Active gastrointestinal dealmaking activity since 2016
Figure 12: Top gastrointestinal deals by value since 2016
Pricing options
$3,995: single-user
$5,745: multi-user
$10,995: single site license
$17,995: global site license
A full explanation of license type definitions can be found here.
Our guarantee
Price promise
We guarantee our prices are competitive. If you find the same report advertised at a lower price within 7 days of purchase, we will refund the difference.
Delivery Deadline
We guarantee that the report will be sent within the specified delivery times. In the unlikely case of a delay we may offer a partial refund as compensation. (Terms may apply)
Latest report
If an update is published within 30 days of your purchase, you will receive it absolutely free of charge.
Serious Security
We take your data and security seriously. See our privacy policy for details of how we manage your data.
All card payments are processed by SagePay.
Sales Support
If you have any questions about your report or are unhappy with the quality, we will do our best to resolve your query. Contact us direct.
Total Trust
Current Partnering is part of Wildwood Ventures Ltd., based in York, United Kingdom. We have been trading successfully online since 2009 and work with some of the most famous brands in the business. We carefully select our partners to ensure that the publications meet expectations of demanding customers.
4D Pharma, 4SC, 9 Meters Biopharma, AA Medical, AB Analitica, Abbvie, Ab E Discovery, Adacyte Therapeutics, AdaptivEndo, AdaptVac, ADL Bionatur Solutions, Advanced Medical German Company of Kuwait, Aerpio Pharmaceuticals, Aevi Genomic Medicine, Aexis Medical, AgomAb Therapeutics, AIG Hospitals, Akebia Therapeutics, Akkadeas Pharma, Alab, Alba Therapeutics, Albireo, Alfasigma, Alimentiv, Alivio Therapeutics, Allergan, Alma Bio Therapeutics, Almirall, Alnylam Pharmaceuticals, Altos Group, Alvine Pharmaceuticals, Alvit LCS Pharma, Alvotech, Amarex Clinical Research, Ambry Genetics, Ambu, Amgen, Amneal Pharmaceuticals, Angelini Pharma, AnimalBiome, ANI Pharmaceuticals, Anokion, Antibe Therapeutics, AnX Robotica, Apotex, Applied BioMath, Arcadia Consumer Healthcare, Arc Medical Design, Ardelyx, Arena Pharmaceuticals, Ariel Precision Medicine, Aries Pharmaceuticals, Aristea Therapeutics, Artizan Biosciences, Asahi Kasei, AscentX Medical, Aslan Pharma, Assembly Biosciences, Associazione Poic e Dintorni APS, Astellas Pharma, AstraZeneca, Asymchem Laboratories, Ateria Health, Athos Therapeutics, Atlantic Healthcare, Auggi, Aurobindo Pharma, Australasian Gastro Intestinal Research Foundation, Azelis, Aziyo Biologics, AzurRx BioPharma, Back-A-Line, Bausch Health Companies, Baxalta, Baxter International, Bayer Healthcare, Bazelet, B Braun, BDD Pharma, Beacon Discovery, Becton Dickinson, Beijing Podconley Pharmaceutical Technology and Development, BenevolentAI, Best Choice, BHR Pharma, Bill and Melinda Gates Foundation, BinnoPharm, BIO-CAT Microbials, Bio-Me, Bio-Rad Laboratories, Bio-Thera Solutions, BioClinica, Biocodex Microbiota Foundation, BioDelivery Sciences, Biofortis, Biogen, BIOgenetiX, Biohaven Pharmaceuticals, BiomeBank, Biomedical Advanced Research and Development Authority, Biomedica Medizinprodukte, BioMed X Innovation Center, Biomerica, Biomica, BiomX, Bioportugal Quimica Farmaceutica, BioRap Technologies, Biostage, BioSurfaces, Boditech Med, Boehringer Ingelheim, Boston Pharmaceuticals, Braintree Laboratories, Bridge Biotherapeutics, Brigham and Women's Hospital, Bristol-Myers Squibb, C4X Discovery, California Institute of Technology, Calypso Biotech, Camargo Pharmaceutical Services, Cambridge Clinical Laboratories, CannaKids, Cannex Scientific, Cantel Medical, CapsoVision, Capsulomics, Captor Therapeutics, Cara Care, Carbiotix, Case Western Reserve University, Casper Pharma, Catalent, CB2 Therapeutics, CDx Diagnostics, Cedars-Sinai Medical Center, Celgene, Celiac Disease Foundation, Celltrion, Celsius Therapeutics, Censis Technologies, Cerevance, Cernostics, Certara, Certified Endoscopy, Charles River Laboratories, Cheplapharm Arzneimittel, Children's Hospital of Philadelphia, Chinese University of Hong Kong, CHU Sainte-Justine, Cipher Pharmaceuticals, Cipla, CIRCA Scientific, Clarius Mobile Health, Cleveland Clinic, Clinical Enterprise, Clinigen, CN Bio, Codexis, Coherus Biosciences, Collplant, Concordia Pharmaceuticals, ConvaTec, Cook Biotech, Cook Medical, Cornell University, Cosmo Pharmaceuticals, COUR Pharmaceutical, C R Bard, Creapharm, CRH Medical, Crohn's and Colitis Foundation of America, CRS Bio, Curant Health, CURE Pharmaceutical, Cyclerion Therapeutics, Cytocom, CytoReason, Daewoong Pharmaceutical, Daiichi Sankyo, Dalriada Drug Discovery, Danish Innovation Fund, Debiopharm, Deciphex, Delphi Genetics, Department of Defense, Dermira, Diagnostic International Distribution, Diversigen, Dong-A ST, Dornier MedTech, Dr. Falk Pharma, Dr. Reddy's Laboratories, Duke Clinical Research Institute (DCRI), EA Pharma, Eclipse Regenesis, ECM Therapeutics, Edenbridge Pharmaceuticals, Eisai, Elanco, Eli Lilly, Endo-Therapeutics, EndoClot Plus, EndoLogic, Endoluxe, enGene, Engitix, Entera Health, Enterome Bioscience, Entrinsic Health Solutions, Equillium, Erbe Elektromedizin, EsoCap, EtectRx, Ethicon Endo-Surgery, Eunice Kennedy Shriver Institute of Child Health and Human Development, European Union, Eversana, EvoEndo, Evoke Pharma, Evolve BioSystems, Evommune, Evonik Industries, Evotec, Ewopharma, Exalenz Bioscience, Faes Farma, Felix Biotechnology, Ferring Pharmaceuticals, Finch Therapeutics, First Wave Bio, Food and Drug Administration (FDA), Food Marble Digestive Health, Fosun Pharmaceutical, Foundation for Celiac Disease Outcome Measures, Frazier Healthcare Ventures, French National Institute for Agricultural Research, Fresenius Kabi Pharmaceuticals, FSD Pharma, Fujifilm, Fujifilm Kyowa Kirin Biologics, Functional Gut Diagnostics, Galapagos, Gastrologix, Gemelli Biotech, Genentech, General Automation Lab Technologies, Genetic Analysis, Genomic Biopharma, Genten Therapeutics, GentiBio, Georgia State University, Giiant Pharma, Gilead Sciences, Ginkgo BioWorks, GI OnDEMAND, GI Partners of Illinois, GI Reviewers, GI Supply, GlaxoSmithKline, Gossamer Bio, Great Belief International, Grunenthal, Grupo Ferrer, Gurnet Point Capital, Hadasit Bioholdings, Haisco Pharmaceutical, Harvest Capital Strategies, Hawaii Medical, Healthcare Royalty Partners, HekaBio, Helsinn Healthcare, Helsinn Therapeutics, Henry Schein, HiFiBio, Highland Therapeutics, HK inno.N, Hollister-Stier Labs, Holobiome, Horizon Europe, Hoth Therapeutics, Hudson Institute of Medical Research, Humabs BioMed, I-mab, Idera Pharmaceuticals, Illumina, ImaCor, IMIDomics, Immune Pharmaceuticals, Immune Therapeutics, ImmuNext, Immunic, ImmunogenX, Immunostics, Immuron, Impax Laboratories, Imperial College London, Indegene Lifesystems, InDex Pharmaceuticals, Indiana Biosciences Research Institute, Innocoll, INNOVAMEDICA, Innovate Biopharmaceuticals, Innovate UK, Innovation Pharmaceuticals, Innovet, Inotrem, InQpharm, Institut Gustave Roussy, Instituto de Ciencias Farmaceuticas, Intas Pharmaceuticals, International Centre for Diarrhoeal Disease Research, Interscope, Intract Pharma, Intrexon, IntroMedic, InveniAI, Ionis Pharmaceuticals, Ipsen, IQVIA, Ironwood Pharmaceuticals, ISOThrive, Iterative Health, Iterative Scopes, Jaguar Health, Janssen Biotech, Janssen Pharmaceuticals, Janssen Pharmaceutica NV, Janssen Research & Development, Janssen Sciences, Jiangsu Carephar Pharmaceutical, Jitsubo, Johns Hopkins University, Johnson & Johnson Consumer Companies, Johnson & Johnson Innovation, JSR, Juntendo University, Juventas Therapeutics, Kallyope, Kansas University Medical Center (KUMC), Karl Storz, Karolinska Institute, Karo Pharma, Keio Gijuku University, Kenneth Rainin Foundation (KRF), Kerry, Kings College London, Knight Therapeutics, Koligo Therapeutics, Korea Pharma, Kwang Dong Pharmaceutical, Kyowa Hakko Kirin, Laboratories Acbel, Laborie Medical Technologies, Lahey Hospital & Medical Center, Lamassu Pharma, Landos Biopharma, Launchit Ventures, Leading BioSciences, Leona M and Harry B Helmsley Charitable Trust, LEO Pharma, Les Laboratoires Servier, LianBio, Limaca Medical, LiveLeaf, LMU University Hospital Munich, LNC, Lucid Diagnostics, Luminex, Mabwell Bioscience, Magellan Health Services, Mannheim Pharma & Diagnostics, Marinomed Biotechnologie, Massachusetts General Hospital, Massachusetts Institute of Technology, Mauna Kea Technologies, Maxer, Mayo Clinic, McMaster University, Medgenics, MediBeacon, Medical University of Graz, Medical University of Vienna, Medigus, MedImmune, Medline Industries, Meiji Seika, Memorial Hermann Health System, Meridian Bioscience, Merit Medical Systems, Mesoblast, Metabiomics, Metabolon, Metacrine, MetaMe Health, Micro-Tech Endoscopy, Microba Life Sciences, Microbiotica, Millennium, Mimetas, Mission Cure, MiTest Health, Mitsubishi Tanabe Pharma, Mobidiag, Molteni Farmaceutici, Momenta Pharmaceuticals, Monash University, Morphic Therapeutic, MorphoSys, Mor Research Applications, Motus GI Medical Technologies, Motus Therapeutics, MSN Pharmaceuticals, MultiPlan, Mundipharma, MyBiotics Pharma, Mylan Laboratories, Mylan Pharmaceuticals, Nanjing Micro-Tech, Napo EU, Napo Pharmaceuticals, National Heart, Lung and Blood Institute, National Institute of Allergy and Infectious Diseases, National Institute of Diabetes and Digestive and Kidney Diseases, National Institutes of Health, Nektar Therapeutics, Neoteryx, Nestle Health Science, Neurogastrx, Newsoara Biopharma, Nexus Medical, Nima, Ninepoint Medical, Norgine, Northeastern University, Northwestern University, North Zealand University Hospital, Novartis, Novartis Institute for Tropical Diseases, Noventure, Novome Biotechnologies, NuBiyota, NuMedii, Numerate, Nutriband, Nutricion, NYU Langone Medical Center, Olympus, Olympus Medical Systems, OmniVision Technologies, Onegevity, One GI, Ono Pharmaceutical, Orgenesis, OSE Immunotherapeutics, Otsuka America Pharmaceutical, Owlstone Medical, Palisade Bio, Palobiofarma, Panaxia, Paragon Bioservices, ParaPRO, Parexel, Parexel Biotech, Parvus Therapeutics, Path BioAnalytics, Patheon, PAVmed, PEAR Therapeutics, Pendopharm, Penn State Microbiome Center, Pentax, PerkinElmer, Perrigo, Pfizer, PharmaCare Management, PharmaSwiss, Phathom Pharmaceuticals, Pierre Fabre, PlantEXT, Pliant Therapeutics, Portal Instruments, PPD, Prana Biotechnology, PredictImmune, Premier Inc, Prescient Medical, PRISM BioLab, Probi, ProciseDx, Progenity, Progressive Medical International, Progressive Spinal Technologies, Prometheus Biosciences, Prometheus Laboratories, Protagonist Therapeutics, Provention Bio, Purdue Pharma, PureTech Health, Purnovate, PvP Biologics, Quadri Pharmaceuticals, Qualicaps, Qu Biologics, Quest Products, Quotient Clinical, Rafa Pharmaceuticals, Ramot at Tel Aviv University, Rani Therapeutics, RDD Pharma, Rebiotix, Reckitt Benckiser, Recordati, RedHill Biopharma, Regentys, Renexxion, ReproCell, Ritter Pharmaceuticals, Roche, Roivant Sciences, Romark Laboratories, Royalty Pharma, Salix Pharmaceuticals, Samsung Bioepis, Sandoz, Sanofi, Sano Genetics, Saphena Medical, Satisfai Health, SciCann Therapeutics, Scipher Medicine, Sebela Pharmaceuticals, Second Genome, Seed Health, Seed Mena, Selexis, Sentia Medical Sciences, Seres Therapeutics, Shandong Luoxin Pharma, Sheba Medical Center, Shionogi, Shire Pharmaceuticals, Signet Healthcare Partneers, Signum Surgical, Simulations Plus, Sinovant Sciences, Sloan Pharma, Smart Medical Systems, Soligenix, SomaLogic, SonarMD, Sosei, Sosei Heptares, Specialty Networks, Spectramed, SpectraScience, SPI Pharma, Starton Therapeutics, Statera Biopharma, Stella Diagnostics, Steris Corporation, Stratis Medical, Structural Genomics Consortium, Summit Pharmaceuticals / Alliance Labs, Sun Genomics, Suono Bio, Sutter Health, Swedish Orphan Biovitrum, Swiss Integrative Center for Human Health, Swixx Biopharma, Symbiotix Biotherapies, Synergy Pharmaceuticals, Synlogic, Synthetic Biologics, SynWorld Technologies, Taewoong Medical, Takeda Pharmaceutical, Tantu Therapeutics, TARGET PharmaSolutions, Telcon RF Pharmaceuticals, Tetra Bio-Pharma, Teva Pharmaceutical Industries, Texas A&M Health Science Center, The Crohn's and Colitis Foundation of Canada, Theradiag, Theranostica, Theravance, Theravance Biopharma, The Vancouver Island Health Authority, Thorne Research, TiGenix, Tillotts Pharma, Tissium, Tiziana Life Sciences, Torax Medical, TransEnterix, Twist Bioscience, UCB, Unilever, UniQuest, United Digestive, Universite catholique de Louvain, University Gastroenterology, University of Adelaide, University of Augsburg, University of Bath, University of Birmingham, University of British Columbia, University of Calgary, University of California, San Diego, University of California Los Angeles, University of California San Francisco, University of Manitoba, University of Massachusetts, University of North Carolina, University of Oslo, University of Oxford, University of Pennsylvania, University of Pittsburgh, University of Sherbrooke, University of Tokyo, University of Washington, University of Windsor, Upadia, Utrecht University, Valbiotis, Vcell Healthcare, V ClinBio, VectivBio, Vedanta Biosciences, Verily, Vertex Pharmaceuticals, Via Surgical, Vinnova, VIPUN Medical, Virginia Catalyst, Virgo Surgical Video Solutions, Virios Therapeutics, Vital Food Processors, Vital Therapies, Vivante Health, Vivelix Pharmaceuticals, Vizient, Washington University in St Louis, WELL Health, Wision AI, Wockhardt, WuXi Biologics, Xbiome, Xoma, Yale University, Zealand Pharma, Zedira
Current Partnering reports provide insight into the trends and terms of partnering deals in the global life sciences sector.
Current Partnering reports are updated every six months to ensure the user has access to the latest announcements and trends in the topic focus of the report.
Current Partnering analysts review the deal data to provide an overview and analysis of deal trends, including example deals and terms.
Current Partnering reports source deal data from our proprietary deals and alliances database, Current Agreements. The database is updated daily by our analysts with new deals as they are announced globally by the company's party to the deal. In addition, deal records are updated with new data as it becomes available.
The data in the Current Agreements deals and alliances database is obtained from secondary sources such as publicly available industry sources including press releases, company presentations, investor presentations, company SEC filings, other company filings, company websites, conference presentations. Sources are identified to allow for user verification.
Current Partnering provides comprehensive coverage of the following partnering or deal types:
• Asset purchase
• Assignment
• Co-development
• Co-market
• Co-promotion
• Collaborative R&D
• Contract service
• CRADA
• Cross-licensing
• Development
• Distribution
• Equity purchase
• Evaluation
• Grant
• Joint venture
• Licensing
• Loan
• Manufacturing
• Marketing
• Option
• Promotion
• Research
• Royalty financing
• Settlement
• Spin out
• Sub license
• Supply
• Termination
• Warrant
Every deal record is fully categorized and includes the following data, where available:
• Industry sector
• Therapy areas
• Technology type
• Deal components
• Financial terms
• Stage of development
• Exclusivity
• Asset type
• Geographic focus
• Excluded geography
• Company press release
• SEC filing data including contract document
All financial amounts are converted to US$ using the exchange rate available on the date of deal announcement, enabling direct comparison of deal terms across international territories.
Financial data and contract documents displayed in deal records is obtained from public sources, where disclosed by the parties to the deal.