Global Dermatology Partnering 2014-2021: Deal trends, players and financials
The Global Dermatology Partnering 2014-2021 report provides comprehensive understanding and unprecedented access to the dermatology partnering deals and agreements entered into by the worlds leading healthcare companies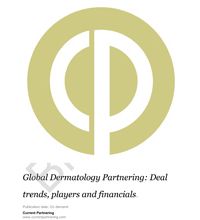 Publication date
April 2021
Product type
Therapy profile
Available formats
PDF document
The Global Dermatology Partnering 2014-2021: Deal trends, players and financials report provides an understanding and access to the dermatology partnering deals and agreements entered into by the worlds leading healthcare companies.
Trends in Dermatology partnering deals
Financial deal terms for headline, upfront and royalty by stage of development
Dermatology partnering agreement structure
Dermatology partnering contract documents
Top Dermatology deals by value
Most active Dermatology dealmakers
Most of the deals included within the report occur when a licensee obtains a right or an option right to license a licensor's product or technology. More often these days these deals tend to be multi-component including both a collaborative R&D and a commercialization of outcomes element.
The report takes readers through the comprehensive dermatology disease deal trends, key players and top deal values allowing the understanding of how, why and under what terms companies are currently entering Dermatology deals.
The report presents financial deal terms values for Dermatology deals, where available listing by overall headline values, upfront payments, milestones and royalties enabling readers to analyse and benchmark the value of current deals.
The initial chapters of this report provide an orientation of dermatology dealmaking trends.
Chapter 1 provides an introduction to the report.
Chapter 2 provides an overview of the trends in dermatology dealmaking since 2014 covering trends by year, deal type, stage of development, technology type and therapeutic indication.
Chapter 3 includes an analysis of financial deal terms covering headline value, upfront payment, milestone payments and royalty rates.
Chapter 4 provides a review of the leading dermatology deals since 2014. Deals are listed by headline value. The chapter includes the top 25 most active dermatology dealmakers, together with a full listing of deals to which they are a party. Where the deal has an agreement contract published at the SEC a link provides online access to the contract.
Chapter 5 provides comprehensive access to dermatology deals since 2014 where a deal contract is available, providing the user with direct access to contracts as filed with the SEC regulatory authorities. Each deal title links via Weblink to an online version of the deal record contract document, providing easy access to each contract document on demand.
Chapter 6 provides a comprehensive directory of all dermatology partnering deals by specific dermatology target announced since 2014. The chapter is organized by specific dermatology therapeutic target. Each deal title links via Weblink to an online version of the deal record and where available, the contract document, providing easy access to each contract document on demand.
In addition, a comprehensive appendix is provided with each report of all dermatology partnering deals signed and announced since 2014. The appendices are organized by company A-Z, stage of development at signing, deal type (collaborative R&D, co-promotion, licensing etc) and technology type. Each deal title links via Weblink to an online version of the deal record and where available, the contract document, providing easy access to each contract document on demand.
The report also includes numerous tables and figures that illustrate the trends and activities in dermatology partnering and dealmaking since 2014.
In conclusion, this report provides everything a prospective dealmaker needs to know about partnering in the research, development and commercialization of dermatology technologies and products.
Contract documents provide the answers to numerous questions about a prospective partner's flexibility on a wide range of important issues, many of which will have a significant impact on each party's ability to derive value from the deal.
Report scope
Global Dermatology Partnering 2014-2021 is intended to provide the reader with an in-depth understanding and access to dermatology trends and structure of deals entered into by leading companies worldwide.
Global Dermatology Partnering 2014-2021 includes:
Trends in dermatology dealmaking in the biopharma industry since 2014
Analysis of dermatology deal structure
Access to headline, upfront, milestone and royalty data
Access to dermatology deal records
The leading dermatology deals by value since 2014

The report includes deals for the following indications: Acne, Actinic keratosis, Angioedema, Burns, Cellulitis, Cosmetics, Dermatitis, Diabetic foot ulcer, Eczema, Hair disorders, Alopecia, Impetigo, Itching, Nail disorders, Psoriasis, Rosacea, Scabies, Sun damage, Rash, Scar, Venous ulcer, Verruca, Wound healing, Wrinkles, plus other dermatology indications.
In Global Dermatology Partnering 2014-2021, the available deals are listed by:
Company A-Z
Headline value
Stage of development at signing
Deal component type
Specific therapy target
Each deal title links via Weblink to an online version of the deal record and where available, the contract document, providing easy access to each contract document on demand.
The Global Dermatology Partnering 2014-2021 report provides comprehensive access to available deals and contract documents for dermatology deals. Analyzing actual contract agreements allows assessment of the following:
What are the precise rights granted or optioned?
What is actually granted by the agreement to the partner company?
What exclusivity is granted?
What is the payment structure for the deal?
How are the sales and payments audited?
What is the deal term?
How are the key terms of the agreement defined?
How are IPRs handled and owned?
Who is responsible for commercialization?
Who is responsible for development, supply, and manufacture?
How is confidentiality and publication managed?
How are disputes to be resolved?
Under what conditions can the deal be terminated?
What happens when there is a change of ownership?
What sublicensing and subcontracting provisions have been agreed?
Which boilerplate clauses does the company insist upon?
Which boilerplate clauses appear to differ from partner to partner or deal type to deal type?
Which jurisdiction does the company insist upon for agreement law?
Global Dermatology Partnering 2014 to 2021 provides the reader with the following key benefits:
In-depth understanding of dental deal trends since 2014
Access dermatology deal headline, upfront, milestone and royalty data
Research hundreds of actual contracts between dermatology partner companies
Comprehensive access to links to actual dermatology deals entered into by the world's biopharma companies
Indepth review of dermatology deals entered into by the top 25 most active dealmakers
Benchmark the key deal terms companies have agreed in previous deals
Identify key terms under which companies partner dermatology opportunities
Uncover companies actively partnering dermatology opportunities
Executive Summary
Chapter 1 – Introduction
Chapter 2 – Trends in Dermatology dealmaking
2.1. Introduction
2.2. Dermatology partnering over the years
2.3. Dermatology partnering by deal type
2.4. Dermatology partnering by industry sector
2.5. Dermatology partnering by stage of development
2.6. Dermatology partnering by technology type
2.7. Dermatology partnering by therapeutic indication
Chapter 3 –Financial deal terms for Dermatology partnering
3.1. Introduction
3.2. Disclosed financials terms for Dermatology partnering
3.3. Dermatology partnering headline values
3.4. Dermatology deal upfront payments
3.5. Dermatology deal milestone payments
3.6. Dermatology royalty rates
Chapter 4 – Leading Dermatology deals and dealmakers
4.1. Introduction
4.2. Most active in Dermatology partnering
4.3. List of most active dealmakers in Dermatology
4.4. Top Dermatology deals by value
Chapter 5 – Dermatology contract document directory
5.1. Introduction
5.2. Dermatology partnering deals where contract document available
Chapter 6 – Dermatology dealmaking by therapeutic target
6.1. Introduction
6.2. Deals by Dermatology therapeutic target
Appendices
Appendix 1 – Directory of Dermatology deals by company A-Z since 2014
Appendix 2 – Directory of Dermatology deals by deal type since 2014
Appendix 3 – Directory of Dermatology deals by stage of development since 2014
Appendix 4 – Directory of Dermatology deals by technology type since 2014
Further reading on dealmaking
Deal type definitions
About Wildwood Ventures
Current Partnering
Current Agreements
Recent report titles from CurrentPartnering
Table of figures
Figure 1: Dermatology partnering since 2014
Figure 2: Dermatology partnering by deal type since 2014
Figure 3: Dermatology partnering by industry sector since 2014
Figure 4: Dermatology partnering by stage of development since 2014
Figure 5: Dermatology partnering by technology type since 2014
Figure 6: Dermatology partnering by indication since 2014
Figure 7: Dermatology deals with a headline value
Figure 8: Dermatology deals with upfront payment values
Figure 9: Dermatology deals with milestone payment
Figure 10: Dermatology deals with royalty rates
Figure 11: Active Dermatology dealmaking activity since 2014
Figure 12: Top Dermatology deals by value since 2014
Pricing options
$3,495: single-user
$5,245: multi-user
$10,495: single site license
$17,495: global site license
A full explanation of license type definitions can be found here.
Our guarantee
Price promise
We guarantee our prices are competitive. If you find the same report advertised at a lower price within 7 days of purchase, we will refund the difference.
Delivery Deadline
We guarantee that the report will be sent within the specified delivery times. In the unlikely case of a delay we may offer a partial refund as compensation. (Terms may apply)
Latest report
If an update is published within 30 days of your purchase, you will receive it absolutely free of charge.
Serious Security
We take your data and security seriously. See our privacy policy for details of how we manage your data.
All card payments are processed by SagePay.
Sales Support
If you have any questions about your report or are unhappy with the quality, we will do our best to resolve your query. Contact us direct.
Total Trust
Current Partnering is part of Wildwood Ventures Ltd., based in York, United Kingdom. We have been trading successfully online since 2009 and work with some of the most famous brands in the business. We carefully select our partners to ensure that the publications meet expectations of demanding customers.
3Derm Systems, 3D Systems, 3M Critical & Chronic Care Solutions, 23andMe, Abbvie, Accelis Pharma, AccuTec Blades, Acelity, Acell, Aclaris Therapeutics, Actelion, ADB International Group, Adhesys Medical, adMare BioInnovations, Advanced BioScience Laboratories, Advanced Medical Solutions, Advanced Plasma Products, Advanz Pharma, Aesthetic Management Partners, Aesthetic Solutions, Afinity Life Sciences, AFT Pharmaceuticals, Aghraas-Cigalah, Air Force Research Laboratory, AiVita Biomedical, Ajinomoto Bio-Pharma Services, Akaal Pharma, Alat Medika Indonesia, Albany Molecular Research, Alibaba Health, ALK-Abello, Allergan, Allergan (name changed from Actavis), Allergan Aesthetics, Alliance Pharma, Alliqua Biomedical, AlloSource, Almirall, Alpha Pharma, Alvotech, Amarantus BioSciences, American Academy of Professional Coders, American Red Cross, American Skin Association, Amgen, AMI, AMNIOX, Amor (Suzhou) Medical Sci-Tech, AMSilk, Amyris, ANANDA Scientific, Andrew Technologies, Angelini Pharma, AnGes MG, Angionetics, Anika Therapeutics, ANI Pharmaceuticals, Anteis, Anterios, Antibe Therapeutics, AntibioTx, AOTI, Aphex BioCleanse Systems, APL, Applied Biology, APR Applied Pharma Research, Apria Healthcare Group, Aqua Pharmaceuticals, Aralez Pharmaceuticals, Aratana Therapeutics, Arch Therapeutics, Arcutis Biotherapeutics, arGEN-X, Arjo, Arrevus, Arrien Pharmaceuticals, Arsenal Medical, Arthrex, Art of Technology, Asia Green Biotechnology, Aslan Pharma, Astellas Pharma, Astion Pharma, AstraZeneca, ATG Allied Technologies, Athenex, Atopix, Atropos Therapeutics, Aucta Pharmaceuticals, Austen BioInnovation Institute in Akron (ABIA), Auven Therapeutics, Avalon Pharmaceuticals, Avaria Health & Beauty, Avicanna, Avita Therapeutics, AvKARE, Axcelon Dermacare, Axonlab, Axxess Pharma, Azitra, Back-A-Line, Bandgrip, BASF, Basilea Pharmaceutica, Bassett Salon Solutions, Bausch & Lomb, Bavarian Ministry for Economic Affairs and Media, Energy and Technology, Baxalta, Bayer, Baylor Research Institute, B Braun, Beiersdorf, Beijing InnoCare Pharma, Bellus Health, Ben-Gurion University, Berkshire Sterile Manufacturing, Berlin-Brandenburg Center for Regenerative Therapies, Berlin Chemie, Best Choice, BexPharm, BGN Technologies, Bill and Melinda Gates Foundation, BioCad Holding, Biocon, BioCryst Pharmaceuticals, BioDerm, BioDlogics, Biogen, Biohaven Pharmaceutical Holding, BioLab Sciences, BiolineRX, Biomedical Advanced Research and Development Authority, BIOMEDX Group, BioMed X Innovation Center, Biometrix, Biomillenia, Bioniz Therapeutics, Bionpharma, Biophage Pharma, BioPharm Group International, Bioskin, Biosolution, BioStem Technologies, Biosynthetic Technologies, BirchBioMed, Bloomage BioTechnology, BMG Pharmaceuticals, Boehringer Ingelheim, Boragen, Boston Pharmaceuticals, Boston Topicals, BoyaLife, Bpifrance, Brickell Biotech, Brigham and Women's Hospital, Bright Future Pharmaceutical Lab, Brown University, Bruin Biometrics, BSN Medical, Buffalo Supply, Cadila Pharmaceuticals, CALECIM Cosmeceuticals, Caliber Imaging & Diagnostics, Camargo Pharmaceutical Services, Can-Fite BioPharma, CANbridge Life Sciences, Candela, CannaSkin, Cannassure Therapeutics, CanniMed Therapeutics, Canopy Growth, Cantel Medical (UK), Capital Laser and Skin Care, Cara Therapeutics, CARB-X, Cardiome Pharma, CarePICS, Carestream Health, Case Western Reserve University, Cassiopea, Castle Creek Pharmaceuticals, CDx Diagnostics, Celgene, CellMark Medical, Cell Mogrify, Celularity, Certara, Ceva Sante Animale, CHAMPS Group Purchasing, Charite-Universitatsmedizin, Chelexa Biosciences, Chemipal, Chemstar, Children's Hospital Boston, China-Israel Biological Technology, China National Biotech Group (CNBG), Chong Kun Dang, Chongqing Jingdong Pharmaceutical, Chromogenex Technologies, Chugai Pharmaceutical, Cilag AG, Cimtech, Cincinnati Children's Hospital Medical Center, Cipher Pharmaceuticals, Cipla, Circadia, CIVCO Radiotherapy, CJ CheilJedang, Clarify Medical, Clinipace Worldwide, Clinuvel Pharmaceuticals, CMS Medical, Codex Beauty, Collagen Solutions LLC, Collagen Solutions Plc, Collplant, Columbia University Medical Center, ConBio (Shanghai), Contem 1G, ConvaTec, Cook Biotech, Cooper-Vemedia, Corza Health, Cosmotec, Covaleo, Covalon Technologies, Crescita Therapeutics, CROMA Pharma, Cronos Group, Crown Bioscience, Crown Laboratories, Cryolife, Cumberland Pharmaceuticals, CURE Pharmaceutical, Curetis, Cutanea Life Sciences, Cutanogen, Cutia Therapeutics, Cytori Therapeutics, CytoSorbents, Dabur, Dalhousie University, Daniel Alain Life Science, DASH Analytics, Dasman Diabetes Institute, Daxor, Dechra Pharmaceuticals, Denali Therapeutics, Department of Defence, Department of Defense, Department of Veterans Affairs, DermaConcepts, Dermala, Derma Sciences, Dermata Therapeutics, Dermavant Sciences, Dermelix Biotherapeutics, Dermira, DermOQ, Dermpath Diagnostics, DermSpectra, DermTech, Devonian Health Group, Dignitana, Dinaco, Dipexium Pharmaceuticals, Diplomat, Dr. Falk Pharma, Dr. Reddy's Laboratories, Dr. U Devices, Draper Laboratories, Dr Bragi Company, Dr Kerklaan Therapeutics, DS Healthcare, Ducere Pharma, Dukal, Dynamic Blending, Dynasil, E-QURE, EB Research Foundation, EB Research Partnership, Eccrine Systems, Eclipse Aesthetics, ECMOHO, Edesa Biotech, Eirion Therapeutics, Eisai, eKare, Ekpac Healthcare, Elanix Biotechnologies, Elektrofi, Elev8 Brands, Eligo Bioscience, Ember Therapeutics, EMC, Emmaus Life Sciences, Emollivet, Emory University, Emphysys, EMS, Enaltus, Encore Dermatology, Encore Medical, Enteris Biopharma, Envy Medical, Enzymatica, Epicore Biosystems, EPI Health, Equillium, Espada Dermatology, EspeRare Foundation, Estee Lauder, Ethicon Endo-Surgery, Eureka Eurostars, Eurofins Scientific, Eve & Co, Evolva, Evolve BioSystems, Evommune, Ewopharma, Excelra, Exicure, Expanscience, EZbra Advanced Wound Care, Fagron, FarmaMondo Group, Ferrer International, Fidelta, Fillmed, First Horizon Pharmaceuticals, Fission Labs LATAM, Flowerkist, Foamix Pharmaceuticals, Follicum AB, Food and Drug Administration (FDA), FormaTK Systems, Fougera Pharmaceuticals, Fujifilm Kyowa Kirin Biologics, Fuji Pharma, Fundació Institut de Recerca de l'Hospital de la Santa Creu i Sant Pau, Fuse Medical, G-treeBNT, Galapagos, Galderma, Gebro Pharma, Gecko Biomedical, Geisel School of Medicine at Dartmouth, Gel4Med, Gene Biotherapeutics, Genentech, General Biologicals, GenesisCare, Genfa Medica, George Washington University, Ghassan Aboud Group, GHD GesundHeits, Givaudan, GlaxoSmithKline, GL Brands, GlobalMed, GPC Systems, Grunenthal, Grupo Ferrer, GtreeBNT, Guangzhou Xiangxue Pharmaceutical, Gunze, Guthy-Renker, H2-Pharma, Hairmore Group, Happify Health, Hapten Sciences, Harvard Medical School, Hawkeye Therapeutics, Healiant, Helsinn Healthcare, Hemostasis, Henry M. Jackson Foundation, Heumann Pharma Generics, High Beauty, Hill Dermaceuticals, Histapharm, Histocell, Histogen, HitGen, Hope Medicine, Hoth Therapeutics, Houston Methodist Research Institute, Huapont Pharma, Hugel, Iagnosis, Icahn School of Medicine at Mount Sinai, Ice + Jam, Ichnos Sciences, Ideal Medical Solutions, IDEAYA Biosciences, iFyber, ImaBiotech, Imbed Bio, IME Medical Electrospinning, IMIDomics, Immune Pharmaceuticals, Immunomic, Induce Biologics, Innate Biologics, Innovate UK, Innovation Skane, Innovative Cellular Therapeutics, Innovus Pharmaceuticals, Inova Diagnostics, Institute for In Vitro Sciences, Intalere, Integra LifeSciences, Integumen, Intermountain Healthcare, Interpolymer/Zschimmer & Schwarz, Intralytix, iS Clinical, ISDIN, ISIS Innovation, Isoprene Pharmaceuticals, Israeli National Authority for Technological Innovation, ITEM Medical Technologies, Jackson Laboratory, Janssen Biotech, Janssen Pharmaceuticals, Janssen Pharmaceutica NV, Janssen Research & Development, Japan Tobacco, JCR Pharmaceuticals, Jiangsu Hengrui Medicine, Jiangsu QYuns Therapeutics, Joerns Healthcare, Johnson & Johnson Consumer Companies, Johnson & Johnson Innovation, JT Pharmaceuticals, Juntendo University, Juyou Biotechnology, JW Pharmaceutical, Kaken Pharmaceutical, Kane Biotech, Karo Pharma, Karyopharm Therapeutics, Kavo Kerr Group, Keck School of Medicine of USC, Kent Imaging, Keraderm, Kerecis, Kinetic Concepts, King's College Hospital, Kiniksa Pharmaceuticals, Kleresca, KLOX Technologies, Knight Therapeutics, KNOW Bio, Kramer Laboratories, Kubota Vision, Kuwait Life Sciences, KYERON Medical Innovations, Kyocera, Kyongbo Pharm, Kythera Biopharmaceuticals, L&P Cosmetic, L'Oreal, Laboratorios Andromaco, Lannett, Laser Clinics Australia, Laser Lab Corp, Lautus Pharmaceuticals, Lead Pharma, Legacy Biotechnologies, Leiden University, Lenus Therapeutics, Leon-nanodrugs, LEO Pharma, Libbs Farmaceutica, LifeCell, LifeMax Laboratories, Lifenet, Ligand Pharmaceuticals, Lighthouse Strategies, LiLa Enterprise, Lipidor, LipoTrue, Living Proof, Lonza, Loreal, Luminera, Lupin, Luqa Pharmaceuticals, Lygos, Maco Pharma, MacroCure, MainPointe, Mallinckrodt Pharmaceuticals, Mamba Instruments, Maren Cosmetics, Maruho, Massachusetts General Hospital, Massachusetts Life Sciences Center, Massage Envy, Matawan Pharmaceuticals, Maxhealth Medicine, Mayne Pharma, Mayo Clinic, MC2 Therapeutics, MDS Pharma Services, Meabco, Med-Aesthetic Solutions, Medcura, Medela, Medical College of Wisconsin, MediGene, Medimetriks, MediPharm Labs, Mediq, MediWound, Medline Industries, MedPharm, MedShape, Medshift, Medx, Medybloom, Medytox, MELA Sciences, MellingMedical, MEME, Menarini, Menlo Therapeutics, Merck and Co, Merz, Mesoblast, Metalabs, Metaoptima Technology, Metrion Biosciences, Michelson Diagnostic, Michepro, Micreos, Microbio Shanghai, MicroCures, Milestone Advanced Cosmetic Systems, Milestone China, Milestone Scientific, Millennium Medical Devices, MiNDERA, Mintcare, Miravo Healthcare, Misonix, Mitsubishi Tanabe Pharma, Moberg Pharma, Modoc Research Services, MolecuLight, Molnlycke Health Care, Momenta Pharmaceuticals, Monash University, MorphoSys, MSM-Medimpex, MT.DERM, MTF Biologics, Mundimed, Mundipharma, Musculoskeletal Transplant Foundation, MWMedical, MyBiotics Pharma, Mylan Pharmaceuticals, MyungMoon Bio, Nabriva Therapeutics, Nanning Xinzizhu Trading, NanoVibronix, NassifMD Dermaceuticals, National Eczema Association, National Institute for Food and Drug Control, National Institute of Allergy and Infectious Diseases, National Institute of Arthritis and Musculoskeletal Diseases, National Institute of Diabetes and Digestive and Kidney Diseases, National Institute of General Medical Sciences, National Institutes of Health, National Psoriasis Foundation, National Research Council Canada, National Research Council of Canada, National Science Foundation, Nationwide Laboratory Services, NEO Tech, Neovacs, Neptune Wellness Solutions, Nestle, Net Health Systems, Neumedicines, NewSurg, New York University, New York University School of Medicine, Nextmune, Nikkol, Nordic Pharma Group, North Carolina State University, Northwestern University, NovaBay Pharmaceuticals, Novadaq Technologies, Novan, Novan Therapeutics, Novartis, Novation, NovImmune, Now Biopharma, Nuevolution, NuGene International, NuMedii, Nuo Therapeutics, Nutriband, Oakrum Pharma, Obagi Medical Products, Office of Naval Research, Olaregen Therapeutix, Omega Pharma, OncoBeta, Oncodesign, Oneness Biotech, OptiBiotix, Or-Genix Therapeutics, Orca Pharmaceuticals, Organogenesis, Organovo, Organ Technologies, ORIG3N, Orphan Europe, Osiris Therapeutics, Otsuka, Ovation Science, OWC Pharmaceutical Research, Pacgen Biopharmaceuticals, Palisade Bio, Palobiofarma, Palvella Therapeutics, Paratek Pharmaceuticals, Parcell Laboratories, Parnell Pharmaceuticals, Particle Sciences, PathogenDx, Patient-Centered Outcomes Research Institute (PCORI),, PCG Clinical Services, PDL BioPharma, Pediatric Dermatology Research Alliance, PellePharm, Perrigo, Perry Baromedical, Peterson's Lab, Pfizer, Pharmacyna, PharmaResearch Products, Pharming Group, Pharmstandard, Phase Holographic Imaging, Phosphagenics, PhotoMedex, Phyto Tech, Piedmont Pharmaceuticals, Pierre Fabre, Pierre Fabre Dermatologie, Piqur Therapeutics, Platine Pharma Services, Plyzer Technologies, Podimetrics, PolarityTE, Popit, Portola Pharmaceuticals, Premier Inc, Prescient Surgical, Prestium Pharma, Prime Therapeutics, Principle Business Enterprises, Promius Pharma, Promore Pharma, Proscia, Protagen, Proya Cosmetics, Pura Naturals, Purdue Pharma, Pure Med Farma, Pyramid Biosciences, Quest PharmaTech, RAHN, Randob Labs, Rational Surgical Solutions, Realm Therapeutics, Recipharm, Red One Medical, Reedy Creek Investments, Regenerative Biologics, Regenerative Medicine of China, Regenerative Medicine of Latin America, Regenerx, Regenicin, Regis Technologies, ReLeaf Europe, Renovacare, Replicel Life Sciences, Repurpose.AI, Restorix Health, Revance Therapeutics, Rev Pharma, Rigel Pharmaceuticals, RIKEN Yokohama Institute Omics Science Center, Rochal Industries, Roche, Rockefeller University, Rodan and Fields, Rogne Bioscience, Rohto Pharmaceutical, ROi (Resource Optimization & Innovation), Roivant Sciences, RRD International, RXi Pharmaceuticals, Samsung Bioepis, Samsung Biologics, Samumed, Sanmina, Sanofi, Santalis Pharmaceuticals, Sanuwave Health, Saraya, SastoMed, Sato Pharmaceutical, Scapa Healthcare, SciBase, Science 37, Sciton, Sebacia, Second Genome, Sensus Healthcare, SenzaGen, SerenaGroup, Shanghai Corday Biotech, Shanghai Haohai Biological Technology, Shire Pharmaceuticals, Sienna Biopharmaceuticals, Signum Biosciences, Signum Dermalogix, Sinclair IS Pharma, Sincopharm, Sinopharm, Sinovant Sciences, Sirona Biochem, sk:n, SkinBiotix, Skincential Sciences, Skin Products, SkinSciPac, Skinvisible, Smart Cell Tec, SMG Pharmaceuticals, Smith & Nephew, Sol-Gel, Soliton, Solomomo, Somanetics, Sonoma Pharmaceuticals, Sosei Heptares, Southmedic, Southwest Transplant Alliance, Spear Pharmaceuticals, Specialty Therapeutics PC, Spenta, Spiracur, Squalan Natural Health, StemCell Systems, Sternlaser Medical Aesthetics Solutions, Stiefel Laboratories, STRATA Skin Sciences, Stratatech, Stratpharma, Suneva Medical, Sun Pharmaceutical, SutroVax, Swift Medical, Swiss Institute of Allergy and Asthma Research, Swixx Biopharma, SWK Funding, Swysh, SYnergy Medsales, Syneron Medical, Systagenix Wound Management, Takeda Pharmaceutical, Taureon, Tauriga Sciences, Taxus Cardium Pharmaceuticals, Teb Sanaat Lotus, Tec-Pharm, Tec-Pharma, TechCare, Technion Research and Development Foundation, Technology Strategy Board (UK), Telemedicine Solutions, Terumo Cardiovascular Systems, Teva-tuteur, The HydraFacial Company, The Innovation Fund, TheraLight, TheraVida, Thomas Jefferson University, Thought Leadership & Innovation Foundation, Timber Pharmaceuticals, Tissue Analytics, Tissue Regenix, Tissue Regenix Group, Titan Pharmaceuticals, Tiziana Life Sciences, Torii Pharmaceutical, TRX Wound Care, TWi Biotechnology, TWi Pharmaceuticals, Tyris Therapeutics, uBiome, UCB, Ueno, Uluru, Uni-Bio Science, Uniformed Services University of the Health Sciences, UNION Therapeutics, Univar, University of Alabama at Birmingham, University of British Columbia, University of California, San Diego, University of California Los Angeles, University of California San Francisco, University of Cincinnati, University of Colorado, University of Colorado Denver, University of Dundee, University Of Huddersfield, University of Manchester, University of Maryland Baltimore, University of Massachusetts, University of Michigan, University of New Mexico, University of North Carolina, University of Oxford, University of Pennsylvania, University of Pittsburgh, University of Pittsburgh Medical Center, University of South Australia, University of Washington, University of Wisconsin, Upside Biotechnologies, Urgo Laboratories, USANA Health Science, US Army, US Army Institute of Surgical Research (USAISR), US Army Medical Research and Material Command, US Department of Veteran Affairs, US Navy, Valeant Canada Limited, Valeant Pharmaceuticals, Valeo Pharma, Vancive Medical Technologies, Vasomune Therapeutics, Vericel, Verrica Pharmaceuticals, Veterans Medical Distributors, VHA, ViaDerma, Victoria University, Vifor Pharma, Virginia Commonwealth University, ViroXis, VisionQuest Biomedical, Visualant, VisualDx, VitaThreads, Vitruvias Therapeutics, Vizient, Vomaris Innovations, Wearifi, Weihai Weigao Medical Devices, Weill Cornell Medical College, Wellness Center USA, WellSpring Pharmaceutical, Winhealth Pharma Group, Wirthlin-Denton, Wistar Institute, Wockhardt, Worcester Polytechnic Institute (WPI), Wound Care Advantage, WOUNDCHEK Laboratories, Wuhan Miracle Laser Systems, WuXi Biologics, X-chem, XBiotech, Xcede Technologies, XCellR8, Xoma, Xycrobe Therapeutics, Yale School of Medicine, Yissum Research Development, YL Biologics, YOFOTO (China) Health Industry, Yoshindo, YuYang DNU, Z-Medica, Z-Medical, ZappRx, Zenoaq, ZetrOZ, Zhittya Genesis Medicine, Ziarco Pharma, Zikad International Aesthetics Supplier, Zuellig Pharma China, Zymetech, Zymeworks
Current Partnering reports provide insight into the trends and terms of partnering deals in the global life sciences sector.
Current Partnering reports are updated every six months to ensure the user has access to the latest announcements and trends in the topic focus of the report.
Current Partnering analysts review the deal data to provide an overview and analysis of deal trends, including example deals and terms.
Current Partnering reports source deal data from our proprietary deals and alliances database, Current Agreements. The database is updated daily by our analysts with new deals as they are announced globally by the company's party to the deal. In addition, deal records are updated with new data as it becomes available.
The data in the Current Agreements deals and alliances database is obtained from secondary sources such as publicly available industry sources including press releases, company presentations, investor presentations, company SEC filings, other company filings, company websites, conference presentations. Sources are identified to allow for user verification.
Current Partnering provides comprehensive coverage of the following partnering or deal types:
• Asset purchase
• Assignment
• Co-development
• Co-market
• Co-promotion
• Collaborative R&D
• Contract service
• CRADA
• Cross-licensing
• Development
• Distribution
• Equity purchase
• Evaluation
• Grant
• Joint venture
• Licensing
• Loan
• Manufacturing
• Marketing
• Option
• Promotion
• Research
• Royalty financing
• Settlement
• Spin out
• Sub license
• Supply
• Termination
• Warrant
Every deal record is fully categorized and includes the following data, where available:
• Industry sector
• Therapy areas
• Technology type
• Deal components
• Financial terms
• Stage of development
• Exclusivity
• Asset type
• Geographic focus
• Excluded geography
• Company press release
• SEC filing data including contract document
All financial amounts are converted to US$ using the exchange rate available on the date of deal announcement, enabling direct comparison of deal terms across international territories.
Financial data and contract documents displayed in deal records is obtained from public sources, where disclosed by the parties to the deal.