Global Central Nervous System Partnering 2015 to 2022: Deal trends, players and financials
The Global Central Nervous System Partnering 2015 to 2022: Deal trends, players and financials report provides comprehensive understanding and unprecedented access to the central nervous system (cns) partnering deals and agreements entered into by the worlds leading healthcare companies.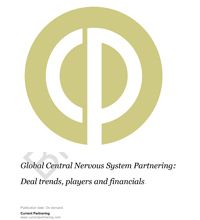 Publication date
April 2022
Product type
Research report
Available formats
PDF document
Global Central Nervous System Partnering 2015 to 2022 provides the full collection of Central Nervous System disease deals signed between the world's pharmaceutical and biotechnology companies since 2015.
Trends in Central Nervous System partnering deals
Financial deal terms for headline, upfront and royalty by stage of development
Central Nervous System partnering agreement structure
Central Nervous System partnering contract documents
Top Central Nervous System deals by value
Most active Central Nervous System dealmakers
Most of the deals included within the report occur when a licensee obtains a right or an option right to license a licensor's product or technology. More often these days these deals tend to be multi-component including both a collaborative R&D and a commercialization of outcomes element.
The report takes readers through the comprehensive Central Nervous System disease deal trends, key players and top deal values allowing the understanding of how, why and under what terms companies are currently entering Central Nervous System deals.
The report presents financial deal terms values for Central Nervous System deals, where available listing by overall headline values, upfront payments, milestones and royalties enabling readers to analyse and benchmark the value of current deals.
The initial chapters of this report provide an orientation of Central Nervous System dealmaking trends.
Chapter 1 provides an introduction to the report.
Chapter 2 provides an overview of the trends in Central Nervous System dealmaking since 2015 covering trends by year, deal type, stage of development, technology type and therapeutic indication.
Chapter 3 includes an analysis of financial deal terms covering headline value, upfront payment, milestone payments and royalty rates.
Chapter 4 provides a review of the leading Central Nervous System deals since 2015. Deals are listed by headline value. The chapter includes the top 25 most active Central Nervous System dealmakers, together with a full listing of deals to which they are a party. Where the deal has an agreement contract published at the SEC a link provides online access to the contract.
Chapter 5 provides comprehensive access to Central Nervous System deals since 2015 where a deal contract is available, providing the user with direct access to contracts as filed with the SEC regulatory authorities. Each deal title links via Weblink to an online version of the deal record contract document, providing easy access to each contract document on demand.
Chapter 6 provides a comprehensive directory of all Central Nervous System partnering deals by specific Central Nervous System target announced since 2015. The chapter is organized by specific Central Nervous System therapeutic target. Each deal title links via Weblink to an online version of the deal record and where available, the contract document, providing easy access to each contract document on demand.
In addition, a comprehensive appendix is provided with each report of all Central Nervous System partnering deals signed and announced since 2015. The appendices are organized by company A-Z, stage of development at signing, deal type (collaborative R&D, co-promotion, licensing etc) and technology type. Each deal title links via Weblink to an online version of the deal record and where available, the contract document, providing easy access to each contract document on demand.
The report also includes numerous tables and figures that illustrate the trends and activities in Central Nervous System partnering and dealmaking since 2015.
In conclusion, this report provides everything a prospective dealmaker needs to know about partnering in the research, development and commercialization of Central Nervous System technologies and products.
Report scope
Global Central Nervous System Partnering 2015 to 2022 is intended to provide the reader with an in-depth understanding and access to Central Nervous System trends and structure of deals entered into by leading companies worldwide.
Global Central Nervous System Partnering 2015 to 2022 includes:
Trends in Central Nervous System dealmaking in the biopharma industry since 2015
Access to headline, upfront, milestone and royalty data
Access to hundreds of Central Nervous System deal contract documents
Comprehensive access to Central Nervous System deal records
The leading Central Nervous System deals by value since 2015
Most active Central Nervous System dealmakers since 2015
The report includes deals for the following indications: Cerebral palsy, Creutzfeldt Jakob disease, Dizziness, Epilepsy, Faints, Falls, Guillain Barre syndrome, Headache, Meningitis (Bacterial, Meningococcal, Pneumococcal), Mycobacterium tuberculosis (TB), Haemophilus influenzae Type B (Hib), Migraine, Motor Neurone Disease (Amyotrophic Lateral Sclerosis/Lou Gehrig's Disease, Multiple sclerosis, Nausea, Neuropathy, Pain, Neuralgia, Fibromyalgia, Paralysis, Parkinson's disease, Restless leg syndrome, Spinal cord, Stroke, Stuttering, Traumatic Brain Injury, Vertigo, Weakness, plus other CNS indications.
In Global Central Nervous System Partnering 2015 to 2022, available deals and contracts are listed by:
Headline value
Upfront payment value
Royalty rate value
Stage of development at signing
Deal component type
Technology type
Specific therapy indication
Each deal title links via Weblink to an online version of the deal record and where available, the contract document, providing easy access to each contract document on demand.
The Global Central Nervous System Partnering 2015-2022 report provides comprehensive access to available deals and contract documents for central nervous system deals. Analyzing actual contract agreements allows assessment of the following:
What are the precise rights granted or optioned?
What is actually granted by the agreement to the partner company?
What exclusivity is granted?
What is the payment structure for the deal?
How are the sales and payments audited?
What is the deal term?
How are the key terms of the agreement defined?
How are IPRs handled and owned?
Who is responsible for commercialization?
Who is responsible for development, supply, and manufacture?
How is confidentiality and publication managed?
How are disputes to be resolved?
Under what conditions can the deal be terminated?
What happens when there is a change of ownership?
What sublicensing and subcontracting provisions have been agreed?
Which boilerplate clauses does the company insist upon?
Which boilerplate clauses appear to differ from partner to partner or deal type to deal type?
Which jurisdiction does the company insist upon for agreement law?
Global Central Nervous System Partnering 2015 to 2022 provides the reader with the following key benefits:
In-depth understanding of Central Nervous System deal trends since 2015
Access Central Nervous System deal headline, upfront, milestone and royalty data
Research hundreds of actual contracts between Central Nervous System partner companies
Comprehensive access to links to actual Central Nervous System deals entered into by the world's biopharma companies
Indepth review of Central Nervous System deals entered into by the top 25 most active dealmakers
Benchmark the key deal terms companies have agreed in previous deals
Identify key terms under which companies partner Central Nervous System opportunities
Uncover companies actively partnering Central Nervous System opportunities
Executive Summary
Chapter 1 – Introduction
Chapter 2 – Trends in Central Nervous System dealmaking
2.1. Introduction
2.2. Central Nervous System partnering over the years
2.3. Central Nervous System partnering by deal type
2.4. Central Nervous System partnering by industry sector
2.5. Central Nervous System partnering by stage of development
2.6. Central Nervous System partnering by technology type
2.7. Central Nervous System partnering by therapeutic indication
Chapter 3 –Financial deal terms for Central Nervous System partnering
3.1. Introduction
3.2. Disclosed financials terms for Central Nervous System partnering
3.3. Central Nervous System partnering headline values
3.4. Central Nervous System deal upfront payments
3.5. Central Nervous System deal milestone payments
3.6. Central Nervous System royalty rates
Chapter 4 – Leading Central Nervous System deals and dealmakers
4.1. Introduction
4.2. Most active in Central Nervous System partnering
4.3. List of most active dealmakers in Central Nervous System
4.4. Top Central Nervous System deals by value
Chapter 5 – Central Nervous System contract document directory
5.1. Introduction
5.2. Central Nervous System partnering deals where contract document available
Chapter 6 – Central Nervous System dealmaking by therapeutic target
6.1. Introduction
6.2. Deals by Central Nervous System therapeutic target
Appendices
Appendix 1 – Directory of Central Nervous System deals by company A-Z since 2015
Appendix 2 – Directory of Central Nervous System deals by deal type since 2015
Appendix 3 – Directory of Central Nervous System deals by stage of development since 2015
Appendix 4 – Directory of Central Nervous System deals by technology type since 2015
Further reading on dealmaking
Deal type definitions
About Wildwood Ventures
Current Partnering
Current Agreements
Recent report titles from CurrentPartnering
Table of figures
Figure 1: Central Nervous System partnering since 2015
Figure 2: Central Nervous System partnering by deal type since 2015
Figure 3: Central Nervous System partnering by industry sector since 2015
Figure 4: Central Nervous System partnering by stage of development since 2015
Figure 5: Central Nervous System partnering by technology type since 2015
Figure 6: Central Nervous System partnering by indication since 2015
Figure 7: Central Nervous System deals with a headline value
Figure 8: Central Nervous System deals with upfront payment values
Figure 9: Central Nervous System deals with milestone payment
Figure 10: Central Nervous System deals with royalty rates
Figure 11: Active Central Nervous System dealmaking activity since 2015
Figure 12: Top Central Nervous System deals by value since 2015
Pricing options
$3,495: single-user
$5,245: multi-user
$10,495: single site license
$17,495: global site license
A full explanation of license type definitions can be found here.
Our guarantee
Price promise
We guarantee our prices are competitive. If you find the same report advertised at a lower price within 7 days of purchase, we will refund the difference.
Delivery Deadline
We guarantee that the report will be sent within the specified delivery times. In the unlikely case of a delay we may offer a partial refund as compensation. (Terms may apply)
Latest report
If an update is published within 30 days of your purchase, you will receive it absolutely free of charge.
Serious Security
We take your data and security seriously. See our privacy policy for details of how we manage your data.
All card payments are processed by SagePay.
Sales Support
If you have any questions about your report or are unhappy with the quality, we will do our best to resolve your query. Contact us direct.
Total Trust
Current Partnering is part of Wildwood Ventures Ltd., based in York, United Kingdom. We have been trading successfully online since 2009 and work with some of the most famous brands in the business. We carefully select our partners to ensure that the publications meet expectations of demanding customers.
1ST Biotherapeutics, 3E Bioventures Capital, 3PrimeDx, 3SBio, 4B Technologies, 4D Pharma, 4E Therapeutics, 4SC, 7D Surgical, 23andMe, A&B Company, A*STAR Agency for Science, Technology and Research, Aardvark Therapeutics, Aarhus University Hospital, Abbott Laboratories, Abbvie, AbCellera, Abeona Therapeutics, AbFero Pharmaceuticals, Abide Therapeutics, ABL Bio, Ablynx, Ab Medica, Abuse Deterrent Pharmaceuticals, Abzena, ACADIA Pharmaceuticals, Accelera Canada, Accelerated Cure Project for MS, Accelovance, Accelus, Accera Pharmaceuticals, Acella Pharmaceuticals, Acelrx Pharmaceuticals, Acerus, Acetylon Pharmaceuticals, Achillion Pharmaceuticals, AC Immune, Aclipse Therapeutics, Acorda Therapeutics, Actavis (acquired by Watson), Actelion, Acticor Biotech, Actimed Therapeutics, Acturum Life, Aculys Pharma, Acura Pharmaceuticals, AcuraStem, AcureX Therapeutics, AdAlta, Adamas Pharmaceuticals, Adaptive Health, Adare Pharma Solutions, Addex Therapeutics, Adept Neuro, Adhera Therapeutics, Advanced Cooling Therapy, Advanced Neural Dynamics, Advanced Technologies Solutions, Advanced Technology International, Advantage Consumer Healthcare, Adventus Ventures, Aeon Bioscience, Aequus Pharmaceuticals, Aeromics, Aesculap, AEterna Zentaris, AffaMed Therapeutics, Affilogic, Affinia Therapeutics, AFFiRiS, Afraxis, AFT Pharmaceuticals, AgeX Therapeutics, Agilent Technologies, Agilis Biotherapeutics, AG Mednet, Aguettant, Aichi Medical University, Aidoc, Aiforia Technologies, AiPing Pharmaceutical, AKC Canine Health Foundation, Akome Biotech, Akorn, Akrimax Pharmaceutical, Alamar Biosciences, Albany Molecular Research, Alberta Health Services, Albert Einstein College of Medicine, Alcyone Lifesciences, Alder Biopharmaceuticals, Alector, Aleva Neurotherapeutics, Alexion Pharmaceuticals, Alexza Pharmaceuticals, Alfa Wassermann, Algernon Pharmaceuticals, AliveGen, Alkahest, Alkermes, Allen Institute for Brain Science, Allergan, Alligator Bioscience, Alnylam Pharmaceuticals, ALS Association, Alseres Pharmaceuticals, ALS Finding a Cure Foundation, AltaML, Altasciences, Altoida, Alto Neuroscience, Altus Formulation, Alume Biosciences, AlzeCure Pharma, Alzheimer's Association, Alzheimer's Drug Discovery Foundation, Alzheimers Research UK, Amarantus BioSciences, Amarantus Diagnostics, Amarna Therapeutics, Amathus Therapeutics, Ambiopharm, Ambra Health, Ambu, Amedica, Amendia, American Academy of Neurology, American Association of Neuromuscular & Electrodiagnostic Medicine, American Heart/Stroke Association, American Heart Association, American Migraine Foundation, American National Multiple Sclerosis Society, American Parkinson Diseases Association, American Speech-Language-Hearing Association, Amgen, Amicus Therapeutics, Amneal Pharmaceuticals, Amydis, Amylgen, Amylyx Pharmaceuticals, AnaBios, Anavex Life Sciences, Anelixis Therapeutics, Angelini Pharma, Anima Biotech, Animalab, ANI Pharmaceuticals, Annette Funicello Research Fund for Neurological Diseases (AFRFND), Annovis Bio, Anova Enterprises, AnthroTronix, Antibe Therapeutics, Antidote, Apellis Pharmaceuticals, Apexus, ApiFix, Aposense, Appello Pharmaceuticals, AppliedVR, APR Applied Pharma Research, AprilBio, APRINOIA Therapeutics, Aptahem, Aptinyx, Aptorum Group, Aquestive Therapeutics, Aquinnah Pharmaceuticals, Aralez Pharmaceuticals, Aratana Therapeutics, Arbor Pharmaceuticals, Argobio, Arteaus Therapeutics, Artelo Biosciences, Arterys, Artiria Medical, Artizan Biosciences, Arvelle Therapeutics, Asahi Kasei, Ascend Therapeutics, Asceneuron, Ashvattha Therapeutics, AskAt, Asklepios Biopharmaceutical, Aspen Holding, Assertio Therapeutics, Association for Frontotemporal Degeneration, Astellas Pharma, Astellas Pharma Europe, Asterias Biotherapeutics, Astex Pharmaceuticals, AstraZeneca, Astrogen, ATAI Life Sciences, Atalanta Therapeutics, Atara Biotherapeutics, Ataxion, Athersys, Athinoula A Martinos Center for Biomedical Imaging, Atlas Genomics, Atnahs Pharma, Attenua, Aucta Pharmaceuticals, Audentes Therapeutics, Aural Analytics, Aurora Cannabis, Aurora Spine, Auspex Pharmaceuticals, Austin Health, Australian Imaging, Biomarker & Lifestyle Flagship Study of Ageing (AIBL), Australian Research Council, Autobahn Therapeutics, Autotelic, Avanos Medical, Avant Diagnostics, Avella, Avenue Therapeutics, AveXis, Avicenna Technology, Axial Biotherapeutics, AXIM Biotechnologies, Axiogenesis, AxoSim, Axovant Gene Therapies, Axsome Therapeutics, Aytu BioPharma, Aziyo Biologics, Azova, Azurity Pharmaceuticals, Bachem, Back 2 Basics Direct, Baergic Bio, Bain Capital, BALT, Bamboo Therapeutics, Banyan Biomarkers, Battelle, Baudry Laboratory, Bayer, Baylor College, Baylor College of Medicine, B Braun, Beam Therapeutics, Becton Dickinson, Beijing InnoCare Pharma, Beijing Leadman Biochemistry, BenevolentAI, Benvenue Medical, Berg, Best Choice, Be The Match BioTherapies, Bexson Biomedical, Beyond Batten Disease Foundation, Bhang, Bial, BIA Separations, Biedermann Motech, Bio-Techne, BioArctic Neuroscience, biOasis Technologies, BioAxone BioSciences, BioAxone Therapeutic, Biobeat, Biocodex, Biocomposites, BIOCORP, BioCrossroads, BioDelivery Sciences, Biodextris, Biodirection, Biofourmis, Biogen, Biohaven Pharmaceutical, BioLamina, BiologicTx, BioMarin Pharmaceutical, Biomedical Advanced Research and Development Authority, BioMedical Research, BioMed X Innovation Center, BioMotiv, Bioness, Bionik Laboratories, Bionure, Biopharmaceuticals Australia, BioQ Pharma, Bioqube Ventures, Biorchestra, Bioscience Pharma Partners, Bioservo Technologies, BioSpring, BioSyent Pharma, BioTie Therapies, Biotoscana Farma, Bioventus, BioVie, Biscayne Neurotherapeutics, Biscayne Pharmaceuticals, BKK Mobil Oil, BL&H, Blackfynn, Blackrock Microsystems, Blackrock NeuroMed, Blackrock Neurotech, Blackstone Medical, BlackThorn Therapeutics, Blade Therapeutics, Blinktbi, Blockade Medical, Bloom Science, BlueRock Therapeutics, Boehringer Ingelheim, Bolden Therapeutics, Bolt Biotherapeutics, Boston Scientific, Boston University, Bpifrance, Bracket, Braeburn Pharmaceuticals, Brain and Spine Institute, BrainBits, BRAINBox Solutions, BRAIN Initiative, BrainLAB, Brain Neurotherapy Bio, Brainomix, Brain Scientific, BrainScope, BrainStorm Cell Therapeutics, Brain Trauma Foundation, Brain Treatment Center San Diego, BrainVectis, Brammer Bio, Breakthrough Health, Breath of Life International, BridgeBio Pharma, Brigham and Women's Hospital, Brightree, Bristol-Myers Squibb, Broad Institute, Brooks Automation, Brown University, Bruker, BTC Network, C4 Therapeutics, C4X Discovery, Cactus Semiconductor, Cadence Biomedical, Cadent Therapeutics, Cala Health, California Institute for Biomedical Research, California Institute for Regenerative Medicine, California Institute of Technology, California Parkinson's Disease Registry, Calliditas Therapeutics, Calmare Therapeutics, Camargo Pharmaceutical Services, Camarus, Cambridge Cognition, Cambridge Commodities, Camino Partnership, CAMP4 Therapeutics, Canadian Institutes of Health Research, Canadian Neuromuscular Disease Registry, Canadian Physiotherapy Association, Canbex Therapeutics, Canigma, CannaKids, CannaRoyalty, Cannassure Therapeutics, Cannex Scientific, Canntab Therapeutics, Cannvalate, Canon BioMedical, Canon Virginia, Canopy Growth, Cantabio Pharmaceuticals, Cap Alter Pharma, Capella Bioscience, Capnia, Capsida Biotherapeutics, Capsigen, Caputron Medical, Caraway Therapeutics, Cardiff University, Cardiovascular Solutions of Central Mississippi, CareTaker Medical, Caretta Therapeutics, Carlsmed, Carl Zeiss, Carmot Therapeutics, Carna BioSciences, Carnegie Mellon University, Carrum Health, Case Western Reserve University, Casma Therapeutics, Castle Creek Biosciences, Catalent, Catalyst Pharmaceutical Partners, Catholic University Leuven, CavoGene LifeSciences, CBD Solutions, Cedars-Sinai Medical Center, CEFALY Technology, CEITEC, Celeri Health, Celgene, Cell and Gene Therapy Catapult, Cellectricon, Cellenkos, Cellevolve Bio, Celltrion, Cellular Dynamics International, Cellvation, Censo Biotechnologies, Center for Sensorimotor Neural Engineering, Center for Technology and Innovation in Pediatrics (CTIP), Center for the Advancement of Science in Space, Centessa Pharmaceuticals, Centinel Spine, Centogene, Centre for Commercialization of Regenerative Medicine (CCRM), Centre for Drug Research and Development (CDRD), Centrexion, Centro de Investigación Biomédica en Red de Salud Mental, Cephagenix, CerebraCell, Cerebral Therapeutics, Cerecor, CereHealth, Cerevel Therapeutics, CerSci Therapeutics, Certainty Health, Certara, Cerus Endovascular, Cerveau Technologies, Cervel Neurotech, Chalgren, Chamishi Therapeutics, Champalimaud Foundation, Chaperone Technologies, Charcot-Marie-Tooth Association, Charite Universitatsmedizin Berlin, Charles River Associates, Charles River Laboratories, ChemDiv, ChemoCentryx, Chemomab Therapeutics, Children's Hospital at Montefiore, Children's Hospital Boston, Children's Hospital of Pittsburgh Foundation, Children's Hospital Of Wisconsin, Children's Minnesota, Children's Research Institute, ChoiceSpine, Chord Therapeutics, Christie Medical, Christopher & Dana Reeve Foundation, Chromocell, Chronos Therapeutics, Chugai Pharmaceutical, Ciitizen, Cincinnati Children's Hospital Medical Center, Cipher Pharmaceuticals, Circuit Therapeutics, Citizens United for Research in Epilepsy, City of Hope, CK Rizeon, ClearPoint Neuro, Clearsky Medical Diagnostics, Clene Nanomedicine, Cleveland Clinic, Cleveland Diabetes Care, Clevexel Pharma, Clinatec, Clinical Ink, Clinical Laserthermia Systems (CLS), CliniFusion, Clinigen, Clinlogix, Clintrex Research, Clinvest, Cloud Pharmaceuticals, CluePoints, CND Life Sciences, Coala Life, Cobra Biologics, CODA Biotherapeutics, Code Biotherapeutics, Codiak BioSciences, Codman Neuro, Cofactor Genomics, Cognition Therapeutics, CogState, Cohen Veterans Bioscience, Colby College, Colgate University, Collegium Pharmaceuticals, Colorado HealthOP, CoLucid Pharmaceuticals, Columbia University, Columbia University Medical Center, CombiGene, Compassionate Care Center of New York, Compass Point Research, Complement Pharma, Complix, Complutense University of Madrid, Compumedics, Concentric Analgesics, Concert Pharmaceuticals, Concordia Healthcare, Confo Therapeutics, Congenica, Context Therapeutics, Convelo Therapeutics, Convergence Pharmaceuticals, Cook Biotech, Corbin Therapeutics, Core One Labs, Corestem, Corium International, Corlexia Clinical Services, Corlieve Therapeutics, Coronado Biosciences, Corsair Innovations, CorTechs Labs, Cortexyme, Corvida Medical, Cosman Medical, Cosmo Pharmaceuticals, Courtagen Life Sciences, Cove, Covis Pharmaceutical, Coya Therapeutics, Cranford Pharmaceuticals, CRC Health, Creatori Health, CRISPR Therapeutics, Cronos Group, Crossbeta Biosciences, Crown Laboratories, CryoPort, CSPC Pharmaceutical Group, Cumberland Pharmaceuticals, Curebase, CURE Pharmaceutical, Currax Pharmaceuticals, Custopharm, CVR Global, Cyberonics, Cycle Pharmaceuticals, Cyclica, Cyclofluidic, Cynapsus Therapeutics, Cynergi Health Partners, Cyntar Ventures, Cypher Genomics, Cypralis, Cyrus Medical Technologies, Cytocom, Cytokinetics, Cytox, Cyxone, D&D Pharmatech, Daiichi Sankyo, Dalhousie University, Dalton Pharma Services, Dana-Farber Cancer Institute, DEARhealth, Defense Advanced Research Projects Agency, Defense Health Agency (US), Defense Logistics Agency, Dekel Pharmaceuticals, Denali Therapeutics, Denovo Biopharma, Department of Defense, Department of Veterans Affairs, DepoMed, DePuy, Desma HC, Dexcel Pharma, Diagnostic Robotics, DiaMedica, DiamiR, Dicerna Pharmaceuticals, Digestome Therapeutics, Digital Artefacts, DioGenix, Disarm Therapeutics, Distimp, Dixi, DKSH, doc.ai, Doctor's Medical, Domain Therapeutics, Dong-A Pharmaceutical, Dong-A ST, Dr. Reddy's Laboratories, Draeger Safety Diagnostics, Dragonfly Therapeutics, DrChrono, DuChemBio, Duke-NUS Graduate Medical School Singapore, Duke University, Durbin Group, DyNAbind, Dyno Therapeutics, DZNE German Center for Neurodegenerative Diseases, E-Scape Bio, E-Therapeutics, Eagle Pharmaceuticals, Early Signal Foundation, Echolight Medical, ECI Pharmaceuticals, ECM Therapeutics, EDAP TMS, Edge Pharma, Editas Medicine, Edith Cowan University (ECU), eemagine, Egalet, EicOsis, Eikonizo Therapeutics, Eikonoklastes Therapeutics, Eisai, Eisai Inc, ELC Group, Electrical Geodesics, ElectroCore, Elekta, Eli Lilly, Elite Pharmaceuticals, ElMindA, Elucid Bioimaging, Ember Therapeutics, EmbodyBio, EMD Serono, EmergeOrtho, EMMAC Life Sciences, Emory University, Empatica, EMTensor, Emulate, Enamine, Encoded Therapeutics, Endo International, Endonovo Therapeutics, Endo Pharmaceuticals, Endotronix, EndoVantage, eNeura Therapeutics, Engage Therapeutics, Engrail Therapeutics, Enigma Biomedical, Entos Pharmaceuticals, Envisagenics, EpicGenetics, Epic Pharmaceuticals, Epilepsy Canada, Epilepsy Foundation (EF), Epilepsy Society, EPS International, Epygen Biotech, Equilibre BioPharmaceuticals, Erisyon, Essex Bio-Technology, Esteve, ES Therapeutics, EtectRx, Ethypharm, Eton Pharmaceuticals, Eureka Eurostars, Euroimmun, European Union, Europe Technologies, Eversana, Evidation Health, Evogen, Evolution Research Group, Evotec, Ewopharma, Exactech, Exagen Diagnostics, ExCEEd Orphan, Exeltis, Expesicor, Express Medical Solutions, Eyam Vaccines and Immunotherapeutics, F-Star, Facial Pain Research Foundation, Fast Forward, Feinstein Institute for Medical Research, Ferring Pharmaceuticals, FightMND, Firsthand Technology, Fitabase, FitBit, Flexion Therapeutics, Flint Rehabilitation Devices, Florey Institute of Neuroscience and Mental Heath, Florida Atlantic University Research, Flowonix, Flywheel, Fondazione Telethon, Food and Drug Administration (FDA), Forbius, FORMA Therapeutics, Formsense, Fortress Biotech, Forward Pharma, Fosun Pharmaceutical, Foundation For Angelman Syndrome Therapeutics, Foundation for the National Institutes of Health (FNIH), Foundation to Fight H-ABC, Fox Chase Chemical Diversity Center, Fresenius Kabi Pharmaceuticals, Fritz Clinic, FSD Pharma, Fujifilm Diosynth Biotechnologies, Fukuda Denshi, Fundacion Progreso y Salud, Fundacion Universidad Torcuato Di Tella, Fusion Robotics, Fuzionaire Diagnostics, G-21, Gain Therapeutics, Galapagos, Galena Biopharma, Gardedam Therapeutics, GB Sciences, GE Healthcare, Geisinger Medical Center, Gen, GeneCode, GeneData, GenEdit, GeneDX, Genentech, Genesis MedTech, Gene Therapy Research Institution, Genethon, GeNeuro, Geneva Foundation, Genkyotex, Genmab, Genomics, Genomind, Genpharm, Genticel, Genzyme, Geo-Med, Georgetown Translational Pharmaceuticals, George Washington University, Gilead Sciences, Ginkgo BioWorks, GlaxoSmithKline, Global Drug Development Centre (GDCC) China, Global Kinetics, GM Medical, GNS Healthcare, Gold Coast Therapeutics, Golden Meditech, Goodwin Biotechnology, Google, Government of Canada, Graminex, Greatbatch, Great Ormond Street Hospital (GOSH), Grifols, Grunenthal, Grupo Juste, GTx, GW Pharmaceuticals, Hadassah Medical Center, Hainan Sihuan Pharmaceutical, Hainan Sinotau Pharmaceutical, Haisco Pharmaceutical, Halberd, Hannover Medical School, Happify Health, HAPPYneuron, Harmonic Bionics, Harvard Medical School, Harvard Pilgrim Health Care, Harvard Stem Cell Institute, Harvard University, Havn Life Sciences, Hawaii Biotech, Healint, Healios K.K., Healthcare Royalty Partners, HealthTrust, HealthWarehouse, Healthy Directions, Healthy Focus, Healx, HeartScore, HEC Pharm, Helius Medical Technologies, Helmholtz Zentrum Munchen, Helsinki University Central Hospital (HUCH) Comprehensive Cancer Center, Hennepin County Medical Center, Hennig, Henry Ford Health System, Henry M. Jackson Foundation, Herantis, Heron Therapeutics, Hesperos, Hetero Labs, Hikma Pharmaceuticals, Hitachi Chemical, HitGen, HLS Therapeutics, Hoba Therapeutics, Hobbs Rehabilitation, Hoffmann La Roche, Holmdel Pharmaceuticals, Homology Medicines, Honda R&D Americas, Hong Kong Baptist University, Horizon 2020, Horizon Discovery, Hospital Fondation Adolphe de Rothschild, Hospital for Special Surgery, H Robotics, Hua Medtech, Hyloris Pharmaceuticals, Hyperfine Research, HypGen, I-mab, IACTA Pharmaceuticals, iBIO Institute's PROPEL Center, IBM, Icagen, Icahn School of Medicine at Mount Sinai, Icometrix, Icotec, IDbyDNA, Ideal Medical Solutions, IDIPharma, Idorsia, Iktos, Imanova, Imbrium Therapeutics, Imeka, ImmunArray, Immuneering, Immune Pharmaceuticals, Immune Therapeutics, ImmuNext, Immunic, Impax Laboratories, Impel NeuroPharma, Imperial College London, Implanet, Inagene Diagnostics, INBRAIN Neuroelectronics, Incannex Healthcare, Inception Sciences, InCube Labs, Incyte, India Globalization Capital, Indiana University, Inexia, Inflazome, InfuTronix Solutions, Inhibikase Therapeutics, Innara Health, INNERVIA Bioelectronics, Innodem Neurosciences, Innosuisse, Innovate UK, iNova Pharmaceuticals, Inoviem Scientific, Inscopix, Inserm Transfert, Insero Health, InSightec, In Silico Biosciences, Insilico Medicine, Insitro, InspireMD, Inspyr Therapeutics, Institute for Research in Biomedicine, Institute for Research in Immunology and Cancer – Commercialization of Research, Institute for the Promotion of Innovation by Science and Technology in Flanders, Institute of Biophysics, Institute of Molecular and Clinical Ophthalmology Basel, Insys Therapeutics, Intec Pharma, Integra LifeSciences, Integrated Micro-Chromatography Systems, Integrity Implants, IntelGenx, Intellipharmaceutics, Intellirod Spine, Interactive Motion Technologies, Interaxon, Interleukin Genetics, International Progressive MS Alliance, International Security Group, International Society for Neurovascular Disease (ISNVD), International Society of Heart and Lung Transplantation, International Spine Study Group Foundation, International Stem Cell, Interventional Spine, InteRx Biomedical, Inventum Genetics, Invitae, InVivo Therapeutics, Ionian University, Ionis Pharmaceuticals, IONTAS, Iota Biosciences, Io Therapeutics, Ipsen, Iris Technologies, IRLAB, Iroko Pharmaceuticals, Iron Horse Diagnostics, Irras, iSchemaView, Ischemix, Isomerase Therapeutics, Isotopia Molecular Imaging, Israeli National Authority for Technological Innovation, Italian Multiple Sclerosis Society, IthenaPharma, Ives EEG Solutions, iX Biopharma, IXICO, J2H Biotech, Jackson Laboratory, Jadi Cell, James S. McDonnell Foundation, Jan Medical, Janssen Pharmaceuticals, Janssen Pharmaceutica NV, Janssen Research & Development, Japan Tobacco, Jazz Pharmaceuticals, JCR Pharmaceuticals, Jiangsu NHWA Pharmaceutical, Jinzhou Ahon Pharma, Jnana Therapeutics, Johns Hopkins Medicine (JHM), Johns Hopkins University, Johnson & Johnson, Johnson & Johnson Innovation, Joimax, Joint Solutions Alliance, Jubilant Biosys, Jubilant Hollisterstier, Juno Biomedical, Juno Therapeutics, K2M, Kadimastem, Kairuku, Kaiser Permanente, Kaldi Pharma, Karate Health, Karolinska Institute, Karyopharm Therapeutics, KBI BioPharma, Keck School of Medicine of USC, Keller Army Hospital, Kelyniam Global, KemPharm, Kensington Pharma, Kessler Foundation, Keystone Heart, KeyWise, KIF1A, Kindeva Drug Delivery, Kindred Healthcare, KineMed, Kineta, Kinetic Concepts, Kings College London, Kissei Pharmaceutical, Kit Check, Kitov Pharma, KK Women's and Children's Hospital, Klaria, Knight Therapeutics, Knopp Biosciences, Knox College, Koneksa Health, Konica Minolta, Kowa Pharmaceuticals America, Kromax, KT Corporation, Kurve Technology, KVK-Tech, Kwangwon, Kyocera, Kyowa Hakko Kirin, LabCentral, Laboratorios Adler, LABORATORIOS SAVAL, Lacerta Therapeutics, Lancet, Landos Biopharma, Lannett, Lauren Sciences, Lawson Health Research Institute, Lazarus Effect, LDR Holding, Leading Edge Pharms, Legacy Of Angels Foundation, Leica Microsystems, Leiters, Les Laboratoires Servier, Levitee Labs, Lexicon Pharmaceuticals, LGS Foundation, Liechti Lab, LifeArc, Lifehealthcare, Ligand Pharmaceuticals, Liminal Sciences, Lineage Cell Therapeutics, LineaRx, Link Health, Lipidomics Consulting, Lipidor, LipoCure, Litha Pharma, LivaNova, Lobe Sciences, Lobsor Pharmaceuticals, LOK, Longevity Biotech, Lonza, Los Altos Pharmaceuticals, Lotus Pharmaceuticals, Louisiana State University, LTS Lohmann Therapie-Systeme, Lucid Psycheceuticals, Luciole Medical, Luc Therapeutics, Ludwig Institute for Cancer Research, Luitpold Pharmaceuticals, Lumicera Health Services, Lumosa Therapeutics, Lunatus, Lundbeck, Lundquist Institute, Lund University, Lurie Children's Hospital of Chicago, Luxna Biotech, Lyfebulb, Lysogene, Lysosomal Therapeutics, M.Fast Technologie, Maastricht University, Mabylon, Macquarie University, Magic Leap, MAGiQ Therapeutics, Magnetic Insight, Magniant, Magstim, Maitland Labs, Mallinckrodt Pharmaceuticals, Maness Veteran Medical, Mapi Pharma, MapLight Therapeutics, Marathon Asset Management, Marathon Pharmaceuticals, Marina Biotech, Marnier-Lapostolle Foundation, Maruho, Masimo, MASORI Therapeutic, Massachusetts General Hospital, Massachusetts Institute of Technology, Massachusetts Life Sciences Center, Mast Therapeutics, Max-Planck, MaxQ AI, Mayo Clinic, Mazor Robotics, MBA, MC10, McGill University, McMaster University, McNeil Consumer Pharmaceuticals, McQuade Center for Strategic Research and Development, MDimune, Mdoloris Medical Systems, MDS Pharma Services, MedAvante, Medica Labs, Medical Developments International, Medical Innovators, Medical Research Council, Medical University of Vienna, Medical University South Carolina, MediCann Handels, MediciNova, Medicrea, Medidata Solutions, Medina Healthcare, Medina Medical, Mediolanum, MediPharm Labs, Mediso, Medison Pharma, MediSynergics, Medline Industries, Medolife Rx, Medopad, Medosome Biotec, Medovex, MedPharm, MedRhythms, Medtronic, MedyMatch, Meiji Seika, MeiraGTx, Melidonia Health Services, Melior Pharmaceuticals, MellingMedical, Memorial Sloan Kettering Cancer Center, Menarini, MentiNova, Merck and Co, Merck KGaA, Merck Serono, Mesoblast, MetP Pharma, Metrion Biosciences, MetVital, Metys Pharmaceuticals, MGC Pharma, MiaMed, Michael J Fox Foundation, Michigan State University, MicroConstants, Microsoft, MilliporeSigma, MiNA Therapeutics, MindImmune Therapeutics, Mind Medicine, MindShift Compounds, Mindstrong Health, MindX Sciences, Minnesota Department of Health, Minnetronix, Minoryx Therapeutics, miRagen Therapeutics, Miravo Healthcare, Mirimus, Mission Therapeutics, MIT, Mitacs, MitoCanada Foundation, Mitochondrial Innovation Initiative, Mitochon Pharmaceuticals, Mitokinin, Mitsubishi Tanabe Pharma, MOBILion Systems, Modag, Moebius Medical, Molecular Health, Molecular Stethoscope, Molteni Farmaceutici, Momenta Pharmaceuticals, Monash University, Montreal Neurological Institute-Hospital, Morgan Stanley, Morphic Therapeutic, Mount Holyoke College, Mount Sinai Health System, Mount Sinai Medical Center, Movendo Technology, MRIGlobal, MRI Interventions, MultiCorp International, Multiple Sclerosis Society of Canada, Mundipharma, MURANAKA Medical Instruments, Muscle Activation Technique, Muscular Dystrophy Association, Musculoskeletal Clinical Regulatory Advisers, Myeloproliferative Neoplasm Research Consortium, MyHealios, Mylan Laboratories, Mylan Pharmaceuticals, MYND Life Sciences, MyndTec, Myomo, Myrtelle, MyTPI, Myung In Pharm, Nanna Therapeutics, NanoDx, Nanoform, Nanologica, NanoVibronix, Nanovis, Nansen Neuroscience Network, NantCell, NantHealth, NantWorks, National Center for Advancing Translational Sciences (NCATS), National Human Genome Research Institute, National Institute of Allergy and Infectious Diseases, National Institute of General Medical Sciences, National Institute of Mental Health, National Institute of Neurological Disorders and Stroke, National Institute on Aging, National Institute on Disability and Rehabilitation Research, National Institute on Drug Abuse (NIDA), National Institutes of Health, National Medical Products, National Organization for Rare Disorders, National Parkinson Foundation (NPF), National Physical Laboratory, National Research Council Canada, National Science Foundation, National Stem Cell Foundation, National Surgical Care, National Yang-Ming University, Naurex, Navidea Biopharmaceuticals, Navitas, Ncardia, NDA Partners, Nencki Institute, Neo Medical, Neos Therapeutics, NeoSync, Nephron Dx, Nephron Pharmaceuticals, Neptune Technologies & Bioressources, NervGen Pharma, Nestle Health Science, NetraMark, NeuBase Therapeutics, NeuCyte, NeuExcell, Neumentum, Neumora Therapeutics, NeuPath Health, Neuracle Genetics, NeurAegis, Neuraltus Pharmaceuticals, Neuraly, Neuravi, NeurAxon, Neuraxpharm, Neurelis, Neuren Pharmaceuticals, NeurExo Sciences, Neurexpert, Neurgain Technologies, Neurimmune Therapeutics, Neurim Pharmaceuticals, NeurMedix, Neuro42, Neuro Assessment Systems, NeuroBo Pharmaceuticals, NeuroCog Trials, Neurocrine Biosciences, NeuroCycle Therapeutics, NeuroDerm, NeuroFront, Neurogene, NeuroGenesis, Neurolief, Neurolign Technologies, Neurolixis, NeuroLogica, NeuroMetrix, NeuroMuscular Orthotics, Neuron-Experts, Neuronasal, Neuronetics, NeuroNexus, Neuronoff, NeuroOne, NeuroPace, Neuropathix, Neuropore Therapies, NeuroScience Associates, NeuroSearch, NeuroSense Therapeutics, NeuroSigma, Neurosoft, NeuroTheryX, NeuroTracker, NeuroTrauma, Neurotrope BioScience, NeuroVigil, NeuroVive Pharmaceutical, NeuRx Pharmaceuticals, Neuway Pharma, NeuX Technologies, Newly Institute, Newron Pharmaceuticals, New York Genome Center (NYGC), New York University, Nexeon MedSystems, Nexstim, NFANT Labs, NHL Alumni Association, Nico, Nicoya, Nikkan Pharma, Nikon CeLL Innovation, NineteenGale Therapeutics, Nippon Shinyaku, Nitrome Biosciences, nLife Therapeutics, Noema Pharma, Noninvasix, North Carolina State University, Northeast ALS Consortium, Northeastern University, Northern Biomedical Research, Northern California Institute for Research and Education, North Med, NorthShore University HealthSystem, Northwestern Medicine Developmental Therapeutics Institute, Northwestern University, Nortis, Novaremed, Novartis, Novartis Pharmaceuticals Canada, Novation, Noveome Biotherapeutics, Novex Clinical Research, Novo Nordisk, Novoron Bioscience, Novus Therapeutics, NRG Therapeutics, Nuance Pharma, Nuevolution, Nuformix, numares, Numerate, Nurosene, Nutra Pharma, Nutriband, NuVasive, Nuvectra, Nuviant Medical, Nvidia, nView Medical, Nymirum, NYU Langone Medical Center, NYU Medical Center, Oakrum Pharma, Oblique Therapeutics, Occidental College, Ocular Therapeutix, Oculogica, Ohio State Innovation Foundation, Ohio State University, Oklahoma Health Care Authority, Oklahoma Medical Research Foundation, Olaris, Olea Medical, Oncodesign, Oncotelic, OnDosis, Onegevity, OnFace, Ono Pharmaceutical, ON Semiconductor, Ontario Brain Institute (OBI), Opisafe, OptiKira, OptiNose, Orapharma, Orbbo Surgical, Orchard Therapeutics, Oregon Health Sciences University, Oregon State University, Orexia Therapeutics, Origent Data Sciences, Orion, Orphazyme, Ortho-Clinical Diagnostics, Orthofix, Oscine Therapeutics, Oska Wellness, Oslo University Hospital, Osmotica Pharmaceuticals, Osseus Fusion Systems, Osteomed, Otsuka, Ovensa, Ovid Therapeutics, OWP Pharmaceuticals, Oxford Biodynamics, Oxford BioMedica, Oxis International, Oxyrane UK, Ozop Energy Solutions, Pace Wellness, Pacific Biosciences, Pacira Biosciences, Padlock Therapeutics, Pain Care Labs, PainQx, Pain Relief & Wellness Strategy Center, Pain Therapeutics, Pairnomix, Paladin Labs, Palisade Bio, Panaxia, Panion, PANTHERx Specialty Pharmacy, Paolo and Marlene Fresco Foundation, ParcelShield, Parkinson's Disease Foundation, Parkinson's Institute, Parkinson's Institute and Clinical Center, Parkinson's UK, Parkinsons Disease Foundation, Park Therapeutics, Par Pharmaceutical, Particle Sciences, Passage Bio, Patheon, PathMaker Neurosystems, Pathway Rx, Patient-Centered Outcomes Research Institute (PCORI),, Paul G Allen Family Foundation, Pax Neuroscience, PDL BioPharma, PEAR Therapeutics, Pediatric Hydrocephalus Foundation, Peking University, Pennsylvania State University, Pentax, Peptide Logic, PeptiDream, Peptron, Performance Health, PeriGen, Pernix Therapeutics, Perrigo, PETNET Solutions, Pfizer, Pfizer Japan, PharmaCielo, Pharmaleads, Pharmanest, Pharma Scientific Research, PharmaTher, Pharmatronic, Pharma Two B, Pharmazz, PharMEDium, Pharnext, Phil, Philips, Phoenix PharmaLabs, PhoreMost, PhytoTech Medical, PicnicHealth, Pierre Fabre, Pinteon Therapeutics, Piramal, PixarBio, Plagens Medical Consultants, Plandai Biotechnology, Planet Green BioTechnology, Plex Pharmaceuticals, Pluriomics, Polpharma, Pomona College, Portola Pharmaceuticals, Poseida Therapeutics, Prana Biotechnology, Praxis, Prayog Labs, Premier Biomedical, Premier Inc, Preora Diagnostics, Prevacus, Prevail Therapeutics, PreveCeutical Medical, Prevencio, Prevent Biometrics, Primary Peptides, Prime Therapeutics, Principia Biopharma, PrinterPrezz, Prism Health Care Services, Prize4Life, Procaps, Proclara Biosciences, Progenerative Medical, Progentec Diagnostics, Project ALS, Promaxo, Pro Medical Baltic, Promenade Software, Prometheus Laboratories, Promimic, ProMIS Neurosciences, Pronto Diagnostics, Prophase Labs, Prosetta Biosciences, Proteostasis Therapeutics, ProterixBio, Proteus, ProTrade Systems, Protxx, ProvideGx, Proximagen Group, Proximagen Neuroscience, Proximo Medical, Psilocin Pharma, Psyber, PsychoGenics, PTC Therapeutics, Purdue Pharma, Purdue Research Foundation, PureTech Health, Q-Gen Cell Therapeutics, Q-State Biosciences, Q2 Solutions, Q30 Innovations, QB3@953, Q Therapeutics, Quadrant Biosciences, QuantalRF, Quanterix, Quantib, Quartet Medicine, Queensland Institute of Medical Research (QIMR), Quell Therapeutics, QuiO Technologies, QurAlis, qynapse, R-Tech Ueno, RadNet, Rady Children's Institute for Genomic Medicine, Rafa Pharmaceuticals, Raffles PharmaTech, Rainbow Medical, Ramot at Tel Aviv University, Ra Pharmaceuticals, RapidAI, RaQualia Pharma, RBC Medical Innovations, RDD Pharma, ReadCoor, ReadSense Genomic Center, Recipharm, Reckitt Benckiser, Recordati, Recro Pharma, Recursion, RedHill Biopharma, Redox, RedoxTherapies, Regenacy Pharmaceuticals, Regenerative Medicine of China, Regenerative Medicine of Latin America, Regeneron Pharmaceuticals, Regeneus, RegenLab, Regenstrief Institute, Regenxbio, Releviate Therapeutics, Relief Therapeutics, Relmada Therapeutics, Remedy Pharmaceuticals, Renhe, Renovis, Repertoire Immune Medicines, ReproCell, Research Institute of the Hospital Universitari Vall d'Hebron, Reset Therapeutics, Resmed, RetroBrain, Retrotope, Rett Syndrome Research Trust, Revance Therapeutics, Reviva Pharmaceuticals, Revive Therapeutics, Revogenex, ReWalk Robotics, Reyon Pharmaceuticals, Rgenta Therapeutics, Rhaeos, RH Nanopharmacuticals, Rhoshan Pharmaceuticals, Rhythmlink, Rich Pharmaceuticals, Rigel Pharmaceuticals, Rigshospitalet, Rio Grande Neurosciences, Rising Pharmaceuticals, RMX Biopharma, Roche, Rocket Science Health, Rodin Therapeutics, RogCon Biosciences, Rosalind Franklin University of Medical Sciences, Rose F Kennedy Intellectual and Developmental Disabilities Research Center, Roxro Pharma, Royal Philips Electronics, Royalty Pharma, Roy J. Carver Center for Genomics (CCG), RPRD Diagnostics, RSK Medical, RTI Surgical, Rugen Therapeutics, Rune Labs, Rutgers Cancer Institute of New Jersey, Rutgers University, RXi Pharmaceuticals, Sabal Therapeutics, Sabin Vaccine Institute, SAB Therapeutics, Safe Orthopaedics, SafeWire, Sage Bionetworks, Sage Therapeutics, Saint Louis University, Salix Pharmaceuticals, Samsung Biologics, Sana Biotechnology, SanBio, Sandoz, Sanford Burnham Institute, Sangamo Therapeutics, Saniona, Sanofi, San Raffaele Hospital, Saol Therapeutics, Sarepta Therapeutics, Sawai Pharmaceuticals, Schenker Technologies, Scholar Rock, Schrodinger, Science 37, Scilex Pharmaceuticals, SciNeuro Pharmaceuticals, ScinoPharm Taiwan, SciSparc, Scopus BioPharma, Scribe Therapeutics, Scripps Research Institute, Seattle Children's Therapeutics, Secarna Pharmaceuticals, Sedor Pharmaceuticals, Seelos Therapeutics, Seikagaku, Seizure Tracker, Selexis, Selvita, Seneca, Senexta, Sengenics, Senhwa Biosciences, Senti Biosciences, Sentio, Sentynl Therapeutics, Seqens, Seqirus, SeraNovo, Seurat Therapeutics, Shandong Weigao Orthopedic Device, Shandong Xinhua Pharmaceutical, Shanghai Accurature Diagnostics, Shape Therapeutics, Sharp Edge Labs, Shenzhen Hybio Pharma, Shepherd Center, Shionogi, Shire Pharmaceuticals, Shirley Ryan AbilityLab, Short Wave Pharma, Si-Bone, Siemens Healthineers, Signant Health, Signet International, Silo Pharma, SilverCloud Health, Silvert Medical, Simcere Pharmaceuticals, Simplify Medical, Sinopia Biosciences
For full list of companies please contact us on enquiry@currentpartnering.com
Current Partnering reports provide insight into the trends and terms of partnering deals in the global life sciences sector.
Current Partnering reports are updated every six months to ensure the user has access to the latest announcements and trends in the topic focus of the report.
Current Partnering analysts review the deal data to provide an overview and analysis of deal trends, including example deals and terms.
Current Partnering reports source deal data from our proprietary deals and alliances database, Current Agreements. The database is updated daily by our analysts with new deals as they are announced globally by the company's party to the deal. In addition, deal records are updated with new data as it becomes available.
The data in the Current Agreements deals and alliances database is obtained from secondary sources such as publicly available industry sources including press releases, company presentations, investor presentations, company SEC filings, other company filings, company websites, conference presentations. Sources are identified to allow for user verification.
Current Partnering provides comprehensive coverage of the following partnering or deal types:
• Asset purchase
• Assignment
• Co-development
• Co-market
• Co-promotion
• Collaborative R&D
• Contract service
• CRADA
• Cross-licensing
• Development
• Distribution
• Equity purchase
• Evaluation
• Grant
• Joint venture
• Licensing
• Loan
• Manufacturing
• Marketing
• Option
• Promotion
• Research
• Royalty financing
• Settlement
• Spin out
• Sub license
• Supply
• Termination
• Warrant
Every deal record is fully categorized and includes the following data, where available:
• Industry sector
• Therapy areas
• Technology type
• Deal components
• Financial terms
• Stage of development
• Exclusivity
• Asset type
• Geographic focus
• Excluded geography
• Company press release
• SEC filing data including contract document
All financial amounts are converted to US$ using the exchange rate available on the date of deal announcement, enabling direct comparison of deal terms across international territories.
Financial data and contract documents displayed in deal records is obtained from public sources, where disclosed by the parties to the deal.
We found other products you might like!