Global Cardiovascular Partnering 2014-2021: Deal trends, players and financials
The Global Cardiovascular Partnering 2014-2021: Deal trends, players and financials report provides comprehensive understanding and unprecedented access to the cardiovascular partnering deals and agreements entered into by the worlds leading healthcare companies.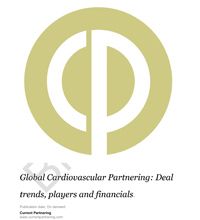 Publication date
October 2021
Product type
Therapy profile
Available formats
PDF document
Global Cardiovascular Partnering 2014 to 2021 provides the full collection of Cardiovascular disease deals signed between the world's pharmaceutical and biotechnology companies since 2014.
Trends in Cardiovascular partnering deals
Financial deal terms for headline, upfront and royalty by stage of development
Cardiovascular partnering agreement structure
Cardiovascular partnering contract documents
Top Cardiovascular deals by value
Most active Cardiovascular dealmakers
Most of the deals included within the report occur when a licensee obtains a right or an option right to license a licensor's product or technology. More often these days these deals tend to be multi-component including both a collaborative R&D and a commercialization of outcomes element.
The report takes readers through the comprehensive Cardiovascular disease deal trends, key players and top deal values allowing the understanding of how, why and under what terms companies are currently entering Cardiovascular deals.
The report presents financial deal terms values for Cardiovascular deals, where available listing by overall headline values, upfront payments, milestones and royalties enabling readers to analyse and benchmark the value of current deals.
The initial chapters of this report provide an orientation of Cardiovascular dealmaking trends.
Chapter 1 provides an introduction to the report.
Chapter 2 provides an overview of the trends in Cardiovascular dealmaking since 2014 covering trends by year, deal type, stage of development, technology type and therapeutic indication.
Chapter 3 includes an analysis of financial deal terms covering headline value, upfront payment, milestone payments and royalty rates.
Chapter 4 provides a review of the leading Cardiovascular deals since 2014. Deals are listed by headline value. The chapter includes the top 25 most active Cardiovascular dealmakers, together with a full listing of deals to which they are a party. Where the deal has an agreement contract published at the SEC a link provides online access to the contract.
Chapter 5 provides comprehensive access to Cardiovascular deals since 2014 where a deal contract is available, providing the user with direct access to contracts as filed with the SEC regulatory authorities. Each deal title links via Weblink to an online version of the deal record contract document, providing easy access to each contract document on demand.
Chapter 6 provides a comprehensive directory of all Cardiovascular partnering deals by specific Cardiovascular target announced since 2014. The chapter is organized by specific Cardiovascular therapeutic target. Each deal title links via Weblink to an online version of the deal record and where available, the contract document, providing easy access to each contract document on demand.
In addition, a comprehensive appendix is provided with each report of all Cardiovascular partnering deals signed and announced since 2014. The appendices are organized by company A-Z, stage of development at signing, deal type (collaborative R&D, co-promotion, licensing etc) and technology type. Each deal title links via Weblink to an online version of the deal record and where available, the contract document, providing easy access to each contract document on demand.
The report also includes numerous tables and figures that illustrate the trends and activities in Cardiovascular partnering and dealmaking since 2014.
In conclusion, this report provides everything a prospective dealmaker needs to know about partnering in the research, development and commercialization of Cardiovascular technologies and products.
Report scope
Global Cardiovascular Partnering 2014-2021: Deal trends, players and financials is intended to provide the reader with an in-depth understanding and access to cardiovascular trends and structure of deals entered into by leading companies worldwide.
Global Cardiovascular Partnering 2014-2021: Deal trends, players and financials includes:
Trends in cardiovascular dealmaking in the biopharma industry since 2014
Analysis of cardiovascular deal structure
Access to headline, upfront, milestone and royalty data
Access to cardiovascular deal records
The leading cardiovascular deals by value since 2014

The report includes deals for the following indications: Abdominal aortic aneurysm, Angina, Arrhythmia, Atrial fibrillation, Long QT syndrome, Supraventricular Tachycardia, Ventricular fibrillation, Ventricular tachycardia, Atherosclerosis, Breathlessness, Cardiogenic shock, Cardiomyopathy (heart muscle disease), Chest pain, Congenital heart disease, Congestive heart failure, Coronary artery disease, Ductus arteriosus, Fatigue, Hypercholesterolemia, Hypertension, Intermittent claudication, Ischemic heart disease, Limb ischemia, Marfan's Syndrome, Myocardial Infarction, Oedema (excess fluid), Palpitations, Peripheral arterial disease, Thrombus (blood clot), Valvular heart disease, Aortic stenosis, Restenosis, Varicose veins, plus other cardiovascular indications.
In Global Cardiovascular Partnering 2014-2021: Deal trends, players and financials, the available deals are listed by:
Company A-Z
Headline value
Stage of development at signing
Deal component type
Specific therapy target
Each deal title links via Weblink to an online version of the deal record and where available, the contract document, providing easy access to each contract document on demand.
The Global Cardiovascular Partnering 2014-2021: Deal trends, players and financials report provides comprehensive access to available deals and contract documents for cardiovascular deals. Analyzing actual contract agreements allows assessment of the following:
What are the precise rights granted or optioned?
What is actually granted by the agreement to the partner company?
What exclusivity is granted?
What is the payment structure for the deal?
How are the sales and payments audited?
What is the deal term?
How are the key terms of the agreement defined?
How are IPRs handled and owned?
Who is responsible for commercialization?
Who is responsible for development, supply, and manufacture?
How is confidentiality and publication managed?
How are disputes to be resolved?
Under what conditions can the deal be terminated?
What happens when there is a change of ownership?
What sublicensing and subcontracting provisions have been agreed?
Which boilerplate clauses does the company insist upon?
Which boilerplate clauses appear to differ from partner to partner or deal type to deal type?
Which jurisdiction does the company insist upon for agreement law?
Global Cardiovascular Partnering 2014 to 2021 provides the reader with the following key benefits:
In-depth understanding of Cardiovascular deal trends since 2014
Access Cardiovascular deal headline, upfront, milestone and royalty data
Research hundreds of actual contracts between Cardiovascular partner companies
Comprehensive access to links to actual Cardiovascular deals entered into by the world's biopharma companies
Indepth review of Cardiovascular deals entered into by the top 25 most active dealmakers
Benchmark the key deal terms companies have agreed in previous deals
Identify key terms under which companies partner Cardiovascular opportunities
Uncover companies actively partnering Cardiovascular opportunities
Executive Summary
Chapter 1 – Introduction
Chapter 2 – Trends in Cardiovascular dealmaking
2.1. Introduction
2.2. Cardiovascular partnering over the years
2.3. Cardiovascular partnering by deal type
2.4. Cardiovascular partnering by industry sector
2.5. Cardiovascular partnering by stage of development
2.6. Cardiovascular partnering by technology type
2.7. Cardiovascular partnering by therapeutic indication
Chapter 3 –Financial deal terms for Cardiovascular partnering
3.1. Introduction
3.2. Disclosed financials terms for Cardiovascular partnering
3.3. Cardiovascular partnering headline values
3.4. Cardiovascular deal upfront payments
3.5. Cardiovascular deal milestone payments
3.6. Cardiovascular royalty rates
Chapter 4 – Leading Cardiovascular deals and dealmakers
4.1. Introduction
4.2. Most active in Cardiovascular partnering
4.3. List of most active dealmakers in Cardiovascular
4.4. Top Cardiovascular deals by value
Chapter 5 – Cardiovascular contract document directory
5.1. Introduction
5.2. Cardiovascular partnering deals where contract document available
Chapter 6 – Cardiovascular dealmaking by therapeutic target
6.1. Introduction
6.2. Deals by Cardiovascular therapeutic target
Appendices
Appendix 1 – Directory of Cardiovascular deals by company A-Z since 2014
Appendix 2 – Directory of Cardiovascular deals by deal type since 2014
Appendix 3 – Directory of Cardiovascular deals by stage of development since 2014
Appendix 4 – Directory of Cardiovascular deals by technology type since 2014
Further reading on dealmaking
Deal type definitions
About Wildwood Ventures
Current Partnering
Current Agreements
Recent report titles from CurrentPartnering
Table of figures
Figure 1: Cardiovascular partnering since 2014
Figure 2: Cardiovascular partnering by deal type since 2014
Figure 3: Cardiovascular partnering by industry sector since 2014
Figure 4: Cardiovascular partnering by stage of development since 2014
Figure 5: Cardiovascular partnering by technology type since 2014
Figure 6: Cardiovascular partnering by indication since 2014
Figure 7: Cardiovascular deals with a headline value
Figure 8: Cardiovascular deals with upfront payment values
Figure 9: Cardiovascular deals with milestone payment
Figure 10: Cardiovascular deals with royalty rates
Figure 11: Active Cardiovascular dealmaking activity since 2014
Figure 12: Top Cardiovascular deals by value since 2014
Pricing options
$3,495: single-user
$5,245: multi-user
$10,495: single site license
$17,495: global site license
A full explanation of license type definitions can be found here.
Our guarantee
Price promise
We guarantee our prices are competitive. If you find the same report advertised at a lower price within 7 days of purchase, we will refund the difference.
Delivery Deadline
We guarantee that the report will be sent within the specified delivery times. In the unlikely case of a delay we may offer a partial refund as compensation. (Terms may apply)
Latest report
If an update is published within 30 days of your purchase, you will receive it absolutely free of charge.
Serious Security
We take your data and security seriously. See our privacy policy for details of how we manage your data.
All card payments are processed by SagePay.
Sales Support
If you have any questions about your report or are unhappy with the quality, we will do our best to resolve your query. Contact us direct.
Total Trust
Current Partnering is part of Wildwood Ventures Ltd., based in York, United Kingdom. We have been trading successfully online since 2009 and work with some of the most famous brands in the business. We carefully select our partners to ensure that the publications meet expectations of demanding customers.
1A Pharma, 3PrimeDx, 4D Molecular Therapeutics, 4D Pharma, 4SC Discovery, 36 Strategies General Trading, 480 Biomedical, A&D Medical, A&E Medical, A*STAR Agency for Science, Technology and Research, AADi, Abbott Laboratories, Abbott Vascular Devices, Abiomed, Ab Medica, Abram Scientific, Abyrx, Acasti Pharma, Accenture, Access Scientific, Access Vascular, ACEA Biosciences, Acino Pharma, ACIST Medical Systems, Actelion, Actuated Cardio Engineering, Actuated Medical, Acutus Medical, ADAS 3D Medical, AddUp, Admedus, Admera Health, Advanced BioInformatics, Advanced BioScience Laboratories, Advanced Cardiac Therapeutics, Advanced Catheter Therapies, Advanced Cooling Therapy, Advanz Pharma, Adventus Ventures, Aegerion Pharmaceutical, Aerolase, Agena Bioscience, AgeX Therapeutics, Agilent Technologies, Akcea Therapeutics, Akers Biosciences, Akrimax Pharmaceutical, Akums Drugs and Pharmaceuticals, Alere, Aleris, Al Hafez Trading Establishment, Alibaba Health, AliveCor, Allegiance Health Foundation, Allergan, Alliance Medical, Allscripts, Alnylam Pharmaceuticals, Altrix Medical, Amarin, Amarna Therapeutics, American College of Cardiology, American College of Emergency Physicians, American College of Physicians Foundation, American College of Surgeons, American Heart/Stroke Association, American Heart Association, American Medical Depot, AmeriCares, Amgen, Amneal Pharmaceuticals, Amomed Pharma, AmorChem, Amos Gazit, Amryt, AnaBios, Analog Devices, AnaMar, Angel Medical Systems, AnGes MG, Angiodynamics, Angion Biomedica, Angionetics, AngioSoma, ANI Pharmaceuticals, Antares Pharma, Antaros Medical, Anthem, Anthos Therapeutics, AOP Orphan Pharmaceuticals, APAC Scientific, Apicore, Aplagon, Apollo Hospitals Group, Apotex, Apple, Applied Medical, Aptahem, Aralez Pharmaceuticals, Ardelyx, Arena Pharmaceuticals, argenx, Argon Medical Devices, Armetheon, Aronora, Arrowhead Pharmaceuticals, Arteriae, Arterial Health International, Arterial Remodeling Technologies, Arteriomed, Asahi Intecc, Asahi Kasei, Ashland-Boyd County Health Department, ASKA Pharmaceuticals, Aspen Global, Aspen Holding, Aspen Pharmacare Canada, Aspire Health Science, Astellas Pharma, AstraZeneca, AstraZeneca HealthCare Foundation, AtCor Medical, Atelerix, Athena Bioscience, Athersys, Atnahs Pharma, Audentes Therapeutics, AutoGenomics, Autotelic, Autotelic BIO, Avery Therapeutics, Aviir Diagnostics, Avrobio, Awamedica, Axiogenesis, Axol Bioscience, Aziyo Biologics, Baker IDI Heart and Diabetes Institute, Bardy Diagnostics, Baxter International, Bayer, Bayer Healthcare, Bay Labs, Baylis Medical, B Braun, Beijing Leadman Biochemistry, Beijing SL Pharma, Bellerophon Therapeutics, Bened Biomedical, Berg, Bertin Pharma, Beth Israel Deaconess Medical Center, Bicycle Therapeutics, Bina Technologies, BioCardia, Biocon, Bioengineering Laboratories, Biofourmis, BioHeart, BioIntelliSense, BioInvent, BioLamina, BIOLIFE4D, BioLife Solutions, BioMarin Pharmaceutical, BioMatrix Specialty Pharmacy, Biomerics, BioSig Technologies, Biostar, Biostar Pharmaceuticals, Biotectix, BioTelemetry, Biotricity, Biotronik, BioVectra, Bioventix, Biovic Sdn bhd, Bird Foundation, Blackstone Medical, BlueRock Therapeutics, BodyTrace, Boehringer Ingelheim, Boryung Pharmaceutical, Boston Medical Center, Boston Pharmaceuticals, Boston Scientific, Breckenridge Pharmaceuticals, BridgeBio Pharma, Brigham and Women's Hospital, Brigham Young University, Bristol-Myers Squibb, Broad Institute, Brooks Automation, Burgerhospital, Burke Therapeutics, Butterfly Network, C2Dx, Cadila Pharmaceuticals, Caladrius Biosciences, California Institute for Regenerative Medicine, California Institute of Technology, Canadian Institutes of Health Research, Cantargia, Capellabio, Capricor Therapeutics, Caprion Proteomics, Capsule Tech, Cardiac Insight, Cardiac Life, Cardialen, CardieX, Cardinal Health, CardiNor, Cardio3 Biosciences Asia Holdings, CardioDx, CardioFocus, Cardiogen Sciences, CardioLogic, Cardiologs, Cardiome Pharma, Cardiorentis, Cardiovascular Cell Therapy Research Network, Cardiovascular Research Foundation, Cardiovascular Solutions of Central Mississippi, Cardiovascular Systems, Cardiowise, Cardium Therapeutics, Cardurion Pharmaceuticals, CareDx, CareLearning, Carestream Health, CareTaker Medical, Carmat, Carmel Pharma, Carrum Health, Casebia Therapeutics, Case Western Reserve University, CASI Pharmaceuticals, CAS Medical Systems, Catherine's Health Center, Catheter Precision, CBL Patras, CB Scientific, CDC Foundation, Cedars-Sinai Health System, Cedars-Sinai Medical Center, Celgene, Celladon, Cell and Gene Therapy Catapult, CELLINK, CellProThera, Cell Therapy, Celltrion, Cellular Logistics, CeloNova BioSciences, Celyad, Center for Advancing Point of Care Technologies, Center for Biomarker Research in Medicine, Center for Connected Health, Centerline Biomedical, Centers for Medicare and Medicaid Services, Centron Diagnostics, Cevec Pharmaceuticals, Chameleon BioSurfaces, Chansu Vascular Technologies, Charles River Laboratories, Cheil Pharm, Chek Diagnostics, Cheplapharm Arzneimittel, Chiesi Farmaceutici, Children's Heart Foundation, Children's Hospital Boston, Children's Hospital of Philadelphia, Children's Medical Research Institute, Children's Minnesota, Children's Hospital Oakland Research Institute (CHORI), China Grand Pharmaceutical, China Medical System, Chinese Future Industry Investment Fund, Chinese Society of Cardiology, Chong Kun Dang, Christiana Care Health System, Cilag AG, C Illies, CinCor Pharma, Cipherome, Cipher Pharmaceuticals, Cipla, Cipla Medpro, Citius Pharmaceuticals, Civica Rx, Clarity Pharmaceuticals, ClearFlow, Cleveland Clinic, Cleveland HeartLab, Clinlogix, Coala Life, Coeptis Pharmaceuticals, Cofactor Genomics, Colibri Heart Valve, College of Life Science of Northwest University, Columbia University Medical Center, Conavi Medical, Concordia Healthcare, Contatti Medical, Contour Therapeutics, Cook Medical, Coqui RadioPharmaceuticals, Cordis, CorDynamics, CoreRx Pharma, Corindus Vascular Robotics, CorMatrix Cardiovascular, Coroneo, CorpMedical, Correvio Pharma, CorVascular, Corvia Medical, Corvida Medical, Corvidia Therapeutics, Covalon Technologies, Covance, Covidien, Covis Pharmaceutical, Cranford Pharmaceuticals, CRISPR Therapeutics, Critical Diagnostics, Crown Bioscience, Cryolife, Cryothermic Systems, CSL, Curadev Pharma, Cure Duchenne, CVie, CyberHeart, Cyclenium Pharma, Cyclofluidic, Cynata Therapeutics, Cytokinetics, Cytori Therapeutics, CytoSorbents, Daewoong Pharmaceutical, Daiichi Sankyo, DalCor Pharmaceuticals, Dalhousie University, Dassault Systems, DaVinci Biomedical Research Products, Daxor, DecImmune Therapeutics, deCODE Genetics, Delta, Deltex Medical, Denovium, Denovo Biopharma, Department of Defense, Department of Health and Human Services, Desma HC, Dewpoint Therapeutics, Dexcel Pharma, DHR Health, Diablo Clinical Research, diaDexus, DiA Imaging Analysis, Diaxonhit, Dicerna Pharmaceuticals, DiNAQOR, Dizal Pharmaceutical, DKSH, Dogma Therapeutics, Domainex, Dorizoe Lifesciences, Dr. Reddy's Laboratories, Drukier Institute for Children's Health, Duke-NUS Graduate Medical School Singapore, Duke Clinical Research Institute (DCRI), Duke University, Duke University Medical Center, Eagle Pharmaceuticals, EB Neuro, Ebn Sina Medical, eCardio Diagnostics, Eddingpharm, Edwards Lifesciences, Eiger BioPharmaceuticals, Eko, ELC Group, Electrical Geodesics, Elexopharm, Eli Lilly, Elkhorn Logan Valley Public Health Department, Elucid Bioimaging, Embolitech, EmboMedics, Emory University, Enamine, Endo International, Endologix, Endospan, Endotronix, Enterprise Partners Venture Capital, ENYO Pharma, Epsilon, Er-Kim, Erasmus University Medical Center, ERS Genomics, ERT, Esaote, Esperion Therapeutics, Espero Biopharma, Eureka Eurostars, Eurolab Especialidades Medicinales de Eurofar, European Commission, European Innovation Council, Event Cardio Group, Everest Medicines, Excelera Network, Exelixis, Expression Analysis, ExScientia, FABPulous, Farapulse, FarmaMondo Group, Feinstein Institute for Medical Research, FEops, FibriCheck, Fine Foods & Pharmaceuticals N.T.M., First Check Diagnostics, FitBit, Food and Drug Administration (FDA), Foundation for Community Partnerships, Frankfurt University Hospital, FSD Pharma, Fujifilm, Fujifilm medical systems, Fulcrum Therapeutics, Fundacion Progreso y Salud, Fu Wai Hospital, G3 Pharmaceuticals, G3 Therapeutics, Galenicum Health, Gardia Medical, Gatehouse Bio, GC Pharma, GE Healthcare, Geisinger Medical Center, Gemphire, Genesis MedTech, Genetrix, Genomas, Genome Biologics, Genomic Vision, Genpharm, Genzyme, George Clinical, George Washington University, Georgia Institute of Technology, German Ministry for Education and Research, Gestion Univalor, Getinge, Global Genomics Group, GNS Healthcare, Goro Healthcare, Grunenthal, GS, Guangdong Provincial People's Hospital, Guerbet, Gyrus Capital, H2-Pharma, Hadasit Medical Research Services and Development, Hainan Savy Akers Biosciences, Hainan Savy Investment Management, Hainan Sihuan Pharmaceutical, Hancock Jaffe Laboratories, Hanmi Pharmaceutical, Hansen Medical, Harbin Gloria Pharmaceuticals, Harpoon Medical, Harvard Apparatus Regenerative Technology, Harvard Pilgrim Health Care, Harvard Stem Cell Institute, Harvard University, HCM Registry, Healios K.K., Healthcare Technology Innovation Centre (Chennai), HealthCore, Health Sciences Research Institute Germans Trias i Pujol Foundation, Healthstream, HealthTrust, HealthTrust Purchasing Group, Heartflow, HeartGenetics, HeartHero, HeartIT, Heart Rhythm Society, Heartseed, Helix, Hellman & Friedman, HemCon Medical Technologies, HemispheRx Biopharma, Hemostasis, Hemostemix, Henry Ford Health System, Henry Schein, Hetero Labs, Hibernation Therapeutics, High Desert Heart Institute, HighLife, Hikma Pharmaceuticals, HitGen, HLH BioPharma Vertriebs, HLS Therapeutics, Holberg EEG, HoliStick Medical, Holmdel Pharmaceuticals, Horizon 2020, Horizon Discovery, Hospices Civils de Lyon, Hospital of University of Strasbourg, Huami, Huapont Pharma, Humacyte, Human Biosystems, iBIO Institute's PROPEL Center, Icahn School of Medicine at Mount Sinai, iCardiac Technologies, Icon, Idorsia, ii Ventures, Ikaria, ImagineMIC, IME Medical Electrospinning, Impax Laboratories, ImpediMed, Imperial College London, Imricor Medical Systems, Independent Medical Coop, Indiana Biosciences Research Institute, Indiana University, Indigo Biosciences, InfoBionic, InfraReDx, inHealth Medical, inHEART, Innovate UK, Innovation Network Corporation, Innovative Genomics Initiative (IGI), INO Therapeutics, iNova Pharmaceuticals, Insilico, InSpire MD, InspireMD, Inspyr Therapeutics, Institute of Human Virology, Insulet, Integer Holdings, Integrated DNA Technologies, Interleukin Genetics, Intermountain Healthcare, Interrad Medical, InterValve, INVAP, inVentiv Health, Invitae, Ionis Pharmaceuticals, I Peace, iRhythm Technology, ISA Scientific, Istituti Clinici Scientifici Maugeria, Itamar Medical, Itochu, Jackson Laboratory, Jacksonville Pharmaceuticals, Jai Capital, JanOne, Janssen Biotech, Janssen Pharmaceuticals, Janssen Research & Development, Japan Lifeline, Jarvik Heart, Jasper Capital, Ji Xing Pharmaceuticals, JNC Medical, Johns Hopkins Medicine (JHM), Johns Hopkins University, Johnson & Johnson, Johnson & Johnson Innovation, Juvise Pharmaceuticals, Jvion, Kaneka, Kastle Therapeutics, Kennedy Trust For Rheumatology Research, Keystone Heart, King's College Hospital, Kiniksa Pharmaceuticals, Kissei Pharmaceutical, Kitov Pharma, Knight Therapeutics, KOL Bio Medical Instruments, Konica Minolta, Korea Animal Medical Science Institute, Kowa, Kowa Pharmaceuticals America, Kuhnil Pharmaceuticals, Kyoto University, Kyowa Hakko Kirin, L1 Enterprises, Laboratory Corporation of America, La Jolla Capital, La Jolla Pharmaceutical, Lannett, Lantheus Medical Imaging, Laurel Bridge Software, Lee's Pharmaceutical, Leiden University, Leiters, LeMaitre Vascular, Leonhardt's Launchpads, Leviticus Cardio, Lexington Biosciences, LianBio, Life-Assist, LifeArc, LifeQ, LifeWatch Services, Ligand Pharmaceuticals, LindaCare, Linear Health Sciences, Lipigon Pharmaceuticals, LivaNova, Lokai Medical, Lombard Medical Technologies, Longeveron, Longitude Capital, Lonza, Lorem Vascular, LORION Enterprises, LSU Health Sciences Center, LUCA Science, Lund University, Lupin Limited, Luscii, Luye Pharma Group, M2S, mAbsolve, MagBioSense, Magnesium Elektron, Magnum Cell Therapies, Mallinckrodt Pharmaceuticals, Mallory Community Health Center, Manna Ministries, Maquet Medical Systems, Marina Biotech, Marizyme, Masimo, Massachusetts General Hospital, Massachusetts Institute of Technology, Materialise, Matthew Walker Comprehensive Health Center, Max-Planck, Mayo Clinic, Maze Therapeutics, MC3 Cardiopulmonary, MD Anderson Cancer Center, Medable, MedAxiom, MedCision, Medeon Biodesign, Medicall Biomedikal, Medicure, MedImmune, Medipal Holdings, Medis, MediSafe, Mediso, Medison, Medison Pharma, Medisun International, Meditrade, Medline Industries, Medovex, MedPac Asia Pacific, Medtronic, Mentice, Merck and Co, Merck KGaA, Merck Serono, Merge Healthcare, Merus Labs International, Mesoblast, Mespere LifeSciences, Metabasis Therapeutics, Metactive, Metrion Biosciences, Mezzion Pharma, Micell Technologies, Micro Interventional Devices, Micro Medical Solutions, MicroPort Scientific, MicroPort Sorin CRM (Shanghai), Microsoft, Millar, Millipede, Ministry of Health (Saudi Arabia), Minnetronix, Miravo Healthcare, Mitsubishi Tanabe Pharma, Mobvoi, Mochida Pharmaceutical, Moderna Therapeutics, Molecular Stethoscope, Montreal Heart Institute, Morphic Therapeutic, Mount Sinai Health System, Mperia Therapeutics, MRI Interventions, MSC, MSN Laboratories, Muscat Pharmacy and Stores, Myant, Mylan Laboratories, Myocardial Solutions, Myocarditis Foundation, MyoKardia, Myriad RBM, myTomorrows, N8 Medical, Nagoya University Graduate School of Medicine, Nanion, NanoSurface Biomedical, NASA, National Cancer Center, National Center for Cardiovascular Diseases, National Cerebral and Cardiovascular Disease Research Center, National Heart, Lung and Blood Institute, National Institute of Allergy and Infectious Diseases, National Institute of Neurological Disorders and Stroke, National Institute on Aging, National Institute on Drug Abuse (NIDA), National Institutes of Health, National Institutes of Health Center for Regenerative Medicine, National Organization for Rare Disorders, National Physical Laboratory, National Research Council Industrial Research Assistance Program, National Science Foundation, National University of Singapore, Natus Medical, Navidea Biopharmaceuticals, Ncardia, NeoChord, Neograft Technologies, Neovasc, NeuroproteXeon, Neurotrope BioScience, NeuroVive Pharmaceutical, NeuroVive Pharmaceutical Asia, NewAmsterdam Pharma, New England Research Institutes, New Wave Ventures, New York Genome Center (NYGC), New York Institute of Technology, NGM Biopharmaceuticals, NHS Scotland, Nido Surgical, Nightingale Health, Nihon Kohden, Nissan Chemical Industries, Noden Pharma, Nonin Medical, North Carolina State University, North Georgia Healthcare, Northwestern Medicine Bluhm Cardiovascular Institute, Northwestern Medicine Developmental Therapeutics Institute, Northwestern University, NovalGen, Novant Health, Novartis, Novasep, Novation, Novella Clinical, Novoheart, Novo Nordisk, Novostia, NTT Medical Center Tokyo, NuCryo Vascular, NuMed, Numerate, Nutricare Costa Rica, NuVascular Technologies, Oberland Capital, Octapharma, Ohio State University, Olympus, OMEICOS Therapeutics, Omron, Omthera Pharmaceuticals, On-X Life Technologies, OncoImmune, One Drop, OnFace, Ontario Institute for Cancer Research, Opsens, OptiBiotix, Optina Diagnostics, Optum Labs, Opus Medical, OrbusNeich, Orchestra BioMed, Orebro University, Organicell Regenerative Medicine, ORIG3N, Orphan Canada, Orsini Healthcare Specialty Pharmacy, Ortho-Clinical Diagnostics, Oscor, Otsuka, Owlstone Medical, OxySure Systems, P+F Products & Features, Palmetto Project, Paragonix Technologies, Parent Project Muscular Dystrophy, Patient-Centered Outcomes Research Institute (PCORI),, Paul G Allen Family Foundation, Pax Neuroscience, PDL BioPharma, PEDRA Technology, Peijia Medical, Peking University, Penn Medicine, Penumbra, PeptiDream, Pfizer, Pharaon Healthcare‐Droguerie Mercury, PharmAbcine, Pharmabiota, Pharmaceutical Research and Manufacturers of America, Pharma Scientific Research, Pharnext, PhaseBio Pharmaceuticals, Philips, PhoreMost, Pierre Fabre, Pilloxa, Pivotal Therapeutics, Pluriomics, Pluristem Therapeutics, Pohl Boskamp, Poxel, Precision Image Analysis, Premier Inc, Preora Diagnostics, Prevencio, Preventice, Preventice Solutoions, Primary Peptides, Primordial Genetics, Procella Therapeutics, Procter & Gamble, Procyrion, Profil Institute for Clinical Research, Profusa, Project HOPE, Proteros biostructures, ProtoKinetix, ProvideGx, Proximo Medical, Pulsion Medical Systems, Punjab Province, Q3 Medical Devices, Qingdao Primedicine Pharmaceutical, QT Vascular, Quercis Pharma, Quest Diagnostics, Quidel, Quintiles, QuiO Technologies, Rain Therapeutics, Raisio, RayBiotech, RCC Pharma, Recordati, ReCor Medical, Recovery Force, ReFlow Medical, Regenerative Care Network, Regenerative Medicine of China, Regenerative Medicine of Latin America, Regeneron Pharmaceuticals, Regents of the University of Michigan, Regenxbio, Relaxera Pharmazeutische, Relevium, Reliance Life Sciences, Relias, Renova Therapeutics, Renovo, Research Development Foundation, Resverlogix, Retia Medical, Retrophin, Retroscreen Virology, Revive Therapeutics, Rexgenero, Rex Medical, RFPi, Rigel Pharmaceuticals, Rijuven, Rimidi, Roche, Rocket Pharmaceuticals, Roxwood Medical, Royal Philips Electronics, RQI Partners, RSK Medical, RTI Surgical, RTW Investments, Rush University Medical Center, SACCO, Saint Agnes Hospital Foundation, Saint Luke's Mid America Heart Institute, Salutron, Samsung Biologics, Sanbor Medical, Sandoz, Sanford Burnham Institute, Sanford Health, Sankofa Community Development, Sanofi, Schrodinger, SciCann Therapeutics, SciClone Pharmaceuticals, ScinoPharm Taiwan, Scohia Pharma, scPharmaceuticals, Seattle Childrens Research Institute, Selenity Pharmaceuticals, Selvita, Sema4, Sensible Medical Innovations, Serenus Biotherapeutics, Service and Medical Colombia, Shanghai Institutes for Biological Sciences, Shanghai Model Organisms Center, Shenzhen Hepalink Pharmaceutical, Shenzhen Semacare Medical Technology, Shionogi, Shire Pharmaceuticals, SHL Telemedicine, Siemens Healthineers, SignaBlok, SignPath Pharmaceuticals, Silence Therapeutics, Silver Creek Pharmaceuticals, Sinclair Research, Sinotherapeutics, Sintact Medical Systems, SIT Laboratorio Farmaceutico, SK Telecom, SkylineDX, Small Business Innovation Research, Smart Medical Systems, Smartwise, SNBL CPC, Society for Vascular Surgery Patient Safety Organization (SVS PSO), Somahlution, SomaLogic, Sonic Healthcare, Sophia Genetics, Sorin Group, Sosei, Sosei Heptares, Southwest Research Institute, Spectranetics, Spectrum Pharmaceuticals, Sphingotec, SQI Diagnostics, SQ Innovation, St. Mary Medical Center, STADA Arzneimittel, Stanford University, Stanford University School of Medicine, Staten Biotechnology, Stem Cell Theranostics, Stempeutics, STENTiT, Stentys, Stereotaxis, St Jude Medical, Stryker, Sumocor, Sundance Research Institute, SunTech Medical, SuperSonic Imagine, SurModics, Svelte Medical Systems, Swedish Bactiguard, Swixx Biopharma, Symplmed Pharmaceuticals, SynCardia Systems, Syntactx, Tabuk Pharmaceutical, TaiGen Biotechnology, Takeda Pharmaceutical, Talis Biomedical, TARA Biosystems, Taros Chemicals, Tasly Pharmaceuticals, Taxus Cardium Pharmaceuticals, Taxus Pharmaceuticals, Technology Strategy Board (UK), Teijin, Tel Aviv University, Teleflex, Terason, Tersus Life Sciences, Terumo, Terumo BCT, Terumo Cardiovascular Systems, Teson Pharma, Teva Pharmaceutical Industries, TGen Drug Development, The Food Trust, The Foundry, The Hospital for Sick Children, The Medicines Company, Theorem Clinical Research, Theraclion, Theragene Pharmaceuticals, TheraVasc, Thermo Fisher Scientific, The University of Chicago Medicine, Third Pole Therapeutics, Tibet Rhodiola Pharmaceutical Holding Co, TiGenix, TogetherMD, Topstone Research, Toray, Toronto Innovation Acceleration Partners, toSense, Toshiba America Medical Systems, TRACON Pharmaceuticals, Transcatheter Technologies, Transgenomic, Translational Sciences, Trigen, TriReme Medical, Tris Pharma, TTP Group, Tufts Medical Center, Turing Pharmaceuticals, twoXAR, Typenex Medical, UAB Research Foundation, Ubiquigent, UCB, UDG Healthcare, Ultromics, Unetixs Vascular, Unify Surgical, Unilife, UniQure, United Imaging Healthcare, United Therapeutics, UnityPoint Health, University College London, University of British Columbia, University of California, San Diego, University of California Los Angeles, University of California San Francisco, University of Cambridge, University of Cincinnati, University of Colorado, University of Colorado Denver, University of Copenhagen, University of Dundee, University of Iowa, University of Manchester, University of Maryland, University of Maryland Baltimore, University of Miami, University of Nebraska, University of Oslo, University of Ottawa, University of Oxford, University of Pennsylvania, University of Pittsburgh, University of Reading, University of Sydney, University of the Highlands and Islands, University of Utah, University of Utah Research Foundation, University of Washington, University of West Indies, University of Wisconsin, University of Wisconsin-Madison, US Army Medical Research and Material Command, USCI Holdings, Valeant Pharmaceuticals, Valencell, Valo Health, Vance Street Capital, Vasamed, Vascugen, Vascular Flow Technologies, Vascular Graft Solutions, Vascutek, Vasomune Therapeutics, Vasorum, VectraCor, Venclose, Venus Medtech, Verily, Verity Pharmaceuticals, Verizon, Viamet Pharmaceuticals, Vianex, Viant, Vifor Pharma, Viking Therapeutics, Virginia Catalyst, VirtualScopics, Vital Connect, Vitruvias Therapeutics, Viva Biotech, VivaQuant, VivoSense, Vizient, VOTIS Subdermal Imaging Technologies, Vygon, Wacker Biotech, Wake Forest University, WakeMed Health & Hospitals, Wallace H. Coulter Foundation, Washington University in St Louis, Weill Cornell Medical College, Wellbridge Health, Wellcome Trust Sanger Institute, West Pharmaceutical Services, Whittier Street Health Center, Winthrop-University Hospital, WomenHeart, Worcester Polytechnic Institute (WPI), World Heart Federation, WuXi PharmaTech, X-chem, XCellCure, Xention, Yale School of Medicine, Yale University, Yiling Wanzhou International Pharmaceuticals, Yissum Research Development, ZAO Firma Euroservice, Zealand Pharma, ZeClinics, Zelira Therapeutics, Zhittya Genesis Medicine, Zoll Medical
Current Partnering reports provide insight into the trends and terms of partnering deals in the global life sciences sector.
Current Partnering reports are updated every six months to ensure the user has access to the latest announcements and trends in the topic focus of the report.
Current Partnering analysts review the deal data to provide an overview and analysis of deal trends, including example deals and terms.
Current Partnering reports source deal data from our proprietary deals and alliances database, Current Agreements. The database is updated daily by our analysts with new deals as they are announced globally by the company's party to the deal. In addition, deal records are updated with new data as it becomes available.
The data in the Current Agreements deals and alliances database is obtained from secondary sources such as publicly available industry sources including press releases, company presentations, investor presentations, company SEC filings, other company filings, company websites, conference presentations. Sources are identified to allow for user verification.
Current Partnering provides comprehensive coverage of the following partnering or deal types:
• Asset purchase
• Assignment
• Co-development
• Co-market
• Co-promotion
• Collaborative R&D
• Contract service
• CRADA
• Cross-licensing
• Development
• Distribution
• Equity purchase
• Evaluation
• Grant
• Joint venture
• Licensing
• Loan
• Manufacturing
• Marketing
• Option
• Promotion
• Research
• Royalty financing
• Settlement
• Spin out
• Sub license
• Supply
• Termination
• Warrant
Every deal record is fully categorized and includes the following data, where available:
• Industry sector
• Therapy areas
• Technology type
• Deal components
• Financial terms
• Stage of development
• Exclusivity
• Asset type
• Geographic focus
• Excluded geography
• Company press release
• SEC filing data including contract document
All financial amounts are converted to US$ using the exchange rate available on the date of deal announcement, enabling direct comparison of deal terms across international territories.
Financial data and contract documents displayed in deal records is obtained from public sources, where disclosed by the parties to the deal.