Royalty Rates in Pharmaceutical and Biotechnology Deals
Essential Benchmark Data for Dealmakers | Global coverage | Updated to 2023 | Over a decade of royalty rates | Deal financials | Contract documents | Royalty rate trends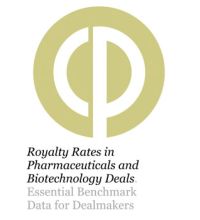 Publication date
September 2023
Product type
Research report
Available formats
PDF document
Report edition
4 - fully revised and updated
Royalty Rates in Pharmaceutical and Biotechnology Deals is your one-stop source for providing real-deal information on hundreds of transactions, including the technology licensed, royalty rates, license fees, upfront and milestone payments.
This report provides details of the latest partnering deals which disclose a royalty rate, announced in the pharmaceutical, biotechnology and diagnostic sectors. The report provides details of partnering deals disclosing royalty rates from 2010 to 2023.
The report provides an overview of how and why companies enter partnering deals where a royalty is payable upon commercialization of the compound or technology.
Understanding the flexibility of a prospective partner's negotiated deals terms provides critical insight into the negotiation process in terms of what you can expect to achieve during the negotiation of terms. Whilst many smaller companies will be seeking details of the payments clauses, the devil is in the detail in terms of how payments are triggered – contract documents provide this insight where press releases and databases do not.
This report contains a comprehensive listing of all partnering deals announced since 2010 where a quantitative royalty rate has been disclosed, as recorded in the Current Agreements deals and alliances database. Each deal record and royalty disclosure is available in further detail via a link to online copy of the deal including actual contract document, where available, as submitted to the Securities Exchange Commission by companies and their partners.
The initial chapters of this report provide an orientation of royalty rate trends in pharma and biotech since 2010. Chapter 1 provides an introduction to the report, whilst chapter 2 provides an overview of the trends in royalty rates in the pharma and biotech sectors since 2010.
Chapter 3 provides a more detailed insight into the structure of a royalty rate clause and how it fits with the other financial terms of the partnering deal.
Chapter 4 provides an insight into companies active in disclosing royalty rates as well as those deals attracting the highest royalty rates.
Chapter 5 provides comprehensive and detailed access to deals which disclose a royalty rate since 2010 where a contract document is available. Contract documents provide an in-depth insight into the actual deal terms agreed between the parties with respect to the royalty rate.
In addition the report includes a comprehensive deal directory listing of all deals where a royalty rate has been disclosed announced since 2010. Each listing is organized as a directory by company A-Z, stage of development at signing, therapeutic area, and technology type. Each deal title links via hyperlink to an online version of the deal record including, where available, the actual contract document.
The report also includes numerous table and figures that illustrate the trends in royalty rates in pharma and biotech deal making since 2010.
In conclusion, this report provides everything a prospective dealmaker needs to know about royalty rates in the pharma and biotech sector.
Key benefits
Royalty Rates in Pharmaceutical and Biotechnology Deals provides the following benefits:
Understand royalty rate trends since 2010

Analysis of the structure of royalty clauses with real life case studies

Browse collaboration and licensing deals which reveal a royalty rate

Benchmark analysis – identify market value of transactions

Financials terms - upfront, milestone, royalties

Directory of deals by company A-Z, therapy focus and technology type

Access contract documents - insights into deal structures

Due diligence - assess suitability of your proposed deal terms for partner companies

Save hundreds of hours of research time
Report scope
Royalty Rates in Pharmaceutical and Biotechnology Deals is intended to provide the reader with an in-depth understanding of the royalty rate trends and structure of deals entered into by leading life science companies worldwide.
Royalty Rates in Pharmaceutical and Biotechnology Deals includes:
Trends in royalty rates in the biopharma industry since 2010

Analysis of royalty rate clause structure

Case studies of real-life licensing deals which disclose royalty rates

Comprehensive listing of licensing deals which disclose royalty rates since 2010

Access to licensing contract documents which disclose royalty rates

The leading licensing deals by royalty rate value since 2010

Most active royalty rate disclosures since 2010
In Royalty Rates in Pharmaceutical and Biotechnology Deals available deals and contracts are listed by:
Company A-Z

Headline value

Therapeutic area

Technology type
Each deal title links via Weblink to an online version of the actual deal record and where available, contract document, providing easy access to each contract document on demand.
The Royalty Rates in Pharmaceutical and Biotechnology Deals report provides comprehensive access to available contract documents for licensing deals.
Analyzing actual contract agreements allows assessment of the following:
What are the precise royalty rates granted?

What is actually granted by the agreement to the partner company?

What exclusivity is granted?

What is the payment structure for the deal?

How are sales and payments audited?

What is the deal term?

How are the key terms of the agreement defined?

How are IPRs handled and owned?

Who is responsible for commercialization?

Who is responsible for development, supply, and manufacture?

How is confidentiality and publication managed?

How are disputes to be resolved?

Under what conditions can the deal be terminated?

What happens when there is a change of ownership?

What sublicensing and subcontracting provisions have been agreed?

Which boilerplate clauses does the company insist upon?

Which boilerplate clauses appear to differ from partner to partner or deal type to deal type?

Which jurisdiction does the company insist upon for agreement law?
Royalty Rates in Pharmaceutical and Biotechnology Deals provides the following benefits:
Understand royalty rate trends since 2010

Analysis of the structure of royalty clauses with real life case studies

Browse collaboration and licensing deals which reveal a royalty rate

Benchmark analysis – identify market value of transactions

Financials terms - upfront, milestone, royalties

Directory of deals by company A-Z, therapy focus and technology type

Access contract documents - insights into deal structures

Due diligence - assess suitability of your proposed deal terms for partner companies

Save hundreds of hours of research time
Executive Summary
Chapter 1 – Introduction
1.1. What are royalties?
1.2. History of royalty rates
1.3. Royalties in pharmaceuticals and biotechnology
1.4. Royalties versus revenue share
1.5. Overview of the report
Chapter 2 – An overview of pharmaceutical and biotechnology royalty rates
2.1. Trends in royalty rates 2010 - 2023
2.2. How do revenue shares figure?
2.3. A review of recent literature
2.4. Royalty rates in the future
Chapter 3 – The royalty clause in pharmaceutical and biotechnology deals
3.1. Partnering agreement structure
3.2. Structure of a typical royalty clause
3.3. Example royalty clauses
3.3.1. Case study 1
3.3.2. Case study 2
3.3.3. Case study 3
3.3.4. Case study 4
Chapter 4 – Companies actively disclosing royalty rates
4.1. Most active companies in disclosing royalty rates
Chapter 5 – Royalty rate contract directory
Explore royalty rates within the deal contract document to gain greater insight
Deal Directory
Deal Directory – Royalty rates in deals – by company A-Z
Deal Directory – Royalty rates in deals - by therapy area
Deal Directory – Royalty rates in deals - by stage of development at signing
Deal Directory – Royalty rates in deals - by technology type
Royalty rate references
Example royalty rate deal contract document
About Wildwood Ventures
Current Partnering
Current Agreements
Recent report titles from Current Partnering
Table of figures
Figure 1: Trends in pharma and biotech royalty rates, 2010 - 2023
Figure 2: Components of the partnering deal structure
Figure 3: Components of the partnering royalty clause
Figure 4: Most active companies disclosing royalty rate 2010 - 2023
Figure 5: Licensing agreement for rhAAT – rEVO Biologics, LFB Biotechnologies
Pricing options
$3,995: single-user (encrypted file - one user/device)

$5,995: multi-user (encrypted file - up to 5 users/devices)

$9,995: company (unencrypted file)
Single and Multi-user license files are encrypted PDF documents. Details of how to access using Javelin3 PDF Reader will be provided at report delivery.
Company license files are not encrypted and can be accessed using a PDF Reader.
A full explanation of license type definitions can be found here.
Our guarantee
Price promise
We guarantee our prices are competitive. If you find the same report advertised at a lower price within 7 days of purchase, we will refund the difference.
Delivery Deadline
We guarantee that the report will be sent within the specified delivery times. In the unlikely case of a delay we may offer a partial refund as compensation. (Terms may apply)
Latest report
If an update is published within 30 days of your purchase, you will receive it absolutely free of charge.
Serious Security
We take your data and security seriously. See our privacy policy for details of how we manage your data.
All card payments are processed by Evalon.
Sales Support
If you have any questions about your report or are unhappy with the quality, we will do our best to resolve your query. Contact us direct.
Total Trust
Current Partnering is part of Wildwood Ventures Ltd., based in York, United Kingdom. We have been trading successfully online since 2009 and work with some of the most famous brands in the business. We carefully select our partners to ensure that the publications meet expectations of demanding customers.
2seventy bio, 3a-diagnostics, 3D Medicines, 4SC, 23andMe, Abbott Laboratories, Abbvie, Abeona Therapeutics, Ablynx, Abraxis BioScience, ACADIA Pharmaceuticals, Acceleron Pharma, Acelrx Pharmaceuticals, Acer Therapeutics, Acerus, Acrotech Biopharma, Actavis (acquired by Watson), Active Biomaterials, Acura Pharmaceuticals, Adamis Pharmaceuticals, Adaptimmune, ADC Therapeutics, Adeona Pharmaceuticals, Adial Pharmaceuticals, Aditx Therapeutics, Adlai Nortye, Aduro BioTech, Advanced Dosage Forms, Advanz Pharma, Advaxis, Advirna, Aegerion Pharmaceutical, Aeglea BioTherapeutics, Aerie Pharmaceuticals, AEterna Zentaris, Affimed Therapeutics, Afritex Medical Products, AFT Pharmaceuticals, Agenus Bio, Agios Pharmaceuticals, Aguettant, AIT Therapeutics, Akcea Therapeutics, Akebia Therapeutics, Albert Einstein College of Medicine, Alchemia, Alder Biopharmaceuticals, Alector, Alexion Pharmaceuticals, Alexza Pharmaceuticals, Alfasigma, Alfa Wassermann, Allergan, Allergan (name changed from Actavis), Almirall, Alnylam Pharmaceuticals, Alora Pharmaceuticals, Alpha Biopharma, Alternavida, Altman Enterprises, AltrazealTrading, Altum Pharmaceuticals, Alvogen, Amarantus BioSciences, American Type Culture Collection (ATCC), Amgen, Amherst Pharmaceuticals, Amorfix Life Sciences, Ampio Pharmaceuticals, Amryt Pharma, Amylin Pharmaceuticals, Amyris, AnaBios, AnaptysBio, AnGes MG, Angion Biomedica, AnnaMed, Antares Pharma, Antibe Therapeutics, Antigen Express, Applied Therapeutics, Apricus Biosciences, Aquestive Therapeutics, Aradigm, Aratana Therapeutics, Arcellx, Arch Pharmalabs, Arctic Vision, Arcturus Therapeutics, Arcus Biosciences, Ardelyx, Arena Pharmaceuticals, Arrowhead Pharmaceuticals, Artiva Biotherapeutics, Arvinas, Ascentage Pharma, Ashvattha Therapeutics, Assembly Biosciences, Astellas Pharma, Astellas Pharma Europe, Asterias Biotherapeutics, AstraZeneca, Athenex, Atossa Therapeutics, Atreca, Audeo Oncology, Augmenta, Aurigene Discovery Technologies, Aurinia Pharmaceuticals, Authentic Brands Group, AVEO Oncology, Avita Therapeutics, Avivagen, Axovant Gene Therapies, Axsome Therapeutics, Aytu BioPharma, Azaya Therapeutics, Azure Biotech, Baker Brothers Investments, BAKX Therapeutics, Baliopharm, BASF, Baxter International, Bayer Healthcare, Bayer Innovation, Baylor Research Institute, Beam Therapeutics, BeiGene, Beijing Defengrei Biotechnology, Belgian Volition, Bellerophon Therapeutics, Benitec Biopharma, Besins Healthcare, Beth Israel Deaconess Medical Center, BetterLife Pharma, Bharat Biotech, BIND Biosciences, BioCorRx, BioCryst Pharmaceuticals, Bioeq IP, Biogen, BioGene Technology, Biohaven Pharmaceuticals, BioInvent, BiolineRX, BioMarin Pharmaceutical, BioNovion, BioNTech, BioNxt Solutions, Biopharmex, BiopharmX, BioPorto, Bioprocess Capital Ventures, BioProspect, Biostem US, Biotech Investment, Biotechnology Value Fund, BioTime Acquisition, Bioton, Biovail, BioZone Laboratories, BioZone Pharmaceuticals, Blackstone, Bluebird Bio, Blueprint Medicines, BMV Medica, Boehringer Ingelheim, Bone Therapeutics, Braeburn Pharmaceuticals, BrainStorm Cell Therapeutics, Breathtec BioMedical, Brickell Biotech, BridgeBio Pharma, Bristol-Myers Squibb, Caleco Pharma, Calico, Can-Fite BioPharma, Cancer Prevention Pharmaceuticals, Cannassure Therapeutics, CanniMed Therapeutics, Canntab Therapeutics, Cannus Partners, Cantex Pharmaceuticals, Cara Therapeutics, Cardigant Medical, Cardium Therapeutics, CareFusion, Carna BioSciences, Cary Pharmaceuticals, CASI Pharmaceuticals, Castle Creek Biosciences, Catalent, CB2 Therapeutics, Celdara Medical, Celgene, Cell Cure Neurosciences, Cellvera, Cel Sci, Celyad, Cereal Ingredients, Cerebain Biotech, Cerus, CGA 369, cGreen, Chi-Med, Chiesi Farmaceutici, Chimerix, Chong Kun Dang, Chongqing Jingdong Pharmaceutical, Cimtech, Cipher Pharmaceuticals, Cipla, Circassia, Clal Biotech, Clalit Health Services, Clearmind Medicine, Clearside Biomedical, Clemson University, Cleveland BioLabs, Clinigen, CMIC, CNS Pharmaceuticals, Cocrystal Pharma, Coeptis Pharmaceuticals, CohBar, Cohen-McNiece Foundation, Coherus Biosciences, Colby Pharmaceuticals, Collegium Pharmaceuticals, Columbia Laboratories, Columbia University, Common Sense, Conatus Pharmaceuticals, Concile, Consilient Health, ContraFect, Coronado Biosciences, Cosmofix, Cosmo Pharmaceuticals, Coya Therapeutics, CRISPR Therapeutics, Crossject, Crucell, CSL, CTI BioPharma, CTT Pharmaceutical, Cullinan Oncology, Cumberland Pharmaceuticals, Cures Within Reach, CureTech, Curis, Currax Pharmaceuticals, CURx Pharmaceuticals, Cutanea Life Sciences, Cybin, CymaBay Therapeutics, Cypress Bioscience, Cytodyn, Cytokinetics, Cytori Therapeutics, Daewoong Pharmaceutical, Daiichi Sankyo, Dana-Farber Cancer Institute, Dance Biopharm, DAS Therapeutics, Defiante Farmaceutica, Denali Therapeutics, DepoMed, Derma Sciences, Dermavant Sciences, Dermin, Dianomi Therapeutics, Dicerna Pharmaceuticals, DNA Biomedical Solutions, Dr. Falk Pharma, Dr. Reddy's Laboratories, Dragonfly Therapeutics, DRI Capital, Drugs for Neglected Diseases Initiative, DS Healthcare, Duke University, Dyax, Eagle Pharmaceuticals, Eagle Pharmaceuticals (US), Easton Pharmaceuticals, Echo Therapeutics, Ecology Coatings, Eczacibasi Pharmaceuticals, Eddingpharm, Egalet, Eisai, Elencee, Eli Lilly, Elite Pharmaceuticals, Emergent BioSolutions, Emory University, Enalare Therapeutics, Endocyte, Endo Pharmaceuticals, EnGeneIC, Enochian Biosciences, Entera Bio, Entest BioMedical, EnWave, Epizyme, Epocal, Esperion Therapeutics, Eternity Healthcare, Eton Pharmaceuticals, Eureka Genomics, EUSA Pharma, Evolva, Exact Sciences, Exelixis, ExScientia, Eyevance, Fairview Health System, FasTrack Pharmaceuticals, Ferozsons Laboratories, Fibrocell Science, Foghorn Therapeutics, Forest Laboratories, Fosun Pharmaceutical, Fox Chase Chemical Diversity Center, Fresenius Kabi Pharmaceuticals, FSD Pharma, Fusion Pharmaceuticals, FusionVax, Galapagos, Galmed Pharmaceuticals, GE Healthcare, Genentech, Generex Biotechnology, Genevant Sciences, Genfit, Genmab, Gentium, Genzyme, Geron, Gilead Sciences, Glaukos, Glenmark Generics Inc USA, Glenmark Pharmaceuticals, Goldfinch Bio, Government of Israel, Gravocore, Grifols, GSK, GT Biopharma, Hai Kang Life, Hail First Pharma, Hainan Sihuan Pharmaceutical, Halo Labs, Halozyme Therapeutics, Hansen Medical, Health Canada, Healthcare Royalty Partners, Health Discovery, Heartseed, Heat Biologics, Hefei Life Science, Hefei Tianhui Incubation of Technologies, HekaBio, Helsinn Therapeutics, HemoCleanse, Hemogenyx, HemPup, Hetero Labs, HIBM Research Group, Hikma Pharmaceuticals, Hoffmann La Roche, Hollister Biosciences, Hookipa Pharma, Horizon Pharma Inc, Huadong Medicine, HyperGenomics, I-mab, Icahn School of Medicine at Mount Sinai, Ice + Jam, Iconovo, IDC-GP Pharm, IDEAYA Biosciences, Idera Pharmaceuticals, Idorsia, Idun Pharmaceuticals, IGM Biosciences, iMetabolic Biopharma, Immugenyx, Immunic, ImmunityBio, Immunomedics, Immunomic Therapeutics, Immunovative Therapies, ImmVira, Impax Laboratories, Imprimis Pharmaceuticals, In4Derm, iNAP, Incannex Healthcare, Incuron, Incyte, Indiana University, Infinity Pharmaceuticals, InflaRx, Inhibitor Therapeutics, Innate Pharma, Innocoll, Innovate Biopharmaceuticals, Innovation Pharmaceuticals, Innovent Biologics, Innovet, Innovus Pharmaceuticals, INO Therapeutics, Inspiration Biopharmaceuticals, Instrumentation Laboratory, IntelGenx, Intellia Therapeutics, IntelliCell BioSciences, Intellikine, Internet Marketing Consortium, Intrexon, Intuitive Surgical, Invekra, Inverness Medical Innovations, Ionis Pharmaceuticals, Ipsen, Iroko Pharmaceuticals, Ironwood Pharmaceuticals, Israeli National Authority for Technological Innovation, Itrom Pharmaceutical Group, Ivantis, Jaguar Health, Janssen Biotech, Janssen Pharmaceuticals, Jazz Pharmaceuticals, JFC Technologies, Jiangsu Alphamab, Jiangsu Lianhuan Pharmaceuticals, Jiangsu NHWA Pharmaceutical, Ji Xing Pharmaceuticals, John Morley Foods, Joincare Pharmaceutical, Jubilant Life Sciences, Jumpcan Pharmaceutical, Juniper Pharmaceuticals, Junshi Biosciences, Jupiter Wellness, Juventas Therapeutics, K2M, Kadmon Pharmaceuticals, Kaken Pharmaceutical, KaloBios Pharmaceuticals, Karveer Meditech, KemPharm, Kensey Nash, Kieran Murphy, Kinetic Concepts, Kiniksa Pharmaceuticals, Kintor, Kiromic Biopharma, Kite Pharma, Kitov Pharma, Klaria, Klinge Biopharma, Knighton Foods, Knight Therapeutics, Kodiak Sciences, Kraig Biocraft Laboratories, KVK-Tech, Kwang Dong Pharmaceutical, Kymera Therapeutics, Kyowa Hakko Kirin, Kyverna Therapeutics, L1 Systems, Laboratories Acbel, Lantheus Holding, Launch Therapeutics, Lee Moffitt Cancer Center, Legend Biotech, LegoChem Biosciences, Level Brands, LFB Biotechnologies, Lifestyle Delivery Systems, Ligand Pharmaceuticals, Lineage Cell Therapeutics, Link Health, Lipidor, Lipocine, Lixte Biotechnology, Lorna Linda University, Lotus Pharmaceuticals, Loxo Oncology, Lubrizol, Lumenis, Lundbeck, Lung Therapeutics, MabCure, Macrogenics, Magenta Therapeutics, MainPointe, Mallinckrodt Pharmaceuticals, Marvanal, Marv Enterprises, Massachusetts General Hospital, Matrix Biomed, Mayne Pharma, McComb Foundation, McEwen Centre for Regenerative Medicine, Meda, Medica, Medica Avante, Medical Technologies Innovation Asia, Medice Arzneimittel Pütter, Medicines Patent Pool Foundation, Medicox, MediGene, Medigus, MedImmune, Medison Pharma, Medivation, Medivir, Medovex, MEI Pharma, Melmed, Memory Dx, Mercer University, Merck and Co, Merck KGaA, Merck Serono, Merus, Methodist Hospital Houston, Micromet, Mikah Pharma, Millennium, Mimi's Rock, Mindset Pharma, Ministry of Health, Labor and Welfare, Miraculins, Moderna, Modis Therapeutics, Moleculin Biotech, Mologen, Momenta Pharmaceuticals, Monash University, Monopar Therapeutics, Morgan Stanley, MorphoSys, Mount Sinai Health System, MultiCell Immunotherapeutics, Munich Leukemia Laboratory, Mylan Laboratories, Mylan Pharmaceuticals, Myovant Sciences, NanoVibronix, NanoViricides, NantCell, NantKwest, Nantong Jinghua Pharmaceutical, NantWorks, Napo Pharmaceuticals, Natac Biotech, Natco Pharmaceuticals, National Green Biomed, Nektar Therapeutics, Neogenomics, Neotope, Nephrogenex, Nephros, Nestle Health Science, Neuraxpharm, Neurocrine Biosciences, NeuroRx, NeuroSigma, NeuroVive Pharmaceutical, NeuroVive Pharmaceutical Asia, NewLeaf Brands, Newsoara Biopharma, New York University, NexMed, NextCure, Nextleaf Solutions, Nexvet, NGM Biopharmaceuticals, Nicox, Nkarta Therapeutics, Nordic Bioscience, Norgine, NorthStar Medical Radioisotopes, Notable Labs, Novadaq Technologies, NovaDel Pharma, Novan, Novan Therapeutics, Novartis, Novartis Vaccines and Diagnostics, Novocure, Novo Nordisk, Novus Biologicals, NRx Pharmaceuticals, Nucorion, Nunzi Pharmaceutical, Nurix Therapeutics, Nutech Medical, NutraOrigin, NXTGEN, Nymox Pharmaceutical, Oberland Capital, Ocugen, Oculus Innovative Sciences, Ocumension Therapeutics, Omeros, Oncologie, Oncolytics Biotech, OncoMed Pharmaceuticals, Onconova Therapeutics, Onegevity, One Way Liver Genomics (OWL), ONK Therapeutics, Onxeo, Onyx Pharmaceuticals, Opexa Therapeutics, Opthea, OptiBiotix, OptiNose, Oragenics, Oramed Pharmaceuticals, Orexigen Therapeutics, Organovo, Orgenesis, Orion, Orox Pharmaceuticals, OrthoCyte, Otsuka, OvaMed, Ovid Therapeutics, Oxford BioMedica, Oxis Biotech, Oxygen Biotherapeutics, OxySure Systems, Oyster Point Pharma, Pan-Provincial Vaccine Enterprise, Parnell Pharmaceuticals, Par Pharmaceutical, PDL BioPharma, PDS Biotechnology, Penwest Pharmaceuticals, Pernix Therapeutics, Perugia University, Pfenex, Pfizer, Pharmacyclics, PharmaCyte Biotech, PharmaMar, PharmaNova, Pharmastrip, Philogen, Phosphagenics, Photocure ASA, Phusion Laboratoies, Phyto Nutricare, Pipex Pharmaceuticals, Plandai Biotechnology, Pluristem Therapeutics, POINT Biopharma, Portola Pharmaceuticals, Poseida Therapeutics, Pozen, PreMD, Premier Biomedical, Professional Compounding Centers of America, Progenics Pharmaceuticals, Prometic Life Sciences, ProQR Therapeutics, Prosidion, Protagonist Therapeutics, Protalix BioTherapeutics, Proteonomix, Prothena, ProtoKinetix, Pulmatrix, Puma Biotechnology, QED Therapeutics, QRxPharma, Quick Med Technologies, Quigley Corporation, Quoin Pharmaceuticals, Rayner Surgical, Reata Pharmaceuticals, Recordati, Recro Pharma, RedHill Biopharma, Reedy Creek Investments, RegenaStem, Regeneron Pharmaceuticals, Regenxbio, Regnum, Relay Therapeutics, Relief Therapeutics, Relmada Therapeutics, RenalytixAI, ReNeuron, Repare Therapeutics, Replicel Life Sciences, Repligen, Resarci Therapeutics, Retrophin, rEVO Biologics, Revolution Medicines, Rigel Pharmaceuticals, RNL Bio, Roche, Rockefeller University, Roivant Sciences, Royalty Pharma, RST Biomedikal Sanayi, Ruthigen, RXi Pharmaceuticals, S2 Therapeutics, SACCO, Sagard Healthcare Royalty Partners, Sage Therapeutics, Salix Pharmaceuticals, Sam Amer, Sandoz, Sanofi, Sanofi-Aventis, Sanofi-Pasteur, Sanpellegrino Cosmetics, Santarus, Santen Pharmaceutical, Sanuwave Health, SA Pathology, Sapientia Pharmaceuticals, Sarepta Therapeutics, Schrodinger, Scopus BioPharma, Seagen, Seattle Genetics, Seelos Therapeutics, Sekris Biomedical, Senetek, Sensory Cloud, Seqirus, Seres Therapeutics, Sermonix Pharmaceutical, Sesen Bio, SevenScore Pharmaceuticals, Shanghai Pharmaceuticals Holdings, Sheba Medical Center, Shenzhen BioScien Pharmaceuticals, Shield Therapeutics, Shionogi, Shire Pharmaceuticals, Shore Therapeutics, Siemens Healthcare Diagnostics, Sigma-Tau, Sinclair Pharmaceuticals, Sinobiopharma, Sinopharm, Sio Gene Therapies, Skinvera, Skyline Diagnostics, Solarvest BioEnergy, Soliance, Soligenix, Sonoma BioTherapeutics, Sorrento Therapeutics, Spectranetics, Spencer Pharmaceutical, Spinal USA, St. Jude Children's Research Hospital, STADA Arzneimittel, Staidson (Beijing) BioPharmaceuticals, Stanford University, Stealth BioTherapeutics, Stellar Biotechnologies, St Jude Medical, Stoke Therapeutics, Strongbridge Biopharma, Sucampo AG, Sumitomo Dainippon Pharma, Sunesis Pharmaceuticals, Sunovion Pharmaceuticals, Sun Pharmaceutical, SuperNova Diagnostics, Sutro Biopharma, Swedish Orphan Biovitrum, SymBio Pharmaceuticals, Symbollon, Syndax Pharmaceuticals, Synergy Strips, Syntopix, Tactical Relief, Taiba, TaiGen Biotechnology, Taiho, Takeda Pharmaceutical, Talaris Therapeutics, Tango Therapeutics, Target Group, Tauriga Sciences, TB Alliance, TearLab, Technion Research and Development Foundation, Tesaro, Tetra Bio-Pharma, TetraLogic Pharmaceuticals, Teva Pharmaceutical Industries, Texas A&M University, TFF Pharmaceuticals, TG Therapeutics, Therakine, TherapeuticsMD, Theravance, Theravance Biopharma, The Regents of the University of California, Thorne Research, Threshold Pharmaceuticals, TiGenix, Tilray, Titterington Veterinary Services, Tiziana Life Sciences, Tocagen, TONIX Pharmaceuticals, Torii Pharmaceutical, TRACON Pharmaceuticals, Tramorgan, Transgene, Travere Therapeutics, Trellis Bioscience, Trevena, Trimedyne, Trimeris, TrovaGene, TTFactor, Turnstone Biologics, Tyme Technologies, Ultragenyx Pharmaceuticals, Uluru, Unigene Laboratories, UniQure, Universal Cells, University College Dublin, University Health Network, University of Alberta, University of California, University of Central Florida Research Foundation, University of Colorado, University of Florida Research Foundation, University of Geneva, University of Louisville, University of Missouri, University of Notre of Dame, University of Pennsylvania, University of Texas, University of Virginia, University of Western Sydney, University of Zurich, UOP, Uppsalagruppen Medical, Upstream Peripheral Technologies, UroGen Pharma, Valeant Pharmaceuticals, ValiPharma, Valneva, Valor Biotherapeutics, Vanderbilt University, Vasomune Therapeutics, Vaxent, VBL Therapeutics, Veloxis Pharmaceuticals, Veracyte, Verenium, VeroScience, Vertex Pharmaceuticals, Vida Concepts, Vifor Pharma, ViiV Healthcare, Virbac, Viropharma, VistaGen Therapeutics, Vividion Therapeutics, Vivus, VolitionRX, Voronoi, Voyager Therapeutics, Vyera Pharmaceuticals, VYNE Therapeutics, Vyrix Pharmaceuticals, Watson Pharmaceuticals, WAVE Life Sciences, Wigen Biomedicine, Wisconsin Alumni Research Foundation, World Class Extractions, WPD Pharmaceuticals, WUGEN, Xbrane Bioscience, Xencor, Xlife Sciences, XPhyto Therapeutics, XTL Biopharmaceuticals, Xynomic Pharmaceuticals, Yale University, Yeda Research and Development Company, Yeugnam University, Yissum Research Development, ZAI Laboratory, Zalicus, Zenitech, Zenith Epigenetics, Ziopharm Oncology, Zogenix, ZS Pharma, Zymeworks
Current Partnering reports provide insight into the trends and terms of partnering deals in the global life sciences sector.
Current Partnering reports are updated every six months to ensure the user has access to the latest announcements and trends in the topic focus of the report.
Current Partnering analysts review the deal data to provide an overview and analysis of deal trends, including example deals and terms.
Current Partnering reports source deal data from our proprietary deals and alliances database, Current Agreements. The database is updated daily by our analysts with new deals as they are announced globally by the company's party to the deal. In addition, deal records are updated with new data as it becomes available.
The data in the Current Agreements deals and alliances database is obtained from secondary sources such as publicly available industry sources including press releases, company presentations, investor presentations, company SEC filings, other company filings, company websites, conference presentations. Sources are identified to allow for user verification.
Current Partnering provides comprehensive coverage of the following partnering or deal types:
• Asset purchase
• Assignment
• Co-development
• Co-market
• Co-promotion
• Collaborative R&D
• Contract service
• CRADA
• Cross-licensing
• Development
• Distribution
• Equity purchase
• Evaluation
• Grant
• Joint venture
• Licensing
• Loan
• Manufacturing
• Marketing
• Option
• Promotion
• Research
• Royalty financing
• Settlement
• Spin out
• Sub license
• Supply
• Termination
• Warrant
Every deal record is fully categorized and includes the following data, where available:
• Industry sector
• Therapy areas
• Technology type
• Deal components
• Financial terms
• Stage of development
• Exclusivity
• Asset type
• Geographic focus
• Excluded geography
• Company press release
• SEC filing data including contract document
All financial amounts are converted to US$ using the exchange rate available on the date of deal announcement, enabling direct comparison of deal terms across international territories.
Financial data and contract documents displayed in deal records is obtained from public sources, where disclosed by the parties to the deal.
We found other products you might like!