Global Oncology Partnering 2015-2020: Deal trends, players and financials
The Global Oncology Partnering 2015-2020: Deal trends, players and financials report provides comprehensive understanding and unprecedented access to the oncology/cancer partnering deals and agreements entered into by the worlds leading healthcare companies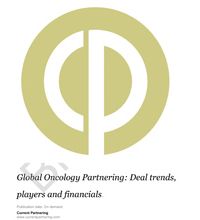 Publication date
November 2020
Product type
Research report
Available formats
PDF document
The Global Oncology Partnering 2015-2020: Deal trends, players and financials report provides an understanding and access to the oncology partnering deals and agreements entered into by the worlds leading healthcare companies.
Trends in Oncology partnering deals
Financial deal terms for headline, upfront and royalty by stage of development
Oncology partnering agreement structure
Oncology partnering contract documents
Top Oncology deals by value
Most active Oncology dealmakers
The report provides a detailed understanding and analysis of how and why companies enter oncology partnering deals. The majority of deals are development stage whereby the licensee obtains a right or an option right to license the licensors oncology technology. These deals tend to be multicomponent, starting with collaborative R&D, and commercialization of outcomes.
This report provides details of the latest oncology agreements announced in the healthcare sector.
Most of the deals included within the report occur when a licensee obtains a right or an option right to license a licensor's product or technology. More often these days these deals tend to be multi-component including both a collaborative R&D and a commercialization of outcomes element.
The report takes readers through the comprehensive Oncology disease deal trends, key players and top deal values allowing the understanding of how, why and under what terms companies are currently entering Oncology deals.
The report presents financial deal terms values for Oncology deals, where available listing by overall headline values, upfront payments, milestones and royalties enabling readers to analyse and benchmark the value of current deals.
The initial chapters of this report provide an orientation of Oncology dealmaking trends.
Chapter 1 provides an introduction to the report.
Chapter 2 provides an overview of the trends in Oncology dealmaking since 2015 covering trends by year, deal type, stage of development, technology type and therapeutic indication.
Chapter 3 includes an analysis of financial deal terms covering headline value, upfront payment, milestone payments and royalty rates.
Chapter 4 provides a review of the leading Oncology deals since 2015. Deals are listed by headline value. The chapter includes the top 25 most active Oncology dealmakers, together with a full listing of deals to which they are a party. Where the deal has an agreement contract published at the SEC a link provides online access to the contract.
Chapter 5 provides comprehensive access to Oncology deals since 2015 where a deal contract is available, providing the user with direct access to contracts as filed with the SEC regulatory authorities. Each deal title links via Weblink to an online version of the deal record contract document, providing easy access to each contract document on demand.
Chapter 6 provides a comprehensive directory of all Oncology partnering deals by specific Oncology target announced since 2015. The chapter is organized by specific Oncology therapeutic target. Each deal title links via Weblink to an online version of the deal record and where available, the contract document, providing easy access to each contract document on demand.
In addition, a comprehensive appendix is provided with each report of all Oncology partnering deals signed and announced since 2015. The appendices are organized by company A-Z, stage of development at signing, deal type (collaborative R&D, co-promotion, licensing etc) and technology type. Each deal title links via Weblink to an online version of the deal record and where available, the contract document, providing easy access to each contract document on demand.
The report also includes numerous tables and figures that illustrate the trends and activities in Oncology partnering and dealmaking since 2015.
In conclusion, this report provides everything a prospective dealmaker needs to know about partnering in the research, development and commercialization of Oncology technologies and products.
Understanding the flexibility of a prospective partner's negotiated deals terms provides critical insight into the negotiation process in terms of what you can expect to achieve during the negotiation of terms. Whilst many smaller companies will be seeking details of the payments clauses, the devil is in the detail in terms of how payments are triggered – contract documents provide this insight where press releases and databases do not.
This report contains a comprehensive listing of all oncology partnering deals announced since 2015 including financial terms where available including over 4,000 links to online deal records of actual oncology partnering deals as disclosed by the deal parties. In addition, where available, records include contract documents as submitted to the Securities Exchange Commission by companies and their partners.
Contract documents provide the answers to numerous questions about a prospective partner's flexibility on a wide range of important issues, many of which will have a significant impact on each party's ability to derive value from the deal.
Report scope
Global Oncology Partnering 2015-2020: Deal trends, players and financials is intended to provide the reader with an in-depth understanding and access to oncology trends and structure of deals entered into by leading companies worldwide.
Global Oncology Partnering 2015-2020: Deal trends, players and financials includes:
Trends in oncology dealmaking in the biopharma industry since 2015
Analysis of oncology deal structure
Access to headline, upfront, milestone and royalty data
Access to over 4,000 oncology deal records
The leading oncology deals by value since 2015
The report includes deals for the following indications: Oral mucositis, Cancer pain, Bone, Neuropathic, Muscular, Lymphoedema, Alopecia, Cachexia, Ulcers, Dysphagia, Tiredness, Weight loss, Nausea, Vomiting, Chemotherapy, Radiotherapy, Adenocarcinoma, Basal cell carcinoma, Bile duct cancer, Bladder cancer, Bone cancer, Brain cancer, Breast cancer, Cervical cancer, Colorectal cancer, Endometrial, Esophageal cancer, Gastric cancer, Head and neck cancer, Kaposi's sarcoma, Kidney cancer, Leukemia, Acute lymphoblastic leukemia, Acute myelogenous leukemia, Chronic lymphocytic leukemia, Chronic myelogenous leukemia, Liver cancer, Lung cancer, Small cell lung cancer, Non small cell lung cancer, Lymphoma, Hodgkin's lymphoma, Non Hodgkin's lymphoma, Melanoma, Mesothelioma, Metastases, Bone metastases, Multiple myeloma, Neuroblastoma, Non-melanoma skin cancer, Ovarian cancer, Pancreatic cancer, Prostate cancer, Renal cell carcinoma, Sarcoma, Solid tumors, Testicular cancer, Thyroid cancer, plus other oncology indicatons.
In Global Oncology Partnering 2015-2020: Deal trends, players and financials, the available deals are listed by:
Company A-Z
Headline value
Stage of development at signing
Deal component type
Specific therapy target
Each deal title links via Weblink to an online version of the deal record and where available, the contract document, providing easy access to each contract document on demand.
The Global Oncology Partnering 2015-2020: Deal trends, players and financials report provides comprehensive access to available deals and contract documents for over 4,000 oncology deals. Analyzing actual contract agreements allows assessment of the following:
What are the precise rights granted or optioned?
What is actually granted by the agreement to the partner company?
What exclusivity is granted?
What is the payment structure for the deal?
How are the sales and payments audited?
What is the deal term?
How are the key terms of the agreement defined?
How are IPRs handled and owned?
Who is responsible for commercialization?
Who is responsible for development, supply, and manufacture?
How is confidentiality and publication managed?
How are disputes to be resolved?
Under what conditions can the deal be terminated?
What happens when there is a change of ownership?
What sublicensing and subcontracting provisions have been agreed?
Which boilerplate clauses does the company insist upon?
Which boilerplate clauses appear to differ from partner to partner or deal type to deal type?
Which jurisdiction does the company insist upon for agreement law?
Global Oncology Partnering 2015-2020: Deal trends, players and financials provides the reader with the following key benefits:
In-depth understanding of oncology deal trends since 2015
Access to headline, upfront, milestone and royalty data
Comprehensive access to over 4,000 actual oncology deals entered into by the world's biopharma companies
Detailed access to actual oncology contracts enter into by biopharma industries
Insight into the terms included in a oncology agreement, together with real world clause examples
Understand the key deal terms companies have agreed in previous deals
Undertake due diligence to assess suitability of your proposed deal terms for partner companies
Executive Summary
Chapter 1 – Introduction
Chapter 2 – Trends in Oncology dealmaking
2.1. Introduction
2.2. Oncology partnering over the years
2.3. Oncology partnering by deal type
2.4. Oncology partnering by industry sector
2.5. Oncology partnering by stage of development
2.6. Oncology partnering by technology type
2.7. Oncology partnering by therapeutic indication
Chapter 3 –Financial deal terms for Oncology partnering
3.1. Introduction
3.2. Disclosed financials terms for Oncology partnering
3.3. Oncology partnering headline values
3.4. Oncology deal upfront payments
3.5. Oncology deal milestone payments
3.6. Oncology royalty rates
Chapter 4 – Leading Oncology deals and dealmakers
4.1. Introduction
4.2. Most active in Oncology partnering
4.3. List of most active dealmakers in Oncology
4.4. Top Oncology deals by value
Chapter 5 – Oncology contract document directory
5.1. Introduction
5.2. Oncology partnering deals where contract document available
Chapter 6 – Oncology dealmaking by therapeutic target
6.1. Introduction
6.2. Deals by Oncology therapeutic target
Appendices
Appendix 1 – Directory of Oncology deals by company A-Z since 2015
Appendix 2 – Directory of Oncology deals by deal type since 2015
Appendix 3 – Directory of Oncology deals by stage of development since 2015
Appendix 4 – Directory of Oncology deals by technology type since 2015
Further reading on dealmaking
Deal type definitions
About Wildwood Ventures
Current Partnering
Current Agreements
Recent report titles from CurrentPartnering
Table of figures
Figure 1: Oncology partnering since 2015
Figure 2: Oncology partnering by deal type since 2015
Figure 3: Oncology partnering by industry sector since 2015
Figure 4: Oncology partnering by stage of development since 2015
Figure 5: Oncology partnering by technology type since 2015
Figure 6: Oncology partnering by indication since 2015
Figure 7: Oncology deals with a headline value
Figure 8: Oncology deals with upfront payment values
Figure 9: Oncology deals with milestone payment
Figure 10: Oncology deals with royalty rates
Figure 11: Active Oncology dealmaking activity since 2015
Figure 12: Top Oncology deals by value since 2015
Pricing options
$3,495: single-user
$5,245: multi-user
$10,495: single site license
$17,495: global site license
A full explanation of license type definitions can be found here.
Our guarantee
Price promise
We guarantee our prices are competitive. If you find the same report advertised at a lower price within 7 days of purchase, we will refund the difference.
Delivery Deadline
We guarantee that the report will be sent within the specified delivery times. In the unlikely case of a delay we may offer a partial refund as compensation. (Terms may apply)
Latest report
If an update is published within 30 days of your purchase, you will receive it absolutely free of charge.
Serious Security
We take your data and security seriously. See our privacy policy for details of how we manage your data.
All card payments are processed by SagePay.
Sales Support
If you have any questions about your report or are unhappy with the quality, we will do our best to resolve your query. Contact us direct.
Total Trust
Current Partnering is part of Wildwood Ventures Ltd., based in York, United Kingdom. We have been trading successfully online since 2009 and work with some of the most famous brands in the business. We carefully select our partners to ensure that the publications meet expectations of demanding customers.
1ST Biotherapeutics, 2A, 2X Oncology, 3B Pharmaceuticals, 3DMed, 3D Medicines, 3D Signatures, 3M Drug Delivery Systems, 3PrimeDx, 3SBio, 4D Pharma, 4SC, 14M Genomics, 20/20 GeneSystems, 48Hour Discovery, 1717 Life Science Ventures, A*STAR Agency for Science, Technology and Research, A*STAR Bioinformatics Institute, A*STAR Bioprocessing Technology Institute, A*STAR Genome Institute of Singapore, A*STAR' Institute of Molecular and Cell Biology, A-Alpha Bio, A2A Pharmaceuticals, AADi, aaiPharma, AB Analitica, Abbisko Therapeutics, Abbott Laboratories, Abbvie, Abcam, AbClon, Abcodia, Abcuro, Abilita Bio, Ability Pharmaceuticals, Abingdon Health, Abingworth Management, ABL Bio, Ablynx, Abpro, Abramson Cancer Center, Abreos Biosciences, Absorption Systems, ABX, Abzena, Academia Sinica, Academic and Community Cancer Research United, Academic Drug Discovery Consortium, Accelovance, Accenture, Access Health, Access Pharmaceuticals, Accord Healthcare, Accudata Systems, AccuGenomics, Accuray, Accu Reference Medical Laboratory, Accurexa, Accutest, ACEA Biosciences, AceCGT Life Science, Acentrus Specialty, Acerta Pharma, Acoustic MedSystems, Acrotech Biopharma, ACT Biotech, Actelion, ACT Genomics, Actinium Pharmaceuticals, Actinobac Biomed, Active Biotech, ACT Onocology, Acuity Pharmaceuticals, Adagene, Adaptate Biotherapeutics, Adaptiiv, Adaptimmune, Adaptive Biotechnologies, ADC Therapeutics, ADIENNE Pharma & Biotech, Adimab, Adlai Nortye, Admera Health, AdoRx Therapeutics, ADT Pharmaceuticals, Adult Brain Tumor Consortium, Aduro BioTech, Advaite, AdvaMed, Advanced Accelerator Applications, Advanced Biological Laboratories, Advanced BioScience Laboratories, Advanced Cell Diagnostics, Advanced Cooling Therapy, Advanced Medical Isotope, Advanced Nuclear Medicine Ingredients, Advanced Proteome Therapeutics, Advanced Radiation Therapy, Advanomics, Advanz Pharma, Advaxis, Aegis Therapeutics, Aeglea BioTherapeutics, Aelan Cell Technologies, AEterna Zentaris, Aethlon Medical, Aetion, Aetna, AffaMed Therapeutics, Affibody, Affigen, Affimed Therapeutics, Affinita Biotech, Affymetrix, Agalimmune, AGC Biologics, Agena Bioscience, Agency for Healthcare Research and Quality, Agendia, Agensys, Agenus Bio, Agilent Technologies, Agilvax, Agios Pharmaceuticals, AG Mednet, AgonOx, Aiforia Technologies, AIMM Therapeutics, Airmed Biopharma, AirXpanders, Aitbiotech, AiVita Biomedical, Akeso Biopharma, Akoya Biosciences, Akrevia Therapeutics, Akriveia Therapeutics, Akrivis Technologies, Albert Einstein College of Medicine, Albert Einstein Healthcare Network, Albumedix, Alcami, Alcyone Lifesciences, Aldevron, Alector, Alibaba Health, Alion Pharmaceuticals, Alkermes, Allcure Kangtai Proton Technology, Allegheny General Hospital, Allergan, Alliance for Biosecurity, Alliance For Cancer Care, Alliance for Cancer Gene Therapy, Alliance For Clinical Trials In Oncology, Alliance Global FZ, Alliance Global Group, Alliance Healthcare Services, Alliance Oncology, Allied-Bristol Life Sciences, Alligator Bioscience, Allogene Therapeutics, Ally Bridge Group, Almac Diagnostics, Almac Discovery, Almac Group, Almirall, Alopexx, Alpha Cancer Technologies, Alpha Imaging, Alphamab Biopharmaceuticals, Alpha Tau Medical, Alpine Immune Sciences, Altavant Sciences, Alteogen, Alteris, Altiora, Altor BioScience, Altum Pharmaceuticals, Altus Formulation, Alvogen, Alvotech, Amal Therapeutics, Amaran Biotechnology, Amarantus BioSciences, Amarna Therapeutics, Ambrx, Ambry Genetics, amcure, America's Choice Provider Network, American Association for Cancer Research, American Brain Tumor Association, American Cancer Society, American College of Radiology, American CryoStem, American Dental Association, American Health Imaging, American Liver Foundation, American Lung Association, American Oncology Network, American Sexual Health Association, American Skin Association, American Society of Clinical Oncology (ASCO), American Society of Hematology, American Society of Human Genetics, AmerisourceBergen, Amgen, Amneal Pharmaceuticals, AmorChem, Amoy Diagnostics, AmoyDx Diagnostics, AMPATH Oncology Institute, Amplitech, Amunix, Anaeropharma, Analogic, Analytical Bio-Chemistry Laboratories, Analytical Biological Services, Anam Hospital, AnaptysBio, Anchiano Therapeutics, Angelini Pharma, Angiex, Angiochem, Angiodynamics, Angle, Angsana Molecular & Diagnostics, AnHeart Therapeutics, Animal Life Sciences, Animatrix Capital, ANI Pharmaceuticals, Anixa Biosciences, AnnaMed, Annias Immunotherapeutics, Anpac Bio-Medical Science, ANP Technologies, Antengene, Anthem, Anthem Bluecross, Anthera Pharmaceuticals, Anthony Nolan, Antigen Express, Antikor Biopharma, Antitope, Apceth, APC Therapeutics, Apeiron Biologics, Aperion Biologics, Apexigen, APG Bio, Aphios, Apobiologix, Apocell, Apogee Biotechnology, Apogenix, ApolloBio, Apollo Hospitals Group, Apollomics, Appistry, Applied BioMath, Applied DNA Sciences, Applied StemCell, Aprea, Apricity Health, AptaBio Therapeutics, Aptamer Therapeutics, Aptarion biotech, Aptevo Therapeutics, Aptose Biosciences, Aqilion, Aquila BioMedical, Aranda Pharma, Aratana Therapeutics, Aravive Biologics, Arbor Vita, ArcherDX, ARCH Personalized Medicine Initiative, Arc Medical Design, Arcus Biosciences, Ardena, Arecor, Areva Med, arGEN-X, argenx, Argos Therapeutics, Ariad Pharmaceuticals, Ariana Pharma, Arisaph Pharmaceuticals, Arix Bioscience, Arizona State University, Armas Pharmaceuticals, Armune Bioscience, Arno Therapeutics (inactive since 2017), AroCell, Aromics, Arquer Diagnostics, ArQule, Array Biopharma, Arrow Diagnostics, Arrys Therapeutics, Artelo Biosciences, Artios Pharma, Arvinas, Asahi Kasei, Asana Biosciences, Ascenion, Ascentage Pharma, Asia-Pacific Hepatocellular Carcinoma Trials Group, Asieris MediTech, AskAt, AS Kevelt, Aslan Pharma, Aspen Global, Aspen Park Pharmaceuticals, ASPiRA Labs, Aspira Scientific, Aspyrian Therapeutics, Assistance Publique-Hôpitaux de Paris, Astellas Pharma, Asterias Biotherapeutics, Astex Pharmaceuticals, AstraZeneca, Asuragen, Asys, Atara Biotherapeutics, aTen Therapeutics, Athenex, Atlab Pharma, Atlante Biotech, Atnahs Pharma, Atomwise, Atossa Genetics, Atrapos Therapeutics, Atreca, Atrin Pharmaceuticals, Atropos Therapeutics, Auburn University, AUM Biotech, Aura Biosciences, Auransa, Aurigene Discovery Technologies, Auron Therapeutics, Aurora BioPharma, AusHealth, Austin Cancer Center, Australian Research Council, Austrian Institute of Technology, Austrianova Singapore, Austrian Research Promotion Agency, Autodesk, Autolus, Autotelic, Avacta, Avant Diagnostics, AvantGen, Avantis Medical Systems, Avectas, AVEO Oncology, Avera Health, Avera Heart Hospital of South Dakota, Avillion, Avon Foundation, AV Therapeutics, Avvinity Therapeutics, Awamedica, Axela, Axella Research, Axis Therapeutics, Ayala Pharmaceuticals, Aytu BioScience, Azaya Therapeutics, B-MoGen Biotechnologies, Babraham Institute, Bacit, Baheal Pharmaceutical, Bank of America, Banner Health, Barbara Ann Karmanos Cancer Institute, Baruch S Blumberg Institute, Basilea Pharmaceutica, Batu Biologics, Bausch & Lomb, Bavarian Ministry for Economic Affairs and Media, Energy and Technology, Bavarian Nordic, Baxalta, Baxter International, Bayer, Bayer Healthcare, Bayer Schering Pharma, Baylor College, Baylor College of Medicine, Baylor Genetics, Baylor Institute for Immunology Research, Baylor Sammons Cancer Center, BC Platforms, Beactica, Beckman Coulter, Beckman Research Institute of City of Hope, Becton Dickinson, BeiGene, Beijing InnoCare Pharma, Beijing Tide Pharmaceutical, Beike Biotech, Bellicum Pharmaceuticals, Bendalis, Benitec Biopharma, BE Pharmaceuticals, Berg, BerGenBio, Berkeley Lights, Berlin Chemie, Beroni Group, Bertech Diagnostics, Bertin Pharma, Besins Healthcare, Best Medical International, Be The Match BioTherapies, Beth Israel Deaconess Medical Center, Betta Pharmaceuticals, Beyondspring Pharmaceuticals, BGI, BGI Tech Solutions, BGN Technologies, Bial, Biametrics, Bicycle Therapeutics, Bina Technologies, BIND Therapeutics, Bio-Cancer Treatment International, Bio-Connect Diagnostics, Bio-Path, Bio-Techne, Bio-Thera Solutions, bioAffinity Technologies, BioAgilytix, BioAlliance Pharma, BioArdis, biOasis Technologies, BioAtla, Bioblock, BioCad Holding, BioCancell Therapeutics, BioCanRx, Biocartis, BioCat, Biocept, Bioceros, BiocerOX Products, BioChain, BioClones, Biocon, BioCure, Biocytogen, BioDelivery Sciences, Biodesix, BioDiscovery, Bio Farma, Biofidelity, BioFluidica, BioGemex, Biogen, BioGenetics, Biognosys, Biohaven Pharmaceutical Holding, Biohealth Innovation, BioHeart, Biohit, BioInvent, Biokin Pharmaceutical, Biolidics, BioLife Solutions, BiolineRX, BioLizard, Biological Dynamics, Biologics, Biolyse Pharma, Biomarck Pharmaceuticals, BioMarin Pharmaceutical, BioMark Diagnostics, BioMarker Strategies, Biomax Informatics, Biomedical Advanced Research and Development Authority, Biomedical Catalyst Fund (UK), BioMed Realty Trust, BIOMEDX Group, BioMed X Innovation Center, bioMerieux, Biomica, Biomunex Pharmaceuticals, BioNano Genomics, Bioncotech Therapeutics, Bionetix, Bionix, Bioniz Therapeutics, BioNova Cientifica, BioNovion, BioNTech, Biooutsource, Bioprocess Capital Ventures, Biopsy Sciences, BioRap Technologies, BioReference Laboratories, Biosceptre International, Bioscience, Biose Industrie, BioSense Global, Biostar Pharmaceuticals, Biostem US, Biotech-IgG, Biotech Development Corp, Biotest, Biothera, BioTheranostics, BioTheryX, Biotheus, Biotoscana Farma, BioVaxys, BioVendor, BioVest, Biovica, BioWa, BioXcel, Bioyong, Bird Foundation, Birdie Biopharmaceuticals, BJ Bioscience, BL&H, Blackstone, Black Swan Research Initiative, Blanver, Blaze Bioscience, BlinkBio, BliNK Biomedical, BliNK Therapeutics, Bliss Biopharmaceutical, Blockchain Global, BloodCenter Of Wisconsin, Bloom Science, Bluebee, Bluebird Bio, Blue Buffalo Company, Blue Cross Blue Shield Association, BlueCross BlueShield of Tennessee, Blue Earth Diagnostics, Bluelink Pharmaceuticals, Blueprint Medicines, BMG Pharmaceuticals, BMV Medica, BodyCheck, Boehringer Ingelheim, Bone Therapeutics, Bonnie J. Addario Lung Cancer Foundation, Boreal Genomics, Boryung Pharmaceutical, Boston Biomedical, BostonGene, Boston Pharmaceuticals, Boston Scientific, Boston Strategics, Boston University, Bostwick Laboratories, Bpifrance, Bracco Imaging, BrainLAB, Brain Science Foundation, BRCA Foundation, Breast Cancer Research Foundation (BCRF), Breath Diagnostics, BriaCell Therapeutics, BridgeBio Pharma, Bridge Medicines, Brigham and Women's Hospital, Bristol-Myers Squibb, Bristol-Myers Squibb Foundation, Bristol-Myers Squibb Pakistan, Broad Institute, Brooks Automation, Brown University, Bruce Power, Bruker, BryoLogyx, BSD Medical, BSP Pharmaceuticals, BTG, Buck Institute for Age Research, Bukwang Pharmaceuticals, Burning Rock, Butantan Institute, Button Capital, BVF Partners, C-Bridge Capital, C-RAD, C-Tri, C2i Genomics, C3i, C4 Imaging, C4 Therapeutics, C4X Discovery, Caladrius Biosciences, Caliber Imaging & Diagnostics, Calico, Calidi Biotherapeutics, California Institute for Biomedical Research, California Institute for Regenerative Medicine, California Institute of Technology, California Stem Cell, Calithera Biosciences, Calvert Research, Cambridge Epigenetix, Cambridge Major Laboratories, Camino Partnership, Camurus, Can-Fite BioPharma, Canadian Brain Tumour Consortium, Canadian Cancer Society, Canadian Cancer Trials Group, Canadian Institutes of Health Research, CanBas, CANbridge Life Sciences, Cancer Australia, Cancer Genetics, Cancer Immunotherapy Trials Network, CancerLinQ, Cancer Prevention and Research Institute of Texas, Cancer Prevention Pharmaceuticals, Cancer Research Institute, Cancer Research Society, Cancer Research Technology, Cancer Research UK, Cancer Science Institute of Singapore, Cancer Targeted Technology, CanCure, Candela, Candel Therapeutics, Cannabics Pharmaceuticals, Cannabis Science, CannaKids, Cantargia, Cantex Pharmaceuticals, Cantonal Hospital, CAO Pharmaceuticals, Capellabio, Capital X-ray, Caprion Proteomics, Capsulomics, Cardiff University, Cardinal Health, Care GB Plus, Carestream Health, Caribou Biosciences, Caris Life Sciences, Carisma Therapeutics, Carna BioSciences, Carnegie Mellon University, Carolina BioOncology Institute, Carolinas Medical Center (CMC), Carrick Therapeutics, CARsgen, Cartagenia, CarThera, Cartherics, Cascadian Therapeutics, Casebia Therapeutics, Case Western Reserve University, CASI Pharmaceuticals, Catalan Institute of Nanotechnology (ICN), Catalent, Catalyst Pharmaceutical Partners, Catapult Therapy TCR, Catholic University Leuven, CBD Vida, CBLPath, CBT Pharmaceuticals, CDI Laboratories, CDISC, CDx Diagnostics, CEA-Leti, Cedars-Sinai Medical Center, CeGaT, CEITEC, Celdara Medical, Celgene, CellAct, Cellaria Biosciences, Cell Design Labs, Celldex Therapeutics, Cellectar Biosciences, Cellect Biotechnology, Cellectis, Cellerant Therapeutics, Cellesce, CellforCure, Cellgen Diagnostics, CELLINK, Cell Line Genetics, CellMark Medical, Cell Medica, Cell Mogrify, CellSight Technologies, Cell Signaling Technology, Cell Therapy Catapult, Cellth Systems, Celltrion, Cellular Biomedicine, CeloNova BioSciences, Cel Sci, Celsee, Celsion, Celsius Therapeutics, Celtic Biotech, Celyad, Centauri Therapeutics, Centene, Center for Biomarker Research in Medicine, Center for Cancer Research, Center for Connected Health, Center for iPS Cells Research and Application, Centogene, Centre de Recherche en Cancérologie de Lyon, Centre for Commercialization of Regenerative Medicine (CCRM), Centre for Drug Design and Discovery, Centre for Drug Research and Development (CDRD), Centre for Imaging Technology Commercialization, Centre for Probe Development and Commercialization, Centre For The Commercialization Of Antibodies And Biologics, Centre Hospitalier Universitaire Vaudois (CHUV), Centre Hospital University - Bordeaux, Centre Leon Berard, Centre National de Biologie Expérimentale, Centro de Inmunolgía Molecular, Century Therapeutics, Cepheid, Cerba HealthCare, Ceres, Cernostics, Certis, Cerulean Pharma, Cevec Pharmaceuticals, cGMP Validation, CG Oncology, Champalimaud Foundation, Champions Oncology, CHAMPS Oncology, Changzhou Le Sun Pharmaceuticals, Charles River Laboratories, Checkmate Pharmaceuticals, CheckPoint Immunology, Checkpoint Therapeutics, Chembio Diagnostics, ChemImage, Chemveda Life Sciences, ChemWerth, Chengdu Gaotong Isotope, Cheplapharm Arzneimittel, Chi-Med, Children's Cancer Institute Australia for Medical Research, Children's Cancer Therapy Development Institute, Children's Hospital Boston, Children's Hospital Los Angeles, Children's Hospital of Orange County, Children's Hospital of Philadelphia, Children's Medical Research Institute, Children's Minnesota, Children's Center for Cancer and Blood Diseases (CCCBD), Chimerix, China-Singapore Guangzhou Knowledge City, China Isotope And Radiation, China Medical System, China Oncology Focus, China Resources Guokang Pharmaceuticals, China State Institute of Pharmaceutical Industry (CIPI), Chinese Future Industry Investment Fund, Chiome Bioscience, Chiromics, Cholangiocarcinoma Foundation, Chong Kun Dang, Chongqing Jingdong Pharmaceutical, Chongqing Lummy Pharma, Chonnam National University, Christian Doppler Research Association, Chroma Therapeutics, Chrysalis BioTherapeutics, Chugai Pharmaceutical, Chugai Pharma Marketing, Chung Shan Medical University Hospital, Ciitizen, Cilag AG, CiMaas, CIMAB SA, Cincinnati Children's Hospital Medical Center, Cinda Bio-Pharmaceutical, Cipher Pharmaceuticals, Cipla, Cipla Medpro, Circuit Clinical, Circulogene, Cirrus Dx, Cisbio Bioassays, Cisen Pharma, Citron Pharma, City of Hope, City of Hope Comprehensive Cancer Center, CivaTech Oncology, CIVCO Radiotherapy, Civetta Therapeutics, CJ Corp, Clal Biotech, Clalit Health Fund, Clarient, Clarity Pharmaceuticals, Clarius Mobile Health, Cleara Biotech, Clearbridge Biomedics, ClearLight Diagnostics, Clearside Biomedical, ClearView Diagnostics, Cleveland BioLabs, Cleveland Clinic, Cleveland Diagnostics, Cleveland University Hospitals, Clevexel Pharma, Clinatec, Clinical Genomics, Clinical Laserthermia Systems (CLS), Clinical Network Services, Clinical Oncology Research Excellence (CORE), Clinical Outcomes Tracking and Analysis, Clinica Universidad Navarra, Clinigen, Clinipace Worldwide, Clinton Health Access Initiative, Cloaked Therapeutics, CloudHealth Genomics, Cloud Pharmaceuticals, Clovis Oncology, CMAB Biopharma, CMC Biologics, CNS Pharmaceuticals, Co-Diagnostics, Cobalt Healthcare Consultants, Cobra Biologics, Codiak BioSciences, Cofactor Genomics, Cognate BioServices, Coherus Biosciences, CoImmune, COI Pharmaceuticals, Cold Genesys, Cold Spring Harbor, Coldstream Laboratories, Collegium Pharmaceuticals, Color, Colorado State University, Color Genomics, Columbia University, Columbia University Medical Center, Comed Medical Specialties, Common Sense, Community Medical Center, CompanionDx Reference Lab, Complix, Compugen, Concerto HealthAI, Concile, Concordia Healthcare, Congenica, Conkwest, Constance Therapeutics, Context Therapeutics, Contextual Genomics, ContraVir Pharmaceuticals, ConverGene, Cook Biotech, Coqui RadioPharmaceuticals, Corcept Therapeutics, Corden Pharma, CoreBiome, Core Diagnostics India, CorMedix, Cornell University, Coronado Biosciences, Corporation for Biological Research, Corvida Medical, Corvus Pharmaceuticals, COTA, Covalab, Covance, Covidien, Covis Pharmaceutical, Crescendo Biologics, Crescendo Bioscience, Crestar Labs, CRISPR Therapeutics, Cristal Therapeutics, Croix-Rousse Hospital, Crown Bioscience, Crown Dental + Medical, CR Pharma, CRT Pioneer Fund, CryoPort, CrystalGenomics, CSC Pharmaceuticals, CSI Laboratories, CSIRO, CSPC Pharmaceutical Group, CStone Pharmaceuticals, CTI BioPharma, Cullinan Oncology, Cumberland Pharmaceuticals, Cumulus Oncology, Curadev Pharma, Curadigm, Cure Brain Cancer Foundation, Cure Forward, CureMetrix, CURE Pharmaceutical, Cures Within Reach, CureTech, CureVac, Curie-Cancer, Curing Kids Cancer, Curis, Curium, Curtana Pharmaceuticals, Cutaneous Lymphoma Foundation, CvergenX, CyberKnife, Cyclacel Pharmaceuticals, Cyclenium Pharma, Cyclica, Cyclopharm, Cyclotek, Cynata Therapeutics, Cyntec, Cynvenio, Cyteir Therapeutics, CytImmune Science, CYTLIMIC, Cytodyn, CytoLumina Technologies, CytomX Therapeutics, Cytori Therapeutics, Cytos Biotechnology, CytoSen Therapeutics, CytoSorbents, Cytovance Biologics, Cytovation, CYTOVIA Therapeutics, CytRx, D&K Technologies, D-Eye, Daewoong Pharmaceutical, Daiichi Sankyo, Dainippon Sumitomo Pharma, Dako, Dana-Farber Cancer Institute, DanDrit Biotech, Danish Center for Strategic Research into Type 2 Diabetes, Danish Innovation Fund, Dartmouth-Hitchcock Medical Center, Dartmouth College, DaRui Biotech, DarwinHealth, Dauntless Pharmaceuticals, David H. Koch Institute for Integrative Cancer Research, DaVita Clinical Research, Davospharma, DCPrime, Debiopharm, Deciphera Pharmaceuticals, Decipher Biosciences, DecisionQ, deCODE Genetics, de Duve Institute, DEEP 6 AI, Deep Lens, Deerfield Management, Definiens, DeGregorio Family Foundation, Delcath Systems, Dell, DelMar Pharmaceuticals, DelSiTech, DeMelle OncoPharma, Dendreon, Denka, Denka-KEW Genomics, Denovo Biopharma, Densitas, Dentamed, Department of Defense, Department of Energy, Department of Health and Human Services, Department of Veterans Affairs, DePuy, Dermin, DermTech, Desktop Genetics, Device Technologies, Devicor Medical Products, Devonian Health Group, Dexcel Pharma, DiaCarta, DiagnoCure, Diagnoplex, Diagnostica Longwood, Diagnostic Oncology Contract Research Organization, DiaMedica, Diaprost, Diatheva, Dilon Diagnostics, DiNonA, Distributed Bio, Diverse Biotech, Dizal Pharmaceutical, DNAmito, DNA Therapeutics, DNAtrix, DNX Biopharmaceuticals, Domainex, Domain Therapeutics, Dong-A ST, Dorizoe Lifesciences, Dr. Reddy's Laboratories, Dr. Susan Love Research Foundation, Dragonfly Therapeutics, Dr Allen Wu, Dresner Foundation, Drexel University, DRI Capital, Dr Risch, Drukier Institute for Children's Health, DSG, DSM Nutritional Products, Dualogics, Dual Therapeutics, DuChemBio, Duke-NUS Graduate Medical School Singapore, Duke Cancer Institute, Duke University, Duke University Medical Center, Dune Medical Devices, Dutch-Belgian Cooperative Trial Group for Hematology Oncology (HOVON), DxM Diagnostico Molecular, DxTerity, DyNAbind, Dynavax Technologies, DySIS Medical, E3x Bio, Eagle Pharmaceuticals, Eastern Cooperative Oncology Group, Eastern Ontario Regional Laboratory Association, Easton Pharmaceuticals, Eckert & Ziegler, ECOG-ACRIN Cancer Research Group, Eddingpharm, Eden BioCell, Edico Genome, EdiGene, Edinburgh Molecular Imaging, Editas Medicine, Edogawa Hospital, EDP Biotech, Educational and Scientific, eFFECTOR Therapeutics, Egenix, EhmetDx, EicOsis, Eigen, Eiger BioPharmaceuticals, EIP Eczacibasi Ilac Pazarlama, EirGenix, Eisai, Eisai Inc, EKF Diagnostics, Elanco, ELC Group, Elekta, Elevar Therapeutics, Eleven Biotherapeutics, Elicio Therapeutics, Eli Lilly, Elligo Health Research, Ellipses Pharma, Elpis Biomed, Elpiscience, ElsaLys Biotech, Elthera, Elucidata, Embleema, Emcure Pharmaceuticals, EMD Millipore, EMD Serono, Emerge Health, Emergent BioSolutions, EMMAC Life Sciences, Emory University, Emtora Biosciences, Emulate, Enamine, Encycle Therpaeutics, Endocare, Endocyte, Endo International, Endomag, Endomagnetics, Endo Pharmaceuticals, Endotronix, EnGeneIC, Enigma Biomedical, Enlibrium, ENPICOM, Enterome Bioscience, Entrinsic Health Solutions, Enumeral Biomedical, Enzo Biochem, Enzo Clinical Labs, Enzyvant Science, Epic Sciences, Epigenomics, EpimAb Biotherapeutics, EpiThany, Epizyme, Erasmus University Medical Center, Ervaxx, Erytech, Esophageal Cancer Awareness Association, Especificos Stendhal, Esperance Pharmaceuticals, Essex Bio-Technology, eTheRNA immunotherapies, Ethicann Pharmaceuticals, Etubics, Euclises Pharmaceuticals, Eureka Eurostars, Eureka Therapeutic, Eurobio, Eurofarma, Eurofins STA Laboratories, European Commission, European Health Centre Innovation, European Infrastructure for Translational Medicine, European Medical Contract Manufacturing, European Organization for Research and Treatment of Cancer, European Society for Radiotherapy & Oncology, European Union, European Union Regional Development Fund, EUSA Pharma, Eutilex, Eutropics Pharmaceuticals, Evelo Biosciences, Event Cardio Group, Everest Medicines, Everything Genetic, Evotec, Evvivax, Ewopharma, Exact Imaging, Exactis Innovation, Exact Sciences, Exelixis, Exiqon, Exosome Diagnostics, Exosome Sciences, Exovita Biosciences, Expression Analysis, ExScientia, Exuma Biotech, F-Star, F-Star Alpha, F1 Oncology, Fabric Genomics, Facit, FairJourney Biologics, Fapon Biopharma, Faron Pharmaceuticals, Fate Therapeutics, Faulk Pharmaceuticals, Federal Ministry of Education and Research (BMBF), FedMed, Feinstein Institute for Medical Research, Feist-Weiller Cancer Center, Feldan Therapeutics, Felicitex Therapeutics, Femasys, Femtogenix, FerGene, Ferring Pharmaceuticals, FetoLumina Technologies, FGH Biotech, Finnish Funding Agency for Technology and Innovation (TEKES), Firebrand Therapeutics, FitBit, Five Prime Therapeutics, FKD Therapies, Flatiron Health, Flemish agency for Innovation by Science and Technology, Flow Pharma, Fluxion Biosciences, FLX Bio, FNApath, Focal Healthcare, Folia Biotech, Fondation Cancer, Fondatioun Kriibskrank Kanner, Food and Drug Administration (FDA), Forbius, Foresee Pharmaceuticals, FORMA Therapeutics, Formula Pharmaceuticals, Fortified Provider Network, Fortress Biotech, Forty Seven, Fosun Kite Biotechnology, Fosun Pharmaceutical, Foundation Medicine, Fox Chase Cancer Center, Francis Crick Institute, Fraunhofer IGB, Fraunhofer Institute for Microelectronic Circuits and Systems, Fred & Pamela Buffett Cancer Center, Frederick National Laboratory For Cancer Research, Fred Hutchinson Cancer Research Center, Freenome, French National Research Agency, Fresenius Medical Care, Frontida BioPharm, Fscan, Fudan University, Fuhong Hanlin, Fujifilm, Fuji Pharma, Fujirebio Diagnostics, Fujitsu Laboratories, Fulgent Pharma, Fusion Antibodies, Fuzionaire Radioisotope Technologies, G-TAC, G1 Therapeutics, Gadeta, Galaxy Biotech, Galaxy Health Network, Galectin Sciences, Galectin Therapeutics, Galena Biopharma, Gallus Biopharmaceuticals, GamaMabs Pharma, Gamida Cell, GammaDelta Therapeutics, Gamma Medica, Gateway for Cancer Research, GC LabCell, GC Pharma, GE Healthcare, Geisel School of Medicine at Dartmouth, Geisinger Health System, Gem Pharma, Gen-Probe, Gen9, Genclis, Genecast, GeneCentric Therapeutics, GeneData, GeneInsight, GeneNews, Genentech, Geneos Therapeutics, GeneQuantum Healthcare, Generex Biotechnology, GeneSegues, GenesisCare, Genetic Immunity, Genetic Technologies, Genetron Health, Genevant Sciences, Geneva University Hospitals, Genexine, Genialis, Gen Ilac, Genisphere, Genmab, Genocea Biosciences, Genomac Research Institute, Genome and Company, Genome Canada, GenomeDx, Genome Institute of Singapore, Genomeon, GenomiCare, Genomic Health, Genomics England, Genomic Testing Cooperative, Genomic Vision, Genomoncology, Genoptix, Genor Biopharma, Genosco, Genprex, GenScript USA, GenSpera, GenVec, Genzyme, George Clinical, Georgetown Lombardi Comprehensive Cancer Center, Georgetown University, Georgetown University Hospital, George Washington University, Georgia Institute of Technology, Georgia Regents University in Augusta, Georgia State University, GeoVax, German Cancer Research Center, German Ministry for Education and Research, Geron, Gestalt Diagnostics, Gestion Univalor, Gilead Sciences, GIMDx, Giorgio Foundation, Giraffes Pharmaceutical, GISCAD Foundation, Glactone Pharma, Gland Pharma, GlaxoSmithKline, Glenmark Pharmaceuticals, GLG Pharma, Glide, Global Cancer Diagnostics, Global Discovery Biosciences, Global Lung Cancer Coalition, Global Medical Solutions, Globavir Biosciences, Gloval Specimen Solutions, GlycoMimetics, Glycostem Therapeutics, Glycotest, Glycotope Biotechnology, Glycyx Pharmaceuticals, Glythera, Gnosis Bioresearch, GNS Healthcare, GNYHA Services, GOG Foundation, Goodwin Biotechnology, Gossamer Bio, Gotect Diagnostic, GO Therapeutics, Government of Canada, Government of Hong Kong, Gradalis, Grady Health System, Grail, Gray Foundation, Greater Paris University Hospitals, Green Cross LabCell, Greenville Health System, Grid Therapeutics, Gritstone Oncology, Group Vida, GRU Cancer Center, Grunenthal, Grupo Ferrer, GRYT Health, GT Apeiron Therapeutics, GT Biopharma, GTx, Guangdong Provincial People's Hospital, Guangzhou Institute of Biomedicine and Health, Guangzhou Xiangxue Pharmaceutical, Guardant Health, Guerbet, Guided Therapeutics, Guided Therapy Systems, GuideVine, GVK Biosciences, GW Pharmaceuticals, Gyros Protein Technologies, H-Immune, H3 Biomedicine, Hackensack Meridian Health, Hackensack University Medical Center, Hadasit Medical Research Services and Development, Hadassah Medical Center, Haga Teaching Hospital, Hainan Sihuan Pharmaceutical, Hainan Sinotau Pharmaceutical, HalioDx, Halo Dx, Halozyme Therapeutics, Hamilton Health Sciences, Hanmi Pharmaceutical, Hannover Medical School, HanX Biopharmaceuticals, Hapten Sciences, Harbour Biomed, Harpoon Therapeutics, Harvard Medical School, Harvard Pilgrim Health Care, Harvard University, Hauptman-Woodward Medical Research Institute, HD Biosciences, Healius, Health Canada, Healthcare Global Enterprises, HealthCare Konnect, Healthcare Royalty Partners, Healthcare Technology Innovation Centre (Chennai), Health Diagnostics Laboratory, HealthMyne, HealthTrust, Healx, Heat Biologics, Hebrew University of Jerusalem, Hefei Sageland Biotechnology, Heidelberg Pharma, HekaBio, Helen F Graham Cancer Center, Helix BioPharma, Helmholtz Zentrum Munchen, Helomics, Helsinki University Central Hospital (HUCH) Comprehensive Cancer Center, Helsinn Healthcare, Helsinn Therapeutics, HemCon Medical Technologies, HemispheRx Biopharma, Hemogenomics Pharma, Henlius Biotech, Henry Ford Health System, Henry M. Jackson Foundation, Herlev Hospital, HiFiBio, Highline Therapeutics, Highmark Blue Shield, Highmark Health, Hikma Pharmaceuticals, Hillstream BioPharma, Himed Hospital Management, Histogen, Histogenics, Histogen Oncology, Hitachi, Hitachi Aloka Medical, Hitachi Chemical, Hitachi Medical Systems Europe, HitGen, Hoag Memorial Hospital Presbyterian, Hoffmann La Roche, HollandPTC, Hologic, Hong Kong Polytechnic University, Hong Kong University of Science & Technology, Honor, Hookipa Pharma, Hoosier Cancer Research Network, HOPE BIOSCIENCES, Hope for Stomach Cancer, Horizon 2020, Horizon Discovery, Horizon Healthcare Services, Horizon Pharma plc, Hospira, Hospital del Mar, Hospital Services, Hoth Therapeutics, Houston Pharmaceuticals, HTG Molecular Diagnostics, Hubrecht Organoid Technology, HudsonAlpha Institute for Biotechnology, Hufeland Klinikum, Humana, Humanetics, Humanigen, Human Longevity, Human Vaccines Project, Hummingbird Bioscience, Huntsman Cancer Foundation, Huntsman Cancer Institute, Huons, Hutchison MediPharma, HUYA Bioscience, Hvidovre Hospital, Hy BioPharma, Hybridyne Imaging Technologies, Hyundai Hope On Wheels, Hyundai Pharmaceutical, I-mab, i2 Pharmaceuticals, IBA, IBA Molecular Imaging, Ibex Medical Analytics, iBIO Institute's PROPEL Center, IBL America, IBM, IBM Watson Health, iCAD, Icahn School of Medicine at Mount Sinai, IceCure Medical, Ichor Medical Systems, Icon, Iconic Therapeutics, Idaho Urologic Institute, IDB Resources, iDD Biotech, IDEAYA Biosciences, Idengene, Idera Pharmaceuticals, Idorsia, IDT, iGEM, Igenica, IGNITE Immunotherapy, Ignyta, Ikanik Farms, Iksuda Therapeutics, Ilera Therapeutics, Illumina, Image Analysis, ImaginAb, Imaging Associates, Imanis Life Sciences, ImCheck Therapeutics, ImClone Systems, Imegen, Immatics Biotechnologies, Immatics US, Immodulon Therapeutics, Immunaccel, Immune-Onc Therapeutics, Immune Biosolutions, Immune Design, ImmuneOncia, Immune Pharmaceuticals, Immune Therapeutics, ImmuNext, ImmunGene, Immunicum, ImmunID Technologies, Immunitor, ImmunoBiochem, ImmunoCellular Therapeutics, ImmunoChina Pharmaceuticals, Immunocore, ImmunoForge, ImmunoGen, Immunogenesis, Immunome, Immunomedics, Immunomic, ImmunoPhotonics, Immunovaccine, Immunovia, Immunscape, Immusol, Immutep, IMPACT Therapeutics, Imperial College London, Imperial Innovations, Impilo Pharma, IMS Health, Imugene, IMV, IncellDx, Inceptua, INC Research, Incuron, Incyte, Indapta Therapeutics, Indee Labs, Indiana University, Indian Cooperative Oncology Network, Indigo Biosciences, Indivumed, Industrial Technology Research Institute, Infinity Pharmaceuticals, Inflammatory Breast Cancer Research Foundation, Inflection Biosciences, Inform Genomics, Infuseon Therapeutics, InfuSystem Holdings, Inhibitor Therapeutics, Inhibrx, Inivata, INmune Bio, Innate Pharma, Innocrin Pharmaceuticals, Innoplexus, Innovate UK, Innovative Diagnostic Laboratory, Innovative Genomics Initiative (IGI), Innovative Immunotherapy Alliance, Innovative Targeting Solutions, Innovent Biologics, InnoVision Therapeutics, Innovus Pharmaceuticals, In Ovations Holdings, Inovio, Inovio Pharmaceuticals, InProTher, Inserm, Inserm Transfert, InSightec, Insight Genetics, Insight Medical Systems, Insilico, Insilico Medicine, InSphero, Inspyr Therapeutics, Instillo, Institut Català d'Oncologia, Institut Curie, Institute for Bioscience and Biotechnology Research, Institute for Myeloma and Bone Cancer Research, Institute for Research in Immunology and Cancer – Commercialization of Research, Institute for Systems Biology, Institute for the Promotion of Innovation by Science and Technology in Flanders, Institute of Bioengineering and Nanotechnology, Institute of Bioengineering of Catalonia, Institute of Biophysics, Institute of Cancer Research, Institute of Genetics and Molecular and Cellular Biology, Institut Gustave Roussy, Instituto Diagnostico Varelli, Instituto Valenciano De Oncologia, Institut Pasteur, Insys Therapeutics, IntegraGen, Integral Molecular, Integrated Biobank of Luxembourg, Integrated Diagnostics, Integrated DNA Technologies, Inteliquet, Intellia Therapeutics, Intellikine, Intensity Therapeutics, Intermountain Healthcare, International Association for the Study of Lung Cancer, International Isotopes, International Myeloma Foundation, Interpace Diagnostics, Interpace Diagnostics Group, Intezyne, IntraMed, Intrexon, Intuitive Surgical, INVAP, Invectys, Invenra, InventisBio, Inventiva, inVentiv Health, Invetech, inviCRO, Invitae, InVivoScribe, InxMed, IO Biotech, Ionis Pharmaceuticals, ION Solutions, IONTAS, Iovance Biotherapeutics, IOVaxis Therapeutics, iOx Therapeutics
For a full list of companies please email us at enquiry@currentpartnering.com
Current Partnering reports provide insight into the trends and terms of partnering deals in the global life sciences sector.
Current Partnering reports are updated every six months to ensure the user has access to the latest announcements and trends in the topic focus of the report.
Current Partnering analysts review the deal data to provide an overview and analysis of deal trends, including example deals and terms.
Current Partnering reports source deal data from our proprietary deals and alliances database, Current Agreements. The database is updated daily by our analysts with new deals as they are announced globally by the company's party to the deal. In addition, deal records are updated with new data as it becomes available.
The data in the Current Agreements deals and alliances database is obtained from secondary sources such as publicly available industry sources including press releases, company presentations, investor presentations, company SEC filings, other company filings, company websites, conference presentations. Sources are identified to allow for user verification.
Current Partnering provides comprehensive coverage of the following partnering or deal types:
• Asset purchase
• Assignment
• Co-development
• Co-market
• Co-promotion
• Collaborative R&D
• Contract service
• CRADA
• Cross-licensing
• Development
• Distribution
• Equity purchase
• Evaluation
• Grant
• Joint venture
• Licensing
• Loan
• Manufacturing
• Marketing
• Option
• Promotion
• Research
• Royalty financing
• Settlement
• Spin out
• Sub license
• Supply
• Termination
• Warrant
Every deal record is fully categorized and includes the following data, where available:
• Industry sector
• Therapy areas
• Technology type
• Deal components
• Financial terms
• Stage of development
• Exclusivity
• Asset type
• Geographic focus
• Excluded geography
• Company press release
• SEC filing data including contract document
All financial amounts are converted to US$ using the exchange rate available on the date of deal announcement, enabling direct comparison of deal terms across international territories.
Financial data and contract documents displayed in deal records is obtained from public sources, where disclosed by the parties to the deal.