Global Asset Purchase Deals in Pharma, Biotech and Diagnostics 2014-2021
The Global Asset Purchase Deals in Pharma, Biotech and Diagnostics 2014-2021 report provides a detailed understanding and analysis of how and why companies enter business, product, technology and royalty asset purchase deals.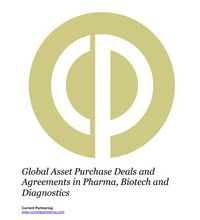 Publication date
October 2021
Product type
Research report
Available formats
PDF document
The Global Asset Purchase Deals in Pharma, Biotech and Diagnostics 2014-2021 report provides a detailed understanding and analysis of how and why companies enter business, product, technology and royalty assets.
The report provides a detailed understanding and analysis of how and why companies enter business, product, technology and royalty assets.
The focus of the report is on partnerships for business, product, technology and royalty assets where partners have entered an agreement to dispose of or acquire said assets.
Companies may seek to dispose of an asset simply because it is surplus to requirements. Or it may seek to dispose of assets in order to raise funds to invest in others parts of its business. Or it may be due to a regulatory requirement to dispose of certain business or product assets as a result of a pending business merger in order to meet competition regulations.
The report provides access to asset purchase deal payment terms as announced between the parties. This data provides useful insight into the payment and other deal terms.
The report focuses on four primary types of asset available for purchase:
Business assets - the most common asset exchanging hands. Business assets are in the form of a business unit or subsidiary of a parent company. Common assets include territorial businesses or non-core businesses such as an OTC or diagnostics business, separate from the core business operations
Product assets - in the form of marketed product, clinical phase development compound, or drug delivery-compound combination. These assets are commonly available as a result of a merger or change in direction of the selling company. The buyer acquires the asset for global or territorial exploitation. It is often the case that the acquiring company is normally a competitor to the seller, but in this situation the trade is of mutual benefit
Royalty assets - where a specialist investment company acquires the rights to future royalty payments in return for payment of a lump sum payment to the licensor for the product
Technology asset - where a buyer is acquiring a technology platform, research program, patent portfolio or other intellectual property asset. The acquisition is often due to the technology being surplus to a sellers interests, but may also be as a consequence of a sale of assets in advance of the seller entering liquidation
Understanding the flexibility of a prospective partner's negotiated deals terms provides critical insight into the negotiation process in terms of what you can expect to achieve during the negotiation of terms. Whilst many smaller companies will be seeking details of the payments clauses, the devil is in the detail in terms of how payments are triggered and rights transferred – contract documents provide this insight where press releases and databases do not.
This report contains a comprehensive listing of over 1,200 asset purchase deals announced since 2014 as recorded in the Current Agreements deals and alliances database, including financial terms where available, plus links to online copies of actual asset purchase contract documents as submitted to the Securities Exchange Commission by companies and their partners.
Contract documents provide the answers to numerous questions about a prospective partner's flexibility on a wide range of important issues, many of which will have a significant impact on each party's ability to derive value from the deal.
The initial chapters of this report provide an orientation of Asset Purchase dealmaking and business activities. Chapter 1 provides an introduction to the report, whilst chapter 2 provides an overview and analysis of the trends in Asset Purchase as well as a discussion on the merits of the type of deal.
Chapter 3 provides an overview of the structure of Asset Purchase deals. The chapter includes numerous case studies to enable understanding of both pure Asset Purchase deals and multicomponent deals where Asset Purchase forms a part.
Chapter 4 provides a review of the leading Asset Purchase deals since 2014. Deals are listed by headline value. Where the deal has an agreement contract published at the SEC a link provides online access to the contract via the Current Agreements deals and alliances database.
Chapter 5 provides a comprehensive listing of the top 25 most active Asset Purchase dealmaker companies. Each deal title links via Current Agreements deals and alliances database to an online version of the full deal record, and where available, the actual contract document, providing easy access to each deal record on demand.
Chapter 6 provides a comprehensive and detailed review of Asset Purchase deals organized by company A-Z, therapy, technology and industry type signed and announced since 2014 where a contract document is available. Contract documents provide an indepth insight into the actual deal terms agreed between the parties with respect to the Asset Purchase deal.
The appendices to the report includes a comprehensive listing of all Asset Purchase deals announced since 2014. Each listing is organized as an appendix by company A-Z, stage of development at signing, therapeutic area and industry type. Each deal title links via hyperlink to an online version of the deal record including, where available, the actual contract document.
The report includes deals announced by hundreds of life science companies including big pharma such as Abbott, Abbvie, Actavis, Amgen, Astellas, AstraZeneca, Baxter, Bayer, Biogen Idec, BMS, Celgene, Eisai, Eli Lilly, Gilead, GSK, J&J, Kyowa Hakko, Merck, Mitsubishi, Mylan, Novartis, Pfizer, Roche, Sanofi, Shire, Takeda, Teva, and Valeant, amongst many others.
The report also includes numerous table and figures that illustrate the trends and activities in Asset Purchase dealmaking since 2014.
In conclusion, this report provides everything a prospective dealmaker needs to know about Asset Purchase alliances.
Key benefits
Global Asset Purchase Deals in Pharma, Biotech and Diagnostics 2014-2021 provides the reader with the following key benefits:
In-depth understanding of asset purchase deal trends since 2014
Analysis of the structure of asset purchase agreements with real life case studies
Comprehensive access to over 1,200 actual asset purchase deals entered into by the world's biopharma companies
Detailed access to actual asset purchase deals entered into by leading biopharma companies
Insight into the terms included in a asset purchase agreement, together with real world clause examples
Understand the key deal terms companies have agreed in previous deals
Undertake due diligence to assess suitability of your proposed deal terms for partner companies
Report scope
Global Asset Purchase Deals in Pharma, Biotech and Diagnostics 2014-2021 is intended to provide the reader with an in-depth understanding of the asset purchase trends and structure of deals entered into by leading biopharma companies worldwide.
Global Asset Purchase Deals in Pharma, Biotech and Diagnostics 2014-2021 includes:
Trends in asset purchase dealmaking in the biopharma industry since 2014
Analysis of asset purchase deal structure
Case studies of real-life asset purchase deals
Access to over 1,200 asset purchase deal records
The leading asset purchase deals by value since 2014
Most active asset purchase dealmakers since 2014
The leading asset purchase partnering resources
In Global Asset Purchase Deals in Pharma, Biotech and Diagnostics 2014-2021, the available deals are listed by:
Company A-Z
Headline value
Stage of development at signing
Therapeutic area
Technology type
Each deal title links via Weblink to an online version of the actual deal record, providing easy access to each contract document where available.
The Global Global Asset Purchase Deals in Pharma, Biotech and Diagnostics 2014-2021 report provides comprehensive access to available records for over 1,200 asset purchase deals, including contract documents where available. Analyzing actual contract agreements allows assessment of the following:
What are the precise rights granted or optioned?
What is actually granted by the agreement to the partner company?
What exclusivity is granted?
What is the payment structure for the deal?
How are sales and payments audited?
What is the deal term?
How are the key terms of the agreement defined?
How are IPRs handled and owned?
Who is responsible for commercialization?
Who is responsible for development, supply, and manufacture?
How is confidentiality and publication managed?
How are disputes to be resolved?
Under what conditions can the deal be terminated?
What happens when there is a change of ownership?
What sublicensing and subcontracting provisions have been agreed?
Which boilerplate clauses does the company insist upon?
Which boilerplate clauses appear to differ from partner to partner or deal type to deal type?
Which jurisdiction does the company insist upon for agreement law?
Global Asset Purchase Deals in Pharma, Biotech and Diagnostics 2014-2021 provides the reader with the following key benefits:
In-depth understanding of asset purchase partnering deal trends since 2014
Insight into the terms included in an asset purchase agreement, together with real world clause examples
Identify leading asset purchase deals by value since 2014
Identify the most active asset purchase dealmakers since 2014
Full listing of asset purchase deals by company A-Z, deal value, phase of development, deal type, therapy and technology focus
Comprehensive access to over 1,200 asset purchase deals entered into by the world's biopharma companies, together with contract documents if available
Understand the key deal terms companies have agreed in previous deals
Undertake due diligence to assess suitability of your proposed deal terms for partner companies
Executive Summary
Chapter 1 – Introduction
Chapter 2 – Trends in Asset Purchase dealmaking
2.1. Introduction
2.2. Types of assets purchased
2.3. Trends in Asset Purchase deals since 2014
2.3.1. Asset Purchase dealmaking by year since 2014
2.3.2. Asset Purchase dealmaking by phase of development since 2014
2.3.3. Asset Purchase dealmaking by industry sector since 2014
2.3.4. Asset Purchase dealmaking by therapy area since 2014
2.3.5. Asset Purchase dealmaking by technology type since 2014
2.3.6. Asset Purchase dealmaking by most active company since 2014
2.4. Reasons for entering into asset purchase partnering deals
2.4.1. Business assets
2.4.2. Product assets
2.4.3. Royalty assets
2.4.4. Technology assets
2.5 The emergence of royalty asset purchase deals
2.5.1. Primary players in royalty asset purchase deals
2.5.3. The future of royalty asset purchase deals
2.6. The role of IP auction houses in asset purchase deals
2.6.1. Leading IP auction companies
2.7. The future of asset purchase agreements
Chapter 3 – Overview of Asset Purchase deal structure
3.1. Introduction
3.2. Asset purchase agreement structure
3.3. Example asset purchase agreements
3.3.1. Case study 1: Product asset: QLT – Valeant Pharmaceuticals
3.3.2. Case study 2: Business asset: Merck and Co – Bayer
3.4. Anatomy of a royalty asset purchase agreement
3.5. Example royalty asset purchase agreements
3.5.1. Case study 3: Royalty asset: BioTime Acquisition Corporation– Geron Corporation
Chapter 4 – Leading Asset Purchase deals
4.1. Introduction
4.2. Top Asset Purchase deals by value
Chapter 5 – Top 25 most active Asset Purchase dealmakers
5.1. Introduction
5.2. Top 25 most active Asset Purchase dealmakers
Chapter 6 – Asset Purchase deals including contracts directory
6.1. Introduction
6.2. Asset Purchase deals with contracts since 2014
Appendices
Appendix 1 – Asset Purchase dealmaking by companies A-Z
Appendix 2 – Asset Purchase dealmaking by industry sector
Appendix 3 – Asset Purchase dealmaking by stage of development
Appendix 4 – Asset Purchase dealmaking by therapy area
Appendix 5 – Asset Purchase dealmaking by technology type
About Wildwood Ventures
Current Partnering
Current Agreements
Recent report titles from Current Partnering
TABLE OF FIGURES
Figure 1: Definition of assets purchased
Figure 2: Trends in Asset Purchase deal announcements since 2014
Figure 3: Asset Purchase deals signed at each phase of development since 2014
Figure 4: Asset Purchase deals by industry sector since 2014
Figure 5: Asset Purchase deals by therapy area since 2014
Figure 6: Asset Purchase deals by technology type since 2014
Figure 7: Top 25 most active Asset Purchase dealmakers since 2014
Figure 8: Leading royalty asset investors
Figure 9: Leading IP auction companies
Figure 10: Components of the asset purchase deal structure
Figure 11: Components of the royalty asset purchase deal structure
Figure 12: Top Asset Purchase deals by value since 2014
Figure 13: Most active Asset Purchase dealmakers since 2014
Pricing options
$3,495: single-user
$5,245: multi-user
$10,495: single site license
$17,495: global site license
A full explanation of license type definitions can be found here.
Our guarantee
Price promise
We guarantee our prices are competitive. If you find the same report advertised at a lower price within 7 days of purchase, we will refund the difference.
Delivery Deadline
We guarantee that the report will be sent within the specified delivery times. In the unlikely case of a delay we may offer a partial refund as compensation. (Terms may apply)
Latest report
If an update is published within 30 days of your purchase, you will receive it absolutely free of charge.
Serious Security
We take your data and security seriously. See our privacy policy for details of how we manage your data.
All card payments are processed by SagePay.
Sales Support
If you have any questions about your report or are unhappy with the quality, we will do our best to resolve your query. Contact us direct.
Total Trust
Current Partnering is part of Wildwood Ventures Ltd., based in York, United Kingdom. We have been trading successfully online since 2009 and work with some of the most famous brands in the business. We carefully select our partners to ensure that the publications meet expectations of demanding customers.
3M, 3M Critical & Chronic Care Solutions, 3SBio, 7D Surgical, 22nd Century, A&E Medical, Aastrom Biosciences, Abaxis, Abbott Laboratories, Abbvie, Abcam, AbCellera, ABEC, Abiomed, Abvitro, Acacia, Acacia Research, Academy Medical, Acare Medical Science, Accord, Accuray, Acelity, Aceto Corporation, Achaogen, Acino Pharma, Aclaris Therapeutics, Acorda Therapeutics, Acrotech Biopharma, Actavis (acquired by Watson), Actavis Foshan, ACT Biotech, ACT Genomics, Adama, Adamis Pharmaceuticals, Adaptas Solutions, AdaptHealth, Adello Biologics, ADMA Biologics, adMare BioInnovations, Admedus, Adstec, Advanced Accelerator Applications, Advanced Biologics, Advanced BioMatrix, Advanced BioScience Laboratories, Advanced Neural Dynamics, Advanomics, AdvanSource Biomaterials, Advanz Pharma, Advent International, Advicenne, Aegerion Pharmaceutical, Aeras, Aerial BioPharma, Aerie Pharmaceuticals, Aerogen, Aesculap, Aesthetic Medical International, Affinium Pharmaceuticals, AGC Asahi Glass, AGC Biologics, Agena Bioscience, Agenus Bio, AgeX Therapeutics, Agilent Technologies, Agios Pharmaceuticals, Agrium, AiPing Pharmaceutical, AIT Therapeutics, Ajinomoto Bio-Pharma Services, Akashi Therapeutics, Akida, Akkadeas Pharma, Akorn, Akoya Biosciences, Akrimax Pharmaceutical, Albany Molecular Research, Albemarle, Albumedix, Alchemia, Alere, Alexion Pharmaceuticals, Alexza Pharmaceuticals, Alfasigma, Alfred E. Mann Institute for Biomedical Engineering, AliveGen, ALK-Abello, Alkame, Alkermes, Allegheny General Hospital, Allegis Holdings, Allergan, Allergan (name changed from Actavis), Allergan Aesthetics, Alliance Pharma, Almac Group, Almirall, Alphagen Laboratories, Alphatec Spine, Alpine Immune Sciences, ALS Biopharma, Altaris Capital Partners, Altarum Institute, Altavant Sciences, Altermune Technologies, Alvine Pharmaceuticals, Alvogen, AM-Pharma, Amarantus BioSciences, Amcor, Amendia, American Regent, Amerigen Pharmaceuticals, AmerisourceBergen, AMFIL Technologies, Amgen, Amherst Pharmaceuticals, Amilabo, Amneal Pharmaceuticals, AMN Healthcare, Amphastar Pharmaceuticals, AmpliPhi Biosciences, Ampronix, AMP Therapeutics, Amring Pharmaceuticals, Amygdala Neurosciences, Anapure BioScientific, Andromeda Biotech, Angelini Pharma, Angiodynamics, ANI Pharmaceuticals, AnnaMed, Antares Pharma, Antech, Anthera Pharmaceuticals, AOAExcel, Apexigen, Apollo Endosurgery, ApoPharma, Apotex, Applied Biology, Applied Medical, Applied StemCell, Applied UV, Aptalis Pharmaceutical Technologies, Aptevo Therapeutics, APT Therapeutics, Aptuit, Aqua Pharmaceuticals, Aradigm, Aralez Pharmaceuticals, Arcadia Biosciences, Arcadia Consumer Healthcare, Argon Medical Devices, Ario Pharma, Arivis, Arjo, Armetheon, Array Biopharma, Arrevus, Arrowhead Pharmaceuticals, Arrow Pharmaceuticals, Arseus, Arteriocyte Medical Systems, Arthrosurface, Artizan Biosciences, ARxIUM, Arysta LifeScience, Asana Biosciences, Aseptix, AS Kevelt, Asklepion Pharmaceuticals, Asklepios Biopharmaceutical, Aspen Global, Aspen Holding, Aspen Pharmacare Canada, Aspen Surgical Products, Assertio Therapeutics, Astellas Pharma, Astellas Pharma US, Asterand Bioscience, Astero Bio, Astion Pharma, AstraZeneca, Asuragen, Atlab Pharma, ATL Technology, Atnahs Pharma, Atossa Genetics, Audax Private Equity, Auris Medical, Aurobindo Pharma, Aurora Cannabis, Aurora Diagnostics, Autotelic, Avadel Pharmaceuticals, AvanSci Bio, Avara Pharmaceutical Services, Avid Bioservices, Aviir Diagnostics, Avista Pharma Solutions, Avita Therapeutics, Axis Biotec Group, Aytu BioScience, Azaya Therapeutics, Back Bay Scientific, Banco de Sangre de Servicios Mutuos, Baring Private Equity Asia, BarioSurg, BASF, Bausch Health Companies, Bavarian Nordic, Baxalta, Baxter International, Bayer, Bayer Animal Health, Bayer Healthcare, Bayer Innovation, Bayer Technology Services, BBI Solutions, Beckman Coulter, Becton Dickinson, Bedford Laboratories, Beiersdorf, BeiGene, Beijing Genomics Institute (BGI), Bellicum Pharmaceuticals, Bellus Health, Ben Venue Laboratories, Benvenue Medical, Berkeley Lights, BetterLife Pharma, BGI, Bial, Bio-Rad Laboratories, Bioanalytical Laboratory Services, BioAnalytical Systems, BioCad Holding, Bioceres, BioClinica, BioCorRx, Biodelta Nutraceuticals, Biodesix, Bioengineering Laboratories, Biogen, Biohaven Pharmaceutical Holding, BioLegend, Biolin Scientific, BioMarin Pharmaceutical, BioMedical Drug Development, BioMedical Research, BioMedion, Biomerics, BioMotiv, Bionik Laboratories, BioNTech, Biophage Pharma, BioPharma Services, Bioprocess Capital Ventures, Biopsy Sciences, Biosign Technologies, Biostar, Biostem US, BioSurface Engineering Technologies, Biota Pharmaceuticals, BioTelemetry, Biotest Pharmaceuticals, Bioventus, Blood and Plasma Research, Bluelink Pharmaceuticals, BMG Pharmaceuticals, Boehringer Ingelheim, Boehringer Ingelheim Vetmedica, Bone Therapeutics, Bora Pharmaceuticals, Boston Scientific, Boston Topicals, Bovie Medical, BoxView, Braeburn Pharmaceuticals, Brainsway, Breckenbridge Pharmaceutical, Bridgewest Group, Bristol-Myers Squibb, BroadOak Capital Partners, Bruker, BUCHI Labortechnik, Burgerhospital, BVI Medical, BWK, BWX Technologies, C2Dx, C3J Therapeutics, C4X Discovery, Calibre Scientific, California Institute for Biomedical Research, Cambus Medical, Camino Partnership, Candela, Candel Therapeutics, Canon, Canon BioMedical, Cantel Medical, Capital One, Capnia, Capricor Therapeutics, Caprion Proteomics, CaptoGlove, Cardinal Health, CardioCORE Lab, Cardiome Pharma, CardioSert, Cardiovascular Systems, Caret Pharma, CASI Pharmaceuticals, CAS Medical Systems, Casper Pharma, Catalent, Catalyst Biosciences, Catheter Research, CBL Group, Cegedim, Celator, Celdara Medical, Celexion, Celgene, Celgene Cellular Therapeutics, Cellana, Cell Biosciences, Cellectis, Celling Biosciences, Cell MedX, Cellmic, Celltrion, Cellular Biomedicine, Celonic, CeloNova BioSciences, Celsee, Celularity, Celyad, CEM, CEN Biotech, Centauri Therapeutics, Centene, Centinel Spine, Centogene, Centre for Probe Development and Commercialization, Centrexion, Centron Diagnostics, Centurion Medical Products, Century Medical, Cepheid, Cequr, Cerebain Biotech, Cerecor, Cerner, Certara, Cerulean Pharma, Cerus, Cervel Neurotech, Change Healthcare, Chembio Diagnostics, Cheplapharm Arzneimittel, Cherwell Laboratories, CHG Hospital Beds, Chiesi Farmaceutici, China Biologic Products, China Medical System, Chip-Man Technologies, ChoiceSpine, Chroma Therapeutics, Chronos Therapeutics, Cilag AG, Cipher Pharmaceuticals, Cipla, Circadian Wellness, Cirrus Pharmaceuticals, CJ CheilJedang, Clayton Dubilier & Rice, Cleveland BioLabs, Cleveland Clinic, Cleveland HeartLab, Clinical Innovations, Clinical Laboratory Partners, Clinigen, Clinique Les Trois Soleils, Clinquest, Co-Diagnostics, Coating Place, Cobalt Healthcare Consultants, Codan Triplus, Codexis, Coeptis Pharmaceuticals, College Park Industries, Collegium Pharmaceuticals, Colorcon, CombinatoRx, Concert Pharmaceuticals, Concord Biosciences, Concordia Healthcare, Concordia Pharmaceuticals, Concord Medical Services Holdings, ContextVision, Contura, ConvaTec, Conventus Orthopaedics, Convoy Therapeutics, Cooper-Vemedia, Cooper Companies, Cooper Surgical, Coqui RadioPharmaceuticals, Cord Blood Registry, Cordis, CorDynamics, Corin, CorMatrix Cardiovascular, Cornerstone Biopharma, Corning, Cortice Biosciences, Corza Health, Cosmed Group, Covance, Covetrus, Covidien, Covis Pharmaceutical, Covistat, Cranford Pharmaceuticals, C R Bard, CR Kennedy & Company, CROMA Pharma, CROS NT, Crown Bioscience, Crown Laboratories, Crucell, Cryolife, CSL, CSPC Pharmaceutical Group, CTD Holdings, CTI BioPharma, CTX Technology, Cubex, Cumberland Emerging Technologies, Cumberland Pharmaceuticals, CURE Pharmaceutical, Custopharm, CVC Capital Partners, Cyanotech, CYduct Diagnostics, Cypralis, Cyprium Therapeutics, Cytonet, Cytori Therapeutics, Cyxone, Daiichi Sankyo, Dainippon Sumitomo Pharma, Danaher, Daniel Alain Life Science, Dartmouth College, DAS Therapeutics, Daylight Medical, Debiopharm, Debiotech, Dechra Pharmaceuticals, DeciBio Consulting, Delta, Dendreon, Denovo Biopharma, Department of Veterans Affairs, DepoMed, DePuy, DermaPort, DermOQ, Desma HC, Devicor Medical Products, DiagnoCure, Diagnoplex, Diamedix, DiaSorin, dievini Hopp BioTech, Digirad, Dilon Diagnostics, Diosynth, Distal Access, Diversey Care, DJO Global, DJO Surgical, Dominion Diagnostics, Dong-A Pharmaceutical, DOSE Medical, DPT Laboratories, Dr. Reddy's Laboratories, Dr. Susan Love Research Foundation, DS Healthcare, DSM Nutritional Products, DT MedTech, Dualogics, Ducere Pharma, Dune Medical Devices, DuPont, DuPont Industrial Biosciences, Duran Group, Durect, Dyadic International, Easton Pharmaceuticals, Eckert & Ziegler, Ecolab, Ecole Polytechnique de Montreal, Edan Diagnostics, Eddingpharm, Edge Biosystems, EdiGene, Edison Nation, Edogawa Hospital, Edwards Lifesciences, Egalet, Ehave, Eiger BioPharmaceuticals, Eisai, Ekso Bonics, Elanco, Elanix Biotechnologies, Electrical Geodesics, Elekta, Elektron Eye Technology, Elencee, Eleven Biotherapeutics, Eli Lilly, ELT Sight, Ember Therapeutics, Embolitech, EmbryoTrans Biotech, EMD Millipore, Emerald Health Therapeutics, Emergent BioSolutions, Emmes, Enaltus, EnBiotix, Encore Medical, Endo International, Endonovo Therapeutics, Endo Pharmaceuticals, EnteroMedics, Envigo, Environmental Tectonics Corporation, Envisia Therapeutics, EnWave, Enzymatics, Enzyvant Science, EpiBiome, EPI Health, EQT, Equipois, ERBA Diagnostics, ERT, Escape Therapeutics, Espada Dermatology, Ethicon Endo-Surgery, Ethismos Research, EUSA Pharma, Euthymics Bioscience, Event Cardio Group, Evolva, Evonik Industries, Evotec, Exactech, Expedeon, Exponent Private Equity, Exuma Biotech, Eyevance, F-Star Alpha, Famy Care, Faulk Pharmaceuticals, Ferring Pharmaceuticals, Firsthand Technology, Flamel Technologies, Flamma, Flexion Therapeutics, Flexpoint Sensor Systems, FMC, Focus Laboratories, Forest Pharmaceuticals, Formex, Fortis Healthcare, Fortive, Fosun Pharmaceutical, Fougera Pharmaceuticals, Foundation Consumer Healthcare, Fox Chase Chemical Diversity Center, Frankfurt University Hospital, Freedom Innovations, Freedom Meditech, Fresenius Kabi Pharmaceuticals, Fresenius Medical Care, Freudenberg Medical, Frontier Scientific Services, Fruh Control, FSC Laboratories, Fujifilm, Fujifilm Diosynth Biotechnologies, Fulcrum, Fusion Pharmaceuticals, G&W Laboratories, Galderma, Galecto, Galen, Galena Biopharma, Gallazzi, Galmed Pharmaceuticals, Gamma Medica, Gardia Medical, GC Pharma, GE Healthcare, Gem Pharma, Gen-Probe, GeneNews, GenePOC, GeneQuine Biotherapeutics, Genesee BioMedical, Genesis Biotechnology Group, Genesis MedTech, Genetrix, GeneWorks, Genmab, Genzyme, George Clinical, Gerresheimer, Gestion Univalor, Gesynta Pharma, Gilead Sciences, Ginkgo BioWorks, Ginolis, GI Reviewers, Glaukos, GlaxoSmithKline, Glenmark Pharmaceuticals, Glenveigh Medical, Global Life Safety Group, Global Medical Solutions, Globus Medical, Glycotope Biotechnology, Godrej, GO Scale Capital, Gowan Crop Protection, GPI Group, GrandOmics Biosciences, Great Belief International, Greenteaspoon, Grifols, Grunenthal, GT Biopharma, Guangdong Lewwin Pharmaceutical Research Institute, Guerbet, Guiyang Dalin Biotechnology, Guizhou Taibang Biological Products, GVS, Gyrus Capital, H2-Pharma, Hackensack University Medical Center, Haemonetics, Halo Labs, Halyard Health, Hancock Jaffe Laboratories, Harvard University, Healeon Medical, Health Diagnostics Laboratory, Health Outcomes Sciences, HeavenlyRx, Helix Medical, Hellman & Friedman, HemaCare, Henry Ford Health System, Henry Schein, Heritage Group, Heritage Pharmaceuticals, Heska, Hi-Tech Pharmacal, High Ridge Brands, Hikma Pharmaceuticals, Hill-Rom, Hillstream BioPharma, HLD, HLS Therapeutics, HMNRTH, Hoffmann La Roche, Holmdel Pharmaceuticals, Hologic, Honeywell, Horizon CombinatoRx, Horizon Discovery, Horizon Pharma plc, HOYA Vision Care, Hudson-Alpha Institute for Biotechnology, Huifeng Bio-Pharmaceutical Technology, Humanetics, Human Longevity, Huntsman, Hutchinson Technology, Hy BioPharma, Hypera Pharma, i2 Pharmaceuticals, iAnthus Capital, IBA Molecular Imaging, iCAD, Icagen, iCardiac Technologies, ICU Medical, iDD Biotech, IDT Biologika, IEH Laboratories & Consulting Group, IFM Therapeutics, Igenica, Ignyta, Illumina, Imaflex, Immuneed, ImmuneHealth, Immune Targeting Systems, Immune Therapeutics, ImmunGene, ImmunoCellular Therapeutics, ImmunogenX, ImmunoTek Bio Centers, Impax Laboratories, Implant Sciences, Imprimis Pharmaceuticals, IMS Health, Incuron, Indivior, InfusAID, InfuSystem Holdings, Initiator Pharma, Innate Pharma, Innospec, INNOVAMEDICA, Innovate Biopharmaceuticals, Innovation Skane, Innovative Diagnostic Laboratory, Innovus Pharmaceuticals, iNova Pharmaceuticals, Inovio Pharmaceuticals, Inozyme Pharma, Insightra Medical, In Silico Biosciences, Instem, Intas Pharmaceuticals, Intavis Bioanalytical Instruments, Integra LifeSciences, Integrated DNA Technologies, Integrated Proteomics Applications, Integrative Medicine, IntegriChain, Intelligent Hospital Systems (IH Systems), International Process Plants, International Vitamin, Interpace Diagnostics, Interpace Diagnostics Group, Interventional Spine, IntraFuse, Intrexon, Intuitive Surgical, Invacare, Invekra, Ipsen, iQ Group, Iridex, Iroko Pharmaceuticals, Irras, IRX Therapeutics, Isarna Therapeutics, iSense CGM, ISIS Innovation, Isologic Innovative Radiopharmaceuticals, Isto Technology, Itamar Medical, Iuvo BioScience, Iveria Technologies, IVF Bioscience, J. Morita, Janssen Biotech, Janssen Diagnostics, Janssen Pharmaceuticals, Janssen Pharmaceutica NV, Janssen Sciences, Japan Tobacco, Jazz Pharmaceuticals, Johnson & Johnson, John Wiley and Sons, JOT Automation, JT Pharmaceuticals, Juvise Pharmaceuticals, Kalon Biotherapeutics, Kamada, Kancera, Kane Biotech, Kantar Health, karmadata, Karo Pharma, Karyopharm Therapeutics, Kashiv BioSciences, KBI BioPharma, KCR, KD Pharma, KEDPlasma, Kemwell BioPharma, Kennedy Health System, Kessler Foundation, Keyrus Biopharma, Kimberly-Clark, Kindred Bio, Kindstar Globalgene Technology, KineMed, Kinetic Concepts, King's College Hospital, Kiniksa Pharmaceuticals, Knight Therapeutics, KNOW Bio, Kohlberg Kravis Roberts (KKR), Kolltan Pharmaceuticals, Kramer Laboratories, Kronos, Kyocera, L'Oreal, L-3 Communications, L3Harris Technologies, Laboratoire Serb, Laboratorio Medinfar, Laboratory Corporation of America, Laboratory Supply Company (LABSCO), Labworks, Lake Consumer Products, Lantheus Holding, Lanthio Pharmaceutical, Lanxess, Laurel Venture Capital, Lautus Pharmaceuticals, LeMaitre Vascular, LensAR, Lentigen, LEO Pharma, Les Laboratoires Servier, Lexicon Pharmaceuticals, LFB Biotechnologies, LGC, LGM Pharma, LI-COR Biosciences, LifeArc, LifeCell, Lifecode, Lifecycle Biotechnologies, LifeHealth, LifeLabs Medical Laboratory Services, Ligand Pharmaceuticals, Lima Corporate, Liminal BioSciences, Lincoln Equities Group, Lineage Cell Therapeutics, LineaRx, Link Fund Solutions, LivaNova, Locemia Solutions, Locus Biosciences, Longitude Capital, Lonza, Lorem Vascular, Los Angeles Biomedical Research Institute, Lotus Biotechnology Development, Lotus Pharmaceuticals, Louisiana State University, Loxo Oncology, LSNE Contract Manufacturing, LTL Pharma, LTS Lohmann Therapie-Systeme, Luitpold Pharmaceuticals, Lumara Health, Lumenis, LumenR, Luminera, Luminex, Lumora, Lumos Pharma, Luna Innovations, Lupin, Luye Pharma Group, MAB Discovery, MabVax Therapeutics, Macrogen, Macrogenics, Madison Dearborn Partners, Magstim, Malin, Mallinckrodt Pharmaceuticals, Malvern Instruments, Mannin Research, Mapi, Marathon Pharmaceuticals, Maravai LifeSciences, Mariel Therapeutics, Marina Biotech, Marin Community Foundation, Marinomed Biotechnologie, Marizyme, Masimo, Matawan Pharmaceuticals, Mati Therapeutics, Matrivax, Mayne Pharma, Mayo Clinic, MC3 Cardiopulmonary, MC10, McKesson, MD Anderson Cancer Center, MDRM Group (Canada), Meda Pharmaceuticals, MEDCIS Pathlabs, Medela, Medeon Biodesign, MedGenome, Medical Developments International, Medicall Biomedikal, Medical Products Laboratories, Medical University of Vienna, Medicated Markets International, Medidata Solutions, MediGene, Medigus, Medimass, Medimetrics, MediPines, Medivation, Medivir, Medline Industries, Mednax, MedPlast, MedQualis, Medtronic, Melanovus Oncology, MELA Sciences, Melinta Therapeutics, MemorialCare Health System, Menarini, Mentice, Mercachem, Merck and Co, Merck Animal Health, Merck KGaA, Merck Sharpe & Dohme, Mereo BioPharma, Merial, Meridian Bioscience, Merit Medical Systems, Merqurio, Merrimack Pharmaceuticals, Merus Labs International, Merz, METabolic EXplorer, Metabolix, Metasurg, Metrion Biosciences, Michael Bubolz, Microbot Medical, Micro Hydraulics, Microlin Bio, MicroPort Scientific, Microsoft, MilliporeSigma, Miltenyi Biotec, Mind Medicine, Minebea, Minerva Surgical, Miravo Healthcare, Misonix, Mitralign, Mitsubishi Chemical, Mitsui Chemicals, MJ Biologics, MLase, Moberg Pharma, Modern Mobility Aids, Molecular Response, MolecuLight, Moleculin Biotech, Molnlycke Health Care, Molplex Pharmaceuticals, Molteni Farmaceutici, Monopar Therapeutics, Montagu Private Equity, MorphoSys, Mountain Valley MD, Mount Sinai Health System, MSC, MSD Animal Health, Mucokinetica, Mylan Laboratories, Mylan Pharmaceuticals, Myovant Sciences, Naari Pharma, Nanion, NanoProteagen, Nanotherapeutics, NanoViricides, NantHealth, NantPharma, Natera, National Cancer Center, National Research Council Canada, Natus Medical, Neogen, Neograft Technologies, Neos Therapeutics, Neosurgical, NeoSync, Neovasc, Neptune Wellness Solutions, Nestle, Nestle Health Science, NetScientific, NeuBase Therapeutics, Neuraxpharm, NeuroBo Pharmaceuticals, NeuroOne, Neuropathix, NeuroSearch, NeuTec Pharma, Neutronix Quintel, Nexelis, Nexeon MedSystems, Nexgen Pharma, Nextmune, Nexus Pharmaceuticals, Nicklaus Children's Hospital, Nicox, Nikkiso, NOHO, Nordion, Norgine, North American Partners in Anesthesia, North American Science Associates, Northwestern Memorial Hospital, Nostrum Pharmaceuticals, NovaDel Pharma, NovaDigm Therapeutics, Novalere, Novan Therapeutics, Novartis, Novartis Consumer Health, Novarum, Novasep, Novelion Therapeutics, Noven Pharmaceuticals, Novigenix, NovImmune, Novogene, Novogy, Novolytics, Novo Nordisk, NOW Diagnostics, nSpire Health, Nutriband, Nuvisan Pharma Services, Nuvo Research, OBI Pharma, Occlugel, Oculus Innovative Sciences, Ohr Pharmaceuticals, OJSC Pharmsynthez, Olink Bioscience, Olon, Olympus Biotech, Omnia Biologics, OmniBiome Therapeutics, OmniComm Systems, Oncimmune, Oncimmune Ltd, Oncodesign, Oncologie, Oncopeptides, OncoQuest, OncoVision, Optum Life Sciences, Oragenics, Orchard Therapeutics, Orexigen Therapeutics, Orexo, Organogenesis, Orgenesis, Orphan Canada, Orphic Therapeutics, Orsenix, Orthofix, Ortho Regenerative Technologies, Osteomed, Otifex Therapeutics, Otsuka America Pharmaceutical, Ottawa Hospital Research Institute, Oxford Instruments, OxyPharma, P2P Staffing, Pace Wellness, Pacific Biosciences, Panther Biotechnology, PanTheryx, Paragon Medical, Parexel, Par Pharmaceutical, Partner Therapeutics, Pascal Biosciences, Patient Genesis, Patterson Companies, Paulaur Corporation, PaxVax, PEAR Therapeutics, PediaVision, PeriGen, Periphagen Holdings, PerkinElmer, Perkins Healthcare Technologies, Pernix Therapeutics, Perrigo, Perry Baromedical, PetIQ, PetLife Pharmaceuticals, Pevion, Pfizer, Phagelux, Pharma-Bio Serv, PharmaCell, PharmaChem, Pharmacia, Pharmacyclics, PharmaEngine, Pharmalink AB, PharmaLogic, Pharma Logistics, Pharmaron, PharmaTher, PharmaVentures, Pharmaxis, PharmEste, Pharming Group, Pharmstandard, PhaseBio Pharmaceuticals, PHC, PHC Holdings, Phenomics Health, Phibro Animal Health, Philips, Philips Healthcare, PhotoMedex, Photonamic GmbH, Piedmont Pharmaceuticals, Pierre Fabre, Pillar Palatal, Piramal, Piramal Healthcare, PKG, Platine Pharma Services, Plethora Solutions, Plumbline Life Sciences, Plus Therapeutics, PMC Group, PM Clinical, Pocono Coated Products, PolyOne, Polypeptide Laboratory, Polypore, Poniard Pharmaceuticals, Portage Biotech, Pozen, Pragma Pharmaceuticals, Praha Vaccines, Precera Bioscience, Precisa Medical Instruments, Precision Eye Services, Premier Inc, Presbia, Pressure BioSciences, Prestige Brands, Prestium Pharma, Prevent Biometrics, Primex Pharmaceuticals, Primix, Probiodrug, ProBiora Health, Procter & Gamble, Pro Dex, Profound Medical, Progenics Pharmaceuticals, Progenity, Proliant Health and Biologicals, Promethera Biosciences, Promius Pharma, Propel Labs, Prophase Labs, Proteor, Proteus Digital Health, ProtoKinetix, Provention Bio, Psomagen, Publicis Healthcare Communications Group, Pulmagen Therapeutics, Pulmonox, Pulse Biosciences, Pulssar Technologies, Puration, Purdue Pharma, PureTech Health, Q BioMed, Qiagen, QT Vascular, Quantum Materials, Quest Diagnostics, Quest PharmaTech, Quidel, Quintiles IMS Holdings, R-Pharm, R-Tech Ueno, R1 RCM, RadCore Labs, RadNet, Rafarma Pharmaceuticals, Raisio, Rakuten Medical, RaNA Therapeutics, Randob Labs, Raptor Pharmaceutical, Rasna Therapeutics, Real Brands, Realm Therapeutics, Recipharm, Recordati, Recro Pharma, Redx Pharma, Regen BioPharma, Regeneron Pharmaceuticals, Regenicin, Remedy Pharmaceuticals, Renaissance Acquisition Holdings, Renovis, Repligen, ReproCell, ReShape Lifesciences, ReShape Medical, Resonetics, Retrophin, RetroSense Therapeutics, Revive Pharmaceuticals, Revive Therapeutics, rEVO Biologics, Rex Medical, Rich Pharmaceuticals, Rio Grande Neurosciences, Rising Pharmaceuticals, Roam Analytics, Roche, Roche Diagnostics, Rodo Medical, Roivant Sciences, Ropack, RoundTable Healthcare Partners, RoverMed BioSciences, Roxall, Royal Philips Electronics, RTI Surgical, S2 Interactive, SafeWire, Saint-Gobain Performance Plastics, Salvin Dental Specialties, Sample6, Sandoz, Saniona, Sanofi, Santen Pharmaceutical, Sanuwave Health, Saol Therapeutics, Sarepta Therapeutics, Sarnova, Sartorius, Sartorius Stedim Biotech, Savant HWP, Sawai Pharmaceuticals, Scapa Healthcare, Schering-Plough, Schoeller Technologies, Schwazze, Scientific Industries, Scripps Research Institute, Scynexis, Sea Lane Biotechnologies, Sealed Air, Searchlight Pharma, Sebacia, Sectra, SeD Biomedical, Seelos Therapeutics, Selenity Pharmaceuticals, Sentynl Therapeutics, Sequenom, SERB Pharmaceuticals, Seventh Wave, Shandong Boan Biological Technology, Shandong Xinhua Pharmaceutical, Shardna, Sharp Fluidics, Shionogi, Shire Laboratories, Shire Pharmaceuticals, Sibannac, Siegfried, Siemens, Siemens Healthcare, Sienna Biopharmaceuticals, Sierra Oncology, Sigma-Aldrich, Sigma-Tau, Sigma Analytical Services, Signet Healthcare Partneers, SI Group, Simplyfeye, Sinclair IS Pharma, Sinclair Research, Singulex, SI Pharmaceuticals, Sirio Pharma, SIT Laboratorio Farmaceutico, SK Biopharmaceuticals, SK Capital Partners, Skin Products, SKS Ocular, SkyePharma, Sloan Pharma, Small Bone Innovations, SmartBreast, Smith & Nephew, Smithers Avanza, Smiths Medical, Snoring Center USA, Social Reality, Sofar, Sofregen Medical, Soligenix, Solulink, Sorin Group, Sorrento Therapeutics, Sorse Technology, Spacelabs Healthcare, Spark Therapeutics, Spartan Medical, Spear Pharmaceuticals, Spectranetics, Spectrum Pharmaceuticals, SpePharm, Spinal Elements, Spinomix, Spiracur, Spry Health, SQI Diagnostics, STADA Arzneimittel, Stanford Health Care, Stark Investments, Starpharma, StatSure Diagnostic Systems, Steeper Group, Stellar Biotechnologies, Stemedica Cell Technologies, Stemedica Internaional, Stenning, Stericycle, Sterigenics, St Jude Medical, Straumann, Strides Arcolab, Stryker, SugarLeaf Labs, Sumitovant Biopharma, Sunovion Pharmaceuticals, Sun Pharmaceutical, Sunshine Biopharma, Sunstar Suisse, SunTech Medical, Super-T Cell Cancer, Supernus Pharmaceuticals, SurgCenter Development, Surgical Specialties, SurModics, Swedish Orphan Biovitrum, Symmetry Medical, Symmetry Surgical, Symplmed Pharmaceuticals, Synaptive Medical, Synartro, SynCore Biotechnology, Synergetics, Synergy Pharmaceuticals, Synexus, SynGen, Synthetic Genomics, Synthon, Syros Pharmaceuticals, Systagenix Wound Management, Tabuk Pharmaceutical, Taisho Pharmaceutical, Takara Bio, Takeda Pharmaceutical, Tamir Biotechnology, Targacept, Tasly Pharmaceuticals, Taureon, TauTona, TAXIS Pharmaceuticals, TearLab, Tec-Pharm, Tecan, Techcomp, Tecomet, Teijin Nakashima Medical, Tekni-Plex, Teleflex, Teligent, Telix Pharmaceuticals, Temmler Group, Tenet Healthcare, TerSera Therapeutics, Terumo, Terumo Cardiovascular Systems, Tesaro, Tesla Digital, TetraLogic Pharmaceuticals, Teva Pharmaceutical Industries, Teva Pharmaceuticals USA, The DNA Company, The Green Organic Dutchman Holdings, The Medicines Company, Theraclion, Theragen, Theragene Pharmaceuticals, Theragenics, Therakine, TheraLight, Therapeia, Therapeutic Solutions International, Therapix Bio, Therapure Biopharma, Theravance Biopharma, ThermiGen, Thermo Fisher Scientific, ThermoGenesis, THINK Surgical, Threshold Pharmaceuticals, Tibet Rhodiola Pharmaceutical Holding Co, TiGenix, Tilray, Tissue Regeneration Systems, Titan Pharmaceuticals, Tiziana Life Sciences, TKL Research, TNK Therapeutics, Tocagen, TONIX Pharmaceuticals, Tonus Therapeutics, Topcon, Torrent Pharmaceuticals, Toshiba, Toxikon, TPG Capital, Transcatheter Technologies, Transcend Biodynamics, TransEnterix, Transgene, Transgene Tasly Biopharmaceutical, Transgenic Rabbit Models, Transgenomic, Transition Therapeutics, Transpire, Trendlines Group, Trigemina, TriLink BioTechnologies, Trinity Compound Solutions, Trinity Medical Devices, Tripex Pharmaceuticals, TriReme Medical, TriRx Pharmaceutical Services, Trividia Health, Trophikos, Turing Pharmaceuticals, Twist Bioscience, uBiome, UCB, UDG Healthcare, Ultimovacs, Ultra Scientific, Unichem, Unicycive Therapeutics, Unilever, United Medical Systems (UMS), United Therapeutics, University of Alberta, University of Florida, University of Guelph, University of Miami, University of Oklahoma, University of Pittsburgh Medical Center, University of South Florida, University of Texas, University of Toronto, University of Washington, Upsher-Smith, Urgo Laboratories, Urovant Sciences, US Compounding, USMD Holdings, US WorldMeds, Valeant Canada Limited, Valeant Pharmaceuticals, Valeo Pharma, Valneva, Vance Street Capital, Vantage Endoscopy, Varex Imaging, Varian Medical Systems, Vascular Graft Solutions, Vaxxel, VCA Antech, Vector Oncology, Veeva Systems, Velocity Medical Solutions, Vention Medical, Venus Medtech, Verastem, Vera Therapeutics, Verios Agro, Verisante Technology, Vertex Pharmaceuticals, Vertical Pharmaceuticals, Vestagen, Vetoquinol, Viamet Pharmaceuticals, ViewRay, Vigene Biosciences, ViiV Healthcare, Viracta Therapeutics, Virbac, Virox Technologies, Viscogliosi Brothers, Vision Acquisition, Vistinct, Vitatex, Vitesse Biologics, Viveca Biomed, ViVex Biomedical, Vivus, VM Pharma, VolitionRX, VuCOMP, Vyera Pharmaceuticals, W.R.Grace, Walgreens, Walter Reed Army Institute of Research, Warp Drive Bio, Wasas, Waters Corporation, Watson-Marlow Fluid Technology Group, Wavelength Pharmaceuticals, Wave Neuroscience, WCCT Global, Welch Allyn, WellSpring Pharmaceutical, Wenzel Spine, Wilex, WIRB-Copernicus Group, Wittenstein, W L Gore, Wockhardt, Woodfield Pharmaceutical, Wright Medical, Wuhan Humanwell, WuXi Biologics, WuXi PharmaTech, Wuxi STA, X2 Biosystems, XBiotech, Xellia Pharmaceuticals, Xenetic Biosciences, XRpro Sciences, Xtreme Technologies, Yantai Dongcheng Biochemicals, Yokogawa Electric, York Instruments, Young Dental, Young Innovations, Z-Medica, Zahra Holdings, Zalicus, Zentiva, Zhejiang Chiral Medicine Chemicals, Zimmer Biomet, Zoe Medical, Zoetis, Zogenix, Zoll Medical, ZYUS Life Sciences
Current Partnering reports provide insight into the trends and terms of partnering deals in the global life sciences sector.
Current Partnering reports are updated every six months to ensure the user has access to the latest announcements and trends in the topic focus of the report.
Current Partnering analysts review the deal data to provide an overview and analysis of deal trends, including example deals and terms.
Current Partnering reports source deal data from our proprietary deals and alliances database, Current Agreements. The database is updated daily by our analysts with new deals as they are announced globally by the company's party to the deal. In addition, deal records are updated with new data as it becomes available.
The data in the Current Agreements deals and alliances database is obtained from secondary sources such as publicly available industry sources including press releases, company presentations, investor presentations, company SEC filings, other company filings, company websites, conference presentations. Sources are identified to allow for user verification.
Current Partnering provides comprehensive coverage of the following partnering or deal types:
• Asset purchase
• Assignment
• Co-development
• Co-market
• Co-promotion
• Collaborative R&D
• Contract service
• CRADA
• Cross-licensing
• Development
• Distribution
• Equity purchase
• Evaluation
• Grant
• Joint venture
• Licensing
• Loan
• Manufacturing
• Marketing
• Option
• Promotion
• Research
• Royalty financing
• Settlement
• Spin out
• Sub license
• Supply
• Termination
• Warrant
Every deal record is fully categorized and includes the following data, where available:
• Industry sector
• Therapy areas
• Technology type
• Deal components
• Financial terms
• Stage of development
• Exclusivity
• Asset type
• Geographic focus
• Excluded geography
• Company press release
• SEC filing data including contract document
All financial amounts are converted to US$ using the exchange rate available on the date of deal announcement, enabling direct comparison of deal terms across international territories.
Financial data and contract documents displayed in deal records is obtained from public sources, where disclosed by the parties to the deal.
We found other products you might like!