Global Biomarker Partnering Terms and Agreements 2010-2023
The Global Biomarker Partnering Terms and Agreements 2010 - 2023 report provides comprehensive understanding and unprecedented access to the biomarker partnering deals and agreements entered into by the worlds leading healthcare companies.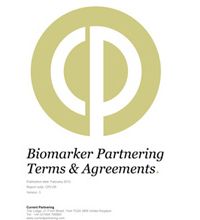 Publication date
May 2023
Product type
Research report
Available formats
PDF document
The Global Biomarker Partnering Terms and Agreements 2010 - 2023: Deal trends, players and financials report provides comprehensive understanding and unprecedented access to the biomarker partnering deals and agreements entered into by the worlds leading healthcare companies.
Trends in biomarker partnering deals
Biomarker partnering agreement structure
Biomarker partnering contract documents
Top biomarker deals by value
Most active biomarker dealmakers
The Global Biomarker Partnering Terms and Agreements 2010-2023 report provides comprehensive understanding and unprecedented access to the biomarker partnering deals and agreements entered into by the worlds leading healthcare companies.
The report provides a detailed understanding and analysis of how and why companies enter biomarker partnering deals and also includes software technologies. These deals tend to be multicomponent, starting with collaborative R&D, and commercialization of outcomes.
This report provides details of the latest biomarker agreements announced in the healthcare sectors.
A biomarker, or biological marker, is an indicator of a biological state, or disease state as in medicinal use. It is a characteristic that is objectively measured and evaluated as an indicator of normal biological processes, pathogenic processes, or pharmacologic responses to a therapeutic intervention.
The report takes readers through the comprehensive biomarker deal trends, key players and top deal values allowing the understanding of how, why and under what terms companies are currently entering biomarker partnering deals.
The report presents average financial deal terms values for biomarker deals, where available listing by overall headline values, upfront payments, milestones and royalties enabling readers to analyse and benchmark the value of current deals.
The middle section of the report explores the leaders in the biomarker partnering field; both the leading deal values and leading players are reported allowing readers to see who is succeeding in this growing market. This chapter also looks at the contributions by the big pharma and big biotech companies of the world in terms of deals made.
One of the key highlights of the report is that over 1,450 online deals records of actual biomarker deals as disclosed by the deal parties are included towards the end of the report in a directory format that is easy to reference. Each deal links via Weblink to an online version and all these deals are organized by company A-Z, stage of development at signing, deal type (collaborative R&D, co-promotion, licensing etc), specific therapy and technology focus. In addition the report includes actual contract documents where available as submitted to the Securities Exchange Commission by companies and their deal partners.
Understanding the flexibility of a prospective partner's negotiated deals terms provides critical insight into the negotiation process in terms of what you can expect to achieve during the negotiation of terms. Whilst many smaller companies will be seeking details of the payments clauses, the devil is in the detail in terms of how payments are triggered – contract documents provide this insight where press releases and databases do not.
This report contains a comprehensive listing of all biomarker partnering deals announced since Jan 2010, including financial terms where available, including links to online deal records of actual biomarker partnering deals as disclosed by the deal parties. In addition, where available, records include contract documents as submitted to the Securities Exchange Commission by companies and their partners.
Contract documents provide the answers to numerous questions about a prospective partner's flexibility on a wide range of important issues, many of which will have a significant impact on each party's ability to derive value from the deal.
The initial chapters of this report provide an orientation of biomarker dealmaking and business activities. Chapter 1 provides an introduction to the report, whilst chapter 2 provides an overview of the trends in biomarker dealmaking since 2010, including details of average headline, upfront, milestone and royalty terms.
Chapter 3 provides a review of the leading biomarker deals since 2010. Deals are listed by headline value, signed by big pharma, most active biomarker dealmaking companies. Where the deal has an agreement contract published at the SEC a link provides online access to the contract.
Chapter 4 provides a comprehensive listing of the top 25 most active companies in biomarker dealmaking with a brief summary followed by a comprehensive listing of biomarker deals, as well as contract documents available in the public domain. Where available, each deal title links via Weblink to an online version of the actual contract document, providing easy access to each contract document on demand.
Chapter 5 provides a comprehensive and detailed review of biomarker partnering deals signed and announced since Jan 2010, where a contract document is available in the public domain. The chapter is organized by company A-Z, deal type (collaborative R&D, co-promotion, licensing etc), and specific therapy focus. Each deal title links via Weblink to an online version of the deal record and where available, the contract document, providing easy access to each contract document on demand.
Chapter 6 provides a comprehensive and detailed review of biomarker partnering deals signed and announced since Jan 2010. The chapter is organized by specific biomarker technology type in focus. Each deal title links via Weblink to an online version of the deal record and where available, the contract document, providing easy access to each contract document on demand.
In addition, a comprehensive appendix is provided organized by biomarker partnering company A-Z, deal type definitions and biomarker partnering agreements example. Each deal title links via Weblink to an online version of the deal record and where available, the contract document, providing easy access to each contract document on demand.
The report also includes numerous tables and figures that illustrate the trends and activities in biomarker partnering and dealmaking since 2010.
In conclusion, this report provides everything a prospective dealmaker needs to know about partnering in the research, development and commercialization of biomarker technologies and products.
Key benefits
Global Biomarker Partnering Terms and Agreements 2010-2023: Deal trends, players and financial provides the reader with the following key benefits:
In-depth understanding of biomarker deal trends since 2010
Access to headline, upfront, milestone and royalty data
Detailed access to actual biomarker contracts enter into by the leading 25 bigpharma companies
Access to most active biomarker dealmakers since 2010
Insight into the terms included in a biomarker agreement, together with real world clause examples
Understand the key deal terms companies have agreed in previous deals
Undertake due diligence to assess suitability of your proposed deal terms for partner companies
Report scope
Global Biomarker Partnering Terms and Agreements 2010-2023: Deal trends, players and financials is intended to provide the reader with an in-depth understanding and access to biomarker trends and structure of deals entered into by leading companies worldwide.
Biomarker Partnering Terms and Agreements includes:
Trends in biomarker dealmaking in the biopharma industry since 2010
Access to headline, upfront, milestone and royalty data
Access to biomarker contract documents
The leading biomarker deals by value since 2010
Most active biomarker dealmakers since 2010
The leading biomarker partnering resources
In Global Biomarker Partnering Terms and Agreements 2010-2023: Deal trends, players and financials, the available contracts are listed by:
Company A-Z
Headline value
Stage of development at signing
Deal component type
Specific therapy target
Each deal title links via Weblink to an online version of the deal record and where available, the contract document, providing easy access to each contract document on demand.
The Global Biomarker Partnering terms and Agreements 2010-2023: Deal trends, players and financials report provides comprehensive access to available deals and contract documents for over 1,450 biomarker deals. Analyzing actual contract agreements allows assessment of the following:
What are the precise biomarker rights granted or optioned?
What is actually granted by the agreement to the partner company?
What exclusivity is granted?
What is the payment structure for the deal?
How are sales and payments audited?
What is the deal term?
How are the key terms of the agreement defined?
How are IPRs handled and owned?
Who is responsible for commercialization?
Who is responsible for development, supply, and manufacture?
How is confidentiality and publication managed?
How are disputes to be resolved?
Under what conditions can the deal be terminated?
What happens when there is a change of ownership?
What sublicensing and subcontracting provisions have been agreed?
Which boilerplate clauses does the company insist upon?
Which boilerplate clauses appear to differ from partner to partner or deal type to deal type?
Which jurisdiction does the company insist upon for agreement law?
Global Biomarker Partnering Terms and Agreements 2010-2023 provides the reader with the following key benefits:
In-depth understanding of biomarker deal trends since 2010
Comprehensive access to over 1,400 actual biomarker deals entered into by the world's biopharma companies, together with real world clause examples
Access to headline, upfront, milestone and royalty data
Full listing of biomarker deals by company A-Z, deal value, phase of development, deal type, and therapy focus
Identify leading biomarker deals by value since 2010
Identify the most active biomarker dealmakers since 2010
Detailed access to actual biomarker deals and contracts enter into by the leading 25 big pharma companies
Understand the key deal terms companies have agreed in previous deals
Undertake due diligence to assess suitability of your proposed deal terms for partner companies
Executive Summary
Chapter 1 – Introduction
Chapter 2 – Trends in biomarker dealmaking
2.1. Introduction
2.2. Biomarker partnering over the years
2.3. Most active biomarker dealmakers
2.4. Biomarker partnering by deal type
2.5. Biomarker partnering by therapy area
2.6. Deal terms for biomarker partnering
2.6.1 Biomarker partnering headline values
2.6.2 Biomarker deal upfront payments
2.6.3 Biomarker deal milestone payments
2.6.4 Biomarker royalty rates
Chapter 3 – Leading biomarker deals
3.1. Introduction
3.2. Top biomarker deals by value
Chapter 4 – Most active biomarker dealmakers
4.1. Introduction
4.2. Most active biomarker dealmakers
4.3. Most active biomarker partnering company profiles
Chapter 5 – Biomarker contracts dealmaking directory
5.1. Introduction
5.2. Biomarker contracts dealmaking directory
Chapter 6 – Biomarker dealmaking by technology type
Appendices
Appendix 1 – Biomarker deals by company A-Z
Appendix 2 – Biomarker deals by stage of development
Discovery
Preclinical
Phase I
Phase II
Phase III
Regulatory
Marketed
Formulation
Appendix 3 – Biomarker deals by deal type
Asset purchase
Bigpharma outlicensing
Co-development
Collaborative R&D
Co-market
Co-promotion
CRADA
Cross-licensing
Development
Distribution
Equity purchase
Evaluation
Grant
Joint venture
Licensing
Manufacturing
Marketing
Option
Promotion
Research
Settlement
Spin out
Sub-license
Supply
Technology transfer
Termination
Appendix 4 – Biomarker deals by therapy area
Cardiovascular
Central Nervous System
Dental
Dermatology
Gastrointestinal
Genetic disorders
Genitourinary
Gynaecology
Hematology
Hospital care
Immunology
Infectives
Metabolic
Musculoskeletal
Obstetrics
Oncology
Ophthalmics
Pediatrics
Psychiatry
Respiratory
Appendix 5 – Deal type definitions
Appendix 6 – Further reading on dealmaking
About Wildwood Ventures
Current Partnering
Current Agreements
Recent report titles from Current Partnering
Table of figures
Figure 1: Biomarker partnering since 2010
Figure 2: Active biomarker dealmaking activity since 2010
Figure 3: Biomarker partnering by deal type since 2010
Figure 4: Biomarker partnering by disease type since 2010
Figure 5: Biomarker deals with a headline value
Figure 6: Biomarker deals with an upfront value
Figure 7: Biomarker deals with a milestone value
Figure 8: Biomarker deals with a royalty rate value
Figure 9: Top biomarker deals by value since 2010
Figure 10: Most active biomarker dealmakers since 2010


Pricing options
$3,995: single-user
$5,745: multi-user
$10,995: single site license
$17,995: global site license
A full explanation of license type definitions can be found here.
Our guarantee
Price promise
We guarantee our prices are competitive. If you find the same report advertised at a lower price within 7 days of purchase, we will refund the difference.
Delivery Deadline
We guarantee that the report will be sent within the specified delivery times. In the unlikely case of a delay we may offer a partial refund as compensation. (Terms may apply)
Latest report
If an update is published within 30 days of your purchase, you will receive it absolutely free of charge.
Serious Security
We take your data and security seriously. See our privacy policy for details of how we manage your data.
All card payments are processed by SagePay.
Sales Support
If you have any questions about your report or are unhappy with the quality, we will do our best to resolve your query. Contact us direct.
Total Trust
Current Partnering is part of Wildwood Ventures Ltd., based in York, United Kingdom. We have been trading successfully online since 2009 and work with some of the most famous brands in the business. We carefully select our partners to ensure that the publications meet expectations of demanding customers.
3SI Security Systems, 4D Path, 4D Pharma, 23andMe, A*STAR Agency for Science, Technology and Research, A*STAR Bioprocessing Technology Institute, A*STAR Genome Institute of Singapore, A*STAR Institute of Microelectronics (IME), A*STAR Singapore Immunology Network, A2 Biotherapeutics, Abbott Laboratories, Abbvie, Abcodia, AbD Serotec, AbFero Pharmaceuticals, Abnova, Abramson Cancer Center, AB Science, Abwiz Bio, Academic Medical Center, ACAP Health Consulting, Accelerate Brain Cancer Cure, Accelerate Diagnostics, Accium BioSciences, Accumetrics, Accu Reference Medical Laboratory, Accuri Cytometers, ACGT, AC Immune, Aclipse Therapeutics, Acobiom, Acorn Research, Active Biotech, Activiomics, Acumen Pharmaceuticals, Acupath Laboratories, AcureX Therapeutics, Adamis Pharmaceuticals, Adaptive Biotechnologies, Adarza BioSystems, ADC Therapeutics, Addario Lung Cancer Medical Institute, Adial Pharmaceuticals, ADMA Biologics, AdnaGen, Advanced Biological Laboratories, Advanced Cell Diagnostics, Advinus Therapeutics, ADx NeuroSciences, Aelan Cell Technologies, Aerocrine, Aethlon Medical, AFFiRiS, Affomix, Affymetrix, AGC Biologics, Age Labs, Agendia, Agenix, Agenus Bio, Agilent Foundation, Agilent Technologies, AHN Autoimmunity Institute, AIkido Pharma, Air Force Research Laboratory, AIT Bioscience, Aitbiotech, AIT Laboratories, Akers Biosciences, AKESOgen, Akili Interactive Labs, Akoya Biosciences, Akrivis Technologies, Alacris Theranostics, Albert Einstein College of Medicine, Alcedis, Alchemab, Alector, Alere, Align Technology, Alion Pharmaceuticals, Alize Pharma, Allegheny General Hospital, Alligator Bioscience, Almac Diagnostics, Almac Group, Alnylam Pharmaceuticals, ALS Association, ALS Emergency Treatment Fund, ALS Finding a Cure Foundation, AltheaDX, Alzeca Biosciences, Alzheimer's Association, Alzheimer's Drug Discovery Foundation, Alzheimers Research UK, Amarantus BioSciences, Amarna Therapeutics, Ambergen, Ambiopharm, AM Biotechnologies, A Menarini Diagnostics, American Association for Cancer Research, American Association of Neuromuscular & Electrodiagnostic Medicine, American College of Cardiology, American Diabetes Association, American Red Cross, Amerimmune, Amerinet, Ameritox, Amgen, Amorfix Life Sciences, Amoy Diagnostics, Amplimmune, AMRA, AMRA Medical, Amydis, Anavex Life Sciences, Angers University, AntibioTx, Antigen Discovery, Antitope, Apceth, Apocell, Apogenix, Applied BioCode, Applied DNA Sciences, Applied Genetics and the Department of Forensic and Investigative Genetics, Applied Proteomics, Aptiv Solutions, Aqua Gen, Arbor Biosciences, Arbor Biotechnologies, ARCA Biopharma, ArcherDX, Arcis Biotechnology, Arctic Partners, Arcus Biosciences, Arena Pharmaceuticals, Argutus Medical, Ariadne Genomics, Ariana Pharma, AriBio, Arizona State University, Arno Therapeutics (inactive since 2017), AroCell, Array Biopharma, Arrayit, Arrayit Diagnostics, Arrayjet, Arrow Diagnostics, Artialis, Asahi Kasei Fibers, Ascenion, Ascenta Therapeutics, Aslan Pharma, Assistance Publique-Hôpitaux de Paris, Association for Frontotemporal Degeneration, Astellas Pharma, Asterand Bioscience, Astex Pharmaceuticals, Asthma UK, AstraZeneca, Astrimmune, Astute Medical, Asuragen, ATAI Life Sciences, Atara Biotherapeutics, Aterovax, Atherotech, Atossa Therapeutics, Augurex, AUM Biosciences, Aural Analytics, Aurora Health Care, Aushon BioSystems, Australian Centre for Plant Functional Genomics, Australian Imaging, Biomarker & Lifestyle Flagship Study of Ageing (AIBL), Austrian Institute of Technology, Autifony Therapeutics, Autism Speaks, Avantra Biosciences, Avaxia Biologics, AVEO Oncology, Avera Heart Hospital of South Dakota, Aviana Molecular Technologies, Avidity Biosciences, Avila Therapeutics, Axela, AXIM Biotechnologies, Axis-Shield, Ayasdi, AyoxxA Biosystems, Ballenger Trust, Banner Health, Banner Sun Health Research Institute (BSHRI), Banyan Biomarkers, Battelle, Baxter International, Bayer, Bayer Healthcare, Bayer Schering Pharma, Baylor College of Dentistry, Baylor College of Medicine, Baylor Scott and White Research Institute, BBVA Foundation, BC Cancer Agency, BC Neuroimmunology, Beacon Biosignals, Beaujon Hospital, Beckman Coulter, Becton Dickinson, BeiGene, Beijing Genomics Institute (BGI), Beijing InnoCare Pharma, BenevolentAI, Berg, Berg Pharma, Berkshire Medical Center, Bertin Pharma, Beth Israel Deaconess Medical Center, BGI Tech Solutions, BG Medicine, Bill and Melinda Gates Foundation, Bio-Nobile, Bio-Rad Laboratories, Bio-Techne, BioArctic Neuroscience, BioBay, Biocare Medical, Biocartis, Biocept, BioChain, Biocius Life Sciences, Biocon, Biocortech, Biocrates, Biodesix, Biodirection, BioDiscovery, BioFocus, Biofortis, Biogen, Biognosys, Biohit, Bioiberica, Biological Signal Processing, BioLum Sciences, Biomagnetics Diagnostics, Biomarcare, Biomarker Collaborative, BioMarker Strategies, Biomatrica, Biomedical Advanced Research and Development Authority, Biomedical Catalyst Fund (UK), Biomerica, bioMerieux, Biomiga Diagnostics, Biomnis, Biomoda, Biomodels, BiomX, Bionomics, BioPorto, Biopsy Sciences, Biosearch Technologies, BioSeek, BioSyntagma, Biotage, Biotechnology Value Fund, BioTheranostics, Biothera Pharmaceuticals, BioVendor, BioWa, Bird Foundation, Blackfynn, BlackThorn Therapeutics, Blinktbi, Blu Biotech, BluePen Biomarkers, Blueprint Medicines, Blue Sky Biotech, Boehringer Ingelheim, Bonnie J. Addario Lung Cancer Foundation, BostonGene, Boston Healthcare System, Boston Scientific, Boston University, Bostwick Laboratories, Bpifrance, Brain Biomarker Solutions in Gothenburg, BRAINBox Solutions, BrainScope, Breast Cancer Research Foundation (BCRF), Breath Diagnostics, Brewer Sports International, Brigham and Women's Hospital, Bristol-Myers Squibb, Broad Institute, Buck Institute for Age Research, Burning Rock, C2N Diagnostics, C4X Discovery, Cachet Pharma, Caerus Discovery, California Stem Cell, Caliper Life Sciences, Calypte Biomedical, Cambridge Biomedical, Cambridge Epigenetix, Cambridge Isotope Laboratories, Cambridge Quantum Computing, Cambridge Research Biochemicals, Canadian Institutes of Health Research, CANbridge Pharmaceuticals, Cancer Genetics, Cancer Genetics India, Cancer Immunotherapy Trials Network, Cancer Prevention and Research Institute of Texas, Cancer Research Institute, Cancer Research Technology, Cancer Research UK, Cancer Targeted Technology, Cantabio Pharmaceuticals, Caprion Biosciences, Caprion Proteomics, Caraway Therapeutics, Cardinal Health, CardioDx, Carina Biotech, Caris Life Sciences, Carmel Medical Center, Carmentix, Carolinas Medical Center (CMC), Case Western Reserve University, CASI Pharmaceuticals, Catalyn Medical Technologies, Catholic Health Initiatives, Catholic University Leuven, CBD Solutions, Cedars-Sinai Medical Center, Celera, Celgene, Cellaria Biosciences, CellCarta, Celldyne BioPharma, Cellgen Diagnostics, Cellkey, Cellular Dynamics International, Celmatix, Celsee, Celsius Therapeutics, Cenix BioScience, Center for Biomarker Research in Medicine, Center for Biomedical Imaging Statistics, Center for Critical Path Research in Immunology, Center for Human Immunology, Autoimmunity and Inflammation, Center for Prostate Disease Research, Centers for Disease Control and Prevention, Centocor Ortho Biotech, Centre for Drug Research and Development (CDRD), Centre for Imaging Technology Commercialization, Centre for Integrative Genetics, Centre Hospital University - Bordeaux, Centre Leon Berard, Centre National de la Recherche Scientifique, Ceres, Ceres Nanosciences, Cernostics, Certis, Cerveau Technologies, CETI, Champions Oncology, Charity University Berlin, CHDI Foundation, Chembio Diagnostics, Chemonx, Chennai Medipoint, Cheyney University, Children's Healthcare of Atlanta, Children's Hospital Boston, Children's Hospital Los Angeles, Children's Medical Research Institute, Children's National Medical Center, Children's Research Institute, Children's Hospital Colorado, Chinese University of Hong Kong, Christian Doppler Research Association, Chromatin, Chronix Biomedical, Chugai Pharmaceutical, Chungnam National University, Ci-Co Healthcare, Cicero Diagnostics, Cincinnati Children's Hospital Medical Center, Circulogene, City of Hope, Clarient, Clavis Pharma, CLC bio, ClearLight Diagnostics, Cleveland Clinic, Cleveland HeartLab, Clinical Data, Clinical Genomics, Clinical Reference Laboratory, Clinigene International, Cloud Pharmaceuticals, Clovis Oncology, Cogia Biotech, Cognition Therapeutics, Cognoptix, CogState, Cohen Veterans Bioscience, Colorado State University, Columbia University, Columbia University Medical Center, Combine Consortium, Commercialisation Australia, Commonwealth of Kentucky, CompanDX, Companion Dx Reference Lab, Compendia Bioscience, Complete Genomics, Compugen, Concord Biosciences, Concr, COPD Foundation, CoreBiome, Corgenix Medical, Coriell Institute for Medical Research, Cornell University, Correlogic Systems, Courtagen Life Sciences, Covance, CPGR, CRC Health, Creoptix, Critical Diagnostics, Critical Path Institute (C-Path), Crohn's and Colitis Foundation of America, Cronus Technologies, Crossbeta Biosciences, Crown Bioscience, Cryostem, CSIRO, CTC Laboratory Systems, CureBeta, CureHealth Diagnostics, Curetis, Curie-Cancer, Curis, CvergenX, Cyclacel Pharmaceuticals, Cyclerion Therapeutics, CYduct Diagnostics, Cylex, Cynvenio, Cypher Genomics, CytoVale, CYTOVIA Therapeutics, Cytox, Daegu Gyeongbuk Institute of Science and Technology, Daiichi Sankyo, Dako, Dana-Farber Cancer Institute, Danish Cancer Society Research Center, Danish Center for Strategic Research into Type 2 Diabetes, DarwinHealth, David H. Murdock Research Institute, DCN Diagnostics, Deargen, Debiopharm, deCODE Genetics, Decode Health, Deep Longevity, Defense Advanced Research Projects Agency, Defense Threat Reduction Agency, Definiens, Delfi Diagnostics, Denator, DenMat Holdings, Denovo Biopharma, Department of Defense, Department of Health and Human Services, Department of Veterans Affairs, DermaGenoma, DestiNA Genomics, Devicor Medical Products, DiaCarta, diaDexus, DiagnoCure, DiamiR, DiscoveryBioMed, Discus Dental, Divergence Neuro Technologies, DNA Software, DNA Therapeutics, Dominantly Inherited Alzheimers Network, Dr. Susan Love Research Foundation, Drexel University, Drug Response Dx, Drugs for Neglected Diseases Initiative, Duchenne UK, Duke-NUS Graduate Medical School Singapore, Duke Clinical Research Institute (DCRI), Duke Translational Medicine Institute, Duke University, Duke University Medical Center, DuPont, DxS, Dyax, DZNE German Center for Neurodegenerative Diseases, e-NIOS, Eccrine Systems, Edge Biosystems, Edith Cowan University (ECU), EDP Biotech, Eisai, EKF Diagnostics (Germany), Eksigent Technologies, Eleven Biotherapeutics, Eli Lilly, ElMindA, Elo Life Systems, Elysium Health, EMD Millipore, EMD Serono, Emerald BioStructures, Emerald Logic, Emory University, Empire Genomics, ENDRA Life Sciences, Enigma Biomedical, Enterome Bioscience, Entheon Biomedical, Entia Biosciences, Environmental Protection Agency, Enzo Biochem, Epicore Biosystems, Epic Sciences, Epigenomics, Epinomics, Epistem, Epitomics, EraGen Biosciences, Erasmus University Medical Center, Ethicon Endo-Surgery, Ethos Research & Development, ETH Zurich, EU AIMS, Eureka Eurostars, Eurofins Scientific, Eurogentec, European Commission, European Foundation For The Study Of Diabetes, European Organization for Research and Treatment of Cancer, European Union, European Union Regional Development Fund, Eurospital, Eurotrans-Bio, Eutropics Pharmaceuticals, Everbest, Evogen, Evotec, Exact Sciences, Exagen Diagnostics, Excelra, EXINI Diagnostics, Exiqon, ExonHit Therapeutics, Exosome Diagnostics, Exosome Sciences, Expesicor, Exploit Technologies, Expression Analysis, Expression Pathology, EyeBrain, Ezose Sciences, F-Star, F-Star Alpha, Fast Forward, Federal Ministry of Education and Research (BMBF), Feinstein Institute for Medical Research, Firefly BioWorks, Firefly Neuroscience, Flagship Biosciences, Flemish agency for Innovation by Science and Technology, Florida Hospital, Fluidigm, Fluofarma, Fluxion Biosciences, Fondamental, Food Allergy Research & Education, Food and Drug Administration (FDA), FORMA Therapeutics, Forsyth Institute, Fortified Provider Network, Fosun Pharmaceutical, Foundation Fighting Blindness, Foundation for Innovative New Diagnostics, Foundation for the National Institutes of Health (FNIH), Foundation Medicine, Foundation Venture Capital Group, Fox Chase Cancer Center, Fraunhofer Institute for Cell Therapy and Immunology, Fred Hutchinson Cancer Research Center, Freenome, French National Research Agency, Freshmedx, Frontage Laboratories, FSHD Global Research Foundation, Fudan University, Fujirebio Diagnostics, Fulgent Genetics, Fundacion Progreso y Salud, G1 Therapeutics, G42 Healthcare, Gachon University, Galenea, Gallus Biopharmaceuticals, Galmed Pharmaceuticals, Garvan Institute of Medical Research, GATC Biotech, GATC Health, GC Pharma, GE Global Research, GE Healthcare, Gen-Probe, Genaera, Genalyte, GeneAssess, GeneCell, GeneCentric Therapeutics, GeneData, GeneDiagnostics, GeneDX, GeneGo, Genekor, GeneNews, Genentech, General Electric (GE), Generation Health, Generation Scotland (GS), Generex Biotechnology, Genetic Technologies, Genetron Health, Geneva Foundation, Geneva University Hospitals, Genewiz, Genialis, Geninus, Genisphere, Genome BC, Genome Canada, GenomeDx, Genome Institute of Singapore, Genomeon, GenomeQuest, Genomic Health, Genomic Testing Cooperative, Genomind, Genomoncology, Genoptix, Genosity, Genovis, Genprex, GenScript Biotech, GenTegra, Gentris, Genuity Science, GenWay Biotech, Genzyme, Genzyme Genetics, George Mason University, Georges Francois Leclerc Center, Georgetown University, Georgetown University Hospital, George Washington University, Geospiza, Ghent University, GI Innovation, Gilead Sciences, GlaxoSmithKline, Global Cancer Technology, Global Discovery Biosciences, Global Genomics Group, Gloval Specimen Solutions, GlycoPath, Glycotest, GlycoT Therapeutics, Glympse Bio, Gnome Diagnostics, GNS Healthcare, Gold Standard Diagnostics, Google, Grace Bio-Labs, Grail, Grand Valley State University, Grunenthal, Guardant Health, Gubra, GVK Biosciences, Gyros, H3 Biomedicine, Hackensack University Medical Center, Hadasit Bioholdings, Hadassah Medical Center, HalioDx, HALO Healthcare, Hamner Institutes for Health Sciences, Hannover Medical School, Harlan Laboratories, Harvard Medical School, Harvard University, Healius, Health Diagnostics Laboratory, Health Discovery, HealthLinx, Health Sciences Research Institute Germans Trias i Pujol Foundation, Heat Biologics, Hebrew University of Jerusalem, Hefei Medicine, Hennepin County Medical Center, Henry Ford Health System, Henry M. Jackson Foundation, Hepion Pharmaceuticals, Hirosaki University, HistoRx, Hoag Memorial Hospital Presbyterian, Hologic, Horizon, Horizon Discovery, Horizon Europe, Hospices Civils de Lyon, Hospital del Mar, Hospital of University of Strasbourg, Hoth Therapeutics, HP, HTG Molecular Diagnostics, Human Longevity, Hummingbird Bioscience, Hummingbird Diagnostics, HUNT Biosciences, Hycor Biomedical, Hyperion Biotechnology, IBA, Icahn School of Medicine at Mount Sinai, Icon, IDBS, IDEAYA Biosciences, Idera Pharmaceuticals, Ignyta, Ikena Oncology, ILiAD Biotechnologies, Illumina, ImaBiotech, Image Analysis, ImaginAb, Imanova, Imaware, Imeka, IMIDomics, Immodulon Therapeutics, ImmuDyne, ImmunArray, Immunetics, Immunexpress, ImmunoCellular Therapeutics, ImmunoGen, Immunovia, IMPACT Therapeutics, Imperial College London, Imugene, IncellDx, Indiana Clinical and Translational Sciences Institute, Indica Labs, Indivumed, InfYnity Biomarkers, INmune Bio, Innate Pharma, InnoBation, Innodem Neurosciences, Innoplexus, Innovate UK, Innovative Biotech, Innovative Medicines Initiative (IMI), Inova Diagnostics, Inova Health System, Inovio Biomedical, Inserm, Inserm Transfert, Insight Genetics, Institut Curie, Institute for Hepatitis and Virus Research, Institute for Medical Microbiology, Immunology and Hygiene (IMMIH), Institute for Research in Immunology and Cancer – Commercialization of Research, Institute for Systems Biology, Institute of Cancer Research, Institut Gustave Roussy, Instituto Valenciano De Oncologia, Institut Pasteur, IntegraGen, Integrated Biobank of Luxembourg, Integrated Diagnostics, Interleukin Genetics, Intermountain Healthcare, International Cancer Genome Consortium, International Health Technology, International Progressive MS Alliance, Interpace Diagnostics, Interpace Diagnostics Group, InterpretOmics, InterVenn, InterVivo Solutions, Intrinsic Bioprobes, Intrinsic LifeSciences, Invectys, Inventiva, inVentiv Health, Inverness Medical Innovations, Invetech, inviCRO, Invitae, Invivis Pharmaceuticals, IO Biotech, Ionis Pharmaceuticals, IPMD, iPrime Therapeutics, iProgen Biotech, Ipsen, IPS Genomix, Ipsogen, IQ Products, IROA Technologies, Ironwood Pharmaceuticals, IRX Therapeutics, Isilon Systems, ISIS Innovation, Isogenica, IsoPlexis, Israeli National Authority for Technological Innovation, iThera Medical, Jain Foundation, Janssen Biotech, Janssen Pharmaceuticals, Janssen Pharmaceutica NV, Janssen Research & Development, J Craig Venter Institute, Jefferson Healthcare, Jinbiotech, Jinfiniti Biosciences, John and Lucille Van Geest Foundation, Johns Hopkins Kimmel Cancer Center, Johns Hopkins University, Johnson & Johnson, Johnson & Johnson Innovation, John Wayne Cancer Institute, Joslin Diabetes Center, Jounce Therapeutics, JPT Peptide Technologies, JSR Life Sciences, Jubilant Therapeutics, Juventas Therapeutics, JW Biotechnology, Kadmon Pharmaceuticals, Kalgene Pharmaceuticals, Karolinska Institute, Kayagene, KDx Diagnostics, Keck Graduate Institute of Applied Life Sciences, Keck School of Medicine of USC, Keen Eye, Keio Gijuku University, KellBenx, Kennedy Institute of Rheumatology, KeyMarker, KeyWise, Kindstar Globalgene Technology, KineMed, Kinetics Foundation, Kings College London, Kluyver Centre, Knight Diagnostic Laboratories, Koneksa Health, Konica Minolta, Korea Institute of Nuclear Medicine, Koye Pharmaceuticals, Kraig Biocraft Laboratories, Kreatech, KSB Diagnostics, Kymab, Kymera Therapeutics, Kyoto University, Kyowa Hakko Kirin, Kyto Biopharma, Lab21, Labcyte, LabMD, Laboratory Corporation of America, Lankenau Institute for Medical Research, Lantern Pharma, Lantheus Holding, Latvian Institute of Organic Synthesis, Lee Moffitt Cancer Center, Leicester University, LEO Pharma, Les Laboratoires Servier, Leukemia & Lymphoma Society, Leukocare, LEXEO Therapeutics, Lexogen, LGC, LifeCodexx, Life Diagnostics, LifeOmic, Life Technologies, Life Technologies Corporation, Ligand Pharmaceuticals, LightArray Biotech, Lineage Cell Therapeutics, Lineagen, Lipidomics Consulting, Lipotype, Liquid Biosciences, London Genetics, Lorus Therapeutics, Los Alamos National Laboratory, Los Alamos National Security, Lucid Diagnostics, Lucigen, Luminex, Lunaphore, Lundbeck, LUNGevity Foundation, Lupus Foundation of America (LFA), Lupus Research Alliance, Lysosomal Therapeutics, M2Gen, Maccabi Healthcare Services, Maine Manufacturing, Mainz Biomed, Manhattan Scientifics, Mannin Research, Marco Polo Pharmaceuticals, Marin Community Foundation, Mary Crowley Cancer Research Center, Massachusetts General Hospital, Massachusetts Institute of Technology, Massachusetts Life Sciences Center, Matrix-Bio, Maven Biotechnologies, Maxim Biomedical, Max Planck Institute of Psychiatry, Mayo Clinic, MBio Diagnostics, MC10, McGill University, McMaster University, MD Anderson Cancer Center, MD Biosciences, MDxHealth, Medco Research Institute, MEDIAN Technologies, Medical College of Georgia, Medical Prognosis Institute, Medical Research Council, Medical University of Graz, Medical University of Innsbruck, Medical University of South Carolina, Medical University South Carolina, Medicinal Genomics, Medicines Discovery Catapult, MediciNova, Medicos Hirata, Medidata Solutions, MedImmune, MedTrust Online, Melanoma Diagnostic, Melanoma Research Foundation, Memorial Sloan Kettering Cancer Center, Memory Dx, Mendel Health, Menssana Research, Merck and Co, Merck KGaA, Merck Serono, Merck Sharpe & Dohme, Meso Scale Discovery, Metabiomics, Metabolomic Diagnostics, Metabolon, Metagenics, Metamark Genetics, Metanomics Health, MetaStat, Methodist Hospital Research Institute, Michael J Fox Foundation, Microbiotica, Micronoma, Microsoft, Mikrogen, Millennium, MiNDERA, Mindstrong Health, Miraculins, Mira Dx, Miragen Therapeutics, miRecule, Mirnax Biosens, MiRXES, Mission Bio, Mitomics, Mitsubishi Tanabe Pharma, MOBILion Systems, Molecuence, MolecularMD, Molecular Medicine Research Institute, Molecular Response, Mologen, Mologic, Montefiore Medical Center, Montreal Heart Institute, Moores Cancer Center, MorphoSys, Morphotek, Mount Sinai Medical Center, Movember Foundation, mProbe Laboratories, MRM Proteomics, MS Bioworks, Multiple Myeloma Research Foundation, Mundipharma, Munich Leukemia Laboratory, Muscular Dystrophy Association, MyBiotics Pharma, My Care Express Merrillville, MyCartis, Myelin Repair Foundation (MRF), MYND Life Sciences, Myriad Genetics, Myriad RBM, N-of-One, Nancy Lurie Marks Family Foundation, NanoMab Technology, NanoString Technologies, Nanosys, NanoView Biosciences, NASA, Nashville Biosciences, National Cancer Institute, National Cancer Research Institute, National Center for Complementary and Alternative Medicine, National Center for Drug Screening, National Center for Tumor Diseases, National Cheng Kung University, National Foundation for Cancer Research, National Healthcare Services (NHS), National Heart, Lung and Blood Institute, National Institute for Bioprocessing Research and Training, National Institute of Allergy and Infectious Diseases, National Institute of Arthritis and Musculoskeletal Diseases, National Institute of Dental and Craniofacial Research (NIDCR), National Institute of Diabetes and Digestive and Kidney Diseases, National Institute of General Medical Sciences, National Institute of Mental Health, National Institute of Neurological Disorders and Stroke, National Institute on Aging, National Institute on Drug Abuse (NIDA), National Institutes of Health, National Lipid Association, National Psoriasis Foundation, National Science Foundation, Naval Medical Research Center, Navidea Biopharmaceuticals, NEC, Nektar Therapeutics, NEL ASA, Nemucore Medical Innovations, NeoDynamics, Neogenix Oncology, Neogenomics, NeoloMed BioSciences, Neoteryx, Nepean Blue Mountains Local Health District's Nepean Hospital, Nephromics, NervGen Pharma, Nestle, NetraMark, NetScientific, Networking Biomedical Research Centre in Liver and Digestive Diseases (CIBEREHD), NeuraLight, Neuraltus Pharmaceuticals, NeurExo Sciences, Neurodex, NeuroGenesis, NeuroLex Laboratories, Neuron23, Neuronetrix, NeuroPointDX, NeuroSearch, NeuroSense Therapeutics, NeuroTrauma, Neviah Genomics, Newcastle University, New Liberty Proteomics, Newomics, New York University, NextBio, NextGen Sciences, Nightingale Health, NimbleGen Systems, NMI Natural and Medical Sciences Institute, NMI TT Pharmaservices, Noble Life Sciences, Nonliner Dynamics, Nordic Bioscience, North Carolina Biotechnology Center, Northeast ALS Consortium, Northern California PET Imaging Center (NCPIC), Northwest Biotherapeutics, Northwestern University, Novartis, Novartis Molecular Diagnostics, Novartis Pharmaceuticals Canada, Nova Southeastern University, NovioGendix, Novogene, Novo Nordisk, Nrgene, Nuclea Biotechnologies, Nucleai, Nucleix, NuGen Technologies, Numares, NuMedii, Nurosene, NuView Life Sciences, NxGEN MDx, NX Prenatal, NXTGNT, Ocean Genomics, Ohio State University, Oklahoma Medical Research Foundation, Oklahoma University Health Sciences Center, Olaris, Oligomerix, Olink Bioscience, Olink Proteomics, OmicScouts, OmicSoft, Omnyx, Oncgnostics, Oncimmune, Oncimmune Ltd, Oncoceutics, OncoCyte, Oncodesign, OncoGenesis, OncoHost, Oncologie, Oncology Venture, OncoMed Pharmaceuticals, OncoMethylome, Onconova Therapeutics, OncoSec Medical, OncoSpire Genomics, Oncotest, OneThree Biotech, Ono Pharmaceutical, Ontario Cancer Biomarker Network, Ontario Institute for Cancer Research, Onyx Pharmaceuticals, OPKO Health, Optina Diagnostics, Oracle, OracleBio, Oragenics, Orasi Medical, Ordaos Bio, Oregon Health Sciences University, Oridis Biomarkers, OriGene Technologies, Origenis, Orion Bionetworks, Ortho-Clinical Diagnostics, OSE Immunotherapeutics, OSEO, Oslo University Hospital, Otsuka, OvaGene Oncology, Ovid Therapeutics, Owlstone Medical, Oxford Biodynamics, Oxford Cancer Biomarkers, Oxford Gene Technology, Pacific Biomarkers, Paige, Pais Vasco University, Pancreatic Cancer Action Network, Pangea Biomed, Paradigm, Parent Project Muscular Dystrophy, Parexel, Paris Descartes University, Parkinson's Institute, Parkinson's Institute and Clinical Center, Parsortix, Partners HealthCare, Paterson Institute for Cancer Research, PathAI, Pathogenica, Pathwork Diagnostics, Paul G Allen Family Foundation, PAVmed, PEAR Therapeutics, Peking University Cancer Hospital, Pelago Bioscience, Pennsylvania Department of Health, Pennsylvania State University, Perfinity Biosciences, PerkinElmer, Perseis Therapeutics, Persephone Biosciences, Persistant Systems, Personal Genome Diagnostics, Personalis, PersonalizeDx, Perugia University, PETNET Solutions, Pfizer, PGXL Technologies, Phadia, Pharmaco-Kinesis, Pharmaron, Pharmatech Solutions, Pharmigene, Pharmsynthez, Philochem, PhysIQ, PierianDx, Pieris Pharmaceuticals, Pierre Fabre, Pikamab, Pioneer Valley Life Sciences Institute, Piramal Imaging, PointCross Life Sciences, Polymedco, Population Genetics Technologies, PositiveID, Power3 Medical Products, PPD, Precision Antibody, Precision Dynamics, Precision for Medicine, PrecisionLife, PredictImmune, Predictive Biomarker Sciences, Predictive Safety Testing Consortium (PSTC), Prelude Therapeutics, Premas Life Sciences, PreMD, Premier Healthcare Alliance, Premier Semiconductor Services, Prescient Medical, Prestizia, Prevacus, Primeradx, Prism Research, Probe Scientific, Probiodrug, Procter & Gamble, Professor Pauline Rudd, Profil Institute for Clinical Research, Progenics Pharmaceuticals, Progenra, Progentec Diagnostics, PrognomIQ, Prognos, PrognosDx Health, Promega, Prometheus Laboratories, ProMIS Neurosciences, Pronota, Pronto Diagnostics, PROOF Centre of Excellence for Commercialization and Research, Prosenex, ProSensa, Prostate Cancer Foundation (PCF), Protagen, Protagonist Therapeutics, Protea Biosciences, Protein Biotechnologies, Proteome Sciences, Proteomics International, Proteomika, Providence Cancer Center, Provista Diagnostics, PSC Biotech, Psomagen, Psynova Neurotech, PTC Therapeutics, Pulmonary Fibrosis Foundation (PFF), Purdue Pharma, Purdue Research Foundation, Purdue University, Q BioMed, QDx Pathology Services, Qiagen, QIAGEN (Suzhou) Translational Medicine Center, QPS, Quadrant Biosciences, Quanterix, Quanticel Pharmaceuticals, Quantum Design International, QuantumDx, Quantum Leap Health Care Collaborative, Quartz Bio, Queen Mary University of London, Quest Diagnostics, Quintiles, Quotient, Quotient Bioresearch, R-Biopharm, Radboud University Nijmegen Medical Centre, Radient Pharmaceuticals, RainDance Technologies, Rancho BioSciences, Randox Laboratories, RayBiotech, RCK, Readout Health, Reata Pharmaceuticals, Redx Pharma, Regional Cancer Institute of Montpellier, Regulus Therapeutics, Related Sciences, reMYND, RenalytixAI, Renovar, ReproCell, Research Center for Molecular Medicine of the Austrian Academy of Sciences, Research Council of Norway, ResearchDx, Research Foundation of State University of New York, Research Institute of the Hospital Universitari Vall d'Hebron, Respiratorius, Response Genetics, Revalesio, Reveal Biosciences, Reveal Genomics, Revitalist Lifestyle and Wellness, rEVO Biologics, Rheos Medicines, Rhythm Pharmaceuticals, RiboMed, Ridge Diagnostics, RIKEN Research Institute, Roche, Roche Applied Science, Roche Diagnostics, Roche Molecular Systems, Roche Servicios, Rockefeller University, Rockland Immunochemicals, Rockley Photonics, Rosetta Genomics, Royal Marsden Hospital, Royal Philips Electronics, Ruggles Family Foundation, Rules-Based Medicine, Runbio Biotech, Rush University Medical Center, SABiosciences, Saccomanno Research Institute, Sachsische Aufbau Bank, Sage Bionetworks, SAIC-Frederick, Saladax Biomedical, Samsung Medical Center, Sanaria, Sands Corp, Sanford Burnham Institute, San Martino Hospital, Sanofi, Sanofi-Aventis, Sanofi-Pasteur, Sano Genetics, San Raffaele Hospital, Sapient Discovery, Sarah Cannon Research Institute, Sarepta Therapeutics, Satoris, Scailyte, Schering-Plough, Scienion, Sciex, Scripps Research Institute, SDIX, Seaside Therapeutics, Seattle Biomed, Secarna Pharmaceuticals, Second Genome, Sedona Integrative Medical Clinic, Seegene, Selventa, Seneca Therapeutics, Sengenics, SensiVida Medical Systems, Sentinel Diagnostics, Sentinel Oncology, Seoul Clinical Laboratories, Seoul National University, Sequella, SeqWright, Serametrix, Sera Prognostics, Seven Bridges Genomics, SFC Fluidics, Shake It Up Foundation Australia, Shanghai Institute of Materia Medica, Shanghai Institutes of Preventative Medicine, Sheba Medical Center, Shimadzu Scientific Instruments, Shire Human Genetic Therapies, Side-Out Foundation, Siemens, Siemens Healthcare Diagnostics, Siemens Healthineers, Siena Biotech, Sigma-Aldrich, Sigma Life Science, Signalchem, Signature Diagnostics, Sigrid Therapeutics, Silicon Biosystems, Siloam Biosciences, SimuGen, Singapore Eye Research Institute (SERI), Singlera Genomics, Singulex, Sirona Dx, Sistemic, Skyline Diagnostics, SkylineDX, Small Business Innovation Research, Smiths Detection, SOCPRA Sciences Sante et Humaines, Solulink, SomaGenics, SomaLogic, Sonde Health, Sony DADC, Sookmyung Women's University, Sophia Genetics, Soricimed Biopharma, South Texas Blood & Tissue Center, Spark Biomedical, Spectrum Solutions, SpeeDx, Sphingotec, Spinal Muscular Atrophy Foundation (SMA), Spot on Sciences, SQI Diagnostics, SquareOne Wellness, SRI International, Stalicla, Stallergenes Greer, Stanford University, Stanford University School of Medicine, START (South Texas Accelerated Research Therapeutics), Statewide Clinical Trials Network of Texas, Stella Diagnostics, Stellar Biotechnologies, Stemina Biomarker Discovery, Step Pharma, Strain Genie, Strata Oncology, STRATIFYER Molecular Pathology, Stroke Detection Plus, Stryker, Summit Therapeutics, Sundance Diagnostics, Sunnybrook Health Sciences Centre, SUNY Upstate Medical University, SuperNova Diagnostics, SuppreMol, SureGene, Surrey Cancer Research Institute, Swedish Orphan Biovitrum, Swiss Institute of Bioinformatics (SIB), Syapse, Syndax Pharmaceuticals, Synergie Lyon Cancer, Synergistic Medical Network, SynGAP Research Fund, Synthetic Biologics, Syros Pharmaceuticals, Sysmex Inostics, T-Ray Science, Taconic Biosciences, Taiho, TaiRx, Takeda Pharmaceutical, Takeda Rika Kogyo, Tampere University Hospital, Targacept, Targos, Tarrot, Tasso, TauRx Therapeutics, Taysha Gene Therapies, TcLand Expression, Tecan, Technology Foundation STW, Technology Strategy Board (UK), Tekmira Pharmaceuticals, Tel Aviv University, Tel Hashomer, Tempus, Terran Biosciences, Tethys Bioscience, Tetra Discovery Partners, Teva Pharmaceutical Industries, Texas AgriLife Research, Texas Oncology, Texas Scottish Rite Hospital for Children, The Biomarker Factory, The Cure Parkinson's Trust, The Cyprus Institute of Neurology and Genetics, The Immune Tolerance Network, The Innovation Fund, The National Football League, The Parker Institute For Cancer Immunotherapy, Theradiag, Theralink Technologies, Theranostics Health, Therasis, The Regents of the University of California, Thermo Fisher Scientific, The Technical University Of Munich, Thiel Foundation, Thomas Jefferson University, Thomson Reuters, Three Rivers Provider Network, Thrombotech, Tiziana Life Sciences, TMRC, Tocagen, Todos Medical, Tokyo Medical University, Tolero Pharmaceuticals, TONIX Pharmaceuticals, Tor Vergata University Hospital, Total Brain, Toulouse University Hospital, TRACON Pharmaceuticals, Transgene, Transgenic Operative Products, Transgenomic, Translational Genomics Research Institute, Transplant Genomics, Trillium Diagnostics, Tri Surya Medika, TrovaGene, TTFactor, Tufts Medical Center, Tymora Analytical Operations, Tyrian Diagnostics, UC Davis Health System, UCF College of Medicine, UE LifeSciences, UK Government, UK NEQAS, Ultivue, Unibioscreen, UNICANCER, Uniformed Services University of the Health Sciences, United States Biological, University Ann & Robert H. Lurie Children's Hospital.....
For full list please email enquiry@currentpartnering.com
Current Partnering reports provide insight into the trends and terms of partnering deals in the global life sciences sector.
Current Partnering reports are updated every six months to ensure the user has access to the latest announcements and trends in the topic focus of the report.
Current Partnering analysts review the deal data to provide an overview and analysis of deal trends, including example deals and terms.
Current Partnering reports source deal data from our proprietary deals and alliances database, Current Agreements. The database is updated daily by our analysts with new deals as they are announced globally by the company's party to the deal. In addition, deal records are updated with new data as it becomes available.
The data in the Current Agreements deals and alliances database is obtained from secondary sources such as publicly available industry sources including press releases, company presentations, investor presentations, company SEC filings, other company filings, company websites, conference presentations. Sources are identified to allow for user verification.
Current Partnering provides comprehensive coverage of the following partnering or deal types:
• Asset purchase
• Assignment
• Co-development
• Co-market
• Co-promotion
• Collaborative R&D
• Contract service
• CRADA
• Cross-licensing
• Development
• Distribution
• Equity purchase
• Evaluation
• Grant
• Joint venture
• Licensing
• Loan
• Manufacturing
• Marketing
• Option
• Promotion
• Research
• Royalty financing
• Settlement
• Spin out
• Sub license
• Supply
• Termination
• Warrant
Every deal record is fully categorized and includes the following data, where available:
• Industry sector
• Therapy areas
• Technology type
• Deal components
• Financial terms
• Stage of development
• Exclusivity
• Asset type
• Geographic focus
• Excluded geography
• Company press release
• SEC filing data including contract document
All financial amounts are converted to US$ using the exchange rate available on the date of deal announcement, enabling direct comparison of deal terms across international territories.
Financial data and contract documents displayed in deal records is obtained from public sources, where disclosed by the parties to the deal.
We found other products you might like!