Global Precision Medicine Partnering Terms and Agreements 2016-2023
The Global Precision Medicine Partnering Terms and Agreements 2016-2023 report provides comprehensive understanding and unprecedented access to the precision medicine partnering deals and agreements entered into by the worlds leading healthcare companies.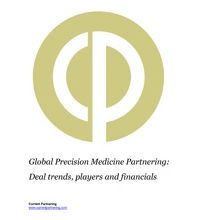 Publication date
May 2023
Product type
Research report
Available formats
PDF document
The Global Precision Medicine Partnering terms and Agreements 2016-2023 report provides comprehensive understanding and unprecedented access to the precision medicine partnering deals and agreements entered into by the worlds leading healthcare companies.
This report provides details of the latest precision medicine agreements announced in the life sciences since 2016.
The report takes the reader through a comprehensive review precision medicine deal trends, key players, top deal values, as well as deal financials, allowing the understanding of how, why and under what terms, companies are entering precision medicine partnering deals.
The report presents financial deal term values for precision medicine deals, listing by headline value, upfront payments, milestone payments and royalties, enabling readers to analyse and benchmark the financial value of deals.
The middle section of the report explores the leading dealmakers in the precision medicine partnering field; both the leading deal values and most active precision medicine dealmaker companies are reported allowing the reader to see who is succeeding in this dynamic dealmaking market.
One of the key highlights of the report is that over 1,700 online deal records of actual precision medicine deals, as disclosed by the deal parties, are included towards the end of the report in a directory format – by company A-Z, stage of development, deal type, therapy focus, and technology type - that is easy to reference. Each deal record in the report links via Weblink to an online version of the deal.
In addition, where available, records include contract documents as submitted to the Securities Exchange Commission by companies and their partners. Whilst many companies will be seeking details of the payment clauses, the devil is in the detail in terms of how payments are triggered – contract documents provide this insight where press releases and databases do not.
The initial chapters of this report provide an orientation of precision medicine dealmaking. Chapter 1 provides an introduction to the report, whilst chapter 2 provides an overview of the trends in precision medicine dealmaking since 2016, including details of headline, upfront, milestone and royalty terms.
Chapter 3 provides a review of the leading precision medicine deals since 2016. Deals are listed by headline value. Where the deal has an agreement contract published at the SEC a link provides online access to the contract.
Chapter 4 provides a comprehensive listing of the top 25 most active companies in precision medicine dealmaking with a brief summary followed by a comprehensive listing of precision medicine deals announded by that company, as well as contract documents, where available.
Chapter 5 provides a comprehensive and detailed review of precision medicine partnering deals signed and announced since Jan 2016, where a contract document is available in the public domain. Each deal title links via Weblink to an online version of the deal record and contract document, providing easy access to each contract document on demand.
Chapter 6 provides a comprehensive and detailed review of precision medicine partnering deals signed and announced since Jan 2016. The chapter is organized by specific precision medicine technology type. Each deal title links via Weblink to an online version of the deal record and where available, the contract document, providing easy access to each deal on demand.
A comprehensive series of appendices is provided organized by precision medicine partnering company A-Z, stage of development, deal type, and therapy focus. Each deal title links via Weblink to an online version of the deal record and where available, the contract document, providing easy access to each deal on demand.
The report also includes numerous tables and figures that illustrate the trends and activities in precision medicine partnering and dealmaking since 2016.
In conclusion, this report provides everything a prospective dealmaker needs to know about partnering in the research, development and commercialization of precision medicine technologies and products.
Key benefits
Global Precision Medicine Partnering Terms and Agreements 2016-2023 provides the reader with the following key benefits:
In-depth understanding of precision medicine deal trends since 2016
Access to headline, upfront, milestone and royalty data
Detailed access to actual precision medicine contracts entered into by leading biopharma companies
Identify most active precision medicine dealmakers since 2016
Insight into terms included in a precision medicine partnering agreement, with real world examples
Understand the key deal terms companies have agreed in previous deals
Undertake due diligence to assess suitability of your proposed deal terms for partner companies
Report scope
Global Precision Medicine Partnering Terms and Agreements 2016-2023 is intended to provide the reader with an in-depth understanding and access to precision medicine trends and structure of deals entered into by leading companies worldwide.
Precision Medicine Partnering Terms and Agreements includes:
Trends in precision medicine dealmaking in the biopharma industry since 2016
Access to headline, upfront, milestone and royalty data
Access to precision medicine contract documents
Leading precision medicine deals by value since 2016
Most active precision medicine dealmakers since 2016
In Global Precision Medicine Partnering Terms and Agreements 2016-2023, the available deals are listed by:
Company A-Z
Headline value
Stage of development at signing
Deal component type
Specific therapy target
Technology type
Each deal title links via Weblink to an online version of the deal record and where available, the contract document, providing easy access to each contract document on demand.
The Global Precision Medicine Partnering Terms and Agreements 2016-2023 report provides comprehensive access to available deals and contract documents for over 1,700 precision medicine deals.
Analyzing actual contract agreements allows assessment of the following:
What are the precise rights granted or optioned?
What is actually granted by the agreement to the partner company?
What exclusivity is granted?
What is the payment structure for the deal?
How are sales and payments audited?
What is the deal term?
How are the key terms of the agreement defined?
How are IPRs handled and owned?
Who is responsible for commercialization?
Who is responsible for development, supply, and manufacture?
How is confidentiality and publication managed?
How are disputes to be resolved?
Under what conditions can the deal be terminated?
What happens when there is a change of ownership?
What sublicensing and subcontracting provisions have been agreed?
Which boilerplate clauses does the company insist upon?
Which boilerplate clauses appear to differ from partner to partner or deal type to deal type?
Which jurisdiction does the company insist upon for agreement law?
Precision Medicine Partnering Terms and Agreements 2016-2023 provides the reader with the following key benefits:
In-depth understanding of precision medicine deal trends since 2016
Access to headline, upfront, milestone and royalty data
Detailed access to actual precision medicine contracts entered into by leading biopharma companies
Identify most active precision medicine dealmakers since 2016
Insight into terms included in a precision medicine partnering agreement, with real world examples
Understand the key deal terms companies have agreed in previous deals
Undertake due diligence to assess suitability of your proposed deal terms for partner companies
Executive Summary
Chapter 1 – Introduction
Chapter 2 – Trends in precision medicine dealmaking
2.1. Introduction
2.2. Precision medicine partnering over the years
2.3. Most active precision medicine dealmakers
2.4. Precision medicine partnering by deal type
2.5. Precision medicine partnering by therapy area
2.6. Deal terms for precision medicine partnering
2.6.1 Precision medicine partnering headline values
2.6.2 Precision medicine deal upfront payments
2.6.3 Precision medicine deal milestone payments
2.6.4 Precision medicine royalty rates
Chapter 3 – Leading precision medicine deals
3.1. Introduction
3.2. Top precision medicine deals by value
Chapter 4 – Most active precision medicine dealmakers
4.1. Introduction
4.2. Most active precision medicine dealmakers
4.3. Most active precision medicine partnering company profiles
Chapter 5 – Precision medicine contracts dealmaking directory
5.1. Introduction
5.2. Precision medicine contracts dealmaking directory
Chapter 6 – Precision medicine dealmaking by technology type
Appendices
Appendix 1 – Precision medicine deals by company A-Z
Appendix 2 – Precision medicine deals by stage of development
Discovery
Preclinical
Phase I
Phase II
Phase III
Regulatory
Marketed
Formulation
Appendix 3 – Precision medicine deals by deal type
Asset purchase
Assignment
Bigpharma outlicensing
Co-development
Collaborative R&D
Co-market
Co-promotion
CRADA
Cross-licensing
Development
Distribution
Equity purchase
Evaluation
Grant
Joint venture
Licensing
Litigation
Manufacturing
Marketing
Material transfer
Option
Promotion
Research
Settlement
Spin out
Sub-license
Supply
Technology transfer
Termination
Warranty
Appendix 4 – Precision medicine deals by therapy area
Appendix 5 – Deal type definitions
Appendix 6 – Further reading on dealmaking
About Wildwood Ventures
Current Partnering
Current Agreements
Recent report titles from Current Partnering
Table of figures
Figure 1: Precision medicine partnering since 2016
Figure 2: Active precision medicine dealmaking activity since 2016
Figure 3: Precision medicine partnering by deal type since 2016
Figure 4: Precision medicine partnering by disease type since 2016
Figure 5: Precision medicine deals with a headline value
Figure 6: Precision medicine deals with an upfront value
Figure 7: Precision medicine deals with a milestone value
Figure 8: Precision medicine deals with a royalty rate value
Figure 9: Top precision medicine deals by value since 2016
Figure 10: Most active precision medicine dealmakers since 2016
Pricing options
$3,995: single-user
$5,745: multi-user
$10,995: single site license
$17,995: global site license
A full explanation of license type definitions can be found here.
Our guarantee
Price promise
We guarantee our prices are competitive. If you find the same report advertised at a lower price within 7 days of purchase, we will refund the difference.
Delivery Deadline
We guarantee that the report will be sent within the specified delivery times. In the unlikely case of a delay we may offer a partial refund as compensation. (Terms may apply)
Latest report
If an update is published within 30 days of your purchase, you will receive it absolutely free of charge.
Serious Security
We take your data and security seriously. See our privacy policy for details of how we manage your data.
All card payments are processed by SagePay.
Sales Support
If you have any questions about your report or are unhappy with the quality, we will do our best to resolve your query. Contact us direct.
Total Trust
Current Partnering is part of Wildwood Ventures Ltd., based in York, United Kingdom. We have been trading successfully online since 2009 and work with some of the most famous brands in the business. We carefully select our partners to ensure that the publications meet expectations of demanding customers.
1CellBiO, 1health.io, 2bPrecise, 2cureX, 2seventy bio, 2X Oncology, 3 Sisters Surrogacy, 3D Systems, 4baseCare, 4D Molecular Therapeutics, 4D Path, 4D Pharma, 10X Genomics, 22nd Century, 23andMe, 48Hour Discovery, A*STAR Agency for Science, Technology and Research, A*STAR Bioinformatics Institute, A*STAR Bioprocessing Technology Institute, A*STAR Genome Institute of Singapore, A*STAR Singapore Immunology Network, A2 Biotherapeutics, Abbisko Therapeutics, Abbott Laboratories, Abbvie, Abcam, AbFero Pharmaceuticals, ABL Bio, Abramson Cancer Center, Absorption Systems, Academia Sinica, Academic Medical Center, Accelerated Cure Project for MS, Accelerate Technologies, Access to Comprehensive Genomic Profiling Coalition, Accuray, Accu Reference Medical Laboratory, Acerta Pharma, Achilles Therapeutics, AC Immune, Aclipse Therapeutics, ACMG Foundation for Genetic and Genomic Medicine, Acrivon Therapeutics, ACT Genomics, Active Motif, Acupath Laboratories, AcureX Therapeutics, Adaptiiv, Adaptive Biotechnologies, Adaptive Phage Therapeutics, ADC Therapeutics, Addario Lung Cancer Medical Institute, Adial Pharmaceuticals, ADInstruments, Admera Health, Adrestia, Aduro BioTech, Advanced Cell Diagnostics, Advanced Nuclear Medicine Ingredients, Advaxis, AdventHealth, ADx Healthcare, Aelan Cell Technologies, Aevi Genomic Medicine, Affigen, Affymetrix, AgBiome, AGC Biologics, Age Labs, Agendia, Agilent Technologies, Agios Pharmaceuticals, Agribody Technologies, Agriplex Genomics, AHN Autoimmunity Institute, AIkido Pharma, AiLife Diagnostics, AimedBio, Air Force Research Laboratory, Aitbiotech, Ajlan & Bros, Akadeum Life Sciences, Akoya Biosciences, Albany Molecular Research, Albert Einstein College of Medicine, Alcedis, Alchemab, Alcyone Lifesciences, Alector, Alexion Pharmaceuticals, All4Cure, Allarity Therapeutics, AllCells, Allegheny General Hospital, Alligator Bioscience, AlloSource, Allscripts, Almac Diagnostics, Almac Group, Alnylam Pharmaceuticals, Alphageneron Pharmaceuticals, Alpha Genomix Laboratories, ALS Automated Lab Solutions, Alto Neuroscience, Altor BioScience, Alyatec, Alzeca Biosciences, Alzheimer's Drug Discovery Foundation, Amazon Web Services, Ambry Genetics, America's Choice Provider Network, American Association of Neuromuscular & Electrodiagnostic Medicine, American Physiological Society, American Society of Clinical Oncology (ASCO), American Type Culture Collection (ATCC), Amerimmune, AmerisourceBergen, Amgen, Amoy Diagnostics, Amplicon Express, AMRA, AMRA Medical, Amydis, Analytical BioSciences, Analytics Engines, AnchorDx, Angers University, Angsana Molecular & Diagnostics, AnHeart Therapeutics, AnimalBiome, Anivive Lifesciences, AntibioTx, APG Bio, Apocell, Apogenix, Applied Biosystems, Applied DNA Sciences, Aptorum Group, Arbor Biosciences, Arbor Biotechnologies, Arc Bio, ArcherDX, ARCH Personalized Medicine Initiative, Arcis Biotechnology, Arcturus Therapeutics, Arcus Biosciences, Arena Pharmaceuticals, Argonaut, Ariadne Genomics, Ariana Pharma, AriBio, Ariel Precision Medicine, Arima Genomics, Arizona State University, AroCell, Arrow Diagnostics, Artialis, Artios Pharma, Arvinas, Arzeda, Asa Ren, Ashvattha Therapeutics, Aslan Pharma, Assistance Publique-Hôpitaux de Paris, Association for Frontotemporal Degeneration, Associazione Poic e Dintorni APS, Assurex Health, Assuta Medical Centers, Astellas Pharma, Asterand Bioscience, Asthma UK, AstraZeneca, Astrea Forensics, Asuragen, ATAI Life Sciences, Atara Biotherapeutics, Atlas Antibodies, Atlas Genomics, ATUM, AUM Biosciences, Aural Analytics, Auria Biobank, Australian Research Data Commons, AutoGenomics, Avance Biosciences, Avatamed, AVEO Oncology, Avera Health, Avera Heart Hospital of South Dakota, Aviana Molecular Technologies, Avidity Biosciences, Avvinity Therapeutics, AXIM Biotechnologies, AyoxxA Biosystems, B-MoGen Biotechnologies, Baheal Pharmaceutical, Bank of America, Banner Health, Banyan Biomarkers, Basepair, Basepaws, BASF, Battelle, Baxter International, Bayer, Bayer CropScience, Baylor College of Medicine, Baylor Genetics, Baylor Miraca Genetics Laboratories, Baylor Scott and White Research Institute, BC Cancer Agency, BC Neuroimmunology, BC Platforms, Beacon Biosignals, Beckman Coulter, Becton Dickinson, BeiGene, Beijing Genomics Institute (BGI), Beijing InnoCare Pharma, Belgian Society of Medical Oncology, BenevolentAI, Benson Hill Biosystems, Berg, Berkeley Lights, Berry Genomics, Beth Israel Deaconess Medical Center, BGI, BGI Americas, Bill and Melinda Gates Foundation, Bio-Rad Laboratories, Bio-Techne, BioArctic Neuroscience, BioBright, Biocartis, Biocept, Biodesix, BioDiscovery, Biofidelity, Biogen, Biognosys, Biohealth Innovation, BioIntelliSense, BioIQ, BioLegend, BioLum Sciences, BioMap, BioMarin Pharmaceutical, Biomarker Collaborative, BioMarker Strategies, Biomedical Advanced Research and Development Authority, Biomedix, BioMed X Innovation Center, bioMerieux, Biomillenia, BiomX, BioNano Genomics, Bionomics, BioNTech, BioReference Laboratories, Biosearch Technologies, BioSkryb, Biosplice, Biostar, BioSyntagma, Biotest, BioTheranostics, Biothera Pharmaceuticals, Bioyong, Bird Foundation, Blackfynn, BlackThorn Therapeutics, Blinktbi, Bliss Biopharmaceutical, Blockchain Global, Blu Biotech, Bluebird Bio, Blue Cross Blue Shield Association, BluePen Biomarkers, Blueprint Medicines, BlueRock Therapeutics, Boca Biolistics, Boehringer Ingelheim, Bonnie J. Addario Lung Cancer Foundation, Bonsai Lab, Boreal Genomics, BostonGene, Boston University School of Medicine, Boston Veterans Affair Research Institute, Bostwick Laboratories, Bpifrance, Brain Biomarker Solutions in Gothenburg, BRAINBox Solutions, BrainScope, Brain Trauma Foundation, Brammer Bio, Breath Diagnostics, Brenus Pharma, BriaCell Therapeutics, BridgeBio Pharma, Brigham and Women's Hospital, Bristol-Myers Squibb, Bristol-Myers Squibb Pakistan, Broad Institute, Brooks Automation, Brown University, Buck Institute for Age Research, Burning Rock, BurstIQ, Busan Paik Hospital, C2i Genomics, C2N Diagnostics, C3J Therapeutics, C4X Discovery, Cadila Pharmaceuticals, California Institute for Biomedical Research, California Institute for Regenerative Medicine, California Institute of Technology, Calviri, Calyxt, Cambia Health Solutions, Cambridge Bioscience, Cambridge Cancer Genomics, Cambridge Epigenetix, Cambridge Quantum Computing, CAMP4 Therapeutics, Canadian Cancer Society, Canadian Cancer Trials Group, Canadian Council, Canadian Institutes of Health Research, Canadian National Transplant Research Program, CANbridge Pharmaceuticals, Cancer Genetics, Cancer Molecular Diagnostic Laboratory, Cancer Research Institute, Cancer Research Society, Cancer Research UK, Canopy Biosciences, Cantabio Pharmaceuticals, Caprion Biosciences, Caraway Therapeutics, CARB-X, CareDx, Caribou Biosciences, Carina Biotech, Caris Life Sciences, Carmentix, Carolina BioOncology Institute, Carolinas Medical Center (CMC), CarThera, CARTI Cancer Center, Casebia Therapeutics, Case Western Reserve University, CASI Pharmaceuticals, CasZyme, Catholic University Leuven, CBD Solutions, Cedars-Sinai Medical Center, Celemics, Celgene, Cell and Gene Therapy Catapult, Cellaria Biosciences, CellCarta, Cellecta, Cellgen Diagnostics, Cellkey, Cell Medica, Cellnetix, Cellworks, Celmatix, Celsee, Celsius Therapeutics, Centauri Therapeutics, Centene, Center for Aquaculture Technologies, Center for Biomarker Research in Medicine, Center for Molecular Medicine, Centers for Disease Control and Prevention, Centogene, Centre for Commercialization of Regenerative Medicine (CCRM), Centre For Proteomic & Genomic Research, Centre for Research in Agricultural Genomics, Centre Leon Berard, CerebraCell, Certainty Health, Certis, Cerveau Technologies, Ceva Sante Animale, CFTechnology.org, Champions Oncology, Chan Zuckerberg Initiative, Chao Center, Charite Universitatsmedizin Berlin, Charles River Laboratories, Chembio Diagnostics, Children's Hospital Boston, Children's Hospital Los Angeles, Children's Hospital of Orange County, Children's Hospital of Philadelphia, Children's Medical Research Institute, Children's Mercy Hospital, Children's Minnesota, Children's Research Institute, Children's Center for Cancer and Blood Diseases (CCCBD), Children's Hospital Oakland Research Institute (CHORI), Chinese Academy of Agricultural Science, Chinook Therapeutics, Christian Doppler Research Association, ChromaCode, Chugai Pharmaceutical, Cicero Diagnostics, Cipherome, Circuit Clinical, Circulogene, Citizens United for Research in Epilepsy, City of Hope, Clearbridge Biomedics, ClearLight Diagnostics, Cleveland Clinic, Cleveland Diagnostics, Clexio, Clinical Genomics, Clinical Outcomes Tracking and Analysis, Cloudera, CloudHealth Genomics, Clover Therapeutics, Clovis Oncology, CMT Research Foundation, Coastal Genomics, Codexis, Codigo46, Coeptis Therapeutics, Cofactor Genomics, Cogia Biotech, Cognate BioServices, Cognition Therapeutics, CogState, Cohen Veterans Bioscience, Color, Colorado Center for Personalized Medicine, Color Genomics, Columbia University, Combating Terrorism Technical Support Office, CombiGene, Companion Medical, Compugen, ConcertAI, Concert Genetics, Concr, Congenica, Contextual Genomics, Contour Therapeutics, COPD Foundation, CoreBiome, Core Diagnostics India, Coriell Life Sciences, Cornell University, Corning, Corteva Agriscience, Cosmo Bio, COTA, Courtagen Life Sciences, Covance, Creoptix, CRISPR Therapeutics, Critical Diagnostics, Crohn's and Colitis Foundation of America, Crossbeta Biosciences, Crown Bioscience, Cryostem, CSI Laboratories, CStone Pharmaceuticals, Curable, CURE Pharmaceutical, CureScience, Curetis, Curio Genomics, Curis, CvergenX, Cyclerion Therapeutics, Cyclica, CYduct Diagnostics, Cystic Fibrosis Foundation, Cystic Fibrosis Foundation Therapeutics, CYTOVIA Therapeutics, Cytox, D-Mark Biosciences, Daiichi Sankyo, Dana-Farber Cancer Institute, Danish Cancer Society Research Center, Danish Center for Strategic Research into Type 2 Diabetes, Dante Genomics, Dante Labs, DAON BioSciences, DarioHealth, Dartmouth-Hitchcock Medical Center, DarwinHealth, Data Tecnica International, Datavant, David H. Koch Institute for Integrative Cancer Research, Day One Biopharmaceuticals, Deargen, Debiopharm, Decipher Biosciences, deCODE Genetics, Decode Health, DEEP 6 AI, Deep Genomics, Deep Longevity, Deerfield Management, Defense Advanced Research Projects Agency, Definiens, DefiniGEN, Delfi Diagnostics, Deloitte, Denali Therapeutics, Dendreon, Denka, Denka-KEW Genomics, Denovo Biopharma, Department of Veterans Affairs, DermTech, Desktop Genetics, DestiNA Genomics, DHR Health, DiaCarta, Diaceutics, DiamiR, Diamond Light Source, Diamyd Medical, DIAN Diagnostics, Dicom Systems, Dimerix Biosciences, Discngine, DiscoveRx, Divergence Neuro Technologies, Diversigen, DNA Electronics, DNA Link, DNAmito, DNAnexus, DNA Software, Dolomite Bio, Dovetail Genomics, Dow AgroSciences, DrChrono, Duchenne UK, Duke University, Duke University Health System, Duke University Medical Center, DuPont Pioneer, DxTerity, DZNE German Center for Neurodegenerative Diseases, e-NIOS, Eagle Genomics, Early Signal Foundation, Eccrine Systems, ECOG-ACRIN Cancer Research Group, Edico Genome, EdiGene, Editas Medicine, Eisai, Eisai Inc, Eisenberg Brothers, Eldan, Element Biosciences, Elevation Oncology, Eli Lilly, Elo Life Systems, Elsevier, Elysium Health, EMBRAPA, EMD Serono, Emedgene, Emendo Biotherapeutics, Emmaus Medical, Empire Genomics, Emulate, Enamine, EnBiotix, EncrypGen, ENDRA Life Sciences, Enigma Biomedical, Ensoma, Enterome Bioscience, Entheon Biomedical, Enzyvant Science, Eone-Diagnomics Genome Center, Epicore Biosystems, Epic Sciences, Epilepsy Society, Epinomics, Epivax, EpiVax Therapeutics, Epizyme, Erasmus University Medical Center, ERS Genomics, Ethos Research & Development, Etubics, Eucure Biopharma, Eureka Eurostars, Eurofarma, Eurofins Genomics, Eurofins Scientific, Euroimmun, European Commission, European Equity Partners, European Organization for Research and Treatment of Cancer, European Reference Genome Atlas, European Union, Evaxion Biotech, Evogen, Evolva, Evonetix, Evotec, Exactis Innovation, Exact Sciences, Exagen Diagnostics, Excelra, Exonics Therapeutics, Exosome Diagnostics, Exosome Sciences, Expesicor, Exploragen, ExScientia, ExxonMobil, F1 Oncology, Fabric Genomics, Factorial Biotechnologies, Fauna Bio, FDNA, Federal Ministry of Education and Research (BMBF), FedMed, Feinstein Institute for Medical Research, Ferring Pharmaceuticals, Fertility SOURCE Companies, FinnGen, Firefly Neuroscience, First Databank, Five Prime Therapeutics, Flagship Biosciences, Flare Therapeutics, Flaskworks, Flatiron Health, Florida Hospital, FlowMetric, Flow Pharma, Fluidigm, FLX Bio, Food Allergy Research & Education, Food and Drug Administration (FDA), Forian, Fortified Provider Network, Foundation for the Children of the Californias, Foundation for the National Institutes of Health (FNIH), Foundation Medicine, Frameshift Genomics, Fred & Pamela Buffett Cancer Center, Fred Hutchinson Cancer Research Center, Freenome, Frontage Laboratories, Front Range Biosciences, FSHD Global Research Foundation, Fudan University, Fujirebio Diagnostics, Fujitsu Laboratories, Fulcrum Therapeutics, Fulgent Genetics, Full Genomes, Fundacion Progreso y Salud, Fusion Antibodies, Fusion Genomics, Fusion Pharmaceuticals, FYR Diagnostics, G+FLAS Life Sciences, G-TAC, G1 Therapeutics, G42 Healthcare, Gabriella Miller Kids First Data Resource Center, Galmed Pharmaceuticals, GATC Health, GC Pharma, GDM Seeds, GEDmatch, GE Healthcare, Gemini Therapeutics, Gen9, Gencove, GeneBay, GeneCentric Therapeutics, Genective, GeneData, GeneDX, Geneformics, GeneMatters, Genentech, Geneos Therapeutics, GenePeeks, General Genomics, Genestack, Genetic Technologies, Genetika+, Genetron Health, Geneva Foundation, Geneva University Hospitals, Genewiz, GeneWorks, Genialis, Geninus, Genome Canada, GenomeDx, Genome Insight, Genome Institute of Singapore, Genome Medical, Genomenon, Genome Prairie, Genomes2People, GenomeSmart, Genomic Biopharma, Genomic Health, Genomics, Genomics England, Genomic Testing Cooperative, Genomic Vision, Genomika, Genomind, Genomoncology, Genoox, Genoptix, Genosity, Genovis, Genovive, Genprex, GenScript Biotech, Genticel, Gentris, Genuity Science, Genus, GenVec, GenXys, Georgetown Lombardi Comprehensive Cancer Center, Georgetown University Hospital, George Washington University, German Federal Ministry of Education and Research, Gibson Oncology, GI Innovation, Gilead Sciences, Ginkgo BioWorks, GlaxoSmithKline, GLG Pharma, Global Cancer Technology, Global Genomics Group, GlycoPath, GlycoT Therapeutics, Glympse Bio, GMSbiotech, Gnome Diagnostics, Gnosis Bioresearch, GNS Healthcare, Goldfinch Bio, Google, Government of Canada, Government of France, GPBio, Grail, GrandOmics Biosciences, Greater Paris University Hospitals, Greenlight Biosciences, Gretel, Gritstone Bio, Guardant Health, H3 Biomedicine, Hackensack Meridian Health, Hackensack University Medical Center, Hadasit Bioholdings, Hadassah Medical Center, HalioDx, Hamad Bin Khalifa University, Hamilton Robotics, Hangzhou Chengyuan Genomics Company, Harvard Stem Cell Institute, Harvard University, HAYA Therapeutics, Healius, Healiva, Healix, HEALTH Biomed, Healthcare Global Enterprises, Health Sciences Research Institute Germans Trias i Pujol Foundation, Heartflow, HeartScore, Heat Biologics, Hebrew University of Jerusalem, Helen F Graham Cancer Center, Heligenics, Helix, Helmholtz Zentrum Munchen, Helomics, HemaTone, Hengrui Therapeutics, Henlius Biotech, Hennepin County Medical Center, Henry Ford Health System, Henry M. Jackson Foundation, Henry Schein, HepaTx, Hepion Pharmaceuticals, Hewlett Packard, HiberCell, Hitachi, HMNC Brain Health, Hoag Memorial Hospital Presbyterian, Homology Medicines, Hong Kong Genome Institute, Hoosier Cancer Research Network, Hope for Stomach Cancer, Horizon Discovery, Horizon Europe, Horizon Healthcare Services, Horizon Pharma plc, Hospital for Special Surgery, Hoth Therapeutics, HotSpot Therapeutics, HP, HSRx Group, HTG Molecular Diagnostics, Huawei, Hudson-Alpha Institute for Biotechnology, HudsonAlpha Institute for Biotechnology, Human Cell Atlas, Human Longevity, Hummingbird Bioscience, Hummingbird Diagnostics, Huntsman Cancer Institute, Hygea Precision Medicine, I-mab, IBM, IBM Watson Health, Icahn School of Medicine at Mount Sinai, IDbyDNA, IDEAYA Biosciences, Idengene, ID Genomics, iGenomX, Igentify, Ignyta, Ikena Oncology, Illumina, ILUM Health Solutions, Image Analysis, Imagene Labs, ImaginAb, Imanis Life Sciences, Imanova, Imaware, Imec, Imegen, Imeka, IMIDomics, Immodulon Therapeutics, ImmunArray, Immune Design, Immune Pharmaceuticals, Immunex, Immunexpress, ImmunID Technologies, Immunovia, IMPACT Therapeutics, Imperial College London, Imperial Innovations, Imugene, In-Depth Genomics, In-Q-Tel, IncellDx, INC Research, Incyte, Indiana University, Indica Labs, Indivumed, IndyGeneUS AI, Information Technology for Translational Medicine, Informed Data Systems, InfYnity Biomarkers, Inivata, INmune Bio, InnoBation, Innodem Neurosciences, Innoplexus, Innosuisse, INNOVASALUD, Innovate UK, Innovative Genomics Initiative (IGI), Inotrem, Inova Diagnostics, Inova Genomics Laboratory, Inova Labs, Inova Translational Medicine Institute, Inovio Pharmaceuticals, Inserm, InsightRX, Insitro, InSphero, Institut Curie, Institute for Genome Statistics and Bioinformatics, Institute for Systems Biology, Institute of Cancer Research, Institute of Human Genetics, Institut Gustave Roussy, Instituto Valenciano De Oncologia, Institut Pasteur, Integra LifeSciences, Integrated Biobank of Luxembourg, Integrated DNA Technologies, Intel, Intellia Therapeutics, Intelligence Advanced Research Projects Activity (IARPA), Intercept Pharmaceuticals, Intermountain Healthcare, Intermountain Precision Genomics, International Centers for Precision Oncology Foundation, International Myeloma Foundation, International Progressive MS Alliance, International Rice Research Institute, InterSystems, InterVenn, Intezyne, Invectys, Inventiva, inVentiv Health, inviCRO, Invitae, InVivoScribe, IO Biotech, Ionis Pharmaceuticals, ION Solutions, Ion Torrent, iPrime Therapeutics, iProgen Biotech, Ipsen, IPS Genomix, IQVIA, iReceptor Plus, IRE Elit, Irish Haemophilia Society, IRX Therapeutics, Isogenica, Isogen Life Science, IsoPlexis, ISOThrive, iSpecimen, Israeli National Authority for Technological Innovation, Italian Government, iThera Medical, ITM Isotopen Technologien, IV BioHoldings, Ix Therapeutics, Jackson Laboratory, Jaguar Health, Janssen Biotech, Janssen Pharmaceuticals, Janssen Pharmaceutica NV, Janssen Research & Development, Jazz Pharmaceuticals, Jefferson Healthcare, Jeffrey Modell Foundation, Jewel-Osco, Jiangsu Hengrui Medicine, Johns Hopkins University, Johnson & Johnson Innovation, John Wayne Cancer Institute, Joslin Diabetes Center, Jounce Therapeutics, JSR Life Sciences, Jubilant Therapeutics, Jumpcode Genomics, Juvenile Diabetes Research Foundation, Juventas Therapeutics, JW Biotechnology, Kahn-Sagol-Maccabi, Kaiima Bio-Agritech, Kailos Genetics, Kairos Therapeutics, Kanazawa University, Kangmei Pharma, Kanteron Systems, Kapa Biosystems, Karolinska Institute, Kartos Therapeutics, Karyopharm Therapeutics, Kayagene, Kazusa DNA Research Institute, KDx Diagnostics, Keck Graduate Institute of Applied Life Sciences, Keck School of Medicine of USC, Keen Eye, Keio Gijuku University, KEW, Keygene, KeyWise, Kinetic Dx, King Abdullah International Research Center, KingMed Diagnostics, Kings College London, Kiyatec, Kleiner Perkins Caufield & Byers, Knight Cancer Institute, Knudra Transgenics, KolGene, Koneksa Health, Konica Minolta Precision Medicine, Korea Institute of Nuclear Medicine, Koye Pharmaceuticals, KPMG, Kronos Bio, Kymab, Kymera Therapeutics, Kyowa Hakko Kirin, Kytopen, L'Oreal, L7 Informatics, Lab Genomics, Laboratory Corporation of America, La Jolla Institute for Allergy & Immunology, Lantern Pharma, Lantheus Holding, LaserGen, Latvian Institute of Organic Synthesis, Leap Therapeutics, Lee Moffitt Cancer Center, Lehigh Valley Health Network, Leibniz-Institut fur Molekulare Pharmakologie, Leica Biosystems, Lenovo, Leona M and Harry B Helmsley Charitable Trust, LEO Pharma, Lesaffre, Les Laboratoires Servier, Leukemia & Lymphoma Society, LEXEO Therapeutics, Lexogen, LGC, LGS Foundation, Lieber Institute, Lifebit Biotech, Lifecode, LifeLabs Medical Laboratory Services, LifeNome, LifeOmic, Life Raft Group, Li Ka Shing Foundation, LineaRx, Linus Biotechnology, Lipidomics Consulting, Liquid Biosciences, Liquid Biotech USA, Livongo Health, Locus Biosciences, LogicBio Therapeutics, Longenesis, Lonza, Loop Genomics, Loxo Oncology, Lucid Diagnostics, Lucigen, Lunaphore, Lunenfeld-Tanenbaum Research Institute, Lung Cancer Alliance, Lung Cancer Research Foundation, Lunit, Lupus Research Alliance, Lustgarten Foundation, M3, Maccabi Healthcare Services, Maccura Biotechnology, Macrogen, Mainz Biomed, Mannin Research, MapKure, Marina Biotech, Maryland Stem Cell Research Fund, Massachusetts General Hospital, Massachusetts Institute of Technology, Massachusetts Life Sciences Center, Massive Bio, MassMutual, Maxim Integrated, Maxim Ventures, Mayo Clinic, Maze Therapeutics, MBio Diagnostics, MC10, McGill University, McKesson, McMaster University, MD Anderson Cancer Center, MD Biosciences, MDL Asia, Medaffcon, med fusion, Medgenics, MedGenome, MEDIAN Technologies, Medical Research Council, Medical University of Bialystok, Medical University of Graz, Medical University of Vienna, Medicinal Genomics, Medicines Discovery Catapult, MediciNova, Medicover, Medidata Solutions, MediSapiens, Medivation, Medivizor, Medley Genomics, Medosome Biotec, MedStar Health Research Institute (MHRI), MedTek21, Medtronic, Medx, Meiogenix, Mekonos, Memorial Sloan Kettering Cancer Center, Mendel Health, Mercachem, Merck and Co, Merck KGaA, Merck Sharpe & Dohme, Merrimack Pharmaceuticals, Merus, Mesh Bio, Metabolon, Metis Therapeutics, Metro Orthopedics and Sports Therapy, MGI Tech, Michael J Fox Foundation, Michelson Center, Michelson Diagnostic, Microbiotica, MicroMGx, Micronoma, Microsoft, Mikrogen, Millennium Science, Milner Therapeutics Institute and Consortium, MindImmune Therapeutics, Mind Medicine, Mindstrong Health, MindX Sciences, Mirada Medical, Mirati Therapeutics, miRecule, Mirna Therapeutics, Mirnax Biosens, Mirus Bio, MiRXES, Mission Bio, Mission Cure, Mitra Biotech, Mitsubishi Tanabe Pharma, MOBILion Systems, Moderna, Modifi Bio, Molbio Diagnostics, MolecularMD, Moleculera Labs, Mologen, Mologic, Monsanto, Montreal Heart Institute, MorphoSys, Morphotek, Mount Sinai Medical Center, Mount Sinai Services, Movember Foundation, mProbe Laboratories, MRM Proteomics, Multimmune, MultiOmic Health, MultiPlan, Multiple Myeloma Research Foundation, Multiplex Genomics, Multiply Labs, Munich Leukemia Laboratory, Muscular Dystrophy Association, Muses Labs, MyBiotics Pharma, My Care Express Merrillville, MyCartis, MyHealios, MYND Life Sciences, myNEO, My Personal Therapeutics, Myriad Genetics, Myriad RBM, MyVytalics, n-Lorem Foundation, N-of-One, Namocell, Nankai Hospital, NanoCellect Biomedica, NanoMab Technology, NanoString Technologies, NanoView Biosciences, NantHealth, NantKwest, NantWorks, Nanyang Technological University, NASA, Nashville Biosciences, Natera, National Cancer Center, National Cancer Center of Japan, National Cancer Center of South Korea, National Cancer Institute, National Center for Tumor Diseases, National Foundation for Cancer Research, National Geographic, National Health Service, National Heart, Lung and Blood Institute, National Human Genome Research Institute, National Institute for Health Research (NIHR), National Institute of Allergy and Infectious Diseases, National Institute of Arthritis and Musculoskeletal Diseases, National Institute of Child Health and Human Development, National Institute of Dental and Craniofacial Research (NIDCR), National Institute of Diabetes and Digestive and Kidney Diseases, National Institute of General Medical Sciences, National Institute of Mental Health, National Institute of Molecular Genetics, National Institute of Neurological Disorders and Stroke, National Institute of Standards and Technology, National Institute on Aging, National Institute on Drug Abuse (NIDA), National Institutes of Health, National Science Foundation, Naval Medical Research Center, Navican, Navidea Biopharmaceuticals, Navigo Proteins, Navy Medical Research Centre, Nebula Genomics, NEC, Negen, Nektar Therapeutics, Neochromosome, NeoDynamics, Neogen, Neogenomics, Neon Therapeutics, Neoteryx, Nepean Blue Mountains Local Health District's Nepean Hospital, Neptune Technologies & Bioressources, NerPharMa, NervGen Pharma, Nerviano Medical Sciences, Netherlands Cancer Institute, NetraMark, Neumora Therapeutics, NeuraLight, NeurExo Sciences, Neurodex, NeuroGenesis, NeuroLex Laboratories, NeuroMetrix, Neuron23, NeuroPointDX, NeuroSense Therapeutics, NeuroTrauma, Newborn Screening Ontario, New Brunswick Health Research Foundation, New England Biolabs, Newomics, NewStem, New York Genome Center (NYGC), New York Medical College, New York State Department of Health, Nico, Nightingale Health, Nilogen Oncosystems, Nitto Avecia, NMI Natural and Medical Sciences Institute, NMI TT Pharmaservices, Nomad Bioscience, Nonacus, Nordic Bioscience, NorthBay Healthcare, North Carolina State University, North Med, Northwell Health, Northwestern University, Notable Labs, Novartis, Novartis Pharmaceuticals Canada, NovellusDx, Novogene, Novo Nordisk, Nrgene, Nucleai, Nucleix, NuGen Technologies, Numares, NuMedii, Nurosene, NuSirt, Nvidia, NxGEN MDx, NX Prenatal, Ocean Genomics, Odimma Therapeutics, Ohio State University, Oklahoma Medical Research Foundation, Olaris, Oligomerix, Olink Bioscience, Olink Proteomics, Olympus Respiratory America, Omico, Omniome, OmniSeq, Oncimmune Ltd, Oncoceutics, Oncodesign, OncoDNA, OncoGenesis, Oncoheroes Biosciences, OncoHost, OncoImmunity, Oncologie, Oncology Research Information Exchange Network, Oncology Venture, OncoMed Pharmaceuticals, Onconova Therapeutics, Oncora Medical, OncoSec Medical, Oncoshot, OncXerna Therapeutics, One BioMed, One Codex, One Lambda, Oneome, OneOncology, OneThree Biotech, One Way Liver Genomics (OWL), Ono Pharmaceutical, Onramp Bioinformatics, Ontario Institute for Cancer Research, OpenBench, Open Commons Consortium, Open Medicine Institute, OpGen, Opisafe, OPKO Health, Optina Diagnostics, OracleBio, Ordaos Bio, Oregon Health Sciences University, ORIG3N, OrigiMed, Origin Agritech, Oryzon, OSE Immunotherapeutics, Oslo University Hospital, Ovation Life Sciences, Oventus, Ovid Therapeutics, Owkin, Owlstone Medical, Oxford Biodynamics, Oxford Genetics, Ozyme, P3 Health, Pacific Biosciences, Pacific Northwest Research Institute, Paige, Pairwise Plants, Palantir, Panaceutics, Pan American Cancer Treatment Centers, Pancreatic Cancer Action Network, Pancreatic Cancer Collective, Pangea Biomed, PANTHERx Specialty Pharmacy, Paradigm, Paragon Genomics, Parent Project Muscular Dystrophy, Parexel, Parse Biosciences, Partek, Partners HealthCare, Partner Therapeutics, PathAI, Path BioAnalytics, PathGroup, PathoQuest, Pathway Genomics, Patia, Paul Scherrer Institute, PAVmed, PEAR Therapeutics, Pennsylvania State University, Pepscan, PerkinElmer, Persephone Biosciences, Personal Genome Diagnostics, Personalis, PersonalizeDx, Perthera, PetaGene, PETNET Solutions, Pfizer, PharmaLogic, Pharmatest Services, Pharnext, Phase Genomics, Phenome Networks, Phenomix, Philips, Phosphorus Genomics, Physiomics, PhysIQ, Pierian, PierianDx, Pierre Fabre, Pillar Biosciences, Pioneer Hi-Bred, Pionyr Immunotherapeutics, Pittsburgh Life Sciences Greenhouse, Plant Bioscience Limited, Pluristem Therapeutics, Poietis, Portable Genomics, Poseida Therapeutics, Positive Bioscience, PPD, Precision Biologics, Precision BioSciences, Precision Diabetes, Precision for Medicine, Precision Genetics, Precision Health Informatics, PrecisionLife, Precision NanoSystems, Precision Therapeutics, Predicine, PredictImmune, Predictive Oncology, Prelude Therapeutics, Premas Life Sciences, Premier Inc, PreMIT, Prenetics, Prescient Medical, Prevacus, PreventionGenetics, PRIMA BioMed, Primetech, Princess Margaret Hospital, Prism Research, Probiodrug, Profusa, Progentec Diagnostics, Progknowse, PrognomIQ, Prognos, Promega, Prometheus Biosciences, Prometheus Laboratories, ProMIS Neurosciences, Propagenix, Prophase Labs, Proscia, Prostate Cancer Clinical Trials Consortium, Prostate Cancer Foundation (PCF), Protagen, Protagonist Therapeutics, Protean BioDiagnostics, Proteigene, Proteomics International, Proteostasis Therapeutics, Proteus Genomics, Protxx, Provista Diagnostics, Pryzm Health, Psomagen, Psyche Systems, Pulmonary Fibrosis Foundation (PFF), Puma Biotechnology, Pure Protein, Purigen, PWNHealth, Q-State Biosciences, Q2 Solutions, Qatar Foundation, Q BioMed, QED Therapeutics, Qiagen, Quadrant Biosciences, Quanterix, Quantgene, Quantum Design International, QuantumDx, Quantum Leap Health Care Collaborative, Quark Pharmaceuticals, Queen Mary University of London, Quest Diagnostics, Quintara Biosciences, Quotient, QurAlis, R-Biopharm, R-Pharm, Radius Health, Rady Children's Institute for Genomic Medicine, Rainbow Genomics, Rain Therapeutics, Rare Disease Specialty Pharmacy, Rare Genomics Institute, RayBiotech, RCK, Readout Health, Recombia Biosciences, Redx Pharma, RefleXion Medical, Regen BioPharma, Regeneron Genetics Center, Regeneron Pharmaceuticals, ReGen Scientific, Regulus Therapeutics, Related Sciences, Relay Therapeutics, RenalytixAI, Renato Dulbecco Foundation, Renji Hospital, Rensselaer Polytechnic Institute, Repare Therapeutics, Replicate Bioscience, Replicel Life Sciences, Repositive, Research Council of Norway, Research Institute of the Hospital Universitari Vall d'Hebron, Research Instruments, Resolution Bioscience, Rett Syndrome Research Trust, Reveal Biosciences, Reveal Genomics, Revitalist Lifestyle and Wellness, Revolution Medicines, Rhenium, Rheos Medicines, Rhythm Pharmaceuticals, RiboMed, RIKEN Center for Integrative Medical Sciences, RIKEN Research Institute, Ripe Technology, Robert H. Lurie Comprehensive Cancer Center, Roche, Roche Diagnostics, Roche Molecular Systems, Rockefeller University, Rockley Photonics, Rosetta Genomics, Roswell Biotechnologies, Royal College of Surgeons (Ireland), Royal Philips Electronics, RPRD Diagnostics, RTI International, Rubicon Genomics, Rune Labs, Rush University Medical Center, Rutgers Cancer Institute of New Jersey, Rutgers University, Rx30, RxGenomix, S2 Genomics, SAGA Diagnostics, Saladax Biomedical, Salk Institute, Salud Interactiva, Sana Biotechnology, Sanford Burnham Institute, Sanford Health, Sangamo Therapeutics, Sanguine, Sanofi, Sanofi-Pasteur, Sano Genetics, San Raffaele Hospital, Saol Therapeutics, Saphetor, Sapient Discovery, Sapio Sciences, Sarah Cannon Research Institute, Sarepta Therapeutics, Sayre Therapeutics, Scailyte, Scandion Oncology, Scarab Genomics, Schrodinger, Science Exchange, Science Foundation Ireland, Sciex, Scipher Medicine, Sciton, Scorpion Therapeutics, Scripps Research Institute, Scripps Translational Science Institute, SCRUM, Secarna Pharmaceuticals, Second Genome, Seed Mena, Seer, SeLux Diagnostics, Sema4, Semma Therapeutics, Semmelweis University, Seneca Therapeutics, Sengenics, SEngine Precision Medicine, Sensyne Health, Sentieon, Sentinel Diagnostics, Sentinel Oncology, SenzaGen, Seoul National University, Seqster, Sequanta, SeqWell, Seracare Life Sciences, Sera Prognostics, Serotiny, Seven Bridges Genomics, SGI-DNA, Shanghai ChemPartner, Shanghai Institutes of Preventative Medicine, Shanghai Titan Scientific, Shardna, Sheba Medical Center, Shenzhen Chipscreen Biosciences, Shepherd Therapeutics, Shimadzu, Shire Human Genetic Therapies, Shire Laboratories, Shivom, Shuwen Biotech, Siemens, Siemens Healthineers, Sigrid Therapeutics, Silicon Biosystems, Singapore Eye Research Institute (SERI), Singlera Genomics, Singleron Biotechnologies, Singular Genomics Systems, Singulex, Sirona Dx, Skane University Hospital, SkylineDX, Skyline Medical, Skysong Innovations, Smith & Nephew, SOCPRA Sciences Sante et Humaines, SolaranRx, SOLTI, SolveBio, SomaGenics, SomaLogic, Sonde Health, Sonic Healthcare, Sonrai Analytics, Sony DADC, Sookmyung Women's University, Sophia Genetics, Soricimed Biopharma, Sorrento Therapeutics, Sosei Heptares, SouthGenetics, Spanish National Cancer Research Centre, Spark Biomedical, Spatial Genomics, Spectral Medical, Spectrum Pharmaceuticals....
For full list contact enquiry@currentpartnering.com
Current Partnering reports provide insight into the trends and terms of partnering deals in the global life sciences sector.
Current Partnering reports are updated every six months to ensure the user has access to the latest announcements and trends in the topic focus of the report.
Current Partnering analysts review the deal data to provide an overview and analysis of deal trends, including example deals and terms.
Current Partnering reports source deal data from our proprietary deals and alliances database, Current Agreements. The database is updated daily by our analysts with new deals as they are announced globally by the company's party to the deal. In addition, deal records are updated with new data as it becomes available.
The data in the Current Agreements deals and alliances database is obtained from secondary sources such as publicly available industry sources including press releases, company presentations, investor presentations, company SEC filings, other company filings, company websites, conference presentations. Sources are identified to allow for user verification.
Current Partnering provides comprehensive coverage of the following partnering or deal types:
• Asset purchase
• Assignment
• Co-development
• Co-market
• Co-promotion
• Collaborative R&D
• Contract service
• CRADA
• Cross-licensing
• Development
• Distribution
• Equity purchase
• Evaluation
• Grant
• Joint venture
• Licensing
• Loan
• Manufacturing
• Marketing
• Option
• Promotion
• Research
• Royalty financing
• Settlement
• Spin out
• Sub license
• Supply
• Termination
• Warrant
Every deal record is fully categorized and includes the following data, where available:
• Industry sector
• Therapy areas
• Technology type
• Deal components
• Financial terms
• Stage of development
• Exclusivity
• Asset type
• Geographic focus
• Excluded geography
• Company press release
• SEC filing data including contract document
All financial amounts are converted to US$ using the exchange rate available on the date of deal announcement, enabling direct comparison of deal terms across international territories.
Financial data and contract documents displayed in deal records is obtained from public sources, where disclosed by the parties to the deal.