Global Option and Evaluation Deals in Pharma, Biotech and Diagnostics 2014-2021
The Global Option and Evaluation Deals in Pharma, Biotech and Diagnostics 2014-2021 report provides comprehensive understanding and unprecedented access to the option and evaluation partnering agreements entered into by the worlds leading biopharma companies.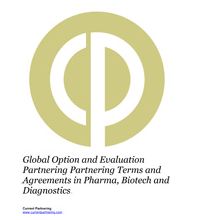 Publication date
October 2021
Product type
Research report
Available formats
PDF document
The Global Option and Evaluation Partnering Terms and Agreements in Pharma, Biotech and Diagnostics 2014-2021 report.
This report provides details of the latest option and evaluation agreements announced in the pharmaceutical, biotechnology and diagnostic sectors. Fully revised and updated, the report provides details of option and evaluation agreements from 2014 to 2021.
There are two major forms of deal term that allow a party to a deal to secure rights to an asset subject to a future event namely, option and evaluation.
Evaluation agreements allow a party to the deal to obtain rights to a technology or compound, subject to a period of time to evaluate the quality, scope and applicability of the technology to its intended endpoint.Normally the technology is at an early stage and/or unproven and the partnering companywishes to assess the technology as part of the due diligence process in advance of signing a long term licensing agreement.
Evaluation agreements have been a mainstay of technology licensing from the earliest days.
An option agreement differs in that the option is often an integral part of an agreement already entered by the parties, providing the party with the option right to retain or extend certain rights to the technology already partnered.
Option agreements are becoming increasingly popular as they create additional flexibility within a deal for additional rights that the parties do notwish to commit at the outset of the agreement.
This report focuses on option and evaluation agreements and clauses within broader agreements between big pharma-big pharma, big pharma – smaller company, and smaller company-smaller company, providing a detailed insight into all such deals.
The report provides a detailed understanding and analysis of how and why companies enter option and evaluation deals. The majority of deals are multicomponent whereby the licensor retains either a option and evaluation right to the resultant product of the research collaboration. There are also numerous pure option and evaluation deals whereby the products originator takes on a partner in order to advance the product or compound to a point where the licensee might seek to proceed to a licensing deal.
Understanding the flexibility of a prospective partner's negotiated deals terms provides critical insight into the negotiation process in terms of what you can expect to achieve during the negotiation of terms. Whilst many smaller companies will be seeking details of the payments clauses, the devil is in the detail in terms of how payments are triggered – contract documents provide this insight where press releases and databases do not.
This report contains a comprehensive listing of all option and evaluation deals announced since 2014 as recorded in the Current Agreements deals and alliances database, including financial terms where available, plus links to online copies of actual option and evaluation contract documents as submitted to the Securities Exchange Commission by companies and their partners.
Contract documents provide the answers to numerous questions about a prospective partner's flexibility on a wide range of important issues, many of which will have a significant impact on each party's ability to derive value from the deal.
The initial chapters of this report provide an orientation of option and evaluation dealmaking and business activities. Chapter 1 provides an introduction to the report, whilst chapter 2 provides an analysis of the trends in option and evaluation as well as a discussion on the merits of the type of deal.
Chapter 3 provides an overview of the structure of option and evaluation deals. The chapter includes numerous case studies to enable understanding of both pure option and evaluation deals and multicomponent deals where option and evaluation forms a part.
Chapter 4 provides a review of the leading option and evaluation deals since 2014. Deals are listed by headline value, signed by big pharma and big biotech and most active of all biopharma companies. Where the deal has an agreement contract published at the SEC a link provides online access to the contract via the Current Agreements deals and alliances database.
Chapter 5 provides a comprehensive listing of the top 25 most active option and evaluation dealmaker companies. Each deal title links via Current Agreements deals and alliances database to an online version of the full deal record, and where available, the actual contract document, providing easy access to each deal record on demand.
Chapter 6 provides a comprehensive and detailed review of option and evaluation deals signed and announced since 2014 where a contract document is available. Contract documents provide an indepth insight into the actual deal terms agreed between the parties with respect to the option and evaluation deal.
In addition the report includes a series of appendices containing a comprehensive listing of all option and evaluation deals announced since 2014.
Each listing is organized as an appendix by company A-Z, stage of development at signing, and therapeutic area. Each deal title links via hyperlink to an online version of the deal record including, where available, the actual contract document.
The report includes deals announced by hundreds of life science companies including big pharma such as Abbott, Abbvie, Actavis, Amgen, Astellas, AstraZeneca, Baxter, Bayer, Biogen Idec, BMS, Celgene, Eisai, Eli Lilly, Gilead, GSK, J&J, Kyowa Hakko, Merck, Mitsubishi, Mylan, Novartis, Pfizer, Roche, Sanofi, Shire, Takeda, Teva, and Valeant, amongst many others.
The report also includes numerous tables and figures that illustrate the trends and activities in option and evaluation dealmaking since 2014.
In conclusion, this report provides everything a prospective dealmaker needs to know about option and evaluation alliances.
Key benefits
Global Option and Evaluation Partnering Terms and Agreements in Pharma, Biotech and Diagnostics 2014-2021 provides the reader with the following key benefits:
In-depth understanding of option and evaluation deal trends since 2014
Analysis of the structure of option and evaluation agreements with real life case studies
Comprehensive access to actual option and evaluation deals entered into by the world's biopharma companies
Detailed access to actual option and evaluation contracts enter into by the leading twenty five big pharma companies
Insight into the terms included in a option and evaluation agreement, together with real world clause examples
Understand the key deal terms companies have agreed in previous deals
Undertake due diligence to assess suitability of your proposed deal terms for partner companies
Report scope
Global Option and Evaluation Partnering Terms and Agreements in Pharma, Biotech and Diagnostics 2014-2021 is intended to provide the reader with an in-depth understanding of the option and evaluation trends and structure of deals entered into by leading biopharma companies worldwide.
Global Option and Evaluation Partnering Terms and Agreements in Pharma, Biotech and Diagnostics 2014-2021 includes:
Trends in option and evaluation dealmaking in the biopharma industry since 2014
Analysis of option and evaluation deal structure
Case studies of real-life option and evaluation deals
Access to option and evaluation deal records
The leading option and evaluation deals by value since 2014
Most active option and evaluation dealmakers since 2014
The leading option and evaluation partnering resources
In Global Option and Evaluation Partnering Terms and Agreements in Pharma, Biotech and Diagnostics 2014-2021, the available deals are listed by:
Company A-Z
Headline value
Stage of development at signing
Therapeutic area
Technology type
Each deal title links via Weblink to an online version of the actual deal record, providing easy access to each contract document where available.
The Global Option and Evaluation Partnering Terms and Agreements in Pharma, Biotech and Diagnostics 2014-2021 report provides comprehensive access to available records for option and evaluation deals, including contract documents where available. Analyzing actual contract agreements allows assessment of the following:
What are the precise rights granted or optioned?
What is actually granted by the agreement to the partner company?
What exclusivity is granted?
What is the payment structure for the deal?
How are sales and payments audited?
What is the deal term?
How are the key terms of the agreement defined?
How are IPRs handled and owned?
Who is responsible for commercialization?
Who is responsible for development, supply, and manufacture?
How is confidentiality and publication managed?
How are disputes to be resolved?
Under what conditions can the deal be terminated?
What happens when there is a change of ownership?
What sublicensing and subcontracting provisions have been agreed?
Which boilerplate clauses does the company insist upon?
Which boilerplate clauses appear to differ from partner to partner or deal type to deal type?
Which jurisdiction does the company insist upon for agreement law?
Global Option and Evaluation Deals in Pharma, Biotech and Diagnostics 2014-2021 provides the reader with the following key benefits:
In-depth understanding of option and evaluation partnering deal trends since 2014
Insight into the terms included in an option and evaluation agreement, together with real world clause examples
Identify leading option and evaluation deals by value since 2014
Identify the most active option and evaluation dealmakers since 2014
Analysis of key deal financials including headline value, upfront, milestone payments and royalty rates
Full listing of option and evaluation deals by company A-Z, deal value, phase of development, deal type, therapy and technology focus
Comprehensive access to option and evaluation deals entered into by the world's biopharma companies, together with contract documents if available
Understand the key deal terms companies have agreed in previous deals
Undertake due diligence to assess suitability of your proposed deal terms for partner companies
Executive Summary
Chapter 1 – Introduction
Chapter 2 – Trends in option and evaluation dealmaking
2.1. Introduction
2.2. Difference between option and evaluation deals
2.2.1. Types of option agreement
2.3. Trends in option and evaluation deals since 2014
2.3.1. Option and evaluation dealmaking by year since 2014
2.3.2. Option and evaluation dealmaking by phase of development since 2014
2.3.3. Option and evaluation dealmaking by industry sector since 2014
2.3.4. Option and evaluation dealmaking by therapy area since 2014
2.3.5. Option and evaluation dealmaking by technology type since 2014
2.3.6. Option and evaluation dealmaking by most active company since 2014
2.4. Option-based deals
2.4.1. Attributes of option-based deals
2.4.2. Reasons for entering an option-based deal
2.4.3. Uptake of option exercise
2.4.4.The future of option-based deals
2.5. Co-promotion options
2.5.1. Attributes of co-promotion in multi-component deals
2.5.2. Reasons for including co-promotion options in a deal
2.5.3. Uptake of co-promotion rights
2.5.4. Co-promotion rights as bargaining chips
2.5.5. The future of co-promotion as part of multicomponent deals
2.6. Company acquisition options
2.6.1. Case study 1: Cephalon – Ception
2.6.2. Case study 2: Endo – Indevus
2.6.3. The future of option to acquire deals
Chapter 3 – Overview of option and evaluation deal structure
3.1. Introduction
3.2. Option and evaluation agreement structure
3.2. Example evaluation agreements
3.2.1.a. Case study 3: Idenix Pharmaceuticals – Janssen Pharmaceuticals
3.3. Option agreement structure
3.3.1. Example option agreements
3.3.1.a. Option to license
Case study 4: Biogen Idec – Isis Pharmaceuticals
3.3.1.b. Option to extend/expand applications/territories
Case study 5: Novartis –Prometheus
3.3.1.c. Option to finance
Case study 6: Amarantus BioSciences– Power3 Medical Products
3.3.1.d. Option to co-promote
Case study 7: Teva – OncoGenex Pharmaceuticals
3.3.1.e. Option to manufacture/supply
Case study 8: NPS Allelix – Nycomed
3.4. Option to acquire agreement structure
3.4.1. Example acquisition option clauses
3.4.1.a. Case study 9: ViroPharma– Meritage Pharma
3.4.1.b. Case study 10: Nuvasive – Progentix Orthobiology
Chapter 4 – Leading option and evaluation deals
4.1. Introduction
4.2. Top option and evaluation deals by value
Chapter 5 – Top 25 most active option and evaluation dealmakers
5.1. Introduction
5.2. Top 25 most active option and evaluation dealmakers
Chapter 6 – Option and evaluation contracts directory
6.1. Introduction
6.2. Option andevaluation deals with contracts since 2014
Appendices
Appendix 1 – Option and evaluation dealmaking by companies A-Z
Appendix 2 – Option and evaluation dealmaking by industry sector
Appendix 3 – Option and evaluation dealmaking by stage of development
Appendix 4 – Option and evaluation dealmaking by therapy area
Appendix 5 – Option and evaluation dealmaking by technology type
About Wildwood Ventures
Current Partnering
Current Agreements
Recent report titles from CurrentPartnering
TABLE OF FIGURES
Figure 1: Definition of option and evaluation deals
Figure 2: Types of option right
Figure 3: Trends in option and evaluation deal announcements since 2014
Figure 4: Option and evaluation deals signed at each phase of development since 2014
Figure 5: Option and evaluation deals by industry sector since 2014
Figure 6: Option and evaluation deals by therapy area since 2014
Figure 7: Option and evaluation deals by technology type since 2014
Figure 8: Top 25 most active option and evaluation dealmakers since 2014
Figure 9: Example deals where co-promotion options have been actively exercised since 2014
Figure 10: Recent 'option to acquire' deals
Figure 11: Components of the option and evaluation deal structure
Figure 12: Types of option in an agreement
Figure 13: Attributes of option terms
Figure 14: Top option and evaluation deals by value since 2014
Figure 15: Most active option and evaluation dealmakers since 2014
Pricing options
$3,495: single-user
$5,245: multi-user
$10,495: single site license
$17,495: global site license
A full explanation of license type definitions can be found here.
Our guarantee
Price promise
We guarantee our prices are competitive. If you find the same report advertised at a lower price within 7 days of purchase, we will refund the difference.
Delivery Deadline
We guarantee that the report will be sent within the specified delivery times. In the unlikely case of a delay we may offer a partial refund as compensation. (Terms may apply)
Latest report
If an update is published within 30 days of your purchase, you will receive it absolutely free of charge.
Serious Security
We take your data and security seriously. See our privacy policy for details of how we manage your data.
All card payments are processed by SagePay.
Sales Support
If you have any questions about your report or are unhappy with the quality, we will do our best to resolve your query. Contact us direct.
Total Trust
Current Partnering is part of Wildwood Ventures Ltd., based in York, United Kingdom. We have been trading successfully online since 2009 and work with some of the most famous brands in the business. We carefully select our partners to ensure that the publications meet expectations of demanding customers.
2cureX, 3D Medicines, 3SBio, 4D Molecular Therapeutics, 4D Pharma, 9 Meters Biopharma, A2 Biotherapeutics, A2A Pharmaceuticals, AADi, Abbott Laboratories, Abbvie, AbClon, Abide Therapeutics, Abingworth Management, Ablynx, Abyrx, Accent Therapeutics, Acepodia, Acer Therapeutics, Achaogen, AC Immune, Actelion, Acucela, Adagene, Adapsyn Bioscience, Adaptimmune, Adaptive Biotechnologies, AdaptVac, Adare Pharma Solutions, ADC Therapeutics, Addario Lung Cancer Medical Institute, Addex Therapeutics, Adeptrix, Adicet Bio, Adimab, AdoRx Therapeutics, ADT Pharmaceuticals, Aduro BioTech, Advaite, Advanced Accelerator Applications, Advanced Cardiac Therapeutics, Advanced Proteome Therapeutics, Advaxis, Aegea Biotechnologies, Aegis Therapeutics, Aerie Pharmaceuticals, Aerpio Pharmaceuticals, AEterna Zentaris, Aevi Genomic Medicine, Affectis Pharmaceuticals, Affibody, Affinia Therapeutics, Agensys, Agenus Bio, AgeX Therapeutics, Agios Pharmaceuticals, AgonOx, AIkido Pharma, AIMM Therapeutics, AIT Therapeutics, Ajinomoto, Akcea Therapeutics, Akero Therapeutics, Akkadeas Pharma, Albumedix, Alcyone Lifesciences, Aldeyra Therapeutics, Alector, Alexion Pharmaceuticals, Alfasigma, AlivaMab Discovery Services, Alivio Therapeutics, Allegro Ophthalmics, Allergan, Allergan Aesthetics, Alligator Bioscience, Allogene Therapeutics, Almirall, Alnylam Pharmaceuticals, Alphageneron Pharmaceuticals, Alpine Immune Sciences, ALRISE Biosystems, ALS Association, Altavant Sciences, Alteogen, Alternavida, Altos Group, Alverno Clinical Laboratories, AM-Pharma, Amag Pharmaceuticals, Amarantus BioSciences, Amarillo Biosciences, Ambys Medicines, Amerimmune, Amgen, Amolyt Pharma, AmorChem, Amorsa Therapeutics, Amunix, Amyris, Anacor Pharmaceuticals, Anaeropharma, ANANDA Scientific, Anatara Lifesciences, Anchiano Therapeutics, Anergis, AnGes MG, Angiodynamics, Angionetics, Anokion, Apceth, Apeiron Biologics, Apexigen, Applied DNA Sciences, Apricity Health, Apricus Biosciences, Aptevo Therapeutics, Aptose Biosciences, APT Therapeutics, Aqilion, Arbutus, Arcellx, Arch Biopartners, Arcturus Therapeutics, Arcus Biosciences, Arcutis Biotherapeutics, Ardelyx, Arecor, Ares Genetics, arGEN-X, argenx, Ariad Pharmaceuticals, Aridis Pharmaceuticals, ArQule, Arrakis Therapeutics, Array Biopharma, Arrowhead Pharmaceuticals, Arrow Pharmaceuticals, ArsenalBio, Artelo Biosciences, Arthrex, Artios Pharma, Artiva Biotherapeutics, Artizan Biosciences, Arvinas, Asahi Kasei, Ascenion, Ascentage Pharma, Asia Green Biotechnology, ASKA Pharmaceuticals, Aslan Pharma, Assembly Biosciences, Astellas Pharma, Asterias Biotherapeutics, Astex Pharmaceuticals, AstraZeneca, ATAI Life Sciences, Atara Biotherapeutics, Athersys, Atlab Pharma, Atomwise, Atreca, Audion Therapeutics, AuraVax Therapeutics, Aurigene Discovery Technologies, Aurinia Pharmaceuticals, Auris Medical, Aurora Cannabis, Autifony Therapeutics, Auxogyn, Avacta, Avalanche Biotechnologies, AVEO Oncology, Avista Pharma Solutions, Avita Therapeutics, Avrobio, BASE10 Genetics, Basilea Pharmaceutica, Bassett Salon Solutions, Bausch Health Companies, Bavarian Nordic, Baxalta, Baxter International, Bayer, Bayer Healthcare, Baylor College of Medicine, Beacon Discovery, Beam Therapeutics, BeiGene, Belgian Society of Medical Oncology, Bellicum Pharmaceuticals, Beta Therapeutics, Bicycle Therapeutics, Bill and Melinda Gates Foundation, Bintai Kinden, Bio-Path, Bio-Techne, bioAffinity Technologies, BioAge Labs, BioArctic Neuroscience, BioAtla, Biobeat, BioCardia, Biocept, BioCorRx, Biodel, Biodesix, BioDuro, Biogen, Biohaven Pharmaceutical Holding, Bioject Medical Technologies, BiolineRX, Biolojic Design, BioMarin Pharmaceutical, Biomecite Diagnostics, Biomedical Advanced Research and Development Authority, BioMotiv, BiomX, Bioniz Therapeutics, BioNTech, Bioprocess Capital Ventures, BioRap Technologies, BioSense Global, BioSig Technologies, Biotest, BioTheranostics, Biothera Pharmaceuticals, Biotheus, Biotricity, Bioverativ, Blackrock Microsystems, BlinkBio, Bloom Science, Bluebird Bio, Blue Earth Diagnostics, Blueprint Medicines, Boehringer Ingelheim, Bold Therapeutics, Bone Biologics, BoneSupport, Boragen, Boston Immune Technologies and Therapeutics, Boston Scientific, Boston Therapeutics, Boston University School of Medicine, Braeburn Pharmaceuticals, Brammer Bio, Breakthrough Diagnostics, Brigham and Women's Hospital, Brii Biosciences, BRIM Biotechnology, Bristol-Myers Squibb, Broad Institute, Bruker, Buck Institute for Age Research, C4 Therapeutics, Caelum Biosciences, Calico, Califia Pharma, California Institute for Biomedical Research, California Institute for Quantitative Biosciences (QB3), Calithera Biosciences, Calyxt, Camarus, Canadian Brain Tumour Consortium, Canbex Therapeutics, Cancer Genetics, Cancer Prevention Pharmaceuticals, Cancer Research Institute, Cancer Research Technology, Cancer Research UK, Canigma, Cannassure Therapeutics, Capricor Therapeutics, Cardiff University, Cardinal Partners, Cardiovascular Systems, Caribou Biosciences, Carisma Therapeutics, Carmine Therapeutics, Case Western Reserve University, Catalent, CBD Solutions, Cedars-Sinai Medical Center, Celgene, Celimmune, Celladon, Celldex Therapeutics, Cellectar Biosciences, Cellect Biotechnology, Cellectis, Cellenkos, Cell Medica, Cellmid, Celltech, Cell Therapy Catapult, Celltrion, Celsius Therapeutics, Celularity, Celyad, Censa Pharmaceuticals, Centers for Disease Control and Prevention, Centre for Imaging Technology Commercialization, Centre For The Commercialization Of Antibodies And Biologics, Cephea Valve Technologies, Cernostics, Cerulean Pharma, Cerveau Technologies, Cesca Therapeutics, Cevec Pharmaceuticals, Chansu Vascular Technologies, Charcot-Marie-Tooth Association, Charles River Laboratories, Checkmate Pharmaceuticals, ChemoCentryx, Chi-Med, Chiesi Farmaceutici, Children's Hospital Boston, Chromocell, CIMAB SA, Cincinnati Children's Hospital Medical Center, Circassia, Citius Pharmaceuticals, ClearPoint Neuro, Clearside Biomedical, Cleveland BioLabs, Cleveland Clinic, Clover Biopharmaceuticals, CNA Development, Coalition for Epidemic Preparedness Innovations, Cochlear, Cocoon Biotech, Codexis, Codiak BioSciences, CohBar, Coherus Biosciences, Cold Genesys, Collplant, Complement Pharma, Compugen, Conatus Pharmaceuticals, Concortis Biosystems, Context Therapeutics, ContraFect, Convelo Therapeutics, Convergence Pharmaceuticals, COPAN, COPD Foundation, Copenhagen University Hospital, Cordis, Corvia Medical, COUR Pharmaceutical, Crescendo Biologics, CRISPR Therapeutics, Cryolife, CrystalGenomics, CSIRO, CSL, CSL Behring, CStone Pharmaceuticals, CTX Technology, CureVac, Curis, Cutanogen, Cyclo Therapeutics, CymaBay Therapeutics, Cynata Therapeutics, Cyntar Ventures, Cypris Medical, Cystic Fibrosis Foundation, CytomX Therapeutics, Cytoo, CytoVale, CYTOVIA Therapeutics, Daewoong Pharmaceutical, Daiichi Sankyo, Dainippon Sumitomo Pharma, DanDrit Biotech, Dare Bioscience, Dauntless Pharmaceuticals, Debiotech, Decibel Therapeutics, Deciphex, de Duve Institute, Deep Genomics, Deinove, Dementia Discovery Fund, Denali Therapeutics, DendroCyte, Denovo Biopharma, Department of Defense, Department of Veterans Affairs, Dermelix Biotherapeutics, Dermira, DermSpectra, Dewpoint Therapeutics, DiamiR, Diaprost, Dicerna Pharmaceuticals, DigiPath Solutions, Dimension Therapeutics, Dimerix Biosciences, DNA Link, Domain Therapeutics, Door Pharmaceuticals, DotBio, Dow AgroSciences, Dragonfly Therapeutics, DSM, Duke University, Durect, Dynavax Technologies, DynPort Vaccine Company, E&B Technologies, Eagle Pharmaceuticals, EastGate Biotech, Easton Pharmaceuticals, EDAP TMS, Edesa Biotech, Edico Genome, Edison Nation Medical, Editas Medicine, Edwards Lifesciences, eFFECTOR Therapeutics, Eisai, Eisai S.A.S, Elanco, Elektrofi, Eleven Biotherapeutics, Eligo Bioscience, Eli Lilly, EmboMedics, Emendo Biotherapeutics, Emergent BioSolutions, Emisphere, Emmaus Life Sciences, Emory University, EMTensor, Enable Injections, Enara Bio, Endo Pharmaceuticals, Endospan, eNeura Therapeutics, enGene, EnGeneIC, Enigma Biomedical, Enteris Biopharma, Enterome Bioscience, EnWave, Enzyvant Science, EpicentRx, Eppin Pharma, Ergomed, ERS Genomics, ESSA Pharma, Establishment Labs, eTheRNA immunotherapies, Eticann S.A.S. Zomac, Eureka Therapeutics, Eurocine Vaccines, European Biomedical Research Institute of Salerno, European Organization for Research and Treatment of Cancer, Everads Therapy, Evestra, Evotec, Evox Therapeutics, Exelixis, Exicure, Exovita Biosciences, ExpreS2ion Biotechnologies, ExScientia, EyeMedics, F-Star, F-Star Alpha, Facit, Fagron, FairJourney Biologics, Farapulse, Fate Therapeutics, Fauna Bio, Ferring Pharmaceuticals, Five Prime Therapeutics, FKD Therapies, FOB Synthesis, Fondazione Telethon, Food and Drug Administration (FDA), Foresee Pharmaceuticals, Forge Therapeutics, FORMA Therapeutics, Fosun Pharmaceutical, Fox Chase Cancer Center, Frontier Medicines, Fscan, Fujifilm, Fujifilm medical systems, Fusion Pharmaceuticals, Fuzionaire Radioisotope Technologies, FX Therapeutics, G-treeBNT, G2B Pharma, G3 Pharmaceuticals, Gadeta, Galapagos, Galaxy Biotech, Galecto, Galmed Pharmaceuticals, GamaMabs Pharma, Gamida Cell, GammaDelta Therapeutics, Gedeon Richter, GE Healthcare, GEn1E Lifesciences, GenEdit, Genentech, GenePeeks, Generex Biotechnology, Genesee BioMedical, Genethon, GeneTx Biotherapeutics, GeNeuro, Genevant Sciences, Genexine, Genisphere, Genmab, Genocea Biosciences, Genome Biologics, GenomeSmart, Genticel, GenVec, Genzyme, Georgetown University, Georgetown University Hospital, George Washington University, GeoVax, German Cancer Research Center, Geron, Gilead Sciences, GlaxoSmithKline, GlaxoSmithKline Biologicals, Glenmark Pharmaceuticals, Glide, Global Blood Therapeutics, Globavir Biosciences, Glycotope Biotechnology, Glykos, GOG Foundation, Goldfinch Bio, Grail, Graphite Bio, GrayBug, Greenwich LifeSciences, Gritstone Oncology, Grunenthal, Gurnet Point Capital, GW Pharmaceuticals, H3 Biomedicine, Hadasit Medical Research Services and Development, Haga Teaching Hospital, Haibo Biotechnology Institute, Hancock Jaffe Laboratories, Hanmi Pharmaceutical, Hannover Medical School, Harpoon Therapeutics, Harvard Stem Cell Institute, Harvard University, HEC Pharm, Heidelberg Pharma, Helius Medical Technologies, Helmholtz Zentrum Munchen, HemispheRx Biopharma, Henlius Biotech, Henry Ford Health System, Herantis, HiFiBio, Histogen, HistoIndex, Hoffmann La Roche, Horizon Discovery, Horizon Pharma plc, Horus Pharma, Hospices Civils de Lyon, Hoth Therapeutics, Houston Methodist Research Institute, Humanetics, Hummingbird Bioscience, Hutchison MediPharma, I-mab, Icagen, Icahn School of Medicine at Mount Sinai, Iconic Therapeutics, IDEAYA Biosciences, Idera Pharmaceuticals, Idorsia, IFM Therapeutics, IGAN Biosciences, IGNITE Immunotherapy, IHI, Iksuda Therapeutics, Iktos, Illumina, ILTOO Pharma, Imaxio, Imbrium Therapeutics, Imcyse, Immatics Biotechnologies, Immucor, Immune Design, Immuneering, Immune Regulation, ImmuNext, Immunic, ImmunID Technologies, ImmunoBiochem, ImmunoCellular Therapeutics, Immunocore, ImmunoGen, Immunomedics, Immunomic, ImmunoTek Bio Centers, Immunovia, Immunscape, Imperial College London, Imperial Innovations, IMV, Inception 5, Inception Sciences, Incuron, Incyte, Indivior, Infinity Pharmaceuticals, Infuseon Therapeutics, Inhibitor Therapeutics, Inhibrx, Initiator Pharma, Inmagene Biopharmaceuticals, Innate Pharma, Innovasource, Innovate UK, Innovation Pharmaceuticals, Innovent Biologics, Innovet, Inovio Pharmaceuticals, Inserm Transfert, Insilico Medicine, Insitro, Insmed Inc, InSphero, Institute for Research in Immunology and Cancer – Commercialization of Research, Institute of Bioengineering and Nanotechnology, Institute of Cancer Research, Institut Pasteur, Intarcia Therapeutics, Intec Pharma, Integumen, IntelGenx, Intellia Therapeutics, Intellikine, International Stem Cell, Intrexon, iNtRON Biotechnology, InxMed, Ionis Pharmaceuticals, IONTAS, Iovance Biotherapeutics, IOVaxis Therapeutics, iProgen Biotech, Ipsen, Ironwood Pharmaceuticals, Irras, ISA Pharmaceuticals, iSense CGM, ISIS Innovation, Isogenica, Isoprene Pharmaceuticals, Italfarmaco, iTeos Therapeutics, ITM Isotopen Technologien, Iveric Bio, Ivy Brain Tumor Center, Jacobio Pharmaceuticals, Janssen Biotech, Janssen Pharmaceuticals, Janssen Pharmaceutica NV, Janssen Research & Development, Jasper Therapeutics, Jazz Pharmaceuticals, JFE Engineering, Jiangsu Alphamab, Jiangsu Hengrui Medicine, Johns Hopkins Medicine (JHM), Johns Hopkins University, Johnson & Johnson, Johnson & Johnson Innovation, Joslin Diabetes Center, Jounce Therapeutics, Jubilant Therapeutics, Juno Therapeutics, Junshi Biosciences, Jupiter Orphan Therapeutics, Juventas Therapeutics, JW Therapeutics, KAHR Medical, Kainos Medicines, KAI Research, Kairos Therapeutics, Kaiser Permanente, Kaken Pharmaceutical, Kalbe Genexine Biologics, Kallyope, KalVista Pharmaceuticals, Kansas State University, Kanyos, Karagen Pharmaceuticals, Karolinska Institute, Karolinska University Hospital, KDAc Therapeutics, Keck School of Medicine of USC, KemPharm, Kindred Bio, KineMed, Kineta, Kiniksa Pharmaceuticals, KinoPharma, Kite Pharma, Klaria, Knopp Biosciences, Know Labs, Kochoptik, KSF Acquisition, KSQ Therapeutics, Kubota Vision, Kymab, Kymera Therapeutics, Kyn Therapeutics, Kyowa Hakko Kirin, Laboratoires Thea, Laborie Medical Technologies, La Jolla Pharmaceutical, Lantern Pharma, Lantheus Medical Imaging, Lead Discovery Center, Leap Therapeutics, Lee Moffitt Cancer Center, Leidos, Leon-nanodrugs, LEO Pharma, Les Laboratoires Servier, Lexicon Pharmaceuticals, LFB Biotechnologies, LG Life Sciences, LianBio, Ligand Pharmaceuticals, Light Chain Bioscience, Lineage Cell Therapeutics, Linnaeus Therapeutics, Lipidor, Lockheed Martin, LogicBio Therapeutics, Lonza, Ludwig Institute for Cancer Research, Luminary Therapeutics, Luminostics, Lumos Pharma, Lunenfeld-Tanenbaum Research Institute, Lung Biotechnology, Lunit, Lupin Limited, Lupus Therapeutics, Lycera, Lynkogen, Lysogene, MabVax Therapeutics, Machavert Pharmaceuticals, Macrogenics, Magenta Therapeutics, Magle Chemoswed, MAIA Biotechnology, Mallinckrodt Pharmaceuticals, Mannin Research, Masimo, Massachusetts General Hospital, Matinas Biopharma, Mauna Kea Technologies, Maverick Therapeutics, MaveriX Oncology, Max-Planck, Mayo Clinic, Mayo Foundation for Medical Education and Research, MBI, MD Anderson Cancer Center, MD Matrix, MDRM Group (Canada), MedGenesis Therapeutix, Medgenics, Medherant, Medical Prognosis Institute, Medical Technology Enterprise Consortium, Medical University South Carolina, MediciNova, Medidata Solutions, Medifocus, MediGene, MedImmune, MED Institute, Medizone International, MEI Pharma, Memorial Sloan Kettering Cancer Center, Merck and Co, Merck KGaA, Merck Serono, Merck Sharpe & Dohme, Mereo BioPharma, Merus, Mesoblast, Metagenomi, Methodist Hospital Houston, MetVital, Mezzion Pharma, Microbiotica, Micron Biomedical, Midatech, Millennium, Millipede, MiNA Therapeutics, MiniVax, Minneapolis Medical Research Foundation, Mirati Therapeutics, miR Scientific, Mitokinin, Mitsubishi Tanabe Pharma, MockV Solutions, Moderna Therapeutics, Modern Mobility Aids, Modulus Discovery, Molecular Partners, Molecular Templates, Moleculin Biotech, Momenta Pharmaceuticals, Monopar Therapeutics, Monsanto, Morphic Therapeutic, MorphoSys, Morphotek, Mount Sinai Health System, MSD, MultiCell Immunotherapeutics, Multimmune, Mundipharma, Munich Technical University, Murdoch Childrens Research Institute, MyBiotics Pharma, Mylan Laboratories, Mymetics, Myonexus Therapeutics, Myovant Sciences, Myriad Genetics, Nanobeak, Nanobiotix, Nanoform, NanoString Technologies, NanoViricides, NantBioScience, Nantes University, NantPharma, Nanyang Technological University, Natera, National Cancer Institute, National Center for Tumor Diseases, National Comprehensive Cancer Network (NCCN), National Eye Institute, National Heart, Lung and Blood Institute, National Institute of Allergy and Infectious Diseases, National Institute of Neurological Disorders and Stroke, National Institute on Alcohol Abuse and Alcoholism (NIAAA), National Institute on Drug Abuse (NIDA), National Institutes of Health, National Institutes of Health Center for Regenerative Medicine, Nationwide Children's Hospital, Navidea Biopharmaceuticals, Navitor Pharmaceuticals, NBE Therapeutics, NEC, Nektar Therapeutics, Nelum Pharma, Nemucore Medical Innovations, NeoDynamics, NeoImmuneTech, Neomed Institute, Neon Therapeutics, Neovacs, Nestle Health Science, Netherlands Cancer Institute, Neumentum, NeuMoDx Molecular, Neurgain Technologies, Neurocrine Biosciences, Neurogene, NeuroRx, NeuroSigma, NeuroVive Pharmaceutical, Nevada Center For Behavioral Health, New England Research Institutes, New York Presbyterian/Columbia, New York State, NextCure, Nextera, NGM Biopharmaceuticals, Nicox, Nihon Medi-Physics, Nimble Therapeutics, Nimbus Therapeutics, Nodality, Noile-Immune Biotech, Nordic Nanovector, Nordion, NorthBay Healthcare, North Carolina State University, Northern Biologics, Northwestern University, NovaMedica, Novartis, Novellus Therapeutics, Novo Nordisk, Novozymes Biopharma, Noxxon Pharma, Nrgene, Nuance Pharma, Nuevolution, Nuformix, NuGene International, Numab, Nuo Therapeutics, Nurix, NYU Grossman School of Medicine for Preclinical and Clinical Research, Obsidian Therapeutics, Ocular Therapeutics, Ohara Pharma, Ohr Pharmaceuticals, OKYO Pharma, Olema Oncology, OliX Pharmaceuticals, Omeros, Oncoceutics, Oncodesign, OncoImmune, Oncology Venture, OncoSec Medical, Oncosynergy, OnDosis, One Way Liver Genomics (OWL), OnKure, Ono Pharmaceutical, Ophthotech, OPKO Health, OptiBiotix, Oraxion Therapeutics, Orbis, Orbit Biomedical, Orca Pharmaceuticals, Orchard Therapeutics, Oregon Health Sciences University, ORFLO Technologies, Organic Vaccines, Organogenesis, Orion, Orthofix, Ortoma, OSE Immunotherapeutics, Ossianix, Oswaldo Cruz Foundation (Fiocruz), Otsuka, Ovensa, Oxford BioMedica, Oxford BioTherapeutics, Oxford Genetics, Oxford Nanopore Technologies, Oxis Biotech, Oxurion, Pacific Edge Biotechnology, Pairwise Plants, Pandion Therapeutics, Panion, Panther Biotechnology, Papyrus Therapeutics, Parion Sciences, Pascal Biosciences, Passage Bio, Path BioAnalytics, Pathogen and Microbiome Institute, PDC*line Pharma, PEAR Therapeutics, PellePharm, Pepsico, PeptiDream, PeptiMimesis, PerkinElmer, Pfenex, Pfizer, Pharmacyclics, PharmaEngine, PharmaIN, PharmaJet, Pharmatech, Pharming Group, Pherin Pharmaceuticals, Philogen, Phio Pharmaceuticals, PhoreMost, Phosplatin Therapeutics, Phylogica, PhysIQ, PhytoTech Medical, PierianDx, Pieris, Pierre Fabre, Pionyr Immunotherapeutics, Piqur Therapeutics, Plant Bioscience Limited, Polyphor, Potenza Therapeutics, Precision BioSciences, Prek Leap National Institute of Agriculture in Phnom Penh, Premune, Prevail Therapeutics, PreveCeutical Medical, Prime Therapeutics, ProBioGen, Prokarium, Pronutria, Proscia, Protagonist Therapeutics, Protein Sciences, Proteomics International, Prothelia, Prothena Biosciences, Provista Diagnostics, pSivida, Puerto Rico Government, Pulmatrix, Pulmonox, Puma Biotechnology, Purdue Pharma, Puregraft, Puridify, PvP Biologics, Q BioMed, QBiotics, Qiagen, QT Vascular, Quad Technologies, Qualigen, QuantalRF, Quark Venture, Quartet Medicine, Quebec Consortium for Drug Discovery, Queensland Institute of Medical Research (QIMR), Quotient Clinical, QureTech Bio, R-Pharm, Rafael Pharmaceuticals, Ragon Institute, Rani Therapeutics, Rappaport Research Institute, Raptor Pharmaceutical, Recce Pharmaceuticals, Recursion, RedHill Biopharma, Redx Pharma, RefleXion Medical, Regeneron Pharmaceuticals, Regenerx, Regenesys, Regenxbio, ReGenX Biosciences, Regulus Therapeutics, Relay Therapeutics, Relief Therapeutics, RenalytixAI, ReNeuron, Reproductive Medicine Associates of New York, Resolution Bioscience, Respicardia, RespireRx Pharmaceuticals, RESprotect, Resverlogix, Retrophin, Revitope Oncology, ReviveMed, Revive Therapeutics, rEVO Biologics, RevoluGen, Revolution Medicines, Rexahn Pharmaceuticals, Rheos Medicines, Ribometrix, Robert H. Lurie Comprehensive Cancer Center, Roche, Roche Molecular Systems, Rocket Pharmaceuticals, Rockwell Medical, Rodin Therapeutics, Rohto Pharmaceutical, Roivant Sciences, Romer Labs, Rosetta Genomics, Roswell Park Cancer Institute, Rugen Therapeutics, Rumpus Therapeutics, RXi Pharmaceuticals, Ryvu Therapeutics, SAB Biotherapeutics, Salix Pharmaceuticals, Salud Digna, SAMIL Pharm, Samsung Bioepis, Samyang Biopharmaceuticals, Sandoz, Sangamo BioSciences, Saniona, San Martino Hospital, Sanofi, Sanofi-Aventis, Sanofi-Pasteur, San Raffaele Scientific Institute, San Raffaele Telethon Institute for Gene Therapy, Santaris Pharma, Santen Pharmaceutical, Santhera Pharmaceuticals, Sarepta Therapeutics, Scholar Rock, Schrodinger, SciClone Pharmaceuticals, Scintomics, Scipher Medicine, ScreenCell, Scripps Research Institute, Scripps Translational Science Institute, Seattle Genetics, Secarna Pharmaceuticals, Second Genome, Selecta Biosciences, SemaThera, Senda Biosciences, Senexta, Senju Pharmaceutical, Senomyx, Sensorion, Sentinel Oncology, Sequenom, Seres Therapeutics, Serum Institute of India, Seven and Eight Biopharmaceuticals, Sevion Therapeutics, Shanghai Fosun Long March Medical Science, Shattuck Labs, Shenzhen Chipscreen Biosciences, Shenzhen Hepalink Pharmaceutical, Shin Nippon Biomedical Laboratories, Shionogi, Shionogi Pharma, Shire Pharmaceuticals, Siamab Therapeutics, Siemens, Signet International, Signet Medical Solutions, Silo Pharma, Singapore Immunology Network, Singapore Institute of Advanced Medicine, SiO2 Medical Products, Sirenas, Sirona Genomics, Sirtex Medical, SK Biopharmaceuticals, SkyePharma, Skyhawk Therapeutics, Small Business Innovation Research, Societatea Nationala Nuclearelectrica, SolaranRx, Solid Biosciences, Sorin Group, Sorrento Therapeutics, Sosei, Sosei Heptares, SOTIO, Spark Therapeutics, Specialised Therapeutics, Spectral Medical, Spencer Health Solutions, Spero Therapeutics, Spherix, Sphingotec, SpineThera, Spring Bank Pharmaceuticals, SpringWorks Therapeutics, Squalan Natural Health, St. Jude Children's Research Hospital, Stahl, Stallargenes, Stanford University, Starpharma, Staten Biotechnology, STC.UNM, Stealth Therapeutics, StemoniX, St George Street Capital, Strand Therapeutics, Strategic Science and Technologies, StrideBio, Sucampo Pharmaceuticals, Sumitovant Biopharma, Summit Therapeutics, SunTech Medical, Supernus Pharmaceuticals, SurePure, Surface Oncology, Sutro Biopharma, Suzhou NeuPharma, Swedish Orphan Biovitrum, Symphogen, Symvivo, Synaffix, Syndax Pharmaceuticals, Synlogic, Synthetic Biologics, Synthetic Genomics, Syros Pharmaceuticals, Taiho, Taisho Pharmaceutical, Taiwan Liposome Company, Takeda Pharmaceutical, Takeda Ventures, Talem Therapeutics, Talix Therapeutics, Tamarack Biotics, Tango Therapeutics, TapImmune, Targacept, Targovax, Taxus Cardium Pharmaceuticals, Taysha Gene Therapies, TB Alliance, Techcomp, Technology University Dresden, Teijin, Tekmira Pharmaceuticals, Tel Aviv University, Teleflex, Telix Pharmaceuticals, Temple University, TeneoBio, TeneoOne, Terumo BCT, Tesaro, Tetra Bio-Pharma, Tetra Discovery Partners, Tetragenetics, Teva Pharmaceutical Industries, Texcell, TFF Pharmaceuticals, The Parker Institute For Cancer Immunotherapy, Theragnostics, Therapeia, Therapix Bio, Theravance, Thermo Fisher Scientific, Thomas Jefferson University, TiGenix, Titan Pharmaceuticals, Tiziana Life Sciences, Tizona Therapeutics, T Med, TNI Medical, Todos Medical, TONIX Pharmaceuticals, Torii Pharmaceutical, Torque Therapeutics, TRACON Pharmaceuticals, TransBio, Transgene, Transgenomic, Transition Therapeutics, Transparency Life Sciences, Trefoil Therapeutics, Trevena, Trio Pharmaceuticals, Triphase Accelerator, TriReme Medical, Trizell, True North Laboratory, TScan Therapeutics, Tsinghua University, Tubulis, Tufts Medical Center, Tufts University, Turnstone Biologics, TxCell, Tyme Technologies, Tyris Therapeutics, Ubiquigent, UbiVac, Ultragenyx Pharmaceuticals, UMN Pharma, Uni-Bio Science, Unilife, UNION Therapeutics, UniQuest, UnitedHealth, United Therapeutics, Universite catholique de Louvain, Universite Laval, University College London, University Gottingen, University Medical Center Groningen, University Medical Center Hamburg-Eppendorf, University of Bonn, University of California Los Angeles, University of California San Francisco, University of Chicago, University of Cincinnati, University of Colorado, University of Connecticut, University of Edinburgh, University of Florida, University of Florida Research Foundation, University of Guelph, University of Houston, University of Illinois at Chicago, University of Kentucky, University of Lausanne, University of Leipzig, University of Louisville, University of Maryland Baltimore, University of Maryland Ventures, University of Massachusetts, University of Massachusetts, Amherst, University of Massachusetts Medical School, University of Melbourne, University of Miami, University of Michigan, University of Minnesota, University of Montreal, University of Nevada, University of New Mexico, University of Oxford, University of Pennsylvania, University of Pittsburgh, University of Rochester, University of Sydney, University of Texas Medical Branch, University of Texas Southwestern Medical Center, University of Toronto, University of Tubingen, University of Washington, University of Wisconsin, UroGen Pharma, Urotronic, Urovant Sciences, US Army, US Army Medical Research Institute of Chemical Defense, US Army Medical Research Institute of Infectious Diseases, US Department of Veteran Affairs, US Veterans Administration, UWM Research Foundation, Vaccinex, Valencell, Valens GroWorks, Valneva, Valo Therapeutics, Vantage Health, Vasomune Therapeutics, Vaxart, Vaximm, VDM Biochemicals, Vect-Horus, Vectura, Vedanta Biosciences, Velo Bio, Ventana Medical Systems, VentiRx Pharmaceuticals, Verastem, Verrica Pharmaceuticals, Versant Ventures, Vertex Pharmaceuticals, ViaCyte, Vifor-Fresenius Medical Care Renal Pharma Ltd, Vifor Pharma, Vinnova, Vipergen, Virax, Vir Biotechnology, Viroclinics Biosciences, VistaGen Therapeutics, Visterra, Vitae Pharmaceuticals, Vitaeris, VitalConnect, Vital Therapies, Vitrisa Therapeutics, Vivace Therapeutics, Vivaldi Biosciences, Vivet Therapeutics, Vivione Biosciences, Vivior, vivoPharm, Vivoryon Therapeutics, Vivus, Volpara Solutions, Voluntis, Vor Biopharma, Voyager Therapeutics, Vyriad, Washington University in St Louis, WAVE Life Sciences, Weill Cornell Medical College, Weizmann Institute, Western Oncolytics, Westport Bio, WinterLight Labs, Wistar Institute, Women & Infants Hospital of Rhode Island, Worldwide Clinical Trials, X-chem, Xencor, Xenon Pharmaceuticals, XERIS Pharmaceuticals, Xoma, Y-Biologics, Yale University, Yeda Research and Development Company, Yissum Research Development, Yonsei University Severance Hospital, YouHealth Eyetech, ZAI Laboratory, ZappRx, Zealand Pharma, ZebiAI Therapeutics, Zentalis Pharmaceuticals, Ziopharm Oncology, Zoetis, Zomedica, Zosano Pharma, Zymeworks
Current Partnering reports provide insight into the trends and terms of partnering deals in the global life sciences sector.
Current Partnering reports are updated every six months to ensure the user has access to the latest announcements and trends in the topic focus of the report.
Current Partnering analysts review the deal data to provide an overview and analysis of deal trends, including example deals and terms.
Current Partnering reports source deal data from our proprietary deals and alliances database, Current Agreements. The database is updated daily by our analysts with new deals as they are announced globally by the company's party to the deal. In addition, deal records are updated with new data as it becomes available.
The data in the Current Agreements deals and alliances database is obtained from secondary sources such as publicly available industry sources including press releases, company presentations, investor presentations, company SEC filings, other company filings, company websites, conference presentations. Sources are identified to allow for user verification.
Current Partnering provides comprehensive coverage of the following partnering or deal types:
• Asset purchase
• Assignment
• Co-development
• Co-market
• Co-promotion
• Collaborative R&D
• Contract service
• CRADA
• Cross-licensing
• Development
• Distribution
• Equity purchase
• Evaluation
• Grant
• Joint venture
• Licensing
• Loan
• Manufacturing
• Marketing
• Option
• Promotion
• Research
• Royalty financing
• Settlement
• Spin out
• Sub license
• Supply
• Termination
• Warrant
Every deal record is fully categorized and includes the following data, where available:
• Industry sector
• Therapy areas
• Technology type
• Deal components
• Financial terms
• Stage of development
• Exclusivity
• Asset type
• Geographic focus
• Excluded geography
• Company press release
• SEC filing data including contract document
All financial amounts are converted to US$ using the exchange rate available on the date of deal announcement, enabling direct comparison of deal terms across international territories.
Financial data and contract documents displayed in deal records is obtained from public sources, where disclosed by the parties to the deal.
We found other products you might like!