Global Oncology Partnering 2017-2022: Deal trends, players and financials
The Global Oncology Partnering 2017-2022: Deal trends, players and financials report provides comprehensive understanding and unprecedented access to the oncology/cancer partnering deals and agreements entered into by the worlds leading healthcare companies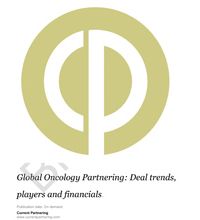 Publication date
June 2022
Product type
Research report
Available formats
PDF document
The Global Oncology Partnering 2017-2022: Deal trends, players and financials report provides an understanding and access to the oncology partnering deals and agreements entered into by the worlds leading healthcare companies.
Trends in Oncology partnering deals
Financial deal terms for headline, upfront and royalty by stage of development
Oncology partnering agreement structure
Oncology partnering contract documents
Top Oncology deals by value
Most active Oncology dealmakers
The report provides a detailed understanding and analysis of how and why companies enter oncology partnering deals. The majority of deals are development stage whereby the licensee obtains a right or an option right to license the licensors oncology technology. These deals tend to be multicomponent, starting with collaborative R&D, and commercialization of outcomes.
This report provides details of the latest oncology agreements announced in the healthcare sector.
Most of the deals included within the report occur when a licensee obtains a right or an option right to license a licensor's product or technology. More often these days these deals tend to be multi-component including both a collaborative R&D and a commercialization of outcomes element.
The report takes readers through the comprehensive Oncology disease deal trends, key players and top deal values allowing the understanding of how, why and under what terms companies are currently entering Oncology deals.
The report presents financial deal terms values for Oncology deals, where available listing by overall headline values, upfront payments, milestones and royalties enabling readers to analyse and benchmark the value of current deals.
The initial chapters of this report provide an orientation of Oncology dealmaking trends.
Chapter 1 provides an introduction to the report.
Chapter 2 provides an overview of the trends in Oncology dealmaking since 2017 covering trends by year, deal type, stage of development, technology type and therapeutic indication.
Chapter 3 includes an analysis of financial deal terms covering headline value, upfront payment, milestone payments and royalty rates.
Chapter 4 provides a review of the leading Oncology deals since 2017. Deals are listed by headline value. The chapter includes the top 25 most active Oncology dealmakers, together with a full listing of deals to which they are a party. Where the deal has an agreement contract published at the SEC a link provides online access to the contract.
Chapter 5 provides comprehensive access to Oncology deals since 2017 where a deal contract is available, providing the user with direct access to contracts as filed with the SEC regulatory authorities. Each deal title links via Weblink to an online version of the deal record contract document, providing easy access to each contract document on demand.
Chapter 6 provides a comprehensive directory of all Oncology partnering deals by specific Oncology target announced since 2017. The chapter is organized by specific Oncology therapeutic target. Each deal title links via Weblink to an online version of the deal record and where available, the contract document, providing easy access to each contract document on demand.
In addition, a comprehensive appendix is provided with each report of all Oncology partnering deals signed and announced since 2017. The appendices are organized by company A-Z, stage of development at signing, deal type (collaborative R&D, co-promotion, licensing etc) and technology type. Each deal title links via Weblink to an online version of the deal record and where available, the contract document, providing easy access to each contract document on demand.
The report also includes numerous tables and figures that illustrate the trends and activities in Oncology partnering and dealmaking since 2017.
In conclusion, this report provides everything a prospective dealmaker needs to know about partnering in the research, development and commercialization of Oncology technologies and products.
Understanding the flexibility of a prospective partner's negotiated deals terms provides critical insight into the negotiation process in terms of what you can expect to achieve during the negotiation of terms. Whilst many smaller companies will be seeking details of the payments clauses, the devil is in the detail in terms of how payments are triggered – contract documents provide this insight where press releases and databases do not.
This report contains a comprehensive listing of all oncology partnering deals announced since 2017 including financial terms where available including over 5,000 links to online deal records of actual oncology partnering deals as disclosed by the deal parties. In addition, where available, records include contract documents as submitted to the Securities Exchange Commission by companies and their partners.
Contract documents provide the answers to numerous questions about a prospective partner's flexibility on a wide range of important issues, many of which will have a significant impact on each party's ability to derive value from the deal.
Report scope
Global Oncology Partnering 2017-2022: Deal trends, players and financials is intended to provide the reader with an in-depth understanding and access to oncology trends and structure of deals entered into by leading companies worldwide.
Global Oncology Partnering 2017-2022: Deal trends, players and financials includes:
Trends in oncology dealmaking in the biopharma industry since 2017
Access to headline, upfront, milestone and royalty data
Comprehensive access to over 5,000 oncology deal records
Access to hundreds of oncology deal contract documents
The leading oncology deals by value since 2017
Most active oncology dealmakers since 2017
The report includes deals for the following indications: Oral mucositis, Cancer pain, Bone, Neuropathic, Muscular, Lymphoedema, Alopecia, Cachexia, Ulcers, Dysphagia, Tiredness, Weight loss, Nausea, Vomiting, Chemotherapy, Radiotherapy, Adenocarcinoma, Basal cell carcinoma, Bile duct cancer, Bladder cancer, Bone cancer, Brain cancer, Breast cancer, Cervical cancer, Colorectal cancer, Endometrial, Esophageal cancer, Gastric cancer, Head and neck cancer, Kaposi's sarcoma, Kidney cancer, Leukemia, Acute lymphoblastic leukemia, Acute myelogenous leukemia, Chronic lymphocytic leukemia, Chronic myelogenous leukemia, Liver cancer, Lung cancer, Small cell lung cancer, Non small cell lung cancer, Lymphoma, Hodgkin's lymphoma, Non Hodgkin's lymphoma, Melanoma, Mesothelioma, Metastases, Bone metastases, Multiple myeloma, Neuroblastoma, Non-melanoma skin cancer, Ovarian cancer, Pancreatic cancer, Prostate cancer, Renal cell carcinoma, Sarcoma, Solid tumors, Testicular cancer, Thyroid cancer, plus other oncology indicatons.
In Global Oncology Partnering 2017-2022: Deal trends, players and financials, the available deals are listed by:
Company A-Z
Headline value
Stage of development at signing
Deal component type
Specific therapy target
Each deal title links via Weblink to an online version of the deal record and where available, the contract document, providing easy access to each contract document on demand.
The Global Oncology Partnering 2017-2022: Deal trends, players and financials report provides comprehensive access to available deals and contract documents for over 5,000 oncology deals. Analyzing actual contract agreements allows assessment of the following:
What are the precise rights granted or optioned?
What is actually granted by the agreement to the partner company?
What exclusivity is granted?
What is the payment structure for the deal?
How are the sales and payments audited?
What is the deal term?
How are the key terms of the agreement defined?
How are IPRs handled and owned?
Who is responsible for commercialization?
Who is responsible for development, supply, and manufacture?
How is confidentiality and publication managed?
How are disputes to be resolved?
Under what conditions can the deal be terminated?
What happens when there is a change of ownership?
What sublicensing and subcontracting provisions have been agreed?
Which boilerplate clauses does the company insist upon?
Which boilerplate clauses appear to differ from partner to partner or deal type to deal type?
Which jurisdiction does the company insist upon for agreement law?
Global Oncology Partnering 2017-2022: Deal trends, players and financials provides the reader with the following key benefits:
In-depth understanding of oncology deal trends since 2017
Access to headline, upfront, milestone and royalty data
Comprehensive access to over 5,000 actual oncology deals entered into by the world's biopharma companies
Detailed access to actual oncology contracts enter into by biopharma industries
Insight into the terms included in a oncology agreement, together with real world clause examples
Understand the key deal terms companies have agreed in previous deals
Undertake due diligence to assess suitability of your proposed deal terms for partner companies
Executive Summary
Chapter 1 – Introduction
Chapter 2 – Trends in Oncology dealmaking
2.1. Introduction
2.2. Oncology partnering over the years
2.3. Oncology partnering by deal type
2.4. Oncology partnering by industry sector
2.5. Oncology partnering by stage of development
2.6. Oncology partnering by technology type
2.7. Oncology partnering by therapeutic indication
Chapter 3 –Financial deal terms for Oncology partnering
3.1. Introduction
3.2. Disclosed financials terms for Oncology partnering
3.3. Oncology partnering headline values
3.4. Oncology deal upfront payments
3.5. Oncology deal milestone payments
3.6. Oncology royalty rates
Chapter 4 – Leading Oncology deals and dealmakers
4.1. Introduction
4.2. Most active in Oncology partnering
4.3. List of most active dealmakers in Oncology
4.4. Top Oncology deals by value
Chapter 5 – Oncology contract document directory
5.1. Introduction
5.2. Oncology partnering deals where contract document available
Chapter 6 – Oncology dealmaking by therapeutic target
6.1. Introduction
6.2. Deals by Oncology therapeutic target
Appendices
Appendix 1 – Directory of Oncology deals by company A-Z since 2017
Appendix 2 – Directory of Oncology deals by deal type since 2017
Appendix 3 – Directory of Oncology deals by stage of development since 2017
Appendix 4 – Directory of Oncology deals by technology type since 2017
Further reading on dealmaking
Deal type definitions
About Wildwood Ventures
Current Partnering
Current Agreements
Recent report titles from CurrentPartnering
Table of figures
Figure 1: Oncology partnering since 2017
Figure 2: Oncology partnering by deal type since 2017
Figure 3: Oncology partnering by industry sector since 2017
Figure 4: Oncology partnering by stage of development since 2017
Figure 5: Oncology partnering by technology type since 2017
Figure 6: Oncology partnering by indication since 2017
Figure 7: Oncology deals with a headline value
Figure 8: Oncology deals with upfront payment values
Figure 9: Oncology deals with milestone payment
Figure 10: Oncology deals with royalty rates
Figure 11: Active Oncology dealmaking activity since 2017
Figure 12: Top Oncology deals by value since 2017
Pricing options
$3,995: single-user
$5,745: multi-user
$10,995: single site license
$17,995: global site license
A full explanation of license type definitions can be found here.
Our guarantee
Price promise
We guarantee our prices are competitive. If you find the same report advertised at a lower price within 7 days of purchase, we will refund the difference.
Delivery Deadline
We guarantee that the report will be sent within the specified delivery times. In the unlikely case of a delay we may offer a partial refund as compensation. (Terms may apply)
Latest report
If an update is published within 30 days of your purchase, you will receive it absolutely free of charge.
Serious Security
We take your data and security seriously. See our privacy policy for details of how we manage your data.
All card payments are processed by SagePay.
Sales Support
If you have any questions about your report or are unhappy with the quality, we will do our best to resolve your query. Contact us direct.
Total Trust
Current Partnering is part of Wildwood Ventures Ltd., based in York, United Kingdom. We have been trading successfully online since 2009 and work with some of the most famous brands in the business. We carefully select our partners to ensure that the publications meet expectations of demanding customers.
1ST Biotherapeutics, 2bPrecise, 2cureX, 2seventy bio, 2X Oncology, 3B Pharmaceuticals, 3D Medicines, 3P Biopharmaceuticals, 3SBio, 4baseCare, 4C Biomed, 4D Path, 4D Pharma, 5AM Ventures, 7 Hills Pharma, 9 Meters Biopharma, 48Hour Discovery, 111, 1717 Life Science Ventures, A*STAR Bioinformatics Institute, A*STAR Singapore Immunology Network, A*STAR' Institute of Molecular and Cell Biology, A-Alpha Bio, A2 Biotherapeutics, A2A Pharmaceuticals, Aadi Bioscience, Aarvik Therapeutics, Abbisko Therapeutics, Abbvie, Abcam, AbCellera, Abcuro, Abdul Latif Jameel Health, Abexxa Biologics, Abilita Bio, Abingworth Management, Abintus Bio, Ablaze Pharmaceuticals, ABL Bio, Ab Magnitude Ventures, Abound Bio, Abpro, Abramson Cancer Center, AbSci, ABVC BioPharma, Abveris, ABX, Abzena, Academia Sinica, Academic and Community Cancer Research United, AC Bioscience, Accelerate Brain Cancer Cure, Accent Therapeutics, Accenture, Access to Comprehensive Genomic Profiling Coalition, Accord Healthcare, Accudata Systems, Accuray, ACEA Biosciences, ACEA Therapeutics, Acentrus Specialty, Acepodia, Acerand Therapeutics, Acerta Pharma, Aceso Life Science, Achilles Therapeutics, Acibadem University, Acino Pharma, Acoustic MedSystems, Acrivon Therapeutics, Acrotech Biopharma, Actelion, ACT Genomics, Actimed Therapeutics, Actinium Pharmaceuticals, Actuate Therapeutics, Actym Therapeutics, Acucela, Acuitas Therapeutics, Acuity Pharmaceuticals, Acupath Laboratories, Adagene, AdAlta, Adamis Pharmaceuticals, Adaptate Biotherapeutics, Adaptiiv, Adaptimmune, Adaptive Biotechnologies, AdaptVac, ADC Therapeutics, Addario Lung Cancer Medical Institute, Adgero Biopharmaceuticals, Adicet Bio, ADIENNE Pharma & Biotech, Adimab, Adium Pharma, Adlai Nortye, AdoRx Therapeutics, ADT Pharmaceuticals, Adult Brain Tumor Consortium, Aduro BioTech, Advaite, AdvaMed, Advanced Accelerator Applications, Advanced BioScience Laboratories, Advanced Dermatology and Cosmetic Surgery Group, Advanced Nuclear Medicine Ingredients, Advanced Proteome Therapeutics, Advanced Radiation Therapy, Advanz Pharma, Advaxis, Aeglea BioTherapeutics, Aerpio Pharmaceuticals, Aethlon Medical, Aetion, Aetna, AffaMed Therapeutics, Affigen, Affimed Therapeutics, Affinia Therapeutics, Again Life Italia, Agalimmune, AGC Biologics, Agena Bioscience, Agencja Badan Medycznych, Agendia, Agenus Bio, AgeX Therapeutics, Agilent Technologies, Agilvax, Agios Pharmaceuticals, AG Mednet, AgonOx, AiCure, Aidence, Aidoc, Aiforia Technologies, AIkido Pharma, Aileron Therapeutics, AimedBio, AIMM Therapeutics, Aion Therapeutic, AirXpanders, Ajax Therapeutics, Ajinomoto, Akeso Biopharma, Akoya Biosciences, Akrevia Therapeutics, AKSO Biopharmaceutical, Albany Medical College, Albert Einstein College of Medicine, Alcami, Alcedis, Alchemab, Aldevron, Alector, Aleta Biotherapeutics, Alex's Lemonade Stand Foundation, Alibaba Health, Alkermes, ALK Positive, All4Cure, Allarity Therapeutics, Allcure Kangtai Proton Technology, Allcyte, Allegheny General Hospital, Allelica, Allergan, Alliance For Cancer Care, Alliance for Cancer Gene Therapy, Alliance For Clinical Trials In Oncology, Alliance Global FZ, Alliance Global Group, Alligator Bioscience, Allist Pharma, Allogene Overland Biopharm, Allogene Therapeutics, Alloplex Biotherapeutics, Alloy Therapeutics, Ally Bridge Group, Almac Diagnostics, Almac Discovery, Almac Group, Almirall, Alopexx, Alpha Biopharma, Alpha Cancer Technologies, Alphageneron Pharmaceuticals, Alpha Imaging, Alphamab Biopharmaceuticals, Alphamab Oncology, Alpha Tau Medical, Alpine Immune Sciences, Altavant Sciences, Alteogen, Altimmune, Altor BioScience, Altum Pharmaceuticals, Altus Formulation, Alvaxa Biosciences, Alverno Clinical Laboratories, Alvogen, Alvotech, ALX Oncology, Amal Therapeutics, Amaran Biotechnology, Amasa Therapeutics, Amber Pharmacy, Ambrx, Ambry Genetics, amcure, America's Choice Provider Network, American Association for Cancer Research, American Brain Tumor Association, American Cancer Society, American College of Radiology, American Dental Association, American Health Imaging, American Lung Association, American Oncology Network, American Preclinical Services, American Sexual Health Association, American Skin Association, American Society of Clinical Oncology (ASCO), American Society of Hematology, AmerisourceBergen, Amgen, Amneal Pharmaceuticals, Amoy Diagnostics, Amphista Therapeutics, Amplitech, Amunix, Anaeropharma, Analytical Biological Services, Anchiano Therapeutics, AnchorDx, Angiex, Angiochem, Angiodynamics, Angiogenesis Foundation, Angle, Angsana Molecular & Diagnostics, AnHeart Therapeutics, Animal Life Sciences, ANI Pharmaceuticals, Anivive Lifesciences, Anixa Biosciences, Anji Pharma, Anju Software, Ankarys Therapeutics, Ankyra Therapeutics, Annias Immunotherapeutics, Anova Enterprises, Anpac Bio-Medical Science, ANP Technologies, Antengene, Anthem, Anthony Nolan, Antigen Express, Antikor Biopharma, Antisoma Therapeutics, Apceth, APC Therapeutics, Apeiron Biologics, Apexigen, APG Bio, Apobiologix, ApolloBio, Apollo Healthcare, Apollo Hospitals Group, Apollomics, Apollon Formularies, Appia Bio, Applied BioMath, Applied Cells, Applied DNA Sciences, Applied StemCell, Aprea, Apricity Health, AptaBio Therapeutics, Aptamer Therapeutics, Aptarion biotech, Aptevo Therapeutics, Aptorum Group, Aptose Biosciences, Aqemia, Aqilion, Aquila BioMedical, Aratana Therapeutics, Aravive Biologics, Arbor Biotechnologies, ArcherDX, Arch Oncology, ARCH Personalized Medicine Initiative, Arc Medical Design, ARC Therapeutics, Arctoris, Arcus Biosciences, Ardeagen, Ardena, Arecor, Areva Med, argenx, Ariad Pharmaceuticals, Arix Bioscience, Arizona State University, Armas Pharmaceuticals, Arno Therapeutics (inactive since 2017), AroCell, Aromics, Arquer Diagnostics, ArQule, Array Biopharma, ArriVent Biopharma, Arrow Diagnostics, Arrys Therapeutics, ArsenalBio, Artelo Biosciences, Arthrosi Therapeutics, Artios Pharma, Artiva Biotherapeutics, ARTMS Product, Arvinas, Asahi Kasei, Ascelia Pharma, Ascendent Capital Partners, Ascentage Pharma, Asher Biotherapeutics, Ashion Analytics, Asieris MediTech, AskAt, AskGene Pharma, Aslan Pharma, Aspen Global, ASPiRA Labs, Assistance Publique-Hôpitaux de Paris, Astellas Pharma, Astellas Pharma US, Astex Pharmaceuticals, AstraZeneca, Astrea Bioseparations, Asylia Therapeutics, Asymchem Laboratories, Asys, Atara Biotherapeutics, Atbtherapeutics, aTen Therapeutics, Athenex, Atlab Pharma, Atlante Biotech, Atlas Antibodies, Atnahs Pharma, Atomwise, Atonco, ATP, Atrapos Therapeutics, Atreca, Atrin Pharmaceuticals, Atropos Therapeutics, aTyr Pharma, Aulos Bioscience, AUM Biosciences, AUM Biotech, Aura Biosciences, Auransa, Aurelius Biotherapeutics, Aurigene Discovery Technologies, Auron Therapeutics, AusHealth, Austin Cancer Center, Australian Nuclear Science and Technology Organisation, Australian Research Data Commons, Autolomous, Autolus, Autotelic BIO, Avacta, AvantGen, Avantis Medical Systems, Avatamed, Avectas, AVEO Oncology, Avera Health, Avidea Technologies, Avrobio, AXIM Biotechnologies, Axis Therapeutics, Ayala Pharmaceuticals, Azanta, Azaya Therapeutics, Azos Bio, AZ Sint Lucas Hospital, Azzur Group, B-MoGen Biotechnologies, Babraham Institute, Bach Biosciences, Baheal Pharmaceutical, Baili Biopharmaceutical, BAKX Therapeutics, Bank of China Group Investment, Banner Health, Baptist Health Care, Barbara Ann Karmanos Cancer Institute, Barer Institute, Barrow Neurological Institute, Basilea Pharmaceutica, Bausch & Lomb, Bavarian Ministry for Economic Affairs and Media, Energy and Technology, Bavarian Nordic, Baxalta, Baxter International, Bayer, Baylor College of Medicine, Baylor Genetics, Baylor Scott and White Research Institute, BC Cancer Agency, BC Platforms, Beactica, Beam Therapeutics, Beartooth Therapeutics, Bebig, BEC, Becton Dickinson, BeiGene, Beijing InnoCare Pharma, Beijing Tide Pharmaceutical, Beijing Yuan Jian Health Management, Belgian Society of Medical Oncology, Bellicum Pharmaceuticals, Bendalis, BE Pharmaceuticals, BerGenBio, Berlin Chemie, Beroni Group, Berry Oncology, Best Medical International, Be The Match BioTherapies, Beth Israel Deaconess Medical Center, Bethyl Laboratories, Betta Pharmaceuticals, Beyondspring Pharmaceuticals, BGI, BGI Americas, BGN Technologies, Bicycle Therapeutics, Binex, Bio-Cancer Treatment International, Bio-Manguinhos/Fiocruz, Bio-Techne, Bio-Thera Solutions, bioAffinity Technologies, BioAgilytix, Bioarchitech, BioArdis, biOasis Technologies, BioAtla, Biobot Surgical, BioCanRx, Biocare Medical, Biocartis, Biocept, Biocerna, Biocon, BioCopy, BioCure, BiocurePharm, Biocytogen, Biodesix, BioDuro, BioEclipse Therapeutics, BioEleven, BioElpida, Biofidelity, BioFluidica, Biofourmis, BioGemex, BioGenetics, Biognosys, Biohaven Pharmaceuticals, Biohealth Innovation, BioIntelliSense, BioInvent, BioIQ, BioKey, Biokinesis, Biokin Pharmaceutical, Biokosmos, Biolidics, BioLife Solutions, BiolineRX, BioLizard, Biological Dynamics, Biologics, Biolojic Design, BioMark Diagnostics, Biomarker Collaborative, BioMarker Strategies, Biomedical Primate Research Centre, BioMed Realty Trust, BioMed Valley Discoveries, BIOMEDX Group, BioMed X Innovation Center, Biomica, Biomm, Biomunex Pharmaceuticals, BioNano Genomics, Bionaut Labs, Bioncotech Therapeutics, Biond Biologics, Bionetix, Bionical, Bionix, Bioniz Therapeutics, Bionomics, BioNova Pharmaceuticals, BioNTech, Biortus Biosciences, Biosceptre International, Bioscience, Bioscience Oncology, Biose Industrie, BioSense Global, BioSight, Biosion, BioSkryb, Biosplice, BioSyntagma, BioTheranostics, Biothera Pharmaceuticals, Biotheus, Biotoscana Farma, BioVaxys, Bioventure MDC, Biovica, BioVie, BioXcel, Bioyong, Bird Foundation, Birdie Biopharmaceuticals, Bixink Therapeutics, BJ Bioscience, BL&H, Black Diamond Therapeutics, Blackford, Blacksmith Medicines, Blackstone, Blanver, Bliss Biopharmaceutical, Blockchain Global, Bloom Science, Bluebee, Bluebird Bio, Bluebridge Technologies, Blue Buffalo Company, Blue Cross Blue Shield Association, BlueCross BlueShield of Tennessee, Blue Earth Diagnostics, Bluelink Pharmaceuticals, Blue Note Therapeutics, Blueprint Medicines, Blue Wolf Capital Partners, BMG Pharmaceuticals, BodeVet, BodyCheck, Boehringer Ingelheim, Bold Therapeutics, Bolt Biotherapeutics, Bone Therapeutics, Bonnie J. Addario Lung Cancer Foundation, Bon Secours Health System, Boryung Pharmaceutical, Boston Biomedical, BostonGene, Boston Immune Technologies and Therapeutics, Boston Pharmaceuticals, Boston Scientific, Boston University, Bpifrance, Bracco Imaging, BrainLAB, Brainomix, Brain Science Foundation, Breath Diagnostics, BriaCell Therapeutics, BridgeBio Pharma, Bridge Medicines, BridGene Biosciences, Brigham and Women's Hospital, BrighGene Biomedical, Bright Peak Therapeutics, Bristol-Myers Squibb, Bristol-Myers Squibb Foundation, Bristol-Myers Squibb Pakistan, Broad Institute, Brooklyn ImmunoTherapeutics, Brooks Automation, Broome Oncology, Brown University, Bruce Power, Bruker, BryoLogyx, BSP Pharmaceuticals, BTG, Bukwang Pharmaceuticals, Burning Rock, Button Capital, BVF Partners, BWXT Medical, BYOMass, Byondis, C-Bridge Capital, C-RAD, C-Tri, C2i Genomics, C3i, C4 Therapeutics, C4X Discovery, Caladrius Biosciences, Calidi Biotherapeutics, Califia Pharma, California Institute for Biomedical Research, California Institute for Regenerative Medicine, Caligor, Calithera Biosciences, Calliditas Therapeutics, Calvert Research, Calviri, Camargo Pharmaceutical Services, Cambridge Cancer Genomics, Cambridge Epigenetix, Cambridge Quantum Computing, Canadian Cancer Society, Canadian Cancer Trials Group, Canadian Institutes of Health Research, Canadian Nuclear Laboratories, Canaf Therapeutics, Canary Oncoceutics, CANbridge Pharmaceuticals, Cancer and Blood Specialty Clinic, Cancer Australia, CancerCare, Cancer Focus Fund, Cancer Genetics, Cancer Hospital Chinese Academy of Medical Sciences, CancerLinQ, Cancer Prevention and Research Institute of Texas, Cancer Prevention Pharmaceuticals, Cancer Research Institute, Cancer Research UK, Cancer Science Institute of Singapore, Cancer Targeted Technology, CancerVax, CanCure, Candel Therapeutics, Canexia Health, Cannabics Pharmaceuticals, Cannabis Science, CannaKids, Cannomed Medical Cannabis Industries, Canopy Biosciences, CanProbe, Cantargia, Cantex Pharmaceuticals, Capella Bioscience, Capital X-ray, CapNostics, Capsulomics, Cardiff International, Cardiff Oncology, Cardiff University, Cardinal Health, Care Access Research, Care GB Plus, Caribou Biosciences, Carina Biotech, Caris Life Sciences, Carisma Therapeutics, Carna BioSciences, Carolina BioOncology Institute, Carrick Therapeutics, CarThera, Cartherics, Cascadian Therapeutics, Casebia Therapeutics, Case Western Reserve University, CASI Pharmaceuticals, Castle Biosciences, Catalent, Catalyst Clinical Research, Catalyst Pharmaceutical Partners, Catholic University Leuven, CBD Vida, CBT Pharmaceuticals, CDH Capital, CDI Laboratories, CDISC, CDR-Life, CDx Diagnostics, Ceapro, Cedars-Sinai Medical Center, Cedilla Therapeutics, CEITEC, Celcuity, Celdara Medical, Celgene, Cell&Soft, CellAct, Cellares, Cellaria Biosciences, Cellectar Biosciences, Cellect Biotechnology, Cellectis, Cellenkos, Cellerant Therapeutics, Cellesce, Cellevolve Bio, Cellgen Diagnostics, CELLINK, Cellkey, CellMark Medical, CellMax Life, Cell Medica, Cell Mogrify, Cellpath, Cell Point, CellSight Technologies, Cellth Systems, Celltrion, Cellular Biomedicine, Cellworks, Celsee, Celsius Therapeutics, Celularity, Celyad, Cend Therapeutics, Centene, Center for Biomarker Research in Medicine, Center for Breakthrough Medicines, Center for Cancer Research, Centessa Pharmaceuticals, Centogene, Centre for Cellular and Molecular Platforms, Centre for Commercialization of Cancer Immunotherapy and Regenerative Medicine, Centre for Commercialization of Regenerative Medicine (CCRM), Centre for Drug Research and Development (CDRD), Centre for Imaging Technology Commercialization, Centre for Probe Development and Commercialization, Centre Hospitalier Universitaire Vaudois (CHUV), Centre Leon Berard, Centro de Inmunolgía Molecular, Century Therapeutics, Cepheid, Cerecor, Certis, Cerulean Pharma, Cevec Pharmaceuticals, CGA 369, cGMP Validation, CG Oncology, ChadTough Foundation, Champalimaud Foundation, Champions Oncology, CHAMPS Oncology, Changchun High & New Technology Industries, Charles River Laboratories, Checkmate Pharmaceuticals, CheckPoint Immunology, Checkpoint Therapeutics, Chemomab Therapeutics, Chemveda Life Sciences, ChemWerth, Chengdu Gaotong Isotope, Cheplapharm Arzneimittel, Chi-Med, Children's Hospital at Montefiore, Children's Hospital Boston, Children's Hospital Los Angeles, Children's Hospital of Philadelphia, Children's Medical Research Institute, Children's Minnesota, Children´s Oncology Group (COG), Children's Center for Cancer and Blood Diseases (CCCBD), Children's Hospital & Research Center Oakland, Chime Biologics, Chimeric Therapeutics, Chimerix, Chimeron Bio, China-Singapore Guangzhou Knowledge City, China Grand Pharma, China Grand Pharmaceutical, China Isotope And Radiation, China Medical System, China Oncology Focus, China Resources Pharmaceutical Commercial Group International Trading, China Resources Sanjiu Medical and Pharmaceutical, Chinese Future Industry Investment Fund, Chinese University of Hong Kong, Chiome Bioscience, Cholangiocarcinoma Foundation, Chong Kun Dang, Chongqing Jingdong Pharmaceutical, Chonnam National University, CHO Plus, Christian Doppler Research Association, Christus Health, Chronix Biomedical, Chrysalis BioTherapeutics, Chugai Pharmaceutical, Chung-Ang University, Chung Shan Medical University Hospital, CicloMed, Ciitizen, Cilag AG, Cincinnati Children's Hospital Medical Center, Cinda Bio-Pharmaceutical, Cipla, Circuit Clinical, Circulogene, Cirrus Dx, Citius Pharmaceuticals, City of Hope, City of Hope Comprehensive Cancer Center, CIVCO Radiotherapy, Civetta Therapeutics, CJ Corp, Clalit Health Fund, Clarity Pharmaceuticals, Clarius Mobile Health, Clarus Therapeutics, Cleara Biotech, Clearbridge Biomedics, ClearLight Diagnostics, Clearside Biomedical, Cleave Therapeutics, Cleveland Clinic, Cleveland Diagnostics, Cleveland University Hospitals, Clinical Genomics, Clinical Laserthermia Systems (CLS), Clinica Universidad Navarra, Clinigen, Clinton Health Access Initiative, Clintrex Research, Clionix, Cloaked Therapeutics, Clover Biopharmaceuticals, Clovis Oncology, CMAB Biopharma, CMC Biologics, Cmed, CMG Pharmaceutical, CMS Medical, CNAO Foundation, CNS Pharmaceuticals, Co-Diagnostics, Code Ocean, Codiak BioSciences, Coeptis Pharmaceuticals, Coeptis Therapeutics, Cofactor Genomics, Cogen Immune Medicines, Cogia Biotech, Cognate BioServices, Coherus Biosciences, CoImmune, Cold Genesys, Color, Colorado Melanoma Foundation, Colorado State University, Color Genomics, Columbia University, Columbia University Medical Center, Combined Therapeutics, Community Clinical Oncology Research Network, Compass Therapeutics, Complix, Compugen, ConcertAI, Concord Medical Services Holdings, Constance Therapeutics, Constellation Pharmaceuticals, Context Therapeutics, Contextual Genomics, ConverGene, Convergent Bioscience, Convergent Therapeutics, Cook Biotech, Copenhagen University Hospital, CoreBiome, Core Diagnostics India, Corlexia Clinical Services, Cornell University, Corporation for Biological Research, CorTechs Labs, Cortex Design, Cortexyme, Corvida Medical, Corvus Pharmaceuticals, Cosylab, COTA, Courier Therapeutics, Covalab, Covance, CRA Health, C R Bard, Creative Biolabs, Crescendo Biologics, Crescendo Bioscience, Crestar Labs, Crinetics, CRISPR Therapeutics, Crown Bioscience, CR Pharma, CRT Pioneer Fund, CryoPort, CrystalGenomics, CSI Laboratories, CSPC Pharmaceutical Group, CStone Pharmaceuticals, CTI BioPharma, CtM Biotech, CTSI Oncology Solutions, Cue Biopharma, Cullinan MICA, Cullinan Oncology, Cumberland Pharmaceuticals, Cumulus Oncology, Curadev Pharma, Curadigm, Curative Biotechnology, Curebase, CureMatch, CureMetrix, CURE Pharmaceutical, CureScience, Cures Within Reach, CureVac, Curis, Curium, Curon Biopharmaceutical, Curtana Pharmaceuticals, CvergenX, Cybrexa Therapeutics, Cyclacel Pharmaceuticals, Cyclenium Pharma, Cyclica, Cyclotek, CYduct Diagnostics, Cynvenio, Cypre, CYTLIMIC, Cytocom, Cytodyn, Cytognos, CytoImmune Therapeutics, CytoLynx Therapeutics, CytomX Therapeutics, CytoReason, Cytori Therapeutics, Cytos Biotechnology, CytoSen Therapeutics, Cytovance Biologics, Cytovation, CYTOVIA Therapeutics, CytRx, Daavlin, Daewoong Pharmaceutical, Daiichi Sankyo, Dana-Farber Cancer Institute, Dana Farber Partners Cancer Care, Dania Therapeutics, Danish Cancer Society Research Center, Danish Center for Strategic Research into Type 2 Diabetes, Danish Innovation Fund, Dante Labs, Dartmouth-Hitchcock Medical Center, Dartmouth College, DarwinHealth, DASA, Datavant, David H. Koch Institute for Integrative Cancer Research, DCPrime, Debiopharm, Dechra Pharmaceuticals, Deciphera Pharmaceuticals, Decipher Biosciences, deCODE Genetics, DEEP 6 AI, Deep Bio, Deepcell, Deep Lens, Deerfield Management, DeGregorio Family Foundation, Delcath Systems, Delfi Diagnostics, DelMar Pharmaceuticals, DelSiTech, DeMelle OncoPharma, Dendreon, Denka, Denka-KEW Genomics, Denovium, Denovo Biopharma, Densitas, Department of Defense, Department of Energy, Department of Veterans Affairs, DermTech, Desktop Genetics, DeuteRx, Device Technologies, Devonian Health Group, Dewpoint Therapeutics, DHL, DiaCarta, Diaccurate, Diagnostica Longwood, Dialectic Therapeutics, Diannei Biotechnology, Diaprost, Dignitana, Dilon Diagnostics, Discovery Life Sciences, DisperSol Technologies, Distributed Bio, Diverse Biotech, Dizal Pharmaceutical, DKSH, DNAGO, DNAmito, DNAtrix, DNX Biopharmaceuticals, Domainex, Domain Therapeutics, Dorizoe Lifesciences, DotBio, Dr. Reddy's Laboratories, Dragonfly Therapeutics, Dragon Master Foundation, Dren Bio, Drexel University, Dr Pfleger, Dr Risch, DSM Nutritional Products, Dualogics, DuChemBio, Duke University, Duke University Health System, Duke University Medical Center, Dune Medical Devices, DuPont, Dutch-Belgian Cooperative Trial Group for Hematology Oncology (HOVON), DxTerity, DyNAbind, Dynavax Technologies, Dyve Biosciences, Eagle Pharmaceuticals, Eastern Ontario Regional Laboratory Association, Eberhard Karls University Tubingen, EchelonDx, Eckert & Ziegler, ECOG-ACRIN Cancer Research Group, Eczacibasi Pharmaceuticals, Eczacıbasi-Monrol, Eden BioCell, EDF, Edico Genome, EdiGene, Edison Oncology, Editas Medicine, Edith Wolfson Medical Center, Edogawa Hospital, EDP Biotech, Educational and Scientific, eFFECTOR Therapeutics, Egle Therapeutics, EhmetDx, EicOsis, EirGenix, Eisai, Eisai Inc, Eisana, Ekpac Healthcare, Elanco, ELC Group, Elekta, Elesta, Elevar Therapeutics, ElevateBio, Elevation Oncology, Eleven Biotherapeutics, ELIAS Animal Health, Elicio Therapeutics, Eli Lilly, Elligo Health Research, Ellipses Pharma, Elpis Biomed, Elpiscience, ElsaLys Biotech, Elthera, Elucidata, Embleema, EMD Serono, Emerge Health, Emergence Therapeutics, Emergent BioSolutions, EMMAC Life Sciences, Emmaus Life Sciences, Emory University, Empirica Therapeutics, Empyrean Medical Systems, Emtora Biosciences, Enamine, Enara Bio, Endeavor BioMedicines, Endevica Bio, Endocyte, Endo International, Endomag, EnGeneIC, Enigma Biomedical, Enlivex, ENPICOM, Enterome Bioscience, Enterprise Ireland, Entrinsic Health Solutions, Enveric Biosciences, Envisagenics, Enzolytics, Enzyvant Science, EOC Pharma, Epic, EpicentRx, Epic Sciences, EpimAb Biotherapeutics, Epimune Diagnostics, Epiphany Dermatology, EpiThany, Epizyme, Epredia, Epsilogen, EQRx, Erasca, Erasmus University Medical Center, Ervaxx, Erytech, Esophageal Cancer Awareness Association, ESSA Pharma, Essen University Hospital, Essex Bio-Technology, eTheRNA immunotherapies, Ethicann Pharmaceuticals, Ethos Veterinary Health, Eucure Biopharma, Eureka Eurostars, Eureka Therapeutics, Eurofins STA Laboratories, European Commission, European Innovation Council, European Organization for Research and Treatment of Cancer, European Society for Radiotherapy & Oncology, European Union, European Union Regional Development Fund, EUSA Pharma, Eutilex, Eutilogics, Evaxion Biotech, Evercyte, Everest Medicines, Evergreen Theragnostics, Eversana, Everything Genetic, Evotec, Evvivax, Ewopharma, Exacis Biotherapeutics, Exact Imaging, Exactis Innovation, Exact Sciences, Exact Therapeutics, ExCellThera, Exelixis, ExonanoRNA, Exopharm, Exosome Diagnostics, Exosome Sciences, ExpreS2ion Biotechnologies, ExScientia, Exuma Biotech, F-Star, F-Star Therapeutics, F1 Oncology, Fabric Genomics, Facit, Factor Bioscience, Factorial Diagnostics, Falco, FameWave, Family Reach, Fannin, Fapon Biopharma, Faraday Pharmaceuticals, FarmaMondo Group, Faron Pharmaceuticals, Fate Therapeutics, Feinstein Institute for Medical Research, Feldan Therapeutics, Femtogenix, FerGene, Ferring Pharmaceuticals, Ferrum Health, FGH Biotech, Fibralign, Fibrogen, Fidelis Research, Firebrand Therapeutics, Five Prime Therapeutics, FKD Therapies, Flagship Biosciences, Flame Biosciences, Flamingo Therapeutics, Flaskworks, Flatiron Health, Florida Atlantic University Research, Florida Cancer Specialists & Research Institute, Flow Pharma, FLX Bio, Focal Healthcare, Foghorn Therapeutics, Folia Biotech, Fondation Cancer, Fondatioun Kriibskrank Kanner, Food and Drug Administration (FDA), Forbius, ForDoz Pharma, Foresee Pharmaceuticals, Foresite Capital, Forge Therapeutics, Formosa Pharmaceuticals, Formula Pharmaceuticals, Fortress Biotech, Forty Seven, Fosun Kite Biotechnology, Fosun Pharmaceutical, Foundation for the National Institutes of Health (FNIH), Foundation Medicine, Fox Chase Cancer Center, Francis Crick Institute, Fraunhofer IGB, Frazier Healthcare Ventures, Fred & Pamela Buffett Cancer Center, Fred Hutchinson Cancer Research Center, Freenome, Fresenius Kabi Pharmaceuticals, Frontida BioPharm, Fujifilm, Fujifilm Diosynth Biotechnologies, Fujifilm medical systems, Fuji Pharma, Fujirebio Diagnostics, Fujitsu Laboratories, Fulgent Genetics, Fulgent Pharma, Fundació Institut de Recerca de l'Hospital de la Santa Creu i Sant Pau, Fusion Pharmaceuticals, FutureGen Biopharm, Fuzionaire Radioisotope Technologies, G1 Therapeutics, Gabriella Miller Kids First Data Resource Center, Gadeta, Gaeta Therapeutics, Gaido Health, Gain Therapeutics, Galaxy Biotech, Galecto, GamaMabs Pharma, Gamida Cell, GammaDelta Therapeutics, Gamma Medica, GANZIMMUN Diagnostics, Gates Biomanufacturing Facility, Gateway for Cancer Research, GC Cell, GC LabCell, GC Pharma, GE Healthcare, Geisel School of Medicine at Dartmouth, Geisinger Health System, Gemelli Teaching Hospital, GEMoaB, Gem Pharma, Genecast, GeneCentric Therapeutics, GeneData, Genelux, GeneNews, Genentech, Geneos Therapeutics, GeneQuantum Healthcare, Generex Biotechnology, Geneseeq, GenesisCare, Genetic Immunity, Genetic Leap, Genetic Technologies, Genetron Health, Genevant Sciences, Geneva University Hospitals, Genewiz, Genexine, Genezen, GenFleet Therapeutics, Genialis, Genisphere, Genkyotex, Genmab, Genocea Biosciences, Genome and Company, Genome Canada, GenomeDx, Genome Institute of Singapore, Genomic Health, Genomics England, Genomic Testing Cooperative, Genomic Vision, Genomoncology, Genoptix, Genor Biopharma, Genosco, Genosity, Genotests, Genprex, GenScience Pharmaceuticals, GenScript Biotech, GenScript ProBio, George Clinical, George Mason University, Georgetown Lombardi Comprehensive Cancer Center, Georgetown University, George Washington University, GeoVax, German Cancer Research Center, German Federal Ministry of Education and Research, German Ministry for Education and Research, Gestalt Diagnostics, Ghent University, Gibson Oncology, GigaMune, GI Innovation, Gilead Sciences, GIMDx, Glactone Pharma, GlamorousAI, GlaxoSmithKline, GL Capital Group, Glenmark Pharmaceuticals, GLG Pharma, Global Cancer Technology, Global Liver Institute, Global Lung Cancer Coalition, Global Medical Solutions, GlycoMantra, GlycoMimetics, GlycoPath, Glycostem Therapeutics, Glycotope Biotechnology, Glycyx Pharmaceuticals, Glythera, Glytherix, Gnosis Bioresearch, GNS Healthcare, GO2 Foundation for Lung Cancer, GOG Foundation, Golden Mountain Partners, Google, Gossamer Bio, Gotect Diagnostic, GO Therapeutics, Government of Canada, Government of France, Government of Hong Kong, Government of Ireland, Government of Netherlands, GPCR Therapeutics, Gracell Biotechnologies, Grady Health System, Grail, Grand River Aseptic Manufacturing, Graviton Bioscience, Green Cross LabCell, Greenwich LifeSciences, Grid Therapeutics, Gritstone Bio, Groupe Francophone des Myélodysplasies, Group Vida, Grupo Ferrer, GRYT Health, GT Apeiron Therapeutics, GT Biopharma, GT Medical Technologies, Guangdong Provincial People's Hospital, Guangzhou Ruianbo Pharmaceutical Technology, Guangzhou Ruiao Biopharmaceutical Technology, Guangzhou Xiangxue Pharmaceutical, Guardant Health, Guerbet, Guided Therapeutics, Guohong Guokang (Beijing) Health Technology Development, Gyros Protein Technologies, H-Immune, H3 Biomedicine, Hackensack Meridian Health, Hackensack University Medical Center, Hadassah Medical Center, HaemaLogiX, Haga Teaching Hospital, Hairy Cell Leukemia Foundation, HalioDx, Halix, HALO Diagnostics, Halo Dx, Halozyme Therapeutics, Hamilton Health Sciences, HanAll Pharmaceuticals, Handok Pharmaceuticals, Hangzhou Zhongmei Huadong Pharmaceutical, Hanmi Pharmaceutical, Hannibal Innovation, HanX Biopharmaceuticals, Harbour Biomed, Harpoon Therapeutics, Harvard Medical School, Harvard T.H. Chan School of Public Health, Harvard University, HavaH Therapeutics, Havn Life Sciences, HAYA Therapeutics, HCW Biologics, Healius, Health Canada, Healthcare Global Enterprises, HealthCare Konnect, Healthcare Royalty Partners, Health Decisions, HealthMyne, HealthTech, HealthTrust, Healx, Heat Biologics, HebeCell, Hebrew University of Jerusalem, Hefei Sageland Biotechnology, Heidelberg Pharma, HekaBio, Helen F Graham Cancer Center, Heligenics, Helio Health, Helix BioPharma, Helmholtz Zentrum Munchen, Helomics, Helsinki University Central Hospital (HUCH) Comprehensive Cancer Center, Helsinn Healthcare, Helsinn Therapeutics, Hematology-Oncology Associates of Central New York, Hemogenyx, Hengrui Therapeutics, Henlius Biotech, Henry M. Jackson Foundation, Hera BioLabs, Herlev Hospital, Hermes Advanced Therapy Systems, Hermes Medical Solutions, Heska, HiberCell, Hibiscus BioVentures, Hibiskus BioPharma, HiFiBio, Highlight Therapeutics, Highmark Health, Hikma Pharmaceuticals, HIL Applied Medical, Hillstream BioPharma, Himed Hospital Management, Histogenics, HistoIndex, Hisun BioRay, Hitachi, Hitachi Aloka Medical, Hitachi Chemical, HitGen, Hoag Memorial Hospital Presbyterian, Hoffmann La Roche, Hologic, Hong Kong University of Science & Technology, Hookipa Pharma, Hoosier Cancer Research Network, HOPE BIOSCIENCES, Hope for Stomach Cancer, Horizon 2020, Horizon Discovery, Hospital of University of Strasbourg, Hospital Services, Hoth Therapeutics, HotSpot Therapeutics, Houston Pharmaceuticals, HTG Molecular Diagnostics, Huadong Medicine, Hualan Genetic, Hubrecht Organoid Technology, Hufeland Klinikum, Huma, Humana, Humanetics, Humanigen, Humanitas University, Hummingbird Bioscience, Huntsman Cancer Foundation, Huntsman Cancer Institute, Huons, Hutchison MediPharma, Hutchmed, Huyabio International, HUYA Bioscience, Hyloris Pharmaceuticals, Hyundai Hope On Wheels, I-mab, i2 Pharmaceuticals, Iaso Pharmaceuticals, Iaso Therapeutics, IBA, Ibex Medical Analytics, iBio, IBL America, IBM, IBM Watson Health, iCAD, Icahn School of Medicine at Mount Sinai, IcanoMAB, IceCure Medical, Ichnos Sciences, Ichor Medical Systems, Iconic Therapeutics, Idaho Urologic Institute, iDD Biotech, IDEAYA Biosciences, Idengene, Ideogen Pharma, IDEOlogy Health, Idera Pharmaceuticals, IDEXX Laboratories, Idorsia, IGEA Clinical Biophysics, iGEM, Igentify, IGM Biosciences, Ignyta, Ikanik Farms, Ikena Oncology, Ikonopedia, Iksuda Therapeutics, Ildong Pharmaceutical, Ilera Therapeutics, Illumina, IlmixGroup, Image Analysis, Imagia Cybernetics, ImaginAb, Imaging Associates, Imagin Medical, Imaware, Imbio, ImCheck Therapeutics, Imegen, Immagene, Immatics Biotechnologies, Immedica, Immix Biopharma, Immodulon Therapeutics, Immorna, ImmPACT Bio, Immunaccel, Immune-Onc Therapeutics, Immune Biosolutions, ImmuneOncia Therapeutics, Immune Pharmaceuticals, Immune Therapeutics, ImmuNext, ImmunGene, Immunicom, Immunicon, Immunitas Therapeutics, Immunitor, ImmunityBio, ImmunoBiochem, ImmunoCellular Therapeutics, ImmunoChina Pharmaceuticals, Immunocore, ImmunoForge, ImmunoGen, Immunogenesis, Immunome, Immunomedics, Immunomic, ImmunoPhotonics, ImmunoPrecise Antibodies, ImmunoScape, Immunovaccine, Immunovia, Immunscape, Immusol, Immutep, ImmVira, IMPACT Therapeutics, ImpediMed, Imperial College London, Impilo Pharma, Impilo Therapeutics, ImQuest Life Sciences, Imugene, IMV, Imvaq Therapeutics, In4Derm, IncellDx, Inceptor Bio, Inceptua, Incyte, Indapta Therapeutics, Indee Labs, Indiana University, Indian Cooperative Oncology Network, Indivumed, Industrial Technology Research Institute, Infinity Pharmaceuticals, Inflammatory Breast Cancer Research Foundation, Inflection Biosciences, Inform Diagnostics, Infuseon Therapeutics, Inhibikase Therapeutics, Inhibitor Therapeutics, Inhibrx, Inivata, INmune Bio, Innate Pharma, InnoBation, Innoplexus, Innosuisse, Innovate BC, Innovate UK, Innovation Norway, Innovative Genomics Initiative (IGI), Innovative Immunotherapy Alliance, Innovative Manufacturing Cooperative Research Centre, Innovative Medicines Initiative (IMI), Innovent Biologics, Innovest Global, Innovus Pharmaceuticals, Inovio, Inovio Pharmaceuticals, InProTher, Inserm, Inserm Transfert, InSightec, Insight Medical Systems, Insilico Biotechnology, Insilico Medicine, InSphero, Inspirna, Institut Bergonie, Institut Carnot CALYM, Institut Curie, Institute for Bioscience and Biotechnology Research, Institute for Myeloma and Bone Cancer Research, Institute for Research in Immunology and Cancer – Commercialization of Research, Institute for Systems Biology, Institute for the Promotion of Innovation by Science and Technology in Flanders, Institute of Bioengineering and Nanotechnology, Institute of Bioengineering of Catalonia, Institute of Cancer Research, Institut Gustave Roussy, Instituto Diagnostico Varelli, Instituto Valenciano De Oncologia, Institut Paoli-Calmettes, Institut Pasteur, Insys Therapeutics, Intas Pharmaceuticals, Integra Connect, Integral Molecular, Integrated Biobank of Luxembourg, Integrated Oncology Network
For a full list of companies please email us at enquiry@currentpartnering.com
Current Partnering reports provide insight into the trends and terms of partnering deals in the global life sciences sector.
Current Partnering reports are updated every six months to ensure the user has access to the latest announcements and trends in the topic focus of the report.
Current Partnering analysts review the deal data to provide an overview and analysis of deal trends, including example deals and terms.
Current Partnering reports source deal data from our proprietary deals and alliances database, Current Agreements. The database is updated daily by our analysts with new deals as they are announced globally by the company's party to the deal. In addition, deal records are updated with new data as it becomes available.
The data in the Current Agreements deals and alliances database is obtained from secondary sources such as publicly available industry sources including press releases, company presentations, investor presentations, company SEC filings, other company filings, company websites, conference presentations. Sources are identified to allow for user verification.
Current Partnering provides comprehensive coverage of the following partnering or deal types:
• Asset purchase
• Assignment
• Co-development
• Co-market
• Co-promotion
• Collaborative R&D
• Contract service
• CRADA
• Cross-licensing
• Development
• Distribution
• Equity purchase
• Evaluation
• Grant
• Joint venture
• Licensing
• Loan
• Manufacturing
• Marketing
• Option
• Promotion
• Research
• Royalty financing
• Settlement
• Spin out
• Sub license
• Supply
• Termination
• Warrant
Every deal record is fully categorized and includes the following data, where available:
• Industry sector
• Therapy areas
• Technology type
• Deal components
• Financial terms
• Stage of development
• Exclusivity
• Asset type
• Geographic focus
• Excluded geography
• Company press release
• SEC filing data including contract document
All financial amounts are converted to US$ using the exchange rate available on the date of deal announcement, enabling direct comparison of deal terms across international territories.
Financial data and contract documents displayed in deal records is obtained from public sources, where disclosed by the parties to the deal.