Global Infectious Diseases Partnering 2015-2022: Deal trends, players and financials
Global Infectious Diseases Partnering 2015-2022: Deal trends, players and financials report provides comprehensive understanding and unprecedented access to the infectious partnering deals and agreements entered into by the worlds leading healthcare companies.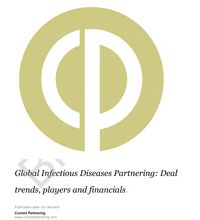 Publication date
September 2022
Product type
Research report
Available formats
PDF document
Global Infectious Diseases Partnering 2015 to 2022 provides the full collection of Infectious Diseases disease deals signed between the world's pharmaceutical and biotechnology companies since 2015.
Trends in Infectious Diseases partnering deals
Financial deal terms for headline, upfront and royalty by stage of development
Infectious Diseases partnering agreement structure
Infectious Diseases partnering contract documents
Top Infectious Diseases deals by value
Most active Infectious Diseases dealmakers
Most of the deals included within the report occur when a licensee obtains a right or an option right to license a licensor's product or technology. More often these days these deals tend to be multi-component including both a collaborative R&D and a commercialization of outcomes element.
The report takes readers through the comprehensive Infectious Diseases disease deal trends, key players and top deal values allowing the understanding of how, why and under what terms companies are currently entering Infectious Diseases deals.
The report presents financial deal terms values for Infectious Diseases deals, where available listing by overall headline values, upfront payments, milestones and royalties enabling readers to analyse and benchmark the value of current deals.
The initial chapters of this report provide an orientation of Infectious Diseases dealmaking trends.
Chapter 1 provides an introduction to the report.
Chapter 2 provides an overview of the trends in Infectious Diseases dealmaking since 2015 covering trends by year, deal type, stage of development, technology type and therapeutic indication.
Chapter 3 includes an analysis of financial deal terms covering headline value, upfront payment, milestone payments and royalty rates.
Chapter 4 provides a review of the leading Infectious Diseases deals since 2015. Deals are listed by headline value. The chapter includes the top 25 most active Infectious Diseases dealmakers, together with a full listing of deals to which they are a party. Where the deal has an agreement contract published at the SEC a link provides online access to the contract.
Chapter 5 provides comprehensive access to Infectious Diseases deals since 2015 where a deal contract is available, providing the user with direct access to contracts as filed with the SEC regulatory authorities. Each deal title links via Weblink to an online version of the deal record contract document, providing easy access to each contract document on demand.
Chapter 6 provides a comprehensive directory of all Infectious Diseases partnering deals by specific Infectious Diseases target announced since 2015. The chapter is organized by specific Infectious Diseases therapeutic target. Each deal title links via Weblink to an online version of the deal record and where available, the contract document, providing easy access to each contract document on demand.
In addition, a comprehensive appendix is provided with each report of all Infectious Diseases partnering deals signed and announced since 2015. The appendices are organized by company A-Z, stage of development at signing, deal type (collaborative R&D, co-promotion, licensing etc) and technology type. Each deal title links via Weblink to an online version of the deal record and where available, the contract document, providing easy access to each contract document on demand.
The report also includes numerous tables and figures that illustrate the trends and activities in Infectious Diseases partnering and dealmaking since 2015.
In conclusion, this report provides everything a prospective dealmaker needs to know about partnering in the research, development and commercialization of Infectious Diseases technologies and products.
Report scope
Global Infectious Diseases Partnering 2015 to 2022 is intended to provide the reader with an in-depth understanding and access to Infectious Diseases trends and structure of deals entered into by leading companies worldwide.
Global Infectious Diseases Partnering 2015 to 2022 includes:
Trends in Infectious Diseases dealmaking in the biopharma industry since 2015
Access to headline, upfront, milestone and royalty data
Access to hundreds of Infectious Diseases deal contract documents
Comprehensive access to over 2,900 Infectious Diseases deal records
The leading Infectious Diseases deals by value since 2015
Most active Infectious Diseases dealmakers since 2015
The report includes deals for the following indications:
Bacterial: Anthrax, Campylobacter Jejuni, Clostridium difficile, Diphtheria, Escherichia Coli (E-coli), Group A Streptococcus, Group B Streptococcus, Haemophilus influenzae type b (Hib), Helicobacter Pylori, Lyme disease, Methicillin-resistant Staphylococcus aureus (MRSA), Mycobacterium avium, Pertussis (Whooping Cough), Pseudomonas aeruginosa, Salmonella, Sepsis, Tetanus, Tuberculosis (TB), plus other bacterial indications
Viral: Common cold, Cytomegalovirus, Ebola, FIV, Foot and mouth disease, Hepatitis A, B, C, D, Herpes simplex, HIV, Influenza, H5N1 (Avian Flu), H1N1 (Swine Flu), Japanese encephalitis, Polio, Respiratory syncytial virus (RSV), Zika, plus other viral indications.

Parasitic

Fungal: Nail Psoriasis, Onychomycosis (Nail infection), plus other fungal indications

Tropical: African trypanosomiasis (Sleeping sickness), Dengue fever, Malaria, West Nile Virus, Yellow fever, plus other tropical indications
In Global Infectious Diseases Partnering 2015 to 2022, available deals and contracts are listed by:
Headline value
Upfront payment value
Royalty rate value
Stage of development at signing
Deal component type
Technology type
Specific therapy indication
Each deal title links via Weblink to an online version of the deal record and where available, the contract document, providing easy access to each contract document on demand.
The Global Infectious Diseases Partnering 2015 to 2022 report provides comprehensive access to available deals and contract documents for over 2,900 infectious diseases deals. Analyzing actual contract agreements allows assessment of the following:
What are the precise rights granted or optioned?
What is actually granted by the agreement to the partner company?
What exclusivity is granted?
What is the payment structure for the deal?
How are the sales and payments audited?
What is the deal term?
How are the key terms of the agreement defined?
How are IPRs handled and owned?
Who is responsible for commercialization?
Who is responsible for development, supply, and manufacture?
How is confidentiality and publication managed?
How are disputes to be resolved?
Under what conditions can the deal be terminated?
What happens when there is a change of ownership?
What sublicensing and subcontracting provisions have been agreed?
Which boilerplate clauses does the company insist upon?
Which boilerplate clauses appear to differ from partner to partner or deal type to deal type?
Which jurisdiction does the company insist upon for agreement law?
Global Infectious Diseases Partnering 2015 to 2022 provides the reader with the following key benefits:
In-depth understanding of Infectious Diseases deal trends since 2015
Access Infectious Diseases deal headline, upfront, milestone and royalty data
Research hundreds of actual contracts between Infectious Diseases partner companies
Comprehensive access to over 2,900 links to actual Infectious Diseases deals entered into by the world's biopharma companies
Indepth review of Infectious Diseases deals entered into by the top 25 most active dealmakers
Benchmark the key deal terms companies have agreed in previous deals
Identify key terms under which companies partner Infectious Diseases opportunities
Uncover companies actively partnering Infectious Diseases opportunities
Executive Summary
Chapter 1 – Introduction
Chapter 2 – Trends in Infectious Diseases dealmaking
2.1. Introduction
2.2. Infectious Diseases partnering over the years
2.3. Infectious Diseases partnering by deal type
2.4. Infectious Diseases partnering by industry sector
2.5. Infectious Diseases partnering by stage of development
2.6. Infectious Diseases partnering by technology type
2.7. Infectious Diseases partnering by therapeutic indication
Chapter 3 –Financial deal terms for Infectious Diseases partnering
3.1. Introduction
3.2. Disclosed financials terms for Infectious Diseases partnering
3.3. Infectious Diseases partnering headline values
3.4. Infectious Diseases deal upfront payments
3.5. Infectious Diseases deal milestone payments
3.6. Infectious Diseases royalty rates
Chapter 4 – Leading Infectious Diseases deals and dealmakers
4.1. Introduction
4.2. Most active in Infectious Diseases partnering
4.3. List of most active dealmakers in Infectious Diseases
4.4. Top Infectious Diseases deals by value
Chapter 5 – Infectious Diseases contract document directory
5.1. Introduction
5.2. Infectious Diseases partnering deals where contract document available
Chapter 6 – Infectious Diseases dealmaking by therapeutic target
6.1. Introduction
6.2. Deals by Infectious Diseases therapeutic target
Appendices
Appendix 1 – Directory of Infectious Diseases deals by company A-Z since 2015
Appendix 2 – Directory of Infectious Diseases deals by deal type since 2015
Appendix 3 – Directory of Infectious Diseases deals by stage of development since 2015
Appendix 4 – Directory of Infectious Diseases deals by technology type sinc 2015
Further reading on dealmaking
Deal type definitions
About Wildwood Ventures
Current Partnering
Current Agreements
Recent report titles from CurrentPartnering
Table of figures
Figure 1: Infectious Diseases partnering since 2015
Figure 2: Infectious Diseases partnering by deal type since 2015
Figure 3: Infectious Diseases partnering by industry sector since 2015
Figure 4: Infectious Diseases partnering by stage of development since 2015
Figure 5: Infectious Diseases partnering by technology type since 2015
Figure 6: Infectious Diseases partnering by indication since 2015
Figure 7: Infectious Diseases deals with a headline value
Figure 8: Infectious Diseases deals with upfront payment values
Figure 9: Infectious Diseases deals with milestone payment
Figure 10: Infectious Diseases deals with royalty rates
Figure 11: Active Infectious Diseases dealmaking activity since 2015
Figure 12: Top Infectious Diseases deals by value since 2015
Pricing options
$3,995: single-user
$5,745: multi-user
$10,985: single site license
$17,975: global site license
A full explanation of license type definitions can be found here.
Our guarantee
Price promise
We guarantee our prices are competitive. If you find the same report advertised at a lower price within 7 days of purchase, we will refund the difference.
Delivery Deadline
We guarantee that the report will be sent within the specified delivery times. In the unlikely case of a delay we may offer a partial refund as compensation. (Terms may apply)
Latest report
If an update is published within 30 days of your purchase, you will receive it absolutely free of charge.
Serious Security
We take your data and security seriously. See our privacy policy for details of how we manage your data.
All card payments are processed by SagePay.
Sales Support
If you have any questions about your report or are unhappy with the quality, we will do our best to resolve your query. Contact us direct.
Total Trust
Current Partnering is part of Wildwood Ventures Ltd., based in York, United Kingdom. We have been trading successfully online since 2009 and work with some of the most famous brands in the business. We carefully select our partners to ensure that the publications meet expectations of demanding customers.
1health.io, 2A, 3D BioMed, 3M, 3P Biopharmaceuticals, 3rd People's Hospital of Shenzhen, 3SBio, 4SC Discovery, 7 Hills Pharma, 9 Meters Biopharma, 10X Genomics, 36 Strategies General Trading, A*STAR Agency for Science, Technology and Research, A*STAR Institute of Microelectronics (IME), A*STAR Singapore Immunology Network, A*STAR' Institute of Molecular and Cell Biology, A-Alpha Bio, A2A Pharmaceuticals, Aarhus University, Aarhus University Hospital, Aavis Pharmaceuticals, AB Analitica, Abbott Laboratories, Abbott Rapid Diagnostics, Abbvie, AbCellera, ABEC, Abeome, ABIVAX, ABL Bio, Ablexis, Abnova, Aboundbio, Absolute Antibody, Abzena, Academic Medical Center, Academy of Military Medical Sciences (China), AC Bioscience, Accelerated Enrollment Solutions, Accelerate Diagnostics, Access BIO, Acelrx Pharmaceuticals, Acer Therapeutics, Achaogen, Achillion Pharmaceuticals, Actelion, Actinium Pharmaceuticals, Active Motif, Acuant, Acumen Pharmaceuticals, Acurx Pharmaceuticals, Adamis Pharmaceuticals, Adaptive Biotechnologies, Adaptive Phage Therapeutics, AdaptVac, Adeptrix, Adial Pharmaceuticals, Adimab, Aditx Therapeutics, Adjuvance Technologies, ADMA Biologics, ADS, ADT Altona Diagnostic Technologies, Aduro BioTech, Advaccine Biotechnology, Advanced Accelerator Applications, Advanced Biological Laboratories, Advanced BioNutrition, Advanced BioScience Laboratories, Advanced Regenerative Manufacturing Institute, Advanced Remote Monitoring, Advarra, AdventHealth, Advent International, Aegea Biotechnologies, Aegis Life, Aelix Therapeutics, Aeras, Aerogen, Aerpio Pharmaceuticals, Aethlon Medical, Aetion, Affinity Biosciences, Affinium Pharmaceuticals, Affinivax, AffyXell Therapeutics, Africa Centres for Disease Control and Prevention, Africa Medical Supplies Platform, Africa Union, AGC Biologics, Age Labs, Agenus Bio, AgeX Therapeutics, Agile Biodetection, Aglon, Agricultural Materials Company, Agricultural Research Service, AiCuris, AID Genomics, AIDS Clinical Trials Group, AIDS Foundation of Chicago, AIkido Pharma, AIM ImmunoTech, AIMM Therapeutics, Airway Therapeutics, Aitbiotech, AIT Therapeutics, Ajinomoto Bio-Pharma Services, Akers Biosciences, Akida, Ako Med, Akonni Biosystems, Akorn, Akron Biotechnology, Akshaya Bio, Akston Biosciences, Alab, Alamo Pharma Services, Alaska Department of Health and Social Services, Albany Molecular Research, Albert Einstein College of Medicine, Aldevron, Alere, AlgaEnergy, Algenex, Algernon Pharmaceuticals, Alibaba Health, Aligos Therapeutics, AlivaMab Discovery Services, Allecra Therapeutics, Allergan, Allergan (name changed from Actavis), AlloVir, AllStar Health Brands, Alnylam Pharmaceuticals, Alpha-Tec Systems, Alphamab Biopharmaceuticals, Alpha Tech Pet, Altan Pharma, Alterity Therapeutics, Altimmune, Altum Pharmaceuticals, Alveo Technologies, Alverno Clinical Laboratories, Alvogen, Al Zahrawi Medical Supplies, Amarex Clinical Research, A Menarini Diagnostics, American Association for Laboratory Accreditation, American College of Chest Physicians, American Diabetes Association, American Foundation for AIDS Research (amfAR), American Gene Technologies, American Medical Depot, American Type Culture Collection (ATCC), Amerigen Pharmaceuticals, Amerimmune, AmerisourceBergen, Amerlux, Ametek, Amgen, Amneal Pharmaceuticals, Amomed Pharma, AmpliPhi Biosciences, Amplity Health, Amplyx Pharmaceuticals, AMP Therapeutics, AMR, AMS, Amyndas Pharmaceuticals, Amyris, AN2 Therapeutics, Anacor Pharmaceuticals, Analog Devices, Anatara Lifesciences, ANA Therapeutics, Angelini Pharma, AnGes MG, ANI Pharmaceuticals, Anixa Biosciences, Annar Health Technologies, ANP Technologies, Ansell, Antabio, Antengene, AntibioTx, Antigen Discovery, Antitope, AOP Orphan Pharmaceuticals, Aperiomics, Aphex BioCleanse Systems, Aphios, ApolloBio, Apollo Med Innovations, Appili Therapeutics, Apple, Applied BioCode, Applied Biology, Applied Botanics, Applied DNA Sciences, Applied UV, Aptagen, Aptahem, Aptevo Therapeutics, Aptimmune Biologics, Aptorum Group, Aptuit, Aqua Pharmaceuticals, Aradigm, Aragen Bioscience, Aralez Pharmaceuticals, Arbor Biosciences, Arbutus, ArcDia, Arches Research, Arctoris, Arcturus Therapeutics, Ardigen, Arecor, Ares Genetics, Ares Life Sciences, Argonne National Laboratory, Argos Therapeutics, Ariadne Genomics, Aridea Solutions, Aridis Pharmaceuticals, Arisan Therapeutics, Ark Animal Health, Ark Biosciences, Armata Pharmaceuticals, Armed Forces Medical Research Institute, Armis Biopharma, Arno Therapeutics (inactive since 2017), Arrevus, Arrowhead Pharmaceuticals, Arrow Pharmaceuticals, Arsanis Biosciences, ArtemiLife, Artes Biotechnology, Artizan Biosciences, ARUP Laboratories, Asclepia Outsourcing Solutions, Ascletis, Aseptix, Asklepios Biopharmaceutical, Aspen Holding, Assembly Biosciences, Assertio Therapeutics, Astellas Pharma, Aston University, Astra Formedic, AstraZeneca, Atara Biotherapeutics, Atea Pharmaceuticals, Atlangram, Atlas Genetics, Atnahs Pharma, Atomo Diagnostics, Atomwise, Atox Bio, Atreca, Attana, ATUM, Audax Medical, Augmenta, AUM LifeTech, AuraVax Therapeutics, Aurobindo Pharma, Auspherix, Australian Medical Research Institute, Australian Research Council, Austrian Research Promotion Agency, Autobio Diagnostics, AUT Roche Diagnostics Laboratory, AUT University, Avacta, Avails Medical, Avalon GloboCare, Avanzcare, Avellino Labs, Avera McKennan, Aveshka, Avid Bioservices, Aviragen Therapeutics, Avivagen, Axela, AXIM Biotechnologies, Axiom Real-Time Metrics, Axis Lighting, Aytu BioScience, Azitra, AzurRx BioPharma, Babson Diagnostics, Bachem, Banco de Sangre de Servicios Mutuos, Barbara Ann Karmanos Cancer Institute, Baruch S Blumberg Institute, BASE10 Genetics, BASF, Basilea Pharmaceutica, Batavia Biosciences, BATM, Battelle, Bavarian Nordic, Baxter International, Bay Area Lyme Foundation, Bayer, Bayer CropScience, Bayer Healthcare, Baylor College, Baylor College of Medicine, Baylor Institute for Immunology Research, BB100, BBI Solutions, BC Neuroimmunology, BC Platforms, Beckman Coulter, Becton Dickinson, BeiGene, Beijing Clear Biotech, Beijing Genomics Institute (BGI), Beijing Keyuan Xinhai Pharma, Belfor, Belkin, Benchmark Electronics, Benitec Biopharma, BE Pharmaceuticals, Berg, Berkeley Lights, Berlin Chemie, Beroni Group, Bestbion, Best Choice, Best Supplies, Be The Match BioTherapies, Beth Israel Deaconess Medical Center, BetterLife Pharma, BGN Technologies, Bharat Biotech, BIA Separations, Bill and Melinda Gates Foundation, BillionToOne, Binex, Bintai Kinden, Binx Health, Bio-Manguinhos, Bio-Manguinhos/Fiocruz, Bio-Rad Laboratories, Bio-Techne, BIOASTER, BioCad Holding, BioCanna Healthcare, Biocartis, Biocept, BioCheck, BioClones, BioComo, Biocom Purchasing Group, BioCryst Pharmaceuticals, bioCSL, Biodesix, Biodirection, Biofactura, Bio Farma, BioFire Diagnostics, Biofortis, Bioforum, Biogen, BIOgenetiX, BioGX, Bioharmony Therapeutics, Biohealth Innovation, BioHEP Technologies, Biohit, BioHiTech Global, Biohit Healthcare, BioIQ, Biokinetic Europe, BioLab Sciences, Biolase, BioLife Solutions, bioLytical Laboratories, BioMatrix Specialty Pharmacy, Biomedical Advanced Research and Development Authority, Biomedical Catalyst Fund (UK), Biomerica, bioMerieux, Biomica, bioMONTR Labs, BiondVax, BioNeutral, BioNTech, BionX Medical Technologies, Biophage Pharma, BioPharma Plasma, BioPhausia, Biophore Pharmaceuticals, Bio Products Laboratory, BioReference Laboratories, BioReliance, Biosenta, BioSig Technologies, BioSun Pharmed, BioSure, BioSymetrics, Biosynex, BioSyntagma, Biota Pharmaceuticals, Biotechnology Industry Research Assistance Council, BioTecon Diagnostics, BioTek reMEDys, Biotest, Biothera Pharmaceuticals, BioVersys, Blood Systems Research Institute, Bloom Burton, Bluejay Diagnostics, Blue Water Resolute Innovations, Blue Water Vaccines, BlueWillow Biologics, BMG Pharmaceuticals, BMV Medica, Boca Biolistics, Boehringer Ingelheim, Boehringer Ingelheim Vetmedica, Boeing Company, Bold Therapeutics, Booz Allen, Boragen, Bosch, Boston Pharmaceuticals, Boulos and Cooper Pharmaceuticals, Bpifrance, BPL Medical Technologies, Brahms, Brandeis University, BravoVax, Breathtec BioMedical, BreathTech, Breckenridge Pharmaceuticals, Brickell Biotech, BridgeCrest Medical, Brigham and Women's Hospital, Brigham Young University, Brighton Biotech, Brii Biosciences, Brik, Brill Pharma, BRIM Biotechnology, Briotech, Bristol-Myers Squibb, Broad Institute, Brown University, Bruker, BTG, Buoy Health, Burkhan Group, Burnet Institute, BurstIQ, Butantan Institute, C3J Therapeutics, Cadila Pharmaceuticals, Caerus Discovery, Caliber Biotherapeutics, Calico, California Institute for Biomedical Research, California Institute for Medical Researc, California Institute for Regenerative Medicine, Calithera Biosciences, Calixar, Calliditas Therapeutics, Calvert Labs, Cambridge Blockchain, Canabo Medical Clinics, Canadian Institutes of Health Research, Canary Health Technologies, Cancer Prevention and Research Institute of Texas, Candel Therapeutics, Cannabis Science, Canon U.S. Life Sciences, Cantab Anti-infectives, Cantel Medical (UK), Capricor Therapeutics, Caprion Biosciences, CARB-X, Cardiome Pharma, Care Access Research, CareDx, Carestream Health, Carlina Technologies, Carpegen, Cascade Chemistry, Case Western Reserve University, CASI Pharmaceuticals, Caster Medical System, Catabasis Pharmaceuticals, Catalent, Catholic University Leuven, CCT Research, CDC Foundation, Ceapro, Celdara Medical, Cellect Biotechnology, Cellex, Cellix Bio, Cell Medica, CellSafe, Cell Therapy Catapult, Celltrion, Celonic, Celularity, Cempra Pharmaceutical, Cenetron, Centene, Center for Genetic Engineering and Biotechnology (Cuba), Center for Human Genetics and Laboratory Medicine, Center for Infectious Disease Research, Center Point Clinical Services, Centers for Disease Control and Prevention, Centogene, Central Association for the Blind and Visually Impaired, Centre for Drug Research and Development (CDRD), Centre for Human Drug Research, Centre National de la Recherche Scientifique, Cepheid, Certara, Certify, Cerus, Ceva Sante Animale, Cevec Pharmaceuticals, Changchun BCHT Biotechnology, Chan Zuckerberg Initiative, Chargeurs, Charite Universitatsmedizin Berlin, Charles River Laboratories, Chembio Diagnostics, ChemDiv, Chemipal, Children's Hospital Boston, Children's Hospital of Philadelphia, Chimerix, Chimeron Bio, China Medical System, China National Biotech Group (CNBG), Chinese Academy of Sciences, Chinese Center for Disease Control and Prevention, Chiromics, ChromaDex, Chroma Therapeutics, Chromocell, Chugai Pharmaceutical, Ciclofilin Pharmaceuticals, Cidara Therapeutics, Cigna Healthcare, Cilag AG, Cilian, CimCure, Ciox Health, Cipher Pharmaceuticals, Cipla, Circassia, Circuit Clinical, Citius Pharmaceuticals, CiToxLAB, Citranvi Biosciences, City College of New York, City of Corpus Christi, City of Hope, City University of New York Center for Advanced Technology, Civica Rx, CLEAR, Cleared4, ClearMask, ClearPath, Cleveland Clinic, Clevexel Pharma, ClinCapture, ClinicalRM, Clinical Trial and Consulting Services, Clinigen, Clinton Health Access Initiative, Clorox Company, Clover Biopharmaceuticals, CMC Biologics, CN Bio, CNS Pharmaceuticals, Co-Diagnostics, Coalition for Epidemic Preparedness Innovations, Cobra Biologics, Cocrystal Pharma, Codagenix, Codiak BioSciences, CohBar, Colep, Columbia University, Colzyx, Commonwealth of Pennsylvania, Conatus Pharmaceuticals, Concordia Pharmaceuticals, Confirm BioSciences, ConserV Bioscience, Contakt World Technologies, ContraFect, ContraVir Pharmaceuticals, COPAN, Copan Diagnostics, Cord Blood Registry, Corden Pharma, CoreBiome, Corgenix Medical, Corona Diagnostics, Corpometria Institute, Correvio Pharma, Cosmo Pharmaceuticals, Courtagen Life Sciences, Covance, Covar Pharmaceuticals, COVAX, COVAXX, Covistat, CPT Medical, CQuentia, CreaGen Biosciences, Create Vaccine Company, Creoptix, Cresset, Crestone Pharma, Cristal Therapeutics, Critical Path Institute (C-Path), CROMA Pharma, Cromos Pharma, Crown Laboratories, Crozet BioPharma, Crucell, CryoPort, CSIRO, CSL, CSL Behring, CSPC Pharmaceutical Group, Cubic, Cubist Pharmaceuticals, Cue Health, Cullinan Oncology, Cumberland Pharmaceuticals, Curative, Curative Biotechnology, Curetis, CureVac, Current Health, CURx Pharmaceuticals, CVC, CVD Equipment, Cyclacel Pharmaceuticals, Cyclenium Pharma, Cyclica, Cyclofluidic, Cyclolab, Cyon Therapeutics, Cystic Fibrosis Foundation, Cystic Fibrosis Foundation Therapeutics, Cystron Biotech, Cytiva, CytoAgents, Cytocom, Cytodyn, CytoSorbents, CytoVale, Cytovance Biologics, CYTOVIA Therapeutics, Cyxone, d3 Medicine, Daewoong Pharmaceutical, Daiichi Sankyo, Daktari Diagnostics, Dalberg, Dalton Pharma Services, Dana-Farber Cancer Institute, DARA BioSciences, Dartmouth-Hitchcock Medical Center, DaRui Biotech, DASA, Dascena, DASH Analytics, DATANet Software Development, DaVita Clinical Research, Da Volterra, Daxor, DCN Diagnostics, DDL Diagnostic Laboratory, Debiopharm, Decibel Therapeutics, DeciBio Consulting, Decision Diagnostics, deCODE Genetics, Defence Science and Technology Laboratory, Defense Advanced Research Projects Agency, Defense Threat Reduction Agency, Defyrus, Deinove, Dell Medical School, Delpharm, DelSiTech, Deltamune, Denovium, Department of Defence, Department of Defense, Department of Health and Human Services, Department of Veterans Affairs, DesignMedix, Destiny Pharma, Devonian Health Group, Dewpoint Therapeutics, Diagnomics, DiaSorin, Diassess, Diatherix, Diavax Biosciences, Diaxonhit, Dicerna Pharmaceuticals, Diffusion Pharmaceuticals, DigiPath Solutions, DiNonA, Diomics, Discuva, Diversey Care, DKSH, DMTC, DNA Electronics, DNA Link, DnaNudge, Domainex, Domain Therapeutics, DongKoo Bio & Pharma, Donnelley Financial Solutions, Door Pharmaceuticals, Dorizoe Lifesciences, Dover Medical & Scientific Equipment, Dr. Falk Pharma, Dr. Reddy's Laboratories, Dragonfly Therapeutics, Drawbridge Health, Dr Ho Now Health Products, Drugs for Neglected Diseases Initiative, Drukier Institute for Children's Health, DSG, Duality Technologies, Duke-NUS Graduate Medical School Singapore, Duke Clinical Research Institute (DCRI), Duke University, DuPont, Durata Therapeutics, Durect, Dyadic International, Dymax, Dynamic Blending, Dynasty Castle Investments, Dynavax Technologies, DynPort Vaccine Company, E25Bio, EastGate Biotech, Easton Pharmaceuticals, EB Pharma, EcoGroup USA, Ecolab, Ecolog International, Eddingpharm, Edelris, Edesa Biotech, Edge Pharma, Edico Genome, Eiger BioPharmaceuticals, Eiken Chemical, EirGenix, Eisai, Eisai Inc, Eisai S.A.S, EKF Diagnostics, Elanco, Elasmogen, ELC Group, Eligo Bioscience, Eli Lilly, Ellume, Elton John AIDS Foundation, EluSys Therapeutics, Emcure Pharmaceuticals, Emerald Organic Growth, Emergent BioSolutions, Emergex Vaccines, Emery Pharma, Emmes, EMM Life Science, Emory Healthcare, Emory University, Empatica, Empowered Diagnostics, Emulate, Enable Biosciences, Enamine, EnBiotix, Ender Diagnostics, Endo International, Endpoint Health, Enesi Pharma, Engility, Enigma Diagnostics, Enlivex, Ennaid Therapeutics, Enochian Biosciences, Ensensor, Entasis Therapeutics, Enterome Bioscience, Entos Pharmaceuticals, Enumeral Biomedical, EnvisionRx, ENYO Pharma, Enzymatica, Epidemiologic Solutions, Epivax, EpiVax Therapeutics, Epygen Biotech, Equilab International, Erasmus University Medical Center, Ergotron, Ethicon Endo-Surgery, Ethos Veterinary Health, Ethris, Etna Biotech, Etubics, Euprotec, Eureka Eurostars, Eurobio, Eurocine Vaccines, EuroClone, Eurofarma, European Biomedical Research Institute of Salerno, European Commission, European Prevention Center, European Union, EUSA Pharma, Evaxion Biotech, Everest Medicines, EverlyWell, Eversana, Evogene, Evolva, Evolve BioSystems, Evotec, EVQLV, Evvivax, Ewha Womans University, Exagen Diagnostics, Excision BioTherapeutics, Excivion, ExeGi Pharma, ExoStat Medical, Expedeon, ExpreS2ion Biotechnologies, Express Scripts, ExThera Medical, Exyte, Eyevance, F2G, Fagron, Fair Access Medicines, FairJourney Biologics, Fannin, Fareva Holding, Farmacore Biotechnology, FarmaMondo Group, Fast-Track Diagnostics, Fatro, Federal Ministry of Education and Research (BMBF), Fedora Pharmaceuticals, Feinstein Institute for Medical Research, Ferozsons Laboratories, Ferring Pharmaceuticals, FibroGenesis, Fina Biosolutions, Finch Therapeutics, Finlay Institute, Finnish Institute for Health and Welfare, Finorga, Fio, First Wave Bio, Fishbowl Warehouse, Fisher Healthcare, FitBit, Five Prime Therapeutics, Fleming Fund, Flemish agency for Innovation by Science and Technology, Flirtey, Florence, Florida International University, Florida State University, FlowMetric Life Sciences, Flow Pharma, FluGen, Fluidigm, Fluxergy, FOB Synthesis, Folia Biotech, Food and Drug Administration (FDA), ForDoz Pharma, Forge Therapeutics, Forsitech, Fortive, Fortress Biotech, Fosun Pharmaceutical, Foundation for Biomedical Research and Innovation, Foundation for Innovative New Diagnostics, Fox Chase Chemical Diversity Center, Fraunhofer Institute for Molecular Ecology (IME), Fraunhofer Institute for Toxicology and Experimental Medicine ITEM, Frederick National Laboratory For Cancer Research, Fred Hutchinson Cancer Research Center, Fresenius Kabi Pharmaceuticals, Frontier Biotech, Frontier Scientific Services, FSC Laboratories, Fujifilm, Fujifilm Diosynth Biotechnologies, Fujifilm Pharma, FUJIFILM SonoSite, Fujirebio Diagnostics, Fulgent Genetics, Fundacion Medina, G-Tech Bio, Gad Medical Equipment, Galapagos, Galenvs Sciences, Galmed Pharmaceuticals, GALVmed, Gamaleya National Center, Garmatex Technologies, GAVI Alliance, GB Pharma Holdings, GC Pharma, Gedeon Richter, GE Healthcare, Gen-Probe, GEn1E Lifesciences, Genentech, GeneOne Life Science, GenePOC, General Motors, Generation Biotech, Generex Biotechnology, GeneThera, Genetic Immunity, Genetron Health, Geneva Foundation, Genevant Sciences, Genexine, Genexo, Genkyotex, Genmab, Genocea Biosciences, Genome Canada, Genome Institute of Singapore, GenScript Biotech, GensKey Medical Technology, GenTegra, Genticel, GenVec, Geom Therapeutics, George Mason University, George Washington University, Georgia State University Research Foundation (GSURF), Georgia Tech Research Corporation, GeoVax, German Cancer Research Center, German Federal Ministry of Education and Research, German Government, Gibraltar Brothers and Associates, Gilead Sciences, Ginkgo BioWorks, GlaxoSmithKline, GlaxoSmithKline Biologicals, Glenmark Pharmaceuticals, Glide Technologies, Global Antibiotic Research and Development Partnership, Global Coalition for Adaptive Research, Global Development Incubator, Global Dx, Global Good Fund, Global Health Innovative Technology Fund (GHIT), Global Response Aid, Global WholeHealth Partners, Globavir Biosciences, GNA Biosolutions, Gnomegen, Goffin Molecular Technologies, Golden Mountain Partners, Google, Government of Australia, Government of Canada, Government of France, Government of India, Government of Israel, Government of Netherlands, Government of Serbia, Government of South Korea, Government of Switzerland, GPCR Therapeutics, Grameen Health, Grand River Aseptic Manufacturing, Gravity Diagnostics, Great Basin Scientific, Green Cross LabCell, Greenfield Global, Greenlight Biosciences, Greenwich LifeSciences, Griffith University, Grifols, Gritstone Oncology, Group K Diagnostics, GSK Consumer Healthcare, GT Biopharma, Guangzhou Institute of Respiratory Disease, Guilin Pharmaceutical, GVK Biosciences, H&P Labs, Hackensack Meridian Health, Hadasit Medical Research Services and Development, Hai Kang Life, Hainan Savy Akers Biosciences, Hainan Savy Investment Management, Hainan Sihuan Pharmaceutical, Haisco Pharmaceutical, Halberd, Halfpenny Technologies, Halix, Halodine, HaloVax, Halozyme Therapeutics, Halyard Health, Hamilton Company, Hampton University, HanaVax, Hancom Group, Hannover Medical School, Harbour Biomed, Harro Hofliger, Harvard Medical School, Harvard T.H. Chan School of Public Health, Harvard University, Hatchtech, Hawaii Biotech, Healgen Scientific, HEALTH Biomed, Healthcare Royalty Partners, Health Decisions, Healthe, HealthTrust, HealthTrust Purchasing Group, Healthvana, Health Vector, Heat Biologics, HEC Pharm, Helix, Helix2, HelixBind, Helix BioPharma, Helmholtz Centre for Infection Research, Helperby Therapeutics, Hememics Biotechnologies, HemispheRx Biopharma, Henry M. Jackson Foundation, Henry Schein, Hepatitis B Foundation, Hetero Labs, Heumann Pharma Generics, Hi-Tech Pharmacal, HiberGene Diagnostics, HiFiBio, Hikma Pharmaceuticals, Histogen, HistoGeneX, Hisun BioRay, HitGen, HIV Interactions in Viral Evolution (HIVE) Center, HIV Resistance Response Database Initiative, HLS Therapeutics, Hoffmann La Roche, Hologic, Hong Kong Polytechnic University, Hookipa Pharma, Hoowaki, Horizon 2020, Horizon Discovery, Hospices Civils de Lyon, Hoth Therapeutics, Hovione, Howard Hughes Medical Institute (HHMI), HP, Hsiri Therapeutics, HSRx Group, HTC ChemRar, Hudson Robotics, Hugel, Humabs BioMed, Humanigen, Human Vaccines Project, Hvidovre Hospital, hVIVO, Hygea Precision Medicine, HyGreen, I-MED Pharma, iBio, IBT Bioservices, Icahn School of Medicine at Mount Sinai, ICB Pharma, Ichor Biologics, Ichor Blood Services, Ichor Medical Systems, IDBiologics, IDbyDNA, ID Genomics, IDT Biologika, iFLYTEK, IGM Biosciences, IGXBio, IHI, ILiAD Biotechnologies, Illumina, ILUM Health Solutions, ImageIQ, Imec, ImmBio, ImmuneCyte Life Sciences, Immune Design, Immune Regulation, Immune Targeting Systems, Immune Therapeutics, Immunexpress, ImmunityBio, Immuno Diagnostic, Immunome, Immunomic, ImmunoPrecise Antibodies, ImmunoQure, Immunotech Laboratories, ImmunoTek Bio Centers, Immunovaccine, Immuron, Impax Laboratories, Imperial College London, ImQuest BioSciences, Imutex, IncellDx, InDevR, Indiana University, Indian Council of Medical Research, Infectious Disease Research Institute (IDRI), Infectolab Americas, InfectoPharm, Infinity BiologiX, Inflammatix, Infor, Infrared Cameras, Ingenza, Inhibitor Therapeutics, Inhibrx, InnaVirVax, Innosuisse, Innovare, Innovasource, Innovate Biopharmaceuticals, Innovate UK, Innovation Pharmaceuticals, Innovation Skane, Innovative Medicines Initiative (IMI), Innovo, Inotrem, iNova Pharmaceuticals, Inovio, Inovio Pharmaceuticals, Inphilco, Inpixon, Inserm, Inserm Transfert, Insilico Medicine, Insmed Inc, Inspyr Therapeutics, InstantLabs, Instem, Institute for Bioscience and Biotechnology Research, Institute for Systems Biology, Institute for Transformative Technologies, Institute of Biomedical Research, Institute of Human Virology, Institute of Materia Medica, Instituto Mato-grossense do Algodão, Institut Pasteur, Institut Pasteur of Shanghai at the Chinese Academy of Sciences, Intarcia Therapeutics, IntegraGen, Integral Molecular, Integrated BioTherapeutics, Integrated Computer Solutions, Integrated DNA Technologies, Integumen, Intel, Intelligence Advanced Research Projects Activity (IARPA), Intent Solutions, Interlab INTERAUTOMATIKA UAB, Intermodeco 2004, International AIDS Vaccine Initiative, International Association of Providers of AIDS Care, International Centre for Diarrhoeal Disease Research, International Consortium on Anti-Virals, International Medica Foundation, International Partnership for Microbicides, International Vaccine Institute (IVI), Interpace Diagnostics Group, Intralytix, Intravacc, iNtRON Biotechnology, IntuitiveX, InVixa, InvoSurg, IONTAS, IP Biotech, ipCapital Group, Ippox Foundation, Ipsen, iQ Group, IQVIA, IRBM, iRemedy Healthcare Companies, IriSys, Isagro, IsoPlexis, IsoTherapeutics, iSpecimen, Israeli National Authority for Technological Innovation, Israel Institute for Biological Research, Israel Investment Center, Italfarmaco, Italian Government, Iterum Therapeutics, ITOCO, Iwatani Group, Jade Therapeutics, Jai Capital, JAJ International, James M Cox Foundation, Janssen Biotech, Janssen Diagnostics, Janssen Pharmaceuticals, Janssen Pharmaceutica NV, Janssen Research & Development, Janssen Therapeutics, Janssen Therapeutics EMEA, Japan Government, Japan Tobacco, Jayne Koskinas Ted Giovanis Foundation for Health and Policy, Jazz Pharmaceuticals, J Craig Venter Institute, Jenner Institute, Jiangsu Chia Tai Tianqing Pharmaceutical, Jiangsu Egens Biotechnology, Jiangsu Hansoh Pharmaceutical, Jiangsu Hengrui Medicine, JN Nova Pharma, Johns Hopkins Medicine (JHM), Johns Hopkins University, John Snow, Johnson & Johnson, Johnson & Johnson Innovation, JSC Pharmadis, JSR, Jubilant Life Sciences, Jubilant Pharma, Jubilant Therapeutics, Junshi Biosciences, Just Biotherapeutics, KaHa, KAI Research, KaloBios Pharmaceuticals, Kalon Biotherapeutics, Kalos Therapeutics, Kamada, Kaneka, Kansas City Area Life Sciences Institute, Kansas State University, Kantaro Biosciences, Karius, Karolinska Institute, Karo Pharma, Karyopharm Therapeutics, Kedrion Biopharma, Kemin Industries, Keyence, KeyTronic, Kiadis Pharma, Kim & Friends, Kimberly-Clark, Kindred Bio, Kineta, King's College Hospital, King Saud University, Kings College London, Kinnear Pharmaceuticals, Kintor, Kleen Bee Labs, Kleo Pharmaceuticals, KMG International, Knight Therapeutics, KNOW Bio, Komodo Health, Korea Advanced Institute of Science and Technology, KPM Tech, Kurabo, Kurve Technology, Kymab, Kyorin Pharmaceutical, L1 Systems, L7 Informatics, Laboratoire M2, Laboratorios Farmaceuticos Rovi, Laboratorios Liomont, Laboratory Corporation of America, Laboratory of Malaria Immunology and Vaccinology (LMIV), Labor Dr. Merk & Kollegen, Labquality, Lachlan Pharma, Lactiga, La Jolla Institute for Allergy & Immunology, La Jolla Pharmaceutical, LakePharma, Lakewood-Amedex, LALREAN, LamdaGen, Lannett, LatAm Clinical Trials, Latham BioPharm Group, Laurus Labs, Lawrence Livermore National Laboratory, Lawson Health Research Institute, Laxai Pharma, Laxisam, Lead Discovery Center, Leading BioSciences, Leaf Biopharmaceutical, LegoChem Biosciences, Lehigh University, Leibniz-Institut fur Molekulare Pharmakologie, Leicester University, Leiden University, Leidos, Lenovo, Leonard-Meron Biosciences, LEO Pharma, Leukocare, LexaGene, LFB Biotechnologies, LFB Group, LGC, Libbs Farmaceutica, LifeArc, Ligand Pharmaceuticals, Light Chain Bioscience, Li Ka Shing Foundation, Liminal BioSciences, Lion TCR, Lipigon Pharmaceuticals, List Biological Laboratories, LiteVax, LiveLeaf, Liverpool School of Tropical Medicine, Livzon Mabpharm, Locus Biosciences, LogicInk, Longhorn Vaccines and Diagnostics, Longitude Capital, Lonza, Loreal, Los Angeles Biomedical Research Institute, Los Angeles County Department of Health Services, Louisiana State University, Lucideon, Lumen Biomedical, Luminare, Luminarie, Luminex, Luminostics, LuminUltra, LumiraDx, Lumos Pharma, Lund University, Lung Biotechnology, Lupin, Lupin Pharmaceuticals, Luxna Biotech, Lyndra Therapeutics, Lysando, Lytica Therapeutics, MaaT Pharma, mAbXience, Macau University of Science and Technology, Macrogenics, Macrolide Pharma, Macromoltek, Maersk-Andersen, Magentine, Magle Chemoswed, MagnaCare, Makerere University, Mallinckrodt Pharmaceuticals, Mammoth Biosciences, Manhattan BioSolutions, Mannin Research, Mapp Biopharmaceutical, March of Dimes, Marinomed Biotechnologie, Marken, Markforged, Mark Zuckerberg, Marrone Bio Innovations, Maryland Technology Development Corporation, Masimo, Massachusetts General Hospital, Massachusetts Institute of Technology, Massachusetts Life Sciences Center, MassBiologics, Mass General Brigham, Mateon Therapeutics, Matinas Biopharma, Matrivax, Matrix Biomed, Matrix Medical Network, MAVIDx, Max-Planck, Max Biopharma, Maxor National Pharmacy, Mayo Clinic, Mayo Clinical Ventures, MBio Diagnostics, McKesson, McMaster University, MD Biosciences, MEDCIS Pathlabs, Medela, Medgenics, Medicago, Medical Research Futures Fund, Medical Technology Enterprise Consortium, Medical University of Vienna, Medicinal Genomics, Medicines360, Medicines Development for Global Health, Medicines for Malaria Venture, Medicines Patent Pool Foundation, MediciNova, Medicom, Medigen Biotechnology, MediGene, Medigen Vaccine Biologics, Medigus, MedImmune, MedinCell, Mediphos, Medisur, Meditemi, Medivant Healthcare, Medivir, Medizone International, Medline Industries, MedMira, Medusa19, Meiji Seika, Mekics, Melinta Therapeutics, Melior Pharmaceuticals, Memorial Sloan Kettering Cancer Center, Memo Therapeutics, Menarini, Menarini Silicon Biosystems, Menon Biosensors, Menzer, Merck and Co, Merck Animal Health, Merck KGaA, Merck Sharpe & Dohme, Meridian Bioscience, Meridian Health Services Network, Meridian IT, Meridian Life Science, Meridian Medical Technologies, MerLion, Mesa Biotech, Mesa Laboratories, Mesoblast, Metabiota, Metaclipse Therapeutics, Mexican National Technology and Science Council, MGB Biopharma, MGI Pharma, MGI Tech, Micreos, MicrobeDx, Microbion, Microbiotix, Microbix Biosystems, MicroCoat Biotechnologie, MicroGEM, Micro Imaging Technology, Micron Biomedical, Microprofit Biotech, Microsoft, MicuRx Pharmaceuticals, Mid-Atlantic BioTherapeutics, Midatech, Midge Medical, Mie University, Mikrogen, MILA International, Milenia Labs, MilliporeSigma, MinervaX, Ministry of Finance (China), Ministry of Health, Ministry of Health (Israel), Ministry of Health, Labor and Welfare, Ministry of Industry and Information Technology, MiniVax, Minnesota Health System, Miravo Healthcare, Miriam Hospital, Mission Pharmacal, MMS, Moberg Pharma, Mobidiag, MOBILion Systems, MockV Solutions, Moderna Therapeutics, Molbio Diagnostics, Molecular Partners, Moleculin Biotech, Molnlycke Health Care, Mologen, Mologic, Monash University, Monopar Therapeutics, Montefiore Health System, Montreal Heart Institute, Morehouse School of Medicine, Morgan Stanley, Motic, Motif Bio, Mount Sinai Health System, Mount Sinai Medical Center, MphRx, MRIGlobal, MSD, MSD Wellcome Trust Hilleman Laboratories, MSN Laboratories, MS Pharma, Mucokinetica, Mucosis, Multi G, Mundipharma, Mundo Sano, Murdoch Childrens Research Institute, MWMedical, My Brother's Keeper, Mycoses Study Group Education & Research Consortium, Mycovia Pharmaceuticals, MyLabBox, Mylan Laboratories, Mylan Pharmaceuticals, MyLife Technologies, Mymetics, Myriad RBM, Mytide Therapeutics, N1 Technologies, Nabriva Therapeutics, NacuGen Therapeutics, NanoBio, NanoLock, Nanomerics, Nanommune, NanoMosaic, NanoPass Technologies, NanoPin Technologies, Nanosphere, Nanotherapeutics, Nanotronics Health, NanoViricides, Nanowear, NantKwest, Nanyang Technological University, Napo Pharmaceuticals, Nascent Biotech, National Cancer Institute, National Center for Advancing Translational Sciences (NCATS), National Center for Foreign Animal and Zoonotic Disease Defense, National Development and Reform Commission, National Disease Research Interchange, National Health and Family Planning Commission, National Healthcare Services (NHS), National Health Research Institute, National Health Service, National Heart, Lung and Blood Institute, National Immunobiological Company, National Institute for Communicable Disease Control and Prevention (China), National Institute for Health Research (NIHR), National Institute for Innovation in Manufacturing Biopharmaceuticals, National Institute for Public Health and the Environment, National Institute for Viral Sidease Control and Prevention, National Institute of Allergy and Infectious Diseases, National Institute of Biomedical Imaging and Bioengineering, National Institute of Biomedical Innovation, National Institute of Cholera and Enteric Diseases, National Institute of Dental and Craniofacial Research (NIDCR), National Institute of Diabetes and Digestive and Kidney Diseases, National Institute of General Medical Sciences, National Institute of Hygiene and Epidemiology, National Institute of Infectious Diseases, National Institute of Mental Health, National Institute of Standards and Technology, National Institute of Vaccines and Medical Biologicals, National Institute on Drug Abuse (NIDA), National Institutes of Health, National Kidney Registry, National Research Council Canada, National Research Council Industrial Research Assistance Program, National Research Council of Canada, National Science Foundation, Nationwide Laboratory Services, Natural Sciences and Engineering Research Council of Canada, Nature Technology, Naval Medical Logistics Command, Naval Medical Research Center, Navy Medical Research Centre, Near Patient Diagnostics, NEC, Nepean Blue Mountains Local Health District's Nepean Hospital, Nephron Pharmaceuticals, Nestle Health Science, NeuMoDx Molecular, Neurimmune Therapeutics, NeuroLab, Neurophotometrics, NeuroRx....
For a full list please contact us on orders@currentpartnering.com
Current Partnering reports provide insight into the trends and terms of partnering deals in the global life sciences sector.
Current Partnering reports are updated every six months to ensure the user has access to the latest announcements and trends in the topic focus of the report.
Current Partnering analysts review the deal data to provide an overview and analysis of deal trends, including example deals and terms.
Current Partnering reports source deal data from our proprietary deals and alliances database, Current Agreements. The database is updated daily by our analysts with new deals as they are announced globally by the company's party to the deal. In addition, deal records are updated with new data as it becomes available.
The data in the Current Agreements deals and alliances database is obtained from secondary sources such as publicly available industry sources including press releases, company presentations, investor presentations, company SEC filings, other company filings, company websites, conference presentations. Sources are identified to allow for user verification.
Current Partnering provides comprehensive coverage of the following partnering or deal types:
• Asset purchase
• Assignment
• Co-development
• Co-market
• Co-promotion
• Collaborative R&D
• Contract service
• CRADA
• Cross-licensing
• Development
• Distribution
• Equity purchase
• Evaluation
• Grant
• Joint venture
• Licensing
• Loan
• Manufacturing
• Marketing
• Option
• Promotion
• Research
• Royalty financing
• Settlement
• Spin out
• Sub license
• Supply
• Termination
• Warrant
Every deal record is fully categorized and includes the following data, where available:
• Industry sector
• Therapy areas
• Technology type
• Deal components
• Financial terms
• Stage of development
• Exclusivity
• Asset type
• Geographic focus
• Excluded geography
• Company press release
• SEC filing data including contract document
All financial amounts are converted to US$ using the exchange rate available on the date of deal announcement, enabling direct comparison of deal terms across international territories.
Financial data and contract documents displayed in deal records is obtained from public sources, where disclosed by the parties to the deal.