Global Genitourinary Partnering 2010 to 2022: Deal trends, players and financials
The Global Genitourinary Partnering 2010 to 2022: Deal trends, players and financials report provides comprehensive understanding and unprecedented access to the genitourinary partnering deals and agreements entered into by the worlds leading healthcare companies.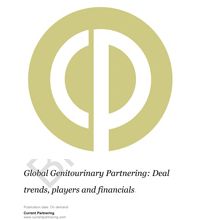 Publication date
June 2022
Product type
Research report
Available formats
PDF document
Global Genitourinary Partnering 2010 to 2022 provides the full collection of Genitourinary disease deals signed between the world's pharmaceutical and biotechnology companies since 2010.
Trends in Genitourinary partnering deals
Financial deal terms for headline, upfront and royalty by stage of development
Genitourinary partnering agreement structure
Genitourinary partnering contract documents
Top Genitourinary deals by value
Most active Genitourinary dealmakers
Most of the deals included within the report occur when a licensee obtains a right or an option right to license a licensor's product or technology. More often these days these deals tend to be multi-component including both a collaborative R&D and a commercialization of outcomes element.
The report takes readers through the comprehensive Genitourinary disease deal trends, key players and top deal values allowing the understanding of how, why and under what terms companies are currently entering Genitourinary deals.
The report presents financial deal terms values for Genitourinary deals, where available listing by overall headline values, upfront payments, milestones and royalties enabling readers to analyse and benchmark the value of current deals.
The initial chapters of this report provide an orientation of Genitourinary dealmaking trends.
Chapter 1 provides an introduction to the report.
Chapter 2 provides an overview of the trends in Genitourinary dealmaking since 2010 covering trends by year, deal type, stage of development, technology type and therapeutic indication.
Chapter 3 includes an analysis of financial deal terms covering headline value, upfront payment, milestone payments and royalty rates.
Chapter 4 provides a review of the leading Genitourinary deals since 2010. Deals are listed by headline value. The chapter includes the top 25 most active Genitourinary dealmakers, together with a full listing of deals to which they are a party. Where the deal has an agreement contract published at the SEC a link provides online access to the contract.
Chapter 5 provides comprehensive access to Genitourinary deals since 2010 where a deal contract is available, providing the user with direct access to contracts as filed with the SEC regulatory authorities. Each deal title links via Weblink to an online version of the deal record contract document, providing easy access to each contract document on demand.
Chapter 6 provides a comprehensive directory of all Genitourinary partnering deals by specific Genitourinary target announced since 2010. The chapter is organized by specific Genitourinary therapeutic target. Each deal title links via Weblink to an online version of the deal record and where available, the contract document, providing easy access to each contract document on demand.
In addition, a comprehensive appendix is provided with each report of all Genitourinary partnering deals signed and announced since 2010. The appendices are organized by company A-Z, stage of development at signing, deal type (collaborative R&D, co-promotion, licensing etc) and technology type. Each deal title links via Weblink to an online version of the deal record and where available, the contract document, providing easy access to each contract document on demand.
The report also includes numerous tables and figures that illustrate the trends and activities in Genitourinary partnering and dealmaking since 2010.
In conclusion, this report provides everything a prospective dealmaker needs to know about partnering in the research, development and commercialization of Genitourinary technologies and products.
Report scope
Global Genitourinary Partnering 2010 to 2022 is intended to provide the reader with an in-depth understanding and access to Genitourinary trends and structure of deals entered into by leading companies worldwide.
Global Genitourinary Partnering 2010 to 2022 includes:
Trends in Genitourinary dealmaking in the biopharma industry since 2010
Access to headline, upfront, milestone and royalty data
Access to hundreds of Genitourinary deal contract documents
Comprehensive access to over 680 Genitourinary deal records
The leading Genitourinary deals by value since 2010
Most active Genitourinary dealmakers since 2010
The report includes deals for the following indications: Discharge, Frequency, Incontinence, Itching, Nocturia, Urgency, Acute kidney injury, Amyloidosis, Chronic kidney disease (CKD), Cystitis, Diabetic nephropathy, Dialysis, Hemolytic-uremic syndrome (HUS), Kidney stones, Nephrotic syndrom, Overactive bladder, Peyronie's disease, Polycystic kidney disease, Prostate diseases, Prostatitis, Prostate enlargement, Renal failure, Renal infections, Nephritis, Glomerulonephritis, Pyelonephritis, Vesicoureteral reflux, Urinary tract infection (UTI), plus other genitourinary indications.
In Global Genitourinary Partnering 2010 to 2022, available deals and contracts are listed by:
Headline value
Upfront payment value
Royalty rate value
Stage of development at signing
Deal component type
Technology type
Specific therapy indication
Each deal title links via Weblink to an online version of the deal record and where available, the contract document, providing easy access to each contract document on demand.
The Global Genitourinary Partnering 2010 to 2022 report provides comprehensive access to available deals and contract documents for over 680 Genitourinary deals. Analyzing actual contract agreements allows assessment of the following:
What are the precise Genitourinary rights granted or optioned?
What is actually granted by the agreement to the partner company?
What exclusivity is granted?
What is the payment structure for the deal?
How are sales and payments audited?
What is the deal term?
How are the key terms of the agreement defined?
How are IPRs handled and owned?
Who is responsible for commercialization?
Who is responsible for development, supply, and manufacture?
How is confidentiality and publication managed?
How are disputes to be resolved?
Under what conditions can the deal be terminated?
What happens when there is a change of ownership?
What sublicensing and subcontracting provisions have been agreed?
Which boilerplate clauses does the company insist upon?
Which boilerplate clauses appear to differ from partner to partner or deal type to deal type?
Which jurisdiction does the company insist upon for agreement law?
Global Genitourinary Partnering 2010 to 2022 provides the reader with the following key benefits:
In-depth understanding of Genitourinary deal trends since 2010
Access Genitourinary deal headline, upfront, milestone and royalty data
Research hundreds of actual contracts between Genitourinary partner companies
Comprehensive access to over 680 links to actual Genitourinary deals entered into by the world's biopharma companies
Indepth review of Genitourinary deals entered into by the top 25 most active dealmakers
Benchmark the key deal terms companies have agreed in previous deals
Identify key terms under which companies partner Genitourinary opportunities
Uncover companies actively partnering Genitourinary opportunities
Executive Summary
Chapter 1 – Introduction
Chapter 2 – Trends in Genitourinary dealmaking
2.1. Introduction
2.2. Genitourinary partnering over the years
2.3. Genitourinary partnering by deal type
2.4. Genitourinary partnering by industry sector
2.5. Genitourinary partnering by stage of development
2.6. Genitourinary partnering by technology type
2.7. Genitourinary partnering by therapeutic indication
Chapter 3 –Financial deal terms for Genitourinary partnering
3.1. Introduction
3.2. Disclosed financials terms for Genitourinary partnering
3.3. Genitourinary partnering headline values
3.4. Genitourinary deal upfront payments
3.5. Genitourinary deal milestone payments
3.6. Genitourinary royalty rates
Chapter 4 – Leading Genitourinary deals and dealmakers
4.1. Introduction
4.2. Most active in Genitourinary partnering
4.3. List of most active dealmakers in Genitourinary
4.4. Top Genitourinary deals by value
Chapter 5 – Genitourinary contract document directory
5.1. Introduction
5.2. Genitourinary partnering deals where contract document available
Chapter 6 – Genitourinary dealmaking by therapeutic target
6.1. Introduction
6.2. Deals by Genitourinary therapeutic target
Appendices
Appendix 1 – Directory of Genitourinary deals by company A-Z since 2010
Appendix 2 – Directory of Genitourinary deals by deal type since 2010
Appendix 3 – Directory of Genitourinary deals by stage of development since 2010
Appendix 4 – Directory of Genitourinary deals by technology type since 2010
Further reading on dealmaking
Deal type definitions
About Wildwood Ventures
Current Partnering
Current Agreements
Recent report titles from CurrentPartnering
Table of figures
Figure 1: Genitourinary partnering since 2010
Figure 2: Genitourinary partnering by deal type since 2010
Figure 3: Genitourinary partnering by industry sector since 2010
Figure 4: Genitourinary partnering by stage of development since 2010
Figure 5: Genitourinary partnering by technology type since 2010
Figure 6: Genitourinary partnering by indication since 2010
Figure 7: Genitourinary deals with a headline value
Figure 8: Genitourinary deals with upfront payment values
Figure 9: Genitourinary deals with milestone payment
Figure 10: Genitourinary deals with royalty rates
Figure 11: Active Genitourinary dealmaking activity since 2010
Figure 12: Top Genitourinary deals by value since 2010
Pricing options
$3,495: single-user
$5,245: multi-user
$10,495: single site license
$17,495: global site license
A full explanation of license type definitions can be found here.
Our guarantee
Price promise
We guarantee our prices are competitive. If you find the same report advertised at a lower price within 7 days of purchase, we will refund the difference.
Delivery Deadline
We guarantee that the report will be sent within the specified delivery times. In the unlikely case of a delay we may offer a partial refund as compensation. (Terms may apply)
Latest report
If an update is published within 30 days of your purchase, you will receive it absolutely free of charge.
Serious Security
We take your data and security seriously. See our privacy policy for details of how we manage your data.
All card payments are processed by SagePay.
Sales Support
If you have any questions about your report or are unhappy with the quality, we will do our best to resolve your query. Contact us direct.
Total Trust
Current Partnering is part of Wildwood Ventures Ltd., based in York, United Kingdom. We have been trading successfully online since 2009 and work with some of the most famous brands in the business. We carefully select our partners to ensure that the publications meet expectations of demanding customers.
3SBio, 4D Science, 180 Medical, A1M Pharma, AbbeyMoor Medical, Abbott Laboratories, Abbvie, Acer Therapeutics, Acerus, Aceso Life Science, Aceto Corporation, Acino Pharma, ACIST Medical Systems, Acon Labs, Actient Pharmaceuticals, Action Pharma, ActivStyle, Acurx Pharmaceuticals, AdaptHealth, Aduro BioTech, Advanced Uro-Solutions, Advanz Pharma, Advicenne, AEterna Zentaris, Aethlon Medical, Aetna, Affymax, AirStrip Technologies, Akcea Therapeutics, Akebia Therapeutics, AKESOgen, Alavita Pharmaceuticals, AlCana Technologies, Alcavis HDC, Alere Health, Algernon Pharmaceuticals, Alio Medical, AliveCor, Alivio Therapeutics, Allecra Therapeutics, Allegis Pharmaceuticals, Allena Pharmaceuticals, Allergan, Allium Medical Solutions, Alnylam Pharmaceuticals, Altasciences, Altavant Sciences, Althea Technologies, AltheRx, AM-Pharma, Amag Pharmaceuticals, Ambu, American Access Care, American Diabetes Association, American Lung Association, American Medical Systems, American Renal Associates, American Urological Association, Amerigen Pharmaceuticals, Amerinet, AmerisourceBergen, Amgen, AmorChem, Ampio Pharmaceuticals, Amplity Health, Anakuria Therapeutics, ANDROMEDA Medizinische Systems, Angelini Pharma, Angion Biomedica, Angiotech Pharmaceuticals, ANI Pharmaceuticals, Antares Pharma, Anteris Bio, Anthem, Anthem Bluecross, Anthera Pharmaceuticals, AorTech, Apax Partners, Apellis Pharmaceuticals, Apocell, Apollo Hospitals Group, Applied Medical, Aquestive Therapeutics, Aquinox Pharmaceuticals, Arch Biopartners, Archimedes Pharma, Ardelyx, Arena Pharmaceuticals, Argon Medical Devices, Argutus Medical, Arizona State University, Arkray USA, Arrevus, Arriani Pharmaceuticals, Asahi Kasei, Ascend Clinical, Ascend Therapeutics, ASC Therapeutics, ASD Speciality Healthcare, Asia Renal Care, ASKA Pharmaceuticals, Aspect Biosystems, Assembly Biosciences, Astellas Pharma, Astellas Pharma US, AstraZeneca, Astute Medical, Atara Biotherapeutics, Atlantic Dialysis Management Services, Aurinia Pharmaceuticals, Auven Therapeutics, Auxilium Pharmaceuticals, Avanti Specialty Pharmacy Management, Avenu Medical, AWAK Technologies, Axonics Modulation Technologies, Ayogo Health, Aytu BioPharma, Aziyo Biologics, Balboa Nephrology Medical Group, Bausch & Lomb, Baxter International, Baylor Health Care System, B Braun, Beacon Discovery, Beckman Coulter, Becton Dickinson, Beijing King Health, Beijing Leadman Biochemistry, Bellco Health Care, Bellus Health, BenevolentAI, Beth Israel Deaconess Medical Center, Biim Ultrasound, Bio-Techne, BIOASTER, BioCad Holding, Biocon, BioDerm, BioLink Life Sciences, Biomedical Advanced Research and Development Authority, Biomerica, bioMerieux, BioPorto, BioSerenity, Biostar Pharmaceuticals, BioVectra, BK Medical, Blackstone, Bladder Health Network, Blue Cross Blue Shield Association, Boehringer Ingelheim, Boston Scientific, Bridge Medicines, Brigham and Women's Hospital, BrightInsight, Brookhaven Medical, Buck Elektromedizn, BUCKmeditec, Bumrungrad International, Caelum Biosciences, Caldera Pharmaceuticals, Calliditas Therapeutics, CamelBak, Canadian Urological Association, Cancer Genetics, Cara Therapeutics, CARB-X, Cardio Renal Society of America, CareDx, CareFusion, Casper Pharma, CB2 Therapeutics, Celgene, CELLINK, Celtic Biotech, Cenas, Centogene, Cervos Medical, Champion Manufacturing, ChemoCentryx, Children's Mercy Hospital, China Medical System, Chinese National Institute of Hospital Administration, Chinook Therapeutics, Chong Kun Dang, Cigna Healthcare, CJ Corp, Cleveland Clinic, Clinipace Worldwide, CloudCath, CMX Research, Codan Triplus, Codexis, Cogentix Medical, Collaborative Study Group, Coloplast, Columbia University, Commercialisation Australia, Companhia Portuguesa Higiene, Concert Pharmaceuticals, Control Flo Medical, ConvaTec, Cook Biotech, Cook Medical, Cooper Surgical, Cordis, Corino Therapeutics, Corvidia Therapeutics, Covance, Covidien, C R Bard, CreatiVasc Medical, Creative Medical Technologies, Cricket Health, Critical Path Institute (C-Path), CromSource, CrossBay Medical, Cryolife, CSL, Cubist Pharmaceuticals, Cumberland Pharmaceuticals, CureBeta, Cypress Pharmaceutical, Cytochroma, CytoSorbents, Daewoong Pharmaceutical, Daiichi Sankyo, Dako, Dalton Pharma Services, Danish Innovation Fund, DaVita, DaVita HealthCare Partners, Daxor, DCRX Infusion, Debiopharm, Debiotech, Defense Advanced Research Projects Agency, Defense Threat Reduction Agency, Degania Silicone, Dialco Medical, Dialysis Corp of America, Dialyss, Diaverum, Dicerna Pharmaceuticals, Dignify Therapeutics, DILIsym Services, Dimerix Biosciences, Dirinco, DiscoveryBioMed, Distal Access, Diurnal, Dr. Reddy's Laboratories, Drais Pharmaceuticals, Drexel University, DSG Partners, DSM, DSM Biomedical, Duchesnay, DV Care, Ecole Polytechnique Federale de Lausanne, ECR Pharmaceuticals, EDAP TMS, EirGen Pharma, EKF Diagnostics (Germany), Eledon Pharmaceuticals, Elexopharm, Eli Lilly, Eloquest Healthcare, Ember Therapeutics, EMD Serono, Endo International, Endo Pharmaceuticals, EndoStim, Enteris Biopharma, Enzyvant Science, Epigen Biosciences, Epitech, Erasmus University Medical Center, Erlangen University Hospital, Eton Pharmaceuticals, EuroCept, Eurofins Scientific, Euromedic, European Commission, Everbeauty, Everest Medicines, Evergreen Nephrology, Eversana, Evestra, Evgen Pharma, Evolva, Evotec, ExCEEd Orphan, Exosome Diagnostics, Expanscience, ExtraCorp, Farma-Projekt, Fedora Pharmaceuticals, Ferring Pharmaceuticals, Fibrogen, Fibrotech Therapeutics, Fimbrion Therapeutics, FirstString Research, Fleming Pharmaceuticals, FlowSense, Forendo Pharma, Fortress Biotech, Fosun Pharmaceutical, Fougera Pharmaceuticals, Foundation for International Urogynecological Assistance, Frazier Healthcare Ventures, Fred Hutchinson Cancer Research Center, French Investment Fund, Frenova Renal Research, Fresenius, Fresenius Kabi Pharmaceuticals, Fresenius Medical Care, Frost Pharma, FSC Laboratories, Fuji Yakuhin, FutureMatrix Interventional, Galenica, Gambro, GC Rise, Gebro Pharma, Gedeon Richter, GE Healthcare, Geisinger Medical Center, GeneNews, Genewiz, Genexo, Genzyme, George Washington University, German Federal State Baden-Wurttemberg, Gilead Sciences, Girlow USA, GlaxoSmithKline, Goldfinch Bio, Government of Canada, Great Bay Bio, GTCR Golder Rauner, Guangzhou Boji Medical Biotechnological, GVK Biosciences, Haemonetics, Hainan Sihuan Pharmaceutical, Hancock Jaffe Laboratories, Hangzhou Zhongmei Huadong Pharmaceutical, Harbor Island Development, Harland Medical Systems, Harvard Stem Cell Institute, Harvard University, Health-Chem Diagnostics, Healthcare Partners, Health Logic Interactive, HealthTronics, HealthTrust Purchasing Group, Healthy.io, Hegln, Helix BioPharma, Hema Metrics, HemoCleanse, Heritage California ACO, Hisamitsu Pharmaceutical, Hitachi Medical Systems Europe, Hologic, Horizon Therapeutics, Humana, Human Genome Sciences, Hycor Biomedical, Hydra Biosciences, HydroCision, Hyloris Pharmaceuticals, Hyperion Therapeutics, Ibidi, IC-MedTech, Icahn School of Medicine at Mount Sinai, Ideal Concept Group, Ideal Medical Solutions, Idera Pharmaceuticals, IDIBELL, IGAN Biosciences, Ikaria, Ilias Biologics, ILJIN Life Science, IlmixGroup, Immedica, Impax Laboratories, ImpediMed, Imprimis Pharmaceuticals, Innovation Network Corporation, Innovative Diagnostic Laboratory, Innovus Pharmaceuticals, Institut National Recherche Agronomique, Instrumentation Laboratory, Integra, IntelGenx, Intellikine, Intercept Pharmaceuticals, Interface Biologics, Interpace Diagnostics Group, IntrinsiQ, Invacare, InVasc Therapeutics, Inventia Healthcare, Invitae, InVivo, Ion Channel Innovations, Ionis Pharmaceuticals, IRIS International, Isomerase Therapeutics, Isotechnika Pharma, Iterum Therapeutics, Itochu, Ivax Diagnostics, Janssen Pharmaceuticals, Janssen Research & Development, Japan Tobacco, Johns Hopkins University, Johnson & Johnson, Joslin Diabetes Center, JS Bio Pharm, JSR, Juventas Therapeutics, Juvise Pharmaceuticals, KAI Pharmaceuticals, Kane Biotech, Karo Bio, Karolinska Institute, KBI BioPharma, Kelyniam Global, Keryx Biopharmaceuticals, Kidney Innovation Accelerator, Kissei Pharmaceutical, Kleiner Perkins Caufield & Byers, Kova International, Kumamoto University, Kwang Dong Pharmaceutical, Kyorin Pharmaceutical, Kyowa Hakko Kirin, Kyowa Hakko Kogyo, L&F Research, Laboratorios Inibsa, Laboratorios Phoenix, Laboratorios Q Pharma, Laboratorios SALVAT, Laborie Medical Technologies, La Jolla Pharmaceutical, Lanxess, Laurel Crown Partners, Lavasta Pharma, Lehbi Care, Leiden University, LeMaitre Vascular, Liberty Dialysis, Life-Tech, Lifeline Vascular Care, LiNA Medical, Locus Biosciences, Lumenis, Lupin Pharmaceuticals, Lupus Foundation of America (LFA), Luqa Pharmaceuticals, Maisonneuve-Rosemont Hospital (HMR), Makana Therapeutics, Mallinckrodt Pharmaceuticals, Mannin Research, Mar Cor Purification, Mariel Therapeutics, Maruishi Pharmaceutical, Massachusetts General Hospital, Massachusetts Life Sciences Center, Maya Medical, Mayo Clinic, MD Anderson Cancer Center, Med-Ally, Medac, MedCom, Medi-Tate, MediBeacon, Medica Avante, Medical Components, Medical Measurement Systems, Medical Research Council, Medifocus, MediGene, MedImmune, Medina Healthcare, Medinova, Medipal Holdings, Medison Pharma, Medisystems, Meditrina Pharmaceuticals, Medline Industries, Medpace, Medtronic, Meiji Seika, Meizler, Melinta Therapeutics, Memorial Sloan Kettering Cancer Center, Menarini, Merck Sharpe & Dohme, Merlin Technologies, Merus, Merus Labs International, Merz, Metabolon, Metamark Genetics, Methuselah Foundation, Metro Medical Supply, Metuchen Pharmaceuticals, MicrobeDx, Micron Medical, Microsulis Medical, MidCap Financial, Mimetas, Ministry of Health (China), Ministry of Health (Saudi Arabia), Minnesota Medical, Mironid, Mission Pharmacal, Mitobridge, Mitsubishi Pharma, Mitsubishi Tanabe Pharma, Moderna Therapeutics, Molecular Targeting Technologies, Morehouse School of Medicine, Mount Sinai Health System, Mpathy, MRM Proteomics, MTS Health Investors, MultiPlan, Murdoch Childrens Research Institute, Mylan Laboratories, Myovant Sciences, NacuGen Therapeutics, Nanjing MeiRui Pharma, NanoBio, NanoVibronix, Nantes University, Nashville Biosciences, National Centre for the Replacement, Refinement and Reduction of Animals in Research, National Heart, Lung and Blood Institute, National Institute of Allergy and Infectious Diseases, National Institute of Child Health and Human Development, National Institute of Diabetes and Digestive and Kidney Diseases, National Institutes of Health, National Kidney Foundation, National Kidney Registry, National University of Singapore, NCPC GeneTech, Neokidney, Neotract, NephCure Kidney International, Nephria Bio, Nephrogenex, Nephron Dx, Nephros, Neptune Technologies & Bioressources, Nestle Health Science, NeuralStem, NeuroMetrix, Neurotrope BioScience, NeuroVive Pharmaceutical, New York University School of Medicine, NextKidney, NextPharma, Nicoya, Nikkiso, Nikkiso Medical Korea, Nile Therapeutics, Nippon Shinyaku, Nipro Diabetes System, NMI Natural and Medical Sciences Institute, Nordic Medcom, Norgenix Pharmaceuticals, Norgine, North American Science Associates, Nosopharm, NovaMed Pharmaceuticals, Novartis, Novation, Noventure, Novo Nordisk, NuChem Therapeutics, Nx Stage Medical, Nxstage Medical, Nymox Pharmaceutical, NYU Langone Medical Center, Oceana Therapeutics, Olympus, OM Pharma, Omron, Onegevity, One Rock Capital Partners, Only for Children Pharmaceuticals, Ono Pharmaceutical, OpGen, OPKO Health, Organovo, Orphan Therapeutics, Ortho-Clinical Diagnostics, OSE Immunotherapeutics, Osprey Medical, Ostial Solutions, Otsuka, Outpost Medicine, Oxford Immunotec, Palette Life Sciences, Pall Corporation, Panion & BF Biotech, Pansend, Par Pharmaceutical, PathCentral, Patheon, Patheon N.V., Pelham Plastics, Perlara, Pernix Therapeutics, Perugia University, Pervasis Therapeutics, Petros Pharmaceuticals, Pfizer, Pfizer Animal Health, Phadia, Pharmacological research Institute Mario Negri, Pharmalink AB, Pharmalink Consulting, PharmaNet Development Group, PharmaSwiss, PharmLogic, Pharmstandard, Pharmsynthez, Pharsight, Phase One Medical, Pherecydes Pharma, Phil, Phosphate Therapeutics, Pierre Fabre, Piramal, Pivotal bioVenture Partners, PKD Foundation, PLC Systems, PlugMed, POA Pharma Scandinavia, Poiesis Medical, PPD, Prasco Laboratories, Precision Image Analysis, Premier Healthcare Alliance, Premier Inc, Premier Purchasing Partners, Prismic Pharmaceuticals, Procept BioRobotics, ProKidney, Promega, Promepla, Promethera Biosciences, Prometic Life Sciences, PROOF Centre of Excellence for Commercialization and Research, Proteomics International, Protiva Biotherapeutics, Protox Therapeutics, Provesica, Proximum, Purdue Pharma, PureTech Health, PX Therapeutics, Pyramed, Pythagoras Medical, Q BioMed, Qualitest Pharmaceuticals, Quanta Dialysis Technologies, Quark Pharmaceuticals, Quebec Urological Association Foundation, Quimica Europea, Rambam Medical Center, RaNA Therapeutics, Ranbaxy Laboratories, Raptor Pharmaceutical, REACH Kidney Care, Reata Pharmaceuticals, Rebiotix, Recordati, Recordati Espana, ReCor Medical, Regenerex, Regional Health Care Group, Regulus Therapeutics, Relief Therapeutics, Relypsa, Renal Advantage, RenalSense, RenalytixAI, Renovar, RENX AI Labs, Resverlogix, Retrophin, Reveal Pharmaceuticals, Rex Medical, RFSU, Richard Wolf Medical Instruments, Riordan Lewis & Haden | Equity Partners, Rising Pharmaceuticals, Roche, Rockwell Medical, ROi (Resource Optimization & Innovation), Roivant Sciences, Royal Children's Hospital, Royalty Pharma, Salix Pharmaceuticals, Sanguina, Sanifit Therapeutics, Saniona, Sanofi, SanReno Therapeutics, Santarus, Sanwa Kagaku Kenkyusho, Sartorius Stedim Biotech, Satellite Healthcare, Scanwell Health, Schnitzler Cardiovascular Consultants, SciClone Pharmaceuticals, Scohia Pharma, Scynexis, Searchlight Pharma, Seattle Childrens Research Institute, Selecta Biosciences, Selexis, Serenity Pharmaceuticals, Serodus, Shanghai Haini Pharmaceutical, Shanghai Institute of Materia Medica, Shanghai Yangpu Antu Hospital, Shenzhen Hepalink Pharmaceutical, Shenzhen University, Shiel Medical Laboratory, Shionogi, Shire Laboratories, Shire Pharmaceuticals, Siemens, Siemens Healthcare Diagnostics, Siemens Healthineers, Silence Therapeutics, Simavita, SinoMab Bioscience, Sinovant Sciences, SK Chemicals, SLA Pharma, Sofinnova Partners, Solana Therapeutics, Somatus, SOM Biotech, Sonacare Medical, South Coast Specialty Compounding, SPCare, Specialty Renal Products, Spectra Laboratories, Spectrum Pharmaceuticals, Spero Therapeutics, Sphingotec, Spindial, SRS Medical, STADA Arzneimittel, Stanford University, Starr Foundation, STATegics, Stellar Pharmaceuticals, Stem Cell Network, StoneCreek Capital, Stryker, Sumitomo Dainippon Pharma, Sumitovant Biopharma, Summa Health System, Sunovion Pharmaceuticals, Sun Pharmaceutical, Surgical Care Affiliates (SCA), Surrozen, Suzhou Sinovent Pharmaceuticals, Swansea University, Swedish Orphan Biovitrum, Swixx Biopharma, SyMap Medical, Symic Biomedical, Syneron, Synovis Life Technologies, Sysmex, Sysmex America, Tacurion, Takeda Pharmaceutical, TARIS Biomedical, Teijin, TekMed, Tekmira Pharmaceuticals, Telara Pharma, Teleflex, Telix Pharmaceuticals, Tengion, Tetra Bio-Pharma, Teva Pharmaceutical Industries, The Medical Affairs Company, The Medicines Company, Theradial, TheraVida, Thermedx, Thoeris, Thorne Research, Tissue Genesis, TONIX Pharmaceuticals, Toray, toSense, Trace Analytics, Travere Therapeutics, Trendlines Group, Trestle Biotherapeutics, Tufts Medical Center, Tulane University, TwinPharma, twoXAR, Ucyclyd Pharma, UK Medical Limited, Unicycive Therapeutics, Unilife, UniQuest, Unisensor, United Medical Systems (UMS), University Medical Center Groningen, University of Arkansas, University of Bonn, University of Bristol, University of British Columbia, University of California, San Diego, University of California Los Angeles, University of Cambridge, University of Florida, University of Glasgow, University of Houston, University of Louisville, University of Massachusetts Medical School, University of Miami, University of Michigan, University of Notre of Dame, University of Pennsylvania, University of Rhode Island, University of Rochester, University of Sheffield, University of South Carolina, University of South Carolina Research Foundation, University of Texas, University of Texas at El Paso, University of Tubingen, University of Utah, University of Veterinary Medicine of Hannover, University of Wuerzburg, Upsher-Smith, Urchin Merger Sub, Urigen, UroCure, Urodynamix Technologies, UroGen Pharma, UroGPO, Urologix, Uro Medical, UroMed Technology, Uroplasty, UROsphere, Urotronic, Urovant Sciences, US Air Force, US Army Medical Research Institute of Infectious Diseases, USMD Holdings, Valeant Pharmaceuticals, Validus Pharmaceuticals, Vanderbilt University, Vaneltix Pharma, Varian Medical Systems, Variant Pharmaceuticals, VenatoRx, Vensica Medical, Verana Health, Verity Pharmaceuticals, Vifor-Fresenius Medical Care Renal Pharma Ltd, Vifor Pharma, Vinnova, Viracor-IBT, Viscofan BioEngineering, Vision-Sciences, VisiQuate, Vivax Pharmaceutical, ViveBio, Viveca Biomed, Vivere Health, Vivione Biosciences, Vizient, VolitionRX, vTv Therapeutics, Warner Chilcott, Watson Pharmaceuticals, Weill Cornell Medical College, Wellspect Healthcare, Winhealth Pharma Group, Womens Choice Pharmaceuticals, Woodbury Health Products, Wood Creek Capital, Wuxi Apptec Laboratory Services, Wyeth, Xanodyne Pharmaceuticals, Xenon Pharmaceuticals, Xenotis, Xention, Xijing Hospital, Xisle Pharma Ventures Trust, Xortx Therapeutics, Yale University, Yonsei University Severance Hospital, Yung Shin Pharm, Zambon France, Zealand Pharma, Zenalux Biomedical, Zenyaku Kogyo, Zhejiang Ausun Pharmaceutical, Zydus Cadila, ZyVersa Therapeutics
Current Partnering reports provide insight into the trends and terms of partnering deals in the global life sciences sector.
Current Partnering reports are updated every six months to ensure the user has access to the latest announcements and trends in the topic focus of the report.
Current Partnering analysts review the deal data to provide an overview and analysis of deal trends, including example deals and terms.
Current Partnering reports source deal data from our proprietary deals and alliances database, Current Agreements. The database is updated daily by our analysts with new deals as they are announced globally by the company's party to the deal. In addition, deal records are updated with new data as it becomes available.
The data in the Current Agreements deals and alliances database is obtained from secondary sources such as publicly available industry sources including press releases, company presentations, investor presentations, company SEC filings, other company filings, company websites, conference presentations. Sources are identified to allow for user verification.
Current Partnering provides comprehensive coverage of the following partnering or deal types:
• Asset purchase
• Assignment
• Co-development
• Co-market
• Co-promotion
• Collaborative R&D
• Contract service
• CRADA
• Cross-licensing
• Development
• Distribution
• Equity purchase
• Evaluation
• Grant
• Joint venture
• Licensing
• Loan
• Manufacturing
• Marketing
• Option
• Promotion
• Research
• Royalty financing
• Settlement
• Spin out
• Sub license
• Supply
• Termination
• Warrant
Every deal record is fully categorized and includes the following data, where available:
• Industry sector
• Therapy areas
• Technology type
• Deal components
• Financial terms
• Stage of development
• Exclusivity
• Asset type
• Geographic focus
• Excluded geography
• Company press release
• SEC filing data including contract document
All financial amounts are converted to US$ using the exchange rate available on the date of deal announcement, enabling direct comparison of deal terms across international territories.
Financial data and contract documents displayed in deal records is obtained from public sources, where disclosed by the parties to the deal.