Global Distribution Partnering Terms and Agreements in Pharma, Biotech and Diagnostics 2015-2022
The Global Distribution Partnering Terms and Agreements in Pharma, Biotech and Diagnostics 2015-2022 report provides comprehensive understanding and unprecedented access to the distribution partnering agreements entered into by the worlds leading biopharma companies.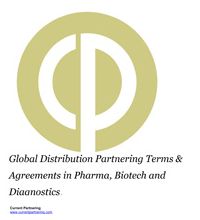 Publication date
October 2022
Product type
Research report
Available formats
PDF document
The Global Distribution Partnering Terms and Agreements in Pharma, Biotech and Diagnostics 2015-2022 report provides details of the latest distribution agreements announced in the pharmaceutical, biotechnology and diagnostic sectors.
Fully revised and updated, the report provides details of distribution agreements from 2015 to 2022.
The report provides a detailed understanding and analysis of how and why companies enter distribution deals. The majority of deals are multicomponent whereby the licensor retains either a right or option to distribute the resultant product of the research collaboration. There are also numerous pure distribution deals whereby the products originator takes on a distribution partner in order to maximize a products presence in the marketplace.
Understanding the flexibility of a prospective partner's negotiated deals terms provides critical insight into the negotiation process in terms of what you can expect to achieve during the negotiation of terms. Whilst many smaller companies will be seeking details of the payments clauses, the devil is in the detail in terms of how payments are triggered – contract documents provide this insight where press releases and databases do not.
This report contains a comprehensive listing of over 2,300 distribution deals announced since 2015 as recorded in the Current Agreements deals and alliances database, including financial terms where available, plus links to online copies of actual distribution contract documents as submitted to the Securities Exchange Commission by companies and their partners.
The initial chapters of this report provide an orientation of distribution dealmaking and business activities. Chapter 1 provides an introduction to the report, whilst chapter 2 provides an overview and analysis of the trends in distribution as well as a discussion on the merits of the type of deal.
Chapter 3 provides an overview of the structure of distribution deals. The chapter includes numerous case studies to enable understanding of both pure distribution deals and multicomponent deals where distribution forms a part.
Chapter 4 provides a review of the leading distribution deals since 2015. Deals are listed by headline value. Where the deal has an agreement contract published at the SEC a link provides online access to the contract via the Current Agreements deals and alliances database.
Chapter 5 provides a comprehensive listing of the top 25 most active distribution dealmaker companies. Each deal title links via Current Agreements deals and alliances database to an online version of the full deal record, and where available, the actual contract document, providing easy access to each deal record on demand.
Chapter 6 provides a comprehensive and detailed review of distribution deals organized by company A-Z, therapy, technology and industry type signed and announced since 2015 where a contract document is available. Contract documents provide an indepth insight into the actual deal terms agreed between the parties with respect to the distribution deal.
The appendices to the report includes a comprehensive listing of all distribution deals announced since 2015. Each listing is organized as an appendix by company A-Z, stage of development at signing, therapeutic area and industry type. Each deal title links via hyperlink to an online version of the deal record including, where available, the actual contract document.
The report also includes numerous table and figures that illustrate the trends and activities in distribution dealmaking since 2015.
The report includes deals announced by hundreds of life science companies including big pharma such as Abbott, Abbvie, Actavis, Amgen, Astellas, AstraZeneca, Baxter, Bayer, Biogen Idec, BMS, Celgene, Eisai, Eli Lilly, Gilead, GSK, J&J, Kyowa Hakko, Merck, Mitsubishi, Mylan, Novartis, Pfizer, Roche, Sanofi, Shire, Takeda, Teva, and Valeant, amongst many others.
In conclusion, this report provides everything a prospective dealmaker needs to know about distribution alliances.
Key benefits
Global Distribution Partnering Terms and Agreements in Pharma, Biotech and Diagnostics 2015-2022 report provides the reader with the following key benefits:
In-depth understanding of distribution deal trends since 2015
Analysis of the structure of distribution agreements with numerous real life case studies
Comprehensive access to over 2,450 actual distribution deals entered into by the world's biopharma companies
Detailed access to actual distribution contracts entered into by leading biopharma companies
Identify the top most actve distribution dealmakers
Insight into the terms included in a distribution agreement, together with real world clause examples
Understand the key deal terms companies have agreed in previous deals
Undertake due diligence to assess suitability of your proposed deal terms for partner companies
Report scope
Global Distribution Partnering Terms and Agreements in Pharma, Biotech and Diagnostics 2015-2022 is intended to provide the reader with an in-depth understanding of the distribution trends and structure of deals entered into by leading biopharma companies worldwide.
Global Distribution Partnering Terms and Agreements in Pharma, Biotech and Diagnostics 2015-2022 includes:
Trends in distribution dealmaking in the biopharma industry since 2015
Analysis of distribution deal structure
Case studies of real-life distribution deals
Access to over 2,450 distribution deals documents
The leading distribution deals by value since 2015
Most active distribution dealmakers since 2015
The leading distribution partnering resources
In Distribution Partnering Terms and Agreements, the available deals are listed by:
Company A-Z
Headline value
Stage of development at signing
Therapeutic area
Technology type
Each deal title links via Weblink to an online version of the actual deal record, providing easy access to each contract document where available.
The Global Distribution Partnering Terms and Agreements in Pharma, Biotech and Diagnostics 2015-2022 report provides comprehensive access to available records for over 2,450 distribution deals, including contract documents where available. Analyzing actual contract agreements allows assessment of the following:
What are the precise rights granted or optioned?
What is actually granted by the agreement to the partner company?
What exclusivity is granted?
What is the payment structure for the deal?
How are sales and payments audited?
What is the deal term?
How are the key terms of the agreement defined?
How are IPRs handled and owned?
Who is responsible for commercialization?
Who is responsible for development, supply, and manufacture?
How is confidentiality and publication managed?
How are disputes to be resolved?
Under what conditions can the deal be terminated?
What happens when there is a change of ownership?
What sublicensing and subcontracting provisions have been agreed?
Which boilerplate clauses does the company insist upon?
Which boilerplate clauses appear to differ from partner to partner or deal type to deal type?
Which jurisdiction does the company insist upon for agreement law?
Global Distribution Partnering Terms and Agreements in Pharma, Biotech and Diagnostics 2015-2022 report provides the reader with the following key benefits:
In-depth understanding of distribution deal trends since 2015
Analysis of the structure of distribution with real life case studies
Comprehensive access to over 2,450 distribution deals entered into by the world's biopharma companies, together with contract documents if available
Identify leading distribution deals by value since 2015
Identify the most active distribution dealmakers since 2015
Full listing of distribution deals by company A-Z, deal value, phase of development, deal type, therapy and technology focus
Understand the key deal terms companies have agreed in previous deals
Undertake due diligence to assess suitability of your proposed deal terms for partner companies
Executive Summary
Chapter 1 – Introduction
Chapter 2 – Trends in distribution dealmaking
2.1. Introduction
2.2. Definition of distribution deals
2.3. Trends in distribution deals since 2015
2.3.1. Distribution dealmaking by year, 2015 to 2022
2.3.2. Distribution dealmaking by phase of development since 2015
2.3.3. Distribution dealmaking by industry sector since 2015
2.3.4. Distribution dealmaking by therapy area since 2015
2.3.5. Distribution dealmaking by technology type since 2015
2.3.6. Distribution dealmaking by most active company since 2015
2.3.7. Attributes of pure distribution deals
2.3.8. Attributes of distribution in multi-component deals
2.4. Aligning partners to make the distribution agreement work
Chapter 3 – Overview of distribution deal structure
3.1. Introduction
3.2. Distribution agreement structure
3.3. Example distribution agreements
3.3.1. Case study 1
3.3.2. Case study 2
3.4 Distribution rights as part of a wider alliance agreement
3.4.1. Case study 3
3.4.2. Case study 4
Chapter 4 – Leading distribution deals
4.1. Introduction
4.2. Top distribution deals by value
Chapter 5 – Top 25 most active distribution dealmakers
5.1. Introduction
5.2. Top 25 most active distribution dealmakers
Chapter 6 – Distribution deals including contracts directory
6.1. Introduction
6.2. Distribution deals with contracts since 2015
Appendices
Appendix 1 – Distribution dealmaking by companies A-Z
Appendix 2 – Distribution dealmaking by industry sector
Appendix 3 – Distribution dealmaking by stage of development
Appendix 4 – Distribution dealmaking by therapy area
Appendix 5 – Distribution dealmaking by technology type
About Wildwood Ventures
Current Partnering
Current Agreements
Recent report titles from Current Partnering
TABLE OF FIGURES
Figure 1: Definition of distribution
Figure 2: Trends in distribution deal announcements since 2015
Figure 3: Distribution deals signed at each phase of development siince 2015
Figure 4: Distribution deals by industry sector since 2015
Figure 5: Distribution deals by therapy area since 2015
Figure 6: Distribution deals by technology type since 2015
Figure 7: Top 25 most active distribution dealmakers since 2015
Figure 8: Issues in implementing distribution agreements
Figure 9: Distribution agreements – what should a contract include?
Figure 10: Components of the distribution deal structure
Figure 11: Top distribution deals by value since 2015
Figure 12: Most active distribution dealmakers since 2015
Pricing options
$3,995: single-user
$5,745: multi-user
$10,995: single site license
$17,995: global site license
A full explanation of license type definitions can be found here.
Our guarantee
Price promise
We guarantee our prices are competitive. If you find the same report advertised at a lower price within 7 days of purchase, we will refund the difference.
Delivery Deadline
We guarantee that the report will be sent within the specified delivery times. In the unlikely case of a delay we may offer a partial refund as compensation. (Terms may apply)
Latest report
If an update is published within 30 days of your purchase, you will receive it absolutely free of charge.
Serious Security
We take your data and security seriously. See our privacy policy for details of how we manage your data.
All card payments are processed by SagePay.
Sales Support
If you have any questions about your report or are unhappy with the quality, we will do our best to resolve your query. Contact us direct.
Total Trust
Current Partnering is part of Wildwood Ventures Ltd., based in York, United Kingdom. We have been trading successfully online since 2009 and work with some of the most famous brands in the business. We carefully select our partners to ensure that the publications meet expectations of demanding customers.
1A Pharma, 1health.io, 2BScientific, 2cureX, 3 Rivers Biotech, 3D BioMed, 3D Systems, 3SBio, 3Shape, 5-Diagnostics, 7D Surgical, 8E6Tong, 10X Genomics, 111, 221b Foundation, A1 Group, AAM Healthcare, AAP Implantate AG, Aavis Pharmaceuticals, AB-Biotics, Abacus International, AB Analitica, Abattis Bioceuticals, Abberior Instruments, Abbott Laboratories, Abbvie, Abcam, Abdul Latif Jameel Health, Ability Pharmaceuticals, Abingdon Health, Ab Medica, Abracon, Accelerate Diagnostics, Accellta, Access BIO, Accord Healthcare, Accuray, AccuResearch, Accuscience, AccuTec Blades, AceCGT Life Science, Acelity, Acell, Acelrx Pharmaceuticals, Acentrus Specialty, Acerus, Aceto Corporation, ACIST Medical Systems, Acnos Pharma, ACON Biotech, Acorda Therapeutics, Acres Cannabis, Activbody, Active Implants, Activhealth, Acumen Pharmaceuticals, Acuna-Fombona, Adacyte Therapeutics, Adagio Therapeutics, Adamis Pharmaceuticals, Adapt Pharma, Adare Pharma Solutions, Addgene, Adeor Medical, Adhera Therapeutics, Adhesys Medical, Adhezion Biomedical, Adial Pharmaceuticals, ADIENNE Pharma & Biotech, Aditx Therapeutics, Adium Pharma, Adjupharm, Admedus, Admera Health, ADS, ADS Biotec, Adva Biotechnology, Advanced Accelerator Applications, Advanced Aesthetic Technologies, Advanced Human Imaging, Advanced Instruments, Advanced Medical German Company of Kuwait, Advanced Prenatal Therapeutics, Advanced Radiation Therapy, Advanced Ultrasound Systems, Advance Pharmaceutical, Advantage Consumer Healthcare, Advanz Pharma, Advicenne, Aerapy, Aerobiotix, Aeronics, Aesthetic Management Partners, Aesthetic Solutions, AEterna Zentaris, Affymetrix, Africa Centres for Disease Control and Prevention, Africa Medical Supplies Platform, Africa Union, AFT Pharmaceuticals, Again Life Italia, Agena Bioscience, Agendia, AgeX Therapeutics, Agilent Technologies, Agile Therapeutics, AG Industries, Aglon, Agri-Star, Agricultural Materials Company, Agro-Greens Natural Products, Agroresults, Agtegra, Aidian, AIDS Foundation Houston, Aier Eye Hospital Group, Aiforia Technologies, AI Metrics, AiPing Pharmaceutical, Aircraft Medical, AirStrip Technologies, Akers Biosciences, Akeso Biopharma, Akida, Ako Med, Akonni Biosystems, Alab, Alamo Pharma Services, Alat Medika Indonesia, Albireo, ALBOT Technologies, Alcanna, Alcon Pharmaceuticals, Alcove Manufacturing and Distribution, Al Danah Medical Company, Aldevron, Aleafia Health, Alexion Pharmaceuticals, AlfaMed, Alfasigma, Alfatest, AlgaEnergy, Algenex, Algeos, AlgoMedica, Al Hafez Trading Establishment, Alifax, Align Technology, AliMed, Alimera Sciences, AliveCor, ALK-Abello, AllBio Science, Allderma, Allele Biotechnology and Pharmaceuticals, Allele Genetics, Alliance Global FZ, Alliance Global Group, Alliance Medical, Alliancepharma Technologies, AllianceRx Walgreens Prime, Alliant Healthcare Products, Allianz Bioinnovation, Allied Corp, AllStar Health Brands, Alltests Clinical Solutions, Almirall, Almog Diagnostic, Alnylam Pharmaceuticals, Alpha-Tec Systems, Alphaeon, Alpha Imaging, Alphamedix, Alpha Pharma, Alpha Tau Medical, Alpine Hemp Group, ALS Automated Lab Solutions, Alternative Solutions, Alternavida, Alvogen, Alvotech, Al Zahrawi Medical Supplies, Amarin, Ambiopharm, Ambu, Amedica, A Menarini Diagnostics, American Cancer Society, American International Chemical, American Medical Depot, American Regent, AmerisourceBergen, Amgen, Aminocore, Amneal Pharmaceuticals, Amnion Foundation, AMNIOX, Amomed Pharma, AMP German Cannabis, Amryt, AMSilk, AMSL, Amyris, Analis, ANANDA Scientific, Ancillary Pathways, Andau Medical, Andor Pharmaceuticals, Andrec, Angel Medical Systems, AnGes MG, Angionetics, Animalab, ANI Pharmaceuticals, Anita Tecnica, Anivive Lifesciences, Anixa Biosciences, Anlicare International, Annar Health Technologies, Antares Pharma, AnthroTronix, Antibe Therapeutics, AOP Orphan Pharmaceuticals, AOTI, Apacor, APAC Scientific, Aperiomics, APEX Biologix, Apex Global Brands, APG Bio, Apharm, Aphria, ApiFix, Apnea Sciences, Apollo, Apollo Endosurgery, Apollo Med Innovations, Apollo Sugar, Apoteka, Applied BioSciences, Applied Photophysics, APR Applied Pharma Research, Apria Healthcare Group, Apricus Biosciences, Apsen Farmacutica, Aptar Pharma, Aptimmune Biologics, Aptorum Group, Aralez Pharmaceuticals, Arbor Pharmaceuticals, Arcadia Biosciences, ArcherDX, Arch Therapeutics, Arcis Biotechnology, Arc Medical Design, Areum Bio, AREV Nanotech Brands, Argon Medical Devices, Ariad Pharmaceuticals, Aridea Solutions, Arjo, Arkray USA, Armaghan Salamat Kish, Armas Pharmaceuticals, Armor, AroCell, Array Biopharma, Arrow Diagnostics, Artech, Arteriae, Arteriocyte Medical Systems, Arteriomed, ARTeSYN Biosolutions, Arthrex, Artrya, Arvelle Therapeutics, Asahi Kasei, Ascend Therapeutics, Ascensia Diabetes Care, Asopharma, Aspect Imaging, Aspen Global, ASPiRA Labs, Aspira Scientific, ASR Group, AssistRx, Astem, Astra Formedic, AstraZeneca, Astute Medical, ATCG, AtCor Medical, Atea Pharmaceuticals, ATG Allied Technologies, Athenex, Athrotech, Atlantic Diving Supply, Atlas Genomics, Atomo Diagnostics, Atossa Therapeutics, ATP, Atricure, Atrys Health, AUM Biotech, Aurum Group, Aussan Laboratories, AutoGenomics, Autotelic, Avacta, Avalon GloboCare, Avalon Pharmaceuticals, Avanos Medical, Avanti Polar Lipids, Avantis Medical Systems, Avantor, Avanzcare, Avaria Health & Beauty, Avatamed, AV Cannabis, Avellino Labs, Avicanna, AVIR Pharma, Avita Therapeutics, Avivagen, AvKARE, AVL Sofia, Avricore Health, Avrobio, Awakn Life Sciences, AWB Schraubtechnik und Industriebedarf, AXA PPP healthcare, Axcelon Dermacare, Axil Scientific, AXIM Biotechnologies, AxioNovo, Axonlab, Axter Agroscience, Axxess Pharma, Aytu BioPharma, Azelis, Aziyo Biologics, AzurRx BioPharma, B-Medical, Bacterin International, Baheal Pharmaceutical, Bal Pharma, BAM Agricultural Solutions, Bandgrip, Bardy Diagnostics, Basemed Kare, BASF, Basilea Pharmaceutica, BAS Research, Bassett Salon Solutions, Batavia Biosciences, Bauerfeind, Bausch & Lomb, Bavarian Nordic, Baxter International, Bayer, Bayer Healthcare, Baylis Medical, Bay Materials, Bazis NN, B Braun, Beckman Coulter, Be Creative Lab, Becton Dickinson, BeiGene, Beijing Clear Biotech, Beijing Genomics Institute (BGI), Beijing InnoCare Pharma, Beijing Keyuan Xinhai Pharma, Beijing Leadman Biochemistry, Beijing Podconley Pharmaceutical Technology and Development, Beijing Zhongyuan, BeMotion, Bened Biomedical, BE Pharmaceuticals, Berlin Chemie, Bertin Pharma, Besins Healthcare, Bess Medizintechnik, Bestbion, Best Choice, Bestmed, Bethesda Biomedical, Better Choice Products, Better Living Now, BevCanna, BewellConnect, BGI, BHR Pharma, Bial, BIA Separations, Biim Ultrasound, Bill and Melinda Gates Foundation, Binx Health, BIO-CAT Microbials, Bio-Connect Diagnostics, Bio-Rad Laboratories, Bio-Strategy, Bio-Techne, Bio-Thera Solutions, Bio-Tissue, BioAgronomics, BioArrow Technology, BioBeats, BioCat, Biocept, BioCheck, BioCision, BioClinica, Biocodex, Biocomposites, Biocon, BIOCORP, BioCorRx, bioCSL, Biocytogen, BioDerm, Biodesix, BioDiscovery, BioDuro, Bioeq IP, BioGaia, BioGenes, BIOgenetiX, BioGX, Biohaven Pharmaceutical, Biohit, BioHiTech Global, Bioiatriki, BioIQ, BioIVT, Bioke, Biokosmos, BioLab Sciences, Biolase, Biolidics, Biolife Science, Biolog-id, Biological Industries, Biologics, Biologix FZCo, Biolyse Pharma, Biomedica Medizinprodukte, bioMerieux, Biometrix, Bioness, Bionical, Bionik Laboratories, Bionix, BioNova Cientifica, BioNTech, BionX Medical Technologies, Biopharma-Middle East and Africa, Biophore Pharmaceuticals, Bioplate, Bioportugal Quimica Farmaceutica, Bioprojet, BioQ Pharma, Biosensors International, Biosenta, BioSerenity, Biosero, Bioservo Technologies, BioSig Technologies, BioSkryb, Biosolution, Biostar, BioStream, Biosynex, Biosynthetic Technologies, Biotech-IgG, Biotech Inc, BioTecon Diagnostics, Biotest Pharmaceuticals, Biotop, bioTRADING Benelux, Biotronik, Biovac, BioVaxys, Bioventus, Biovo Technologies, Biozol Diagnostica, Bison Africa Capital, Bit Bio, BL&H, Blackford, Blanver, BLLRDR, Blood Cell Storage, Bluecore Company, Blue Cross Blue Shield Association, Blue Diamond Growers, Blue Earth Diagnostics, Bluegrass Vascular Technologies, BMG Pharmaceuticals, BMV Medica, BND, Boditech Med, Bodycad, Body Energy Club, BodyLogicMD, BodyTrace, Boehringer Ingelheim, Bola Technologies, Bone Solutions, Bonne Santé Group, Bonsai Lab, Bosch, Bosma, BostonGene, Boston Scientific, BostonSight, Boston Therapeutics, BoTEC Medical, Bovie Medical, BoyaLife, Braeburn Pharmaceuticals, BrainLAB, Brain Scientific, BrainStorm Cell Therapeutics, Brainsway, Breas Medical, Brik, Brill Pharma, Briotech, Bristol-Myers Squibb, British Columbia Liquor Distribution Branch, BRIT Systems, BRM Extremities, Broad Institute, BroadMed, Bruin Biometrics, BTC Health, BTE, BTS Research (BTS), Bucher Biotec, Buffalo Supply, Burleigh Heads Cannabis, Burning Rock, Butantan Institute, c-LEcta, CAEK, Caffeluxe, Caire, Calgary Scientific, Calidi Biotherapeutics, Caligor, Calyxt, Camber Pharmaceuticals, Cambridge Bioscience, Cambridge Cognition, Cambridge Commodities, Camurus, Can-Fite BioPharma, Canagen Pharmaceuticals, CANbridge Pharmaceuticals, Cancer Genetics, Candela, Cannabics Pharmaceuticals, Cannabis Suisse, CannaBR Exports, Cannamedical Pharma, Cannassure Therapeutics, Canndeo, Cannidex Brands, CanniMed Therapeutics, Canntab Therapeutics, Cannvalate, Canon, Canon BioMedical, Canonic, Canon Lifecare Solutions, Canopy Biosciences, Canopy Growth, Cantel Medical (UK), Capital X-ray, Capna Intellectual, Capricor Therapeutics, CapsoVision, Captivate Bio, Caputron Medical, Cardax, Cardinal Health, CardioDx, CardioFocus, Cardiologs, Cardiome Pharma, Cardiovascular Systems, CareFusion, Care GB Plus, CareNet, Carestream Health, Carmel Pharma, Carna BioSciences, Carolina Liquid Chemistries, Carrizo Dental, Carterra, CAS, Cascade Pure, CASI Pharmaceuticals, CAS Medical Systems, Caster Medical System, Catalent, Catalyst Clinical Research, CBD Export Global, cbdMD, CBD Vida, CC Pharma, CDI Laboratories, Cediprof, CelgenTek, Cellaria Biosciences, Cellex, CellMark Medical, CellSafe, Cellsystems, Cellular Dynamics International, Celmatix, Celsee, Celsion, Celyad, Centaur, Centers for Disease Control and Prevention, Central Association for the Blind and Visually Impaired, Centre for Commercialization of Regenerative Medicine (CCRM), Centre for Probe Development and Commercialization, Cepheid, CereCare, Cerulean, Cerus, Cerus Endovascular, Cerveau Technologies, Cervos Medical, Cesca Therapeutics, cGreen, Changchun High & New Technology Industries, Change Healthcare, Charles River Laboratories, Charter Medical, Chembio Diagnostics, Chemesis, Chemie Brunschwig, Chemipal, ChemoCentryx, ChemoTech, Chemspace, ChemWerth, Chengdu Gaotong Isotope, Cheplapharm Arzneimittel, Cheyenne Mountain Seed Company, Chiasma, Chiesi Farmaceutici, China Biotech Services, China Development Industrial Bank, China Grand Pharma, China Grand Pharmaceutical, China National Biotec Group, China National Medical Device, China Resources Pharmaceutical Commercial Group International Trading, Chindex Medical Limited, Chinmax Medical Systems, Choctaw-Kaul, Chong Kun Dang, Choom, Christina Lake Cannabis, ChromaDex, Chromogenex Technologies, Chun Fo Pharmaceutical, Chunli, C Illies, Cipher Pharmaceuticals, Cipla, Cipla Medpro, Circulogene, Citrine Medicine, CIVCO Radiotherapy, Clarion Medical Technologies, Clarity Pharmaceuticals, Clarius Mobile Health, Clarus Therapeutics, Clearbridge Biomedics, ClearFlow, ClearPoint Neuro, Cleveland HeartLab, Clifton Africa, Clinigen, Clinton Health Access Initiative, Clinuvel Pharmaceuticals, Clionix, Clontech Laboratories, CloudNine, Clovis Oncology, CLS Cell Lines Service, CMS Medical, CNC Biotech, CNOGA Medical, Co-Defend, Co-Diagnostics, CoaChrom Diagnostica, CoagCo, Coala Life, Coalition for Epidemic Preparedness Innovations, Cocoon Medical, Codan Triplus, Coeptis Pharmaceuticals, Cogentix Medical, Cohera Medical, Cold Chain Technologies, Colgate Palmolive, Collaborative Drug Discovery, Collplant, Color Genomics, Columbia Care, CoMedical, Comercializadora BioRenal, Common Sense, CommonSense, Commonwealth Laboratories, Commonwealth Primary Care ACO, Community Shield, Companhia Energetica Integrada, Comprehensive Pain Specialists, Compumedics, Conavi Medical, Conceivex, Concentric Medical, Concile, ConforMIS, Consilient Health, Contatti Medical, Contem 1G, Contextual Genomics, Control Bionics, Convergent Dental, Cookies, Cook Medical, Cooper Pharma, Copan Diagnostics, Core Diagnostics India, Corneal Lens, Corning, Coroneo, CorpMedical, Correvio Pharma, CorTechs Labs, Corteva Agriscience, CorVascular, CorVent Medical, Corvida Medical, Cosette Pharmaceuticals, Cosmo Bio, Cosmo Pharmaceuticals, Cosmos Holdings, Cosmotec, Counsyl, Courtagen Life Sciences, Covaleo, Covalon Technologies, Cove, Covetrus, CQuentia, C R Bard, CreaGen Biosciences, Creapharm, Creative Medical Technologies, Creatori Health, Crescita Therapeutics, Cresco Labs, Crown Bioscience, Crown Dental + Medical, Crown Laboratories, CR Pharma, Cryolife, CryoPort, Cryothermic Systems, CryoXtract, CrystalGenomics, CSA Medical, CSL, CS Medical, CStone Pharmaceuticals, CTC Group, CTI Life Sciences, Cubex, Cumberland Pharmaceuticals, Curaleaf, Cura Partners, Curasan, Cureleads, CureMetrix, CURE Pharmaceutical, Curetis, Curexo, Custom Science, CVS Caremark, CV Sciences, CVS Pharmacy, Cycle Pharmaceuticals, Cyclopharm, Cyclotek, Cynosure, Cyntar Ventures, Cynvenio, Cypre, Cyrus Medical Technologies, Cytodyn, Cytori Therapeutics, CytoSorbents, Cytosurge, D-Eye, D-Mark Biosciences, Daavlin, Daewoong Pharmaceutical, Dahui Biotech, Daiichi Sankyo, Dallas Lighthouse for the Blind, DanCann Pharma, DannCan Pharma, DAON BioSciences, Darby Dental Supply, DarioHealth, DarwinHealth, Darwin Microfluidics, DASA, Daxor, DCN Diagnostics, Debiopharm, Dechra Pharmaceuticals, Deciphera Pharmaceuticals, Decision Diagnostics, Decode Sciences, Defense Logistics Agency, DEG Productions, Dehaier Medical Systems, Deltex Medical, Dengg Medizintechnik, DenMat Holdings, denovoMATRIX, Densitas, Densmore Pharmaceutical, Dental Assist, DentalEZ Integrated Solutions, Dental Hygienics and Decontamination, Dentamed, Department of Defense, Department of Health and Human Services, Department of Veterans Affairs, DePuy, Derbycare, DermaConcepts, Dermalog, DermapenWorld, Device Technologies, Devicor Medical Products, Devonian Health Group, Devyser Diagnostics, Dexa Medica, DHL, Diabeloop, DiaCarta, Diagen, Diagnos, Diagnostic International Distribution, DiA Imaging Analysis, DiaMedica, DIAN Diagnostics, DIAsource ImmunoAssays, Diasys Diagnostics Systems, Diatech Pharmacogenetics, Dicom Systems, DIEM Labs, Dignitana, Dilon Diagnostics, Dinaco, Diomics, DionyMed Brands, Diplomat, Direct Biologics, Discovery Life Sciences, Disior, DiSorb Systems, Distribution Solutions Phils, Diurnal, Diversey Care, DKSH, DKT, DMS Health Technologies, DnaNudge, DNA Software, Dnastar, Docklight Brands, Doctor's Medical, Dolphin Medical, Dominique Dutscher, Dompe Farmaceutici, DongKoo Bio & Pharma, Dosecann, DOSIsoft, Dove Professional Apparel, Dover Medical & Scientific Equipment, Dovetail Genomics, Dr. Reddy's Laboratories, Dr Ho Now Health Products, Dr Pfleger, Dr Risch, DryEye Rescue, Duchesnay, DuPont, Durbin Group, Dutch Passion Seed Company, Dyamed Biotech, Dynasty Castle Investments, Dynatronics, Dynavax Technologies, DYN'R Medical Systems, DySIS Medical, E-QURE, E25Bio, Easton Pharmaceuticals, Eaststone, eBioscience, EB Neuro, Ebn Sina Medical, Echelon Biosciences, ECI Pharmaceuticals, Eckert & Ziegler, Eclipse Aesthetics, ECM Medical, Ecobrands, EcoGroup USA, Eczacıbasi-Monrol, EDAP TMS, Eddingpharm, Edge Medical, Edge Pharma, EDP Biotech, Egalet, Eigen, Eiger BioPharmaceuticals, EIKOS Care Medical, Eisai, EKF Diagnostics, EKKDA Research, Ekpac Healthcare, El.En, Eldan, Electrical Geodesics, ElectroCore, Electroline Sales, Electromed, Elekta, Elemaster Group, Elesta, Elev8 Brands, Elevai Labs, Elevar Therapeutics, Eli Lilly, Elis Pharmaceuticals, Elite Pharmaceuticals, Elithea Sciences, Eltima Software, Ember Therapeutics, EMC, eMed, Emerald Family Farms, Emerge Health, Emerson Resources, Emmaus Life Sciences, Emmaus Medical, EMM Life Science, Empire Genomics, Empower Clinics, Empowered Diagnostics, EMS, Enclara Pharmacia, Encore Dermatology, Encore Life, Encore Medical, Endo-Therapeutics, Endocare, EndoChoice, Endo International, Endologix, Endomagnetics, Endonovo Therapeutics, Endospan, EndoTherapeutics, Endo Ventures, Engimplan, Engineered Medical Solutions, Enlight Medical, Enlitic, Ensensor, Entellus Medical, Enthusiasmus, Envigo, EnvisionRx, EnvoyAI, Enzymatica, Epica Medical Innovations, Epic Pharmaceuticals, EPI Health, Epirus Biopharmaceuticals, Epredia, Epsilon, EQRx, Equashield, Equicare Health, Er-Kim, ERBA Diagnostics, Especificos Stendhal, Espero Biopharma, Essenlix, Essent Biologics, Essity, Establishment Labs, Esteve, ESW Vision, ETView Medical, Eurobio, EuroClone, Eurofarma, Eurofins Genomics, European Health Centre Innovation, Europe Technologies, EUSA Pharma, Eve & Co, Evelo Biosciences, Event Cardio Group, Evergaze, Evergreen Theragnostics, Everly Health, EverlyWell, Eversana, Everything Genetic, Evestra, EvoEndo, Evoke Pharma, Evonik Industries, Ewopharma, Exactech, Exactus, ExCEEd Orphan, Excelera Network, Expanscience, Experion Biotechnologies, Express Medical Solutions, Express Scripts, ExThera Medical, EyeLock, Eyenovia, EZbra Advanced Wound Care, Fabric Genomics, FactBio, Factoria Bogar, Faes Farma, Fagron, Faisal Musaed El Seif Saudi Pharmaceutical, Fannin, Farco Pharma, FarmaMondo Group, Feel Better, Feinstein Institute for Medical Research, FEMSelect, Ferring Pharmaceuticals, Fiagon, Fibralign, Filgen, Fillmed, Fin-ceramica faenza spa, Fio, First Check Diagnostics, First Horizon Pharmaceuticals, First Nation Group, Fishbowl Warehouse, Fisher Healthcare, FitBit, FLAVORx, FlexDex, Flirtey, Flora Growth, Florida Pharmaceutical Products, FloVaria, Flower One, Fluence Analytics, Fluidigm, Fluxion Biosciences, Folium Biosciences, FoodChek Systems, Force Therapeutics, ForDoz Pharma, Foresee Pharmaceuticals, FormaTK Systems, Foster Corporation, Fosun Pharmaceutical, Four 20 Pharma, Frankenman Medical Equipment, Fresenius Kabi Pharmaceuticals, Fresenius Medical Care, Fresno, Frost Pharma, Fruit Slabs, FSD Pharma, Fujicom, Fujifilm, Fujifilm Pharma, Fukuda Denshi, Funakoshi, Fuse Medical, G-21, G42 Healthcare, Gabriel Science, Gad Medical Equipment, Gaelan Medical, Gaia, Galaxy Health Network, Galaxy Pharma, Gale Force Aesthetics, Galen, Gamidor Diagnostics, Gamma Medica, Gammaray Private Health Services, Garuda Health Services, GATC Biotech, GB Pharma Holdings, GC Pharma, Gebro Pharma, Gedeon Richter, GE Healthcare, Geistlich Pharma, Gelymar, GEMCO Medical, Gemelli Biotech, Gemini Bio-Products, GemPharmatech, Gen, Gen-X Muscle, Genclis, Genecast, Genentech, Gene On Biotech, GenePeeks, GenePOC, General Extract, Generex Biotechnology, Genesis Biosystems, GenesisCare, Genetic Analysis, Genetic Technologies, Genewell Biotechnology, Genewiz, GeneX India Biosciences, Genexo, Genfa Medica, GENinCode, Genoma, GenomeDx, Genomic Vision, Genosity, Genotests, Genova Diagnostics, Genovis, Genpharm, GenScript Biotech, GenScript ProBio, Geo-Med, Geocann, German Cryo, Germinator, Getinge, Getz Healthcare, Ghassan Aboud Group, GHD GesundHeits, Gibraltar Brothers and Associates, GI Dynamics, Gilead Sciences, GIMDx, Ginkgo BioWorks, Ginolis, Gland Pharma, Glaukos, GlaxoSmithKline, GL Brands, Glenmark Pharmaceuticals, Glo-Med Networks, Global Antibiotic Research and Development Partnership, Global Blood Therapeutics, Global Cancer Diagnostics, Global Damon Pharma, Global Dx, Global Good Fund, GlobalMed, Global Medical Solutions, Global Response Aid, Global Stem Cell Technology, Gloryway, gMed Canada, GM Medical, GNC, Gnomegen, Goffin Molecular Technologies, Gold Standard Diagnostics, Goro Healthcare, Gotect Diagnostic, Government Scientific Source, GPC Systems, GPX Medical, Great Belief International, Greater New York Hospital Association, Great Harvest Agri Chemicals, Great Lakes Medical Laboratory, Great North Distributors, Green Cross Medical Science, Green Gorilla, Greenlane, Greenstein Germany, Grenco Science, Grifols, Group Vida, Grow Biotech, Grunenthal, Grupo Ferrer, Grupo LALA, GSW Creative Corporation Canada, GTL Technology and Services, GTx, Guerbet, Guided Therapeutics, Guided Therapy Systems, Gulf Medical Company, Gunze, Guohong Guokang (Beijing) Health Technology Development, Gupta Pharma, GYD, GYNEMED, Gyros Protein Technologies, H.E.L Group, H2-Pharma, Haisco Pharmaceutical, Halberd, HalioDx, Halo Labs, Hamilton Thorne, Hanfpost, Hanmi Pharmaceutical, Hansen Medical, Hanson Faso Sales & Marketing, Hao Le Ku (Beijing) Infant And Maternity, Hardy Diagnostics, Harmonic Bionics, Harris, Harvard Bioscience, Harvest One, Hatch Medical, Havn Life Sciences, Hawaii Biotech, HD Medical, Healius, Health2Work, HealthCare Konnect, Health Diagnostics Laboratory, Health House International, HealthLytix, HealthMed Services, Healthstream, HealthTab, HealthTrust Purchasing Group, HealthWarehouse, HEC Pharm, Helix2, Helsinn Healthcare, Helsinn Therapeutics, Helvetic Biopharma, HemaCare, HemaTone, Hemex Health, HemispheRx Biopharma, Hemogenomics Pharma, Hemogenyx, HEMORIO, Hemostasis, Henan Kangzhiyuan Pharmaceutical, Henry Schein, Heritage Cannabis, Hermes Advanced Therapy Systems, Hermes Medical Solutions, Herzog Surgical, Heska, Highland Pharmaceutical, Hikma Pharmaceuticals, Hisamitsu Pharmaceutical, HistoCyte Laboratories, Hitachi, Hitachi Medical Systems Europe, HL Pharma, HLS Therapeutics, HMC HealthWorks, H M Royal, Hob Diagnostics, Holberg EEG, Hologic, Hongkong Zaotong, Hop Tri Investment, Horizon Discovery, Horizon Pharma plc, Horus Pharma, Hospital Services, Hospitech Respiration, HPGC Medical, H Robotics, HSRx Group, HTC ChemRar, HTG Molecular Diagnostics, HTL Biotechnology, Huapont Pharma, Humacyte, Humanigen, HuminTec, HUYA Bioscience, Hybrid Pharm, Hygea Precision Medicine, Hygio, HyGreen, I-MED Pharma, IBA, Ibex Medical Analytics, iCAD, Icagen, ICB Pharma, IceCure Medical, Iconovo, Icotec, ICU Medical, IDB Resources, Ideal Medical Solutions, Idengene, Ideogen Pharma, IDIS Pharma, IDnow, IDT, IES Diagnostics, ILIUM Technology, Illumigyn, Illumina, ImaginAb, Imbed Bio, IM Cannabis, Imegen, Immune Therapeutics, Immuno Diagnostic, Immuron, ImpediMed, Impel NeuroPharma, Impilo Pharma, Implanet, Implantcast, Implant Therapeutics, Impression Healthcare, Imprimis Pharmaceuticals, INCELL, IncellDx, Incepta Pharmaceuticals, Inceptua, Incyte, India Globalization Capital, Indigo Biosciences, Indivumed, Indoco, Induce Biologics, iNeedMD, Infinity BiologiX, InfoBionic, InfuTronix Solutions, Inivata, InnerScope Hearing Technologies, inno-train Diagnostik, Innosieve Diagnostics, Innosurge, Innovare, Innovative Cellular Therapeutics, Innovimed, Innovus Pharmaceuticals, Inolife Technologies, Inovytec, Inphilco, Inscopix, Insmed Inc, InSphero, Inspira Technologies, InSpire MD, InspireMD, InspiRX Pharma, Institute of Applied Biotechnologies, Institute of Natural Fibres and Medicinal Plants, Instrumentation Laboratory, InsuLine Medical, Intalere, Integra, IntegraGen, Integra LifeSciences, Integral Molecular, Integrated Cannabis Company, Integrated DNA Technologies, Integrated Vent Solutions, Integrity Applications, Integrity Wellness Brands, Integumen, Intelerad Medical Systems, Intellipharmaceutics, Intercontinental Marketing, InterCure, Interlab INTERAUTOMATIKA UAB, Intermed, Intermodeco 2004, International Hemp Solutions, International Isotopes, Interpace Diagnostics, Interpolymer/Zschimmer & Schwarz, Interrad Medical, Interscope, Intersect ENT, InterValve, Intra Globus Biosystems, IntraMed, IntroMedic, InvenSense, INVO Bioscience, InvoSurg, INVZBL, Iogen, IPA, IP Biotech, IPS Genomix, IPS Specials, IQ-AI, IRE Elit, Iridex, IrisVision, IROA Technologies, Iroko Pharmaceuticals, Irvine Scientific, Isagro, iS Clinical, Isla Lab Products, Isogen Life Science, IsoPlexis, iSpecimen, Istituto Diagnostico Varelli, Item, ITEM Medical Technologies, ITM Isotopen Technologien, ITROM Trading Drug Store, It Technologies, Iturri, Ives EEG Solutions, iX Biopharma, Izasa Hospital, Izasa Scientific, J&H, J-Network, Jackson Laboratory, Jacksonville Pharmaceuticals, Jaguar Health, Jamieson, Janssen-Cilag, Janssen Pharmaceutica NV, Janz, Japan Lifeline, Japan Medical Dynamic Marketing, Japan Tobacco, Jasper Capital, Jazz Pharmaceuticals, JenKem Technology, Jenner Institute, JETA Molecular, Jet Harvest Solutions, Jiangsu Hansoh Pharmaceutical, JMC-Japan MedicalNext, JMDC, JNC Medical, Johns Hopkins Medicine (JHM), Johnson & Johnson, Joimax, Joint Solutions Alliance, JP Equine Services, JPK Instruments, Juama, Jubilant DraxImage, Jubilant Pharma, Jubilant Radiopharma, Julphar, JuvenIL, K2M, Kadmon Pharmaceuticals, Kai Aesthetics, KA Imaging, Kaken Pharmaceutical, Kamada, Kanabo Research, Kane Biotech, Kaneka, Kangtan Gerui Bio-Tech, Kantaro Biosciences, Karius, Karl Storz, Karyopharm Therapeutics, Katalyst Diagnostics, Katena Products, Kavo Kerr Group, Kedrion Biopharma, Kelyniam Global, Kemin Industries, Kensington Pharma, Kentec Medical, Kent Imaging, Kenya Biologics, Kerry, Keystone Heart, Khalifa Kush Enterprises, Kim & Friends, Kindstar Globalgene Technology, Kinetic River, Kingworld Medicines, Kitov Pharma, Kiwa Bio-Tech Products, Kleen Bee Labs, Kleresca, Kmart Pharmacies, Knight Therapeutics, Kobold Medical, Kolar Filtration, Kombucha Baby Brewing Company, Komtur Pharmaceuticals, Konica Minolta, Koyo Foods, Kraft Foods, KromaTiD, Kromax, KRS Global Biotechnology, Kryotec, Ktrfios Impartacao E Expertacao, KUB Technologies, Kunming Pharmaceutical, Kurabo, Kuros Biosciences, KVK-Tech, KVP International, Kwang Dong Pharmaceutical, Kwangwon, Kyongbo Pharm, L1 Enterprises, L1 Systems, L2P Research, Lab-A-Porter, Lab21, Labgene Scientific, LabNetwork, Laboratoire d'Etalons d'Activite, Laboratoire M2, Laboratories Acbel, Laboratorios Adler, Laboratorios Bago, Laboratorios Q Pharma, LABORATORIOS SAVAL, Laboratory Corporation of America, LabPro, Labquality, LabRobot, LabStyle Innovations, La Casa Del Medico, Laccure, Lagitre, Lambell Ghana, Lancet, Lannett, Lantheus Holding, Laser Clinics Australia, Laseroptek, Lash Group, Last Chance for Children, LatAm Clinical Trials, Launch Diagnostics, Lawley Pharmaceuticals, LBB Specialties, LDR Holding, Leading Edge Pharms, Leaf Healthcare, Learnsoft, Legacy Biotechnologies, Leiber, Leica Biosystems, Leica Microsystems, LensAR, Leriva, Les Laboratoires Servier, Levitee Labs, Lexogen, Liberty Health Sciences, Life-Assist, LifeCell, LifeCodexx, Lifehealthcare, LifeLabs Medical Laboratory Services, LifeScan, Life Time, LifeVac, Lighthouse Instruments, Lighthouse Strategies, Liiv Organics, LiLa Enterprise, LiNA Medical, Lineage Cell Therapeutics, Linear Health Sciences, Linkage Biosciences, Linker Holdings, Link Health, Link Pharmaceuticals, Link Technologies, Litha Pharma, LnCBio, LNE/G-Med, Lobo Genetics, LOK, Lokai Medical, Longhorn Vaccines and Diagnostics, Lonza, Loop Genomics, LORION Enterprises, Lotus Pharmaceuticals, Lovell Government Services, Loxo Oncology, LSI Medience, LTR Medical, Luca Healthcare, Lucigen, Lucira Health, Ludwig Institute for Cancer Research, Lukare Medical, Lumicera Health Services, Luminarie, Luminex, LumiraDx, LumiThera, Lumos Diagnostics, Lunaphore, Lunatus, Lupin, Lupin Pharmaceuticals, Luscii, LUVO Medical, Luye Pharma Group, LV Prasad Eye Institute, Lyphe Group, M.Fast Technologie, mAbXience, Mach7 Technologies, MacuLogix, Madison Core Laboratories, Magellan Health Services, Magenta Investments, Magentine, Magniant, MainPointe, MakeMedical, Mallinckrodt Pharmaceuticals, Maness Veteran Medical, Manna Research, MannKind Biopharmaceuticals, Mapi Pharma, Maplex Naturals, Maquet Medical Systems, Marathon Pharmaceuticals, Marizyme, Marker Test Diagnostics, Marrone Bio Innovations, Martindale Pharma, Marubeni, Marubun, Mary's Medicinals, Mass Consortium, Masterlab, Matador Medical, Materia, Materialise, Matrix Medical Network, MatTek Corporation, Maverick Health, Mawdsleys, Mawi DNA Technologies, Mawson Infrastructure, Maxhealth Medicine, Maxiim, Maxor National Pharmacy, MaxQ AI, Mayne Pharma, Mayo Clinic, Mazor Robotics, MBA, MBA Medical, MBP Solutions, MC2 Therapeutics, MC10, McKesson, MDCorp, MDL Asia, MDNA Life Sciences, MDS Pharma Services, MDxHealth, MEAgate International, Med-Pass, Med Alliance, Medara, MedAxiom, MedCom, Medela, Medelinked, Medentech, Medeqi, Medexus Pharmaceuticals, Medial, Medi Analytika, Medica Labs, Medical Developments International, Medical Imaging, Medical Incubator Japan, Medical Innovators, Medical Marijuana, Medical One, MediCann Handels, MediCare International, Medicinal Genomics, Medicinalia Cormedica MC Medical, Mediconsult.com, Medicrea, Medicure, Medifirst Solutions, Medigen Vaccine Biologics, Medigus, MediKon Saglik, MedImpact Direct, Medina Healthcare, MediPharm Labs, Mediphos, Mediprovita, MediReva, Medis, Medisca, Medison, Medison Pharma, Medisun International, Medisur, Medit, Meditrade, Medivant Healthcare, Mediware Information Systems, MediWound, Medizone International, Medline Industries, MedMira, Mednow, Medocann Pharma, Medolife Rx, Medovate, Medovex, MedPac Asia Pacific, MedQuest, MedSchenker, Medservice, Medtech, Medtechnica, Medtronic, Med Trust, Medusa19, Medx, Megalabs, Megapharm, Meggle, Meiji Seika, Meiyen Laboratory, Melbourne Biotech, Melidonia Health Services, Melinta Therapeutics, MellingMedical, Melorganics Hellas, Menarini Asia-Pacific, Menarini Silicon Biosystems, Merck and Co, Merck KGaA, Merck Sharpe & Dohme, Mercury Medical, Meridian Health Services Network, Meridian Life Science, Merit Medical Systems, Meroven, Mesa Biotech, Mesa Laboratories, Metabiomics, Metabolix, Metaoptima Technology, Metasurg, Methapharm, Metuchen Pharmaceuticals, Mevion Medical Systems, Mexichem, MGC Pharma, MGI Tech, Micell Technologies, Michael J Fox Foundation, Michepro, Micro-Tech Endoscopy, MicroAire Surgical Instruments, Microbix Biosystems, MicroGEM, Micro Medical Solutions, Micron Optics, Microport EP Medtech, MicroPort Scientific, MicroPort Sorin CRM (Shanghai), Microprofit Biotech, Microtech Laboratories, MILA International, Milenia Labs, Milestone Scientific, Millar, Mill Creek Life Sciences, Millennium Science, Miller Veterinary Supply East, MilliporeSigma, Miloftalmica, Miltenyi Biotec, MindChild Medical, Mind Cure Health, Mindpax, Mindray Medical International, Minerva Biotechnologies, MinInvasive, Ministry of Health (Turkey), Ministry of Health and Prevention, Minnesota Medical, Minogue Medical, Mintcare, Mirai Marketing, Miravo Healthcare, Mirum Pharmaceuticals, Misonix, Mission Bio, MISTR, Mithra Pharmaceuticals, Mitra Biotech, Mitsubishi Chemical, Mitsubishi Tanabe Pharma, Mitsuboshi Product Planning, MJ Biologics, MLU Services, MMJ PhytoTech, MM Technology, Mobelife, Moberg Pharma, Mobidiag, Mobile Aspects, Mobile SCANMED Systems, Moderna Therapeutics, Moldionics, Molecular Biology Systems, Molecular Diagnostics Korea (MDxK), Molecular Health, Molecular Matrix, Molecular You, MolecuLight, Moleculin Biotech, MolGen, Mologic, Molteni Farmaceutici, Monaghan Medical, Morel Company, Mosim, Mota Ventures, Motic, Motion Medical, Motorika, Mountain Valley MD, Movi, Mr Checkout, MRP, MSD, MSM-Medimpex, MS Pharma, MT-Biological Science and Technology, MT.DERM, MTS Medication Technologies, Multi G, Multipak, Mundipharma, MURANAKA Medical Instruments, Murdoch Childrens Research Institute, Muscat Pharmacy and Stores, Mutlu Medikim Tibbi Malzeme, MWI Animal Health, MWMedical, Mycrodose Therapeutics, MyLabBox, Mylan Laboratories, MYM Nutraceuticals, MyndTec, Myomo, MYOS, Myovant Sciences, Myriad Genetics, myTomorrows, MyungMoon Bio, N1 Technologies, n3D Biosciences, Nabis, Nabriva Therapeutics, Naka International, Namaste Technologies, Namocell, Nanjing Micro-Tech, Nanning Xinzizhu Trading, Nano-X Imaging, NanoCellect Biomedica, Nanodigmbio, Nanolek, Nanosonics, NanoSpeed Diagnostics, NanoSphere Health Sciences, NanoSurface Biomedical, Nanotronics Health, NanoVibronix, NanoView Biosciences, Nanowear, NantHealth, Napo Pharmaceuticals, NassifMD Dermaceuticals, Natera, National Cancer Institute, National Healthcare Services (NHS), National Health Service, National Immunobiological Company, National Institute for Health and Care Excellence, National Institute of Hygiene and Epidemiology, National Institute of Vaccines and Medical Biologicals, National Sales Associates
For full list of companies please contact us on enquiry@currentpartnering.com
Current Partnering reports provide insight into the trends and terms of partnering deals in the global life sciences sector.
Current Partnering reports are updated every six months to ensure the user has access to the latest announcements and trends in the topic focus of the report.
Current Partnering analysts review the deal data to provide an overview and analysis of deal trends, including example deals and terms.
Current Partnering reports source deal data from our proprietary deals and alliances database, Current Agreements. The database is updated daily by our analysts with new deals as they are announced globally by the company's party to the deal. In addition, deal records are updated with new data as it becomes available.
The data in the Current Agreements deals and alliances database is obtained from secondary sources such as publicly available industry sources including press releases, company presentations, investor presentations, company SEC filings, other company filings, company websites, conference presentations. Sources are identified to allow for user verification.
Current Partnering provides comprehensive coverage of the following partnering or deal types:
• Asset purchase
• Assignment
• Co-development
• Co-market
• Co-promotion
• Collaborative R&D
• Contract service
• CRADA
• Cross-licensing
• Development
• Distribution
• Equity purchase
• Evaluation
• Grant
• Joint venture
• Licensing
• Loan
• Manufacturing
• Marketing
• Option
• Promotion
• Research
• Royalty financing
• Settlement
• Spin out
• Sub license
• Supply
• Termination
• Warrant
Every deal record is fully categorized and includes the following data, where available:
• Industry sector
• Therapy areas
• Technology type
• Deal components
• Financial terms
• Stage of development
• Exclusivity
• Asset type
• Geographic focus
• Excluded geography
• Company press release
• SEC filing data including contract document
All financial amounts are converted to US$ using the exchange rate available on the date of deal announcement, enabling direct comparison of deal terms across international territories.
Financial data and contract documents displayed in deal records is obtained from public sources, where disclosed by the parties to the deal.
We found other products you might like!