Global Autoimmune Partnering 2015-2022: Deal trends, players and financials
The Global Autoimmune Partnering 2015-2022: Deal trends, players and financials report provides comprehensive understanding and unprecedented access to the autoimmune disease partnering deals and agreements entered into by the worlds leading healthcare companies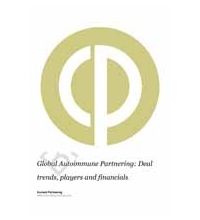 Publication date
April 2022
Product type
Research report
Available formats
PDF document
Global Autoimmune Partnering 2015 to 2022 provides the full collection of Autoimmune disease deals signed between the world's pharmaceutical and biotechnology companies since 2015.
Trends in Autoimmune partnering deals
Financial deal terms for headline, upfront and royalty by stage of development
Autoimmune partnering agreement structure
Autoimmune partnering contract documents
Top Autoimmune deals by value
Most active Autoimmune dealmakers
Most of the deals included within the report occur when a licensee obtains a right or an option right to license a licensor's product or technology. More often these days these deals tend to be multi-component including both a collaborative R&D and a commercialization of outcomes element.
The report takes readers through the comprehensive Autoimmune disease deal trends, key players and top deal values allowing the understanding of how, why and under what terms companies are currently entering Autoimmune deals.
The report includes coverage of the following autoimmune diseases:
Multiple sclerosis, Restless leg syndrome, Dermatitis, Eczema, Alopecia, Psoriasis, Celiac disease, Inflammatory bowel disease, Crohn's disease, Ulcerative colitis, Glomerulonephritis, Endometriosis, Immune thrombocytopenic purpura, Neutropenia, Graft versus host disease, Scleroderma, Systemic lupus erythematosus, Addison's disease, Diabetes Type 1, Ankylosing spondylitis, Juvenile arthritis, Psoriatic arthritis, Rheumatoid arthritis, Uveitis, Narcolepsy, Chronic obstructive pulmonary disease, Idiopathic pulmonary fibrosis, Sarcoidosis, Meniere's disease, and other autoimmune disorders.
The report presents financial deal terms values for Autoimmune deals, where available listing by overall headline values, upfront payments, milestones and royalties enabling readers to analyse and benchmark the value of current deals.
The initial chapters of this report provide an orientation of Autoimmune dealmaking trends.
Chapter 1 provides an introduction to the report.
Chapter 2 provides an overview of the trends in Autoimmune dealmaking since 2015 covering trends by year, deal type, stage of development, technology type and therapeutic indication.
Chapter 3 includes an analysis of financial deal terms covering headline value, upfront payment, milestone payments and royalty rates.
Chapter 4 provides a review of the leading Autoimmune deals since 2015. Deals are listed by headline value. The chapter includes the top 25 most active Autoimmune dealmakers, together with a full listing of deals to which they are a party. Where the deal has an agreement contract published at the SEC a link provides online access to the contract.
Chapter 5 provides comprehensive access to Autoimmune deals since 2015 where a deal contract is available, providing the user with direct access to contracts as filed with the SEC regulatory authorities. Each deal title links via Weblink to an online version of the deal record contract document, providing easy access to each contract document on demand.
Chapter 6 provides a comprehensive directory of all Autoimmune partnering deals by specific Autoimmune target announced since 2015. The chapter is organized by specific Autoimmune therapeutic target. Each deal title links via Weblink to an online version of the deal record and where available, the contract document, providing easy access to each contract document on demand.
In addition, a comprehensive appendix is provided with each report of all Autoimmune partnering deals signed and announced since 2015. The appendices are organized by company A-Z, stage of development at signing, deal type (collaborative R&D, co-promotion, licensing etc) and technology type. Each deal title links via Weblink to an online version of the deal record and where available, the contract document, providing easy access to each contract document on demand.
The report also includes numerous tables and figures that illustrate the trends and activities in Autoimmune partnering and dealmaking since 2015.
In conclusion, this report provides everything a prospective dealmaker needs to know about partnering in the research, development and commercialization of Autoimmune technologies and products.
Global Autoimmune Partnering 2015 to 2022 provides the reader with the following key benefits:
In-depth understanding of Autoimmune deal trends since 2015
Access Autoimmune deal headline, upfront, milestone and royalty data
Research hundreds of actual contracts between Autoimmune partner companies
Comprehensive access to over 900 links to actual Autoimmune deals entered into by the world's biopharma companies
Indepth review of Autoimmune deals entered into by the top 25 most active dealmakers
Benchmark the key deal terms companies have agreed in previous deals
Identify key terms under which companies partner Autoimmune opportunities
Uncover companies actively partnering Autoimmune opportunities
Executive Summary
Chapter 1 – Introduction
Chapter 2 – Trends in Autoimmune dealmaking
2.1. Introduction
2.2. Autoimmune partnering over the years
2.3. Autoimmune partnering by deal type
2.4. Autoimmune partnering by industry sector
2.5. Autoimmune partnering by stage of development
2.6. Autoimmune partnering by technology type
Chapter 3 –Financial deal terms for Autoimmune partnering
3.1. Introduction
3.2. Disclosed financials terms for Autoimmune partnering
3.3. Autoimmune partnering headline values
3.4. Autoimmune deal upfront payments
3.5. Autoimmune deal milestone payments
3.6. Autoimmune royalty rates
Chapter 4 – Leading Autoimmune deals and dealmakers
4.1. Introduction
4.2. Most active in Autoimmune partnering
4.3. List of most active dealmakers in Autoimmune
4.4. Top Autoimmune deals by value
Chapter 5 – Autoimmune contract document directory
5.1. Introduction
5.2. Autoimmune partnering deals where contract document available
Chapter 6 – Autoimmune dealmaking by therapeutic target
6.1. Introduction
6.2. Deals by Autoimmune therapeutic target
Appendices
Appendix 1 – Directory of Autoimmune deals by company A-Z since 2015
Appendix 2 – Directory of Autoimmune deals by deal type since 2015
Appendix 3 – Directory of Autoimmune deals by stage of development since 2015
Appendix 4 – Directory of Autoimmune deals by technology type since 2015
Further reading on dealmaking
Deal type definitions
About Wildwood Ventures
Current Partnering
Current Agreements
Recent report titles from CurrentPartnering
Table of figures
Figure 1: Autoimmune partnering since 2015
Figure 2: Autoimmune partnering by deal type since 2015
Figure 3: Autoimmune partnering by industry sector since 2015
Figure 4: Autoimmune partnering by stage of development since 2015
Figure 5: Autoimmune partnering by technology type since 2015
Figure 6: Autoimmune deals with a headline value
Figure 7: Autoimmune deals with upfront payment values
Figure 8: Autoimmune deals with milestone payment
Figure 9: Autoimmune deals with royalty rates
Figure 10: Active Autoimmune dealmaking activity since 2015
Figure 11: Top Autoimmune deals by value since 2015
Pricing options
$3,495: single-user
$5,245: multi-user
$10,495: single site license
$17,495: global site license
A full explanation of license type definitions can be found here.
Our guarantee
Price promise
We guarantee our prices are competitive. If you find the same report advertised at a lower price within 7 days of purchase, we will refund the difference.
Delivery Deadline
We guarantee that the report will be sent within the specified delivery times. In the unlikely case of a delay we may offer a partial refund as compensation. (Terms may apply)
Latest report
If an update is published within 30 days of your purchase, you will receive it absolutely free of charge.
Serious Security
We take your data and security seriously. See our privacy policy for details of how we manage your data.
All card payments are processed by SagePay.
Sales Support
If you have any questions about your report or are unhappy with the quality, we will do our best to resolve your query. Contact us direct.
Total Trust
Current Partnering is part of Wildwood Ventures Ltd., based in York, United Kingdom. We have been trading successfully online since 2009 and work with some of the most famous brands in the business. We carefully select our partners to ensure that the publications meet expectations of demanding customers.
3Derm Systems, 3SBio, 4SC, 9 Meters Biopharma, 23andMe, Aavis Pharmaceuticals, Abarca, AB Biosciences, Abbott Laboratories, Abbvie, Ablynx, Abreos Biosciences, AbSci, Abzena, AC Bioscience, Accelerated Cure Project for MS, Accelis Pharma, Accord Healthcare, Acelyrin, Aceso Life Science, Aclaris Therapeutics, Acorda Therapeutics, Acucela, Adacyte Therapeutics, AdAlta, Adare Pharma Solutions, Adherium, Aduro BioTech, Adynxx, Aequus Pharmaceuticals, Aerpio Pharmaceuticals, Aesthetic Management Partners, Aevi Genomic Medicine, Affibody, AffyXell Therapeutics, Afimmune, AGC Biologics, AgeX Therapeutics, AHN Autoimmunity Institute, AIDS Clinical Trials Group, AiVita Biomedical, Akaal Pharma, Akebia Therapeutics, Akorn, Akouos, Akston Biosciences, Alba Therapeutics, Alexion Pharmaceuticals, Alex Therapeutics, Alfasigma, Alivio Therapeutics, Alkermes, Allakos, Allegheny General Hospital, Allegheny Technologies, Allegro Ophthalmics, Allergan, Allergan (name changed from Actavis), Alliance for Lupus Research, Alloy Therapeutics, Alma Bio Therapeutics, Almirall, Alpha Cancer Technologies, Alpine Immune Sciences, AltaVoice, ALTuCELL, Alvine Pharmaceuticals, Alvit LCS Pharma, Alvotech, Amarantus BioSciences, Amarantus Diagnostics, Amarex Clinical Research, Amarna Therapeutics, Ambiopharm, Ambry Genetics, Amegabiotech, American College of Chest Physicians, American Diabetes Association, American Lung Association, American National Multiple Sclerosis Society, American Skin Association, Amgen, Amneal Pharmaceuticals, AMPEL BioSolutions, Anacor Pharmaceuticals, AnGes MG, Anika Therapeutics, ANI Pharmaceuticals, Annette Funicello Research Fund for Neurological Diseases (AFRFND), Anokion, Antares Pharma, Anthem Bluecross, Antibe Therapeutics, AntibioTx, Antidote, Apexigen, Applied Biology, Applied BioMath, Applied Molecular Transport, Aptar Pharma, Aptorum Group, Aptuit, Aralez Pharmaceuticals, Arbor Biotechnologies, Arch Biopartners, Arctic Vision, Arcutis Biotherapeutics, Arena Pharmaceuticals, argenx, Aristea Therapeutics, Ark Biosciences, Arrien Pharmaceuticals, Artisan Bio, Artizan Biosciences, Asana Medical, Ascensia Diabetes Care, ASKA Pharmaceuticals, AskAt, Aslan Pharma, Assembly Biosciences, Assertio Therapeutics, Astellas Pharma, Asthma UK, Astion Pharma, AstraZeneca, Atara Biotherapeutics, Atnahs Pharma, aTyr Pharma, Aurinia Pharmaceuticals, Auris Medical, Australasian Gastro Intestinal Research Foundation, Autobahn Therapeutics, Avacta, Avalere Health, Avant Diagnostics, Avicanna, Avidea Technologies, Axela, AXIM Biotechnologies, Axsome Therapeutics, Azitra, AzurRx BioPharma, Bachem, Back-A-Line, Basilea Pharmaceutica, Bausch & Lomb, Bausch Health Companies, Baxalta, Baxter International, Bayer, Baylor Health Care System, Baylor Research Institute, Bazelet, BC Children's Hospital, BCD Bioscience, BDD Pharma, Beijing InnoCare Pharma, Beijing Tide Pharmaceutical, BenevolentAI, Beyondspring Pharmaceuticals, Beyond Type 1, BGI, BHR Pharma, Bigfoot Biomedical, Bill and Melinda Gates Foundation, Bina Technologies, Bio-Cancer Treatment International, Bio-Gate, Bio-Path, Bio-Rad Laboratories, Bio-Techne, Bio-Thera Solutions, biOasis Technologies, BioClinica, Biocon, Biofourmis, Biogen, Biohaven Pharmaceutical, Biolojic Design, BiomeBank, Biomecite Diagnostics, BioMed X Innovation Center, BiomX, Bioniz Therapeutics, BioNova Pharmaceuticals, Bionure, Bioprojet, Bioqube Ventures, BioRap Technologies, BioReliance, BioSense Global, BioStorage Technologies, BioTie Therapies, BirchBioMed, BL&H, Blue Cross Blue Shield Association, BlueRock Therapeutics, Blue Shield of California, Boehringer Ingelheim, Boragen, Boston Pharmaceuticals, Boston University School of Medicine, Bpifrance, BrainStorm Cell Therapeutics, Breakthrough Health, Breckenbridge Pharmaceutical, Brickell Biotech, Bridge Biotherapeutics, Brigham and Women's Hospital, BrightInsight, Brightree, Bristol-Myers Squibb, British Lung Foundation, Brown University, Cabaletta Bio, Cadila Pharmaceuticals, Caladrius Biosciences, California Institute for Biomedical Research, California Institute for Regenerative Medicine, Calliditas Therapeutics, Calypso Biotech, Camargo Pharmaceutical Services, Cambridge Clinical Laboratories, Cambridge Enterprise, Camino Partnership, Cam Med, Can-Fite BioPharma, Canbex Therapeutics, Canigma, Cannassure Therapeutics, Cantargia, Cara Therapeutics, CareFirst BlueCross BlueShield, CareTRx, Carna BioSciences, Casebia Therapeutics, Case Western Reserve University, Catalyst Pharmaceuticals, CEA-Leti, Cedars-Sinai Medical Center, Celdara Medical, Celgene, Celiac Disease Foundation, Celimmune, Celltrion, Celmatix, Celon Pharma, Cel Sci, Celsius Therapeutics, Center for Genomic Regulation, Centessa Pharmaceuticals, Central Institute for Experimental Animals, Centre for Drug Research and Development (CDRD), Centurion, Changchun High & New Technology Industries, CheckPoint Immunology, Chelexa Biosciences, ChemoCentryx, Chiesi Farmaceutici, Childhood Arthritis and Rheumatology Research Alliance (CARRA) Registry, Children's Hospital Boston, Children's Hospital of Philadelphia, Chinese University of Hong Kong, Chong Kun Dang, Chord Therapeutics, Chronos Therapeutics, Chugai Pharmaceutical, CHU Sainte-Justine, Cicero Diagnostics, Cincinnati Children's Hospital Medical Center, Cipher Pharmaceuticals, Cipla, Circassia, Citrine Medicine, Clarify Medical, Clearside Biomedical, Clene Nanomedicine, Cleveland Clinic, Clinical Ink, Clinigen, CMS Medical, Cochin Hospital, Coherus Biosciences, Columbia University, Columbia University Medical Center, Complix, ConSynance Therapeutics, Convelo Therapeutics, Cook Biotech, COPD Foundation, Corbin Therapeutics, Corbus Pharmaceuticals, Cornell University, Corrona, CorTechs Labs, COUR Pharmaceutical, Covalent Data, Covis Pharmaceutical, Coya Therapeutics, Creabilis Therapeutics, CRISPR Therapeutics, Critical Path Institute (C-Path), Crohn's and Colitis Foundation of America, CR Pharma, CRS Bio, Cryostem, CrystalGenomics, CSL Behring, Cue Biopharma, Cumberland Pharmaceuticals, Curable, Curant Health, Curzion Pharmaceuticals, CyDex, Cynata Therapeutics, Cyrus Biotechnology, Cytocom, CytoReason, Cytori Therapeutics, Cyxone, Daewoong Pharmaceutical, Daiichi Sankyo, Dalriada Drug Discovery, Dalton Pharma Services, Debiopharm, Debiotech, Defymed, Delphi Genetics, Denali Therapeutics, DendroCyte, Department of Defense, Dermavant Sciences, Dermira, DermTech, DevPro Biopharma, Dexa Medica, DexCom, Diabeloop, Diagnostic International Distribution, Diamyd Medical, Diomics, Disarm Therapeutics, Diurnal, Diversigen, Dong-A ST, Dr. Falk Pharma, Dr. Reddy's Laboratories, Dragonfly Therapeutics, Draper Laboratories, DreaMed Diabetes, DS Biopharma, Duke Clinical Research Institute (DCRI), Duke University, DyDo Pharma, EA Pharma, EffRx, EGeen, Eisai, Eisai Inc, Eleven Biotherapeutics, Eli Lilly, Elite Pharmaceuticals, ElsaLys Biotech, EMD Serono, Emendo Biotherapeutics, Emory University, EMS, Enable Biosciences, Encore Dermatology, Endo International, enGene, Engitix, Entera Health, Enteris Biopharma, Enterome Bioscience, Entos Pharmaceuticals, Enzene Biosciences, EOFlow, Epicore Biosystems, EPI Health, Epirus Biopharmaceuticals, Epivax, Equillium, Erasmus University Medical Center, Ethos Research & Development, Ethypharm, European Union Regional Development Fund, Everest Medicines, Evestra, Evidation Health, Evolve BioSystems, Evommune, EVOQ Therapeutics, Evotec, Ewopharma, Exagen Diagnostics, ExeGi Pharma, Exicure, Experimental Therapeutics Centre of Singapore, ExScientia, EyePoint Pharmaceuticals, FairJourney Biologics, Fast Forward, Fate Therapeutics, Federal Ministry of Health (Germany), Feinstein Institute for Medical Research, Ferring Pharmaceuticals, Fibrocor Therapeutics, Fibrogen, Finch Therapeutics, First Wave Bio, Fission Labs LATAM, Fluidigm, Food and Drug Administration (FDA), Foresee Pharmaceuticals, Forward Pharma, Fougera Pharmaceuticals, Foundation for Celiac Disease Outcome Measures, Foundation for Diabetes Research, Fred Hutchinson Cancer Research Center, French National Institute for Agricultural Research, Fresenius Kabi Pharmaceuticals, FSD Pharma, Fujifilm, Fujifilm Diosynth Biotechnologies, Fujifilm Kyowa Kirin Biologics, Fuji Pharma, Fundacion Progreso y Salud, Fundació Institut de Recerca de l'Hospital de la Santa Creu i Sant Pau, Galapagos, Galderma, Gebro Pharma, Gedeon Richter, GE Healthcare, Genentech, Generex Biotechnology, Genetic Analysis, Genexine, Genmab, Genomics, Genovis, Genprex, GenScript ProBio, Genten Therapeutics, Genzyme, Georgetown University, George Washington University, Georgia State University, Gilead Sciences, GI Reviewers, GlaxoSmithKline, Glenmark Pharmaceuticals, GoodRx, Google, Gossamer Bio, Government of Australia, Graviton Bioscience, Green Park Collaborative, Grunenthal, Guangzhou Institute of Respiratory Disease, Guthy-Renker, Gynica, Hadasit Bioholdings, Hadasit Medical Research Services and Development, Hadassah Medical Center, Halozyme Therapeutics, HanAll Pharmaceuticals, Hangzhou Zhongmei Huadong Pharmaceutical, Hanmi Pharmaceutical, Hannover Medical School, Hansa Biopharma, Haplogen, Happify Health, HAPPYneuron, Harbour Biomed, Harmony Biosciences, Harvard Stem Cell Institute, Harvard University, Harvest Capital Strategies, Healthcare Royalty Partners, HealthPrize Technologies, Helius Medical Technologies, Helmholtz Zentrum Munchen, Hesperos, HiFiBio, Highland Therapeutics, Highmark Blue Shield, Highmark Health, Hikma Pharmaceuticals, Hob Diagnostics, Hoffmann La Roche, Hope Medicine, Horizon Pharma plc, Horizon Therapeutics, Hospital for Special Surgery, Hoth Therapeutics, Huadong Medicine, Hudson Institute of Medical Research, Humanigen, I-mab, Iagnosis, iBio, IBM, Icahn School of Medicine at Mount Sinai, Ichnos Sciences, Ideal Life, IDIS Pharma, IFM Therapeutics, ILTOO Pharma, Imbio, Imcyse, Imeka, IMIDomics, Immugenyx, ImmunArray, Immune Pharmaceuticals, Immune Therapeutics, ImmuNext, Immunic, ImmunogenX, Immunomic, Immunovia, ImmuPharma, Inception Sciences, Incyte, InDex Pharmaceuticals, Industrial Technology Research Institute, Inexia, INIM Pharma, Inmagene Biopharmaceuticals, Innodem Neurosciences, Innovate Biopharmaceuticals, Innovate UK, Innovation Pharmaceuticals, Innovative Genomics Initiative (IGI), Innovent Biologics, Inova Labs, Inovalon, Inserm Transfert, Insmed Inc, Institute for Genome Statistics and Bioinformatics, Institute of Biophysics, Institute of Endocrinology, Metabolism, and Reproduction, Institute of Human Genetics, Institut Gustave Roussy, Instituto de Ciencias Farmaceuticas, Intarcia Therapeutics, Intas Pharmaceuticals, Integral Molecular, Intellia Therapeutics, International Progressive MS Alliance, International Society for Neurovascular Disease (ISNVD), Intract Pharma, Intralytix, Intrexon, Inventiva, Ionis Pharmaceuticals, IONTAS, Io Therapeutics, Ipsen, IQVIA, Ironwood Pharmaceuticals, ISA Scientific, ISD Immunotech, iSense CGM, Italian Multiple Sclerosis Society, Iterative Scopes, IXICO, Izana Bioscience, Janssen Biotech, Janssen Pharmaceuticals, Janssen Pharmaceutica NV, Janssen Research & Development, Janssen Sciences, Janus Pharmaceuticals, Japan Tobacco, Jazz Pharmaceuticals, Jiangsu Hansoh Pharmaceutical, Jiangsu Hengrui Medicine, Jiangsu QYuns Therapeutics, Johns Hopkins Medicine (JHM), Johns Hopkins University, Johnson & Johnson Consumer Companies, Johnson & Johnson Innovation, JSR, Jubilant Pharma, Jubilant Radiopharma, Jubilant Therapeutics, Juno Therapeutics, Juntendo University, Juvenile Diabetes Research Foundation, JW Pharmaceutical, Kadimastem, Kadmon Pharmaceuticals, Kaken Pharmaceutical, Kaleido Biosciences, Kalytera Therapeutics, Kamada, KangWon University Institute of Medical Science, Kanyos, Karate Health, Karolinska Institute, Karo Pharma, Karyopharm Therapeutics, KBI BioPharma, Keck Graduate Institute of Applied Life Sciences, Keck School of Medicine of USC, Keio Gijuku University, Kennedy Trust For Rheumatology Research, Kenneth Rainin Foundation (KRF), Kindeva Drug Delivery, KineMed, King's College Hospital, Kiniksa Pharmaceuticals, Kissei Pharmaceutical, Kite Pharma, Klue, Koneksa Health, Kubota Vision, KYE Pharmaceuticals, Kyma Therapeutics, Kyongbo Pharm, Kyowa Hakko Kirin, Kyverna Therapeutics, Laboratory Corporation of America, La Jolla Institute for Allergy & Immunology, Landos Biopharma, Lannett, Lassen Therapeutics, Laurel Venture Capital, Lawson Health Research Institute, Lead Pharma, Legacy Biotechnologies, Leona M and Harry B Helmsley Charitable Trust, LEO Pharma, Les Laboratoires Servier, Lexicon Pharmaceuticals, LGC, LianBio, LifeArc, Ligand Pharmaceuticals, Lipidor, Lipid Therapeutics, LMU University Hospital Munich, Lonza, Lubeck Institute of Experimental Dermatology, Lucid Psycheceuticals, Lumicera Health Services, Luminary Therapeutics, Lumir Lab, Lund University, Lung Biotechnology, Lupin, Lupin Limited, Lupus Foundation of America (LFA), Lupus Research Alliance, Lupus Research Institute, Lupus Therapeutics, Lurie Children's Hospital of Chicago, Lyfebulb, MaaT Pharma, mAbXience, Macrogenics, MainPointe, Mallinckrodt Pharmaceuticals, MannKind Biopharmaceuticals, Mapi Pharma, Marinomed Biotechnologie, Maruho, Maryland Stem Cell Research Fund, Massachusetts Eye and Ear Infirmary, Massachusetts General Hospital, Maxhealth Medicine, Mayne Pharma, Mayo Clinic, MC2 Therapeutics, MC10, McGill University, McMaster University, MD Anderson Cancer Center, MDNA Life Sciences, Med-Aesthetic Solutions, Medac, Medexus Pharmaceuticals, Medgenics, Medical College of Wisconsin, Medical International Research, Medical University of Graz, Medical University of South Carolina, Medical University of Vienna, Medical University South Carolina, Medicines Discovery Catapult, Medidata Solutions, Medimetriks, MedImmune, Mediq, Medsenic, Meiji Seika, MELA Sciences, Menarini Asia-Pacific, Merck and Co, Merck Sharpe & Dohme, Mereo BioPharma, Meritage Pharma, Mesoblast, Metrion Biosciences, Michepro, Microbio Shanghai, Microbiotica, MicroConstants, Microdrop, Mimetas, Miravo Healthcare, MiTest Health, Mitsubishi Tanabe Pharma, Molecular Stethoscope, Molnlycke Health Care, Momenta Pharmaceuticals, Monash University, Morphic Therapeutic, MorphoSys, Mor Research Applications, Mount Sinai Medical Center, Multiple Sclerosis Society of Canada, Mundipharma, Mylan Laboratories, Mylan Pharmaceuticals, Myovant Sciences, Myriad Genetics, National Eczema Association, National Health Service, National Heart, Lung and Blood Institute, National Institute for Health Research (NIHR), National Institute of Allergy and Infectious Diseases, National Institute of Arthritis and Musculoskeletal Diseases, National Institute of Diabetes and Digestive and Kidney Diseases, National Institutes of Health, National Kidney Foundation, National Organization for Rare Disorders, National Psoriasis Foundation, National Science Foundation, Navidea Biopharmaceuticals, Navitas, ndd Medical Technologies, Nektar Therapeutics, Neostell, Neos Therapeutics, Neoteryx, Neovacs, Neovii Pharmaceuticals, Nestle Health Science, NeuroGenesis, NewSurg, New York University, Nexel, Neximmune, Nextera, Nicoya, Nimbus Therapeutics, Ningbo Tai Kang Medical Technology, Nitto BioPharma, Nitto Denko, NLS Pharmaceutics, Nonin Medical, Nordic Pharma Group, Norgine, North Carolina State University, Northway Biotechpharma, Northwestern University, North Zealand University Hospital, Nortis, Nostrum Pharmaceuticals, Novadiscovery, NovaMedica, Novan, Novare Pharmaceuticals, Novartis, Novartis Pharmaceuticals Canada, Novome Biotechnologies, Novo Nordisk, Novoron Bioscience, Nuance Pharma, Nuevolution, Numab, numares, NuMedii, Nutra Pharma, NYU Langone Medical Center, Oak Hill Bio, ObsEva, Ocata Therapeutics, Ocumension Therapeutics, Oklahoma Medical Research Foundation, OliX Pharmaceuticals, Oneness Biotech, Optimeos Life Sciences, Or-Genix Therapeutics, Orange Grove Bio, Orca Pharmaceuticals, Orexia Therapeutics, Orgenesis, Orion, OSE Immunotherapeutics, Oslo University Hospital, Osmotica Pharmaceuticals, Ospedale San Raffaele, Otifex Therapeutics, Otsuka, OWC Pharmaceutical Research, Owlstone Medical, OxyPharma, Padlock Therapeutics, Paladin Labs, Palisade Bio, Palobiofarma, Panaxia, Pandion Therapeutics, Panorama Research, Panther Biotechnology, PANTHERx Specialty Pharmacy, Paragon Bioservices, ParcelShield, Parexel, Parexel Biotech, Particle Sciences, Parvus Therapeutics, Patara Pharma, PathoQuest, Patient-Centered Outcomes Research Institute (PCORI),, PatientsLikeMe, PEAR Therapeutics, Pediatric Dermatology Research Alliance, Pelle Ventures, Pendopharm, Penn State College of Medicine, Perelman School of Medicine, Perrigo, Pfizer, Pfizer Japan, Pharmapark, Pharmaxis, Phebra, Philips, PhotoMedex, PhytoTech Medical, PicnicHealth, PlantEXT, Pluristem Therapeutics, Polpharma, Pooyesh Darou, Popit, Portal Instruments, PPD, Precision Image Analysis, PredictImmune, Prestium Pharma, Prime Therapeutics, Principia Biopharma, ProciseDx, Procyon Technologies, Progenity, Progentec Diagnostics, Promedior, Promethera Biosciences, Prometheus Biosciences, Prometheus Laboratories, Promius Pharma, Propagenix, Propeller Health, ProQR Therapeutics, Protagen, Protagonist Therapeutics, Protalix BioTherapeutics, Protxx, Provention Bio, Provider Network of America, Pulmatrix, Pulmonary Fibrosis Foundation (PFF), Purdue Pharma, PvP Biologics, Pyxis Oncology, Qualcomm, Qualyst Transporter Solutions, Qu Biologics, Queen Mary University of London, Queensland Institute of Medical Research (QIMR), Queensland University of Technology, Quell Therapeutics, Quoin Pharmaceuticals, Quotient Clinical, qynapse, Rafa Pharmaceuticals, Raffles PharmaTech, Reckitt Benckiser, RedHill Biopharma, Redx Pharma, Reedy Creek Investments, Regen BioPharma, Regeneron Genetics Center, Regentys, REGiMMUNE, Regis Technologies, Relife, Remedium Bio, Renovion, Repertoire Immune Medicines, Replicel Life Sciences, ReproCell, ResearchMatch, Reset Therapeutics, Resilia Pharmaceuticals, Resmed, Respirent Pharmaceuticals, Revive Therapeutics, Revolo Biotherapeutics, Revon Systems, ReWalk Robotics, Rheos Medicines, Rheumatology Research Foundation, Rigel Pharmaceuticals, River Vision Development, Rochal Industries, Roche, Rockefeller University, Roivant Sciences, Royalty Pharma, Rubedo Life Sciences, S.L.E. Lupus Foundation, SAB Biotherapeutics, Salix Pharmaceuticals, Samsung Bioepis, Samsung Biologics, Samumed, Sandoz, Sanford Health, Sanguine, Sanofi, San Raffaele Hospital, Saol Therapeutics, SarcoMed USA, SATT Lutech, Savana, Schneider Children's Medical Center, Scholar Rock, Schrodinger, SciCann Therapeutics, Science 37, Scienion, ScinoPharm Taiwan, Scipher Medicine, Scleroderma Research Foundation, Scripps Research Institute, Seattle Children's Hospital, Seattle Childrens Research Institute, Second Genome, Sedec Therapeutics, Seelos Therapeutics, Selecta Biosciences, Selexis, Semma Therapeutics, Sengenics, Senseonics, Seres Therapeutics, Sernova, SFC Fluidics, Shenzhen Hybio Pharma, Shepherd Center, Shire Laboratories, Shire Pharmaceuticals, Siemens Healthineers, Sienna Biopharmaceuticals, Sigilon Therapeutics, Signum Biosciences, Silence Therapeutics, Silo Pharma, Simbec Research, Sirion Biotech, Sitryx, SkyePharma, Skyhawk Therapeutics, SomaLogic, Sonoma Pharmaceuticals, Sonora Quest Laboratories, Sosei Heptares, Sourcia, Spesana, Spherix, Spring Bank Pharmaceuticals, SQI Diagnostics, St. Jude Children's Research Hospital, STADA Arzneimittel, Standigm, Stanford University, Stanford University School of Medicine, Stellar Biotechnologies, Stiefel Laboratories, Stony Brook University, Strainprint Technologies, Structural Genomics Consortium, Summa Health System, SunGen, Sunovion Pharmaceuticals, Sun Pharmaceutical, SuppreMol, Symbiotix Biotherapies, Syndax Pharmaceuticals, Synlogic, Synthekine, Synthorx, Systems Oncology, Takeda Pharmaceutical, Talent Biotech, Tanner Pharmaceuticals, TARGET PharmaSolutions, Tasly Pharmaceuticals, Tavotek Biotherapeutics, Tel Aviv Sourasky Medical Center, Temedica, Tetragenetics, Teva Pharmaceutical Industries, Teva Pharmaceuticals USA, Texas A&M University, TG Therapeutics, The Alfred Hospital, The Consortium of Rheumatology Researchers of North America, The Crohn's and Colitis Foundation of Canada, The HUB Foundation, The Innovation Fund, The Multiple Sclerosis Association of America, Theradiag, Theramex, Theravance, The Vancouver Island Health Authority, Thirona Bio, Three Lakes Foundation, Thunderbolt Pharma, TiGenix, Tillotts Pharma, Tissium, Tiziana Life Sciences, T Med, Topas Therapeutics, Torii Pharmaceutical, toSense, Tow Foundation, TransBio, True Diagnostics, True North Therapeutics, True Positive Medical Devices, Tsinghua University, Tufts Medical Center, twoXAR, TxCell, UCB, UGA Biopharma, UNION Therapeutics, United Therapeutics, University College Cork, University Health Network, University Hospitals Accountable Care Organization, University of Adelaide, University of Alberta, University of Barcelona, University of Birmingham, University of Bonn, University of British Columbia, University of Calgary, University of California, San Diego, University of California Berkeley, University of California Irvine, University of California San Francisco, University of Cambridge, University of Chicago, University of Cincinnati, University of Connecticut, University of Houston, University of Illinois, University of Manitoba, University of Maryland, University of Maryland Baltimore, University of Maryland Ventures, University of Massachusetts, University of Michigan, University of Minnesota, University of North Carolina, University of North Texas Health Science Center, University of Oxford, University of Pennsylvania, University of Pittsburgh, University of Queensland, University of Sheffield, University of Sherbrooke, University of South Australia, University of South Florida, University of Texas at El Paso, University of Texas Southwestern Medical Center, University of Toronto, University of Utah, University of Virginia, University of Washington, University of Western Ontario, University of Windsor, University of Wisconsin-Madison, University of Zurich, Upsher-Smith, Utrecht University, Vaccinex, Valeant Pharmaceuticals, ValenzaBio, Vanderbilt University, Vasomune Therapeutics, Vcell Healthcare, V ClinBio, Vectura, Vedanta Biosciences, Velocity Pharmaceutical Development, Veracyte, Verily, Verona Pharma, Versant Ventures, Vertex Pharmaceuticals, ViaCyte, Viatris, Vicore Pharma, Victoria University, Viela Bio, Vifor-Fresenius Medical Care Renal Pharma Ltd, Vinnova, Viome, Virginia Commonwealth University, Vitae Pharmaceuticals, Vital Therapies, Vitesse Biologics, Vium, Voronoi, Voyager Therapeutics, Wanchunbulin, Weill Cornell Medical College, Wellcome Trust Sanger Institute, WellDyne, Wellness Center USA, White Rock Capital Partners, W L Gore, WorldCare Clinical, Worldwide Clinical Trials, Wuhan Kindstar Diagnostics, WuXi Biologics, Wyss Institute, X-Rx, XBiotech, Xbrane Bioscience, Xencor, XL-Protein, Xoma, XtalPi, XTL Biopharmaceuticals, Xycrobe Therapeutics, Xylyx Bio, Yale School of Medicine, Yale University, Yangtze River Pharmaceutical Group, Yeda Research and Development Company, Yissum Research Development, ZAI Laboratory, ZappRx, Zenas BioPharma, Zenoaq, Ziarco Pharma, Ziopharm Oncology, Zylo Therapeutics, Zymeworks, ZyVersa Therapeutics
Current Partnering reports provide insight into the trends and terms of partnering deals in the global life sciences sector.
Current Partnering reports are updated every six months to ensure the user has access to the latest announcements and trends in the topic focus of the report.
Current Partnering analysts review the deal data to provide an overview and analysis of deal trends, including example deals and terms.
Current Partnering reports source deal data from our proprietary deals and alliances database, Current Agreements. The database is updated daily by our analysts with new deals as they are announced globally by the company's party to the deal. In addition, deal records are updated with new data as it becomes available.
The data in the Current Agreements deals and alliances database is obtained from secondary sources such as publicly available industry sources including press releases, company presentations, investor presentations, company SEC filings, other company filings, company websites, conference presentations. Sources are identified to allow for user verification.
Current Partnering provides comprehensive coverage of the following partnering or deal types:
• Asset purchase
• Assignment
• Co-development
• Co-market
• Co-promotion
• Collaborative R&D
• Contract service
• CRADA
• Cross-licensing
• Development
• Distribution
• Equity purchase
• Evaluation
• Grant
• Joint venture
• Licensing
• Loan
• Manufacturing
• Marketing
• Option
• Promotion
• Research
• Royalty financing
• Settlement
• Spin out
• Sub license
• Supply
• Termination
• Warrant
Every deal record is fully categorized and includes the following data, where available:
• Industry sector
• Therapy areas
• Technology type
• Deal components
• Financial terms
• Stage of development
• Exclusivity
• Asset type
• Geographic focus
• Excluded geography
• Company press release
• SEC filing data including contract document
All financial amounts are converted to US$ using the exchange rate available on the date of deal announcement, enabling direct comparison of deal terms across international territories.
Financial data and contract documents displayed in deal records is obtained from public sources, where disclosed by the parties to the deal.