Global Public Health Partnering 2010-2020: Deal trends, players and financials
Global Public Health Partnering 2010-2020: Deal trends, players and financials provides comprehensive understanding and unprecedented access to the public health partnering deals and agreements entered into by the worlds leading healthcare companies.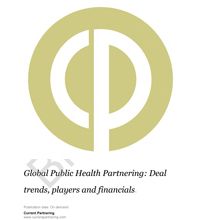 Publication date
September 2020
Product type
Therapy profile
Available formats
PDF document
Global Public Health Partnering 2010 to 2020 provides the full collection of Public Health disease deals signed between the world's pharmaceutical and biotechnology companies since 2010.
Trends in Public Health partnering deals
Financial deal terms for headline, upfront and royalty by stage of development
Public Health partnering agreement structure
Public Health partnering contract documents
Top Public Health deals by value
Most active Public Health dealmakers
Most of the deals included within the report occur when a licensee obtains a right or an option right to license a licensor's product or technology. More often these days these deals tend to be multi-component including both a collaborative R&D and a commercialization of outcomes element.
The report takes readers through the comprehensive Public Health disease deal trends, key players and top deal values allowing the understanding of how, why and under what terms companies are currently entering Public Health deals.
The report presents financial deal terms values for Public Health deals, where available listing by overall headline values, upfront payments, milestones and royalties enabling readers to analyse and benchmark the value of current deals.
The initial chapters of this report provide an orientation of Public Health dealmaking trends.
Chapter 1 provides an introduction to the report.
Chapter 2 provides an overview of the trends in Public Health dealmaking since 2010 covering trends by year, deal type, stage of development, technology type and therapeutic indication.
Chapter 3 includes an analysis of financial deal terms covering headline value, upfront payment, milestone payments and royalty rates.
Chapter 4 provides a review of the leading Public Health deals since 2010. Deals are listed by headline value. The chapter includes the top 25 most active Public Health dealmakers, together with a full listing of deals to which they are a party. Where the deal has an agreement contract published at the SEC a link provides online access to the contract.
Chapter 5 provides comprehensive access to Public Health deals since 2010 where a deal contract is available, providing the user with direct access to contracts as filed with the SEC regulatory authorities. Each deal title links via Weblink to an online version of the deal record contract document, providing easy access to each contract document on demand.
Chapter 6 provides a comprehensive directory of all Public Health partnering deals by specific Public Health target announced since 2010. The chapter is organized by specific Public Health therapeutic target. Each deal title links via Weblink to an online version of the deal record and where available, the contract document, providing easy access to each contract document on demand.
In addition, a comprehensive appendix is provided with each report of all Public Health partnering deals signed and announced since 2010. The appendices are organized by company A-Z, stage of development at signing, deal type (collaborative R&D, co-promotion, licensing etc) and technology type. Each deal title links via Weblink to an online version of the deal record and where available, the contract document, providing easy access to each contract document on demand.
The report also includes numerous tables and figures that illustrate the trends and activities in Public Health partnering and dealmaking since 2010.
In conclusion, this report provides everything a prospective dealmaker needs to know about partnering in the research, development and commercialization of Public Health technologies and products.
Report scope
Global Public Health Partnering 2010 to 2020 is intended to provide the reader with an in-depth understanding and access to Public Health trends and structure of deals entered into by leading companies worldwide.
Global Public Health Partnering 2010 to 2020 includes:
Trends in Public Health dealmaking in the biopharma industry since 2010
Analysis of Public Health deal structure
Access to headline, upfront, milestone and royalty data
Access to hundreds of Public Health deal contract documents
Comprehensive access to over 450 Public Health deal records
The leading Public Health deals by value since 2010
Most active Public Health dealmakers since 2010
The report includes deals for the following indications: Addiction, Smoking, Drugs, Alcohol, Health education, Obesity, Preventative medicine, plus other public health indications.
In Global Public Health Partnering 2010 to 2020, available deals and contracts are listed by:
Headline value
Upfront payment value
Royalty rate value
Stage of development at signing
Deal component type
Technology type
Specific therapy indication
Each deal title links via Weblink to an online version of the deal record and where available, the contract document, providing easy access to each contract document on demand.
The Global Public Health Partnering 2010-2020 report provides comprehensive access to available deals and contract documents for over 450 public health deals. Analyzing actual contract agreements allows assessment of the following:
What are the precise rights granted or optioned?
What is actually granted by the agreement to the partner company?
What exclusivity is granted?
What is the payment structure for the deal?
How are the sales and payments audited?
What is the deal term?
How are the key terms of the agreement defined?
How are IPRs handled and owned?
Who is responsible for commercialization?
Who is responsible for development, supply, and manufacture?
How is confidentiality and publication managed?
How are disputes to be resolved?
Under what conditions can the deal be terminated?
What happens when there is a change of ownership?
What sublicensing and subcontracting provisions have been agreed?
Which boilerplate clauses does the company insist upon?
Which boilerplate clauses appear to differ from partner to partner or deal type to deal type?
Which jurisdiction does the company insist upon for agreement law?
Global Public Health Partnering 2010 to 2020 provides the reader with the following key benefits:
In-depth understanding of Public Health deal trends since 2010
Access Public Health deal headline, upfront, milestone and royalty data
Research hundreds of actual contracts between Public Health partner companies
Comprehensive access to over 450 links to actual Public Health deals entered into by the world's biopharma companies
Indepth review of Public Health deals entered into by the top 25 most active dealmakers
Benchmark the key deal terms companies have agreed in previous deals
Identify key terms under which companies partner Public Health opportunities
Uncover companies actively partnering Public Health opportunities
Executive Summary
Chapter 1 – Introduction
Chapter 2 – Trends in Public Health dealmaking
2.1. Introduction
2.2. Public Health partnering over the years
2.3. Public Health partnering by deal type
2.4. Public Health partnering by industry sector
2.5. Public Health partnering by stage of development
2.6. Public Health partnering by technology type
2.7. Public Health partnering by therapeutic indication
Chapter 3 –Financial deal terms for Public Health partnering
3.1. Introduction
3.2. Disclosed financials terms for Public Health partnering
3.3. Public Health partnering headline values
3.4. Public Health deal upfront payments
3.5. Public Health deal milestone payments
3.6. Public Health royalty rates
Chapter 4 – Leading Public Health deals and dealmakers
4.1. Introduction
4.2. Most active in Public Health partnering
4.3. List of most active dealmakers in Public Health
4.4. Top Public Health deals by value
Chapter 5 – Public Health contract document directory
5.1. Introduction
5.2. Public Health partnering deals where contract document available
Chapter 6 – Public Health dealmaking by therapeutic target
6.1. Introduction
6.2. Deals by Public Health therapeutic target
Appendices
Appendix 1 – Directory of Public Health deals by company A-Z since 2010
Appendix 2 – Directory of Public Health deals by deal type since 2010
Appendix 3 – Directory of Public Health deals by stage of development since 2010
Appendix 4 – Directory of Public Health deals by technology type since 2010
Further reading on dealmaking
Deal type definitions
About Wildwood Ventures
Current Partnering
Current Agreements
Recent report titles from CurrentPartnering
Table of figures
Figure 1: Public Health partnering since 2010
Figure 2: Public Health partnering by deal type since 2010
Figure 3: Public Health partnering by industry sector since 2010
Figure 4: Public Health partnering by stage of development since 2010
Figure 5: Public Health partnering by technology type since 2010
Figure 6: Public Health partnering by indication since 2010
Figure 7: Public Health deals with a headline value
Figure 8: Public Health deals with upfront payment values
Figure 9: Public Health deals with milestone payment
Figure 10: Public Health deals with royalty rates
Figure 11: Active Public Health dealmaking activity– 2010 to 2020
Figure 12: Top Public Health deals by value since 2010
*For the full list of companies mentioned in the report, please contact enquiry@currentpartnering.com
Pricing options
$3,495: single-user
$5,245: multi-user
$10,495: single site license
$17,495: global site license
A full explanation of license type definitions can be found here.
Our guarantee
Price promise
We guarantee our prices are competitive. If you find the same report advertised at a lower price within 7 days of purchase, we will refund the difference.
Delivery Deadline
We guarantee that the report will be sent within the specified delivery times. In the unlikely case of a delay we may offer a partial refund as compensation. (Terms may apply)
Latest report
If an update is published within 30 days of your purchase, you will receive it absolutely free of charge.
Serious Security
We take your data and security seriously. See our privacy policy for details of how we manage your data.
All card payments are processed by SagePay.
Sales Support
If you have any questions about your report or are unhappy with the quality, we will do our best to resolve your query. Contact us direct.
Total Trust
Current Partnering is part of Wildwood Ventures Ltd., based in York, United Kingdom. We have been trading successfully online since 2009 and work with some of the most famous brands in the business. We carefully select our partners to ensure that the publications meet expectations of demanding customers.
22nd Century, Abcam, Abic Marketing, Ablaris Therapeutics, Academy Medical, Academy of Nutrition and Dietetics, Accenture, Acelrx Pharmaceuticals, Achieve Life Science, Actavis (acquired by Watson), Acura Pharmaceuticals, Adapt Pharma, Addex Therapeutics, Addiction Institute of Mount Sinai, Adial Pharmaceuticals, ADL Bionatur Solutions, Aesica, Aethlon Medical, Aetna, Agenus Bio, Agilent Technologies, Agropur, AIDS Healthcare Foundation, AIDS Taskforce of Greater Cleveland, Aiforia Technologies, AIT Laboratories, Akers Biosciences, Albert Einstein College of Medicine, Al Danah Medical Company, Alexza Pharmaceuticals, Allergan, AllianceRx Walgreens Prime, All India Institute of Diabetes and Research, ALPCO Diagnostics, Altasciences, Altreos Research Partners, Alytas Therapeutics, Amarantus BioSciences, Amarillo Legacy Medical ACO, Amazon Web Services, American Dental Association, American Indian Cancer Foundation, Amneal Pharmaceuticals, Amygdala Neurosciences, Angiolab, Annum Health, Antidote Therapeutics, AntiOp, Aoxing Pharmaceutical, Apollo Endosurgery, AppianRx, Appriss Health, Aptuit, ARCA Biopharma, Archimedes, ARCH Personalized Medicine Initiative, Arena Pharmaceuticals, Arrowhead Pharmaceuticals, Ascend Laboratories, Astellas Pharma, AstraZeneca, AstraZeneca HealthCare Foundation, ATAI Life Sciences, Athersys, AutoGenomics, Avista Pharma Solutions, Avricore Health, Axsome Therapeutics, Bain Capital, Baltic Bio, BarioSurg, Battelle, Bayer, Beacon Discovery, BEAM Diagnostics, Beijing Genomics Institute (BGI), Berg, Best Choice, Betagenon, Bill and Melinda Gates Foundation, BioCat, BioCorRx, BioCrossroads, BioDelivery Sciences, Biohit, BioLab Sciences, BioLink Life Sciences, Biologix FZCo, Biomedical Advanced Research and Development Authority, Biomiga Diagnostics, BioRestorative Therapies, BioTech Medics, BioTie Therapies, BioVest, BioViva Sciences, Boehringer Ingelheim, Braeburn Pharmaceuticals, Brainsway, Brigham and Women's Hospital, Bristol-Myers Squibb Foundation, British American Tobacco, BurstIQ, C4X Discovery, California Institute for Biomedical Research, Camarus, Cambrex Zenara, Cambridge Commodities, Camino Pharma, Canadian Institutes of Health Research, Cantel Medical (UK), Carena, Carrum Health, Case Western Reserve University, Catalent, Catalyst Pharmaceutical Partners, Cato BioVentures, Cato Research, CB Therapeutics, Cedars-Sinai Medical Center, Celgene, Cenpatico, Centene, Center on Addiction, Centers for Disease Control and Prevention, CereCare, Cerecor, Cerevel Therapeutics, Cerner, Cheplapharm Arzneimittel, Chiesi Farmaceutici, Children's Hospital Boston, China Medical System, Chinese Center for Disease Control and Prevention, Chinmax Medical Systems, Chong Kun Dang, Christiana Care Health System, Chronos Therapeutics, Chrono Therapeutics, Cigna Healthcare, City of Hope, ClearWay Minnesota, Cleveland Clinic, CLIAwaived, CMS Medical, Cognis, Cold Spring Harbor, Collective Medical, Collegium Pharmaceuticals, Columbia University, Consilient Health, Cornell University, Crown Bioscience, CSL, CTC Group, CUBRC, Cumberland Pharmaceuticals, Cutera, CVS Caremark, CY Biotech, Cypress Bioscience, D&A Pharma, Daiichi Sankyo, Dairy Australia, Dalton Pharma Services, Dechra Pharmaceuticals, Defense Advanced Research Projects Agency, Delpor, DemeRx, Dent Neurologic Institute, Department of Defense, Department of Health and Human Services, Department of Veterans Affairs, Dicerna Pharmaceuticals, Diosynth, DiscoveryBioMed, DNADIETA, Dominion Diagnostics, Doping Control Center, Dr. Reddy's Laboratories, Duke University, DynamiCARE, EarlySense, eClinicalWorks, Edico Genome, Egalet, Eiger BioPharmaceuticals, Eisai, Elcelyx Therapeutics, Elemental Healthcare, Eli Lilly, Elite Pharmaceuticals, Elithea Sciences, Embark Biotech, Embera NeuroTherapeutics, Ember Therapeutics, Emisphere, Emmes, Endo Pharmaceuticals, Energesis Pharmaceuticals, Energy 1, Ensysce Biosciences, Enteris Biopharma, Enterome Bioscience, EnteroMedics, Envoy Therapeutics, Eolas Therapeutics, Erasmus University Medical Center, Eternygen, Ethismos Research, ETH Zurich, Eurofins Scientific, EuroForm, Euthymics Bioscience, Evonik Industries, Evotec, Excella, Expesicor, Exponential Pharma Ventures, Expression Analysis, Express Scripts, Extracon Science, Facebook, Fairview Health System, Fannin, Fauna Bio, Ferrer International, Flamel Technologies, Florida Hospital, Food and Drug Administration (FDA), Fred Hutchinson Cancer Research Center, Gaia, Galen Data, Galmed Pharmaceuticals, Gamma Therapeutics, Gelesis, Genentech, Genewiz, Genomas, Genome BC, Genovive, Gentag, Gentris, GeoVax, GI Dynamics, Gilead Sciences, GlaxoSmithKline, GLG Life Tech Corporation, Global Agrisystem, Global Center for Health Innovation, Global Genomics Group, GNYHA Services, Grunenthal, Grupo Juste, Gubra, Hanmi Pharmaceutical, Harbin Gloria Pharmaceuticals, Harm Reduction Therapeutics, Harvard Drug Group, Harvard University, Health Diagnostics Laboratory, HealthWarehouse, Healthways, Healthy America, Helsinki University Central Hospital (HUCH) Comprehensive Cancer Center, Hercules Pharmaceuticals, Heron Therapeutics, Hesperos, Highland Pharmaceutical, High Point Pharmaceutical, Hisamitsu Pharmaceutical, HIV Vaccine Trials Network (HVTN), Howard University College of Pharmacy, Hy Laboratories, IBM, Icahn School of Medicine at Mount Sinai, ICF International, Ildong Pharmaceutical, IMD Companies, Immunovaccine, Imperial College London, Indegene Lifesystems, India Globalization Capital, Indiana Biosciences Research Institute, Indivior, Inflexxion, InfoMedics, Innovent Biologics, Inovalon, iNova Pharmaceuticals, Inspirion Delivery Sciences, InstaNatural, Institut De Recherche Pour Le Developpement (IRD), Institute for Research in Immunology and Cancer – Commercialization of Research, Institute of Human Virology, Institute of Psychiatry, Institut National Recherche Agronomique, Intarcia Therapeutics, Interleukin Genetics, InterMed Discovery, Interpace Diagnostics Group, Intrexon, inVentiv Health, Invida Pharmaceuticals, Ipsen, Isagenix, Itamar Medical, Jackson Laboratory, Janssen Pharmaceuticals, Janssen Pharmaceutica NV, Jared Foundation, John Morley Foods, Johns Hopkins Medicine (JHM), Johns Hopkins University, Johnson & Johnson, Johnson & Johnson Innovation, Joslin Diabetes Center, Jubilant Biosys, Juvenile Diabetes Research Foundation, Kaiser Permanente, Kallyope, KeyBioScience, Kindred Bio, Kinoxis Therapeutics, Klaria, Knighton Foods, Knight Therapeutics, Kolar Filtration, KSF Acquisition, Kures, KVK-Tech, Kwang Dong Pharmaceutical, Kyoto University, Kythera Biopharmaceuticals, Laboratory Corporation of America, Landeskriminalamt of Lower Saxony, LCS Therapeutics, LifeBionix, LifeGen Technologies, Lifeloc Technologies, Life Technologies, Ligand Pharmaceuticals, Lightlake Therapeutics, Lilly Endowment, Lose It, Lovelace Respiratory Research Institute, Lovelace Scientific Resources, Lucerne Biosciences, Lucideon, Lundbeck, Lundquist Institute, Lupin Limited, Lyfebulb, Lyra Health, Mallinckrodt Pharmaceuticals, Mamta Health Institute for Mother and Child, Marker Test Diagnostics, Martindale Pharma, Massachusetts General Hospital, Maverix Biomics, Mayo Clinic, Mayo Foundation for Medical Education and Research, MD Anderson Cancer Center, MediCann Handels, MedicaSafe, MediciNova, MedImmune, Medison Pharma, Medix, Medline Industries, MedTest Holdings, Medtronic, Merck and Co, Merck KGaA, Metabasis Therapeutics, Metabolic Solutions Development Company, Metabolix, Metagenics, Michigan State University, Mikah Pharma, Millennium, Millennium Laboratories, Millennium Research Institute, Mind Medicine, Mindray Medical International, Minneapolis Medical Research Foundation, Molecular You, Mologen, Molteni Farmaceutici, MonoSol Rx, Montefiore Health System, Morel Company, Mossman Associates, Moyer Foundation, Mundipharma, Mylan Laboratories, Nabi Biopharmaceuticals, Nanalysis Scientific, NASCO Products, National Academy of Medicine, National Association of State Controlled Substances Authorities (NASCSA), National Cancer Institute, National Center for Advancing Translational Sciences (NCATS), National Center for Chronic Disease Prevention and Health Promotion, National Center for Complementary and Alternative Medicine, National Center for Complementary and Integrative Health, National Heart, Lung and Blood Institute, National Institute of Allergy and Infectious Diseases, National Institute of Neurological Disorders and Stroke, National Institute on Alcohol Abuse and Alcoholism (NIAAA), National Institute on Drug Abuse (NIDA), National Institutes of Health, Navamedic, NaZura BioHealth, Nectid, NEMUS Bioscience, NeuroSearch, NeuroVive Pharmaceutical, Nevada Center For Behavioral Health, Newport Medical Instruments, New York Academy of Sciences (NYAS), New York State, New York University, NGM Biopharmaceuticals, NMS Labs, Noom, Nordic Bioscience, North Georgia Healthcare, Novartis Consumer Health, novoGI, Novo Nordisk, Novu, NuGen Technologies, Numab, NutraGenesis, Nutriband, Nutricion, Nutrition Science Initiative, Nxstage Medical, Obalon Therapeutics, Omeros, OncoGenex Pharmaceuticals, One Mind for Research, Ontario Institute for Cancer Research, OpGen, Opiant Pharmaceuticals, Opisafe, OptiBiotix, OraSure Technologies, Oregon Health Sciences University, Orexigen Therapeutics, Orexo, Ortho-Clinical Diagnostics, OSEO, Otsuka, Pacific Medical, Palatin Technologies, Parkway Clinical Laboratories, Par Pharmaceutical, Patheon, Pathway Genomics, PDL BioPharma, PEAR Therapeutics, Pennsylvania Department of Health, Peptide Logic, Perelman School of Medicine, Pernix Therapeutics, Perrigo, Pfizer, Pharmathen, Philip Morris, Phoenix PharmaLabs, Phyto Nutricare, PinneyAssociates, Plandai Biotechnology, Premier Biomedical, Prescient Medical, PreveCeutical Medical, Pro-Tect Pharma, Productos Medix, Profil Institute for Clinical Research, PROLOR Biotech, PROOF Centre of Excellence for Commercialization and Research, Psychemedics, Public Health Law Center, Publicis Healthcare Communications Group, Publicis Touchpoint Solutions, Purdue Pharma, Q2i, QRxPharma, Quintiles, Rainbow Coral, Reckitt Benckiser, Red Oxygen, ReShape Lifesciences, ReShape Medical, Revive Therapeutics, Rhythm Pharmaceuticals, Roche, Roche Diagnostics, Ro Invest, Rosa, RS EDEN, RTI International, Runbio Biotech, Rutgers University Cell and DNA Repository, Salix Pharmaceuticals, Samsung Electronics, Sandia National Laboratories, Sandoz, Sanford Burnham Institute, Saniona, Sanjivani Health and Relief Committee, Sanofi, Sanofi-Aventis, Sanofi-Aventis Canada, Satori, Savant HWP, Sciex, ScinoPharm Taiwan, Scripps Research Institute, Second Genome, Selcia, Selecta Biosciences, Semmelweis University, Seres Therapeutics, Shanghai Charity Foundation (China), Shanghai Institutes of Preventative Medicine, Sharecare, Shionogi, Sizewise Worldwide, SkyePharma, Smith Medical Partners, Smoker Friendly International, Sono Bello, Sonos Models, Sorrento Therapeutics, Sosei Heptares, Sound Affects Life, Sound Surgical Technologies, Spark Biomedical, Stanford University, StemoniX, Stevia First, Sun Pharmaceutical, Sure med Compliance, SurgiCount Medical, Swasthya Diabetes Hospital, Synthetic Biologics, Synthetic Biomics, Synvolux Therapeutics, T1D Exchange, Taconic Biosciences, Takeda Pharmaceutical, Targeted Medical Pharma, TEDOR Pharma, Telus Health, Temple University, Tenet Diagnostics, Tethys Bioscience, Tetraphase Pharmaceuticals, Teva Pharmaceutical Industries, The Alchemists Kitchen, The Obesity Society, ThePharmaNetwork, Theradiag, Therakine, Theratechnologies, The Recovery Platform, Thermo Fisher Scientific, The Vitality Institute, Titan Pharmaceuticals, TNI BioTech, TONIX Pharmaceuticals, TransBiotec, Transition Therapeutics, Transposagen Biopharmaceuticals, TransTech Pharma, Trinity Compound Solutions, TruTouch Technologies, Tufts Health Care Institute, UfaceME, UniQuest, University of Auckland, University of Bristol, University of California, San Diego, University of California, San Diego (UCSD) School of Medicine, University of California Los Angeles, University of Chicago, University of Copenhagen, University of Florida, University of Houston, University of Minnesota, University of Mississippi, University of Missouri-Kansas City, University of Montreal, University of Oklahoma, University of Pennsylvania, University of Rochester, University of Texas Southwestern Medical Center, University of Utah, University of Virginia, University of Wisconsin-Madison, University Pierre Marie Curie, US Department of Veteran Affairs, US Government, US WorldMeds, Valeant Pharmaceuticals, Vanda Pharmaceuticals, Vanderbilt University, VaxLogic, VDM Biochemicals, Velabs Therapeutics, Vergent Products, Vigmed, Viking Therapeutics, Vince & Associates Clinical Research, Viome, Virginia Tech Carilion Research Institute, Vitae Pharmaceuticals, Vivus, Vizient, Vytacera Pharmaceutical, W2O, Waratah Pharmaceuticals, Washington University in St Louis, WaterAid, Watson Pharmaceuticals, Weill Cornell Medical College, Welch Allyn, Wellthy Therapeutics, West Virginia Clinical and Translational Science Institute, WinterLight Labs, W L Gore, WuXi NextCODE Genomics, Xenoport, Yeda Research and Development Company, Yolo Medical, Zafgen, Zealand Pharma, Zeltiq Aesthetics, ZenBio
Current Partnering reports provide insight into the trends and terms of partnering deals in the global life sciences sector.
Current Partnering reports are updated every six months to ensure the user has access to the latest announcements and trends in the topic focus of the report.
Current Partnering analysts review the deal data to provide an overview and analysis of deal trends, including example deals and terms.
Current Partnering reports source deal data from our proprietary deals and alliances database, Current Agreements. The database is updated daily by our analysts with new deals as they are announced globally by the company's party to the deal. In addition, deal records are updated with new data as it becomes available.
The data in the Current Agreements deals and alliances database is obtained from secondary sources such as publicly available industry sources including press releases, company presentations, investor presentations, company SEC filings, other company filings, company websites, conference presentations. Sources are identified to allow for user verification.
Current Partnering provides comprehensive coverage of the following partnering or deal types:
• Asset purchase
• Assignment
• Co-development
• Co-market
• Co-promotion
• Collaborative R&D
• Contract service
• CRADA
• Cross-licensing
• Development
• Distribution
• Equity purchase
• Evaluation
• Grant
• Joint venture
• Licensing
• Loan
• Manufacturing
• Marketing
• Option
• Promotion
• Research
• Royalty financing
• Settlement
• Spin out
• Sub license
• Supply
• Termination
• Warrant
Every deal record is fully categorized and includes the following data, where available:
• Industry sector
• Therapy areas
• Technology type
• Deal components
• Financial terms
• Stage of development
• Exclusivity
• Asset type
• Geographic focus
• Excluded geography
• Company press release
• SEC filing data including contract document
All financial amounts are converted to US$ using the exchange rate available on the date of deal announcement, enabling direct comparison of deal terms across international territories.
Financial data and contract documents displayed in deal records is obtained from public sources, where disclosed by the parties to the deal.