Global Pediatrics Partnering 2010-2023: Deal trends, players and financials
Global Pediatrics Partnering 2010-2023: Deal trends, players and financials provides comprehensive understanding and unprecedented access to the pediatrics partnering deals and agreements entered into by the worlds leading healthcare companies.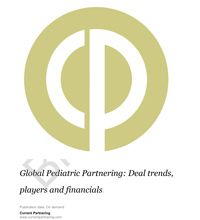 Publication date
March 2023
Product type
Therapy profile
Available formats
PDF document
Global Pediatrics Partnering 2010 to 2023 provides the full collection of pediatrics disease deals signed between the world's pharmaceutical and biotechnology companies since 2010.
Trends in pediatrics partnering deals
Financial deal terms for headline, upfront and royalty by stage of development
Pediatrics partnering agreement structure
Pediatrics partnering contract documents
Top pediatrics deals by value
Most active pediatrics dealmakers
Most of the deals included within the report occur when a licensee obtains a right or an option right to license a licensor's product or technology. More often these days these deals tend to be multi-component including both a collaborative R&D and a commercialization of outcomes element.
The report takes readers through the comprehensive pediatrics disease deal trends, key players and top deal values allowing the understanding of how, why and under what terms companies are currently entering pediatrics deals.
The report presents financial deal terms values for pediatrics deals, where available listing by overall headline values, upfront payments, milestones and royalties enabling readers to analyse and benchmark the value of current deals.
The initial chapters of this report provide an orientation of pediatrics dealmaking trends.
Chapter 1 provides an introduction to the report.
Chapter 2 provides an overview of the trends in pediatrics dealmaking since 2010 covering trends by year, deal type, stage of development, technology type and therapeutic indication.
Chapter 3 includes an analysis of financial deal terms covering headline value, upfront payment, milestone payments and royalty rates.
Chapter 4 provides a review of the leading pediatrics deals since 2010. Deals are listed by headline value. The chapter includes the top 25 most active pediatrics dealmakers, together with a full listing of deals to which they are a party. Where the deal has an agreement contract published at the SEC a link provides online access to the contract.
Chapter 5 provides comprehensive access to pediatrics deals since 2010 where a deal contract is available, providing the user with direct access to contracts as filed with the SEC regulatory authorities. Each deal title links via Weblink to an online version of the deal record contract document, providing easy access to each contract document on demand.
Chapter 6 provides a comprehensive directory of all pediatrics partnering deals by specific pediatrics target announced since 2010. The chapter is organized by specific pediatrics therapeutic target. Each deal title links via Weblink to an online version of the deal record and where available, the contract document, providing easy access to each contract document on demand.
In addition, a comprehensive appendix is provided with each report of all pediatrics partnering deals signed and announced since 2010. The appendices are organized by company A-Z, stage of development at signing, deal type (collaborative R&D, co-promotion, licensing etc) and technology type. Each deal title links via Weblink to an online version of the deal record and where available, the contract document, providing easy access to each contract document on demand.
The report also includes numerous tables and figures that illustrate the trends and activities in pediatrics partnering and dealmaking since 2010.
In conclusion, this report provides everything a prospective dealmaker needs to know about partnering in the research, development and commercialization of pediatrics technologies and products.
Report scope
Global Pediatrics Partnering 2010 to 2023 is intended to provide the reader with an in-depth understanding and access to pediatrics trends and structure of deals entered into by leading companies worldwide.
Global Pediatrics Partnering 2010 to 2023 includes:
Trends in pediatrics dealmaking in the biopharma industry since 2010
Access to headline, upfront, milestone and royalty data
Access to hundreds of pediatrics deal contract documents
Comprehensive access to over 640 pediatrics deal records
The leading pediatrics deals by value since 2010
Most active pediatrics dealmakers since 2010
In Global Pediatrics Partnering 2010 to 2023, available deals and contracts are listed by:
Headline value
Upfront payment value
Royalty rate value
Stage of development at signing
Deal component type
Technology type
Specific therapy indication
Each deal title links via Weblink to an online version of the deal record and where available, the contract document, providing easy access to each contract document on demand.
The Global Pediatrics Partnering 2010-2023 report provides comprehensive access to available deals and contract documents for over 640 pediatrics deals. Analyzing actual contract agreements allows assessment of the following:
What are the precise rights granted or optioned?
What is actually granted by the agreement to the partner company?
What exclusivity is granted?
What is the payment structure for the deal?
How are the sales and payments audited?
What is the deal term?
How are the key terms of the agreement defined?
How are IPRs handled and owned?
Who is responsible for commercialization?
Who is responsible for development, supply, and manufacture?
How is confidentiality and publication managed?
How are disputes to be resolved?
Under what conditions can the deal be terminated?
What happens when there is a change of ownership?
What sublicensing and subcontracting provisions have been agreed?
Which boilerplate clauses does the company insist upon?
Which boilerplate clauses appear to differ from partner to partner or deal type to deal type?
Which jurisdiction does the company insist upon for agreement law?
Global Pediatrics Partnering 2010 to 2023 provides the reader with the following key benefits:
In-depth understanding of pediatrics deal trends since 2010
Access pediatrics deal headline, upfront, milestone and royalty data
Research hundreds of actual contracts between pediatrics partner companies
Comprehensive access to over 640 links to actual pediatrics deals entered into by the world's biopharma companies
Indepth review of pediatrics deals entered into by the top 25 most active dealmakers
Benchmark the key deal terms companies have agreed in previous deals
Identify key terms under which companies partner pediatrics opportunities
Uncover companies actively partnering pediatrics opportunities
Executive Summary
Chapter 1 – Introduction
Chapter 2 – Trends in pediatrics dealmaking
2.1. Introduction
2.2. Pediatrics partnering over the years
2.3. Pediatrics partnering by deal type
2.4. Pediatrics partnering by industry sector
2.5. Pediatrics partnering by stage of development
2.6. Pediatrics partnering by technology type
Chapter 3 –Financial deal terms for pediatrics partnering
3.1. Introduction
3.2. Disclosed financials terms for pediatrics partnering
3.3. Pediatrics partnering headline values
3.4. Pediatrics deal upfront payments
3.5. Pediatrics deal milestone payments
3.6. Pediatrics royalty rates
Chapter 4 – Leading pediatrics deals and dealmakers
4.1. Introduction
4.2. Most active in pediatrics partnering
4.3. List of most active dealmakers in pediatrics
4.4. Top pediatrics deals by value
Chapter 5 – Pediatrics contract document directory
5.1. Introduction
5.2. Pediatrics partnering deals where contract document available
Chapter 6 – Pediatrics dealmaking by therapeutic target
6.1. Introduction
6.2. Deals by pediatrics therapeutic target
Appendices
Appendix 1 – Directory of pediatrics deals by company A-Z since 2010
Appendix 2 – Directory of pediatrics deals by deal type since 2010
Appendix 3 – Directory of pediatrics deals by stage of development since 2010
Appendix 4 – Directory of pediatrics deals by technology type since 2010
Further reading on dealmaking
Deal type definitions
About Wildwood Ventures
Current Partnering
Current Agreements
Recent report titles from CurrentPartnering
Table of figures
Figure 1: Pediatrics partnering since 2010
Figure 2: Pediatrics partnering by deal type since 2010
Figure 3: Pediatrics partnering by industry sector since 2010
Figure 4: Pediatrics partnering by stage of development since 2010
Figure 5: Pediatrics partnering by technology type since 2010
Figure 6: Pediatrics partnering by indication since 2010
Figure 7: Pediatrics deals with a headline value
Figure 8: Pediatrics deals with upfront payment values
Figure 9: Pediatrics deals with milestone payment
Figure 10: Pediatrics deals with royalty rates
Figure 11: Active pediatrics dealmaking activity– 2010 to 2023
Figure 12: Top pediatrics deals by value since 2010
Pricing options
$3,995: single-user
$5,745: multi-user
$10,995: single site license
$17,995: global site license
A full explanation of license type definitions can be found here.
Our guarantee
Price promise
We guarantee our prices are competitive. If you find the same report advertised at a lower price within 7 days of purchase, we will refund the difference.
Delivery Deadline
We guarantee that the report will be sent within the specified delivery times. In the unlikely case of a delay we may offer a partial refund as compensation. (Terms may apply)
Latest report
If an update is published within 30 days of your purchase, you will receive it absolutely free of charge.
Serious Security
We take your data and security seriously. See our privacy policy for details of how we manage your data.
All card payments are processed by SagePay.
Sales Support
If you have any questions about your report or are unhappy with the quality, we will do our best to resolve your query. Contact us direct.
Total Trust
Current Partnering is part of Wildwood Ventures Ltd., based in York, United Kingdom. We have been trading successfully online since 2009 and work with some of the most famous brands in the business. We carefully select our partners to ensure that the publications meet expectations of demanding customers.
3D-Side, 480 Biomedical, AAVLife, AB-Biotics, Abbott Laboratories, Abbvie, Abcam, Abeona Therapeutics, Abiogen Pharma, Abwiz Bio, Accenture, ACE Foundation International, Achaogen, Acorda Therapeutics, Actelion, Adare Pharma Solutions, Adge Pharmaceuticals, Adium Pharma, ADMA Biologics, Advaxis, Advicenne, Aerogen, AEterna Zentaris, Aetna Foundation, Aevi Genomic Medicine, Aileron Therapeutics, Aker BioMarine, Akili Interactive Labs, Akonni Biosystems, Albany Medical College, Albert Einstein College of Medicine, Alexion Pharmaceuticals, Alex's Lemonade Stand Foundation, ALK-Abello, Allarity Therapeutics, Allegis Pharmaceuticals, Allergan, Alliance for Childhood Diseases, Alliance Pharma, AllStripes, Altavant Sciences, AltheaDX, Amblyotech, American Academy of Pediatrics, American Anesthesiology, American Cancer Society, American CareSource, American Heart Association, American Humane Association, American Society of Pediatric Hematology/Oncology, AmerisourceBergen, Amicus Therapeutics, AmideBio, Ampio Pharmaceuticals, Amryt Pharma, Antares Pharma, Anthera Pharmaceuticals, Apeiron Biologics, APR Applied Pharma Research, APS Healthcare, Aptevo Therapeutics, Arctic Therapeutics, Ariad Pharmaceuticals, Arkansas Children's Research Institute, Arkansas Childrens Hospital, Ark Therapeutics, ASD Speciality Healthcare, Asensus Surgical, Aspen Holding, Association for Medical Imaging Management (AHRA), Astarte Medical, Astellas Pharma, AstraZeneca, Atom Medical, Aucta Pharmaceuticals, Aurora BioPharma, Australian Pharmaceutical Industries (API), Australian Research Data Commons, Avadel Pharmaceuticals, Avita Therapeutics, Awair, Axial Biotech, Axovant Gene Therapies, Axxess Pharma, Aytu BioPharma, Back-A-Line, Baebies, Banner Health, Barr Pharmaceuticals, Battelle, Bausch Health Companies, Baylor College, Baylor College of Medicine, Beckman Coulter, Beckman Research Institute of City of Hope, Becton Dickinson, Beijing Double-Crane Pharmaceutical, Beijing Genomics Institute (BGI), Beijing Keyuan Xinhai Pharma, Bellicum Pharmaceuticals, Ben-Gurion University, Best Choice, Better Life and Health, Beyond Batten Disease Foundation, Bill and Melinda Gates Foundation, Bina Technologies, Bio-Me, BioBlast Pharma, Biocodex, Biocon, BioCryst Pharmaceuticals, Biodel, BioGaia, Biogen, Bioiatriki, BioInvent, BioMarin Pharmaceutical, Biomedical Advanced Research and Development Authority, BioNano Genomics, BioReference Laboratories, Biostage, Biotechnology Industry Organization, Blackrock NeuroMed, Blueprint Medicines, Blue Sprig Pediatrics, Boehringer Ingelheim, Bonita Trust, Bon Secours Health System, Boston University, Brain Balance Achievement Centers, Brain Scientific, Brammer Bio, Branam Oral Health Technologies, Brazos Anesthesiology Associates, Breckenridge Pharmaceuticals, BridgeBio Pharma, Bridge Biotherapeutics, Brigham and Women's Hospital, Brilite Nutritionals, Bristol-Myers Squibb, Bristol-Myers Squibb Foundation, Bronson Methodist Hospital, Brotman-Baty Institute, Brown University, BryoLogyx, BTC Health, Caladrius Biosciences, California Institute for Regenerative Medicine, California Mental Health Services Authority, Cambridge Brain Sciences, Capnia, Cardinal Health, Cardon Children's Medical Center, CareDox, CareDx, Carestream Health, Case Western Reserve University, Case Western Reserve University School of Medicine, CAS Medical Systems, Castle Creek Biosciences, Catalent, Catalyst Pharmaceuticals, CDC Foundation, Cellevolve Bio, Cell Medica, Cell Therapy Catapult, Celsius Therapeutics, Cempra Pharmaceutical, Center for Infectious Disease Research, Center for Technology and Innovation in Pediatrics (CTIP), Centers for Disease Control and Prevention, Centogene, Cerecor, Certara, Chiesi Farmaceutici, Childhood Arthritis and Rheumatology Research Alliance (CARRA) Registry, Child Neurology Foundation, Children's Cancer Therapy Development Institute, Children's Healthcare of Atlanta, Children's Heart Foundation, Children's Hospital Boston, Children's Hospital Los Angeles, Children's Hospital of Orange County, Children's Hospital of Philadelphia, Children's Hospital of Pittsburgh, Children's Hospital Of Wisconsin, Children's Mercy Hospital, Children's Minnesota, Children's Museum of Phoenix, Children's National Health System, Children's National Hospital, Children's National Medical Center, Children's Research Institute, Children's Tumor Foundation, Children with Diabetes, Children´s Oncology Group (COG), Children's Cancer Research Institute (CCRI), Children's Hospital & Research Center Oakland, Children's Hospital Central California, Children's Hospital Colorado, Children's Hospital Denver, Children's Hospital of The King's Daughters, China Grand Pharmaceutical, China Nepstar, Chinese University of Hong Kong, ChromaDex, Cincinnati Children's Hospital Medical Center, CircuLite, City of Hope, City of Hope Comprehensive Cancer Center, Claritas Genomics, Claritas HealthTech, Clear Guide Medical, Clementia Pharmaceuticals, Clevexel Pharma, CLIC Sargent, Clinigen, ClinTec International, Clinton Health Access Initiative, CNS Pharmaceuticals, Co-Formulate, CoapTech, Codexis, Cognoa, Coherus Biosciences, Columbia University, CombiMatrix, Complete Genomics, Connecticut Children's Medical Center, Connections for Cardiovascular Health, Consilient Health, Cooper Companies, CoRRect Medical, Cortex Pharmaceuticals, Courtagen Life Sciences, Covalent Data, CRI Lifetree, Crittenton Children's Center, CromSource, Crosscare, Cubist Pharmaceuticals, Cumberland Pharmaceuticals, Cure Duchenne, CURE Pharmaceutical, CureSearch for Children's Cancer, Cures Within Reach, Curing Kids Cancer, Cyan Bio, Cypher Genomics, Cyprium Therapeutics, Cystinosis Research Foundation, Daiichi Sankyo, Dana-Farber Cancer Institute, Danone, DARA BioSciences, Davis Heart and Lung Institute, Day One Biopharmaceuticals, DBV Technologies, Deerfield Management, Defense Threat Reduction Agency, DeGregorio Family Foundation, DEKA Research and Development, Delivering Scientific Innovation for Autism (DELSIA), Dell, Denovo Biopharma, Department of Health and Human Services, Derbycare, Dermelix Biotherapeutics, Dermira, DeRoyal, Digisonics, Discovery Laboratories, Diurnal, Dong Sung Pharmaceuticals, Dr. Reddy's Laboratories, Dravet Syndrome Foundation, Drexel University, Drugstore.com, Drukier Institute for Children's Health, DSG, Duke University, Duke University Medical Center, Dynacure, East Meets West Foundation, East Tennessee Children's Hospital, EB Research Foundation, EB Research Partnership, ECR Pharmaceuticals, Edico Genome, Edison Pharmaceuticals, EffRx, Eiger BioPharmaceuticals, Eisai, Eisai Inc, Ekso Bonics, Elanix Biotechnologies, Eluminex Biosciences, Embrace, Emergent BioSolutions, Emmaus Life Sciences, Emmaus Medical, Emmes, Emory University, Encompass, Endo International, Engineering and Physical Sciences Research Council, Enobia Pharma, Enzon Pharmaceuticals, Enzyvant Science, EOS Imaging, Epizyme, Esophageal Cancer Awareness Association, EspeRare Foundation, Ethos Research & Development, Eton Pharmaceuticals, Eunice Kennedy Shriver Institute of Child Health and Human Development, Eureka Eurostars, European Union, Evolve BioSystems, Evotec, ExCEEd Orphan, Exeltis, Expanscience, EyeBrain, Eye Movement Desensitization and Reprocessing Research Foundation, Eyenovia, Fairview Health System, Fannin, FedMed, Feinstein Institute for Medical Research, Ferndale Healthcare, Ferring Pharmaceuticals, Fibrocell Science, Fidia Farmaceutici, Flamel Technologies, Florida Biologix, Florida State University, Fluid Pharma, Flynn Pharma, Food and Drug Administration (FDA), Foundation for the Children of the Californias, Foundation for the National Institutes of Health (FNIH), Foundation Medicine, Fred Hutchinson Cancer Research Center, French National Institute for Agricultural Research, French National Research Agency, FSC Laboratories, FSC Pediatrics, Fujifilm medical systems, Fulgent Genetics, FYR Diagnostics, Gabriella Miller Kids First Data Resource Center, Galaxy Health Network, Galen Data, GATC Biotech, GE Healthcare, Gemphire, Genco Sciences, GeneDX, GeneGo, GenePeeks, Generex Biotechnology, Gene Security Network, Genome Insight, GenomeQuest, Genomma Lab Internacional, GenPath Diagnostics, GenVec, Genzyme, George Washington University, German Cancer Research Center, Ginkgo BioWorks, GlaxoSmithKline, Global Genes, GoMo Health, GPX Medical, Great Ormond Street Hospital (GOSH), Guilin Pharmaceutical, GW Pharmaceuticals, Hackensack Meridian Health, Hackensack University Medical Center, Hadassah Medical Center, Hain Celestial Group, Hanmi Pharmaceutical, Hao Le Ku (Beijing) Infant And Maternity, Harvard Apparatus Regenerative Technology, Harvard University, Healthcare Royalty Partners, Healthcare Technology Innovation Centre (Chennai), Health Net Federal Services, HealthTrust, Healthy America, Healx, Hebrew University of Jerusalem, Hi-Tech Pharmacal, Holston Anesthesia Associates, Horizon Pharma plc, Hospital for Special Surgery, HudsonAlpha Institute for Biotechnology, Humabs BioMed, Humana, Huntington Memorial Hospital, Huntsman Cancer Institute, Hutchison China MediTech, Hyperfine Research, Hyperion Therapeutics, Hyundai Hope On Wheels, IBM, IceCure Medical, IDbyDNA, Idorsia, Ignite Institute for Individualized Health, Ikaria, Illumina, IMD Companies, Immusoft, Industria Farmaceutica Andromaco, InfaCare, Infobip, Innara Health, InnoCentive, Innovative Cellular Therapeutics, InnoZen, INO Therapeutics, Inova Genomics Laboratory, Inova Translational Medicine Institute, Inozyme Pharma, Inserm, Institute for Genome Statistics and Bioinformatics, Institute for OneWorld Health, Institute of Cancer Research, Institute of Child Health, Institute of Human Genetics, Institut Gustave Roussy, Intel, Intermountain Healthcare, International Cancer Genome Consortium, International Centre for Diarrhoeal Disease Research, International Isotopes, International Medica Foundation, International Society of Paediatric Oncology (SIOP), Interpace Diagnostics Group, Invenra, inVentiv Health, Invictus Medical, Invitae, Ionis Pharmaceuticals, Ipsen, Jacobus Pharmaceutical, Janssen Pharmaceuticals, Janssen Research & Development, Jared Foundation, Jazz Pharmaceuticals, Jeffrey Modell Foundation, JelikaLite, Jennewein Biotechnologie, John Hopkins University School of Medicines, Johns Hopkins Kimmel Cancer Center, Johns Hopkins University, Johnson & Johnson Consumer Companies, Journey Medical, Juvenile Diabetes Research Foundation, Kadmon Pharmaceuticals, Kaiser Permanente, Katana Pharmaceuticals, Kate Farms, KC BioMedix, Kedrion, KemPharm, KinderPharm, Kings College London, Knopp Biosciences, Kolltan Pharmaceuticals, KOS Pharmaceuticals, Kraft Group, Kuhnil Pharmaceuticals, Laboratoires Thea, Laboratory Corporation of America, Lantern Pharma, Last Chance for Children, Lee's Pharmaceutical, Lehigh Valley Health Network, Leukemia & Lymphoma Society, Life Technologies, Live Like Bella Childhood Cancer Foundation, Living Cell Technologies, LMU University Hospital Munich, LogicBio Therapeutics, Lonza, Loulou Foundation, Lucile Packard Children's Hospital, Ludwig-Maximilians University, Luminex, Lumos Pharma, Lumos Pharma (acquired), Lundbeck, Lundquist Institute, Lupin Limited, Lupin Pharmaceuticals, Lupus Foundation of America (LFA), Lurie Children's Hospital of Chicago, Lyomark Pharma, Maastricht University, Macrogenics, Madison Dearborn Partners, Make-A-Wish Foundation, Mallinckrodt Pharmaceuticals, MannKind Biopharmaceuticals, March of Dimes, Marcus Autism Center, Marinus Pharmaceuticals, Mark Foundation for Cancer Research, Marksans Pharma, Martek Biosciences, Martindale Pharma, Maruho, Masimo, Massachusetts General Hospital, Massachusetts Life Sciences Center, Mayo Clinic, MBio Diagnostics, MC10, McGill University, MD Anderson Cancer Center, Mead Johnson Nutrition, Medgenics, Medica Labs, Medical Care Technologies, Medical College of Wisconsin, Medical Food Solutions Research, Medical Research Council, Medicines Patent Pool Foundation, Medicollector, Medidata Solutions, Medis, Medison Pharma, Mednax, Medosome Biotec, Medwish, MEIC, Memorial Sloan Kettering Cancer Center, Merck and Co, Merck KGaA, Mereo BioPharma, Merz, Mesoblast, Metanium, Meyer Children's Hospital of Florence, Mezzion Pharma, Michigan State University, Microsoft, Mikart, Millennium Laboratories, Millennium Research Institute, Miller Children's Hospital, MilliporeSigma, MindChild Medical, Mindray Medical International, Ministry of Health (Saudi Arabia), Miracle Babies, Mirum Pharmaceuticals, Mission Pharmacal, Mitsubishi Tanabe Pharma, Moderna, Moleculin Biotech, MolMed, Momentum Autism Therapy Services, MonoSolRx, Murdoch Childrens Research Institute, Musella Foundation For Brain Tumor Research & Information, Mustang Bio, Mylan Laboratories, Mylan Pharmaceuticals, Myovant Sciences, Myrtelle, NAMUH, NanoSmart Pharmaceuticals, NanoSonic Products, NantHealth, National Cancer Institute, National Eczema Association, National Health and Family Planning Commission, National Healthcare Services (NHS), National Heart, Lung and Blood Institute, National Human Genome Research Institute, National Institute of Allergy and Infectious Diseases, National Institute of Arthritis and Musculoskeletal Diseases, National Institute of Child Health and Human Development, National Institute of Diabetes and Digestive and Kidney Diseases, National Institute of Neurological Disorders and Stroke, National Institute on Drug Abuse (NIDA), National Institutes of Health, National Organization for Rare Disorders, National Science Foundation, Nationwide Children's Hospital, Nautilus Biotech, Necker Hospital, NeoLight, Neonatology Associates, Neonatology Center of Winchester, Nestle, Nestle Health Science, Neuraxpharm, Neurim Pharmaceuticals, Neuroblastoma and Medulloblastoma Translational Research, Neurocrine Biosciences, NeuroSigma, Neurotrope BioScience, Nevakar, New England Research Institutes, New York Genome Center (NYGC), New York Presbyterian/Columbia, New York University, NextBio, NextCODE Health, Nicholas Conor Institute for Pediatric Cancer Research, Nightstar Therapeutics, Nippon Shinyaku, Niusule Biotech Corporation, Nonin Medical, Noninvasix, Nordic Pharma Group, Norgine, North American Pediatric Renal Trials and Collaborative Studies, Northwestern University, Notable Labs, Novartis, Novartis Institute for Tropical Diseases, NovaSignal, Noventure, Novo Nordisk, Nuance Pharma, NuGenerex Immuno-Oncology, Nurix, Nuron Biotech, Nutra Pharma, Nutriband, Nutritional Growth Solutions, nView Medical, NYU Langone Medical Center, Ocean Wise International Industrial, Ohio State University, Omnilife Science, Oncoceutics, Oncoheroes Biosciences, Oncology Group, Oncology Pharma, Oncology Supply, Onconova Therapeutics, Oncurious, Onkos Surgical, Only for Children Pharmaceuticals, Onset Dermatologics, Onxeo, Open University of Israel, OPKO Health, Optasia Medical, Optimal IMX, Oragenics, Orbus Therapeutics, Orchard Therapeutics, Oregon Health Sciences University, Orion, Orphatec Pharmaceuticals, Ortho-Clinical Diagnostics, Orthofix Medical, OrthoPediatrics, OSI Systems, Oslo University Hospital, Ospedale Pediatrico Bambino Gesu, Ospedale San Raffaele, Osteosarcoma Collaborative, Otonomy, Ovid Therapeutics, Pacific Biosciences, Paidion Research, Paladin Labs, PANTHERx Specialty Pharmacy, PanTheryx, Parabase Genomics, Paratek Pharmaceuticals, Particle Sciences, PATH Malaria Vaccine Initiative, Patient-Centered Outcomes Research Institute, Pediatric Cancer Research Foundation, Pediatric Dermatology Research Alliance, Pediatric Oncology Experimental Therapeutics Investigators Consortium, Pediatrix, Pega Medical, Penn State College of Medicine, Penn State Hershey, Penta ID Innovation, PENTAX Medical, PeriGen, PerkinElmer, Pernix Therapeutics, Perrigo, Pfizer, Pfizer Animal Health, Pharma Base, PharmAbcine, PharmaSwiss, Phoenix Children's Hospital, PicnicHealth, PierianDx, Pierre Fabre, Plakous Therapeutics, PlasmaTech Biopharmaceuticals, PLx Pharma, PnuVax, PPD, Prader-Willi Research, Pragma Pharmaceuticals, PRA Health Sciences, Prapela, Premacure, Premier Healthcare Alliance, Premier Inc, Pressure BioSciences, Prevencio, PreventionGenetics, Primavera Capital Group, Primera Bioscience Research, Primex Pharmaceuticals, Princess Maxima Center for Pediatric Oncology, Progenics Pharmaceuticals, Progeria Research Foundation, Prolacta Bioscience, Pronto Diagnostics, Prophylix Pharma, Proveca, Provectus Biopharmaceuticals, Provention Bio, PTC Therapeutics, Public Health England, Q-State Biosciences, Q BioMed, Queen Mary University of London, Questcor Pharmaceuticals, Quoin Pharmaceuticals, Quotient, Rady Children's Institute for Genomic Medicine, Rakovina Therapeutics, Rare Disease Therapeutics, Rare Genomics Institute, ReAlta Life Sciences, Reckitt Benckiser, Recombinetics, Recordati, Regeneron Genetics Center, Regeneron Pharmaceuticals, Regenerx, Regenxbio, ReGenX Biosciences, Renmin Hospital of Wuhan University, Rentschler Biotechnologie, Research Institute at Nationwide Children's Hospital, Retinagenix, Retinal Solutions, Retrophin, Rhythm Pharmaceuticals, Ricci Pharma, Riley Hospital for Children at IU Health, Rise General Trading, Roche, Rocket Pharmaceuticals, Roivant Sciences, Romark Laboratories, Rosemont Pharmaceuticals, Rothman Healthcare, Royal Free Hospital, Royal Philips Electronics, Royalty Pharma, RPRD Diagnostics, RQI Partners, Rumpus Therapeutics, RXi Pharmaceuticals, Saban Research Institute of Children's Hospital Los Angeles, Safe Obstetric Systems, Sagent Pharmaceuticals, Samsung Bioepis, Sancor Cooperativas Unidas, Sanford Burnham Institute, Sanford Health, Sangamo Therapeutics, Sanofi, Santen, Santhera Pharmaceuticals, Saol Therapeutics, Schering AG, SciBase, Seaside Therapeutics, SeaSpine, Seattle Children's Hospital, Seattle Children's Therapeutics, Seattle Childrens Research Institute, SEEK, Seelos Therapeutics, Sentynl Therapeutics, Seoul National University, SeptRx, Sequenom, Sequenta, Serametrix, Serenity Pharmaceuticals, Seven Bridges Genomics, SFC Fluidics, Shanghai BravoBio, Shanghai Zhabei District Health Bureau, Shepherd Therapeutics, Sherwin-Williams Company, Shionogi, Shionogi Pharma, Shire Pharmaceuticals, Shriners Hospital for Children, Sigma-Tau, Signify Health, Silicon Biosystems, Simcyp, Sintetica, Siolta Therapeutics, SkyePharma, Small Business Innovation Research, Society of Paediatric Oncology European Neuroblastoma Network (SIOPEN), Sohn Conference Foundation, Soleno Therapeutics, SomaLogic, Southern Medical and Mobility, Spacelabs Healthcare, Spark Biomedical, Spark Therapeutics, Spectrum Health, Spero Therapeutics, Spineguard, SRI International, St. Baldrick's Foundation, St. Jude Children's Research Hospital, St. Mary Medical Center, Stand Up To Cancer, Stanford University, Stanford University School of Medicine, Starlight Children's Foundation, Starzl Network for Excellence in Pediatric Transplantation, StemCells, StemCyte, St Jude Medical, Stony Brook University, StrideBio, Stryker, Sumitomo Dainippon Pharma, Sumitovant Biopharma, SUNY Upstate Medical University, Supernus Pharmaceuticals, Surrogen, Sutro Biopharma, Swedish Childhood Cancer Foundation (Barncancer Fonden), Swedish Orphan Biovitrum, Swiss Tropical and Public Health Institute, Swixx Biopharma, Sydnexis, SynapDx, Synergetics, Synpromics, T1D Exchange, Takeda Pharmaceutical, TALi, Tanner Pharmaceuticals, Taysha Gene Therapies, TB Alliance, TeamConnor Childhood Cancer Foundation, Team Sanfilippo, Tec-Pharm, Tecan, Teijin, Terumo Cardiovascular Systems, Tessa Therapeutics, Teva Pharmaceutical Industries, Texas A&M University, Texas Children's Hospital, Texas Scottish Rite Hospital for Children, Texas Tech University, The Children's Oncology Group Foundation, The Hospital for Sick Children, The Nemours/Alfred I duPont Hospital for Children, The Regents of the University of California, Theresia G & Stuart F Kline Family Foundation, Thermo Fisher Scientific, The University of Chicago Medicine, Third Pole Therapeutics, Thomson Reuters, Thornton & Ross, ThromboGenics, TI Pharma, Tolmar, TONIX Pharmaceuticals, Toshiba America Medical Systems, TransEnterix, Transgenomic, Translational Genomics Research Institute, Translational Software, Trillium Therapeutics, Trinity Medical Devices, Tris Pharma, Tulane University School of Medicine, Tull Family Foundation, Turing Pharmaceuticals, UCB, UK Cystic Fibrosis Gene Therapy Consortium, Ultragenyx Pharmaceuticals, UNeMed, United Advocates for Children and Families, UnitedHealthcare, United Nations Children Fund, United Therapeutics, University Ann & Robert H. Lurie Children's Hospital, University College London, University Hospitals Rainbow Babies & Children's Hospital, University of Alabama at Birmingham, University of Arizona, University of Bonn, University of British Columbia, University of Buffalo, University of California, San Diego, University of California, San Diego (UCSD) School of Medicine, University of California Irvine, University of California Los Angeles, University of California San Francisco, University of California Santa Cruz, University of Chicago, University of Colorado, University of Connecticut, University of Florida, University of Florida Research Foundation, University of Illinois, University of Illinois at Chicago, University of Kentucky, University of Liverpool, University of Manitoba, University of Maryland, University of Massachusetts Medical School, University of Miami Miller School of Medicine, University of Michigan, University of Minnesota, University of Nebraska, University of New Mexico, University of New South Wales, University of North Carolina, University of North Texas Health Science Center, University of Oxford, University of Pennsylvania, University of Pittsburgh, University of Pittsburgh Cancer Institute, University of Sheffield, University of South Carolina Research Foundation, University of Southern California, University of Texas, University of Texas Health SCience Center at San Antonio, University of Texas Southwestern Medical Center, University of the Sciences, University of Toledo, University of Virginia, University of Washington, UP International, Urovant Sciences, US Army Medical Research Institute of Infectious Diseases, US Bioservices, US Government, US WorldMeds, Vanderbilt University, Vannie E. Cook Jr. Children's Cancer Clinic, Vaxart, Vericel, Vernalis, ViaCord, VietPhap International, ViiV Healthcare, Virginia Commonwealth University, Viridian Pharma, VirtualScopics, ViS Research Institute, VitaDairy, Vital Images, VivaLNK, Vizient, Voxtur, Vyluma, Wake Forest University Baptist Medical Center, Wake Forest University School of Medicine, Wanbang Biopharmaceuticals, Washington University in St Louis, Weill Cornell Medical College, Whitehead Institute, Windtree Therapeutics, Winship Cancer Institute, Wisconsin Alumni Research Foundation, WishBone Medical, Wockhardt, Worldwide Clinical Trials, WPD Pharmaceuticals, Wyeth, Wyeth Nutrition, Wylder Nation Foundation, Wyss Institute, XERIS Pharmaceuticals, Y-mAbs Therapeutics, Yale-New Haven Children's Hospital, Yale University, Yili Industrial Group, Zealand Pharma, Zenyaku Kogyo, ZERO Childhood Cancer, Zhaoke (Hong Kong) Ophthalmology Pharmaceutical, Zhejiang Hisun Pharmaceutical
Current Partnering reports provide insight into the trends and terms of partnering deals in the global life sciences sector.
Current Partnering reports are updated every six months to ensure the user has access to the latest announcements and trends in the topic focus of the report.
Current Partnering analysts review the deal data to provide an overview and analysis of deal trends, including example deals and terms.
Current Partnering reports source deal data from our proprietary deals and alliances database, Current Agreements. The database is updated daily by our analysts with new deals as they are announced globally by the company's party to the deal. In addition, deal records are updated with new data as it becomes available.
The data in the Current Agreements deals and alliances database is obtained from secondary sources such as publicly available industry sources including press releases, company presentations, investor presentations, company SEC filings, other company filings, company websites, conference presentations. Sources are identified to allow for user verification.
Current Partnering provides comprehensive coverage of the following partnering or deal types:
• Asset purchase
• Assignment
• Co-development
• Co-market
• Co-promotion
• Collaborative R&D
• Contract service
• CRADA
• Cross-licensing
• Development
• Distribution
• Equity purchase
• Evaluation
• Grant
• Joint venture
• Licensing
• Loan
• Manufacturing
• Marketing
• Option
• Promotion
• Research
• Royalty financing
• Settlement
• Spin out
• Sub license
• Supply
• Termination
• Warrant
Every deal record is fully categorized and includes the following data, where available:
• Industry sector
• Therapy areas
• Technology type
• Deal components
• Financial terms
• Stage of development
• Exclusivity
• Asset type
• Geographic focus
• Excluded geography
• Company press release
• SEC filing data including contract document
All financial amounts are converted to US$ using the exchange rate available on the date of deal announcement, enabling direct comparison of deal terms across international territories.
Financial data and contract documents displayed in deal records is obtained from public sources, where disclosed by the parties to the deal.