Global Coronavirus Partnering 2016-2023
The Global Coronavirus Partnering 2016-2023 report provides comprehensive understanding and unprecedented access to the coronavirus partnering agreements entered into by the worlds leading healthcare companies.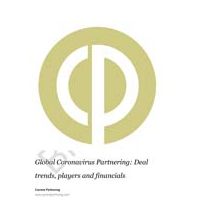 Publication date
April 2023
Product type
Research report
Available formats
PDF document
Global Coronavirus Partnering 2016 to 2023 provides the full collection of coronavirus disease deals signed between the world's pharmaceutical and biotechnology companies since 2016.
Trends in coronavirus partnering deals
Financial deal terms for headline, upfront and royalty by stage of development
Coronavirus partnering agreement structure
Coronavirus partnering contract documents
Top coronavirus deals by value
Most active coronavirus dealmakers
Most of the deals included within the report occur when a licensee obtains a right or an option right to license a licensor's product or technology. More often these days these deals tend to be multi-component including both a collaborative R&D and a commercialization of outcomes element.
The report takes readers through the comprehensive coronavirus disease deal trends, key players and top deal values allowing the understanding of how, why and under what terms companies are currently entering coronavirus deals.
The report presents financial deal terms values for coronavirus deals, where available listing by overall headline values, upfront payments, milestones and royalties enabling readers to analyse and benchmark the value of current deals.
The initial chapters of this report provide an orientation of coronavirus dealmaking trends.
Chapter 1 provides an introduction to the report.
Chapter 2 provides an overview of the trends in coronavirus dealmaking since 2016 covering trends by year, deal type, stage of development, technology type and therapeutic indication.
Chapter 3 includes an analysis of financial deal terms covering headline value, upfront payment, milestone payments and royalty rates.
Chapter 4 provides a review of the leading coronavirus deals since 2016. Deals are listed by headline value. The chapter includes the top 25 most active coronavirus dealmakers, together with a full listing of deals to which they are a party. Where the deal has an agreement contract published at the SEC a link provides online access to the contract.
Chapter 5 provides comprehensive access to coronavirus deals since 2016 where a deal contract is available, providing the user with direct access to contracts as filed with the SEC regulatory authorities. Each deal title links via Weblink to an online version of the deal record contract document, providing easy access to each contract document on demand.
Chapter 6 provides a comprehensive directory of all coronavirus partnering deals by specific coronavirus target announced since 2016. The chapter is organized by specific coronavirus therapeutic target. Each deal title links via Weblink to an online version of the deal record and where available, the contract document, providing easy access to each contract document on demand.
In addition, a comprehensive appendix is provided with each report of all coronavirus partnering deals signed and announced since 2016. The appendices are organized by company A-Z, stage of development at signing, deal type (collaborative R&D, co-promotion, licensing etc) and technology type. Each deal title links via Weblink to an online version of the deal record and where available, the contract document, providing easy access to each contract document on demand.
The report also includes numerous tables and figures that illustrate the trends and activities in coronavirus partnering and dealmaking since 2016.
In conclusion, this report provides everything a prospective dealmaker needs to know about partnering in the research, development and commercialization of coronavirus technologies and products.
Report scope
Global Coronavirus Partnering 2016 to 2023 is intended to provide the reader with an in-depth understanding and access to coronavirus trends and structure of deals entered into by leading companies worldwide.
Global Coronavirus Partnering 2016 to 2023 includes:
Trends in coronavirus dealmaking in the biopharma industry since 2016
Access to headline, upfront, milestone and royalty data
Access to hundreds of coronavirus deal contract documents
Comprehensive access to coronavirus deal records, together with contract documents if available
The leading coronavirus deals by value since 2016
Most active coronavirus dealmakers since 2016
In Global Coronavirus Partnering 2016 to 2023, available deals and contracts are listed by:
Headline value
Upfront payment value
Royalty rate value
Stage of development at signing
Deal component type
Technology type
Specific therapy indication
Each deal title links via Weblink to an online version of the deal record and where available, the contract document, providing easy access to each contract document on demand.
The Global Coronavirus Partnering 2016 to 2023 report provides comprehensive access to available deals and contract documents for coronavirus diseases deals. Analyzing actual contract agreements allows assessment of the following:
What are the precise rights granted or optioned?
What is actually granted by the agreement to the partner company?
What exclusivity is granted?
What is the payment structure for the deal?
How are the sales and payments audited?
What is the deal term?
How are the key terms of the agreement defined?
How are IPRs handled and owned?
Who is responsible for commercialization?
Who is responsible for development, supply, and manufacture?
How is confidentiality and publication managed?
How are disputes to be resolved?
Under what conditions can the deal be terminated?
What happens when there is a change of ownership?
What sublicensing and subcontracting provisions have been agreed?
Which boilerplate clauses does the company insist upon?
Which boilerplate clauses appear to differ from partner to partner or deal type to deal type?
Which jurisdiction does the company insist upon for agreement law?
Global Coronavirus Partnering 2016 to 2023 provides the reader with the following key benefits:
In-depth understanding of coronavirus deal trends since 2016
Access coronavirus deal headline, upfront, milestone and royalty data
Research hundreds of actual contracts between coronavirus partner companies
Comprehensive access to actual coronavirus deals entered into by the world's biopharma companies, together with contract documents if available
Indepth review of coronavirus deals entered into by the top 25 most active dealmakers
Benchmark the key deal terms companies have agreed in previous deals
Identify key terms under which companies partner coronavirus opportunities
Uncover companies actively partnering coronavirus opportunities
Executive Summary
Chapter 1 – Introduction
Chapter 2 – Trends in coronavirus dealmaking
2.1. Introduction
2.2. Coronavirus partnering over the years
2.3. Coronavirus partnering by deal type
2.4. Coronavirus partnering by industry sector
2.5. Coronavirus partnering by stage of development
2.6. Coronavirus partnering by technology type
Chapter 3 –Financial deal terms for coronavirus partnering
3.1. Introduction
3.2. Disclosed financials terms for coronavirus partnering
3.3. Coronavirus partnering headline values
3.4. Coronavirus deal upfront payments
3.5. Coronavirus deal milestone payments
3.6. Coronavirus royalty rates
Chapter 4 – Leading coronavirus deals and dealmakers
4.1. Introduction
4.2. Most active in coronavirus partnering
4.3. List of most active dealmakers in coronavirus
4.4. Top coronavirus deals by value
Chapter 5 – Coronavirus contract document directory
5.1. Introduction
5.2. Coronavirus partnering deals where contract document available
Chapter 6 – Coronavirus dealmaking by therapeutic target
6.1. Introduction
6.2. Deals by coronavirus therapeutic target
Appendices
Appendix 1 – Directory of coronavirus deals by company A-Z since 2016
Appendix 2 – Directory of coronavirus deals by deal type since 2016
Appendix 3 – Directory of coronavirus deals by stage of development since 2016
Appendix 4 – Directory of coronavirus deals by technology type sinc 2016
Further reading on dealmaking
Deal type definitions
About Wildwood Ventures
Current Partnering
Current Agreements
Recent report titles from CurrentPartnering
Table of figures
Figure 1: Coronavirus partnering since 2016
Figure 2: Coronavirus partnering by deal type since 2016
Figure 3: Coronavirus partnering by industry sector since 2016
Figure 4: Coronavirus partnering by stage of development since 2016
Figure 5: Coronavirus partnering by technology type since 2016
Figure 6: Coronavirus deals with a headline value
Figure 7: Coronavirus deals with upfront payment values
Figure 8: Coronavirus deals with milestone payment
Figure 9: Coronavirus deals with royalty rates
Figure 10: Active coronavirus dealmaking activity since 2016
Figure 11: Top coronavirus deals by value since 2016
Pricing options
$3,995: single-user
$5,745: multi-user
$10,995: single site license
$17,995: global site license
A full explanation of license type definitions can be found here.
Our guarantee
Price promise
We guarantee our prices are competitive. If you find the same report advertised at a lower price within 7 days of purchase, we will refund the difference.
Delivery Deadline
We guarantee that the report will be sent within the specified delivery times. In the unlikely case of a delay we may offer a partial refund as compensation. (Terms may apply)
Latest report
If an update is published within 30 days of your purchase, you will receive it absolutely free of charge.
Serious Security
We take your data and security seriously. See our privacy policy for details of how we manage your data.
All card payments are processed by SagePay.
Sales Support
If you have any questions about your report or are unhappy with the quality, we will do our best to resolve your query. Contact us direct.
Total Trust
Current Partnering is part of Wildwood Ventures Ltd., based in York, United Kingdom. We have been trading successfully online since 2009 and work with some of the most famous brands in the business. We carefully select our partners to ensure that the publications meet expectations of demanding customers.
1health.io, 3a-diagnostics, 3D BioMed, 3M, 3rd People's Hospital of Shenzhen, 4Living Biotech, 7 Hills Pharma, 9 Meters Biopharma, 10X Genomics, 221b Foundation, A2A Pharmaceuticals, Aardvark Therapeutics, Aarhus University, Abacus Diagnostica, Abbott Laboratories, Abbott Rapid Diagnostics, Abbvie, AbCellera Biologics, ABEC, ABK Remote Drug Testing, ABL Bio, Ablexis, Abnova, Abogen Biosciences, Aboundbio, Absolute Antibody, Abveris, Abzena, Academy of Military Medical Sciences (China), Accelerated Enrollment Solutions, Accelerate Diagnostics, Access BIO, Acer Therapeutics, ACON Biotech, Active Motif, Acuant, Adagio Therapeutics, Ada Health, Adamis Pharmaceuticals, Adaptive Biotechnologies, Adaptive Phage Therapeutics, AdaptVac, Adeptrix, Adial Pharmaceuticals, Aditx Therapeutics, Adjuvance Technologies, ADMA Biologics, ADS, Advaccine Biotechnology, Advanced Regenerative Manufacturing Institute, Advanced Remote Monitoring, Advarra, AdventHealth, Advent International, Aegea Biotechnologies, Aegis Life, Aerogen, Aerpio Pharmaceuticals, Aetion, Affinity Biosciences, AffyXell Therapeutics, Africa Centres for Disease Control and Prevention, Africa Medical Supplies Platform, Africa Union, Afrigen Biologics, AGC Biologics, Age Labs, Agena Bioscience, AgeX Therapeutics, Agile Biodetection, AiCuris, AID Genomics, AIkido Pharma, AIM ImmunoTech, Ainos, AiPharma Global Holdings, Airway Therapeutics, Ajinomoto Bio-Pharma Services, Akers Biosciences, Akili Interactive Labs, Akribis Systems, Akron Biotechnology, Akshaya Bio, Akston Biosciences, Alamar Biosciences, Albany Molecular Research, Alberta Cell Therapy Manufacturing, Albert Einstein College of Medicine, ALBOT Technologies, Alcami, Aldevron, Algernon Pharmaceuticals, Aligos Therapeutics, AlivaMab Discovery Services, AlloVir, AllStar Health Brands, Alltests Clinical Solutions, Alnylam Pharmaceuticals, Alpha-Tec Systems, Alphamab Biopharmaceuticals, Altasciences, Altimmune, Altum Pharmaceuticals, American Association for Laboratory Accreditation, American College of Chest Physicians, American Diabetes Association, American Medical Depot, Amerimmune, AmerisourceBergen, Ametek, Amgen, Amneal Pharmaceuticals, AMS, Amyndas Pharmaceuticals, Amyris, ANA Therapeutics, Anavasi Diagnostics, AnGes MG, Anixa Biosciences, AnteoTech, Apex Global Brands, Apollo Med Innovations, Apotex, Appili Therapeutics, Apple, Applied Biology, Applied Botanics, Applied DNA Sciences, Applied Pharmaceutical Innovation, Aptar CSP Technologies, Aptorum Group, Aqemia, Aragen Bioscience, Arbor Biosciences, Arbutus, ARCA Biopharma, Arches Research, Arctoris, Arcturus Therapeutics, Ardigen, Ares Genetics, Areum Bio, Argonne National Laboratory, Ariadne Genomics, Aridis Pharmaceuticals, ARISE MD Integrative Medicine & Surgery, Arizona State University, Arlington Scientific, Armed Forces Medical Research Institute, ArtemiLife, Artificial, Asopharma, AstraZeneca, Atea Pharmaceuticals, Atomo Diagnostics, Atossa Therapeutics, Atreca, Atrys Health, Attana, ATUM, Audax Medical, Augmenta, AuraVax Therapeutics, Aurobindo Pharma, Australian Medical Research Institute, Austrian Research Promotion Agency, Avacta, Avalon GloboCare, Avalo Therapeutics, AvantGen, Avellino Labs, Avera McKennan, Aveshka, Avid Bioservices, Avricore Health, Avrok Laboratories, AXIM Biotechnologies, Axiom Real-Time Metrics, Aytu BioPharma, AzurRx BioPharma, Babson Diagnostics, Bachem, Barbara Ann Karmanos Cancer Institute, BASE10 Genetics, Batavia Biosciences, Bateman Horne Center, Battelle, Bavarian Nordic, Baxter International, Baylor College of Medicine, BBI Solutions, BC Neuroimmunology, BC Platforms, Beckman Coulter, Becton Dickinson, BeiGene, Beijing Defengrei Biotechnology, Beijing Genomics Institute (BGI), Belkin, Benchmark Electronics, Berg, Berkeley Lights, Beroni Group, Best Supplies, Be The Match BioTherapies, Beth Israel Deaconess Medical Center, BetterLife Pharma, Bharat Biotech, BIA Separations, Bill and Melinda Gates Foundation, BillionToOne, Binex, Bintai Kinden, Binx Health, Bio-Rad Laboratories, Bio-Techne, BioAnalytical Systems, BioCanna Healthcare, BioCentriq, Biocept, BioCheck, BioComo, Biocom Purchasing Group, Biocon, BioCryst Pharmaceuticals, Biodesix, Biodextris, Bioforum, Biogen, Biohit Healthcare, BioIQ, BioLab Sciences, Biolase, Biolexis, BioLife Solutions, BioLink Life Sciences, Biological E, BioMatrix Specialty Pharmacy, Biomedical Advanced Research and Development Authority, Biomeme, Biomerica, BiondVax, BioNet Holding, BioNTech, BioPharma Plasma, Bio Products Laboratory, bioRASI, BioReference Laboratories, BioSig Technologies, BioSure, BioSymetrics, BioSyntagma, Biotechnology Industry Research Assistance Council, Biotecom, BioTecon Diagnostics, BioTek reMEDys, Biotest, Biovac, BioVaxys, Blanver, Blu Biotech, Bluejay Diagnostics, BlueWillow Biologics, BND, Boca Biolistics, Boeing Company, Bold Therapeutics, Booz Allen, Boston University, Bpifrance, BPL Medical Technologies, BravoVax, BreathTech, Brickell Biotech, Brigham and Women's Hospital, Brii Biosciences, Brik, Brio Systems, Briotech, Bristol-Myers Squibb, Brown University, Bruker, BTG, Buoy Health, Burkhan Group, BurstIQ, Butantan Institute, Cadila Pharmaceuticals, California Institute for Biomedical Research, Calvert Laboratories, Cambridge Blockchain, Cambridge Consultants, Canabo Medical Clinics, Canadian Institutes of Health Research, Canary Health Technologies, Cancer Research UK, CanSinoBIO, Cantex Pharmaceuticals, Capitainer, Capricor Therapeutics, Cardea Bio, Cardinal Health, Care Access Research, CareDx, CaroGen, Carolina Liquid Chemistries, Carterra, Cascade Chemistry, Catalent, Catholic University Leuven, CCT Research, Ceapro, Celdara Medical, Cellect Biotechnology, Cellex, CellSafe, Celltrion, Cellvera, Celonic, Celsion, Celularity, Cenetron, Cenexi, Centene, Center for Cancer and Blood Disorders, Centers for Disease Control and Prevention, Centivax, Centogene, Central Association for the Blind and Visually Impaired, Centre for Human Drug Research, Cepheid, Cerba HealthCare, Ceres Nanosciences, Certara, Chan Zuckerberg Initiative, Charak Foundation, Chargeurs, Charite Universitatsmedizin Berlin, Chembio Diagnostics, Children's Hospital of Philadelphia, Chime Biologics, Chimeron Bio, China Resources Pharmaceutical Commercial Group International Trading, Chinese Academy of Sciences, ChromaDex, Chronolife, Chubu University, Chugai Pharmaceutical, CIC Health, Cigna Healthcare, CimCure, Ciox Health, Cipla, Circuit Clinical, CIRION BioPharma Research, Citius Pharmaceuticals, City College of New York, City of Corpus Christi, City of Hope, CLEAR, Clear Creek Bio, Cleared4, ClearMask, Cleveland Clinic, ClinCapture, Clinical Enterprise, Clinical Reference Laboratory, Clinical Trial and Consulting Services, Clinigen, Clinton Health Access Initiative, Clorox Company, Clover Biopharmaceuticals, CLX Health, CN Bio, CNS Pharmaceuticals, Co-Defend, Co-Diagnostics, Coalition for Epidemic Preparedness Innovations, Cobra Biologics, Cocrystal Pharma, Codagenix, Codetta Biosciences, Codexis, Codiak BioSciences, CohBar, Colombia Ministry of Health and Social Protection, Columbia University, Commonwealth of Pennsylvania, Confirm BioSciences, ConserV Bioscience, Contakt World Technologies, Cooper Companies, Cooper Pharma, Copan Diagnostics, COPD Foundation, CORAT Therapeutics, Cord Blood Registry, Corden Pharma, Cornell University, Corona Diagnostics, Corpometria Institute, Cosmo Pharmaceuticals, Covar Pharmaceuticals, COVAX, COVAXX, Covistat, CPT Medical, CQuentia, Creoptix, Cristal Therapeutics, Cromos Pharma, CR Pharma, Cruinn Diagnostics, CSIRO, CSL, CSL Behring, Cubic, Cue Health, Curapath, Curative, Curative Biotechnology, Curebase, Curetis, CureVac, Curia, Current Health, CVC, CVD Equipment, CyanVac, Cyclacel Pharmaceuticals, Cyclica, Cyclolab, Cynergy Wellness, Cystron Biotech, Cytiva, CytoAgents, Cytocom, Cytodyn, CytoSorbents, CytoVale, Cytovance Biologics, CYTOVIA Therapeutics, Cyxone, Daewoong Pharmaceutical, Dalberg, Dalrada Health, Dalriada Drug Discovery, Dalton Pharma Services, Dante Labs, Dartmouth-Hitchcock Medical Center, Dascena, Datavant, Daxor, Debiopharm, Decision Diagnostics, deCODE Genetics, Defense Advanced Research Projects Agency, Defense Health Agency (US), Defense Threat Reduction Agency, Dell Medical School, Delpharm, Denso, Department of Defence, Department of Defense, Department of Health and Human Services, Department of Public Health, Dermapharm, DiaSorin, Diffusion Pharmaceuticals, DiNonA, Diomics, DiosCURE Therapeutics, DIOSynVax, DKSH, DMTC, DNA Link, DnaNudge, DoctorsOne Healthcare Systems, Donnelley Financial Solutions, Dow Chemical, Dr. Reddy's Laboratories, Drawbridge Health, Dr Ho Now Health Products, DSG, Duality Technologies, Duke-NUS Graduate Medical School Singapore, Duke University, Duke University Medical Center, Dyadic International, Dymax, Dynasty Castle Investments, Dynavax Technologies, DynPort Vaccine Company, E25Bio, Eckerd College, Ecolog International, Edesa Biotech, Eisai, EKF Diagnostics, Elasmogen, ElectroCore, Elektrofi, Eli Lilly, Elixirgen, Ellume, Emcure Pharmaceuticals, eMed, Emerald Organic Growth, Emergent BioSolutions, Emergex Vaccines, Emery Pharma, Emory Healthcare, Emory University, Empatica, Empowered Diagnostics, Emulate, EmVenio Research, Enable Biosciences, ENA Respiratory, Ender Diagnostics, Endo International, Enesi Pharma, EnGeneIC, Enlivex, Ennaid Therapeutics, Entos Pharmaceuticals, Environmental Protection Agency (USA), Enzo Biochem, Enzolytics, Enzychem Lifesciences, Epidemiologic Solutions, Epivax, EpiVax Therapeutics, Epygen Biotech, Equilab International, Erasmus University Medical Center, ES Therapeutics, Ethos Laboratories, Ethris, Eurobio, Eurocine Vaccines, Eurofarma, Eurofins Genomics, Eurofins Scientific, Eurofins Viracor, Euroimmun, European Biomedical Research Institute of Salerno, European Commission, European Prevention Center, European Union, EUSA Pharma, Everest Medicines, Evergreen Therapeutics, Everly Health, EverlyWell, Eversana, Evotec, EVQLV, Evvivax, Ewha Womans University, Exagen Diagnostics, ExcellGene, Excivion, ExeVir Bio, Exothera, Experimental Drug Development Centre, ExpreS2ion Biotechnologies, Express Scripts, ExScientia, ExThera Medical, Exyte, Eyam Vaccines and Immunotherapeutics, Eyegene, FairJourney Biologics, Fareva Holding, Farmacore Biotechnology, FarmaMondo Group, Federal Ministry of Education and Research (BMBF), Ferozsons Laboratories, FibroGenesis, Finnish Institute for Health and Welfare, Fio, First Wave Bio, Fishbowl Warehouse, FitBit, Flirtey, Florence, Florica Therapeutics, FlowMetric, Flowserve, FluGen, Fluidigm, Fluxergy, Food and Drug Administration (FDA), Forsitech, Fosun Pharmaceutical, Frederick National Laboratory For Cancer Research, Fred Hutchinson Cancer Research Center, Frontier Scientific, Fujifilm, Fujifilm Diosynth Biotechnologies, FUJIFILM SonoSite, Fujirebio Diagnostics, Fujitsu Laboratories, Fulgent Genetics, FYR Diagnostics, G42 Healthcare, Galenvs Sciences, Gamaleya National Center, Gamidor Diagnostics, GAVI Alliance, GBS, GC Pharma, GE Healthcare, GEn1E Lifesciences, Genentech, General Motors, Generation Biotech, Generex Biotechnology, Genetic Technologies, GeNeuro, Geneva Foundation, Genevant Sciences, Genexine, Gennova Biopharmaceuticals, Genomma Lab Internacional, GenScript Biotech, GenScript ProBio, GensKey Medical Technology, George Mason University, George Washington University, GeoVax, German Cancer Research Center, German Federal Ministry of Education and Research, German Government, Getein Biotech, Gibraltar Brothers and Associates, Gilead Sciences, Ginkgo BioWorks, GlaxoSmithKline, Glenmark Pharmaceuticals, Global Coalition for Adaptive Research, Global Development Incubator, Global Response Aid, Global Virus Network, Global WholeHealth Partners, Gnomegen, GNP Bioscience, Golden Mountain Partners, Google, Government of Argentina, Government of Australia, Government of Bahrain, Government of Canada, Government of France, Government of Germany, Government of India, Government of Israel, Government of Japan, Government of Netherlands, Government of Serbia, Government of Singapore, Government of South Korea, Government of Switzerland, Government of The Philippines, Grand River Aseptic Manufacturing, Gravity Diagnostics, Great Lakes Medical Laboratory, GreenBioAZ, Green Cross LabCell, Green Cross Medical Science, Greenfield Global, Greenlight Biosciences, Greenwich LifeSciences, Grifols, Gritstone Bio, GS, GSK Consumer Healthcare, GT Biopharma, GT Molecular, GTP Bioways, Guangzhou Institute of Respiratory Disease, Hackensack Meridian Health, Hai Kang Life, Hainan Sihuan Pharmaceutical, Hainan Visum Pharmaceutical, Halberd, Halix, Halodine, Halomine, HaloVax, Hamilton Company, Hancom Group, Harbour Biomed, Harvard Medical School, Harvard University, HDT Bio, Healgen Scientific, Healion Bio, Healthe, HealthTab, Healthvana, Health Vector, Heat Biologics, Helix, Hememics Biotechnologies, Hemex Health, Henry M. Jackson Foundation, Henry Schein, Hetero India, Hetero Labs, HHS Technology Group, HiFiBio, Hikma Pharmaceuticals, HiMedia Laboratories, Histogen, Hisun BioRay, Hologic, Hong Kong Polytechnic University, Honor Epic Enterprises, Hoowaki, Horizon Europe, Hoth Therapeutics, Hovione, Hualan Biological Bacterin, Humanigen, hVIVO, Hybridize Therapeutics, Hygea Precision Medicine, I-MED Pharma, iBio, IBM, Icahn School of Medicine at Mount Sinai, Ichor Blood Services, Icon, Iconovo, IDBiologics, IdentifySensors Biologics, IDT Biologika, IES Diagnostics, iFLYTEK, IGM Biosciences, Illumina, ImageMover, Imagene Labs, Imec, Immune Biosolutions, ImmuneCyte Life Sciences, Immune Regulation, Immune System Regulation, Immune Therapeutics, Immunexpress, ImmunityBio, Immunome, Immunomic Therapeutics, ImmunoPrecise Antibodies, ImmunoScape, ImmunoTek Bio Centers, Imperial College London, ImQuest BioSciences, InBios International, IncellDx, Indiana University, Indian Institute of Science Education and Research, IndyGeneUS AI, Infection Innovation Consortium, Infectious Disease Research Institute (IDRI), Infectolab Americas, Infex Therapeutics, Infinity BiologiX, Inflammatix, InflaRx, Infor, Infrared Cameras, Inhalon Biopharma, InnoCentive, InnoPharmax, InnoTech Precision Medicine, Innovare, Innovate UK, Innovation Pharmaceuticals, Innovo, Inotrem, Inovio, Inovio Pharmaceuticals, Inpixon, Inserm, Inserm Transfert, Insilico Medicine, Inspira Pharmaceuticals, Inspira Technologies, Inspirevax, Instem, Institute for Systems Biology, Institute for Transformative Technologies, Institute of Materia Medica, Institut Pasteur, Integrated BioTherapeutics, Integrated Computer Solutions, Integrated DNA Technologies, Integumen, Intel, Intermodeco 2004, Intermountain Healthcare, International Isotopes, International Vaccine Institute (IVI), Intravacc, IntuitiveX, Invivyd, InVixa, InvoSurg, IONTAS, IP Biotech, ipCapital Group, Ipsen, iQ Group, IQVIA, IRBM, iRemedy Healthcare Companies, IriSys, IsoPlexis, IsoTherapeutics, iSpecimen, Israeli National Authority for Technological Innovation, Israel Institute for Biological Research, Italian Government, Iwatani Group, James M Cox Foundation, Janssen Biotech, Janssen Pharmaceuticals, Janssen Pharmaceutica NV, Janssen Research & Development, Japan Agency for Medical Research and Development, Japan Government, Jayne Koskinas Ted Giovanis Foundation for Health and Policy, Jenner Institute, JN Nova Pharma, John Hopkins University School of Medicines, Johns Hopkins University, John Snow, Johnson & Johnson, Johnson & Johnson Innovation, Jubilant Hollisterstier, Jubilant Life Sciences, Jubilant Therapeutics, Jumpcode Genomics, Jump Start Manufacturing, Junshi Biosciences, Just Biotherapeutics, KaHa, Kalos Therapeutics, Kamada, Kaneka, Kansas State University, Kantaro Biosciences, KARE Biosciences, Karolinska Institute, Karyopharm Therapeutics, KBI BioPharma, Kedrion Biopharma, Keyence, KeyTronic, Kiadis Pharma, Kindred Bio, King Abdullah University for Science and Technology, King Saud University, Kings College London, Kintor, Kiromic Biopharma, Kishida Chemical, Kleo Pharmaceuticals, KMG International, Komodo Health, Korea Advanced Institute of Science and Technology, KPM Tech, Kukbo, Kurabo, Kuwait Government, KVK-Tech, L1 Systems, L7 Informatics, Laboratorios Farmaceuticos Rovi, Laboratory Corporation of America, Lactiga, La Jolla Institute for Allergy & Immunology, LakePharma, Last Chance for Children, Laurus Labs, Lawrence Livermore National Laboratory, Laxai Pharma, Laxisam, Leading BioSciences, Leiden University, Leidos, Leinco Technologies, Lenovo, Les Laboratoires Servier, Leukocare, LFB Biotechnologies, LFB Group, LifeArc, LifeLabs Medical Laboratory Services, Ligand Pharmaceuticals, Light Chain Bioscience, LightDeck Therapeutics, Liminal BioSciences, LinKinVax, Lipigon Pharmaceuticals, List Biological Laboratories, LiteVax, Liverpool School of Tropical Medicine, Livzon Mabpharm, LogicInk, Longhorn Vaccines and Diagnostics, Lonza, Los Angeles County Department of Health Services, Louisiana State University, LSU Health Sciences Center, Lucence, Lucira Health, Lumen Biomedical, Luminare, Luminex, Luminostics, LuminUltra, LumiraDx, Lung Biotechnology, Luxna Biotech, Macau University of Science and Technology, Macleods Pharmaceuticals, Macquarie University, Macromoltek, Macrostruct Holding & Consulting, Maersk-Andersen, Magenta Investments, Magentine, MagnaCare, Mainz University Medical Centre, MAJL Diagnostics, Mallinckrodt Pharmaceuticals, Mammoth Biosciences, Manhattan BioSolutions, Mannin Research, MannKind Biopharmaceuticals, Manny Pacquiao Foundation, March of Dimes, Marinomed Biotechnologie, Marken, Markforged, Masimo, Massachusetts General Hospital, Massachusetts Institute of Technology, Mass General Brigham, Mateon Therapeutics, Mathematica, Matinas Biopharma, Matrix Biomed, Matrix Medical Network, Maverick Health, MAVIDx, Max-Planck, Max Biopharma, Maxim Biomedical, Mayo Clinic, MBio Diagnostics, McKesson, McMaster University, MD Biosciences, Meadowlands Diagnostics, Medela, Medicago, Medical Research Futures Fund, Medical Technology Enterprise Consortium, Medical University of Vienna, Medicines Patent Pool Foundation, MediciNova, Medicom, Medigen Vaccine Biologics, Medigus, MediMergent, Medison Pharma, Meditemi, Medivant Healthcare, Medivir, Medlab Clinical, MedMira, Medusa19, Medytox, Meihua International Medical Technologies, Meitheal Pharmaceuticals, Mekics, Melior Pharmaceuticals, Memorial Sloan Kettering Cancer Center, Memo Therapeutics, Menarini Silicon Biosystems, Menon Biosensors, Merck and Co, Merck KGaA, Meridian Bioscience, Meridian Health Services Network, Meridian IT, Mesa Biotech, Mesoblast, Metaclipse Therapeutics, MetrioPharm, Mexico Government, MGI Tech, Michigan State University, Microbix Biosystems, MicroGEM, Microprofit Biotech, MicroQuin, Microsoft, Mid-Atlantic BioTherapeutics, Midge Medical, miDiagnostics, Mie University, MigVax, MILA International, Minapharm, Ministry of Health, Ministry of Health (Brazil), Ministry of Health (Denmark), Ministry of Health (Israel), Ministry of Health, Labor and Welfare, Minnesota Health System, Minute Molecular Diagnostics, Mirimus, Mithra Pharmaceuticals, Mizuho Capital, MLU Services, MobileWellbeing, MOBILion Systems, Mobility Health, Moderna, Molecular Loop, Molecular Matrix, Molecular Partners, Molecular Testing Labs, Moleculin Biotech, MolGen, MolGenie, Molipharma, Mologic, Monopar Therapeutics, Montefiore Health System, Montreal Heart Institute, Morehouse School of Medicine, Morgan Stanley, Mount Sinai Health System, Mount Sinai Medical Center, MphRx, MRIGlobal, MSD, MSN Pharmaceuticals, Mucokinetica, Multi G, Multiplex Genomics, MyLabBox, Mylab Discovery Solutions, Mylan Laboratories, Mymee, Mymetics, NanoDx, Nanomerics, Nanomix, Nanommune, NanoMosaic, NanoSpot.ai, Nanotronics Health, NanoViricides, Nanowear, Nant Africa, NantKwest, Nanyang Technological University, Nascent Biotech, National Cancer Institute, National Center for Advancing Translational Sciences (NCATS), National Healthcare Services (NHS), National Heart, Lung and Blood Institute, National Institute for Health Research (NIHR), National Institute for Innovation in Manufacturing Biopharmaceuticals, National Institute of Allergy and Infectious Diseases, National Institute of Biomedical Imaging and Bioengineering, National Institute of Diabetes and Digestive and Kidney Diseases, National Institute of General Medical Sciences, National Institute of Infectious Diseases, National Institute of Standards and Technology, National Institutes of Biomedical Innovation, Health and Nutrition, National Institutes of Health, National Kidney Registry, National Research Council Canada, National Research Council of Canada, National Resilience, National Science Foundation, Natural Sciences and Engineering Research Council of Canada, Nature Technology, Naval Medical Research Center, Navigo Proteins, Navrogen, NEC, Nepean Blue Mountains Local Health District's Nepean Hospital, Nephron Pharmaceuticals, Neurimmune Therapeutics, NeuroLab, Neurophotometrics, NeuroRx, New England Complex Systems Institute, New York City Health and Hospital, New York Presbyterian/Columbia, New York University, New Zealand's Foundation for Research, Science and Technology, Nexelis, Next Generation Manufacturing Canada, Nexus DX, NG Biotech, Nicoya, Nimble Therapeutics, Ninety One, NLC Pharma, NMI Natural and Medical Sciences Institute, Noachis Terra, Noble Biomaterials, Nonacus, North Carolina Central University, North Carolina Collaboratory, Northeastern University, Northern RNA, NorthStar Medical Radioisotopes, Northway Biotechpharma, Northwell Health, Northwestern University, Norwegian Institute of Public Health, Norwegian Research Council, NovaBay Pharmaceuticals, Novartis, Novavax, NoveCite, Novellus Therapeutics, Noveome Biotherapeutics, Novogene, Novotech, NOWDiagnostics, NRx Pharmaceuticals, NTT Data, NuGenerex Immuno-Oncology, Nunzia Pharmaceutical, Nutriband, NxGEN MDx, NYU Langone Medical Center, O-Two Medical Technologies, O2TODAY, Oak Ridge National Laboratory, Oblique Therapeutics, Octant, Octapharma, Ocugen, Ohio Department of Development, Ohio State University, Olive Labs, Ology Bioservices, OmeCare, Omeros, OmniPathology, OncoArendi Therapeutics, Oncogenuity, Oncology Pharma, Oncology Venture, One Medical, Ontochem, Opencell Biomed, Open Orphan, Opentrons Labworks, OpGen, Opto-Systems, Oracle, Oragenics, Oramed Pharmaceuticals, OraSure Technologies, Oravax Medical, Oregon Health Sciences University, Organicell Regenerative Medicine, Orgenesis, Origin, Ortho-Clinical Diagnostics, OSANG Healthcare, OSE Immunotherapeutics, OSI Pharmaceuticals, Oslo University Hospital, Ottawa Hospital Research Institute, Owkin, Oxford Biodynamics, Oxford Immunotec, Oxford Nanopore Technologies, Oxgene, Oxsed, OyaGen, PAI, Pala Diagnostics, Palantir, Panacea Biotech, Pandemic Response Lab, Pangea, Pan Probe Biotech, Paragon Genomics, Parexel, Parkway Clinical Laboratories, Partner Therapeutics, Path BioAnalytics, Pathnova Laboratories, Pathogen and Microbiome Institute, PCI Pharma Services, PDS Biotechnology, Pennsylvania State University, PeptiAID, PeptiDream, PerkinElmer Life Sciences, Persown, Pfizer, Pharco Pharma, Pharm-Olam International, Pharmaceutical Solutions, PharmaCyte Biotech, PharmaJet, Pharma Science, Pharma Tech Solutions, PharmEnable, Pharmsynthez, PhaseBio Pharmaceuticals, PHC, Phelix Therapeutics, Philips, Phosphorus Genomics, PhysIQ, Piramal, PixCell Medical, PKG, Planet Biotechnology, Plexision, Plexus, Pluristem Therapeutics, Pluristyx, Pohang University Of Science And Technology, PolyPeptide Group, Poly Pharmaceuticals, Polyrizon, Population Health Partners, Poseida Therapeutics, PPD, PRA Health Sciences, PreCheck, Precision Biomonitoring, Precision for Medicine, PrecisionLife, Precision NanoSystems, Precision Virologics, Predictive Technology Group, Predictmedix, Premas Biotech, Premier Inc, Prenetics, Prestige BioPharma, Prevencio, Previon, Primary Bio, Primetime Medical Software, Primordial Genetics, ProBioGen, Promega, Prometrika, ProMIS Neurosciences, Proteona, ProterixBio, Proteros biostructures, ProvideGx, Providence Therapeutics, Provista Diagnostics, Psyche Systems, PT Bio Farma, PT Etana Biotechnologies, Public Health England, Pulmatrix, Pulmotect, Pulthera, Purdue Research Foundation, Purdue University, PWNHealth, Q2 Solutions, Q BioMed, Qiagen, QMC HealthID, Qosina, Qualigen, Quanterix, QuantumDx, Quantum Leap Health Care Collaborative, Quartesian Clinical Research, Qu Biologics, Quebec Government, Quercis Pharma, Quest Diagnostics, Quidel, Quironprevencion, Quotient, Quratis, R-Biopharm, R-Pharm, R4D Biotech, Radient Technologies, Ragon Institute, Rapid Dose Therapeutics, Rapid Dx Laboratory, ReAlta Life Sciences, Recce Pharmaceuticals, Recipharm, RedHill Biopharma, Reditus Laboratories, Refana, Rega Institute for Medical Research, Regence, Regencell Bioscience, Regeneron Pharmaceuticals, Regis Technologies, ReiThera, Relation Therapeutics, Relay Medical, Relief Therapeutics, Remote Medical International, RenalytixAI, Renato Dulbecco Foundation, Renegade Bio, Renibus Therapeutics, Rentschler Biotechnologie, Repligen, Repurpose.AI, Resolution Medical, RespiraWorks, resTORbio, Resverlogix, Revelar Biotherapeutics, Revive Therapeutics, Reyon Pharmaceuticals, Rhinostics, Richard King Mellon Foundation, Ridgeback Biotherapeutics, Rigel Pharmaceuticals, Riken Genesis, RIKEN Research Institute, Rising Pharmaceuticals, Rite Aid, RNA Disease Diagnostics, Roche, Roche Diagnostics, Rockefeller University, Rocket Science Health, RocketVax, Rokline Health Concepts, Rokote Laboratories, Romanian National Institute of Infectious Diseases, Royal Philips Electronics, RQ Biotechnology, RTHM, Rush University Medical Center, Russian Direct Investment Fund, Rutgers University, RVAC Medicines, Ryerson University, SAB Biotherapeutics, Sabin Vaccine Institute, SAB Therapeutics, Sahlgrenska University Hospital, Saiba, SalesForce, Samsung Biologics, Samsung Electronics, SanaCare, Sanofi, Sanofi-Pasteur, Sano Genetics, SaNOtize Research and Development, Sanquin Blood Supply Foundation, Sapience Therapeutics, Saptagir Laboratories, Sarepta Therapeutics, Sartorius, Sartorius Stedim Biotech, SAS, SaudiVax, Scancell, Scanwell Health, Science 37, Science for Life Laboratory, Scilex Pharmaceuticals, Scipher Medicine, SciSafe, Scottish Enterprise, Scripps Research Institute, SD Biosensor, Seattle Childrens Research Institute, Secarna Pharmaceuticals, Securiport, Seegene, Sema4, Sen-Jam Pharmaceutical, Senai Cimatec, Sense Biodetection, Sensory Cloud, Sensus Healthcare, Seoul National University, Seppic, Seqirus, SerImmune, Serum Institute of India, Shanghai ChemPartner, Shanghai Institute of Materia Medica, Sheba Medical Center, Shenzhen Institutes of Advanced Technology, Shenzhen Kangtai Biological Products, Shenzhen Smoore Technology, Sherlock Biosciences, Shionogi, Showa, Siemens Healthineers, SilcsBio, Simcere Pharmaceuticals, Sinclair Research, Singlomics Biopharmaceuticals, Singota Solutions, Sino Biological, Sinopharm, Sinopharm Group Beijing HuaHong, Sinotek-Advocates International Industry Development, Sinovac Biotech, SINTX Technologies, SiO2 Medical Products, SK Bioscience, Skoll Foundation, Skymount Medical, SkyWater Technology, SmartPharm Therapeutics, SmartShape Design, Smiths Medical, SMS Pharmaceuticals, Soligenix, Solutions in Critical Care, SOM Biotech, Sona Nanotech, Sonata Scientific, Sonde Health, Sophia Genetics, Sorrento Therapeutics, Sound Pharmaceuticals, SourceBio International, Source Molecular, Southern Research Institute, Southwest Research Institute, Spartan Medical, Speciality Diagnostix, Spectrum Medical, Spectrum Solutions, SpectrumX, SpeeDx, SphereDX, Spicona, Spirit AeroSystems, SQI Diagnostics, Staidson (Beijing) BioPharmaceuticals, Standard Capital, Stanford University, State of New Jersey, Statera Biopharma, Stavros Niarchos Foundation, Stelis Biopharma, St Elizabeth Healthcare, Stella, Stemedica Cell Technologies, Sterling Pharmaceutical Services, Stevanato, St Georges University of London, Stony Brook University, Stratasys, Strategic Innovation Fund, Strides Arcolab, St Thomas University, Sudpack Medica, Sugentech, Summit Biosciences, Sun Pharmaceutical, Sun Pharma Global, Sunshine Biopharma, Sun Yat-sen University, Supriya Lifescience, Surfacide, Surgical Partners, Swift Biosciences, Swiss Federal Funding Programme, Symbiosis, Symphogen, Symvivo, Synairgen, Synaptive Medical, Synbal, Synexa Life Sciences, Syngene International, Syntegra, Syntekabio, Syracuse University, T-Cell Protect Hellas, T2 Biosystems, Tabuk Pharmaceutical, Tabula Rasa HealthCare, Taiwan Ministry of Economic Affairs, Takara Bio, Takara Bio USA, Takeda Pharmaceutical, Takenaka, Takis Biotech, Talem Therapeutics, Talis Biomedical, Tangen Biosciences, Targeted Pharmaceutical, Tauriga Sciences, Tecan, Tech Innovation Global, Technogenetics, TechnoVax, TECOmedical, Tektronix Component Solutions, Telcon RF Pharmaceuticals, Tempus, Tencent Holdings, Terumo Cardiovascular Systems, Tetra Bio-Pharma, Teva Pharmaceutical Industries, Tevogen Bio, Texas A&M University, Texas Lung Injury Institute, TFF Pharmaceuticals, The Binding Site, The Health Bank, The International AIDS Vaccine Initiative, The Medical Research, Infrastructure, and Health Services Fund of the Tel Aviv Medical Center, Themis Bioscience, The Native Antigen Company, Therapeutic Solutions International, Therapure Biopharma, Thermo Fisher Scientific, ThermoGenesis, Thomas Jefferson University, Thomas Scientific, Tianjin CanSino Biotechnology, Tianjin University, Tiba Biotech, TidalHealth, Tobin Scientific, Todos Medical, Tokai University, TONIX Pharmaceuticals, Toray, Torrent Pharmaceuticals, Total Testing Solutions, Totient, Toyohashi University of Technology, TPT Global Tech, Trans-Hit Bio, Translate Bio, Translational Genomics Research Institute, Trevena, TrialJectory, TrialSpark, Tried & Tested, TriLink BioTechnologies, Trinity Pharmaceuticals, True Diagnostics, Truepill, TSB Therapeutics, TScan Therapeutics, Tsinghua University, Tufts Medical Center, Twist Bioscience, U-Diagnostics, U.K. Department for International Development, Ubiquitome, Ubirch, UgenTec, UK Government, Ultromics, Una Health, UNION Therapeutics, Unisys, UnitedHealth, United Nations Children Fund, United Therapeutics, Univercells, University Gottingen, University Health Network, University Hospital Bonn, University Hospital Heidelberg, University of Aberdeen, University of Alabama, University of Alabama at Birmingham, University of Alberta, University of Arizona, University of Arkansas, University of Birmingham, University of Bonn, University of British Columbia, University of Buffalo, University of California, Davis, University of California, San Diego (UCSD) School of Medicine, University of California Berkeley, University of California San Francisco, University of Campinas, University of Chicago, University of Copenhagen, University of Dundee, University of Edinburgh, University of Georgia, University of Hawaii, University of Hong Kong, University of Houston, University of Illinois, University of Illinois at Chicago, University of Louisville, University of Maryland, University of Maryland, Baltimore County, University of Maryland Baltimore, University of Maryland School of Medicine, University of Melbourne, University of Miami, University of Michigan, University of Minnesota, University of Nebraska, University of New South Wales, University of Nottingham, University of Ottawa, University of Oxford, University of Pennsylvania, University of Pittsburgh, University of Pittsburgh Medical Center, University of Queensland, University of Saskatchewan, University of Sydney, University of Texas, University of Texas Health Science Center at Houston, University of Texas Health Science Center at Tyler, University of Texas Medical Branch, University of Tubingen, University of Virginia, University of Washington, University of Waterloo, University of Wisconsin-Madison, University of Zurich, UPS Supply Chain Services, US Air Force, US Army, US Army Medical Research and Material Command, US Army Medical Research Institute of Infectious Diseases, US Government, US Navy, Utrecht University, va-Q-tec, Vaccitech, Vaccizone, Valeo Pharma, Valneva, Valo Therapeutics, Vancouver Infectious Diseases Centre, Vanda Pharmaceuticals, Vanderbilt University, Variation Biotechnologies, Vasomune Therapeutics, Vault Health, Vaxart, Vaxess Technologies, Vaxil BioTherapeutics, Vaxine, VaxThera, Vayyar Imaging, VBI Vaccines, Vector Institute, Vectura, Veeva Systems, Vela Diagnostics, Velox Biosystems, Ventec Life Systems, Veracyte, Veravas, Veristat, Verndari, Versatope Therapeutics, Versiti Blood Research Institute, Veru, Viatris, VIB, Vibalogics, Vibrent Health, Vicore Pharma, Victoria University, Vidscrip, Vigene Biosciences, Vinbiocare Biotechnology, Vinnova, ViraCor Laboratories, ViraCyte, ViralClear Pharmaceuticals, Viral Sign, Viravaxx, Vir Biotechnology, Virchow Biotech, Virex Health, Virginia Catalyst, Virginia Commonwealth University, Virios Therapeutics, Viroclinics Biosciences, Virocule, Virpax Pharmaceuticals, VirTrial, Virusight Diagnostics, Visby Medical, VitalHub, Vituity, Vivera Pharmaceuticals, Vizient, Voltron Therapeutics, Vortran Medical, Vyaire Medical, Vyripharm, Wacker Chemie, Wageningen University, Walter and Eliza Hall Institute, Washington University in St Louis, Watchmaker Genomics, Webb Diagnostic Technologies, Weill Cornell Medical College, Wellcome Trust, Wellgistics, Westlake Pharma, Westport Bio, Wistar Institute, World Health Organization, WPD Pharmaceuticals, WuXi Biologics, Wuxi STA, Wyss Institute, X-chem, Xanadu Bio, Xencor, Xerox, Xortx Therapeutics, XPhyto Therapeutics, XPRIZE Pandemic Alliance, Xtrava Health, Y2X Life Sciences, Yale Cancer Center, Yale School of Medicine, Yale University, Yellowbrick, Yunnan Walvax Biotech, YuYu Pharma, ZandCell, Zensark, Zeteo Tech, Zhejiang Jiuzhou Pharmaceutical, Zhengzhou Fortune Bioscience, Zoic Labs, Zumutor Biologics, Zydus Cadila, Zymeworks, Zymo Research, ZYUS Life Sciences
Current Partnering reports provide insight into the trends and terms of partnering deals in the global life sciences sector.
Current Partnering reports are updated every six months to ensure the user has access to the latest announcements and trends in the topic focus of the report.
Current Partnering analysts review the deal data to provide an overview and analysis of deal trends, including example deals and terms.
Current Partnering reports source deal data from our proprietary deals and alliances database, Current Agreements. The database is updated daily by our analysts with new deals as they are announced globally by the company's party to the deal. In addition, deal records are updated with new data as it becomes available.
The data in the Current Agreements deals and alliances database is obtained from secondary sources such as publicly available industry sources including press releases, company presentations, investor presentations, company SEC filings, other company filings, company websites, conference presentations. Sources are identified to allow for user verification.
Current Partnering provides comprehensive coverage of the following partnering or deal types:
• Asset purchase
• Assignment
• Co-development
• Co-market
• Co-promotion
• Collaborative R&D
• Contract service
• CRADA
• Cross-licensing
• Development
• Distribution
• Equity purchase
• Evaluation
• Grant
• Joint venture
• Licensing
• Loan
• Manufacturing
• Marketing
• Option
• Promotion
• Research
• Royalty financing
• Settlement
• Spin out
• Sub license
• Supply
• Termination
• Warrant
Every deal record is fully categorized and includes the following data, where available:
• Industry sector
• Therapy areas
• Technology type
• Deal components
• Financial terms
• Stage of development
• Exclusivity
• Asset type
• Geographic focus
• Excluded geography
• Company press release
• SEC filing data including contract document
All financial amounts are converted to US$ using the exchange rate available on the date of deal announcement, enabling direct comparison of deal terms across international territories.
Financial data and contract documents displayed in deal records is obtained from public sources, where disclosed by the parties to the deal.