Global Genetic Disorders Partnering 2015-2022: Deal trends, players and financials
Global Genetic Disorders Partnering 2015-2022: Deal trends, players and financials report provides comprehensive understanding and unprecedented access to the genetic disorders partnering deals and agreements entered into by the worlds leading healthcare companies.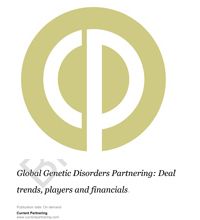 Publication date
October 2022
Product type
Therapy profile
Available formats
PDF document
Global Genetic Disorders Partnering 2015 to 2022 provides the full collection of genetic disorders disease deals signed between the world's pharmaceutical and biotechnology companies since 2015.
Trends in genetic disorders partnering deals
Financial deal terms for headline, upfront and royalty by stage of development
Genetic disorders partnering agreement structure
Genetic disorders partnering contract documents
Top genetic disorders deals by value
Most active genetic disorders dealmakers
Most of the deals included within the report occur when a licensee obtains a right or an option right to license a licensor's product or technology. More often these days these deals tend to be multi-component including both a collaborative R&D and a commercialization of outcomes element.
The report takes readers through the comprehensive genetic disorders disease deal trends, key players and top deal values allowing the understanding of how, why and under what terms companies are currently entering genetic disorders deals.
The report presents financial deal terms values for genetic disorders deals, where available listing by overall headline values, upfront payments, milestones and royalties enabling readers to analyse and benchmark the value of current deals.
The initial chapters of this report provide an orientation of genetic disorders dealmaking trends.
Chapter 1 provides an introduction to the report.
Chapter 2 provides an overview of the trends in genetic disorders dealmaking since 2015 covering trends by year, deal type, stage of development, technology type and therapeutic indication.
Chapter 3 includes an analysis of financial deal terms covering headline value, upfront payment, milestone payments and royalty rates.
Chapter 4 provides a review of the leading genetic disorders deals since 2015. Deals are listed by headline value. The chapter includes the top 25 most active genetic disorders dealmakers, together with a full listing of deals to which they are a party. Where the deal has an agreement contract published at the SEC a link provides online access to the contract.
Chapter 5 provides comprehensive access to genetic disorders deals since 2015 where a deal contract is available, providing the user with direct access to contracts as filed with the SEC regulatory authorities. Each deal title links via Weblink to an online version of the deal record contract document, providing easy access to each contract document on demand.
Chapter 6 provides a comprehensive directory of all genetic disorders partnering deals by specific genetic disorders target announced since 2015. The chapter is organized by specific genetic disorders therapeutic target. Each deal title links via Weblink to an online version of the deal record and where available, the contract document, providing easy access to each contract document on demand.
In addition, a comprehensive appendix is provided with each report of all genetic disorders partnering deals signed and announced since 2015. The appendices are organized by company A-Z, stage of development at signing, deal type (collaborative R&D, co-promotion, licensing etc) and technology type. Each deal title links via Weblink to an online version of the deal record and where available, the contract document, providing easy access to each contract document on demand.
The report also includes numerous tables and figures that illustrate the trends and activities in genetic disorders partnering and dealmaking since 2015.
In conclusion, this report provides everything a prospective dealmaker needs to know about partnering in the research, development and commercialization of genetic disorders technologies and products.
Report scope
Global Genetic Disorders Partnering 2015 to 2022 is intended to provide the reader with an in-depth understanding and access to genetic disorders trends and structure of deals entered into by leading companies worldwide.
Global Genetic Disorders Partnering 2015 to 2022 includes:
Trends in genetic disorders dealmaking in the biopharma industry since 2015
Access to headline, upfront, milestone and royalty data
Access to hundreds of genetic disorders deal contract documents
Comprehensive access to genetic disorders deal records, together with contract documents if available
The leading genetic disorders deals by value since 2015
Most active genetic disorders dealmakers since 2015
The report includes deals for the following indications: Cystic Fibrosis (CF), Down syndrome, Fragile X Syndrome, Hereditary angioedema, Huntington's disease, Rare genetic disorders, Neurofibromatosis, Sickle cell disease, plus other genetic indications.
In Global Genetic Disorders Partnering 2015 to 2022, available deals and contracts are listed by:
Headline value
Upfront payment value
Royalty rate value
Stage of development at signing
Deal component type
Technology type
Specific therapy indication
Each deal title links via Weblink to an online version of the deal record and where available, the contract document, providing easy access to each contract document on demand.
The Global Genetic Disorders Partnering 2015-2022 report provides comprehensive access to available deals and contract documents for genetic disorders deals. Analyzing actual contract agreements allows assessment of the following:
What are the precise rights granted or optioned?
What is actually granted by the agreement to the partner company?
What exclusivity is granted?
What is the payment structure for the deal?
How are the sales and payments audited?
What is the deal term?
How are the key terms of the agreement defined?
How are IPRs handled and owned?
Who is responsible for commercialization?
Who is responsible for development, supply, and manufacture?
How is confidentiality and publication managed?
How are disputes to be resolved?
Under what conditions can the deal be terminated?
What happens when there is a change of ownership?
What sublicensing and subcontracting provisions have been agreed?
Which boilerplate clauses does the company insist upon?
Which boilerplate clauses appear to differ from partner to partner or deal type to deal type?
Which jurisdiction does the company insist upon for agreement law?
Global Genetic Disorders Partnering 2015 to 2022 provides the reader with the following key benefits:
In-depth understanding of genetic disorders deal trends since 2015
Access genetic disorders deal headline, upfront, milestone and royalty data
Research hundreds of actual contracts between genetic disorders partner companies
Comprehensive access to actual genetic disorders deals entered into by the world's biopharma companies, together with contract documents if available
Indepth review of genetic disorders deals entered into by the top 25 most active dealmakers
Benchmark the key deal terms companies have agreed in previous deals
Identify key terms under which companies partner genetic disorders opportunities
Uncover companies actively partnering genetic disorders opportunities
Executive Summary
Chapter 1 – Introduction
Chapter 2 – Trends in Genetic Disorders dealmaking
2.1. Introduction
2.2. Genetic Disorders partnering over the years
2.3. Genetic Disorders partnering by deal type
2.4. Genetic Disorders partnering by industry sector
2.5. Genetic Disorders partnering by stage of development
2.6. Genetic Disorders partnering by technology type
2.7. Genetic Disorders partnering by therapeutic indication
Chapter 3 –Financial deal terms for Genetic Disorders partnering
3.1. Introduction
3.2. Disclosed financials terms for Genetic Disorders partnering
3.3. Genetic Disorders partnering headline values
3.4. Genetic Disorders deal upfront payments
3.5. Genetic Disorders deal milestone payments
3.6. Genetic Disorders royalty rates
Chapter 4 – Leading Genetic Disorders deals and dealmakers
4.1. Introduction
4.2. Most active in Genetic Disorders partnering
4.3. List of most active dealmakers in Genetic Disorders
4.4. Top Genetic Disorders deals by value
Chapter 5 – Genetic Disorders contract document directory
5.1. Introduction
5.2. Genetic Disorders partnering deals where contract document available
Chapter 6 – Genetic Disorders dealmaking by therapeutic target
6.1. Introduction
6.2. Deals by Genetic Disorders therapeutic target
Appendices
Appendix 1 – Directory of Genetic Disorders deals by company A-Z since 2015
Appendix 2 – Directory of Genetic Disorders deals by deal type since 2015
Appendix 3 – Directory of Genetic Disorders deals by stage of development since 2015
Appendix 4 – Directory of Genetic Disorders deals by technology type since 2015
Further reading on dealmaking
Deal type definitions
About Wildwood Ventures
Current Partnering
Current Agreements
Recent report titles from CurrentPartnering
Table of figures
Figure 1: Genetic Disorders partnering since 2015
Figure 2: Genetic Disorders partnering by deal type since 2015
Figure 3: Genetic Disorders partnering by industry sector since 2015
Figure 4: Genetic Disorders partnering by stage of development since 2015
Figure 5: Genetic Disorders partnering by technology type since 2015
Figure 6: Genetic Disorders partnering by indication since 2015
Figure 7: Genetic Disorders deals with a headline value
Figure 8: Genetic Disorders deals with upfront payment values
Figure 9: Genetic Disorders deals with milestone payment
Figure 10: Genetic Disorders deals with royalty rates
Figure 11: Active Genetic Disorders dealmaking activity since 2015
Figure 12: Top Genetic Disorders deals by value since 2015
Pricing options
$3,995: single-user
$5,745: multi-user
$10,995: single site license
$17,995: global site license
A full explanation of license type definitions can be found here.
Our guarantee
Price promise
We guarantee our prices are competitive. If you find the same report advertised at a lower price within 7 days of purchase, we will refund the difference.
Delivery Deadline
We guarantee that the report will be sent within the specified delivery times. In the unlikely case of a delay we may offer a partial refund as compensation. (Terms may apply)
Latest report
If an update is published within 30 days of your purchase, you will receive it absolutely free of charge.
Serious Security
We take your data and security seriously. See our privacy policy for details of how we manage your data.
All card payments are processed by SagePay.
Sales Support
If you have any questions about your report or are unhappy with the quality, we will do our best to resolve your query. Contact us direct.
Total Trust
Current Partnering is part of Wildwood Ventures Ltd., based in York, United Kingdom. We have been trading successfully online since 2009 and work with some of the most famous brands in the business. We carefully select our partners to ensure that the publications meet expectations of demanding customers.
2bPrecise, 3DR Labs, 4D Molecular Therapeutics, 23andMe, AavantiBio, Abbvie, Abby Grace Foundation, Abeona Therapeutics, ACADIA Pharmaceuticals, Aceragen, Acer Therapeutics, Achillion Pharmaceuticals, Actelion, Acucela, AdAlta, Addex Therapeutics, ADMA Biologics, Adverum Biotechnologies, Aeglea BioTherapeutics, Aelis Pharma, Aequus Pharmaceuticals, Aevi Genomic Medicine, Affectis Pharmaceuticals, Affinia Therapeutics, Affymetrix, AFT Pharmaceuticals, AGC Biologics, Agena Bioscience, AgeX Therapeutics, Agilis Biotherapeutics, Agios Pharmaceuticals, AGTC, AiCuris, AiLife Diagnostics, Akcea Therapeutics, Akouos, Alana Healthcare, Albany Molecular Research, Alchemab, Alcyone Lifesciences, Aldevron, Aldeyra Therapeutics, Alexion Pharmaceuticals, AllCells, Allen Institute for Brain Science, Allergan, Alliance for Regenerative Medicine, AllStripes, Alnylam Pharmaceuticals, Altamira Bio, Altamira Pharma, Altius Institute for Biomedical Sciences, Ambry Genetics, American Society of Gene and Cell Therapy, American Society of Hematology, AmerisourceBergen, Amgen, Amgros, Amicus Therapeutics, AMO Pharma, Amryt, AnchorDx, Angelini Pharma, Angion Biomedica, Anima Biotech, Annapurna Therapeutics, Antabio, Anthera Pharmaceuticals, AOP Orphan Pharmaceuticals, APG Bio, Arbor Biotechnologies, Arch Biopartners, ARCHIMEDlife, Arcturus Therapeutics, Arecor, Argonaut Manufacturing Services, Aridis Pharmaceuticals, Ariosa Diagnostics, ArmaGen, Aruvant Sciences, ASC Therapeutics, Asembia, ASH Research Collaborative, Asklepion Pharmaceuticals, Asklepios Biopharmaceutical, Assistance Publique-Hôpitaux de Paris, Astellas Pharma, AstraZeneca, Asuragen, Atalanta Therapeutics, Atomwise, Attain Health, Auburn University, Avrobio, Axovant Gene Therapies, Azzur Group, Baxalta, Bayer, Baylor College of Medicine, Baylor Genetics, BC Platforms, Beam Therapeutics, Beijing Illness Challenge Foundation, Benuvia Therapeutics, Berg, Be The Match BioTherapies, Beyond Air, Beyond Batten Disease Foundation, BGI Americas, Bicycle Therapeutics, Bill and Melinda Gates Foundation, BillionToOne, biOasis Technologies, BioAxone Therapeutic, BioBlast Pharma, Biogen, Bioiatriki, BioMarin Pharmaceutical, BiomX, Biopharma-Middle East and Africa, BioPontis Alliance, BioRealm, BioSensics, Bioverativ, BioXcel, Blackstone Medical, Bluebird Bio, Blueprint Genetics, Blueprint Medicines, Boehringer Ingelheim, Brain Research Through Advancing Innovative NeurotechnologiesInitiative, BrainVectis, Brammer Bio, Brickell Biotech, BridgeBio Pharma, Bridge Biotherapeutics, Brigham and Women's Hospital, Bristol-Myers Squibb, Broad Institute, Brown University, Buck Institute for Age Research, California Institute for Biomedical Research, California Institute for Regenerative Medicine, Calimmune, Calithera Biosciences, Camurus, CANbridge Pharmaceuticals, Cancer Prevention and Research Institute of Texas, Cancer Prevention Pharmaceuticals, Capella Bioscience, Capnia, Capsida Biotherapeutics, CARB-X, Cardiff University, Cardinal Health, Care4Rare Consortium, Carmine Therapeutics, Carna BioSciences, Case Western Reserve University, Casma Therapeutics, Castle Creek Biosciences, Catabasis Pharmaceuticals, Catalent, Celgene, Cellect Biotechnology, Center for Inherited Blood Disorders, Centessa Pharmaceuticals, Centogene, Centre for Drug Research and Development (CDRD), Cerecor, Certara, CFTechnology.org, Chan Zuckerberg Initiative, Charcot-Marie-Tooth Association, Charles River Laboratories, CHDI Foundation, ChemDiv, ChemGenes, Chiesi Farmaceutici, Children's Hospital Boston, Children's Hospital Los Angeles, Children's Hospital of Philadelphia, Children's Mercy Hospital, Children's Hospital Oakland Research Institute (CHORI), Chondrial Therapeutics, ChromaDex, Cincinnati Children's Hospital Medical Center, Citrine Medicine, Claire's Place Foundation, Claritas Genomics, Clementia Pharmaceuticals, Cleveland Clinic, Clinical Registry Investigating Bardet-Biedl Syndrome, Clinic for Special Children, Clinigen, Clinuvel Pharmaceuticals, Code Biotherapeutics, Columbia University, Comet Therapeutics, Concert Pharmaceuticals, Confluence Pharmaceuticals, Congenica, ContraFect, Corbus Pharmaceuticals, Courtagen Life Sciences, CRISPR Therapeutics, CTD Holdings, Cure Duchenne, Cureleads, Cure Sanfilippo Foundation, Cyclacel Pharmaceuticals, Cyclica, Cypher Genomics, Cyprium Therapeutics, Cystic Fibrosis Foundation, Cystic Fibrosis Foundation Therapeutics, Cystic Fibrosis Trust, Cystinosis Research Foundation, Cytiva, Dalton Pharma Services, Dante Labs, DarioHealth, DaRui Biotech, Deep Science Ventures, DefiniGEN, Denovium, Dermelix Biotherapeutics, Desitin, Devyser Diagnostics, Dewpoint Therapeutics, DiamiR, Dilaforette, Dimension Therapeutics, Diurnal, DMS Health Technologies, Duke University, Dyax, Dynacure, Dystrophic Epidermolysis Bullosa Research Association of America, Edico Genome, Editas Medicine, EffRx, Eidos Therapeutics, Eiger BioPharmaceuticals, Elaaj Bio, Elevian, Elexopharm, Eli Lilly, Elixirgen, Eloxx Pharmaceuticals, Elucigene, Eluthia, Emedgene, Emmaus Life Sciences, Emmaus Medical, Emtora Biosciences, EnBiotix, Ensoma, Enterprise Therapeutics, Entos Pharmaceuticals, Enzyvant Science, EpiDestiny, Er-Kim, Ergomed, Erytech, EspeRare Foundation, Essentialis, Eunice Kennedy Shriver Institute of Child Health and Human Development, Eureka Eurostars, Eureka Genomics, European Commission, EUSA Pharma, Evotec, Evox Therapeutics, Evozyne, Ewopharma, Excelra, Exemplar Genetics, Exicure, ExScientia, Fabric Genomics, Facio Therapies, FarmaMondo Group, Feinstein Institute for Medical Research, Feldan Therapeutics, Felix Biotechnology, Ferring Pharmaceuticals, Fertility SOURCE Companies, Fibrocell Science, Fluidigm, Fluxion Biosciences, Fondazione Telethon, Food and Drug Administration (FDA), Foresee Pharmaceuticals, Fortress Biotech, Forty Seven, Foundation Fighting Blindness, Foundation For Angelman Syndrome Therapeutics, Foundation for the Children of the Californias, Foundation to Fight H-ABC, Fox Chase Cancer Center, FOXG1 Research Foundation, FRAXA Research Foundation, Fred Hutchinson Cancer Research Center, Friedreichs Ataxia Research Alliance, Fudan University, Fujitsu Laboratories, Fulcrum Therapeutics, Fulgent Genetics, GACI Global, Gain Therapeutics, Galapagos, Gamida Cell, Geisinger Health System, Gen, GeneDX, Genentech, GenePeeks, Genethon, Genetic Alliance, GeneTx Biotherapeutics, Geneva University Hospitals, Genome Institute of Singapore, Genomenon, Genomics England, Genomic Vision, Genosity, Genpharm, GenScript ProBio, Genzyme, Gilead Sciences, Ginkgo BioWorks, GlaxoSmithKline, Global Blood Therapeutics, Global Down Syndrome Foundation, Global Genes, GlycoNet, Good Start Genetics, Grace Wilsey Foundation, Graphite Bio, Great Ormond Street Hospital (GOSH), Greenlight Biosciences, GtreeBNT, Hansa Biopharma, Healx, Helix, Hemex Health, Hereditary Neuropathy Foundation, Hillhurst Biopharmaceuticals, Horizon Discovery, Horizon Pharma plc, Huma, Hunterian Medicine, Icagen, Icahn School of Medicine at Mount Sinai, Igentify, Illumina, Immedica, Immuneering, ImmunoQure, Immusoft, Imperial College London, Imperial Innovations, In-Depth Genomics, Inceptua, Indiana University, Indiana University-Purdue University Indianapolis, Inhibrx, Initium Therapeutics, Innosuisse, Innovate UK, Inotek Pharmaceuticals, Inozyme Pharma, Inserm, Inserm Transfert, Insight Centre for Data Analytics, In Silico Biosciences, Insilico Biotechnology, Insilico Medicine, Insmed Inc, InSphero, Institute for Genome Statistics and Bioinformatics, Institute for Life Changing Medicines, Institute for Research in Biomedicine, Institute of Child Health, Institute of Human Genetics, Institut Pasteur, Integrated Micro-Chromatography Systems, Intel, Intellia Therapeutics, Invitae, Ionis Pharmaceuticals, Ipsen, Israeli Ministry of Industry and Commerce, Italfarmaco, Iveric Bio, IXICO, J. Wood Capital Advisors, James R Clark Memorial Sickle Cell Foundation, Janssen Pharmaceuticals, Janssen Research & Development, Jasper Therapeutics, Jazz Pharmaceuticals, JCR Pharmaceuticals, Jeffrey Modell Foundation, Johns Hopkins University, Jupiter Orphan Therapeutics, Juvenescence, Kabuki Syndrome Foundation, Kamada, Keck Graduate Institute of Applied Life Sciences, Keio Gijuku University, Kennedy Krieger Institute, KIF1A, Kinnear Pharmaceuticals, Komodo Health, Kriya Therapeutics, Krystal Biotech, Laboratory Corporation of America, La Jolla Pharmaceutical, Lannett, La Paz Hospital, Larimar Therapeutics, Laurel Therapeutics, Laurent Pharmaceuticals, Lead Discovery Center, Leadiant Biosciences, Leidos, Lenus Therapeutics, Les Laboratoires Servier, Levo Therapeutics, LEXEO Therapeutics, Life Edit Therapeutics, Ligand Pharmaceuticals, Linda Crnic Institute for Down Syndrome, LineaRx, LogicBio Therapeutics, Lonza, Louisiana State University, Loulou Foundation, Lovelace Biomedical and Environmental Research Institute, Lumicera Health Services, Luminex, Lundbeck, Lundquist Institute, Lysando, Lysogene, Magenta Therapeutics, Mallinckrodt Pharmaceuticals, Mammoth Biosciences, Mandos, ManRos Therapeutics, Marinus Pharmaceuticals, Marnier-Lapostolle Foundation, Massachusetts Eye and Ear Infirmary, Massachusetts General Hospital, Massachusetts Institute of Technology, Matinas Biopharma, Mauli Ola Foundation, Maxcyte, Maxor National Pharmacy, Mayo Clinic, MC10, McGill University, McKesson, McMaster University, McQuade Center for Strategic Research and Development, MDimune, Medgenics, Medical University South Carolina, Medicines Discovery Catapult, Medison Pharma, MedPharm, MeiraGTx, Merck and Co, Merck KGaA, Mereo BioPharma, Metagenomi, MiaMed, Microbion, Microsoft, Minaris Regenerative Medicine, Minoryx Therapeutics, Mitsubishi Tanabe Pharma, Modalis Therapeutics, Moderna Therapeutics, Modis Therapeutics, Molecular Stethoscope, Molecular Templates, Morphic Therapeutic, Murdoch Childrens Research Institute, Muscular Dystrophy Association, Mustang Bio, Mycrodose Therapeutics, Mylan Laboratories, Myriad Genetics, Myrtelle, n-Lorem Foundation, NantHealth, Napa Therapeutics, Napo EU, Napo Pharmaceuticals, National Center for Advancing Translational Sciences (NCATS), National Eye Institute, National Heart, Lung and Blood Institute, National Human Genome Research Institute, National Institute for Innovation in Manufacturing Biopharmaceuticals, National Institute of Allergy and Infectious Diseases, National Institute of Arthritis and Musculoskeletal Diseases, National Institute of Child Health and Human Development, National Institute of Dental and Craniofacial Research (NIDCR), National Institute of General Medical Sciences, National Institute of Mental Health, National Institute of Neurological Disorders and Stroke, National Institute on Aging, National Institute on Deafness and Other Communication Disorders, National Institutes of Health, National Newspaper Publishers Association, National Organization for Rare Disorders, National Psoriasis Foundation, National Science Foundation, National Taiwan University Hospital, Nationwide Children's Hospital, Navitas, Necker Hospital, NeoPharm, NeuCyte, NeuExcell, Neurocrine Biosciences, NeuroCycle Therapeutics, neuroFix Therapeutics, NeuroPointDX, Neurotrope BioScience, NeuroVive Pharmaceutical, NewBridge Pharmaceuticals, Newron Pharmaceuticals, New York Blood Center, New Zealand Pharmaceuticals, NextGxDx, Nippon Chemiphar, Nippon Shinyaku, Nitto Avecia, NMI TT Pharmaservices, Nova Mentis Life Science, Novartis, Novartis Institutes for BioMedical Research, NovaSignal, Novation, Novo Nordisk, Novoteris, Numedicus, NuvoAir, Oncology Supply, Onconova Therapeutics, OptraHEALTH, Opus Genetics, Oraxion Therapeutics, Orchard Therapeutics, Oregon Health Sciences University, Orexia Therapeutics, ORIG3N, Origin Biosciences, OrphanDC, Orphan Technologies, Orsini Healthcare Specialty Pharmacy, Oryzon, OSI Pharmaceuticals, Ovid Therapeutics, Oxford BioMedica, Pacific Biosciences, Palvella Therapeutics, ParcelShield, Parexel, Parion Sciences, PARI Pharma, Parkinson's Institute and Clinical Center, Passage Bio, Path BioAnalytics, Pathway Genomics, PatientsLikeMe, PCT, Peking Union Medical College, Peptilogics, Perelman School of Medicine, PerkinElmer, Perlara, Personalis, Pfizer, PharmaCell, Pharmaxis, Pharming Group, Pharnext, Phase Genomics, PicnicHealth, Pierre Fabre, PlasmaTech Biopharmaceuticals, Plasticell, PoC Capital, Polyphor, Portable Genomics, Precision BioSciences, Prevencio, PreventionGenetics, Prime Medicine, Primordial Genetics, Progeria Research Foundation, ProQR Therapeutics, Proteostasis Therapeutics, Proteovant Therapeutics, Prothena Biosciences, PSC Biotech, PTC Therapeutics, Public Health England, PWNHealth, Q-State Biosciences, Qiagen, QoL Medical, QR Pharma, Queensland University of Technology, Quellis Biosciences, Questcor Pharmaceuticals, Quest Diagnostics, Quoin Pharmaceuticals, Radboud University Nijmegen Medical Centre, Radius Health, Rady Children's Institute for Genomic Medicine, Rallybio, RaNA Therapeutics, Raptor Pharmaceutical, RARE-X, Rarebase, Rare Disease Company Coalition, Rare Genomics Institute, RareStone, Recombinetics, Recordati, Recursion, Regenacy Pharmaceuticals, Regeneron Pharmaceuticals, Regenxbio, ReGenX Biosciences, Renato Dulbecco Foundation, Reproductive Medicine Associates of New York, Resilience, Resonance Health, RespirTech, Retrophin, RetroSense Therapeutics, Retrotope, Rett Syndrome Research Trust, ReVision Optics, Reyon Pharmaceuticals, Rhythm Pharmaceuticals, Roche, Roche Diagnostics, Rockefeller University, Rocket Pharmaceuticals, Roivant Sciences, Rosalind Franklin University of Medical Sciences, RUCDR Infinite Biologics, SalioGen Therapeutics, Salk Institute, Salud Interactiva, Sangamo Therapeutics, Sanofi, Sanofi-Genzyme BioVentures, Santhera Pharmaceuticals, Saol Therapeutics, Saphetor, Sarepta Therapeutics, Sartorius Stedim Biotech, SATT Conectus Alsace, Scarab Genomics, Scholar Rock, Scioderm, Scipher Medicine, Seattle Children's Hospital, Seattle Childrens Research Institute, Seelos Therapeutics, Selecta Biosciences, Selexys Pharmaceuticals, Sema4, Semmelweis University, Sensorion, Sentieon, Sentinel Oncology, Sentynl Therapeutics, Sequenom, Seres Therapeutics, Serotiny, Sharp Edge Labs, Shionogi, Shionogi Pharma, Shire Laboratories, Shire Pharmaceuticals, Sickle Cell Disease Foundation, Sickle Cell Foundation of Georgia, Singulex, Skyhawk Therapeutics, SkylineDX, Soleno Therapeutics, SOM Biotech, Sophia Genetics, Sound Pharmaceuticals, Spark Therapeutics, Sperogenix Therapeutics, SpringWorks Therapeutics, SQZ Biotech, St. Jude Children's Research Hospital, Stanford University, Stanford University School of Medicine, Stealth BioTherapeutics, Stealth Therapeutics, Stelios Therapeutics, StemCyte, StemoniX, Stoke Therapeutics, Stony Brook University, StrideBio, Strongbridge Biopharma, Sturge-Weber Foundation, Sucampo AG, Sucampo Pharmaceuticals, Sumitomo Dainippon Pharma, Surrogen, Sutter Health, Suzhou NeuPharma, Swedish Orphan Biovitrum, Swixx Biopharma, SynGAP Research Fund, Synspira, Synteract, Syros Pharmaceuticals, T-TOP Clinical Research, Taiba, Takeda America Holdings, Takeda Pharmaceutical, Talee Bio, TARA Biosystems, TARGET PharmaSolutions, Taro Pharmaceuticals, Tasly Pharmaceuticals, Taysha Gene Therapies, TCR2 Therapeutics, TeamedOn International, Team Sanfilippo, Tencent Holdings, Tessera Therapeutics, Tetra Discovery Partners, Tetra Therapeutics, Teva Pharmaceutical Industries, Tevard Biosciences, The BioCollective, The Frontiers in Congenital Disorders of Glycosylation Consortium, The HUB Foundation, The Human Protein Atlas, The MAVEN Project (Medical Alumni Volunteer Expert Network), The Nemours/Alfred I duPont Hospital for Children, Theraly Fibrosis, Thermo Fisher Scientific, TONIX Pharmaceuticals, Translate Bio, Translational Medicine Accelerator, Tripex Pharmaceuticals, TRPharm, Turing Pharmaceuticals, TWi Biotechnology, Twist Bioscience, UCB, UK Cystic Fibrosis Gene Therapy Consortium, Ultragenyx Pharmaceuticals, UNeMed, UnitedHealthcare, University College London, University of Alabama, University of Bonn, University of California, Davis, University of California, San Diego, University of California Berkeley, University of California Irvine, University of California Los Angeles, University of California San Francisco, University of Cambridge, University of Cincinnati, University of Colorado, University of Connecticut, University of Edinburgh, University of Florida, University of Kentucky, University of Manchester, University of Massachusetts Medical School, University of Nebraska, University of North Carolina, University of Notre of Dame, University of Oklahoma, University of Oxford, University of Pennsylvania, University of Pittsburgh, University of Rochester, University of Southern California, University of South Florida, University of Texas Southwestern Medical Center, University of Toledo, University of Tubingen, University of Utah, University of Vermont, University of Virginia, University of Washington, University of Zurich, UpScript, US Bioservices, Usher III, Usher Syndrome Coalition, UT Southwestern Medical Center, Vaccinex, Valeant Pharmaceuticals, Valeo Pharma, Vanda Pharmaceuticals, Vanderbilt University, VectivBio, Vertex Pharmaceuticals, Victorian Clinical Genetics Services, Viking Therapeutics, Vinnova, Viralgen, Visikol, Vivet Therapeutics, Voyager Therapeutics, Vtesse, Wake Forest University, Warden Bio, Warren Family Research Center for Drug Discovery and Development, WAVE Life Sciences, Weill Cornell Medical College, Wilson Therapeutics, Winhealth Pharma Group, Wired Holdings, WuXi Biologics, WuXi NextCODE Genomics, X4 Pharmaceuticals, XL-Protein, Yale University, Yungjin Pharmaceutical, YuYang DNU, Zafgen, Zedira, Zoetis, Zogenix
Current Partnering reports provide insight into the trends and terms of partnering deals in the global life sciences sector.
Current Partnering reports are updated every six months to ensure the user has access to the latest announcements and trends in the topic focus of the report.
Current Partnering analysts review the deal data to provide an overview and analysis of deal trends, including example deals and terms.
Current Partnering reports source deal data from our proprietary deals and alliances database, Current Agreements. The database is updated daily by our analysts with new deals as they are announced globally by the company's party to the deal. In addition, deal records are updated with new data as it becomes available.
The data in the Current Agreements deals and alliances database is obtained from secondary sources such as publicly available industry sources including press releases, company presentations, investor presentations, company SEC filings, other company filings, company websites, conference presentations. Sources are identified to allow for user verification.
Current Partnering provides comprehensive coverage of the following partnering or deal types:
• Asset purchase
• Assignment
• Co-development
• Co-market
• Co-promotion
• Collaborative R&D
• Contract service
• CRADA
• Cross-licensing
• Development
• Distribution
• Equity purchase
• Evaluation
• Grant
• Joint venture
• Licensing
• Loan
• Manufacturing
• Marketing
• Option
• Promotion
• Research
• Royalty financing
• Settlement
• Spin out
• Sub license
• Supply
• Termination
• Warrant
Every deal record is fully categorized and includes the following data, where available:
• Industry sector
• Therapy areas
• Technology type
• Deal components
• Financial terms
• Stage of development
• Exclusivity
• Asset type
• Geographic focus
• Excluded geography
• Company press release
• SEC filing data including contract document
All financial amounts are converted to US$ using the exchange rate available on the date of deal announcement, enabling direct comparison of deal terms across international territories.
Financial data and contract documents displayed in deal records is obtained from public sources, where disclosed by the parties to the deal.