Global Proteomics Partnering Terms and Agreements 2010 to 2023
The Global Proteomics Partnering Terms and Agreements 2010-2023 report provides comprehensive understanding and unprecedented access to the proetomics partnering deals and agreements entered into by the worlds leading healthcare companies.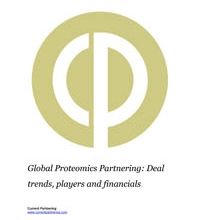 Publication date
June 2023
Product type
Research report
Available formats
PDF document
The Global Proteomics Partnering Terms and Agreements 2010-2023 report provides an understanding and access to the proteomics partnering deals and agreements entered into by the worlds leading healthcare companies.
Trends in proteomics partnering deals
Disclosed headlines, upfronts, milestones and royalties by stage of development
Proteomics partnering contract documents
Top proteomics deals by value
The Global Proteomics Partnering Terms and Agreements 2010-2023 report provides an understanding and access to the proteomics partnering deals and agreements entered into by the worlds leading healthcare companies.
The report provides a detailed understanding and analysis of how and why companies enter proteomics partnering deals. The majority of deals are early development stage whereby the licensee obtains a right or an option right to license the licensors proteomics technology or product candidates. These deals tend to be multicomponent, starting with collaborative R&D, and commercialization of outcomes.
This report provides details of the latest proteomics, oligonucletides including aptamers agreements announced in the healthcare sectors.
Understanding the flexibility of a prospective partner's negotiated deals terms provides critical insight into the negotiation process in terms of what you can expect to achieve during the negotiation of terms. Whilst many smaller companies will be seeking details of the payments clauses, the devil is in the detail in terms of how payments are triggered – contract documents provide this insight where press releases and databases do not.
This report contains a comprehensive listing of all proteomics partnering deals announced since 2010 including financial terms where available including over 600 links to online deal records of actual proteomics partnering deals as disclosed by the deal parties. In addition, where available, records include contract documents as submitted to the Securities Exchange Commission by companies and their partners.
Contract documents provide the answers to numerous questions about a prospective partner's flexibility on a wide range of important issues, many of which will have a significant impact on each party's ability to derive value from the deal.
For example, analyzing actual company deals and agreements allows assessment of the following:
What is actually granted by the agreement to the partner company?
What exclusivity is granted?
What are the precise rights granted or optioned?
What is the payment structure for the deal?
How are sales and payments audited?
What is the deal term?
How are the key terms of the agreement defined?
How are IPRs handled and owned?
Who is responsible for commercialization?
Who is responsible for development, supply, and manufacture?
How is confidentiality and publication managed?
How are disputes to be resolved?
Under what conditions can the deal be terminated?
What happens when there is a change of ownership?
What sublicensing and subcontracting provisions have been agreed?
Which boilerplate clauses does the company insist upon?
Which boilerplate clauses appear to differ from partner to partner or deal type to deal type?
Which jurisdiction does the company insist upon for agreement law?
The initial chapters of this report provide an orientation of proteomics dealmaking and business activities. Chapter 1 provides an introduction to the report, whilst chapter 2 provides an overview of the trends in proteomics dealmaking since 2010, including details of average headline, upfront, milestone and royalty terms.
Chapter 3 provides a review of the leading proteomics deals since 2010. Deals are listed by headline value, signed by big pharma, most active proteomics dealmaking companies. Where the deal has an agreement contract published at the SEC a link provides online access to the contract.
Chapter 4 provides a comprehensive listing of the top 25 most active companies in proteomics dealmaking with a brief summary followed by a comprehensive listing of proteomics deals, as well as contract documents available in the public domain. Where available, each deal title links via Weblink to an online version of the actual contract document, providing easy access to each contract document on demand.
Chapter 5 provides a comprehensive and detailed review of proteomics partnering deals signed and announced since Jan 2010. Each deal title links via Weblink to an online version of the deal record and where available, the contract document, providing easy access to each contract document on demand.
Chapter 6 lists proteomics deals by technology type.
In addition, a comprehensive appendix is provided organized by proteomics partnering company A-Z, deal type definitions and proteomics partnering agreements example. Each deal title links via Weblink to an online version of the deal record and where available, the contract document, providing easy access to each contract document on demand.
The report also includes numerous tables and figures that illustrate the trends and activities in proteomics partnering and dealmaking since 2010.
In conclusion, this report provides everything a prospective dealmaker needs to know about partnering in the research, development and commercialization of proteomics technologies and products.
Report scope
Global Proteomics Partnering Terms and Agreements is intended to provide the reader with an in-depth understanding and access to proteomics trends and structure of deals entered into by leading companies worldwide.
Global Proteomics Partnering Terms and Agreements includes:
Trends in proteomics dealmaking in the biopharma industry since 2010
Access to headline, upfront, milestone and royalty data
Access to over 600 proteomics deals
The leading proteomics deals by value since 2010
Most active proteomics dealmakers since 2010
The leading proteomics partnering resources
In Global Proteomics Partnering Terms and Agreements, the available contracts are listed by:
Company A-Z
Headline value
Stage of development at signing
Deal component type
Specific therapy and technology target
Each deal title links via Weblink to an online version of the deal record and where available, the contract document, providing easy access to each contract document on demand.
Global Proteomics Partnering Terms and Agreements provides the reader with the following key benefits:
In-depth understanding of proteomics deal trends since 2010
Access to headline, upfront, milestone and royalty data
Comprehensive access to over 600 actual proteomics deals entered into by the world's biopharma companies, together with real world clause examples
Full listing of proteomics deals by company A-Z, deal value, phase of development, deal type, and therapy focus
Identify leading proteomics deals by value since 2010
Identify the most active proteomics dealmakers since 2010
Detailed access to actual proteomics contracts enter into by the leading bigpharma
Insight into the terms included in proteomics agreement, together with real world clause examples
Understand the key deal terms companies have agreed in previous deals
Undertake due diligence to assess suitability of your proposed deal terms for partner companies
Executive Summary
Chapter 1 – Introduction
Chapter 2 – Trends in proteomics dealmaking
2.1. Introduction
2.2. Proteomics partnering over the years
2.3. Most active proteomics dealmakers
2.4. Proteomics partnering by deal type
2.5. Proteomics partnering by therapy area
2.6. Deal terms for proteomics partnering
2.6.1 Proteomics partnering headline values
2.6.2 Proteomics deal upfront payments
2.6.3 Proteomics deal milestone payments
2.6.4 Proteomics royalty rates
Chapter 3 – Leading proteomics deals
3.1. Introduction
3.2. Top proteomics deals by value
Chapter 4 – Most active proteomics dealmakers
4.1. Introduction
4.2. Most active proteomics dealmakers
4.3. Most active proteomics partnering company profiles
Chapter 5 – Proteomics contracts dealmaking directory
5.1. Introduction
5.2. Proteomics contracts dealmaking directory
Chapter 6 – Proteomics dealmaking by technology type
Appendices
Appendix 1 – Proteomics deals by company A-Z
Appendix 2 – Proteomics deals by stage of development
Appendix 3 – Proteomics deals by deal type
Appendix 4 – Proteomics deals by therapy area
Deal type definitions
Further reading on dealmaking
About Wildwood Ventures
Current Partnering
Current Agreements
Recent report titles from Current Partnering
Table of figures
Figure 1: Proteomics partnering since 2010
Figure 2: Active proteomics dealmaking activity since 2010
Figure 3: Proteomics partnering by deal type since 2010
Figure 4: Proteomics partnering by disease type since 2010
Figure 5: Proteomics deals with a headline value
Figure 6: Proteomics deals with an upfront value
Figure 7: Proteomics deals with a milestone value
Figure 8: Proteomics deals with a royalty rate value
Figure 9: Top proteomics deals by value since 2010
Figure 10: Most active proteomics dealmakers since 2010
Pricing options
$3,995: single-user
$5,745: multi-user
$10,995: single site license
$17,995: global site license
A full explanation of license type definitions can be found here.
Our guarantee
Price promise
We guarantee our prices are competitive. If you find the same report advertised at a lower price within 7 days of purchase, we will refund the difference.
Delivery Deadline
We guarantee that the report will be sent within the specified delivery times. In the unlikely case of a delay we may offer a partial refund as compensation. (Terms may apply)
Latest report
If an update is published within 30 days of your purchase, you will receive it absolutely free of charge.
Serious Security
We take your data and security seriously. See our privacy policy for details of how we manage your data.
All card payments are processed by SagePay.
Sales Support
If you have any questions about your report or are unhappy with the quality, we will do our best to resolve your query. Contact us direct.
Total Trust
Current Partnering is part of Wildwood Ventures Ltd., based in York, United Kingdom. We have been trading successfully online since 2009 and work with some of the most famous brands in the business. We carefully select our partners to ensure that the publications meet expectations of demanding customers.
3SBio, 20/20 BioResponse, 21st Century Biochemicals, A*STAR Bioinformatics Institute, A*STAR Genome Institute of Singapore, A*STAR Institute of Microelectronics (IME), AB Analitica, Abbvie, Abcam, Ablynx, Abnova, Abraxis BioScience, Absorption Systems, Abt Bio Pharma Solutions, Academy for Medical Development & Collaboration, Acceleron Pharma, Acella Pharmaceuticals, ACGT, Activiomics, ActivX Biosciences, ADC Biotechnology, Adeona Pharmaceuticals, Adimab, Aduro BioTech, Advaita, Advanced Biological Laboratories, Advanced BioScience Laboratories, Advanced Manufacturing Fund, Advinus Therapeutics, Aelan Cell Technologies, Aestus Therapeutic, AEterna Zentaris, Affibody, Affomix, Affymetrix, Agilent Technologies, Aileron Therapeutics, Ajinomoto AminoScience, Alamar Biosciences, Albumedix, Alexion Pharmaceuticals, Allergan, Allozyne, Almac Diagnostics, Almac Group, Almirall, Alnylam Pharmaceuticals, Althea Technologies, Altus Pharmaceuticals, Alzheimers Research UK, Amarantus BioSciences, Ambergen, Ambrx, American College of Cardiology, American CryoStem, American Health Assistance Foundation, Amgen, AmorChem, Amplimmune, Amunix, Analytical Testing Laboratory, AnaSpec, Anchor Therapeutics, Angel Biotechnology, Anteo Diagnostics, Anthera Pharmaceuticals, Antigen Discovery, Antitope, Apeiron Biologics, Applied Genetic Technologies, Applied Proteomics, Arbor Vita, Arbutus, Arecor, Ariadne Genomics, ArmaGen, Arrayit, Artes Biotechnology, Aspera, Astellas Pharma, AstraZeneca, Asuragen, Athos Therapeutics, ATUM, Auburn University, Aurigene Discovery Technologies, Aushon BioSystems, Autism Speaks, Autogenesis, Auven Therapeutics, Avera Heart Hospital of South Dakota, Avid Bioservices, AvidBiotics, Avila Therapeutics, Aviva Systems Biology, Avraham Pharmaceuticals, Axil Scientific, BaroFold, Batavia Biosciences, Baxter International, Bayer, Bayer CropScience, Bayer Schering Pharma, Baylor College of Medicine, BellBrook Labs, Bellus Health, Berg, BGI Americas, BG Medicine, Bicycle Therapeutics, Bill and Melinda Gates Foundation, Bio-Techne, BioAtla, Biocartis, Biocius Life Sciences, Biocrates, Biodesix, Bioeasy Diagnostica, BioFocus, Biogen, Biognosys, BioGrammatics, Biomodels, BioNova Cientifica, Biopharm, BioSante Pharmaceuticals, BioSeek, Bio Sidus Argentina, BioSilta, BioSystem Development, Biotage, Biotechnology and Biological Sciences Research Council (BBSRC), Biotechnology Value Fund, Biotest, bioVidria, Biovista, BioWa, Bioyong, BluePen Biomarkers, Blue Sky Biotech, Boehringer Ingelheim, Boehringer Ingelheim Vetmedica, BostonGene, Bristol-Myers Squibb, Bruker, Bucher Biotec, Bulldog Bio, c-LEcta, Caladrius Biosciences, Caliber Biotherapeutics, California Institute for Quantitative Biosciences (QB3), California Institute of Technology, Calixar, Cambridge Isotope Laboratories, Cambridge Research Biochemicals, Camino Partnership, Cancer Research Technology, Cancer Research UK, Cangene, Caprion Biosciences, Caprion Proteomics, Caprotec Bioanalytics, Capstone Therapeutics, Carbogen Amcis, CardioDx, Caris Life Sciences, Casebia Therapeutics, Catabasis Pharmaceuticals, Catalent, Celares, Celgene, CellaGenics, Cell Culture Service, Cellona Therapeutics, Cellular Dynamics International, Cellzome, Celsee, CEM, Center for Critical Path Research in Immunology, Center for Human Immunology, Autoimmunity and Inflammation, Centogene, Centre For Proteomic & Genomic Research, Centre National de Recherche et de Formation sur le Paludisme, Cevec Pharmaceuticals, Champions Oncology, Chan Soon-Shiong Institute of Molecular Medicine, Charity University Berlin, CHDI Foundation, Chesapeake PERL, Children's Hospital of Orange County, Children's Medical Research Institute, Children's Hospital Colorado, Chromatin, Chugai Pharmaceutical, Cisbio Bioassays, City of Hope, Clayton Foundation For Research, CLC bio, Cleveland Clinic, Clinical Data, Clovis Oncology, CMC Biologics, Codexis, Cohen-McNiece Foundation, Colby Pharmaceuticals, Columbia Laboratories, Columbia University, Commercialisation Australia, Complix, CONTINUUS Pharmaceuticals, Core Diagnostics India, Cornerstone Therapeutics, COTA, Covagen, CPGR, CPR Pharma Services, CRISPR Therapeutics, Crucell, Crystal Bioscience, Curasan, Cyclenium Pharma, Cystic Fibrosis Foundation Therapeutics, Daiichi Sankyo, Dana-Farber Cancer Institute, Datavant, David H. Murdock Research Institute, deCODE Genetics, Defense Threat Reduction Agency, Definiens, Delphi Genetics, Department of Defense, Department of Energy, Department of Homeland Security, DermaGenoma, DeveloGen, Dimerix Biosciences, DiscoveryBioMed, Discovery Laboratories, Distributed Bio, Dnastar, Dow AgroSciences, Dow Chemical, DSM Biologics, DSM Venturing, Dualsystems Biotech, Duke University, DuPont, DuPont Industrial Biosciences, DuPont Pioneer, Dyadic International, Dyax, Dynacare Laboratories, Easter Bush Research Consortium, Ecole Polytechnique Federale de Lausanne, Edico Genome, Edith Sanford Breast Cancer Foundation, Eisai, Eleven Biotherapeutics, Eli Lilly, EMD Millipore, EMD Serono, Emerald Bio, Emisphere, Endo Pharmaceuticals, Enterprise Science And Computing, Envoy Therapeutics, Epic Sciences, Epicypher, Epigenomics, Epitomics, Epivax, Epizyme, Eppendorf, Erasmus University Medical Center, ErgoNex Pharma GmbH, Esperion Therapeutics, Essen BioScience, EU AIMS, Eucodis Bioscience, Eureka Eurostars, Eurobio, European Bioinformatics Institute, European Foundation For The Study Of Diabetes, Evogen, Evosep, Evotec, Exactis Innovation, Expedeon, ExpreS2ion Biotechnologies, Expression Pathology, Facet Biotechnology, Faron Pharmaceuticals, Fast Forward, Feinstein Institute for Medical Research, Fibrocell Science, Five Prime Therapeutics, Flagship Biosciences, Flemish agency for Innovation by Science and Technology, Florey Institute of Neuroscience and Mental Heath, Fluidigm, Food and Drug Administration (FDA), FORMA Therapeutics, Foundation Fighting Blindness, Foundation for the National Institutes of Health (FNIH), Fraunhofer USA Center for Molecular Biotechnology, Fred Hutchinson Cancer Research Center, French National Research Agency, G-Con, G42 Healthcare, Gachon University, Galapagos, Galenea, Gallus Biopharmaceuticals, GE Global Research, GE Healthcare, Genaera, GeneData, GeneDiagnostics, GeneNews, Genentech, Generex Biotechnology, Genetimes Technology, Genocea Biosciences, Genosity, Genovis, genOway, Gentel Biosciences, GenVec, Genzyme, German Cancer Research Center, Gladstone Institutes, GlaxoSmithKline, Glenmark Pharmaceuticals, Global Centers for Therapeutic Innovation, Global Genomics Group, GNS Healthcare, Government of Israel, Grace Bio-Labs, Gradalis, Graffinity Pharmaceuticals, Griffith University, Grifols, Gritstone Bio, GTC Biotherapeutics, Hadasit Bioholdings, Halozyme Therapeutics, Hamilton Company, Hamilton Robotics, Haplogen, Harrisvaccines, Harvard Medical School, Hawthorn Pharmaceuticals, Health Discovery, Healthpoint, Henry Samueli School of Engineering, Hospital for Sick Children, Hospital of University of Strasbourg, HTG Molecular Diagnostics, Human Genome Sciences, HUNT Biosciences, Hybrigenics Services SAS, iBio, Icagen, Icahn School of Medicine at Mount Sinai, iCo Therapeutics, Ignite Institute for Individualized Health, Illumina, imaGenes, ImaginAb, Immatics Biotechnologies, Immune Design, ImmuneRegen BioSciences, Immunetics, ImmunGene, ImmunoCellular Therapeutics, Immunovaccine, Immunovo, INanoBio, IncellDx, Indiana University, Indivumed, InflammatoRx, Inhibikase Therapeutics, Innova Biosciences, Inova Diagnostics, Institute for Systems Biology, Institute of Bioinformatics, Institute of Cancer Research, Intavis Bioanalytical Instruments, Integral Molecular, Integrated Biobank of Luxembourg, Integrated Diagnostics, Integrated DNA Technologies, Integrated Proteomics Applications, Integromics, Intel, Intercell, Intercytex, International Stem Cell, Interprise Brasil, Interprotein, InterVenn, Intrexon, Inventiva, Inverness Medical Innovations, Invetech, Invida Pharmaceuticals, INVISTA Technologies, Ionis Pharmaceuticals, iPS Academia Japan, Ipsen, IQ Products, IRX Therapeutics, Isogenica, IsoPlexis, Israeli Ministry of Industry and Commerce, Israeli National Authority for Technological Innovation, Israel Structural Proteomics Center, Jain Foundation, Janssen Biotech, Janssen Diagnostics, Janssen Pharmaceuticals, Janssen Pharmaceutica NV, Jantibody Therapeutics, Jeffrey Modell Foundation, Jennerex, Jenner Institute, JMI Laboratories, John and Lucille Van Geest Foundation, John Hopkins University School of Medicines, Johns Hopkins University, John Wayne Cancer Institute, JPT Peptide Technologies, KAHR Medical, Kamada, Karolinska Institute, Karolinska University Hospital, Kempbio, KGH Domestic, KINAXO Biotechnologies, KineMed, Kings College London, Kluyver Centre, Korea Advanced Institute of Science and Technology, KTH Royal Institute of Technology, KWS SAAT, Kymera Therapeutics, Kyowa Hakko Kirin, Kyto Biopharma, Labgene Scientific, Latitude Pharmaceuticals, Launch Diagnostics, Laureate BioPharmaceuticals, LEAP Technologies, Leicester University, Leiden University, Lentigen, Les Laboratoires Servier, Leukemia & Lymphoma Society, LifeArc, LifeMap Sciences, Life Technologies, Ligand Pharmaceuticals, Link Medicine, Lipimetix, LipimetiX Development, Lonza, Loreal, Lucigen, Lundbeck, Luxembourg Institute of Health, Magellan Biosciences, Maine Manufacturing, Margaret Q Landenberger Research Foundation, Mariel Therapeutics, Marina Biotech, Martin Luther University, Massachusetts General Hospital, Massachusetts Institute of Technology, Matricel, Maxcyte, MBI, MD Anderson Cancer Center, Meda, Medgenics, Medicago, Medical University of South Carolina, MedImmune, MEI Pharma, Memorial Sloan Kettering Cancer Center, Mendel Biotechnology, Merck and Co, Merck KGaA, Merck Serono, Metabolex, Metabolon, Metamark Genetics, Micromet, Millennium Labs, Minapharm, Mission Bio, Mitsubishi Tanabe Pharma, Moderna, Molecular Detection, Molecular Partners, Mologic, molzym, Monsanto, Montreal Heart Institute, MorphoSys, mProbe Laboratories, MRM Proteomics, MSAID, MS Bioworks, Munich Technical University, NanoInk, NanoString Technologies, NanoViricides, NantBioScience, NantHealth, Narayana Hrudalaya, National Cancer Institute, National Cancer Research Center, National Center for Complementary and Alternative Medicine, National Heart, Lung and Blood Institute, National Institute for Bioprocessing Research and Training, National Institute of Allergy and Infectious Diseases, National Institute of Food and Agriculture, National Institute on Aging, National Institutes of Health, National Science Foundation, Nautilus Biotech, Navy Medical Research Centre, NEC, NEL ASA, Neogenix Oncology, Neogenomics, Neoprobe, Netherlands Translational Research Center, Neurimmune Therapeutics, Neurocrine Biosciences, NeuroSearch, Neurotez, Newcastle University, New Liberty Proteomics, New Objective, NimbleGen Systems, Nippon Genetics Europe, NMI Natural and Medical Sciences Institute, Noguchi Memorial Institute for Medical Research, Nonlinear Dynamics, NorDiag, Northwestern Medicine Developmental Therapeutics Institute, Northwestern University, NovAliX, Novartis, Novartis Molecular Diagnostics, Novo Nordisk, Novozymes, Novus Biologicals, Novus International, Nuclea Biotechnologies, Nurix Therapeutics, NX Prenatal, Nycomed, NYU Langone Medical Center, Oklahoma University Health Sciences Center, Olink Bioscience, Olink Proteomics, Omeros, OmicScouts, Omni Bio Pharmaceutical, Omniox, OncoDNA, OncoHost, Oncomatrix, OncoMed Pharmaceuticals, Oragenics, OriGene Technologies, Orion, Ortho-McNeil, Ortho-McNeil-Janssen Pharmaceuticals, Oxford BioMedica, Oxford BioTherapeutics, Oxford Gene Technology, Pais Vasco University, Palatin Technologies, Paradigm, Paragon Bioservices, Parkinson's Institute and Clinical Center, Paterson Institute for Cancer Research, PATH Malaria Vaccine Initiative, Paul Capital Healthcare, PDS Biotechnology, Pelago Bioscience, Pepscan, Percivia, Perthera, Pfenex, Pfizer, Pfizer Animal Health, Pharmalink AB, PharmAthene, Pharming Group, Pharmstandard, Pharm Tech Korea, PhileKorea, Philip Morris, Pieris Pharmaceuticals, Pipex Pharmaceuticals, Plexxikon, Polyplus Transfection, Polytherics, Portola Pharmaceuticals, Positive Bioscience, Power3 Medical Products, PPD, Precision Antibody, Pressure BioSciences, Prestwick Chemical, Priaxon, Princeton University Mass Spectrometry Center, Probiodrug, Proclara Biosciences, Progentec Diagnostics, Progenteq, PrognomIQ, PROLOR Biotech, Promega, Prometic Life Sciences, Promosome, Pronota, Pronutria, PROOF Centre of Excellence for Commercialization and Research, ProQinase, ProSpec-Tany, ProtAb, Protagen, Protagonist Therapeutics, Protein Genomics, Proteome Sciences, Proteomics International, Proteomic Solutions, Proteonomix, Proteostasis Therapeutics, Proteros biostructures, Prothelia, Protiva Biotherapeutics, ProZyme, pSivida, Purdue Pharma, Purdue Research Foundation, Purdue University, Purolite, Q Chip, Qiagen, Quantum-Si, QuantumDx, Quest Diagnostics, R-Pharm, Radboud University Nijmegen Medical Centre, Radiation Control Technologies, Randox Laboratories, RayBiotech, Reaction Biology, Receptos, Recopharma, Recordati, Red Glead Discovery, Redwood Bioscience, Rejuve.AI, Replicel Life Sciences, Research Corporation Technologies, Response Genetics, rEVO Biologics, Rhein Minapharm Biogenetics, Roche, Roche Diagnostics, Rockland Immunochemicals, Roswell Park Cancer Institute, Royal Philips Electronics, Rutgers University, RXi Pharmaceuticals, S*Bio, SABiosciences, Sage-N Research, SAIC-Frederick, Saint Louis University, Salk Institute, Samsung Medical Center, Samuel Lunenfeld Research Institute, Sangamo Therapeutics, Sanofi-Aventis, Sanofi-Pasteur, Santen Pharmaceutical, Sarepta Therapeutics, Saromics, Sartorius Stedim Biotech, Scancell, Scarab Genomics, Science and Technology Facilities Council, Scienion, Sciex, Scripps Research Institute, Scynexis, SDIX, Seattle Genetics, Seegene, Seer, Segetis, Selecta Biosciences, Selexis, Selventa, Sengenics, Sequanta, Sera Prognostics, Shire Pharmaceuticals, Sigma-Aldrich, Sigma-Tau, Signalchem, Silence Therapeutics, SimuGen, Singapore Radiopharmaceuticals, Singular Genomics Systems, Sino Biological, Small Business Innovation Research, Smart Personalized Medicine, Smiths Detection, SOLTI, SomaLogic, Sorrento Therapeutics, Sosei Heptares, SQI Diagnostics, SRU Biosystems, Stanford University School of Medicine, Stanley Medical Research Institute, Stella Diagnostics, Strand Life Sciences, Stratose, Structural Genomics Consortium, Stryker, Sutro Biopharma, Swedish Orphan Biovitrum, Syapse, Sygnature Chemical Services, SYGNIS Pharma, Synageva BioPharma, Syngenta, Synthelis, Synthetic Biologics, Takeda Pharmaceutical, Tanabe Research Laboratories, Tanon, TAP Biosystems, Targeted Medical Pharma, Targeted Payload Therapeutics, TA Therapeutics, TB Alliance, TCG Life Sciences, TcLand Expression, Technion Research and Development Foundation, Teijin, Tekmira Pharmaceuticals, Tetragenetics, The Automation Partnership, The Immune Tolerance Network, The International AIDS Vaccine Initiative, The Medicines Company, The New York Stem Cell Foundation, Theranostics Health, Therapure Biopharma, The Regents of the University of California, Thermo Fisher Scientific, TME Research, to-BBB Technologies, Torrey Pines Institute for Molecular Studies, Transgene, Transgenomic, Translational Drug Development, Translational Genomics Research Institute, Translational Kinase Tumor Inhibitor Discovery Consortium, Trevena, TriLink BioTechnologies, TruDiagnostic, Tufts Medical Center, Two Blades Foundation, UCB, Ultima Genomics, University College London, University Medical Center Groningen, University of Alabama at Birmingham, University of Birmingham, University of British Columbia, University of California, San Diego, University of California San Francisco, University of California Santa Barbara, University of Cambridge, University of Cape Town, University of Chicago, University of Copenhagen, University of Ferrara, University of Florida, University of Greifswald, University of Hamburg, University of Manchester, University of Massachusetts Medical School, University of Medicine and Dentistry of New Jersey, University of Montreal, University of Montreal Pharmacogenomics Centre, University of Nebraska, University of Nevada, University of Oxford, University of Pennsylvania, University of Pittsburgh, University of Rochester Medical Center, University of Rostock, University of South Carolina, University of Stuttgart, University of Texas Southwestern Medical Center, University of Turin, University of Victoria-Genome British Columbia Proteomics Centre, University of Washington, University of Western Australia, Upfront Chromatography, UPMC, US Army, USBiomarkers, US Department of Veteran Affairs, US Government, US Oncology, UvA Holding, Vakzine Projekt Management, Validogen, Valor Biotherapeutics, Van Andel Research Institute, Vanderbilt University, Vaxil BioTherapeutics, Vegenics, Ventana Medical Systems, Verastem, Verenium, Vifor Pharma, Vigilant Biosciences, Visterra, Vivalis, VM Pharma, WaferGen Biosystems, Warnex Medical Laboratories, Washington University in St Louis, Waters Corporation, Weill Cornell Medical College, Wellcome Trust, Wellcome Trust Sanger Institute, Xbrane Bioscience, Xencor, Yale University, Yissum Research Development, Ymir Genomics, Yuhan Corporation, Zambon France, Zealand Pharma, Zenobia Therapeutics, Zyngenia, ZZ Biotech
Current Partnering reports provide insight into the trends and terms of partnering deals in the global life sciences sector.
Current Partnering reports are updated every six months to ensure the user has access to the latest announcements and trends in the topic focus of the report.
Current Partnering analysts review the deal data to provide an overview and analysis of deal trends, including example deals and terms.
Current Partnering reports source deal data from our proprietary deals and alliances database, Current Agreements. The database is updated daily by our analysts with new deals as they are announced globally by the company's party to the deal. In addition, deal records are updated with new data as it becomes available.
The data in the Current Agreements deals and alliances database is obtained from secondary sources such as publicly available industry sources including press releases, company presentations, investor presentations, company SEC filings, other company filings, company websites, conference presentations. Sources are identified to allow for user verification.
Current Partnering provides comprehensive coverage of the following partnering or deal types:
• Asset purchase
• Assignment
• Co-development
• Co-market
• Co-promotion
• Collaborative R&D
• Contract service
• CRADA
• Cross-licensing
• Development
• Distribution
• Equity purchase
• Evaluation
• Grant
• Joint venture
• Licensing
• Loan
• Manufacturing
• Marketing
• Option
• Promotion
• Research
• Royalty financing
• Settlement
• Spin out
• Sub license
• Supply
• Termination
• Warrant
Every deal record is fully categorized and includes the following data, where available:
• Industry sector
• Therapy areas
• Technology type
• Deal components
• Financial terms
• Stage of development
• Exclusivity
• Asset type
• Geographic focus
• Excluded geography
• Company press release
• SEC filing data including contract document
All financial amounts are converted to US$ using the exchange rate available on the date of deal announcement, enabling direct comparison of deal terms across international territories.
Financial data and contract documents displayed in deal records is obtained from public sources, where disclosed by the parties to the deal.