Global Ophthalmics Partnering 2014-2022: Deal trends, players and financials
The Global Ophthalmics Partnering 2014-2022: Deal trends, players and financials report provides comprehensive understanding and unprecedented access to the ophthalmics partnering deals and agreements entered into by the worlds leading healthcare companies.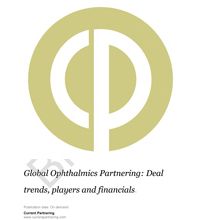 Publication date
May 2022
Product type
Therapy profile
Available formats
PDF document
Global Ophthalmics Partnering 2014 to 2022 provides the full collection of Ophthalmics disease deals signed between the world's pharmaceutical and biotechnology companies since 2014.
Trends in Ophthalmics partnering deals
Financial deal terms for headline, upfront and royalty by stage of development
Ophthalmics partnering agreement structure
Ophthalmics partnering contract documents
Top Ophthalmics deals by value
Most active Ophthalmics dealmakers
Most of the deals included within the report occur when a licensee obtains a right or an option right to license a licensor's product or technology. More often these days these deals tend to be multi-component including both a collaborative R&D and a commercialization of outcomes element.
The report takes readers through the comprehensive Ophthalmics disease deal trends, key players and top deal values allowing the understanding of how, why and under what terms companies are currently entering Ophthalmics deals.
The report presents financial deal terms values for Ophthalmics deals, where available listing by overall headline values, upfront payments, milestones and royalties enabling readers to analyse and benchmark the value of current deals.
The initial chapters of this report provide an orientation of Ophthalmics dealmaking trends.
Chapter 1 provides an introduction to the report.
Chapter 2 provides an overview of the trends in Ophthalmics dealmaking since 2014 covering trends by year, deal type, stage of development, technology type and therapeutic indication.
Chapter 3 includes an analysis of financial deal terms covering headline value, upfront payment, milestone payments and royalty rates.
Chapter 4 provides a review of the leading Ophthalmics deals since 2014. Deals are listed by headline value. The chapter includes the top 25 most active Ophthalmics dealmakers, together with a full listing of deals to which they are a party. Where the deal has an agreement contract published at the SEC a link provides online access to the contract.
Chapter 5 provides comprehensive access to Ophthalmics deals since 2014 where a deal contract is available, providing the user with direct access to contracts as filed with the SEC regulatory authorities. Each deal title links via Weblink to an online version of the deal record contract document, providing easy access to each contract document on demand.
Chapter 6 provides a comprehensive directory of all Ophthalmics partnering deals by specific Ophthalmics target announced since 2014. The chapter is organized by specific Ophthalmics therapeutic target. Each deal title links via Weblink to an online version of the deal record and where available, the contract document, providing easy access to each contract document on demand.
In addition, a comprehensive appendix is provided with each report of all Ophthalmics partnering deals signed and announced since 2014. The appendices are organized by company A-Z, stage of development at signing, deal type (collaborative R&D, co-promotion, licensing etc) and technology type. Each deal title links via Weblink to an online version of the deal record and where available, the contract document, providing easy access to each contract document on demand.
The report also includes numerous tables and figures that illustrate the trends and activities in Ophthalmics partnering and dealmaking since 2014.
In conclusion, this report provides everything a prospective dealmaker needs to know about partnering in the research, development and commercialization of Ophthalmics technologies and products.
Report scope
Global Ophthalmics Partnering 2014 to 2022 is intended to provide the reader with an in-depth understanding and access to Ophthalmics trends and structure of deals entered into by leading companies worldwide.
Global Ophthalmics Partnering 2014 to 2022 includes:
Trends in Ophthalmics dealmaking in the biopharma industry since 2014
Access to headline, upfront, milestone and royalty data
Access to hundreds of Ophthalmics deal contract documents
Comprehensive access to over 700 Ophthalmics deal records
The leading Ophthalmics deals by value since 2014
Most active Ophthalmics dealmakers since 2014
The report includes deals for the following indications: Age-related macular degeneration, Blindness, Cataracts, Conjunctivitis, Diabetic macular edema, Dry eye, Glaucoma, Ocular hypertension, Retinal detachment Retinopathy, Diabetic retinopathy, Uveitis, plus other ophthalmic indications.
In Global Ophthalmics Partnering 2014 to 2022, available deals and contracts are listed by:
Headline value
Upfront payment value
Royalty rate value
Stage of development at signing
Deal component type
Technology type
Specific therapy indication
Each deal title links via Weblink to an online version of the deal record and where available, the contract document, providing easy access to each contract document on demand.
The Global Ophthalmics Partnering 2014-2022 report provides comprehensive access to available deals and contract documents for over 700 ophthalmics deals. Analyzing actual contract agreements allows assessment of the following:
What are the precise rights granted or optioned?
What is actually granted by the agreement to the partner company?
What exclusivity is granted?
What is the payment structure for the deal?
How are the sales and payments audited?
What is the deal term?
How are the key terms of the agreement defined?
How are IPRs handled and owned?
Who is responsible for commercialization?
Who is responsible for development, supply, and manufacture?
How is confidentiality and publication managed?
How are disputes to be resolved?
Under what conditions can the deal be terminated?
What happens when there is a change of ownership?
What sublicensing and subcontracting provisions have been agreed?
Which boilerplate clauses does the company insist upon?
Which boilerplate clauses appear to differ from partner to partner or deal type to deal type?
Which jurisdiction does the company insist upon for agreement law?
Global Ophthalmics Partnering 2014 to 2022 provides the reader with the following key benefits:
In-depth understanding of Ophthalmics deal trends since 2014
Access Ophthalmics deal headline, upfront, milestone and royalty data
Research hundreds of actual contracts between Ophthalmics partner companies
Comprehensive access to over 700 links to actual Ophthalmics deals entered into by the world's biopharma companies
Indepth review of Ophthalmics deals entered into by the top 25 most active dealmakers
Benchmark the key deal terms companies have agreed in previous deals
Identify key terms under which companies partner Ophthalmics opportunities
Uncover companies actively partnering Ophthalmics opportunities
Executive Summary
Chapter 1 – Introduction
Chapter 2 – Trends in Ophthalmics dealmaking
2.1. Introduction
2.2. Ophthalmics partnering over the years
2.3. Ophthalmics partnering by deal type
2.4. Ophthalmics partnering by industry sector
2.5. Ophthalmics partnering by stage of development
2.6. Ophthalmics partnering by technology type
2.7. Ophthalmics partnering by therapeutic indication
Chapter 3 –Financial deal terms for Ophthalmics partnering
3.1. Introduction
3.2. Disclosed financials terms for Ophthalmics partnering
3.3. Ophthalmics partnering headline values
3.4. Ophthalmics deal upfront payments
3.5. Ophthalmics deal milestone payments
3.6. Ophthalmics royalty rates
Chapter 4 – Leading Ophthalmics deals and dealmakers
4.1. Introduction
4.2. Most active in Ophthalmics partnering
4.3. List of most active dealmakers in Ophthalmics
4.4. Top Ophthalmics deals by value
Chapter 5 – Ophthalmics contract document directory
5.1. Introduction
5.2. Ophthalmics partnering deals where contract document available
Chapter 6 – Ophthalmics dealmaking by therapeutic target
6.1. Introduction
6.2. Deals by Ophthalmics therapeutic target
Appendices
Appendix 1 – Directory of Ophthalmics deals by company A-Z since 2014
Appendix 2 – Directory of Ophthalmics deals by deal type since 2014
Appendix 3 – Directory of Ophthalmics deals by stage of development since 2014
Appendix 4 – Directory of Ophthalmics deals by technology type since 2014
Further reading on dealmaking
Deal type definitions
About Wildwood Ventures
Current Partnering
Current Agreements
Recent report titles from CurrentPartnering
Table of figures
Figure 1: Ophthalmics partnering since 2014
Figure 2: Ophthalmics partnering by deal type since 2014
Figure 3: Ophthalmics partnering by industry sector since 2014
Figure 4: Ophthalmics partnering by stage of development since 2014
Figure 5: Ophthalmics partnering by technology type since 2014
Figure 6: Ophthalmics partnering by indication since 2014
Figure 7: Ophthalmics deals with a headline value
Figure 8: Ophthalmics deals with upfront payment values
Figure 9: Ophthalmics deals with milestone payment
Figure 10: Ophthalmics deals with royalty rates
Figure 11: Active Ophthalmics dealmaking activity– 2014 to 2022
Figure 12: Top Ophthalmics deals by value since 2014
Pricing options
$3,995: single-user
$5,745: multi-user
$10,995: single site license
$17,995: global site license
Our guarantee
Price promise
We guarantee our prices are competitive. If you find the same report advertised at a lower price within 7 days of purchase, we will refund the difference.
Delivery Deadline
We guarantee that the report will be sent within the specified delivery times. In the unlikely case of a delay we may offer a partial refund as compensation. (Terms may apply)
Latest report
If an update is published within 30 days of your purchase, you will receive it absolutely free of charge.
Serious Security
We take your data and security seriously. See our privacy policy for details of how we manage your data.
All card payments are processed by SagePay.
Sales Support
If you have any questions about your report or are unhappy with the quality, we will do our best to resolve your query. Contact us direct.
Total Trust
Current Partnering is part of Wildwood Ventures Ltd., based in York, United Kingdom. We have been trading successfully online since 2009 and work with some of the most famous brands in the business. We carefully select our partners to ensure that the publications meet expectations of demanding customers.
3D-Micromac, 3M, 3SBio, 4D Molecular Therapeutics, A*STAR Agency for Science, Technology and Research, Aaren Scientific, AAVnerGene, ABB Optical Group, Abbott Laboratories, Abbott Medical Optics, Abbvie, AbCellera, ABL Bio, Ablynx, Abpro, Abzena, AccelMed, Accure Therapeutics, ACE Solutech, Achillion Pharmaceuticals, Aciex Therapeutics, ActiveSite, ActualEyes, Acucela, Adaptive Phage Therapeutics, Adtech Pharma, Advanced Dosage Forms, Advanced Tear Diagnostics, Adverum Biotechnologies, Aequus Pharmaceuticals, Aerie Pharmaceuticals, AffaMed Therapeutics, AFT Pharmaceuticals, AGC Biologics, AGTC, Aier Eye Hospital Group, AiVita Biomedical, AJL Ophthalmic, AJU Pharma, Aker BioMarine, Akorn, Alcon Laboratories, Aldevron, Alexion Pharmaceuticals, Alienware, Alimera Sciences, Allegro Ophthalmics, Allergan, Allotex, Alloy Therapeutics, Alnylam Pharmaceuticals, Alphaeon, ALS Association, Altacor, Altus Formulation, Alvotech, Amarantus BioSciences, Amarillo Biosciences, Amblyotech, AMD Insight, American Academy of Ophthalmology, American Capital, AmerisourceBergen, Amneal Pharmaceuticals, AmorChem, Amydis, Andrec, AnGes MG, Angios, ANI Pharmaceuticals, Annapurna Therapeutics, Antitope, AntriaBio, AOAExcel, Apellis Pharmaceuticals, Apexian Pharmaceuticals, Apposite Capital, Aptar Pharma, AqueSys, ArcticDx, Arctic Vision, Arctos Medical, Argentum Pharmaceuticals, Ascendia Pharmaceuticals, Asian Eye Institute, ASICO, Astellas Pharma, Attillaps Holdings, Aura Biosciences, Aurinia Pharmaceuticals, Auven Therapeutics, Avalanche Biotechnologies, Avalon Laboratories, Avedro, Avellino Labs, AVEO Oncology, Axantia, AXIM Biotechnologies, AyoxxA Biosystems, Baker Brothers Investments, BalGeunSeSang Eye Clinic, Bausch & Lomb, Bausch Health Companies, Baxalta, Baxter International, Bayer, Bayer Healthcare, Beam Therapeutics, Benitec Biopharma, Benz Research & Development, Betaliq, Beta Therapeutics, Beyeonics Vision, BHVI, Bio-Techne, Bio-Tissue, BioAxone BioSciences, Bioeq IP, Biogen, Biohealth Innovation, BioInvent, BioLamina, BioLight Life Sciences Investments, BiolineRX, BioMotiv, Bionic Sight, Blackrock Neurotech, BLP Management, Bluejay Diagnostics, Blueprint Genetics, BlueRock Therapeutics, Boehringer Ingelheim, BostonSight, Breckenridge Pharmaceuticals, BridgeBio Pharma, Bridge Biotherapeutics, Brigham and Women's Hospital, BrightFocus Foundation, Bright Optical, Brill Pharma, Broadwing Bio, Broda Technologies, Buck Institute for Age Research, BVI Medical, C-Bridge Capital, Caladrius Biosciences, California Institute for Regenerative Medicine, California Stem Cell, Cambridge Research Biochemicals, Can-Fite BioPharma, Cannabics Pharmaceuticals, Cardinal Health, Carl Zeiss Meditec, Casebia Therapeutics, Case Western Reserve University, Catalent, Catalyst Biosciences, Cataract & Laser Institute, CDR-Life, Celerion, Cella Therapeutics, Cell Care Therapeutics, Cell Cure Neurosciences, Cellular Dynamics International, Cerevast Therapeutics, Changchun High & New Technology Industries, Chiesi Farmaceutici, Children's Hospital Los Angeles, Children's Medical Research Institute, China Medical System, Cipla, Cipla Medpro, CiRC Biosciences, Cirle, Clarion Medical Technologies, ClearPoint Neuro, Clearside Biomedical, Clover Therapeutics, CMC Biologics, Coastal Contacts, Coave Therapeutics, Coherus Biosciences, Columbia Technology Ventures, Columbia University, Combangio, Commonwealth of Pennsylvania, Community College of Philadelphia, Compact Imaging, Connecticut Innovations, Consort Medical, Contamac, Cooper-Vemedia, Cooper Companies, Copernicus Therapeutics, Corneal Lens, Corning, Corza Medical, Covenant Surgical Partners, CrestOptics, CRISPR Therapeutics, CROMA Pharma, CSPC Pharmaceutical Group, Curacle, CureVac, Cyclica, D. Western Therapeutics Institute, Dallas Lighthouse for the Blind, De La Pena Eye Clinic, DelSiTech, Department of Defense, Department of Defense Hearing Center of Excellence and Vision Center of Excellence, Dermira, Diagnos, Diamond Pharma Services, Diana Davis Spencer Foundation, Digital Diagnostics, DioGenix, Diopsys, Diversified Ophthalmics, DNX Biopharmaceuticals, doc.ai, Doliage Labs, Dompe Farmaceutici, DOSE Medical, DotBio, Dr. Agarwal's Eye Hospitals, DryEye Rescue, DSM, Duke-NUS Graduate Medical School Singapore, Duke University, Durect, Dyno Therapeutics, E&B Technologies, Eagle Vision, Eastman Chemical Company, Easton Pharmaceuticals, ECMOHO, Ecole Polytechnique Federale de Lausanne, Editas Medicine, EKKDA Research, Elektron Eye Technology, Eleven Biotherapeutics, ElsaLys Biotech, ELT Sight, Eluminex Biosciences, EMC, Encore Vision, Enhanced Medical Services (EMS), Envisia Therapeutics, Epimune Diagnostics, Equinox Science, eSight, Esperante, Essex Bio-Technology, Essilor, ESW Vision, Eton Pharmaceuticals, Eupharmed, Everads Therapy, Evergaze, Eversana, Eversight, Evommune, Evotec, Ewopharma, Exonate, EyeCare Services Partners, EyeCRO, Eyegate Pharmaceuticals, EyeMedics, Eyenovia, Eyeon Therapeutics, EyePoint Pharmaceuticals, EyeQ Vision, EyeTracking, Eyevance, Eyevensys, FarmaMondo Group, Fibrogen, First Insight, FirstString Research, Flemish agency for Innovation by Science and Technology, Flexpoint Sensor Systems, Florida Pharmaceutical Products, Florida State University, Foamix Pharmaceuticals, Focal, Focus Laboratories, Food and Drug Administration (FDA), Foresight Biotherapeutics, Forge Biologics, ForSight VISION4, ForSight VISION5, Fortify Therapeutics, Fortress Biotech, Foundation Fighting Blindness, FS Development, FUJIFILM Cellular Dynamics, Fujifilm Kyowa Kirin Biologics, Fuji Pharma, G-treeBNT, Galapagos, GAMUT Therapeutics, Garuda Health Services, Gauss Surgical, Gelest, Gemini Therapeutics, Genable Technologies, Genentech, General Biologicals, Genosity, Gensight, Gensight Biologics, Gentex, Genzyme, Gestion Univalor, GHO Capital, Gilead Sciences, Glaucoma Research Foundation, Glaukos, Glenmark Pharmaceuticals, Google, GrayBug, Gulf Medical Company, Gyroscope Therapeutics, Halozyme Therapeutics, HanAll Pharmaceuticals, Hanmi Pharmaceutical, Harbour Biomed, Harrow Health, Harvard Medical School, Harvard University, Healthe Care Australia, Health Ministry (Italy), HealthSouth, Heidelberg Engineering, Helvetic Biopharma, Hemera Biosciences, Hitachi Chemical, Homology Medicines, Hopstem Biotechnology, Horama, Horizon 2022, Horizon Discovery, Horizon Pharma plc, Horizon Therapeutics, Horus Pharma, Hospira, HOYA Vision Care, HPGC Medical, Hubble Telemedical, I-MED Pharma, i-Optics, IACTA Pharmaceuticals, IBM, Iconic Therapeutics, IDx, Ifa Systems, Immervision, Imprimis Pharmaceuticals, ImprimisRx, Improved Vision Systems, Indoco, Industrial Technology Research Institute, Inflammasome Therapeutics, InformedDNA, InMed Pharmaceuticals, InnFocus, Innovia Medical, Inserm Transfert, InSite Vision, Institute of Biophysics, Intas Pharmaceuticals, Integral BioSystems, Intellia Therapeutics, Intratus, Iogen, Ionis Pharmaceuticals, IQVIA, Iridex, IRIS, IRIS International, Iris Pharma, IrisVision, IROC Innocross, ISIS Innovation, Israeli National Authority for Technological Innovation, Itrom Pharmaceutical Group, Ivantis, Iveric Bio, Jackson Laboratory, Jade Therapeutics, Janssen Pharmaceuticals, Janssen Research & Development, jCyte, Jin, Ji Xing Pharmaceuticals, Johns Hopkins University, Johnson & Johnson, Johnson & Johnson Innovation, Johnson & Johnson Vision, Kala Pharmaceuticals, Kali Care, KalVista Pharmaceuticals, Kanaph Therapeutics, Katena Products, KC Pharmaceuticals, Kedalion Therapeutics, Keen Eye, Keio Gijuku University, Kemwell BioPharma, Knight Therapeutics, Kobe Kanagawa Eye Clinic, Kochoptik, Kodiak Sciences, Konkuk University, Kriya Therapeutics, Kubota Pharmaceutical, Kubota Vision, Kyoto University, Laboratoires Thea, Laboratorios Grin, Lacrimedics, LambdaVision, Lantheus Holding, Lca Vision, Lee's Pharmaceutical, Lehigh University, Leica Microsystems, Leiden University, Leidos, Leiters, LensAR, Leona M and Harry B Helmsley Charitable Trust, LGC, LianBio, Lin Bioscience, Lineage Cell Therapeutics, LION Eye Group, LKC Technologies, LLamasoft, Lochan, Lonza, Lubris BioPharma, LumiThera, Lund University, Lupin Limited, LV Prasad Eye Institute, mAbXience, MacuLogix, Mannin Research, Marchon Eyewear, Marinomed Biotechnologie, Massachusetts Eye and Ear Infirmary, Massachusetts General Hospital, Mawson Infrastructure, Mayo Clinic, Maze Therapeutics, McKesson, McMaster University, MD Distributor, MEAgate International, Mectizan Donation Program, Medical Food Solutions Research, Medical Research Foundation, Medical University of South Carolina, Mediconsult.com, MedImmune, Medio-Haus, MeiraGTx, MellingMedical, Memira Holding, Menicon, Merck and Co, Merck Animal Health, Merge Healthcare, Merz, Meyer Children's Hospital of Florence, Micro-Select Instruments, MicroConstants, Midatech, Mile High Ophthalmics, Miloftalmica, Mimetogen Pharmaceuticals, MiniFab, Ministry of Health (France), Minnetronix, miRagen Therapeutics, Mitacs, Mitsubishi Tanabe Pharma, Mitsui Chemicals, MLase, Mobius Therapeutics, MolMed, Montgomery County Community College, Mosaic Biosciences, Mperia Therapeutics, MPI Research, Mundipharma, Mylan Pharmaceuticals, Nacuity Pharmaceuticals, Nanoform, Nanomerics, NanoViricides, Narayana Nethralaya Foundation, NASA, National Cancer Institute, National Center for Advancing Translational Sciences (NCATS), National Eye Institute, National Healthcare Services (NHS), National Institute of Neurological Disorders and Stroke, National Institute on Aging, National Institutes of Health, National Organization for Rare Disorders, National Science Foundation, National University of Singapore, NEMUS Bioscience, Neuraly, Neurolens, Neurophth Therapeutics, NeuroVive Pharmaceutical, Nevakar, Newport Research, Nexus Pharmaceuticals, NGM Biopharmaceuticals, Nicox, Nightstar Therapeutics, NightstaRx, Nikon Corporation, Nitto Medic, NKL, Nordic Prime, Nordson Corporation, Northway Biotechpharma, Notal Vision, NovaBay Pharmaceuticals, Novaliq, NovaMedica, Novartis, Noveome Biotherapeutics, Novo Nordisk, Novotech, NTC, NuEyes, Numab, NuSight Medical, Oasis Medical, Ocata Therapeutics, Ocugen, Ocular Technologies, Ocular Therapeutics, Ocular Therapeutix, Oculeve, Oculis, Oculos Clinical Research, OcuMedic, Ocumension Therapeutics, OcuNexus Therapeutics, Ocuphire Pharma, OCuSOFT, OcuTherix, Odylia Therapeutics, Ohr Pharmaceuticals, OKKO Health, Okra, OKYO Pharma, OliX Pharmaceuticals, Olympic Ophthalmics, Omega Therapeutics, Omeros, OmniVision Technologies, Omron, ONL Therapeutics, OphtAI, Ophthalix, Ophthalmic Instrument Company, Ophthotech, Opsirx Pharmaceuticals, Opsis Therapeutics, Opthea, Optibrand, Optifye Therapeutics, OptiKira, Optima Pharmazeutische, Optimed, Optina Diagnostics, Optomed, Optometric Extension Program Foundation, Optos, Optovue, Opus Genetics, Ora, Oraya Therapeutics, Orbis, Orbit Biomedical, OrCam, Oregon Health Sciences University, Oregon National Primate Research Center, Orsini Healthcare Specialty Pharmacy, Osmotica Pharmaceuticals, Osterhout Design Group, Oxford BioMedica, Oxurion, Oyster Point Pharma, Pacgen Biopharmaceuticals, Panoptes Pharma, PanOptica, Paragon Biosciences, Paragon BioTeck, Paragon Care Group, Parion Sciences, Par Pharmaceutical, PediaVision, Peek Vision, PeptiDream, Perelman School of Medicine, Performance Optics, Perrigo, Pfenex, PharmAbcine, Pharmaleads, Philadelphia VA Medical Center (PVAMC), Phillips-Medisize, PhotoMedex, PhysIOL, Pieris, Pierre Fabre, Ping An Ventures, Pixium Vision, Plex Pharmaceuticals, PolyPhotonix, Portage Biotech, Potentia Pharmaceuticals, Preceyes, Precise Biometrics, Precision Eye Services, Precision Lens, Precision Ocular, Precision Optics, Prevail InfoWorks, Promedica International, ProQR Therapeutics, ProtoKinetix, pSivida, PTC Therapeutics, Q BioMed, Q Chip, Queensland University of Technology, Queens University Belfast, Quest Diagnostics, Quidel, Quotient, R-Tech Ueno, Rayner Surgical, Ray Therapeutics, Recipharm, Recordati, Redwood Pharma, Regeneron Pharmaceuticals, Regenerx, ReGenTree, Regenxbio, Remidio Innovative Solutions, Retinagenix, RetinAI Medical, Retina Institute, RetroSense Therapeutics, ReVision Optics, Revolo Biotherapeutics, Rexahn Pharmaceuticals, Ribomic, RightEye, Rising Pharmaceuticals, River Vision Development, Roche, ROCOL, Rotterdam Eye Hospital, Rutgers University, RVL Pharmaceuticals, RxCell, RxEye, Saban Research Institute of Children's Hospital Los Angeles, Salus University, Sam Chun Dang Pharm, Samsung Bioepis, Samsung Biologics, Samsung Electronics, SanBio, Sanofi, Santen, Santen Pharmaceutical, Santhera Pharmaceuticals, Saphetor, Sarmedic, Sauflon Pharmaceuticals, SBI Capital Markets, Schepens Eye Research Institute, ScinoPharm Taiwan, Second Sight Medical, Sectra, Selexis, SemaThera, Senju Pharmaceutical, Senshinkai Eye Institute, Sensor Medical Technology, Senti Biosciences, Sequenom, Shandong Boan Biological Technology, Shinagawa LASIK Centers, Shire Pharmaceuticals, SIFI (Societa Industria Farmaceutica Italiana), Sigenics, SightGlass Vision, SightLife Surgical, Simulations Plus, Singapore Eye Research Institute (SERI), Singapore National Eye Centre, Sintetica, SipNose, SiSaf, SKS Ocular, Skye Bioscience, Smile Eyes Group, Sonoma Pharmaceuticals, South Coast Specialty Compounding, SparingVision, Spark Therapeutics, Specialised Therapeutics, Staar Surgical Co, STADA Arzneimittel, Stanford University, Stanford University School of Medicine, Star Ophthalmic Instruments, State University of New York, Streetlab, Sun Pharmaceutical, Surrozen, SwissLens, SWK Funding, Sydnexis, SynergEyes, Synpromics, Taiwan Liposome Company, Takeda Pharmaceutical, TALLC, Tamid Bio, Tangible Science, Tanner Pharmaceuticals, Targazyme, Taro Pharmaceuticals, Tarsius Pharma, Tarsus Pharmaceuticals, TeamedOn International, TearLab, TearScience, Technological University Dublin, Teijin, Tel Aviv University, Teleon Surgical, Temple University, Tetra Bio-Pharma, Teva Pharmaceutical Industries, The Frank Stein and Paul S. May Grants for Innovative Glaucoma Research, Therakine, The Regents of the University of California, Thomas Jefferson University, ThromboGenics, Tianjin CanSino Biotechnology, Tilak Healthcare, Tobii Technology, Topcon, TOT BIOPHARM, Tracey Technologies, TRACON Pharmaceuticals, Transcend Medical, Transitions Optical, Translational Research Institute for Space Health, Translatum Medicus, Trefoil Therapeutics, TRIGR Therapeutics, Tu Dresden, Tufts Medical Center, Tufts University, twoXAR, U.S. First Responders Association, UCB, Ulster University, Uni-Bio Science, Unilens Vision, Unilife, University City Science Center, University College London, University of British Columbia, University of California, University of California, Davis, University of California, San Diego, University of California Berkeley, University of California Irvine, University of California San Francisco, University of Cologne, University of Colorado, University of Colorado Denver, University of Debrecen, University of Florida, University of Florida Research Foundation, University of Hong Kong, University of Kent, University of Massachusetts, University of Massachusetts Medical School, University of Miami, University of Minnesota, University of Nebraska, University of North Carolina, University of Oxford, University of Pennsylvania, University of Pennsylvania School of Veterinary Medicine, University of Pittsburgh, University of Pittsburgh Medical Center, University of Strathclyde, University of Washington, University of Wisconsin, University Paris Diderot, Upsher-Smith, Ursapharm, US Army, Usher III, Usher Syndrome Coalition, US Vision, Valeant Pharmaceuticals, ValenzaBio, Vanda Pharmaceuticals, Vasomune Therapeutics, Vedere Bio, Verana Health, Versant Health, Viela Bio, ViGeneron, Viridian Therapeutics, VISIA Imaging, Vision Acquisition, VisionCare Ophthalmic Technologies, Visioneering Technologies, Vision Essence, VisionQuest Biomedical, VisionWeb, Vista Oftalmólogos, Visus Therapeutics, Vitrisa Therapeutics, Vivior, Vizient, Volk Optical, Voyant Biotherapeutics, VSP Optics, Vycor Medical, Wagner Macula Retina Center, Wakamoto Pharmaceutical, Wake Forest University, Wallace H. Coulter Foundation, Washington State University, WaveTec Vision, Welch Allyn, Wellcome Trust, Wellspring Ophthalmics, Westminster Pharmaceuticals, World Eye Hospital, WuXi Advanced Therapies, Xbrane Bioscience, Xencor, XL-Protein, Yangtze River Pharmaceutical Group, YouHealth Eyetech, Zebra Medical Vision, Zhaoke (Hong Kong) Ophthalmology Pharmaceutical, Zhonglan Electronic Technology, Zizhu Pharma
Current Partnering reports provide insight into the trends and terms of partnering deals in the global life sciences sector.
Current Partnering reports are updated every six months to ensure the user has access to the latest announcements and trends in the topic focus of the report.
Current Partnering analysts review the deal data to provide an overview and analysis of deal trends, including example deals and terms.
Current Partnering reports source deal data from our proprietary deals and alliances database, Current Agreements. The database is updated daily by our analysts with new deals as they are announced globally by the company's party to the deal. In addition, deal records are updated with new data as it becomes available.
The data in the Current Agreements deals and alliances database is obtained from secondary sources such as publicly available industry sources including press releases, company presentations, investor presentations, company SEC filings, other company filings, company websites, conference presentations. Sources are identified to allow for user verification.
Current Partnering provides comprehensive coverage of the following partnering or deal types:
• Asset purchase
• Assignment
• Co-development
• Co-market
• Co-promotion
• Collaborative R&D
• Contract service
• CRADA
• Cross-licensing
• Development
• Distribution
• Equity purchase
• Evaluation
• Grant
• Joint venture
• Licensing
• Loan
• Manufacturing
• Marketing
• Option
• Promotion
• Research
• Royalty financing
• Settlement
• Spin out
• Sub license
• Supply
• Termination
• Warrant
Every deal record is fully categorized and includes the following data, where available:
• Industry sector
• Therapy areas
• Technology type
• Deal components
• Financial terms
• Stage of development
• Exclusivity
• Asset type
• Geographic focus
• Excluded geography
• Company press release
• SEC filing data including contract document
All financial amounts are converted to US$ using the exchange rate available on the date of deal announcement, enabling direct comparison of deal terms across international territories.
Financial data and contract documents displayed in deal records is obtained from public sources, where disclosed by the parties to the deal.